One of the best things about succulents is how hardy they are. With most species used to adverse conditions, this opens a lot of options for the kinds of pots that you can use. With their weird shapes and unique colorations, you have to have something perfectly you to put your succulent friends in.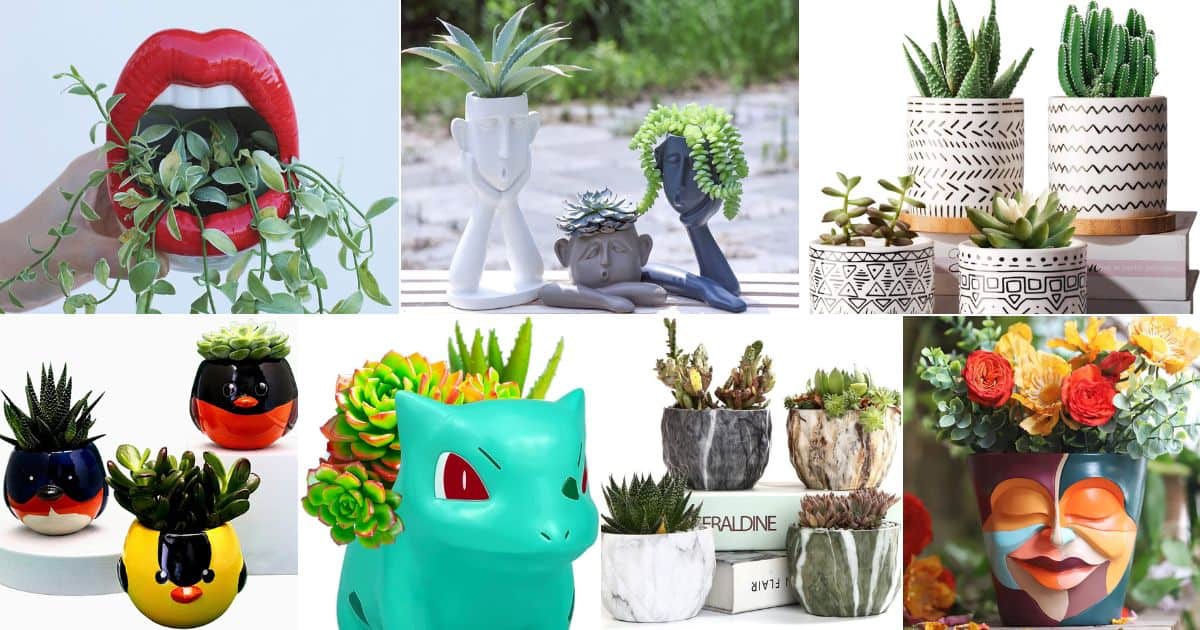 The easiest way to determine if a pot is safe for your succulents is to think, "will this leech chemicals into the soil?" Most metals aren't going to until they start to rust, so make sure you save those plastic garden pots! Woods will decay over time, even if they are adorable and weathered. Ceramics and porcelains can work too, but that might not be your style.
Whatever style or aesthetic you have, you're going to find something you love in this list. Check out the style reviews at the end of this blog for ideas on how to use these planters!
Jump to:
Mid-century modern
Most Mid-century modern styles are going to include some sort of slightly rustic stand and a white or black pot. If you want something that is a little more out there rather than the run-of-the-mill modern, take a look at this woven texture pot with a clean metal stand.
It adds more of a unique flavor to the room rather than the same old same old.
If stands aren't your thing, then look for solid color pots with drainage holes. If you find one that doesn't have drainage, it's not that hard to do it yourself. Check out my tutorial here!
Modern Farmhouse
Modern Farmhouse has taken rustic and done without the industrialized aspect. Instead, Farmhouse focuses on comfort and not all the functions that a more rustic house would. One of the most common types of pots that you will see for this décor style is buckets. Now that can go between shabby chic and even French countryside, but there is something unique to a farmhouse.
Throw in some vintage, copious amounts of white brushing on pots, and you have this gorgeous representation of farmhouse pots.
This style can lean towards the more boho or rustic side of style; however, it is a uniquely vintage style of decoration. Of course, the best pot that you can find for this type of décor is always going to be a natural material like these mini barrel planters.
French Country
Farmhouse comes before French country simply because French Country is the next step towards vintage. This style focuses on bringing vintage items into the house, and this is no different with pots. Look for ceramic versions of antique items such as this ceramic vintage bucket
Think of dramatic vintage patterns like this blue and white ceramic piece
or this ivory ceramic planter with overstated leaf designs along the base.
These types of pots are going to add that extra element of slight gaudiness that is a trademark of this style. Another thing you can do is also use vintage cans or other containers as well. Make sure they are lined and use them to decorate with your succulent friends.
Industrial
Industrial styles tend to go a few different directions. The most common kind of industrial takes up space and makes it look like a building that is still under construction with some added flair. There are many ways that you can add industrial pots to your home so that your succulents also have a home.
Something to look for is a pot with a lot of structure to it. Even pots that are made with more curved bars rather than the normal straight and angular tendencies of industrial tastes are acceptable in this style. For example, this three pot hanger is an excellent example of how you can soften an industrial style with a few simple curves.
Another great way to grow succulents in your home is to pick out concrete pots! These are slightly porous, like terra cotta, so they will help keep your succulents dried out more than other pots. This square concrete pot is a perfect example of something to add to your home.
Mediterranean
Mediterranean is like the beachy version of a farmhouse thrown together with some boho and global design. Seagrass planters are a great way to incorporate some of the ocean into your home.
The natural weave looks like ropes that could be found on a boat which gives off that perfect, relaxed experience.
Another way to bring the Mediterranean to your home is to use pots that look like they are rustic with solid colors.
This look mimics the bright colors of the Mediterranean while also keeping that rustic, aged look. Using colors like blues, yellows, and reds are going to highlight this style the most.
Art Deco
If you haven't seen the interesting collections of face pots that have been popping up, then you are missing out on an art deco treat.
Each one is a different statement piece, and they can actually tell quite the story. If you want a statement piece for a tiny arrangement, then this bright and beautiful face planter will be an immediate favorite.
Other types of art deco can vary from cute statement animals
to bold colors
or, you guessed it, more faces.
Modern Japanese
This style deals more with smooth lines, simple décor, and bringing nature inside. It is a very clean look where natural materials are used as much as possible, and colors stay rather muted or black and white. One example is these marble ceramic pots.
They are absolutely stunning and go well in any space where a succulent has enough light. While it is rare, more antique-looking elements might be welcome in this style. This can be done through ancient looking broken pots
meant for arrangements or through aged stone.
Natural stone and simple round pots are some of the best ways to maintain the aesthetic. However, a pop of color and a little excitement is also a good idea with these geometric planters.
Coastal
Like you might think, coastal tries to bring the ocean inside. This is definitely similar to the Mediterranean style, but the accent colors are more pastel. The major difference is that Coastal is the U.S. version of the ocean style. There are kitschy ocean-themed pots like this seaside themed set.
If you are looking for something on the natural side, take a look at artificial wood planters
or use pieces of driftwood as planters and décor.
Boho
Boho is the macrame-covered chaos cousin to a global style.
Global styles focus on bringing cultures from other worlds into their home, while boho focuses more on many patterns
and eclectic collections with a random teapot or two thrown in there.
Boho also takes a slightly modern twist with finely detailed items like these accent hanging pots.
Another large element of boho decoration is rather bright colors.
If there is a pattern and bright colors, then that is even better!
Final Thoughts
Most of all, when you decorate with your succulents, remember to have fun with it! If you would like something more along the lines of gaming, like this adorable Bulbasaur, then go for it. Don't hesitate to find pots that fit your style and reflect who you are.