Picking out the right container for your succulents and cacti can be almost as difficult of a decision as choosing the plants themselves.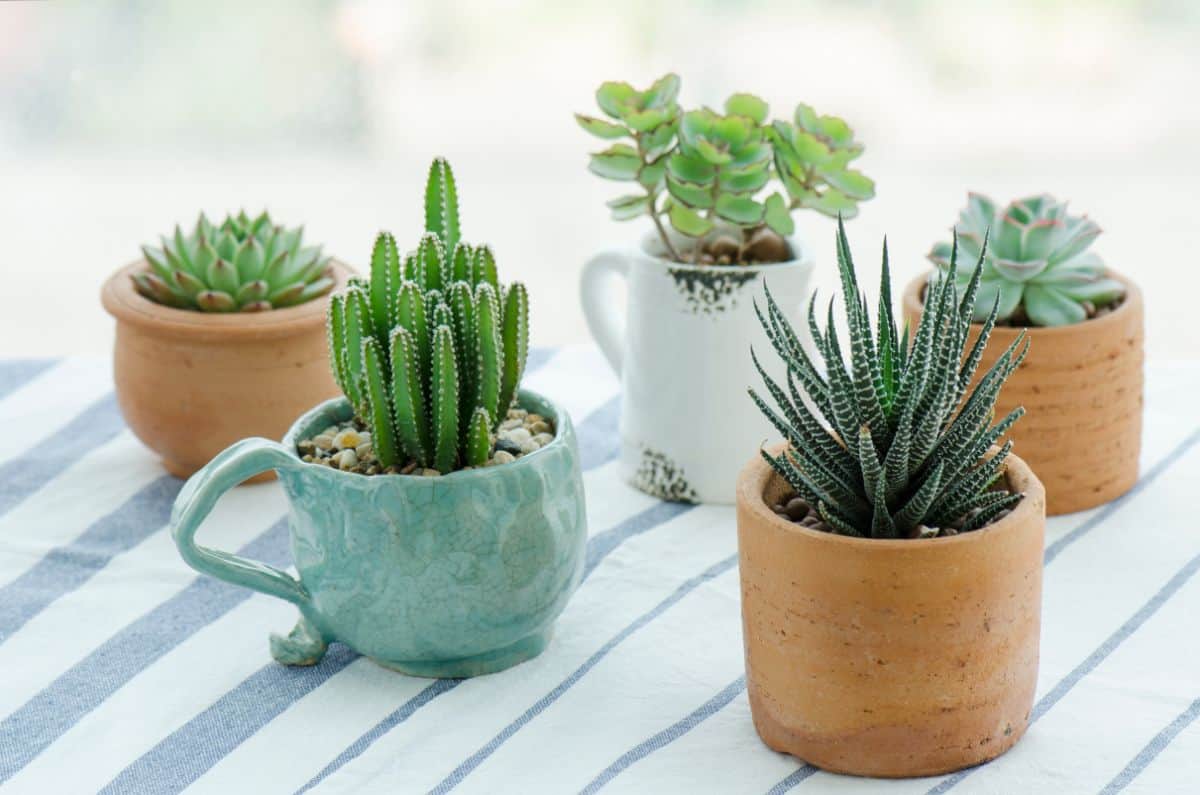 Fear not, as we've chosen five of the best succulent pots available on Amazon. Whether you're looking for a hanging planter or something small to give as a gift, we've got you covered!
Read Also: Best Grow Lights for Seedlings

Jump to:
Comparison Table
PRODUCT
FEATURES
LATEST PRICE
1. Homenote White Succulent Pots with Bamboo Trays


3 different sizes
Perfect for small spaces
Comes with a bamboo tray

Check Price
2. MyGift 8 Inch Modern White Ceramic Planter with Removable Saucer


Budget-friendly
Includes ceramic drainage dish
Ideal for succulent bonsai

Check Price
3. Lawei 8 Pack Ceramic Succulent Pots with Bamboo Trays


Unique ice crack pattern
Ideal for windowsills
Include drainage holes

Check Price
4. 11-inch-Long Rectangular Ceramic Planter


Minimalistic design
Comes with a bamboo saucer
Fits well on a narrow shelf

Check Price
5. Mkono Ceramic Hanging Planter


Decorative macramé rope hanger
Made of high-grade cotton rope
Interesting swirled pattern

Check Price
1. Homenote White Succulent Pots with Bamboo Trays
See Also: Best Liquid Fertilizer in 2020
This minimalistic set of three succulent pots will look great no matter where you place them. The modern design will add a touch of simplistic class to your indoor or outdoor succulent collection. With three different sizes, they can accommodate a variety of succulents or cacti.
The largest pot is about six inches in diameter and 2.9 inches deep. A container this size should be big enough to plant one or two larger succulents or several smaller succulents. This pot would be ideal for a smaller fairy garden.
The medium-size pot is five inches in diameter and 2.9 inches deep. Again, you'll be able to fit at least one or two medium-sized succulents or a few smaller ones. If you're looking for a container for a succulent centerpiece, this is the ideal size.
The smallest planter is 3.8 inches in diameter and 2.6 inches deep. You'll probably only be able to fit a few smaller succulents in this pot, but it's perfect for adding a touch of nature to your small spaces.
All three pots feature a drainage hole to help prevent root rot. To ensure that the excess water that drains out doesn't damage your shelf or tabletop, each pot comes with a bamboo tray.

2. MyGift 8 Inch Modern White Ceramic Planter with Removable Saucer
If you're looking for a modern pot to fit your small collection of succulents or even a single large succulent, this is the perfect planter for you. It's a budget-friendly container that keeps the attention on your plants, rather than what they're planted in.
MyGift's stylish planter features a small drainage hole in the bottom of the container. The bottom of the pot is also slightly slanted toward the center hole to make sure water drains, rather than sitting at the bottom of a flat pot.
Sale
Bestseller No. 1
Bestseller No. 2
The container also includes a matching ceramic drainage dish. The detachable dish will keep your countertops clean while making sure your plant's roots stay healthy.
Since the entire pot and matching dish is ceramic, it's easy to clean and sterilize between uses. You can transplant without stress knowing you won't be passing on pests or disease to the next group of succulents.
The pot itself measures 8 inches in diameter with a depth of about 2.5 inches. With the saucer in place, the height is closer to 3 inches.
If you've been considering taking up a new hobby, this would be an ideal planter for succulent bonsai. The simple appearance of the pot would keep all eyes on your beautiful creation.

3. Lawei 8 Pack Ceramic Succulent Pots with Bamboo Trays
This collection of colorful ceramic planters is sure to brighten up any indoor or outdoor succulent garden. There are eight differently colored pots in this collection so you can mix, match, and arrange them however you wish.
The ceramic glaze coating each container features a unique ice crack pattern. The pots come in a variety of colors, including shades of green, blue, red, and yellow. The bright and beautiful colors will look especially great with vibrantly colored succulents.
Each pot measures 2.5 inches in diameter and 2.5 inches in height. Each ceramic container also comes with a bamboo tray to prevent spillage.
As you may have already guessed, these pots also include drainage holes to make sure your succulents stay as healthy as possible.
The petite size of these planters makes them ideal for smaller, single succulents or cacti. They're ideal for small spaces such as windowsills and office desks.
This collection of colorful planters is also ideal for gift giving. Wouldn't your coworkers be thrilled to receive a cute little succulent in an adorable ceramic pot? Knowing how to propagate succulents means you'll have inexpensive gifts available whenever you need them.

4. 11-inch-Long Rectangular Ceramic Planter
This simple white ceramic pot is perfect for a collection of small succulents or cacti. The modern, minimalistic design will look great in any home or office.
The pot does only have one drainage hole, so it may work best for hardier succulents, rather than those that are particularly sensitive to moisture.
It does, however, come with a bamboo saucer to prevent excess moisture from damaging your countertops or shelves.
Read Also: Perlite vs Pumice (Which One Is Best?)
This rectangular planter measures 11 inches in length by 2.36 inches in width. It's also 1.77 inches tall. The bamboo tray measures 10.43 inches long by 2.83 inches wide by .47 inches tall.
The small size and unique shape of this planter make it ideal for windowsills or small spaces. It is a somewhat small planter, though, so it will work best for small or miniature succulents.
Since this planter would fit so well on a narrow shelf, it's also perfect for planting trailing succulents to add an interesting touch to your indoor succulent collection. The long, cascading stems of trailing succulents would look great draped over this simple but modern pot.

5. Mkono Ceramic Hanging Planter
Has your succulent obsession taken over all of your shelf or counter space? Is it finally time to stop buying new plants? Absolutely not! Instead of walking away from those beautiful succulents, make the most out of your vertical space with hanging planters.
This hanging planter is available as a single pot or in a pair. It measures 5 inches in diameter and about 3.24 inches deep. It's the perfect size to hang in any office, living room, or patio.
The decorative macramé rope hanger measures 18 inches in length. It's made of high-grade cotton rope that can withstand indoor or outdoor conditions.
Each pot contains a single drainage hole to make sure your succulent's roots are retaining any more moisture than necessary.
This gorgeous ceramic pot is unglazed, which means you get to see the unique patterns and textures of the clay. The pot was made using a combination of two clays, red and white, creating an interesting swirled pattern that will compliment any type of plant.
See Related Topic: Best Soil Moisture Meter

FAQs About Succulent Pots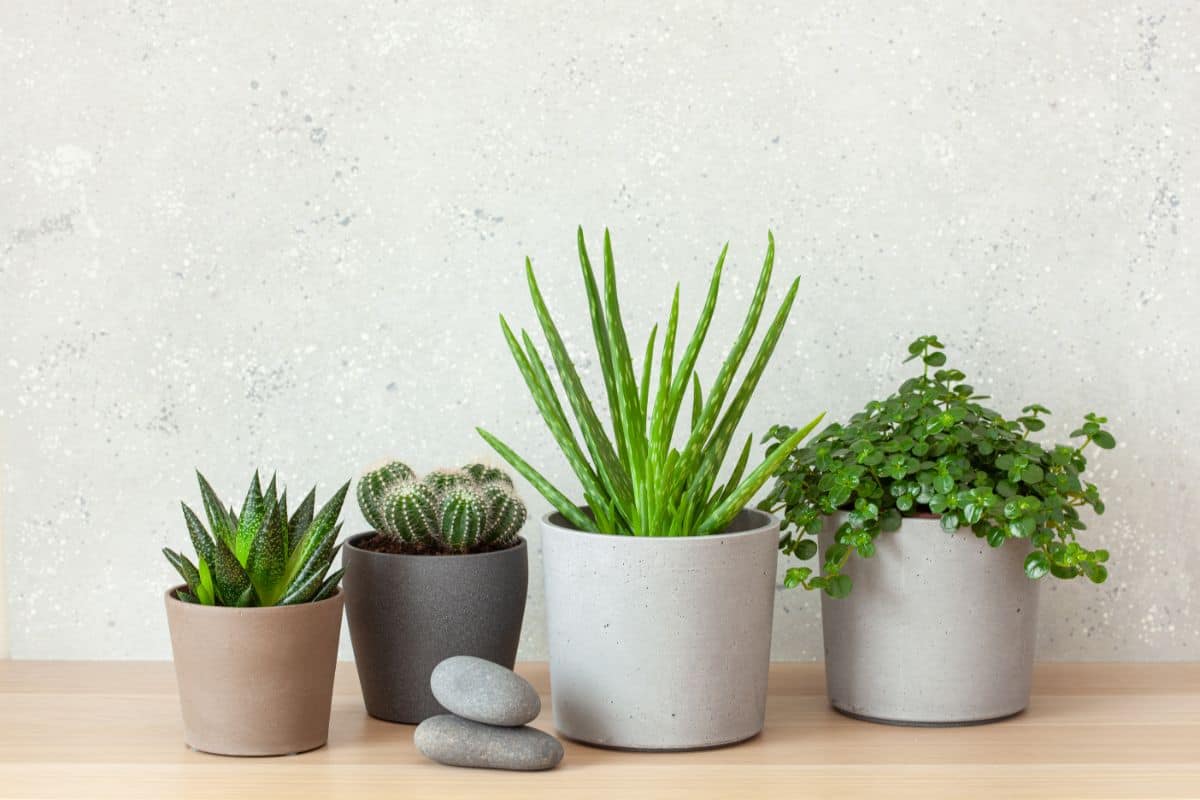 Choosing the best pot for your succulent among the options above might still be confusing because you still have unanswered questions. Below are answers to the most common questions about succulent pots to help you decide which one works best for the specific succulent variety you plan to grow.
How deep should succulent pots be?
The pot's depth will mostly depend on the specific type of succulents you have. Like choosing the correct pot size, you would need one with a depth that will encourage root and plant growth.
A shallow pot with a depth ranging from 0.5 inches to one inch is ideal because most succulents have shallow roots. Opting for deeper pots is recommended if you'll be growing tall varieties, such as a pencil cactus.
Do succulent pots need drainage holes?
You'll find that all the best pots for succulents discussed above have drainage holes because they are an essential feature to prevent overwatering. Nonetheless, it doesn't mean you can't plant and grow them in pots without drainage holes. Just make sure you closely monitor the amount of water you give them and your watering frequency.
Are glazed ceramic pots good for succulents?
The ceramic pot options above come in two varieties: glazed and unglazed. They're both good for growing succulents, and your final choice will depend on how good you are in terms of watering your plants.
Overwaterers or those who can't control the amount of water they use should go for unglazed pots. These pots allow better airflow than glazed varieties because the glaze coating covers the pot's pores. That said, glazed ceramic pots are more stable and less fragile, so they are perfect for larger succulent varieties.
You Might Also Like: