Starting succulents from seeds is an exciting endeavor for any gardener, but it can be a bit more difficult if you plan on starting them in winter, or simply don't have the window space to provide them with an adequate amount of light. Don't let the seasons get you down, though! Grow lights are the perfect solution for growing seedlings year-round.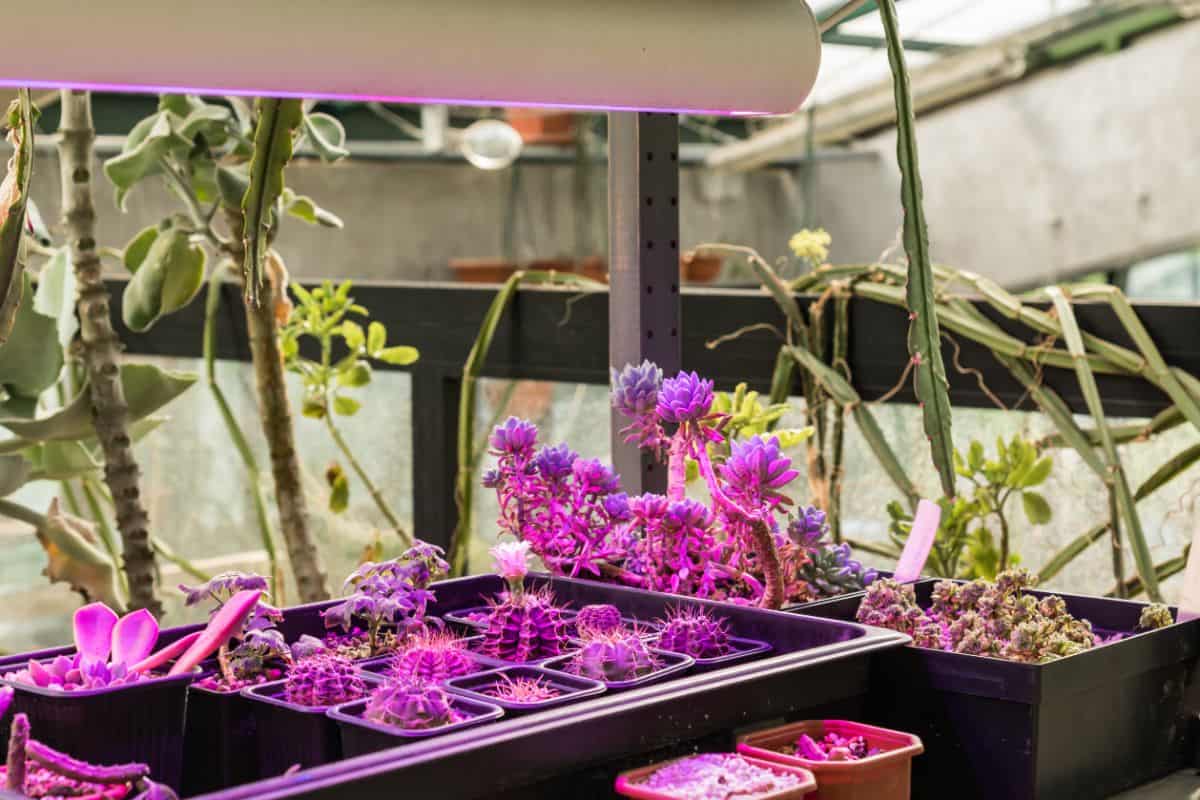 If you're new to the idea of grow lights, you can learn more about them here. Choosing the right light for your indoor succulent is crucial, so here are a few of our favorites.
See Also: Best Liquid Fertilizer

Jump to:
Comparison Table
PRODUCT
FEATURES
LATEST PRICE
1. Root Farm All-Purpose LED Grow Light


45-watt LED bulb
Adjustable legs
Comes with hanging kit

Check Price
2. Aceple LED Desk Grow Light


15.8-inch flexible gooseneck arm
Lifetime of 25,000 hours
59-inch cord

Check Price
3. Ankace Tri-Head Full Spectrum Grow Lam


Auto on/off setting and timer
39 red and 21 blue lights
60-watt LED bulbs

Check Price
4. Lightimetunnel LED Strip Grow Light


20-watt LED strip lights
28 red and 8 blue lights
Controlled by a timer

Check Price
5. MIYA 50W LED Full Spectrum Grow Light Bulb


78 LED chips
Aluminum heat sink
50,000 hour lifespan

Check Price
1. Root Farm All-Purpose LED Grow Light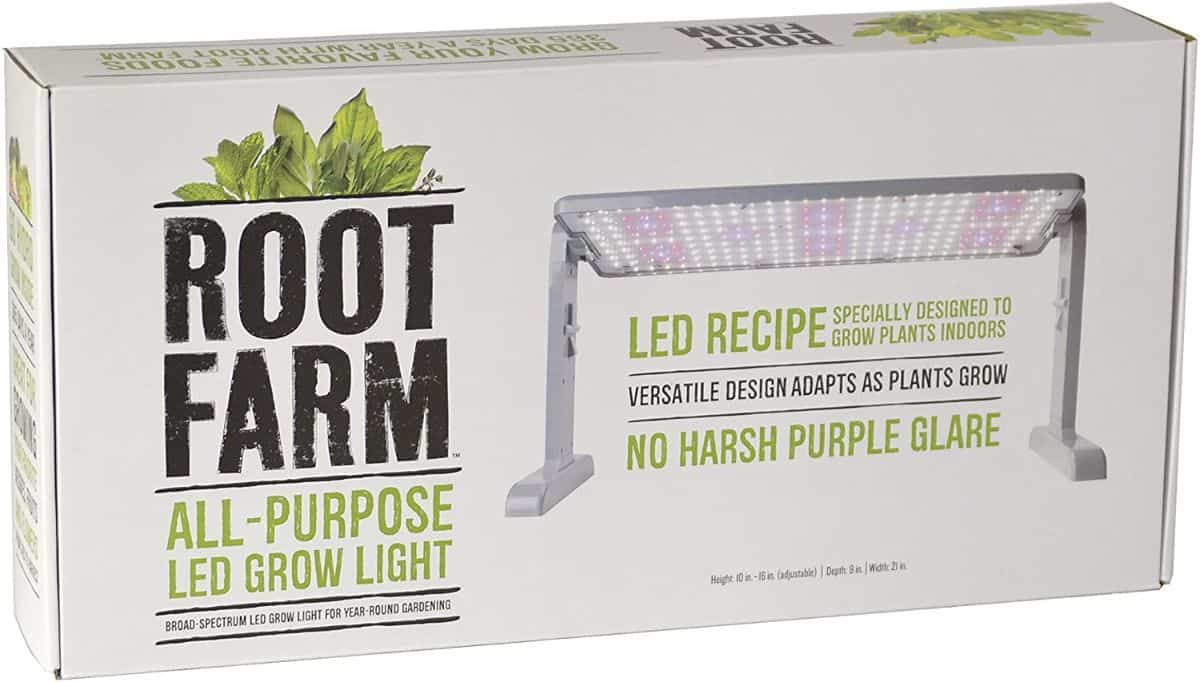 The Root Farm All-Purpose LED Grow Light is a full spectrum grow light that is perfect for growing succulent seedlings. With the perfect balance of red, blue, and white lights, this grows light emits just the right amount of each for seedlings to thrive.
See Also: Best Pots For Succulents
The 45-watt LED bulbs provide more powerful light with less energy usage than more traditional bulb types. LED bulbs also typically last longer than other types of grow lights such as CFLs.
The light fixture itself measures approximately 12 inches by 24 inches, making it the ideal size for covering seed trays.
Sale
Bestseller No. 1
Bestseller No. 2
The adjustable legs can be set up to 16 inches high to accommodate your growing succulents and prevent etiolation. The locking clamp ensures that the fixture stays where you set it until it's time to adjust it again. The light fixture can also be tilted when attached to the legs.
The Root Farm Grow Light also comes with a hanging kit so that the light can be suspended over your plants. This is ideal if you don't have room on your shelf for the adjustable legs or your plants have outgrown the 16-inch maximum height of the legs.

2. Aceple LED Desk Grow Light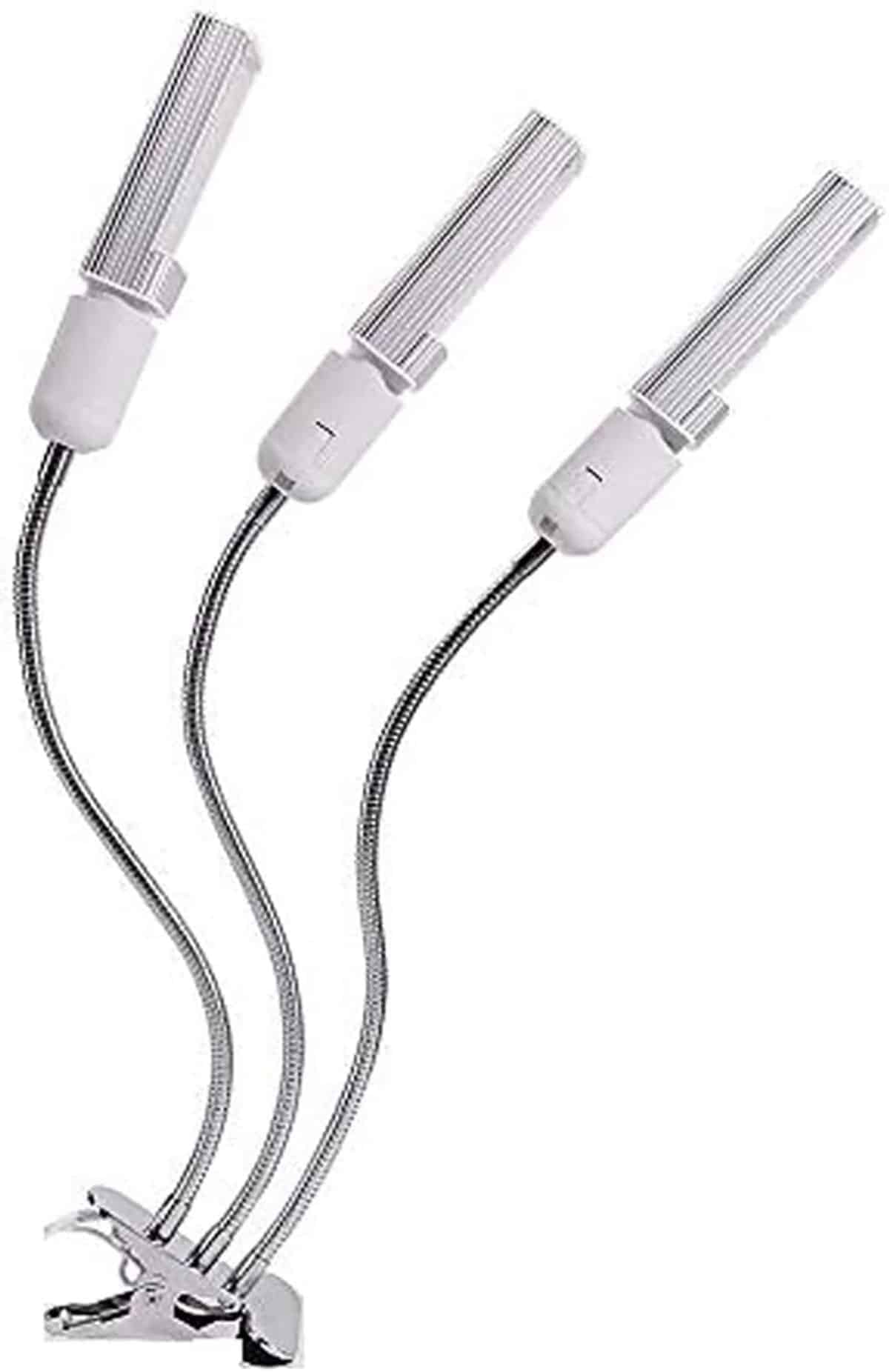 If you're short on space, or only have a few seedlings in need of a grow light, the Aceple LED Desk Grow Light might be exactly what you're looking for. This compact grows light has a 15.8-inch flexible gooseneck arm that can be bent in any direction.
The clamp can accommodate any desk, table, or shelf up to two inches thick. If you don't quite have the right spot to clip onto, you can also screw the clamp into the wall or attach it with the included adhesive pad.
With a 59-inch cord, you can clip the lamp anywhere you need it and still be able to reach the nearest outlet. No more extension cords cluttering your succulent shelves!
The LED bulbs use only 6 watts of power and have an estimated lifetime of 25,000 hours. You'll be able to grow a lot of seedlings with 25,000 hours of use!
With a 30-day money-back guarantee and a one-year replacement warranty, you can't go wrong with the Aceple Grow Light.
Read Also: Perlite vs Pumice (Which One Is Best?)

3. Ankace Tri-Head Full Spectrum Grow Lamp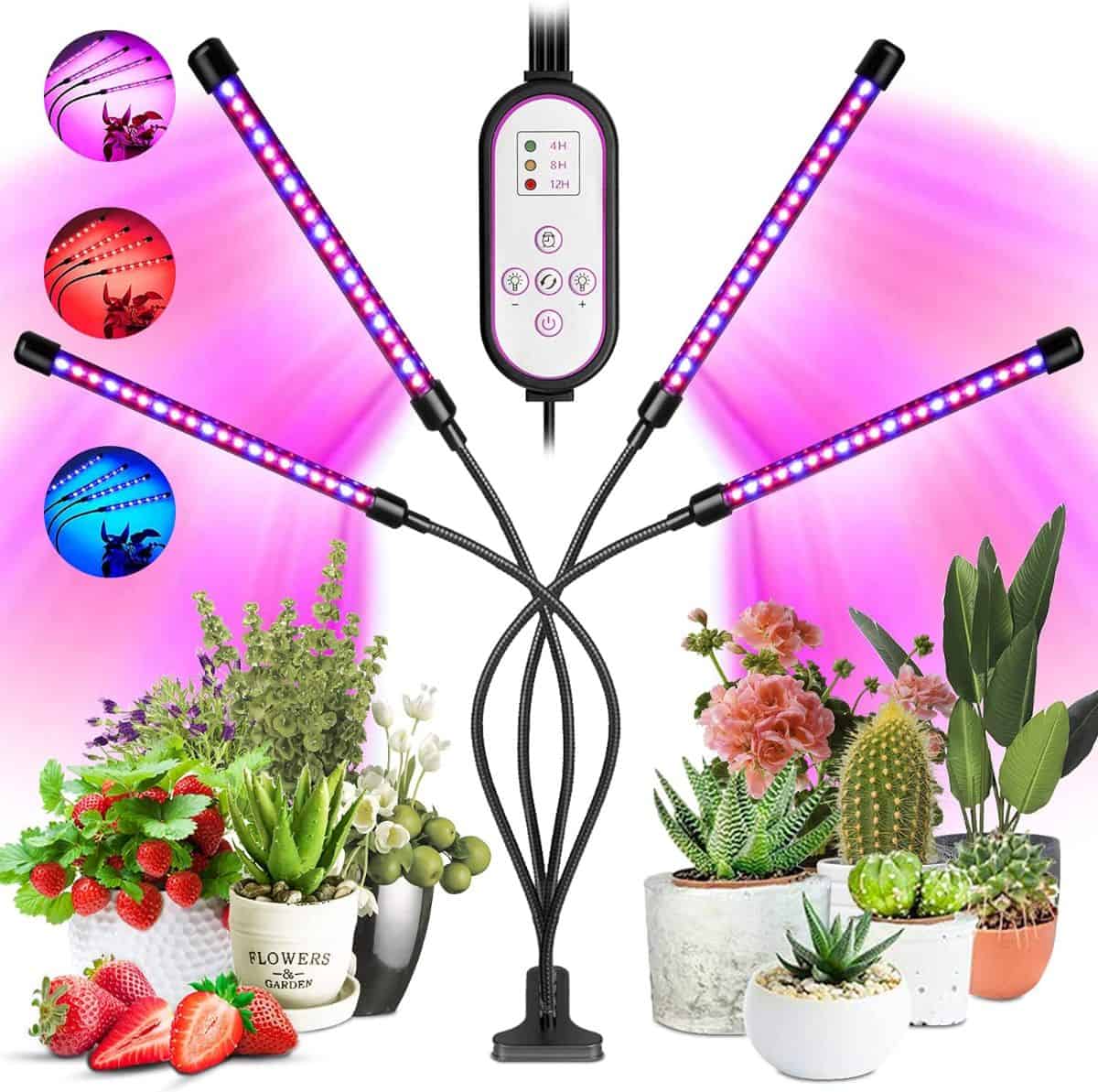 If you are unwilling or unable to suspend a light fixture above your seed trays, this three-headed light fixture is another ideal solution. Simply set the Ankace Grow Lamp on a table, desk, or shelf near your seedlings, adjust the flexible heads as needed, and watch your succulents grow.
The three heads sit on 14.5-inch long, flexible goosenecks that can be adjusted individually. Each head can flex a full 360 degrees to accommodate any plant arrangement.
With a busy schedule, it can be hard to remember to turn on your grow lights, but the Ankace Grow Lamp has an auto on/off setting and timer. You can set the timer to work in periods of three, six, or twelve hours.
This lamp features 39 red lights and 21 blue lights to give your succulents the light spectrums they need to thrive. Adjustable settings allow you to provide your plants with only red or blue light, or you can set it to mixed for a combination of both red and blue.
The powerful 60-watt LED bulbs are also dimmable, so you can adjust them according to your plants' individual needs. The lights can be adjusted to five different levels of brightness.
The Ankace Grow Lamp also features a USB connector as well as an AC power plug adapter so you can power your grow light however you wish.
See Related Topic: Best Soil Moisture Meter

4. Lightimetunnel LED Strip Grow Light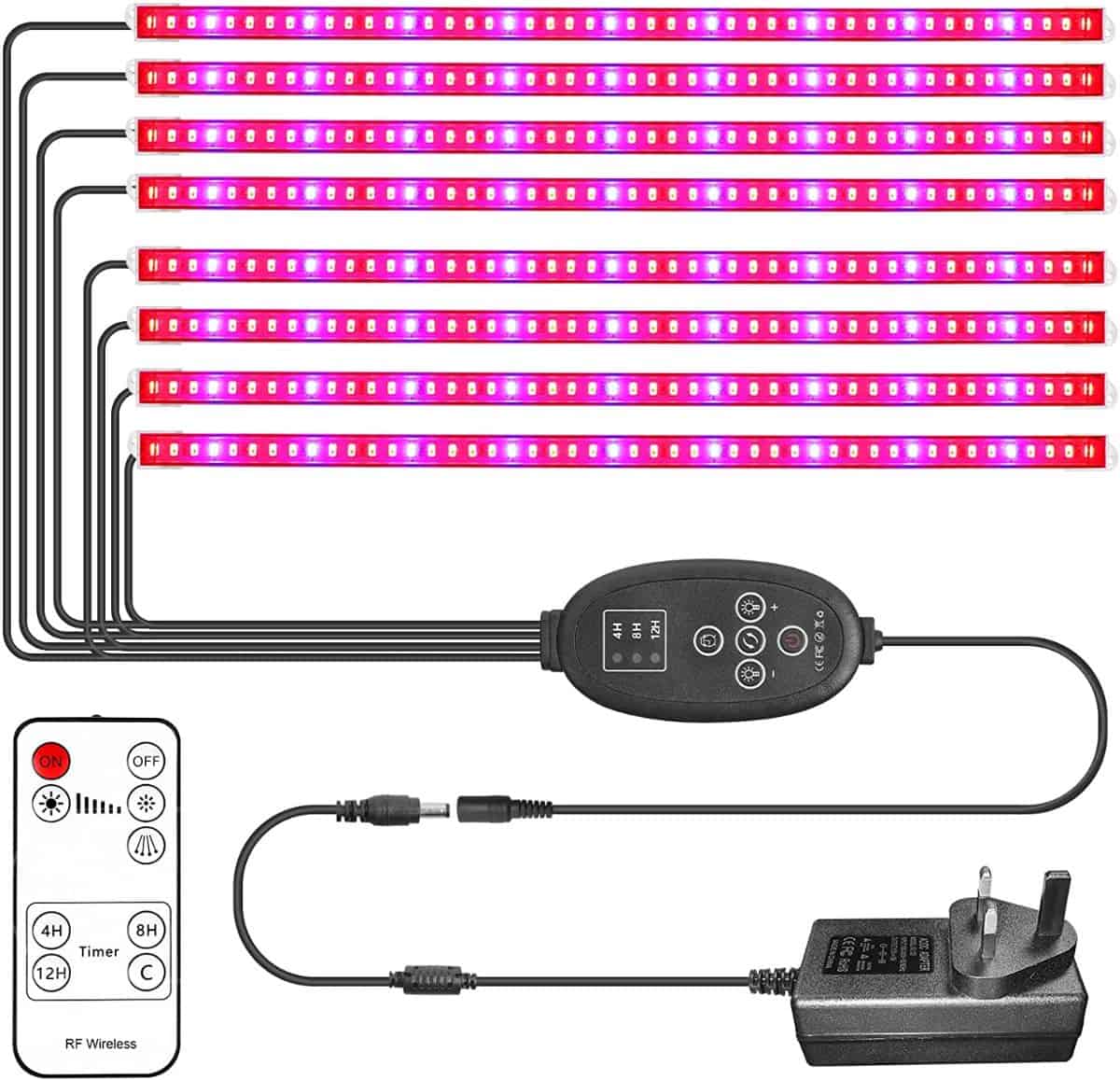 These 20-watt LED strip lights are perfect for adding a little extra light without taking up too much space. They can attach to any surface using the adhesive strips or zip ties included in your purchase.
Each strip of lights has 36 total lamp chips, comprised of 28 red lights and 8 blue lights. Specifically, the red lights emit a wavelength of 660 nanometers (nm) and the blue lights emit a wavelength of 470nm, which is ideal for promoting the growth of delicate seedlings.
This high-quality grow light can be controlled by a timer, so you won't even have to think about giving your succulents and cacti those extra few hours of light each day. It can be set for three-, six-, and twelve-hour periods.
The dimmable grow lights can be set at four different light levels to suit your succulents' individual needs.
These strip lights can be put together in a daisy chain configuration, allowing you to connect more lights together with fewer cords to trip over.
Lightimetunnel offers a 30-day return policy and 12-month warranty so you can be sure that they stand by their product.
Read Also: How Often Should I Give My Plant Nutrients?

5. MIYA 50W LED Full Spectrum Grow Light Bulb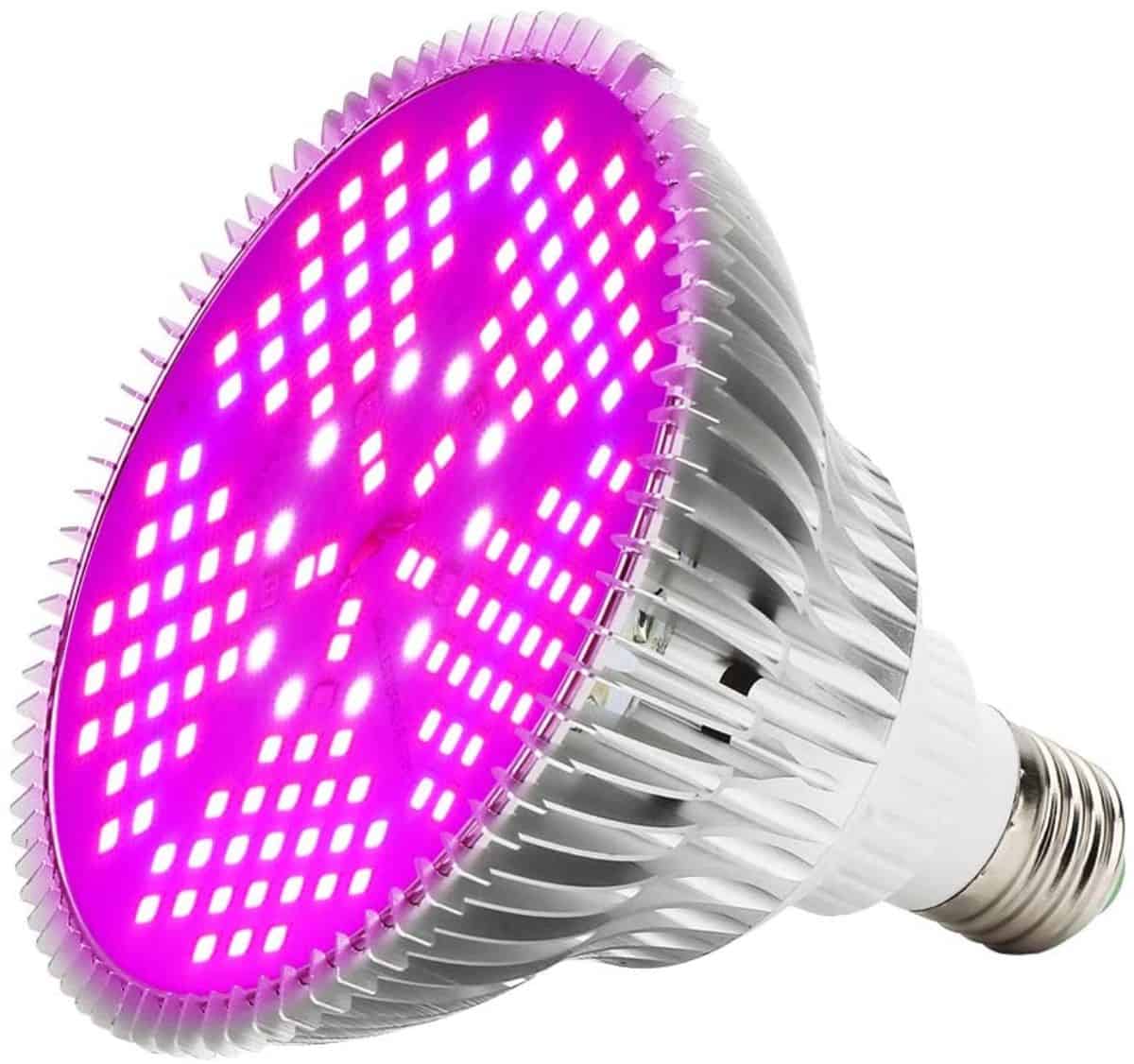 If you already have the light fixture and just need the bulb itself, the MIYA grow light bulb is ideal. The bulb is E27/E26, which means it can fit in any lamp fixture that would use a regular light bulb. However, it is a bit larger than a normal bulb, so make sure your lamp can accommodate it.
The full spectrum LED bulb has 78 LED chips, consisting of 42 red chips, 18 blue chips, 6 white chips, 6 IR chips, and 6 UV chips. It is a bright bulb, so be prepared for a lot of light!
The MIYA bulb features an aluminum heat sink with improved heat dissipation to keep the bulb cooler longer, which will allow you to provide your plants with much-needed light without stressing over a hot bulb.
This grows light bulb can cover up to 2.8 square feet, which is plenty of space for your seed trays. The manufacturer recommends placing the bulb between 12 and 24 inches above your plants.
With a lifespan of up to 50,000 hours, the MIYA Grow Light is sure to last you for many growing seasons.

You Might Also Like: