Succulent Soil – Everything you need to know
Sublime Succulents may collect a share of sales or other compensation from the links on this page.
The soil in which you put your succulent is probably the most important decision you'll make regarding that fat plant. Without the right type of potting mix, your succulents are at risk of developing deadly root rot, so choose your soil wisely!
DEALING WITH
ANNOYING SUCCULENT PESTS?
Learn how to prevent and treat infestations now!
Wait, I need special soil for my succulents?
Indeed you do! Most succulents are adapted to very dry environments that receive little water. The soils that they naturally grow in are also unaccustomed to holding water – the water drains through them very quickly.
It has to do in large part with soil composition. The soil that succulents prefer has little clay (which holds water) and a lot of large particles like sand. Clay tends to retain water, so soils that are high in clay will not drain quickly enough for succulents and cacti.
Sand, on the other hand, retains very little water and allows for efficient drainage. Of course, succulents need nutrients too so there has to be an organic component to the soil. If your soil of choice is low in organic matter, you can always supplement your succulents' nutrients with fertilizer.
Additionally, it should not be a dense soil. Aeration is important for the roots of all plants, and succulents are no exception! Succulent potting mixes with high clay content are not ideal in this respect either. Clay is incredibly dense and tends to pack tight enough to restrict airflow. Instead, look for crumbly dirt with additives such as gravel, perlite, or bark to help prevent the soil from being tightly packed and allow airflow. Soil containing particles of ¼" or larger will allow for both drainage and airflow, so if your new soil looks a bit chunkier than the potting mix you use for your flower garden, you're on the right track.
OK, I dug up some dirt from my backyard…
Nuh-uh. Put that back. Your crabgrass will be upset. Soil composition varies greatly among geographic locations. It turns out dirt isn't always just dirt. If you live in an area that's appropriate for succulent growth, such as the southwestern United States, you may be able to use it for growing succulents and cacti. However, in most cases, the dirt in your backyard will not be appropriate for use with drought-loving plants.
That diagram is used by soil scientists to define different kinds of dirt, but it's useful to us too!
Dirt is composed of three things: clay, silt, and sand. The percentages of each determine what kind of dirt it is. Most common plants prefer to hang out in the middle of that triangle near clay loam or medium loam. Succulents, however, are all about that bottom left side. Sandy loam and loamy sand are a good starting point for your average succulent.
For the record, loamy sand typically contains 70 to 90 percent coarse sand, up to 15 percent clay, and up to 30 percent silt. Sandy loam, on the other hand, contains less than 7 percent clay, less than 50 percent silt, and up to 52 percent sand. Furthermore, soils can be broken down in categories based on whether the sand is coarse or fine. For the succulent potting mix, coarser sand is typically better.
So where do I get this "loamy sand"?
If you've been getting your succulents from the same place as the rest of us (let's be honest, it's probably Lowe's), you have no doubt seen large bags of soil for sale. If you looked closely, you probably even saw bags labeled specifically for cacti!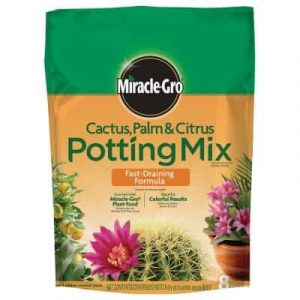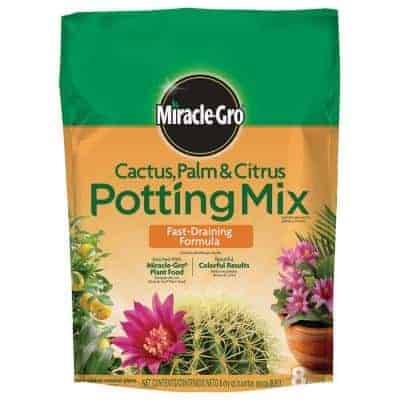 Yes, this is an appropriate medium for you to plant succulents in. Remember: there is no magic soil composition that will work for every succulent. Some species require specific soil in order to thrive. Lithops, for example, needs soil that drains especially fast and contains relatively little organic matter. It's important to research the specific species of plants you're bringing into your home so that you can be sure to provide the right care.
A commercial cactus soil is a great start though. They are mixed specifically to include large particles like sands and perlite while minimizing water retaining components like clay. You will often find them advertising their potential to drain water rapidly.
For full disclosure, this Miracle-Gro does contain some peat moss. Peat moss is typically used to retain moisture in commercial potting mixes, but don't let this scare you away. Is it necessary? No. Is it harmful? There's only a tiny bit, so no. This cactus mix also makes a great starting point for coming up with your own blend.
Why do we need quick-draining soil anyway?
Succulents have a hard time dealing with wet roots. They do, of course, take up water from their roots but they absorb what they need rather quickly. You never know how long a rainstorm will last in the desert!
Plant roots are also designed to absorb oxygen (yes, plants need oxygen too!). The problem is: oxygen moves extremely slowly through the water. When the roots are wet (surrounded by water) they can't get any oxygen! As previously mentioned, dense or tightly packed soil also limits the potential for airflow around your succulents' roots
Root rot is the main problem you face without adequately draining soil. If your succulents are left in standing water, or overly wet soil, for too long, the roots basically drown and begin to rot. This rot can spread quickly and since it affects the parts of your plant that are below the soil line, you may not even realize it until it's too late. Unfortunately, most cases of root rot are not noticed until the plant is beyond the point of being able to be saved.
Another issue fat plants have is that they are pretty greedy. If there is water, they're gonna try to drink it. If they drink too much the cells can swell and burst.
Quick-draining soil remedies all of these problems! It slows down water just enough so that the roots have time to take a sip, but they don't drown. That's also why it is imperative that you plant your succulents in pots that have drainage holes. It would be pointless to have all this luxurious soil if the water is just gonna stay in the bottom of the pot anyway!
Most people further recommend that you use unglazed terracotta pots, the reason being that they are less inclined to retain water than some other planters.
However, there are many factors to consider when deciding what type of container to use. You can read more about that here. Regardless of what the container is made of, just make sure it has a drainage hole!
Can I just… make this special dirt?
I'm glad you asked! You absolutely can!
Everybody who makes succulent potting soil does it differently. There are a few things they all have in common though.
organic soil – I don't mean free-range soil. I mean soil that is primarily organic matter – things like decomposed plants and bark. This is the basis of your dirt and will provide the nutrients for your plant.
perlite – Those little white balls you see in potting soils. It turns out they are a kind of volcanic glass! They're very porous so they don't retain water for long. Their shape also promotes aeration in the soil, which is their primary purpose.
small gravel – anything from sand to pea gravel to marbles. The idea is to simply break up the dirt and keep it from compacting. Do NOT layer the bottom of your pot with them! That is bad! Read here to see why.
Again, you may need to adjust the ratios slightly according to the needs of different species of succulent. Some species may need more of the larger particles and less organic matter or vice versa. The great thing about making your own succulent potting mix is that you can adjust it as needed for the different plants in your collection.
There you have it! That's pretty simple, right? In fact, if you bought a bag of cactus soil, all you really have to add is gravel! If you're mixing it yourself, here's the recipe I use:
2 parts of soil
1 part perlite
1 part gravel
I know we made a big deal about the dirt we put these guys in, but it doesn't have to be difficult. A little research into the specific needs of your succulents and cacti and a little DIY will help your succulent garden to flourish. Do you have any tips about soils for succulents? Tell us below!
You can also visit Succulent Alley to learn more about the best soil for succulents in pots