One of the charms that draw people to succulents is the fact that they are low-maintenance. We even joke about it in our gardening circle that the only way to kill a succulent is to actually care for it. That said, it doesn't mean they wouldn't thrive in their ideal environment.
Succulent care includes not only climate and temperature patterns but also the soil you use for planting. While you may be successful in using regular potting soil for potted plants, it isn't the case for many.
Today, we'll talk about the best soil for succulents indoors. We'll share with you the components that commonly make up succulent soil mixes, the factors you need to consider when choosing a premixed formula for your indoor plants, and more.

Jump to:
What's In the Best Soil for Succulents Indoors?
Let's begin with the components that you'll find in most indoor succulent soils. There are two ways to get a great mix. The first is to prepare one yourself by mixing the ingredients we'll be sharing below with regular potting soil. Alternatively, you can buy a sack of premade succulent soil online or from your local nursery.
Gardening Soil
More often than not, the first component you'll find in succulent soils is gardening soil. When choosing one for a DIY mix, aim for well-draining soil. Organic potting soil also works, as it naturally comes with added nutrients already.
Don't forget to consider the particle size of your potting soils as well. We prefer those with larger particles because they ensure proper drainage and aeration. In addition, they also allow a lot of space for delicate succulent roots to navigate in.
Perlite
If there's one component commonly added to succulent soil mixes, that would be perlite. These white granules are actually a form of volcanic glass known for its moisture retention and being lightweight. Perlite is added to succulent soil mixes not just for its ability to hold water. It can also make your soil less compact, airy, and well-draining.
The only downside to using perlite is that it has the tendency to break down into powder in time. Fortunately, most succulent plants need repotting every two years or so. Thus, you can always replace your soil's perlite as needed.
Bestseller No. 1
Sale
Bestseller No. 2
Pumice
Another common component is pumice. Like perlite, it is added to improve moisture retention, aeration, and drainage, especially since it has larger granules. The advantage of using pumice instead of perlite is that it's more durable and will less likely break down.
On the other hand, keep in mind that its porosity can trap water longer than perlite. Hence, you might want to consider adjusting your watering frequency to prevent waterlog and root rot.
Sand
There are a lot of growers who use sandy soil for their succulents, thanks to its rapid drainage. If you're going to add sand to your succulent soil, make sure you use coarse sand with larger particles. Fine-grain sand (like beach sand) can be quite dense at times.
Organic Elements
Aside from the elements we mentioned, organic elements commonly added to succulent soil include:
Coconut Coir
Peat Moss
Pine Bark Fines
Each ingredient produces slightly different results to various succulent varieties. Feel free to experiment until you find the formula that best fits your plants, care habits, gardening needs, and personal preferences.
How To Mix Your Own Succulent Soil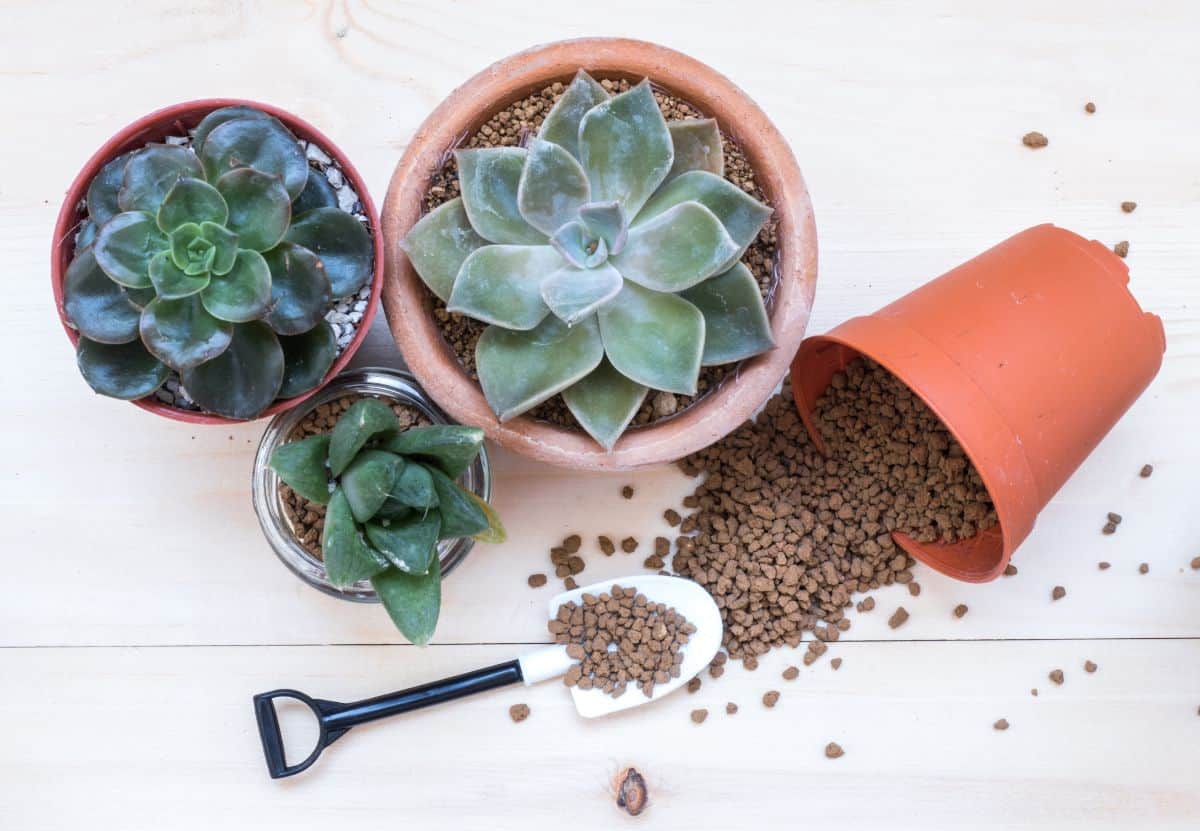 You can start your experiments by getting your hands dirty (literally) preparing your own indoor succulent soil. All you need is a big enough container, a trowel for mixing, a scoop or cup for measuring, and your preferred components.
Here's our basic formula for preparing a basic succulent soil mix:
Three parts potting soil
Two parts coarse particles (sand, granite, turface, or others)
One part perlite or pumice
Don't forget to take note of the formula you used for your succulents in soil. This way, you'll be able to determine the perfect soil blend that worked for you.
Choosing a Premixed Formula
If you don't want to leave your succulent soil mix to chance, you can buy a premixed formula instead. The main advantage of doing so is that you'll be able to make sure that your mix meets the basic soil requirements needed for succulent plants.
That said, we highly recommend getting one that's labeled as "succulent soil mix" or "succulent potting soil." This way, you can be sure that it is specifically formulated for succulent plants. Succulent soils are also sometimes labeled whether they're great for indoor use or outdoor conditions. That's something that you should consider as well.
We understand why making that choice can be confusing at times. After all, there are a lot of brands and variants in the market. Here are the different factors you should account for to make a more informed purchase:
Drainage
As mentioned, planting your succulents in well-drained soil is key in preventing root rot and disease. Therefore, the first thing you should consider is drainage. You don't want to invest in a costly mix only to find that it's soggy soil.
One sign that can help you determine whether a mix will provide adequate drainage is the particle size. Succulents love growing in soil mixed with larger particles.
Drainage Factors
Here are more drainage factors that can help you decide if the succulent mix you're looking to buy is ideal:
Soil. What is the volume of soil or ratio of soil compared to the other components in the mix?
Watering Frequency. While we always talk about optimal drainage, don't forget to account for your watering frequency as well. Those who water less frequently should also account for the soil's water retention capabilities.
Container Choice. What type of planter do you plan on using? Is it a pot with drainage holes or a pot with a single drainage hole in the middle? Is it a non-draining pot?
Think about the material that your pot is made of as well. For instance, metal and glass containers heat up easily when exposed to direct sunlight, so they will dry up easily.
Environmental Conditions. Do you live in an area known for its dry climates, hot climates, humid climates, or cold climates? Is your plant going to be exposed to direct sunlight, or will it just be able to enjoy a few hours of sun each day?
Airflow. Finally, you also need to account for the airflow. This refers not only to the soil but also to the porosity of your chosen pot.
Soil and Mineral Ratio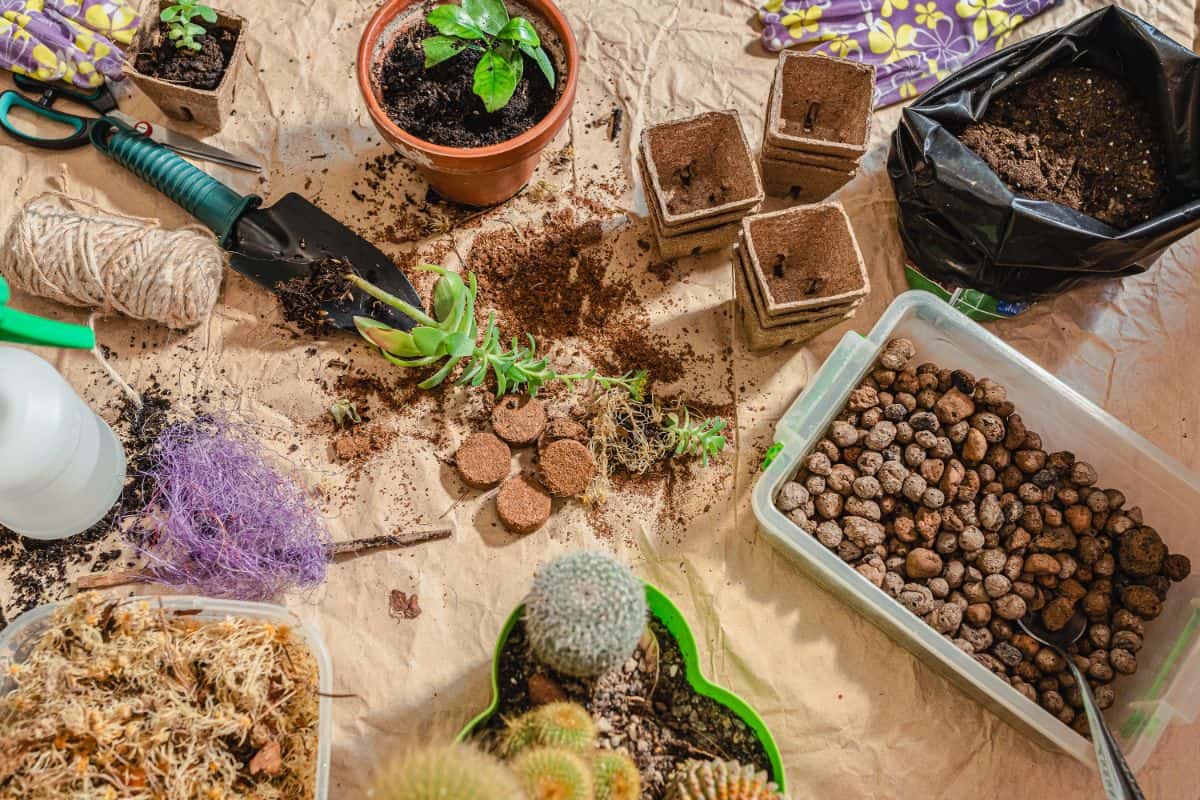 The next factor you should consider when choosing the right soil mix is its soil vs mineral ratio. Keep in mind that organic material will ensure moisture and nutrient retention and delivery. Meanwhile, the soil's mineral content will promote drainage and works to balance water retention.
You will want a good ratio between both your soil's organic and mineral components. Aside from that, don't forget to consider if your succulent varieties need certain mineral ingredients. This should be indicated in the packaging of your mix.
Texture and Porosity
One of the disadvantages of premixed formulas is the limited ability to feel the soil mix in your hands. We believe that this is still the best way to determine whether a succulent soil mix will hold excess water or if they contain coarse grit minerals that will prevent them from doing so.
You'll probably need to eye this instead. That, or determine the mix's texture and porosity by checking its components or feeling it through the packaging. Whichever works for you!
Cost
Finally, you might want to factor in the cost of your premix soil formula. We don't really choose the most affordable soil for our potted plants. However, this changes when we need to buy massive quantities for outdoor plants. Besides, an expensive mix doesn't always translate to a good one.
In the end, it will still depend on how the soil is formulated. There are many things that go into the pricing. For instance, the bigger brands would need to adjust their cost to accommodate the distribution and marketing that goes into their products.
One good example of this is the fact that the soil our local nursery prepares costs almost nothing. Even so, we've found it surprisingly better compared to other branded mixes out there. The best part is that we can feel the soil and request special components to be mixed at times. Best of all, we're also helping local businesses grow, which is always great.
The Best Soil for Your Beloved Indoor Succulents
Whether you're buying premade succulent soil or mixing your own, the goal is to give your indoor succulents enough nutrients and good drainage at the same time. You can do this by experimenting with the amount of mineral ingredients you mix in with your preferred organic base.
As you can see, a lot of factors go into choosing the best soil for succulents indoors. We hope that our quick guide was clear and not too overwhelming for you. In the end, we just want to help other succulent lovers out there in their effort to grow happy, healthy succulent plants. Happy gardening!