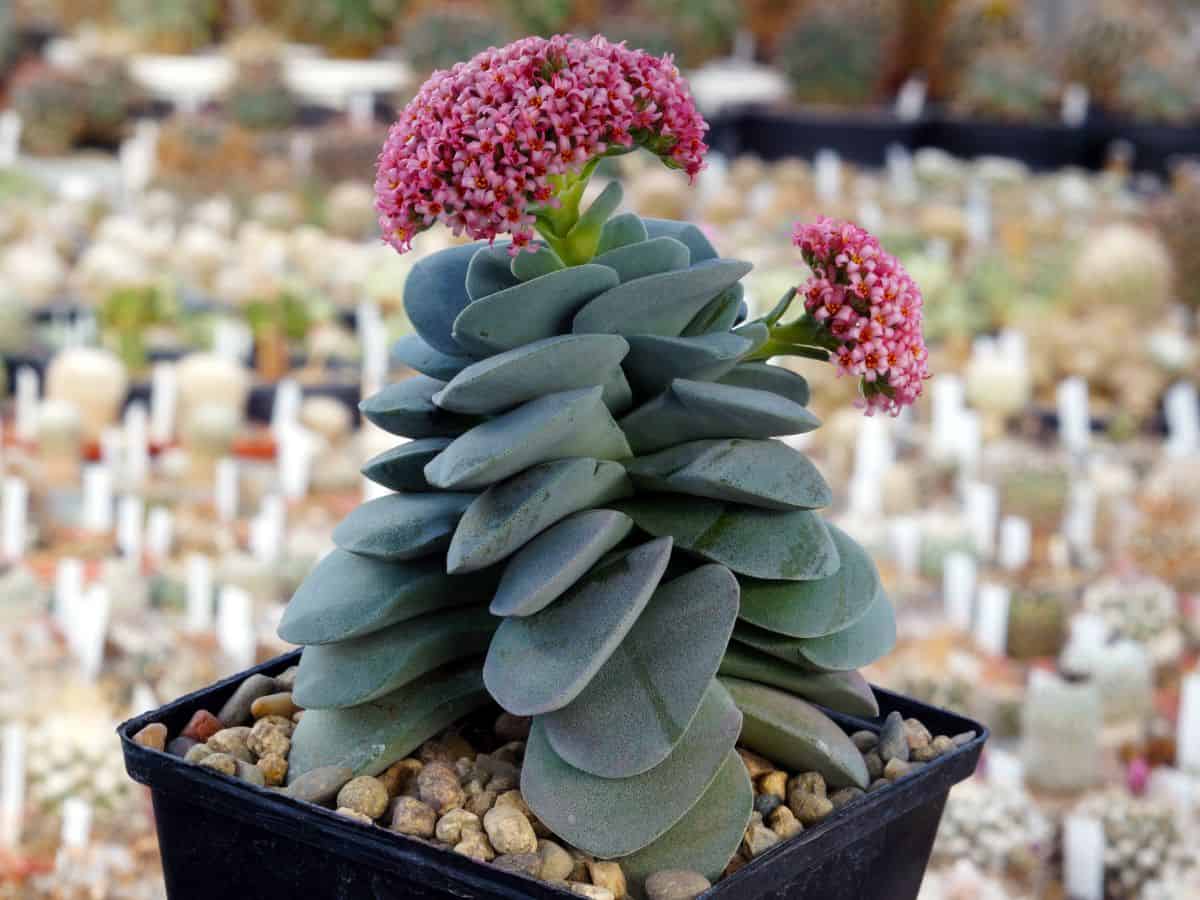 Known for its silvery-green leaves and flashy pink flowers, Crassula 'Morgan's Beauty' is a stunning succulent hybrid. It was originally created by crossing Crassula perfoliate var. minor with Crassula mesembrianthemopsis. It's also sometimes called Crassula 'Morgan's Pink'.
Morgan's Beauty is a slow-growing succulent, so it's ideal for gardeners with limited space. It's also a great choice for projects such as fairy gardens or living walls as it won't outgrow its environment very quickly.
Jump to:
Crassula 'Morgan's Beauty' Appearance
| | |
| --- | --- |
| Name: | Crassula Morgan's Beauty |
| Soil: | Well-drainingsoil |
| Blooming: | Spring |
| Light: | Bright light |
| Water: | Dry out between waterings |
| Propagation: | Easily propagated from a single leaf |
Morgan's Beauty is a compact succulent that generally stays under about four inches in height and about the same in diameter. It has fleshy silvery-green leaves that are densely packed along the stems.

When in bloom, this Crassula produces clusters of fragrant bright pink flowers. Like the leaves, the flowers are crowded to the point that the cluster appears almost stemless. This species typically blooms in either winter or spring.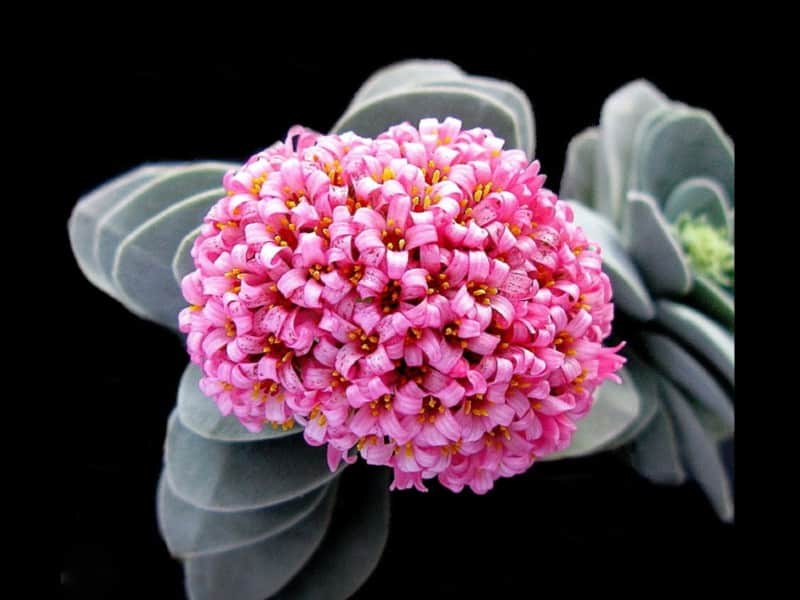 Buy it from:
Crassula 'Morgan's Beauty' Care
Like most Crassula, Morgan's Beauty is relatively easy to care for. It's a great option for both beginner and experienced gardeners alike. If you manage to provide your succulent with ideal care, you'll be blessed with plenty of pink blooms.
Light
Morgan's Beauty is a succulent that's willing to adapt to a range of light levels. Though it will not thrive in a low-light environment, it will grow fine. However, caution should be taken as with prolonged exposure to low light levels, this Crassula could become etiolated or stretched out.
Ideally, Crassula 'Morgan's Beauty' should be grown in areas with bright light. This succulent does best in a south, east, or west-facing window, but will survive when placed near a north-facing window.
If your indoor space is unable to provide your Crassula with adequate light, you might consider investing in a full spectrum grow light. A grow light is a relatively inexpensive method of increasing light in any room.
Grow lights are available in a wide range of shapes and sizes to suit any indoor succulent collection. Whether you need light for a single plant or an entire shelf, there's a grow light to suit your needs.
Though etiolation won't harm your plant, it is unsightly. Your Crassula will grow longer, stretching toward a light source and the leaves along its stem will be spaced out more. Most gardeners find etiolation to be quite unattractive, so it's best to prevent it if possible.
If you live in the right climate, you may also be able to grow your Crassula outdoors. When planted outside, this succulent grows best with filtered or partial sun. Though it can handle some direct sunlight, it's best to keep this succulent shaded during the hottest hours of the afternoon.
Bestseller No. 1
Crassula Morgan's Beauty Succulent (4 inch)
We guarantee plant's safe arrival otherwise we will refund or send you a replacement plant
Crassula 'Morgan's Beauty' is a compact succulent plant, perfect for small plant containers. Grows up to 4 inches (10...
Crassula are easy to grow, but they are susceptible to mealy bugs and fungal diseases. As with all succulents, overwatering...
Bestseller No. 2
If you do take your Morgan's Beauty outdoors, be sure to increase its light levels slowly. Too much sunlight too soon will result in a sunburned succulent.
Like etiolation, sunburn isn't harmful, but it is unsightly and cannot be repaired. In order to prevent sunburn, you'll need to increase your succulent's light levels slowly over a period of several weeks.
Sunburn can easily be recognized by the patches of discoloration across the exposed surface of the plant. The patches may be either brown or black, depending on the level of burn. If the plant is getting burned and is not removed to a shadier place immediately, prolonged exposure to too much sun can be fatal for a succulent.
Water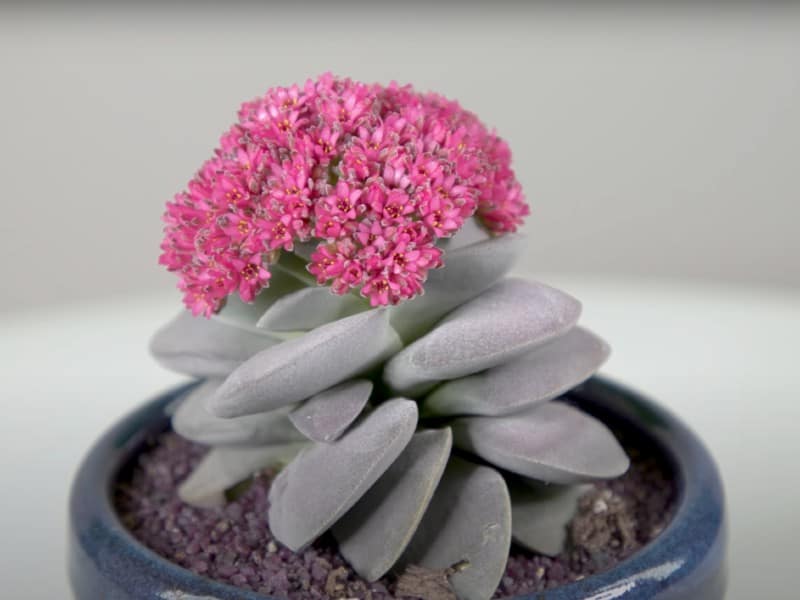 As with most species of Crassula, Morgan's Beauty prefers to be watered deeply but infrequently. This succulent enjoys the "soak and dry" method of watering, which involves giving the plant enough water that the excess drains from the bottom and then allowing the soil to dry out again before more water is given.
If the soil is not allowed to dry out between watering, Crassula 'Morgan's Beauty' is prone to root rot. Sadly, root rot is rarely noticed until it's too late unless you happen to be repotting and notice the blackened roots.
By the time the rot reaches the stem and lower leaves, which is when you'll notice it, it's likely too far gone to save the plant. For this reason, proper watering techniques are necessary to the survival of your succulents.
To ensure that the soil is adequately dry before adding water, use a soil moisture meter or your finger to check. Insert the tool of your choice into the soil near your plant's base. If the soil is moist, wait a few days before checking again. If the soil is dry, you can water freely.
Depending on where you live and where you grow your succulents, you may need to change your watering schedule based on the season or weather. Cool or humid weather means you can go longer periods of time without watering, while hot and dry weather means more frequent water is needed.
Though most succulent experts recommend watering your plants every 7 to 10 days, it's best to adapt that schedule to your plant's individual needs based on their unique environment.
Watering schedules for indoor plants will likely change little throughout the year, but outdoor plants will need to adapt to the changing of the seasons.
Temperature
For indoor Crassula, the ideal temperature is rarely a concern. Indoor plants are not subjected to the often drastic temperature changes that outdoor plants are exposed to. However, it's still recommended to keep your indoor succulents away from drafts or sudden changes in temperature.
Morgan's Beauty is not a frost tolerant plant, so if you live in a climate that experiences frigid winters, you'll need to plan on bringing your succulents indoors until it warms up again in the spring.
Any time you expect temperatures to drop below 32 degrees Fahrenheit, you'll need to arrange to bring your Crassula inside or cover it if it's only a night or two of freezing temperatures.
Crassula tend to be tolerant of heat, but you'll need to use caution when a heatwave is combined with direct sunlight. Extreme heat can cause succulents to be a bit more sensitive to sunburn, so in areas such as the Southwest United States, you'll need to protect your beloved succulent from the afternoon sun during the summer.
Remember, extreme heat will also cause water to evaporate faster, so you'll need to water your Crassula more frequently during hot weather. If you notice your succulents leaves getting wrinkled or shriveled, you need to be watering it more frequently.
Soil
Like most succulents, this species of Crassula requires well-draining soil in order to prevent accidental overwatering and root rot. Soil with large particles of material such as coarse sand, gravel, perlite, or even pumice is ideal.
When choosing your ideal succulent soil, avoid any substrate containing large amounts of water-retaining material such as peat moss, clay, or coconut coir. These ingredients will not promote the proper drainage needed for this plant to thrive.
If you enjoy doing things yourself, you can always mix your own soil. However, most gardeners go with the convenient option of buying commercially made soil mixes. If you're somewhere in between, you can always buy commercial soil and add more drainage-promoting ingredients as you see fit.
If you'd prefer just to buy your soil and not worry about mixing, look for a commercial soil mix formulated for use with succulents and cacti. These types of soil generally contain more mineral-based ingredients and fewer organic ingredients to promote drainage and airflow around the roots.
Container
The right container can make all the difference in the growth of your Morgan's Beauty. When it comes to succulents like Crassula, the most important thing to look for in any pot is drainage. While there are plenty of cute pots to be found, if they don't have drainage holes, they aren't ideal for succulents.
You can, of course, grow a Crassula in a pot without drainage holes, but it's not recommended. You would need to be incredibly precise in your watering habits to prevent your succulent from getting too much water.
If you're handy with power tools, you can always add a drainage hole using a drill and the appropriate drill bit. It's not a difficult task so long as you have the right equipment.
It's also important to remember that pots made of terra cotta will absorb moisture from the soil, which can make it dry out more quickly. This can be good or bad, depending on your watering habits.
Glazed ceramic or plastic pots do not absorb excess moisture, so if you choose a container made from these materials, you'll need to plan your watering schedule accordingly.
Propagating Crassula 'Morgan's Beauty'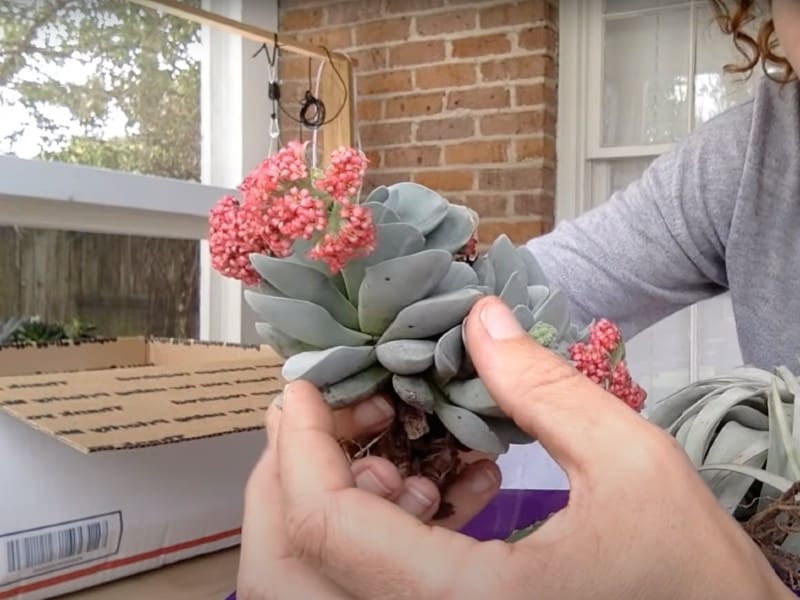 Like most Crassula, Morgan's Beauty is easy to propagate no matter how much gardening experience you have. There are a few different methods of propagation you can choose from and each has its own pros and cons.
Offsets
Removing your succulent's offsets is the easiest method of propagation because your Crassula does most of the hard work for you. Offsets, or pups, are the tiny plants that sprout up around your succulent's base.
These offsets can be easily removed using your fingers. It can be helpful to brush away the top layer of soil so you can better see the root system. You want to remove the offsets at a point that includes as much of the plantlet's root system as possible.
It's recommended to separate the offset as close to the mother plant as possible. Most of the time, you can gently pull the offset out of the soil with your hands. However, you can also cut the roots to separate them using a sharp knife or pair of scissors or shears.
After the offsets have been removed, allow them to dry for a few days. This lets their wounds callous, preventing potential infection once they are placed back into the soil.
When the wounds have been calloused, you can plant the offsets in their own containers of well-draining soil. They can then be watered on the same schedule as an adult Crassula.
Cuttings
One of the most common propagation methods with Crassula is leaf or stem cuttings, but these frequently take more time to grow a mature plant than when offsets are used. However, it's a great way to make use of cuttings taken while trimming your plants back or leaves lost during handling.
When choosing which parts of your Morgan's Beauty to take, choose only the healthiest stems or leaves to increase your chances of success. Cuttings can then be taken using sharp, clean scissors or shears. Sharp tools are essential to prevent accidental damage to your plant or cuttings.
As with offsets, cuttings will need to be set out to callous for a few days prior to planting. After they've calloused, you'll then need to decide if you want to use a rooting aid such as rooting hormone powder. Though not necessary, rooting aids can help cuttings root faster.
Finally, you can place your cuttings in well-draining soil. You'll need to water sparingly at first as the cuttings do not have a root system to adequately absorb water. However, after a few weeks, you should see tiny roots sprouting from the cut end.
Once the roots appear, you can start treating your Crassula cuttings more like a mature plant.
Seeds
Though not unheard of, growing Crassula from seeds is by far the most uncommon method of propagation used by succulent gardeners. The reason for this is the time involved. Crassula are slow-growing plants and it can take quite a long time to get a mature plant from seeds.
However, if you're committed to this method, you'll need to either collect your own seeds or purchase them from a seed vendor. After you've acquired the seeds, you're ready to sow them in well-draining soil.
The seeds can be sprinkled across the surface of the soil and covered with a bit of soil, but don't sow them too deep as they may not germinate. Keep the soil moist until you see tiny Crassula sprouting from the soil's surface.
Once the seedlings can be seen, you can allow the soil to dry out a bit between watering. You'll need to wait until the tiny Crassula are sturdy enough to survive handling before you transplant them.