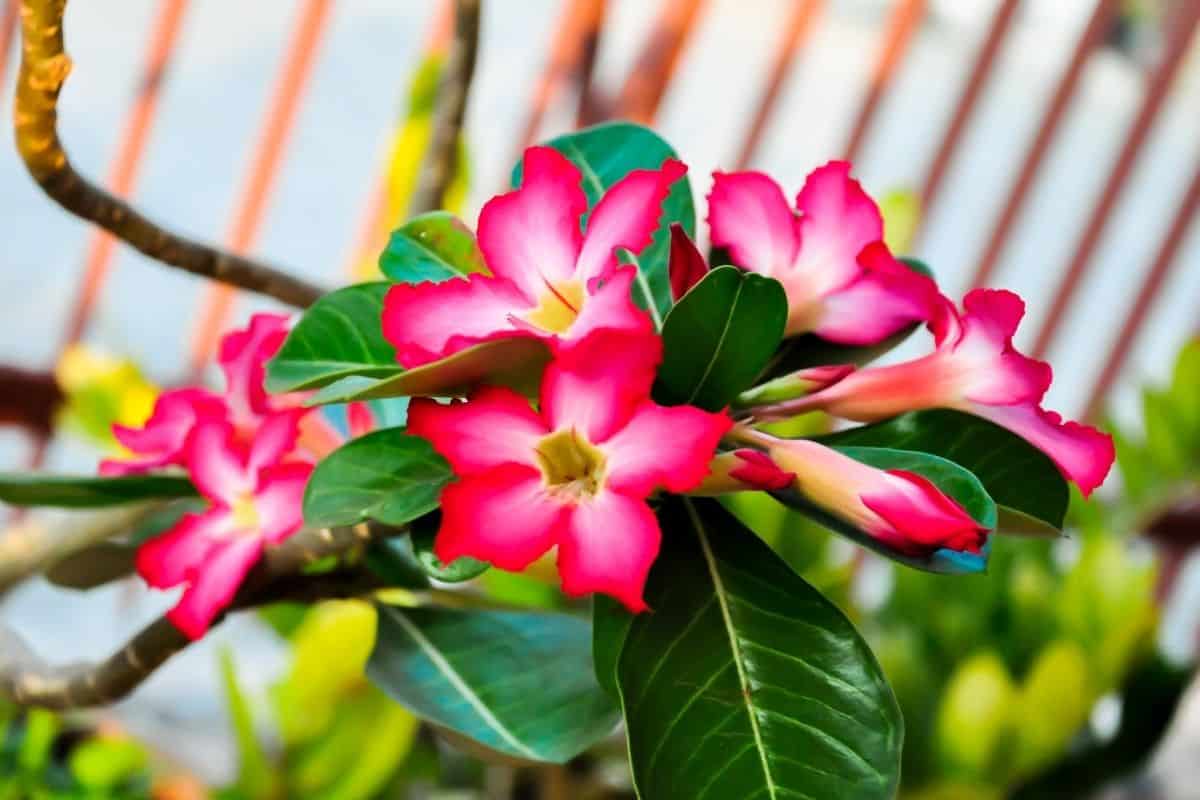 Adenium obesum is extremely easy to care for, slow-growing plant that is more commonly known by its street name 'desert rose'. If you are a notorious plant neglecter and you simply don't have the time to look after high-maintenance plants, then you might want to consider introducing one of these plants into your home.
This ultimate care guide covers everything you need to know about desert rose, from how to care for it, to whether it can be propagated and more. Read this article and save it somewhere safe to use as a reference if you have one of these gorgeous house plants in your home. I hope you find these tips and tricks useful!
Jump to:
Description
| | |
| --- | --- |
| Name: | Adenium obesum |
| Soil: | Potting mix formulated for cacti or succulents |
| Blooming: | Early spring |
| Light: | Bright sun |
| Water: | 2 or 3 times per week, depending on how dry your climate is |
| Propagation: | Cutting from the tip of a branch |
Desert rose grows incredibly slowly. In fact, it only grows about 12 inches or less every year; that is an average of about an inch every month. This plant has a very thick, succulent stem that looks much like a small tree trunk and blooms deep pink flowers that are very eye-catching.

These plants can only be found growing in the wild in the Middle East, Madagascar, and Africa. The desert rose plant thrives in tropical and warm climates, so if you live in USA zones 11 and 12 or similar climates, you can grow this cute little plant in the garden or on a balcony.
Cultivars and Hybrids
Desert rose has been highly hybridized and modified extensively to develop orange or striped flowers. You may also be surprised to learn that the desert rose plant is the only plant from the Adenium family found in wild cultivation too.
Care
As I mentioned earlier, caring for desert rose plants is very easy and won't take up much of your time. There may be days, or even weeks, that you don't need to attend to your plant at all, which is a bonus for busy plant lovers.
Although you may not have any maintenance tasks to complete on a daily basis, you should make a habit of checking the plant's growing environment, soil, and general health to ensure you don't forget about it. Checking it daily will also allow you to catch issues such as pests and diseases before the plant is damaged beyond repair.
The following information is a breakdown of its water, light, soil, and temperature needs and some information about propagating the plant and what pests and diseases to look out for. Read this information carefully and refer back to it whenever you need to throughout your plant growing journey.
Light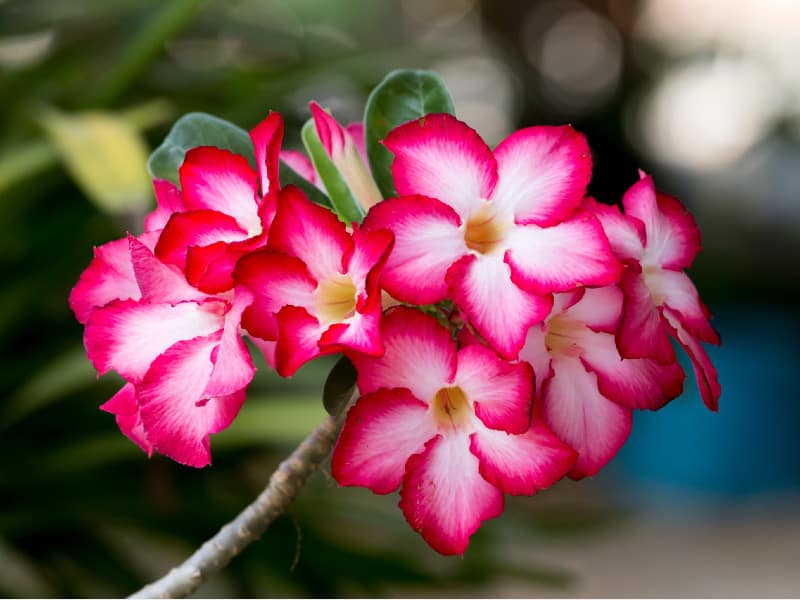 Buy it from:
This plant loves full sunlight. It thrives when it is placed in very sunny spots such as on a windowsill, in a sunroom, or on a sunny balcony. Getting a few hours of sunlight isn't enough either. You need to place your plant in a location where it will get at least four to six hours of sunlight every day for it to grow to its full potential.
The same rules apply for people wanting to grow the desert rose outdoors. Desert rose plants can be planted in pots or in garden containers, but preferably not directly into the ground as it is important to be able to move them around the garden to ensure they are getting enough sunlight.
Bestseller No. 1
Bestseller No. 2
Plant the desert rose in direct sunlight, preferably next to taller plants in the garden that will protect the plant from the harsh noon sunlight. Although this is a sun-worshiping plant, it can get sunburnt, so being mindful of the hot noon sun and thinking of ways to protect your plant is important.
Water
Like most plants, the desert rose has very different water needs throughout the year. This is particularly common when it comes to heat-tolerant plants.
The desert rose grows during spring and summer and therefore requires more water during these months than during the rest of the year. Check the soil daily to assess its moisture levels. During spring and summer, you want the soil to stay damp but never saturated. Some desert rose growers advise letting the soil dry out completely before rewatering the plant, even in the summer months.
During the cold winter months, you should drastically reduce the amount that you water the plant. In the wild, the desert rose is dormant during the colder months and therefore requires little to no water. That means that you will only need to water your plant once every month and maybe even less.
Overwatering your plant can cause serious issues to develop, such as root rot that can potentially kill your plant in a matter of weeks if it goes unnoticed. Ensure that the pot has plenty of drainage holes for excess water to flow out of the pot to avoid water damage and flood the plant's roots.
Temperature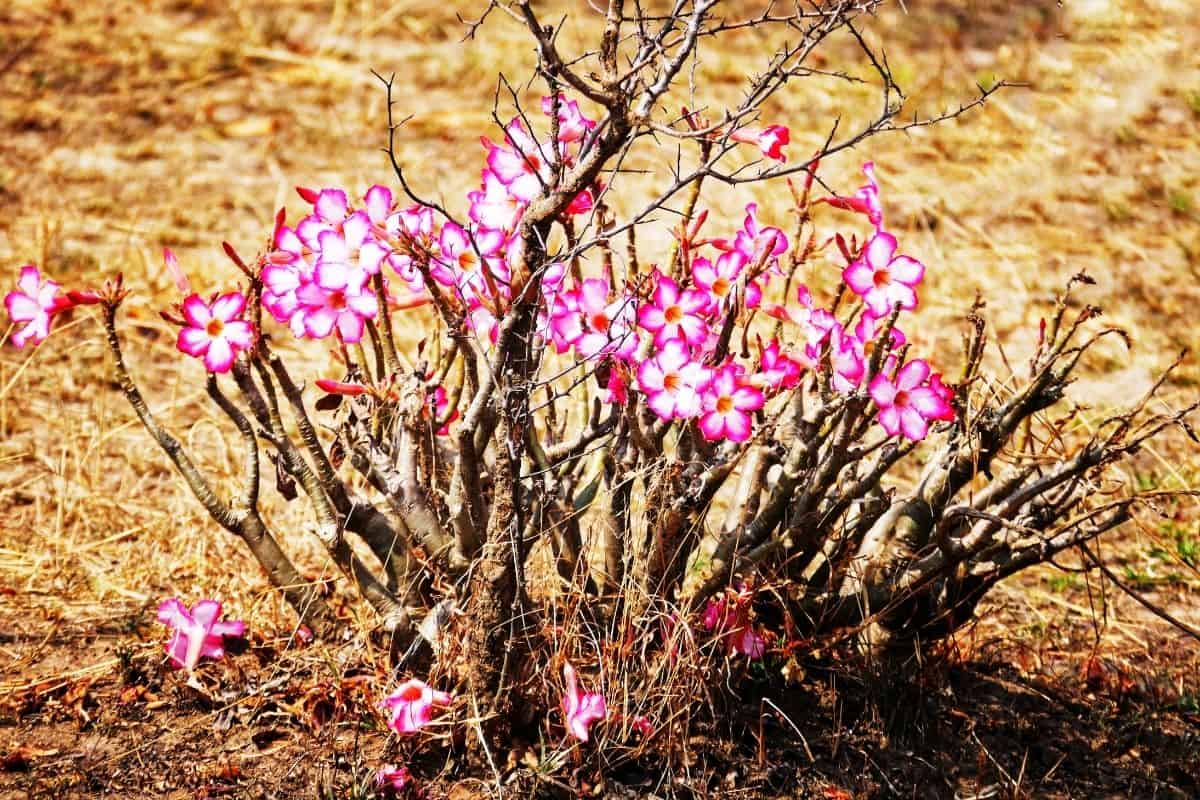 The desert rose is not a cold-hardy plant, and it will die very quickly if it is exposed to cold weather conditions. Weather conditions below 50 degrees Fahrenheit are not appropriate for this plant, and prolonged exposure to these temperatures will kill your plant.
Ideally, desert rose plants need to grow in climates with temperatures between 65 to 90 degrees Fahrenheit. This is one of the main reasons people choose to keep their desert rose plants indoors, as the temperature and overall environment are far easier to control.
Garden plants should be moved indoors during frost or cool weather to prevent damage to the plant. This is also an important thing to do during humid weather as the excess moisture in the air is harmful to the plant.
Soil
The type of soil that your plant is potted in is very important, but it is something that plant owners forget about. Because the desert rose is a heat-tolerant plant that grows in dry climates, it is used to growing in very sandy, porous soil in the wild.
Porous, unfertilized cactus potting soil is perfect for these plants. It has great drainage and overall displays the ideal qualities that desert rose plants need in the soil.
Dense soil will not drain excess water away from the plant's roots quickly enough and could result in the plant suffocating. If you have purchased your plant from a garden center, I recommend repotting your plant in suitable soil as you can't be certain that the plant has been potted in the correct soil.
Never use pre-fertilized soil because the wrong doses of fertilizer can poison your plant. Instead, if you want to boost your plant's growth rate during the spring or summer months, you can add a small dose of liquid fertilizer to the soil to give it a boost.
Note: Liquid fertilizers should be diluted with water before being added to the soil, and you should never add fertilizer to desert rose plants more than once every month during their growing season.
Propagation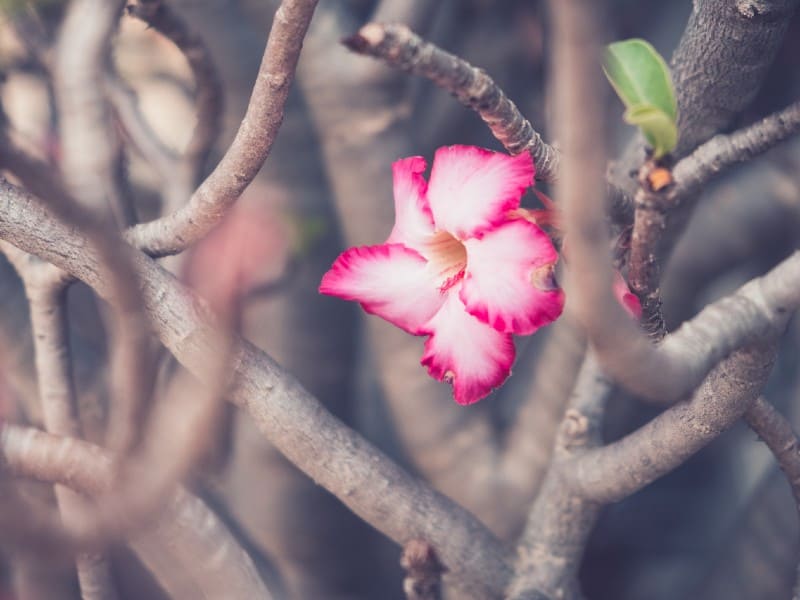 It is possible to propagate a desert rose plant, but it does take a bit of skill and practice to master the process. Don't worry if you don't get it right the first time, and keep practicing! Here is a detailed guide for you to follow that will help you.
1.Remove the Tip of a Branch
Cuttings should be taken from the tip of a healthy branch. Do not use a damaged or diseased branch in any way, as this will reduce the chances of successful propagation.
2. Leave it to Dry Out
Place the cutting between two paper towels or dry kitchen cloths and leave it for a day or so until the cutting has dried out completely. You shouldn't attempt to re-pot the cutting if it is still oozing liquid.
3. Dip in Rooting Hormone
Once the cutting is completely dry, dip the end of the cutting into a rooting hormone to prompt the growth of new roots.
4. Plant in Well-Drained Soil
Finally, you should plant the cutting into well-drained soil with the end that has been dipped into the rooting hormone facing down. Use cactus potting soil, soil mixed with sand, or succulent soil for this step. You will need to replant the cutting into a separate pot once it has established roots.
Seeds
Before you attempt to grow desert rose plants from seedlings, you must make sure you purchase high-quality seeds from a reputable seed distributor. You essentially look for fresh seeds as they have the highest germination rate.
Place the seeds into well-drained soil such as sand and soil mix and cover them with a very thin layer of soil. The pots should have plenty of drainage holes and be placed onto a tray so that you can water the plant from the bottom up.
Water your seedlings daily from the bottom up and from the topsoil every three or four days. Fresh seeds should only take a week to germinate, whereas older seeds will take longer. If your seeds haven't germinated within three weeks, it is likely that they won't at all, and you should try again with new seeds.
Cuttings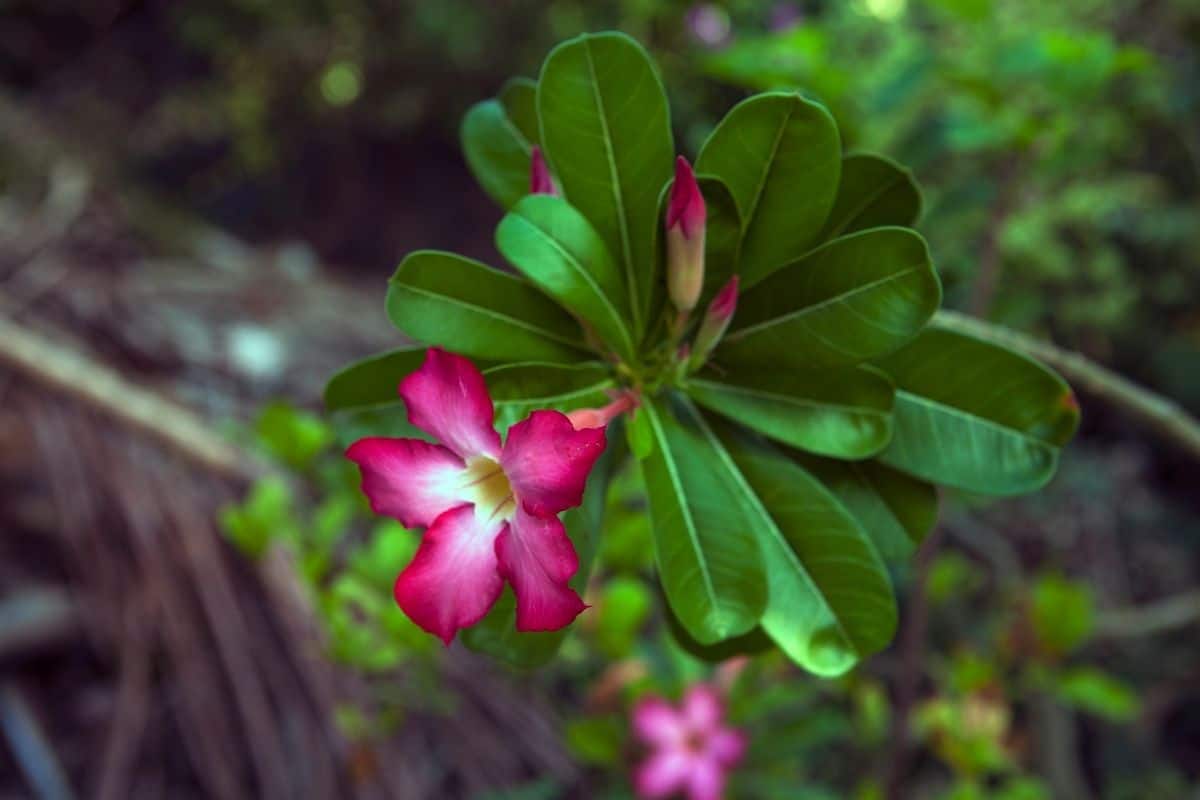 When removing cuttings from an adult plant for propagation or removing cuttings of an unhealthy plant, there are a few things you should remember. Here are some tips and tricks to remember when you want to remove cuttings from a desert rose plant.
1. Use Sterilized Equipment
Make sure that all of the equipment that you use for removing plant cuttings is sterilized and isn't contaminated with toxic materials. Contaminated equipment could cause issues and make your plant very sick, so always sterilize your gardening equipment before taking cuttings.
2. Use a Sharp Knife or Scissors
Always use a sharp knife or scissors when removing cuttings so that you don't damage the plant. You want to get a clean cut with minimal damage, so using sharp equipment is vital.
3. Remove Damaged Areas Immediately
If you notice damaged or diseased areas of the plant, you should immediately remove them from the main plant. Diseases can travel through the plant quickly, so getting rid of the problematic site will give your plant a higher survival rate.
Offsets
Desert rose plants produce offsets that look much like small branches protruding out of the main stem. You can propagate these little offsets if you want to, or remove them to make the plant more aesthetically pleasing.
Common Pests and Problems
Root rot and powdery mildew are the biggest problems that desert rose plants growing in your home will face. If you practice good watering habits, you reduce the chances of your plants developing root rot and powdery mildew.
Sap sucking insects are also very attracted to desert rose plants. If your plant is suffering from a sap-sucking insect infestation, you should treat the plant with insecticidal soap.
Sources: