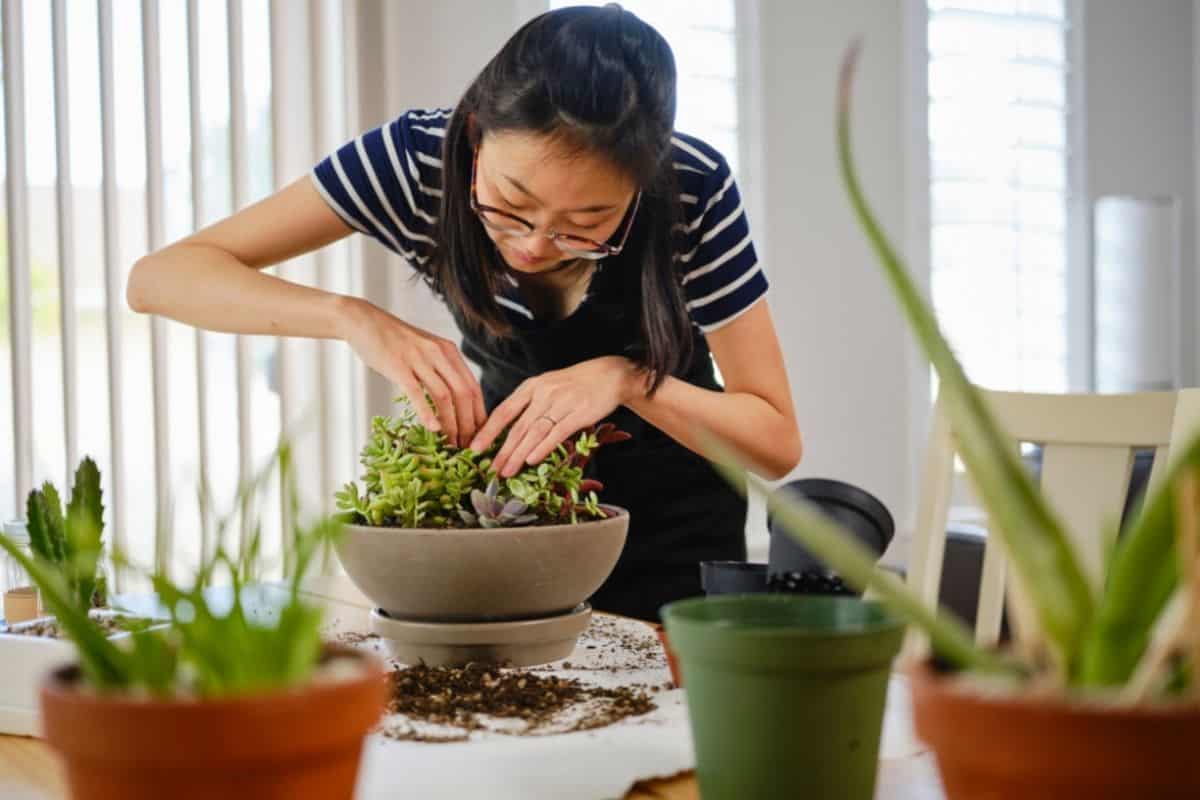 If you have a passion for succulents but live in a cold or wet climate, you can still grow your favorite plants by simply bringing them indoors. Succulents make ideal houseplants due to their beauty and low-maintenance qualities.
Most succulents are not frost tolerant, so they tend to thrive in the warm environment of your home or office rather than in the frigid outdoors. It's also easy to control your succulents' light and water needs when they're grown indoors. With a little basic succulent care knowledge, your indoor succulent garden will be flourishing before you know it.
Related Article: How To Keep Succulents Alive
Jump to:
Light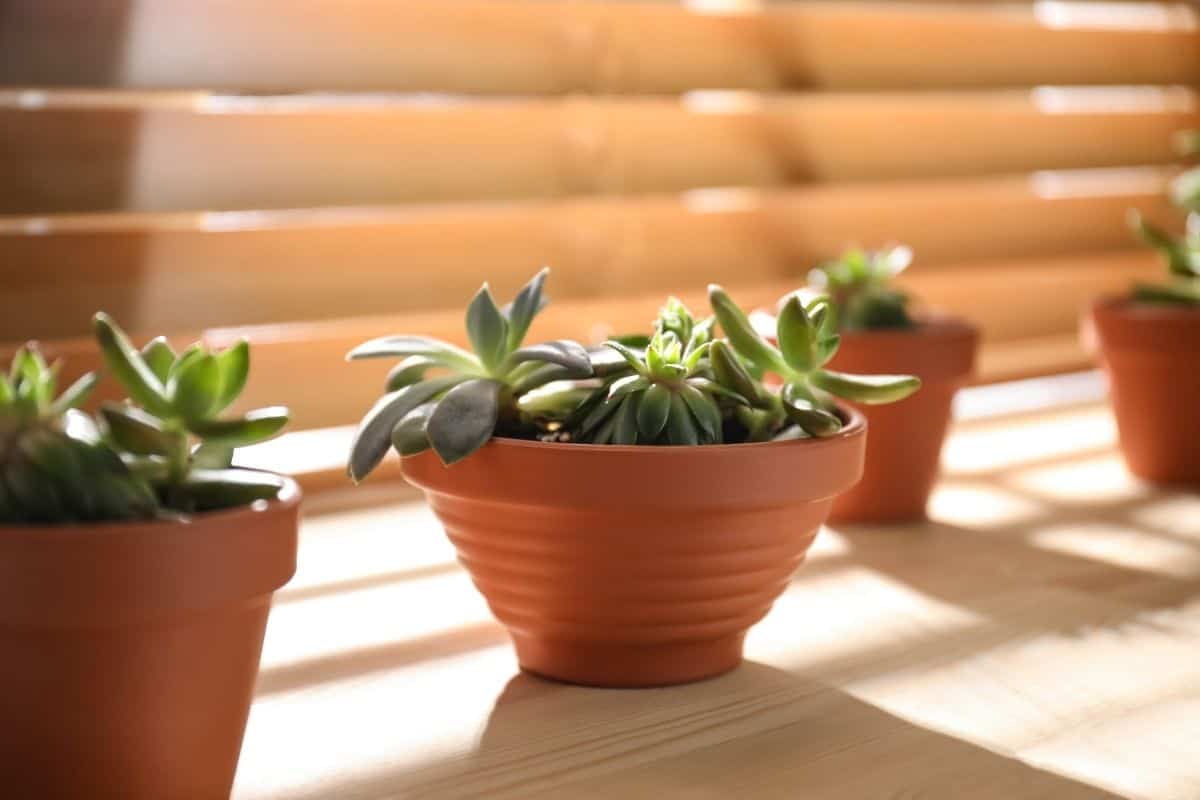 The correct amount of light needed by your succulents will depend on the species, but as a general rule, most succulents prefer plenty of sunshine. Bright, indirect light is best so if you have a window facing either south or east, your succulents should stay pretty happy.
Some succulents may have lower light requirements, so you may find more success in setting them a few feet away from the window. You can also try filtering the light through a sheer curtain. Keeping a close eye on your succulents is the best way to determine whether they are getting enough light. If their colors begin to appear less vibrant or they begin to etiolate, they may need more light.
You'll also need to watch out for signs that your succulents are getting too much light. If you notice discolored patches on your plants' leaves or stems, they may be getting sunburned. These discolored patches will range in color from light brown to black, depending on the severity of the burn. Unfortunately, once your plant has been burned, those spots are permanent, but you can spare the rest of the plant by moving it to a less sunny location.
Water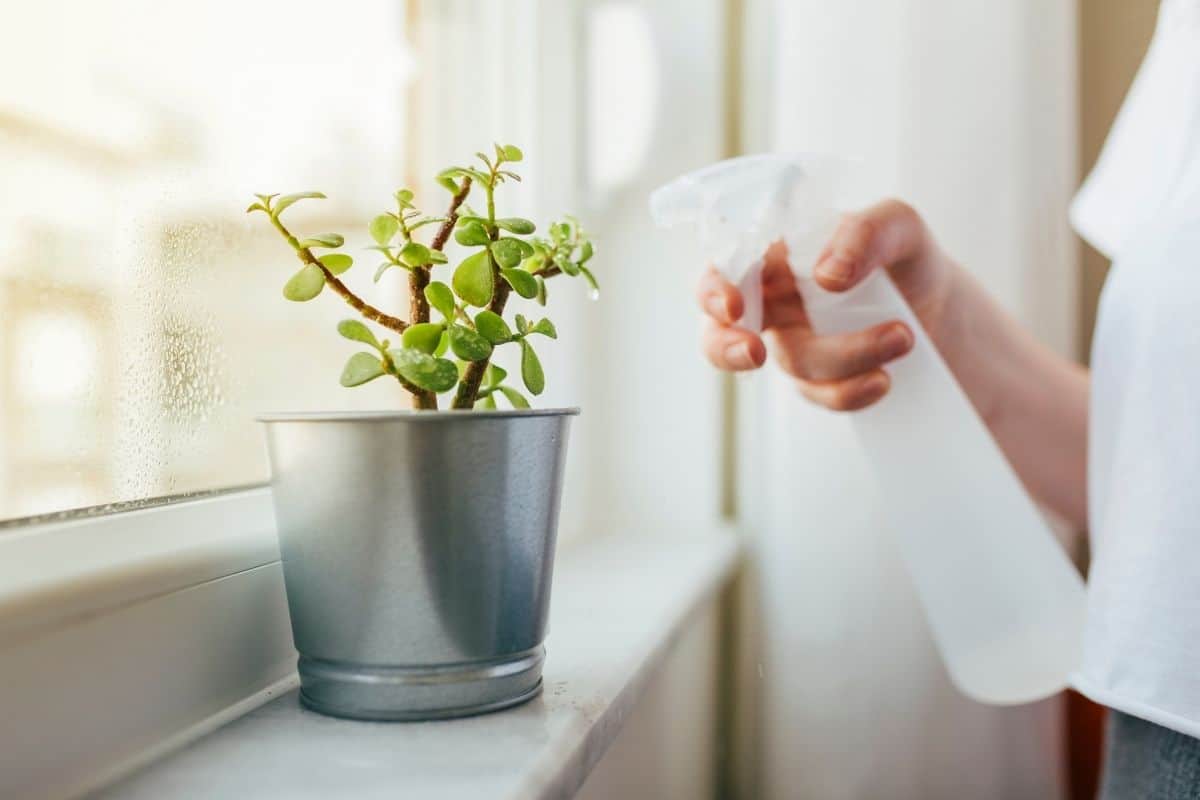 Regardless of whether you're growing your succulents indoors or out, water is the most important aspect of succulent care. The frequency at which you water your plants will make or break your success as a succulent gardener.
Remember, succulents are used to living in dry climates so excess water can be harmful. Most gardeners find success in watering their succulents and cacti every 7-10 days, but you will need to make adjustments according your climate and season. Some succulents also undergo periods of dormancy where they may require less water than normal. Knowing what species of succulents you're raising will help you to establish an appropriate watering schedule.
Whatever you do, avoid standing water at all costs. Excess moisture will result in root rot and the damage is irreparable. Since rot affects the roots of the plant, you may not see it until it's too late. To prevent the buildup of moisture, check the soil below the surface before watering. Even if the surface appears dry, it can still be moist a half inch or so below.
Soil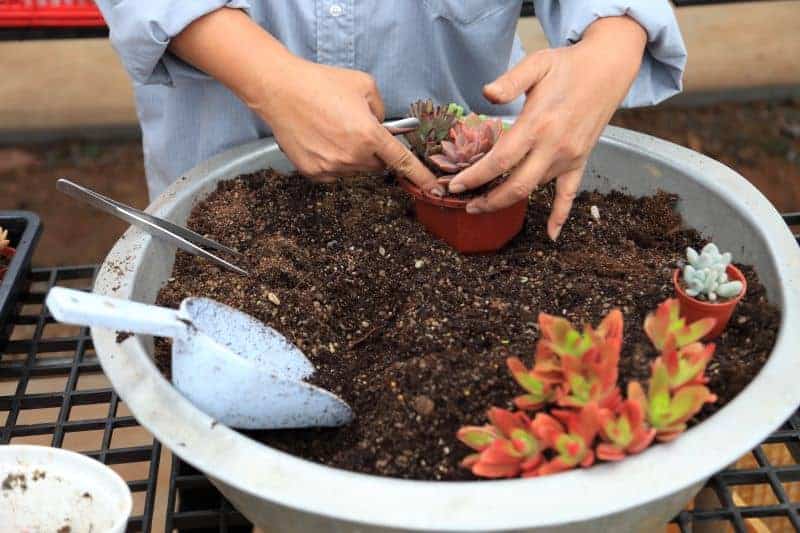 The single most important feature of good succulent soil is drainage. Proper drainage is essential in preventing root rot. Ideally, the soil you use will consist of large particles such as sand, perlite, gravel, or bark. Large particles will also allow air to flow around your plant's roots, which will keep them happy, healthy, and dry. Avoid soils with a high clay content, as clay tends to retain too much water.
Commercial gardening soil will likely contain too much clay to work for your succulents. Instead, look for soil that is labeled for use with succulents or cacti. There are a variety of succulent soils on the market, so you should have plenty of options. If you can't find it at your local nursery or gardening center, try an online succulent specialty retailer or make your own.
Containers
Indoor succulents grow well in a variety of containers as long as they allow for proper drainage. Even if you have the correct type of soil, if excess water has nowhere to go, your plant will still be at risk for root rot. Make sure your container has drainage holes or add them if possible.
The internet abounds with pictures of succulents planted in cute and whimsical containers, such as reused teacups and pots shaped like kittens. These photos may be getting plenty of likes, but those containers aren't a great long-term solution for succulents. Regardless of the material the pot is made of, make sure it allows for drainage.
Pests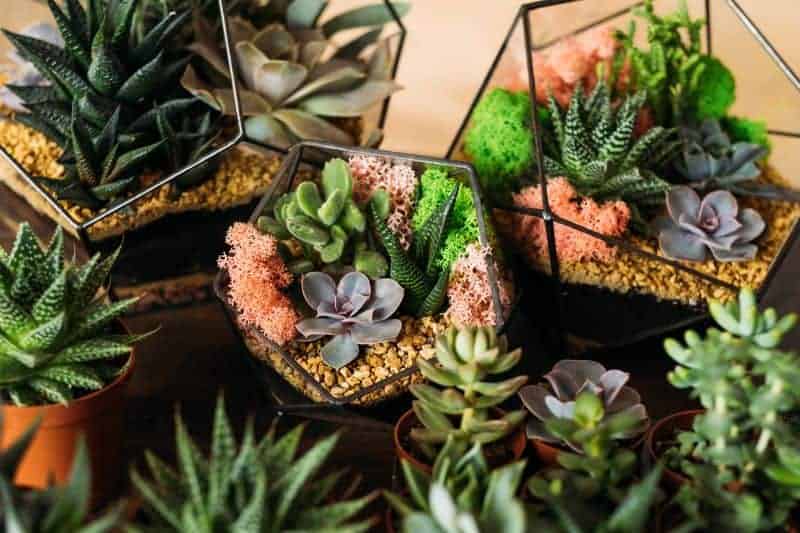 Just because your succulents are grown indoors, doesn't mean you won't need to deal with pests from time to time. Pests are an unfortunate and unavoidable part of gardening no matter where your garden is located. Luckily, they're fairly easy to treat, though prevention is always the best medicine.
When bringing home new plants, it's important to keep them separated from your succulent collection for at least two weeks. This may seem excessive, but you'll find that it's much easier to treat one plant for pests than your entire collection. Two weeks is usually enough time for pests to show themselves, allowing to treat your plant before introducing it to its new family.
Keeping your plants and their containers clean and tidy will also go a long way toward preventing pests from infesting your plants. A dirty environment leaves your succulents vulnerable to invading pests and makes it easier for them to wreak havoc.
If you do find pests on your indoor succulents, treatment is usually quite simple. While you can always treat your plants with harmful chemicals such as pesticides, there are also more natural alternatives available. The exact treatment you use will depend on the type of pest you're dealing with, so be sure you know what kind of pests you're dealing with.
Caring for indoor succulents is an easy task for inexperienced and expert gardeners alike. However, knowing the species of plants you're growing will help you understand how to best care for them. When it comes to indoor succulent gardening, a little research goes a long way. Whether you're growing Echeveria or Echinocereus, each species will require slightly different care. Remember, the more you know about your succulents and cacti, the better you'll be able to care for them.
You Might Also Like: