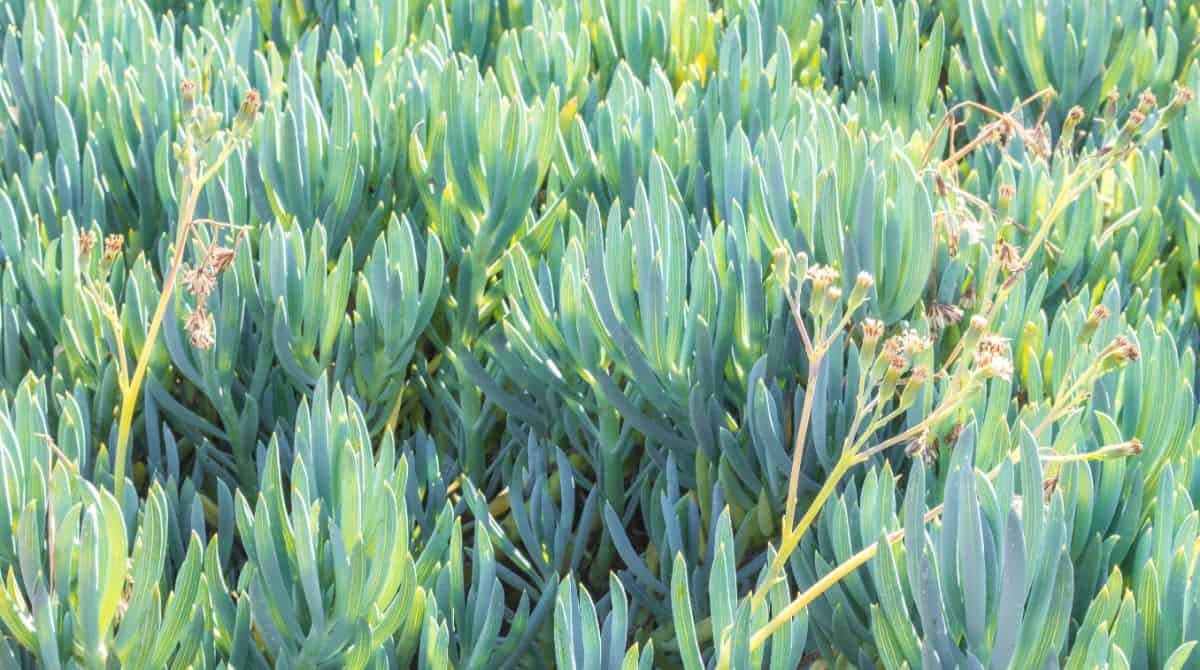 The senecio vitalis is also commonly known as "blue chalk fingers", and when you see it you understand why. It is a popular house plant for busy people who don't have a lot of time to care for their plants.
If you are looking for a plant to brighten up your home, and you are thinking of getting the senecio vitalis, this article will help you understand how to care for the plant and keep it in tip-top shape. I hope you enjoy reading the information in this post and that you find it helpful!
Jump to:
Description
| | |
| --- | --- |
| Name: | Senecio Vitalis |
| Soil: | Well-drained succulentsoil |
| Blooming: | Late spring and early summer |
| Light: | Full sun orlightshade |
| Water: | Soil to dry out completely between waterings |
| Propagation: | Cutting off a branch with at least three leaves |
This is an evergreen succulent that has a tendency to spread itself across the surface of the soil. It has great ornamental appeal due to its attractive appearance and unusual chalky blue and green coloring.

Its leaves are slender and curl upwards slightly as they grow, reaching a height of about 3.5 inches tall. The trailing stems form beautiful tufts at the tips which are very eye-catching and unusual.
The base of the plant is relatively thin in comparison to the rest of the plant. The main stem is prone to grow offsets that when left to grow naturally look like a mermaid's tail. This is where the plant gets its second most common street name 'mermaid tail succulent.'
Cultivars and Hybrids
Like with most succulent plants, this plant has been used to create a hybrid plant that is known as 'trident blue'. It is a cross between the senecio vitalis and the curio talinoides plant species.
Care
If you are looking for an attractive succulent that is very easy to care for and doesn't need much cosmetic care either, then this is the plant for you. More often than not, it is the low-maintenance plants that are the hardest to care for as they have very specific needs that can't follow a care timeline as their needs change throughout the seasons.
The following information will help you find the best care solutions for your senecio vitalis plant so that it thrives and grows to its full potential. Make notes as you go through the following information so that you don't forget crucial care tips.
Light
The senecio vitalis grows brilliantly in full sunlight and in partial shade. This sun-worshiping plant is tough and can handle the strong noon sun, but you should protect it when possible from direct afternoon sunlight if you live in a sunny climate as its leaves may get sunburnt.
Choose a sunny windowsill, or place the plant on a desk or table in a brightly lit room with plenty of natural sunlight if you want to grow it indoors. If you want to grow the plant in the garden, you should keep it in a pot rather than in a garden container so that you can move it around the garden freely depending on its light needs and changes in temperature.
Bestseller No. 1
Bestseller No. 2 Water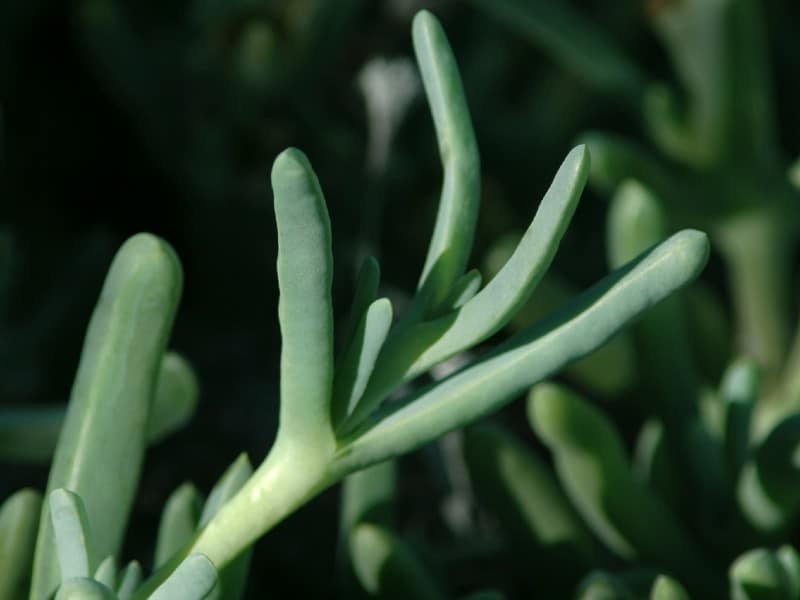 Buy it from:
This succulent should be watered daily during its immature stages, and gradually you can start watering it every two to three days depending on how well the soil drains out excess water. The senecio vitalis needs watering more frequently than most succulent plants, so make sure you are taking notes of when you last watered your plant to keep on top of this task and ensure you don't overwater succulent.
Temperature
Although this succulent loves the sunlight, it doesn't love extremely hot weather or extreme cold, for that matter. Its lowest temperature range is between 30° to 40°F (-1° to 4°C) and can grow comfortably in mild to hot and dry temperatures.
This plant grows well outside in areas within USDA zones 10 to 11 or similar. If you live in climates that resemble the temperatures found in USDA zones 10 to 11 most of the time, you can still grow this plant outside and bring it indoors when the weather gets too extreme for this plant.
Do not leave the senecio vitalis in a place where it will be exposed to frost or humidity. Humidity could cause its leaves to rot, and frost will cause the water inside the leaves to freeze, eventually splitting and blistering the leaves and leaving a scar.
Soil
Make sure that your senecio vitalis is planted in well-drained soil. This is crucial as the plant needs all of the excess water to drain through the soil and out of the pot to avoid flooding its feet.
Porous sandy soil such as cactus potting soil or sand and unfertilized soil mix is perfect for this plant. The more organic and free of fertilizers and chemicals the soil is, the better it will be for the plant.
Propagating from Cuttings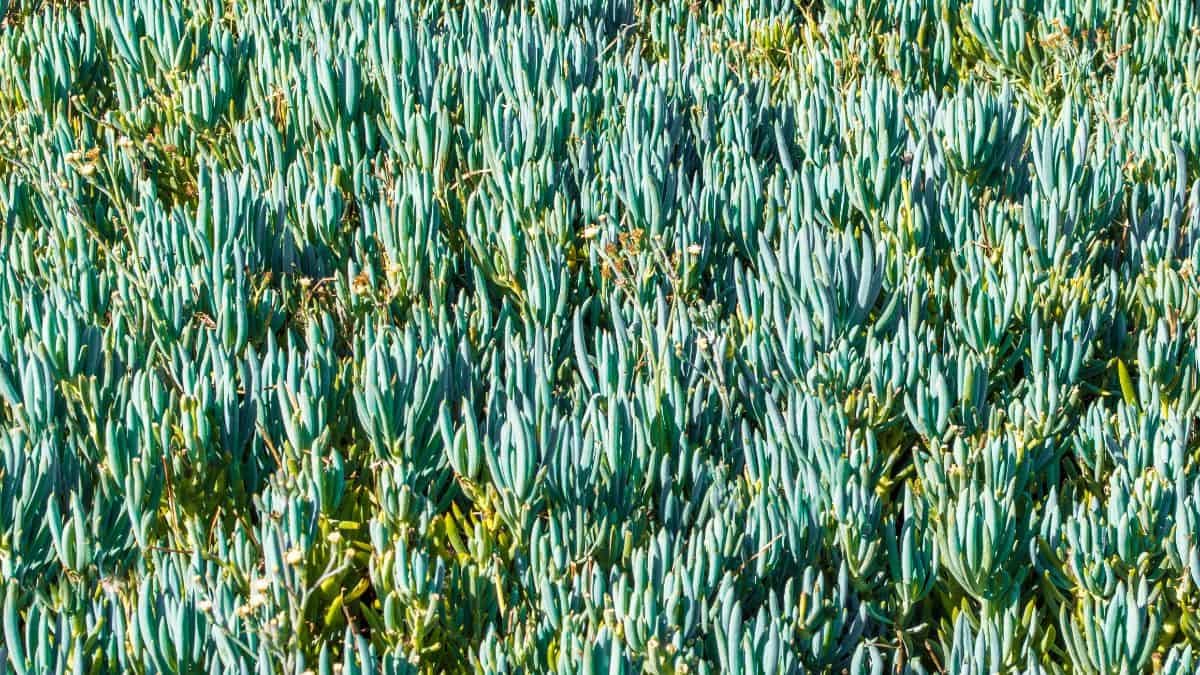 The senecio vitalis can be toxic to both humans and animals, so you must always wear gloves if you need to handle the plant. Here is a step-by-step guide for you to follow if you want to propagate your succulent.
1.Wear Protective Gear
Make sure you have gloves and goggles on before starting the process.
2. Use Sterile Equipment
Never cut a plant using contaminated equipment as it can interfere with how well the cutting regrows.
3. Cut the Stem
Cut the stem at its base. Ensure you get a clean and sharp cut, causing as little as possible damage to the plant.
4. Let it Dry Out
Leave the cutting to dry out for a few days before replanting it.
5. Plant
Plant the cutting in well-drained soil and water it daily until you see the root system starting to form.
Seeds
Senecio vitalis is very easy to grow from seeds if you purchase high-quality seeds. The seeds take roughly seven days to germinate as long as they have been planted in well-drained soil with a sand topper and watered from the substrate.
Offsets
The offsets that grow on the senecio vitalis plant make it so unique and striking, so I wouldn't recommend removing them unless you want to use the cutting to propagate the plant. Follow the steps in the section above to propagate senecio vitalis from offsets.
Common Pests and Problems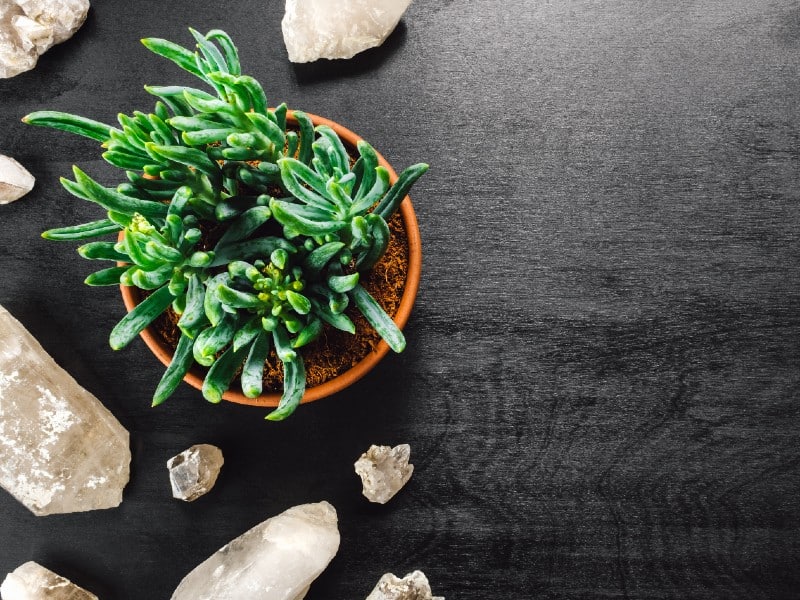 One of the biggest succulent-killing mistakes plant owners make is overwatering the plant or placing it in a substrate with insufficient drainage or a pot without enough drainage holes. Your plant will suffocate and die very quickly if it is overwatered, and the most common problem that forms due to overwatering is powdery root rot.
The most frustrating thing about root rot is that you probably won't know that your plant is suffering from the disease until it is too late. Root rot causes plants to wilt or become 'mushy', and they often discolor and turn a dull shade of yellow or brown.
You can save your plant from root rot if you catch it on time. Here is what you should do if you believe your succulent may have root rot:
1.Inspect the Plant's Roots
Inspect the roots for black or soggy brown roots.
2. Trim away Damaged Parts
Remove damaged parts of the root system and plant.
3. Propagate from Cuttings if Necessary
If too much of the plant is damaged, you should find a healthy part of the plant for propagation.
4. Replant in Cactus Potting Soil
Replant the healthy parts of the plant in porous cactus soil
5. Place in a Pot with Plenty of Drainage Holes
Make sure that the pot you choose has sufficient drainage holes. You can drill more holes in the pot if you think it is necessary.
Sources: https://blog.education.nationalgeographic.org/tag/succulents/