When you want to dive into the world of small succulents, you don't find much by way of collections. It's hard to find information that is accurate too! That's why I compiled this list of absolutely stunning sempervivums that won't take up a lot of room but still give you that classic sempervivum color splash.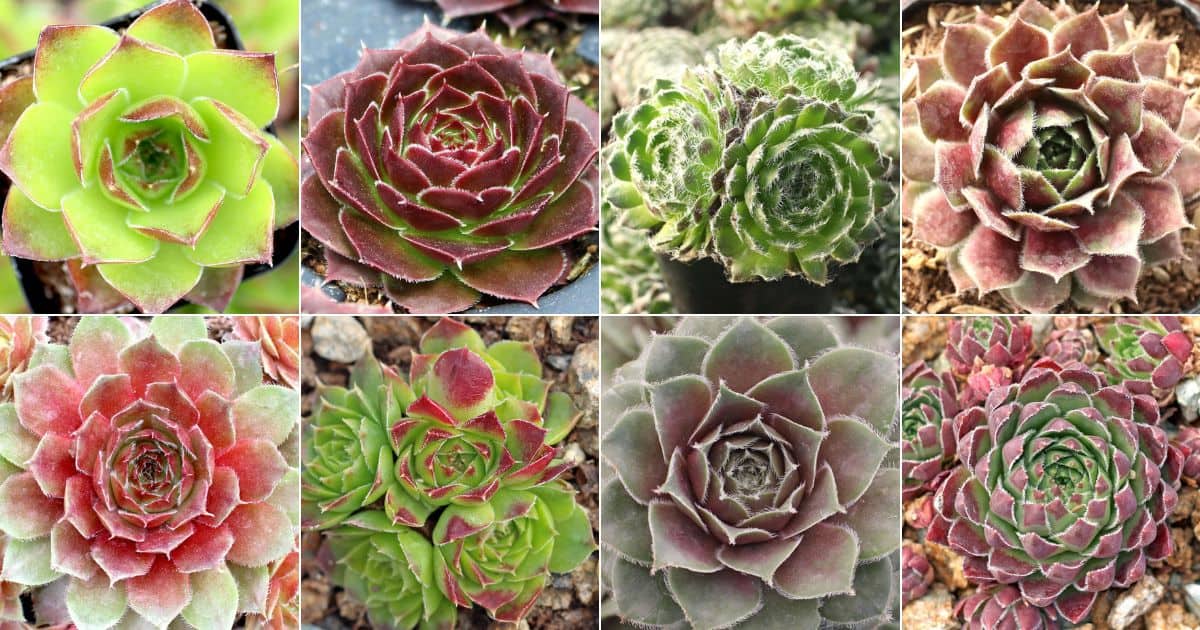 Jump to:
Sempervivums
Sempervivums are on the hardier side of succulents. With their many varied colors and beautiful rosettes, it's hard to avoid collecting every single one that you can! They follow the normal bi-weekly succulent watering pattern and don't need much to thrive and grow at a rapid rate.
Sempervivums are commonly part of winter gardens because they can withstand freezes down into hardiness zone four! S. hueffelii variants are going to do the best in the colder zones: there are several minis that will do well in a wintery window and still produce a lot of colors to brighten up a room.
1. Sempervivum heuffelii var. Sundancer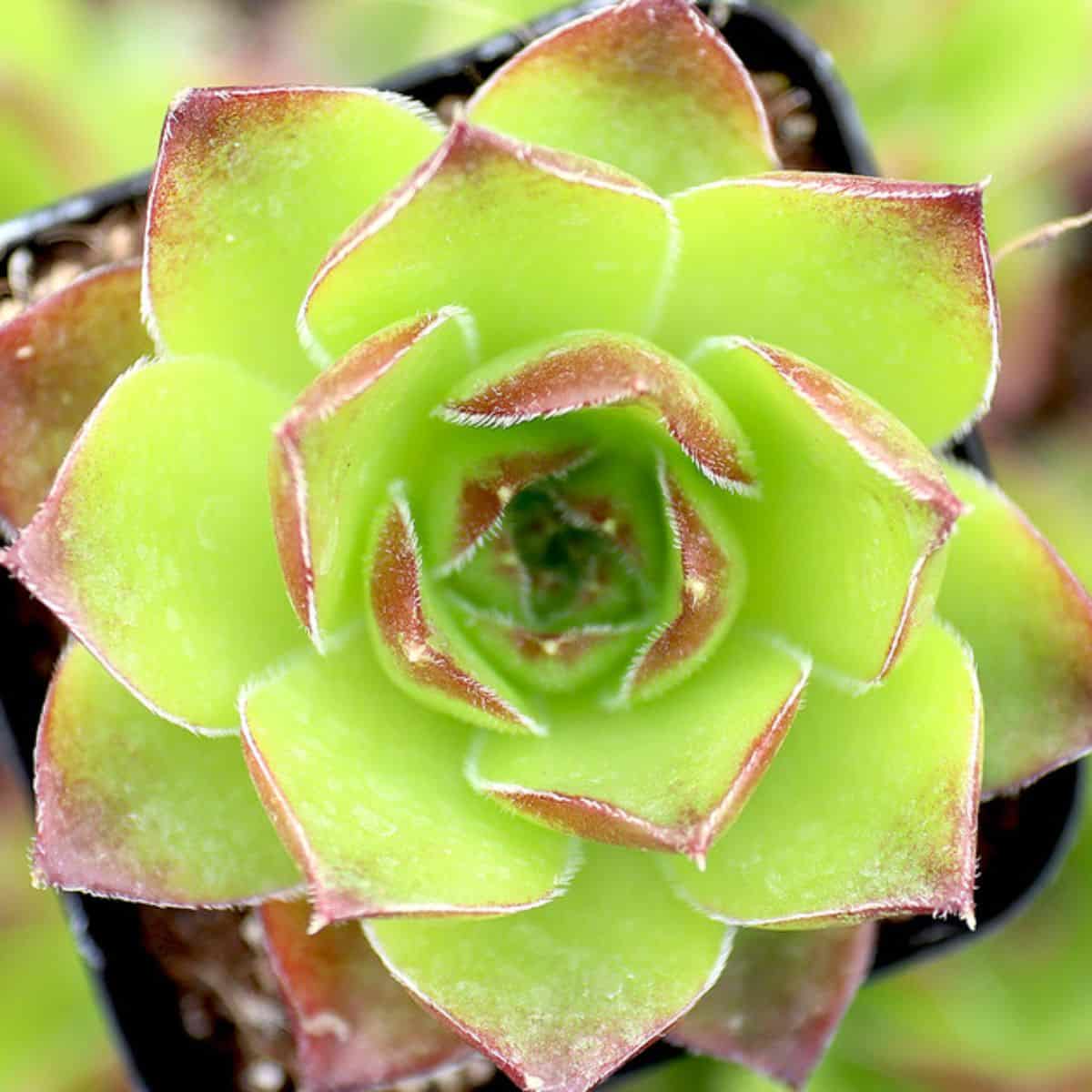 Buy it from:
The Sundancer starts us off with bright greens and deep red tips. The oxblood ends of the leaf are also lined with fine spines that look like hairs that line the edge of each leaf. S. hueffelii tends to be a clustering type of succulent which can make the rosettes look a little oblong, but that adds to their character.
They can handle temperatures in zone four but also do well indoors with full sunlight. This species stays under three inches until the mound of rosettes starts to build up. It's easy to maintain this species by gently cutting away and propagating new rosettes. Watch for the deeper color change in the winter as the Sundancer red ebbs and flows up and down each leaf.
2. Sempervivum var. Red Rubin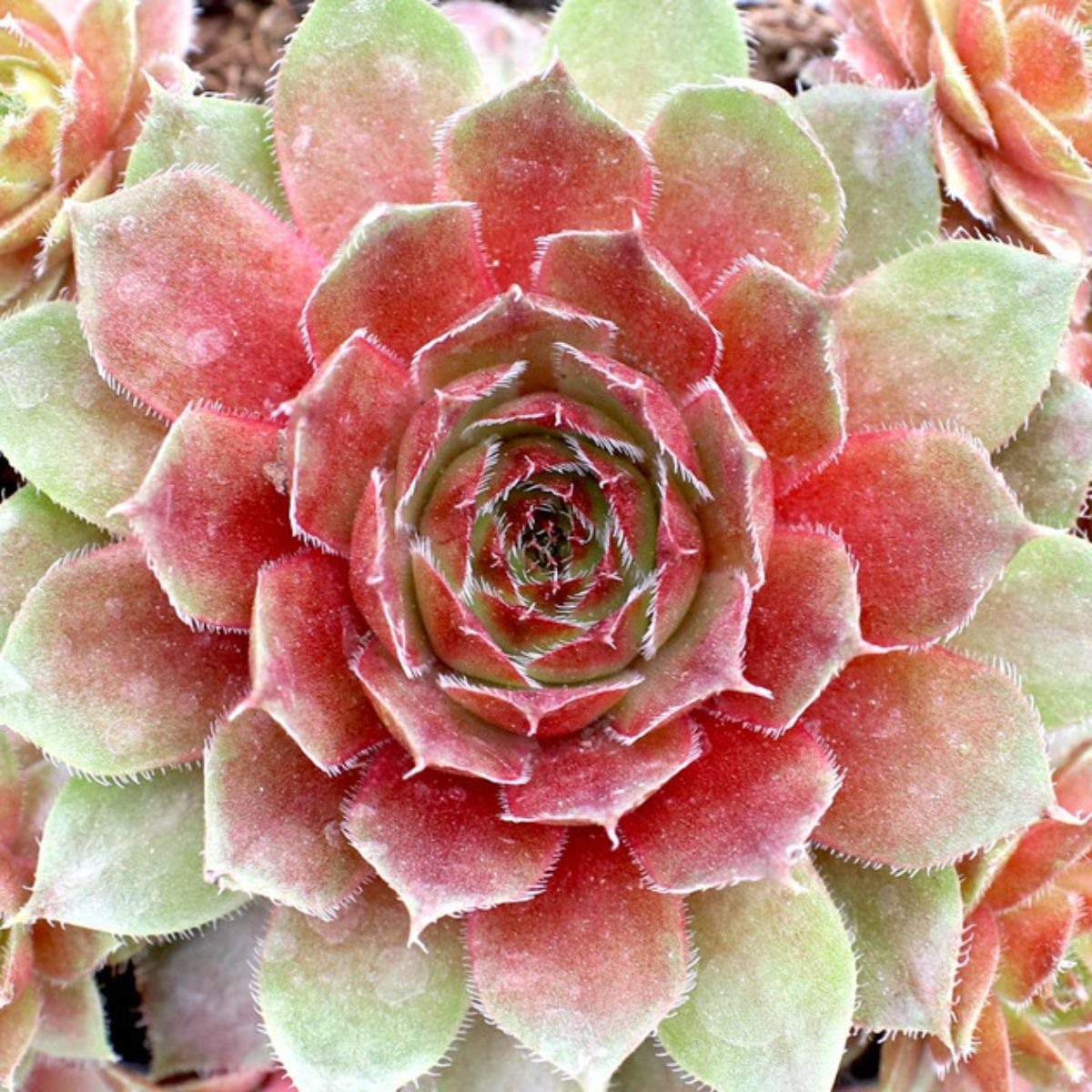 Buy it from:
Red Rubin is an impressive species not just because of how much color it brings but also because of its wide rosette. This species won't get above three inches in height; however, the rosettes can get up to four inches in size. The rosettes are tightly packed with pups that sprout off of the main stem. With angular leaves and a beautiful red center you'll love, Red Rubin takes up just enough space.
Watch for the winter when this species really shows its true colors. It becomes almost as dark as a Zwartkop Aeonium, or it can also become entirely copper red. There is a great deal of variation in this zone for hardy species with beautiful pink blooms.
3. Sempervivum heuffelii var. Gold Bug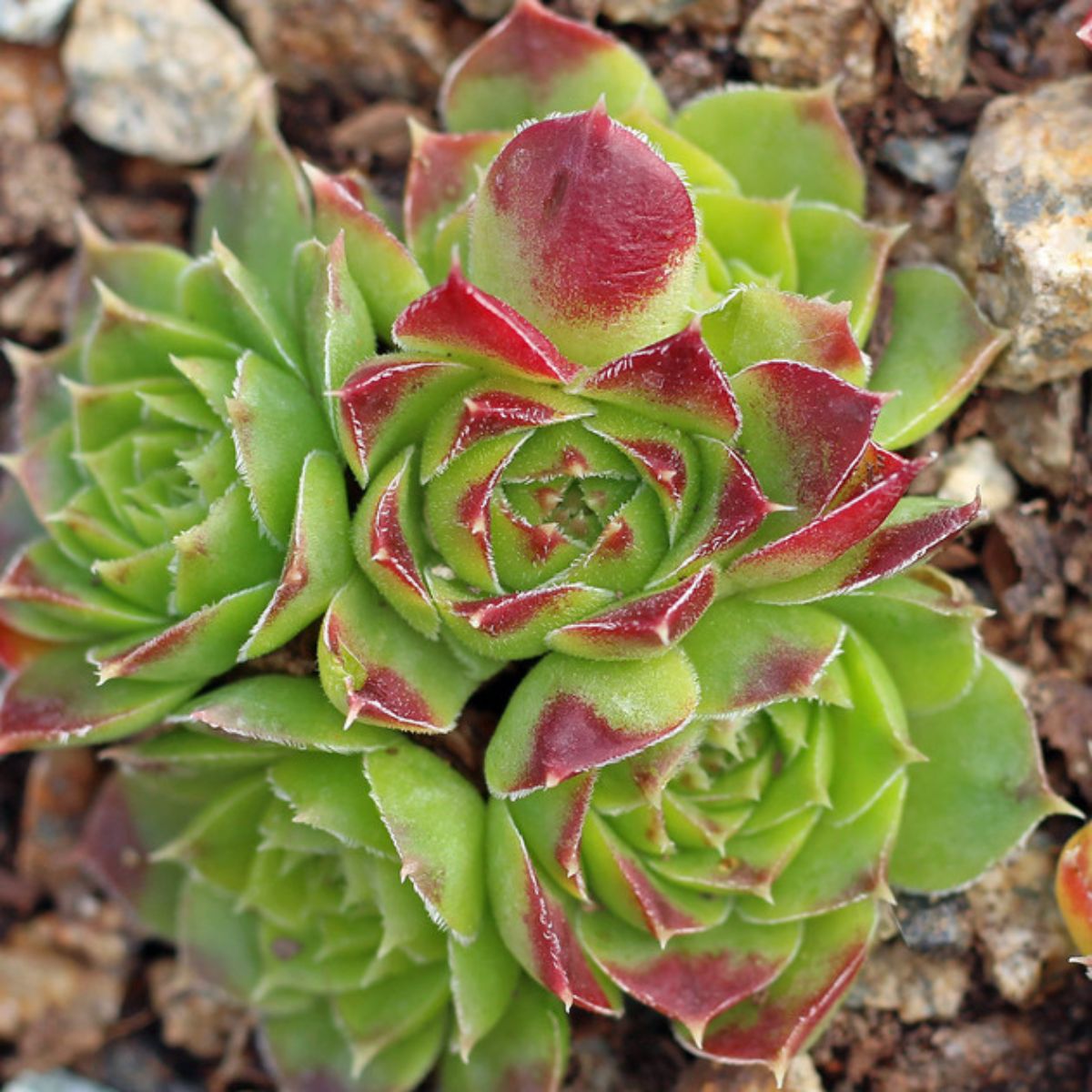 Buy it from:
Gold Bug is a variant that I want in my own collection. It's not often that you find the combination of yellows, greens, golds, and reds that Gold Bug offers, which makes it a very attractive element to any arrangement. This species also does well as a single hen that produces a lot of chicks or pups around the base. This can turn the single rosette into a beautiful collection, or you can propagate the pups.
This species literally looks like it is glowing. The center is a bright yellow that fades to lime green. The ends of the leaves take on a deeper golden color as they fade from light green to gold to red at the very tip. Year-round color and several color changes can be expected year-round.
4. Sempervivum var. Moss Rose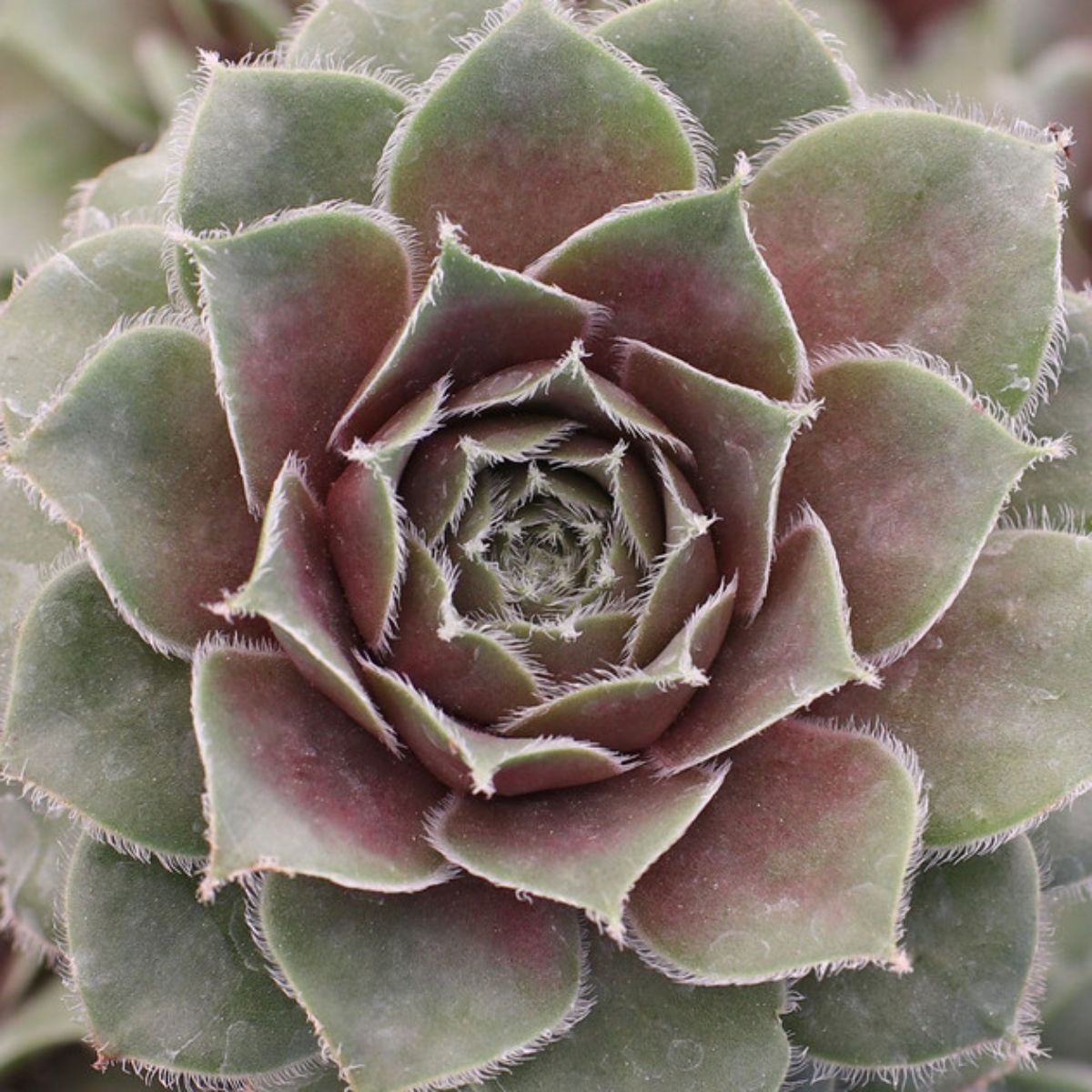 Buy it from:
Moss Rose is a splendid, vintage-looking, colorful sempervivum. The colors for this species are more muted, which is where it gets its name. The mossy grey-green of the leaves is accented by the soft rose color in the center of the plant.
Fine hairs are along the margins of the spoon-shaped leaves that come to a lovely point. The elegant rosette is densely packed, and it can also turn a vibrant maroon color in the center, with the mossy green only presenting itself along the lower leaves. Unlike several others in this collection, Moss Rose can get up to six inches in diameter!
5. Sempervivum var. Ornatum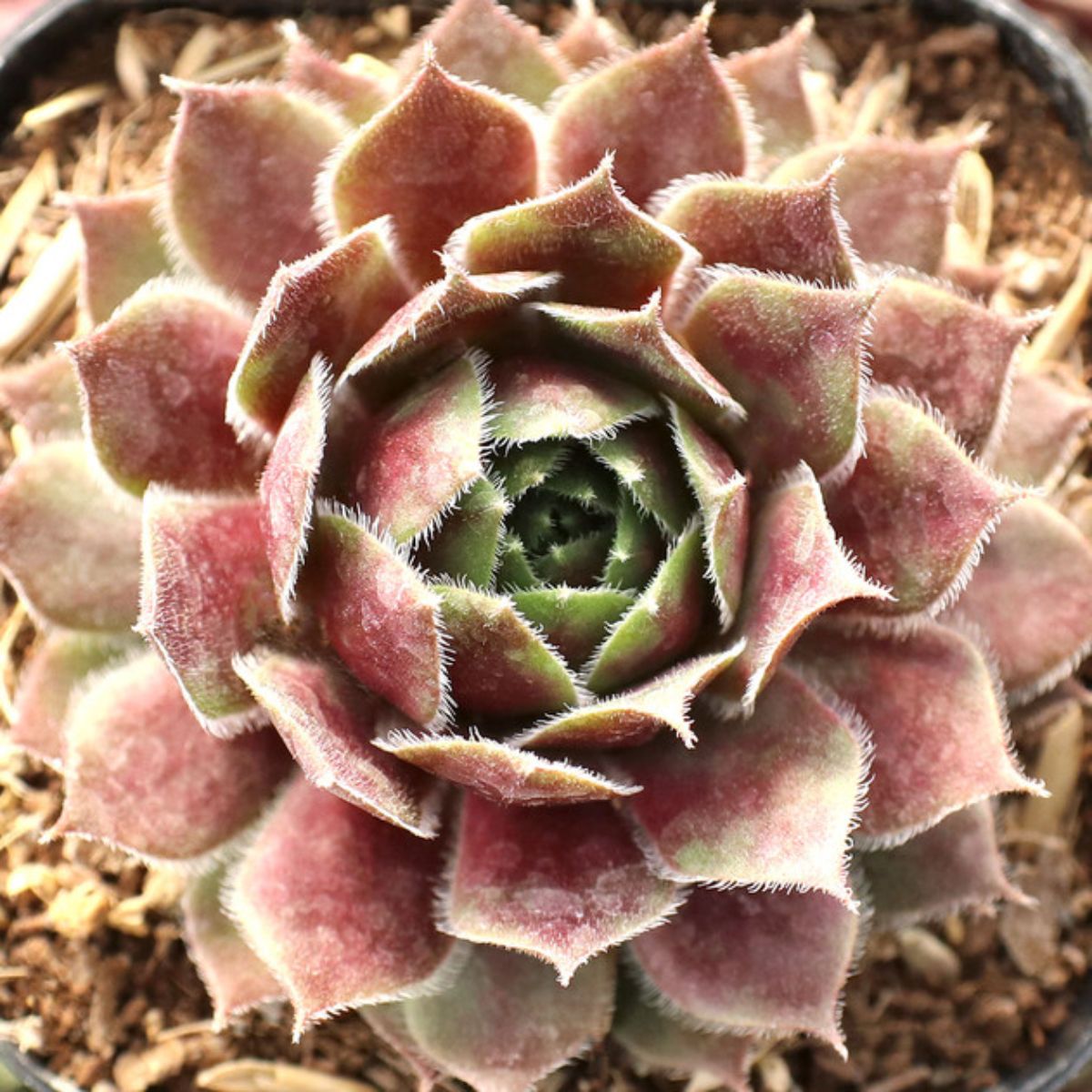 Buy it from:
There are times when I question how in the world a plant can change color so many times or have such vibrant leaf colors. Ornatum is one of those succulents that keeps me on my toes with color changes. At first, the base of the leaves can be red, then the tips, or even the entire plant! You just don't know what you are going to get.
The most attractive part, in my opinion, is when the entire succulent is red with a mottling of green. With an open rosette shape, easily growing pups, and hardiness into zone five, this variant is definitely a top collector's item.
6. Sempervivum var. Butterfly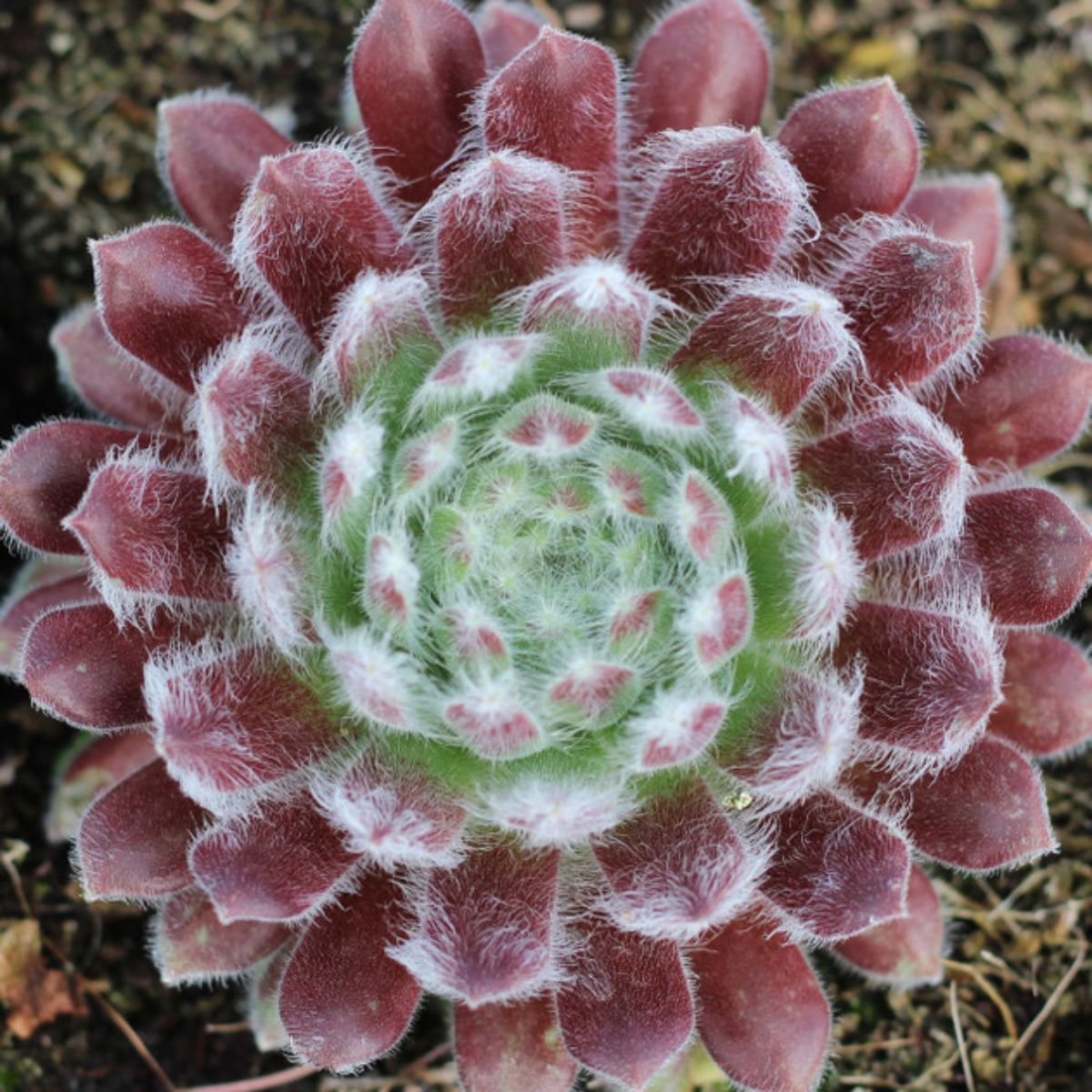 Buy it from:
If you have ever had the opportunity to look at butterfly scales or moth hair, then it will make sense why this variant is called butterfly. Instead of your typical short hairs along the margins, this species is very hairy when it comes to new leaves. As the leaves mature, they change from light green with red tips to almost completely red.
Each leaf looks like a butter knife with fuzzy hairs that protect the younger leaves. This species stays VERY compact and won't grow more than three inches in diameter and height. They can be kept outdoors in hardiness zone five; however, they can also do well inside and in arrangements.
7. Sempervivum ciliosum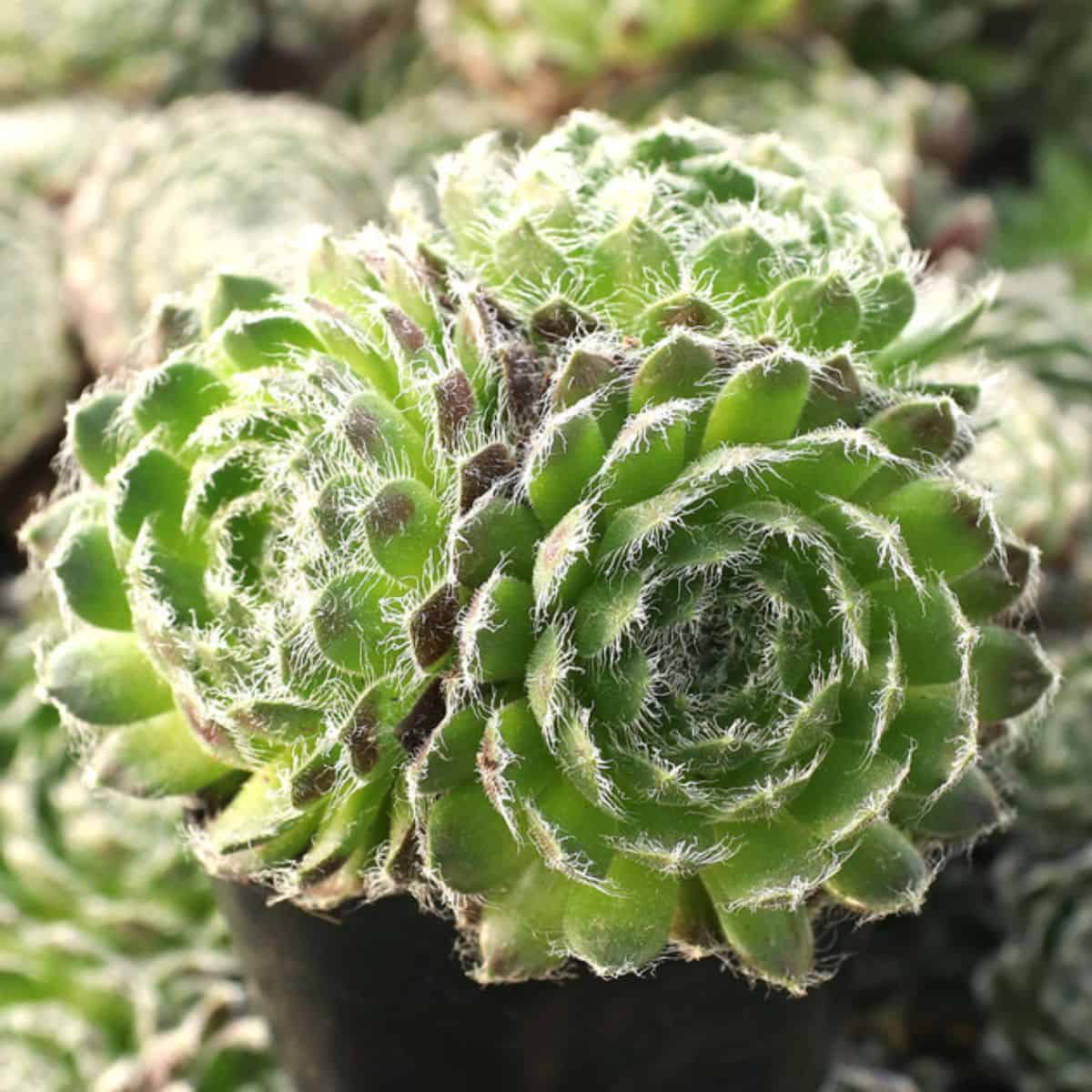 Buy it from:
During summer months, S. ciliosum thrives and opens wide to reach for the sun. During dormancy periods, the rosettes are more compact and closed to protect the succulent from the harshness of zone five winters. While not as colorful in the winter months, this is a species that does still have some color at the tips of the leaves.
When it comes to summer, this species opens beautifully to show hairy leaves protected from the sun. The tips of the leaves maintain an intense maroon color, especially if they get enough sunlight. It's important to remember that the watering schedule should be pretty regular for this species during the summer since that is when its growth skyrockets.
8. Sempervivum globiferum ssp. hirtum, var. Hedge Hog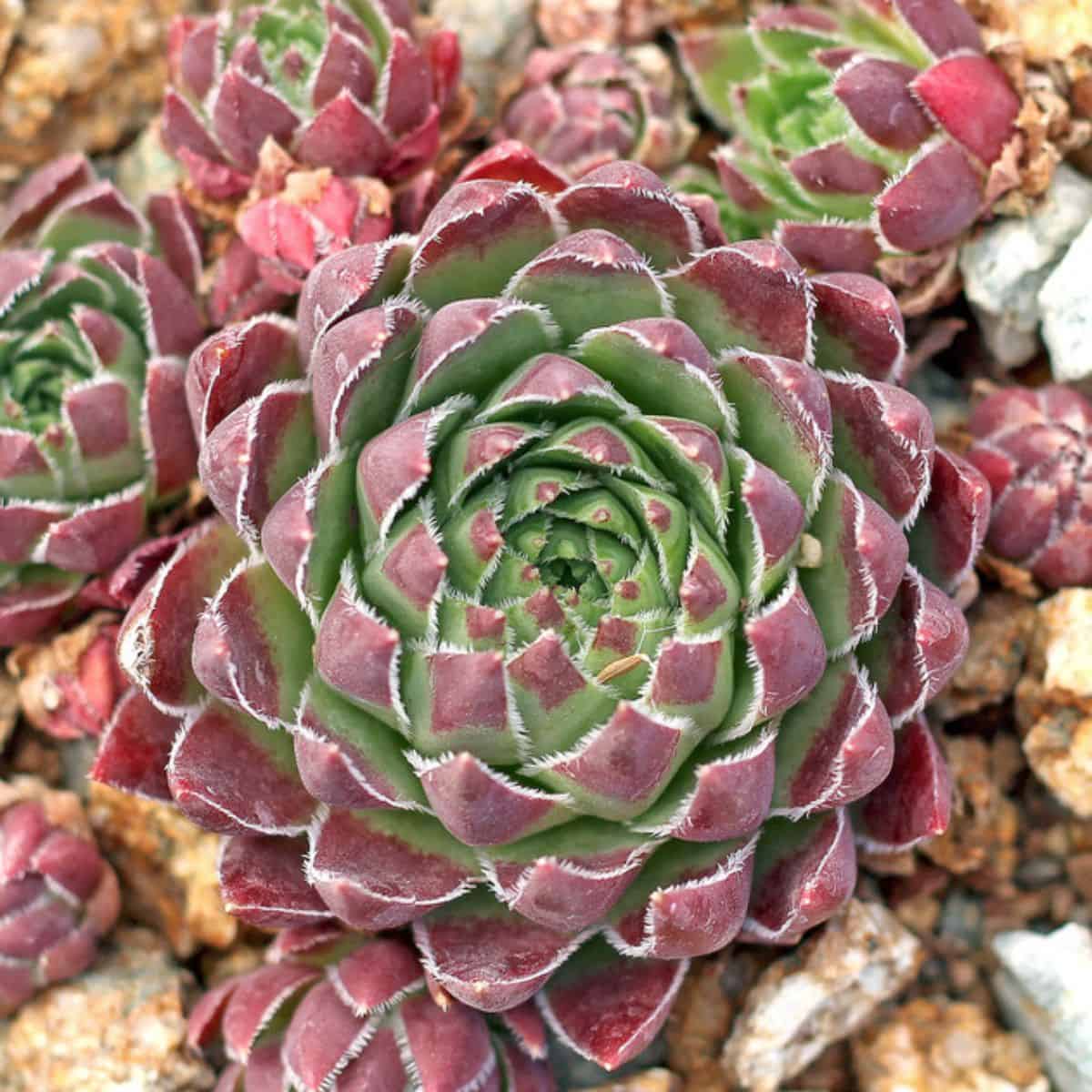 Buy it from:
One of my all-time favorite sempervivums, S. globiferum ssp. hirtum or the Hedgehog, is so much fun to watch grow and continually propagate. This species stays small and produces offsets like there's no tomorrow. Because of how prolific this species is, it can, at times, turn into more of a trailing succulent in an arrangement.
Yet another species that stays irresistibly small, S. globiferum stays under three inches in diameter and height. This species will do well outside in zone five, but it also works well in a bright sunny window. The thick, soft, triangularly shaped leaves are bright green with deep red tips. This makes new pups look like little red roses that start to grow around the mother!
9. Sempervivum heuffelii var. Milady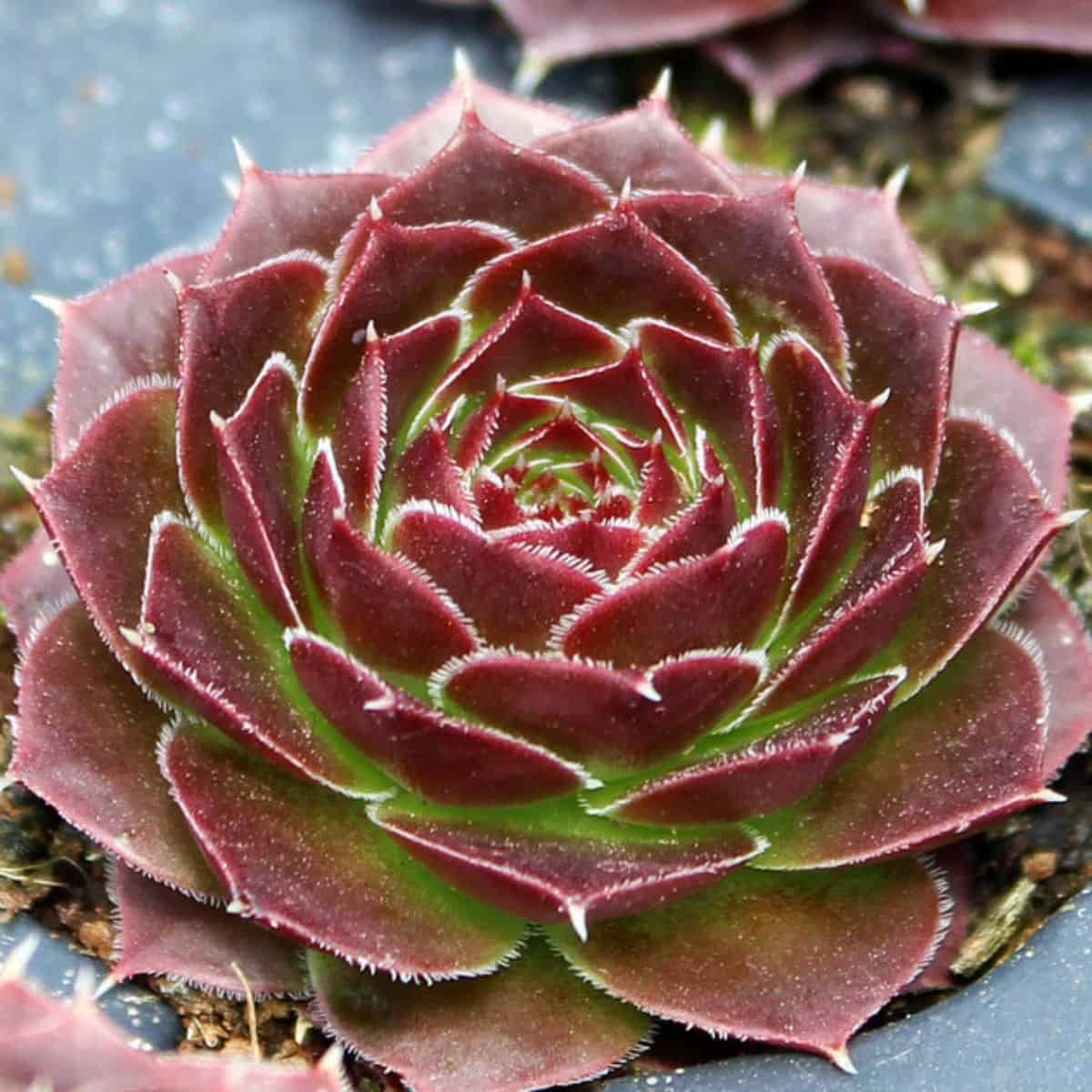 Buy it from:
Sometimes it can be hard to tell where one rosette begins, and another ends because of how this species clumps together so tightly. Like many S. hueffelii, they are intense in color with bright purple and maroon tips with green towards the base.
When the spoon-shaped leaves get enough sun, they are going to be more of a reddish color in the summer, and towards the winter, they'll take on more of the purple-maroon color. You can include this species in an arrangement easily with little maintenance if you want the rosettes to fill in space. Otherwise, new rosettes can be trimmed away with a sharp knife.
10. Sempervivum heuffelii var. Water Lily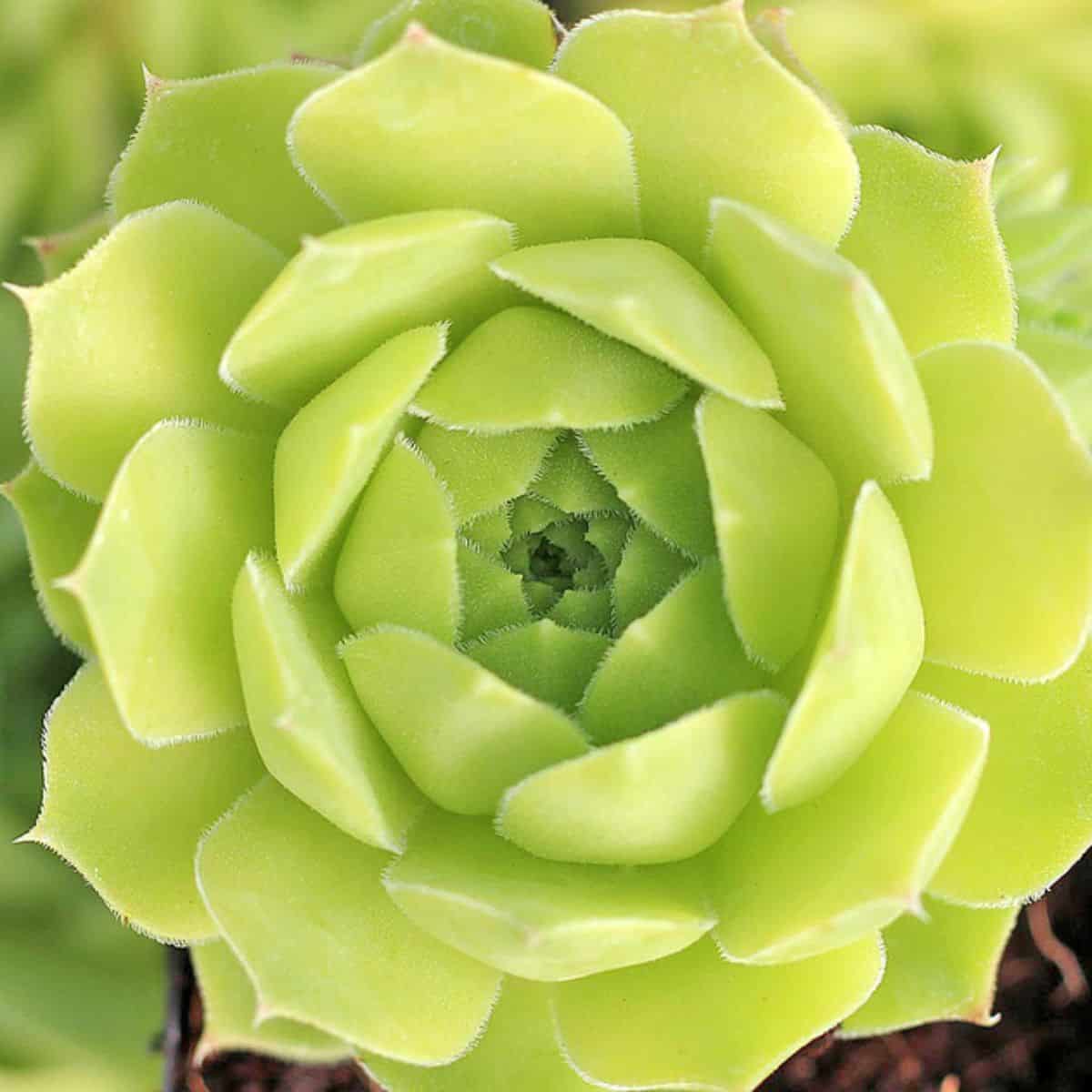 Buy it from:
The Water Lily variant is last but not least at all. This species gets some color in the summer and winter months; however, the primary color of this species is a beautiful lime green that glows. Each leaf has a flat front with a convex back that makes them look like mini spoons. The rosette shape is tightly packed; new rosettes will pack in tightly around the mother.
Like most S. heuffelii, this species does well down into hardiness zone four and enjoys full sun the most.
Conclusion
There are different species that are available for every space, and sempervivums are no different. They have a very hardy system, and they do well with a lot of sunlight. Plus, they are incredibly easy to propagate. If you ever want to look up where to find these beauties, check out Mountain Crest Gardens and Amazon! You'll find them there for very fair prices. Happy shopping and arranging!