Propagating succulent plants through leaf cuttings remains to be the most preferred method to grow a succulent collection. There's something oddly satisfying and Instagrammable about lining up leaves, waiting for them to take root, and grow into baby succulents.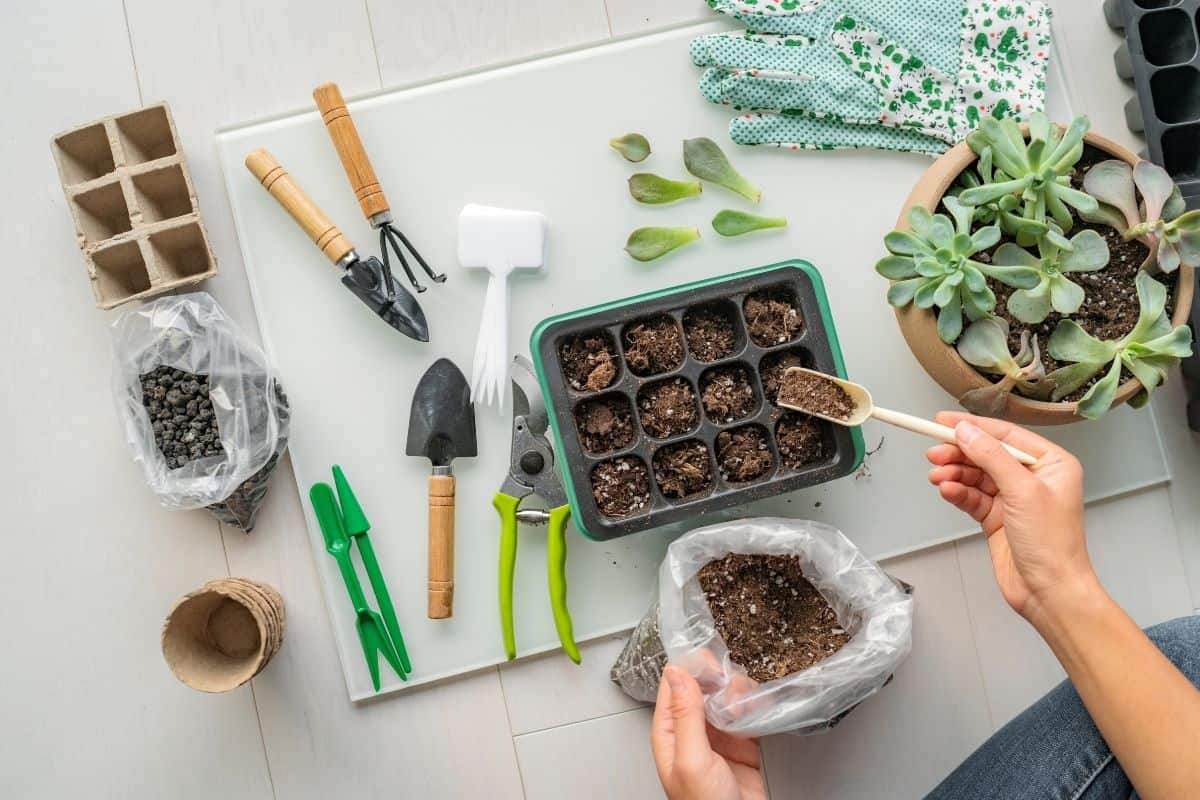 While effective, this method can still yield limited baby plants, especially when compared to how much you can grow using seeds. That's why we believe it is essential for any succulent lover to learn the different types of seeds, how to harvest them, and of course, grow them.
Jump to:
Types of Succulent Seeds and How To Harvest Them
Succulent seeds mainly come in three forms: seed pods, seed capsules, and microscopic seeds. Let's learn more about each of them below.

Seed Pods
These are pods that contain seeds from pollinated flowers. Succulent plants can pollinate naturally with the help of pollinators such as bees, butterflies, and hummingbirds.
However, you might need to resort to artificial methods if your succulent is indoors. Your flowers will then produce seeds in pods that you can harvest with your tweezers once they die off.
Seed Capsules
Some seeds will come from capsules found inside the parent plant's fruits. When left on their own, succulent fruits will ripen, dry, and split open to disperse their seeds to the surrounding soil.
To harvest these seeds, you need to wait until the fruit dries up, but before it splits open. You can pluck these capsules on your own, set a tray under the fruit-bearing stalk, or use a small net to capture the seeds when they fall.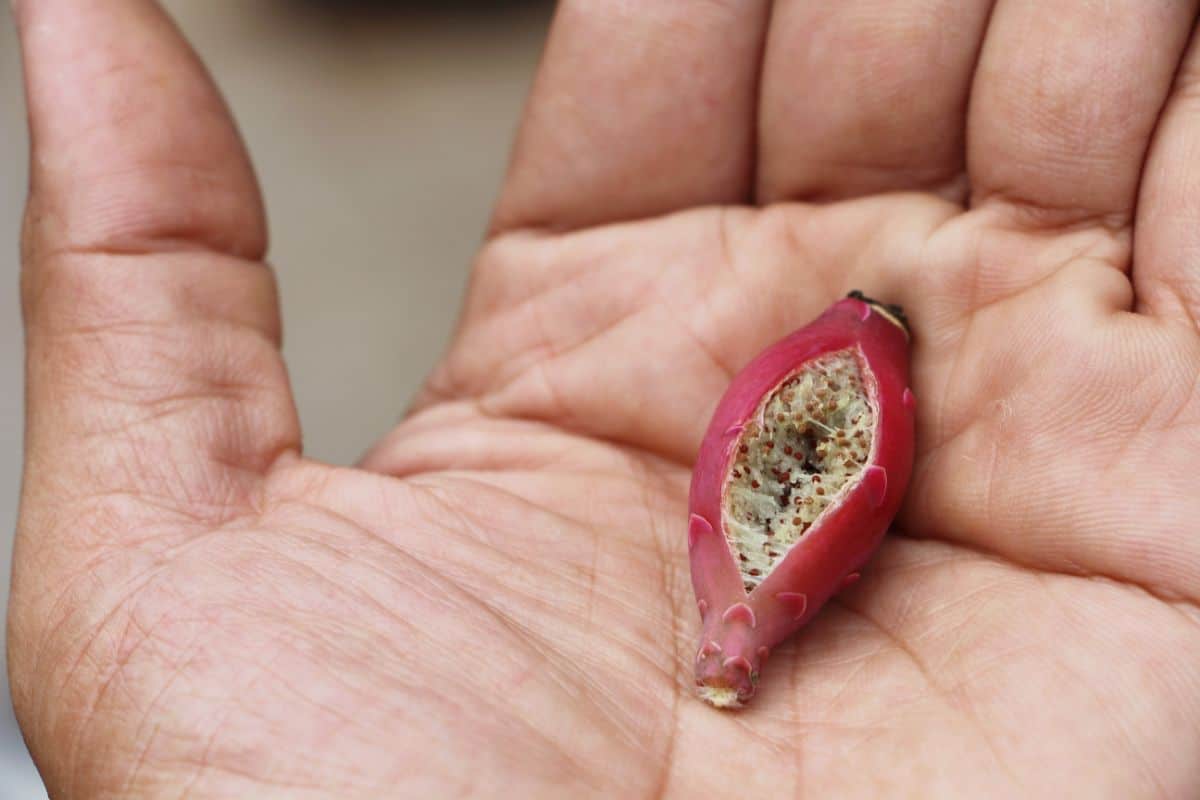 Did you know that some succulent-type fruits are edible? Dragon fruit and Peruvian apple cactus fruit are great examples. You can simply purchase them from your local fruit vendor for their seeds and enjoy eating them at the same time.
Microscopic Seeds
Some succulent plants have seeds so fine that they are not even visible to the naked eye anymore. If that's the case, then you can harvest them by placing a paper bag over the inflorescence, cutting the stalk, and swiftly turning the bag upside down to prevent these tiny seeds from getting blown away by the wind.
How About Getting Seeds From Other Sources?
Harvesting succulent seeds from your own flowers and fruits is not the only way to obtain seeds to plant. There are two more ways to get seeds.
Stores
The easiest way is to purchase a seed pack either online or offline. Most seed packs come in the specific variety that you want, while others come filled with a mix of a particular species.
If you're going to purchase seeds online, just make sure that you get them from a reputable source. Don't get easily swayed by low prices and fake pictures. We know how tempting they are, but there are sadly a lot of online vendors that either deliver something completely different from your expected outcome or even give you a pack of common weed seeds.
Buy them from:
Natural Habitat
You can also harvest seeds from succulents growing in their natural habitat as long as you have the necessary permit for it. Doing so without one is considered poaching in certain places.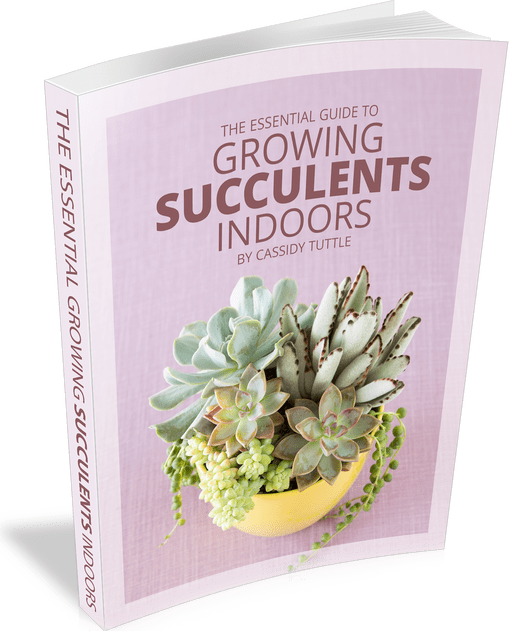 How To Extract Your Succulent Seeds
You can easily extract most succulent seeds by hand. To do so, carefully break open the seed pods or capsules, and they'll come falling right off.
What if My Succulent Seed Capsules Are Too Small?
If your seed capsules are simply too small to crack open by hand, then you can use a grinder to separate the seeds from their capsules. You can then sift these roughly ground pieces to set the seeds apart from the broken chaff with a mesh strainer.
Bestseller No. 1
Bestseller No. 2
What if My Succulent Seed Capsules Are Too Hard?
If you're finding your seed capsules too hard to crack by hand, a common scenario for Mesembs like Lithops and Glottiphyllum, then you can put the capsules in a Ziploc bag. Next, beat them with a hammer, and separate the seeds from the pieces of husks by hand.
How To Store Your Succulent Seeds
We prefer to store our seeds in paper envelopes. It makes it easier for us to keep them dry and prevent rotting.
This doesn't mean that you can't store them in small plastic Ziploc bags. Just keep in mind that the seeds can rot with even just the smallest amount of moisture, even from their own.
After all, seeds that have been harvested prematurely still have some excess moisture within. Heat can also reduce the viability of your seeds.
Hence, be sure to store your seed bags in a cool, dry place. Doing so will allow you to save your seeds for years.
How To Grow Your Succulent From Seeds
Are you ready to grow succulents from seeds? Just follow the steps below:
1. Choose an Ideal Germination Station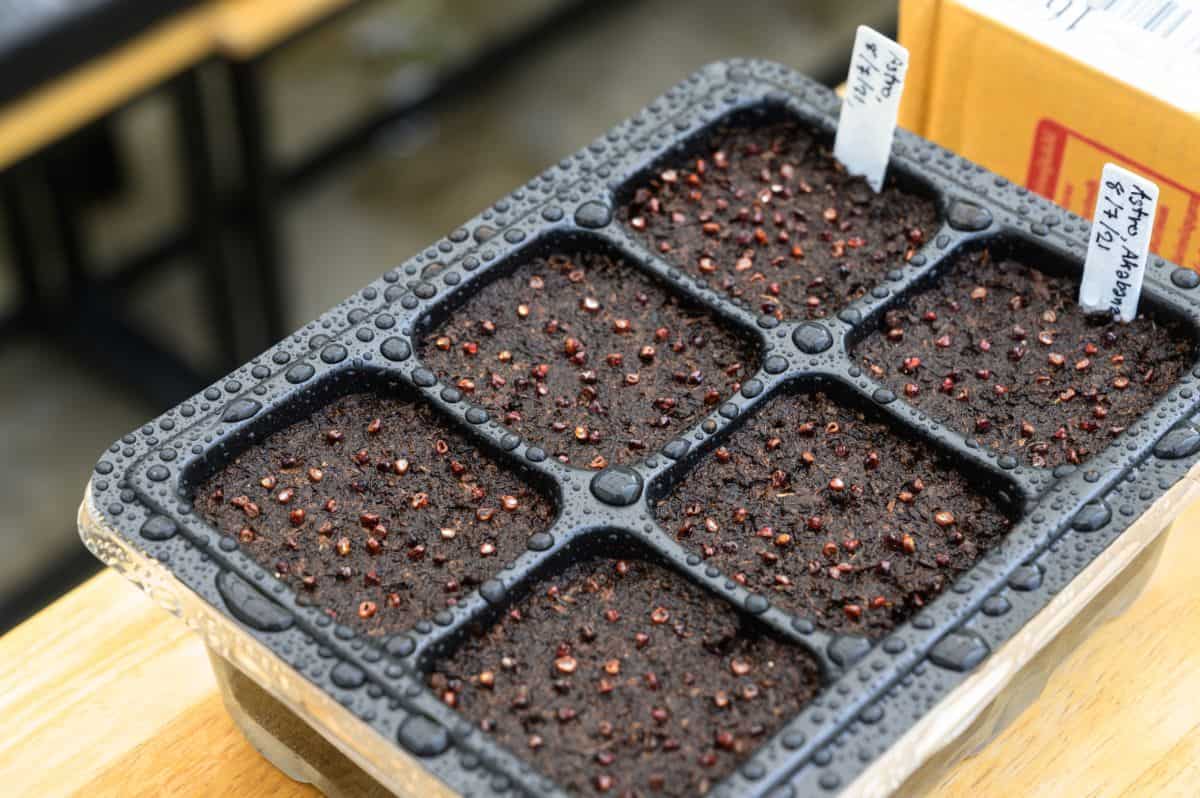 Succulent seeds need three things to germinate: moisture, soil, and light. The problem is, it is not ideal to germinate your seeds outdoors under direct sunlight. After all, some seeds are so small; you won't even notice if they all get accidentally blown away by the wind.
The new leaves that your baby plant will sprout will also be highly sensitive to sunlight. Indirect lighting is the ideal path to take. There's probably nothing more frustrating than spending weeks excitedly waiting for your baby succulent plants to grow only to find that only a couple of weak ones make it.
Hence, we prefer placing our germination station indoors, preferably near a sun-facing window. We also use artificial lighting if there's currently no ideal germinating location in our home.
2. Prepare Your Germination Station
Once you've found the perfect place, you can then prepare it for germination. We usually lay out a sheet of paper towel or wax paper to catch any seed that might fly out from the packet or the seed tray.
Speaking of seed trays, there are different types you can get from your local nursery or online. We highly recommend getting one designed specifically for propagating succulent plants.
We also prefer plastic trays with a cover and removable undertray. The cover can help keep the moisture in and prevent your seeds from getting disturbed. Meanwhile, the undertray makes it easy for you to keep your tray well-watered even without lifting the cover.
There are a lot of succulent enthusiasts who DIY seed trays as well. If you're interested in trying it for yourself, just make sure to give your seed trays a lot of drainage holes.
Drainage holes won't just help you get rid of excess moisture in the future; they will also aid in getting your soil adequately moistened if you plan on watering your tray by flooding it from below.
You should also prepare your seeds, growing medium, and any tool that you might find handy during seed planting. For instance, some people prefer using toothpicks, tweezers, and even paintbrushes for small seeds.
3. Plant Your Seeds
Next, fill your seed tray with the planting medium that you want to use. Most succulent growers use a soil mix they have specially formulated to grow succulent seeds, while others use vermiculite.
It's a loose mineral that retains moisture well, allowing even the most delicate roots to grow with ease.
The next step is to moisten the medium. Once it is sufficiently moistened, you can now go ahead and place a couple of seeds per slot.
We understand how challenging this is if your seeds are really tiny. Having several seeds in a slot can sometimes be inevitable, but do try to limit their number as much as possible. It will save you from the headache of separating your baby succulents later.
Moving on, press your seeds slightly into the soil. It doesn't have to be too deep. Succulent plants have shallow root systems. Hence, planting their tiny seeds too deep can actually prevent them from growing.
This is actually a basic principle of proper succulent care, so you might want to keep that in mind, especially when you're re-potting your new plants in the near future. What's exciting about these beautiful plants is that they're actually compact. They can serve as wonderful container plants and liven up any space.
4. Keep Them Well-Watered and Well-Lit
Next comes the waiting game. Always keep your seed tray well-watered. Never let it dry out, as it can significantly decrease your chances of germinating successfully.
Keeping your tray covered can keep the moisture in, but don't forget to allow your seeds to breathe every once in a while. This step can take between two and eight weeks.
5. Wait for the Magic To Happen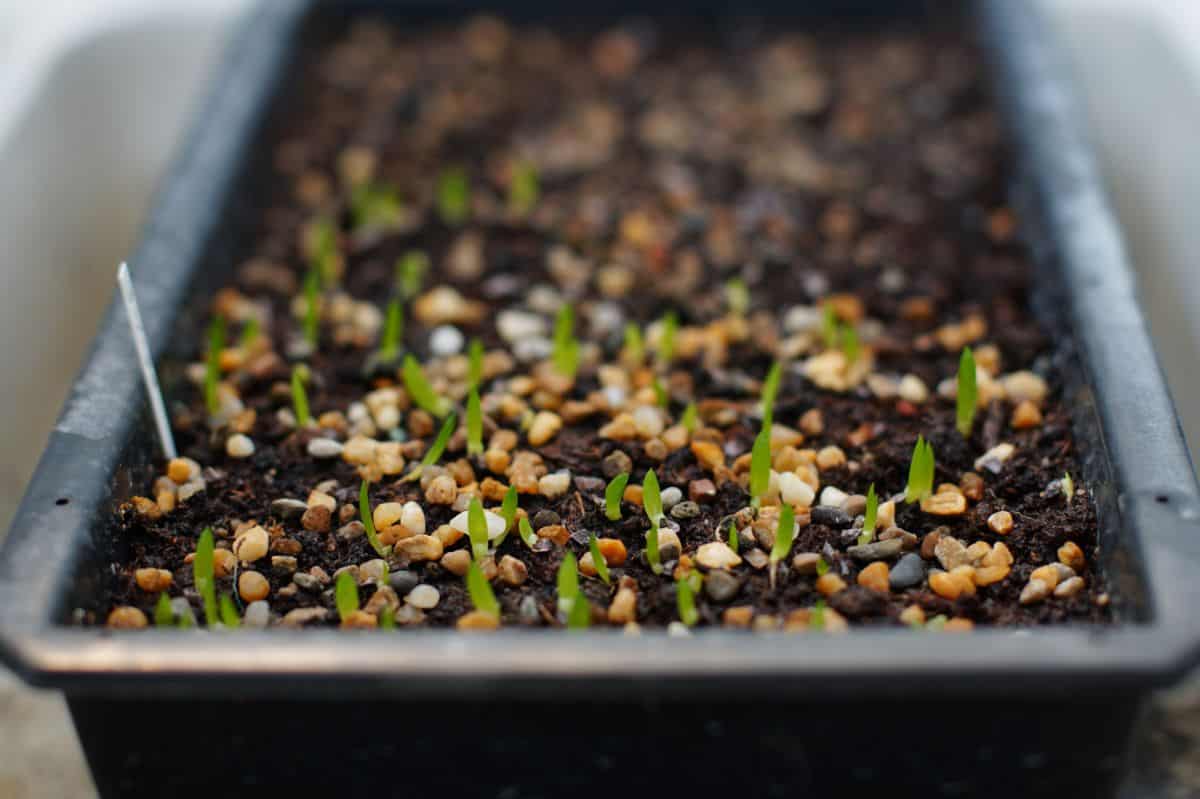 Congratulations! If everything went well, then you probably have numerous baby plants sporadically sprouting across your seed tray. Just keep up with your rate of watering until you notice your plantlets' root systems start to develop.
It is a sign to shift your watering regimen to how you would for mature plants. That means you can finally allow the soil to dry out completely before rewatering. It is also the perfect time to think about how you're going to re-pot your new succulent seedlings.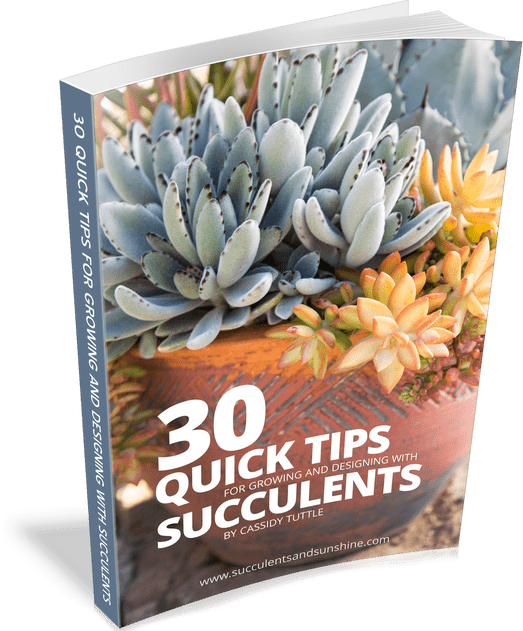 FAQs About Germinating Succulent Seeds
We know that you're going to have many questions about how to grow succulents from seeds, so allow us to answer the ones we most frequently get from our readers.
How long will it take for my succulent seeds to sprout?
This will largely depend on the variety of succulent plants you're trying to grow. As mentioned above, most of them will take two to eight weeks. However, we have experienced species that sprout faster or even longer than that.
How often should I water my succulent seeds?
Again, this question will vary depending on the environment that you're in. Those who live in a more humid climate will probably need to be waterless.
On the other hand, those trying to germinate in the summer or live in a tropical country will need more frequent watering. The rule of thumb is never to let the soil completely dry out until the baby plant has established its root system.
Is it okay if there's mold growing on my seed tray?
A little mold growth is fine and completely natural. You can simply open the lid and allow the soil to breathe a little.
If you do notice the mold growth significantly increasing, then it might be a sign that you're overwatering your soil. Overwatering can lead to root rot, so it can be a bit worrying. You can adjust your watering and see what happens.
My succulent seeds still haven't sprouted. What happened?
There are a lot of things that could have happened. Not to mention that there are certain varieties known for the time they take to sprout from seed.
Rest assured, this feeling of not knowing is part of the learning process. Just keep on trying until you gain enough experience to operate your gardening instincts.
Succulent Seed Choices
Learning how to identify the different types of succulent seeds, harvest them, and grow them are all part of the fun of growing succulents. We understand how intimidating germinating any type of seed can be, especially for beginners. Fortunately, it's not rocket science.
There are simply guidelines and growing conditions that you have to keep in mind to increase your chances of germination. Feel free to follow the steps we have shared above as a reference. Good luck!