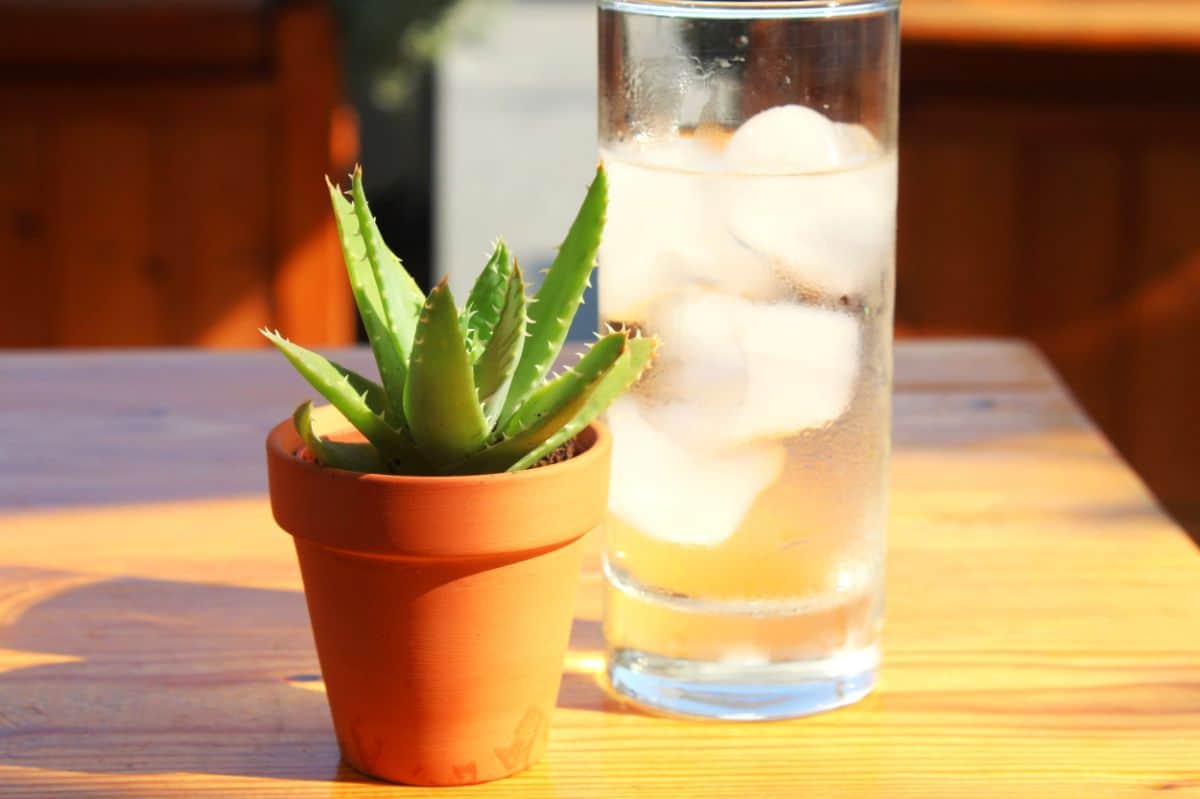 Ask anyone in the plant community, and they'll tell you that watering is one of the most crucial aspects of plant care. This is true even for succulents, which most beginners assume do not need much care because they are originally from dry climates.
Succulents will benefit from and even enjoy having a drink regularly. In line with this, you might have heard of people watering succulents with ice cubes. While it might sound like a cool (pun intended) life hack, is it safe? Why or why not?
Jump to:
Watering Succulents With Ice Cubes: Debunking the Myths
Maintaining a succulent is tricky. While you don't need many tools or exert a lot of effort to keep them alive, they do require individual attention. As such, it's very important that you educate yourself about their specific needs.
Watering succulents using ice cubes is not something you hear every day, but some think it is a great idea. Here are the most controversial myths about this technique:
1. It prevents overwatering.
The premise is that you will only need to give your succulents two to three ice cubes per week. This way, you lower the risk of overwatering them. Moreover, it makes watering easier and more manageable for you, especially if you have a good number of succulents to take care of.
The Problem
As you probably already know, overwatering plants, in general, especially indoor plants, is the leading cause of plant death. In reality, though, watering with ice cubes will not really solve overwatering.
How often you give your succulents a drink depends on their constantly changing needs. Therefore, you will still need to check and adjust how much water (or how many ice cubes) you give them based on several factors.
2. It gives succulents enough time to absorb water.
One thing you probably already know about succulents is that they don't absorb water as quickly as other plants. Even the soil that surrounds them may not be as efficient in water absorption.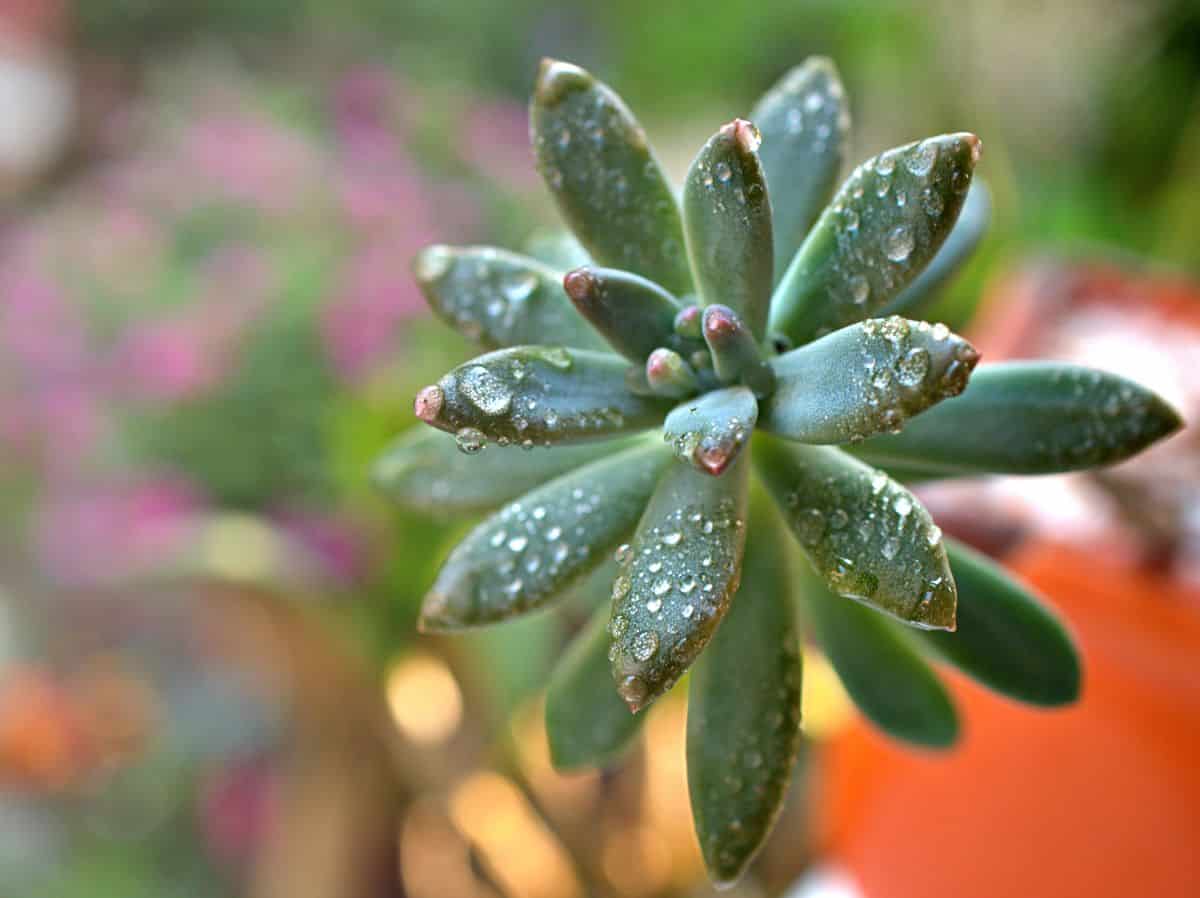 Since ice cubes melt, using them for your succulents provides the plants with gradual and continuous water. For this reason, some believe that they are perfect for succulents that don't absorb water as quickly as others.
The Problem
While there may be no detrimental side effects to doing this, no one can say for sure that it won't damage your succulents. After all, if the ice cubes melt faster than the plant can absorb the water, it can still waterlog the soil.
As you probably already know, allowing the root ball to be saturated in water for too long will result in root rot. In the plant community, this translates to a death sentence. Also, soil that is too wet prevents air from getting to the roots, causing the succulents to suffocate.
3. It avoids overflow.
Because of succulents' water absorption rate, they are often at a higher risk of overflowing. This happens when they receive too much water in a short period.
When watering with ice cubes, the assumption is that the gradual melting of the ice will prevent this from happening. You may still experience a bit of an overflow, but the water wouldn't flood and leak from the container.
The Problem
The health of your succulents relies on how successful you are at mimicking their natural habitat. The majority of these plants grow in dry climates, while others thrive in rainforests.
If you come to think of it, neither of these two settings exposes them to water that is too cold or too hot. From this, it's safe to say that watering with ice cubes could send your succulent into shock, which can end badly for your plant.
Fortunately, it's very easy to solve the problem of overflow. All you have to do is plant your succulents in well-draining pots to avoid excess water from pooling on the surface. The key is getting to know your plant and adjusting how much water you give them based on their needs.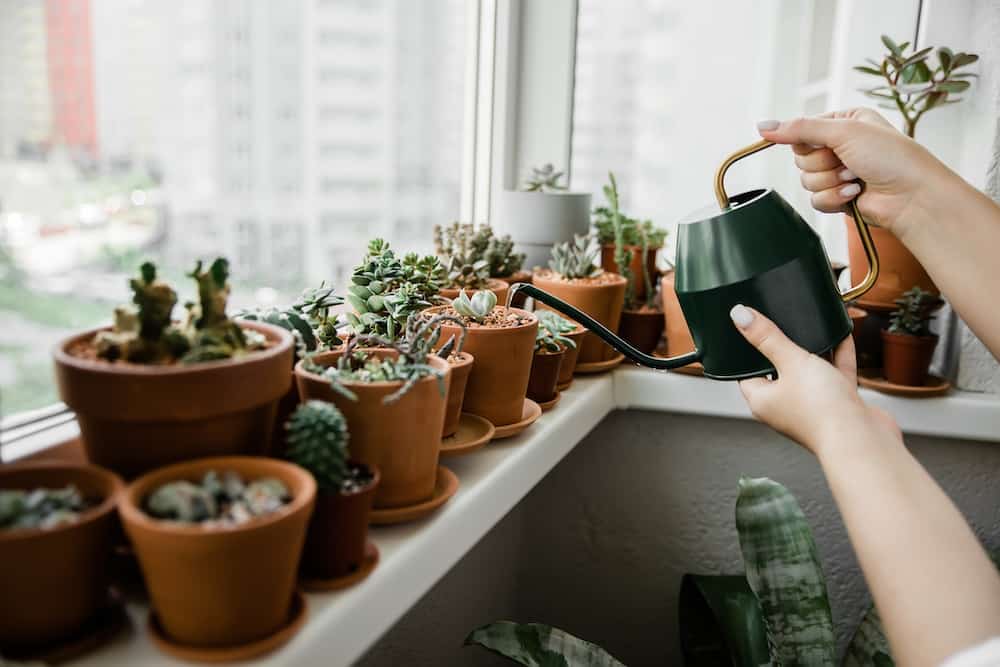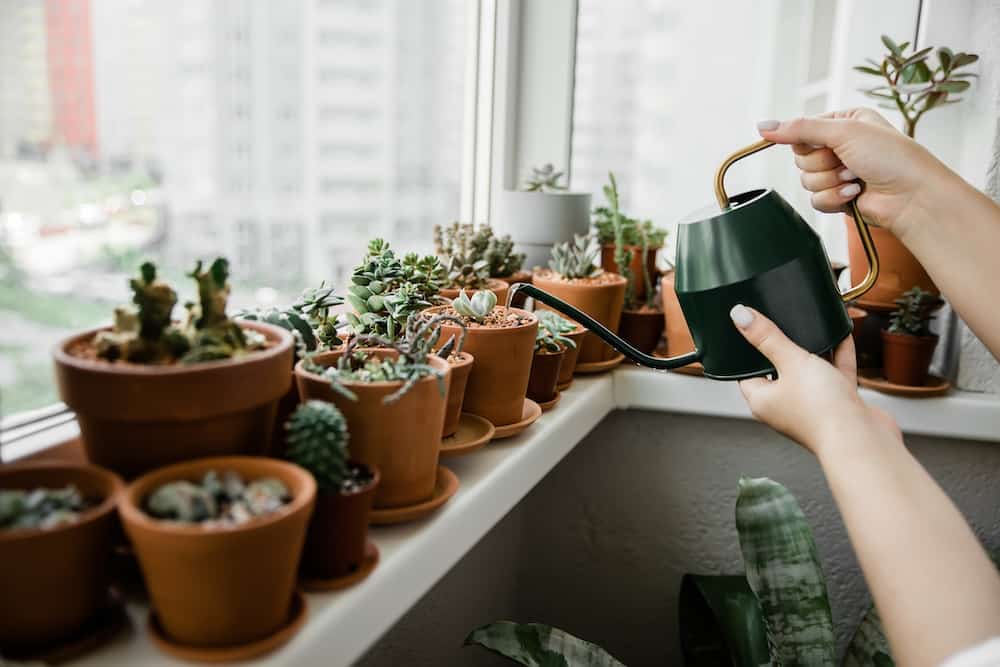 More Reasons Why You Shouldn't Do It
There are many factors to consider to figure out how often you should water succulents. The problem is, some might not be too keen to go through each of those considerations. And this is why watering with ice cubes sounds so appealing to them.
If you're having a hard time deciding if you should try it or not, here are more reasons why you shouldn't:
1. It doesn't really make watering easier.
The whole point of switching to ice cubes is to make plant care more effortless, but does it really? If you decide to do this, how do you determine how many cubes to put for each one? How many times should you do it in a week?
As a responsible plant owner, you have to constantly know what your plants need. Otherwise, you might end up with multiple dying succulents in a few weeks. Despite being low-maintenance plants, you still have to keep an eye on them once in a while.
Watering your succulents the good old-fashioned way only requires the use of your trusted watering can. In comparison, watering with ice cubes means you'll have to take up space in your fridge to freeze water. So, what benefit does it really have?
2. Direct sun exposure will cause the ice cubes to melt too quickly.
The majority of succulents thrive when exposed to plenty of sun. Because of this, you've probably positioned them in a spot where they receive a lot of sunlight. Obviously, the heat from the sun will cause the ice cubes to melt faster.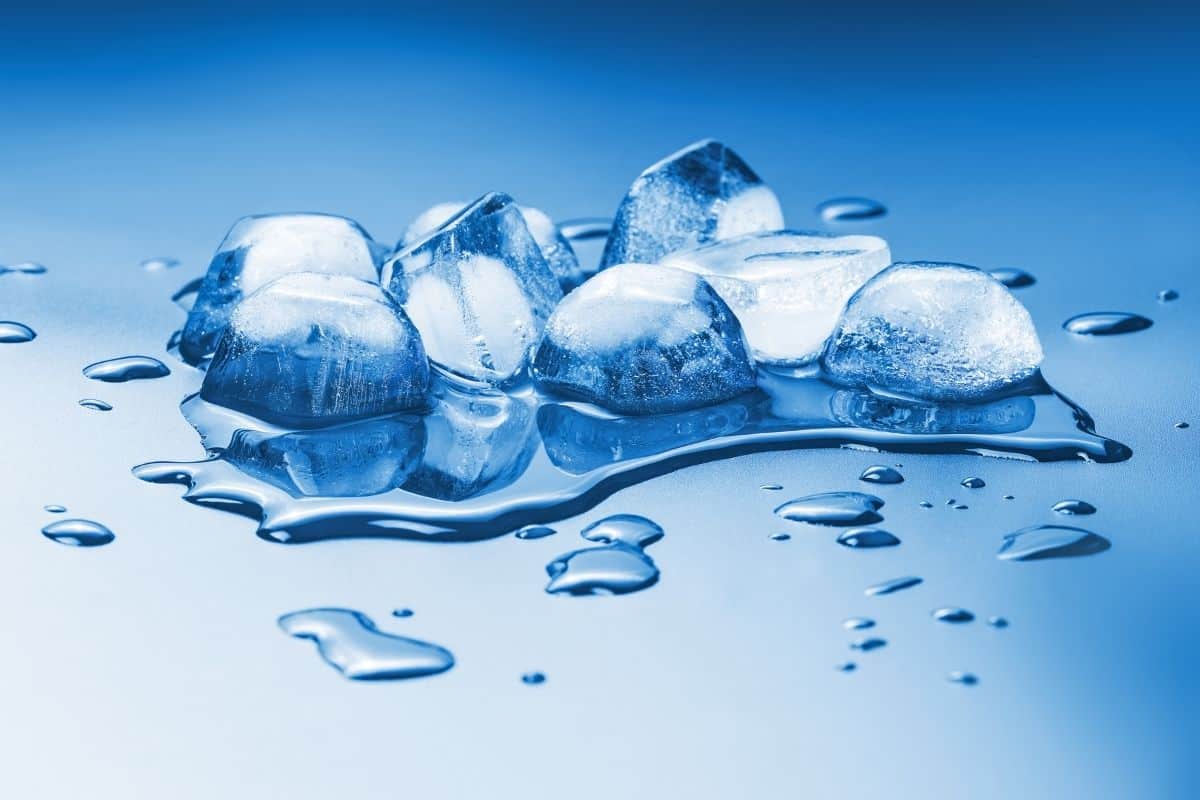 If this occurs, you may experience an overflow of water in the plant's container. What's more, if your succulent is unable to absorb the water quickly enough, it will result in waterlogging.
When you overwater your succulents, they don't have the capacity to store and absorb all of them. The excess water then invites fungi, bacteria, and many other host-eating parasites, which can be catastrophic for your plants.
3. It exposes the plant to drastic temperature changes.
The weather plays a crucial role in watering succulents. How often you water them, as well as how much water you give them, depends on the current conditions of the environment they are in.
Ice cubes are significantly affected by the temperature of the room. If the weather is too hot, exposing your succulents to freezing temperatures all of a sudden will shock them. In the same vein, giving them ice cubes when it's already too cold for them in the first place will not do them any good.
Both cacti and succulents do well in environments with temperatures ranging from 40 to 80 degrees Fahrenheit. They might be able to tolerate up to five degrees outside of this range, but any drastic change will most likely end in irreversible damage.
4. It does not apply to all succulents.
Since most succulents naturally grow in a dry climate, they may not appreciate the coldness of the ice cubes. Placing an object below or around freezing temperature may stress them out and put them in a state of shock.
Additionally, other succulents cannot tolerate damp soil, which is inevitable if you use ice cubes. While some succulents do not mind the cold, they still won't benefit from watering with ice cubes.
Therefore, your best bet is to take the time and get to know each of your plants. This way, you'd be able to give them exactly what they need. In general, that means making sure you don't expose them to extreme cold or too much heat.
5. It puts your succulents at risk of shock.
Of course, no one can stop you from trying this hack. The only problem is that you'd be putting your precious plants at risk of shock. You can try doing it and observing how your succulent will react, but you have to be willing to risk it.
Some who have tried watering with ice cubes noticed the leaves drooping, indicating that the plant is stressed out. You might also see translucent or black leaves, which is your succulent's way of telling you it is overwatered.
One characteristic that distinguishes succulents from other plants is their fleshy leaves. These leaves hold extra water, which is why succulents can go long days without a drink. Exposing them to temperatures that are too cold might freeze the water in their plant cells, damaging or killing them in the process.
Is It Okay to Water Succulents with Ice Cubes?
Taking care of plants is one of the most rewarding hobbies you can take on. Not only are they pleasing to the eyes, but they will also provide you with lots of benefits. You just need to make sure that you know how to take care of them.
If you wish to try watering succulents with ice cubes, you'll want to be aware of the risks. Exposing your plants to extreme temperature changes like this will most likely damage or kill them.
Succulent or not, any plant won't appreciate being watered with ice cubes. Instead, you are better off using room-temperature water so as not to cause them stress. You'll also want to plant them in pots that promote not only proper water drainage but also good air circulation.