Colorful succulents are a fun way to add style and personality to any garden. Whether you have a certain color palette in mind or simply enjoy the vibrant colors of nature, consider adding a few blue succulents and cacti to your collection.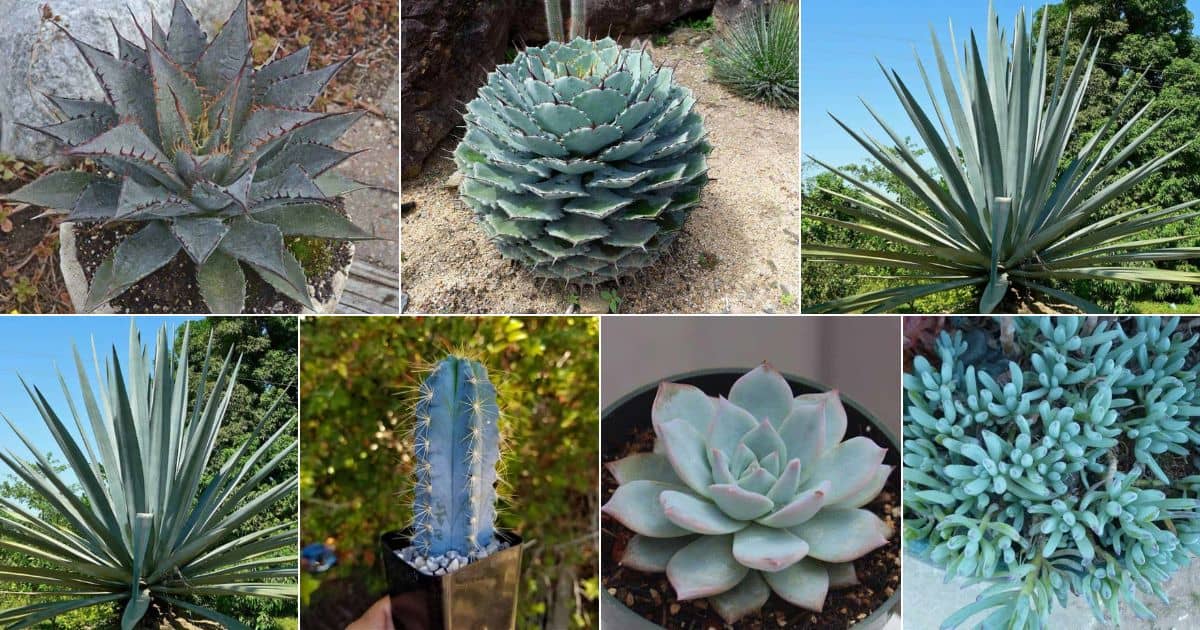 These ten beautiful blue succulents make great additions to indoor or outdoor gardens. They're also perfect for adding a hint of blue to fairy gardens, living walls, and centerpieces.
Jump to:
The Most Beautiful Blue Succulents
Echeveria 'Blue Bird'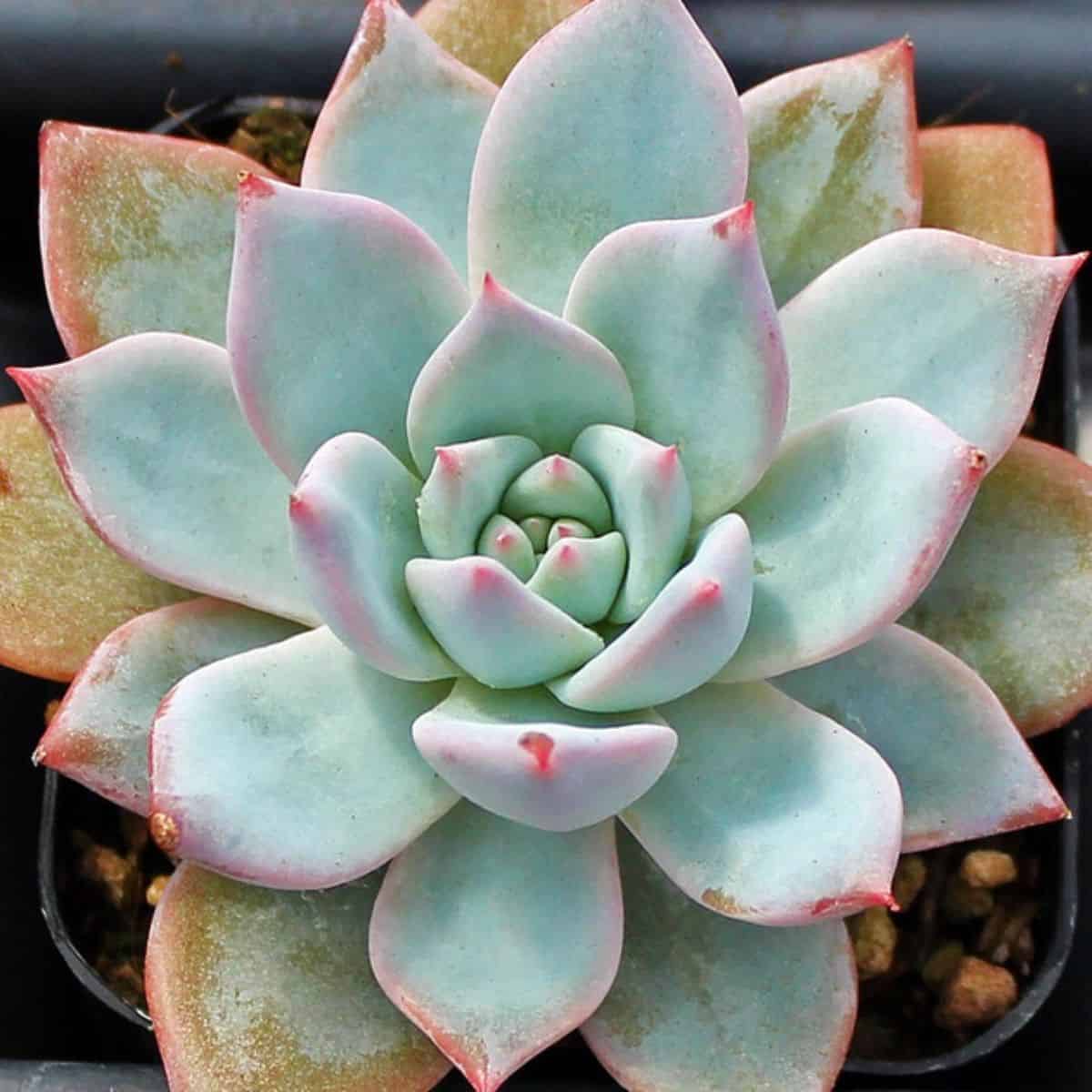 Buy it from:
This gorgeous rosette-shaped succulent has powdery blue leaves with reddish-pink leaf margins during fall and winter. Blue Bird's rosettes can reach up to ten inches in diameter, but if left to cluster with its offsets, it will likely stay smaller.

Like most Echeveria, Blue Bird is easy to care for and propagate. With proper watering techniques, well-draining soil, and bright sun, this succulent will thrive. Use caution when handling the leaves, however, as the powdery farina may come off. Blue Bird is also safe for pets, so it's a perfect choice for gardens frequented by furry friends.
Agave potatorum 'Butterfly Agave'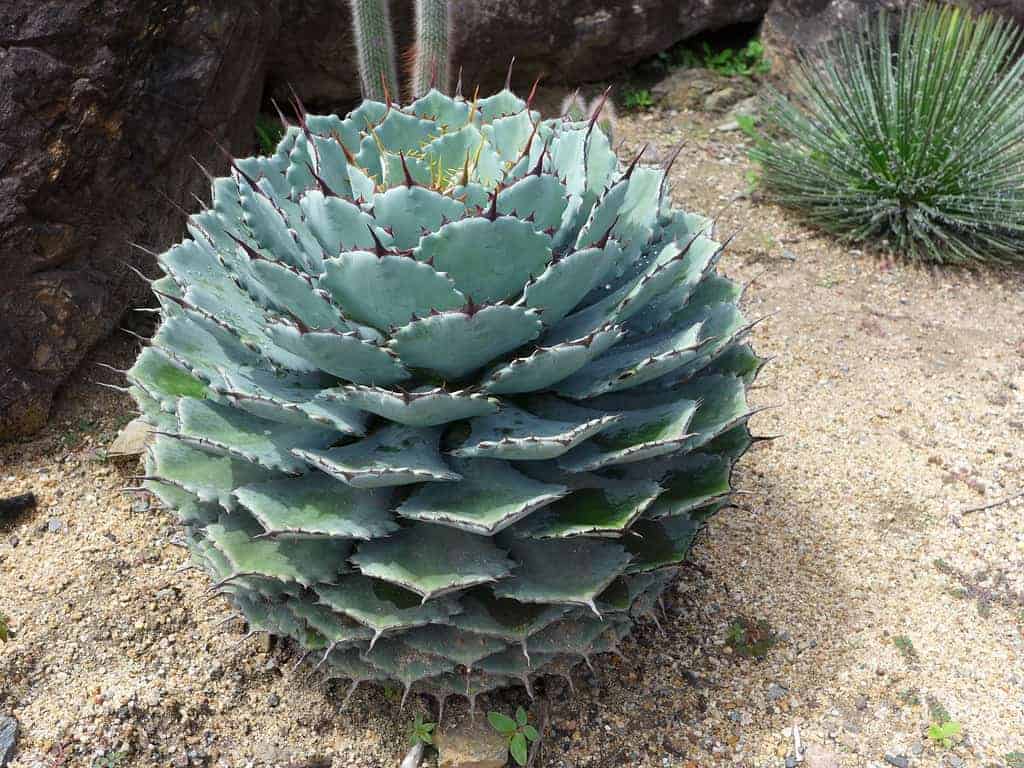 Buy it from:
As far as Agave go, the Butterfly Agave is somewhat small. At maturity, it only measures about two feet tall and three feet in diameter. The greyish-blue leaves are covered in brown spines along the leaf margins. When blooming, the stalks can reach up to 20 feet in height with green and yellow flowers.
Butterfly Agave are slow growing succulents that thrive with a little neglect. They prefer infrequent watering and plenty of sunshine. Care must be taken when handling Agave because the spines along the leaf margins can be sharp.
Senecio serpens 'Blue Chalkstick'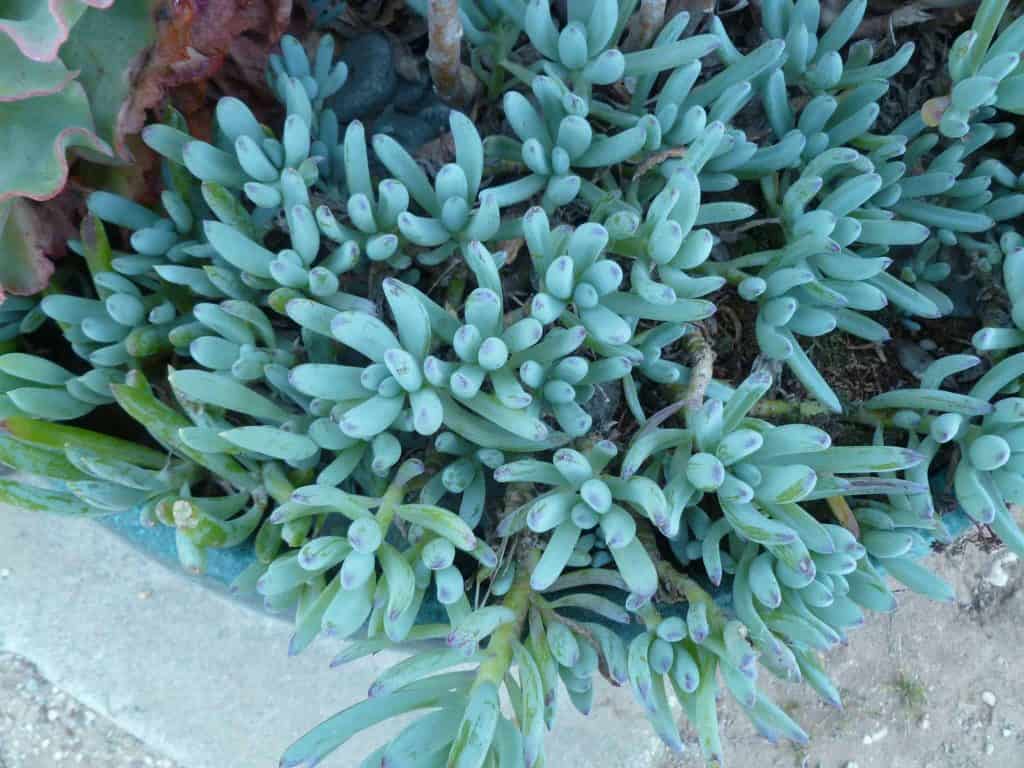 Buy it from:
Senecio serpens is a petite succulent that can grow up to eight inches tall and up to three feet in diameter. Its stems are covered in tubular, greenish-blue leaves covered in powdery farina. Also known as Blue Chalkstick, the plant blooms in mid-summer to early fall and produces tiny white flowers.
Bestseller No. 1
Bestseller No. 2
Blue Chalkstick grows best with partial to full sun and well-draining soil. It can be grown both indoors, as well as outdoors if the climate permits. This is not a particularly frost tolerant succulent, so if you're expecting freezing temperatures, it's best to cover your plant or bring it inside.
Aloe 'Blue Elf'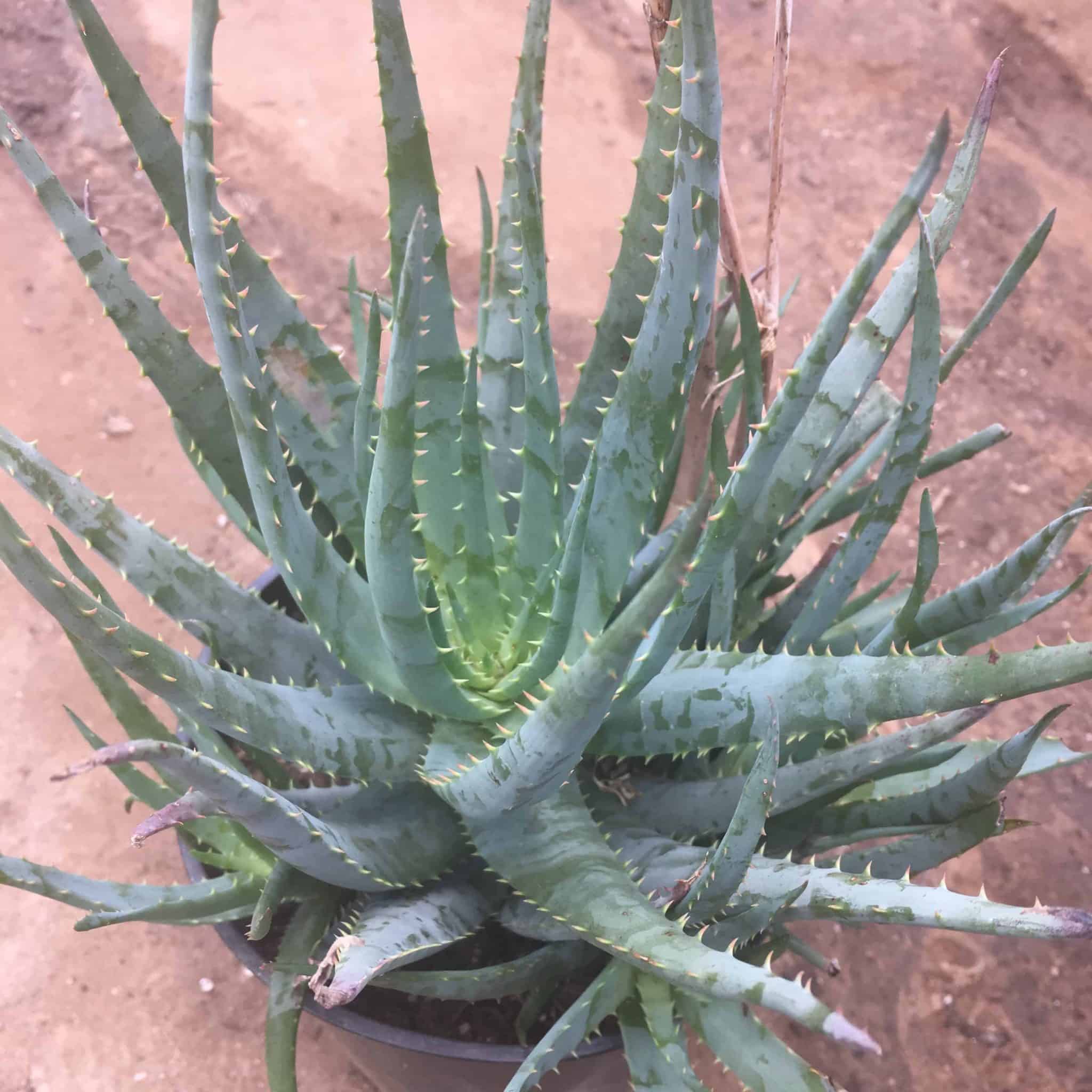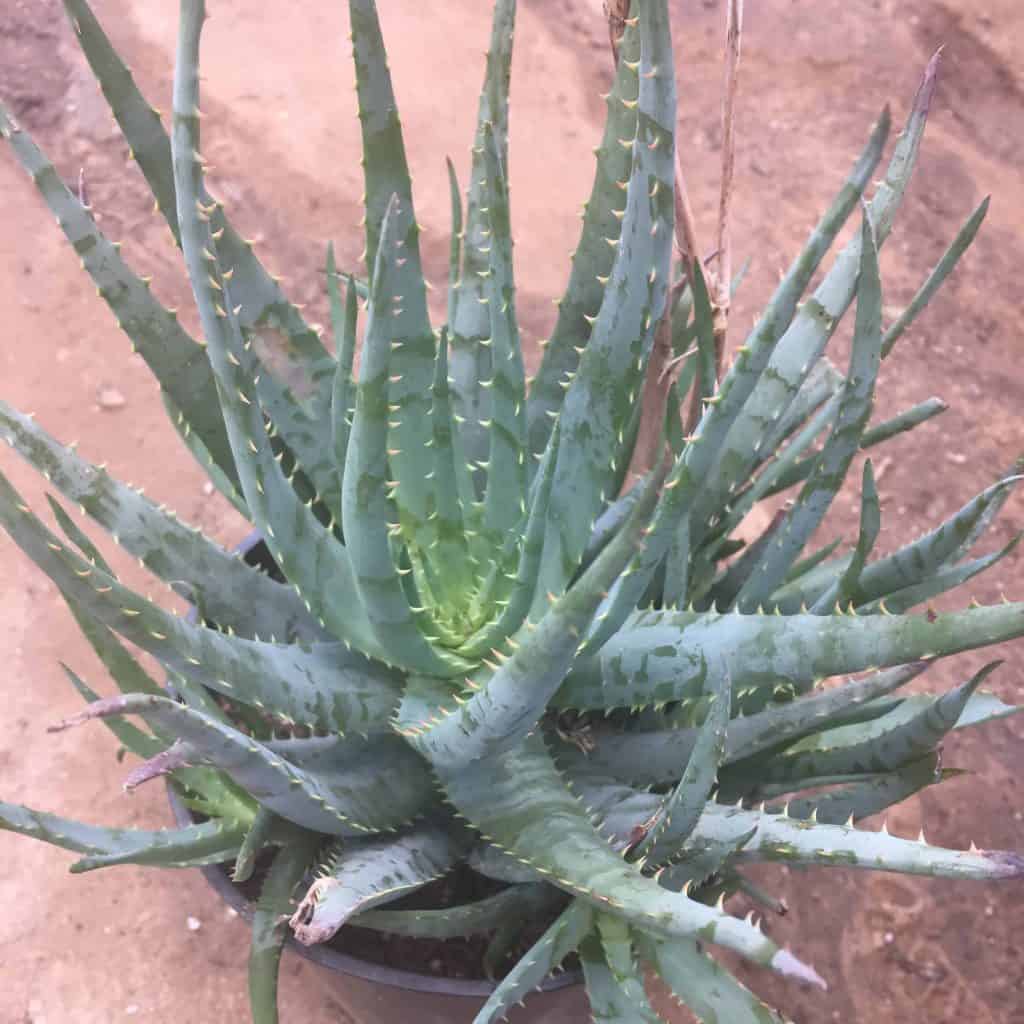 Buy it from:
Blue Elf's long, grayish-blue leaves grow in a rosette shape that can grow up to two feet in diameter. The plump, spiky leaves can reach up to 18 inches in length. Although the plant typically blooms between early winter and early spring, it can bloom any time of year if the conditions are right. It produces vibrant orange flowers.
Blue Elf is an easy to care for succulent, provided it is never left in standing water. Well-draining soil and infrequent watering are a must. Aloe are a great plant for gardeners of any skill level as they can be very forgiving.
Echeveria 'Blue Prince'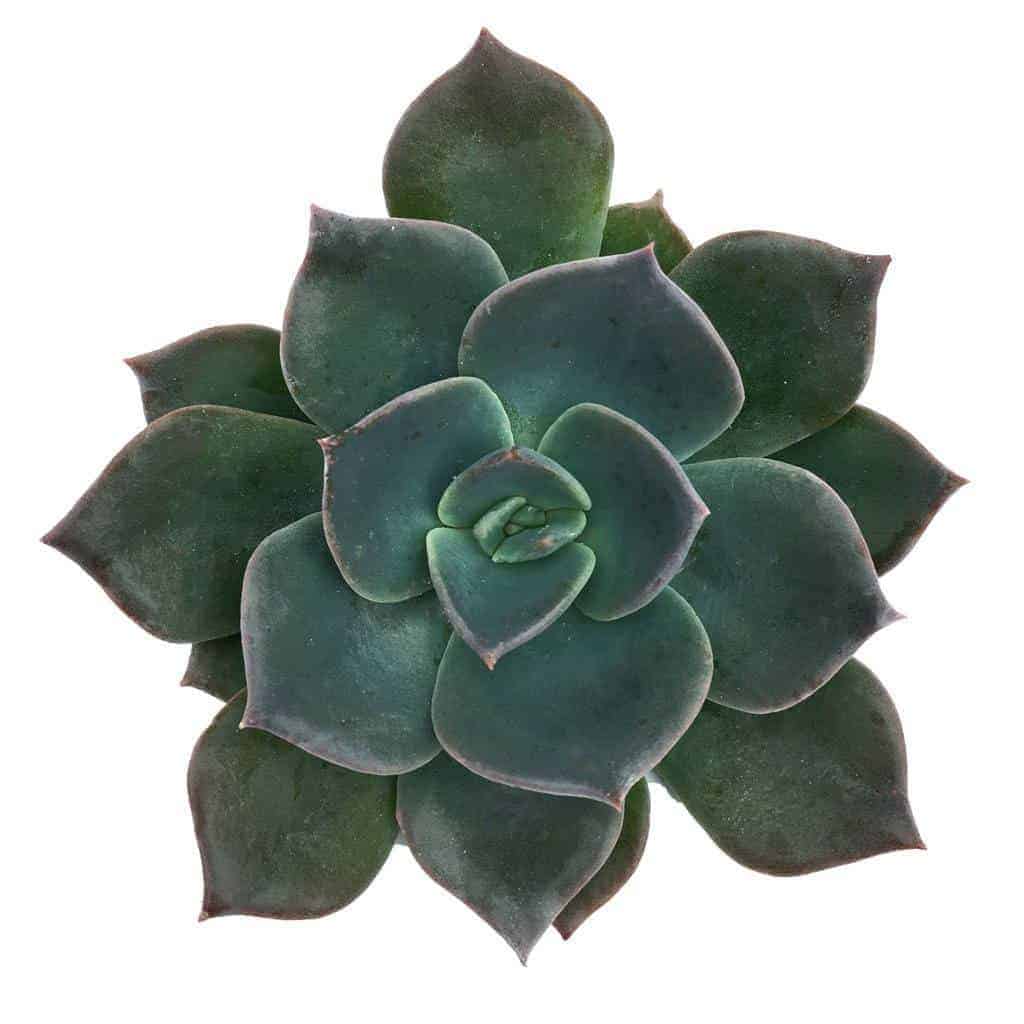 Buy it from:
Blue Prince is an attractive Echeveria cultivar that boasts vibrant greenish-blue leaves. In full sun, the leaves may also take on a reddish hue. The rosettes can reach up to six inches in diameter. In late spring, Blue Prince produces tall stalks with orange or yellow flowers.
Blue Prince grows best with partial sun or bright indoor light. Like most soft succulents, this Echeveria is not frost tolerant and must be protected during freezing temperatures. Blue Prince is easy to propagate, even for the most inexperienced gardeners. It can be grown from seeds, offsets, or cuttings.
Agave tequilana 'Blue Agave'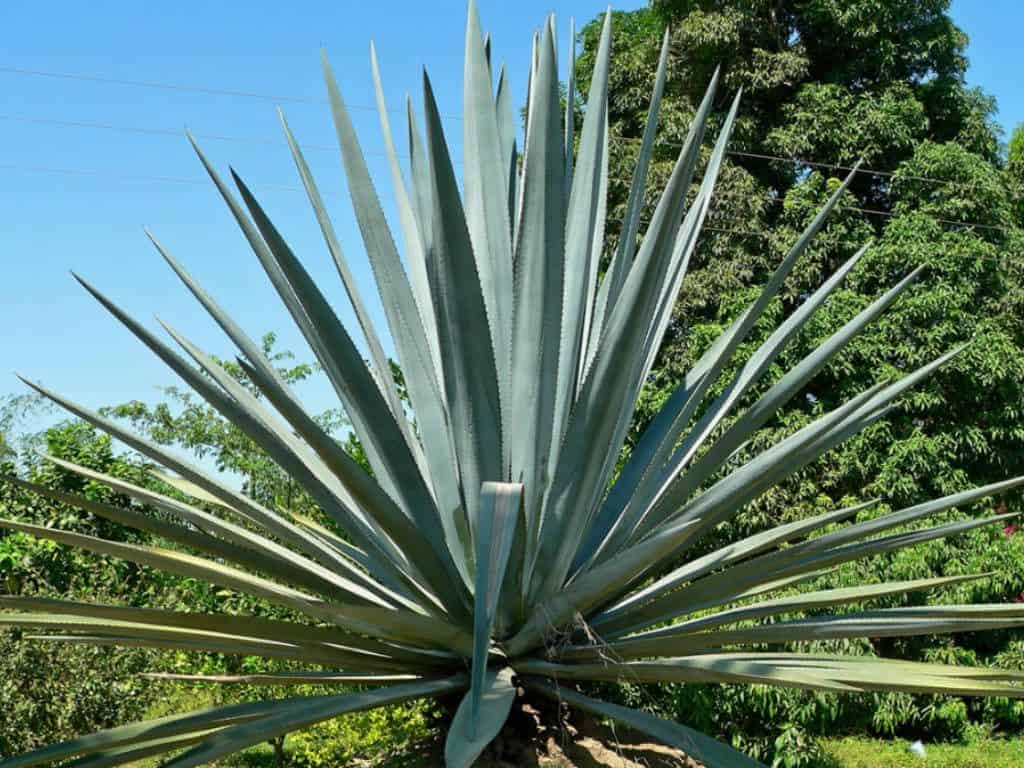 Buy it from:
Blue Agave is a large succulent, reaching up to five feet in height and eight feet in diameter. Its long, stiff leaves are gray-blue in color and sport brown spines along the leaf margins, as well as a brown terminal spine at the end of the leaf. Blue Agave are best known as the base ingredient of tequila.
Blue Agave are similar to other varieties of Agave in that they do best with a little neglect. Infrequent watering and minimal handling are ideal. The sap of the Blue Agave can be irritating, so use caution when moving or repotting.
Sedeveria 'Blue Burrito'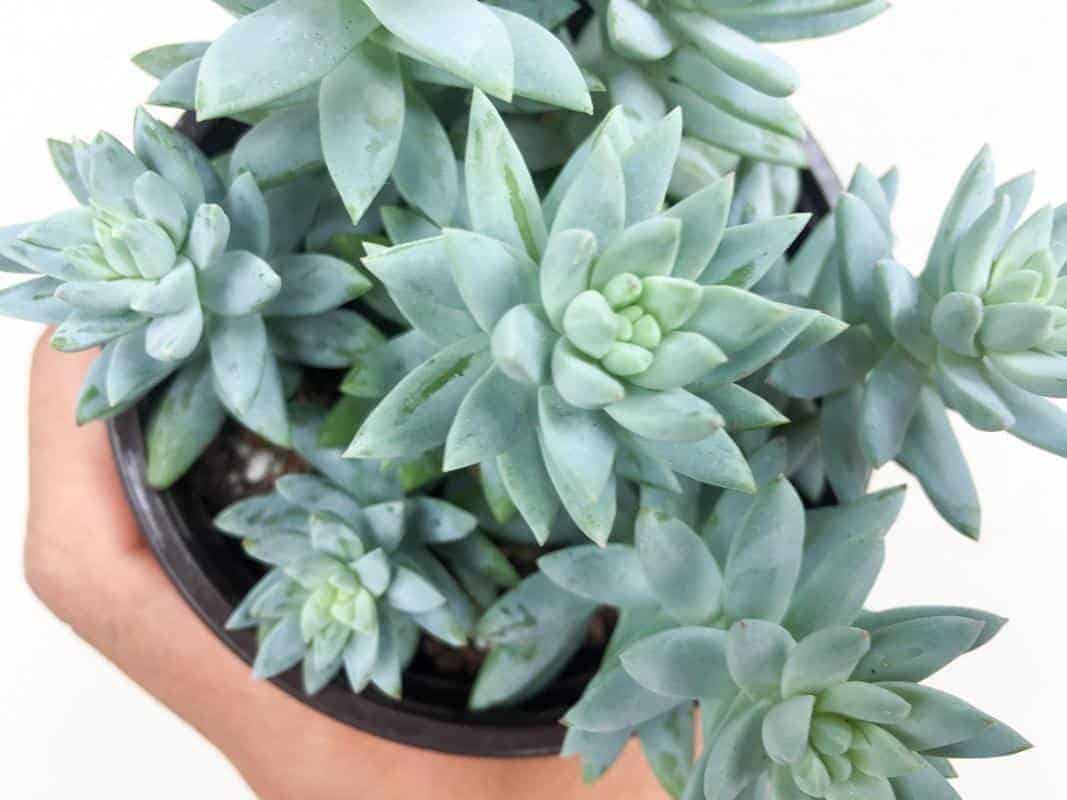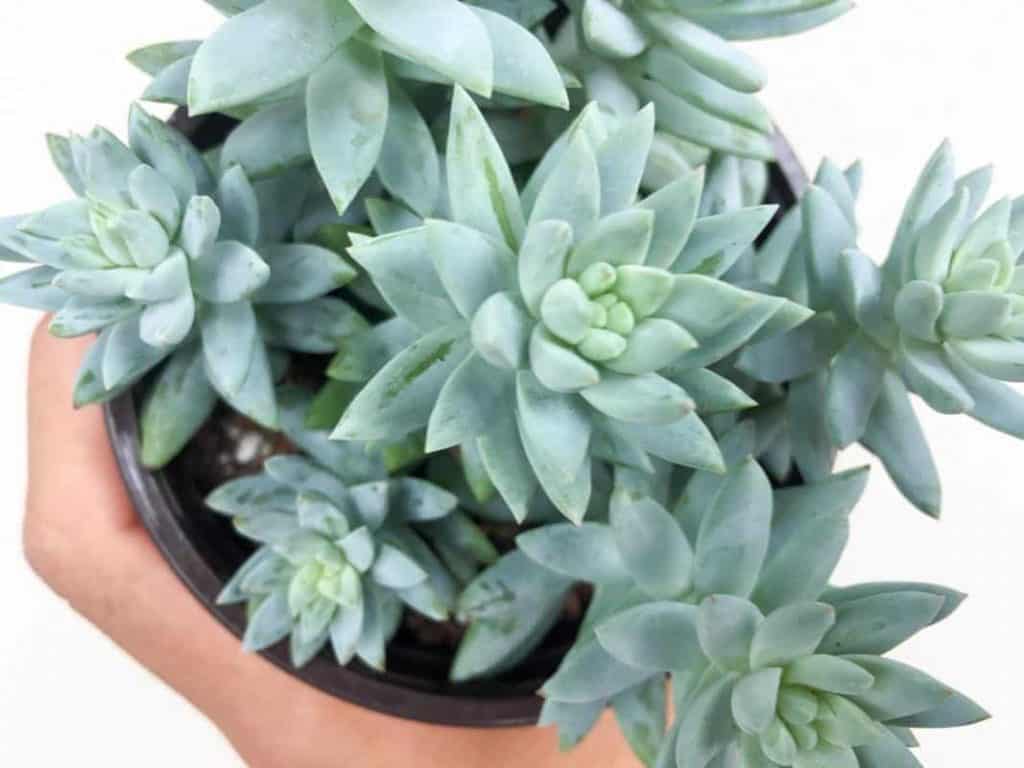 Buy it from:
This hybrid succulent is a cross between Sedum morganianum and Echeveria peacockii. It features plump blue-green leaves, sometimes with pink tips. The leaves are arranged in a rosette pattern and can grow up to six inches diameter. The stems are long and trailing, reaching up to 12 inches in length.
This adorable succulent needs well-draining soil and partial sun to thrive. It is not frost tolerant and must be brought inside or covered when temperatures dip below freezing. Blue Burrito can be propagated from either leaves or stem cuttings. It's a non-toxic succulent, so it's an excellent choice for pet-friendly gardens.
Mangave 'Tooth Fairy'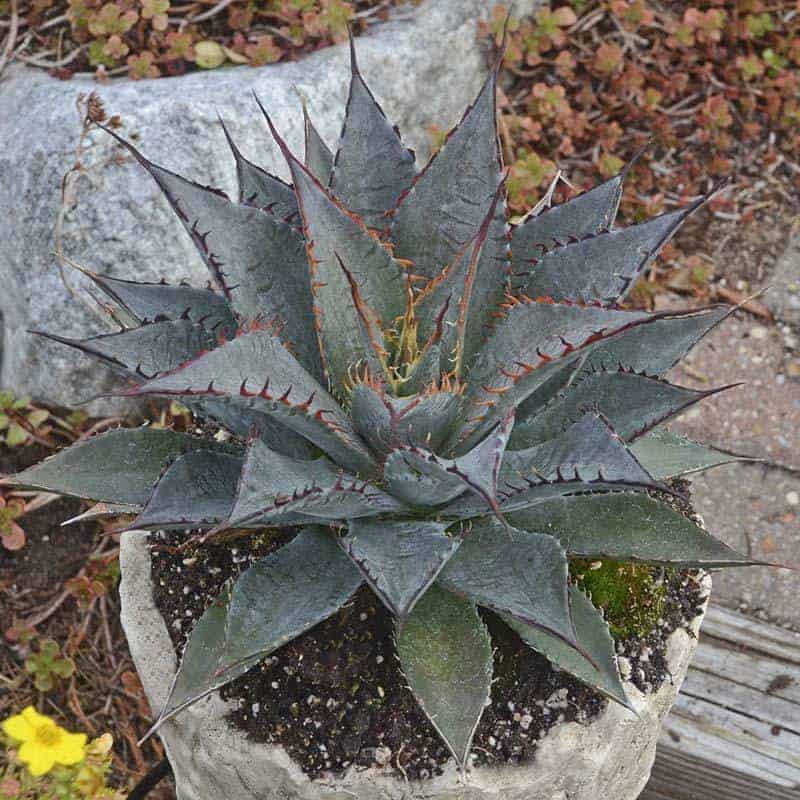 Buy it from:
This interesting hybrid succulent gets the name Tooth Fairy from the pronounced spines along its leaf margins. These 'teeth' may range in color from yellowish-orange to brown, contrasting the plant's greenish-blue leaves. At maturity, this Mangave can grow up to 10 inches in diameter and 12 inches in height.
Mangave are a cross between Manfreda and Agave. They require similar care to Agave, but they typically grow more quickly. They do well outdoors with full sun and appropriate drainage.
Corpuscularia lehmannii 'Ice Plant'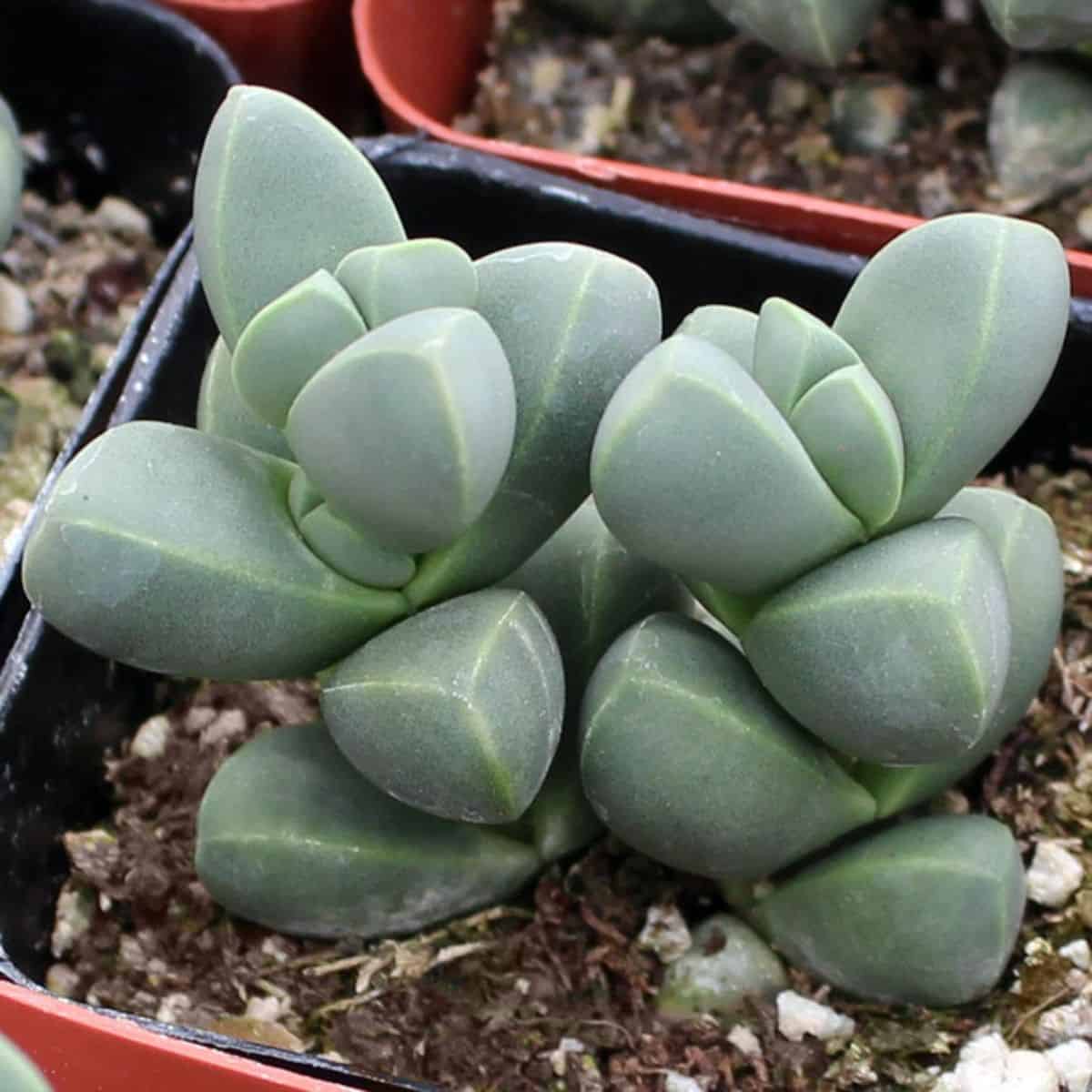 Buy it from:
The Ice Plant can be recognized by its distinctive three-sided, angular leaves. The leaves are thick, fleshy, and greenish-blue in color. The Ice Plant is native to South Africa. During the summer, it produces bright yellow blooms, similar in appearance to daisies. At maturity, it typically reaches six to eight inches in height.
Despite the name, the Ice Plant does not tolerate cold temperatures and must be protected from frost. It thrives in full sun and with infrequent watering and proper drainage. The Ice Plant is non-toxic and makes a great addition to any pet-friendly succulent collection.
Pilosocereus azureus 'Blue Torch Cactus'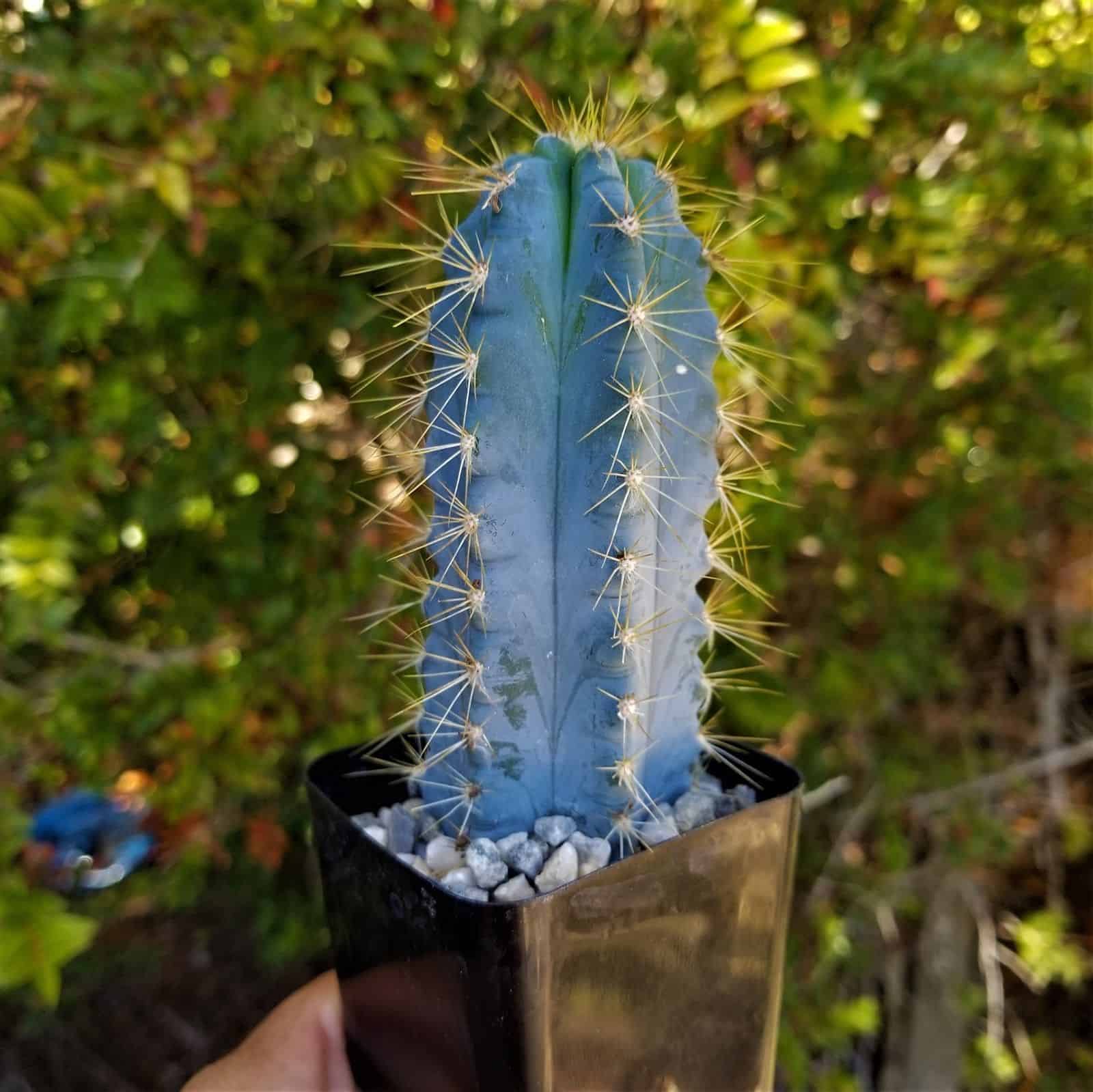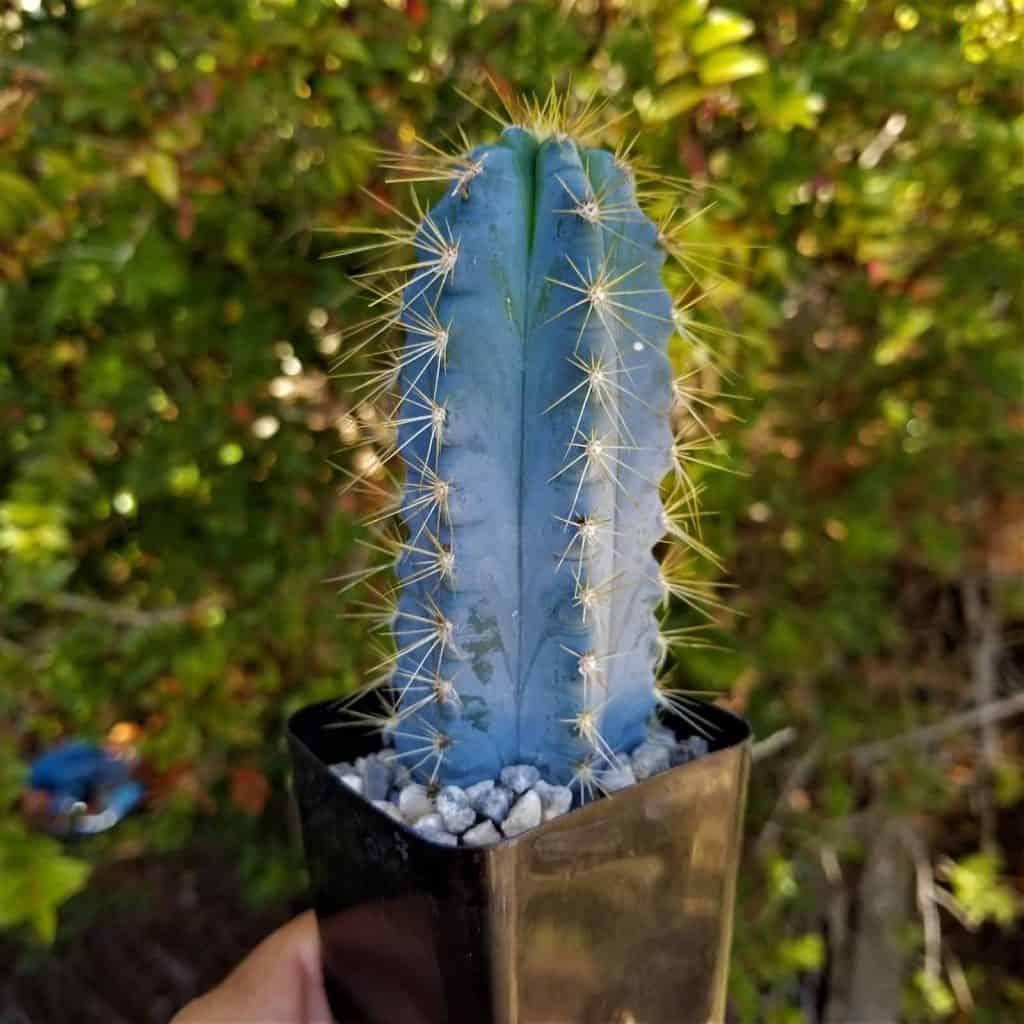 Buy it from:
The Blue Torch Cactus is a tree-like columnar cactus that can grow up to 33 feet tall. The bluish-silver stems are covered in yellow or gray spines. The Blue Torch Cactus produces branches and looks similar in shape to a Saguaro cactus.
Pilosocereus azureus are low-maintenance cacti. They require adequate drainage, full sun, and watering only when their soil is dry. Blue Torch Cacti can be quite tall at maturity and may need to be repotted frequently as they outgrow their containers. Use caution when handling to prevent injury from the spines.
Senecio talinoides subs. mandraliscae - Blue Chalkstick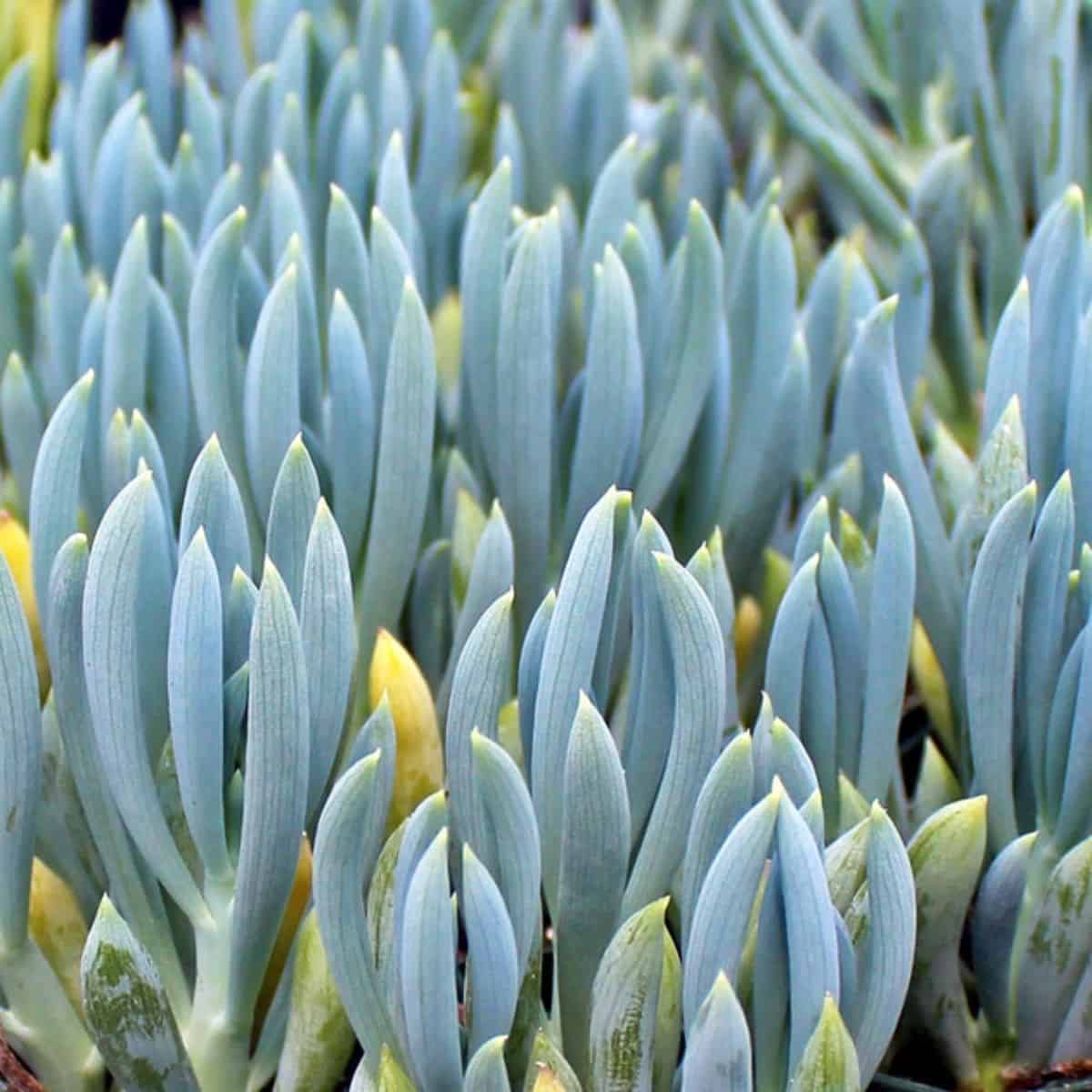 Buy it from:
Blue Chalkstick is another species that is sure to impress. This variant is known for its tall stalks that literally look like pieces of light blue chalk. Some variations can have more blue stems and others might be greener. Even with variation in the color, this succulent is one that you don't have to worry about. They require periods of dryness between waterings so don't worry about leaving them alone for a while.
Sedum major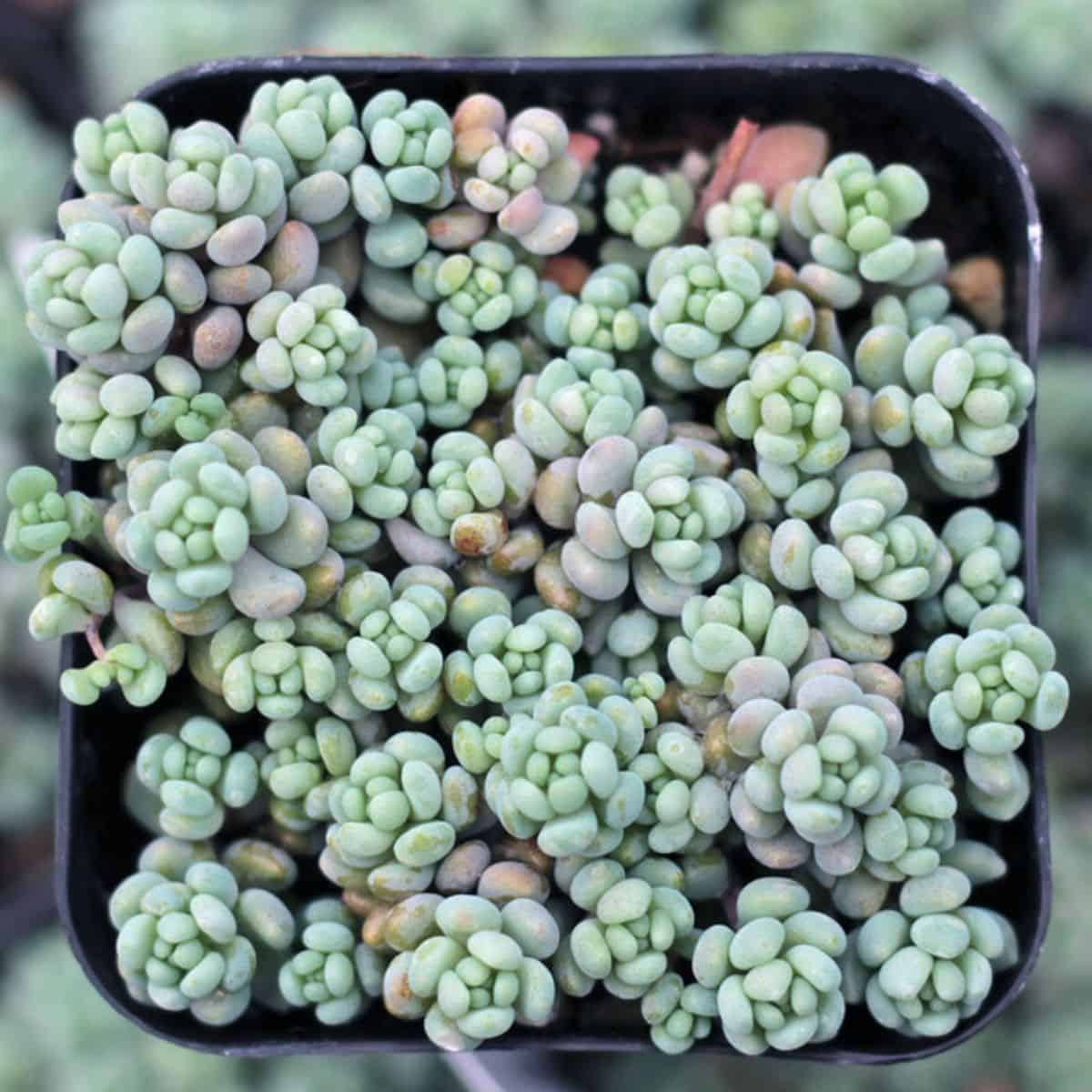 Buy it from:
No list is complete without Sedum major included. This sedum is a beautiful ground cover that looks almost like a bed of mini xgraptosedum rosettes. Each leaf is shaped like small river rocks and the intensity of their bluish color increases as leaves mature. They can tolerate full sun but need to be protected from afternoon sun if you live in an area with high temperatures.
Echeveria sp. - Blue Sky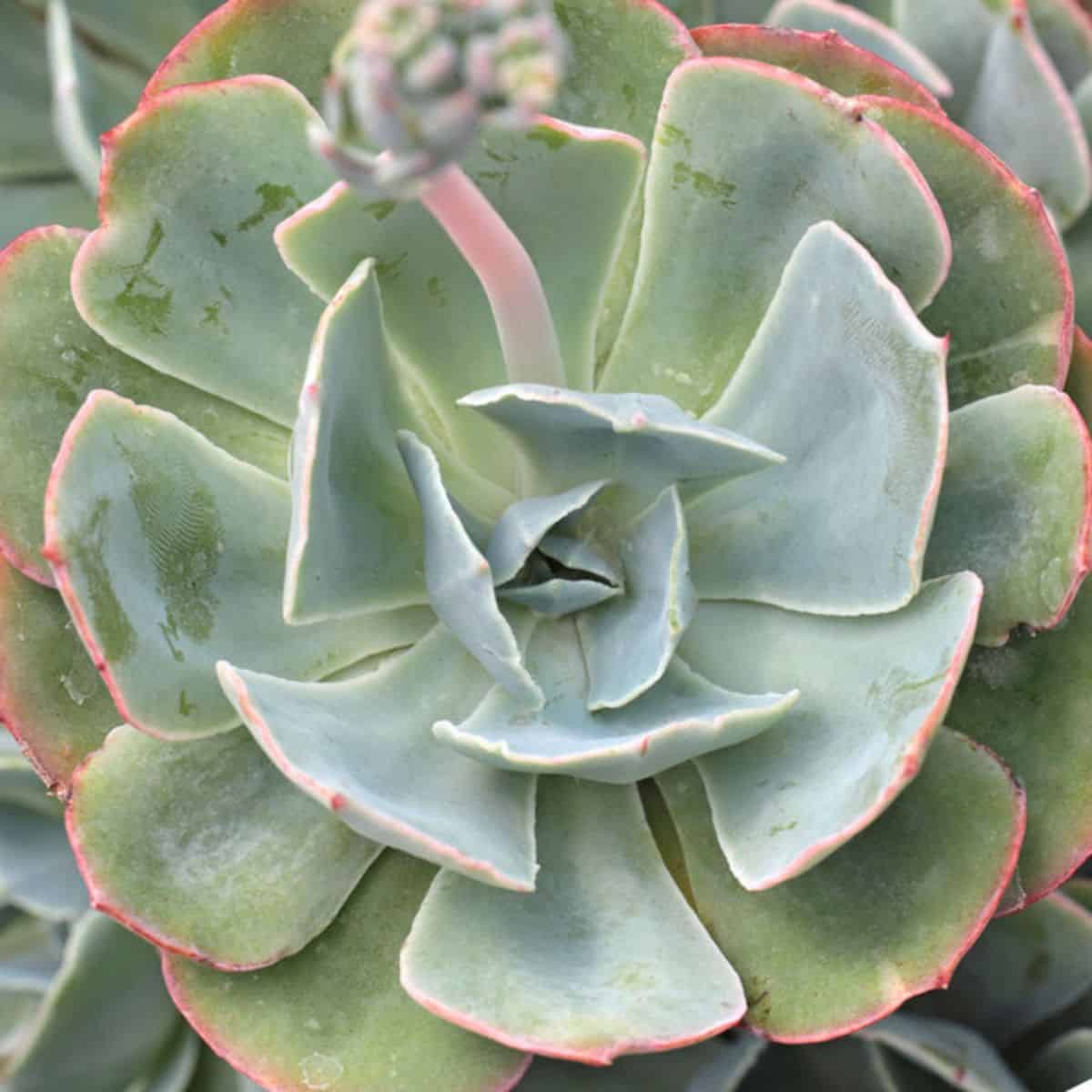 Buy it from:
This Echeveria is interesting: the more mature leaves take on a deep pink color, but juvenile leaves stay a light jade blue. Blue Sky leaves are shaped like wide paddles with narrow bases. At the tip of each leaf, there is a spine but from a short distance, the leaves can look perfectly rounded. As the plants mature, the rosettes loosen to look like open lilies.
Echeveria subsessilis – Morning Beauty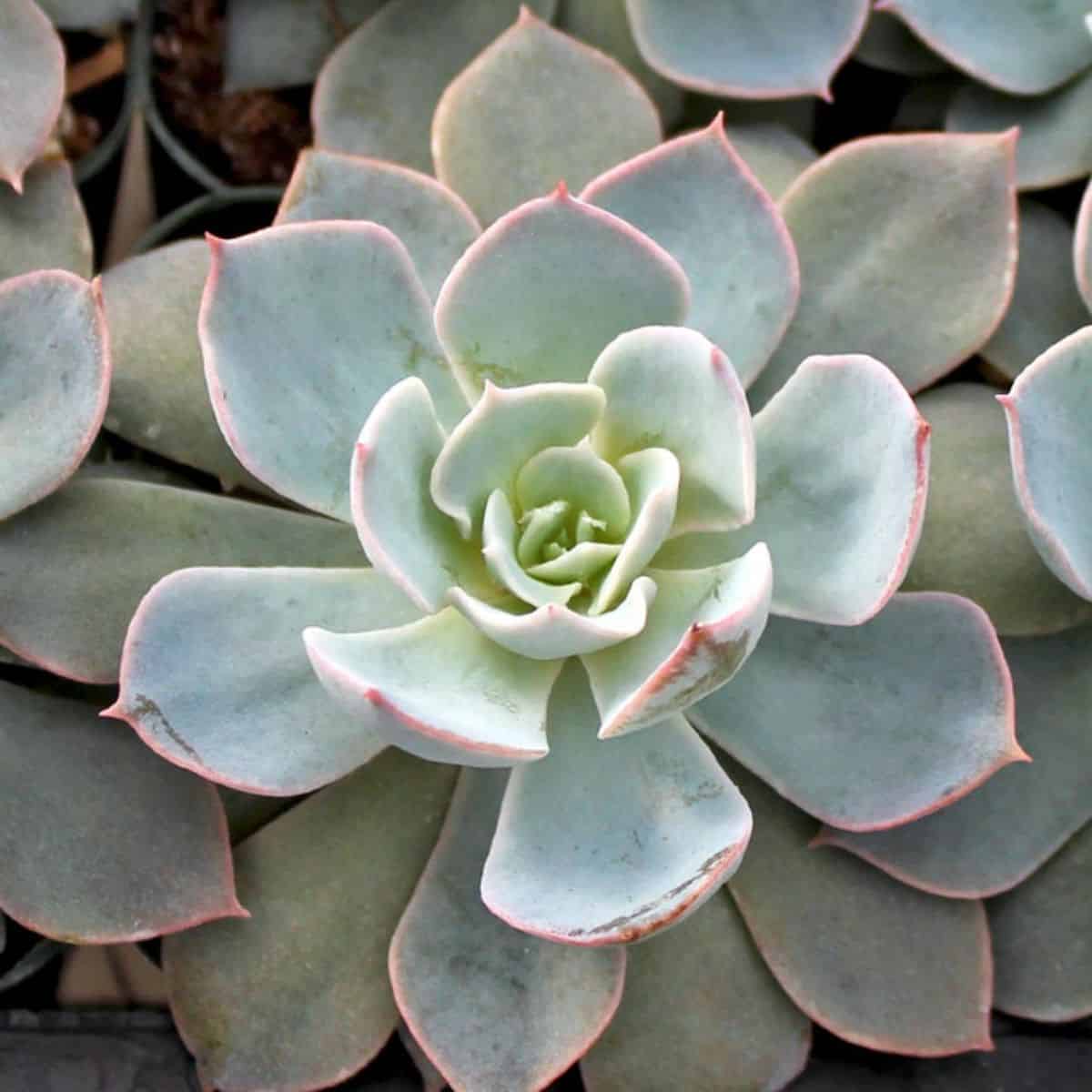 Buy it from:
Morning Beauty is very similar to another echeveria called E. peacockii. The margins are a light pink and the leaves are a dark blue green. Fully matured, Morning Beauty will continually grow with rosettes that reach nearly four inches in diameter. From the side, this species look similar to lotus flowers and each leaf has an upward curve like a small bowl.
Sedum reflexum - Blue Spruce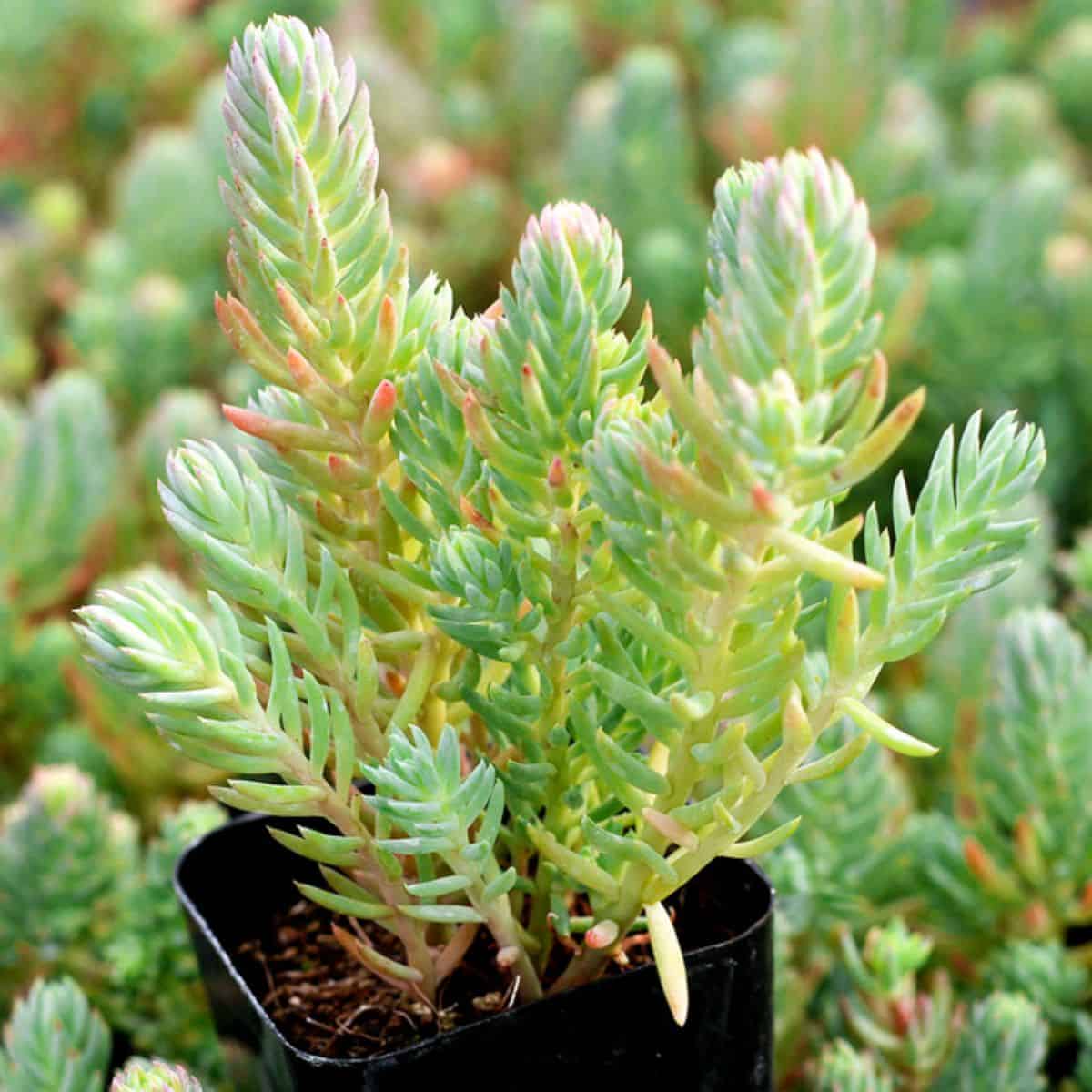 Buy it from:
Stonecrop species are a great way to cover wide spaces with vibrant color and interesting patterns. Like it's evergreen namesake, the Blue Spruce has thin, pointed leaves that alternate like the leaves of a spruce tree. When growing in mats, Blue Spruce takes on a light but vibrant blue hue. During off seasons, the leaves may turn greener.
During blooming seasons, Blue Spruce produces perfectly contrasting yellow flowers. There are so many flowers that they look like a blanket of yellow has taken over!
Echeveria sp. - Blue Waves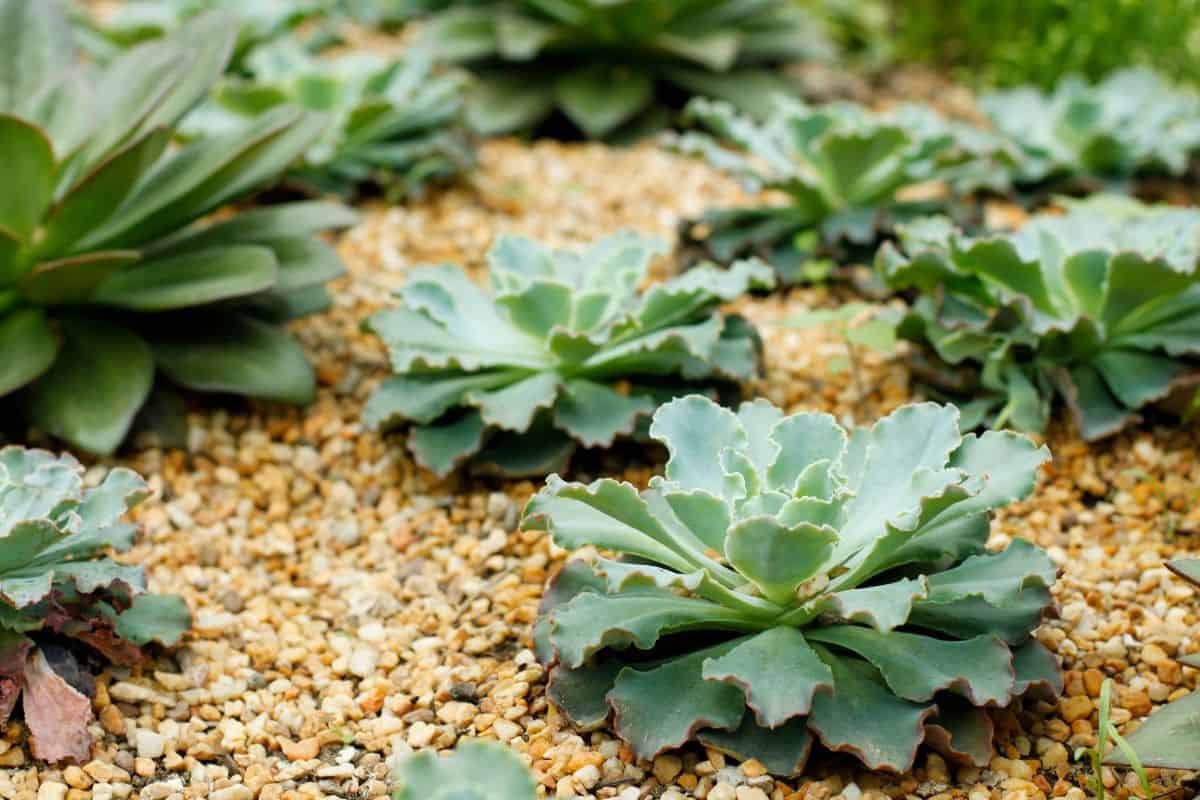 Buy it from:
Echeverias are texturally diverse and Blue Waves is no different. The sister plant to Blue Waves, Blue Curls is also a wavy echeveria with thin leaves. They can look similar to blooming lettuce and the texture is irresistible. Rarely, Blue Waves will have slightly pink margins: this will show up more so when the plant is stressed. Bloom stalks will dwarf each plant, but each bell-shaped flower is worth it.
Ferocactus glaucescens – Blue Barrel Cactus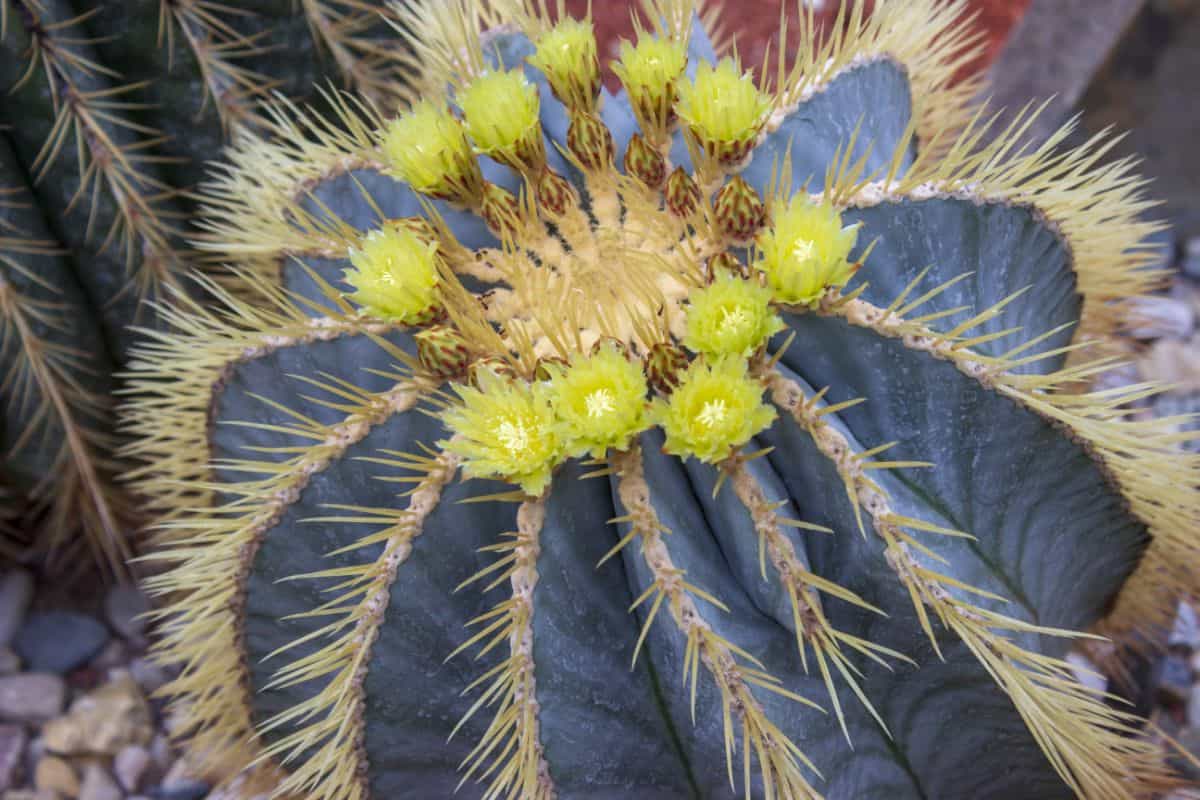 Buy it from:
Much like the Blue Torch Cactus, Blue Barrel Cactus is another true blue! The skin stays a beautiful blue green and the margins are marked by bright yellow or cream spines. The flowers that they produce will occur towards the top of the plant: bright yellow, tightly clustered flowers are the perfect addition atop any barrel cactus. These barrels can get up to two feet wide and follow the normal succulent watering requirements.
xPachyveria clavifolia - Jeweled Crown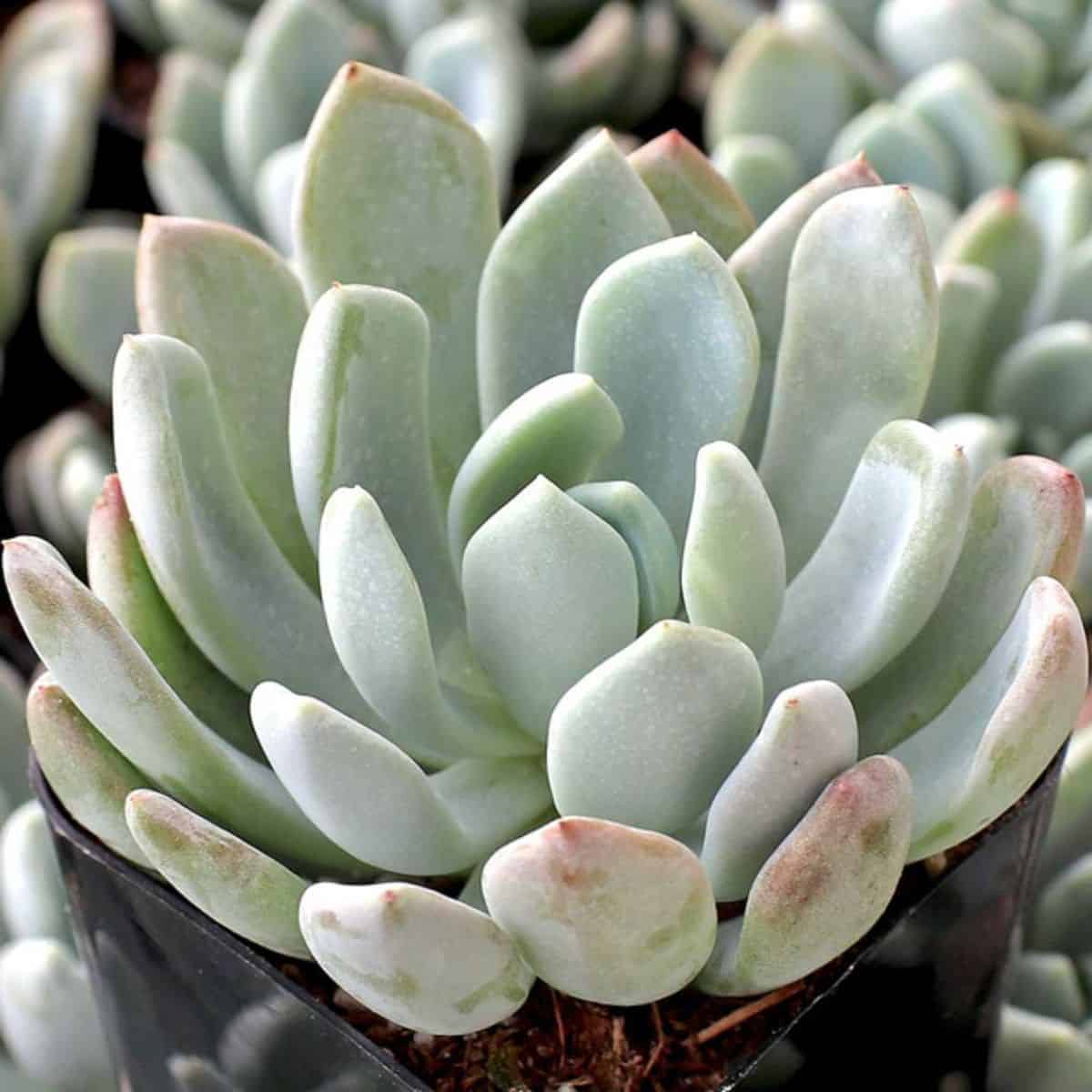 Buy it from:
The Jeweled Crown is part of a northogenus. Pachyverias are a cross between succulents from pachyphytum and echeveria. This results in very full leaves that look like actual rain drops. The tips are fully rounded with only the slight pinkish margin showing a tiny tip. They grow in small rosettes at the end of longer stems. The stems can get up to six inches long so this succulent will need support or a spot in the ground.
Dudleya anthonyi – Anthony's Liveforever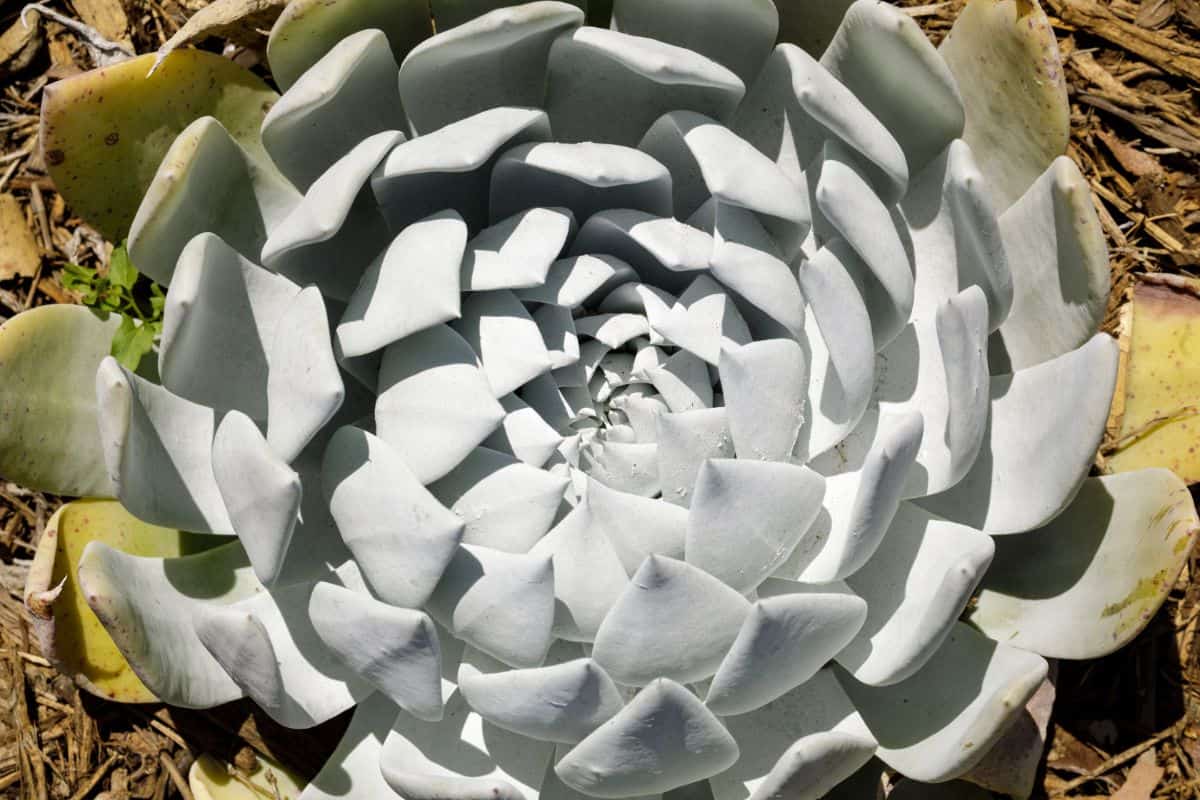 Buy it from:
Like a full blue moon, the Anthony's liveforever is a gem to own. They are rare succulents that form elegantly rugged blue rosettes. Like most Dudleyas, Liveforever requires full sun to remain healthy. They are extremely drought tolerant plants and will loosely propagate. You can propagate from seed when they produce bloom stalks with russet red bell flowers.
Dudleya Brittonii – Giant Chalk Dudleya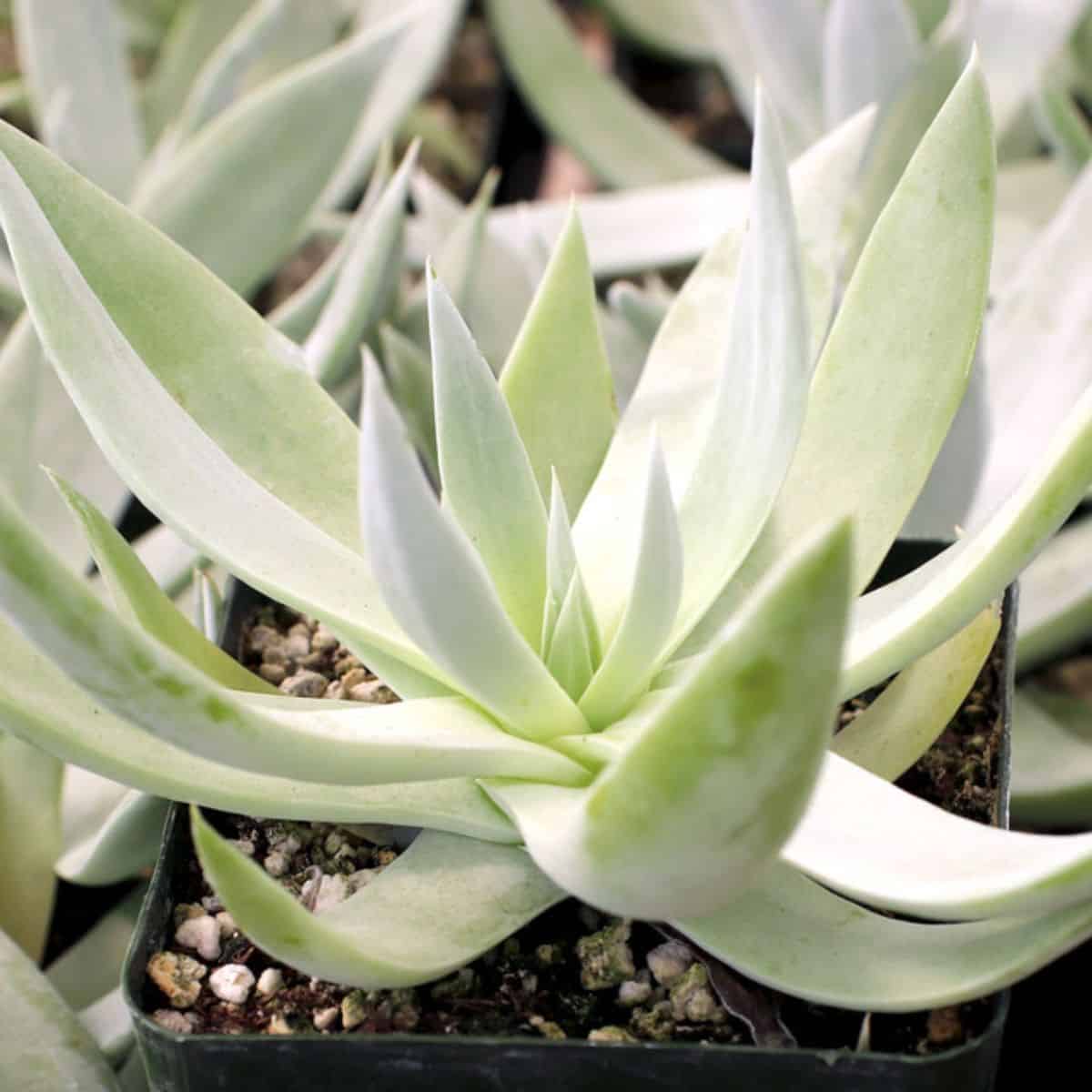 Buy it from:
It's easy to see why this Dudleya is called Giant Chalk: the amount of farina it produces is ridiculous! Keep in mind that Dudleya's do require full sun: they can be used as large ground cover or they can be placed in pots. This species gets up 18 inches in height and diameter and will produce nearly two-foot-tall bloom stalks. In contrast to the pale blue, the urn-shaped flowers are a buttery yellow.
Echeveria sp. - Blue Alice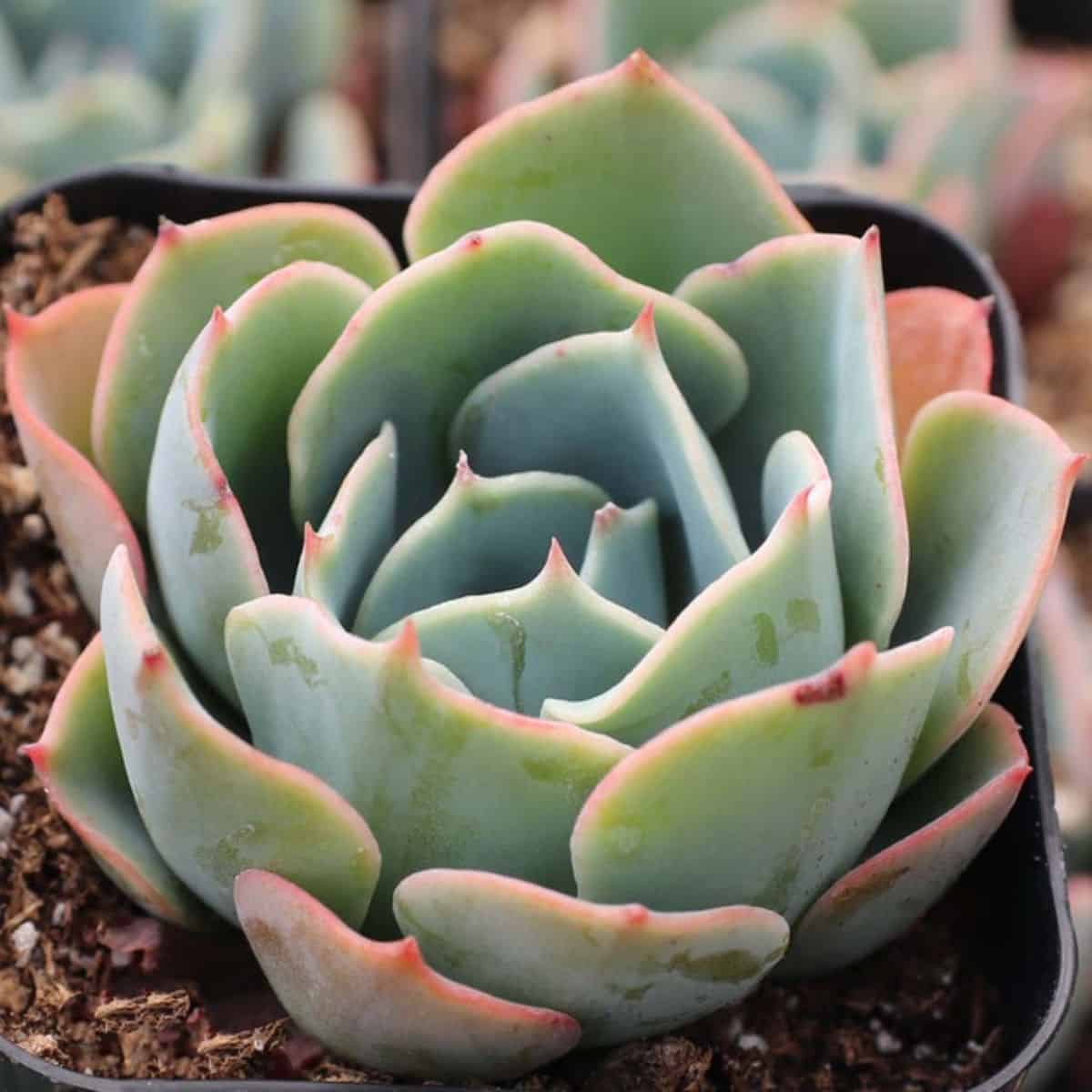 Buy it from:
Blue Alice is a tightly packed blue and red rosette. The main part of the leaves are a light blue and the margins are a deep red. They are rather stunning if they maintain their compact shape since the leaves are concave like rose petals. They can get up to five inches high and rosettes can reach six inches in diameter. Blue Alice is a great way to bring intrigue to your garden!
Echeveria setosa var. minor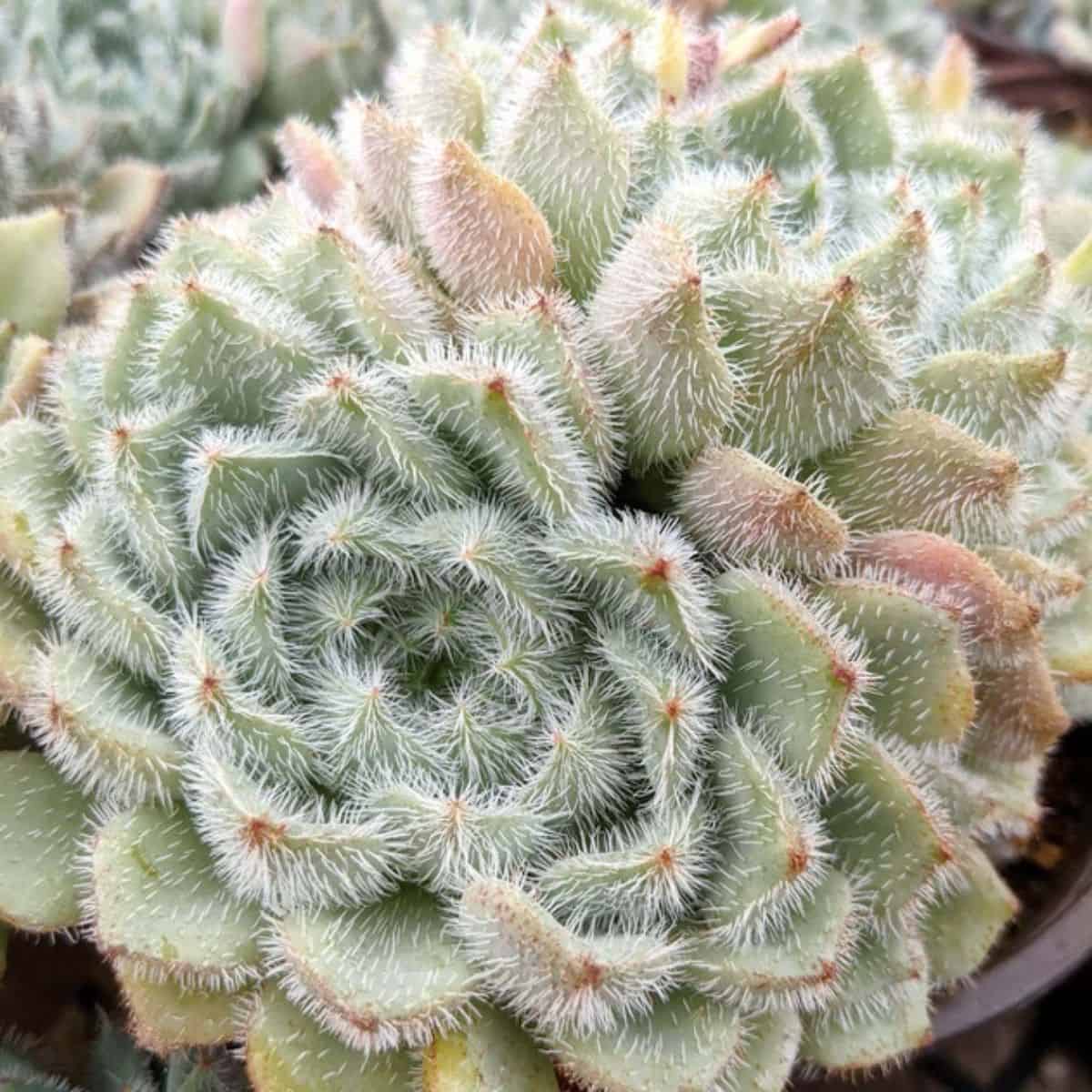 Buy it from:
It's impossible to not love this setosa variant! Each pale blue-green leaf is guarded along the margins by thin, whitish pink spines. More mature leaves will have fewer hairs that are dissipated across the leaf. As young leaves grow, they are covered in lengthy spines: the spines are so dense that you can hardly see the skin of the plant. In stressed situations, more mature leaves may start to blush pink.
Echeveria shaviana - Truffles
Buy it from:
Like many wavy variants, Truffles cannot escape the slight lettuce look of the leaves. They are a beautiful and striking blue that almost seems to glow from the center of the rosette. The margins of the leaves can turn a light pink at the tips, but the remainder of the succulent is blue. Truffles produces yellow and pink flowers in the late summer that are a joy to see.
Graptopetalum pachyphyllum – Blue Bean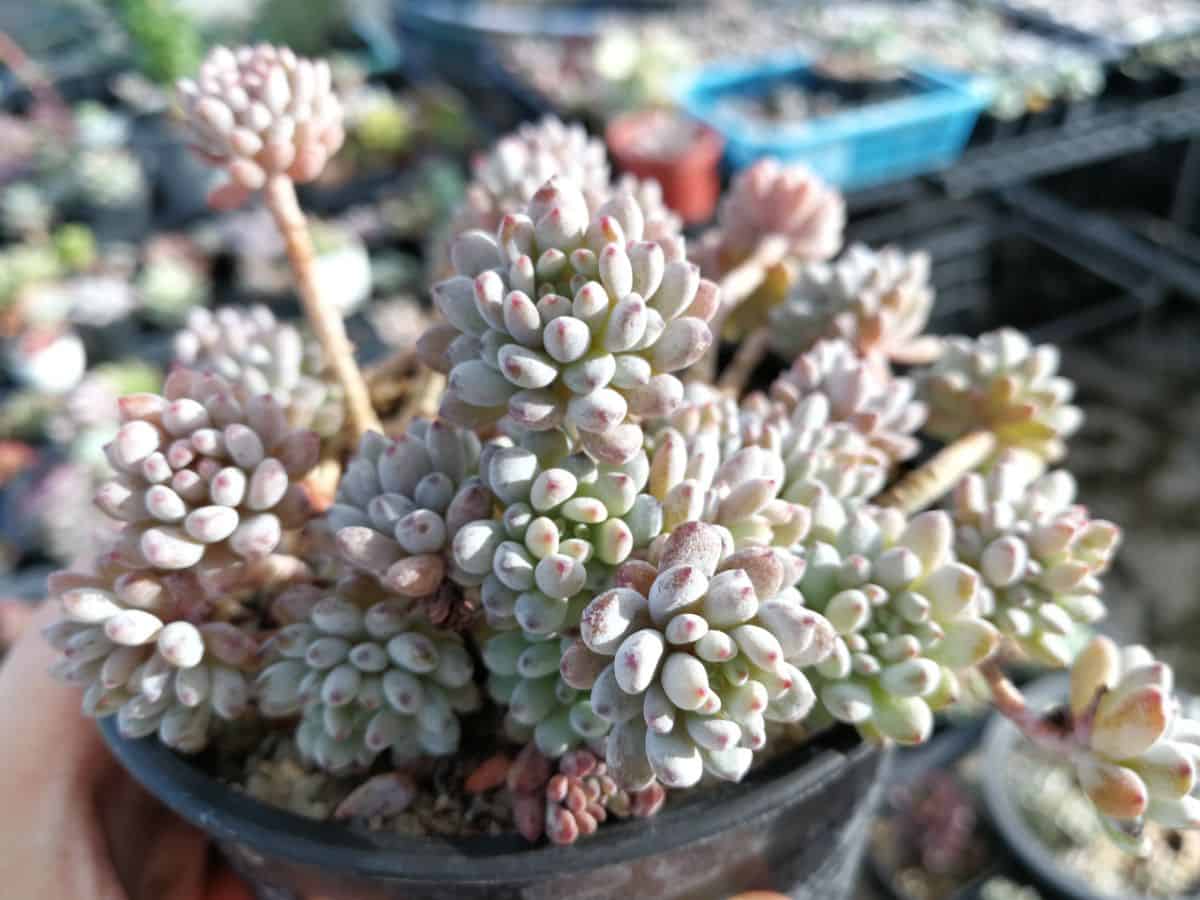 Buy it from:
Blue Beans are a joy to watch grow. As they start out, the young rosettes are tightly packed together and they each on their own stem. While they mature, the stems can grow up to eight inches! Mature rosettes go from looking like tiny beans, to larger blue legumes with hot pink tips.
Orostachys boehmeri – Chinese Dunce Cap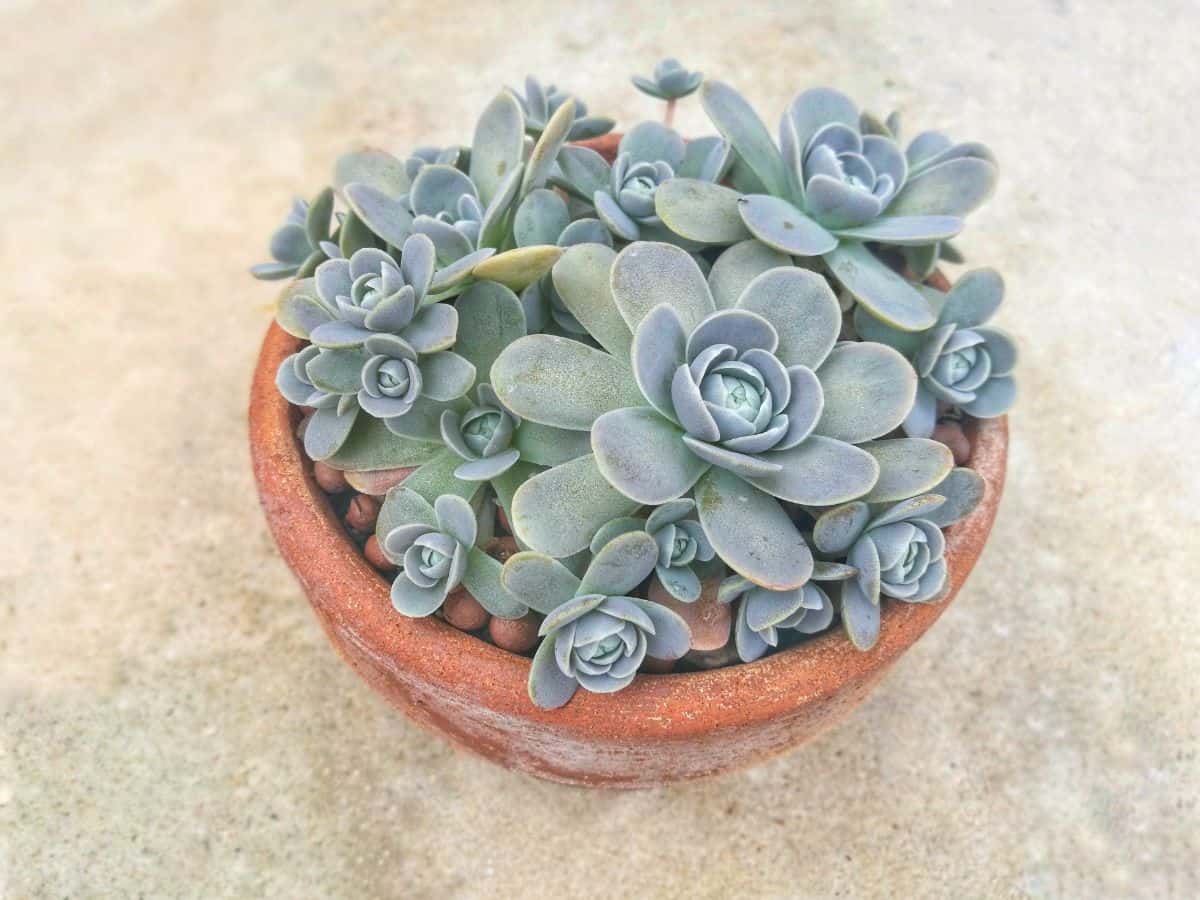 Buy it from:
Chinese Dunce Cap is a delicate succulent with very few leaves forming a two inch wide rosette. This species will quickly propagate and spread to a one foot patch: the stems that connect each rosette begin to look like spaghetti tangled through the succulent. In the fall, Chinese Dunce cap produces six inch blooming stalks that reveal tiny pastel yellow flowers. With this species, once the rosettes have bloomed, they will die off.
xPachyveria Powder Puff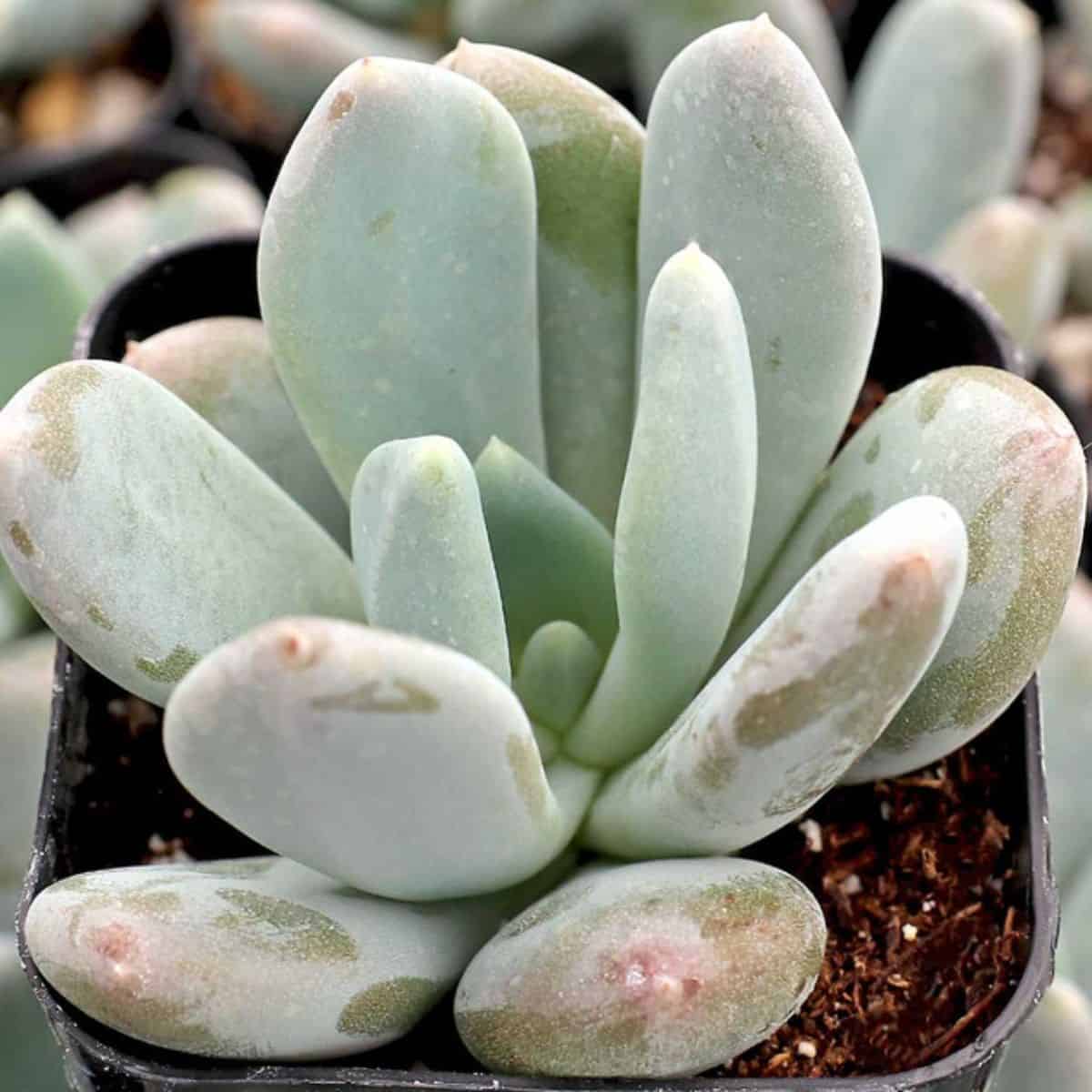 Buy it from:
Powder Puff is a stunning bluish purple hybrid that has pink margins and tips. The leaves take on an almost purple hue at times thanks to the addition of hazy pink. They will grow up to six inches in height and diameter. Like man succulents, they don't do well in the cold and have regular watering requirements. Powder Puffs are beautiful summer dormant succulents that add a bit of charm to any arrangement.
xSedeveria Blue Giant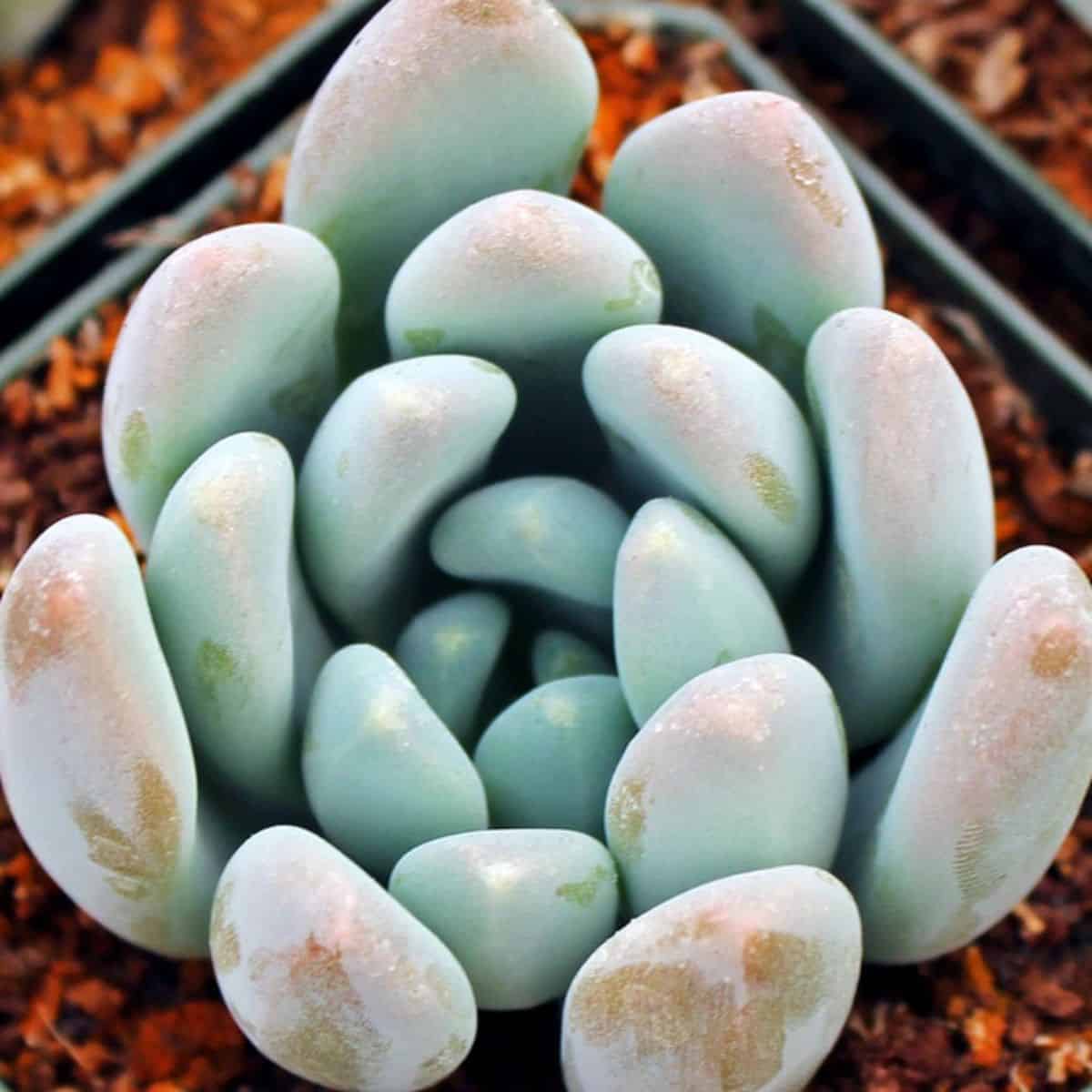 Buy it from:
Blue Giants can rich a rosette of four inches in diameter. They are stem growers, and their stems are thick enough to support their well-sized rosettes. As with sedeverias and graptosedums, the Blue Giant hos rounded, slightly three-sided leaves. Smaller leaves show more of the triangular shape while more mature leaves are almost completely rounded.
Melocactus azureus – Turk's Cap Cactus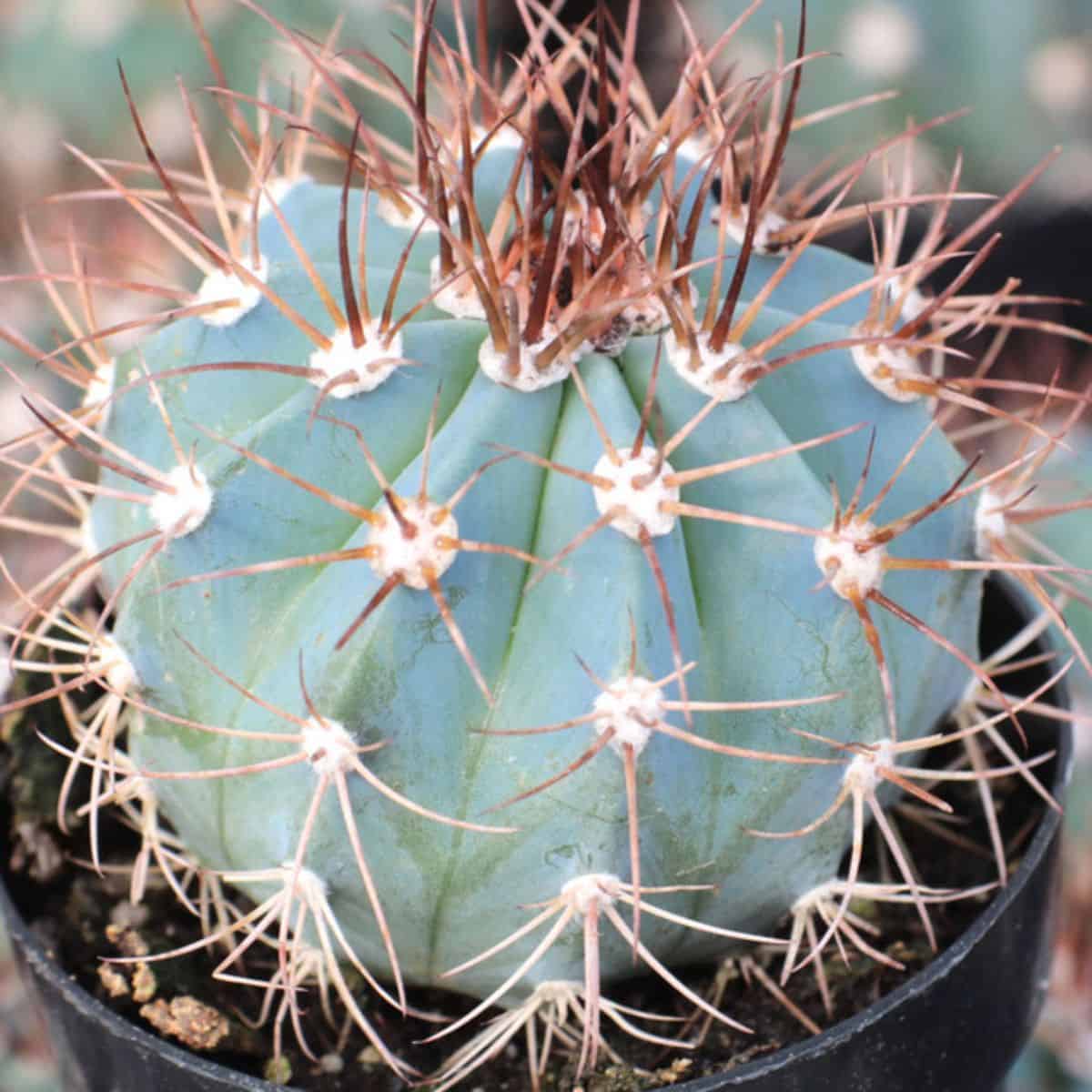 Buy it from:
This cactus is another barrel shaped cactus with blue skin. Unlike the Blue Torch and Blue Barrel, Turk's Cap has a darker blue coloration with dark variegated spines that lighten as they mature. Native to Brazil, Turk's cap is a sturdy succulent that enjoys more frequent watering. When the top two inches of soil are dry, it is time to water this cactus again. They produce pink flowers in mid summer and they are winter dormant plants.
Echeveria peacockii – Peacock Echeveria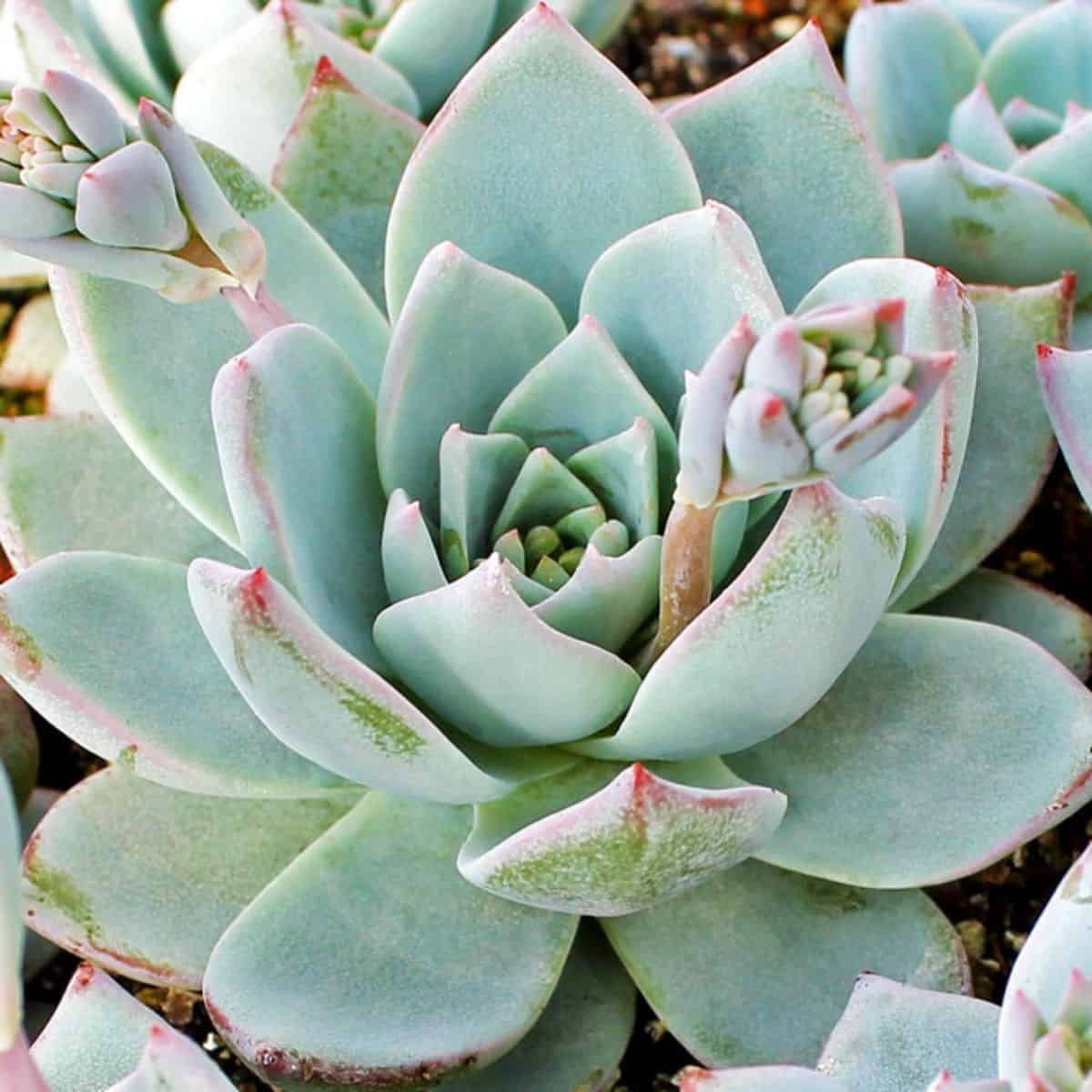 Buy it from:
Peacock echeveria's are show stoppers when it comes to blue succulents. Juvenile leaves are a pale powdery blue. As the leaves mature, they develop reddish pink margins and spines that make it look as though the succulent is glowing with a warm fire. Even though Peacocks are slow growers, they will form pleasant mats of rosettes or they can also be potted. Fully grown rosettes can reach almost six inches in width and stems can grow both in height and in reach.
Echeveria sp. - Candise
Buy it from:
Ah, Candise! What a delicate rosette with so few leaves. Each elongated leaf is a powdery blue with bronzed tips. The younger leaves show a small edge of color before maturing into dual toned leaves. Leave this succulent inside to promote more of the blue coloration and keep it in full sun to bring out a stunning purple coloration.
Sedum sedoro – Sunsparkler ® Blue Elf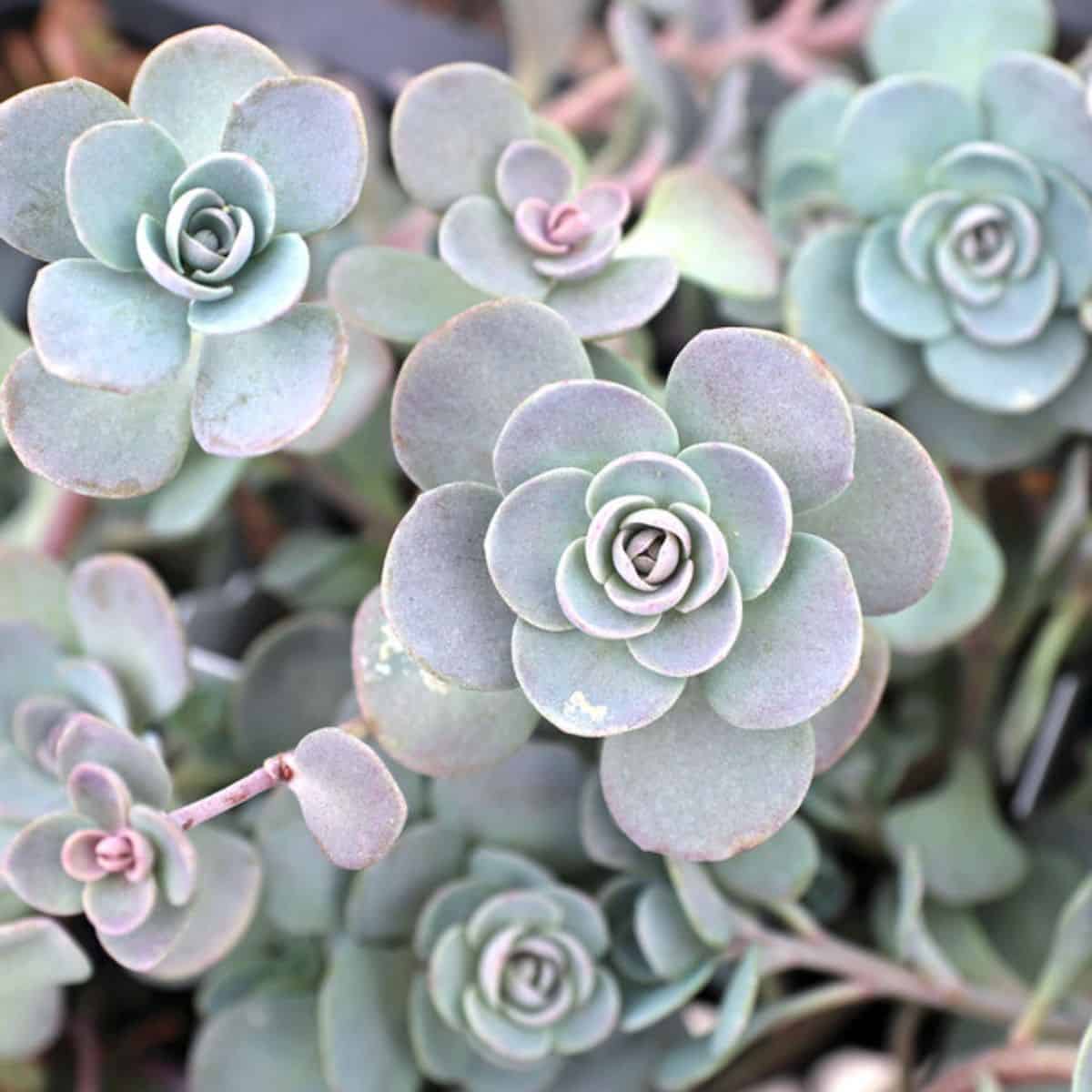 Buy it from:
Blue Elf is a rather stunning plant with high contrast value. The leaves are a frosty gray blue with rounded edges and a very slight point at the tip. Each stem produces several clusters of bright red and pink flowers that persist for several months. Blue Elf is an evergreen succulent that will turn a slight burgundy in the off seasons but will still maintain a steely blue color.
Sempervivium hueffelii 'Faith'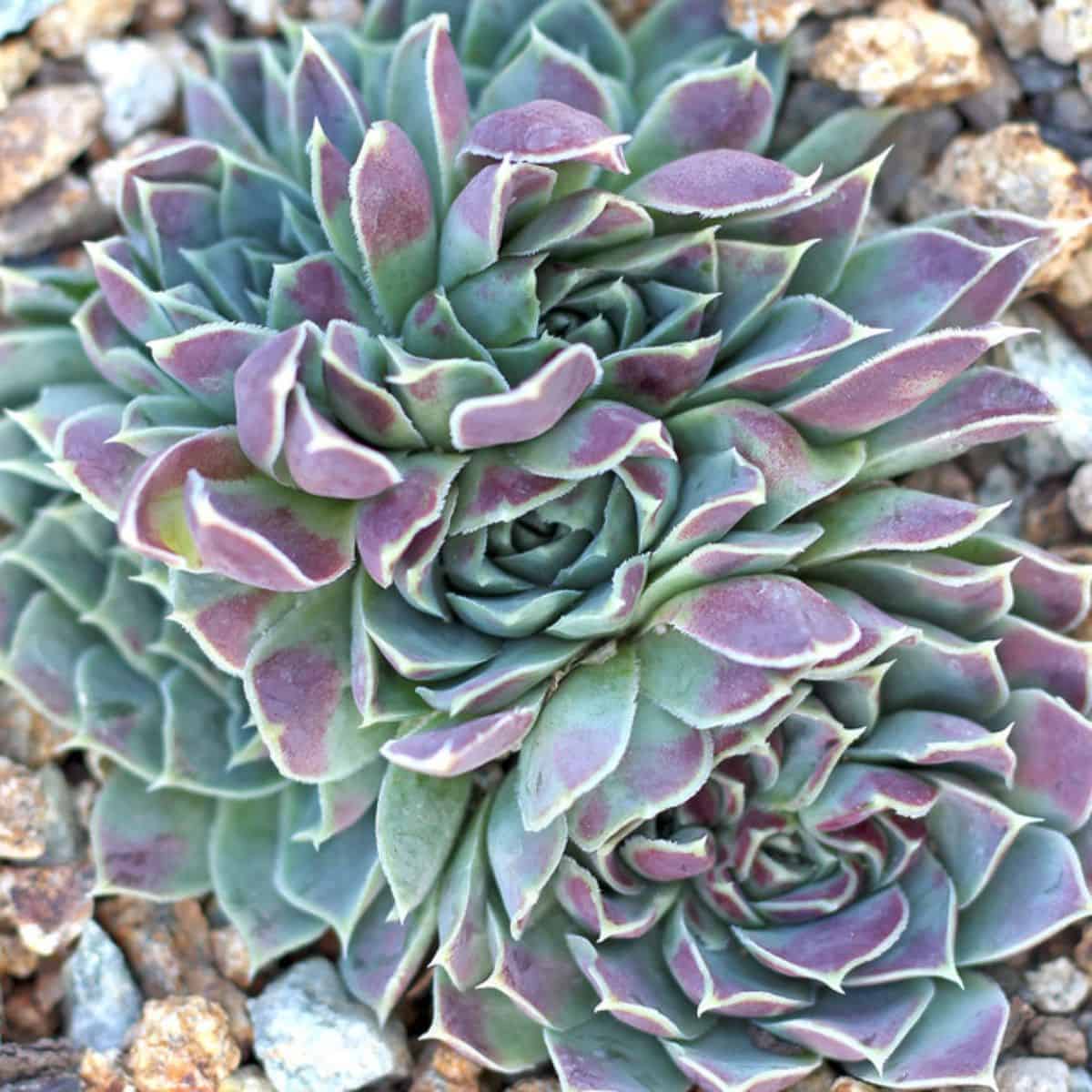 Buy it from:
Faith is a exclusive variant that changes color throughout the year. They tend to be light blue and purple when in full sun and will remain light green when inside or without much sunlight. The leaves are oblate and come to fine tips sweep into a spine. This is a cold hardy succulent that goes dormant in the winter: you can tell that it is dormant since the leaves all turn a dark purple.
Mangave 'Catch a Wave'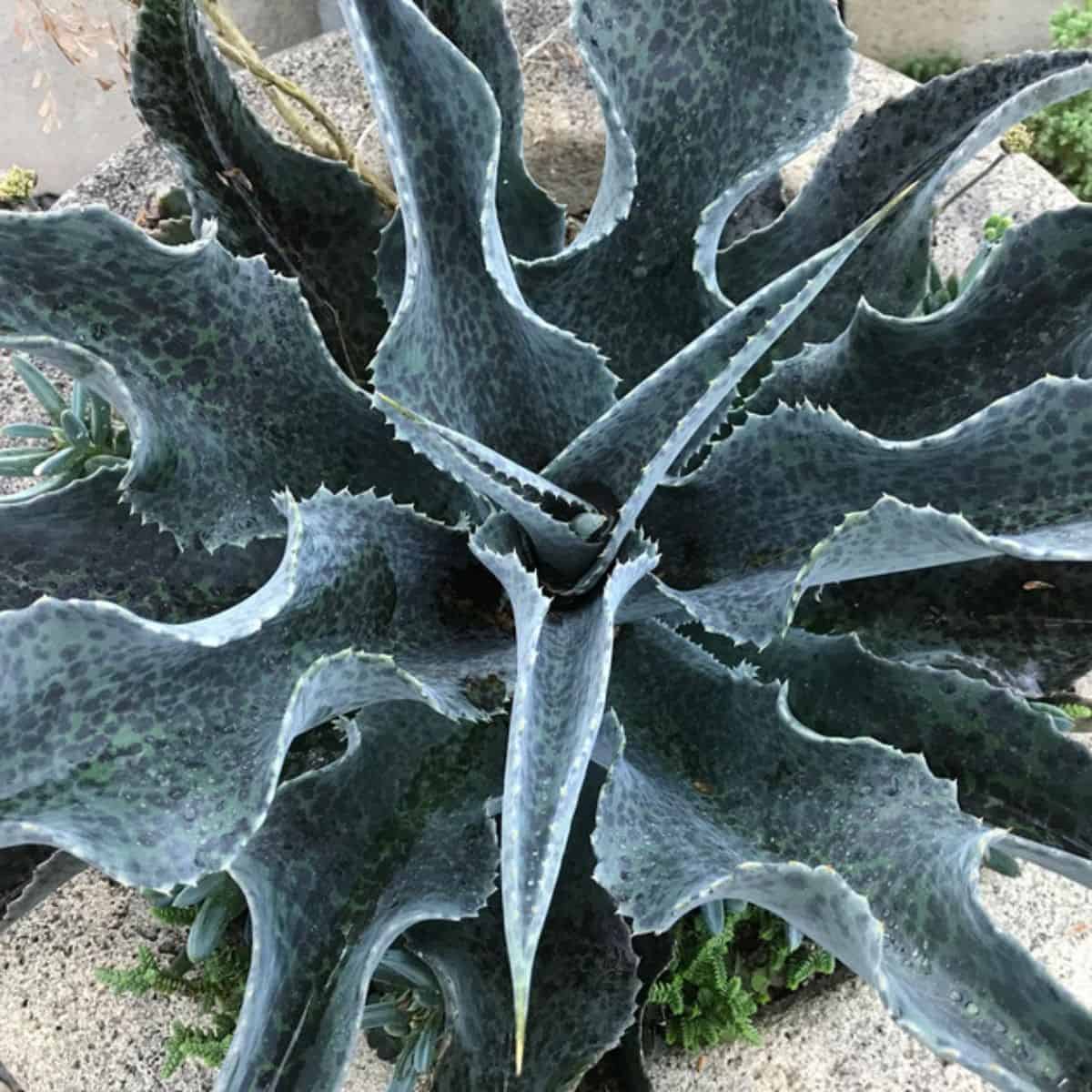 Buy it from:
Wavy succulents add so much life and texture to a garden. Catch a Wave is a blue speckled mangave that can reach a foot in height. They grow to about eight inches in diameter and can be planted in groups, propagated, or placed in a single pot. Catch a Wave grows extremely fast and can deal with very little shade compared to agave plants.
Mangave 'Aztec King'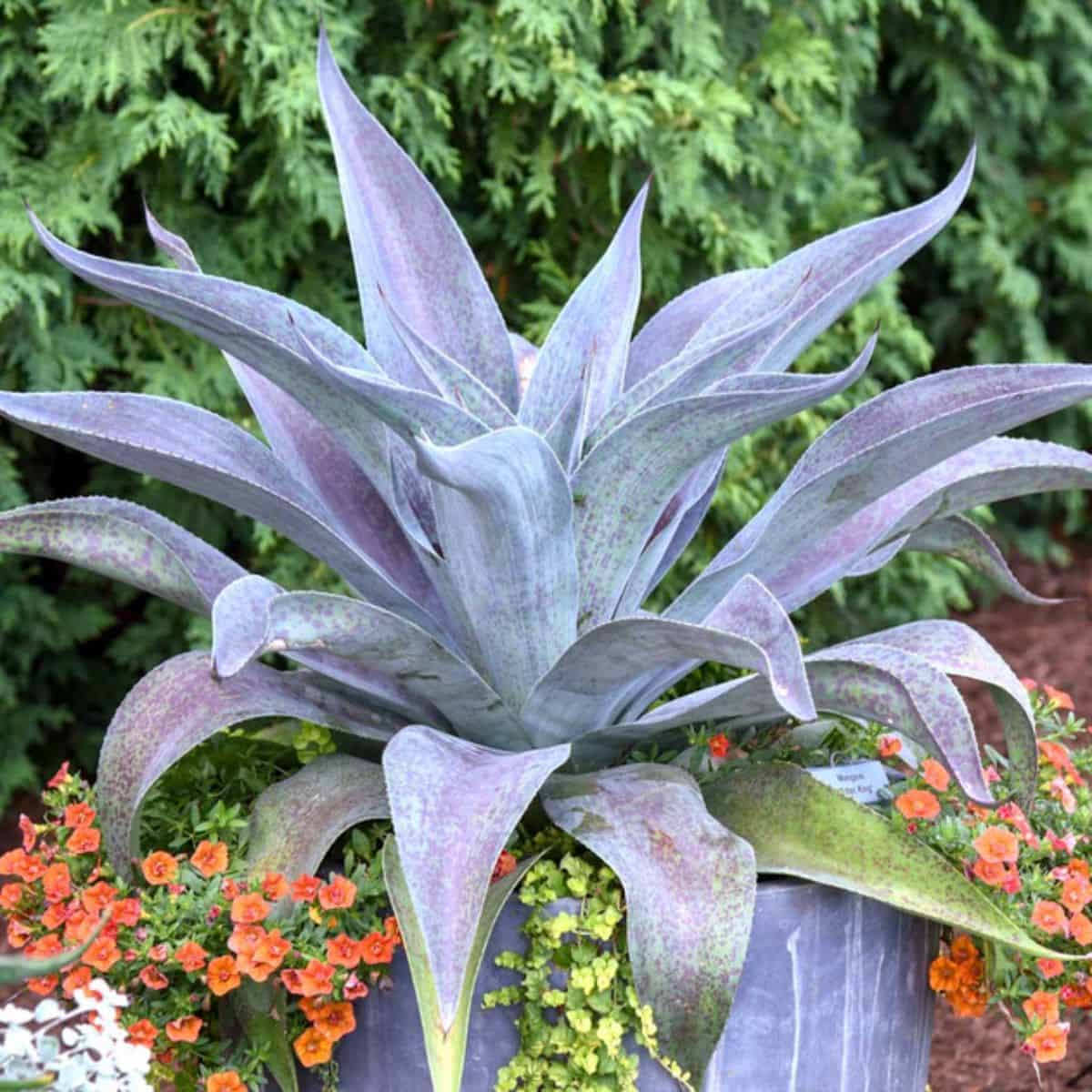 Buy it from:
Young Aztec Kings are light green with purple markings. As they begin to mature, dark purple skpeckles become more prominent due to the leaves turning a beautiful shade of light blue. Some leaves may retain their green coloration, but this will change due to sun exposure and watering circumstances. Leave space for the Aztec King because they can get up to two feet tall and three feet in diameter. They have very fine spines along the margins as well so be careful!
Mangave 'Moonglow'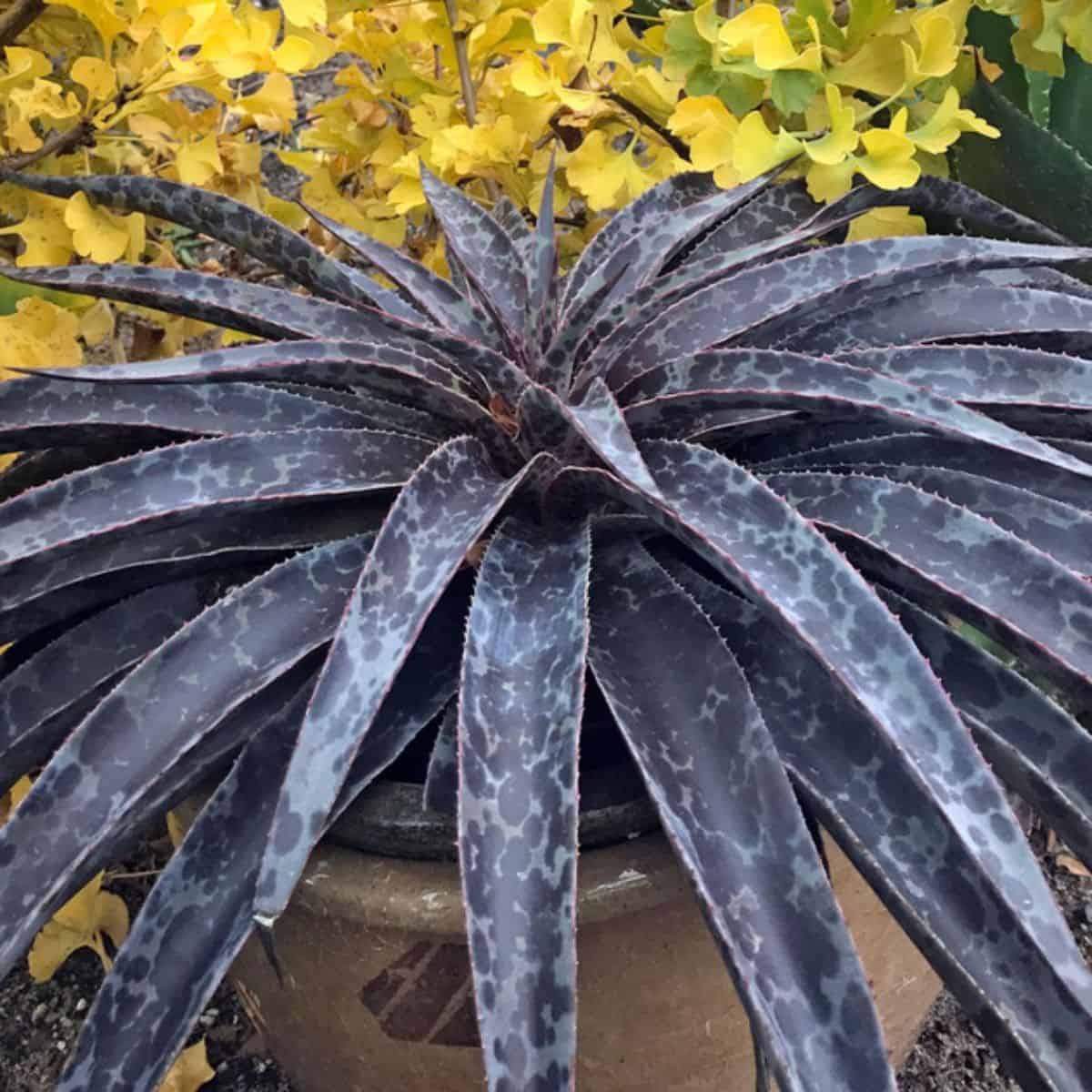 Buy it from:
Moonglow is a mysteries species with burgundy, brown spots on grey-blue leaves. The overall look from a distance gives it a blue hue and the dusting of farina can make the Moonglow seem otherworldly. Increased sun light will cause more purple and pink to be brought out. Moonglow is a smaller mangave that reaches a foot in height and roughly eight inches in diameter.
Isn't it time that you added a few blue beauties to your succulent collection? Whether you have an indoor or outdoor garden, these ten succulents will compliment your current color palette with a relaxing blue hue. Remember, there's no such thing as too many succulents!