Succulents and cacti are a strange bunch with incredible variety. These drought-loving plants range in size from teeny tiny to absolutely gigantic. Some have spikes, some don't. They can also be found in every color of the rainbow. However, even with that astonishing variety, there are some particularly weird-looking plants.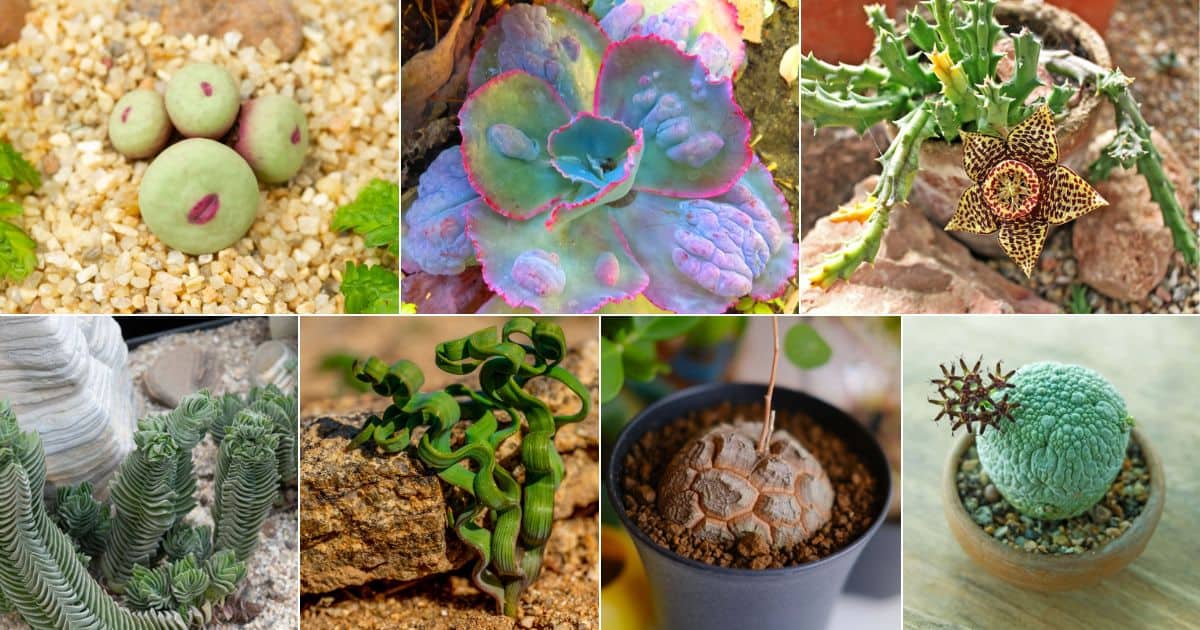 If you're tired of having the same succulents as your neighbor, or you simply want a conversation starter, here are ten of the weirdest-looking succulents and cacti.
Many of these succulents can be cared for like every other succulent. Some will have specific care profiles, but they are worth every effort just because of how unique they are. Keep in mind that some of these species may be more expensive than others.

In fact, while there aren't any crested varieties in this list if you find a succulent with the cresting mutation, then that will be one of the most unique kinds of succulents that you can get.
Let's dive in!
Jump to:
1. Espostoa melanostele 'Peruvian Old Lady Cactus'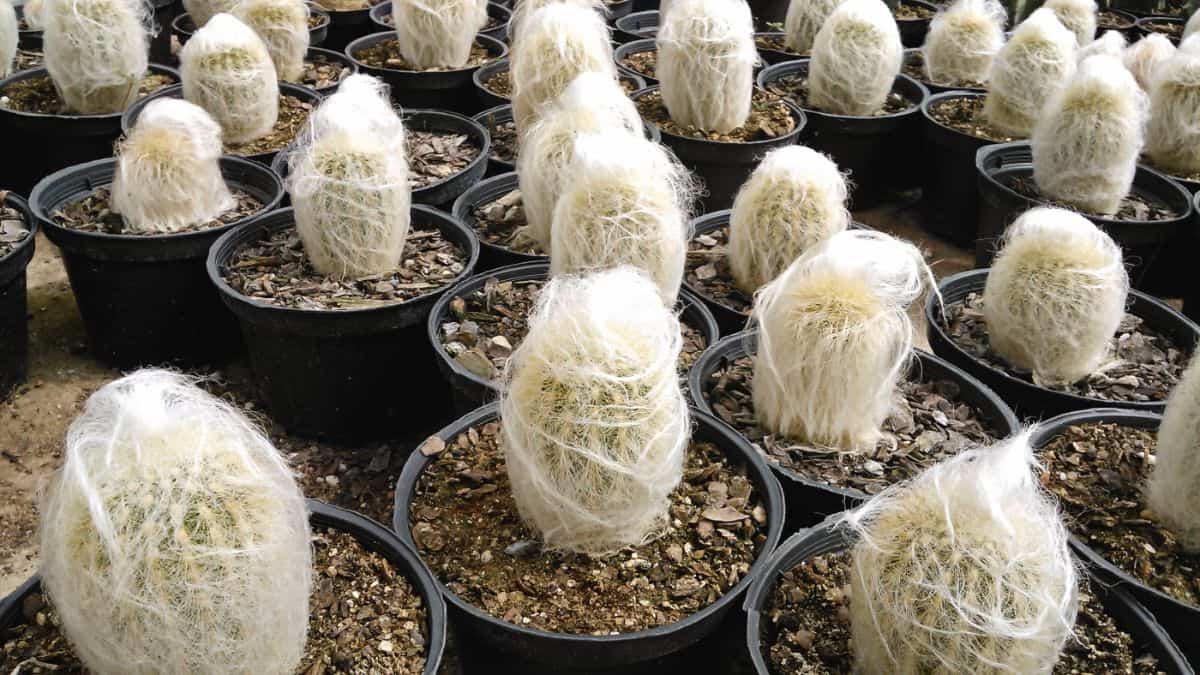 Buy it from:
As you may have already guessed, this woolly cactus is native to Peru and can reach up to seven feet in height in the wild. When kept in a pot, the cactus tends to stay much smaller, around 10 inches or so. Although the Peruvian Old Lady Cactus may look cuddly, its signature wool hides sharp spines.
The Peruvian Old Lady Cactus grows well in a pot, but it will grow better if planted in the ground. However, it's not a frosty hardy plant, so be sure you live in a frost-free climate before planting your strange new cactus outside. As with most cacti, well-draining soil and plenty of sun are essential. Infrequent water is best, especially during the winter months.
2. Kalanchoe rhombopilosa 'Pies from Heaven'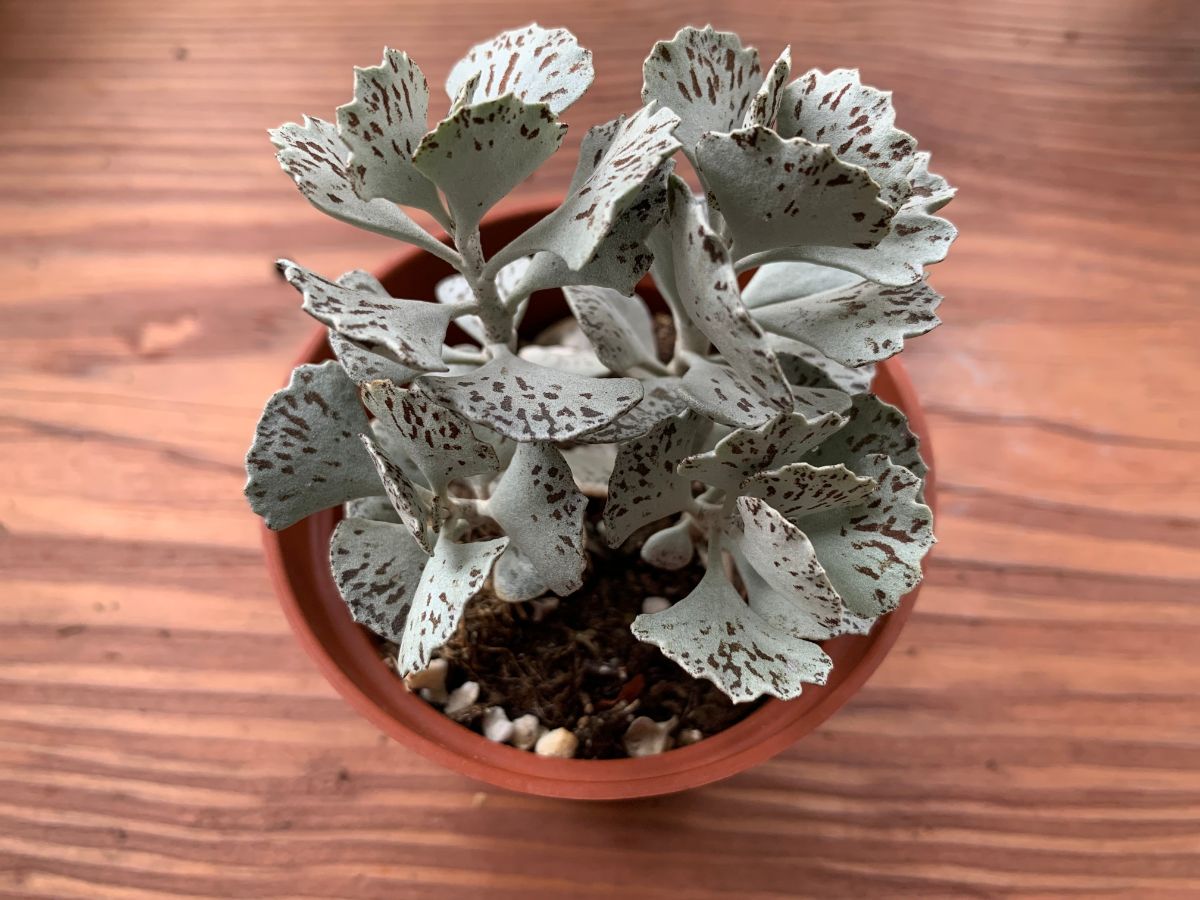 Buy it from:
This unusual-looking succulent with an even more unusual name is native to Madagascar. The plant typically reaches about 12 inches in height. The woolly leaves are just over an inch long and are a silvery-green with brown mottling. When in bloom, the plant produces petite greenish-yellow flowers.
Pies from Heaven prefer partial sun as strong, direct sun may burn the leaves. This is not a cold-tolerant plant, so you may need to bring it indoors or protect it during frigid temperatures. Kalanchoe rhombopilosa do best with infrequent water, so be sure to let the soil dry out between watering.
3. Crassula 'Baby's Necklace'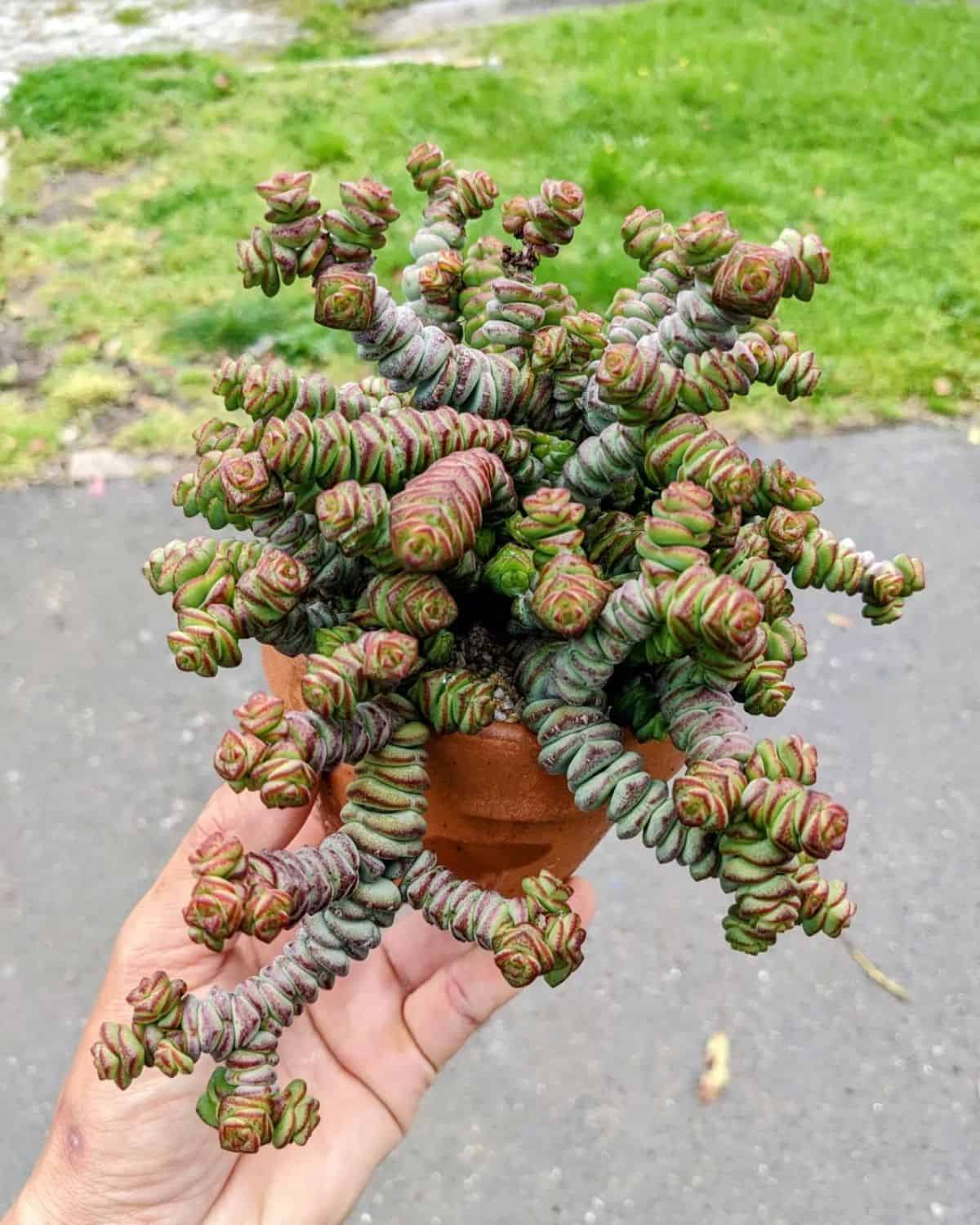 Buy it from:
Baby's Necklace is actually a hybrid that was created by Myron Kimnach. It's a cross of Crassula perforata and Crassula rupestris. Its leaves are small, puffy, and stacked along the stems, similar to the beads on a necklace. The stems can reach up to 12 inches in height and typically grows in clumps. In late spring to early summer, Baby's Necklace produces petite white flowers.
Baby's Necklace is an easy to care for succulent and is great for inexperienced and experienced gardeners alike. Like most succulents, excess moisture must be avoided at all costs. The more sun this plant receives, the more vibrant its color will be. Propagation is incredibly easy and can be done with leaves, stem cuttings, or offsets.
4. Euphorbia obesa 'Baseball Plant'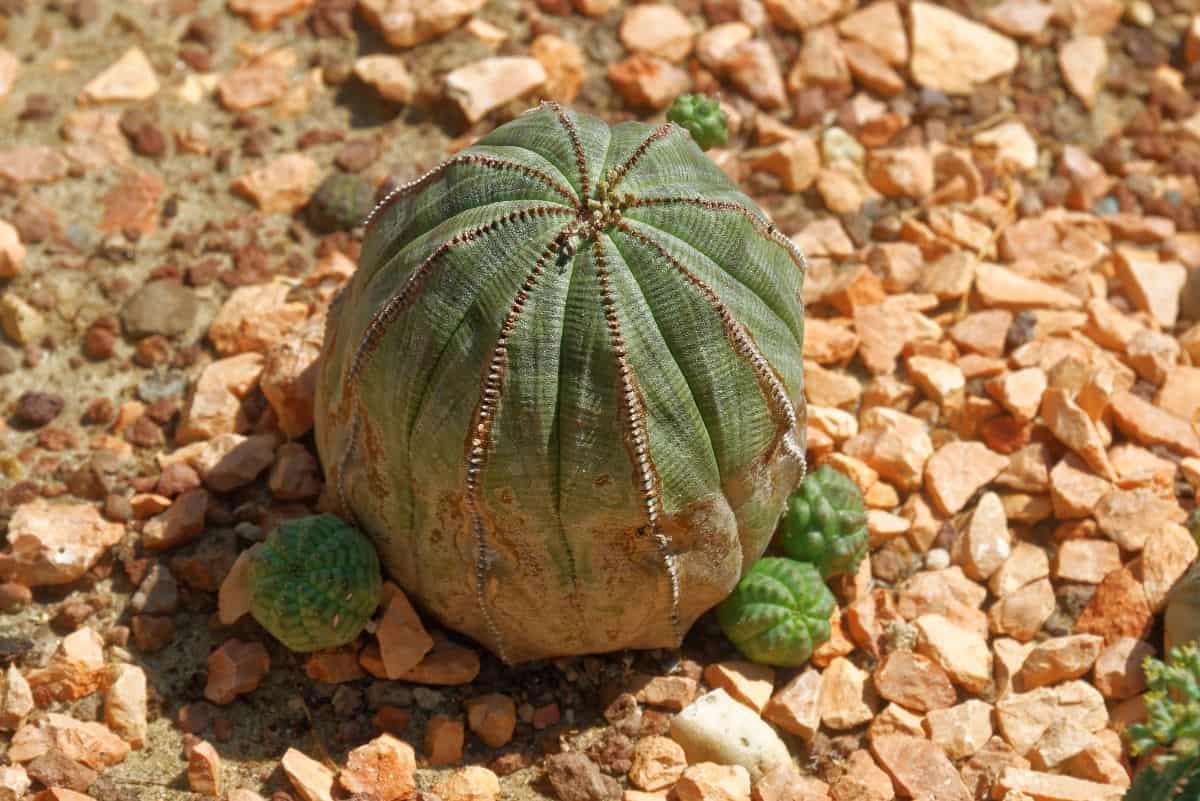 Buy it from:
If you're looking for a simple but strange looking plant to add to your collection, look no further than Euphorbia obesa. This dome-shaped cactus is usually grayish-green with orange or purple bands that create a plaid-like pattern. It's a rather petite cactus and can grow up to eight inches tall and about 3.5 inches wide. The flowers produced by Euphorbia obesa are tiny, greenish-yellow and have a sweet scent.
Baseball Plants prefer partial shade, but if you notice the plaid pattern fading, the plant needs more light. As with most cacti, adequate drainage is necessary in preventing root rot. Watering should be infrequent, especially during the Baseball Plant's winter dormancy period.
5. Aloe vanbalenii 'Crawling Octopus' or 'Van Balen's Aloe'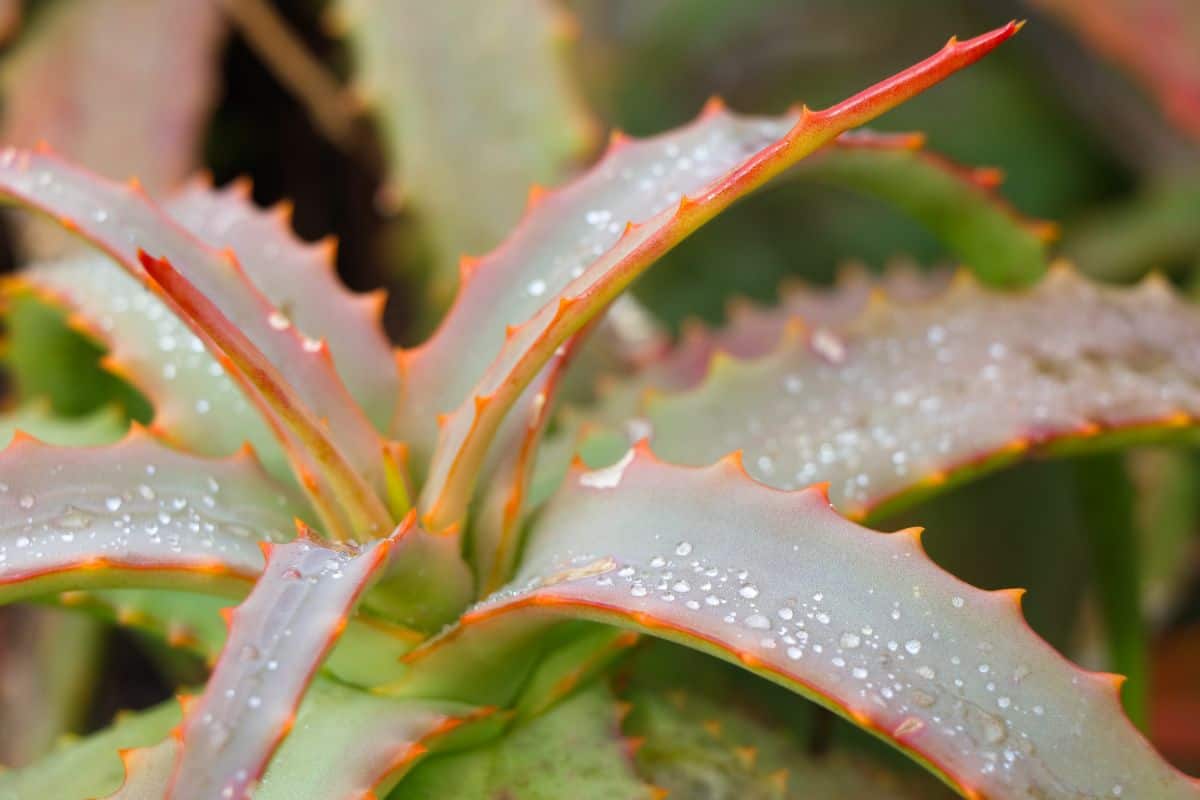 Buy it from:
The vibrant red-orange leaves make Van Balen's Aloe stand out from most Aloe that you may be familiar with. The leaves start out as a vibrant shade of green and turn orange and red with increased sun exposure. The more stress the plant undergoes, the deeper the color. In winter, the plant produces yellowish-orange flowers atop a slender inflorescence. At maturity, Crawling Octopus measures up to three feet in height and four feet in diameter.
Aloe vanbalenii is tolerant of extreme heat but cannot handle freezing temperatures. A light frost is fine, but if you are expecting frigid weather, be sure to bring the plant in or protect it from the cold. Van Balen's Aloe grows best in well-draining soil with plenty of suns. Although it makes great ground cover if the climate allows, its twisting octopus-like leaves look great in hanging containers as well.
6. Lithops 'Living Stones'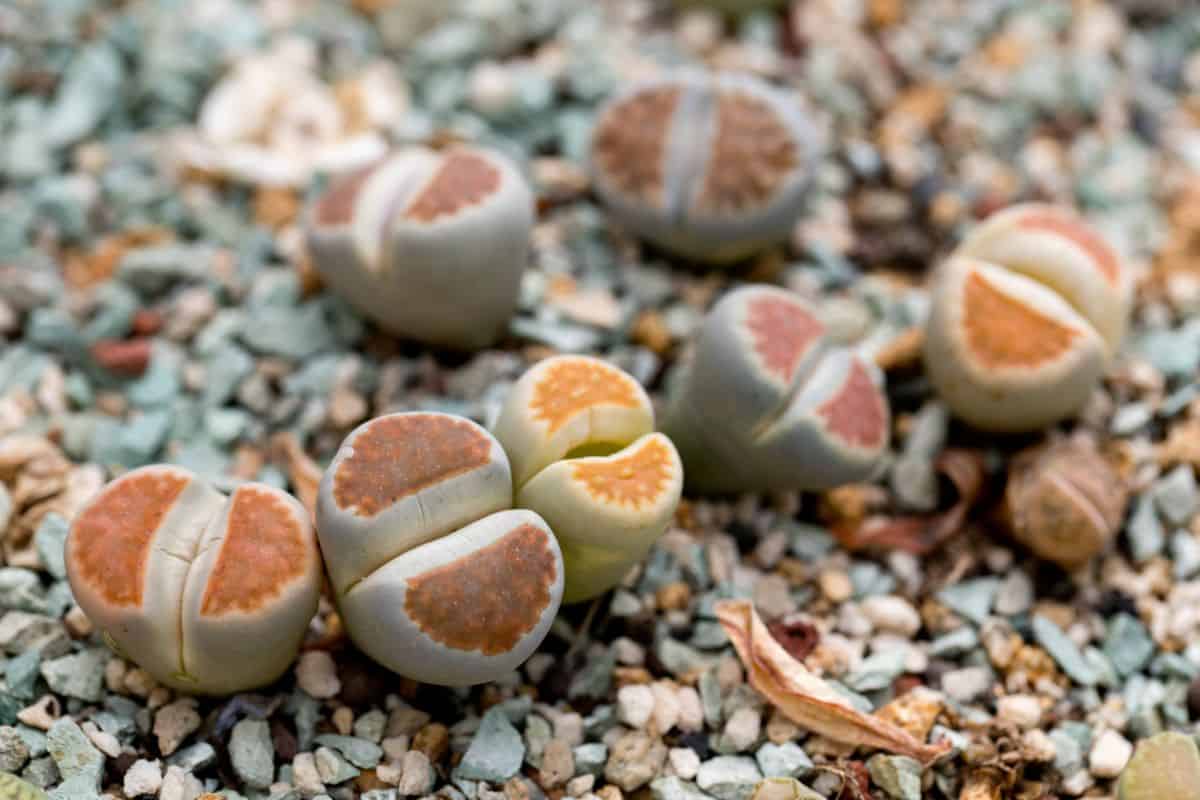 Buy it from:
Sometimes called Living Stones, these drought-loving little weirdos are native to South Africa. At maturity, they usually measure under three inches in both height and diameter. They come in a variety of colors, all resembling natural shades of stone. In autumn, they produce surprisingly large yellow or white flowers.
Lithops can be a bit tricky to care for, but with a little old-fashioned neglect, they'll do just fine. Read our care guide for in-depth care information on these strange stone-like succulents.
7. Opuntia subulata – Eve's Needle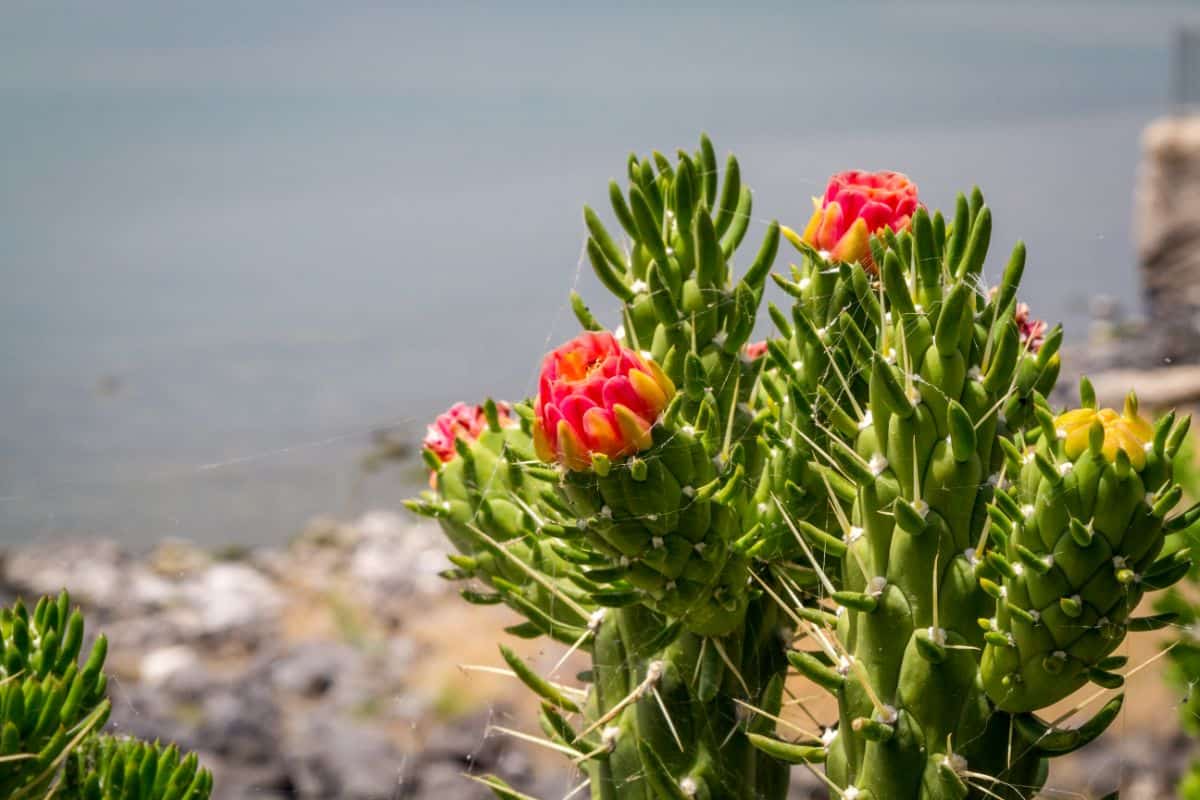 Buy it from:
One of the interesting cacti on this list is Eve's Needle. They grow with large, thick stems with large 'needles' that surround the stems. At the end of the needles, spines reach out further to protect this plant. They can be layered like an artichoke in appearance, but they are more so related to a group of cacti called chollas. When they reach maturity, Eve's Needle will produce delicate, almost tea-cup-like red roses.
8. Echeveria 'Mauna Loa'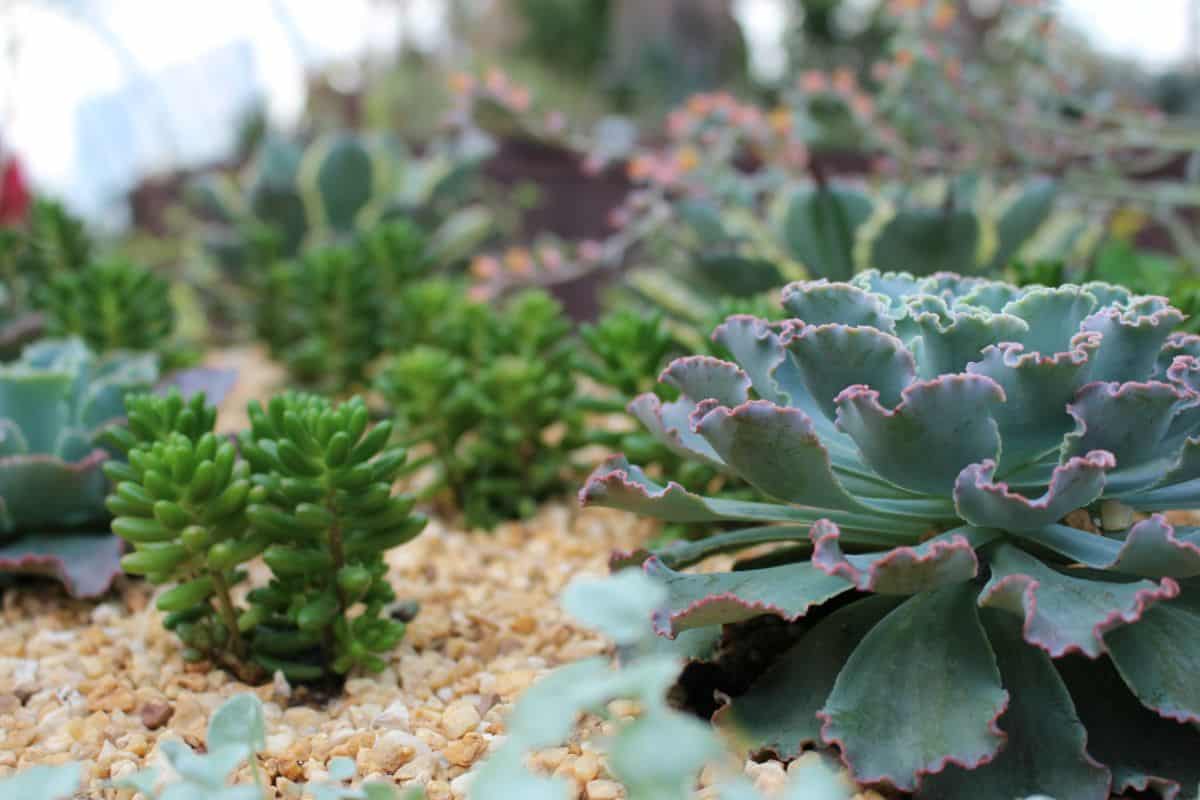 If you want a statement piece for your garden, then the hybrid Mauna Loa is perfect. This echeveria species has some of the waviest leaves. I can be honest and say that I have mistaken a Mauna Low as a cabbage when scrolling through pictures. Not only are these guys beautiful with their pinks, greys, and light greens, but they are also massive. Each rosette can get up to two feet wide, and the stems are thick and sturdy, with a general length of 18 inches.
9. Euphorbia mammillaris variegata 'Indian Corn Cob'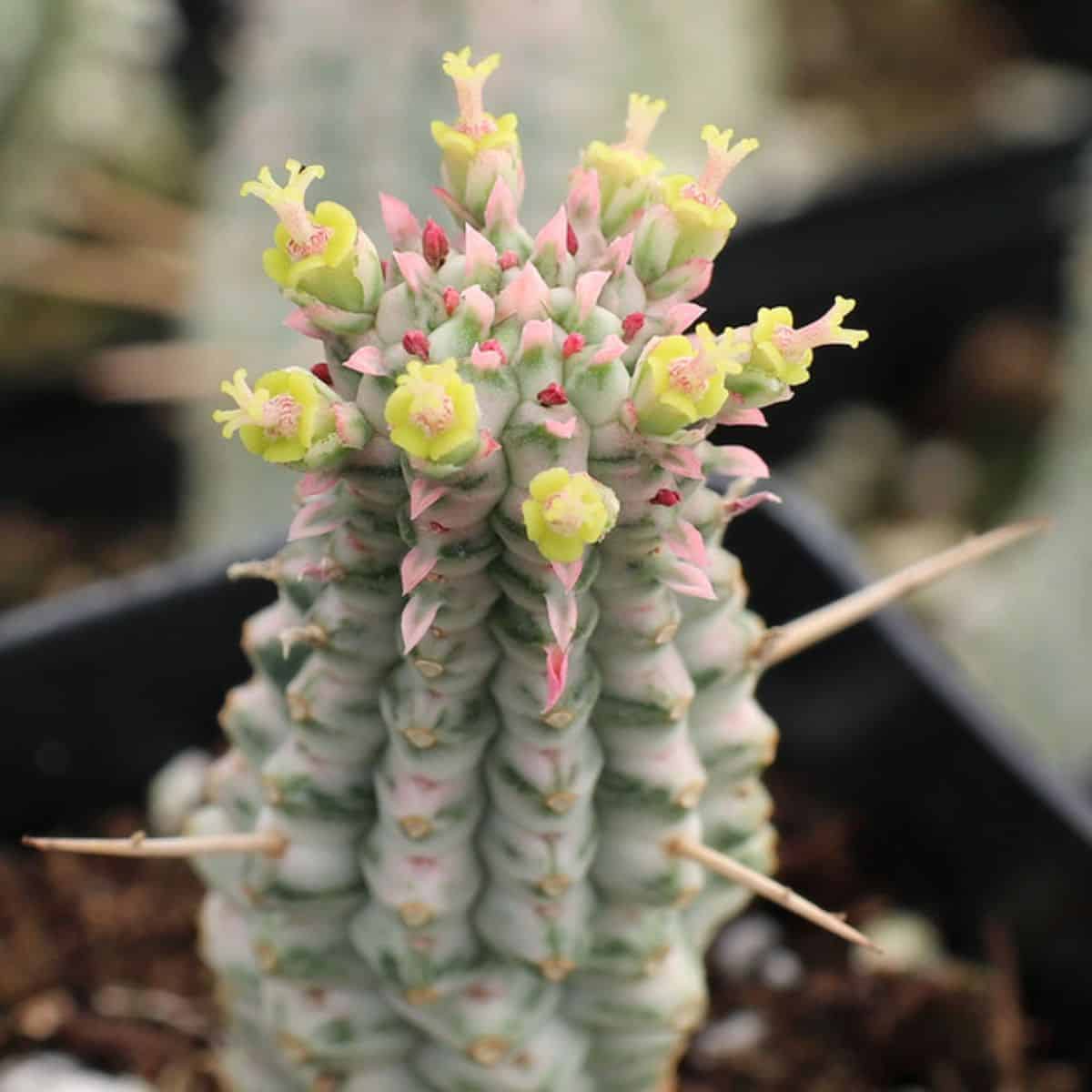 Buy it from:
Euphorbias are an incredibly diverse group of succulents. The Indian Corn Cob is an interesting combination of stark white cactus with light green markings. The closest thing to compare it to is a Ghost echeveria. There are liddle nodules that grow along the sides: when this plant is in a container, it will happily bunch or possibly grow tall and branch. Both options occur with this plant.
10. Cereus forbesii monstrose 'Ming Thing'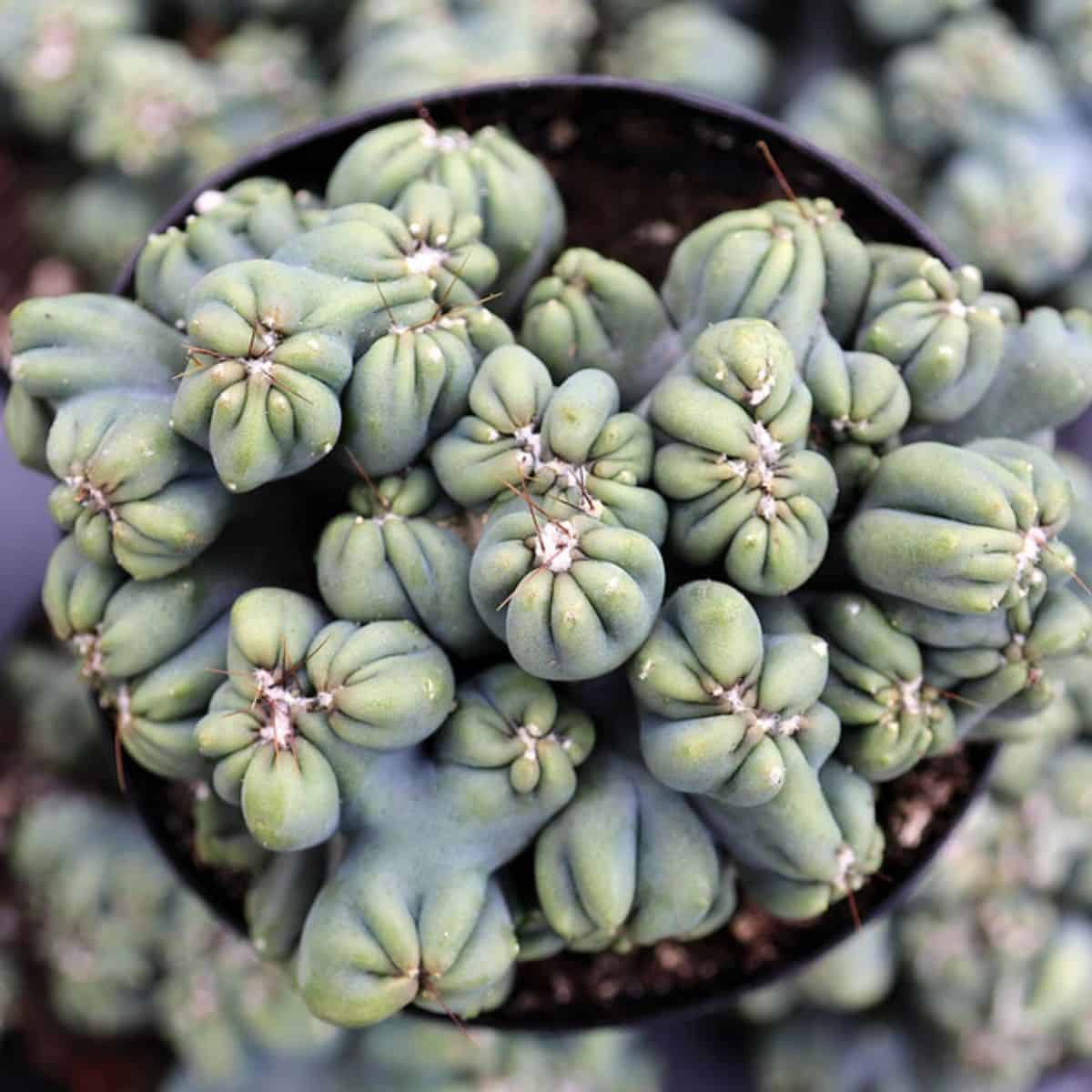 Buy it from:
The Ming Thing looks like either an anus or someone holding their fingers in an Italian manner. The correct way to refer to the shape is club-like. Ming Thing is an incredible species that can grow up to a foot in height. It does well in the ground and in containers. It's a great contrasting succulent to any plants that are lacking in texture, and its best feature is its vibrant purple flowers that are only at night.
11. Boweia volubilis (climbing onion)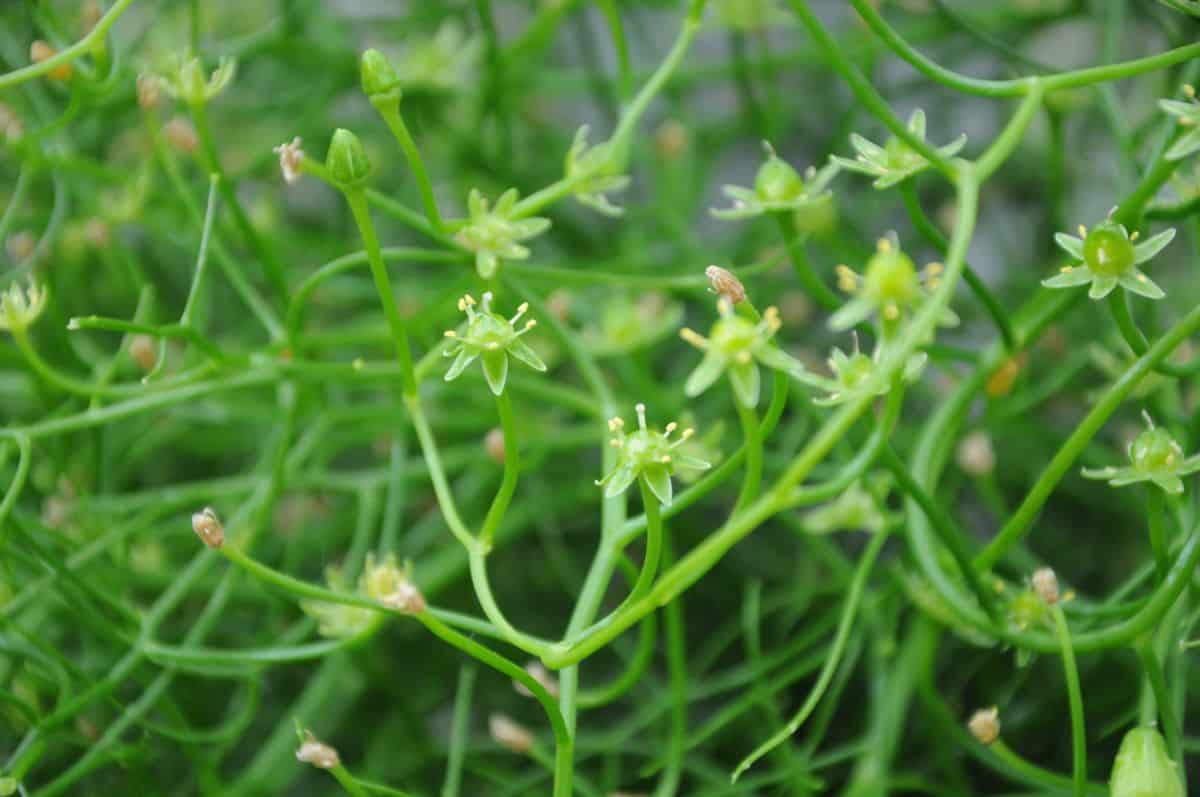 Buy it from:
This special succulent is from the lily family. Striations along the sides and its shape make this succulent look like a giant green onion. They thrive on neglect and cyclically produce vining stems. The stems are also crawling and need support to keep them from breaking.
12. Dioscorea elephantipes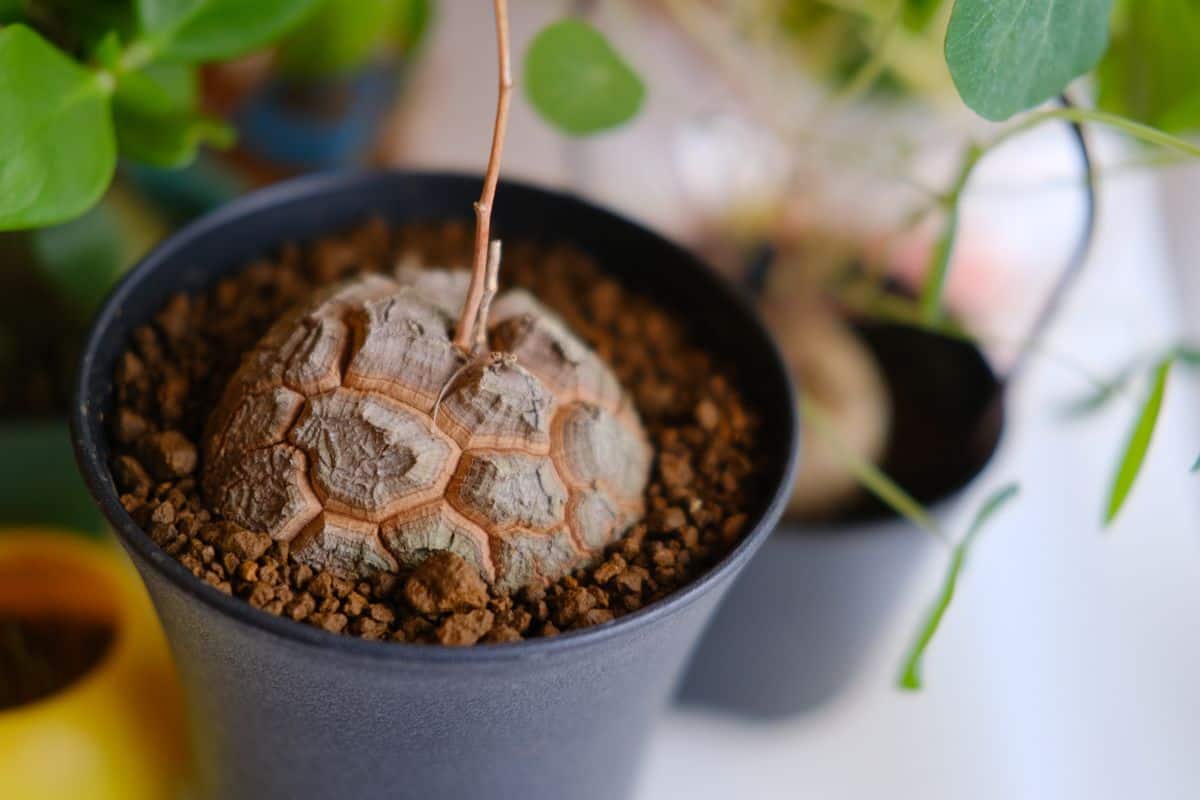 Buy it from:
If you want to get your hands on a slight mesemb that resembles geometric rock formations, then this plant is yours! D. elephantipes looks a lot like a turtle shell, and it can grow to impressive sizes. It is one of the few succulents that needs shade too! The caudex, or base of the plant, will continue to develop more scales that extend outward from the root base.
13. Hoya carnosa - Hindu Rope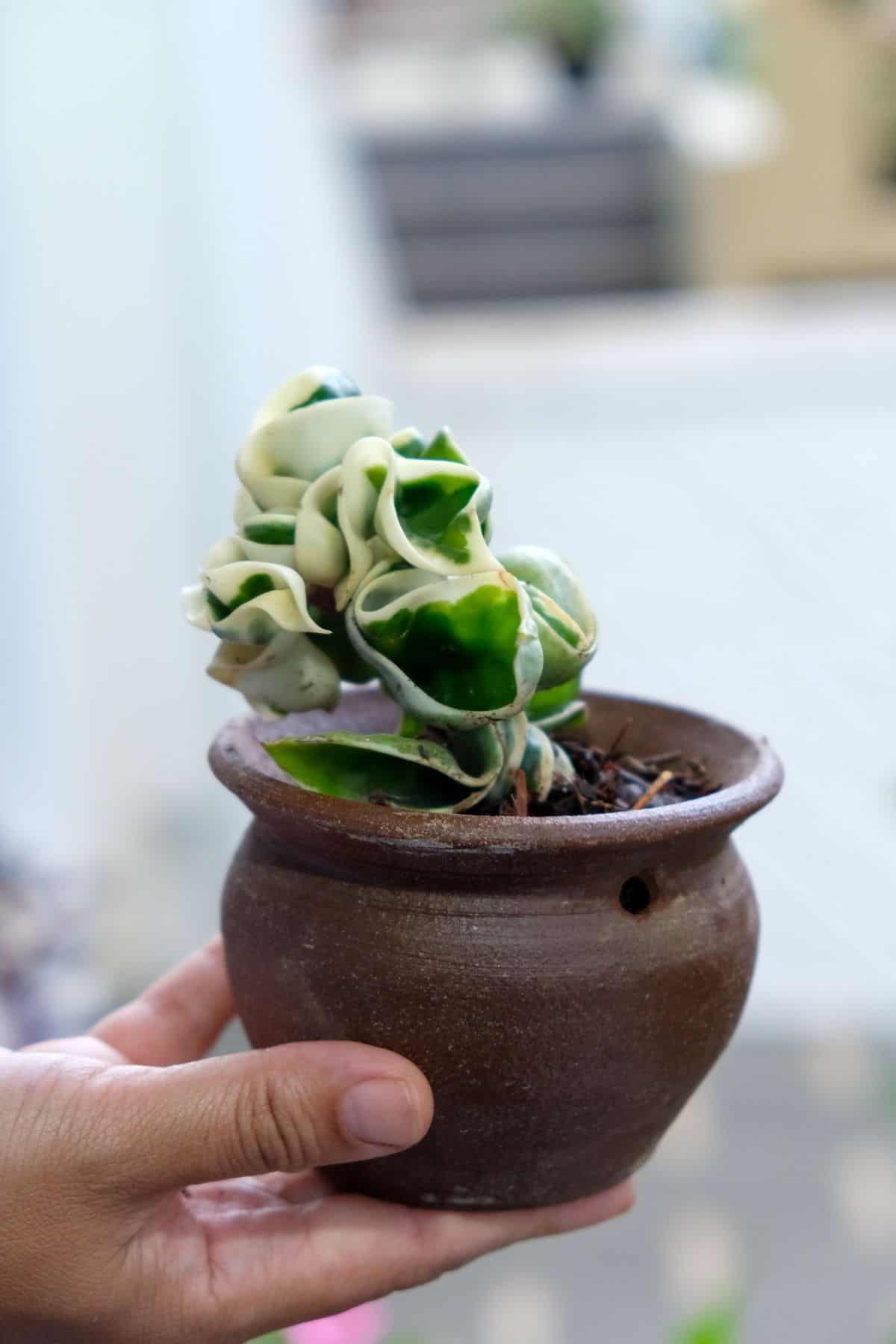 Buy it from:
With intriguing thick leaves that almost look like cups, this hanging plant is one of the collector items you will want to get your hands on right away. They can get up to 15 inches in length and are a rich green color. These are easy to grow with little water and gentle sun.
14. Trachyandra tortiilis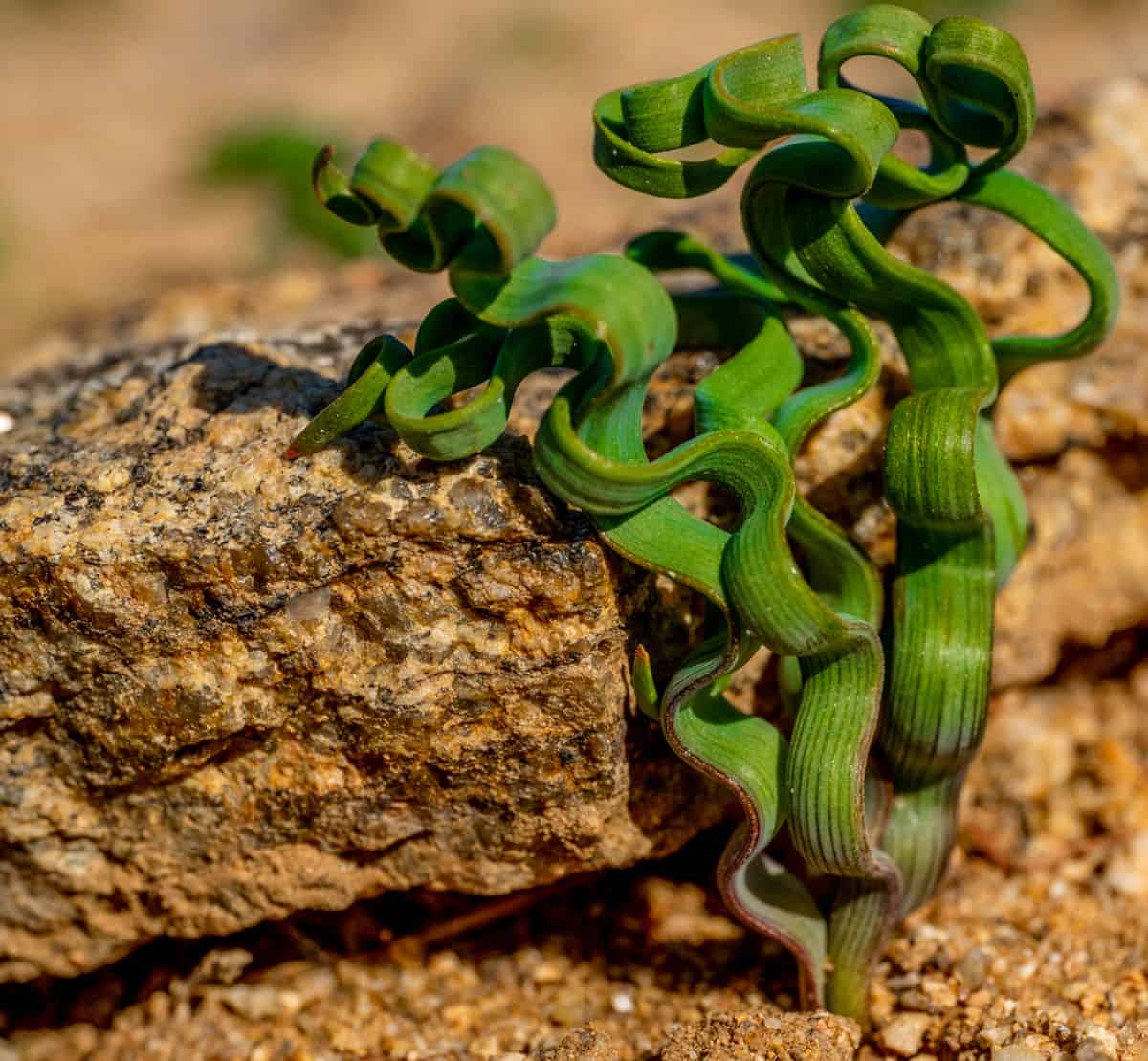 Buy it from:
These strange little beauties are some of the firsts that caught my eye as a fat plant lover. They grow in strange random curls. They prefer more sandy soil and can grow both indoors and outdoors. It's hard to determine where to plant them because they do need shade, but they self-propagate very easily.
15. Albuca spiralis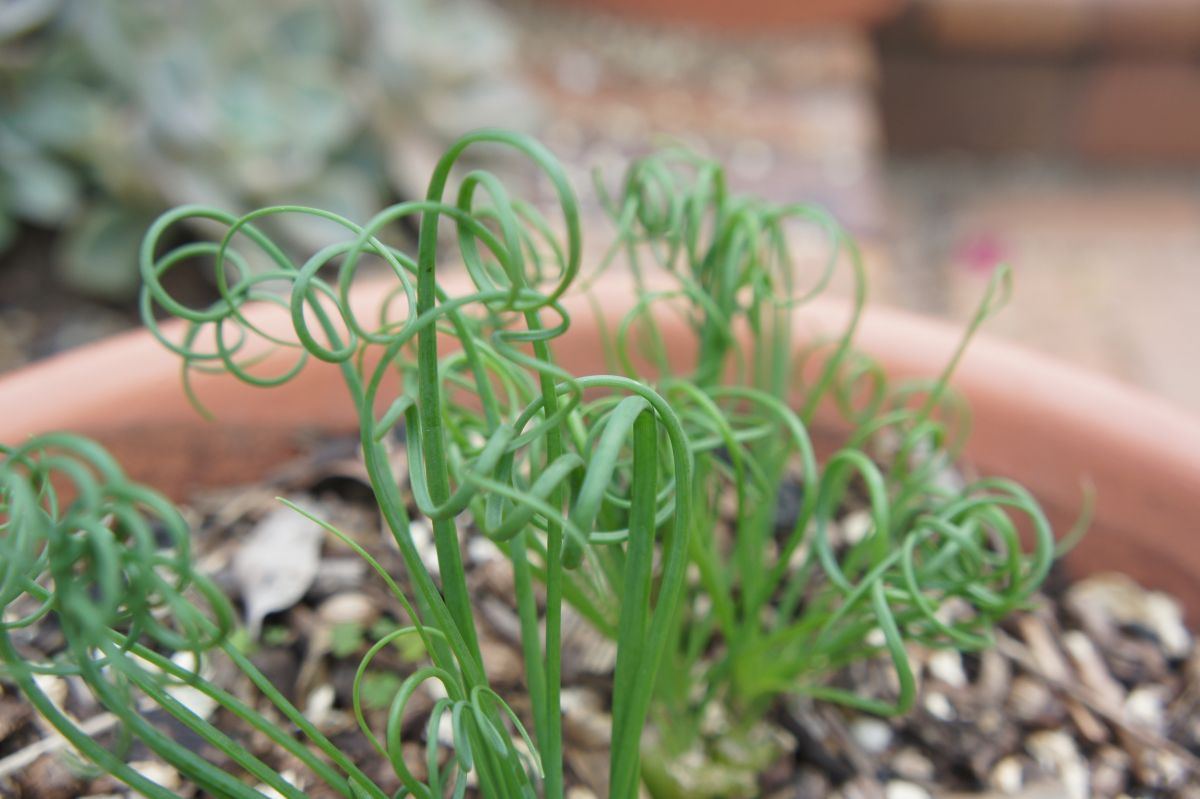 Buy it from:
There are several names for this quirky plant. From spiral grass to Frizzle Sizzle, the names are pretty fun! Spiral Grass is especially finicky about drainage as it is a bulb succulent. The bulbs can be susceptible to rot, so they need well-draining soil. These strange beauties do the best underneath the full sun and frequently don't do well inside, even with direct sunlight.
16. Echeveria gibbiflora 'Barbillion'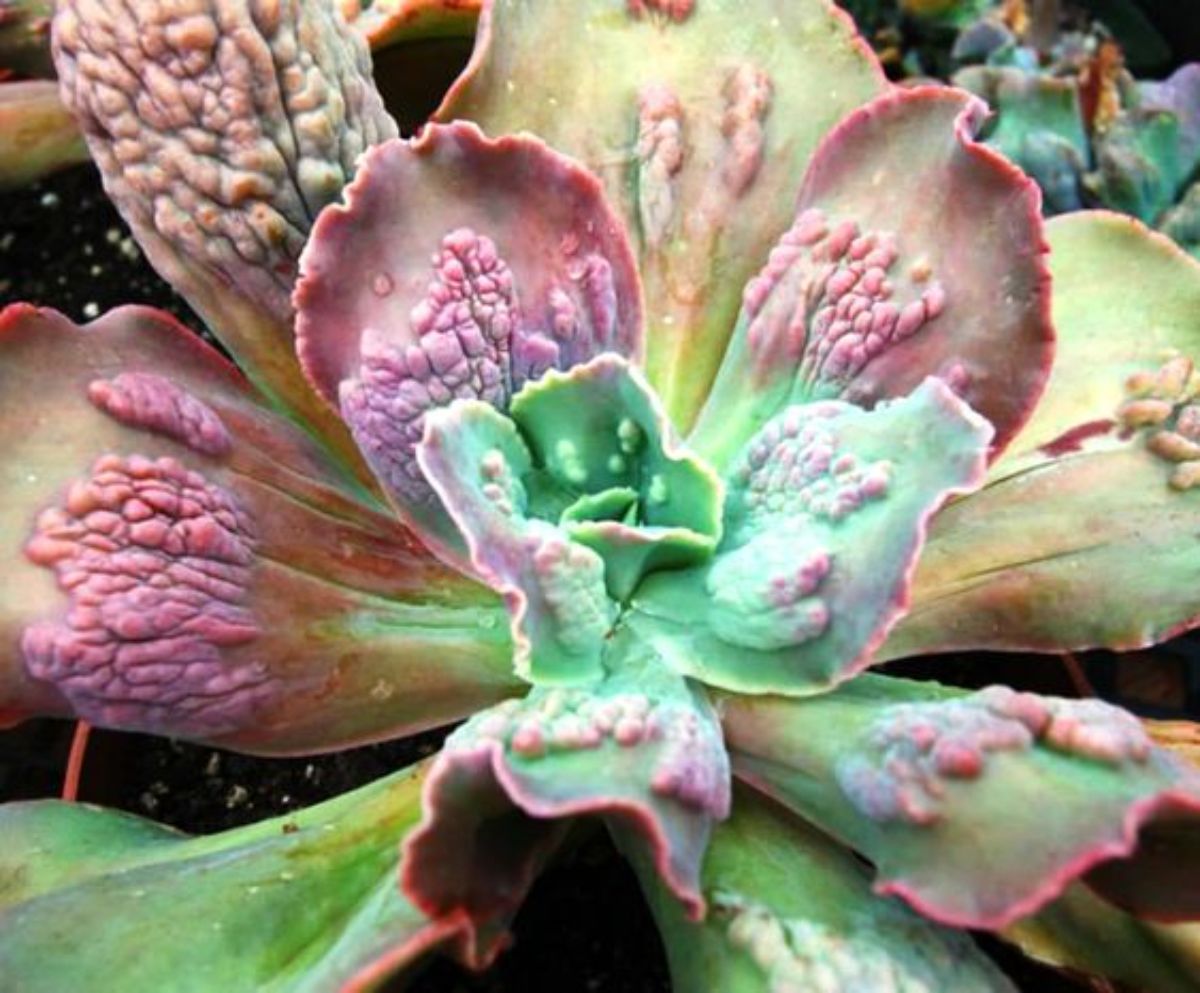 Buy it from:
Some of the most interesting plants have protrusions called caruncles. Barbillion, and another Echeveria species called Etna, are two similarly carbuncled species. They look like thick lettuce leaves at times, but they also change their shape throughout the year. Barbillon grows on a single stem and gets 18 inches wide. Their rainbow colors constantly change, and as the leaves get older, they can sometimes smooth out a little.
17. Stapelia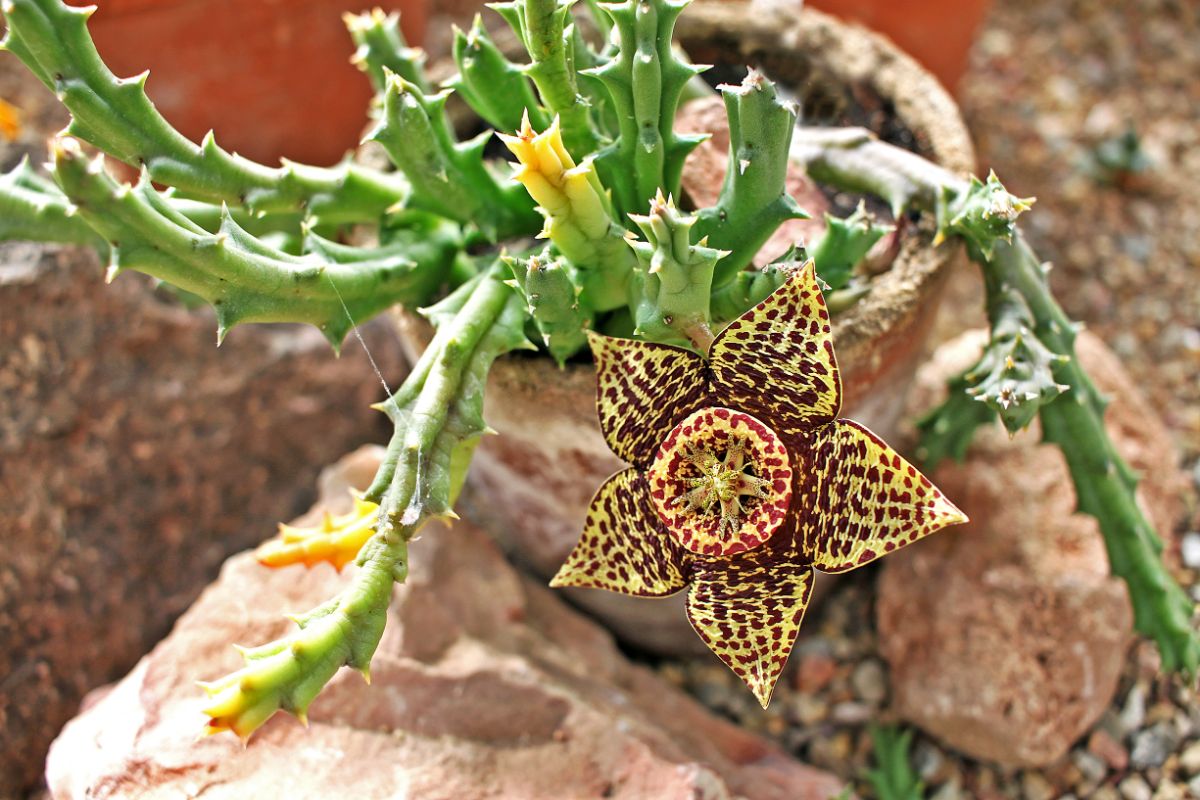 Buy it from:
Instead of including a single species, this entire genus has to be included. While the leaves tend to look pretty normal for succulents, the lowers are what take the cake. From Lifesaver plants to Starfish Cactus plants, these succulents are incredibly strange. Their flowers are generally formed from a single petal, and they often release a carrion scent to attract pollinators.
18. Conophytum pageae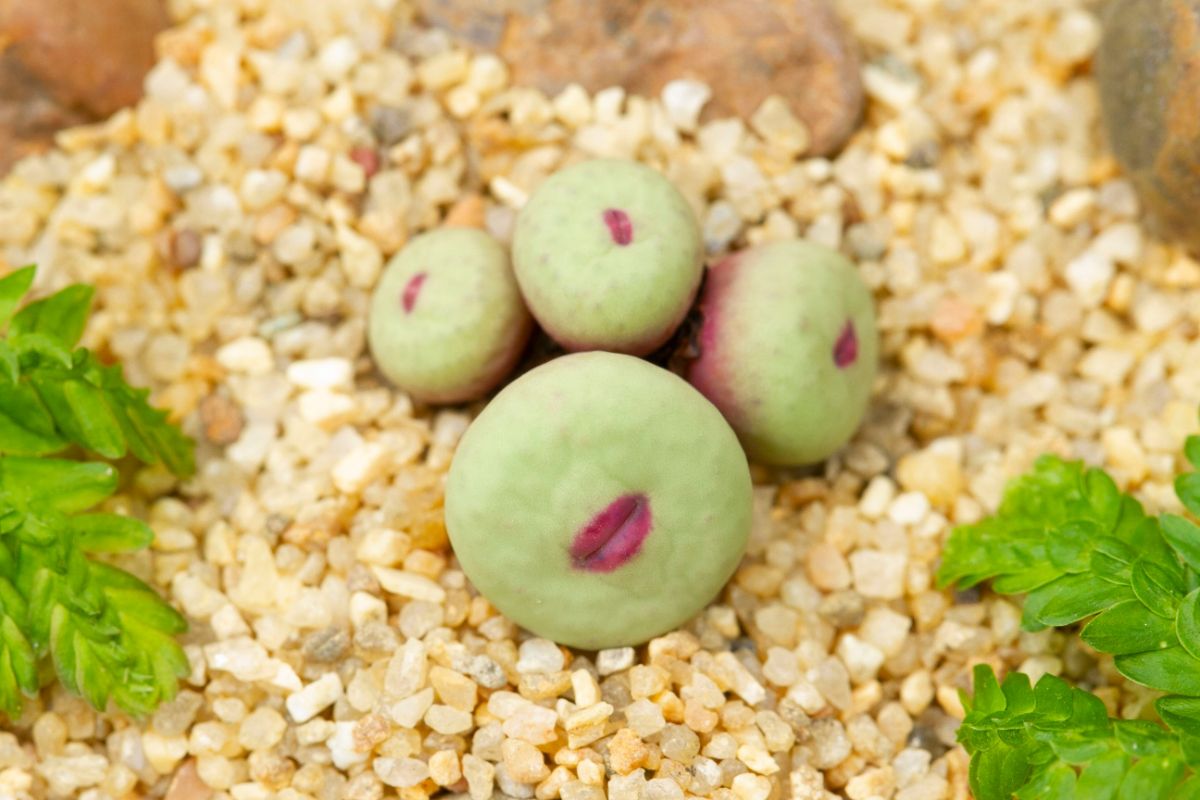 Buy it from:
Going to be honest here, this succulent tends to creep me out a bit. C. pageae is also known as the Lips Plant. They are native to South Africa and literally look like a pair of lips at their mature stage. These are succulents that will take over at least three feet of the area, so be prepared to either trim it constantly or keep this weird one in a pot.
19. Gentiana Urnula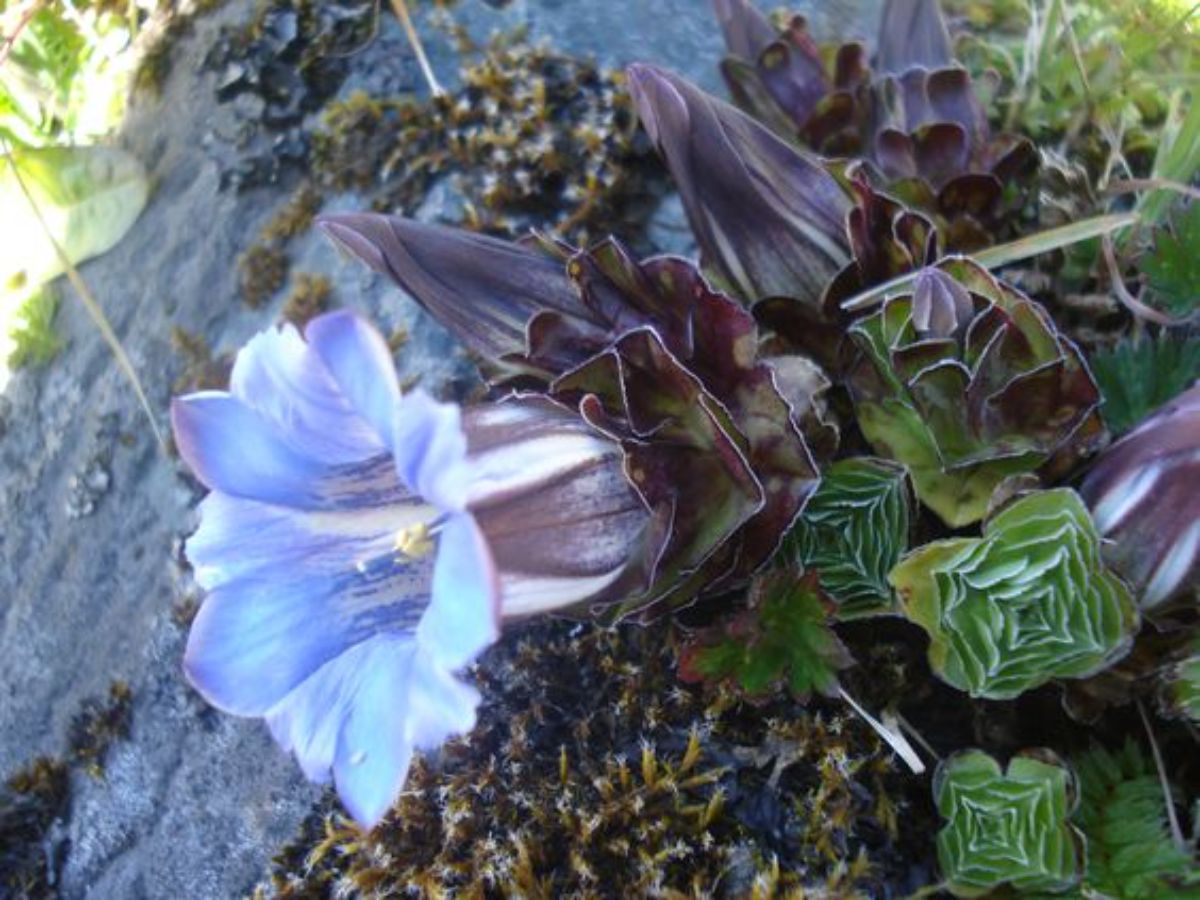 Something about the Genetian Urn makes it a weird but strikingly beautiful plant. The leaves grow in angular shapes in a rosette form. This causes the rosettes to take on a very square to diamond shape. The reason this species is called Genetian Urn is due to the way the flowers are shaped. Pointing upwards, each violet flower is shaped like an urn!
20. Crassula umbella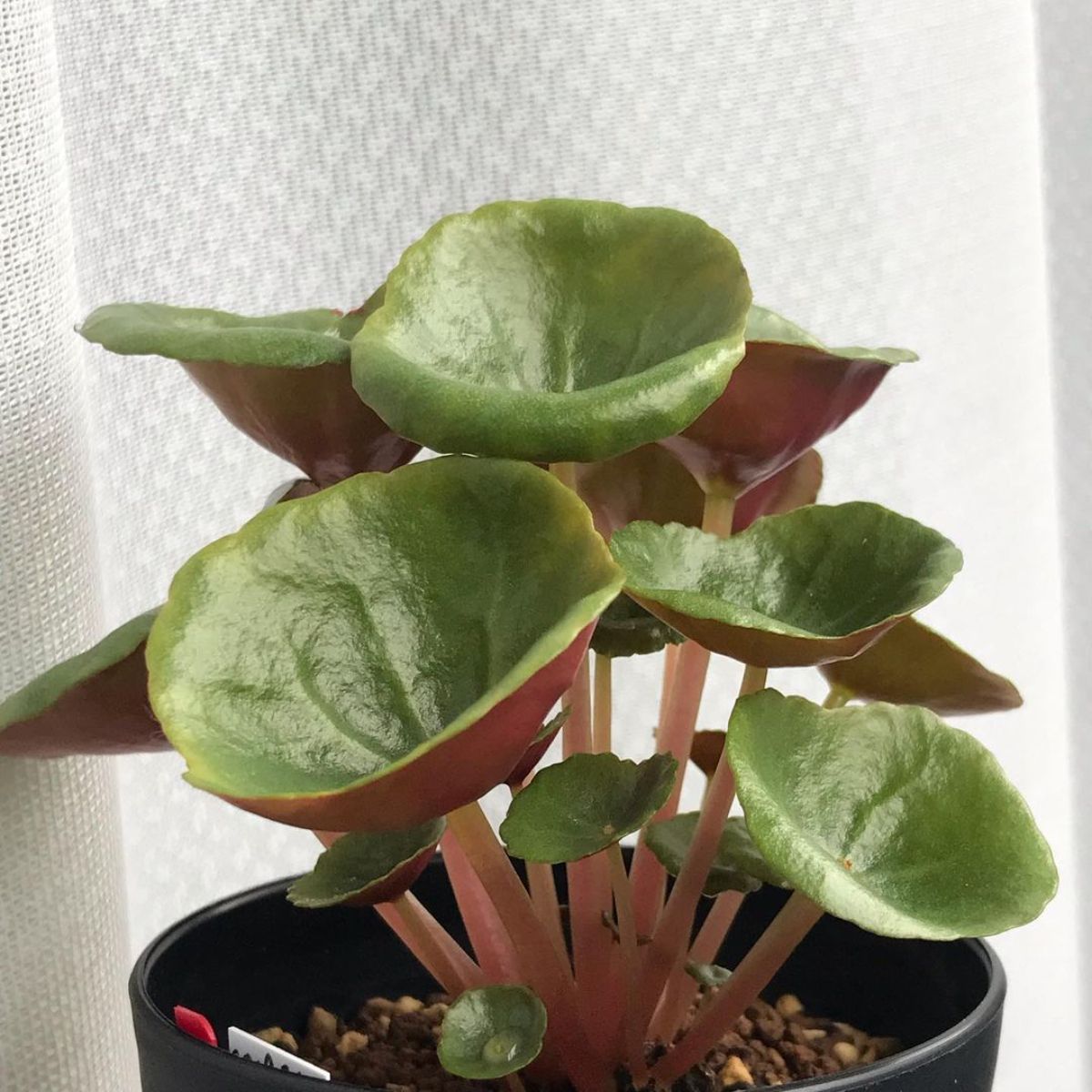 Buy it from:
The Wine Cup pant is an incredibly unique and very odd looking succulent. Each leaf is shaped like a bowl that can hold water. They grow in a clump, but each stem is individual and does not branch. Flowers emerge from the center of the leaves on a four-inch stem that supports bright yellow leaves.
21. Delosperma echinatum - Pickle Plant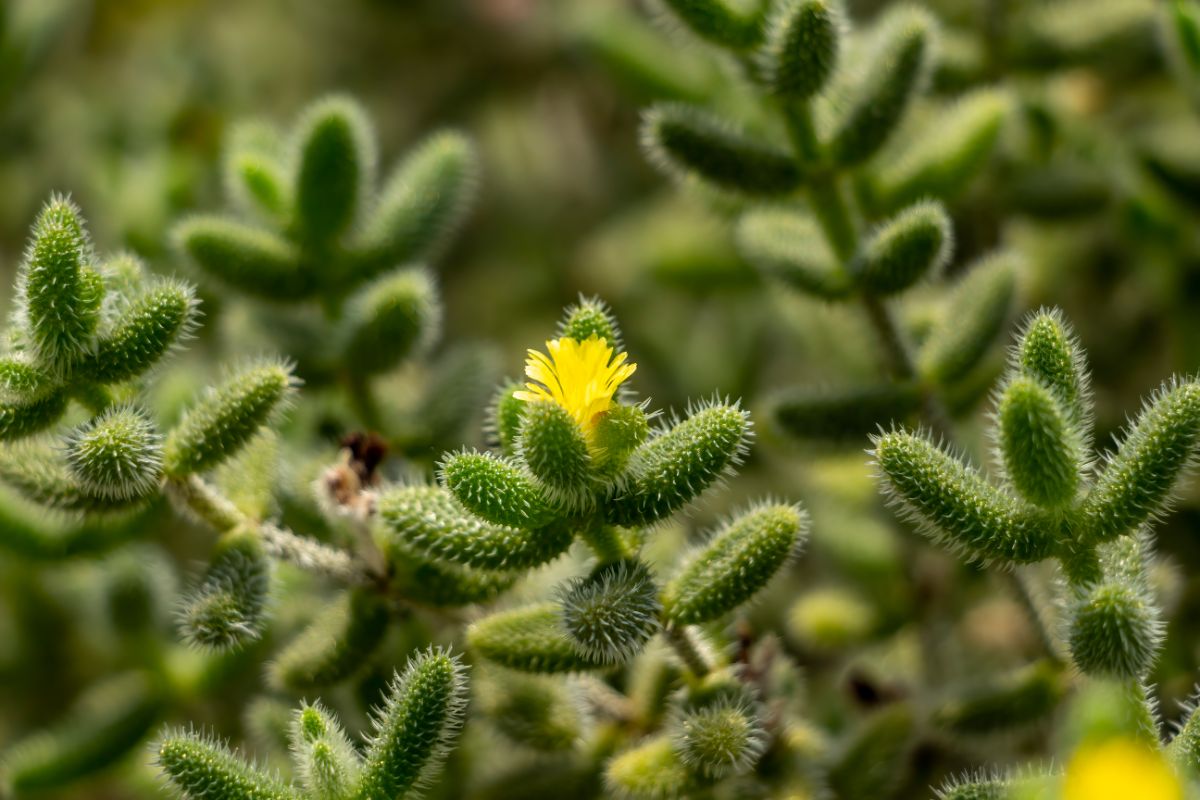 Buy it from:
Related to ice plants, the Pickle Plant is an interesting character and completely opposite to the hardier Ice Plants. Instead of surviving harsh sun or harsh cold, the Pickle Plant is an extremely soft plant that does not do well in the cold at all. What sets them apart is that each leaf looks oddly like a pickle. The spines are softer and look much like the pattern of pickling cucumbers!
22. Crassula Buddhas Temple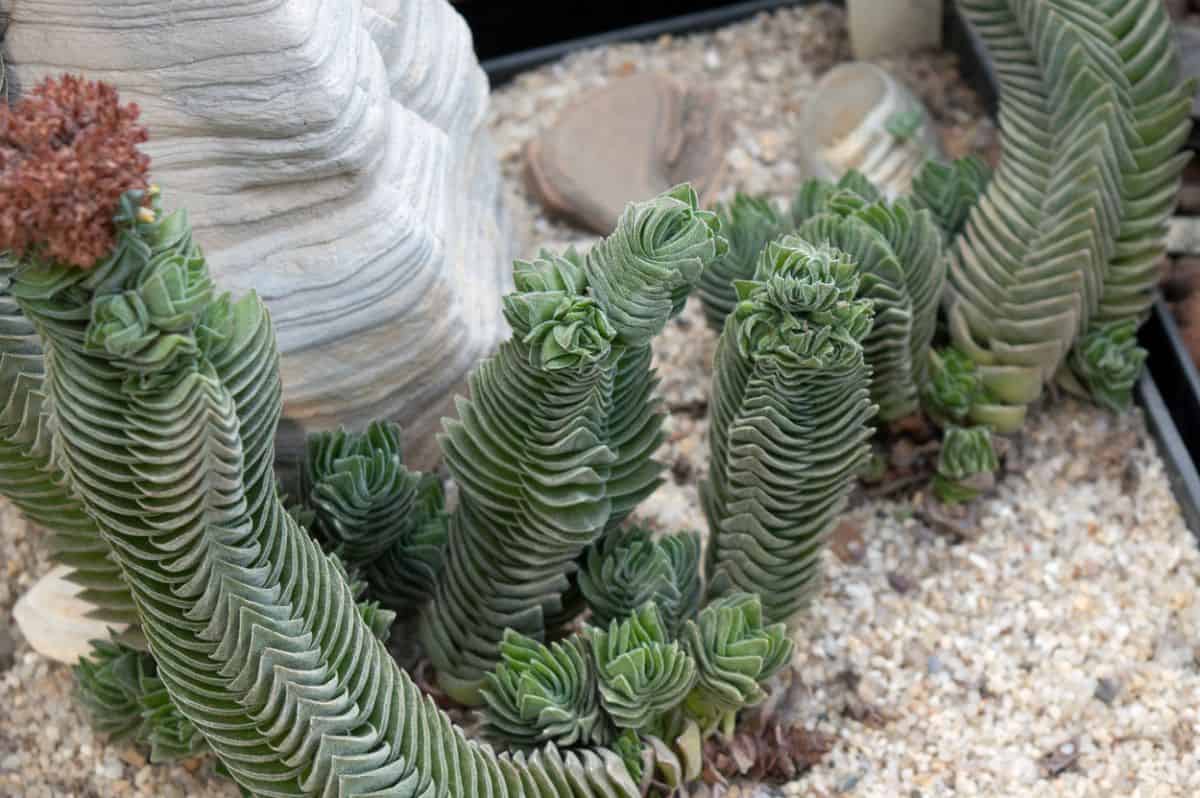 Buy it from:
If a plant could be mesmerizing, then Buddhas Temple takes the cake here. The leaves are so tightly packed that they resemble a square column. They can clump and grow up to six inches high and even have different variations of how many leaves appear! If you are lucky, you might get a six-pointed Buddhas Temple!
23. Astrophytum ornatum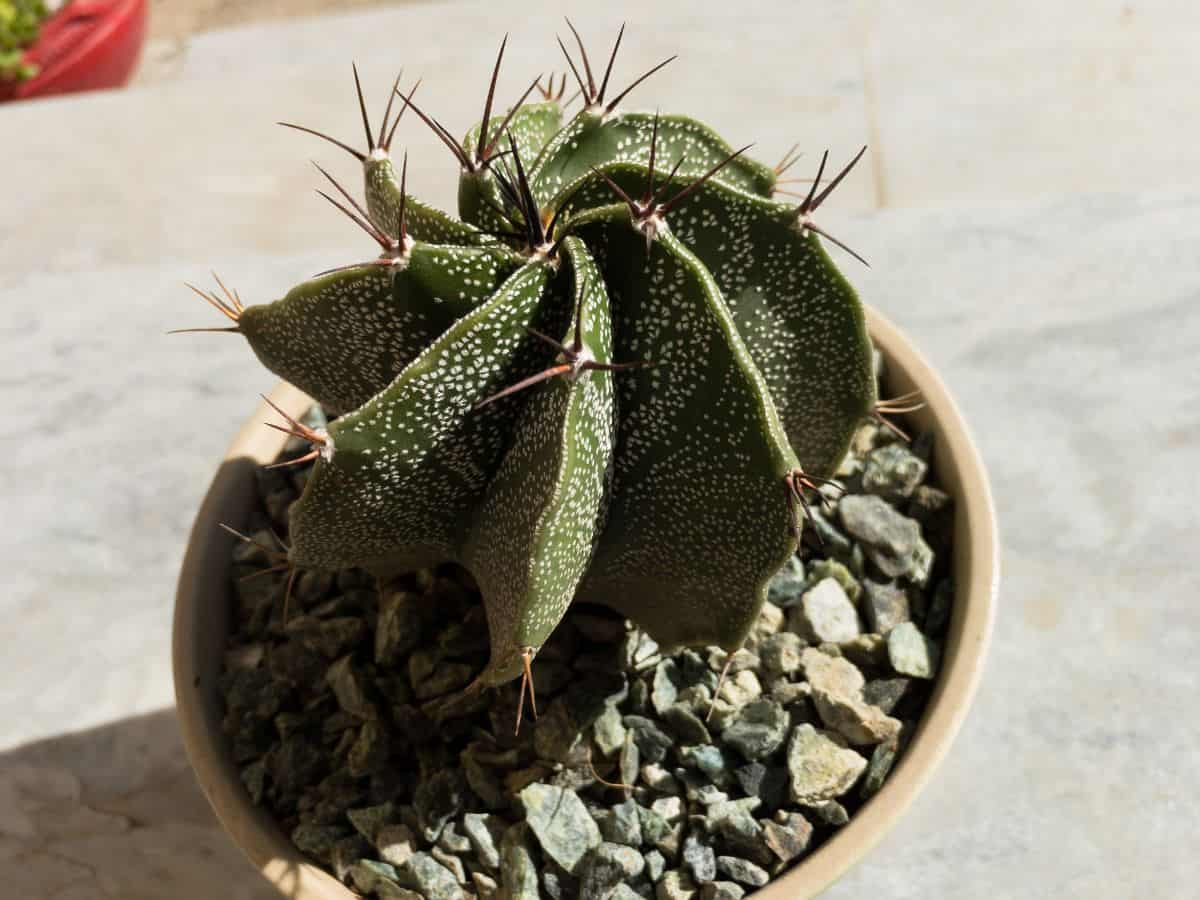 Buy it from:
Monk's Hood or Bishops Hat is a weird but attractive succulent. They have extremely prominent ribs that can rotate in a counterclockwise direction. White speckles cover deep green skin, and the flower that it produces at the very top of the column is a startling white.
24. Haworthiopsis coarctata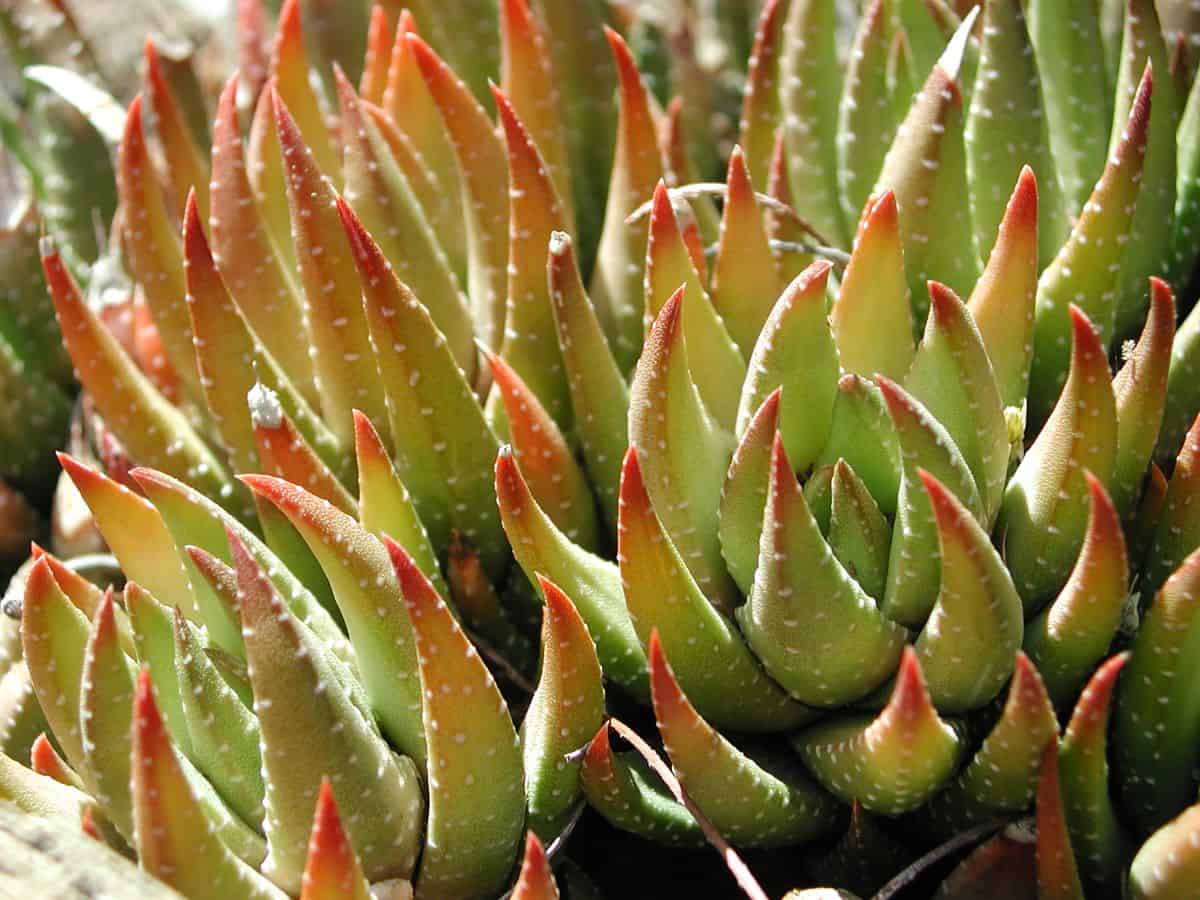 By now, hopefully, you have had the chance to see a haworthia or a Zebra Plant. If you have, great! That's exactly what this species looks like … and then some. Instead of a solitary rosette that stays close to ground level, H. coarctata grows upwards in the same shape and pattern as a zebra plant. The major difference other than the height is that when this species has a lot of direct light, the tips will turn a pinkish color.
25. Pseudolithos migiurtinus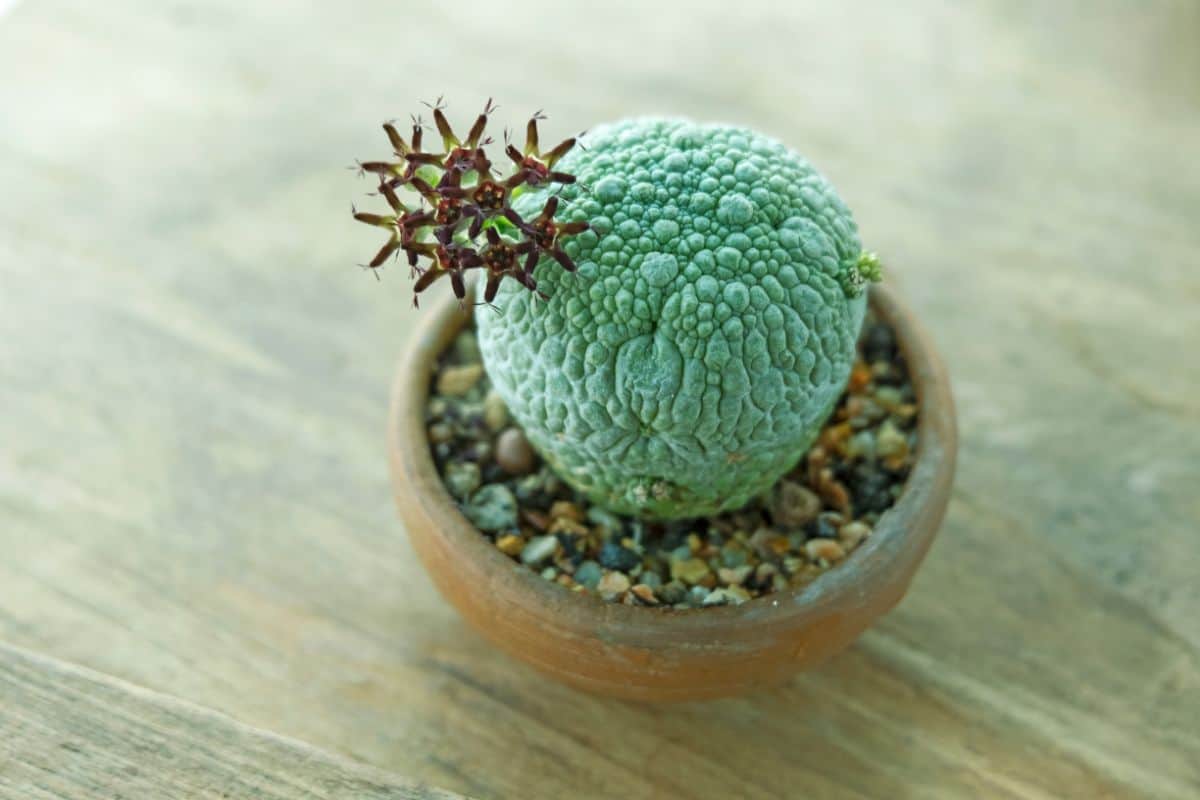 Buy it from:
This is one of the weirder succulents but one that couldn't be passed up! This weirdo looks like coral on land! There are only four different places where the species can produce its deep maroon star flowers. They stay in the form of a ball; however, they can change their sizes as they reach a mature height of four inches.
26. Mammillaria bocasana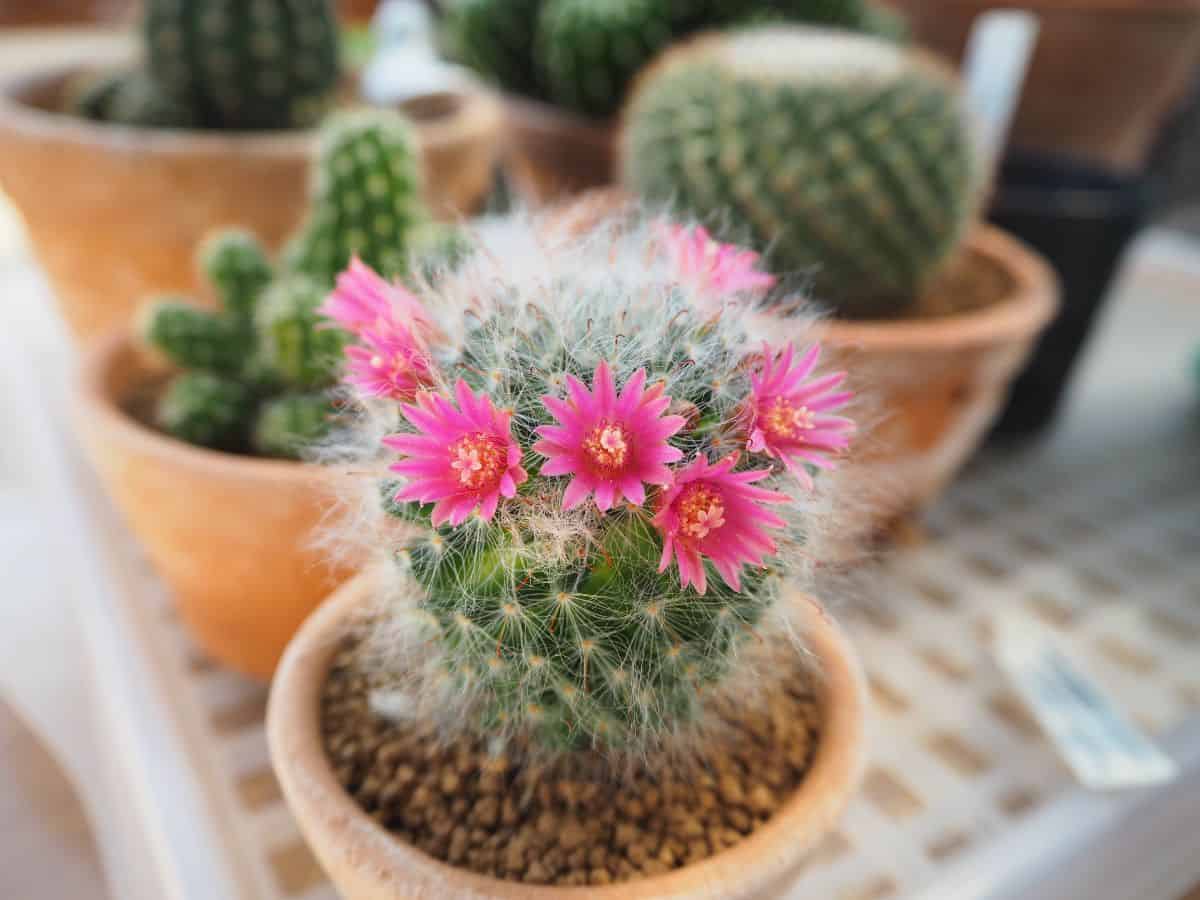 Buy it from:
M. bocasana is a species that resembles the Old Man cactus. The hairs are longer and hang more from the cactus, and small pink blooms dot the surface. Shaped like fuzzy baseballs when young, they grow into more globular shapes and continue to clump.
27. Euphorbia ambovombensis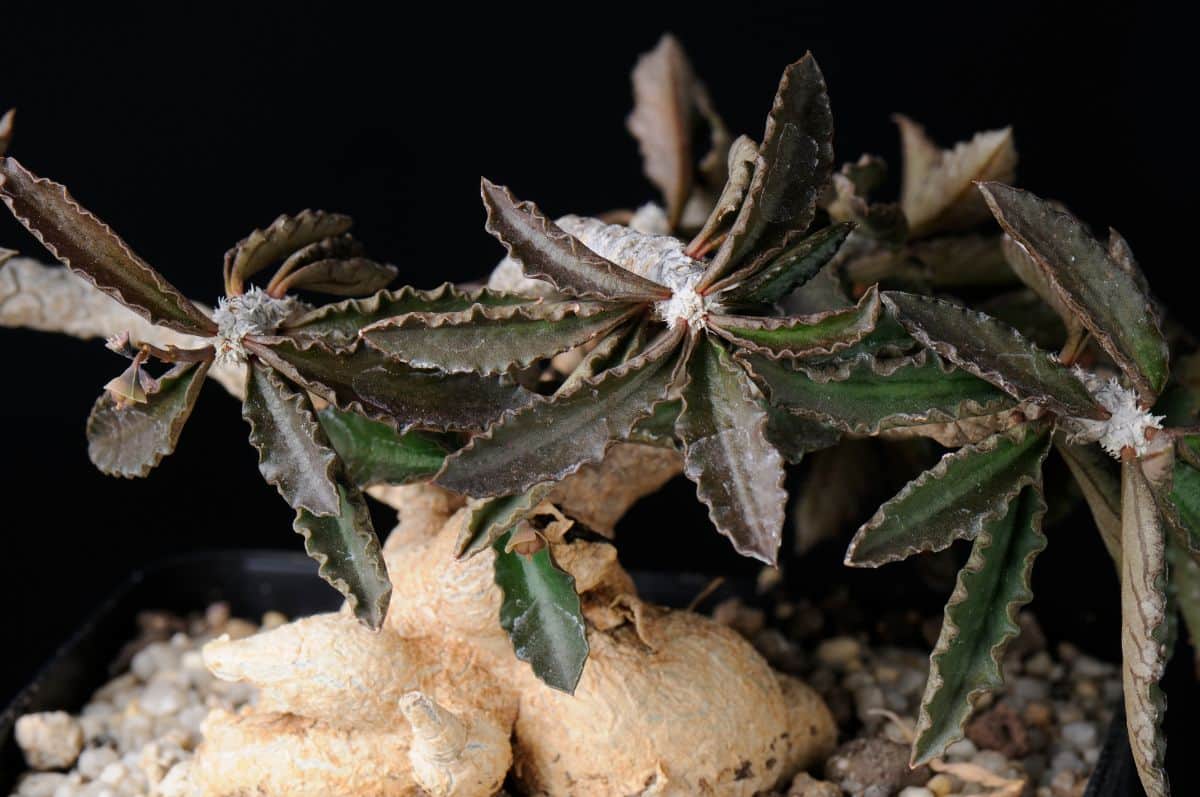 Native to Madagascar, this euphorbia marks its own path. They can branch drastically, and beyond that, they are also something that cannot be imported. Instead, growers have to try this one from seed. With large branching caudexes and substantial leaves, they look more like a tree than a succulent.
28. Aloe 'Pink Blush'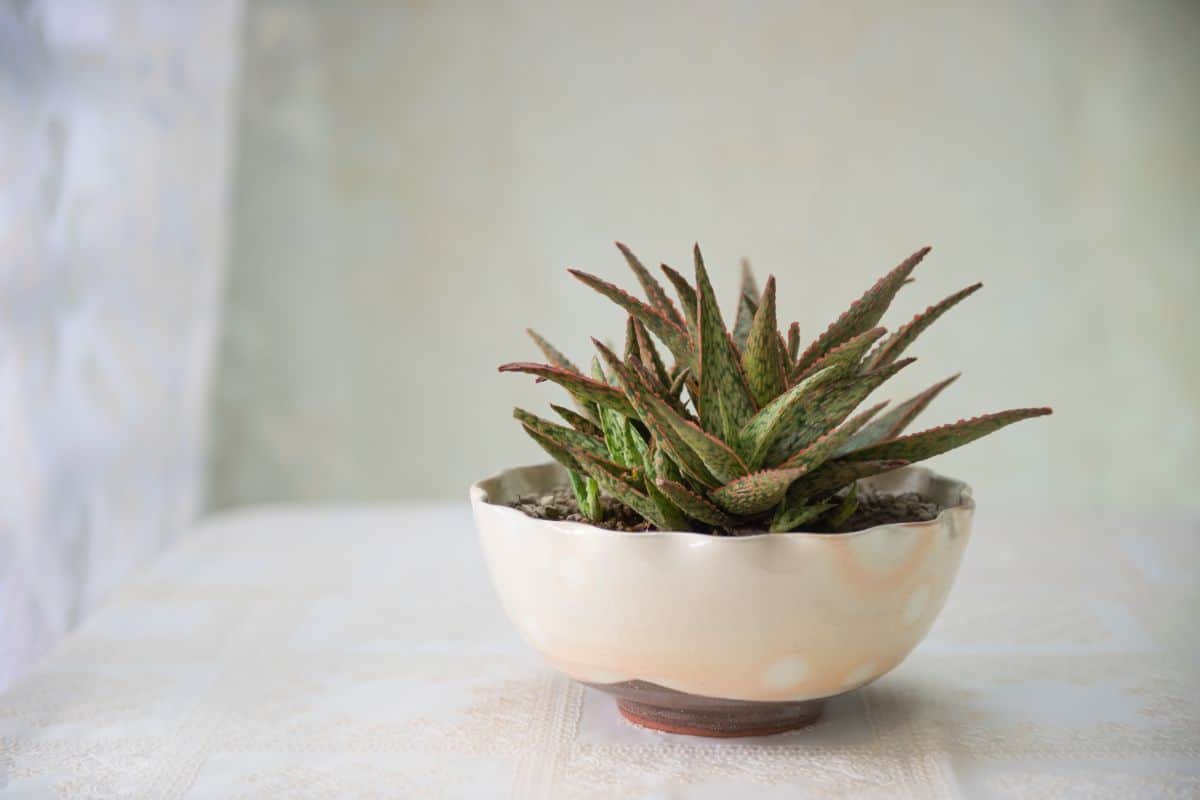 Buy it from:
Aloes are an extremely varied group of plants. They have all sorts of shapes and sizes, and some of them are even tree succulents. Pink Blush is one of the oddest-looking aloes thanks to the striations on the leaves and the fact that this aloe can stay pink all year long when in direct sun. As they mature, this species clumps very beautifully,
29. Echeveria 'Bumps'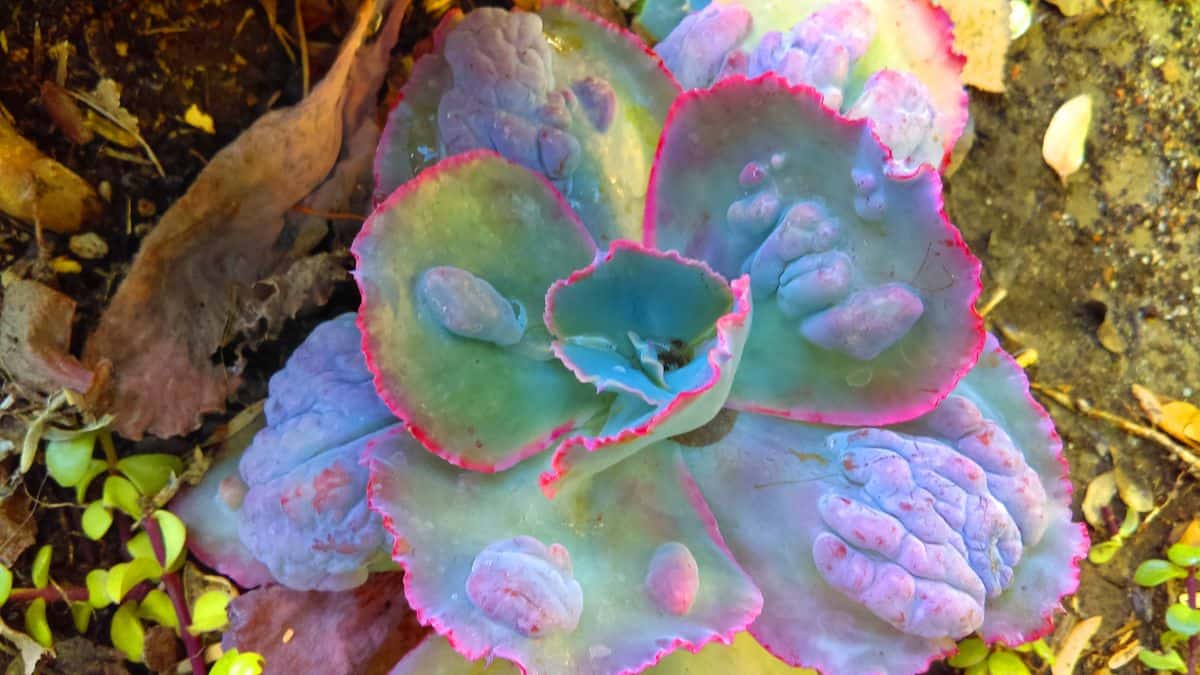 If you combine Barbillon and Mauna Loa, then you get Bumps. The leaves are both wavy and carbuncled. They are a perfect pastel color, and they will always draw your eye. Like most echeveria, it's best to keep them out of direct sunlight but to keep this species happy and colorful; you will need to have them in the partial sun throughout the day.
30. Austrocylindropuntia subulata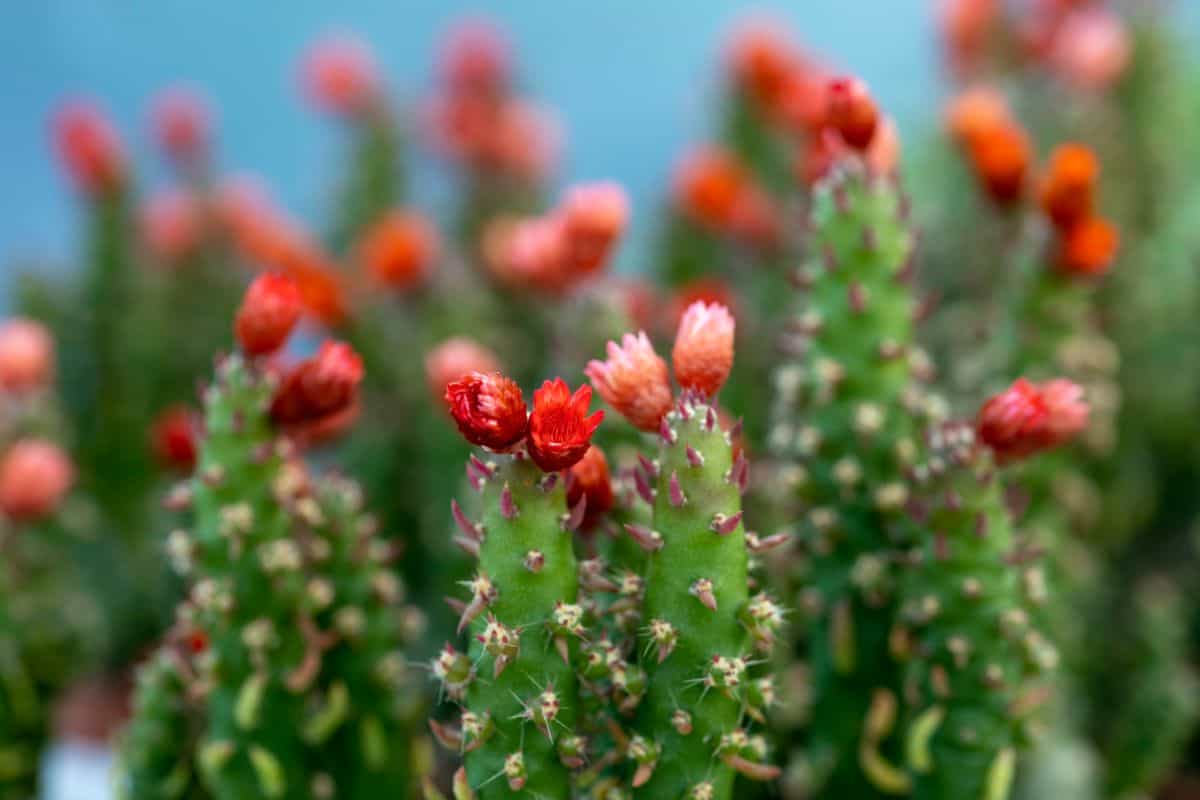 Buy it from:
Eve's Needle is an interesting cactus because it grows much like other column cacti, but then there are several rudimentary leaves that branch off of the column. They are most impressive when they are fully grown since they are a succulent tree. The rudimentary leaves form at the tip of the branches and can, at times, take on a slight pink tinge.