It can be depressing to leave your cheery collection of succulents each morning to go to work, especially if you work in a drab office environment. Wouldn't it be nice if you could spice up your workspace with a little greenery?
Brightening up your office space is one of the best ways to use succulents. From their attractive shapes and interesting colors to the multitude of tiny pots that you can find for them, office succulents are a great conversation piece that can bring joy to any space.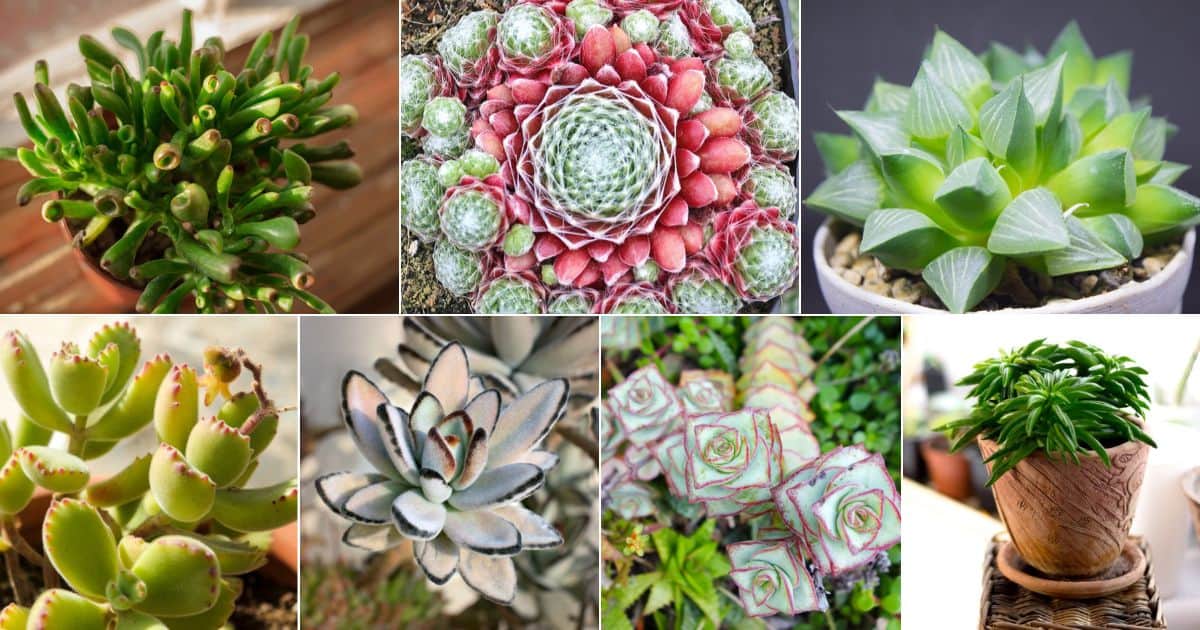 The biggest issue that can be faced in an office is the amount of light that is available for plants. There are several lowlight ones that are extremely low maintenance, but what about succulents?

You're in luck, fat plant lovers!
There are several species of succulents that can easily thrive in darker environments, such as office spaces. Below is a list of succulents for both windowed and non-windowed office spaces. Each succulent listed is able to handle the light availability for the spaces, which will make it easier for you to pick what to add to your office garden.
Jump to:
Windowed Office
Windowed offices tend to have stronger light that comes through. Now, this does also depend on what direction your office window is facing. If you are getting direct sunlight that could scorch a plant when amplified through a window, i.e. East and West facing offices, you may just want to spring for a succulent that does well in bright full sun and can protect itself from damage.
For more north and southward-facing offices, the following list is the perfect balance of needing light but also the ability to thrive in darkness.
1. Gasteria 'Little Warty'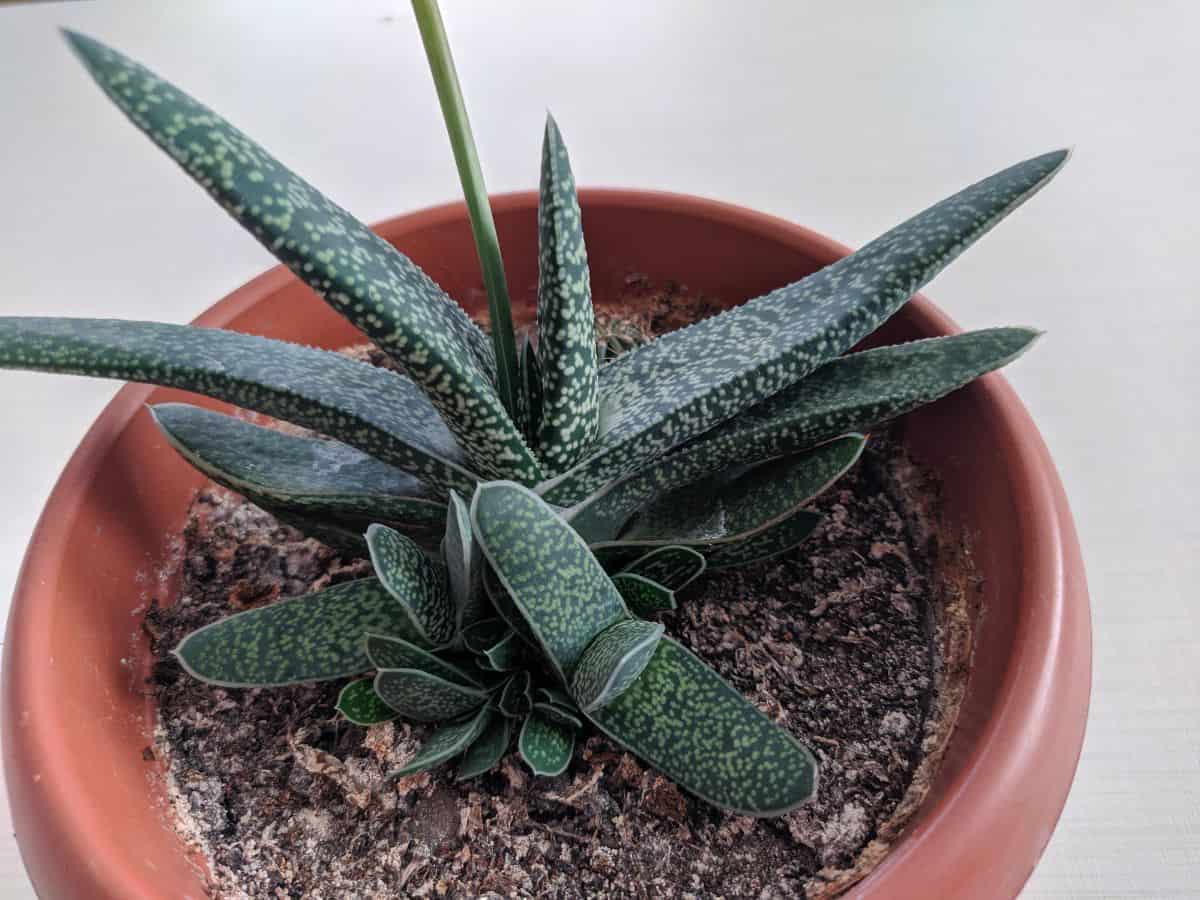 Buy it from:
This low-light-loving plant somewhat resembles an Aloe in shape but has thick, tongue-shaped leaves. Its leaves consist of varying shades of green with an almost bronze hue at the tips. At maturity, it can reach up to about five inches in height.
Gasteria thrives in low indoor light conditions and is incredibly easy to maintain. It requires good drainage and deep, infrequent water. This plant is not particularly frost-hardy, so it must be protected or brought inside during freezing temperatures. It's non-toxic to pets, so it's an ideal choice for a pet-friendly office space.
2. Aloe aristata 'Lace Aloe'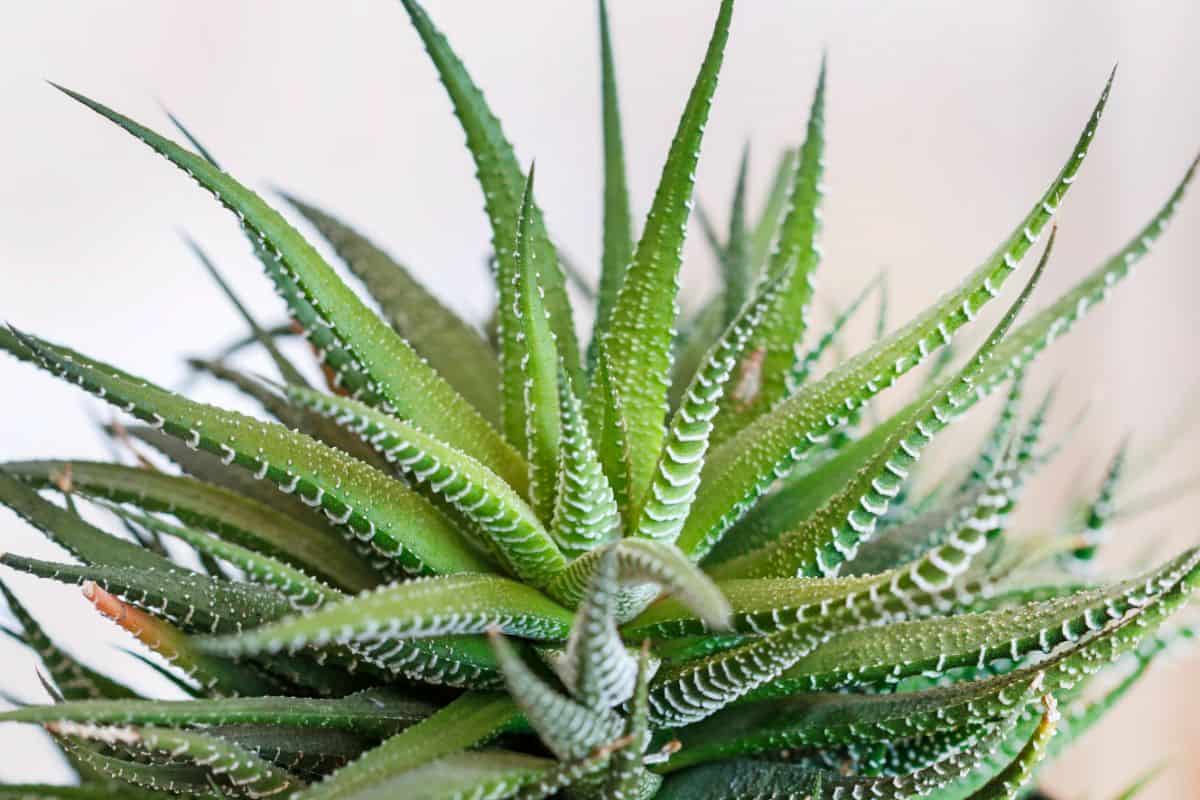 Buy it from:
The Lace Aloe is a rosette-shaped succulent with long, sword-shaped leaves. The leaves are dark green in color with small white spots. The leaf margins are covered in white spines. The plant can reach up to 12 inches in height. In the fall, Lace Aloe produces a stalk, up to 20 inches tall, that is covered in branches of cylindrical, orangey-red flowers.
Aloe aristata is a hardy plant that can survive long periods without bright light. However, it will grow better if placed near a window, if possible. The plant thrives at normal room temperatures and will comfortably tolerate the dry air of an indoor office. It requires infrequent water, but in its winter dormancy period, it will need to be watered only sparingly.
3. Sempervivum 'Mona Lisa'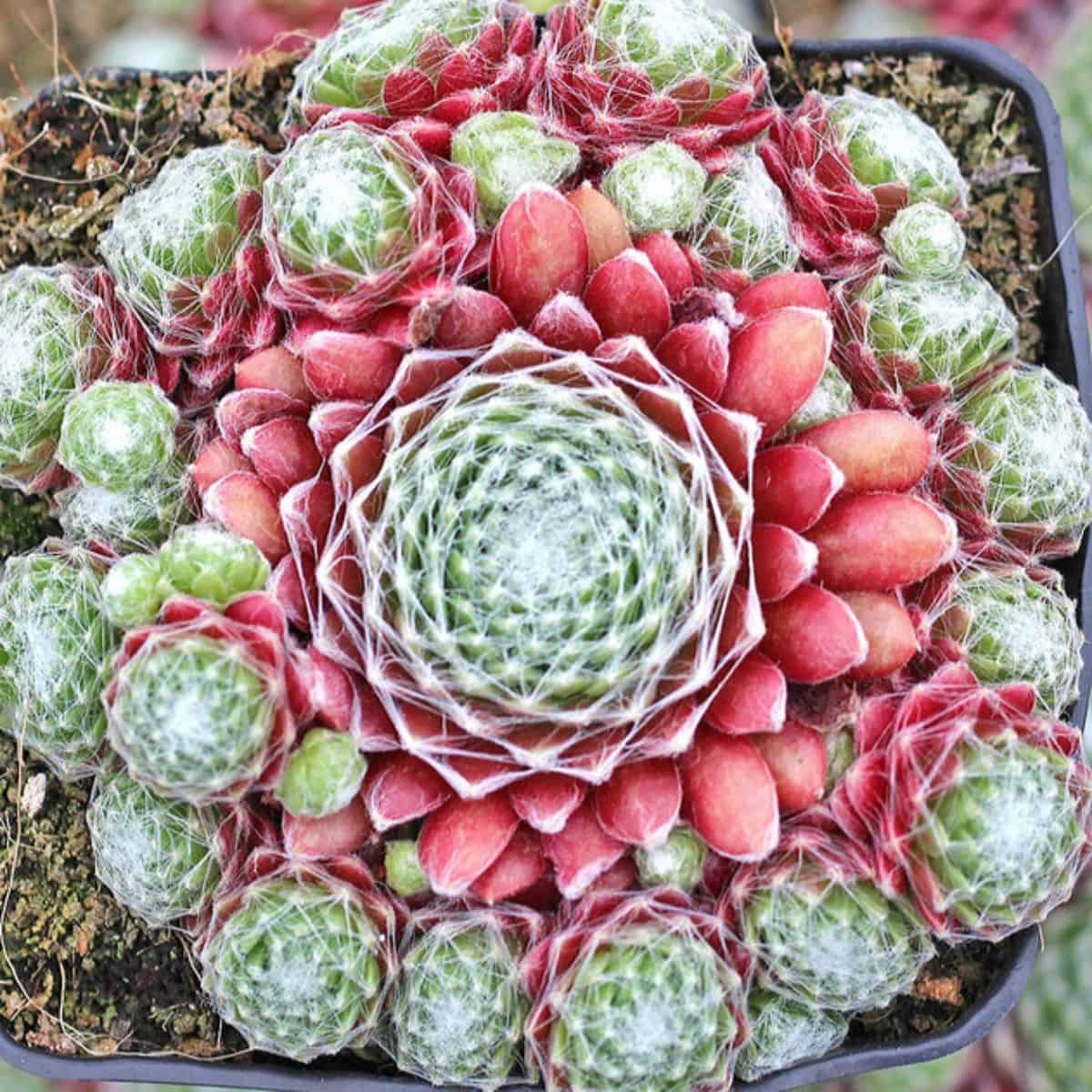 Buy it from:
Sempervivums are sometimes referred to as Hen and Chicks because of the offsets the plant produces. This variety, called Mona Lisa, features green and red leaves in a rosette pattern. The leaves are covered in a white webbing.
Although Sempervivums are capable of living in low-light conditions, they will also do well in full sun if they are allowed to adapt to the change of light over a period of several days or weeks. If you're interested in sharing your love of succulents with your coworkers, Sempervivum is easily propagated by removing the offsets that are produced by the main plant.
4. Hoya kerrii 'Sweetheart Plant'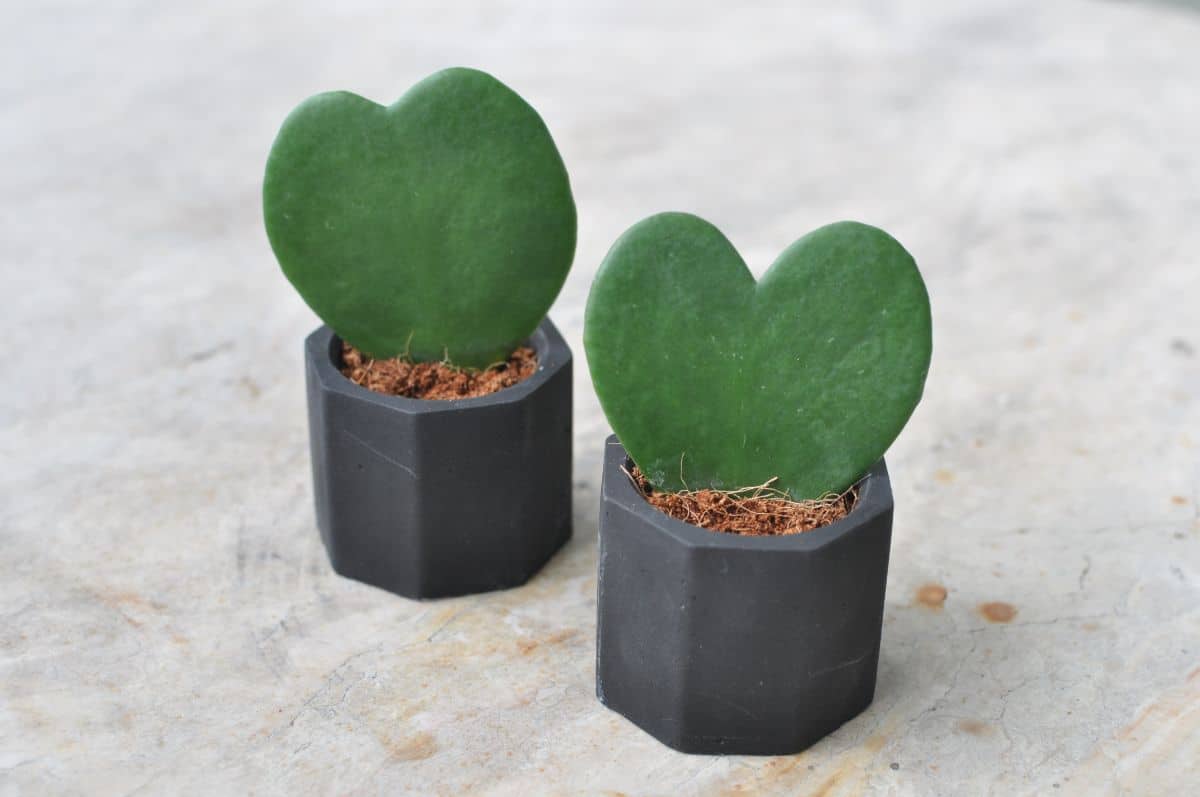 Buy it from:
The Sweetheart Plant gets its name from its thick, heart-shaped leaves. It's a trailing plant that is ideal for hanging planters or containers set on a high shelf. The leaves can grow up to about 2.5 inches in width and about a quarter of an inch thick. When blooming, the Sweetheart Plant produces a stalk with petite, star-shaped flowers that are white with pink or purple centers.
Hoya kerrii is a low-maintenance plant, needing only well-draining soil and infrequent water. It does well in low-light conditions. Repotting often is not necessary, as the Sweetheart Plant actually blooms more frequently when it is slightly root bound. Propagation can be accomplished easily through cuttings.
5. Parodia schumanniana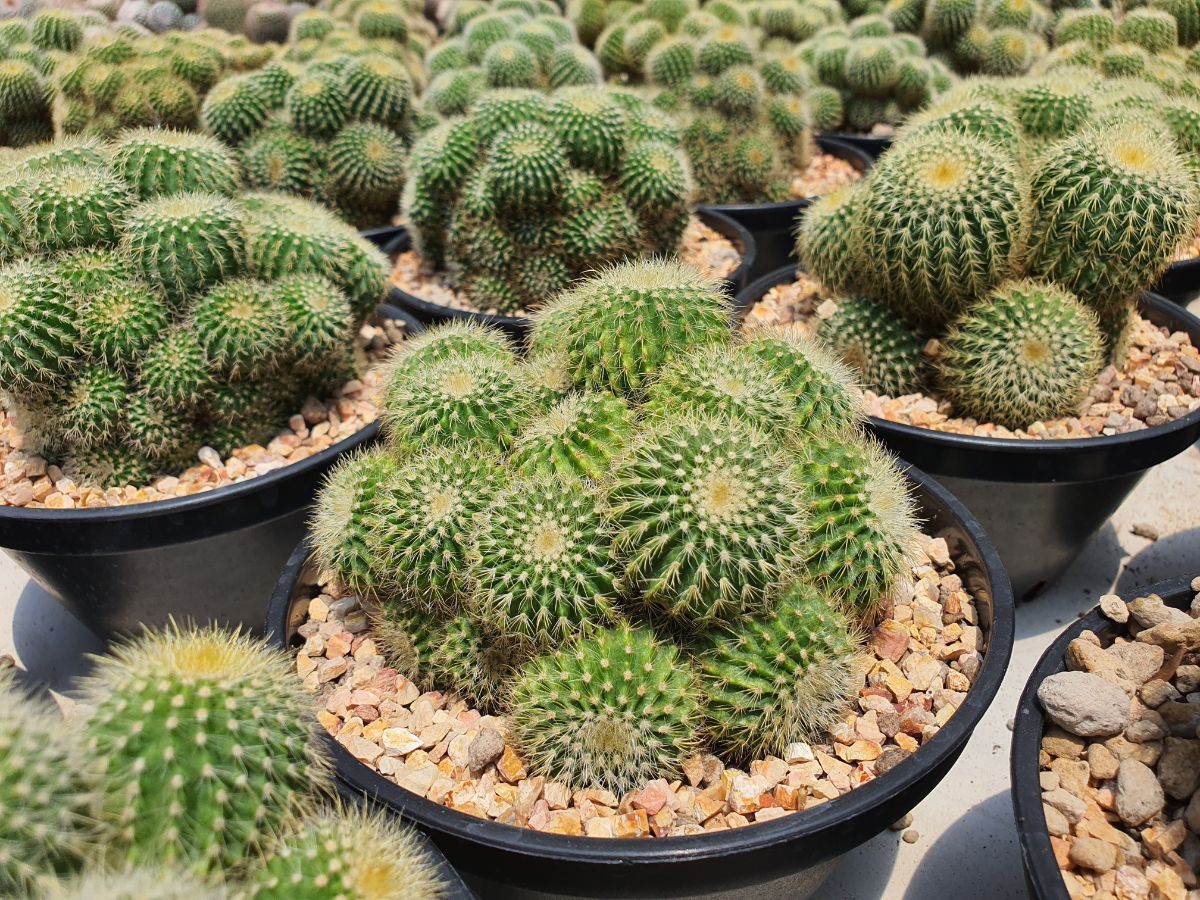 Buy it from:
If you would prefer a pricklier office plant, Parodia schumanniana has you covered. This low-light-loving cactus can grow up to six feet in height and a foot in diameter under the right conditions. Luckily, it's a slow-growing plant, so you won't need to repot often. Its bristle-like spines start out as yellow and turn to brown or gray as the plant ages. In summer, bright yellow flowers may appear.
Parodia schumanniana is an odd cactus in that it doesn't do well in direct sunlight, and it actually prefers a bit more water, even throughout the winter. However, keep this cactus out of standing water to prevent root rot. Adequate drainage is the key to a healthy cactus.
6. Rebutia heliosa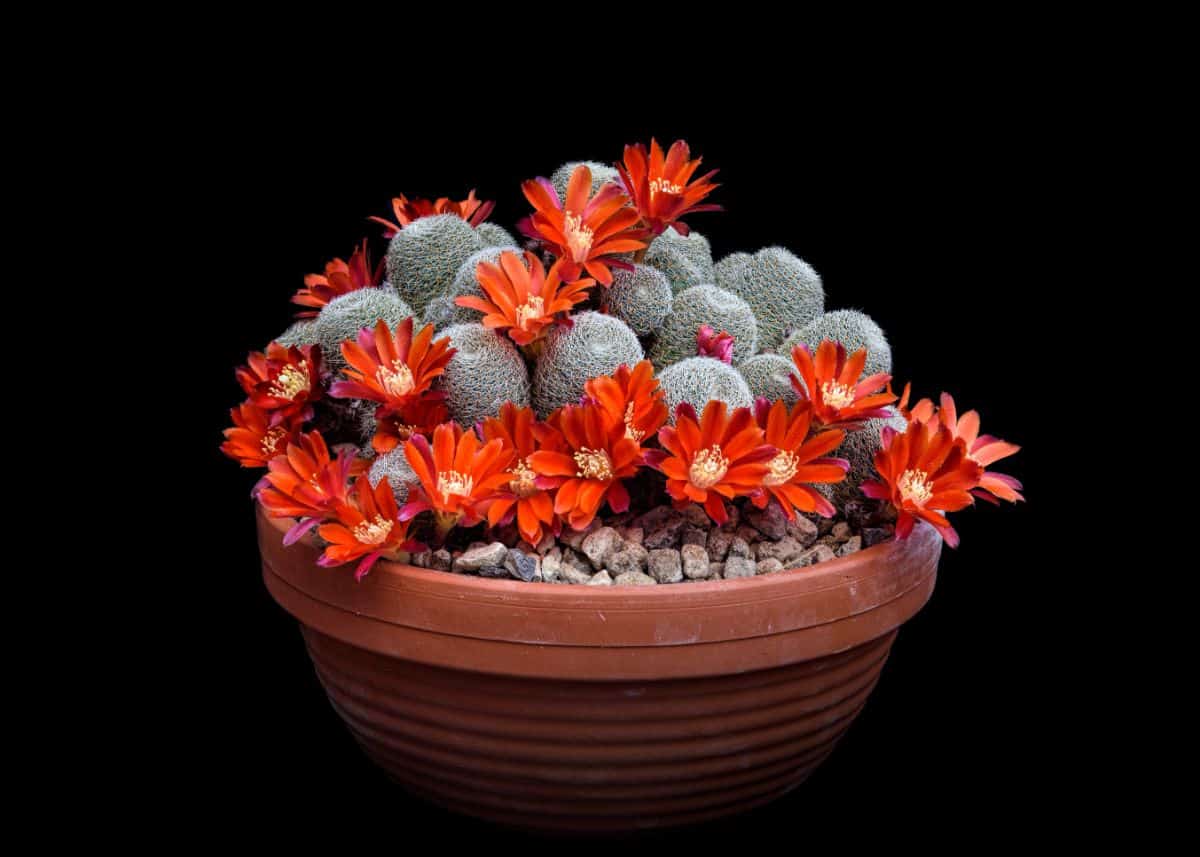 Buy it from:
This petite cactus is ideal if space is in high-demand. At maturity, its stems measure just over an inch tall and about 1.5 inches in diameter. Rebutia heliosa is a slow-growing cactus that grows in tight clumps. This cactus in native to Bolivia and produces vibrant orange, funnel-shaped flowers when blooming.
Rebutia heliosa thrives in well-draining soil with infrequent water. Although it does best with full sun, it is capable of surviving in low-light conditions. It can be propagated by removing offsets, or it can be left to grow in clusters, which look quite lovely when blooming.
7. Crassula ovata 'Hobbit Jade'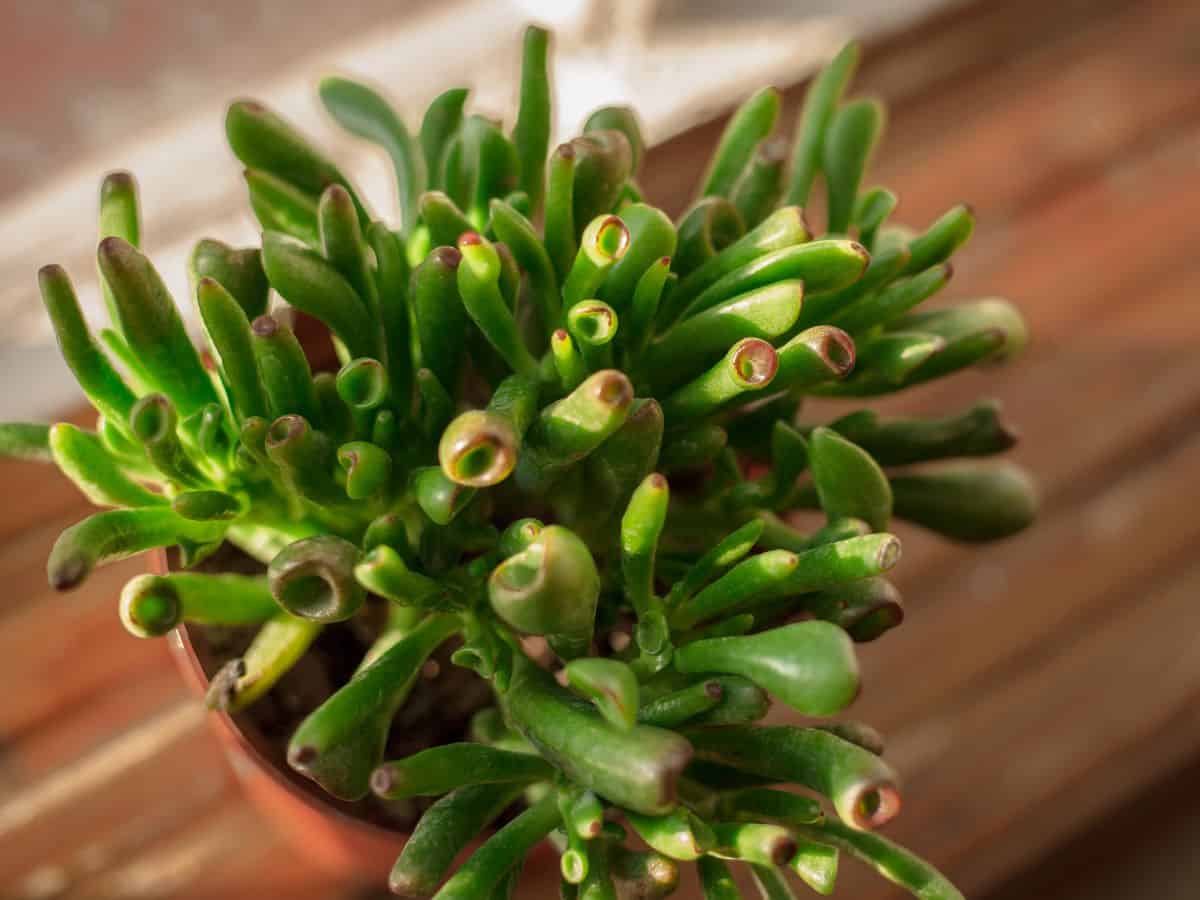 Buy it from:
Hobbit Jade is a great indoor plant because it can thrive in nearly any light condition. Its thick, slightly curled leaves are bright green in color but can develop red tips if grown in direct sunlight. At maturity, it can reach up to three feet in height and about two feet in diameter. When blooming, Hobbit Jade produces tiny star-shaped flowers that are completely white or white with a hint of pink.
Jade Plants are considered to be symbols of good luck and success, so it's perfect for work environments. Thankfully, you don't need the luck to care for the Hobbit Jade. This gorgeous succulent needs well-draining soil, infrequent water, and as much sun as you can manage. Propagation is simple and can be done with either leaf or stem cuttings.
8. Cotyledon tomentosa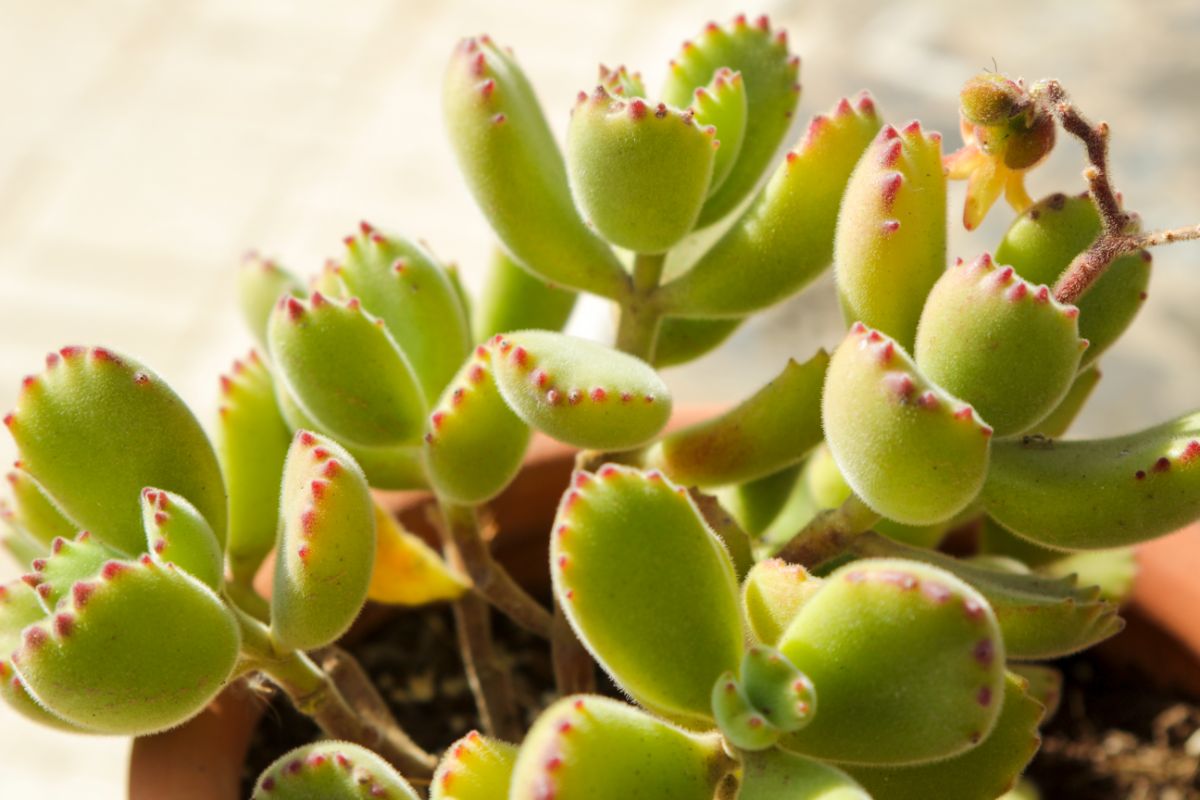 Buy it from:
If you are a lover of bears, Winnie the Pooh, or generally adorable succulents, then this succulent is a great addition. They are literally called Bears Paw, and for a good reason. The extremely thick leaves with their pointed margins look like a cartoon drawing of a bear paw. The spines tend to stay dark, especially with sunlight. The only word of warning on this is to be careful of their leaves: they can easily fall off if not handled gently.
9. Kalanchoe blossfeldiana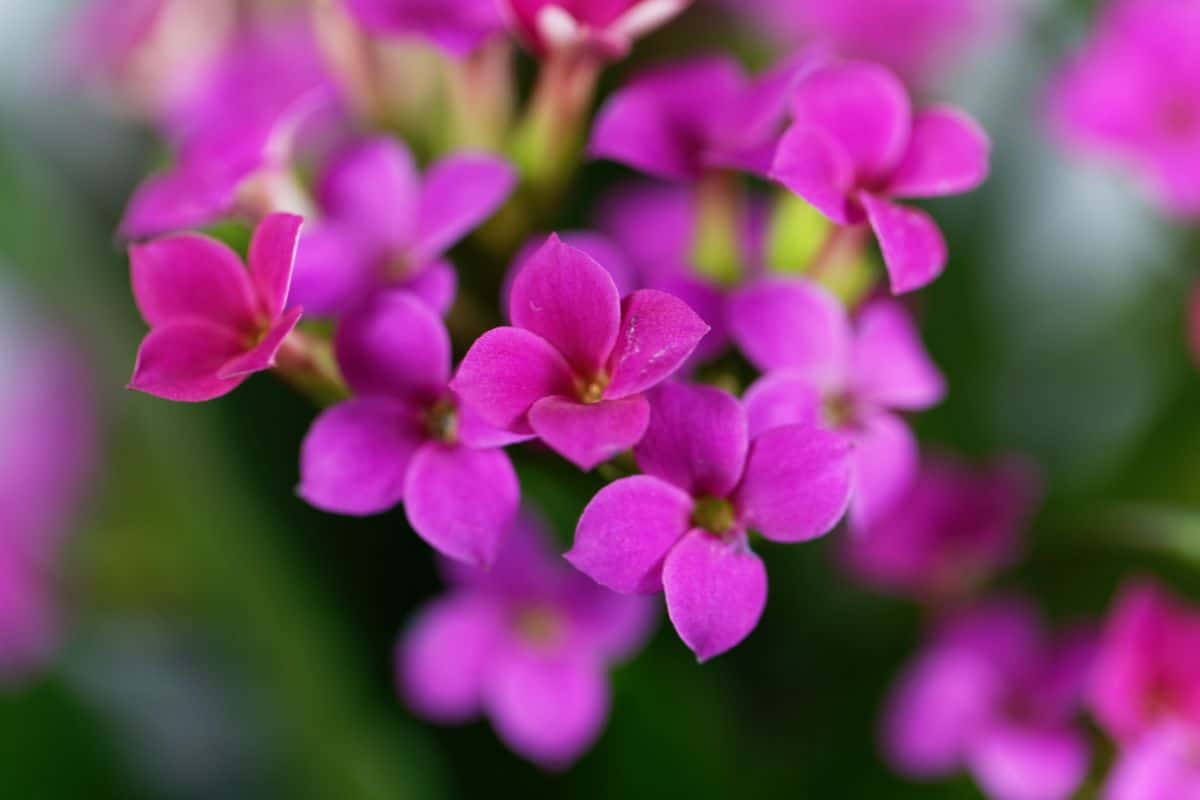 Buy it from:
You are probably tired of hearing this, but here's another favorite of mine. With the intense color of their flowers, ease of growth, and their prolific nature, K. blossfeldiana is one of the best ways to brighten up any room. Most varieties with intense colors are called Flaming Katy varieties. From oranges to purples, there are several colors available.
This species does well when watered as the soil is just drying out, and with sunlight, they will bloom regularly.
10. Sempervivum arachnoideum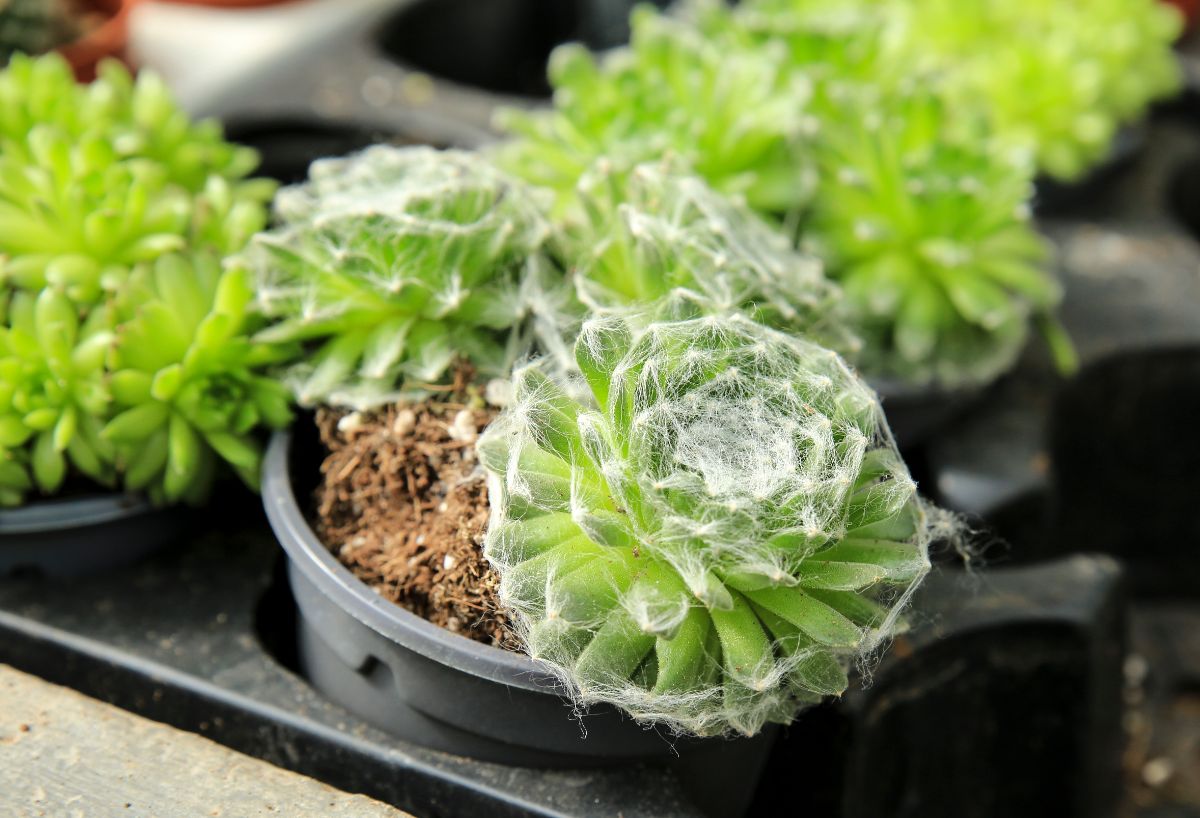 Buy it from:
There are several color variations of this species that are commonly called the Cobweb Houseleek. The fine spines across the top of the rosette protect this species from sunlight, yet there are still on the more delicate side of the sempervivum genus. From bright neon greens to reddish tinges and purple margins, the colors are endless for this species.
11. Crassula ovata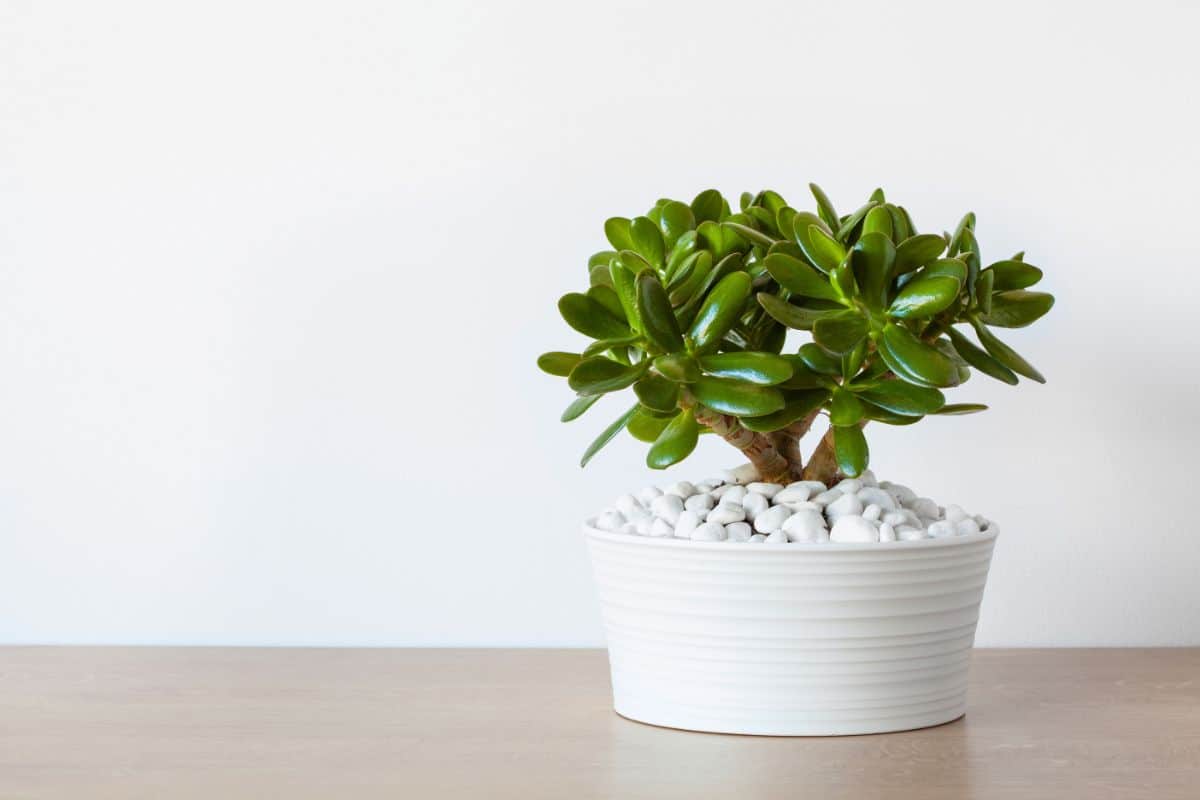 Buy it from:
If you type in Crassula ovata into any search bar, you are going to be inundated with how many C. ovata there are. Because the Jade Plant is such a favorite, there are variations upon variations upon colorations. It's insane! Any jade plant is going to be able to withstand window sun or even corner sun. They can grow rather large and are often considered heirloom pieces. It does take a long time for them to grow to their full height, so don't worry about needing to transplant them anytime soon if you pick one up from your local garden center.
12. Gasteria bicolor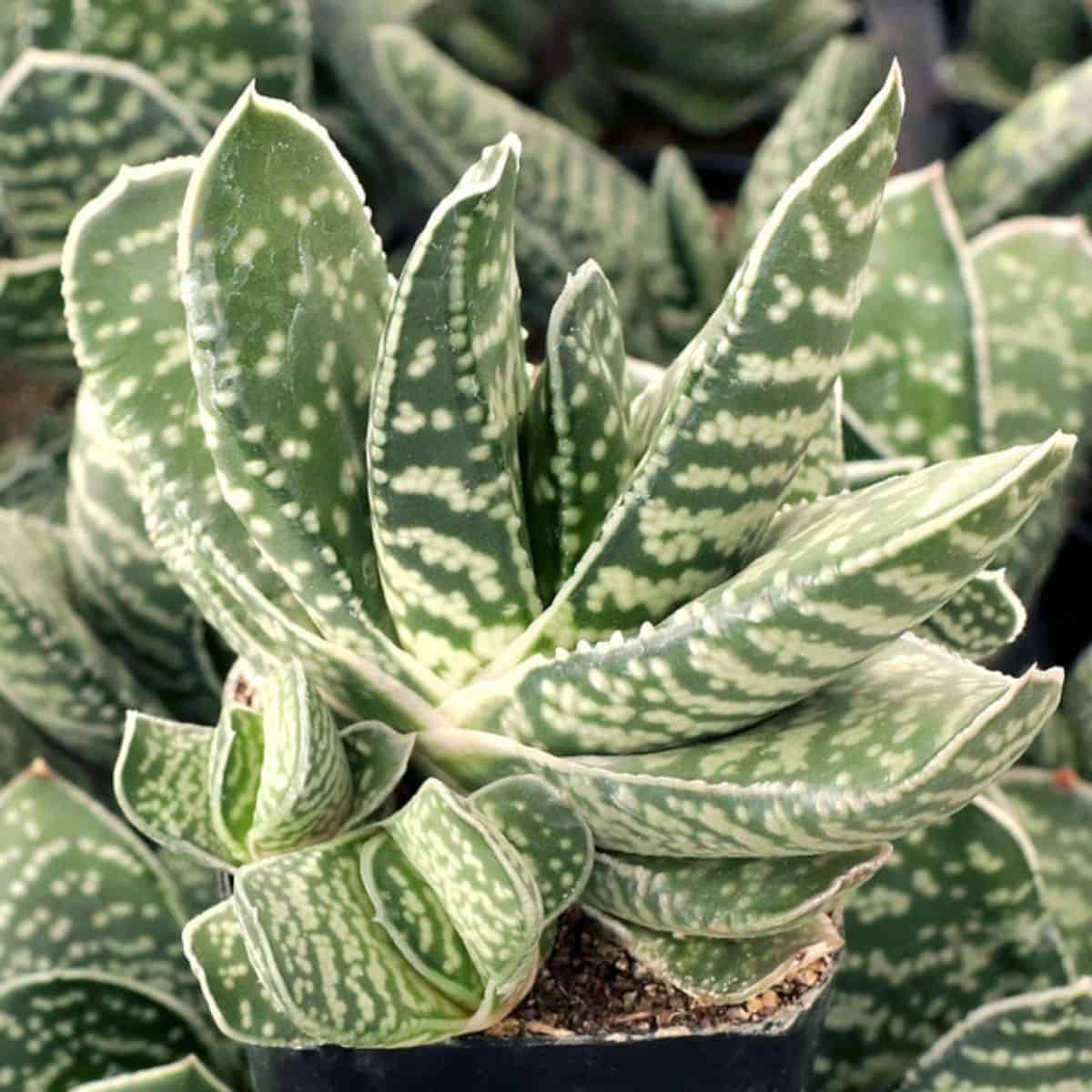 Buy it from:
Gasterias are such strange-looking succulents, but they are also quite a bit of fun. They look like a tongue, including tastebud-like bumps along the leaves. G. bicolor is a great specimen because it is a standard, hearty species within the gasteria genus. They grow linearly, so they will need space on their sides, but this is perfect for a windowsill!
13. Kalanchoe tomentosa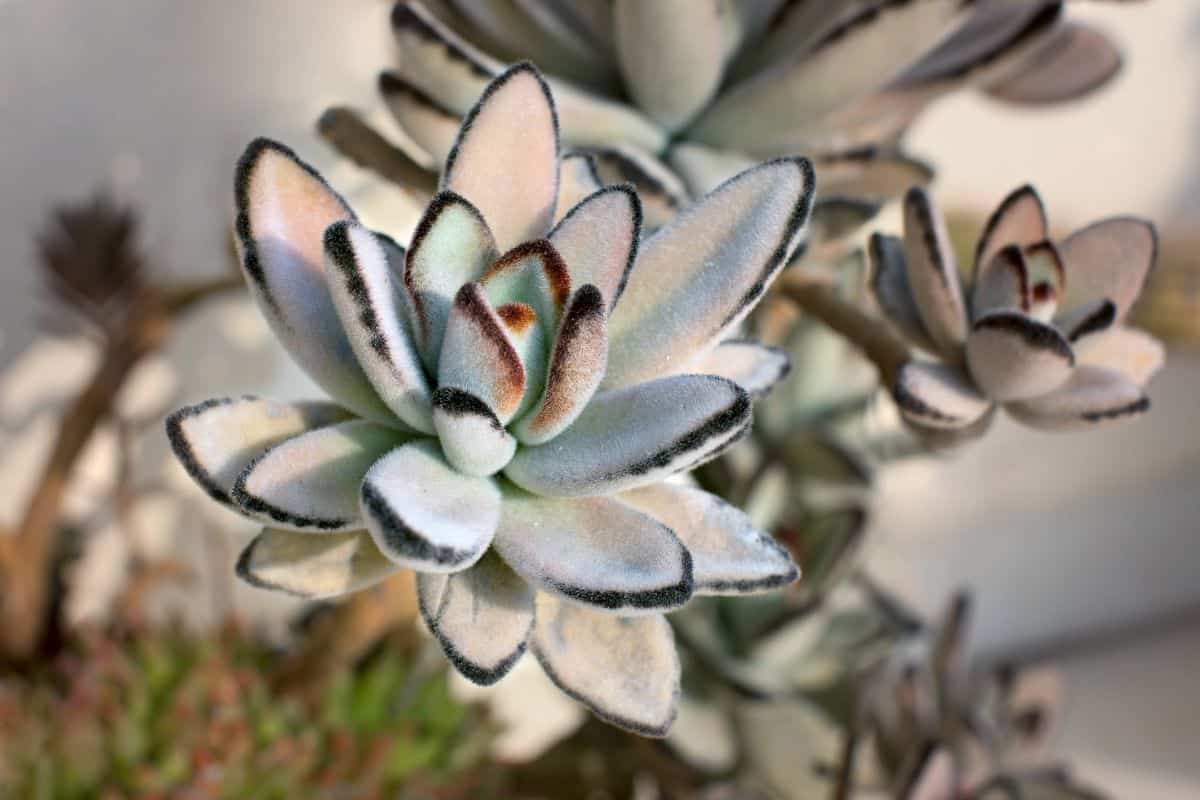 Buy it from:
If you noticed earlier, we had another tomentosa species: Cotyledon tomentosa. Kalanchoe tomentosa is a very different succulent with fluffy white-green leaves and dark ends that make it look like a panda! The leaves are very soft, but be careful with touching them too much: it can wear off their protective hairs. Their hair is what makes them the perfect window plant, as this species doesn't do well in 100% direct sunlight unless it is trained.
14. Beaucarnea recurvata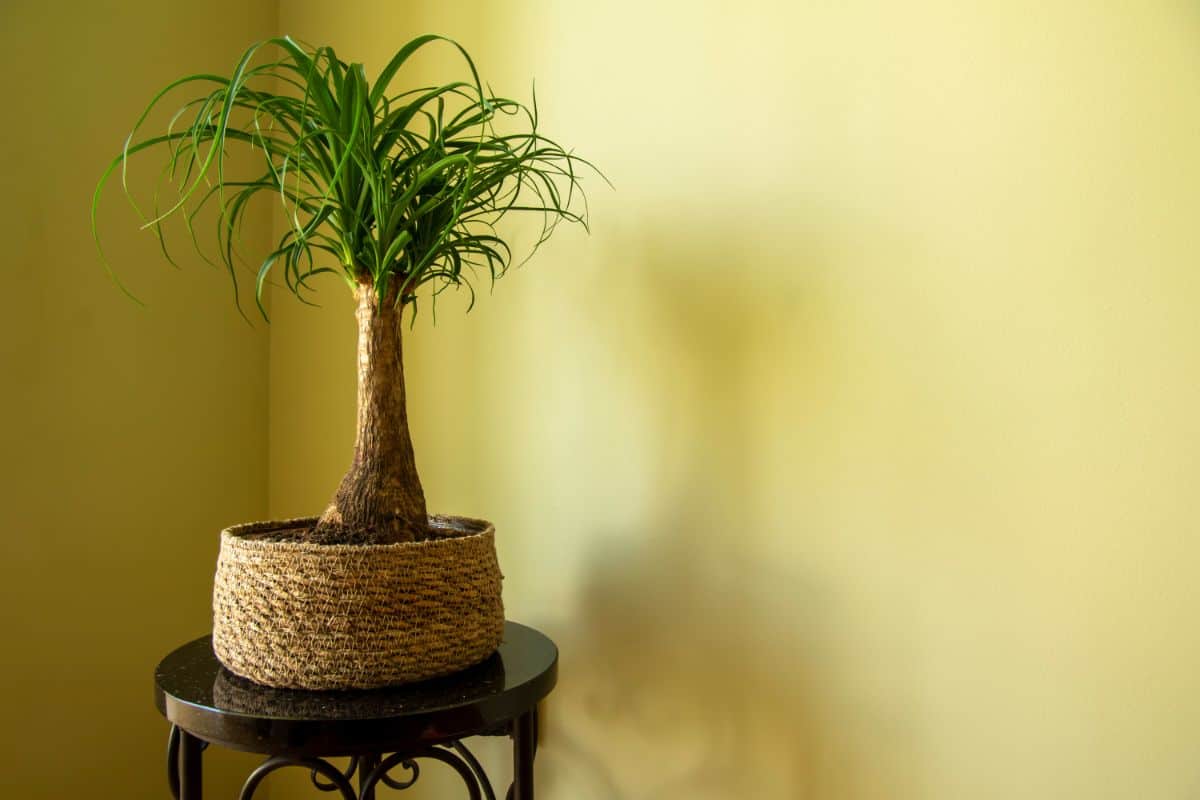 Buy it from:
The Pony Tail Palm is a rather interesting caudex type of tropical succulent. It looks exactly like a palm tree except for the massive root ball at its base. These are long-lived plants that are especially hardy. They can survive without much water or sunlight, but they do best with sunlight from a window if possible. They can also go in a corner that gets direct sunlight from a window.
15. Hoya carnosa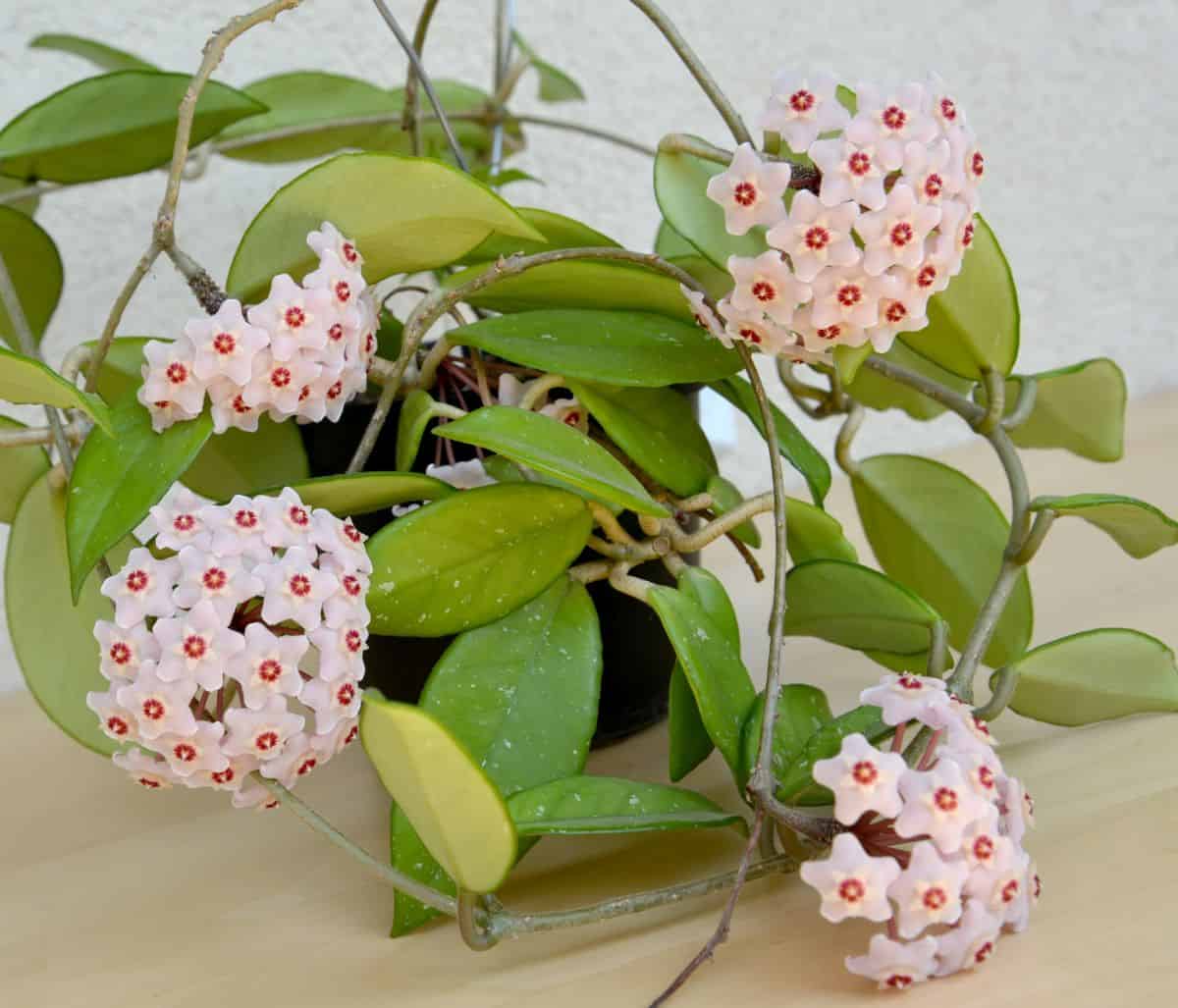 Buy it from:
The wax plant is an incredibly easy-to-grow succulent. The stems are rather thick and dark brown with very thin leaves compared to other succulents. They are very slow growers and can take years to start blooming. However, once they begin blooming, you'll find that they are full of gorgeous, globe-like collections of flowers that look so perfect that they seem fake!
16. Haworthia cymbiformis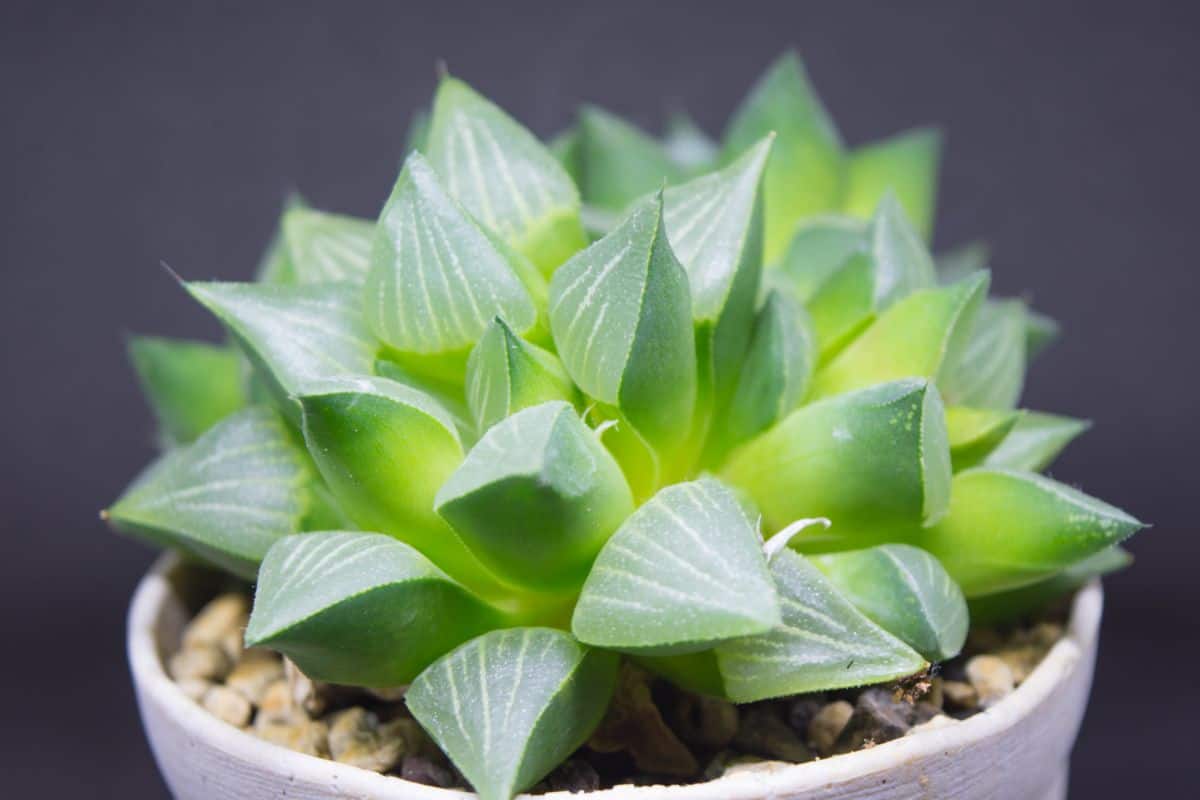 Buy it from:
Glass-like succulents tend to be more sensitive than their less-see-through counterparts. These types of succulents are those that have see-through parts that allow you to see into the leaf of the plant. H. cymbiformis isn't the only species to have this feature; however, it is one that is just tender enough to need filtered sun and hearty enough to handle strong light from a window.
Office Light
There are several different definitions of what office light can be. Some places state that it is strong filtered light, and others say that it is low light. This is all going to depend on each office space. Some offices are going to have more light than others. If you work more in a cubicle-type space, then more often than not, you are going to have stronger overhead lighting. Compare this to individual offices with variable light, and it is easy to see why there are so many light levels!
Each species in this list can handle any type of office light as long as there is some form of stronger light. If you don't do well with bright lights, then it's best to stick to sansevieria succulents, as they are going to survive in most situations.
17. Schlumbergera x buckleyi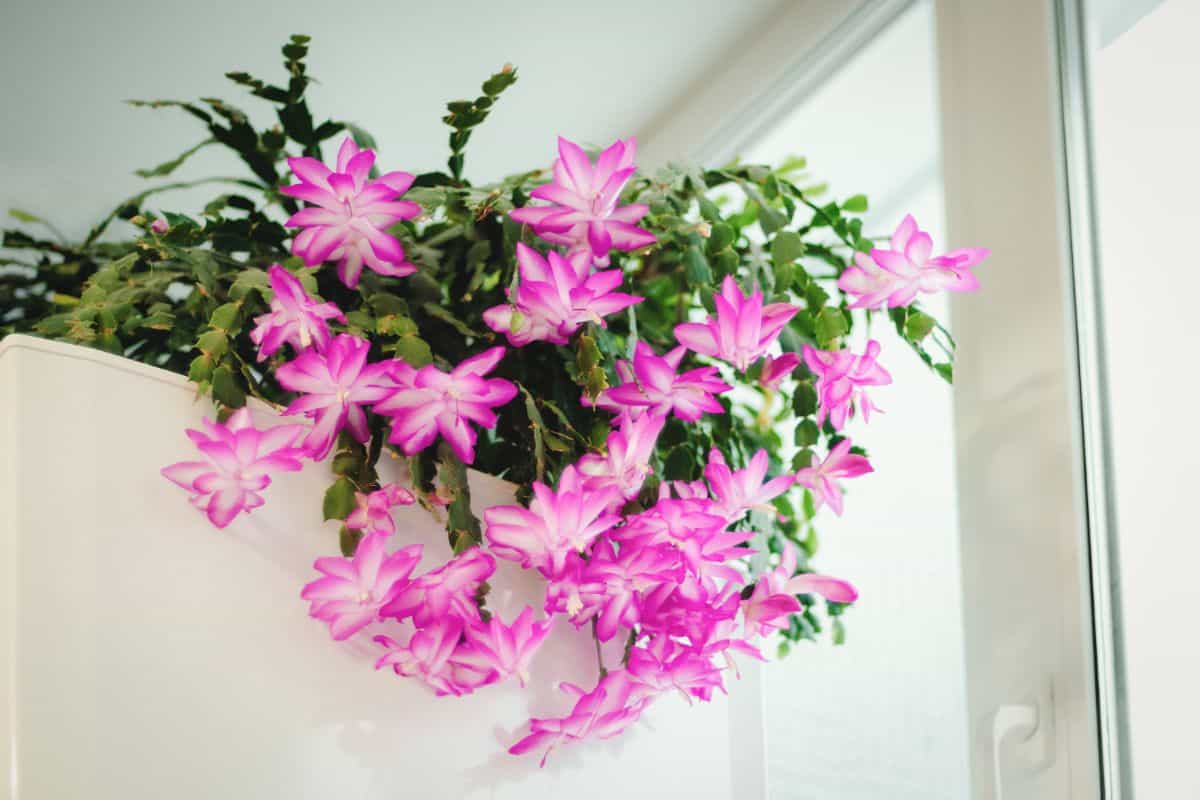 Buy it from:
Any type of Christmas cactus is going to do well indoors. They thrive and bloom most when there is direct sunlight; however, they can handle lower levels of light easily. The leaves tend to stay thick and green all year long. One way that you can help an indoor plant bloom is by setting it outside during the colder temperatures of the year. This will encourage your office Christmas cactus to bloom.
18. Euphorbia trigona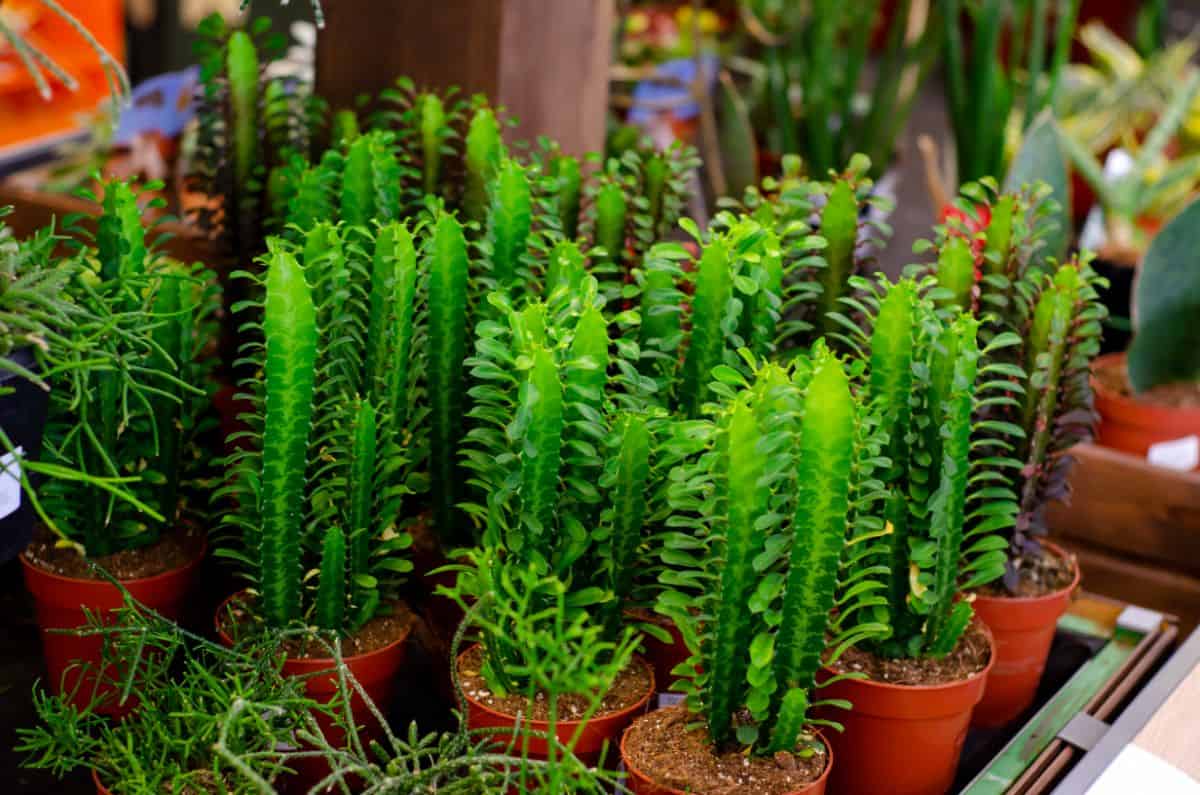 Buy it from:
The African Milk Tree is a very virile succulent that easily takes over spaces as a great hedge. Because it is such a fast grower, it is best to plan a space for this succulent where it can fill a corner with beautiful deep green triangular columns and thin bright green leaves. Most euphorbias are going to bloom as well; however, they will need regular sunlight to do so. Otherwise, this can help fill a space with abundant life!
19. Sansevieria cylindrica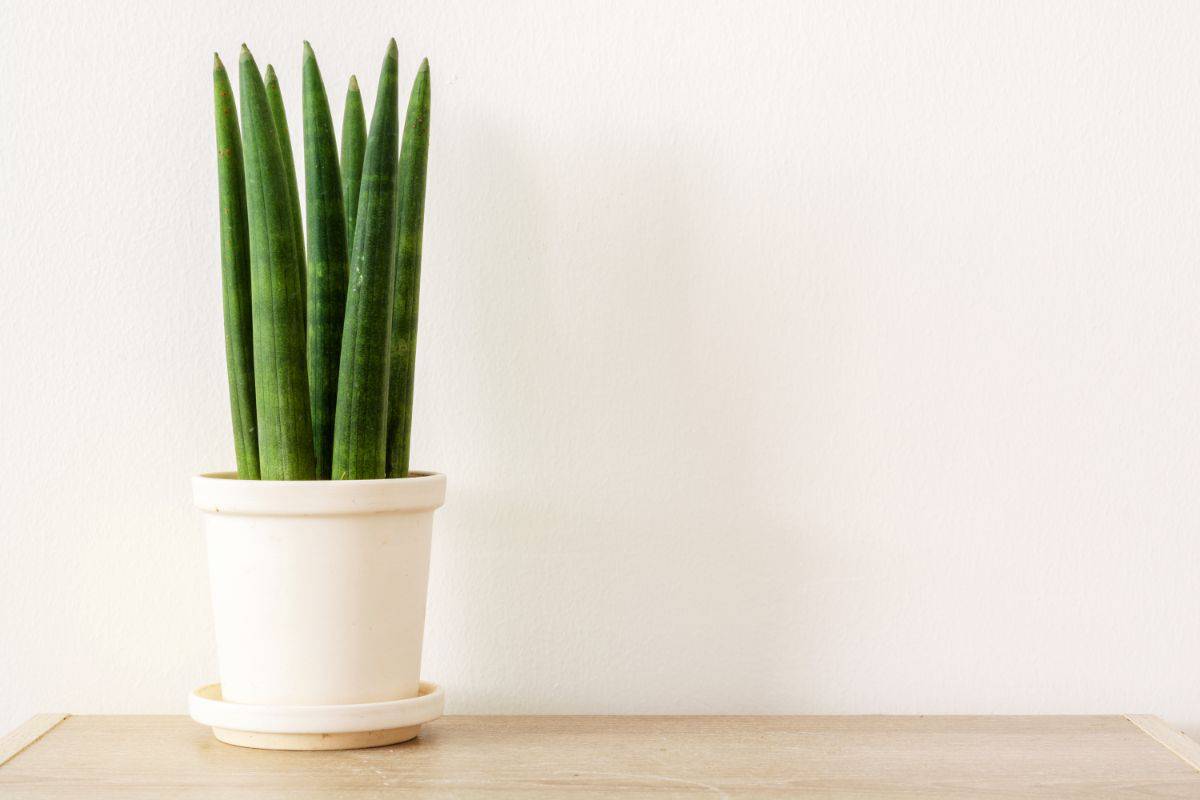 Buy it from:
If you have heard of Mother-in-Law's Tongue, then you have heard of a sansevieria. This genus is VERY broad and contains several species, from actual dwarf varieties to very large species that are better grown outside. Cylindrica is a favorite that I have seen stay alive in periodic light. This plant existed in a bathroom and stayed strong, deep green, and very healthy!
20. Peperomia ferreyrae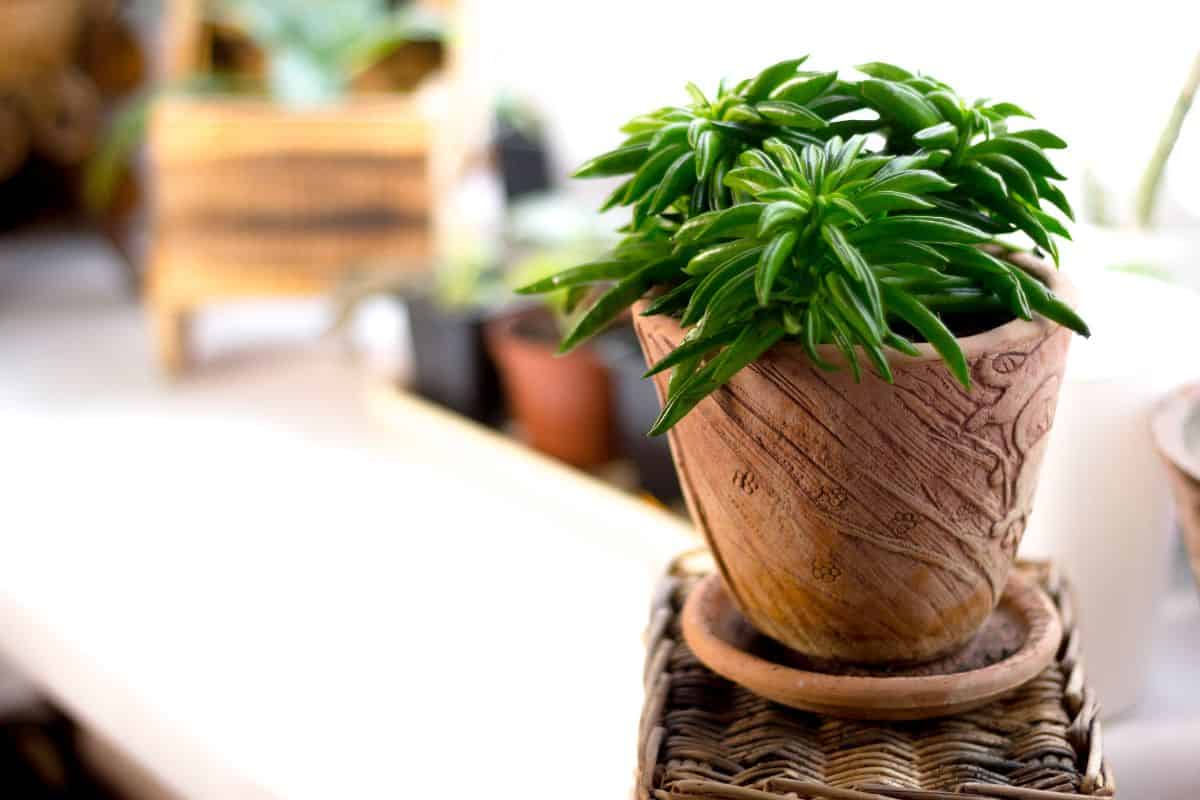 Buy it from:
This little Happy Bean plant is the perfect plant for any office. Actually, it is probably the best office plant that you could have. This plant is a semi-succulent with the exact watering needs of a succulent but nowhere near the light needs. The leaves are primarily light green with a dark green strip down the middle that makes it look like the leaves are sharply curved inward. Keep this on your desk at any light level other than complete darkness, and it should still thrive. How awesome is that?
21. Echeveria nodulosa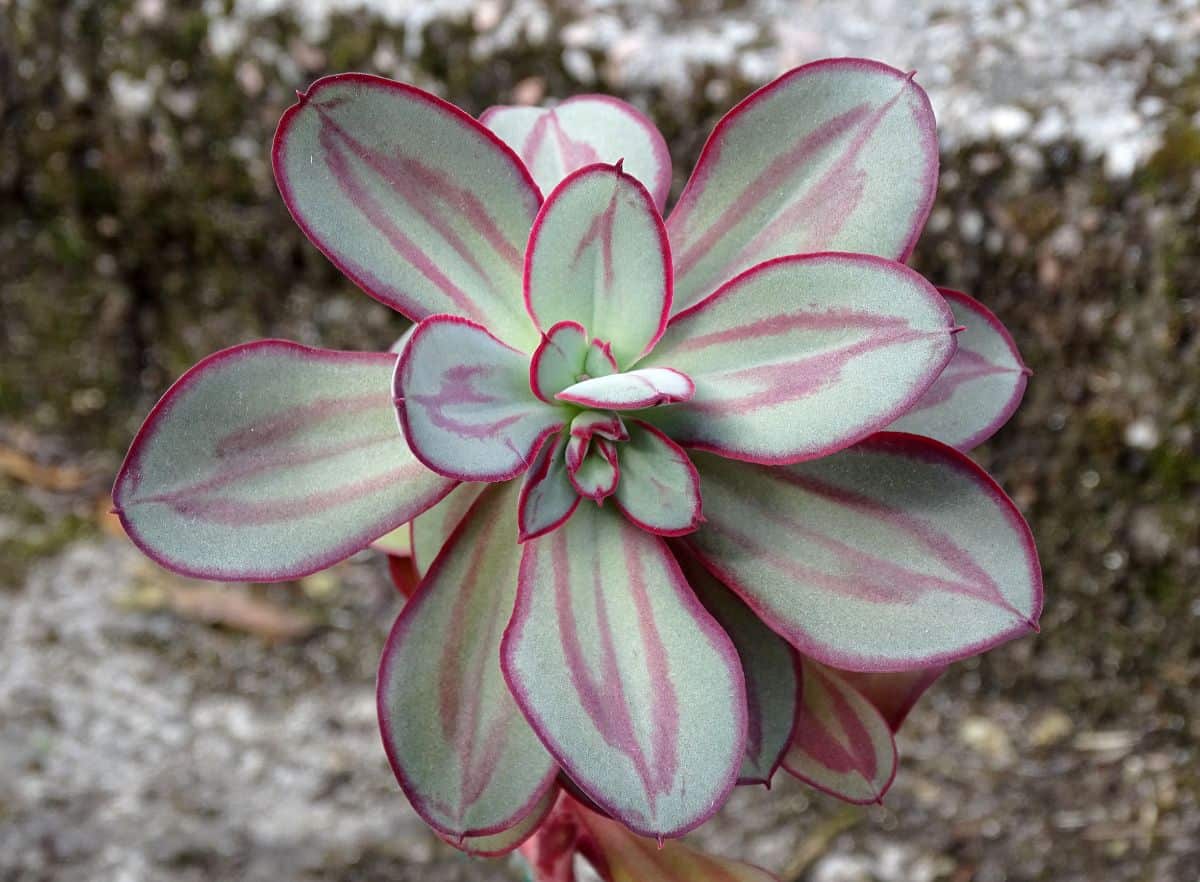 Buy it from:
Most echeverias are going to do well with lower light needs. The reason that this species is included as a representative is that the Painted Echeveria has very beautiful colors that are going to show regularly. The rosette will be more broad due to a lack of light and the type of echeveria, so be prepared for wonderful colors and longer leaves!
22. Graptopetalum oviferum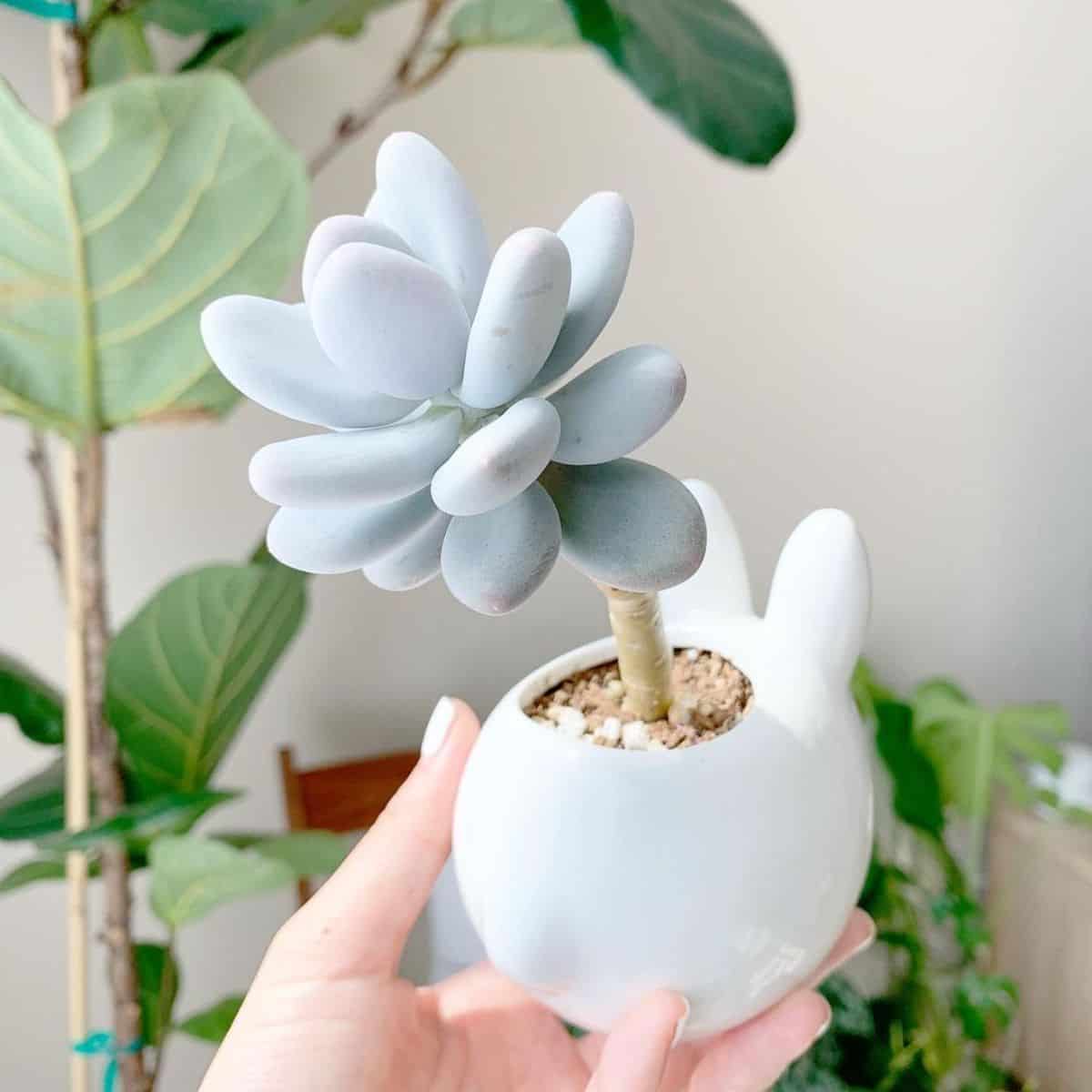 Buy it from:
This tender and adorable little succulent is called Pink Moonstone. They are generally a darker peach color, but because of how sensitive the leaves are, they are generally coated in a thick layer of farina which makes the Pink Moonstone, well, pink. They do prefer indirect sunlight or brighter filtered light. If you have more light in your office, then this is going to be a great plant for you. Keep in mind that Pink Moonstone can handle less light, but it does prefer the brighter side of the spectrum.
23. Rhipsalis baccifera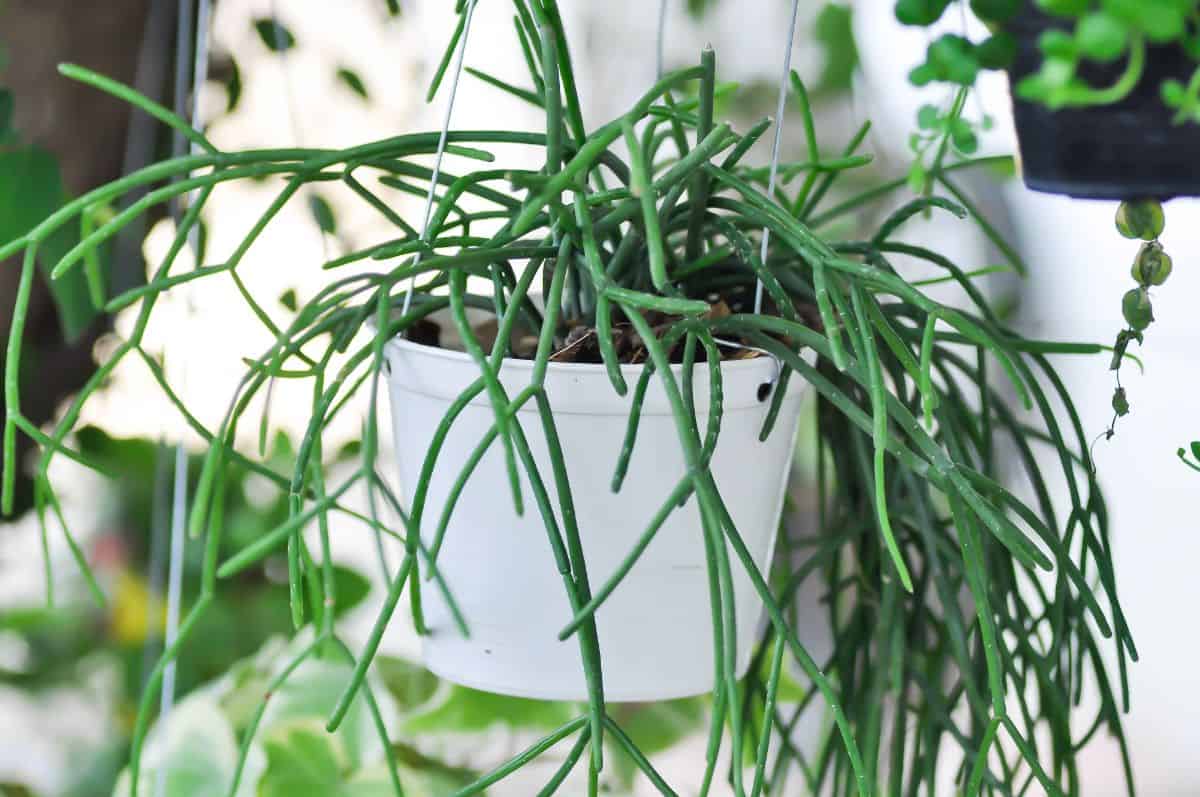 Buy it from:
The mistletoe cactus is a wonderful addition to an office space as a desk plant or a hanging plant. It grows in small sections that make it look like mistletoe! As it hangs, it resembles the parasitic plant even more. Thick green stems can grow up to several feet in length, and they remain dark green all year round. They are also tropical and can handle filtered light or office light and be perfectly fine. With less light, Mistletoe Cactus will tend to grow slowly.
24. Crassula perforata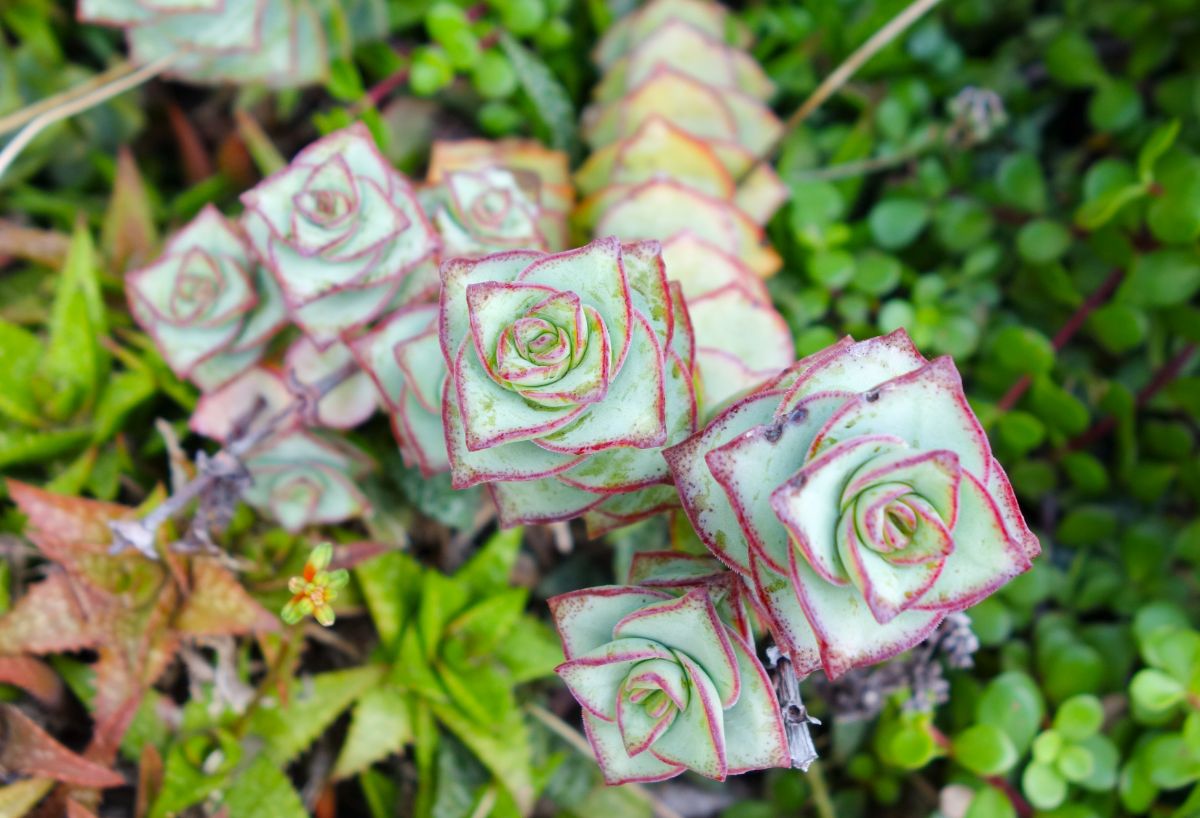 Buy it from:
A string of Buttons is a little more on the finicky side of indoor plants. They are going to need stronger light for at least four hours a day. This means light more along the lines of bright cubicles or near light sources. As long as they have that light, you can avoid a process that causes the leaves to have larger spaces between them. A string of buttons will get to roughly 12 inches in length as it spills out over the pot that you have it in.
25. Haworthiopsis attenuata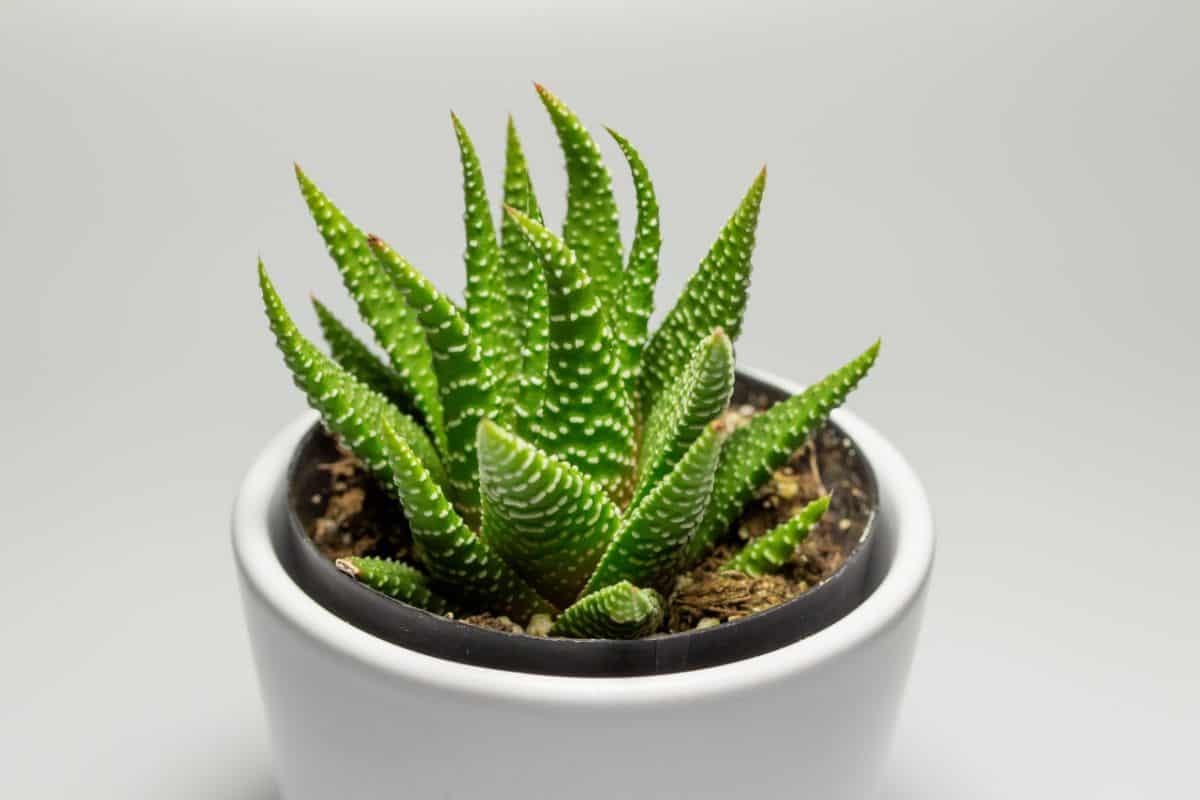 Buy it from:
What used to be a haworthia is now H. attenuata, more commonly known as the Zebra Plant. This species is able to grow in relatively low light conditions, but the watering schedule must be spot on. They cannot be overwatered; otherwise, they are very susceptible to root rot. Like most succulents in low light conditions, it will take time to see the growth of this species when it has less light. However, like the sansevieria mentioned earlier, I have seen many a Zebra Plant easily survive in surprisingly low light conditions.
26. Zamioculcas zamiifolia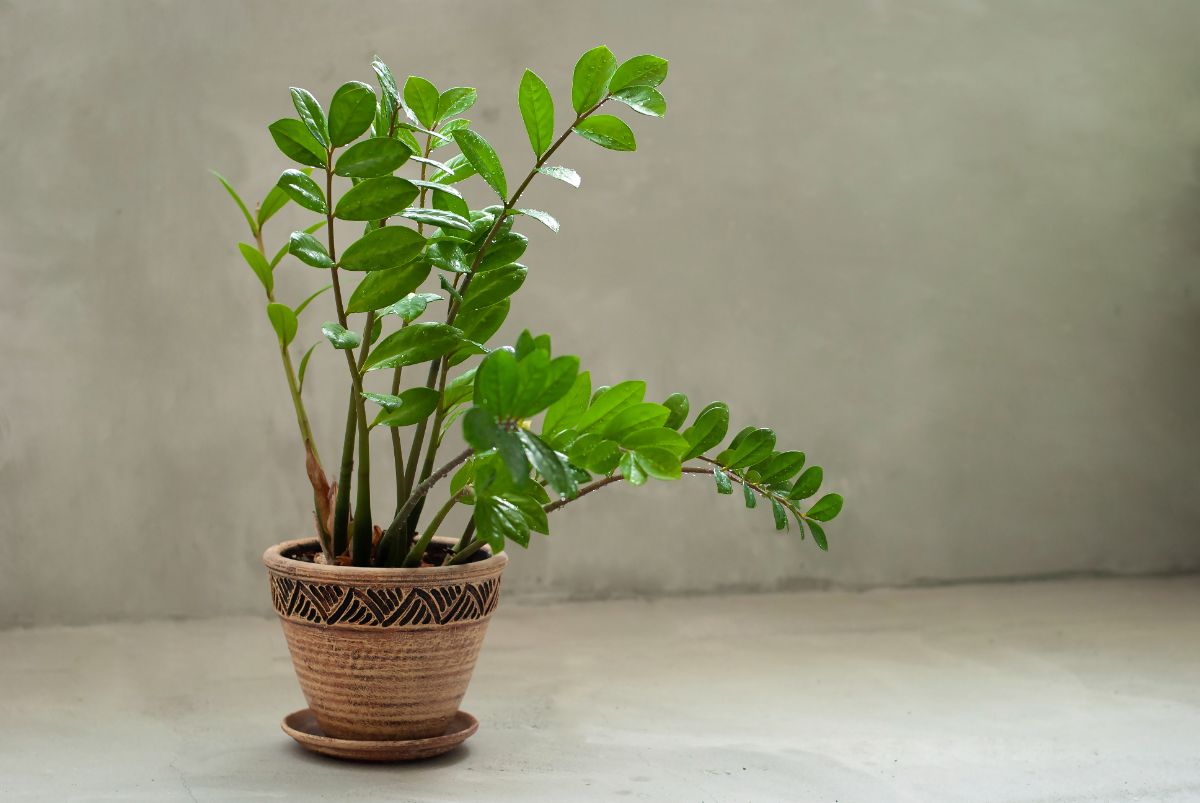 Buy it from:
Otherwise known as the Zanzibar or ZZ plant, it is one of the easiest-to-grow, low-maintenance plants out there. While it thrives in bright indirect light, it can easily survive several lighting conditions where it may not even get light on some days! One of the most attractive aspects of this plant is the perfectly shaped oval leaves that look like emeralds. It's the major reason this plant is often thought of as fake!
Conclusion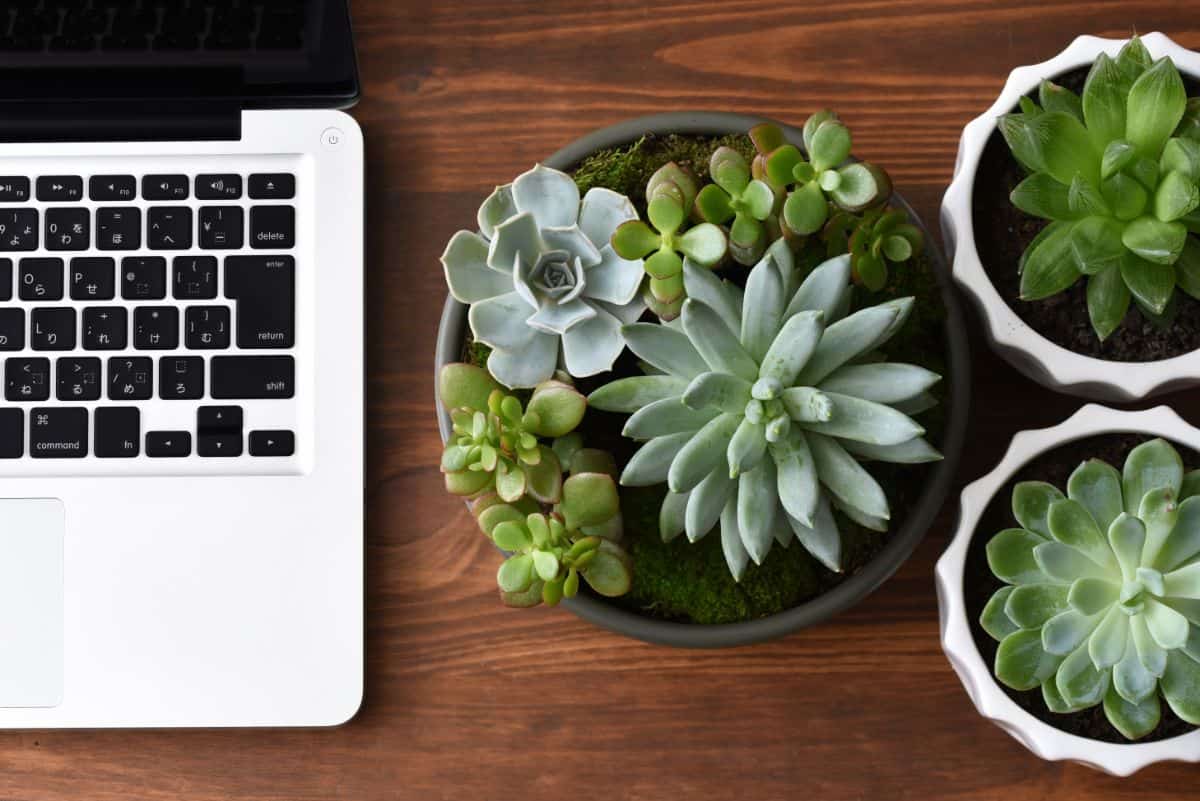 Office spaces are some of the hardest areas to grow in. Plants require light much like humans do, so as long as there is still light in an office, there is a way to get some green in that space. Thankfully, succulents are incredibly hearty and hardy plants. They don't require much water, and as seen above, there are several species that can do well with little light.
Let me know in the comments below what kind of succulent you want to grow in your office next!