We understand how challenging choosing the right succulent planters for your babies can be, especially with the abundance of options these days. Don't worry; we got you! We'll help you determine the best pots for your succulent plants.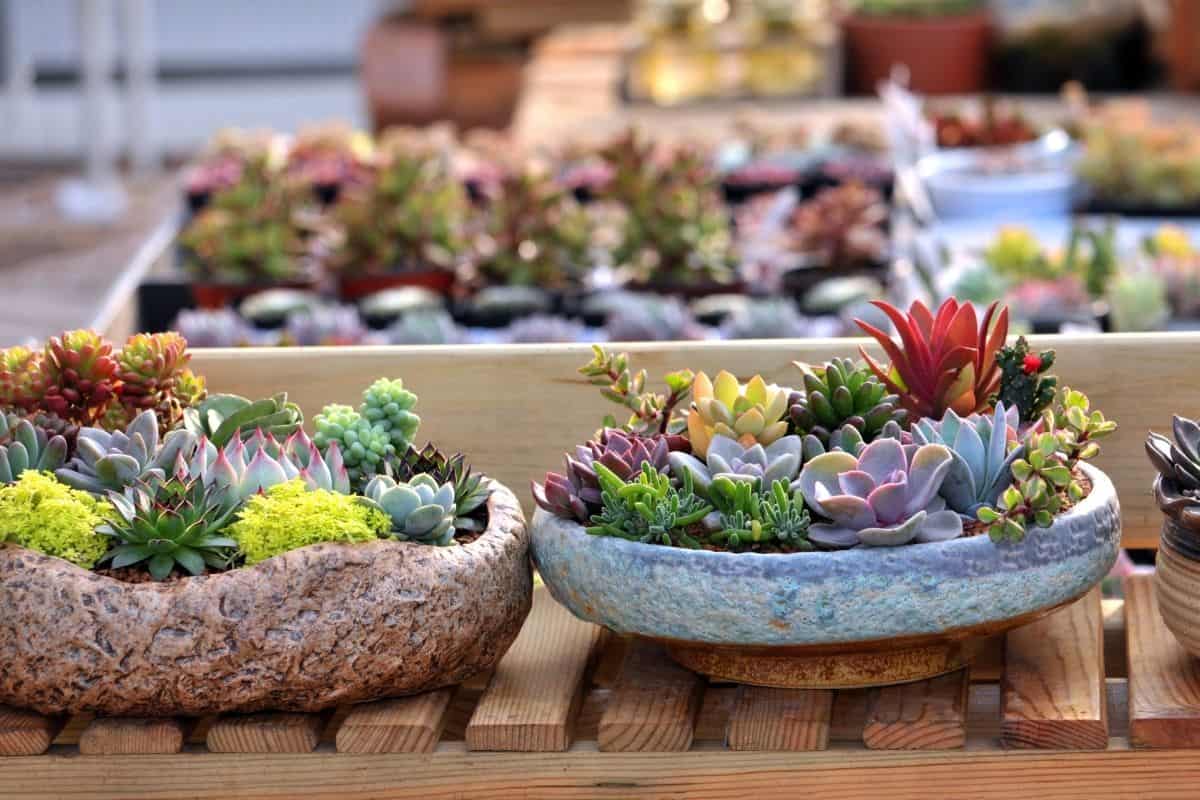 We're not just going to share with you the different types of containers for succulents, but we'll also discuss the various factors you should consider to make a more informed choice. Excited? Then let's get started!
Jump to:
Containers for Succulents You Should Consider
One of the best things we love about succulent plants is that they are not too picky about where they're planted. They can thrive both indoors and outdoors; so they can grow both in ground and containers.
In addition, we've experimented quite a lot already, and our experience has taught us that they can even grow in makeshift containers. Don't worry; we'll talk more about this later.
That said, you don't really have to settle in DIY containers unless you absolutely want to or have the time to turn them into an ideal succulent container. You'll find that there are different types of pots out there. They are commonly categorized according to the material they're made from, and here they are:
1. Ceramic Pots
Ceramic planters are a very common and popular choice among succulent lovers. In fact, even those who repurpose other containers to plant succulents still choose those that are ceramic in nature, such as old soup bowls and teacups.
You can further divide ceramic pots into two subcategories: glazed and unglazed. You'll be able to tell them apart from their smoothness and shine, wherein glazed ceramic pots are smoother and shinier.
The upside of using unglazed pots is that they're porous. That means they will allow better air and water movement throughout the vessel.
On the other hand, the contrary can also be an advantage in using glazed ceramic pots. Since they're not as porous, they can retain water better, which is great for owners who constantly forget to water their plants, and protect plants from sudden temperature changes.
2. Terracotta Pots
Another popular option is terracotta planters. They are quite similar to unglazed ceramic in that they are both breathable materials. As such, they have increased air circulation and drainage abilities as well.
Keep in mind that this is an excellent option for succulent varieties that thrive in dryer environments. On the other hand, those that need more moisture to stay healthy will need extra watering sessions.
3. Fiberglass and Resin Pots
Have you seen those uniquely designed planters that look like tiny fairy houses and cartoon characters? There are even pieces that look similar to other materials, such as ceramic and wood.
Upon touching them, though, you realize that they are not, in fact, made of such materials. These planters are likely made from fiberglass and resin. They can be easily molded into any form their designers wish them to be.
Aside from the fact that they look great and come in various stunning colors, other advantages of this type of planter include being lightweight and resistant to temperature changes. Be careful not to drop them, though, as they are not as durable as other materials.
4. Plastic Pots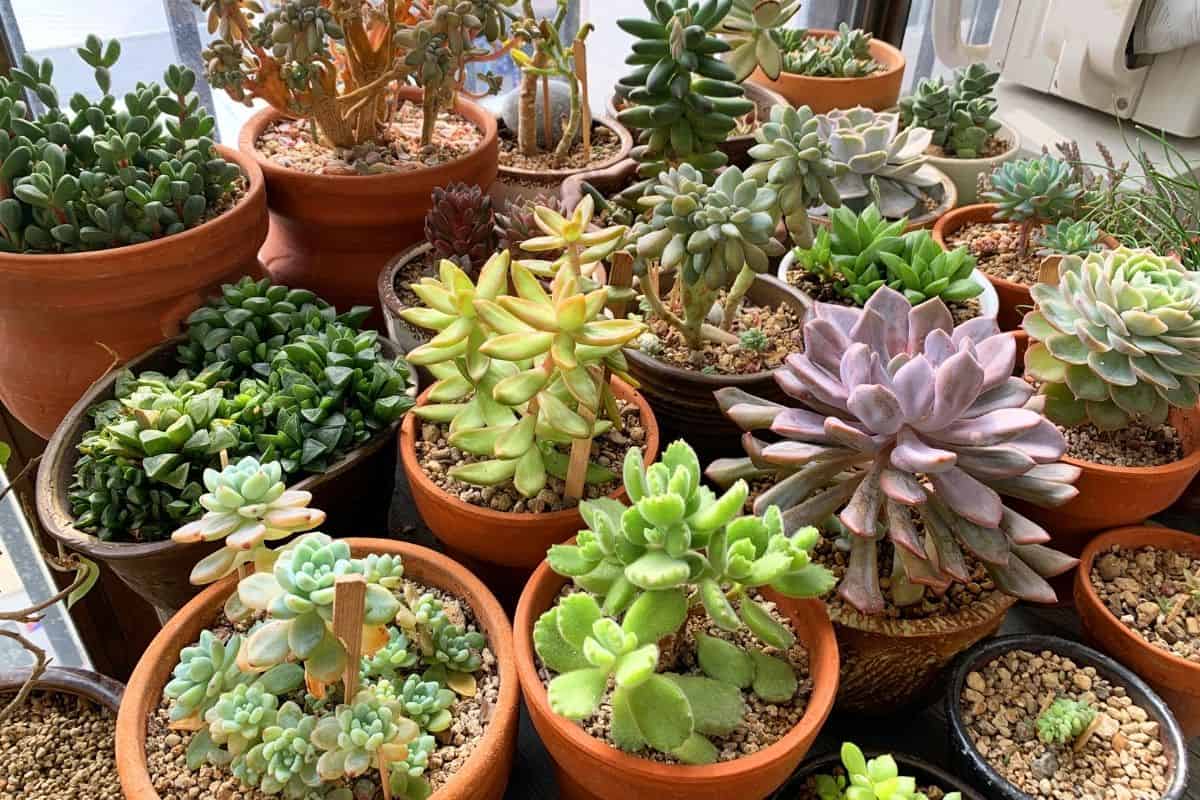 If you're looking for a more durable option, then you might want to consider plastic planters instead. Like resin, this type comes in various colors and designs.
They are more likely to hold excess water than others, though. For this reason, we prefer using transparent plastic pots. In this way, we'll be able to monitor the current moisture level better and potentially prevent root rot and other fungal diseases.
5. Wood Planters
Wooden planters are not always ideal since they are as prone to rotting and weathering as other organic materials are. If you really want to create a succulent arrangement using one (as they can be quite pretty), then you will be pleased to learn that there is a way around it.
You can use a thick type of plastic sheet to line the surface of your planter before putting the soil in. Make sure to cover it entirely to protect your chosen container.
Just don't forget to poke some holes at the bottom to allow excess water to drain out.
6. Metal Pots
Metal may not be the most popular option, but we can't deny that these planters have a certain look that can provide more visual interest to our container gardens. They are also quite durable.
Just be sure to choose one with a special coating that prevents corrosion and weathering. Another thing that you should watch out for is exposing your planter to prolonged heat as it can absorb it quite quickly. After all, you don't want to dry out your plant completely.
7. Concrete and Stone
Finally, if you want an option that can efficiently keep your plants healthy amidst the heat, then you can opt for a stone or concrete planter instead. They are also made of porous material that, as mentioned, is ideal for varieties that don't do well in humid environments.
However, as with the other types we've mentioned above, they also offer a few disadvantages. They are often very heavy and large. While they're great for larger plants, they might not be ideal for smaller arrangements.
You also need to water concrete several times to wash away excess lime that can then alter the acidity of your soil.
Can You Use Other Types of Containers?
As we have mentioned above, you also have the option to repurpose other containers at home. We've seen fellow succulent lovers use old watering cans, teapots, cookie tins, even random boxes and organizers in their arrangements.
So to answer the question, yes, you can certainly use other types of containers for your succulents. That said, we don't usually recommend those without drainage holes.
As much as possible, we encourage people to drill holes on their DIY planters whenever possible. In this way, you can enjoy the look you're going for and recycle old things while still ensuring your plant's health and happiness.
How to Choose the Right Container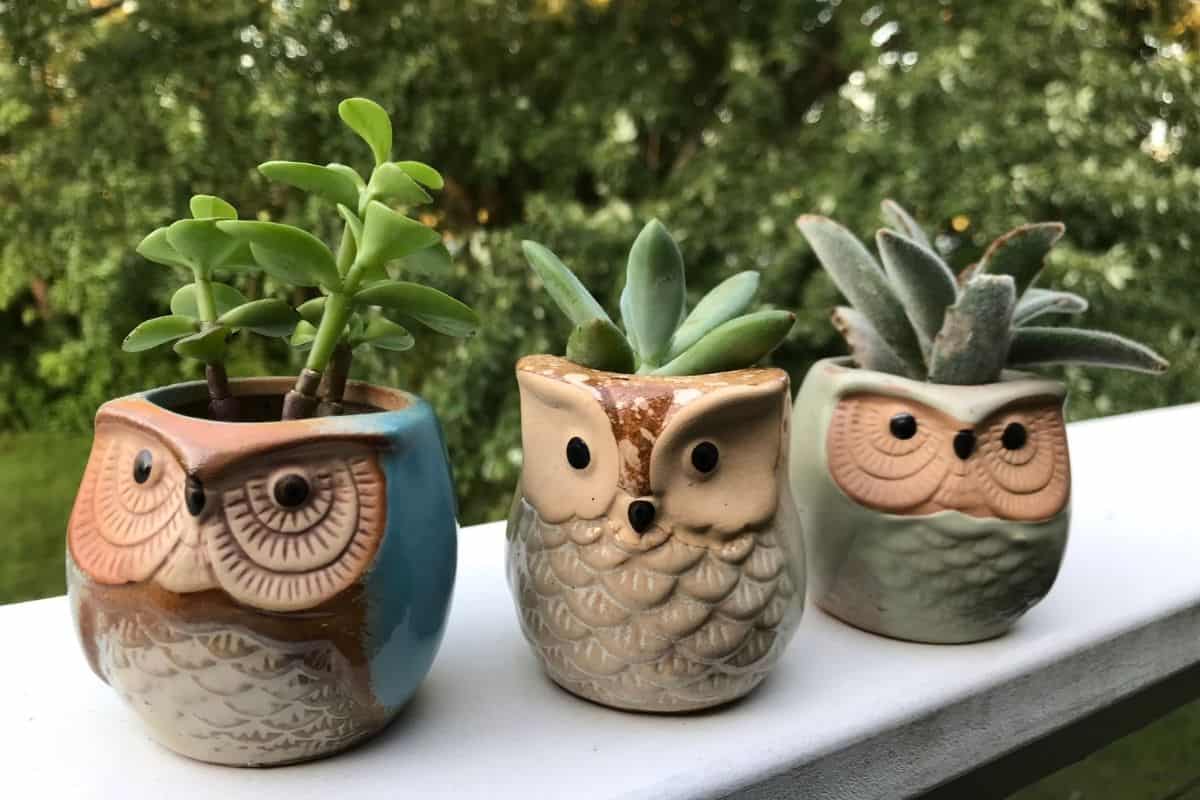 The succulent planters' material is not the only thing to consider when choosing the suitable container for your garden. You'll find other equally important factors below.
Drainage
We know that you're probably tired of hearing this by now, but succulents thrive in containers that have adequate drainage. That said, it is not always enough to get a planter with built-in drainage.
We prefer those with multiple drainage holes as they can provide proper drainage more efficiently.
Size
Another crucial factor is getting the correct size. We recommend getting a container that's 10% wider and bigger than your plant. For example, if your plant is two inches tall, then you should get a planter that's at least 2.5 inches tall.
The same goes for the pot's width. It should be at least wider by a couple of inches in diameter than the plant you're planning to use it for.
What if the Planter Is Too Small?
A small container will limit the soil you can put in it, which means the nutrients your plant can access get restricted as well.
This can be a great way to limit your plant's growth, especially if you want to keep your arrangement to look the same, if only for a bit longer.
However, you should know that you'll also risk your plant getting root-bound. It's nothing that additional soil can't fix, though.
What if the Planter Is Too Big?
It is natural for beginner gardeners to think that opting for a bigger container is the better way to go. Unfortunately, this can be equally problematic because more soil also means more moisture.
It can lead to excessive moisture if there aren't enough roots to absorb them. Too much space will also encourage succulent roots to keep on digging.
This is a normal growth pattern for succulents usually starved for water in their natural environment. While it's not necessarily a bad thing, it can keep your succulent plants from focusing on their main growth.
Aesthetics
More practical growers probably don't consider aesthetics as an important factor. However, we also acknowledge the deep sense of pride and pleasure that one can derive from growing a beautiful garden.
We recommend getting a planter with complementary colors in contrast with the bold leaves of your succulents. It will result in a more balanced arrangement.
Consider the texture of your chosen planter as well. This can provide more visual impact and make your arrangement stand out even more.
Other Features
Finally, some planters come with advanced features like self-watering and smart sensors.
Self-watering planters can keep your succulents well hydrated. Those equipped with different sensors can provide essential information, such as when the temperature is getting too hot or cold or when your succulent needs more moisture and humidity.
Some of these technologically advanced planters can also be linked to mobile applications. They can then conveniently notify you when your plant needs something.
FAQs About Choosing the Right Container for Your Succulent
You probably have an idea of which planter to get already now that you better understand the different factors that make for a suitable succulent planter. For further information, though, allow us to answer our readers' most frequently asked questions regarding succulent pots.
1. Do succulents need deep or shallow pots?
It depends on the size of the succulent plant itself.
As we have mentioned, the ideal size of a succulent pot is at least 10% bigger than the plant itself. Hence, to get the right depth, you should first determine the height of your plant. From there, you'll be able to calculate the ideal depth more accurately.
2. Do succulents like to be crowded?
One of the main concerns that succulent growers have about getting the right container is determining the right size needed for multiple plants. Aside from that, you may wonder if succulents prefer to be crowded together.
To answer the main question, succulents don't really prefer this type of arrangement regardless of how common this is practiced and how beautiful they look. Overcrowding can significantly hinder your plants from absorbing the nutrients they need to survive.
Aside from that, the bigger plants can keep the smaller ones from getting enough light. If this can't be avoided, getting a big enough container will help.
Planning your arrangement in a way where all plants will have enough access to sunlight also helps. Lastly, we want to stress that we don't recommend this type of arrangement for new growers. That's because it can encourage mold growth and insect infestation when not closely cared for.
3. Should I put rocks at the bottom of my planter?
For those who are not aware, putting rocks at the bottom of a planter is a hack that can be performed to compensate for planters without adequate drainage. That's because it can give excess water a place to drain to, especially for those with no holes.
Yes, this works, but again, there are factors that you need to consider.
First is the size of your planter. If your pot is too small or shallow, a layer of rocks will definitely eat up the space that would've gone to more soil instead. Next, the excess water will still have nowhere to go. Thus, it can collect, get stagnant, and encourage root rot and disease over time.
At the end of the day, we will always recommend planting your succulents in well-draining pots. Taking the extra step to drill those holes yourself can make all the difference for your beloved plant.
The Best Succulent Pots
There is no clear-cut answer in finding the perfect choice for containers for succulents. Various factors come into play, including the size of your plants, how many they are, and what their variety particularly needs.
By keeping the information we've shared with you in mind, though, we are confident that you will be able to determine the right answer on your own.
Happy planting!