The Crassula Moonglow is an attractive evergreen succulent that is very popular as an indoor plant. There are numerous Crassula succulent species. Most of them are native to the hotter, dry regions of South Africa.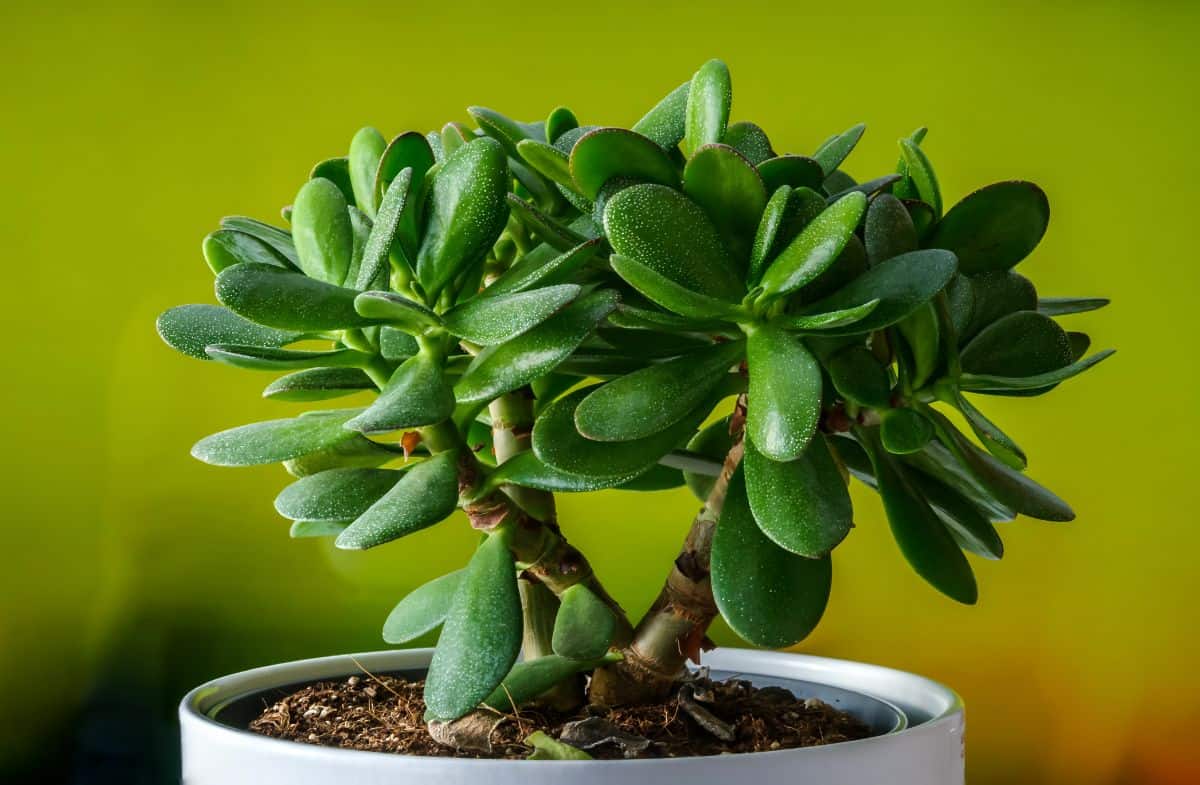 The Crassula Moonglow is a particularly interesting succulent because it has not been seen in any native origin. Rather, it is a hybrid product of modern nurseries, having been created by crossing two different species, namely the C. deceptor arta and the C. perfoliata falcata, to come up with a new type of succulent plant.
This xeriscapic cactus has been cultivated in such a way that it thrives in an arid environment. It is a slow-growing succulent, but it can live for many years.

Jump to:
Crassula Moonglow Appearance
| | |
| --- | --- |
| Name: | Crassula Moonglow |
| Soil: | De-moisturized well-drained potting mix |
| Blooming: | During winter and spring months |
| Light: | Bright light |
| Water: | When the soil is dry |
| Propagation: | Stem cuttings and seeds |
The Crassula Moonglow is a very pretty succulent. It has an upright central column, with thick, soft leaves branching out from the central stem. The leaves are packed very tightly together, overlapping each other.
The leaves of the Crassula Moonglow are sessile, and emerge directly from the base of the stem, rather than protruding from the sides of the stem.
They are usually grayish-green in color, but with exposure to the sun, they sometimes develop a reddish glow around the edges.
The leaves have a soft, almost furry coating of fine hairs over their entire surface. This coating protects the leaves. It prevents evaporation, dehydration and also protects the surface of the leaves from the harsh rays of the sun.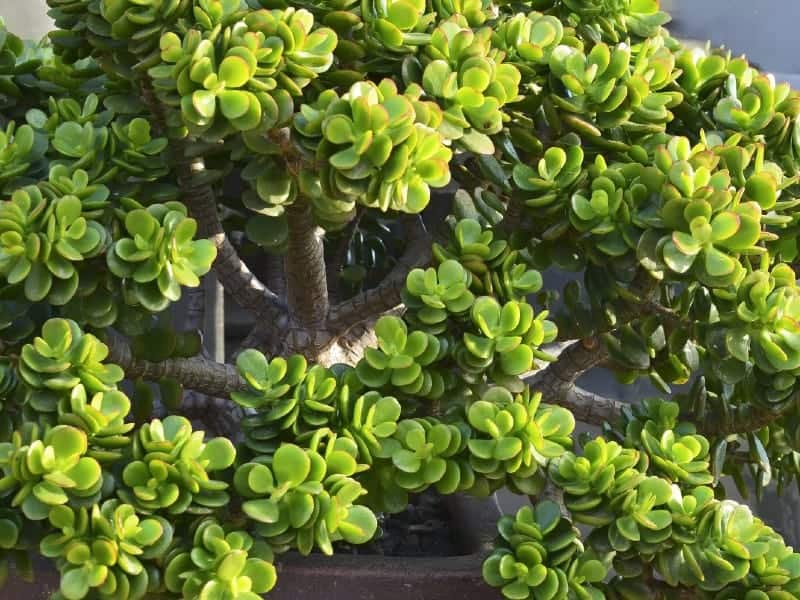 Buy it from:
The Crassula Moonglow usually grows to a height of 8-10 inches. The stems multiply and branch out to form clusters of succulent plants. This usually occurs during winter, when almost all of this succulent's growth takes place.
Because the Crassula Moonglow is dormant through the summer season, it usually flowers towards the end of winter. The flowers that emerge are a pretty little pale orange or pink bloom. The flowers are very small, with a width of no more than 1 inch.
Caring for the Crassula Moonglow
Bestseller No. 1
Crassula Moonglow Succulent (2 inch)
We guarantee plant's safe arrival otherwise we will refund or send you a replacement plant
Crassula 'Moonglow' is considered a hybrid between Crassula deceptor v. arta and Crassula falcata.
Forms very fleshy gray leaves in opposing ranks on an upright column, up to 8 inches (20 cm) long. It branches well, so that...
Bestseller No. 2
The Crassula Moonglow is not too difficult to grow. It does not require much care or attention and will flourish as long as its basic needs are met. The main needs are sufficient light and water, and the correct temperature and soil conditions.
Light
Like most species of cactus plants, the Crassula Moonglow needs a lot of direct natural light. Ideally, it should get about 6 hours of direct sunlight per day.
While this succulent needs a certain minimum amount of exposure to direct sunlight, care should also be taken not to over-expose it to the harsh rays of the sun. Prolonged exposure to harsh sunlight can cause damage to the plant, very similar to sunburn on human skin.
The ideal spot for the Crassula Moonglow is one where it will receive enough direct sunlight but also be protected from sunburn by some dappled shade later in the day. The best position is a spot where it is surrounded by other trees and shrubs that can filter the sun at certain hours.
Because of its small size, the Crassula Moonglow is the perfect succulent to cultivate as an indoor house plant. It will thrive in a room that gets a lot of natural sunlight. In the northern hemisphere, it should be placed in a south-facing room, where it will be very happy on a sunny window sill.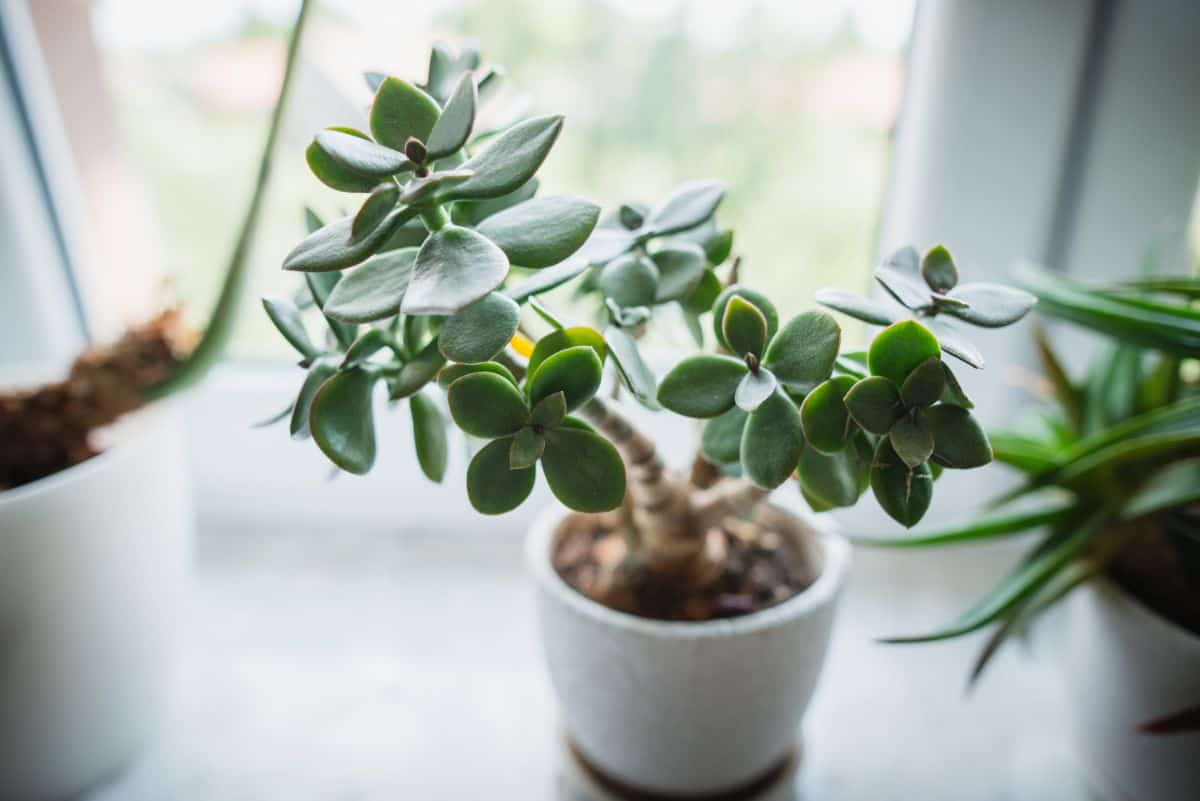 If your home faces the wrong way and does not receive enough natural light, you may need the help of a grow light in order to cultivate the Crassula Moonglow indoors. It will supplement the natural light that is in short supply.
The grow light is an electric light that mimics natural sunlight and helps to boost the growth of indoor plants. They are available from most garden centers and nurseries.
Water
The Crassula Moonglow is a hybrid succulent that originated from two species of cactus that are native to hot, arid areas. As a result, it is quite comfortable in dry areas and is drought resistant.
Because this succulent does not need much water, one needs to be careful not to overwater it. Giving it too much water can be even more harmful than not giving it enough.
The Crassula Moonglow should only be watered about once a week. When watering this succulent, it is always recommended to give it a thorough, deep soaking, allowing the roots to absorb as much water as they need.
The soil should then be allowed to dry out completely before the next watering. If it is watered again too soon, the roots will never have enough time to dry out. Succulent roots are highly susceptible to root rot if they are left sitting in damp or wet soil for an extended period.
If you are cultivating your Crassula Moonglow in a container, the container should always have good drainage holes at the bottom. These holes will enable excess water to drain away once the plant has taken in the water that it needs from the soil.
Watering from the bottom is an effective way of watering a succulent that is growing in a pot. Fill a shallow dish with water. Place the potted plant in the dish and leave it to stand for one hour. The roots will suck up water through the drainage holes at the bottom of the pot.
The pot should be removed from the dish of water after one hour. If it is left standing in the water for an extended period, the soil will become waterlogged and the roots will not be able to dry out. They will eventually develop a fungal coating from the constant damp, and this can cause the roots to rot.
Temperature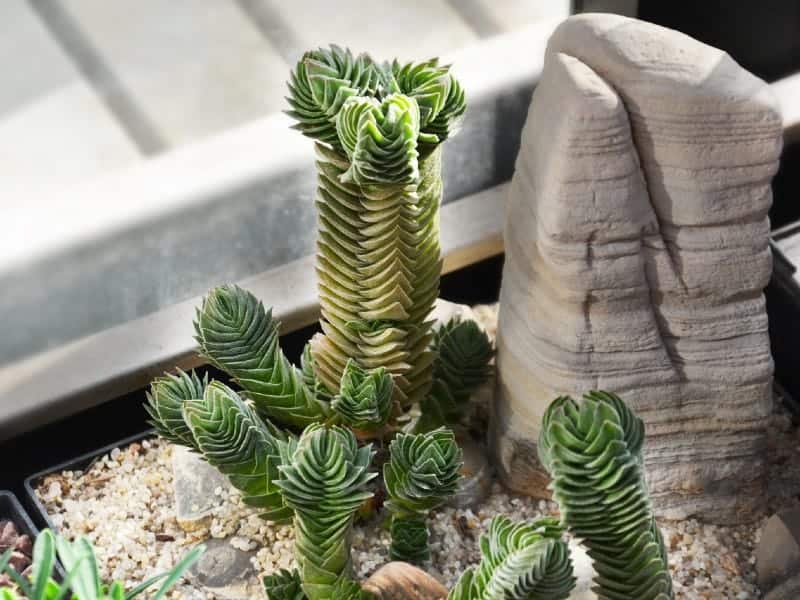 Because the Crassula Moonglow originates from a cross between two cactus species that are used to very hot conditions, it, too, likes heat. It is not cold hardy, and will not do well in very low temperatures.
This succulent can be planted outdoors if you live in an area with a mild climate, where the winters are not too extreme or severe. As long as the days remain warm and the overnight temperature does not plummet, your Crassula Moonglow will continue to thrive.
However, if you live in a colder climate, it is advisable to plant your Crassula Moonglow in containers. In this way, they can be taken indoors when the temperature drops. This species of succulent cannot tolerate temperatures below 30° Fahrenheit.
One of the dangers of extreme cold is that the ground may freeze. If this happens, then the roots freeze with the soil, and this can inhibit the growth of the plant, and even kill your succulent.
The Crassula Moonglow will not be able to survive exposure to frost. The ice crystals will cause the cells in the leaves to freeze, making them swell. They will not be able to recover from this, and the plant could die.
If overnight frost is expected, it is recommended that you take your plant indoors. Alternatively, you can either place it in a sheltered spot outside or cover it lightly with a thin piece of netting or fabric, to protect it from the frost.
If you have planted your Crassula Moonglow in a pot and keep it indoors as a houseplant, you should place it in a warm room that has a constant temperature. This succulent does not do well if it is subjected to sudden drastic temperature changes. A constant temperature of between 65° - 80° is needed in order for it to continue to grow without any problems.
Soil
Most succulent plants do not have specific requirements as far as the pH level of the soil is concerned, and this generally applies to the Crassula Moonglow. However, the soil should be neither excessively acidic nor alkaline. A comfortable pH level can be anything between 5.7 - 7.7.
If the pH is lower than 5.7, certain chemicals in the soil will multiply and these can become toxic to the roots of the plant. In addition, if the pH level is too low the excess acid in the soil can kill other organisms, such as earthworms, that live in the soil and are essential for the plant's well-being.
Conversely, if the pH level is too high, the raised alkalinity may prevent the absorption of iron in the soil. This can cause an iron deficiency in your Crassula Moonglow succulent.
Good drainage is one of the most important factors to consider when preparing the soil for your succulents. In order to ensure healthy roots and normal growth, the Crassula Moonglow needs soil that is well-aerated. This will prevent the soil from clumping together and retaining water.
If the water cannot drain freely, the soil will become waterlogged. Roots that are left in waterlogged soil never have an opportunity to dry out completely. The constantly wet soil will cause root rot to set in, eventually killing the plant.
The best way to ensure that the soil is well-aerated is to make up a soil mix consisting of one part cactus potting soil to one part mineral grit. The mineral grit prevents the soil particles from clumping together, encouraging water to run freely through the soil and drain away.
When purchasing mineral grit, you can ask your local garden center or nursery for any one of the following three substances, or you can even use a combination of 2 or 3 of them.
Coarse sand is simply sand that does not have very fine grains. The individual grains are bigger, allowing more air to flow around them. When mixed with cactus potting soil, coarse sand enables air to circulate around the particles of sand, ensuring that water can also drain away easily.
Pumice is made of a particular type of naturally occurring stone. This stone is ground into powder form to create a substance that is similar to sand. It does not have any absorbent qualities, so water runs off freely.
Therefore it is an excellent type of mineral grit to use for cultivating succulents and should be combined with cactus potting soil to create the best environment for the roots of the plant.
Perlite consists of minerals that are volcanic in origin. These minerals have a high natural water content, but still allow excess water to drain easily.
Mixing perlite with cactus potting soil is an effective way of aerating the soil, while also helping to prevent dehydration in the plant's roots.
Propagating the Crassula Moonglow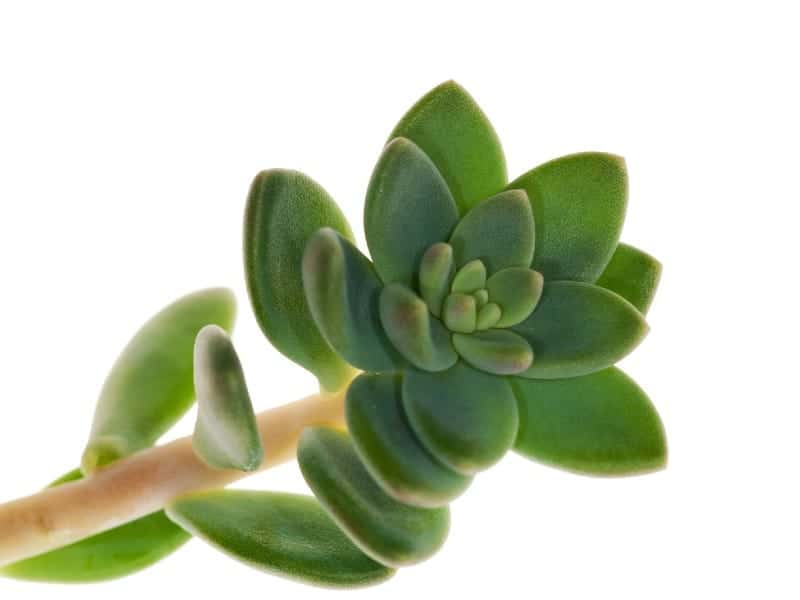 The Crassula Moonglow is an easy succulent to propagate. There are a few different methods that can be used to propagate this succulent, some more successful than others.
The easiest methods are to propagate from a leaf or from a stem cutting. While it takes a lot longer, it is also possible to propagate from an offset of the original plant.
Seeds can also be used for propagating the Crassula Moonglow, though this can be very difficult to achieve.
Propagating from a leaf
Select a leaf that looks plump, fleshy, and healthy. It is best to take a leaf from as close to the center of the plant as possible, as these are usually the healthiest leaves.
Carefully twist the leaf off, as close to the stem as possible. Allow the leaf to dry out for a day or two until it starts to form a callus.
Place the callused leaf in a dish of prepared cactus potting soil, only covering it very lightly with a thin sprinkling of soil. Water with a light mist of water every 2-3 days. Once little shoots start to sprout, you can plant them carefully in a small prepared pot.
When you have a viable plant growing, you will need to repot the plant into a bigger container.
Propagating from a stem cutting
To propagate the Crassula Moonglow from a stem cutting, use a clean, sharp gardening scissors or knife to cut a healthy-looking piece as close to the base of the plant as possible.
Leave it to stand for a few days, to dry out and callus over the cut end. Once it has formed a callus, insert the cutting into a small pot of prepared cactus potting soil.
Water lightly every 2-3 days until the new plant is growing well. Once you have a healthy plant growing, it is recommended to repot it into a larger container.
It is important that you do not use a utensil that has dirt on the blade. If it is dirty, it may introduce bacteria and other germs into the newly cut surface of the stem cutting or the mother plant. This could cause infection to set in.
If the blade is not sharp enough, it may be difficult to make a quick, clean cut. Hacking at the stem causes trauma to the plant, and may have harmful effects. The cutting is unlikely to take if the cut end has been damaged in the cutting process.
Propagating from an offset
Propagating the Crassula Moonglow from an offset is usually successful, but it requires a lot of patience. This is a slow-growing succulent, so it will take a number of years before the mother plant produces an offset that can be used to propagate a whole new plant.
Once there is a healthy offset growing alongside the mother plant, you can remove it by carefully cutting it away from the mother plant, using a long-bladed, clean, sharp knife.
Gently insert the blade into the soil, loosening the soil around the roots and cutting the offset out from the roots. Repot the offset into a prepared pot of cactus potting soil, and water lightly every few days at first. Once the offset has taken and you have a viable plant growing, you can gradually reduce the watering schedule.
Propagating from seeds
It is extremely difficult to propagate the Crassula Moonglow from seeds. The seeds will only germinate in the most ideal conditions, and they take a long time to germinate.
Because this is a slow-growing cactus, it will take many years before you will have a healthy, viable plant. Therefore we do not recommend this method of propagating the Crassula Moonglow. The other methods mentioned above are far more likely to have a satisfactory result.
You might like to read: Portulaca Molokiniensis Ultimate Care Guide
Common pests and problems with the Crassula Moonglow
There are two main problems to watch out for when cultivating the Crassula Moonglow. The biggest problem is usually overwatering. This succulent is also prone to mealybug infestations
Overwatering
Watering your Crassula Moonglow too often or too much will result in waterlogged soil. If the roots are constantly wet, they will eventually rot and your succulent will die. Rather water sparingly, following the guidelines given above.
Mealybug infestations
If you notice a fine, white powdery coating on the underside of the leaves, your Crassula Moonglow is probably being eaten by mealybugs. These tiny insects are difficult to eliminate and are most successfully eradicated by using a commercial pesticide.
Sources
https://worldofsucculents.com/crassula-moonglow/
https://mountaincrestgardens.com/crassula-moonglow-limited/