The plant known as the Pachyphytum Hookeri is a succulent that is native to the rocky areas of Mexico. It is a slow-growing plant that does very well as an indoor house plant.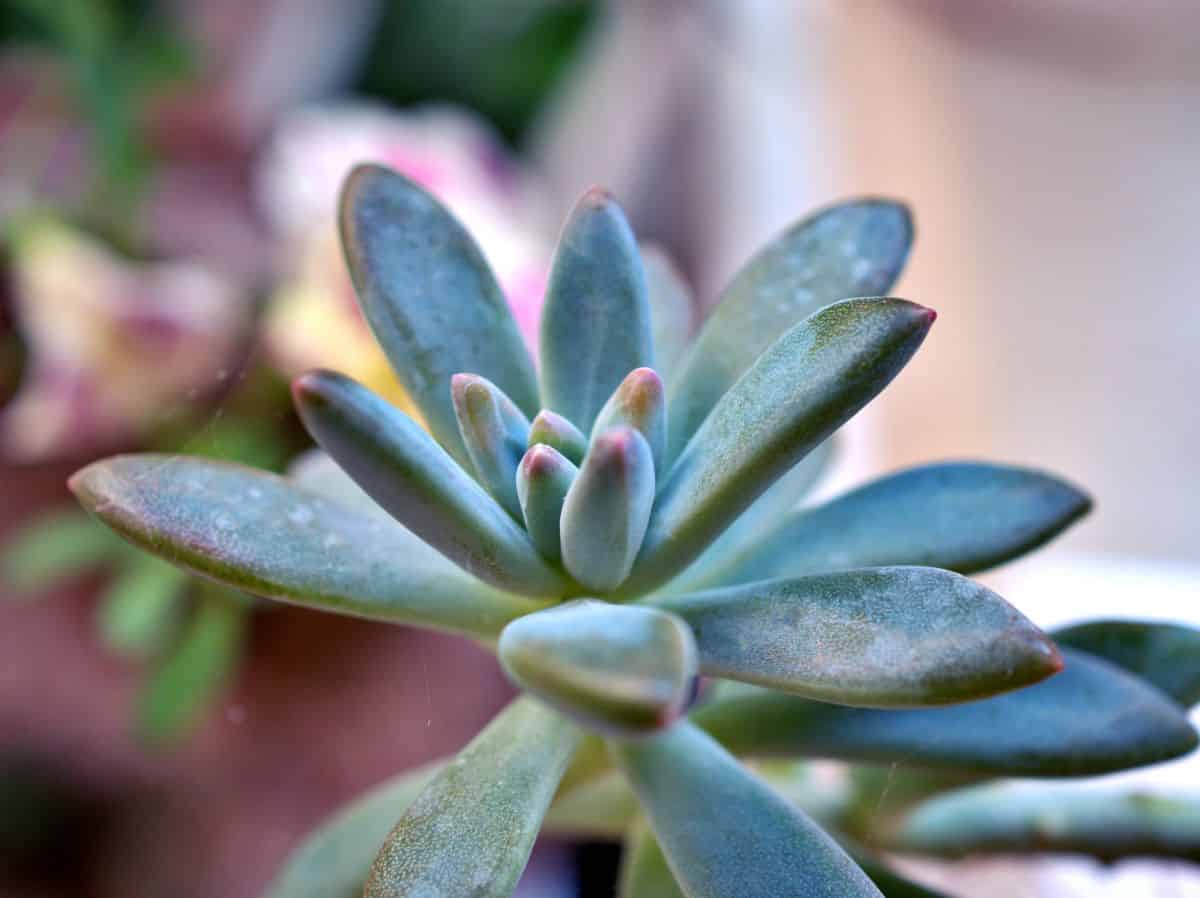 The word Pachyphytum actually describes the appearance of the plant. Derived from Greek origin, it means 'thick plant', from the words pachys, meaning 'thick' and phyton, meaning 'plant'
Jump to:
Pachyphytum Hookeri Appearance
| | |
| --- | --- |
| Name: | Pachyphytum Hookeri |
| Soil: | Light and well-aerated soil |
| Blooming: | Late summer |
| Light: | Full sun or partial shade |
| Water: | When the soil is dry |
| Propagation: | Stem cuttings and leaf |
The Pachyphytum Hookeri is a very pretty succulent, with thick, padded leaves that grow in a rosette formation. The rosettes are loosely clumped together and are made up of leaves that range in color from green to orange and sometimes varying shades of lilac.

The leaves are usually covered in a coating of epicuticular wax, called farina, which is a thick whitish powder. This coating forms a film that covers most of the plant, protecting it from dehydration.
The leaves are long, pointed, and usually grow upwards. The stems are very long, growing to a length of up to 20 inches. Their growth can be kept in check by trimming them regularly.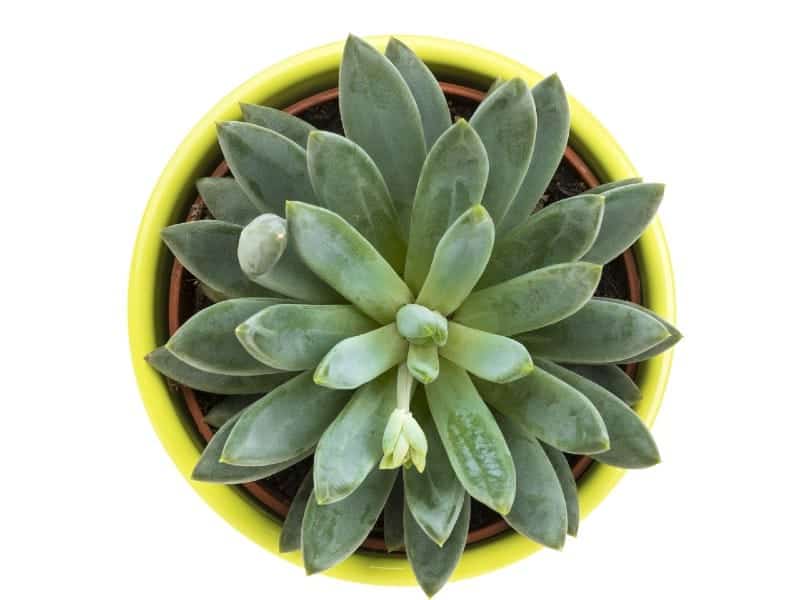 Buy it from:
The flowers of the Pachyphytum Hookeri are small and bell-shaped and are either whitish green or different shades of red. They grow on long stems and are usually found at the tip of the stem.
The Pachyphytum Hookeri flowers towards the end of summer, as it is coming out of its dormant period. It experiences most of its growth during the winter months.
Caring for the Pachyphytum Hookeri
The Pachyphytum Hookeri succulent plant needs very little attention and care. It will thrive quite happily if left to its own devices. In fact, the less they are handled, the better off these plants will be.
The leaves of the Pachyphytum Hookeri are very sensitive to the natural oils in human skin, and any tactile contact will leave a residue on the plant which may damage it.
Handling the plants will also remove some of the farina, or epicuticular wax. This will then leave the surface of the leaves exposed to the sun without any protection, causing them to dehydrate and wilt. Therefore the less they are handled, the better off they will be.
Light
The Pachyphytum Hookeri is like most other succulents. It needs a lot of direct natural sunlight in order to be able to produce enough chlorophyll through the process of photosynthesis.
Bright sunlight is also necessary for the plant to keep its intense colors. If the Pachyphytum Hookeri does not receive enough sunlight, it will remain a pale shade of dull green. It needs light in order to develop the glowing red, orange, and purple colors.
Choose an area with full sun to partial shade, where your succulent can receive a minimum of 6 hours of direct sunlight per day. Try to avoid areas that are in full sun all day, without any shade at all.
Even though the Pachyphytum Hookeri is native to areas with a hot, dry climate, it still needs some protection from the sun. An area with full sun in the morning and dappled shade in the afternoon would be ideal.
If you want to keep your Pachyphytum Hookeri indoors as a houseplant, choose a warm room in your home that gets natural sunlight for most of the day. If you are in the northern hemisphere, a south-facing room would be best. Your Pachyphytum Hookeri will be very happy on a sunny window sill here.
Bestseller No. 1
Bestseller No. 2
Pachyphytum Hookeri, 4" Plant
Pachyphytum Hookeri has beautiful thick, green-blue leaves
This pretty succulent makes an excellent addition to any indoor succulent garden
If your home does not have a room with sufficient natural light, you can help your succulent along with the use of a grow light. This is an electric light that is designed specifically for horticulture and mimics natural light. Your plant will thrive under a grow light, and will still be able to produce chlorophyll, even without much natural sunlight.
Water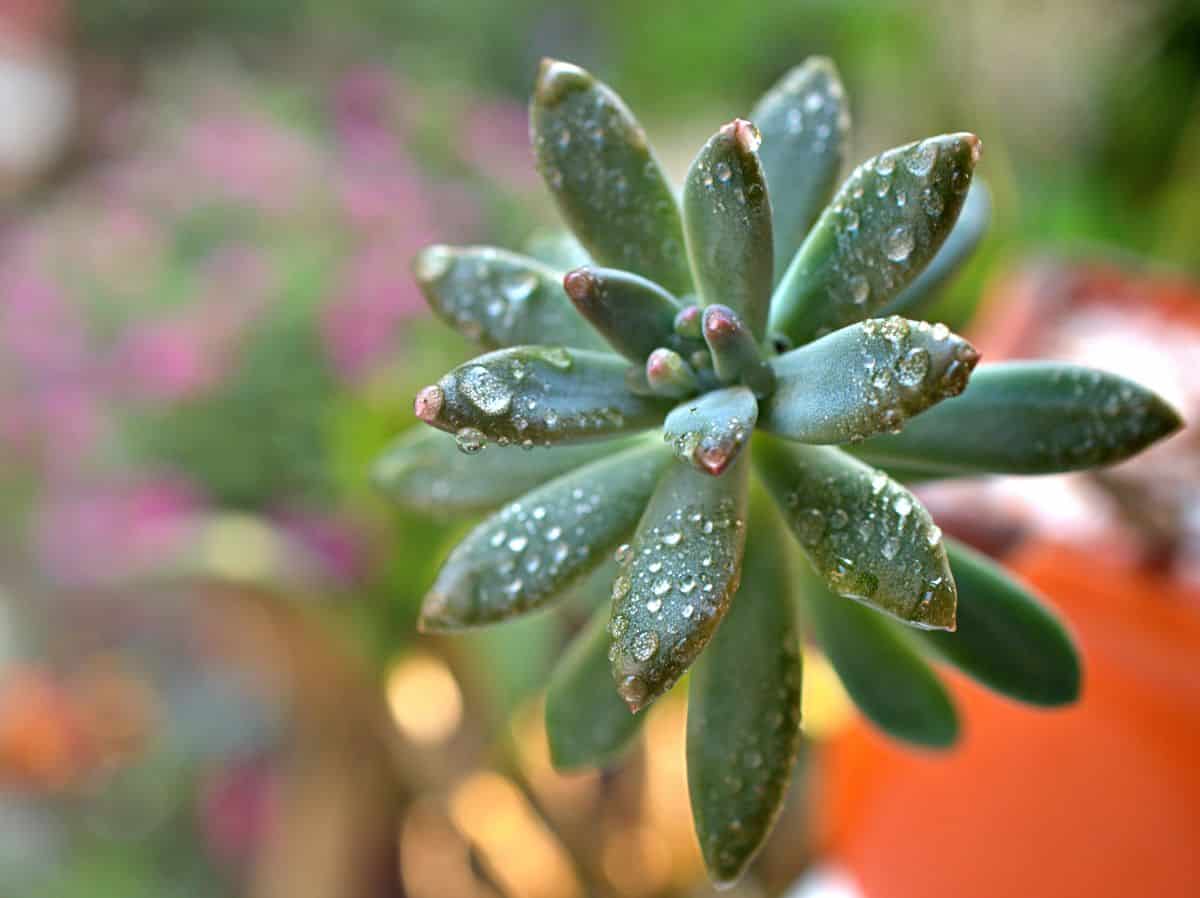 The Pachyphytum Hookeri is a typical succulent when it comes to its water needs. It requires very little water, due to its origin. It is used to hot, dry conditions, where it does not receive much water.
The Pachyphytum Hookeri is dormant through spring and summer, and should not be watered often during this time. It goes through its growing period during the winter months and should be watered more frequently in winter in order to stimulate growth.
The leaves of the Pachyphytum Hookeri do not do well when soaked with water. Try not to drench them when you water your plant. Rather aim for the base of the plant, in order to soak the roots.
When watering your Pachyphytum Hookeri, it is recommended to give it a deep and thorough soaking, right down to its roots. It should then be left to dry out completely before watering again.
If you are unsure when to water, you can test by inserting a wooden skewer or kebab stick into the soil. It should be completely dry when removed. You can also check by inserting your forefinger as deeply as possible into the soil. If it feels dry to the touch, it is time to water again.
Another good guide is to look at the leaves at the base of the plant. If they look like they are starting to wilt and go limp, it means that your plant needs to be watered.
If your plant is in a container, the container should have good drainage holes at the bottom, so that excess water can run off freely. This will prevent the roots from sitting in wet soil, which can cause root rot.
Temperature
The Pachyphytum Hookeri likes heat, but it needs protection from intense sunlight. The epicuticular wax, or farina, that is found on the leaves is a natural form of protection. It should not be wiped off.
Farina acts as a kind of sealing agent, preventing the water contained in the leaves from evaporating. This ensures that the leaves do not dry out and shrivel in the heat of the sun.
The Pachyphytum Hookeri is used to very hot conditions and is quite drought resistant. It can tolerate high temperatures very well.
This succulent is not very cold hardy. It will not survive temperatures below 25° Fahrenheit. If you live in an area that has a mild to warm climate, your Pachyphytum Hookeri will do well in outdoor beds.
However, if you live in a colder area, it is recommended that you plant your Pachyphytum Hookeri in pots or containers that can be brought indoors when the very cold weather sets in.
The Pachyphytum Hookeri will not be able to tolerate exposure to frost. The ice crystals will damage the leaves, causing the plant to die. If overnight frost is expected, your Pachyphytum Hookeri should be moved to a sheltered space overnight, or it should be lightly covered with a protective fabric.
Soil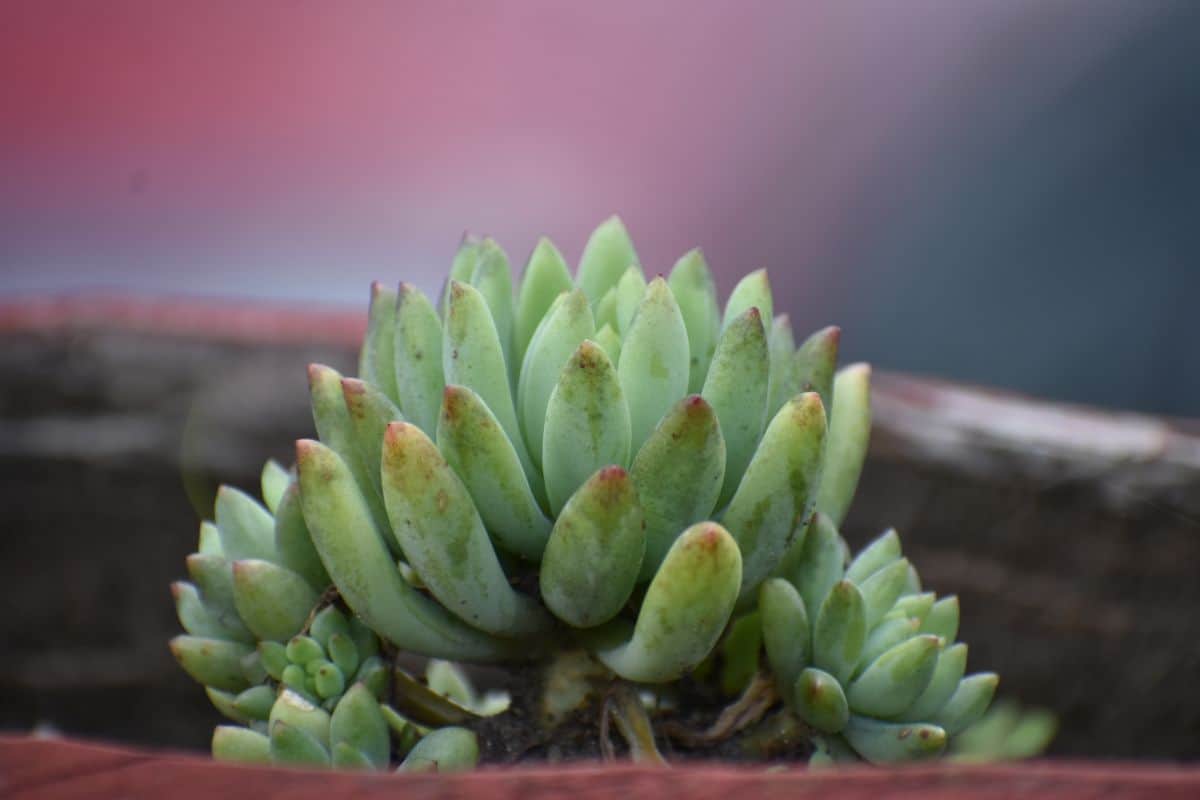 Most succulents are not too fussy about the type of soil or the pH balance of the soil in which they are planted. The quality of the soil is not terribly important.
For succulents, the most important feature of the soil is drainage. Thick, solid soil that does not allow for good water drainage is one of the biggest problems for succulents. If the soil does not have good drainage, the roots will constantly be damp. This will cause them to rot, and the plant will eventually die.
If your Pachyphytum Hookeri is planted in a container, the container needs to have adequate drainage holes at the bottom. If excess water cannot drain away easily, root rot will quickly set in.
In order for your Pachyphytum Hookeri to flourish, the soil should be light and well-aerated. This will ensure that excess water can run off freely. It is advisable to use a good quality cactus potting soil, combined with mineral grit in a ratio of 1:1.
Mineral grit mixed in with the soil will ensure good drainage. There are numerous types of mineral grit. Any or all of these can be combined with cactus potting soil to provide an ideal environment for cultivating the Pachyphytum Hookeri.
Coarse sand consists of thick granules that allow water to run freely through the sand, unlike fine sand granules, which tend to clump together when wet. When adding coarse sand to the soil, changes the consistency of the soil to allow for better water drainage
The natural gases in pumice stone help to aerate the stone particles. This enables water to drain freely through the particles. Mixing pumice with cactus potting soil is a good way to ensure that water can drain off.
The volcanic minerals in perlite have naturally high water content. Perlite is made up of large particles of these minerals, which both nourish the plant and allow for good drainage.
Propagating the Pachyphytum Hookeri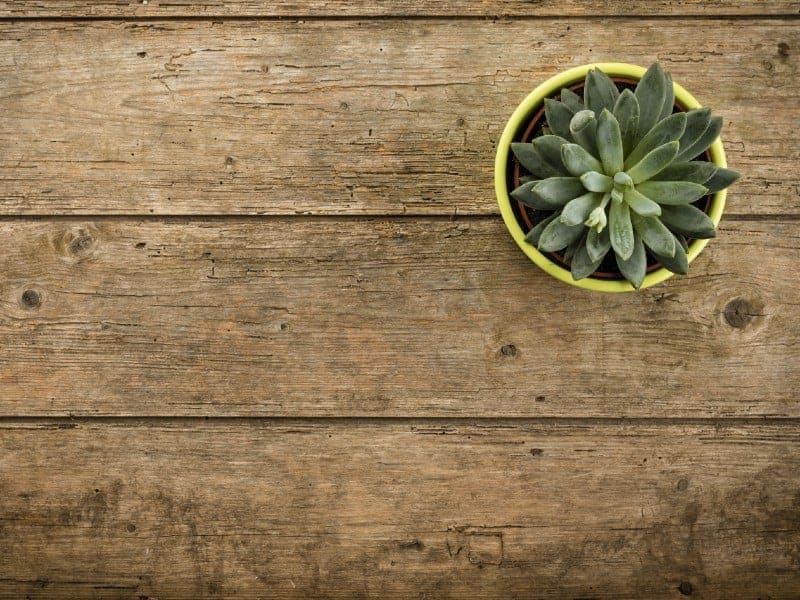 The Pachyphytum Hookeri is easy to propagate. Using a rooting hormone can help to ensure success. These are special chemicals that are designed to stimulate root growth in new plants.
There are two methods of propagating that are usually successful: propagating from a leaf or from a stem cutting.
Propagating from a leaf
Propagating from a leaf is a simple process, and can be done using the following step-by-step guide.
Carefully twist off a plump, healthy leaf, as close to the stem as possible. It is best to choose a leaf from the center of the rosette, as these are usually the healthiest.
Leave the leaf to dry out completely. It should start to form a little callus at the end. This usually takes 1-2 days.
Prepare a small dish of potting soil, as described above.
Dip the dried leaf in some rooting hormone.
Place the leaf in the dish of potting soil and sprinkle lightly with a little water.
Water lightly every 2-3 days until a new rosette starts to develop.
When the new rosette is big enough to move, and the roots are well developed, repot it into a pot. You should now have a viable Pachyphytum Hookeri plant.
Propagating from a stem cutting
When cutting a piece of any plant for propagating purposes, it is always advisable to use a clean, sharp scissors or a knife.
If the utensil is dirty, it might introduce bacteria to the cut surface, which will infect the plant. If it is not sharp enough, you may struggle to cut neatly, causing trauma to the stem. This will prevent the cutting from taking.
Using clean, sharp scissors or knife, cut a piece of the Pachyphytum Hookeri, as close to the base of the plant as possible.
Leave the cut piece to stand for a few days, so that it can dry out completely and form a callus.
Once the cut stem has callused over, dip the callused end in a little rooting hormone.
Insert the piece in a prepared pot of cactus potting soil and mineral grit.
Water lightly every 3-4 days until it has taken and starts growing. Once the plant is growing well, the watering schedule can be reduced to once a week.
Common pests and problems with the Pachyphytum Hookeri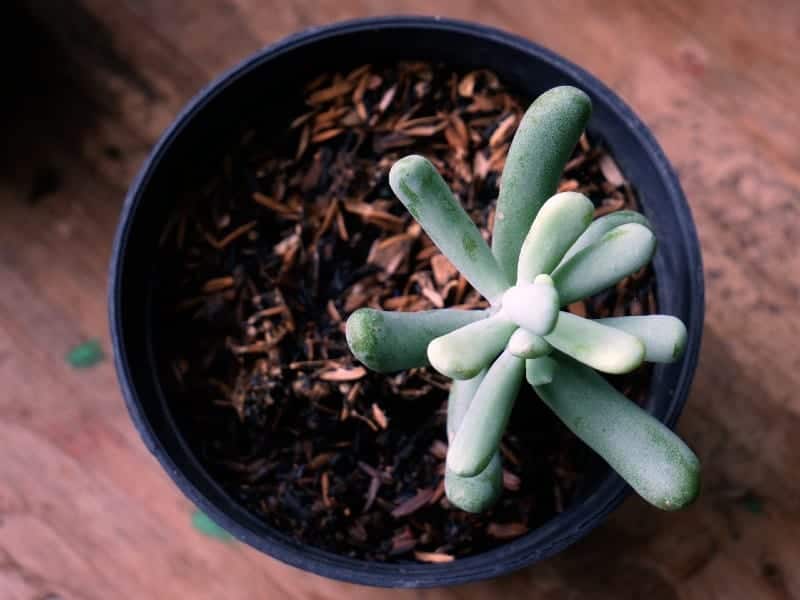 The two main problems to watch out for are overwatering, and infestation with mealybug.
Overwatering
If your Pachyphytum Hookeri looks like it is starting to go limp and soft, you could be giving it too much water, or watering it too frequently. Overwatering results in the roots never having enough time to dry out completely, and they will eventually rot. Root rot is deadly to plants.
Mealybug infestation
Mealybug is a pest that is a common problem with succulents. It is difficult to see the actual insects themselves, but if you see a fine, white, powdery substance on the underside of the leaves, your succulent probably has a mealybug infestation.
The only really effective method of eliminating these pests completely is to use a commercial pesticide. There are numerous different brands on the market, but they all do much the same thing. These are readily available from your local garden center or nursery.
Sources: