The Mexican Snowball, or more commonly known as Hens and Chicks or Hens and Chickens are one of the most popular species for succulent newbies and experienced succulent owners as well. With well over 30 different species, the Mexican Snowball shows endless variety in leaf color and shape, flower color and shape, as well as their size. Many of the species are a type of echeveria elegans hybrid or they are selectively bred.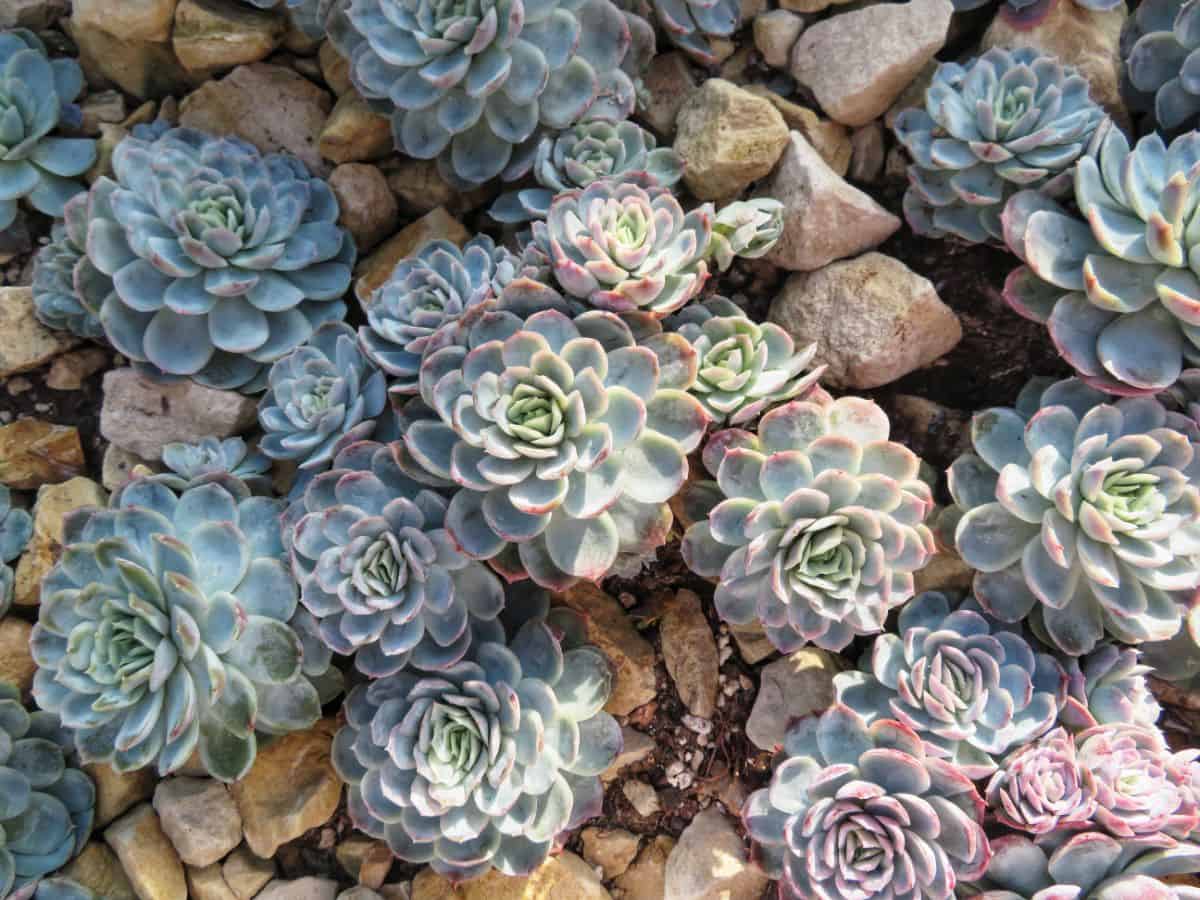 Each species can be taken care of in similar ways. For this Echeveria elegans Complete Care Guide, we'll address the quick and dirty details and then dive into their history, how to care for them, and how to begin propagating your own hens and chicks army.
Jump to:
Quick Facts
| | |
| --- | --- |
| Scientific Name | Echeveria elegans |
| Common Name | Mexican Snowball or Hens and Chicks |
| Position | Full sun |
| Watering | Only when the soil is dry |
| Soil | Very porous and well irrigated |
| Spread and Growth | Will self-propagate; some species are as small as 2 inches in diameter and other can be over 8 inches in diameter |
| Flowering | Flowers in spring; varying types of blooms |
| Pruning | After blooming, use sharp scissors or tool to cut off stalks. Gently rotate dying or dead leaves to remove them from the stalk. |
| Repotting and Propagating | Many ways to propagate; use leaves, stems, and even bloom stems to propagate. Can use seed as well. Always repot into well irrigated soil. |
| Poison Guidelines | It's not a good idea to eat these plants, however they are not poisonous. |
Origin and History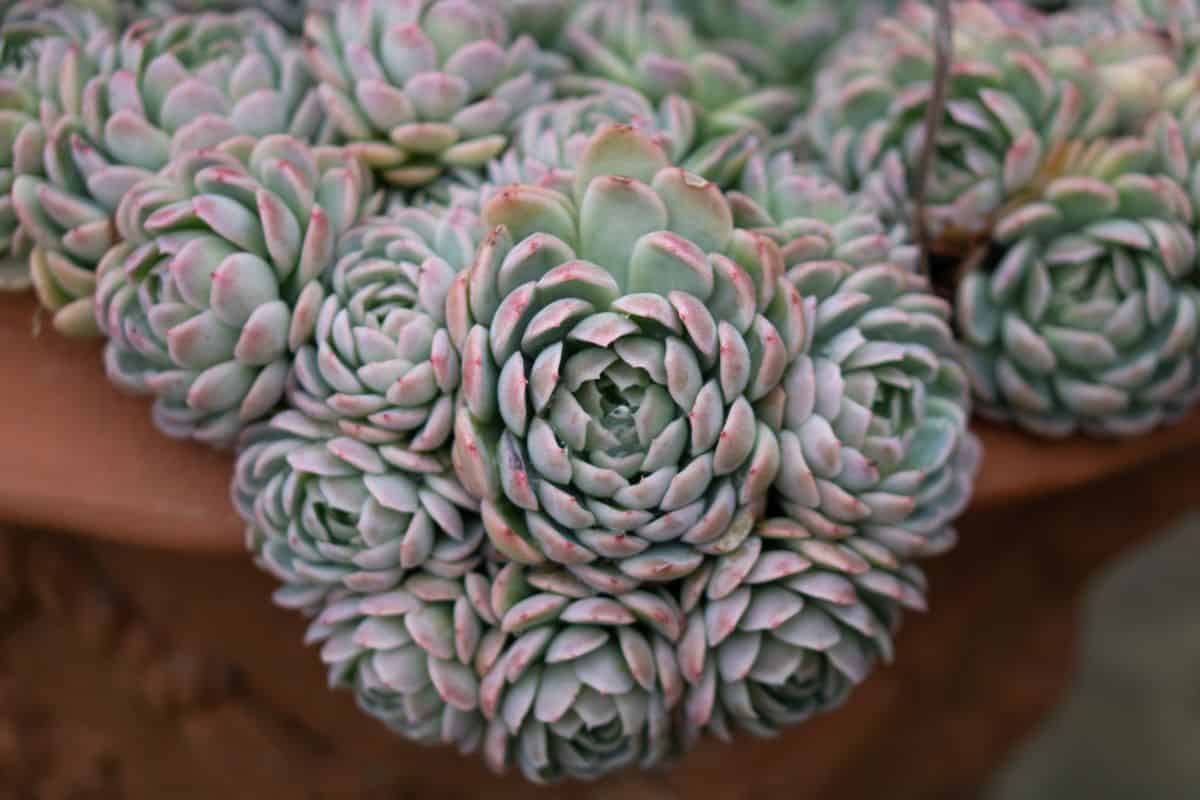 Buy it from:
Echeveria elegans originates from the eastern sate of Hidalgo and the Pachuca mountains. In some places it is used to hold tiles in place on rooftops. There are even legends of the Mexican snowball being planted as a border to ward off evil spirits.

Most of the variations that we see today are hybrids from the original Mexican Snowball. These hybrids and even those bred to be bright and even more colorful grow well in sunny areas. In fact, what keeps each species from staying a light blue-green is the amount of light that any flowering echeveria elegans succulent is exposed to.
Bestseller No. 1
Bestseller No. 2
For example the Echeveria elegans raspberry ice matures into spoon shaped leaves that are mainly blue/green but then the edges of the leaves turn a gorgeous light pink especially when they are exposed to enough sun. These variations from raspberry ice to
Types of Echeveria
Whether or not you have an Echeveria elegans that is blue or a flowering Echeveria elegans, there are several more within this genus that look very similar to the Echeveria elegans rose pattern.
The wonderful variety of this genus has led to the development of hybrids of the original Mexican Snowball. Now, the different species of echeveria such as those that look like a light ghostly blue echeveria elegans are from the original Mexican Snowball. Over time and through selective breeding, the other types of echeveria emerged.
From undulating leaves of the Mexican Hens and the Alta May to the hairy leaves of the Doris Taylor, there are several mutations in the plant that developed over time. There's even the gorgeous Black Knight and Black Prince that are such a deep purple they seem almost black.
Start with the snowball Echeveria elegans to get a feel for the plant and then take off into the many adventures of the different types of echeveria.
How to Take Care of Echeveria elegans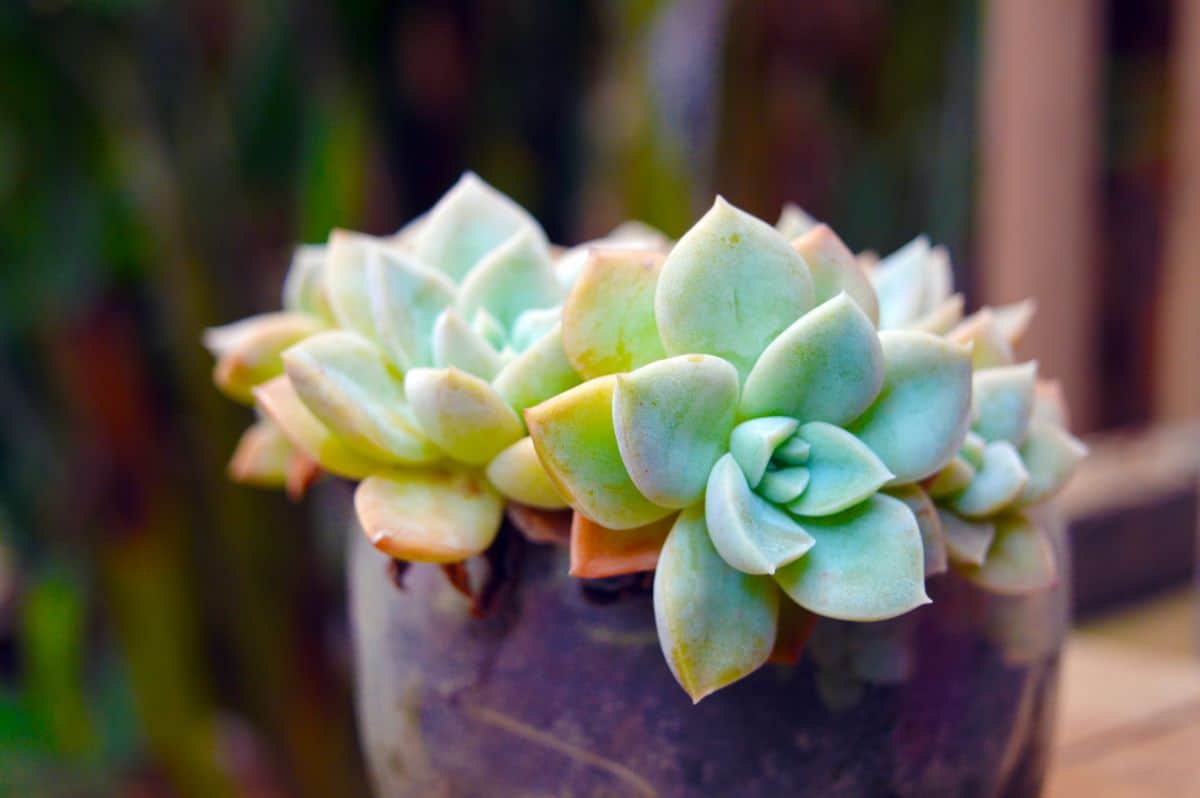 Fortunately, echeveria are incredibly easy to grow. They give visible signs of stress that are easy to fix, grow in drought prone areas, don't require much attention, and still add adorable variety to your garden. Here, we'll break down the quick facts to give you great details to help you start your own hens and chicks army!
Light, Growth Patterns, and Basic Care
One of the biggest factors of taking care of echeveria elegans or other echeveria's is light. In order to keep their beautiful blue, purple, pink or even red hues, echeveria have to be exposed to direct sunlight. This is something you can even experiment with: if you have a colorful echeveria, slowly bring it inside over time and note how the echeveria returns to the light green of the original Mexican snowball.
While each type of echeveria can be grown inside, it is much better for them to be grown outside in direct sunlight. These hardy plants are drought hardy, but not so much on the side of cold. If you do decide to grow your echeveria outside, it's a good idea to put them into pots that are easily transferred from outdoors to indoors.
Light also plays a huge roll in how hens and chicks grow and how they bloom. If you want to see the beautiful, delicate blooms of an echeveria with their bold yellow and pink hues, then it's best to place the plant outside. Additionally, if you want a healthy echeveria with a perfect rosette, letting them grow outside in the sun will encourage proper and healthy growth.
Something to watch out for is your echeveria elegans growing taller than normal. Usually, this is a strong indicator of incorrect soil, watering, and even not enough light. If worst comes to worst your plant may even send out death blooms! If you see a single stalk growing out of the middle of your echeveria, it may be time to go ahead and propagate the Echeveria elegans.
Soil Type and Water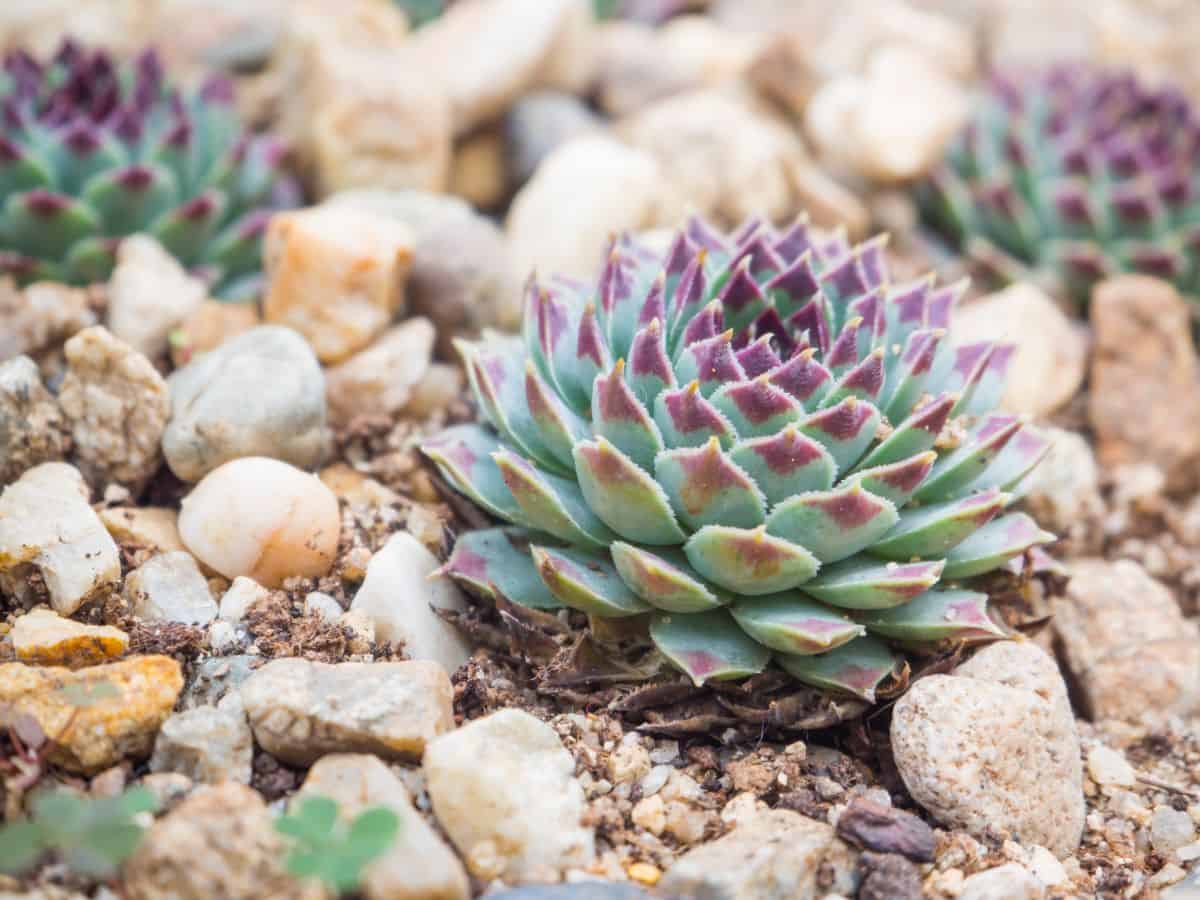 Probably one of the biggest questions that many succulent owners and newbies have is, how often do I need to water my succulents? What often happens is overwatering and a lack of well irrigated soil. The best way to make sure that water isn't a problem is to have the right combo of perlite, soil, and rocks.
Some people use a 1:1 ratio of perlite and soil, however the best success is usually seen when garden gravel is used in the mix as well. Keep in mind their natural habitat: sandier, rockier soils with infrequent rains and direct sun. As the plant parent, you have to mimic that environment. Once you have the right type of soil, its time to water.
So, how often do you water an echeveria elegans?
Make sure the soil is dampened all the way through and that the pot that you use isn't porous (like terra cotta). Once you have those two items complete, water the echeveria elegans until you see some water dripping through the drainage hole at the bottom of the pot.
Depending on where you live, you may have to check your succulents daily to see if they need more water. In other locations, it may take a few days for the soil to completely dry out. Again, the soil must be completely dry. If it isn't, you risk things like root rot, overwatering, and even death!
How Big Do Echeveria Get?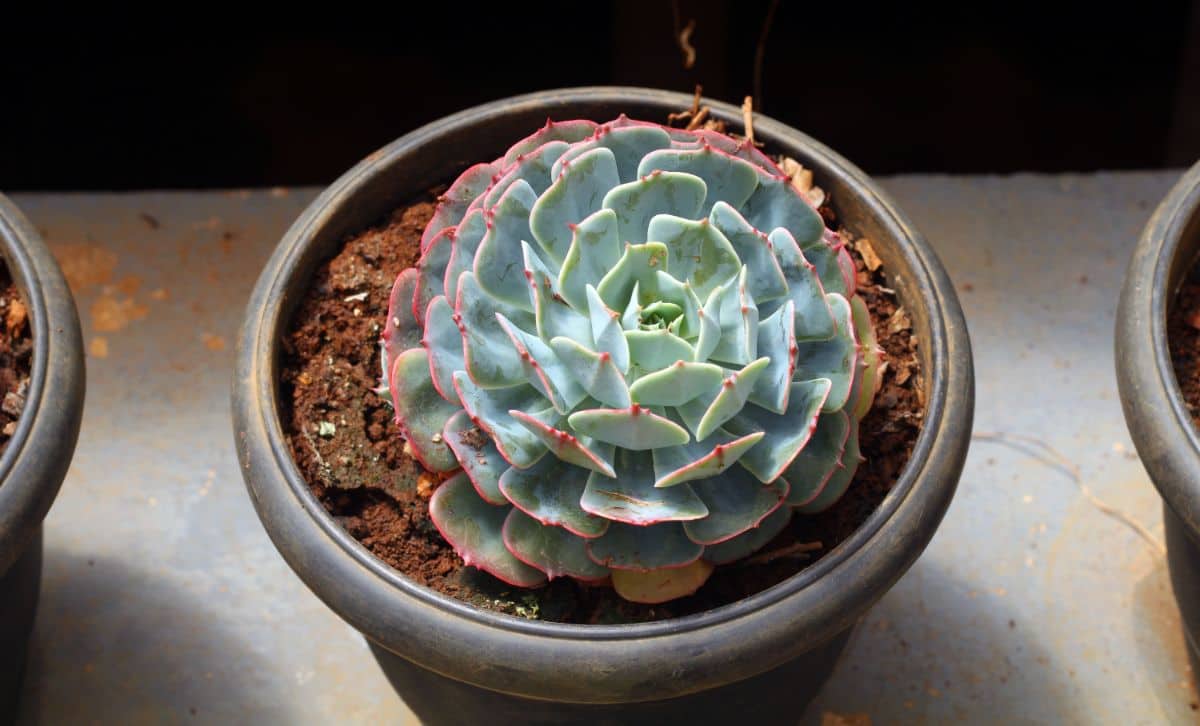 This is a difficult one to nail down. Echeveria elegans grows to roughly 6-8 inches tall. There are others that grow much larger and look like bowls. There are even the mini echeveria that won't grow any larger than two inches in diameter; they're really cute!
Another thing to consider with size is blooming stalks. Blooming stalks reach high above the echeveria so it's a good idea to give them plenty of space above them so that you don't block their blooms.
How to Propagate Echeveria Elegans
One of the best parts about taking care of any type of echeveria is that you can consistently propagate your little hens and chicks for free! Like most succulents, you can use a leaf to grow a new succulent, however Mexican Snowballs and most other echeverias have a distinct feature of growing little "pups" or "chicks".
The chicks usually pop up underneath the "hen" which is what gives the Mexican Snowball its other name, hens and chicks. Gently twist off the chick from the main stem and place it in moistened soil that's made of the mix discussed above.
Option number two is to gently pinch and twist a healthy leaf from a parent plant or hen and laying the leaf in your soil mix. Mist the leaves daily and after about three to four weeks, small little roots should begin to appear. Leave the leaves in the mix until you start to see tiny hens emerge. The leaves from the parent plant will start to wilt and once they have fully wilted, then it's okay to transplant the new echeveria to it's own pot.
The last two methods of propagation are taking the bloom stems once they have finished blooming and planting those. Or, if you have multiple echeveria and a high probability of fertilized seeds, toss the bloom stems with their flowers still on and shake them in a quart plastic bag. The seeds of this species are so tiny they look like dust particles so be careful when you plant them and when breathing as you open the bag.
Conclusion
Just about every gift store, grocery store, garden store and the odd pharmacy have some sort of echeveria that you can buy. When you start to dive further into the many species that have come from the Mexican snowball, it is best to look for specialty shops such as those on Etsy or other online shops. You can even check out Amazon or online succulent stores too such as Mountain Crest Gardens.
Echeveria elegans is extremely easy to grow and take care of: it's the beginners choice, but even advanced succulent parents can benefit from the variety in this species as they are wonderful accents to other succulents. Make sure that your soil, water, and light conditions are on point and you'll soon find adorable hens and chicks ready to be planted everywhere!