A quick scroll through the succulents posted on Instagram reveals a curious thing: anything from vintage teacups to old pots can be used as a succulent container.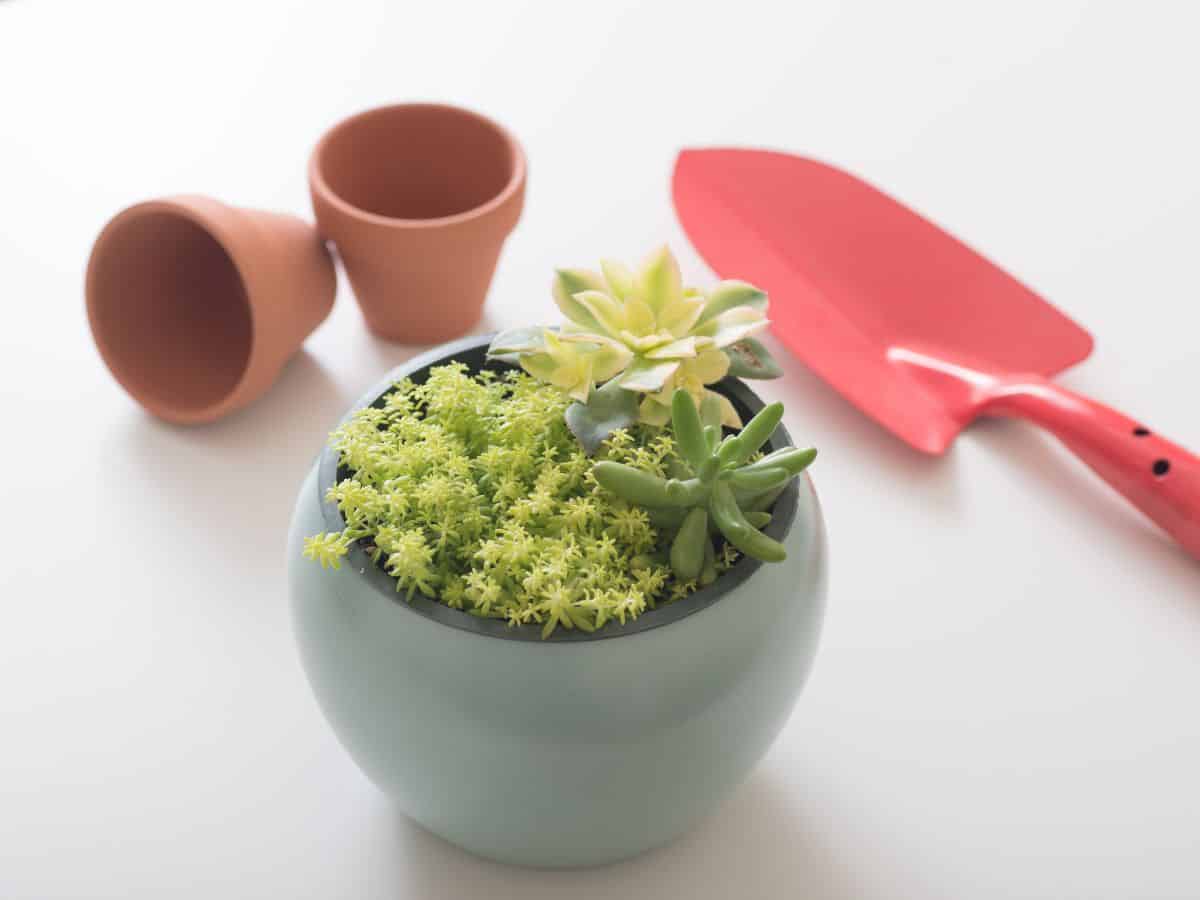 However, it is important to remember that while cute, there are still more advantages to using succulent pots with drainage. It won't just make caring for succulents more low maintenance, but it will also keep your plants healthier and happier.
Hence, allow us to share with you the best choices for such containers. This way, you'll have one ready the next time you need to pot or repot your babies.

Jump to:
Do You Really Need Succulent Pots With Drainage?
One thing that makes succulents so popular is that they can tolerate a bit of neglect. That's because most of them are drought-resistant.
However, this also means that they can't tolerate prolonged moisture, such as what happens when you water a plant in a container without drainage holes.
After all, where will all your excess water go?
Indeed, some techniques can help in caring for succulents in pots without drainage holes.
Pulling them off successfully will require more experience and careful attention, though. Otherwise, you will be risking your plants to root rot and even death.
Best Succulent Pots With Drainage
1. Leaf & Clay's Mateo Pot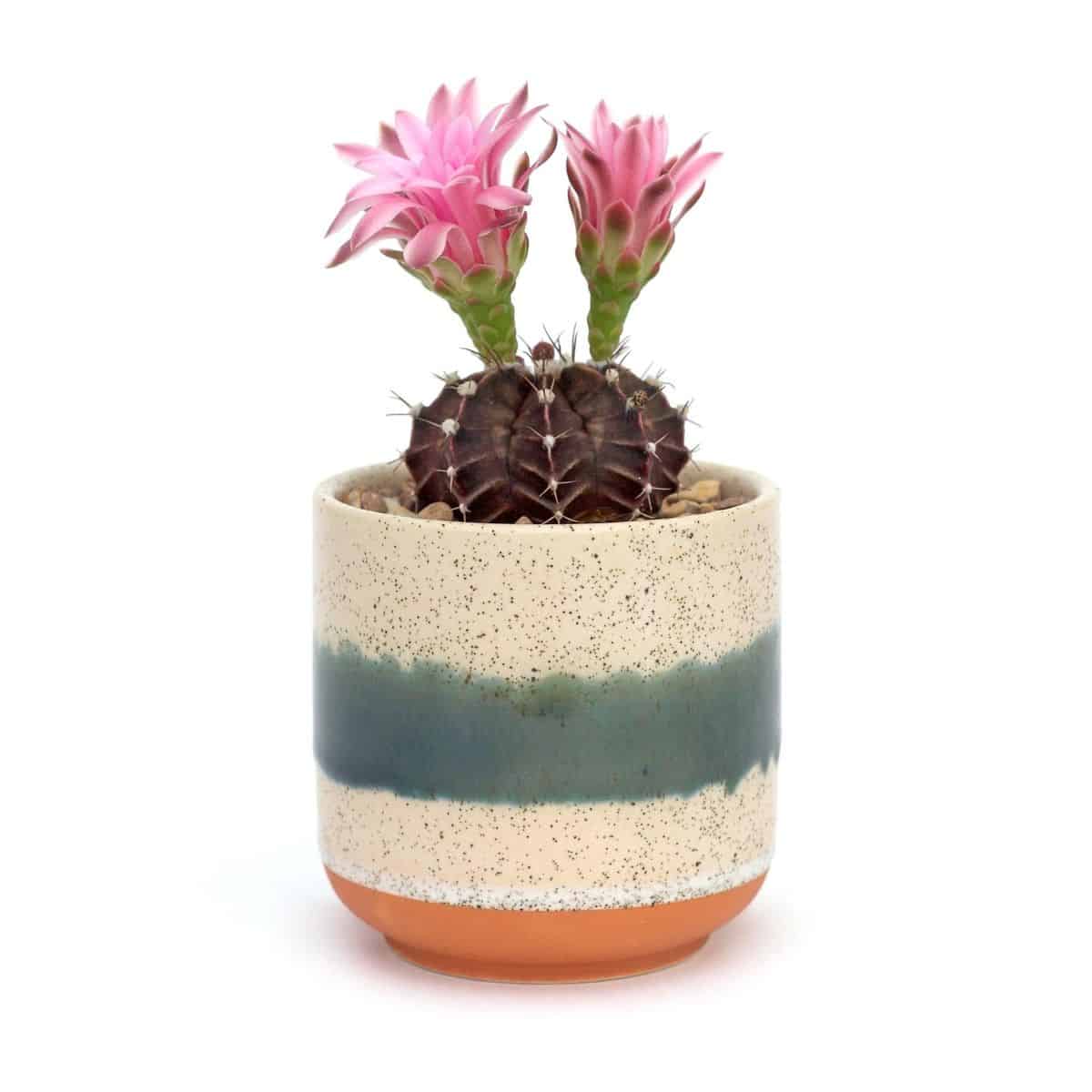 One of the reasons people risk planting their succulents in pots without drainage holes is they simply can't find one that meets the aesthetic they're going for.
Are you looking for something that gives off a rustic vibe similar to using a teacup? If so, you'll love this glazed ceramic planter by Leaf & Clay.
It comes in two sizes: 3 x 3 inches and 4.25 x 4.5 inches.
Of course, the one you'll choose will depend on your plants' size and preferred arrangement.
In addition, its material is also known to be cooler and more porous.
This feature can add extra protection to your plant to prevent getting burnt by the sun or completely drying out.
Finally, you'll love that it comes in an ocean blue and beige patterned design. It gives off a very Asian and minimalist vibe.
It can also work for rustic and Boho interiors or if you just want a pop of color in your zen garden.
2. Planet Desert's Faceted Deco Bowl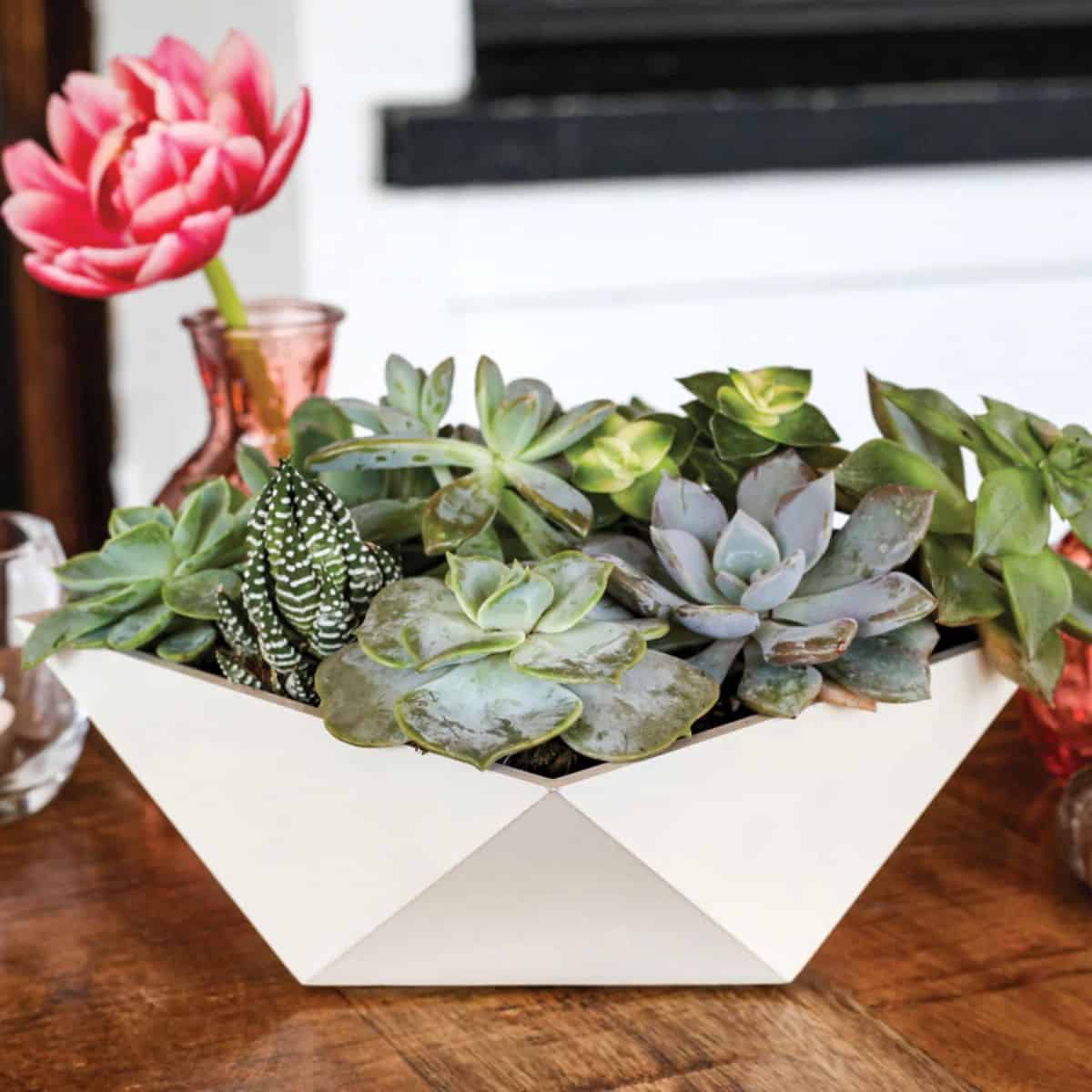 Speaking of a minimalist aesthetic, here's an angular planter box that might pique your interest.
This Planet Desert product comes in plastic, but it can perfectly mimic ceramic and concrete.
This succulent planter also comes in three colors: white, gray, and taupe.
It is a unique piece not just because of its non-fragile material but because of its interesting shape.
One of the most common worries when planting succulents in pots made of plastic is fading.
That's why this succulent planter has a special anti-fade finish.
We highly recommend this planter for pet parents and families with young children.
Bestseller No. 1
Sale
Bestseller No. 2
There's nothing more worrying than having broken shards of glass on the floor.
What we love most about this succulent planter is its size, though.
It is six inches long and 2.45 inches deep. As such, it can accommodate an entire arrangement of succulent plants.
That said, filling it with plants will clearly require more watering.
Fortunately, that won't be an issue since it comes with a wide draining hole at the bottom.
3. Mountain Crest Garden's Fruit Pot & Saucer Set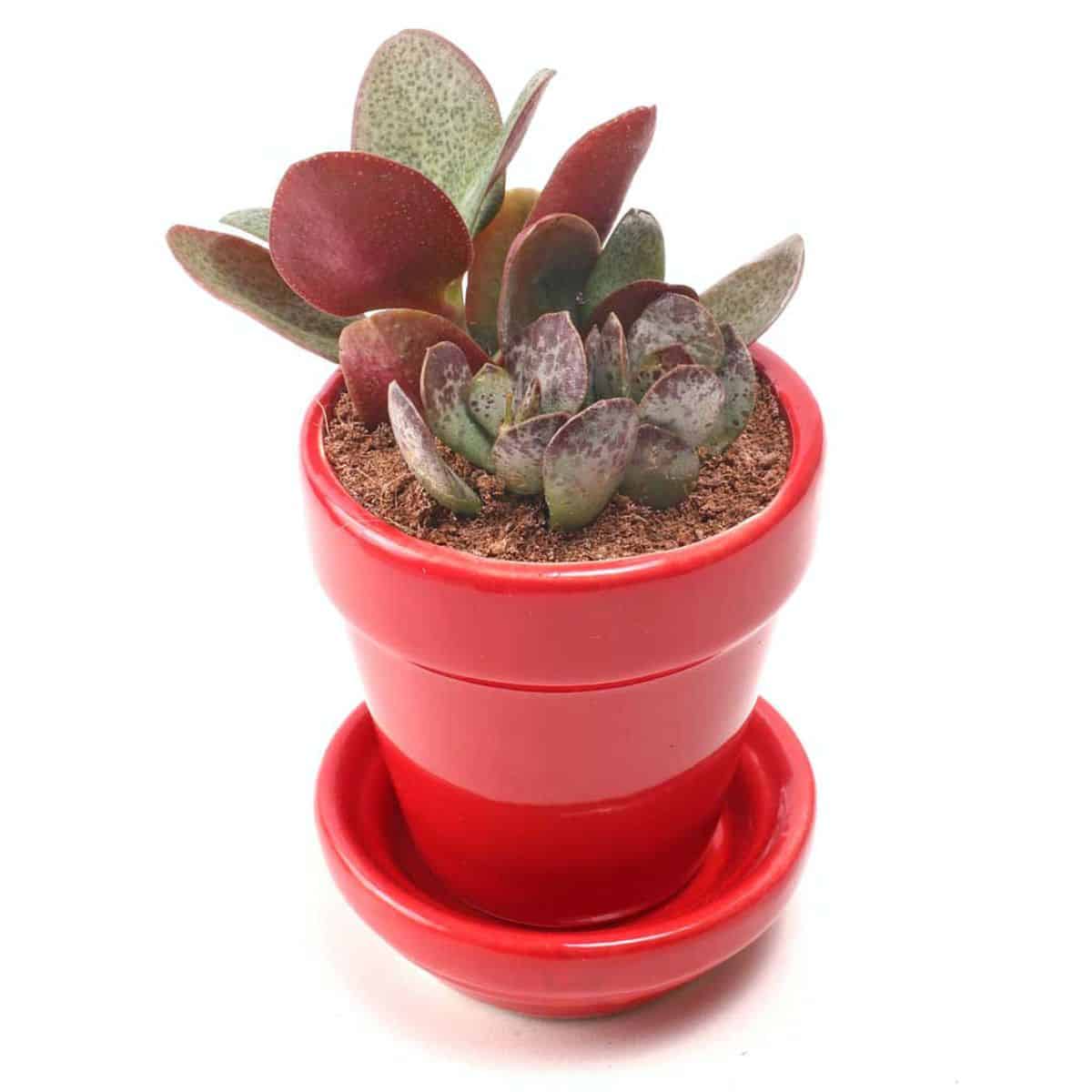 Planting your plants in a single container, even one with a big drainage hole, can still lead to drainage issues.
That is due to varying factors, such as the type of soil used, the number of plants in the container, and the position of the drainage hole itself.
Hence, you might want to get individual pots for succulents instead.
This way, you can ensure enough drainage holes for your plant's needs.
For that, we recommend Mountain Crest Garden's Fruit Pot & Saucer Set.
Each pot with drainage holes can efficiently get rid of excess water, keeping your succulents happy and free from root rot.
You won't even have to worry about accidentally pouring extra water this way.
For pot size, each one is three inches wide and almost four inches tall, so it can comfortably fit one succulent plant.
These pots also come with drainage trays, so you won't have to worry about leakage.
Finally, those who enjoy bringing a pop of color into their container garden will appreciate that they come in multiple colors.
They come in red, orange, yellow, green, and dark blue. They will truly match any of your plants perfectly—something you can't achieve easily with other succulent and cactus pots.
How To Choose Succulent Pots With Drainage
The containers we have shared above are just some of the amazing variety of options you have when choosing a planter for succulents.
Hence, allow us to share with you the different factors you should consider to make a more informed decision when choosing the ideal pots for your plants.
1. Material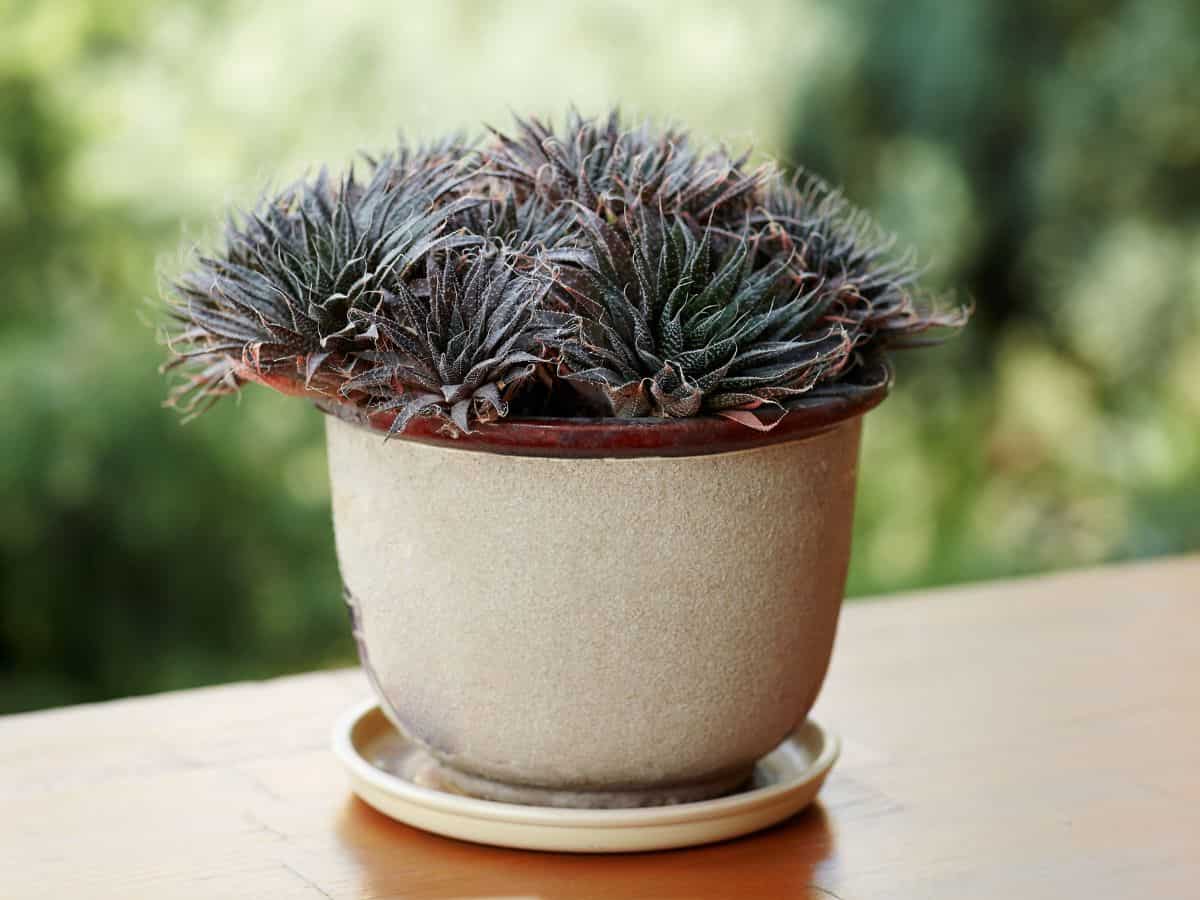 The first factor that you should consider is the material that your planter is made from. For instance, you might have noticed that the pots for succulents we shared above are made of different materials, namely ceramic, metal, and terra cotta.
There are other types of pots out there, such as plastic and glass. You can even use wood, especially if you use a plastic cover to prevent it from decomposing.
We have a beautiful driftwood planter made this way. We just poked drainage holes through the wooden base and the plastic itself to allow excess water to escape.
Knowing the material your succulent pot is made from can determine how much moisture the soil will retain.
A porous material, like terra cotta, will allow air and moisture to seep out. That won't be the case when using plastic and metal. Speaking of which, metal containers also tend to heat up more compared to other materials such as wood.
As such, it would be unwise to expose it to direct sunlight. Not only will your plant dry up faster, but it can risk its delicate roots from getting burnt up.
You can check this quick guide on how to choose containers for succulents for more information on each material.
2. Pot Size
Another factor to consider when choosing planters for succulents is their size.
A larger container will be able to accommodate more soil and thus water. Just make sure that your chosen planter for succulents has sufficient space for the number of plants you intend to put in it.
It should also have enough space between your plant and the bottom of the pot to give its roots some room to grow. Otherwise, you can stunt their growth significantly.
Some people actually prefer this to keep their arrangements looking great for a longer period of time.
On the other hand, we prefer giving our plants a lot of room to grow. That's why we usually opt to give individual succulents separate plant containers.
3. Soil
Soil is another factor you must not overlook. Using a well-draining soil mix is ideal to prevent water log.
Having multiple drainage holes won't work if you have muddy soil. There are soil mixes specifically formulated for succulents that you can purchase.
A cactus potting mix will work just as well. You can mix your own well-draining potting soil as well.
4. Watering Techniques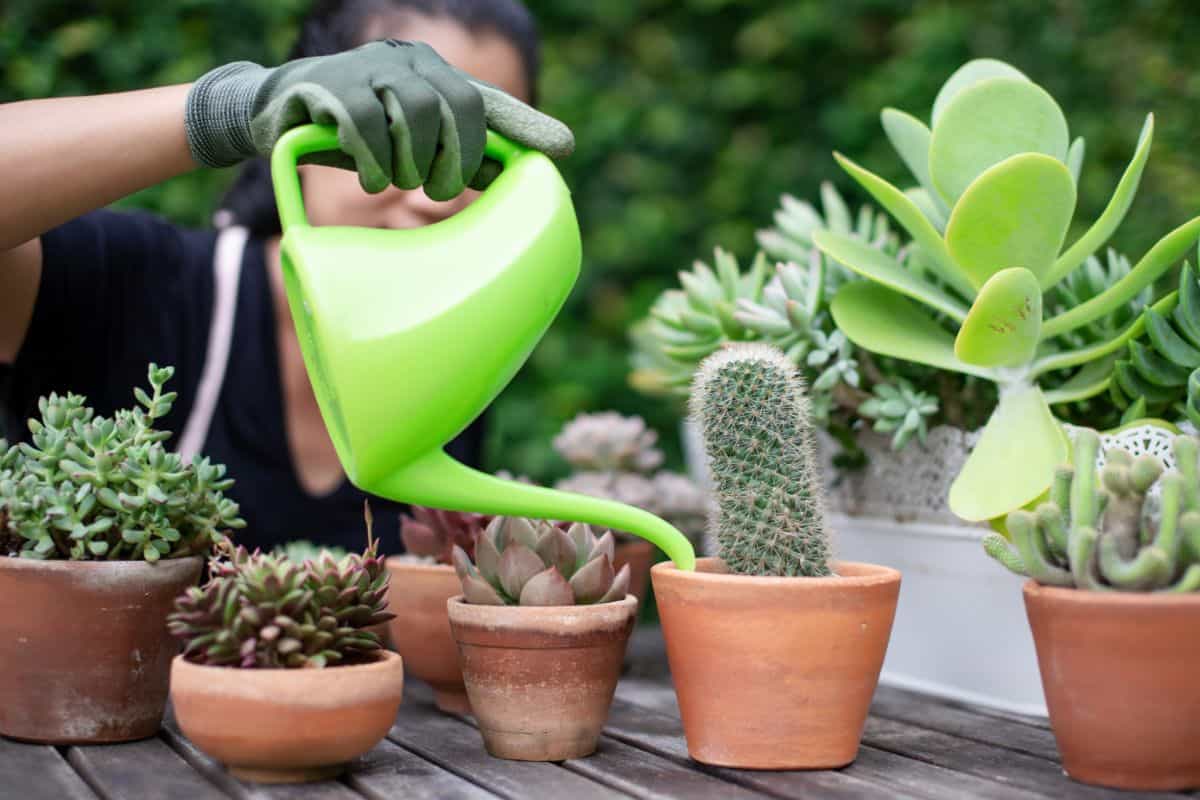 Regardless if your chosen pots have adequate draining or not, another method to prevent root rot is to refine your techniques when you water succulents. This is especially crucial if your succulents are in a non-draining pot.
Some growers refer to a cheat sheet to determine the right number of days between watering. Meanwhile, others use tools such as a spray bottle or a squeeze bottle in order to control the amount of water they provide to their plants.
These methods can be tricky, especially for beginners who have yet to develop their plant intuition.
Hence, as a rule of thumb, we usually water our succulents until the excess water seeps out at the bottom of the container, then wait for the soil to dry out before watering again. You can also refer to our succulent watering guide for more information.
5. Lighting, Heat, and Temperature
Finally, don't forget to consider the other factors such as lighting, heat, and temperature. They can also determine how much water your plant needs and whether or not they'll be able to survive even without proper drainage.
Can You Use Containers Without Drainage Holes?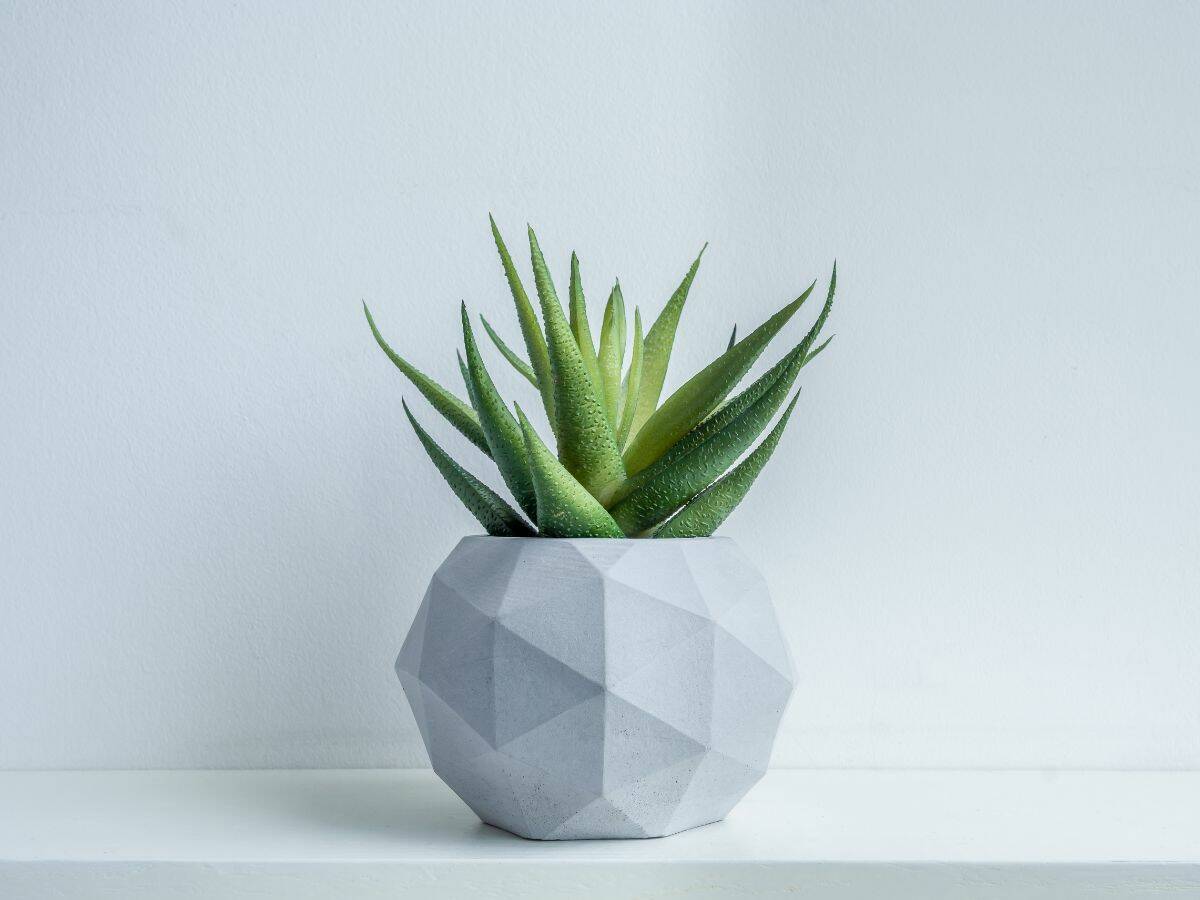 As we have mentioned above, it is possible for a succulent to thrive even when planted in a container without drainage holes. There are two steps that you can take.
First, you can create a drainage layer below the soil to give excess water a place to escape to after watering. There are different materials that you can use to make this drainage layer.
Most people use a layer of pebbles or a layer of rocks, thanks to their porosity. Lava rock and activated charcoal can help as well.
You might want to keep a paper towel handy during watering. You can use it to dab and absorb any excess water that has puddled atop your plant.
Second, you can always drill a hole underneath a non-draining pot. We personally prefer this method better as it eliminates the need to guess whether there's a pool of stagnant water inside our pot.
Succulent Pots With Drainage FAQs
1. What type of container is best for succulents?
You can use any container with the right size and adequate draining holes for succulents. While possible, we don't always recommend using pots without holes.
If you really want to use one or are left without any other choice, please feel free to refer to the steps we have shared above.
2. Can you plant succulents in just rocks?
No, succulents can't live on rocks alone. They need a soil medium in order to grow happy and healthy.
Planting your plants directly on the rock will eventually result in their death. You may only use rocks as a drainage layer underneath the soil to give some space for excess water to drain to if you've used a non-draining pot for your plant.
3. Should I put rocks at the bottom of my planter?
Placing rocks at the bottom of your planter is an adequate technique if you'll use a non-draining pot. That said, it is still ideal to use a pot with drainage holes whenever you can.
Ensuring Proper Drainage
Indeed, taking care of succulents can be easier compared to other plants. It doesn't mean, though, that they don't have needs to survive and thrive.
Ensuring that they get adequate drainage, for instance, is one of them. There are different ways to ensure that your succulent doesn't get waterlogged and fall prey to root rot.
Using succulent pots with drainage can help immensely. Keeping the tips and tricks we have shared with you in this guide can also help.
Happy gardening!