Succulent plants, or simply succulents, have become one of the most favorite plant types among home gardeners.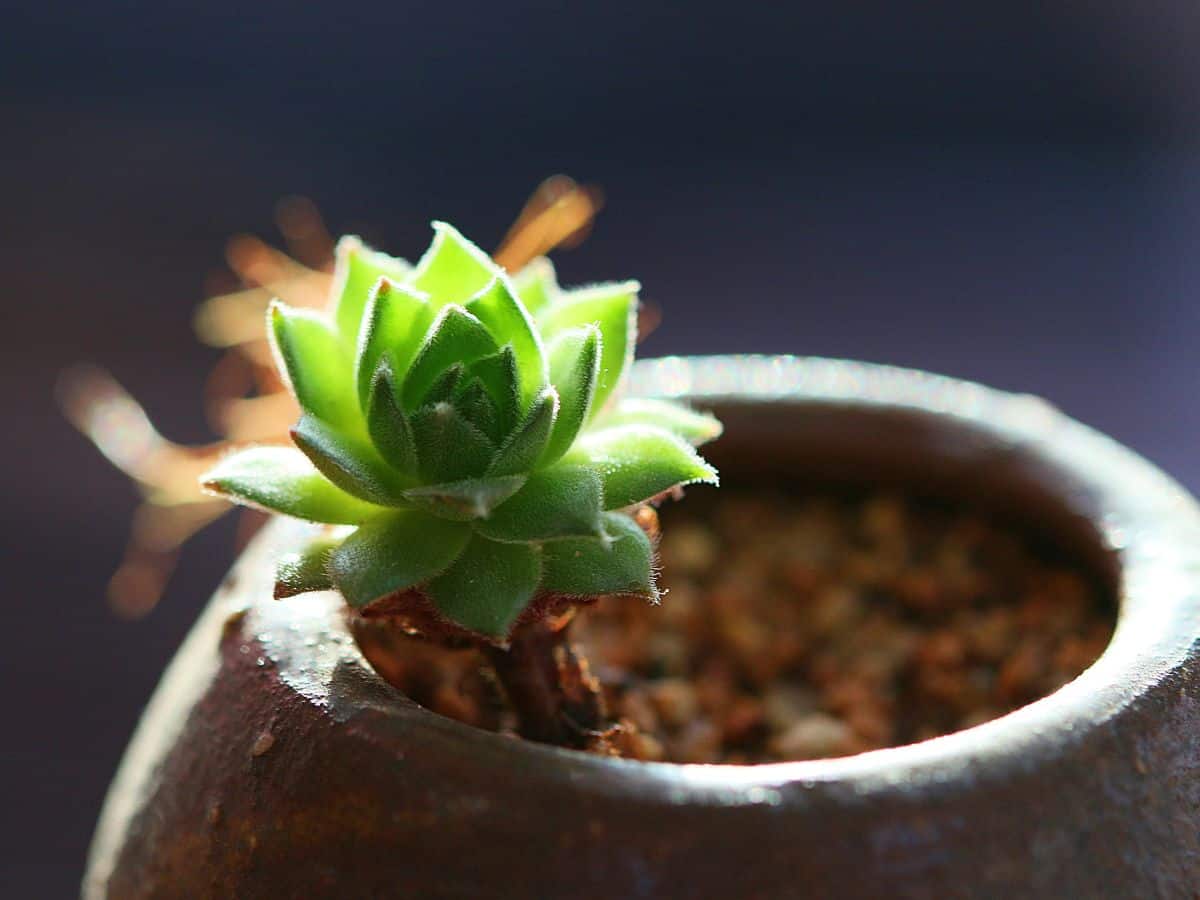 Because why not? These wondrous jade-like beauties have been known to be easy to care for and pest resistant.
If they're pest resistant, however, do succulents attract bugs? If so, what are the proper ways to prevent our beloved plants from harmful insects that see them as sources of food?
Worry no longer because today, we'll teach you how to prevent your succulents from being infected, better ways to protect them from common pests or common insects, and easy ways to remove them from your succulent plant.
Jump to:
Do Succulents Attract Bugs?
The quick answer is yes, succulents do attract specific types of bugs. With the high water content of your succulent, chances are these harmful pests would want to suck your plant dry.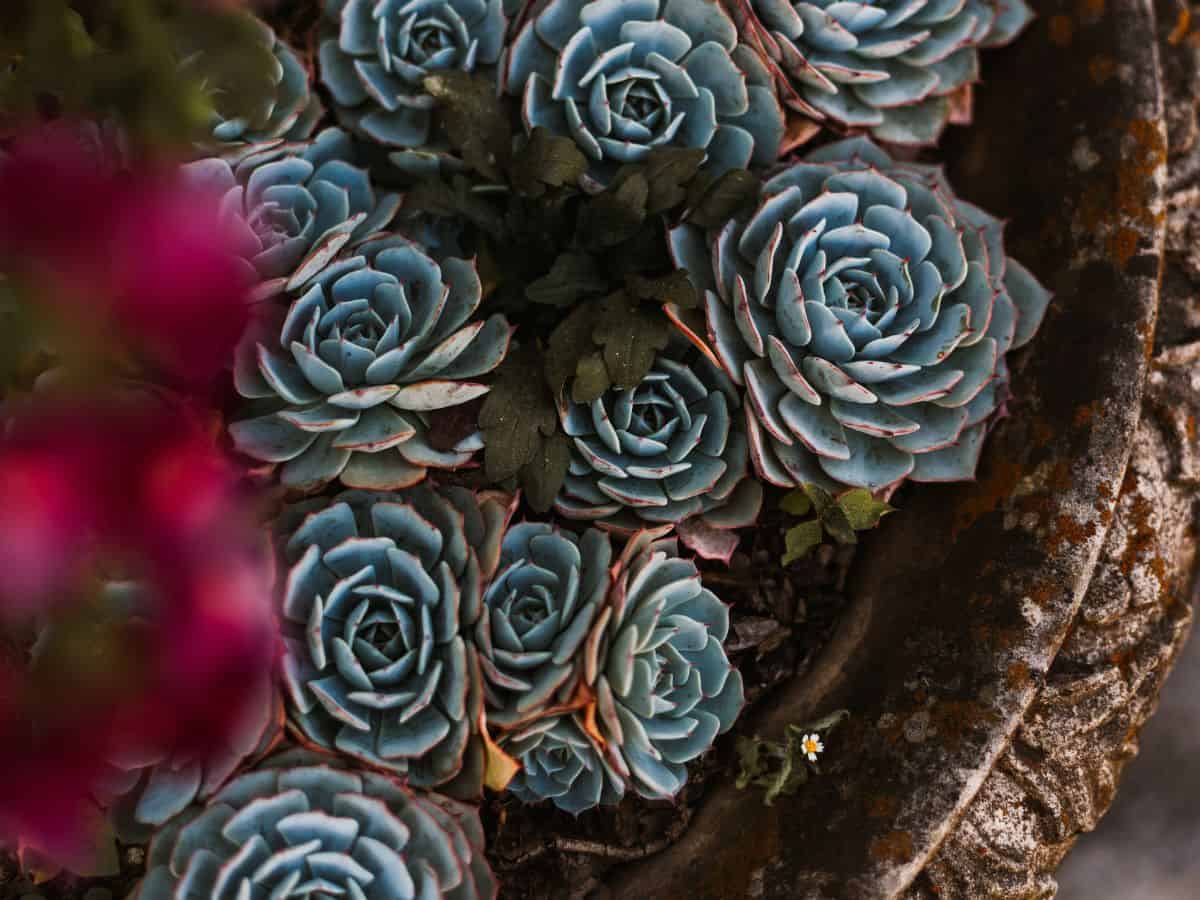 Why Do Succulents Attract Bugs?
As with all parasitic relationships in nature, bugs are attracted to their "hosts" because of their given benefits. In the case of the succulents, they can serve as nourishment and shelter to their "parasites" to their detriment.
This nourishment can typically be the saps and other fluids that come from the watery constitution of succulents.
Top Bugs That Succulents Attract and Ways to Remove Them
1. Fungus Gnats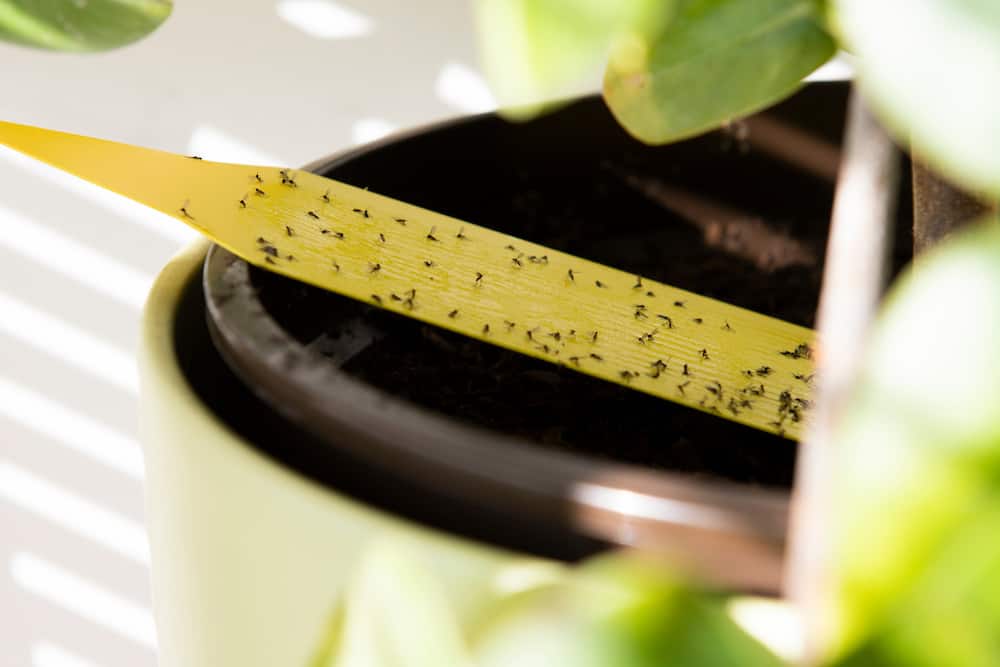 If you see tiny black fly-like insects hovering around your succulent plant after watering them, your plant may be attacked by fungus gnats. There are two common families of fungus gnats, which cause damage to plants.
Gnats from the family Cecidomyiidae mostly eat plant tissue inside the abnormally enlarged tissues called galls, while some eat fungi. Those from the family Mycetophilia are mostly attracted to the fungus developing around overwatered plant pots.
Adult gnats from this family are typically harmless as they feed on flower nectars, making them pollinators. They feed on fungus and nectars. They are only a visible sign of the ongoing attack underneath.
What you should be wary of are their larvae since those feed on the roots of your succulents. They also eat organic matter that would have otherwise been fertilizers for their hosts.
Getting Rid of Fungus Gnats
To ensure that your plants remain free from fungus gnats, you should limit your succulents' watering sessions to only when they need it.
Wet soil is the main attractor of fungus gnats, and the regularly moist soil surface makes it susceptible to fungal growth that these gnats are mainly after as adults.
You should also try using cinnamon as a natural pesticide for these pests. Sprinkling cinnamon powder or straight up shoving a cinnamon bark stick into the soil helps drive out these gnats since it will destroy the fungi they feed on.
Don't put too much, though, as it might ruin the soil's pH balance. Just use enough amount to cover the area thinly.
You can also use white vinegar or apple cider vinegar to kill and deter fungus gnats. Just mix six drops of dish soap with ½ cup of warm water and two tablespoons of vinegar in a spray bottle.
Be sure to test it out first on your succulents' leaves by leaving a drop of the solution for 24 hours to ensure that it won't harm your plants.
If your plants don't show negative reactions to the solution, you can try spraying small amounts of it onto the soil and around the area where the adult fungus gnats usually gather.
2. Scale Insects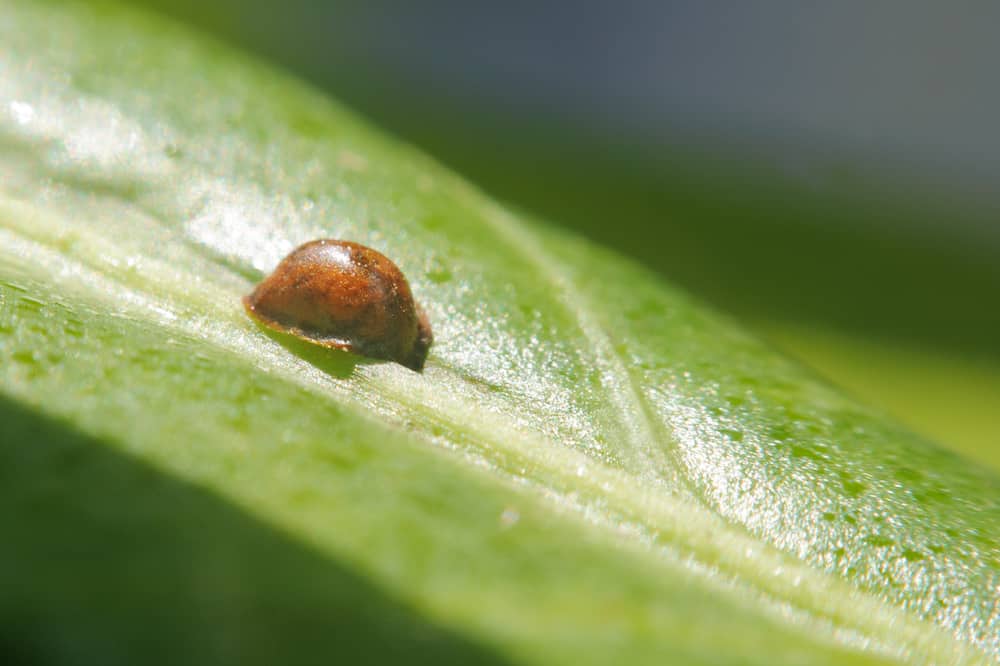 It's fairly easy to identify this type of insect since scale insects look like what they're named after. They're typically those little brown domes on your succulents that can easily be taken off by prying.
Scale insects (superfamily Coccoidea) feed on your succulents directly by piercing their stems and sucking out their sap.
The two most common and dangerous types of scale insects are the armored scale insect and soft scale insect.
While both types have scales that protect them from different types of pesticides and predators, the protective layers of armored scales are not attached to their bodies and do not move once feeding begins.
On the other hand, soft scales secrete a special type of wax that serves as their non-removable protective layer. They can also move from their initial location even after feeding and excrete sweet honeydew that attracts ants and grows sooty mold fungus.
Getting Rid of Scale Insects
To remove scale insects from your succulent plant, you simply need to rub it with a cotton ball dabbed with 70% rubbing alcohol. You can also use a cotton swab dip in the same solution for harder-to-reach areas.
The rubbing alcohol kills the scale insects and makes manual removal easier and less messy.
½ dish soap mixed with ½ water can also be effective. Test it first with a leaf, then spray it on the infected plant.
You could then remove the scale insects easily with a cotton ball or paper towel.
If you're looking for an all-natural way to get rid of scale insects, you can try using neem oil. However, since neem oil can be quite powerful for your plants, you should try diluting one to three drops, depending on the oil's concentration, on one cup of water.
Try it on a leaf first to see if your plant will react negatively. You should also avoid spraying it in the morning under direct sunlight since it could trap the heat and kill your plants.
You could also use this method to remove spider mites.
3. Spider Mites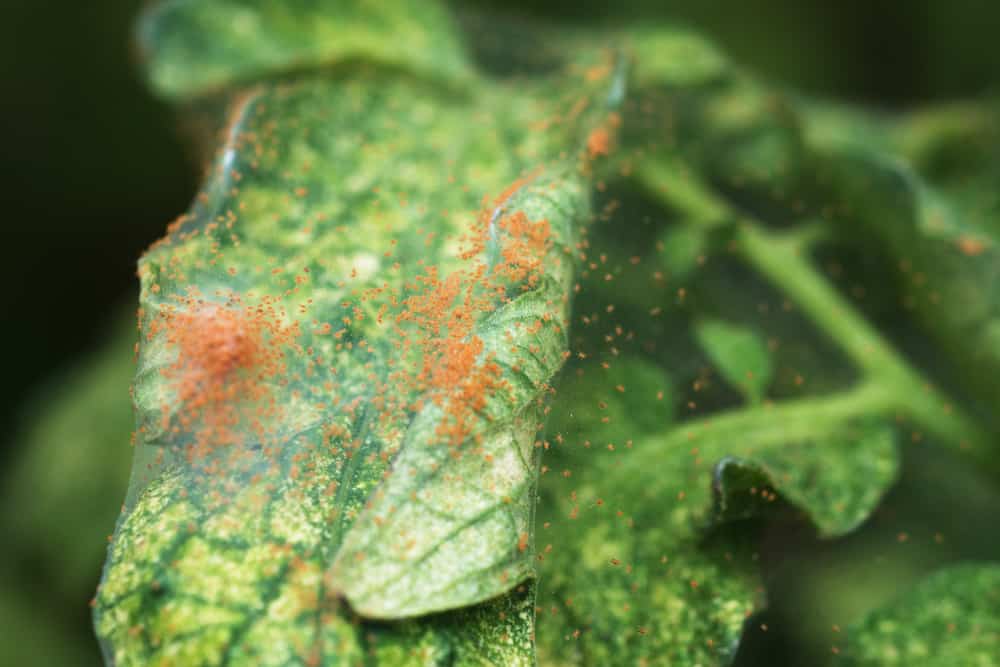 Another type of insect that damages plants by sucking their sap, spider mites from the family Tetranychidae are something you should check for vigilantly because of their small size.
Telltale signs of spider mites are usually seen in your succulent's leaves. Infected plants typically exhibit leaf discoloration ranging from gray or silvery color to light brown or brown color and flecking and scorching.
You may also notice silky webs forming around the plant's stem and fleshy leaves.
Spider mites are often found in warmer months.
Adult females can produce up to 12 eggs daily for a few weeks. These eggs grow rapidly and become fully matured adults in just a week, making the increase in population significantly fast.
Getting Rid of Spider Mites
You can get rid of spider mites by mixing two tablespoons of liquid soap, two tablespoons of cooking oil, and one gallon of water. It's best to use organic ingredients, but non-organic ones will do.
Test the solution on the infected plant's leaf and leave it for 48 hours to ensure your plant's safety.
Once ensured safe, pour the solution into a spray bottle and spray directly to your infected succulent every day until the spider mites are gone. You can also use neem oil in a similar way to how you would use it for scale insects.
4. Mealybugs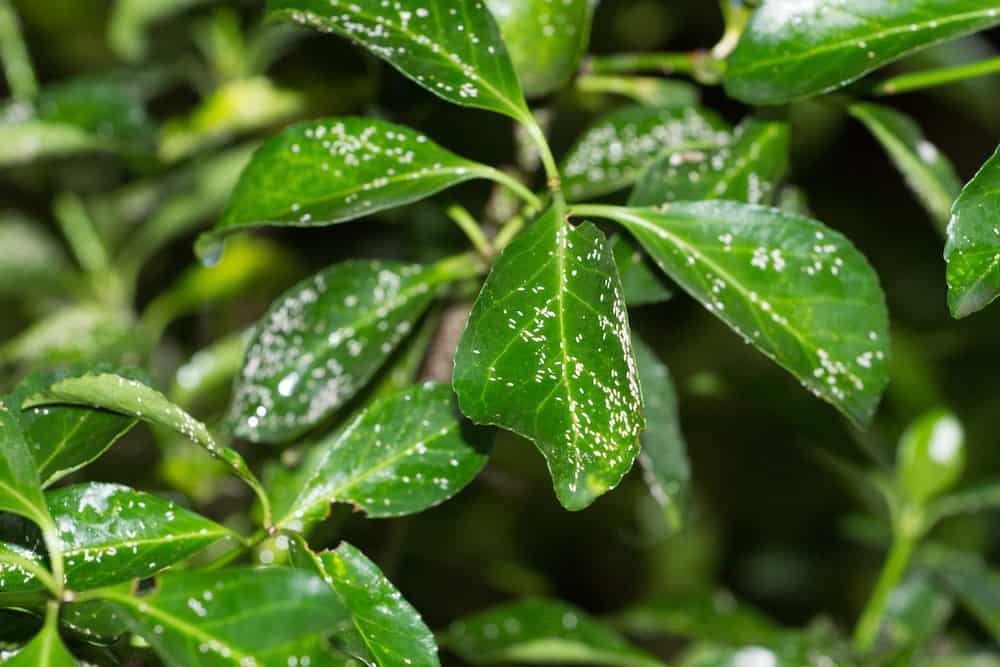 Mealybugs are close relatives of scale insects, just without the scale. Like their soft scaled relatives, they suck the sap of their host plant while also excreting honeydew that grows the same type of sooty mold.
Identifying mealybugs is relatively easy as they have noticeably segmented bodies covered with whitish powdery wax.
Fully matured mealybugs may also sometimes have waxed filaments growing around their bodies. They're also easily spotted. They typically form colonies in protected or hidden areas, such as underneath the green leaves or colorful leaves, branch junctions, and branches on the ground.
Adult female mealybugs can lay up to 200 eggs clustered together within 10 to 20 days. These egg clusters or sacs are usually found alongside the colony.
Getting Rid of Mealybugs
Getting rid of mealybugs is fairly easy as you only need a spray bottle with 70% rubbing alcohol. What's better is that you can even watch as this solution takes effect in real-time.
Again, like with all solutions with chemicals, you should try it with one leaf before dousing the entire plant with it.
Once ensured to be safe, you can do this daily until all mealybug colonies are cleared. Wipe off the excess alcohol along with the affected mealybugs with a paper towel or sponge.
5. Whiteflies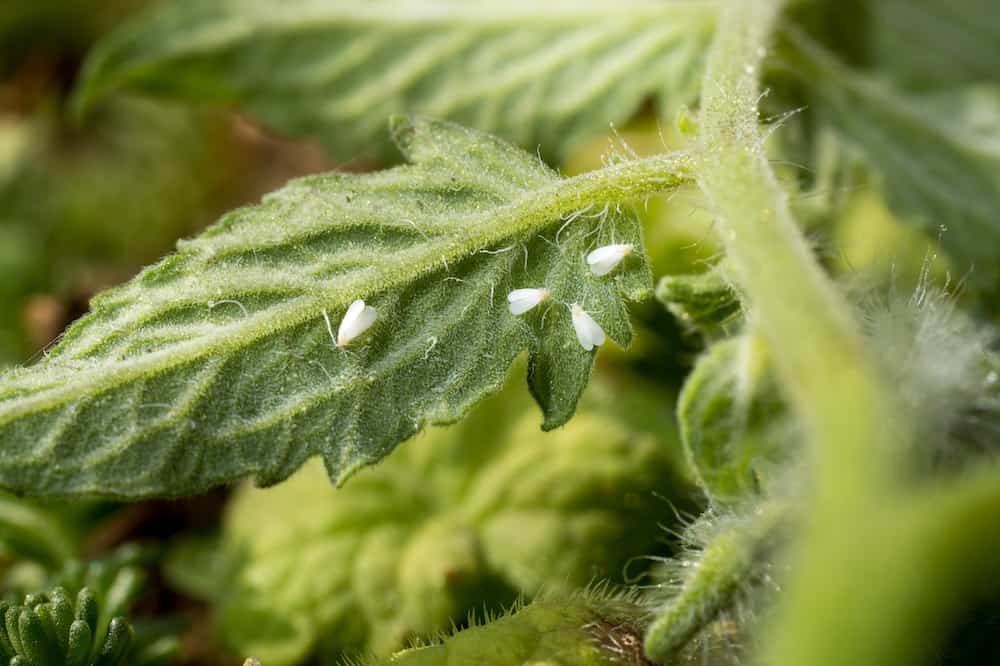 Like scale insects, whiteflies look like what the name suggests: whiteflies. They're usually easy to spot since adults of this species tend to fly around the plant after its leaves or branches are shaken.
Like those listed before, these harmful invaders also suck the sap of your plants from their flower buds and leaves as adults and nymphs causing discoloration and falling out.
You don't have to worry about hardy plants, like most of your succulents, especially if there are only a few. Smaller and younger plants are those that are most at risk.
Getting Rid of Whiteflies
To rid your succulents of whiteflies, you can combine one liter of water with eight drops of dish soap in a spray bottle.
Again, test the solution on a fairly normal leaf on the infected plant first. If all goes well with the leaf, spray the infected plant every day until the whiteflies are gone.
Alternatively, neem oil like that used for getting rid of scale insects and vinegar solutions for fungus gnats will do the trick depending on the availability of the materials.
How to Keep Bugs Off Your Succulents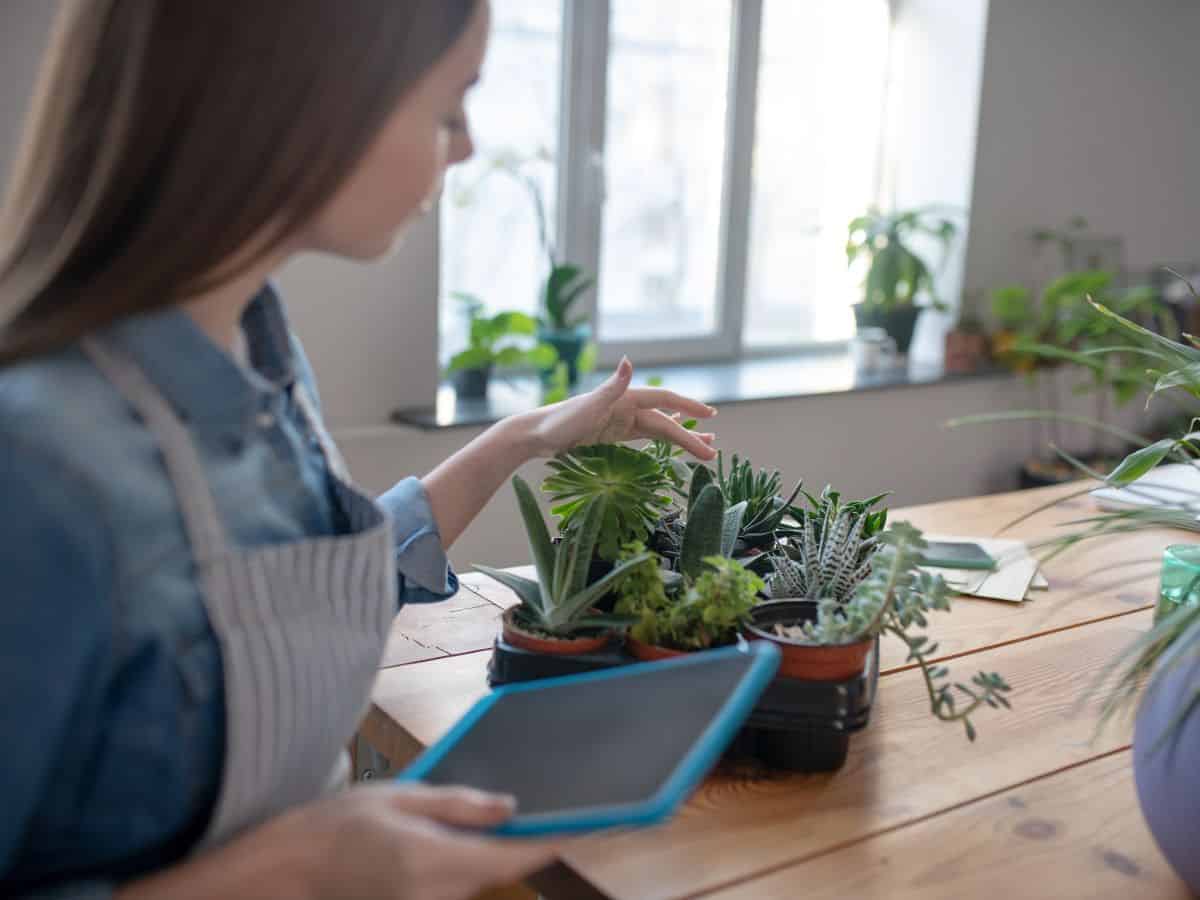 Now that you know the different bugs that may harm your succulent plants and the specific ways to get rid of them, it is your duty as a responsible plant owner to prevent bugs from getting on your plants.
After all, prevention is always better than its cure, right?
1. Check Your Succulents Regularly
To begin with, you should regularly check your succulents to ensure they're all healthy. Plants that are not getting enough care are more susceptible to bugs that can affect their health.
Look for common signs of infestations such as premature leaf dropping, leaf discoloration, stunted plant growth, outright flights, and gathering of insects around them.
2. Remove and Quarantine Infected Succulents
Unfortunately, if you see one of your plants showing symptoms, what should you do?
Pests should be considered contagious, so immediate removal and quarantine of infected plants are necessary to protect your other succulents. Isolation of the infected plant will also help you better monitor and groom it back to safety.
3. Apply Appropriate Countermeasures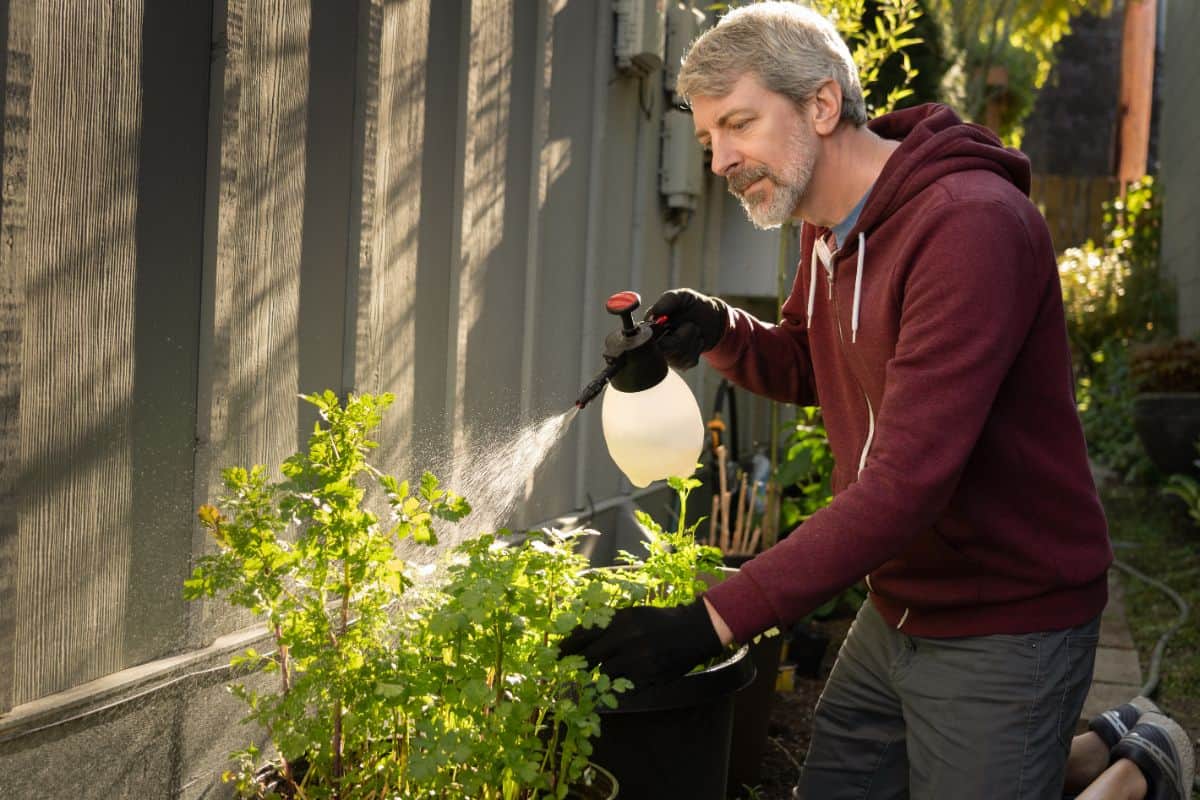 You can treat some infestations differently from others. It is almost always better to go with the organic route, as other forms of treatment may prove to be more harmful to your plants and the environment.
Either way, you should always do small tests before pushing through with the treatment.
4. Try Introducing Beneficial Bugs
If you want to fight fire with fire, or in this case, insects with insects, consider introducing beneficial bugs that protect your succulents.
Predatory insects like ladybugs, green lacewings, and parasitic wasps can effectively control the population of their plant-eating counterparts while not harming your beloved succulents.
Protecting Your Succulents From Bugs
So, do succulents attract bugs? Sure they do, but that shouldn't discourage you from getting into the hobby if you plan on starting.
As we've shown, caring for pest-infested succulents is fairly easy. It just takes a bit of time and effort, as with all things that do for those we love and care for.