If there is one thing to love about succulent plants, it is the fact that there is a unique variety for everyone. That said, the rosette-shaped varieties are almost always what comes to mind when talking about succulents.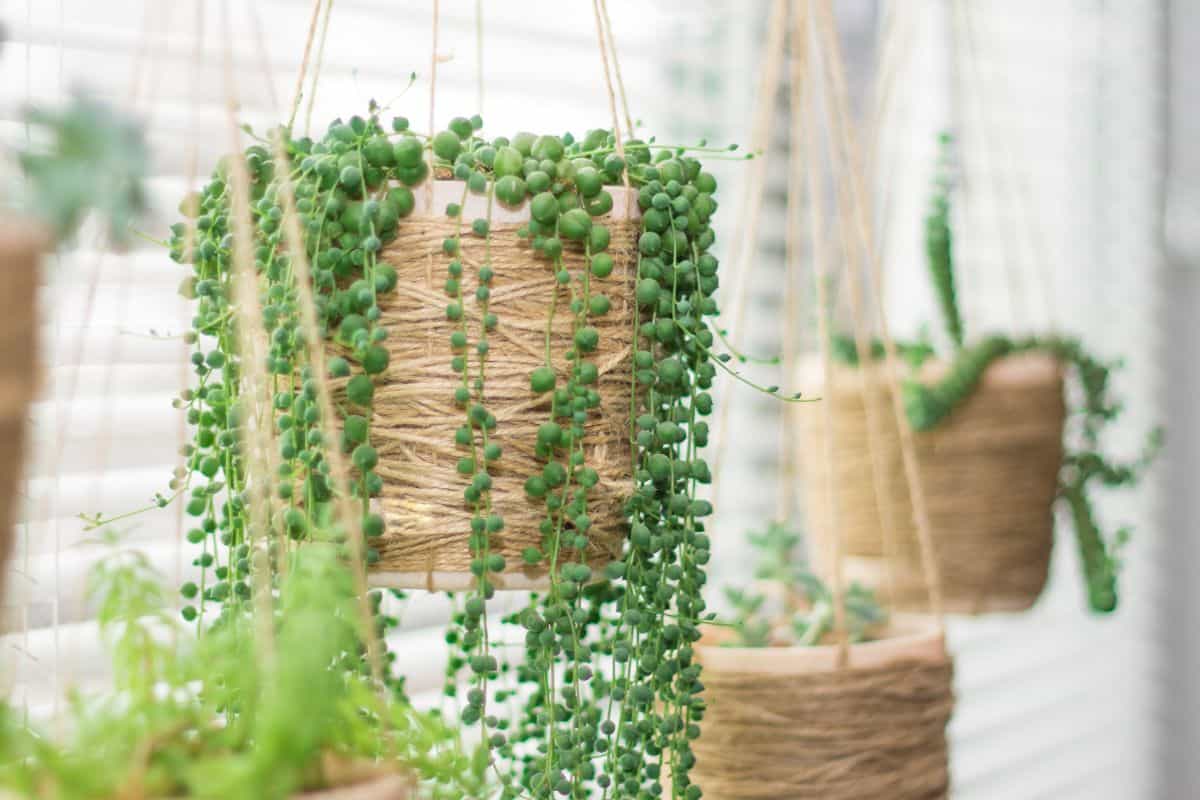 Not really a fan of these popular houseplants? Perhaps you will enjoy growing indoor hanging succulents more. After all, they have this distinct beauty that easily brings to life a dull interior.
Jump to:
Indoor Hanging Succulents: Our Top 10 Favorites
There are plenty of hanging succulents that you can grow indoors, but these 10 will instantly give your space a much-needed pick-me-up. Among these, the Senecios are our go-to because they are an easy-to-grow and fast-growing succulent.

1. Senecio radicans or String of Banana
The Senecio radicans is more popularly known as the String of Banana, and rightfully so. The main feature of this plant is its glossy, banana-shaped leaves that make it an interesting conversation starter. Other popular names are String of Chilies and Fishhooks Senecio, and we're sure you can guess why it's called those.
When given adequate sunlight, it will produce small white flowers that add to its beauty. The most important growing tip to follow is to wait for the soil to dry before watering. Originally from South Africa, it doesn't require fertilizing nor high humidity levels.
2. Senecio rowleyanus or String of Beads
The Senecio rowleyanus has many names, including String of Beads and Pearls Necklace. However, it is more commonly known as String of Pearls. It gets its name from its unique foliage.
Instead of having flat or elongated leaves, much like other hanging plants, this succulent has green leaves shaped like small peas or beads. As a result, you get a succulent with beautiful strings that look like dangling necklaces.
This plant is endemic to east African deserts and is a fast-growing succulent. It can grow between five to 15 inches in length each year.
3. Senecio jacobsensii or Trailing Jade
Otherwise known as the Trailing Jade, the Senecio jacobsensii has foliage in a beautiful shade of green. What's interesting is that its egg-shaped, fleshy leaves can also take on a pretty pinkish or purplish hue during the colder months.
This trailing plant's native habitat is in East Africa. You can expect it to grow up to four feet long, especially when grown in hanging baskets.
Bestseller No. 1
Bestseller No. 2
4. Senecio herreianus or String of Pearls
The Senecio herreianus is often mistaken for String of Pearls, but it actually has its own nickname, String of Tears. Taking a cue from their common names, you'll find that String of Tears has slightly pointed ends, much like a teardrop. In comparison, the String of Pearls has rounder, spherical leaves.
Native to the dry regions of Southwest Africa, this plant's stems were grown to trail on the ground and form a dense ground cover. As a hanging succulent, this perennial grows long vines.
That said, the Senecio herreianus grows slower and more compact than its sibling, the Senecio rowleyanus. The average length of its "strings" is 90 centimeters. When in bloom, its small white flowers release a cinnamon-like scent.
5. Ceropegia woodii or String of Hearts
Another hanging succulent that would look perfect in your porch, living room, or any other space that needs a pop of color is the Ceropegia woodii. Its purple-colored flowers that look like small bells or lanterns will liven up any room.
Also known as the String of Hearts, this plant is also known for its colorful and heart-shaped variegated leaves. The leaves are joined together by reddish stems, adding to the plant's already lively vibe.
6. Ceropegia Haygarthii or Lantern Flower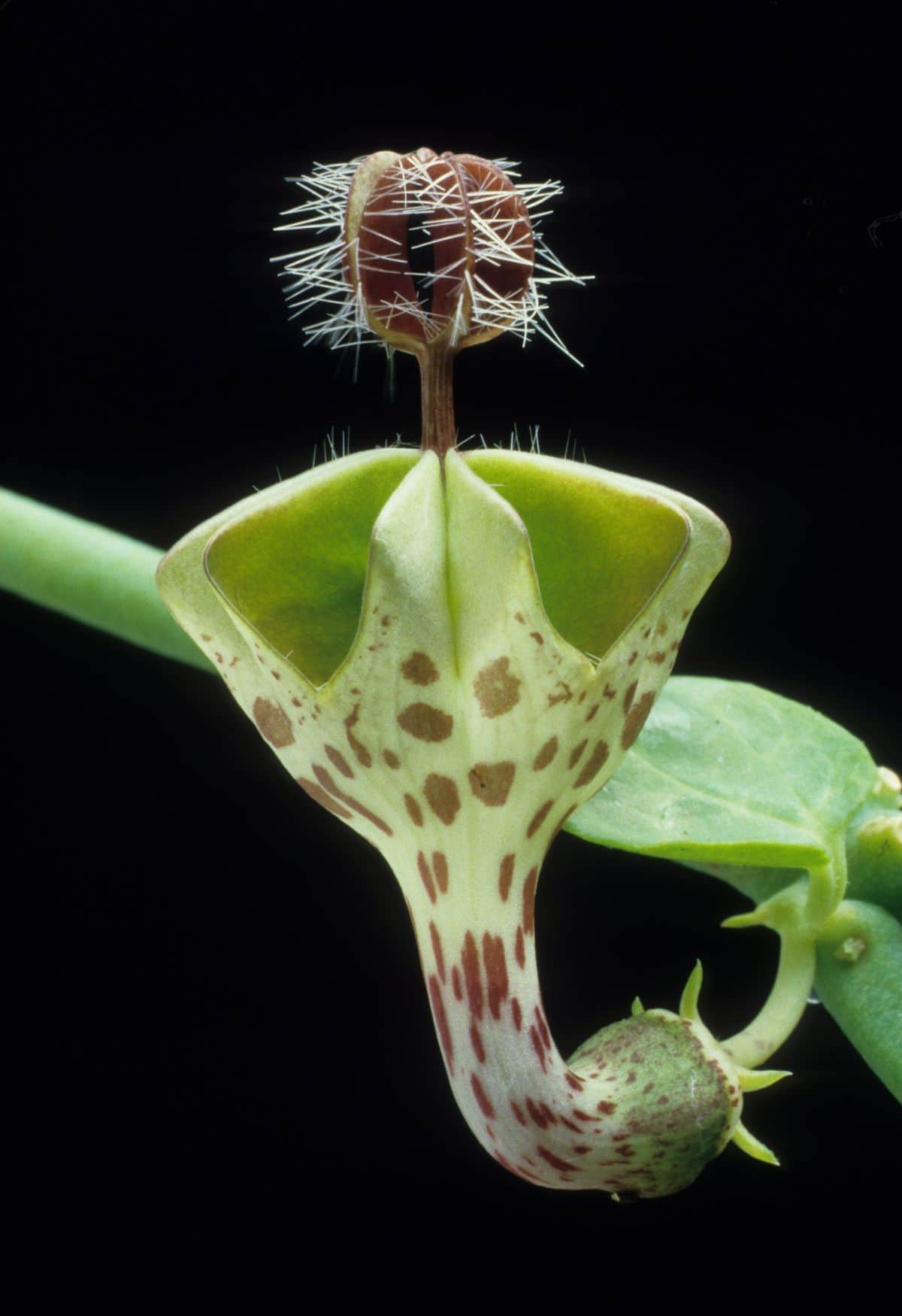 If you want a more visually striking succulent, check out the Ceropegia haygarthii. What sets this hanging plant apart from others is not its leaves but its unique-looking flower.
Commonly known as the Lantern Flower, it has blooms that look like upturned lanterns. Some look at them as elongated, star-shaped flowers with colorful tubes that come in a cream color.
7. Sedum morganium or Donkey's Tail
You are probably familiar with Sedum rosettes, but did you know that some Sedums grow as vines? One of the most popular is the Sedum morganium.
This hanging succulent plant is also called Donkey's Tail or Burro's Tail because of its interesting growth pattern. From its succulent stems hang fleshy leaves that plumply overlap, creating a tail-like illusion.
To add, it has powdery blue-green leaves. For this reason, we don't recommend touching this plant often, as the natural oils of our hands can rub this pale blue powder off. Not to mention, the leaves also tend to fall apart quite easily.
Those planning to grow their Sedum morganium in a hanging planter should get a sturdy one. A mature Sedum morganium can grow really heavy.
8. Echinopsis Chamaecereus or Peanut Cactus
When you think of cacti, you probably picture upright columnar plants. They can be small and in pots or standing majestically on an arid landscape.
Have you ever seen cacti that resemble fuzzy peanuts sprawling out of a hanging basket? That's exactly the iconic look of the Echinopsis chamaecereus or Peanut Cactus. Aside from its looks, we also love that its spikes are soft and won't pose a risk to children.
The Peanut Cactus is quite compact and will look gorgeous in small planters. Given the right growing conditions, it will produce bright orange-red flowers that grow up to an inch in diameter.
9. Othonna capensis or Ruby Necklace
On a hunt for a succulent vine that has a striking color? With its ruby red look, the Othonna capensis will look stunning in white, minimalist interiors. Its vibrant color is also why it's rightfully dubbed the Ruby Necklace.
Imagine a String of Pearls or String of Tears plant, only this time, both the stems and foliage are rich crimson. Its plump leaves are also not as delicate as a Burro's Tail. As such, you'll find that this beauty can tolerate some handling, making it a hardy plant in our books.
If that's not impressive enough for you, perhaps its bright yellow, daisy-like flowers will seal the deal. You can expect this succulent to bloom during its active growing seasons in spring, summer, or fall.
10. Dischidia nummularia or String of Nickels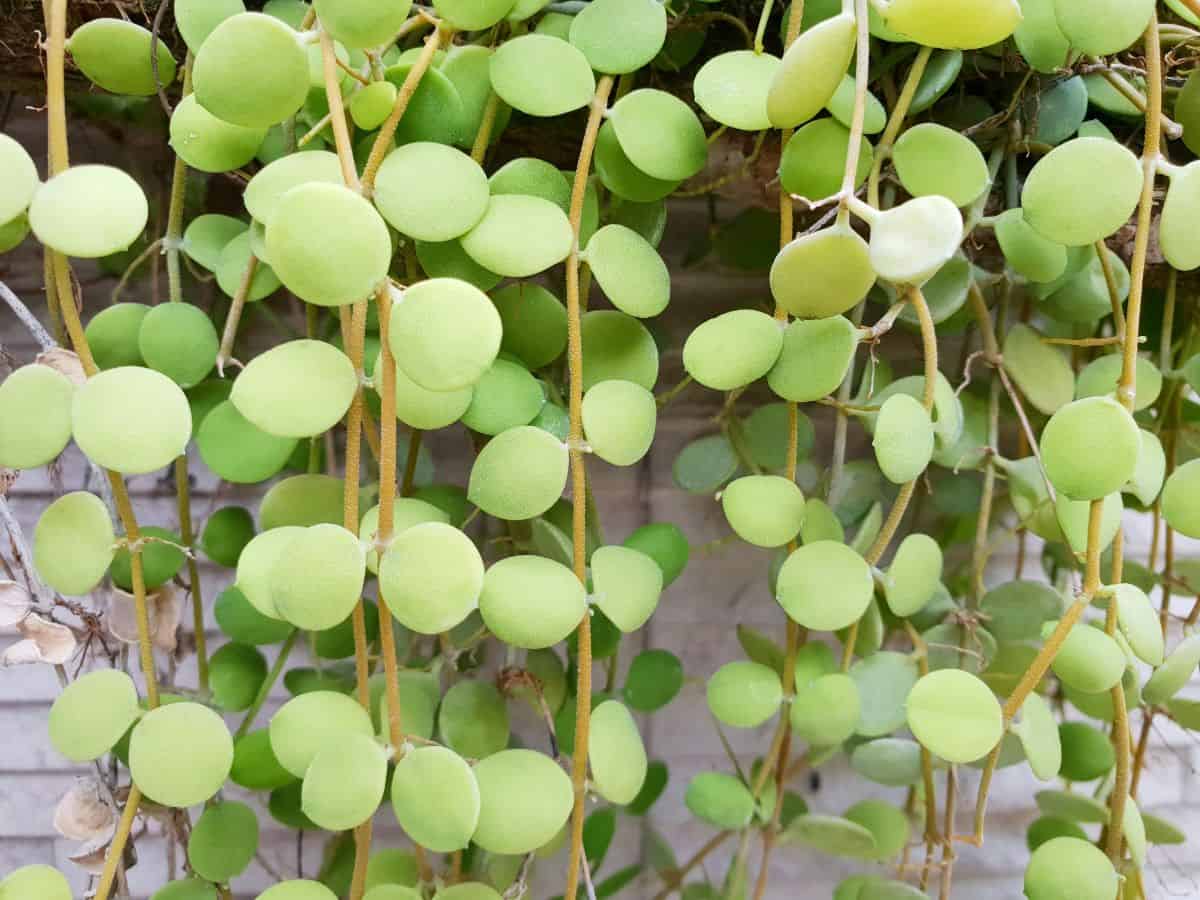 Not a fan of brightly colored succulents? For a classic hanging plant with green leaves, the Dischidia nummularia won't disappoint. Also known as String of Nickels, this plant has plump (sometimes olive green-colored) leaves that look round or coin-shaped.
If grown in an ideal environment, this succulent will produce small white or yellow flowers. While not a unique-looking plant, you'll be surprised how hard it is to find this hanging succulent in local nurseries.
What makes it even more interesting is that it's an epiphyte. When in its natural habitat (the tropical forests of India, China, Thailand, and other spots in Asia), this plant can grow on trees.
How To Care for Indoor Hanging Succulents
Regardless of which of these indoor hanging succulents you pick, it's important that you learn about each of their care requirements. This way, you can be sure you're giving them the best growing condition where they will thrive.
Like growing any plant, learning about their growing requirements is necessary before taking one home. Besides, what works for one variety might not be suitable for another. When it comes to hanging succulents you wish to grow indoors, here are general care tips to keep in mind:
Light Requirements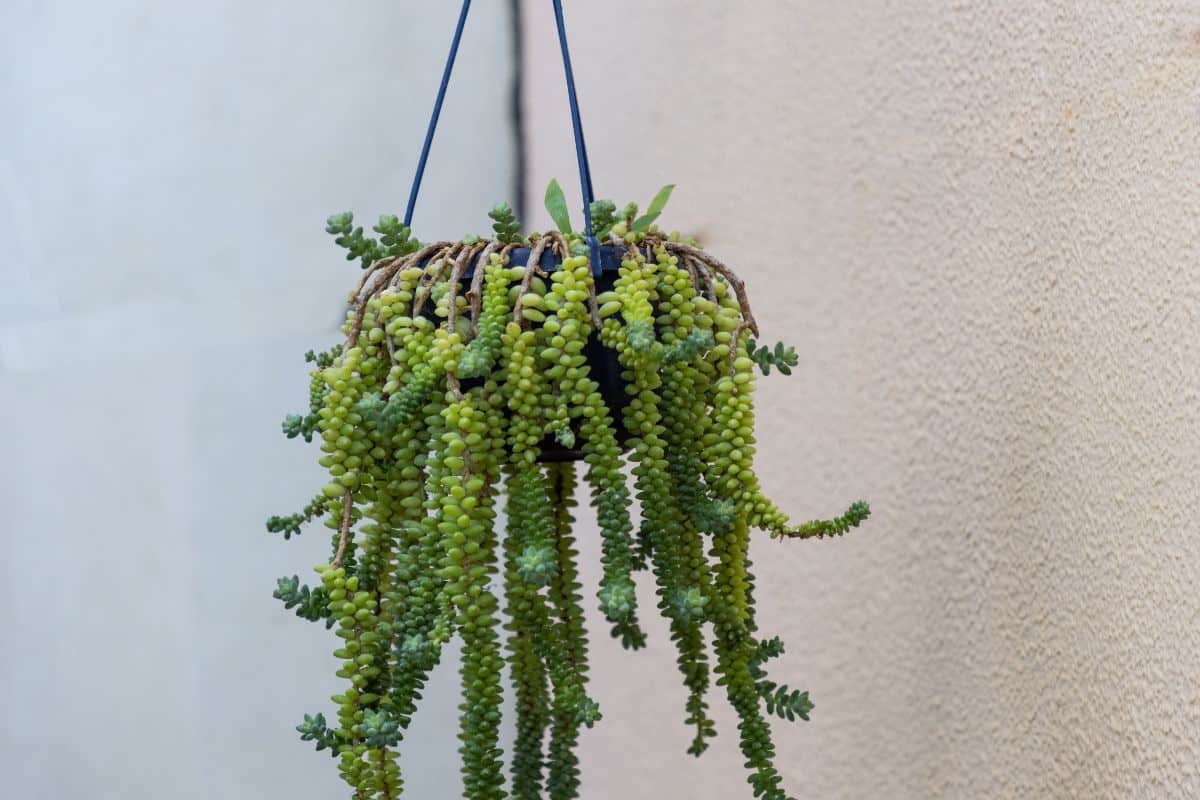 The trailing and vining succulents we listed are endemic to different types of environments. Hence, their ideal light requirements vary. Most varieties, however, will thrive in a spot that gets indirect sunlight.
Since most hanging succulents naturally grow as ground cover or under the shade of trees and other tall plants, many of them will thrive in partial shade. Direct and bright sunlight can fry some of their leaves. A window that gets a lot of morning sun will work just fine.
Water Requirements
Like other succulents, most of these vines are drought-tolerant. In other words, they won't appreciate getting waterlogged.
As a rule of thumb, we only recommend a good watering session once the soil has completely dried up. You should also adjust your watering frequency according to your current season and location.
For instance, we don't water our indoor succulents as frequently during the colder months. On the other hand, we double it up during the warmer summer season. Again, the key is allowing the soil to dry up in between waterings.
Soil Requirements
In relation to watering, we also advise using well-draining soil for your hanging succulent plants. Generic potting mixes won't cut it, as they tend to get dense over time, especially after watering.
You don't want to keep the soil moist for extended periods, as it could lead to root rot and fungal growth. As you probably already know, these two are the main culprits of succulent plant death. For soil, you should get a potting mix specifically formulated for succulent plants.
Weather and Temperature
It is also crucial to note that many of these plants don't enjoy the very cold temperatures of the winter months. Therefore, you might want to move them to a spot where they can feel warm.
That said, keep them away from too much sun during summer. The harsh afternoon light during summer can burn succulent leaves to a crisp.
Their sensitivity to extreme temperatures and weather changes is why hanging succulents should be grown indoors. This way, you will have more control over their growing conditions, ensuring you have healthy and vibrant plants.
Hanging Succulents FAQs
Still unsure if growing hanging succulents indoors is for you? To help clear up some things, here are some common succulent care questions and their answers:
1. Can you hang succulents inside?
Yes, you can hang succulents indoors. In fact, you can expect any of the varieties we featured to adapt wonderfully to indoor growing. They appreciate the constant temperature, partial shade, and adequate sunlight they have access to.
Hanging your succulents indoors can also protect the more delicate varieties from strong winds. This is important, especially for heavier plants in hanging planters.
2. Are succulents good in hanging baskets?
No one can deny the beauty of succulents when grown in hanging baskets. If you decide to do this, make sure your planters have enough drainage holes and are sturdy enough to carry the weight of a mature plant.
Some plants are heavier or lighter than others. You can check out this quick review of our favorite pots to help you find the perfect fit.
3. What succulents are hanging plants?
All of the succulent plants we featured earlier are hanging plants, but you'll find more of them in an earlier version of this article here.
If these don't meet what you're looking for, feel free to explore other choices. With thousands of different types of succulents from all across the world, you won't run out of options.
4. How do you care for a hanging succulent?
In general, hanging succulents are pretty much like other succulents out there. They love bright yet indirect sunlight, conscious and consistent watering, and are vulnerable to sudden changes in temperature.
If there's one aspect that sets them apart, it's that they're going to need more trimming compared to their non-trailing siblings and cousins. Fortunately, doing so will also allow you to propagate your plants. That's why we always look forward to a trimming session.
Growing Hanging Succulents Indoors
Don't limit yourself to firmly grounded potted plants. With indoor hanging succulents, you can bring the beauty of nature into any space in your home.
Growing indoor hanging succulents is perfect for those running out of space to put succulents on. These plants come in a variety of colors, leaf shapes, and even floral forms. We also like how they look like works of art, brightening up the otherwise plain and lonely corners and walls of our homes.