If you've spent enough time around the garden, you'll understand how important it is to have a pair of well-made gloves to protect your hands from dirty and gritty tasks.
Given that the market is saturated with promises, we've chosen four highly reliable gloves from different brands to help you choose the best gloves for handling cactus.
Jump to:
Do You Need Gloves When Handling Cacti?
There are other ways to handle cactus plants, but there's something about using your own hands to finish the task that makes it easier and to some degree, more personal.

If you're still unsure, below are some of our reasons why you should consider using gloves to enhance your gardening game:
1. Your mobility is less hindered.
Wearing durable gloves for protection when handling your thorny plants gives you the best compromise between protection, dexterity, and efficiency.
Compared with using tongs or towels, gloves feel better due to their ergonomic design.
2. It's purposely made for protection.
Gloves made of quality material such as cow leather offer excellent protection against thorns. If combined with other cactus handling tools such as tongs, it could give you the maximum protection you need.
3. You can get more up close and personal with your plants.
To add more to your already unique gardening experience, wouldn't it be better to know your cactus better without the worry of getting pricked?
That way, you can examine them closer, making tending to them easier.
Can You Use Regular Gardening Gloves for Handling Cacti?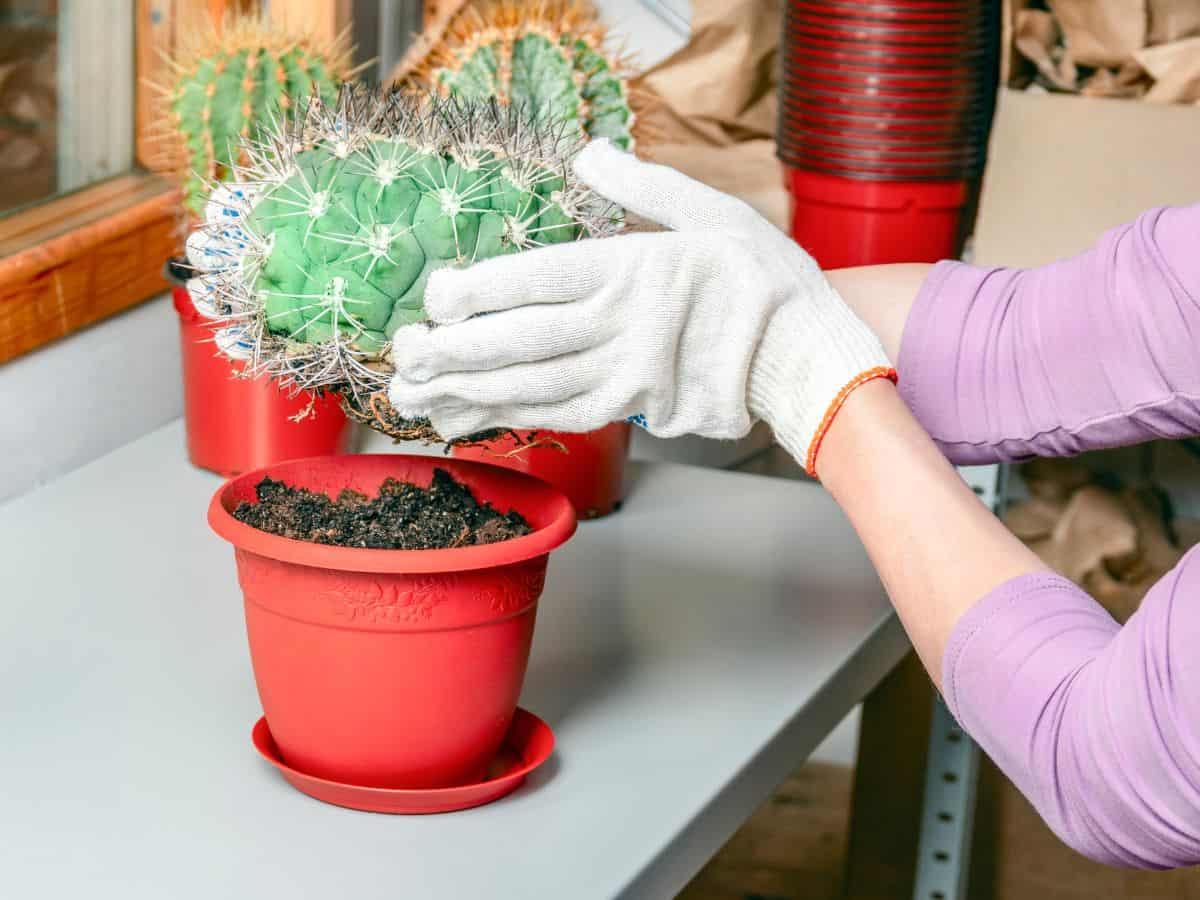 Nothing's stopping you from using regular gardening gloves to handle cacti. But do you want to risk getting pricked and then accidentally dropping your cactus and breaking its pot?
Regular gardening gloves might not have the extra protection against spikes that you need. Also, if you plan to tend to your garden regularly, investing in a puncture-free glove is a must.
Sale
Bestseller No. 1
Bestseller No. 2
Best Gloves for Handling Cactus
Now that you understand how important gloves specifically made for handling cactus are, let's look at the features, pros, and cons of our highly recommended pairs.
1. NoCry Long Leather Gardening Gloves
No longer should you worry about broken nails, scratches, and dirty hands while doing tasks around your garden thanks to this pair of gloves.
Key Features
The NoCry Long Leather Gardening Gloves fits snugly on your hands with its wrist closure that ensures no small insect can get inside.
These garden gloves also feature a reinforced, double-layered soft goatskin leather. It's strong enough to keep your hands safe with robust protection but soft enough to prevent hindering delicate finger movements.
This type of leather is so soft and supple that it fits your hand like a second skin. Lastly, the forearm protection is made of tough cow split leather to guarantee all-around protection, even in hard-to-reach places.
Pros:
Remarkably supple goatskin leather material
Easy to clean
Excellent company customer support
Con:
Not for hard handling of cacti
2. COOLJOB Rose Pruning Thorn Proof Gardening Gloves
Another pair of gloves that offers all-around protection with its gauntlet sleeve is the COOLJOB Rose Pruning Thorn Proof Gardening Gloves. It's specifically designed to handle thorns from your cacti and other thorny plants.
Key Features
This puncture-free glove is made of durable synthetic leather that offers significant protection against thorns. It also features padded palms made of polyurethane and nylon to ensure your hands' safety and comfort.
You also get extra protection from the padded knuckle and thumb design. Also, the gloves' fingertips have reinforced stitching and silicon dots to help with the grip.
Its overall soft, flexible, and durable construction also minimize hand fatigue from prolonged use.
Pros:
Month-long free trial and lifetime customer service support for US Customers
Comfortable and flexible
Good grip
Cons:
Cuff may fit too snug for comfort
Limited size options
3. Legacy Gardens Rose Pruning Gardening Leather Gloves with Long Leather Forearm
Another excellent choice for cactus gloves to keep your hands safe from pricks and dirt, these heavy-duty gloves offer forearm protection while having that premium look.
Key Features
This pair of gloves boast a-grade goatskin leather that's great if you have sensitive skin. You can attribute its breathability to better-quality leather.
While the manufacturer removed unnecessary layers, the glove keeps your hands well-protected. In places where extra layers are a necessity, such as thumb, pointer, middle, and ring fingers, you'll find extra padding and double-stitching to ensure reinforcement.
Pros:
30-day money-back guarantee
Breathable and soft material
Double stitching where it matters
Con:
4. Youngstown Glove 05-3080-70 Kevlar Gloves
This particular pair is your best bet if you have enough budget to spare for some high-quality, heavy-duty Kevlar cactus gloves.
Key Features
Made of tough and well-made materials, like polyester, nylon, PVC, polyurethane, rubber, Velcro, and of course, the pièce de résistance, all-around Kevlar, these armor work gloves may seem overkill for your gardening needs.
But if safety is on the line, it pays off to be this careful.
Its palms are reinforced with a non-slip surface that enhances overall durability and grip. Also, terry cloth is sewn over the thumbs for the added feature of wiping away sweat and dirt.
You don't need to worry about dirt and microneedles entering the gloves even without extra-long cuffs since they're securely held together with adjustable Velcro closure.
This pair of gloves also boasts a Level A4 ANSI/ISEA 105 cut resistance, which means that it can withstand high cut hazards or up to 1.5 to 2.19 kilograms of cutting load.
It also has ANSI/ISEA Level 4 puncture resistance, so it can withstand up to 149 Newtons of force.
Pros:
Gives the most protection
Extremely heavy-duty
High-level cut and puncture resistance
Con:
Gloves for Handling Cactus FAQs
Are you still having second thoughts about whether you need any of the gloves we reviewed above? Let's answer common questions related to the best gloves for handling cactus to help you make a more informed decision.
1. What kind of gloves are best for cacti?
Generally, you must look for cactus-handling gloves made of durable materials, such as cowhide leather and goatskin leather.
Cowhide leather is thicker than goatskin, making it withstand heat and water better.
However, what makes up for toughness is lost when it comes to flexibility, rendering the gloves hard to use in delicate tasks.
While thinner and softer than cowhide leather, goatskin leather makes the gloves more flexible. Hence, their increased usability in delicate tasks.
A good combination of the two would be to use the cowhide leather as a sleeve gauntlet attached to the softer goatskin leather, which will be the glove itself.
Alternatively, you could try looking at some Kevlar-lined cactus gloves if you have enough budget. With its heat-resistant properties and high tensile strength, the materials have been used to make bulletproof vests.
If it's good enough to stop bullets, it's surely good enough to stop cactus thorns from pricking you.
2. How do you protect yourself from a cactus?
Other than wearing gloves, there are other ways to protect yourself when handling a cactus.
One such way is to use tongs with silicone ends to provide added grip and protection to your cacti's watery body.
Another option is to use layers of paper such as newspapers and paper bags. This method uses the same principle of protection with gloves, albeit with less effectiveness.
Towels and other thick fabrics can also be used in a pinch when handling bigger cacti that tongs and newspapers may fail to handle.
3. How do you get cactus out of gloves?
Removing cactus needles out of your gloves is fairly easy.
First, you need to prepare some equipment for additional safety measures. You need a pair of metal tweezers (plastic tweezers can do, but metal ones are much more effective), a magnifying glass for those tiny bits, and tape to wipe the needles easily.
Next, examine the cactus you handled to give you a clearer idea of the color and shapes of the needles you need to pull.
If you felt that you've been pricked in a particular area when handling the cactus, it would be best to start there. After that spot, you can easily see and pick off some of the needles clustered together with your tweezers.
You can then use the magnifying glass to remove smaller needles.
After you remove each needle, you should put them on the tape. You could also brush the tape over the gloves as a final check to see if some needles remain.
Finally, fold the tape over and throw it away securely. You may consider burning the tape or simply wrapping it with table napkins.
Handling Cacti Need Not Be Painful
We know that you love your cacti and other plants in your garden, and you spend a good amount of time caring for them.
That is why we'd like you to have the best possible protection for your hands so you may continue to care for them without worrying about getting hurt.
Ultimately, we're here to help you make informed decisions, and choosing the best gloves for handling cactus is up to you. Consider your budget and specific needs.
Just remember, taking care of things you love shouldn't have to be painful.