The haworthia genus has several different types of succulents. Some are long and more spiny while others look like a variation of hens and chicks. For this guide, we will cover Haworthia cooperi and it's many variations.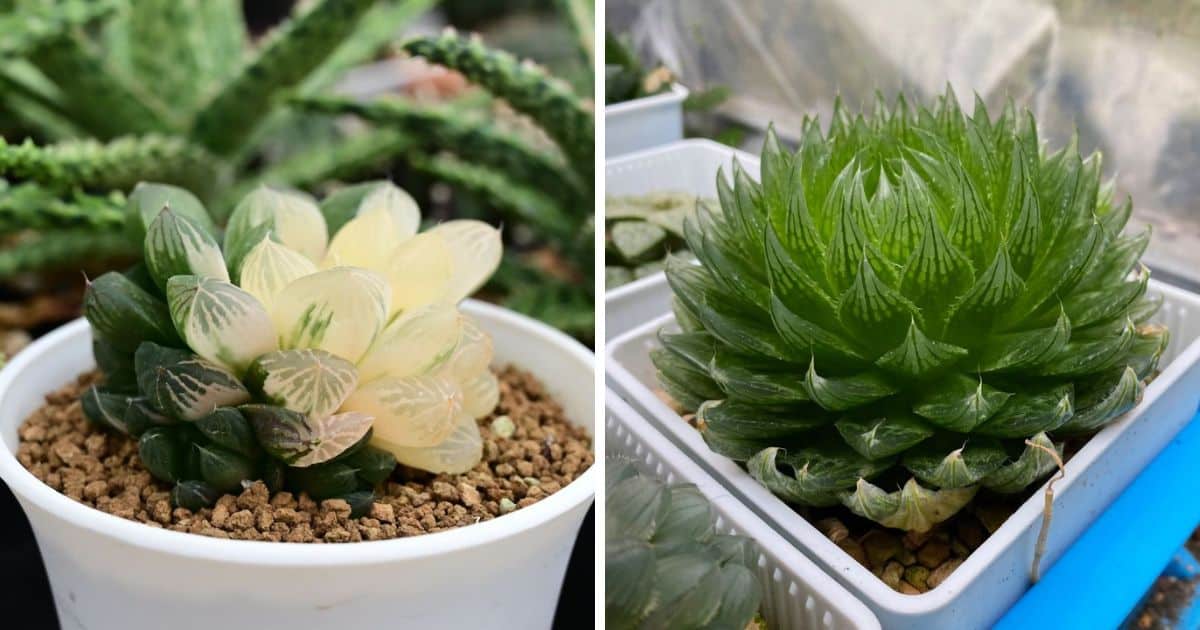 The Haworthia cooperi succulent is extremely beautiful! It looks like little orbs of glass that reflect the sunlight through their translucent leaves. Like other succulents there are a few things to keep in mind like sun exposure, soil type, how often to water and so on. If you are ready to grow your own Haworthia cooperi, then let's begin!
Jump to:
Quick Facts
| | |
| --- | --- |
| Scientific Name | Haworthia cooperi |
| Common Name | Window Haworthia, Pussy Foot, Cooper's Haworthia |
| Position | Full sun exposure, protection from direct light. |
| Watering | Water when the top layer of the soil is dry |
| Soil | Exceptional drainage needed and loose soil. |
| Spread and Growth | Very slow growing, roughly 4" in diameter and 2-3" tall. |
| Flowering | Flowers in spring; varying types of blooms |
| Pruning | With sharp scissors or a sharp tool, trim off dead leaves at the base. |
| Repotting and Propagating | Many ways to propagate; use leaves, and seeds. Can also use offsets. Always repot into well irrigated soil every 2-3 years. |
| Poison Guidelines | It's not a good idea to eat these plants, however they are not poisonous. |
History and Cool Facts
Haworthia's are native to South Africa and nearby states. The first recorded instance of haworthia occurred in the 1600's when explorers traveled to South Africa and began expanding botanical studies. When the plants were brought back to Europe, it's hypothesized that they were cultivated there for nearly 400 years.

Buy it from:
Haworthia cooperi is a great plant to include in your succulent army because of the impressive variation even between a parent plant and its offsets. They are relatively easy to grow, and their natural environment is underneath trees where they can still receive full sun but their tender leaves are protected from direct light.
If you can mimic this environment in your Haworthia cooperi care routine, then you are good to go! This is also what earns them the name of Window Haworthia. As long as they aren't in a direct sunbeam, the translucent leaves of this gorgeous succulent will continue to maintain their color and health.
Ready to learn how to care for a Haworthia cooperi and its varieties? Let's begin!
Water, Soil, and Light
When it comes to how to care for a Haworthia cooperi, they are a lot like other succulents with their need for loose soil and correct watering. What separates this succulent from the others is that instead of waiting for the entire pot of dirt to be close to dry, Haworthia cooperi needs to be watered when the top layer of dirt is dry. This works best when they are outside, however this trick is also important to remember for your Window Haworthia too!
Bestseller No. 1
Haworthia Cooperi Succulent (2 inch)
We guarantee plant's safe arrival otherwise we will refund or send you a replacement plant
Haworthia cooperi is a slowly growing, low succulent plant.
It grow in clumps of small rosettes of tiny, fleshy, light green leaves, up to 2 inches (5 cm) long.
Bestseller No. 2
Light requirements for Haworthia cooperi are a little bit more detailed than watering and soil type. Since this haworthia grows underneath trees in its native environment, it's best to try and mimic that type of lighting. Look for a window or a table in your house that gets plenty of sunlight. Then, you want to determine if that area is getting direct full sunlight, where the sun beams are hitting that area strongly, or if you're getting indirect full sunlight. When you have indirect full sunlight, the intensity of the sunbeams isn't going to cause the color of the leaves to change – more on that later – or the soil to dry out too quickly. The right lighting is what helps keep this type of haworthia healthy!
Types of Haworthia Cooperi
While there are well over 50 types of haworthia, there are over 150 confirmed varieties! This is the same for Haworthia cooperi: there are several types of Haworthia cooperi that are called variants or cultivars. These variants are unique in their own way, but still maintain the common characteristics of Haworthia cooperi.
They still have a lot of a little translucence in the leaves, there's different shapes of leaves but they still grow in a rosette shape, and of course their care needs are also the same. Here's a list of some of the most common types of cultivars that you might want to get your hands on!
Haworthia cooperi truncata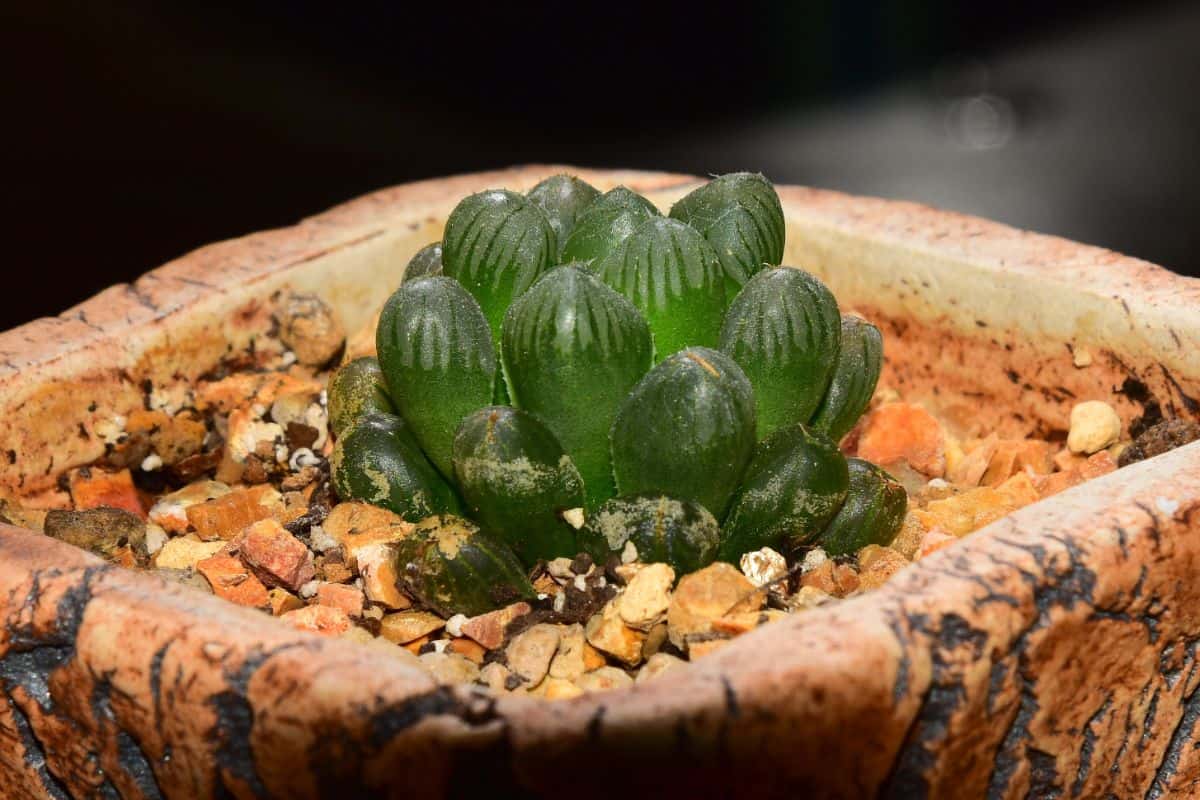 This tiny little gem is great addition especially in a tiny little pot. The Truncata cultivar is the smallest Haworthia cooperi … that we know of. Its leaves are a little more triangular when you look at it from the top.
They are still translucent at the tips with a darker green at the base. Their most defining feature is their tininess and the fact that they look like mini watermelons. This cultivar is also known as the Haworthia cooperi obtusa but the more accepted name is truncata.
Haworthia cooperi baker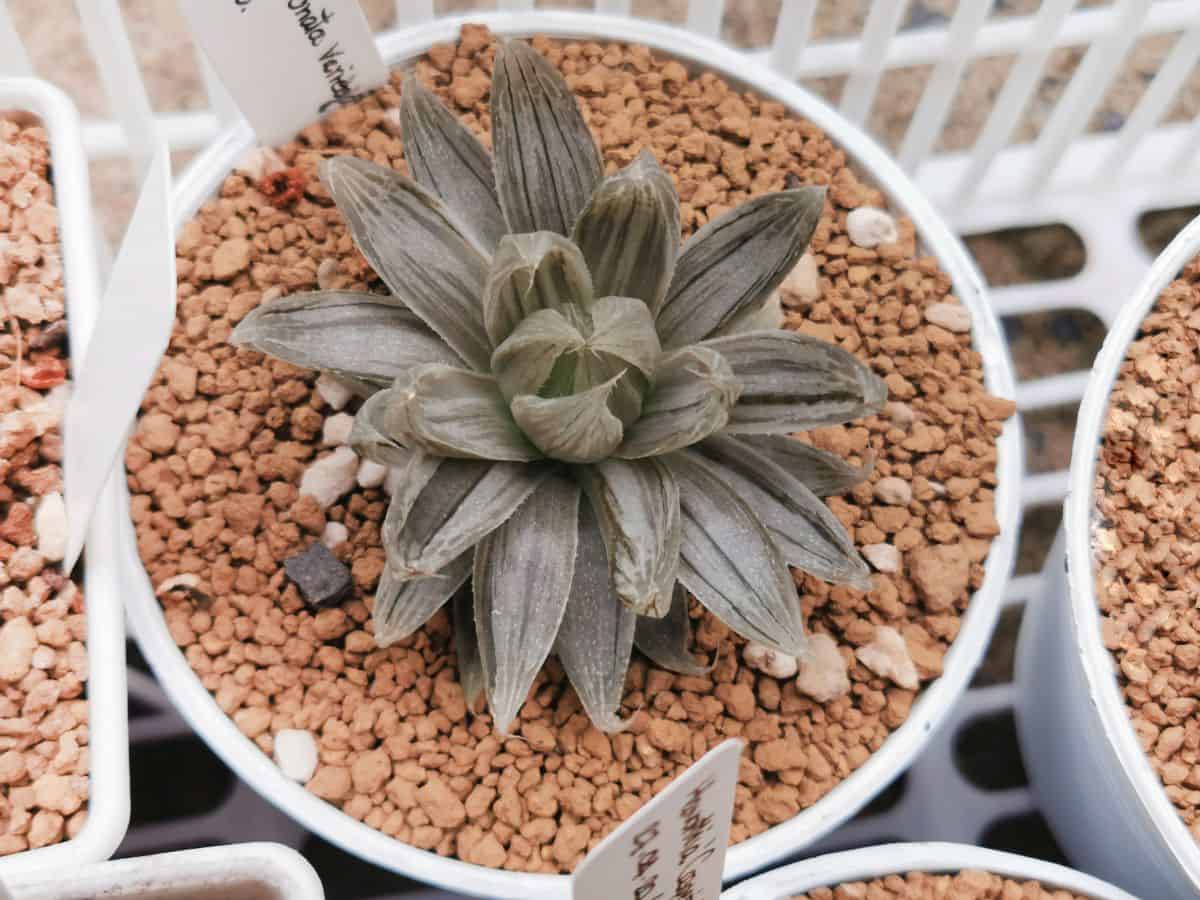 The baker variant looks more like an aloe plant. While haworthias and aloe are from the same family, the separation is in their translucence and their genes of course! Baker is on the less translucent side but looks like a Haworthia cooperi var. cooperi.
Haworthia cooperi pilifera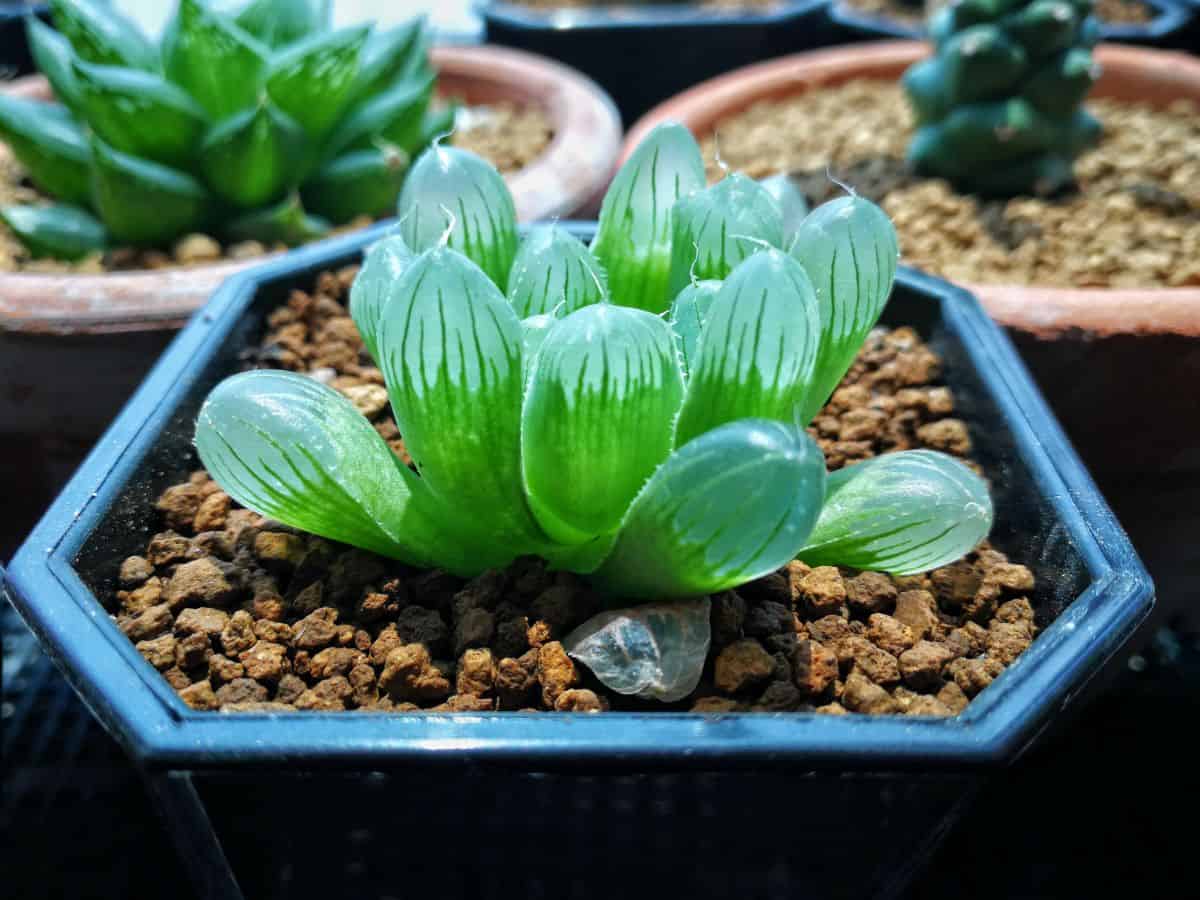 Pilifera is the opposite to truncata: this variation is considered to be the largest cultivar of the Haworthia cooperi family. It looks very similar to the truncata with more angular leaves and much taller flower stalks.
Variegated Haworthia cooperi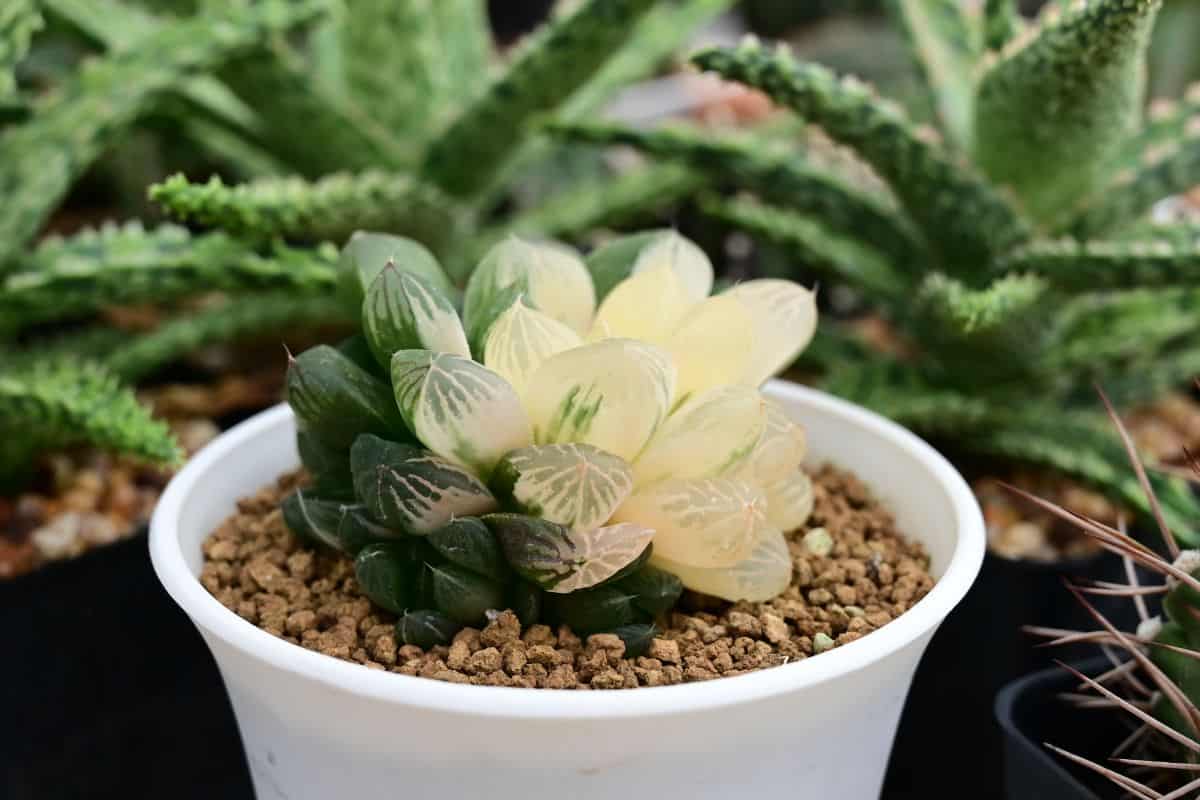 Haworthia cooperi variegata stands out among the rest of the cultivars. It is far less translucent and instead of a dark green base, the variegated haworthia is a much lighter green. The variegated appearance is caused by an almost white pattern on the leaves. You can still see through the very tips of the plant but any lower on the leaf it's pretty hard to see through them.
Haworthia cooperi picturata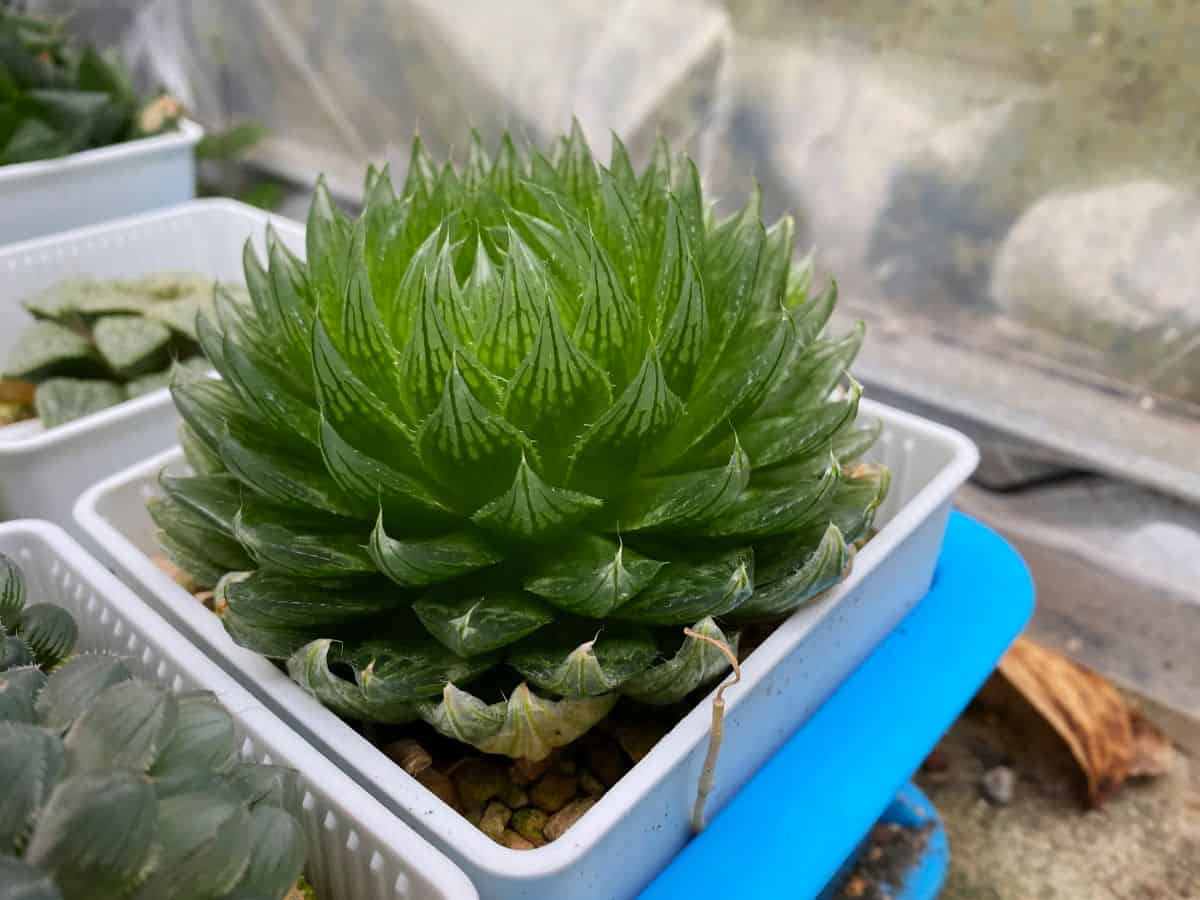 Not that all the other varieties aren't fun, but the Picturata is pretty incredible. Instead of the more loosely separated leaves with other cultivars, the Picturata has tightly packed translucent leaves that are shaped more like a thin spear instead of orbs.
Purple and Red Haworthia cooperi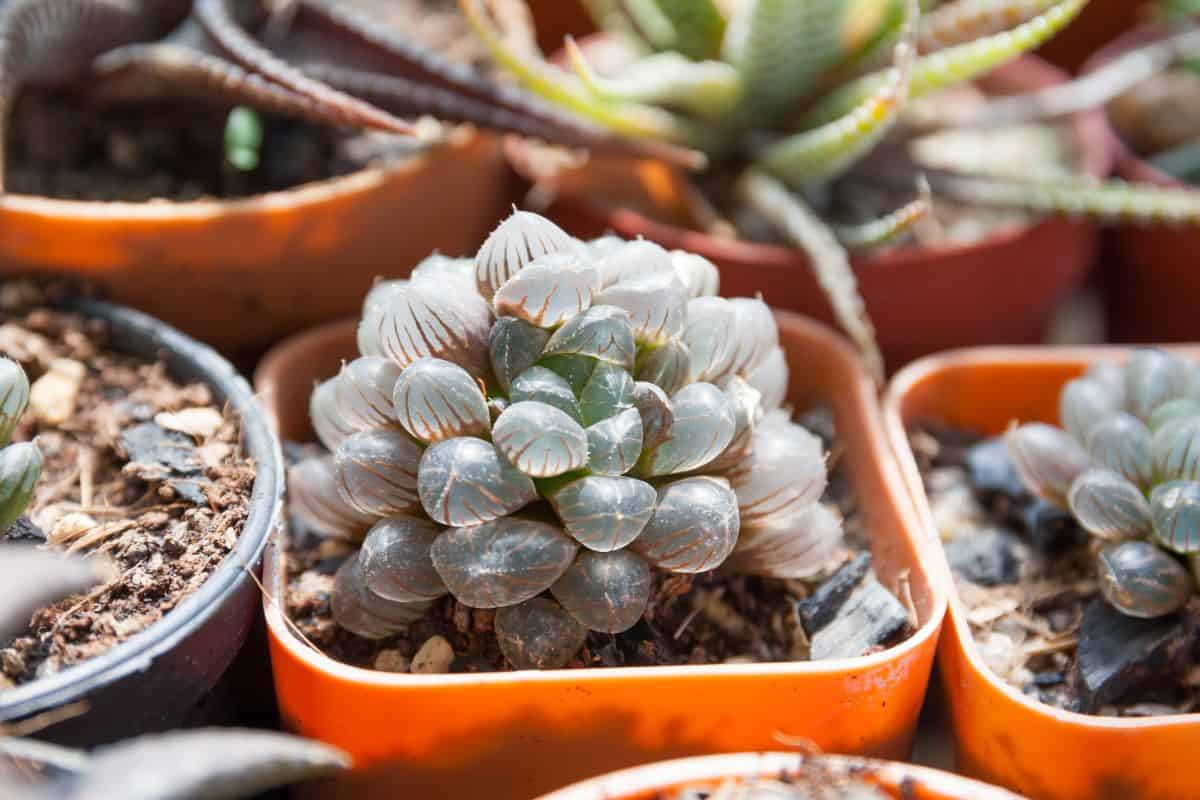 Believe it or not, a purple or red Haworthia cooperi is not an actual type of haworthia! Instead, this is a sign of inappropriate lighting and water. They'll turn either color when they have too much direct sunlight.
The way to solve this problem is to adjust the position of the plant and maintain your normal watering patterns. If the color doesn't change, try watering more frequently if the soil seems to be drying out faster.
Also note that if your Haworthia cooperi is shriveled, there might also be a color change. At that point it's time to increase the amount of water otherwise you're about to lose your plant!
How to propagate Haworthia cooperi
To propagate this plant properly, you'll need your soil mix (perlite and succulent soil or homemade succulent soil), a spray bottle that's turned towards the mist option, and an appropriate pot. You don't want pots that are going to hold a lot of water so make sure that you have a good-sized hole at the bottom of the pot or even add few rocks at the bottom for additional drainage.
Even though the leaves of the Window Haworthia look like they could pop if you push or pull them too hard, they are solid leaves. Grab a healthy leaf and gently twist or rotate back and forth until the leaf pops off. Place this leaf on top of the soil and mist daily until you start to see a new plant forming and the parent leaf begins to dry out. Then, it's time to plant the new growth in the succulent mix and begin a normal haworthia watering plan like what was described earlier.
If you see any offsets from your haworthia, you can gently separate these from the parent plant. Remember, any newly forming leaves must be protected from the sunlight. They still need some light, but any direct light or high concentrations of light will burn new leaves.
Haworthia cooperi blooms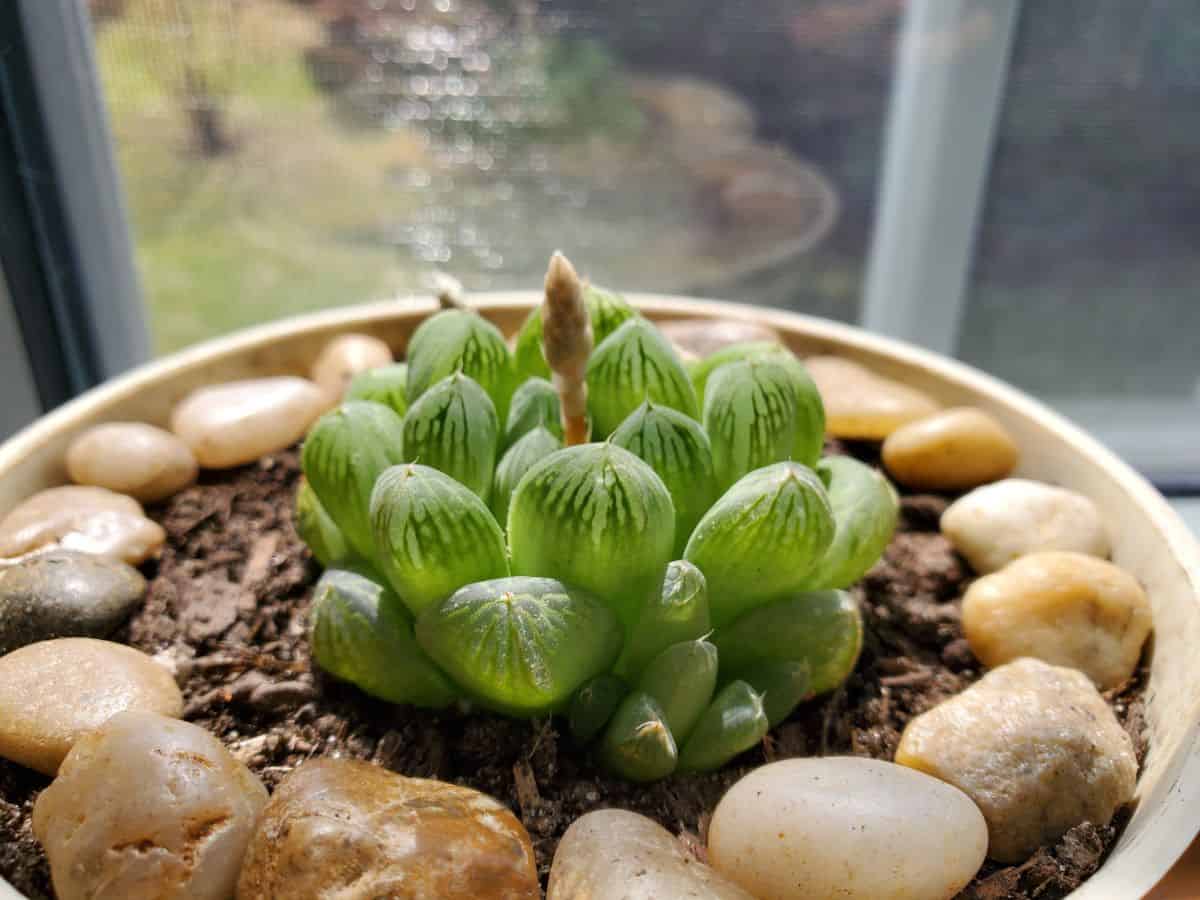 Like many other succulents, the Haworthia cooperi does have bloom stalks. These stalks can also be used to propagate, and any seeds can be used as well. The best way to propagate from a bloom stalk is to wait until the flowers have died back.
You'll need to cut the stalk at the base and put this into moistened soil: always use a sharp tool when it's time to cut anything off of any plant! Do not water completely or you can cause root rot just as the roots are starting to … well … take root. Since haworthias are extremely slow growers, it will take time for roots to form. Pay close attention to the dampness of the dirt and keep the stalk out of any direct sunlight.
Another way to propagate with the bloom stalks is using the Haworthia cooperi flower. When the flowers have dried out, place them in a baggie and gently shake the bag to get the flowers to release the teeny tiny seeds. The bag will look like it just had dust dumped into it and those are the seeds. You can plant these by dusting them on top of a succulent mix and gently misting the seeds whenever the soil dries out.
Summary
Haworthia cooperi and its many cultivars are great additions to your succulent army. It's important to remember the water and light requirements; don't be afraid to pair this succulent with others in an arrangement as long as they all have the same requirements. Propagating is easy as well because like most succulents and cacti, new plants will grow from just about any part of the parent plant.
If you want to buy haworthia cooperi, you may find it at your local garden store, but more often than not you will have to purchase this plant online. There are several Etsy shops that have Haworthia cooperi for sale such as this one here. There are other sellers on eBay as well as several online succulent stores as well. If you are ready to buy Haworthia cooperi, make sure you are buying from a seller with a good track record like Mountain Crest Gardens.
Until next time, keep growing your succulent army!