Did you know there are hundreds of unique varieties of succulents worldwide? From gardens to homes to office spaces, succulents have become super popular over the past few years, and anyone can grow them.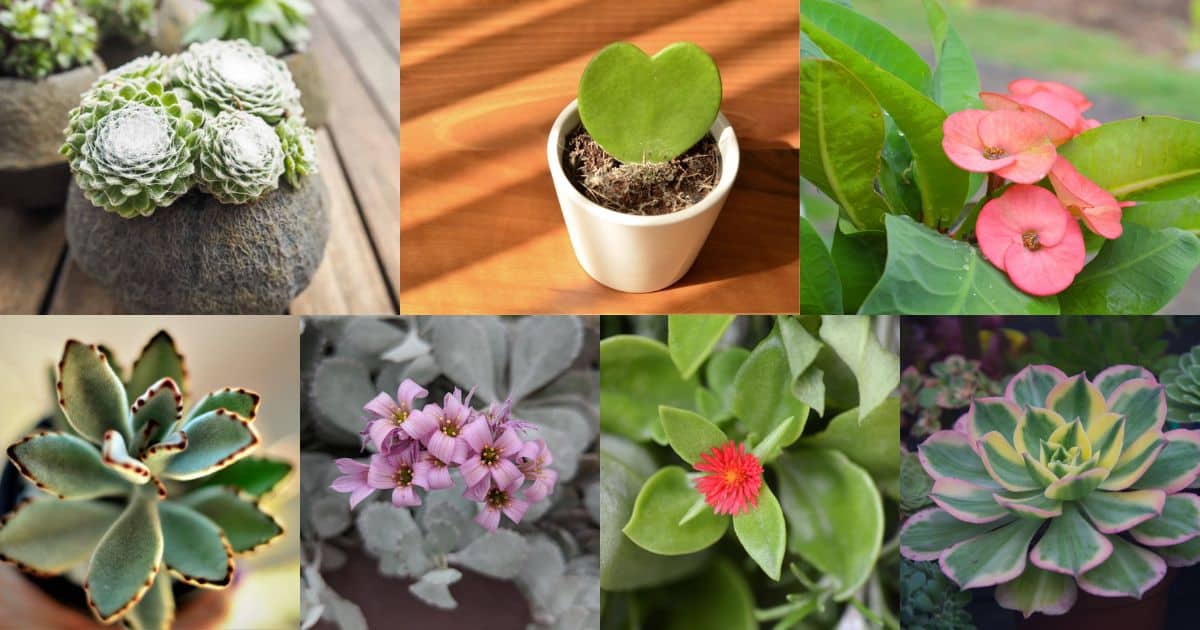 Here's a look at some of the coolest succulents that can be grown indoors or outdoors, even by beginners.
Jump to:
Aeonium 'Sunburst'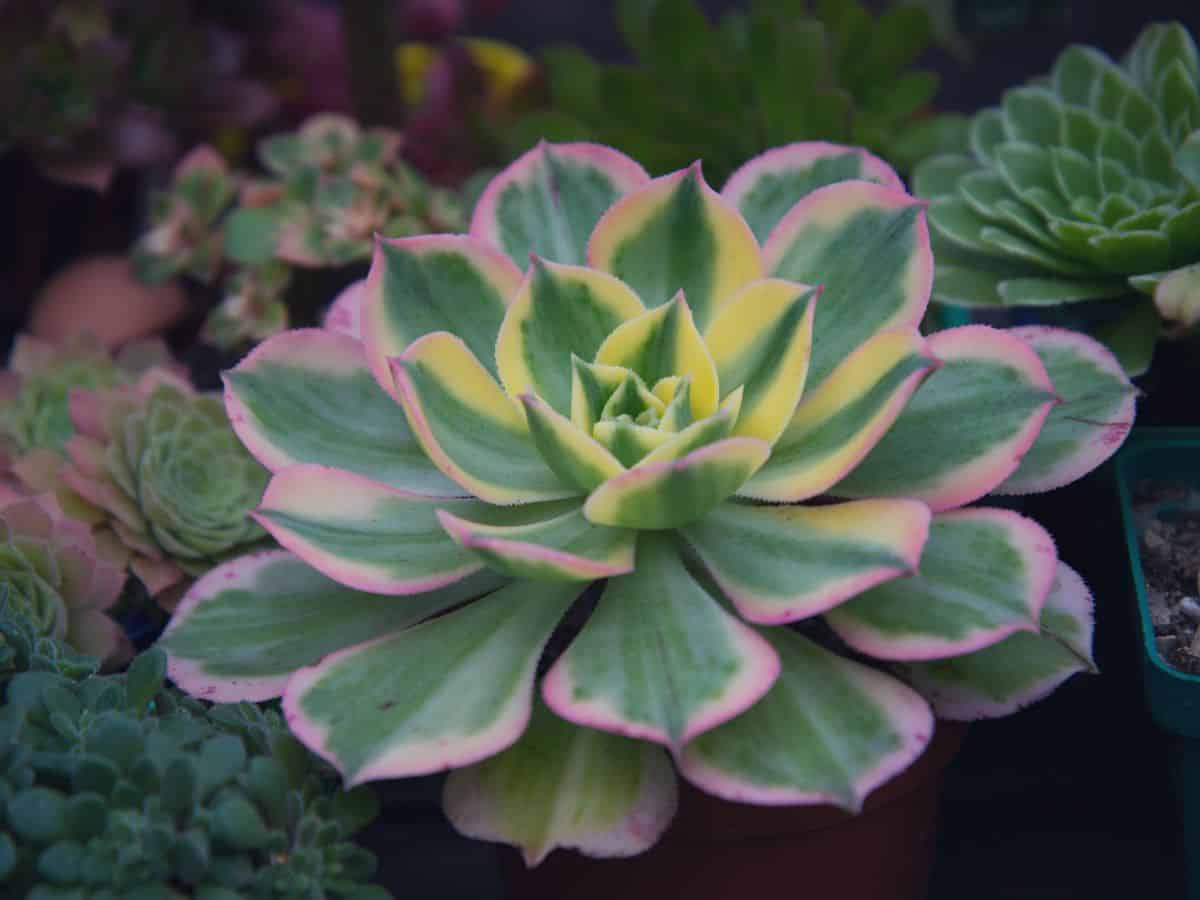 Buy it from:
Aeonium 'Sunburst' is of the genus Aeonium in the family Crassulaceae. These succulents can be best described as fleshy leaves clustered together in the shape of small rosettes.
Originally grown in the Canary Islands, the Aeonium are popularly known as Sunburst due to its colorful leaves and how they resemble a tiny lotus flower blooming on the branch. The Aeonium' Sunburst' is best suited for windowsills, and has an excellent decorative effect.
What's fascinating about them is that when placed next to the TV, they can absorb its radiation while helping to purify the air at the same time.
Hens and chick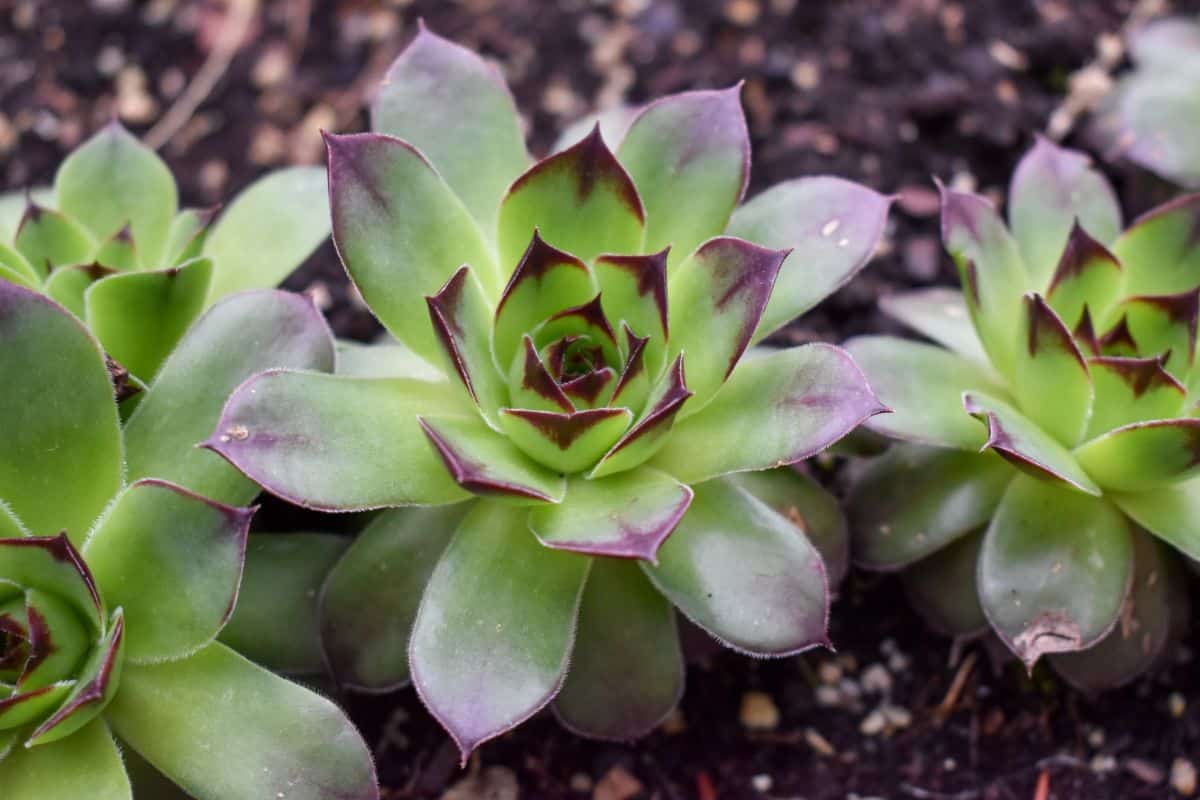 Buy it from:
Nicknamed as the hens and chick, sempervivum tectorum are low growing succulents in the shape of rubbery roses. They continue to produce small rosettes throughout the year and extend as high as 3 to 6 inches. The sempervivum tectorum is common in most of Europe and Africa but can thrive almost anywhere as long as they receive some sort of sun exposure.
During the growing season, they produce small rosettes all around them (known as its chicks). The rosettes can later be replanted in small pots for gifting or simply adding more pots to your garden.
Lithops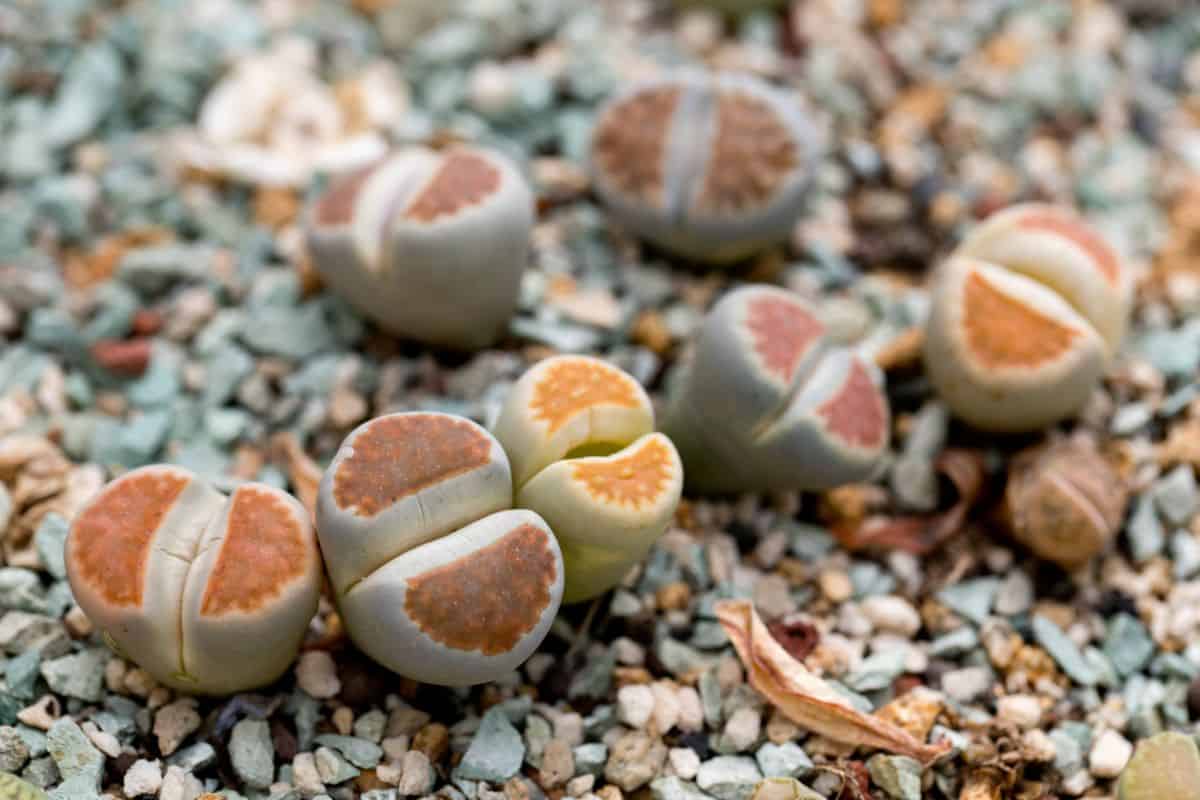 Buy it from:
If you are looking to get low maintenance succulents requiring little watering and exposure to sunlight, then living stones are your best bet. Lithops are perhaps one of the most peculiar plants in nature.
They are affectionately known as living stone or butt plants and pebble plants. These succulents are short in height and thrive in conditions which may seem inhospitable to most plants.
Pachyphytum Oviferum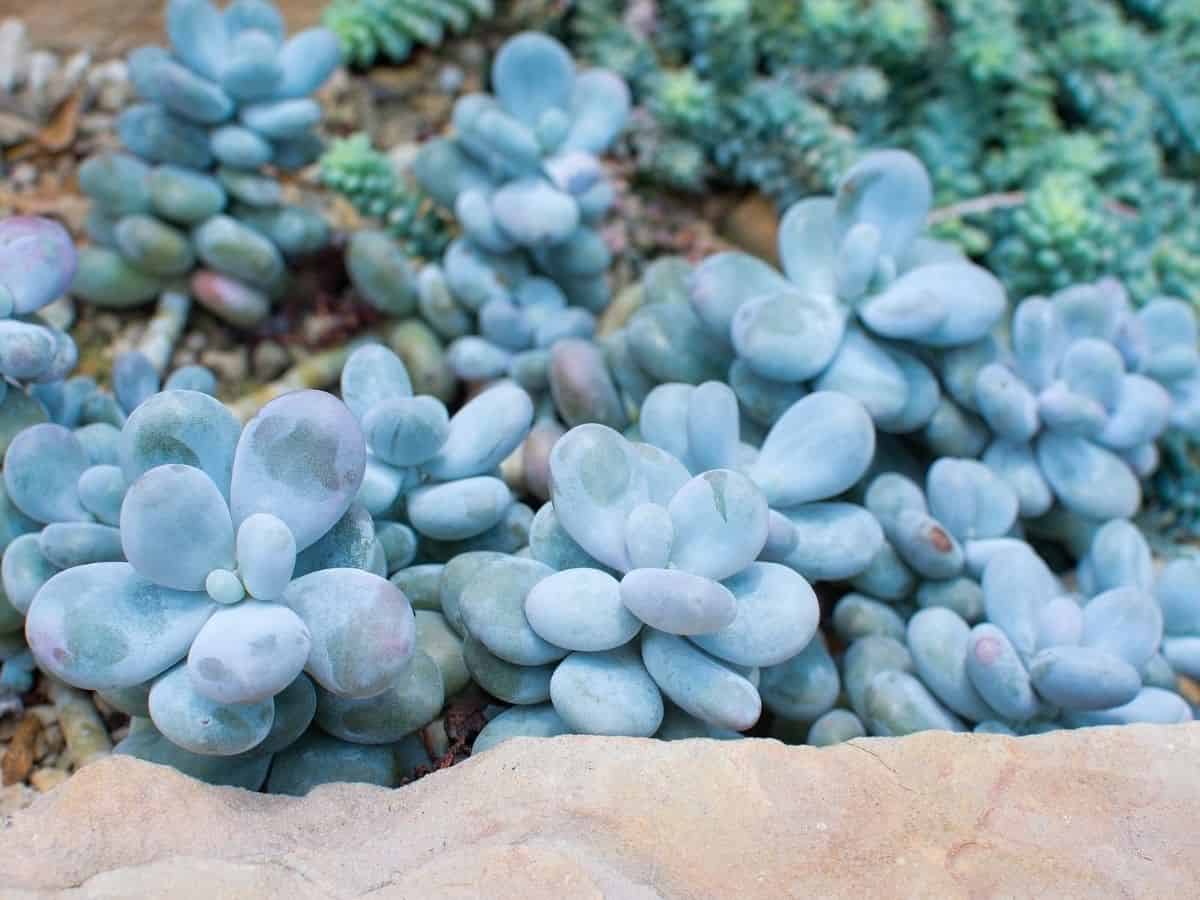 Buy it from:
If you are looking for a succulent that doesn't limit you to the traditional green color, then moonstone succulents are worth considering. The Pachyphytum Oviferum is commonly nicknamed 'moonstone' or 'sugar almond plant' based on its shape and color.
These succulents can grow up to 10 cm in height with a varying color combination of leaves. From shades of blue to even purple, this egg-shaped succulent thrives under minimal care, thus serving as an excellent choice to add to your home décor.
Echeveria Lola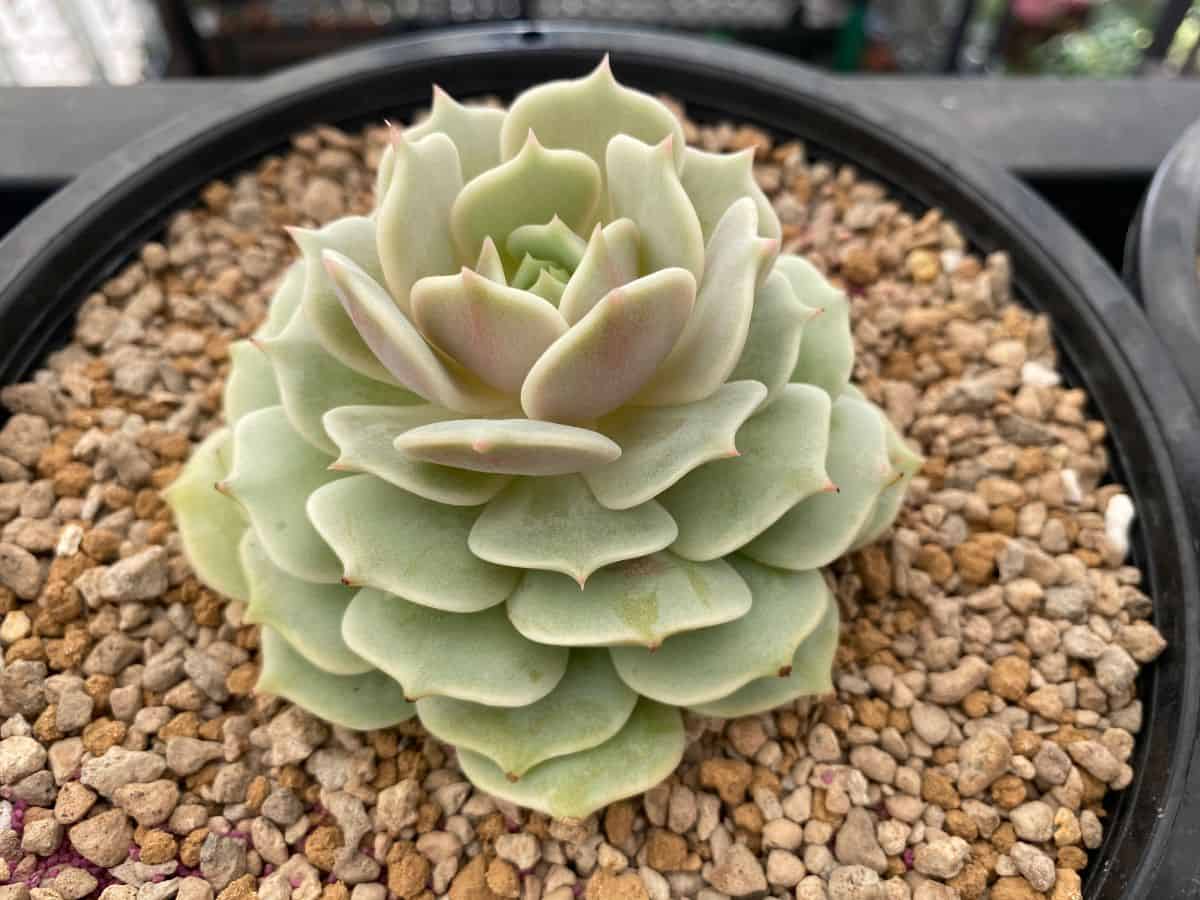 Buy it from:
The Echeveria Lola has remained one of the most widely preferred succulents. These thrive best when kept outdoors with plenty of sunshine overlooking them. However, you can also simply place them on a windowsill.
With rubbery leaves that are a subtle color of purple or a mix of grey and blues, Lola's beauty is most evident in the small rosette of overlapping leaves. This is a charming little plant that adds character anywhere you put it.
Echeveria Minima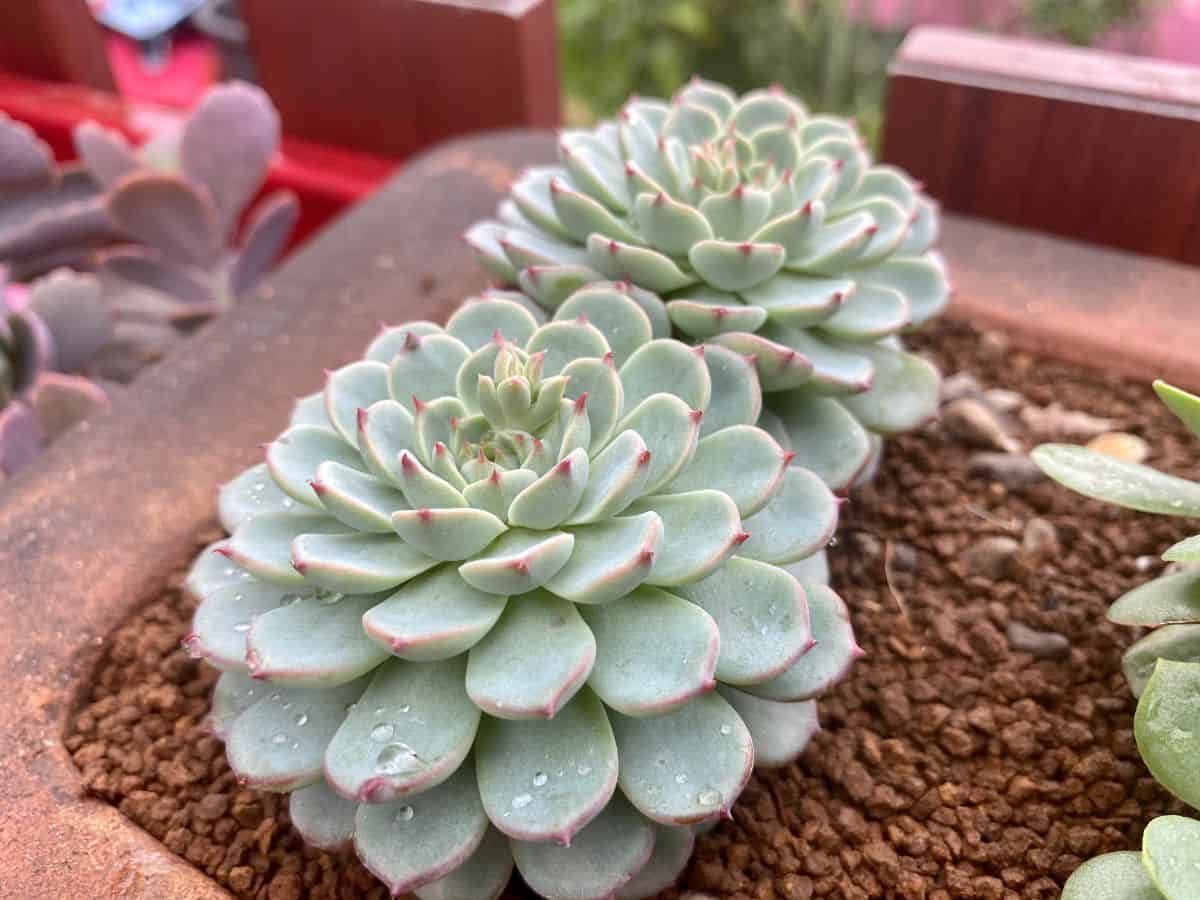 Buy it from:
Just when you think you have seen it all, succulents like Echeveria Minima remind you that the plant world is full of wonders. With their exquisite blue-green leaves arranged in rosettes and rows of yellow bell-shaped flowers on top, Echeveria Minima is a gorgeous plant.
These mini succulents are a great option as an indoor plant, especially if you live in an apartment or wish to gift them to someone since they tend to stay under three inches in height. Plus, they are pet friendly and low maintenance, requiring only partial sun and infrequent watering.
Sedum' Burrito' Donkey Tail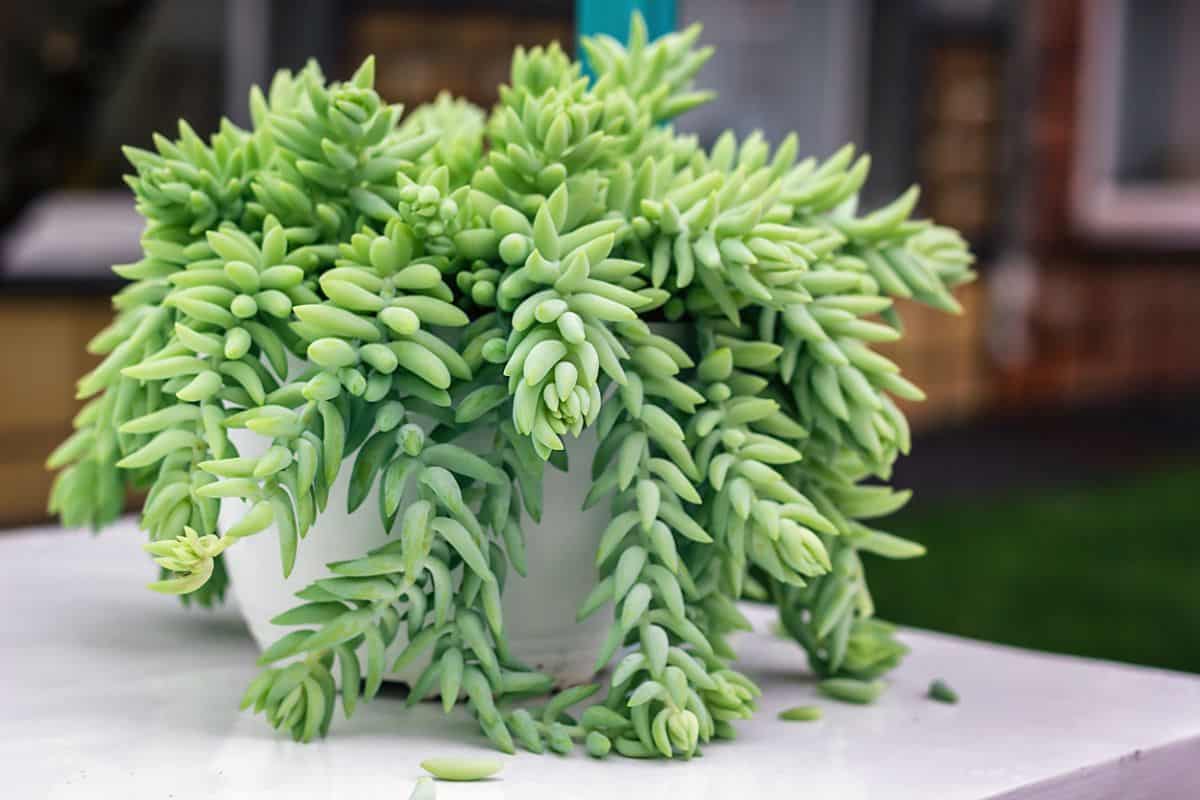 Buy it from:
With fleshy blue-green leaves and pink flowers, these sedums are originally from Mexico and belong to the Crassulaceae family. They are commonly referred to as the Sedum Burrito or Donkey Tail in the US.
Much like their unusual name, Donkey Tail succulents produce trailing stems as long as 60 cm. They thrive best as a hanging basket plant, preferably in ceramic pots.
Sedum Little Missy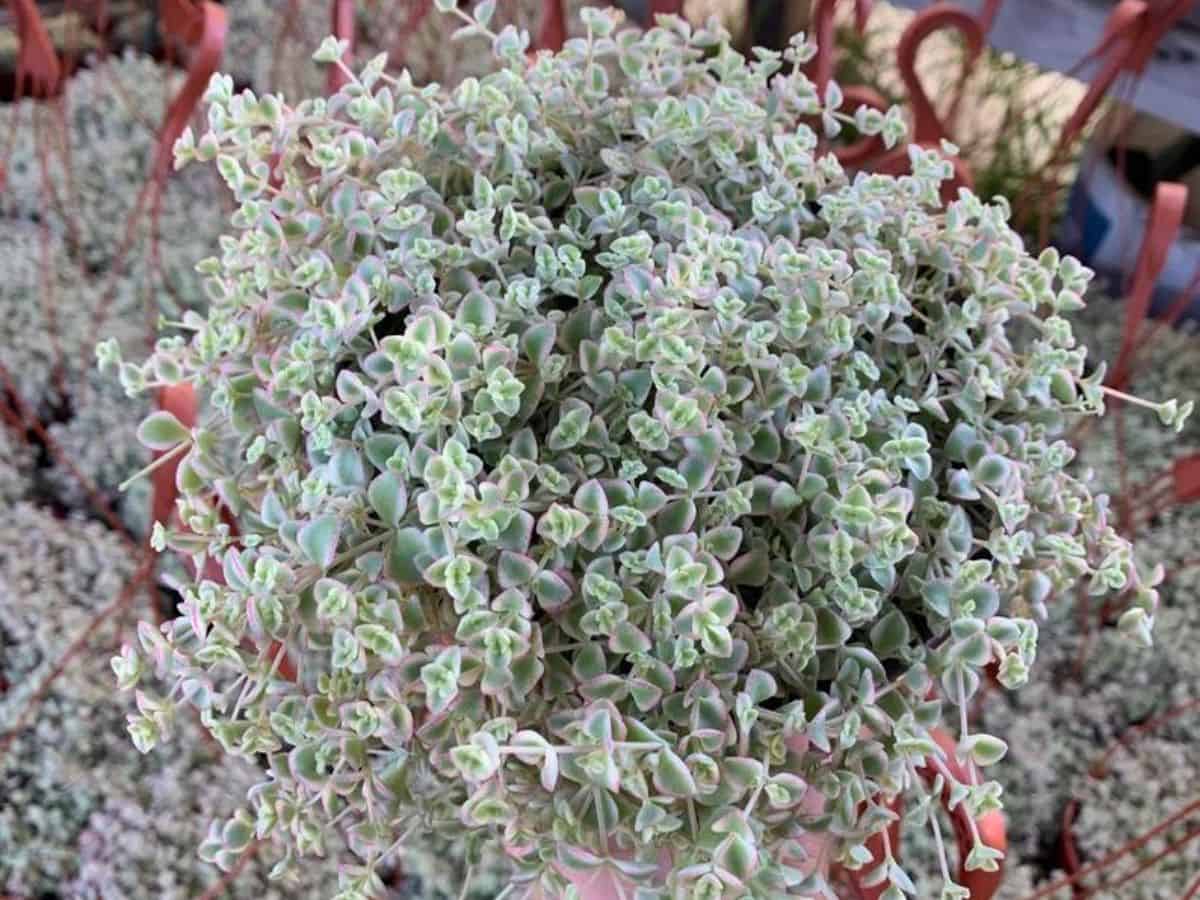 Buy it from:
If you are looking for petite yet fast growing succulents to cover the borders of your garden, then Little Missy is definitely worth considering. These brightly colored creeping succulents require almost no sun and an infrequent splash of water. And end up providing plenty of color to your pet-friendly garden, especially during the fall season.
And since they require very little light, you can also keep them inside the house. Add some character to your home inside and out.
Zebra Plant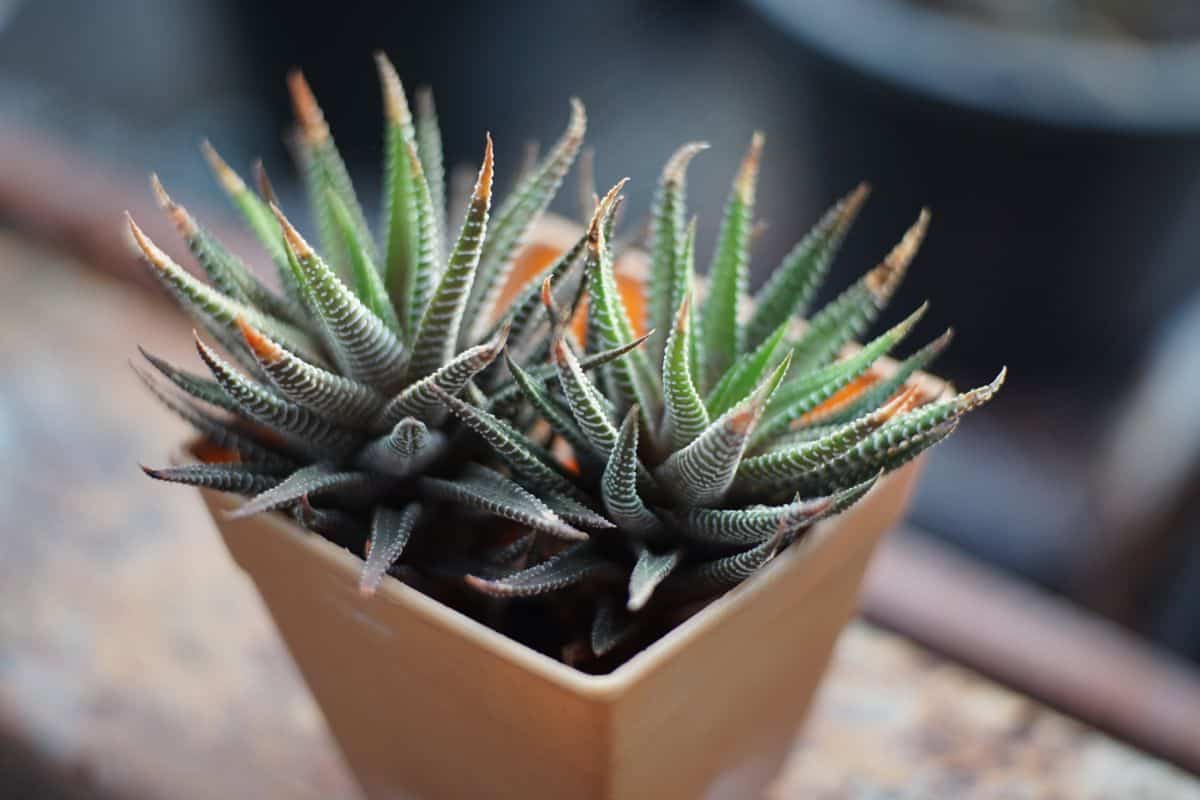 Buy it from:
Haworthia fasciata, commonly known as the Zebra Plant, serves as an excellent addition to your indoor plant collection. These delicately small succulents are famous for their clusters of dark green leaves with white bumps, giving them a zebra effect.
Reaching up to 5 to 8-inches in height, they require minimal sunlight and tend to sprout delicate white or pink flowers during the fall season.
Flower dust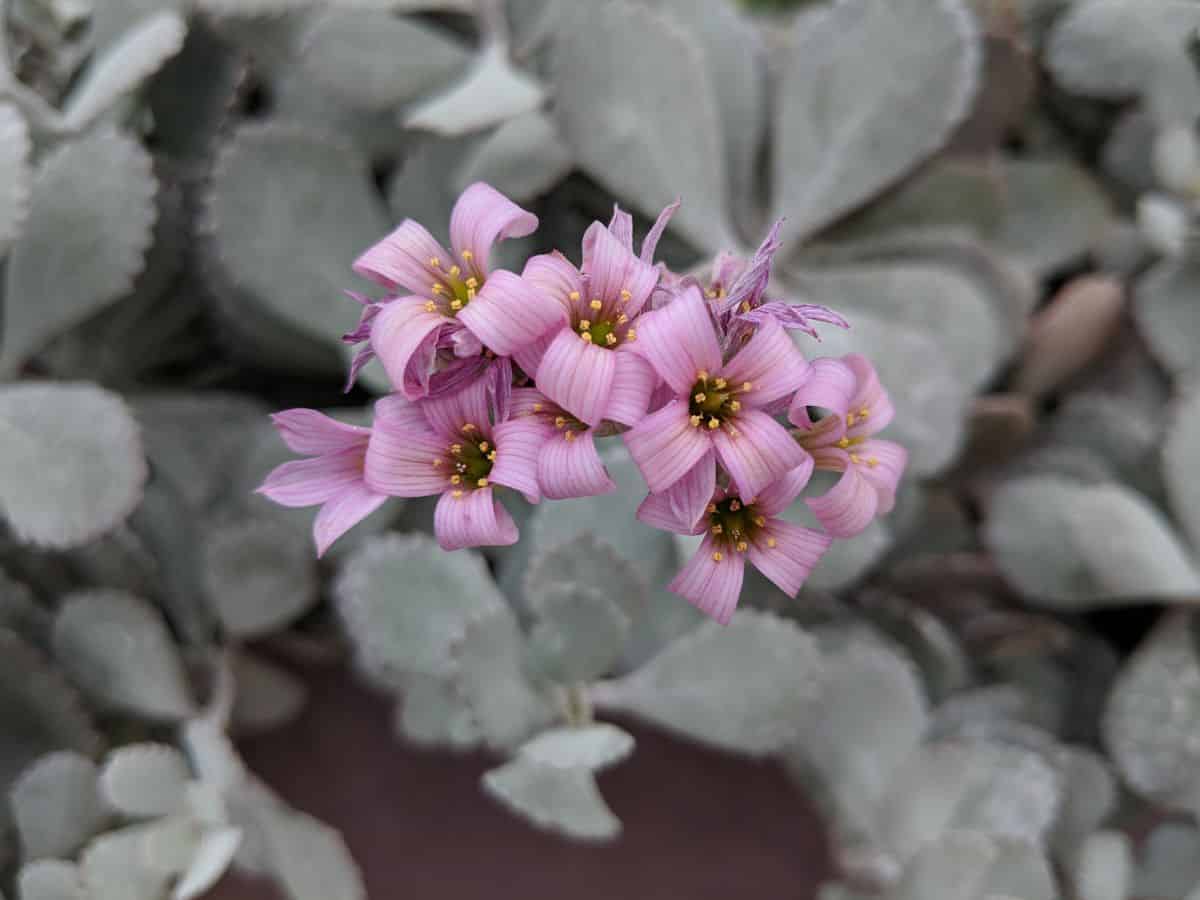 Buy it from:
The Kalanchoe Pumila or 'flower dusts' are little pink dwarf succulents which bloom during late winters or early spring. Consisting of broad silver-white leaves, flower dusts grows as tall as 8 inches and are relatively easy to care for (even if you are a beginner).
They thrive best outdoors (with plenty of sunshine), either in-ground or hanging in containers and baskets.
Baby Jade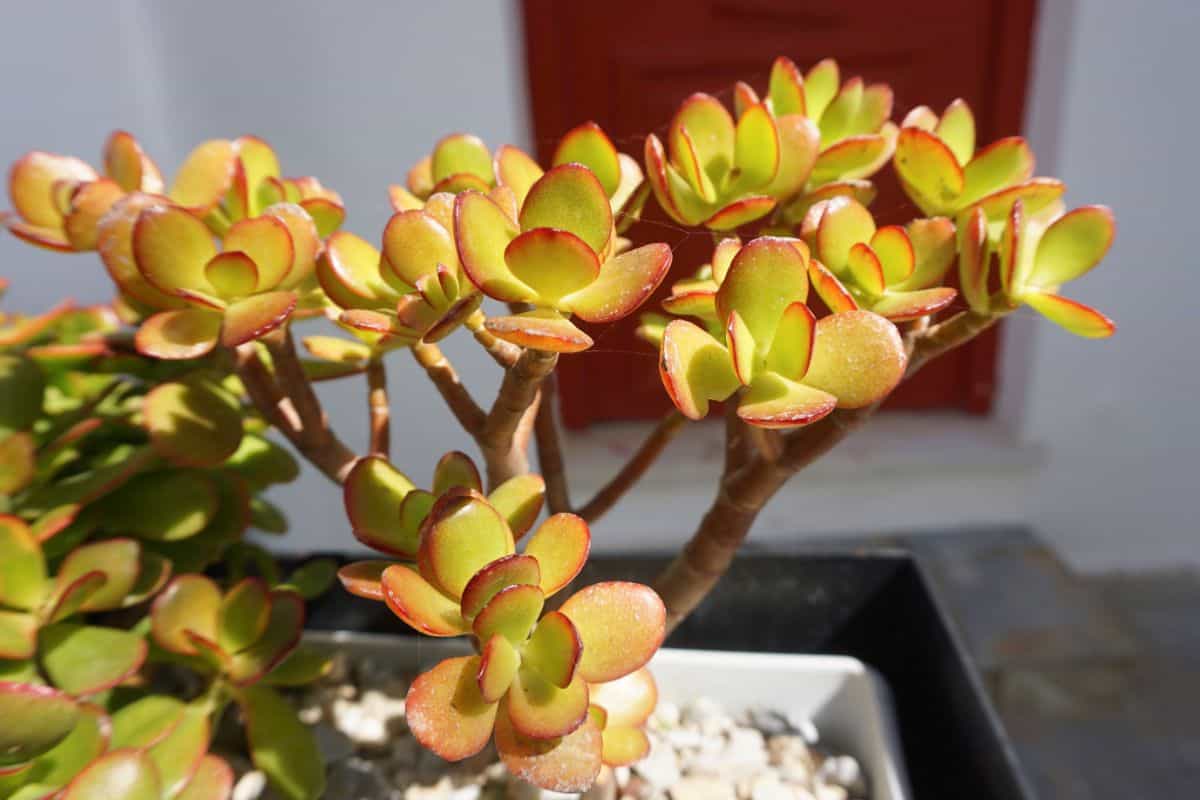 Buy it from:
A charming and cool indoor/outdoor succulent is the Crassula Ovata, commonly known as Baby Jade. With minimal care requirements and partial exposure to the sun, baby jades bloom in exquisite clusters of white star-shaped flowers.
Baby Jade's leaves can turn a beautiful shade of red if exposed to too much sun. But if this happens, it means you ought to consider moving them to a spot with slightly less direct sunlight.
Lastly, while these thrive both indoors and outdoors with moderate weather, keep them protected from cold weather as they are not so hardy.
Little Warty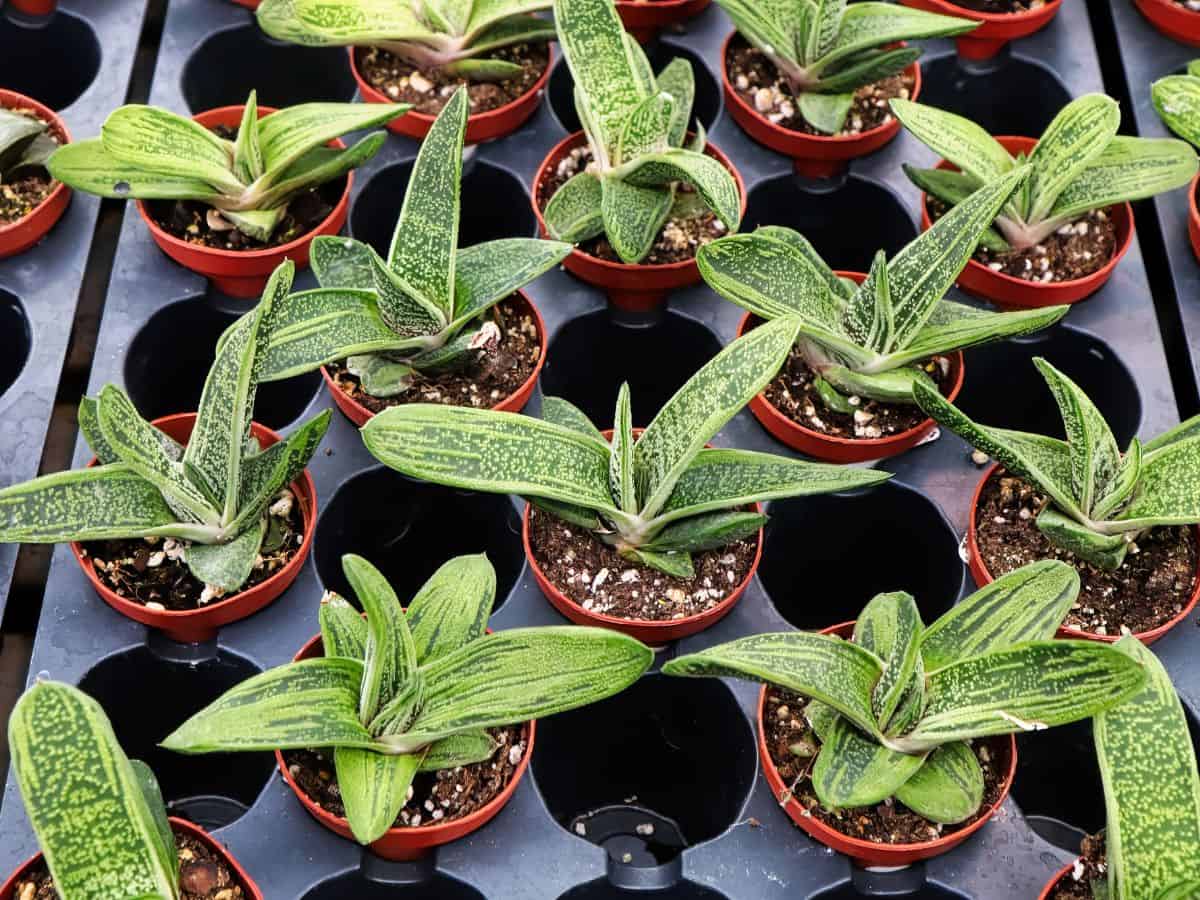 Buy it from:
Known for its interesting leaf arrangement, Little Warty or Gasteria consists of leaves in different shades of green with pink-bronze margins. These popular indoor succulents grow up to 5 inches in height and blossom pink flowers, thus giving your windowsill some style.
As far as caring for these little succulents is concerned, they thrive best in areas with little humidity and infrequent watering.
Kalanchoe Tomentosa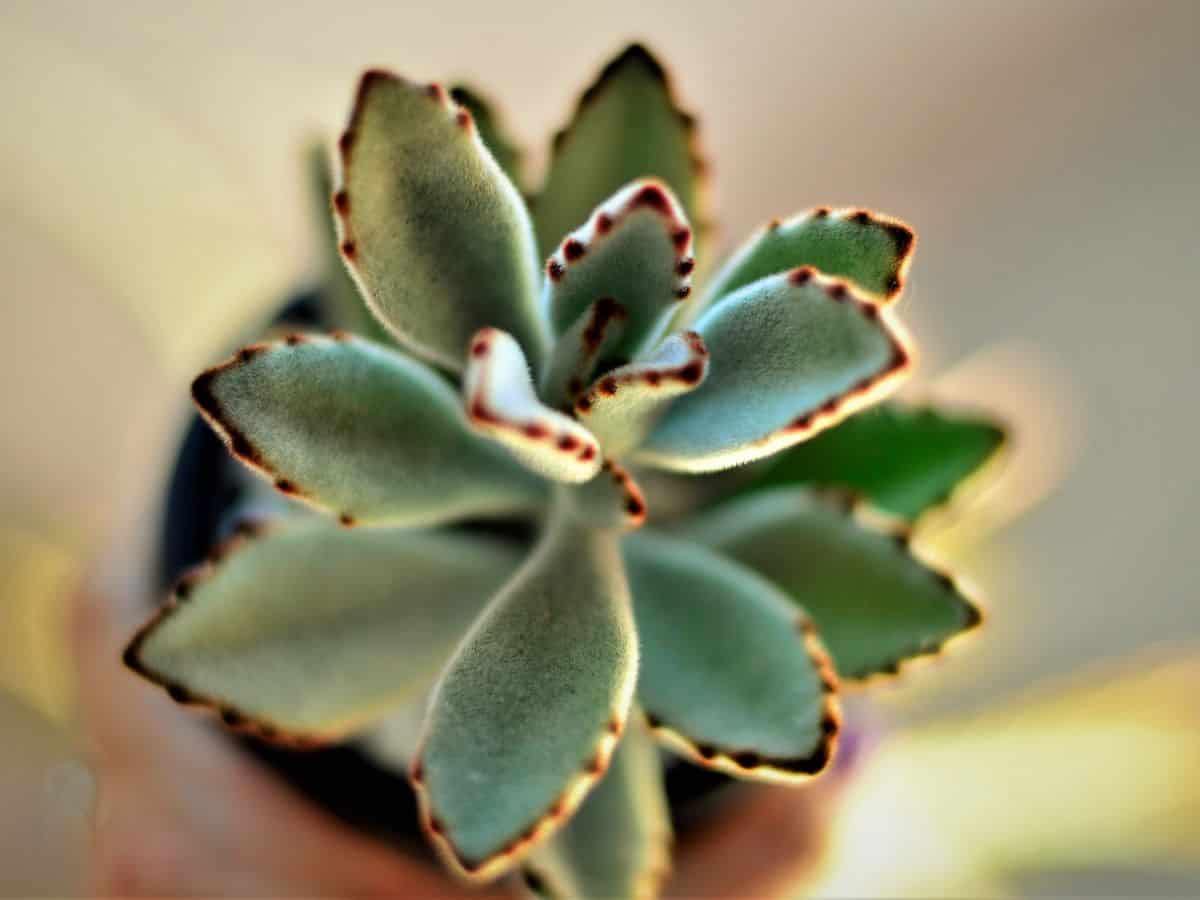 Buy it from:
The Kalanchoe Tomentosa, commonly referred to as donkey ears or panda plant, has thick, velvety oval-shaped leaves with brownish-red hues on the edges. Its nicknames come from its silvery fur-like hair.
Unlike most other succulents, Panda plants can be found in varying colors – chocolate brown to whitish-grey. These tiny succulents are an excellent addition to your apartment balcony since they grow no taller than 18 inches. However, Panda plants require plenty of sunlight and really thrive outdoors in pots rather than indoors.
Little Bobo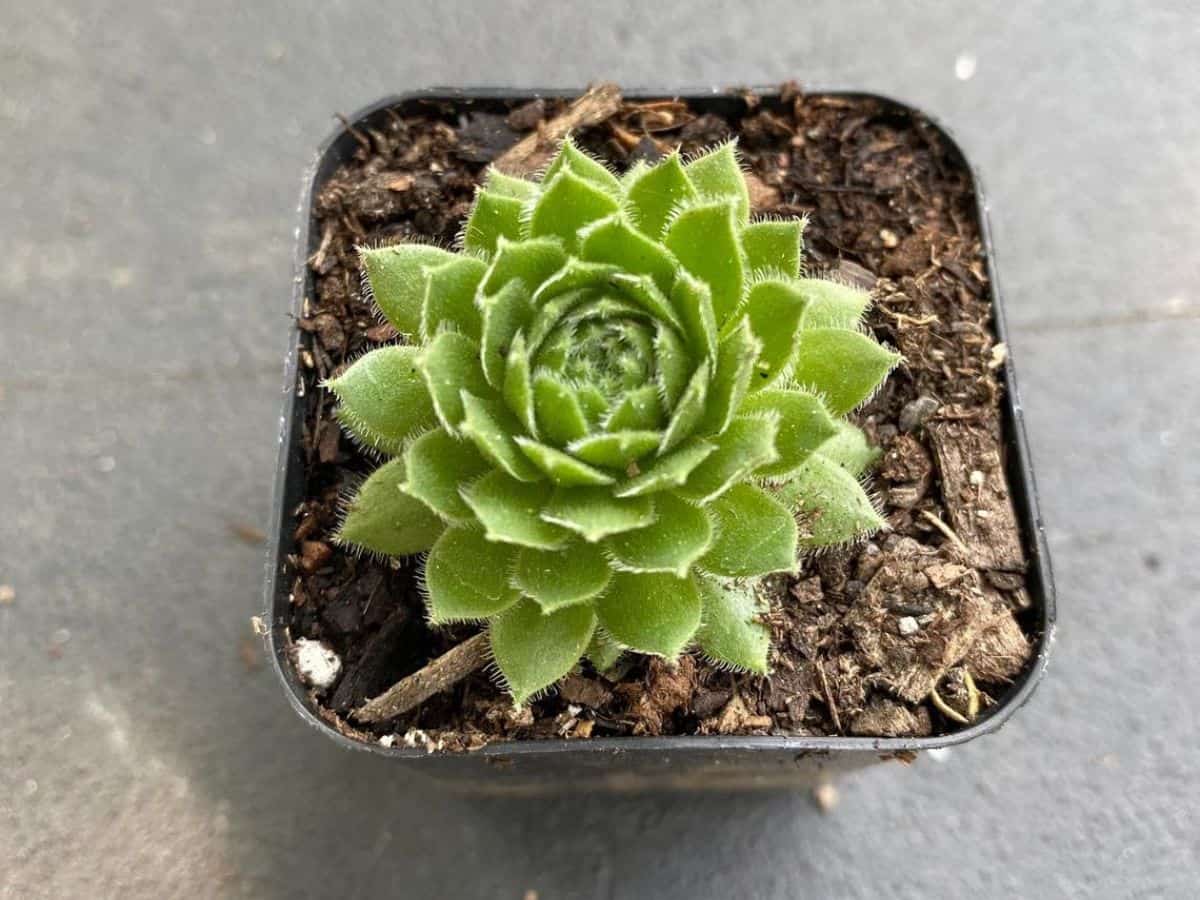 Buy it from:
As the name suggests, Little Bobos are tiny succulents that stay small, growing no taller than 3 inches. They belong to the sempervivum family and are famous for their vibrant leaves arranged in the shape of a rose. Although Little Bobo grows best in full sunlight and regular watering, they can live through cold weather – even snow.
Echeveria Amoena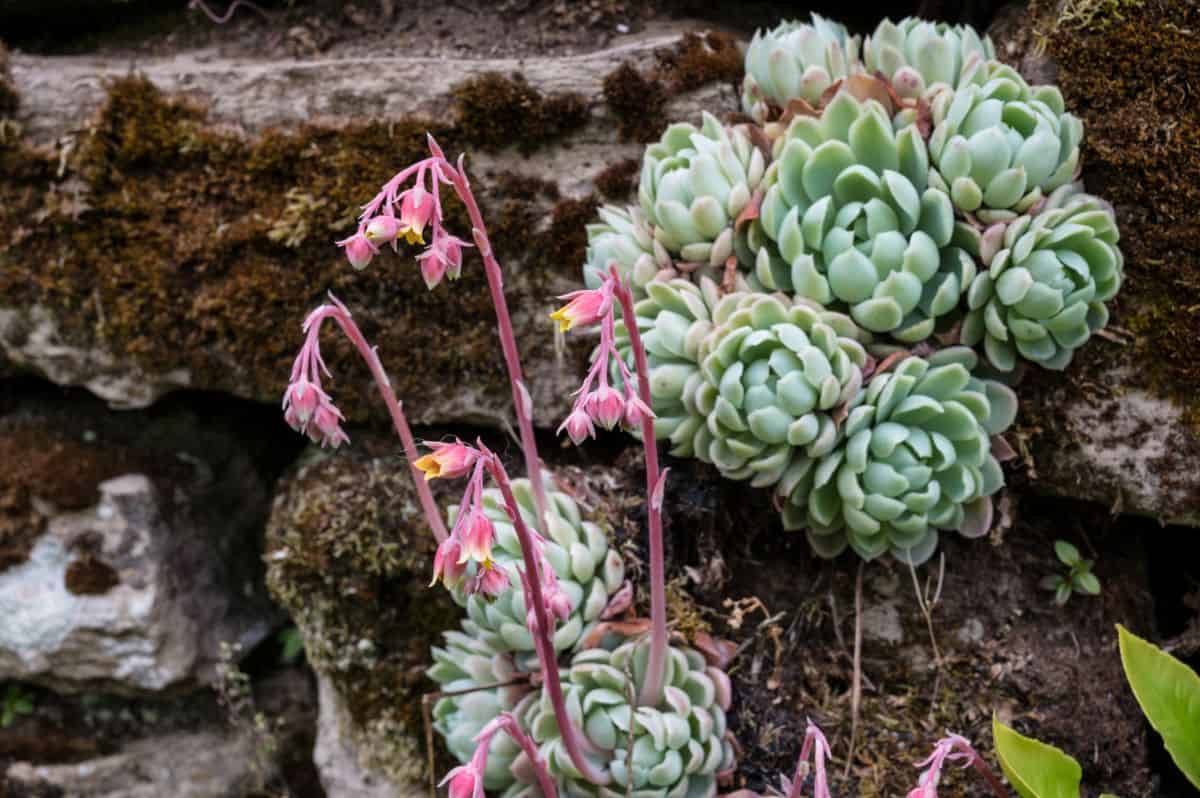 Buy it from:
The Echeveria Amoena is best suited for people who can't spend much time taking care of their tiny nursery. These thick, bulky green-colored succulents produce coral-colored flowers during spring. They are relatively low maintenance when compared to other succulents, but beautiful and stylish nonetheless.
The Faucaria tigrina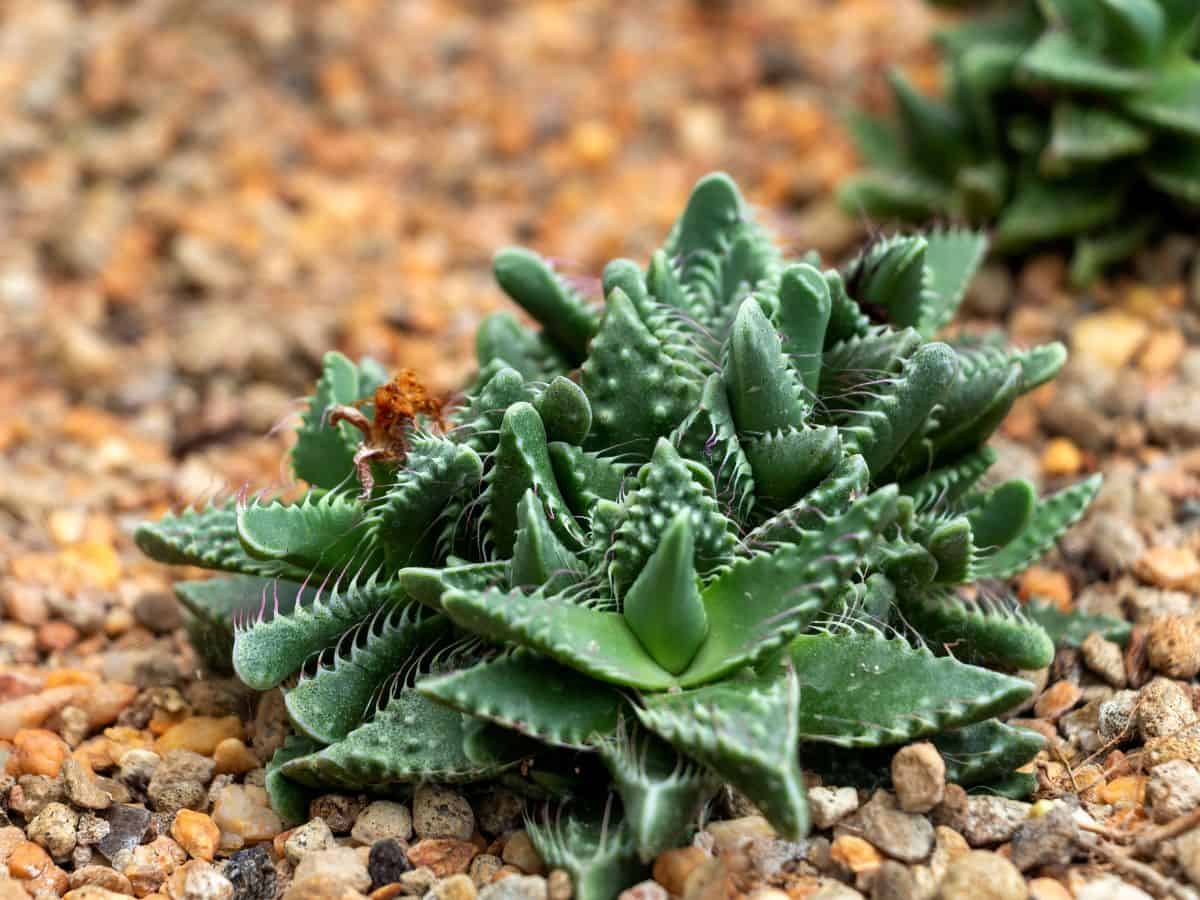 Buy it from:
If you are into succulents with a rather unique appearance, then Faucaria Tigrinas (nicknamed Tiger's Jaw) are definitely for you. With no stem and fleshy green jaw-like leaves, the tiger's jaw grows up to 6 inches high and loves to bask in the sunlight.
The Lapidaria Margarete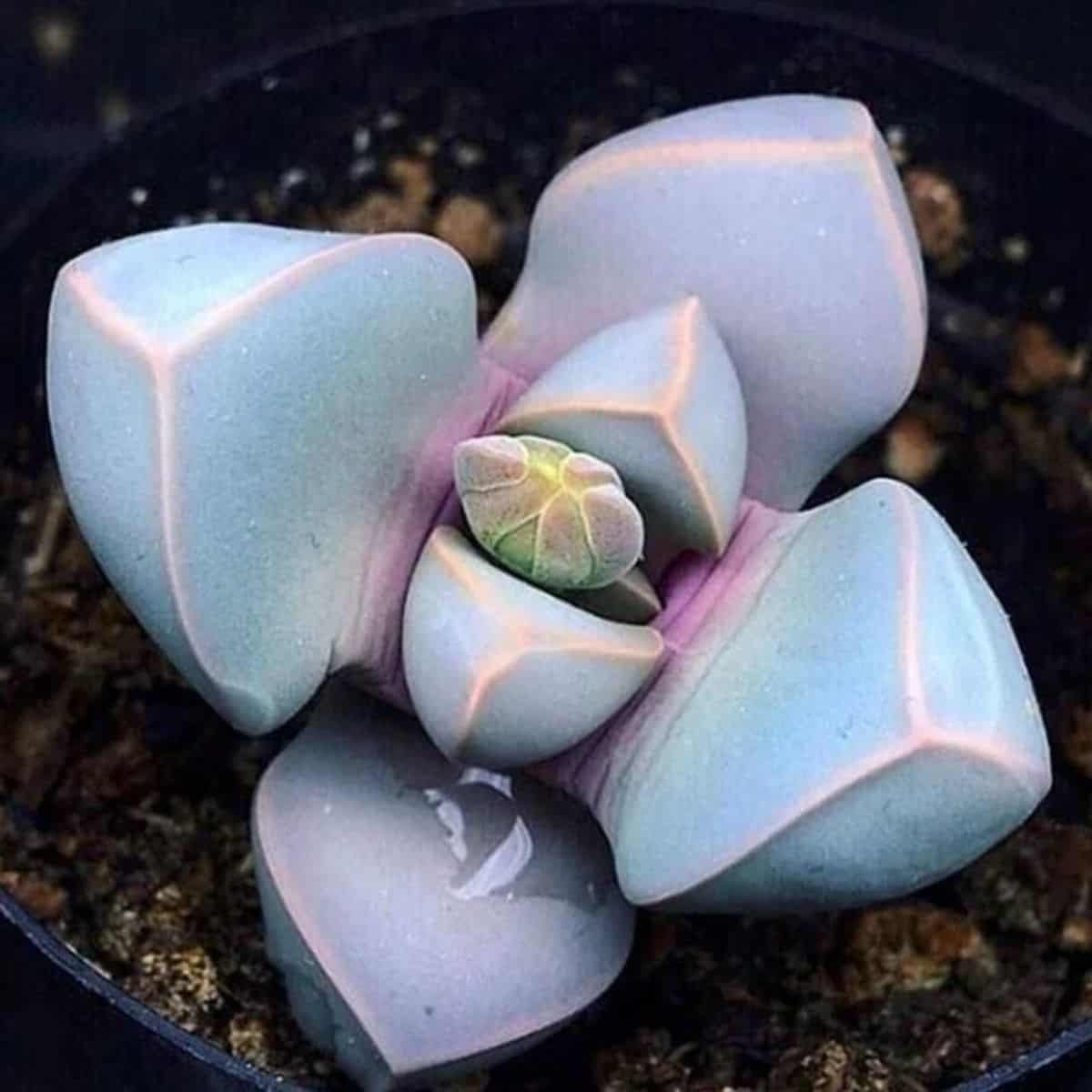 Buy it from:
Known for its bright yellow flowers that bloom during autumn, the Lapidaria Margarete or Karoo Rose succulents demand plenty of sunlight and adequate watering. While autumn may be their time to outshine other succulents, these dwarf succulents remain inactive during summer and winters.
The Conophytum calculus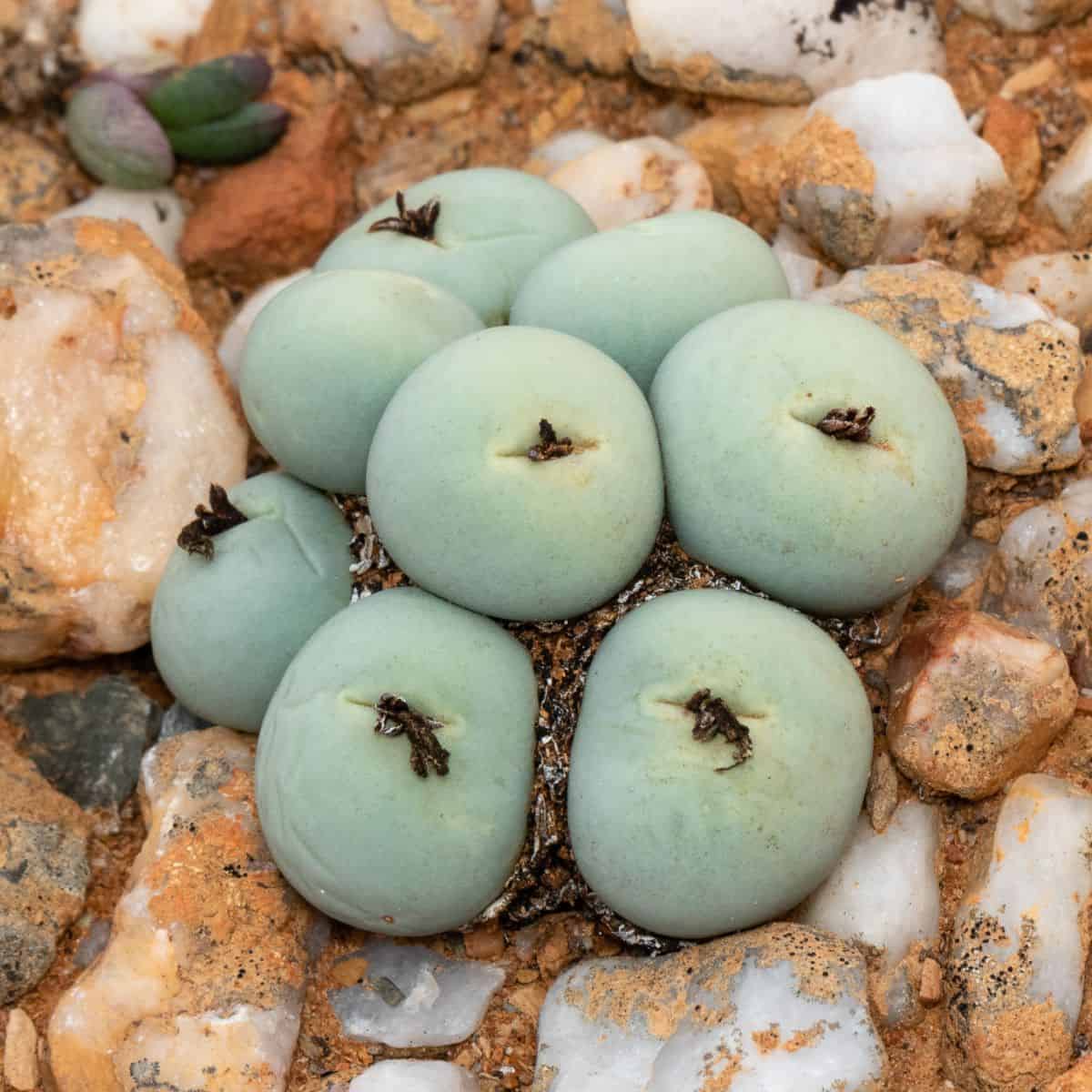 Buy it from:
Did you know that some succulents can live as long as 50 years? In case you are wondering, then Conophytum calculus is one of them. With its leaves joined together in the shape of a pebble or a ball, these stem-less plants give flowers during the autumn season and exuberate a lovely clove-like aroma.
However, the conophytum calculus requires a shaded area with limited watering to keep its glory intact.
The Aloinopsis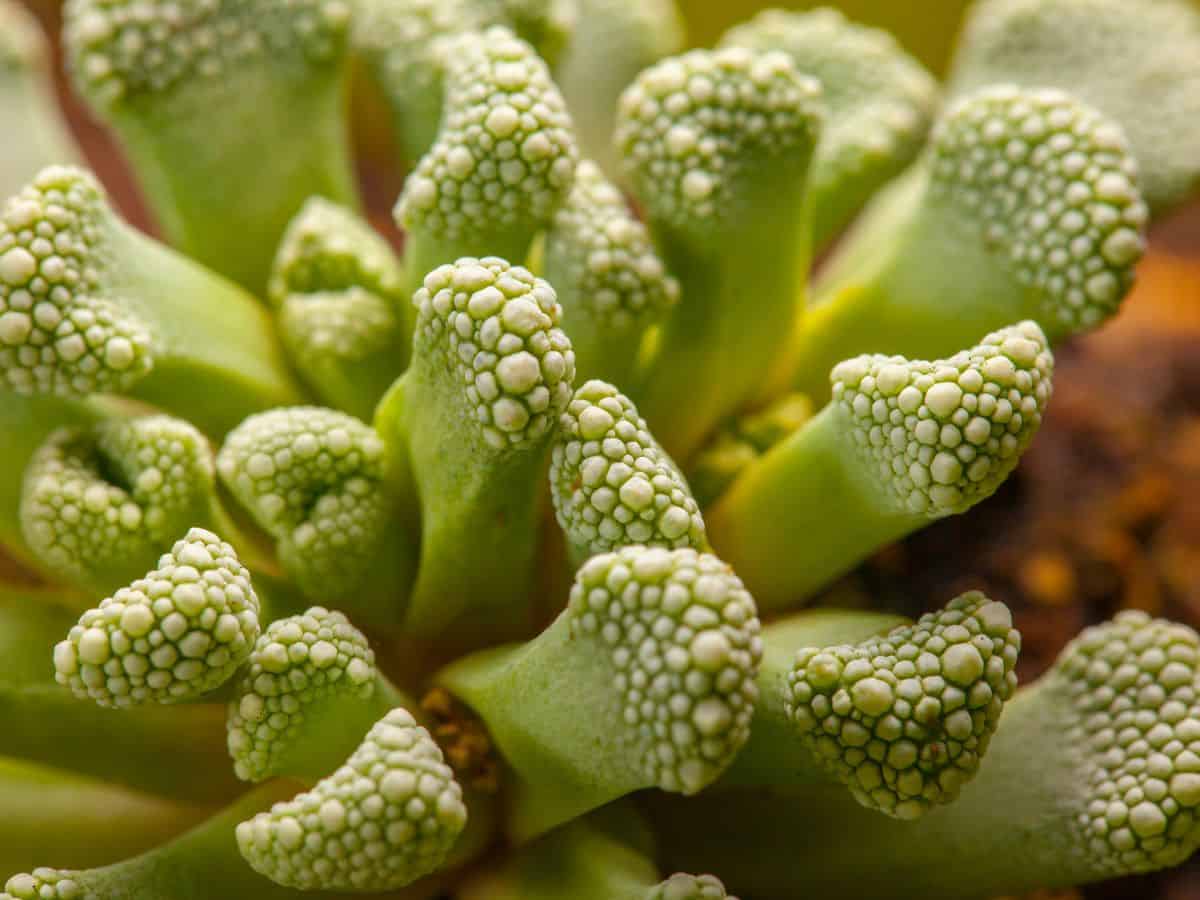 Buy it from:
The aloinopsis are dwarf succulents growing no taller than 2 inches. They belong to the ice plant family. The aloinopsis does pretty well on minimal watering but does need plenty of light.
Since they belong to the ice plant family, they remain inactive in summer. Still, they thrive in winter, giving out a bed of bluish-green thick leaves with yellow or orange flowers on top.
The Chinese Money Plant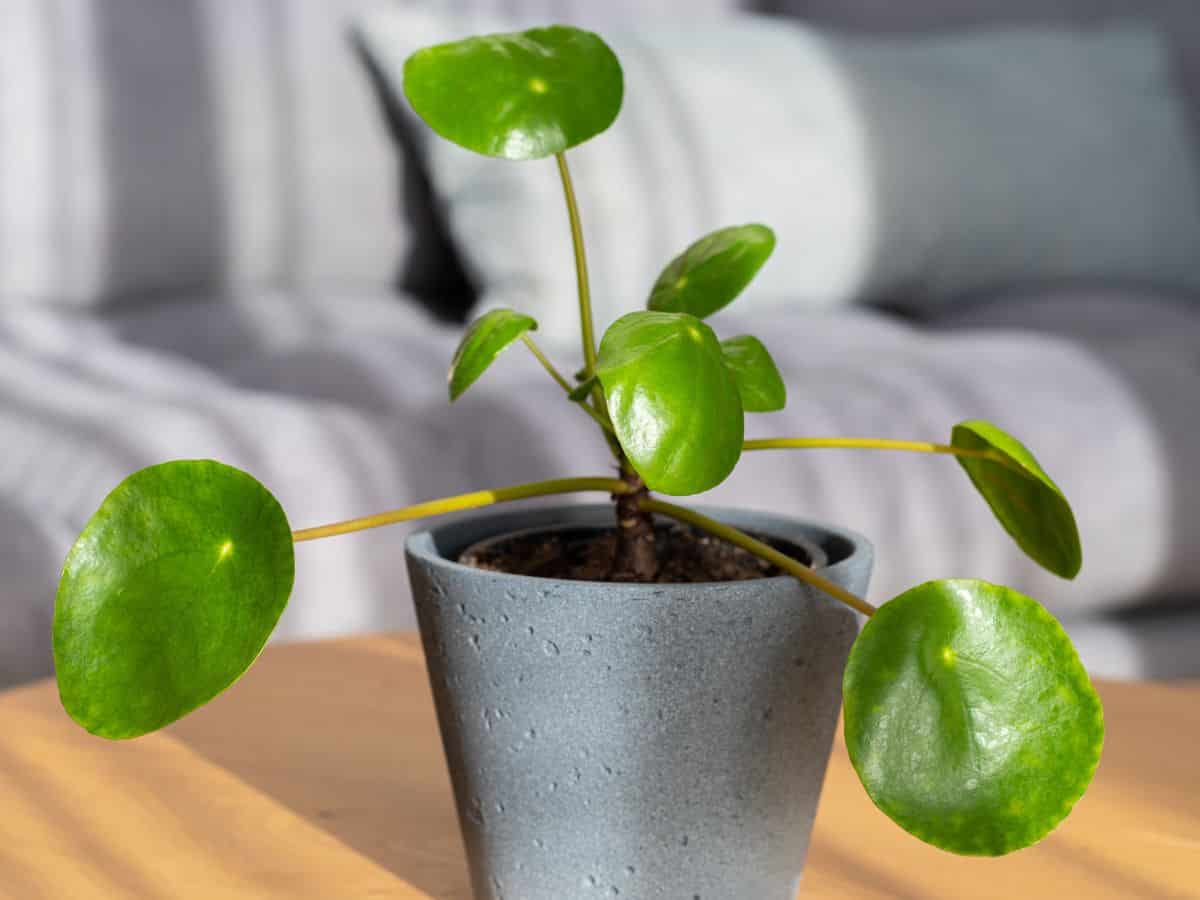 Buy it from:
The Pilea peperomioides hailing all the way from China is a terrarium-friendly succulent. This tiny succulent has bright green coin-shaped leaves, commonly referred to as the Chinese money plant and is passed around as a friendship plant or a lucky totem.
As far as caring for these dwarf-like pancake succulents is concerned, they can thrive indoors and outdoors as long as they have access to a bit of light and proper drainage.
Crinkle Leaf Plant (Adromischus cristatus)
Buy it from:
If you are looking for succulents that are a bit unique yet easy to care for, then the Adromischus cristatus is worth checking out. With tall green stalks and leaves crinkled on top, these distinctive succulents are covered with a layer of heavenly white flowers.
The Adromischus cristatus, commonly known as the Crinkle leaf plant, grows as tall as 6 inches and is a delightful addition to indoor windowsills and outdoor miniature gardens. However, since they require adequate sunlight, be sure to place them facing the sun when keeping them indoors.
Horse's Teeth (Haworthia truncate)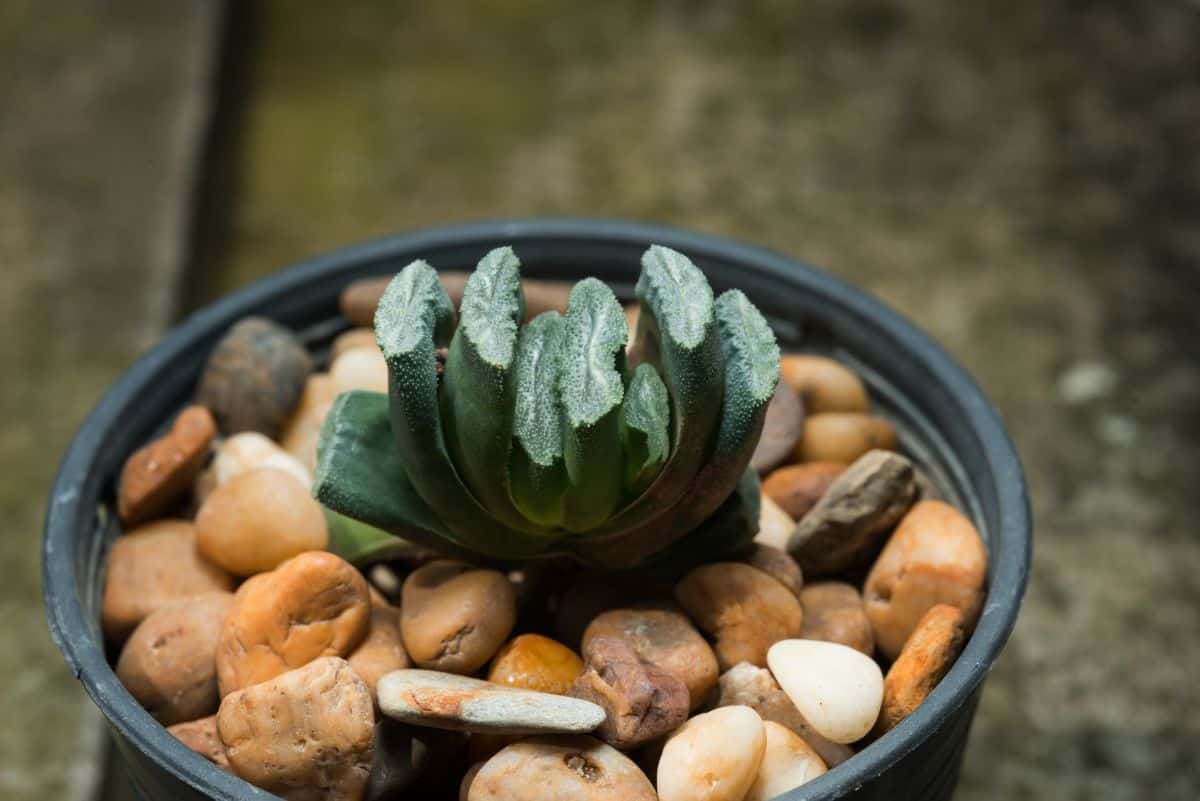 Buy it from:
A native to South Africa, the Hawthoria truncate is another popular choice for small succulents. With greyish-green leaves and a rough, warty surface growing no taller than 2 cm, these exquisite beauties are commonly known as the horse's teeth. Apart from its fascinating leaves, one can even spot white flowers blooming in late spring, ranging as high as 8 inches.
Other than its distinctive look, the horse's teeth are widely preferred due to their versatile nature of surviving indoors and outdoors, and demanding little time from their owner's everyday life.
Cobweb Houseleek (Sempervivum arachnoideum)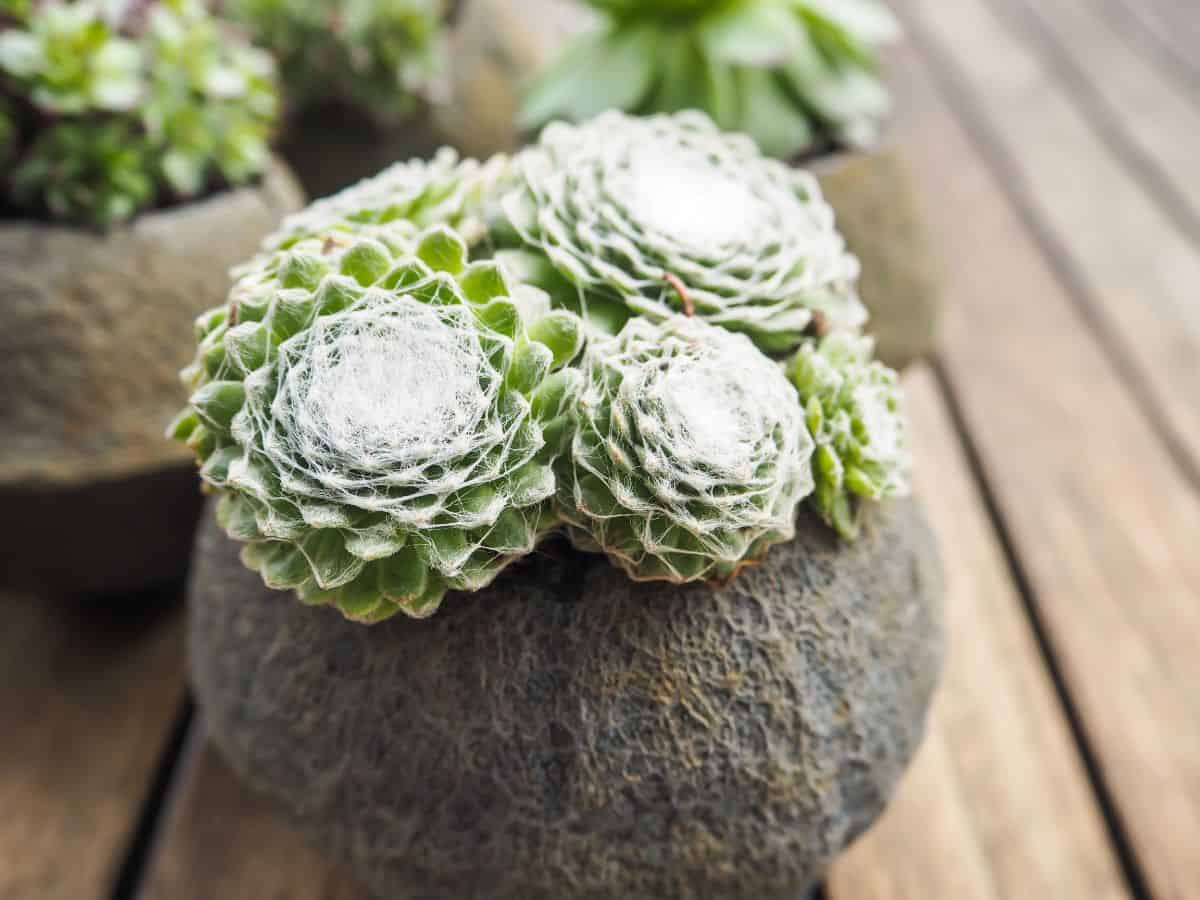 Buy it from:
If you prefer your succulents a bit fluffier than usual, then the Cobweb Houseleek is your best bet. Producing fine hair that looks a lot like cobwebs, the sempervivum arachnoideum can nestle easily indoors and outdoors.
However, since they belong to the monocarpic genus, the cobweb houseleek dies as soon as they produce flowers. Owners usually collect and replant their seeds to preserve these rare beauties to add more blooms to their gardens.
Jelly Bean or Pork and Beans (Sedum rubrotinctum)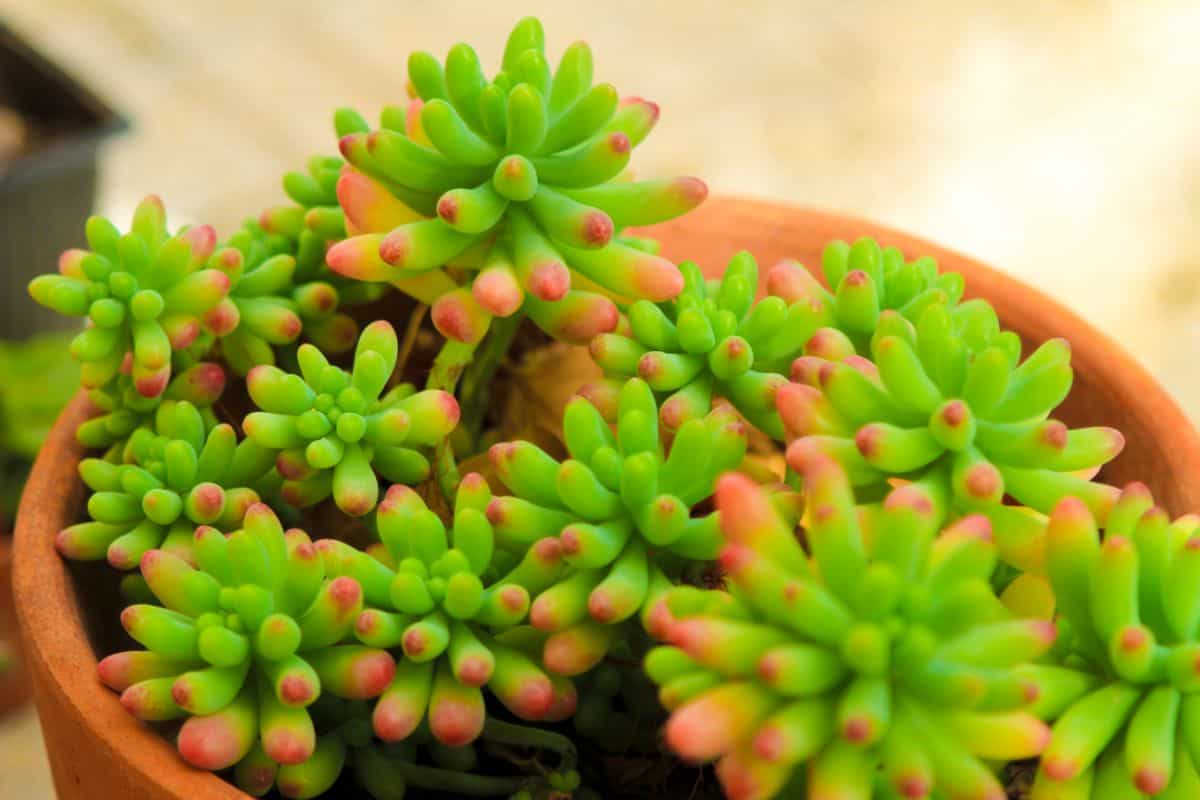 Buy it from:
As interesting as its nickname, the sedum rubrotinctum is native to the city of Mexico, thus requiring plenty of sun. As far as its strange appearance is concerned, you can expect bright green bean-like leaves in the shade, which turn red in the sunlight, along with yellow star-shaped flowers hanging on a woody stem. Unlike many other succulents, the Jelly Bean Plants are low maintenance and can quickly propagate and multiply.
Blossfeldia Liliputana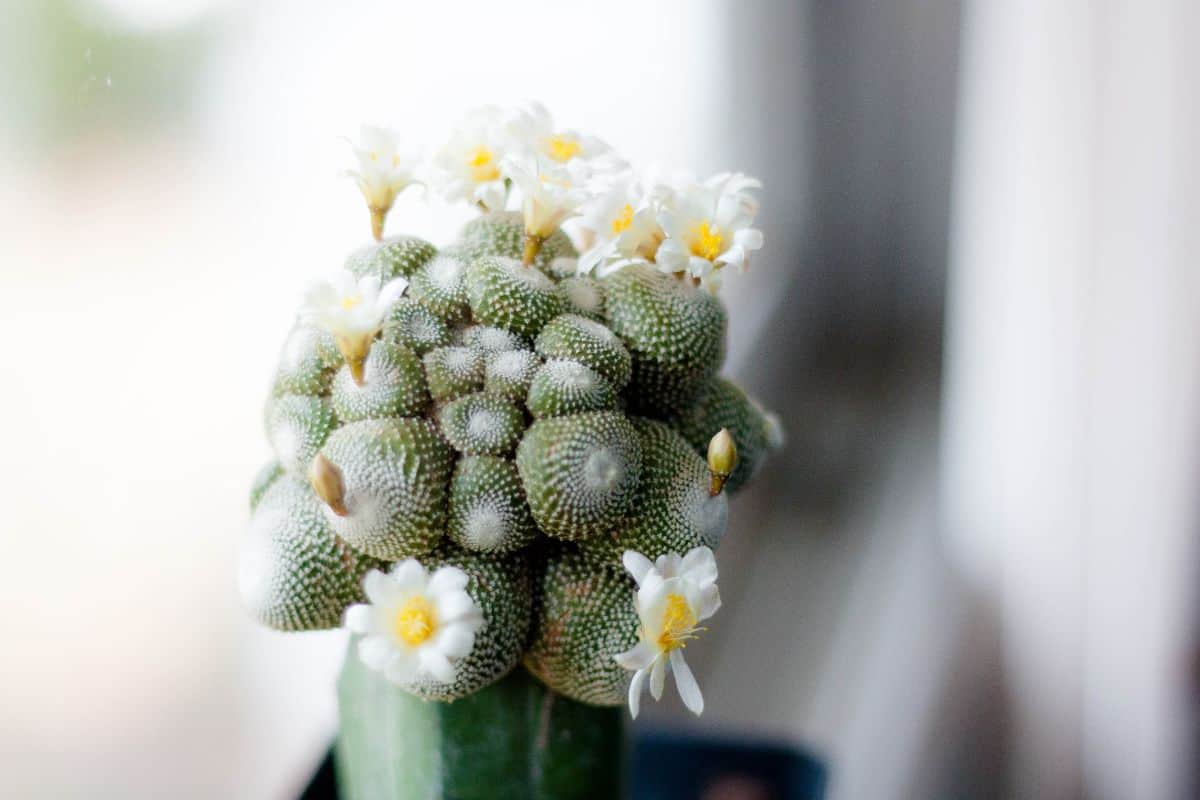 Buy it from:
Just when you think you've seen it all, the Blossfeldia Liliputana provides the perfect excuse to buy more succulents. These disk-shaped succulents in greyish-green with tufts of wool and tiny flowers in white or pink color are undoubtedly one of the most miniature succulents you can buy.
Belonging to the Cactaceae family, the small size of the Blossfeldia Liliputana reminds us of the imaginary land of Gulliver Travels. These sensational succulents cover entire pots with rounded leaves covered in white spots.
Euphoria Milii (Crown of thorns)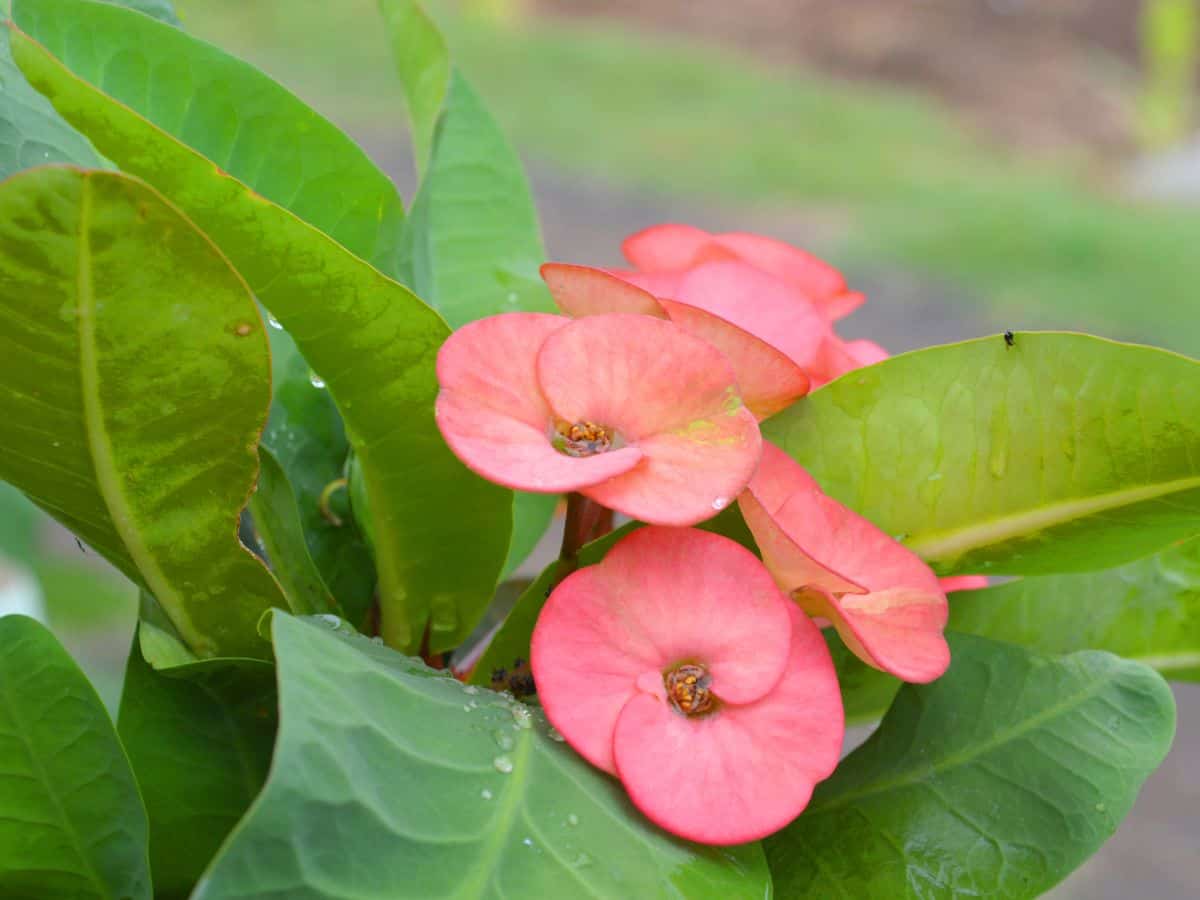 Buy it from:
Native to Madagascar and other tropical areas, the Euphoria Milii are more commonly known as the Crown of thorns or Christ's thorn. Since they originally belonged to the tropics, Christ's plant does exceptionally well in warmer climates and can be sensitive to frost. Growing no taller than two feet, the Crown of thorns are well known for their beautiful, vibrant flowers, which can add a splash of color and a touch of class to almost any décor.
False Agave (Manfreda Undulata)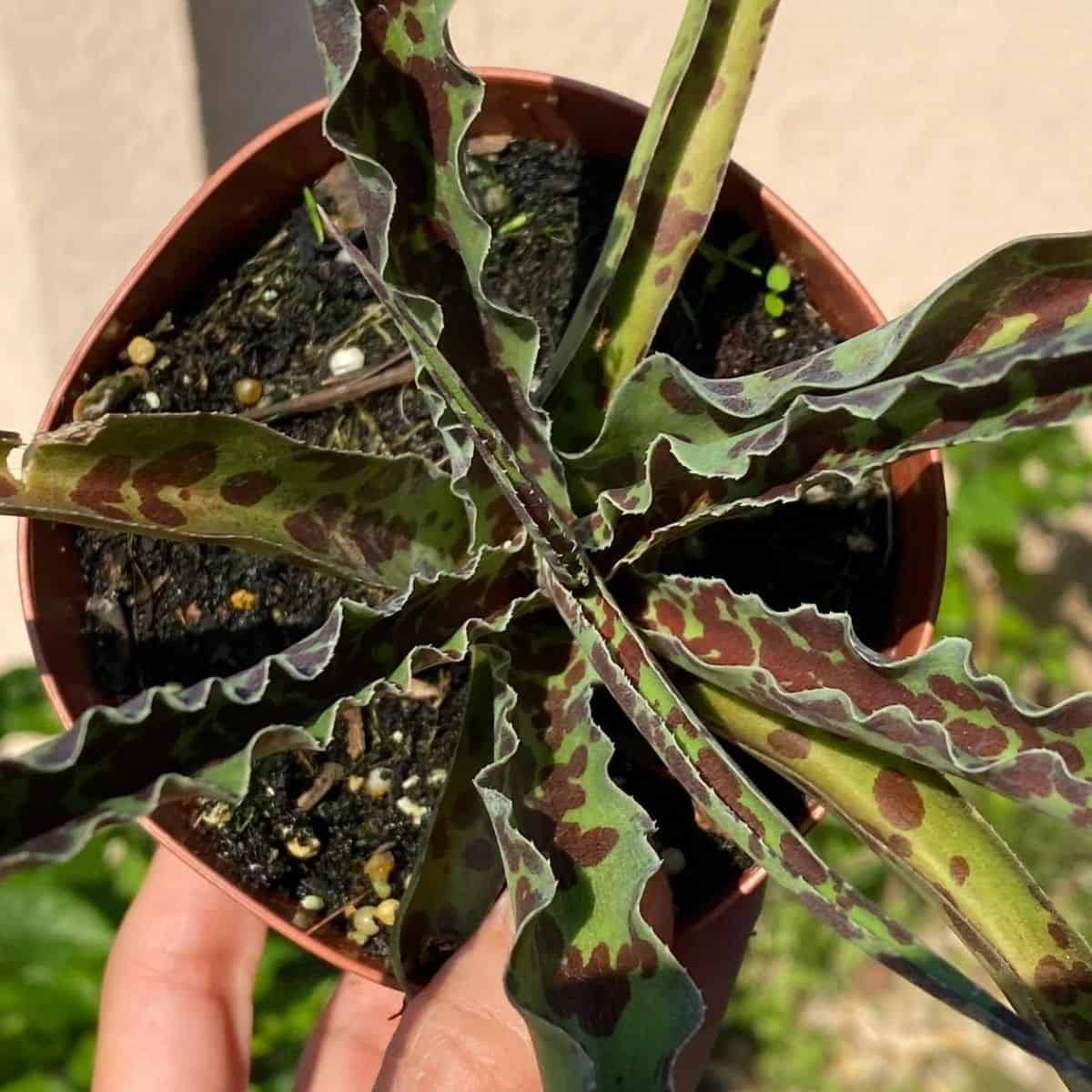 Buy it from:
With a low-growing rosette of frilly leaves, the Manfreda Undulata has often been nicknamed as the false agave or chocolate chip plant. These have mesmerizing dark green foliage dotted with chocolate brown spots. The chocolate chip succulents grow no taller than 4 to 5 inches but require adequate sun and well-drained soil.
Native to Central America and Mexico, they thrive best in a desert-like climate and thrive on practically little or no maintenance.
Baby Sun Rose (Aptenia cordifolia)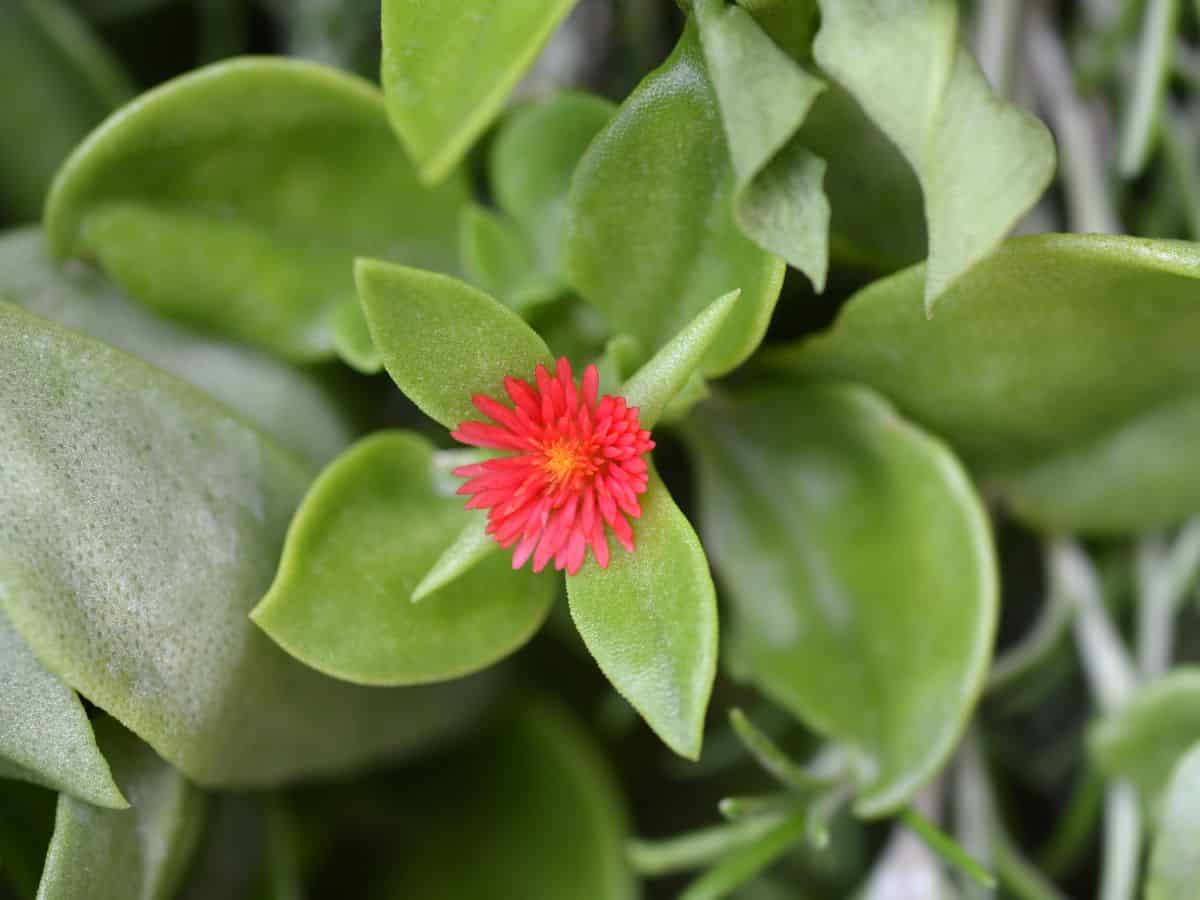 Buy it from:
As the name suggests, Baby Sun Rose (sometimes referred to as midday flowers) is an excellent choice for owners looking for succulents that bloom all year round, especially in dry, hot climates. Hailing from South Africa, these succulents grow no taller than one or two feet high, forming a dense mat-like cover for the ground.
These mini asters are available in both red and bright yellow blooms. And since they are drought and salt tolerant, the Aptenia cordifolias serve as perfect ground covers for small gardens, for filling for beautiful hanging baskets.
Hoya kerrii (Sweetheart Hoya)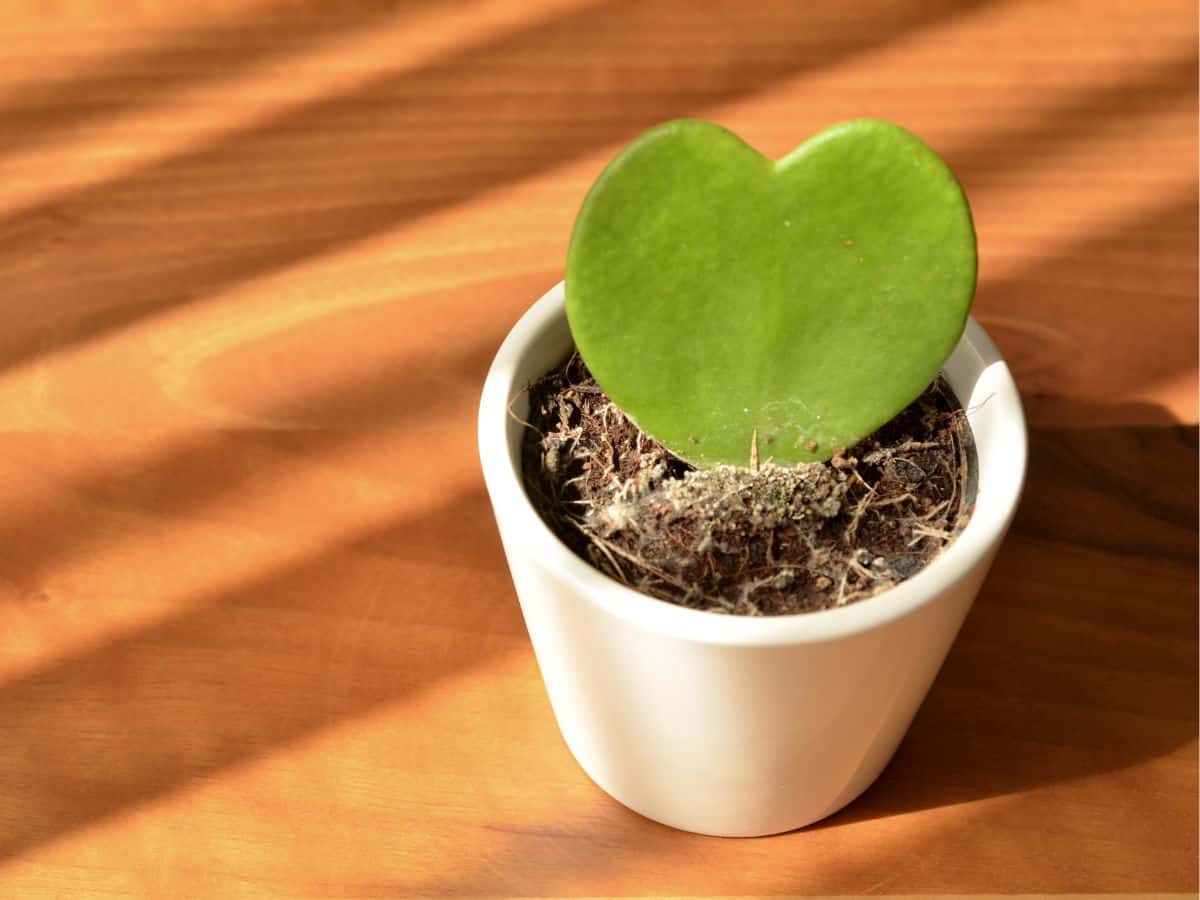 Buy it from:
The Hoya Kerrii are slow-growing semi succulents belonging to the Apocynaceae family. With quirky, bright green heart-shaped leaves, they require a reasonable amount of light and can adapt to storing water for more extended periods, thus making them an ideal house plant.
Originating from Southeast Asia with nicknames like Sweetheart Hoya, Love Heart Plant or even Valentine Hoya, are usually sold as a single heart-shaped leaf plant. No doubt these make an excellent addition to your tabletop.
Graptopetalum paraguayense (Ghost Plant)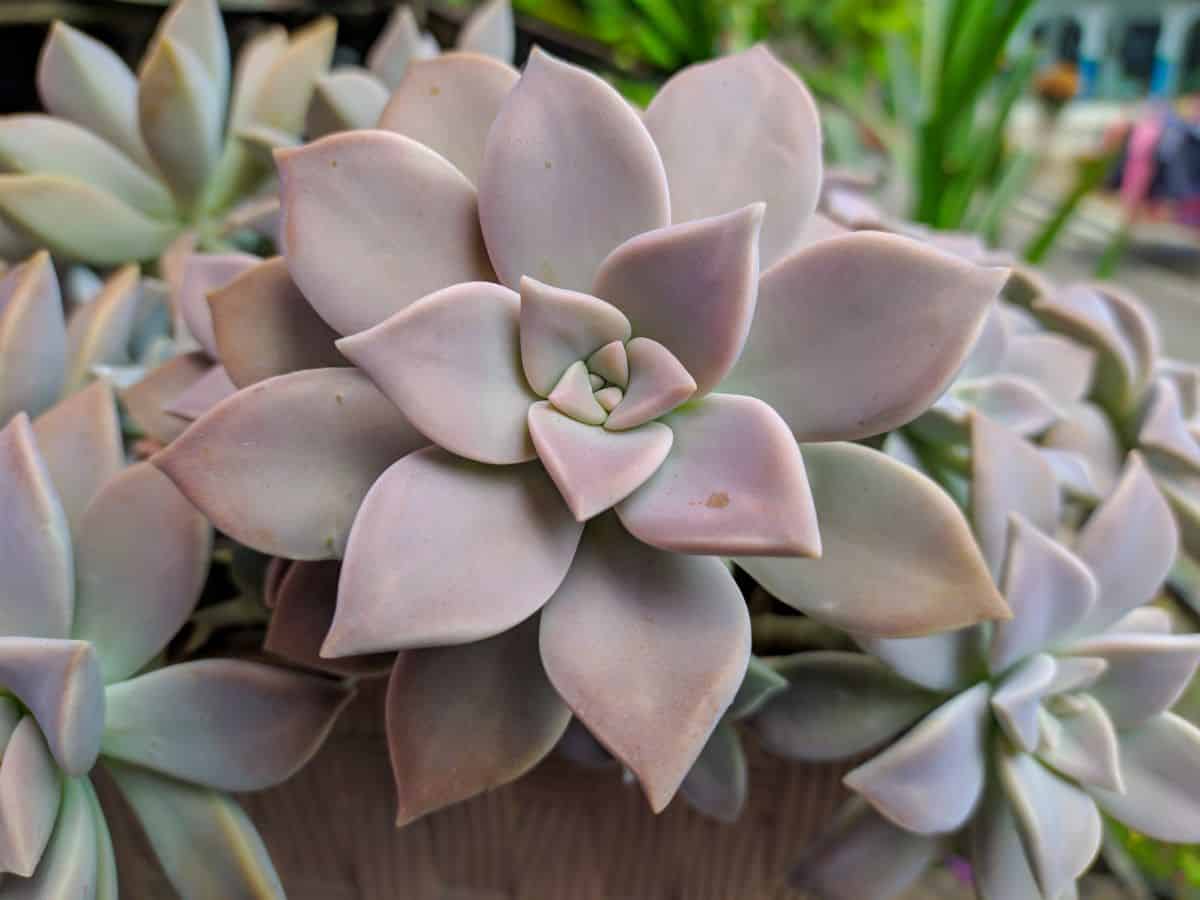 Buy it from:
If you are looking for succulents to fill your outdoor hanging pots, then the Graptopetalum paraguayense may just be the right choice. These small evergreen succulents can be easily spotted through their pointed opalescent leaves in the shape of beautiful trailing rosettes. Interestingly, ghost plants turn yellowish pink under the sun and grey when kept under shade.
Much like the name suggests, Ghost plants are best suited for owners with a busy schedule who can't water them daily. As long as they are exposed to sun light and receive occasional watering, they'll thrive and even grow small yellow flowers during spring.
Bottom line
Whether you live in an apartment or a villa in the suburbs, succulents serve as a great addition to your home décor. They not only require minimal care and attention but also thrive in all sorts of environment.
The above list is just to help you get started in choosing a succulent that best speaks to your individual taste. So feel free to explore the hundreds of variety out there waiting for you to get your hands on. Good luck!