Sometimes referred to as Mistletoe Cacti, the genus Rhipsalis is the largest genus of epiphytic cacti. The genus is comprised of 35 different species. If you have experience growing Epiphyllum, you may already know that epiphytic cacti are unique from other types of cacti in that they grow on other plants rather than in the ground.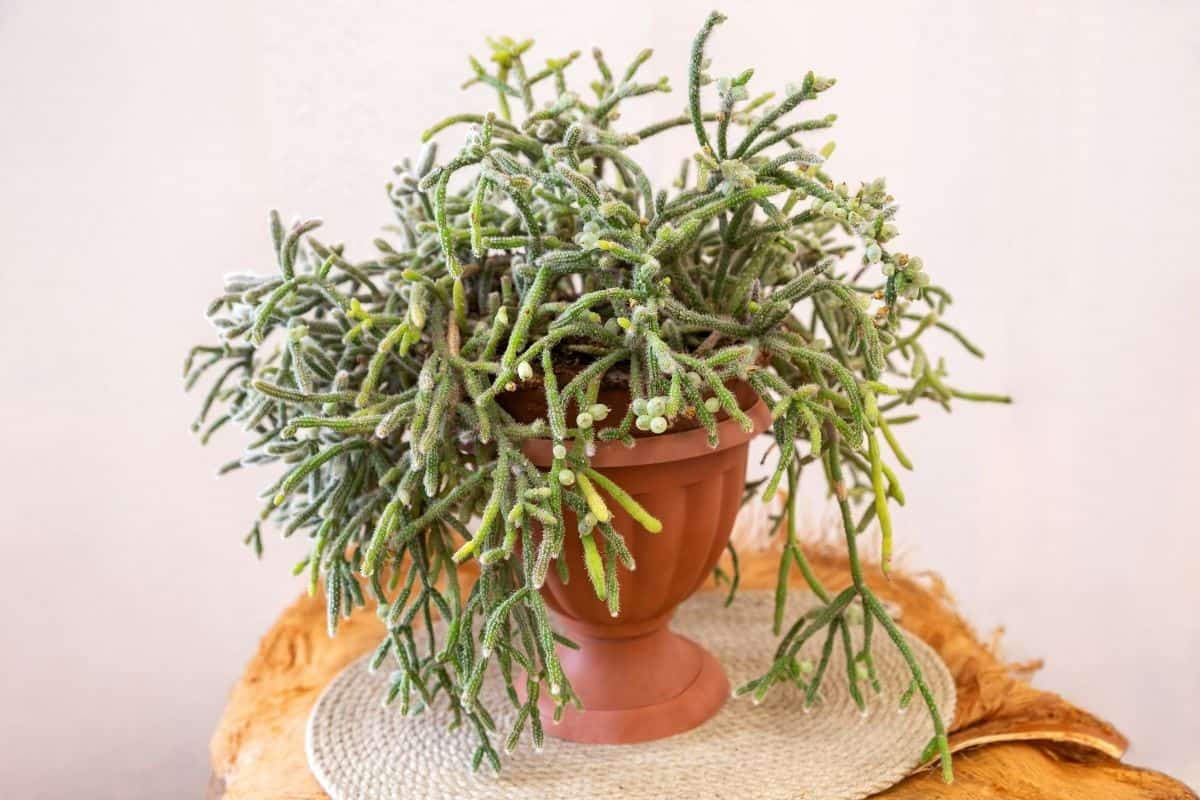 However, they are not to be confused with parasitic plants. The trees on which they grow do not provide them with nutrients. Instead, epiphytic plants are provided with a stable support system where they can grow in the debris that collects in the host plant's crevices. Since Rhipsalis can also be found in the crevices of rocks, it becomes clear that they do not require the nutrients of other plants in order to thrive.
Another unique characteristic of Rhipsalis is their lack of the sharp spines that are found on other types of cacti. This is due to the fact that Rhipsalis are jungle cacti, rather than desert cacti. They do not need to protect themselves from thirsty animals looking for a juicy snack. Rhipsalis can be found in the jungles of South America, Central America, and the Caribbean.

| | |
| --- | --- |
| Name: | Rhipsalis |
| Soil: | Debris |
| Blooming: | Month or two after flowering |
| Light: | Partial to full shade |
| Water: | Once a week, or whenever the soil becomes dry |
| Propagation: | Stem cuttings |
Jump to:
Where to Buy Rhipsalis?
Soil
As epiphytic cacti, Rhipsalis are used to growing in the debris that collects in the crevices of trees. That debris tends to drain well, so you want to choose soil that will not retain much water. Soil made for cacti works well as it tends to contain large particles such as gravel or perlite. Try to avoid using soil that contains a large amount of clay. Clay retains water and may provide your Rhipsalis with more moisture than it prefers. Excess water can quickly lead to root rot if not dealt with quickly.
Your choice in container is just as important as your choice in soil. Choose a pot with drainage holes or add them if possible. Reusing containers like teacups or cookware might make for great Instagram photos, but it's a bad idea in the long run. The health of your Rhipsalis will quickly decline if you don't allow for water drainage.
Rhipsalis do not need to be repotted frequently. They do not outgrow their containers quickly, so as long as you are fertilizing them regularly they should be fine. Typically, you should repot them every two or three years. If repotting Rhipsalis into a high-quality soil, most gardeners recommend waiting up to 12 months before fertilizing. When you do fertilize your Rhipsalis, it's best to use a fertilizer intended for cacti and diluted to half-strength. Feeding your plant during the spring and summer growing season is ideal.
Light and Temperature
Rhipsalis have rather specific needs in terms of light. They will do best in partial to full shade. While these plants need enough light to grow and bloom, direct sunlight can be damaging. If you notice any signs of sunburn, you'll need to move your Rhipsalis to a less sunny location. Remember, in nature these plants are sheltered from the harsh sun by the dense foliage of the jungle.
Bestseller No. 1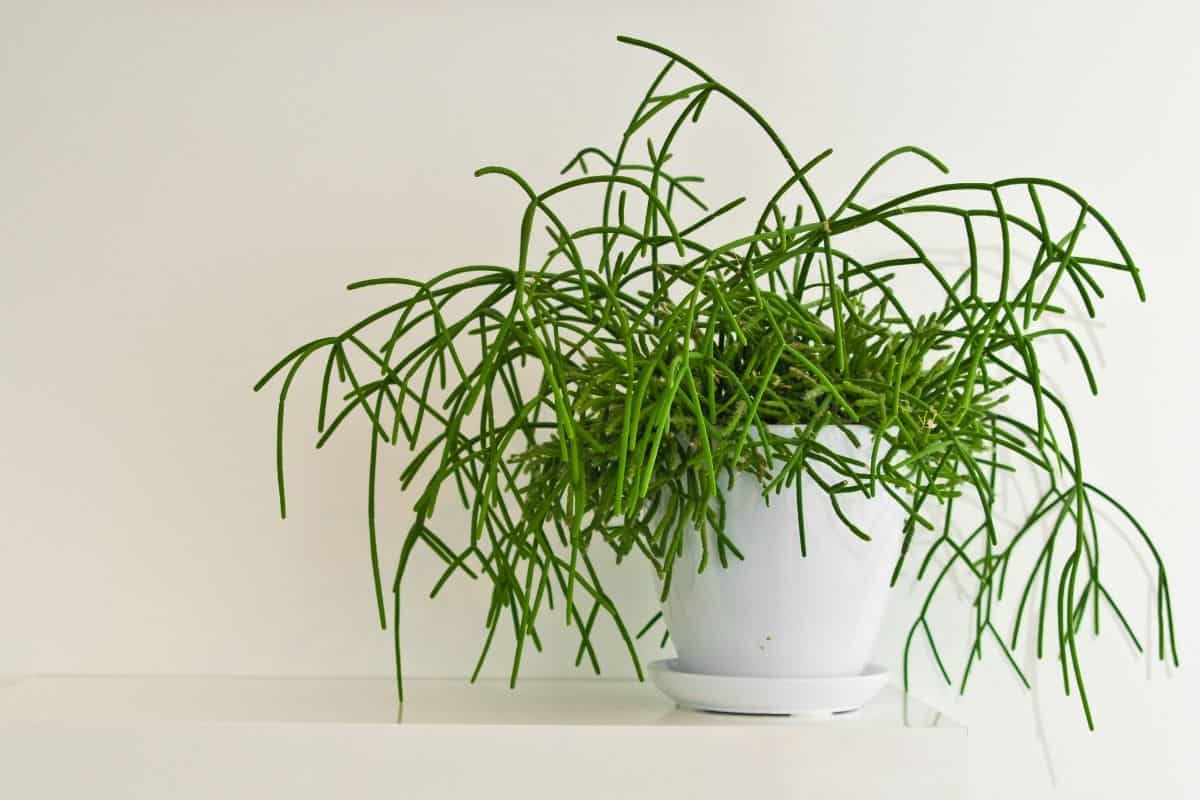 If kept indoors, Rhipsalis will need to be kept at least 20 inches from any window that gets direct sunlight midday or in the afternoon. Some morning sun is fine, but too much direct light will result in damage to your beloved plant. If your Rhipsalis doesn't appear to be thriving or you're encouraging it to bloom and you've ruled out any health problems, it may simply need more light. As with all plants, if you're increasing light levels be sure to do so slowly over a couple of weeks to reduce the risk of sunburn.
Rhipsalis is not a frost tolerant plant and should be protected from frigid temperatures. Unless you live in a climate similar to the natural habitat of Rhipsalis, this is a plant that's best grown indoors where temperatures are more consistent. Rhipsalis are native to areas near the equator, so they prefer warmer temperatures of at least 70 degrees Fahrenheit.
Water
As with most species of succulents and cacti, overwatering your Rhipsalis will result in root rot. Depending on the climate you live in, you may need to adjust your watering schedule accordingly. Gardeners in more humid climates will find themselves watering their Rhipsalis less frequently than those that live in hot, dry climates such as Arizona.
Unlike many species of cacti, Rhipsalis are not drought resistant. Remember, these are jungle cacti rather than desert cacti, so they are used to more frequent water. Always check the soil for dampness before watering your cacti. The surface of the soil can be misleadingly dry, so check ½ - 1 inch below the surface. If the soil feels moist, water the plant at a later time to avoid overwatering.
Rhipsalis go through a period of dormancy during the winter months, so be prepared to reduce watering during this time.
Propagation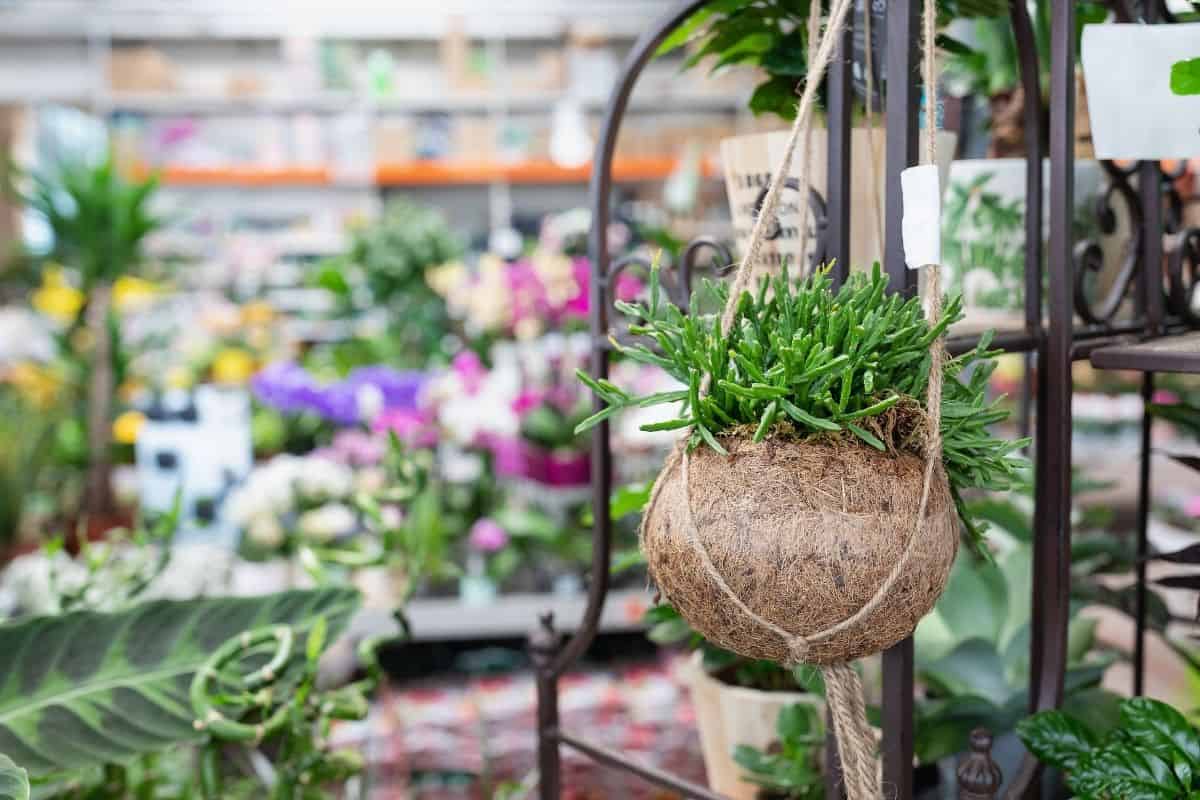 Stem cuttings are the fastest and easiest way to propagate Rhipsalis. Cuttings should be taken using a sterilized knife or shears. You'll need to let your cutting dry for a few days before planting. This allows the fresh wound to callous, which will help prevent infection from fungus and bacteria. After the cutting has calloused, you can plant the cutting.
Some gardeners prefer to dust their cutting with rooting hormone to encourage faster root growth, but this isn't a necessary step. Roots should develop after a few weeks even without the aid of rooting hormone. Remember, until your cutting grows roots, water isn't really necessary. The plant has no way of absorbing water without a root system, so you don't need to water your cutting until you begin to see roots.
Growing Rhipsalis from seed is possible, but it will require much more patience than propagation with cuttings. Germination typically takes four to six weeks, but in some cases, it may be even longer before seedlings start to appear.
Rhipsalis seeds grow best around 68 to 70 degrees Fahrenheit. Consistent temperatures will improve your chances of success, so it's usually recommended to start seeds indoors. Rhipsalis seeds are quite small and can be maneuvered with a dampened toothpick. Sprinkle the seeds on your growing medium and cover them with a light dusting of soil. Seeds should not be planted more than ¼ inch deep. Water when the soil begins to dry out. As with adult plants, partial to full shade is ideal.