Mammillaria is a relatively large genus of cacti, comprising of nearly 300 unique species. Most are native to Mexico, but more than a few species are found in the southwestern United States, Caribbean, and South America. Only two species are known to inhabit the South American countries of Venezuela and Columbia. Due to Mammillaria's wide range, there is quite a bit of variation, even within a singular species, which has led to some confusion in classification.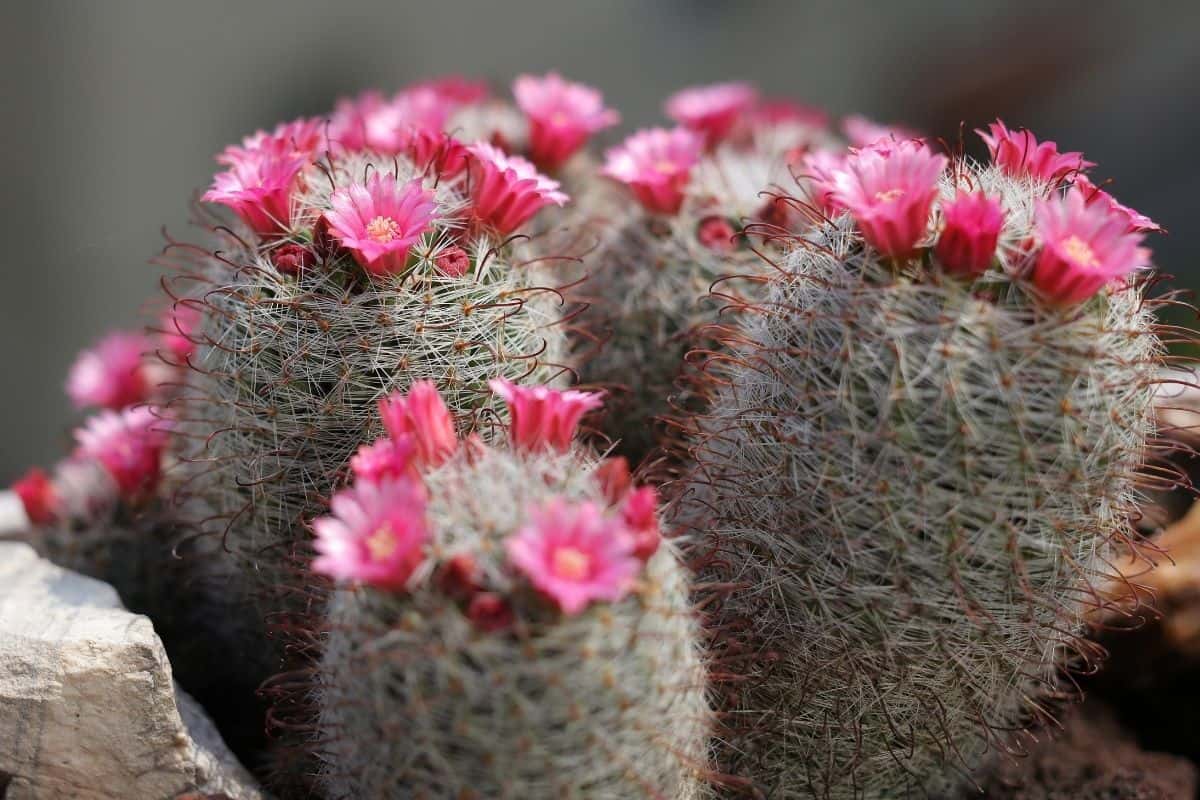 The stems of most species of Mammillaria are either globose or elongated in shape and grow either singularly or in clumps.Mammillaria typically measure 1 to 40 centimeters in height and 1 to 20 centimeters in diameter. The stems are covered in tubercles from which its spines protrude. At the base of the tubercles, many species produce bristles or wool. The base of the tubercles is also where the cacti produce their flowers.
Although there are a few species of Mammillaria that are difficult to care for, most are low maintenance. They are ideal for inexperienced and experienced gardeners alike, especially if space is limited. Most species are slow growers that tend to stay rather small.

| | |
| --- | --- |
| Name: | Mammillaria |
| Soil: | Gravel or perlite |
| Blooming: | Spring and summer |
| Light: | Bright light |
| Water: | Soil to dry out completely between waterings |
| Propagation: | Cuttings and offsets |
Jump to:
Where to buy Mammillaria
Soil
As with any other cacti, adequate drainage is essential to the health of your Mammillaria. The ideal soil for cacti contains large particles, such as gravel or perlite, which will allow for proper airflow and drainage of excess water. The soil should contain little to no clay, as clay has a habit of retaining water, which can be deadly to Mammillaria. Remember, most species of Mammillaria are native to desert areas with sandy, porous soil.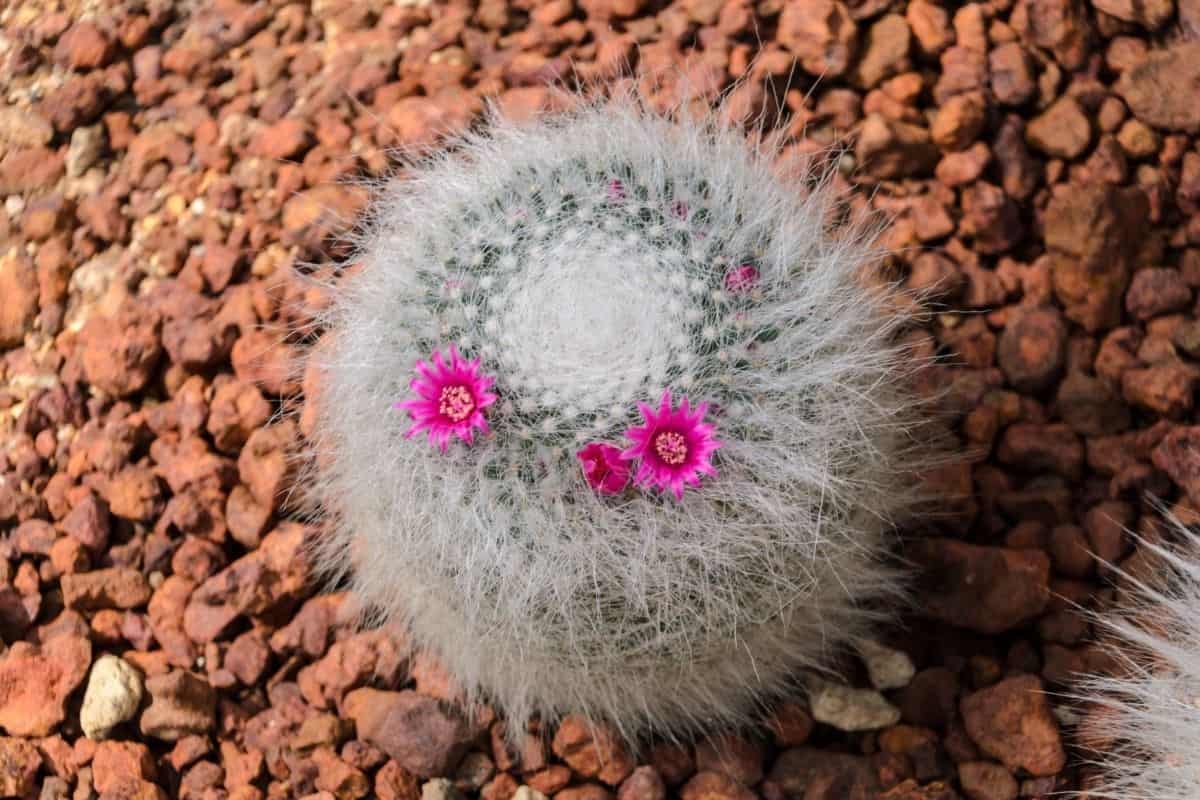 Adequate drainage should also be considered when choosing what type of pot to plant your Mammillaria in. If you live in an appropriate climate, you may be able to plant your Mammillaria outdoors, but otherwise you'll need to choose a pot with drainage holes. Containers without holes may appeal to your aesthetic, but your cacti will not appreciate them and may quickly develop root rot.
Bestseller No. 1
Mammillaria Plumosa 'Feather Cactus' | Succulent Gift Decor Ideas (4 inch)
Mammillaria plumosa is original from Nuevo Leon, Mexico.The plant is commonly referred to as Feather Cactus because of its...
Flowers are creamy-white, greenish-yellow, or dull pink and appear in late summer. These blossoms are very strongly and...
Use a sharp well draining soil, and allow all excess water to run off every time you water.
Bestseller No. 2
USKC Live Cactus and Succulent Plants (2"Pot Mammillaria Duwei Cactus)
Important Info to Consider:Succulents display a wide range of shapes and colors. Depending on the lighting and watering...
Easy to care for: Succulents don't demand extensive maintenance, making them a versatile choice for different lifestyles.
Thoughtful Gifts:Succulents make wonderful gifts for various occasions.
Most species of Mammillaria are slow growing, so repotting will not need to be done frequently. It's recommended to repot your Mammillaria during the warm season, preferably in spring or early summer. Before repotting, it's best to make sure the soil is dry. Attempting to repot a plant with wet soil may result in damage to your beloved plant's roots. The exception to this rule is if you've purchased a Mammillaria that has been planted in the wrong type of soil. In this case, you should repot your plant into a more appropriate soil as soon as possible to prevent root rot from developing.
Light and Temperature
Most species of Mammillaria prefer bright light, but direct sunlight can be detrimental for some. Many can tolerate up to four hours of direct sunlight during the heat of the summer, but the maximum amount of direct sunlight will depend on the species of Mammillaria that you're working with. In most cases, bright indirect light is the best option.
Mammillaria are not frost tolerant cacti. Remember, they're used to desert climates where temperatures rarely dip below freezing. Only plant your Mammillaria outdoors if you live in a climate where it rarely freezes. If temperatures get too frigid, you'll need to cover or protect your plant until it warms up. If you've planted your Mammillaria in a container, protecting it will be as easy as moving it indoors.
Although Mammillaria do prefer warmer temperatures, the cool weather in winter will encourage blooming. Temperatures around 50 degrees Fahrenheit should be cool enough to encourage your Mammillaria to produce flowers. Many species of Mammillaria produce beautiful flowers around the top of the stem, resulting in a crown of colorful blooms. This vibrant display is definitely worth exposing your plant to cooler temperatures.
Water
As with any other cacti, watering should be done infrequently. Standing water will result in root rot, so try to water only when the soil is dry. Be sure to check the dampness of the soil below the surface as the surface will likely be misleadingly dry. This may mean more frequent water during hot, dry weather so keep a close eye on your Mammillaria during heat waves. If you live in a humid climate, you may water your cacti less frequently, even during warmer weather.
Mammillaria typically go dormant during the winter so you'll be able to dramatically reduce water or even suspend watering entirely. As long as your cactus is receiving an adequate amount of sunlight, it likely won't need much water until the growing season resumes in the spring.
Propagation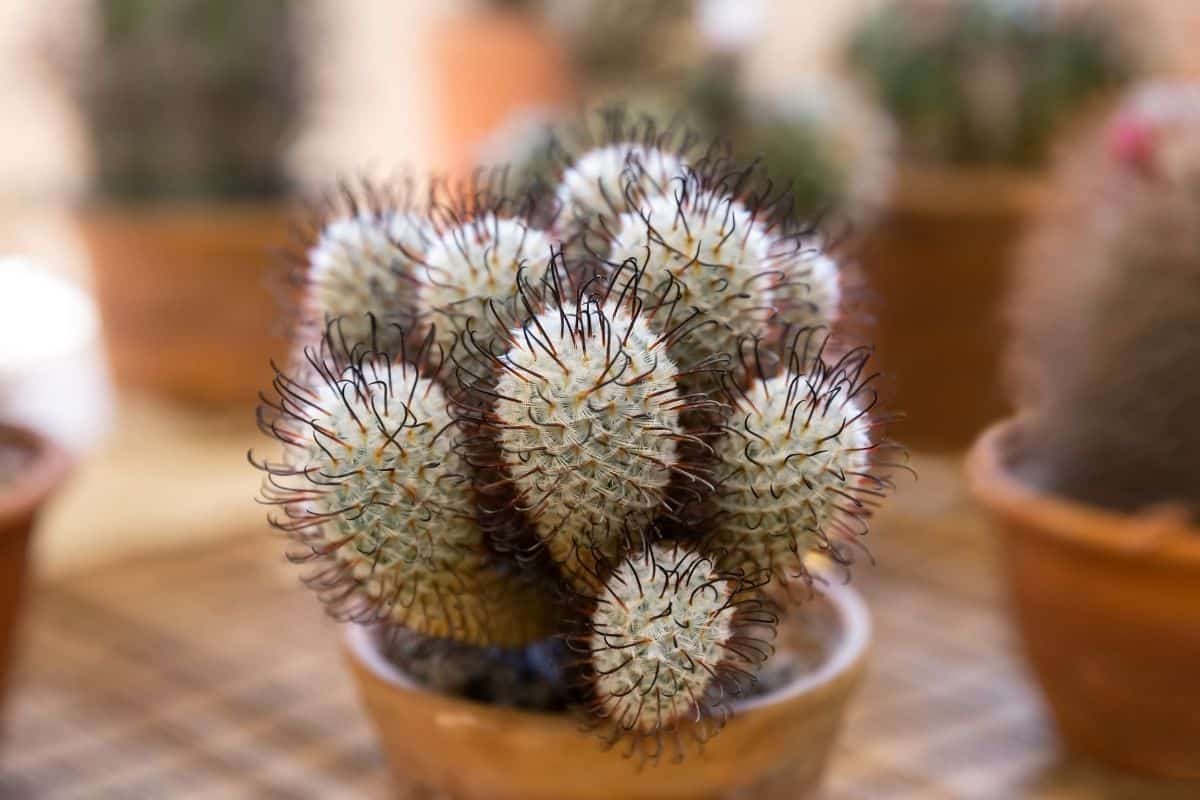 The easiest way to propagate Mammillaria is by removing cuttings or the offsets that grow around the base of the mother plant. Both cuttings and offsets can simply be separated and replanted in a separate container or outdoor space. Before planting, be sure to let any cuts develop a callous before planting to prevent infection by fungus or bacteria. Caring for new plants once they're in the soil is as simple as caring for adult plants. Both newly planted offsets and adult plants have the same basic needs.
It's also possible to grow Mammillaria from seed, but you'll need to be patient. Most species grow slowly and growing a Mammillaria from seed is not a quick process. It's generally recommended to plant Mammillaria seeds in the spring or summer. Be sure to use sterilized soil to give your seeds the best chance to thrive. Sterilized soil will allow your seeds to germinate in a fungus and bacteria free environment.
Mammillaria seeds are quite small and many gardeners find success in maneuvering seeds into place with the tip of a toothpick. Place the seeds on top of the soil, rather than burying them. If you're worried about the seeds moving around when watered, you can weigh them down with a sprinkling of vermiculite. Try to keep the soil moist, but not overly wet or waterlogged. Temperatures between 75 and 85 degrees Fahrenheit are ideal for seed growth. Depending on the age of the seeds, you can expect to see the first seedlings appear in one to four weeks.