Epiphyllum, also known as Orchid Cacti, are popular indoor plants that are native to South and Central America. Their scientific name of this genus refers to the fact that they are epiphytic, meaning they grow in debris gathered on other plants, rather than in the ground. They are not parasitic and do not derive nutrients from the plants they grow on, they simply use them for support as they seek nutrition elsewhere.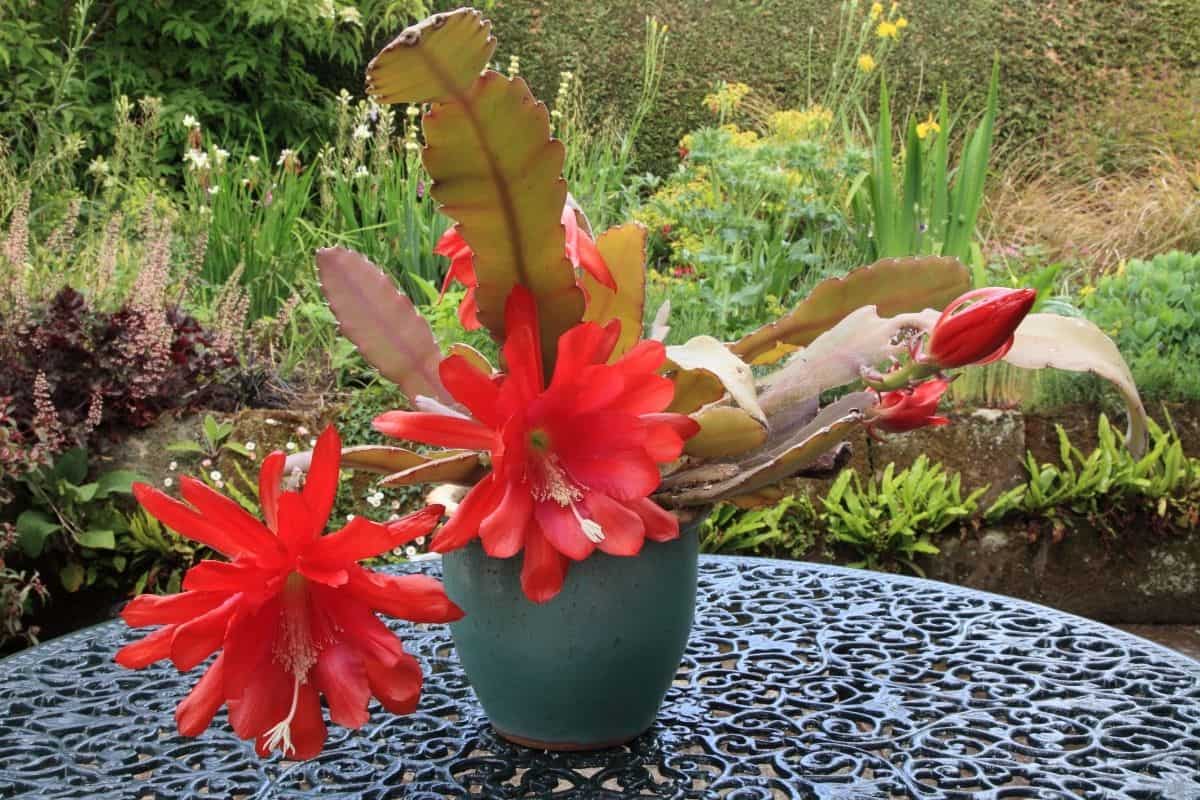 The unique appearance of Epiphyllum contribute to their popularity as houseplants. Their long, leaf-like stems can reach 18 to 30 inches in length. They are ideal for hanging containers and vertical gardens, but care must be taken as they can become somewhat top heavy if they are not pruned regularly. Epiphyllum are also known for their large, flashy blooms, which are often vibrant in color and have a sweet smell. Some species of Epiphyllum only bloom at night, so if you're looking for a plant to show off to your friends at brunch, choose your plant's species wisely.
| | |
| --- | --- |
| Name: | Epiphyllum |
| Soil: | Bits of debris |
| Blooming: | Annually |
| Light: | Bright filtered light |
| Water: | Moderately damp |
| Propagation: | Seeds or cuttings |
Jump to:
Soil
In order to thrive, Epiphyllum must have excellent drainage with both the soil and container. Remember, they are used to growing in bits of debris, rather than actual dirt. Having the correct type of soil for this type of plant won't matter if the container won't allow the excess water to escape, so make sure you choose a container with drainage holes or add them if possible.

Soil made for cacti works well for Epiphyllum as it allows for adequate drainage and air flow. Most soil intended for use with succulents and cacti contain larger particles, such as gravel or perlite, that allows excess water to drain away. Many other types of gardening soil contain too much clay, which can retain water and lead to root rot, so be sure to choose your soil carefully. You can always make your own if you can't find what you need.
Bestseller No. 1
Bestseller No. 2
Light and Temperature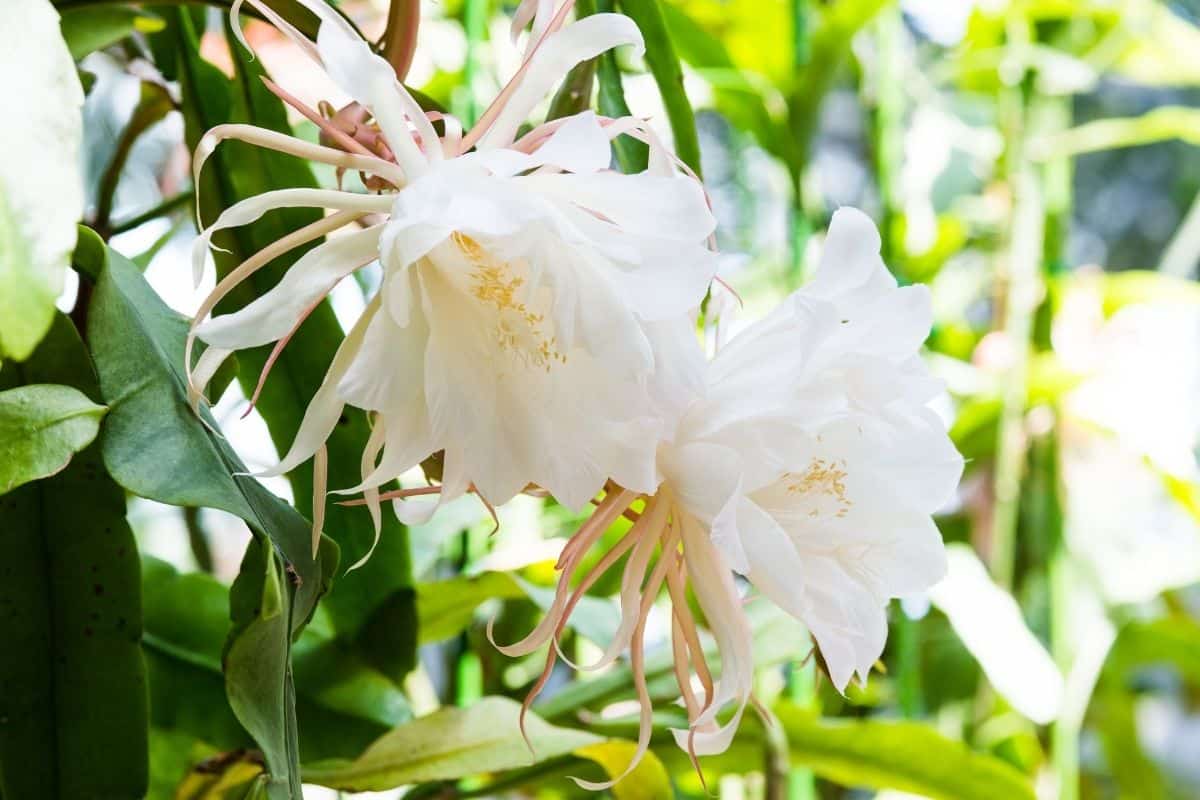 Buy it from:
Bright filtered light is ideal for Epiphyllum. Without adequate light, Epiphyllum will not thrive and it's unlikely that the plant will bloom. However, care should be taken when introducing plants to brighter light levels. Slowly introduce the plant to brighter light over a period of a few weeks so it can adjust without the risk of sunburn.
Since Epiphyllum are native to the warmer climate of Central and South America, you'll need to make sure your plant stays relatively warm. They are not frost tolerant and will freeze if left exposed to frigid temperatures. Extreme heat will also be detrimental to your Epiphyllum's health as it will likely dry out the soil too quickly. The ideal temperature for Epiphyllum is between 60 and 70 degrees Fahrenheit.
During the growing season, this plant prefers a little warmer environment, but it needs to be exposed to cooler temperatures in order to bloom. Keeping your plant between 50 and 60 degrees Fahrenheit will help encourage it to bloom.
Due to Epiphyllum's specific light and temperature needs, it's best suited as an indoor plant. In some climates, it may be appropriate to plant outdoors, but plants within this genus will generally do better when kept indoors.
Water
To keep your Epiphyllum happy and healthy, be sure to water only when you notice the soil starting to dry out. Check soil moisture below the surface, as surface dryness can be misleading, and you don't want to accidentally overwater your beloved plant. Unlike many other types of succulent, Epiphyllum do not do well with long periods of drought. In fact, you may find yourself trying to find that sweet spot between too much and too little moisture.
One way to make sure your Epiphyllum doesn't get too dry is to make sure you have enough humidity in the air. This plant loves humidity and does well in moderate to high levels of humidity. If you don't live in a particularly humid climate, you can add water to the air around your plant by filling a dish with gravel and setting the pot on top of the gravel. You can then fill the dish with enough water to allow for evaporation, but not so much that it reaches the pot and can be absorbed by the soil.
Whatever you do, make sure your Epiphyllum is never left in standing water. Overwatering will surely kill your precious plant, so be sure that both the pot and soil allow for the drainage of excess water. Too much moisture will cause the roots to rot and you may not even notice until it's too late.
Propagation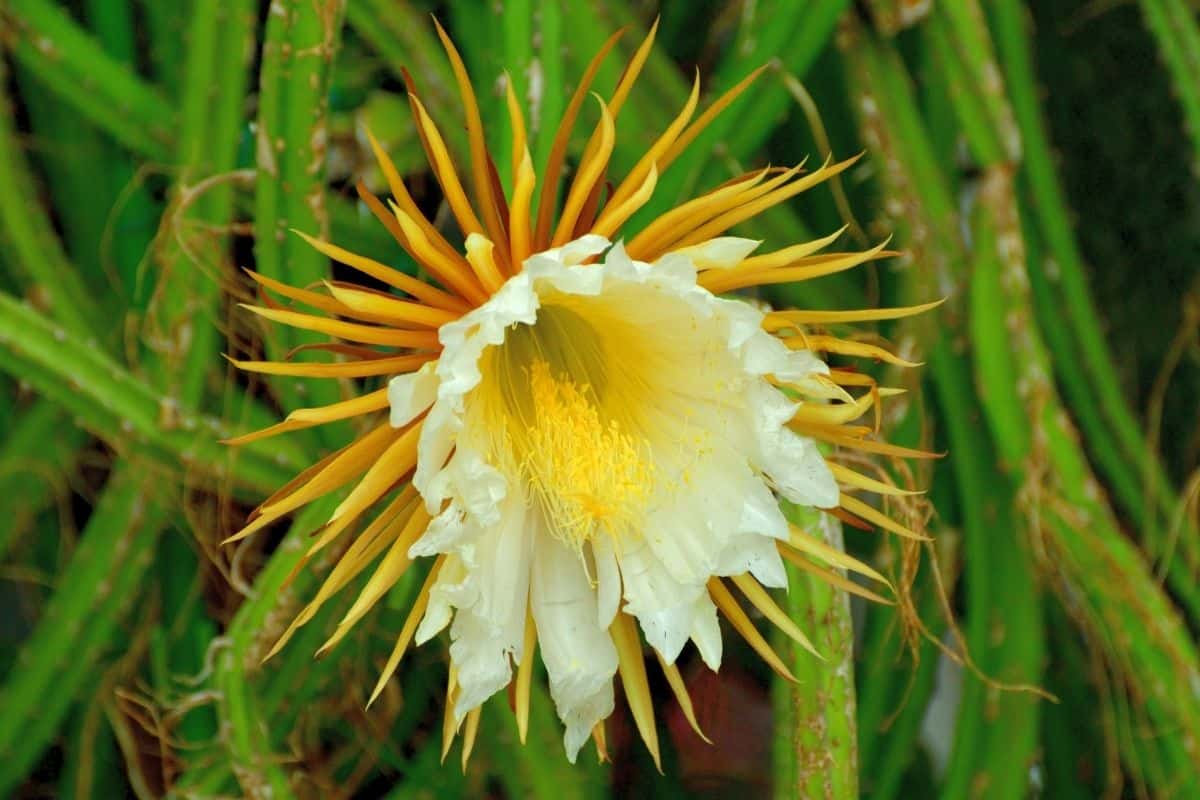 Epiphyllum can successfully be grown from either seeds or cuttings. If you plan on growing new Epiphyllum from seeds, plan on starting between spring and early summer. Unlike many other types of succulents and cacti, Epiphyllum seeds germinate quite easily as long as they are provided with an adequate environment. However, if your goal is to produce more plants with incredible blooms, you'll need to be patient. It can take Epiphyllum four to seven years of growing before they are mature enough to produce flowers.
The more popular method of propagating Epiphyllum is to grow new plants from cuttings. Cuttings should be taken from a mature plant in spring to late summer. As with any other type of cutting, the cuttings should be allowed to dry and callus before they are placed into soil. This reduces the chances of the plant's wound becoming infected with fungus or bacteria. Most cuttings will begin to produce roots in three to six weeks, and you'll begin to see the gorgeous flowers this plant is known for in about a year.
Epiphyllum are great plants for gardeners of all experience levels. They're easy to care for, as long as you're willing to keep track of their moisture levels. If you're successful in their care, you'll be rewarded with gorgeous, sweet-smelling blooms. Some species also produce edible fruit. When caring for these plants, it's important to keep their native habitat in mind so that you can provide them with the best care possible.