Air plants are not succulents, but we'll have to agree that they look great in our succulent garden. For this reason, it's not surprising that you want to learn how to propagate air plants to grow your collection.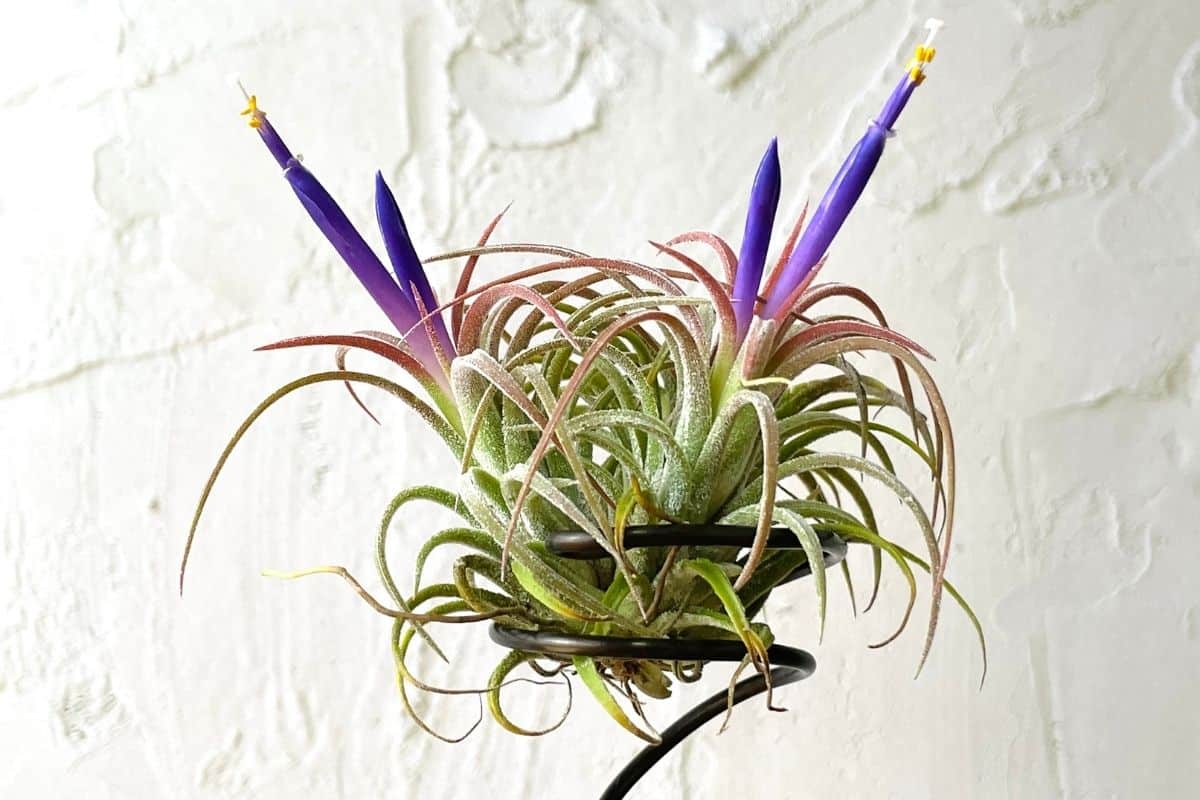 As long as you know what to do, growing your succulent collection should be easy. Besides, a lot of succulents can be propagated through leaf cuttings. Is it safe to assume the same when propagating air plants?
Can you grow air plants through cuttings, offsets, or freshly harvested seeds? You know they are air plants, but is it possible to root them in soil? These are just a few of the questions we seek to answer in this post. Before we do, let us first talk about what makes air plants unique.

Jump to:
The Beauty of Air Plants (Tillandsia)
| | |
| --- | --- |
| Name: | Tillandsia |
| Soil: | Don't need soil to grow |
| Blooming: | Only bloom once in their lifetime |
| Light: | Indirect sunlight or indoor lighting |
| Water: | Once per week |
| Propagation: | Grow from the base of the mother plant |
Air plants or Tillandsia are epiphytes, a type of plant that grows on the natural surfaces of other plants, such as the branches of trees. What makes it unique from other epiphytic plants is that air plants can survive without soil. It can survive by absorbing the nutrients it needs from the air, hence its name.
An air plant does not have the same roots as other plants, at least when it comes to their function. That's because Tillandsias use their short roots to hold their body in place rather than for obtaining nutrients from the soil.
There are different varieties of air plants, but most have elongated triangular foliage that curves downwards. They also have a rosette growth pattern, with new leaves and blooms emerging from the center.
Air plants come in various colors, from green and red to a silvery hue. Those with silvery leaves are usually more drought-tolerant than their green counterparts. Caring for air plants can differ depending on the variety you're growing.
How Do Air Plants Reproduce?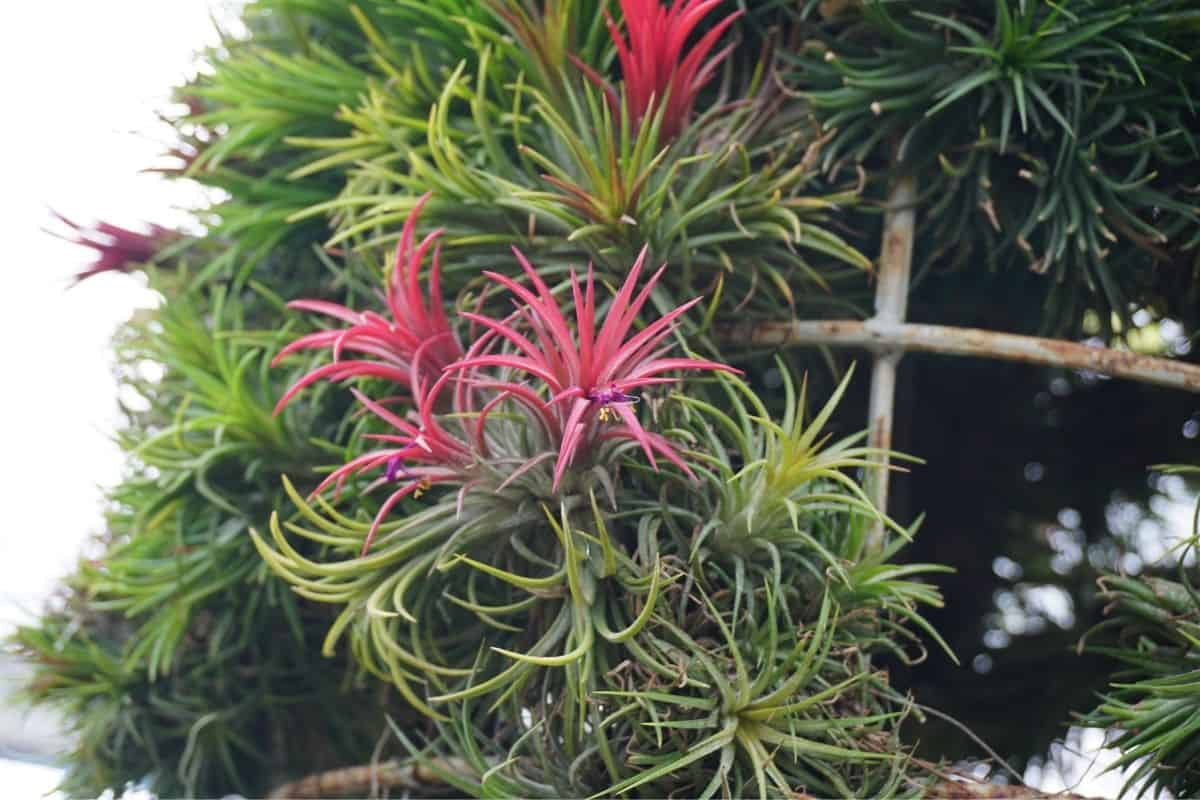 Buy it from:
With the proper conditions, air plants reproduce on their own by producing blooms and sprouting pups. You can separate these baby plants from the mother plant with the help of the tips we'll share later on.
Another option is just to let them be. If you're afraid of accidentally damaging your air plants in the process, you can simply allow your pups to grow unseparated from the mother plant. Doing so will produce an air plant clump.
The mother plant will eventually die out, but in our experience, we hardly really notice the change. The pups will gradually take up that old spot and, later on, produce offsets of their own. Air plant clumps look visually interesting, so we recommend giving this method a try.
Bestseller No. 1
Bestseller No. 2
Can You Grow Tillandsia From Cuttings?
Yes, you can grow Tillandsias from offset cuttings. However, you can't propagate them from leaf or stem ones. They are unlike succulents in this regard, where you'll be able to produce new plants by just rooting the fleshy leaves or healthy stems in water or soil.
Fortunately, healthy air plants can produce several offsets at a time, so you won't need to worry about not being able to grow your Tillandsia collection.
Can You Root an Air Plant?
Yes, air plants can grow roots, but they are not really there to absorb nutrients. Air plants need them when they are living off another natural surface to keep them from falling off.
Hence, you also won't need to bother with rooting when it comes to propagating new air plants. Instead of air plant roots, what you want to pay attention to are your plants' blooming cycle and offset production.
How To Propagate Air Plants
We love our beautiful air plants, which is why we can't help growing more of them. We hope to share this joy by sharing with you the different methods on how to propagate air plants on your own. You can either separate new pups from the mother plant or pollinate their flowers and grow healthier and more beautiful air plants from seeds.
Propagating Tillandsia By Harvesting Offsets
The first step to this propagation method is to ensure your air plant is growing in its ideal growth environment to hasten the blooming process. Take note that your mature air plant will need three things to flower: adequate lighting, water, and airflow.
The amount of light it needs will depend on the type of air plant you're caring for. For instance, some prefer bright yet indirect light, while others can tolerate direct sunlight. Your plant will start to flower once these conditions are met.
Sadly, even the happiest air plants will only have a single bloom cycle in their lifetime. The good news is that a mother plant can produce multiple pups afterward. You should start seeing the earliest signs of offset growth after the blooming process.
Take extra care when handling your parent plant at this time, as baby air plants can be very delicate at times. Wait for your baby plants to grow and be around a third (⅓) of the size of the main plant. This will allow them to develop more resilience before the stressful separation.
Do You Have To Separate Air Plant Pups?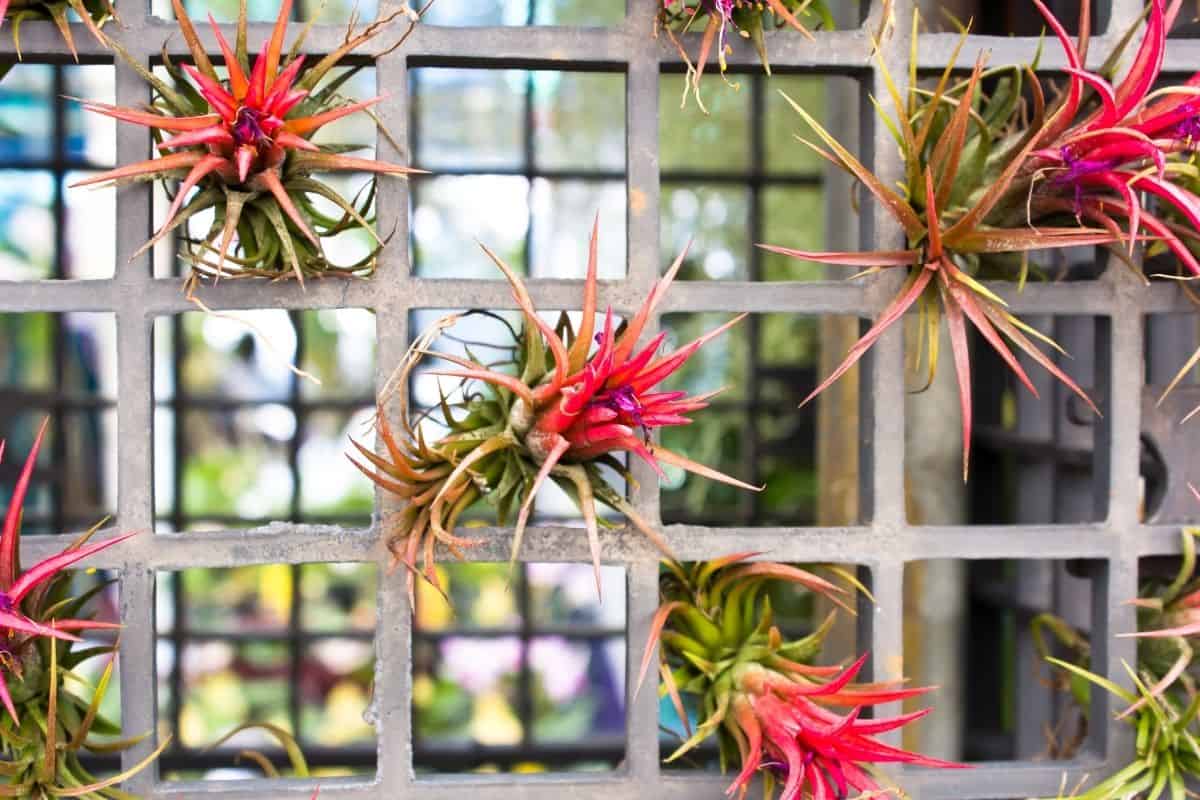 As mentioned, the decision is up to you. You can separate your air plant pups from the mother plant to produce several new plants. Alternatively, you can leave them attached to create an air plant cluster.
To remove an air plant pup, all you need to do is to gently pull the base of the new plant while holding the base of the mother plant steady. It should tear away easily on its own.
If it doesn't, you can use a clean, sharp blade to separate the two while minimizing further plant damage and stress. You can care for your new baby air plants the same way you would a mature plant, starting with giving it a good soak.
Propagating Tillandsia Through Seeds
We don't usually recommend propagating Tillandsia through seeds, especially for beginners and impatient growers. However, it's still a process that any air plant lover should at least try. Plus, growing new air plants from your harvested seeds will result in stronger, healthier, and more acclimated plants moving forward.
This propagation technique begins with the flowering process of your air plant. Make sure your flowers get pollinated to produce seed pods. Air plant seed pods will appear brown and will emerge from where the bloom was. You'll find the seeds inside.
Air plant seeds look similar to dandelions. They are small, slightly elongated, and topped with a bit of fluff (also referred to as parachutes). You can use a pair of tweezers to separate these seeds and prepare them for germination.
How Do You Germinate Harvest Air Plant Seeds?
On a flat surface, place a large dish with your preferred substrate and put the seeds on top. We prefer sphagnum moss or jute fabric sheets for this, but you can use other substrate options aside from these.
To germinate air plant seeds, make sure they get enough moisture, but not too much to promote mold growth. Your best bet is to use a container with adequate drainage.
Another thing you should consider is the space in between each seed. For germination to occur, it's important that they are given enough space to allow air circulation. As for the lighting, simply place your seed tray in a spot with moderate light. Indirect light is best at this stage.
You should see the first signs of growth in a few months. It can take up to a couple of years for your baby plant to reach two inches in size. It can then take up to 10 years for each to reach maturity.
How Can I Make My Air Plant Grow Faster?
Again, growing an air plant collection is not for you if you lack patience. It is natural for air plants to take their time to grow, especially when compared to other plants. However, there is a way to hasten the process a bit, and that is to augment its growth by using fertilizer. We personally do our fertilizing sessions once a month.
In our experience, we have found that fertilizing does not only hasten the growing process but also helps in healthy blooming and offset production. We recommend using a specially formulated fertilizer for Tillandsias for better efficiency.
Growing Your Air Plant Collection
You don't need to have a special nursery to grow your Tillandsia collection like professional air plant breeders. You can start with just a single, healthy parent plant and build an air plant garden from there.
There are two primary methods of propagating Tillandsias: rooting offsets or germinating their seeds. Keep in mind that either method will take some time to produce results. Some air plant varieties take their sweet time growing new pups alone, so you can expect growing them from seed to take even longer.