The bear's paw is possibly one of the most beautiful succulents out there. Otherwise known as the cotyledon tomentosa, the bear's paw succulent got its name from the appearance of its leaves.
The tiny, chubby leaves have a few small tips at the edge that resembles the paw of a bear. Undoubtedly, it's a sight to behold when you're relaxing at home. If you want to have more of this in your garden or plant collection, you need to learn how to propagate bear paw succulent.
| | |
| --- | --- |
| Name: | Cotyledon tomentosa |
| Soil: | Well-draining soil mix |
| Blooming: | Spring |
| Light: | Bright indirect light |
| Water: | Regular deep watering during the summer season |
| Propagation: | Stem cuttings |
Jump to:
How to Propagate Bear Paw Succulent
There are several methods to propagate a bear paw succulent, but some are more effective than others. To help you decide which method to use, here are the techniques you can try and the possibility of success.

Cuttings
As with most other succulents, using stem cuttings is the best way to propagate a bear paw succulent. It guarantees a higher success rate, and, more importantly, it is significantly easier to do. All you need to do is grab a knife or a pair of scissors and cut a stem from the plant.
You will want to do this as cleanly as possible to prevent damaging both the cutting and the parent plant. Then, place the stem cutting in a sterile container for the wound to callous.
Once the plant heals, which usually occurs after several days, you can proceed with planting it into the soil. Water the plant consistently, but make sure not to overwater. A great rule of thumb is to water it only when the soil is dry.
Leaves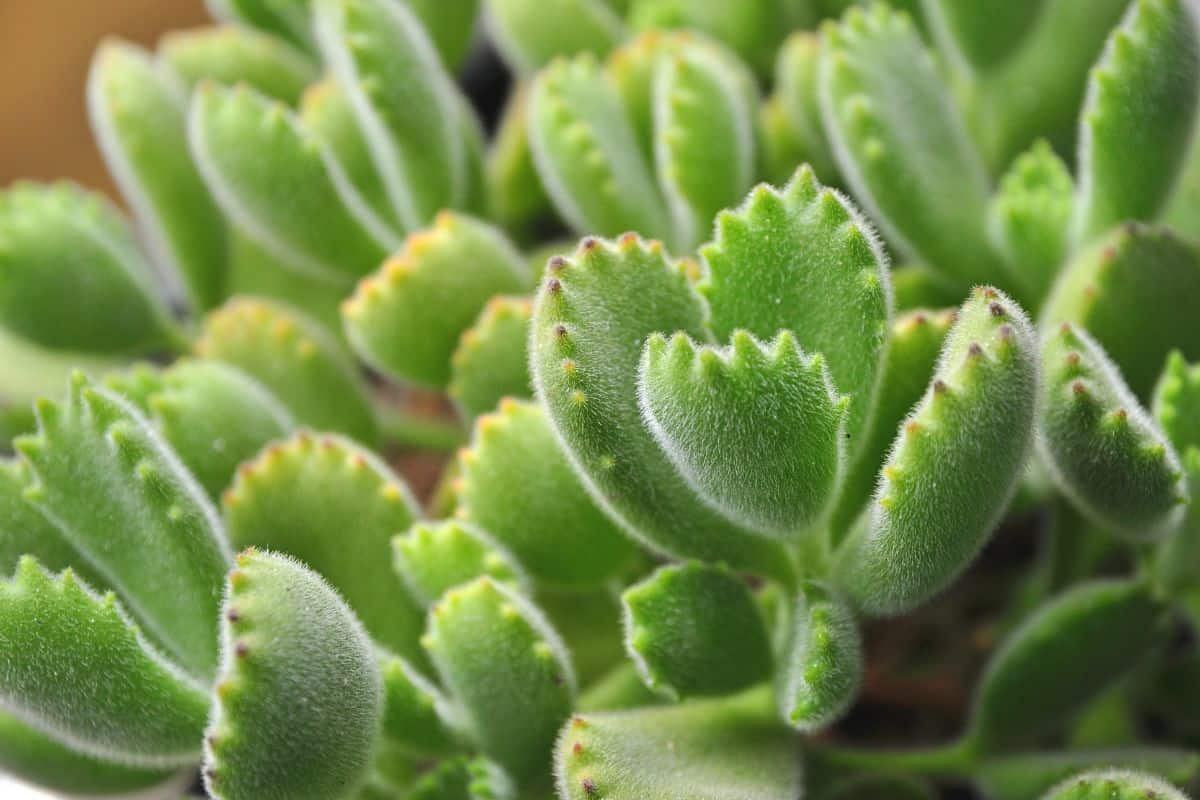 Buy it from:
Another method you can try to propagate a bear's paw succulent is through leaf cuttings. However, this is one of the more difficult techniques with a lower success rate, so be sure to manage your expectations.
You can use a knife or a pair of scissors to cut the leaf from the plant. Alternatively, you can try pulling it gently using your bare hands. The trick is to make sure you do not leave any part of the leaf on the plant and that the leaf isn't damaged.
Again, let it sit for a couple of days for the wound to heal. Once the leaf produces callouses, plant it into the soil and water it. Similar to propagating cuttings, allow the soil to dry before watering it again.
Seeds
Lastly, you can also try propagating bear paw succulents using seeds. However, keep in mind that this is not as promising as using stem cuttings.
Also, it may only be easy for people who live in areas where the temperature is around 20 degrees Fahrenheit or higher.
Bestseller No. 1
Bestseller No. 2
Cubs Paws Bear Claws Key Lime Pie Succulent (4 inch)
We guarantee plant's safe arrival otherwise we will refund or send you a replacement plant
We will bubble wrap the plant with root and dirt so that you can receive a healthy plant
This plant is very rare and very easy to take care of. You only need to water it once a week
If your area does not have this temperature, you might need to use grow lights to propagate bear paw succulents. This device mimics the full spectrum of sunlight to provide adequate nutrients to the plants. If you plan to use seeds, simply plant them like any other succulents.
Things You Need to Know When Propagating Bear Paw Succulent
Choosing which part of the plant you want to use is just the first step. There are also other things you need to know about growing a bear paw succulent.
Fertilization
During their growing season, propagated bear paw succulents need fertilizers. Be sure to apply a fair amount to the soil at least once a month, but refrain from using fertilizers during the winter season.
Growth Season
You will see a substantial amount of growth in your bear paw succulent during the spring and fall seasons. Make sure that you promote this development by adding fertilizers.
On the other hand, there wouldn't be much growth or improvement on your bear paw succulent during the summer and winter seasons.
Flowers and Foliage
A bear paw's succulent leaves are flat but plump. It has several red teeth along the edge, making the leaves appear like paws, hence the name. The maximum height of the leaves is around one and a half inches, and it has numerous hairs all over.
Once the bear paw succulent fully matures, flowers will bloom right at the edge. These flowers may be pink, yellow, or orange and usually appear during the spring season.
Size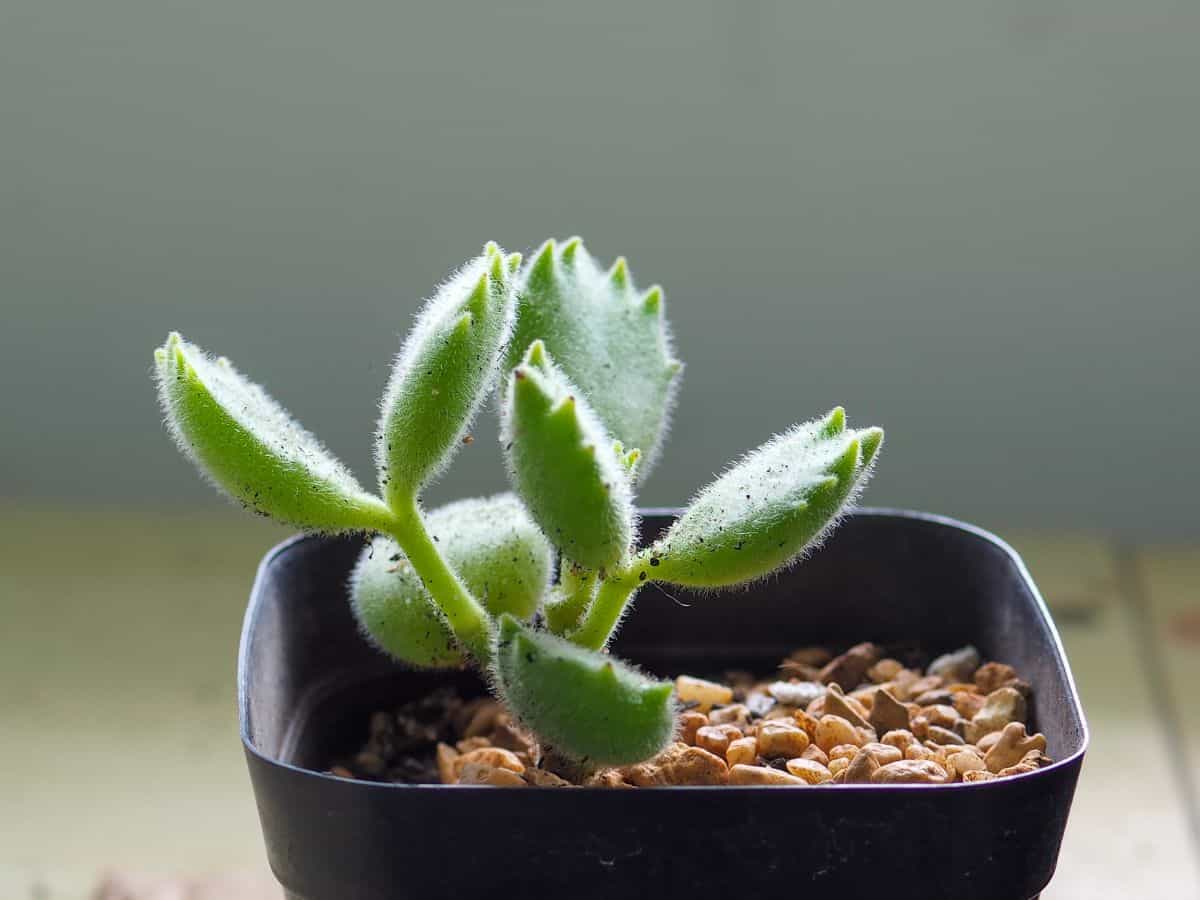 Although relatively small, bear paw succulents can grow up to 20 inches as branches form underneath the leaves. However, this only happens when you plant a bear paw succulent outdoors.
Indoor bear paw succulents can only reach a few inches in height, and they wouldn't grow branches. That's because the limited space of the container prevents the roots from getting bigger.
Common Diseases
Propagating bear paw succulents will sometimes cause diseases on the plants as they grow. The most common culprit that kills this succulent is a fungal disease.
The development of fungi often stems from overwatering. With all the nutrients in your bear paw succulent, it's not hard to imagine why they would feast on the plant.
Look out for symptoms that may indicate overwatering. If the leaves started falling off from the main stem for no apparent reason, you might be giving the plant too much water.
Insects
Propagated bear paw succulents have little to no defense against insects. The most common ones are spider mites, scales, or bugs. Luckily, it's not too complicated to solve this problem.
You can easily remove these insects with your fingernails. That means, of course, you have to conduct close inspections regularly.
The Cotyledon Species
Lastly, you may want to be careful when handling the bear paw succulent. Generally, they are considered safe and non-toxic. However, the cotyledon species isn't.
There is a slight chance that the bear paw succulent carries toxic substances that may cause irritation and other problems. Keep that in mind when propagating or tending to your plant.
Propagating Bear Paw Succulents
Learning how to propagate bear paw succulents is crucial if you want to grow your plant collection. With this succulent's cute paws and adorable flowers, it's not surprising that you want to grow them. If you know how to keep them healthy, we can guarantee that your home will appear more vibrant with this plant.