Sublime Succulents may collect a share of sales or other compensation from the links on this page.
Can't Get Rid Of Succulent Pests?
Subscribe now & get your free guide on
how to treat Fungus Gnats infestations now!
Kalanchoe longiflora, also known as Tugela Cliff Kalanchoe or Long Flower Kalanchoe is a shrub-like succulent native to South Africa. It is a favorite among succulent lovers because of its uniquely colored foliage and vibrant flowers.
In its native homeland, K. longiflora grows on rocky cliffs and shale slopes. It is a rare plant in the wild, due to habitat destruction by humans and livestock. It's currently found in just five separate regions in South Africa.
Kalanchoe longiflora Appearance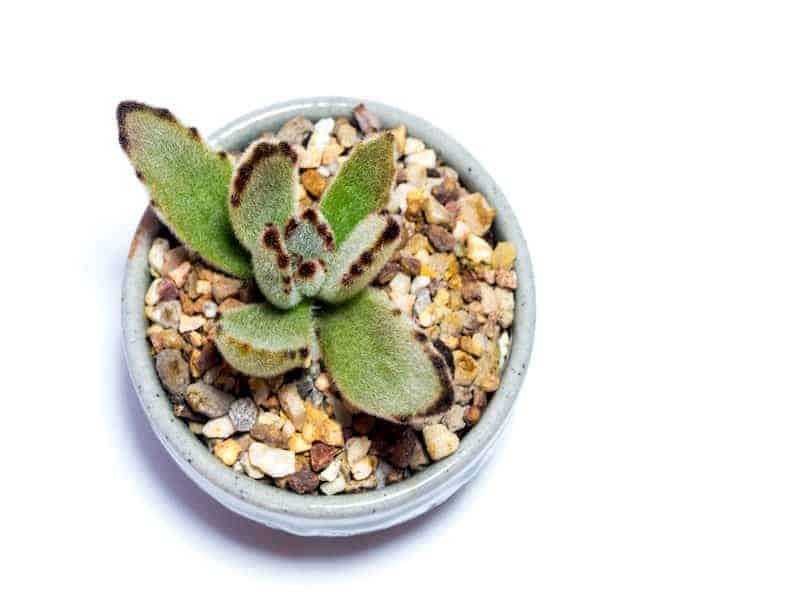 Long Flower Kalanchoe is a succulent shrub that can grow up to about 16 inches tall. It has woody stems and branches with fleshy limpet shell-shaped leaves. The leaves are a bluish-green color with a waxy coating.
The edges of the leaves are typically pinkish or reddish in color. This color deepens with increased sun exposure. Older leaves are also more likely to display reddish hues than new growth.
Known for its vibrantly colored flowers, Kalanchoe longiflora blooms in late spring and summer. It produces clusters of long, tube-shaped flowers atop the capitulum. The flowers are a bright, showy shade of yellow.
Kalanchoe longiflora Care
In general, Kalanchoe are relatively easy to care for plants. They have similar needs to other types of succulent but can be sensitive about light. However, if you can get their care right, you'll be rewarded with vibrant and long-lasting blooms.
Water
Kalanchoe longiflora prefers to be watered deeply, but you must allow the soil to almost dry out between watering. Otherwise, you risk exposing your succulent's delicate root system to an abundance of moisture, which can cause root rot.
Since this succulent actively grows throughout the summer, you'll need to make sure it's watered regularly, but not too frequently. During hot weather, you'll likely need to water more frequently than you would at other times of the year.
During the winter, Kalanchoe growth slows, so you can drastically reduce watering. Again, due to seasonal changes, you'll likely need to cut back the frequency of watering anyway.
Be sure to always check the soil moisture levels before you water. Insert a finger or soil moisture meter into the soil a few inches. If it feels wet, wait a few days before watering. If it feels dry or nearly dry, it's safe to water.
You should also look out for signs of overwatering. If you've accidentally overwatered your Kalanchoe longiflora, its leaves may appear overly plump and translucent. The leaves around the base of the plant may also begin to yellow and eventually fall off.
If you notice any of these signs, you'll need to work to dry the plant out. Reviving a dying plant is possible, but it takes careful management and care.
Light
When kept indoors, Kalanchoe longiflora prefers bright light. An east or west-facing window is ideal, but a south-facing window may be too much. If placed in a window that receives too much sun, the tips of the leaves may burn quickly.
If an east or west-facing window is unavailable, this succulent also grows well indoors under a grow light. Grow lights are an efficient way to provide your succulents with adequate light levels even in the dimmest of indoor spaces.
When grown outdoors, it's best to keep your Kalanchoe in partial sun or shade. A little direct light should be fine, but you need to protect the plant from the sun's rays during the hottest part of the afternoon.
Keep an eye out for discolored patches on your plant's leaves that could signify sunburn. Don't confuse sunburn with sun stress though. A reddish blush to the leaves is normal, but brown or black patches are not.
Whenever you place your succulent in an area that's sunnier than its previous location, be sure to increase light levels slowly to allow the plant time to adapt.
This slow transition period will give your Kalanchoe time to adjust to brighter light and reduce the risk of serious sunburn.
Temperature
Kalanchoe longiflora is not a cold-tolerant plant. In fact, this succulent generally doesn't do well in temperatures of less than 50 degrees Fahrenheit or so.
This temperature requirement can make growing this plant difficult in many climates, but if you have your Kalanchoe outside and see chilly temperatures in the forecast, it's best to bring the plant indoors.
Most indoor spaces aren't cold enough to worry about your plant getting too cold but be sure to keep it away from any areas that experience frequent drafts or changes in temperature.
Soil
As with most species of succulent, Kalanchoe longiflora requires soil that drains quickly. Fast draining soil is ideal as it helps to prevent root rot, even if you accidentally overwater your succulents once in a while.
When shopping for soil, look for a mix that's made mostly out of large particles such as gravel, coarse sand, or perlite. These ingredients will provide the drainage and aeration necessary for your succulent to thrive.
Try to avoid ingredients such as clay or peat moss. These materials will slow down drainage and encourage moisture retention, which can lead to root rot.
Root rot can be difficult to identify, but once you do notice it, it may be too late to save your succulent. Rather than risk the life of your Kalanchoe, choose a succulent approved soil mix.
Some gardeners recommend feeding Kalanchoe longiflora with high-quality plant food during the growing season. This isn't necessary to your plant's survival, but it can encourage better growth.
Container
Though it may seem like a minor decision, the right container can make a huge difference in your Kalanchoe longiflora. Good drainage is a must in any container, but many gardeners recommend terracotta for its moisture-absorbing properties. Terracotta is also relatively inexpensive and has a simple but classic look.
However, glazed ceramic pots and plastic pots also work well for many gardeners. The type of container you choose is up to you, but make sure it has at least one drainage hole to allow excess moisture to escape.
If you need help choosing the right pot, we've put together a list of the Best Succulent Pots of 2021.
Propagating Kalanchoe longiflora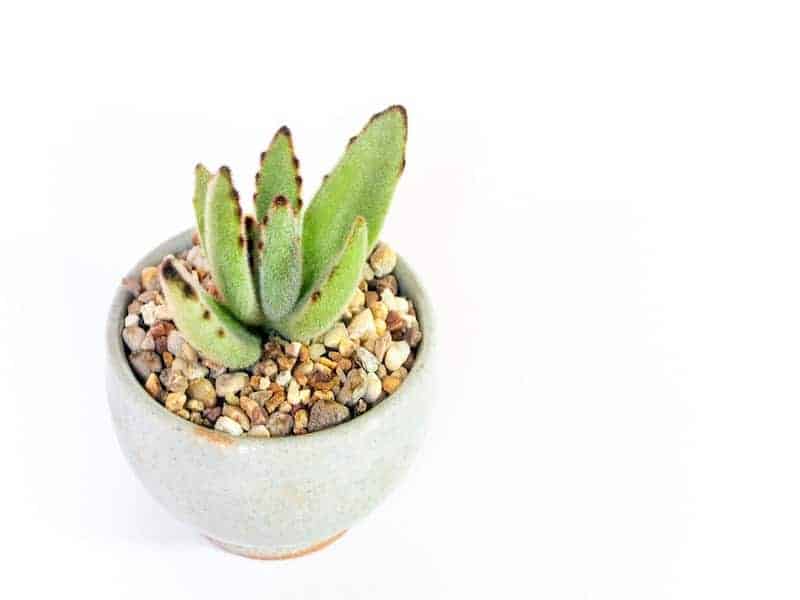 If you'd like a few more Kalanchoe in your collection, why not propagate a few new plants? Kalanchoe longiflora is easy to propagate, no matter how much experience you have with succulents. With a little care, you'll have plenty of new plants to expand your garden and give to friends and family.
Offsets
As your Kalanchoe grows and matures, you may notice miniature versions of the plant popping up around the base. These are called offsets or pups. Offsets are produced by the mother plant, which means all you have to do is transplant them to another container.
To do this, you'll need to separate them from the mother plant. Depending on the size of the offsets, you may be able to gently remove them from the soil with your fingers. You can also use a sharp knife to cut them away.
Use caution when handling the offsets as the leaves can be fragile and may fall off if they are handled too roughly. Try gripping the plant by the stem rather than the branches if possible.
Once the offsets have been removed, you simply need to give them a few days to callous to prevent infection, and then they are ready to replant. Once the offsets are in their new pots, you can treat them just as you do a mature Kalanchoe longiflora.
Cuttings
If your Kalanchoe longiflora is growing out of control, you might consider trimming it back. But don't throw those cuttings out! You can actually propagate them to produce more Kalanchoe. Just be sure to use sharp, clean scissors or shears to prevent any accidental damage to the plant.
Once you've collected your cuttings, you need to let them dry out for a few days to let their wounds callous. After they've calloused, they're ready to be planted in a new container.
You can also use a rooting aid if you like, but this step isn't required for healthy plants. It may encourage faster root growth though.
After a few weeks, you should begin to notice tiny roots sprouting from your cuttings. Once the roots appear, you can begin treating the cuttings like any other mature Kalanchoe.
Seeds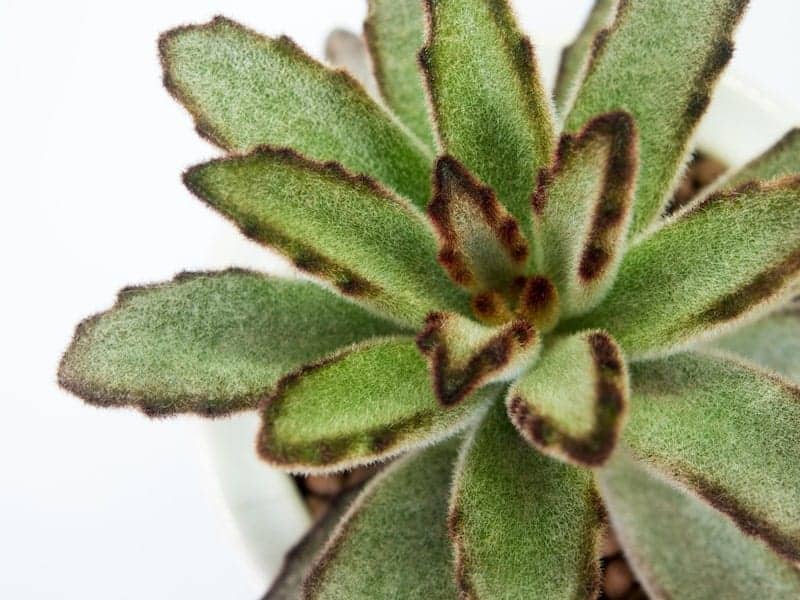 If you're looking for a propagation challenge, consider growing Kalanchoe longiflora from seeds. This definitely isn't the quickest path to new plants, but it can be a fun experiment, especially for young gardeners.
Kalanchoe seeds can be collected from your existing plants or you can purchase them from any reputable succulent seed vendor online.
Once you have your seeds in hand, you can sow them in moist well-draining soil. Surface sowing is best as Kalanchoe seeds don't like to be covered.
Keep the seeds covered to contain humidity and encourage germination. With any luck, you should begin to see tiny seedlings sprouting from the soil surface in a few weeks.
After the seedlings sprout, you can remove the covering. Allow the seedlings to grow for some time to ensure that they're big enough to safely transplant to their own containers. Remember, these plants are delicate at this stage, so you need to be careful.
With the right care and plenty of patience, you'll soon have mature Kalanchoe longiflora that you grew yourself from the very beginning!