If you are a plant enthusiast searching for a unique addition to their indoor collection, you'll surely find the kalanchoe mother of thousands a very intriguing option.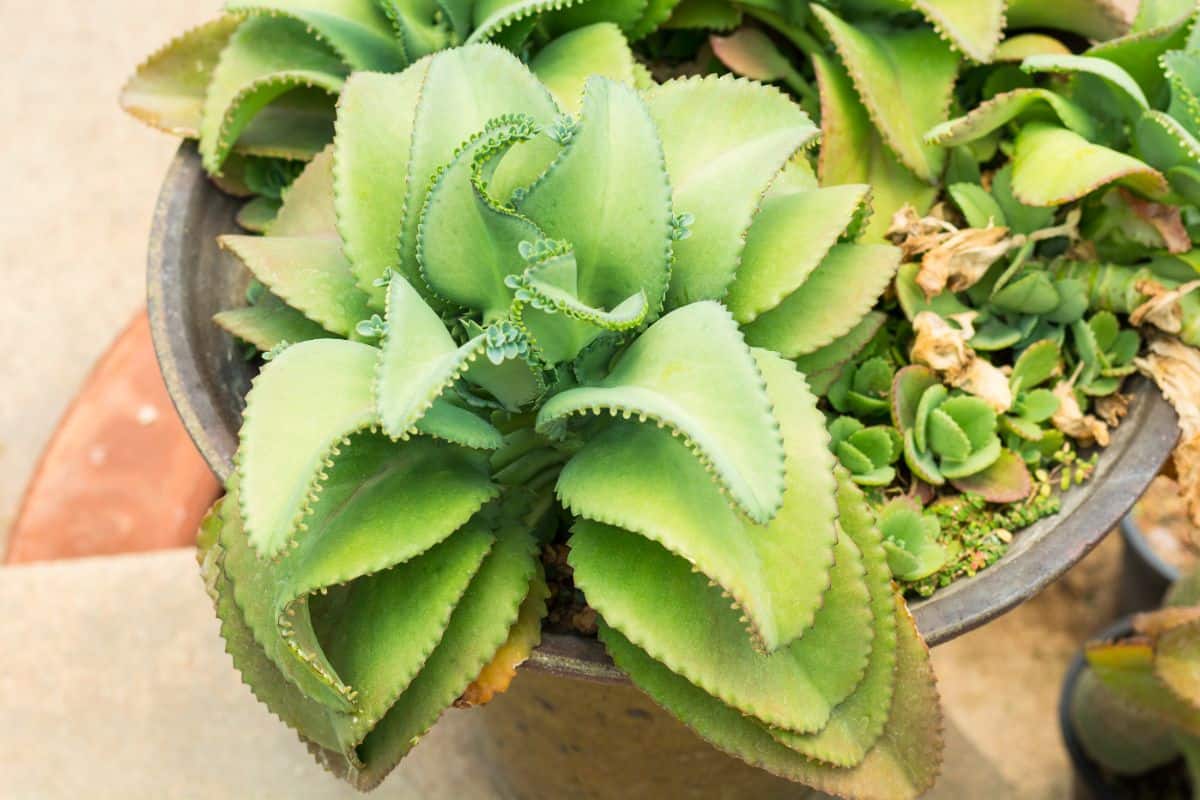 Not only will you be fascinated by its attractive foliage, but it is a perfect low-maintenance pick for even the most inexperienced beginner gardeners.
However, if you want your mother of thousands to thrive for years, you must provide it with the right growing conditions. It will require a well-draining potting mix, infrequent but thorough watering, bright but indirect sunlight, low humidity, and temperatures of around 65°F to 75°F, amongst others.

Here's a detailed kalanchoe mother of thousands growing guide that will show you how to grow and take care of this plant.
Jump to:
Essential Facts About Mother of Thousands Plants
| | |
| --- | --- |
| Common Names | Mother of thousands, Devil's backbone, Alligator plant, Mexican hat plant |
| Scientific Name | Kalanchoe daigremontiana, Bryophyllum daigremontianum |
| Family | Kalanchoe species, Crassulaceae family |
| Plant Type | Succulent |
| Mature Size | 3 ft. tall |
| Sun Exposure | Full sun to partial shade |
| Soil Type | Fast-draining, sandy soil |
| Soil pH | Acid, neutral, alkaline |
| Leaf Color | Blue-green leaves |
| Flower Color | Grayish-pink blooms late fall-winter |
| Hardiness Zones | 9 to 11 |
| Native Area | Africa, Madagascar to be precise |
| Toxicity | Toxic to humans and pets if ingested |
Also known as the Mexican Hat Plant and Alligator Plant, Mother of Thousands originated primarily from Madagascar and is a succulent plant growing from a single stem.
It has enormous blue-green pointed and narrow leaves that reach 6 inches long and 3 inches wide, while the entire plant can get up to 18 to 35 inches with proper care.
Another exciting feature of the mother of thousands is its slender plantlets growing along the leaf's edges. The plantlets tend to drop quickly from the primary plant and try to root anywhere they land and see the suitable soil condition for growth.
Several growers often see this plant as a little problematic, considering that these tiny plantlets do their best to grow and multiply in every kind of soil with other species. It is easy to see where its common name originates: it is a mother to thousands of other plants.
Mother of thousands is an excellent indoor garden plant. If you are planting mother of thousands indoors, you wouldn't have to propagate it.
However, you'll probably discover that the small plantlets drop into any plant pots close to them so they can take root. Indeed! Below is the growing guide to this unique specie.
Kalanchoe Mother of Thousands Growing Guide
Hardiness Tips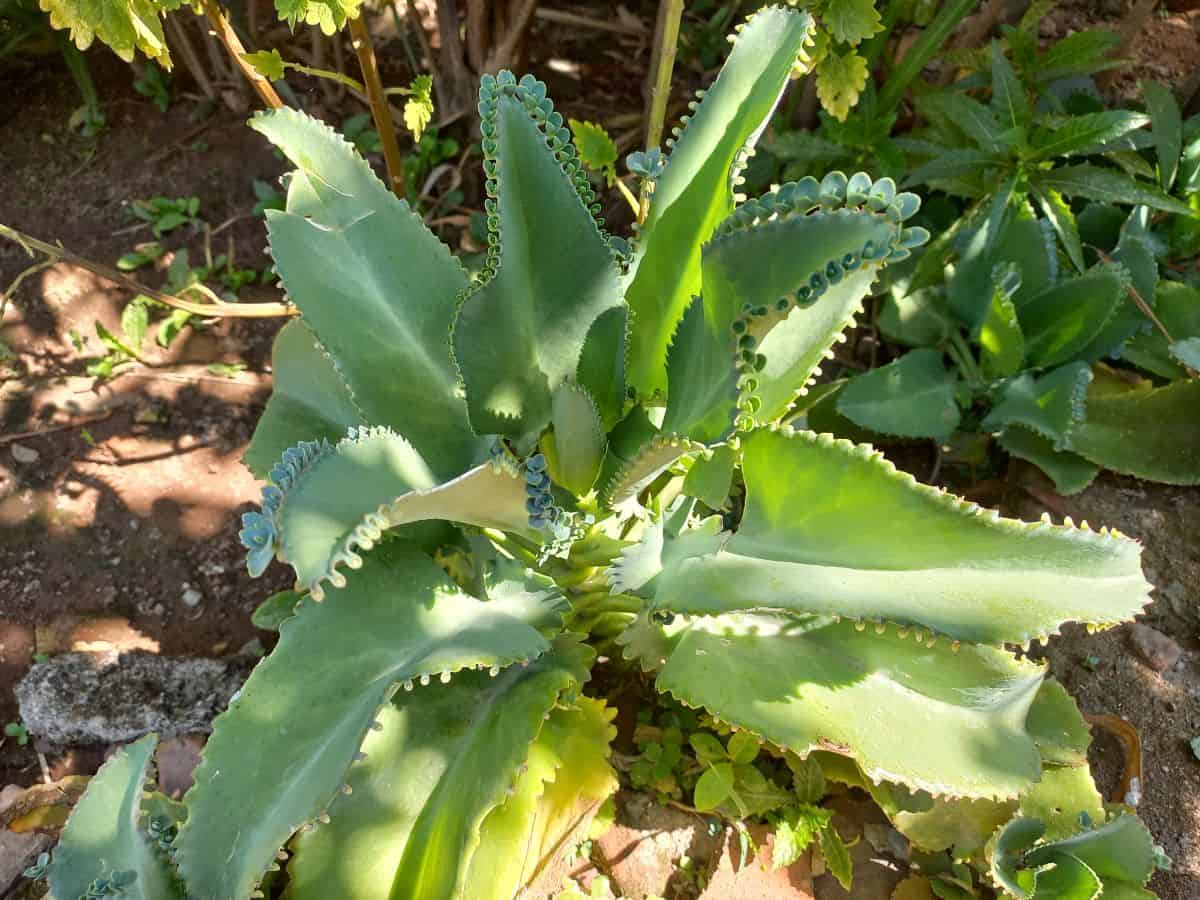 Buy it from:
Scientifically called Kalanchoe daigremontiana, mother of thousands is not hardy to cold climates. In other words, it can survive outside throughout the year in zones 9 to 11, where the temperatures are mild during the winter.
In frost climates, indoor overwintering is necessary, or moving the plant to a protected area before it freezes during the fall.
Light Needs
If you are growing your mother of thousands indoors, pick an area with enough morning sun. In the northern climates, an east-facing window will provide the perfect exposure as it offers full morning sun and filtered afternoon light.
You can also place the plant a few feet away from the south-facing window that offers full sun for an extended, hottest period of the afternoon.
If you're putting your plant in a south-facing window, ensure they avoid direct sunlight exposure, especially at midday. Please don't keep them in north-facing windows, as they won't get sufficient sunlight to thrive.
Soil Needs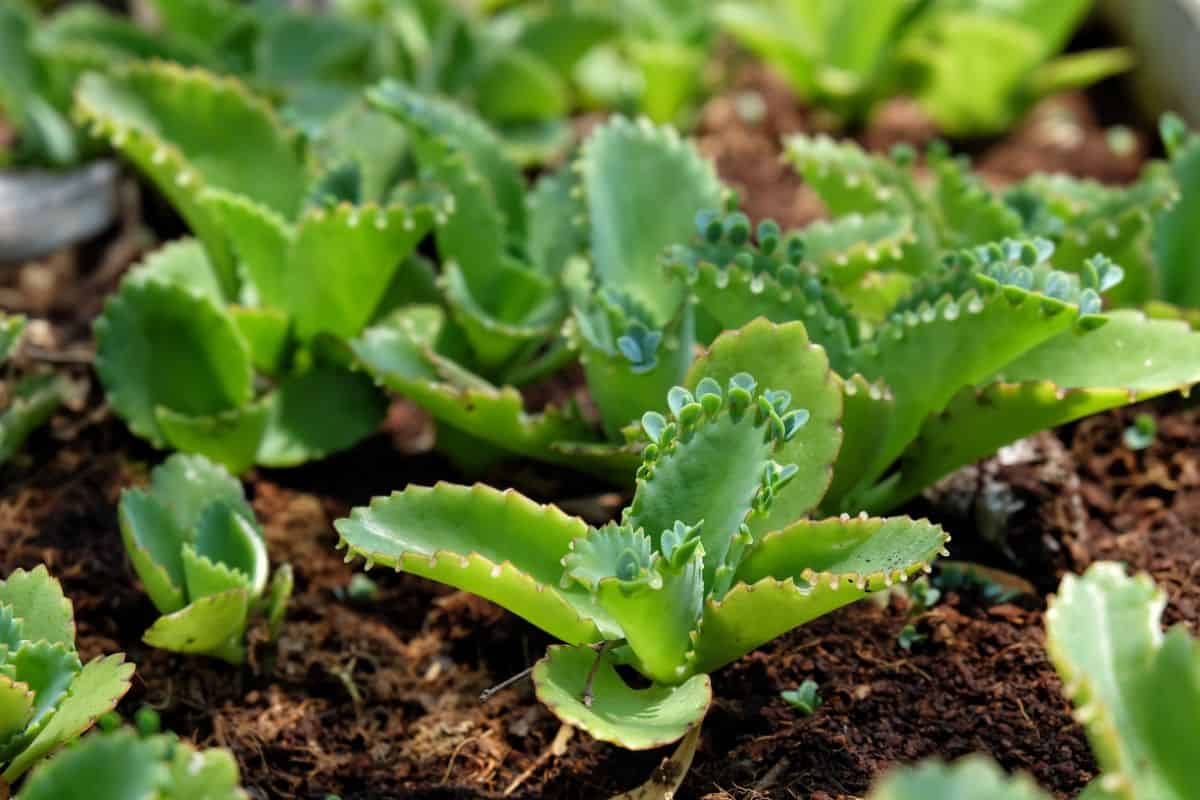 Mother of thousands thrives in sandy, well-draining soil. The best option is to provide a potting mix made for cacti.
In the absence of sandy soil, you can create yours by adding some coarse sand to regular potting soil. Below are some other things that are required to enhance the proper drainage of its soil;
Perlite – a crushed volcanic glass added to potting soil to keep it light and loose.
Pumice – enhances soil aeration the soil and keeps it loose to enable proper water drainage.
Vermiculite – created from mica, this matter ensures good retention of some moisture in the soil while still enhancing good aeration.
Do not use any soil with a mix of peat moss, humus, or loam. If any of the above matters are present in the potting mix, the soil will take too long to dry out, retaining too much moisture in the pot.
Water Needs
Even though the mother of thousands is tolerant to drought, it is not as much as several other succulent plants.
So, giving it infrequently and thorough watering would be best, especially in its growing season. However, you can use only water once a few weeks, even during spring and summer.
The best way to water this fantastic plant is anytime the top two inches of the soil surface is dry. If you gently water as required, you won't have to worry about soggy roots. In the fall and winter, you can minimize your watering routine, as excess watering can result in limp leaves.
Temperature/Humidity Needs
Mother of thousands thrives in temperatures of around 65° to 75°F (16° to 24°C). When you heat your home in colder seasons, you must protect the plant from direct heat. Not only can the heat destroy the leaves, but it will also dry out the plant faster.
Fertilizing Needs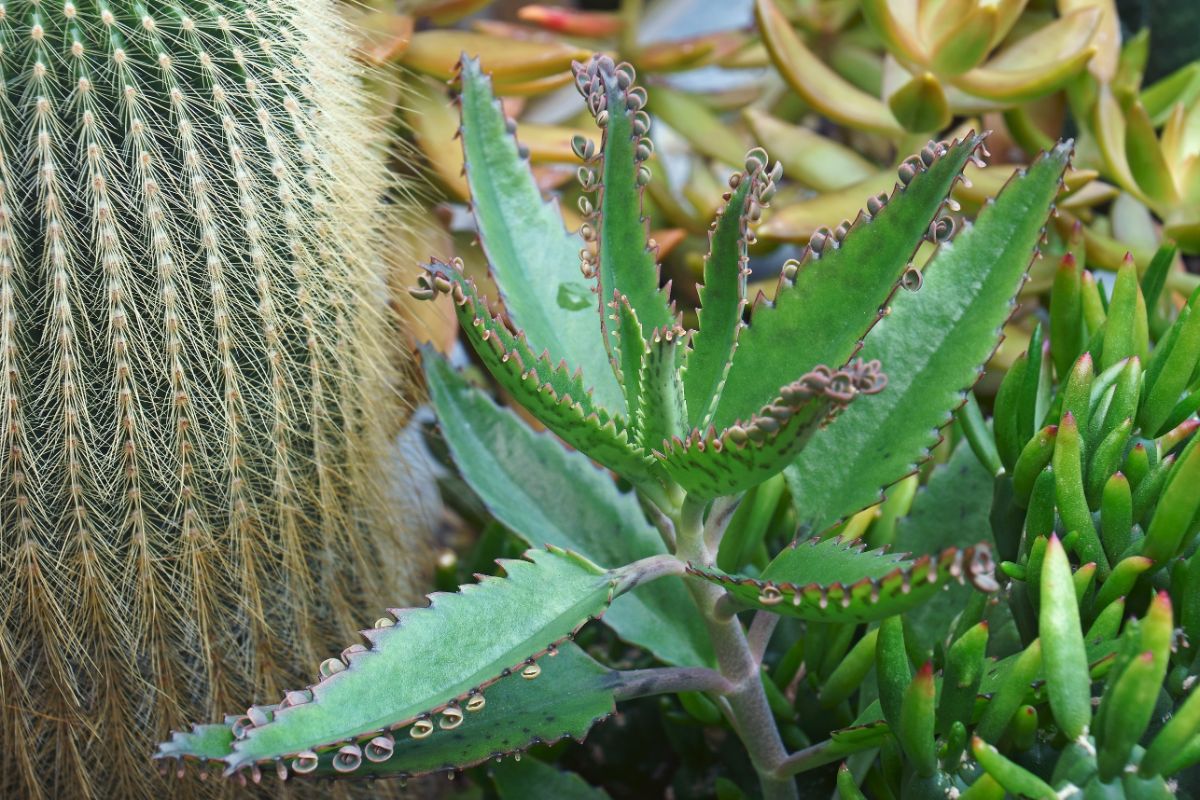 The mother of thousands doesn't require regular fertilizing, but occasional feeding is necessary to enhance its healthy growth. Don't join other inexperienced gardeners to overfertilize your plant, as it can prove too disastrous.
Make sure you fertilize your mother of thousands at least once per season during the spring and summer using a liquid fertilizer diluted to half strength. Avoid feeding them during the fall or winter.
Organic fertilizers such as compost tea or a balanced liquid fertilizer are a better option. You can add granules once or twice a season if you like.
Potting & Repotting Tips
Typically, mothers of thousands need to be repotted when dropped plantlets have started germinating in the pot, accommodating the mother plant.
In this case, you can move the plantlets into a fresh pot to enhance the growth of succulents. Below are how you can tell it's time to repot your plant;
Roots begin to sprout from the drainage holes
Soil dries out faster than expected, especially in cold temperatures
Stunted growth because of insufficient nutrients that plants receive.
Pruning Needs
Like most other houseplants, mothers of thousands will require trimming back once in a while. Once the plant begins to become wiry and spindly, cut off the top of the plant directly above a giant leaf. It will initiate the growth of leaves further down on the stem.
Mother of Thousands Propagation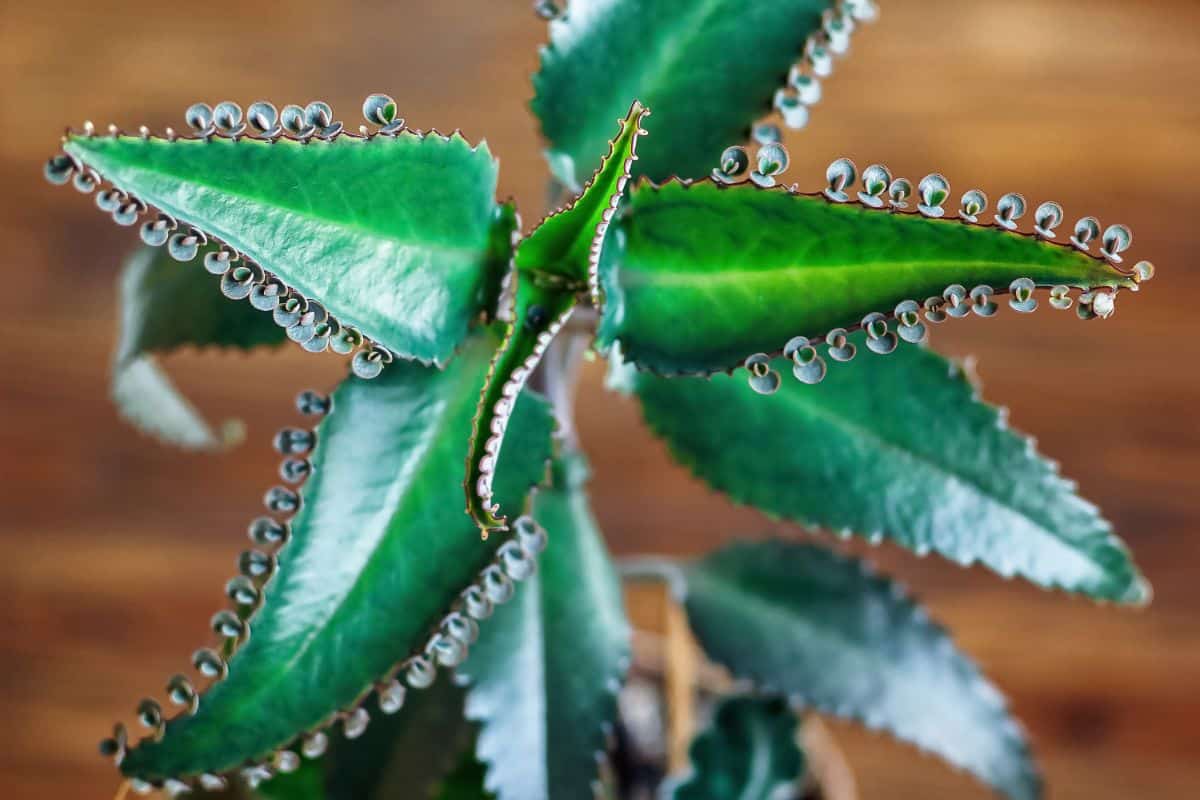 The best and easiest method of propagating a mother of thousands is through the plantlets it produces instead of the seeds. The plantlets are always ready for removal as the primary plant approaches its dormancy period in the winter.
As such, they tend to fall off naturally, or you can get rid of them from the leaf they are glued to yourself without too much pressure once they are ready for removal. Place the plantlets on the surface of an adequately drained and moist potting medium where they'll start taking root.
Overwintering
You can take your mother of thousands indoors for the winter as it cannot survive temperatures below 40 degrees Fahrenheit.
When moved indoors, avoid placing it too close to a heater, as direct heat can destroy its leaves and dry out the plant faster than it can deal with.
Pest Control Tips
As long as the mother of thousands growing is concerned, pests are always an issue when growing indoors. But sometimes, aphids, mealybugs, or scale can feast on it. You can control visible insects using a cotton swab dipped in rubbing alcohol.
You can also remedy the leaves using insecticidal soap or a neem oil treatment. You can produce your spray by mixing one teaspoon of gentle liquid soap with a liter of water.
Varieties of Mother of Thousands
Mother of thousands has different species, and you might be confused about the best choice. Anyone you choose will surely add beauty to your home.
Various species of this unique plant include Bryophyllum delagoense, Byrophyllum fedtschenkoi, Bryophyllum pinnatum, and so on.
Common Mother of Thousands Growing Problems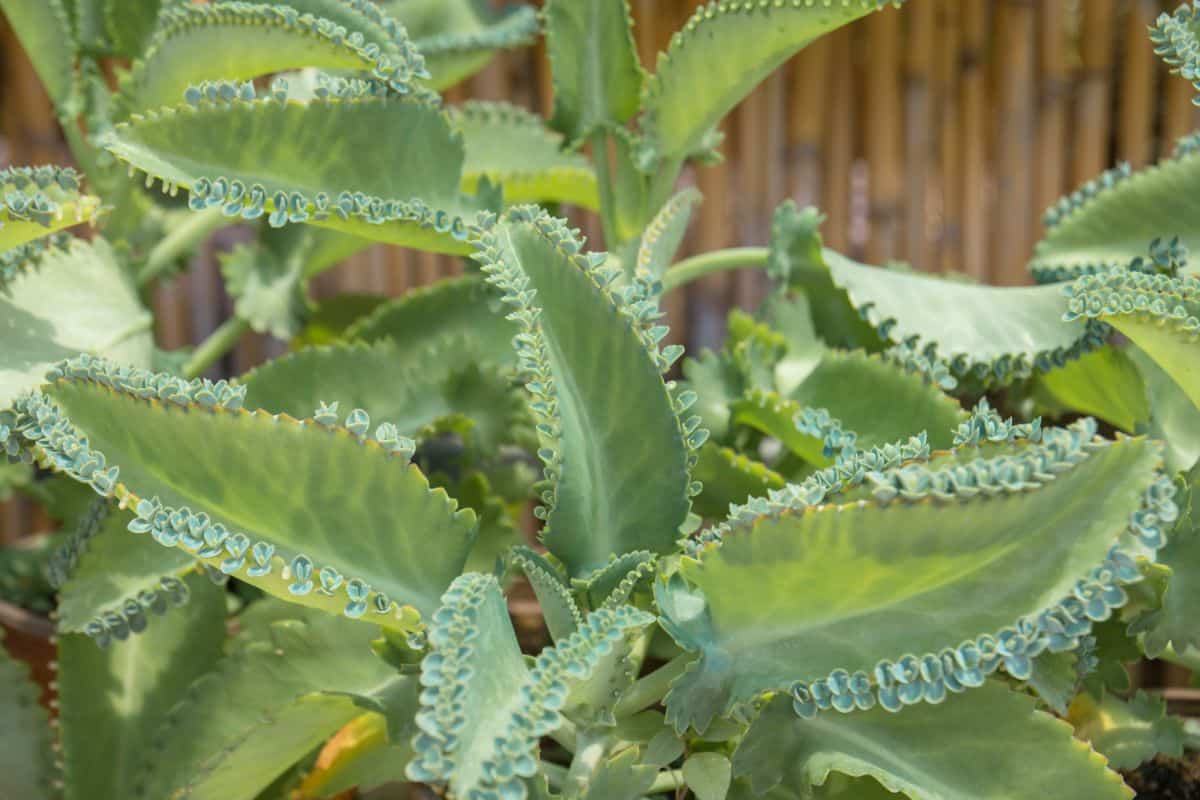 Even though the mother of thousands is easy to grow and maintain, it can sometimes encounter one issue or the other with its care. Below are some of the most common problems with mothers of thousands growing and their solutions;
1. Plant not Growing
Overwatering or inadequate light is the most significant cause of stunted or lack of growth in mothers of thousands.
Solutions
Do not water until you notice that the top inches of the soil have dried out.
Avoid overwatering to avoid soggy soil, and ensure every excess is drained.
Place your plant in an area it can receive six or more hours of bright, indirect light daily.
You can supplement with a grow light if necessary, but don't allow it to be affected by the scorching afternoon sun, especially in the summer.
2. Shriveling Leaves
Once you notice that the leaves of your mother of thousands are shriveled or limp, it is a sign of infrequent watering, inadequate lighting, or heat.
Solutions
Do not overwater the plant to avoid soggy or too much dry soil, respectively.
Ensure it gets enough bright light as it requires, and protect it from excess heat, such as afternoon sun or winter heater vents.
3. Growing Tall or Leggy
If your mother of thousands is experiencing sparse, tall, or leggy growth, it is caused by insufficient light.
Solutions
By increasing the amount of light, it gets and pruning the top of the plant in the spring; you will be sure of bushier and healthier blooms.
4. Leaves Turning Brown
Whenever the leaves of your mother of thousands turn brown, it is usually a sign of improper watering or too much sun. Direct sun in the afternoon causes foliage burn. Overwatering results in root rot, which gradually turns the plant's leaves brown. On the other hand, underwatering will cause brittle brown edges or spots.
Solutions
Pretty simple!!! Stop overwatering and allow the topsoil to dry out before you re-water. And water regularly so the soil stays moist.
Taking to a sheltered spot during hours of severe afternoon sun will avoid sunburn that results in the browning of leaves.
Frequently Asked Questions
How tall does the mother of thousands grow?
About three feet tall but can remain smaller when grown indoors.
Should I mist my mother for thousands?
Yes, you can. By misting it occasionally with water, it'll help to keep the soil moist.
Does the mother of thousands grow fast?
Mother of thousands is a rapid-growing succulent. When you trim rightly, new growth will germinate relatively faster.
Does a mother of thousands like to be rootbound?
No, it doesn't. Given that it is a spreading plant, you can give the roots more room to enhance the rapid and healthier growth of the mother of thousands. You can transfer the plant to a bigger pot once it becomes rootbound.
Does a mother of thousands produce blooms?
Mother of thousands does not bloom often or reliably, but the blossoms are always unrivaled whenever it produces flowers.
Conclusion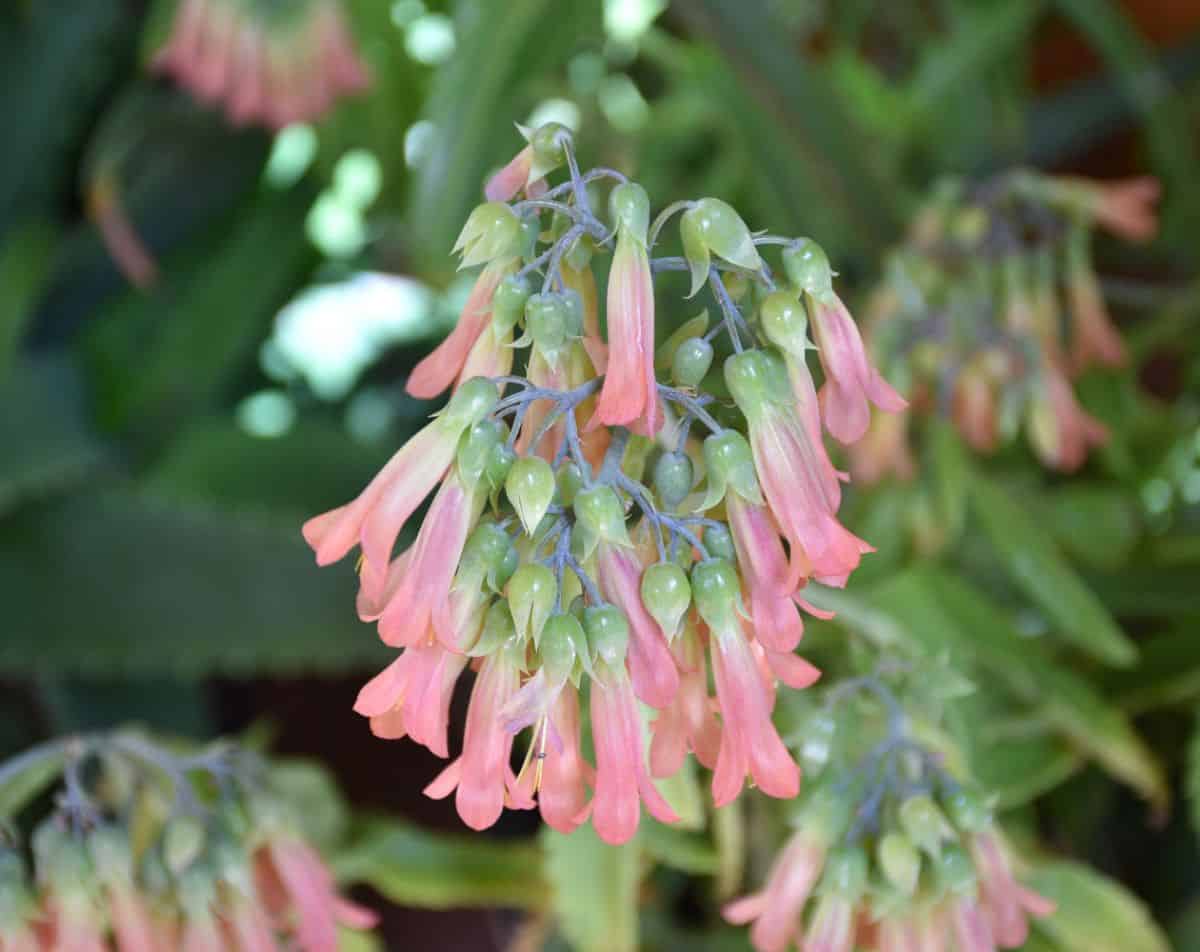 Given the fascinating features of the mother of thousands, you won't be surprised at why it is the favorite of many plant enthusiasts.
It is an easy-to-grow plant that can produce maximum success if you provide it with the right growing conditions.