Are you getting bored with the overabundance of green in your succulent garden? Maybe it's time to add some color. Purple succulents are the perfect addition for any gardener looking to add a splash of color to their collection.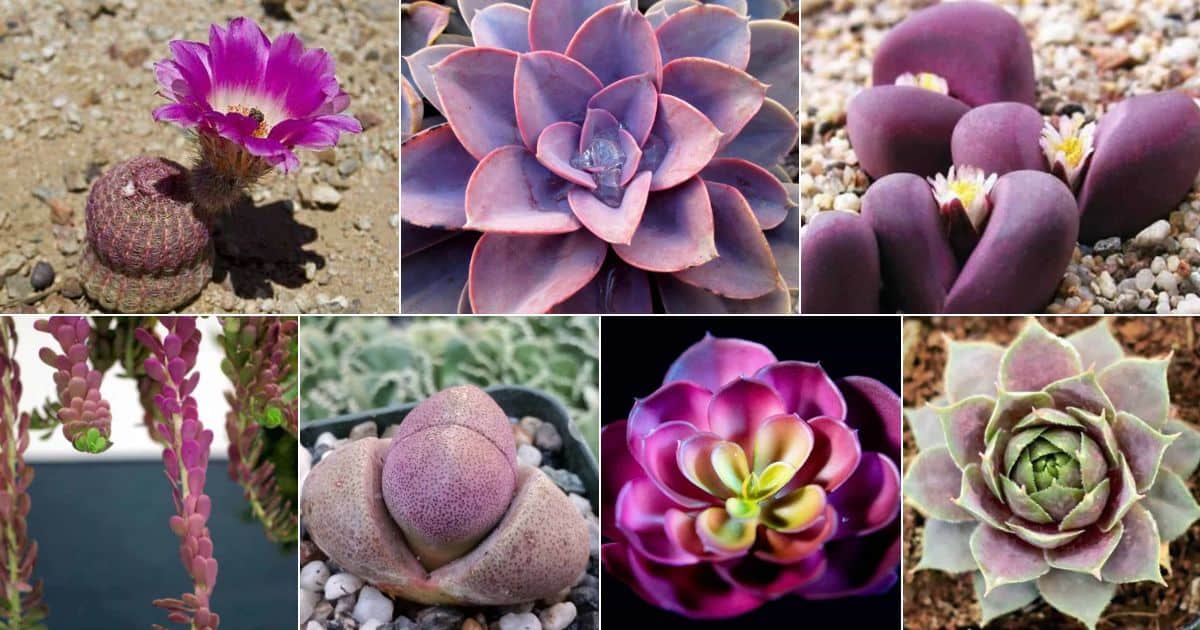 These gorgeous succulents will add a pop of purple to any drab green garden. Whether you're looking for something prickly or the perfect succulent for a hanging planter, this list is sure to help you find the purple plant of your dreams.
Jump to:
Opuntia santarita 'Santa Rita Prickly Pear'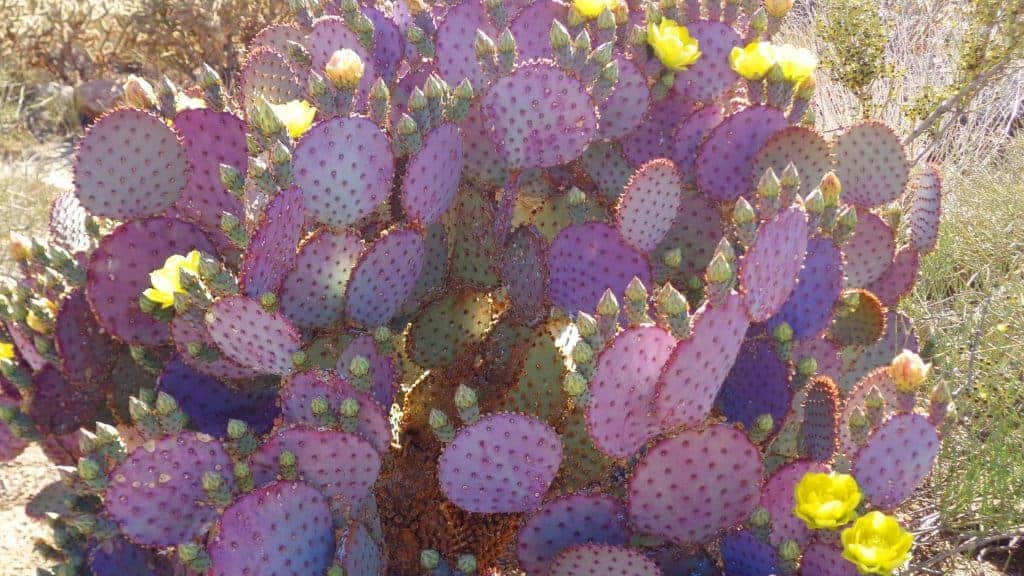 Buy it from:
This interesting cactus is native the southwestern United States. Its signature pads are green and purple, although smaller plants tend to be more colorful. It can grow up to six feet tall and nine feet wide. In Spring, it produces bright yellow flowers. Like other Prickly Pear varieties, the fruit is edible.

Santa Rita Prickly Pear prefer full sun but can do well with afternoon shade. They are tolerant of high temperatures and can deal with the occasional frost, but cold temperatures are to be avoided. They are prone to root rot if overwatered.
Read Also: 11 Best Cold Hardy Succulents
Read Also: 11 Pretty Pink Succulents
Echeveria 'Purple Pearl'
Buy it from:
The Purple Pearl is an adorable little succulent with light purple hued leaves. The flat, rounded leaves are arranged in a rosette shape, which can reach up to 8 inches in diameter. The plant itself can grow about six to eight inches tall. When the Purple Pearl blooms, it produces petite pink flowers.
Like most Echeveria, the Purple Pearl enjoys bright indoor light or partial sunlight, well-draining soil, and infrequent watering. They are easy to care for and can be propagated from stem cuttings or individual leaves. They also make perfect additions to pet-friendly gardens.
Pleiospilos nelii 'Royal Flush'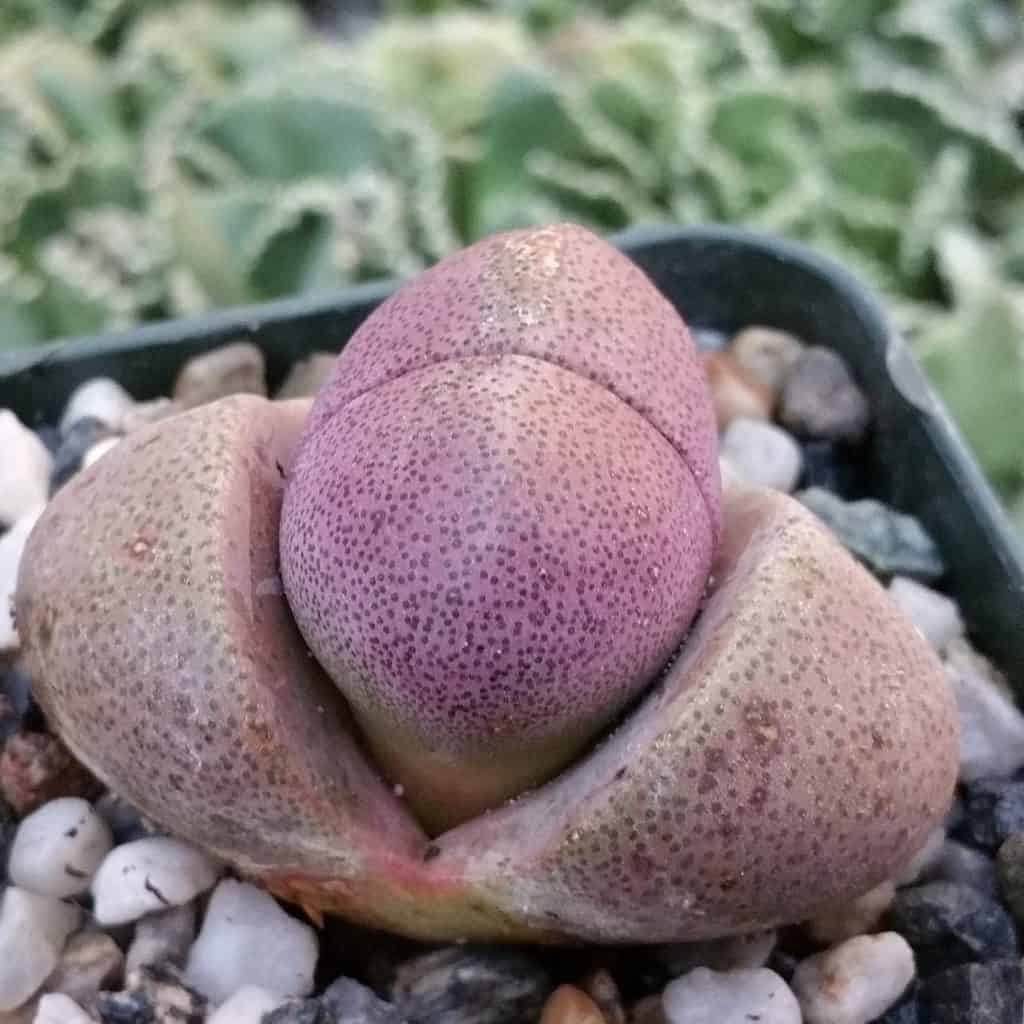 Buy it from:
This petite succulent grows up to about three inches tall and four inches in diameter. It usually has two to four leaves, which have deep grooves down their centers. The leaves are a rich purple color and are covered in tiny, raised dots. When the Royal Flush blooms, it produces a bright pink and white daisy-like flower.
Royal Flush can be somewhat difficult to care for. They prefer regular, but light watering, partial sun, and well-draining soil. Unlike most succulents, they are used to regular moisture through fog and condensation, so it can be a bit tricky to find the right balance of moisture for your climate.
Read Also: 9 Outstanding Orange Succulents
Sempervivum 'Purple Beauty'
Buy it from:
These cute little succulents have blue-green leaves with purple centers. Their leaves grow in a rosette pattern which can reach up to six inches in diameter. The plant typically stays under three inches in height. Each Spring, the plant produces offsets, or chicks, which can then mature to produce their own offsets.
Bestseller No. 1
Bestseller No. 2
Purple Beauty thrive with both full and partial sun. Like most succulents, Sempervivum enjoy infrequent watering and well-draining soil. They are easy to care for and are great for even the most inexperienced gardeners.
Senecio jacobsenii 'Trailing Jade'
Buy it from:
Although this plant is referred to as Trailing Jade, it's actually not related to the Crassula Jades you are familiar with. Native to southern Africa, this trailing succulent can grow stems up to 12 inches in length. They are perfect for hanging pots and as ground cover. Trailing Jade blooms infrequently but when they do, they produce bad smelling, bright orange flowers.
Trailing Jade thrives in full sun and with infrequent watering and proper drainage. They are easy to propagate through cuttings. Moderate stress from temperature or the sun will increase the vibrancy of the plant's purple hues.
Gymnocalycium 'Purple Moon Cactus'
Buy it from:
Gymnocalycium is a species of cactus native to South America. They generally stay quite small, under six inches in height. They are known for their brightly colored flowers and for being easy to care for. They are often grafted onto other types of cacti since they lack the chlorophyll of greener cacti.
Purple Moon Cacti can be propagated from their offsets or grown by seed. They enjoy partial sun and good drainage. Since they grow during the summer, they should be watered more frequently, but the soil should always have a chance to dry out completely before being watered again. In the winter, watering is not necessary.
Senecio herreanus 'Purple Flush'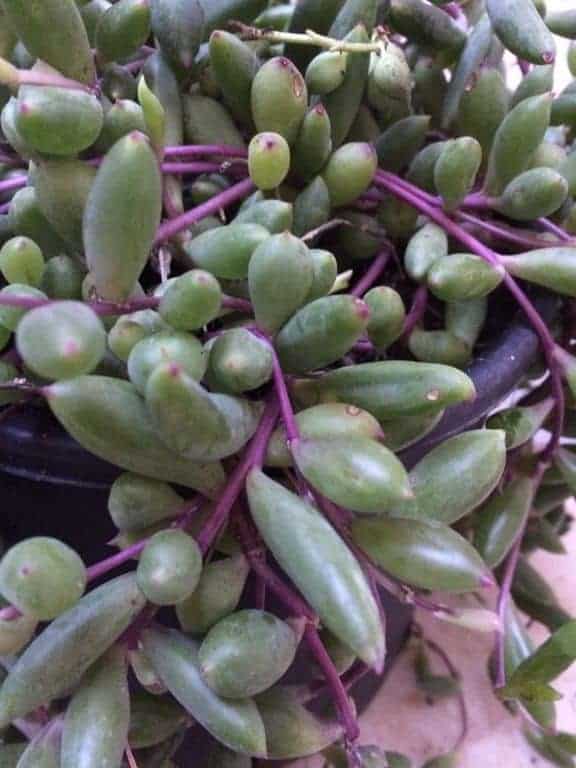 Also known as String of Beads, this plant is a trailing succulent and is perfect for any hanging planter. It has green oval shaped leaves on vibrant purple stems. When blooming, the plant produces white, brush-like flowers.
Purple Flush, like other varieties of String of Beads, is easy to care for. They are extremely drought tolerant and prefer well-draining soil. They can be grown from seed but are also easy to propagate. Cuttings of about 3 to 4 inches in length can be taken and replanted during the plant's summer growing season.
Lithops optica 'Rubra'
Buy it from:
Sometimes referred to as Living Stones, these interesting little succulents are native to Namibia. The thick, pebble-like leaves are reddish-purple in color and measure about one inch in length. They are arranged in opposite pairs. The stem is quite short and generally cannot be seen from the side. When blooming, each pair of leaves produces a white daisy-like flower.
Lithops are incredibly slow-growing plants that like infrequent watering during their growing season and little to no water during the winter. They grow in clumps, which can be cut and repotted if necessary.
Echinocereus pectinatus 'Rainbow Hedgehog Cactus'
Buy it from:
If the name Rainbow Hedgehog Cactus doesn't already draw your interest, maybe the violet colored spines will. Native to Mexico and the southwestern United States, the Rainbow Hedgehog Cactus can grow up to 14 inches tall and about five inches in diameter. The flowers of this cactus are just as flashy as the spines. They can be up to three inches in length and are typically bright pink and white in color.
The Rainbow Hedgehog Cactus has relatively weak roots, so it's susceptible to root rot if not watered carefully. They do best in bright, full sun and with well-draining soil. They are slow growing cacti and will only need to be repotted every few years.
Aloe 'Purple Haze'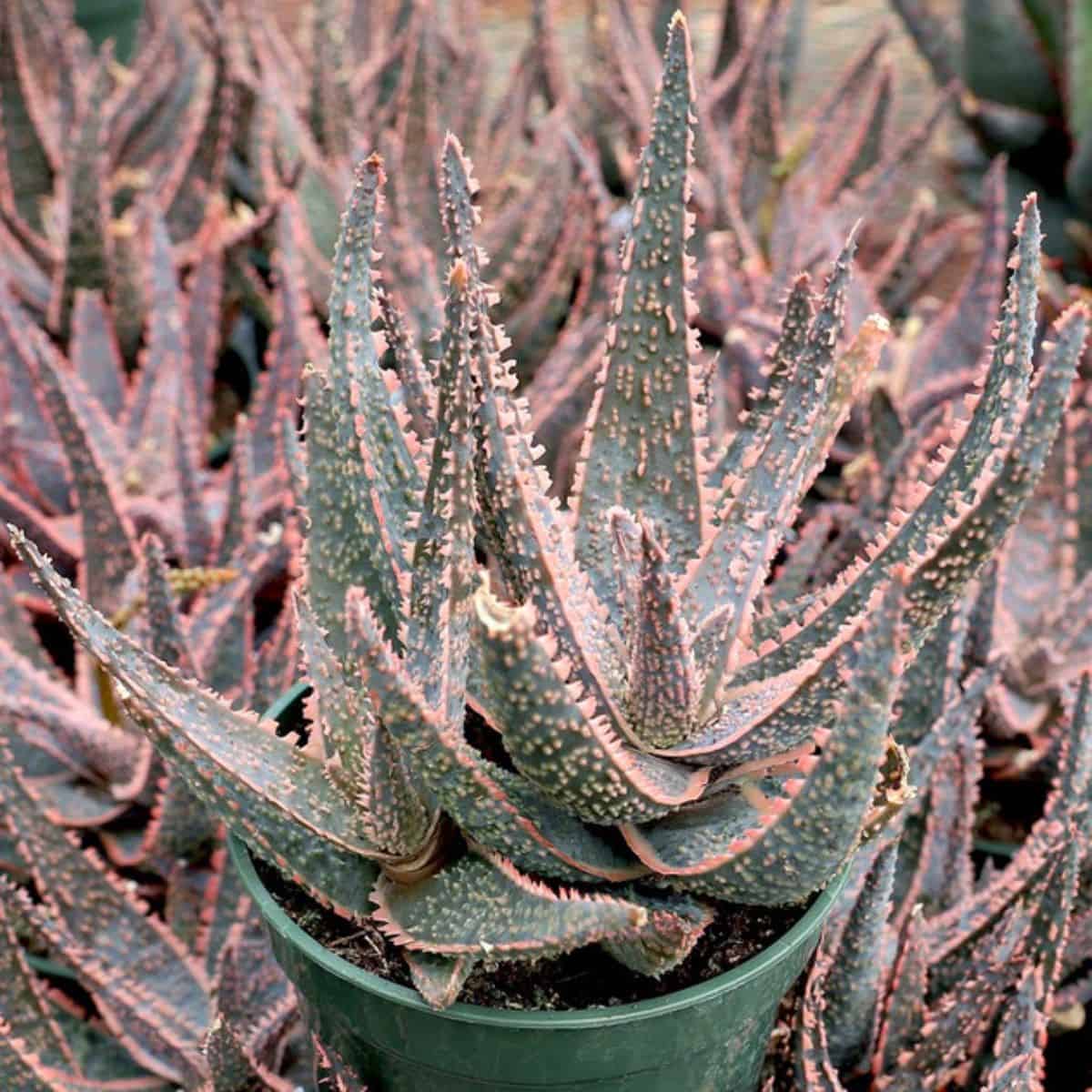 Buy it from:
At first glance, the Purple Haze seems to be more pink than anything else thanks to the large bumps all over the leaves. However, when you get closer to the plant, the literal purple haze of the leaves is far more prevalent. This is not a stark purple like some in this guide, however it's gentle hint of purple is a great way to get people to do a double take when looking at your succulent army. Keep in mind that, as it is with most succulents, this aloe will turn a more vibrant lilac when it is stressed by too much sun and too little water. Be careful!
Anacampseros Rufescens – Sand Rose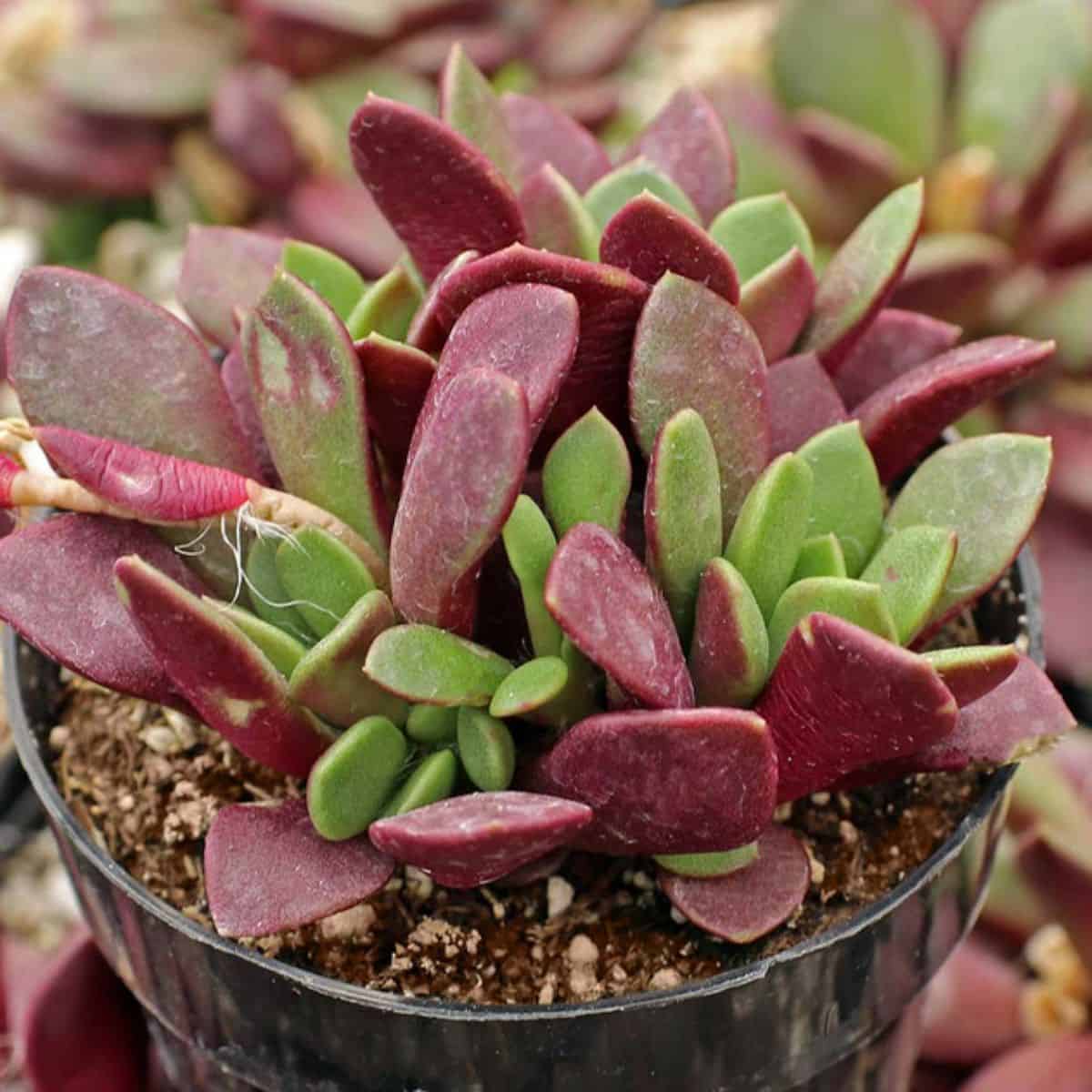 Buy it from:
Anacampseros' are not often on these lists however these beauties could not be ignored. Their leaves appear to be stuffed with how full they appear to be! While there is a distinct rosette pattern, the rosettes are not as organized as say an echeveria. The underside of the succulent is a lovely magenta purple that fluctuates throughout the plant based upon stress levels. While each rosette is about four inches in diameter, the entire plant itself can take up a 24x24x24 inch space.
Chick Charms® Plum Parfait™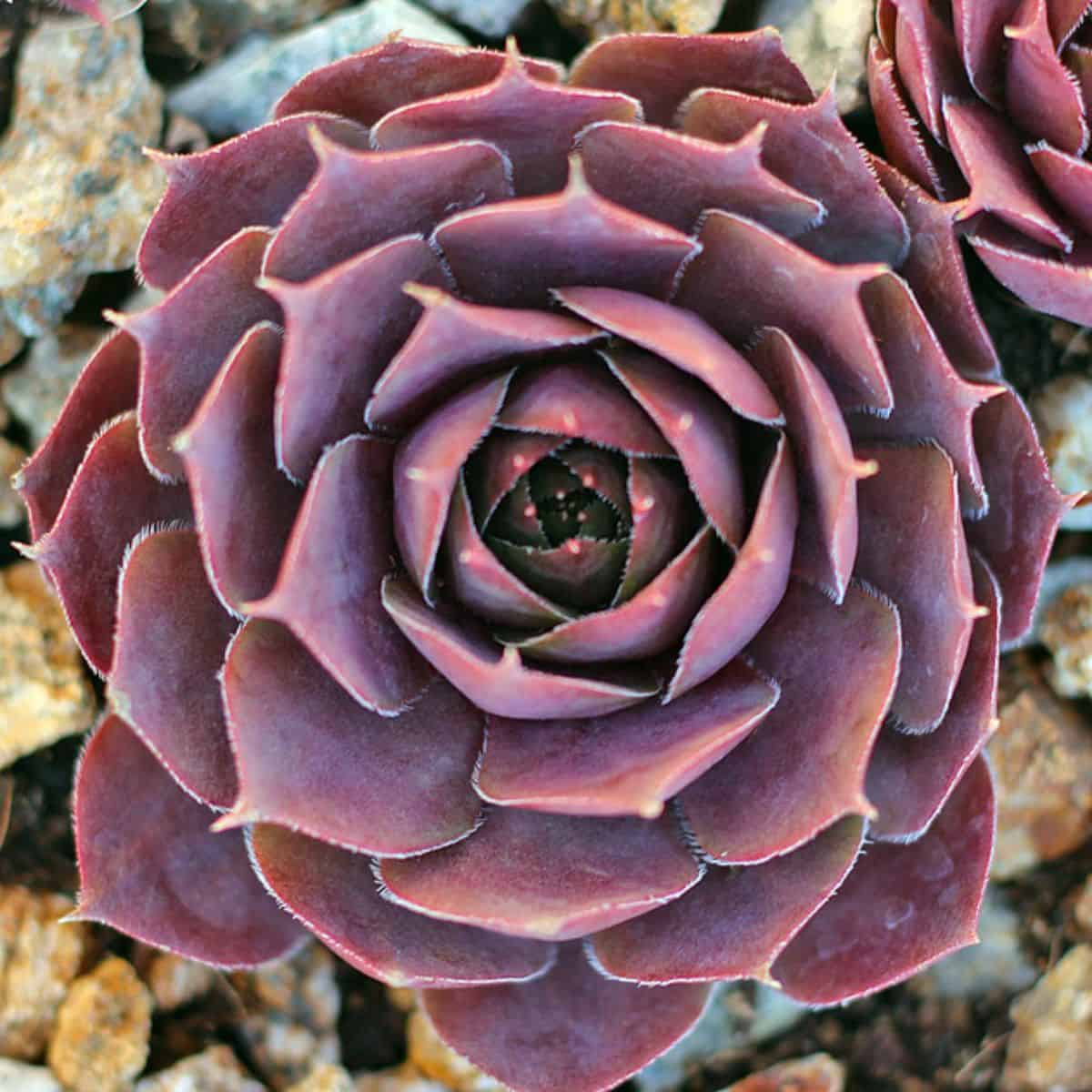 Buy it from:
In the summer, some of the best fruits to snack on are fresh ripe plums. If you are a fan of the summer, then the plum leaves of the Plum Parfait are an essential element to your garden. This type of sempervivium boasts the same sightly more open rosette with a plum leaf outlined in a foggy green-grey. Rather than growing n branches or becoming slightly leggy, thus type of sempervivum tends to be a bit more ground cover oriented.
Graptopetalum pentandrum ssp. superbum – Beautiful Graptopetalum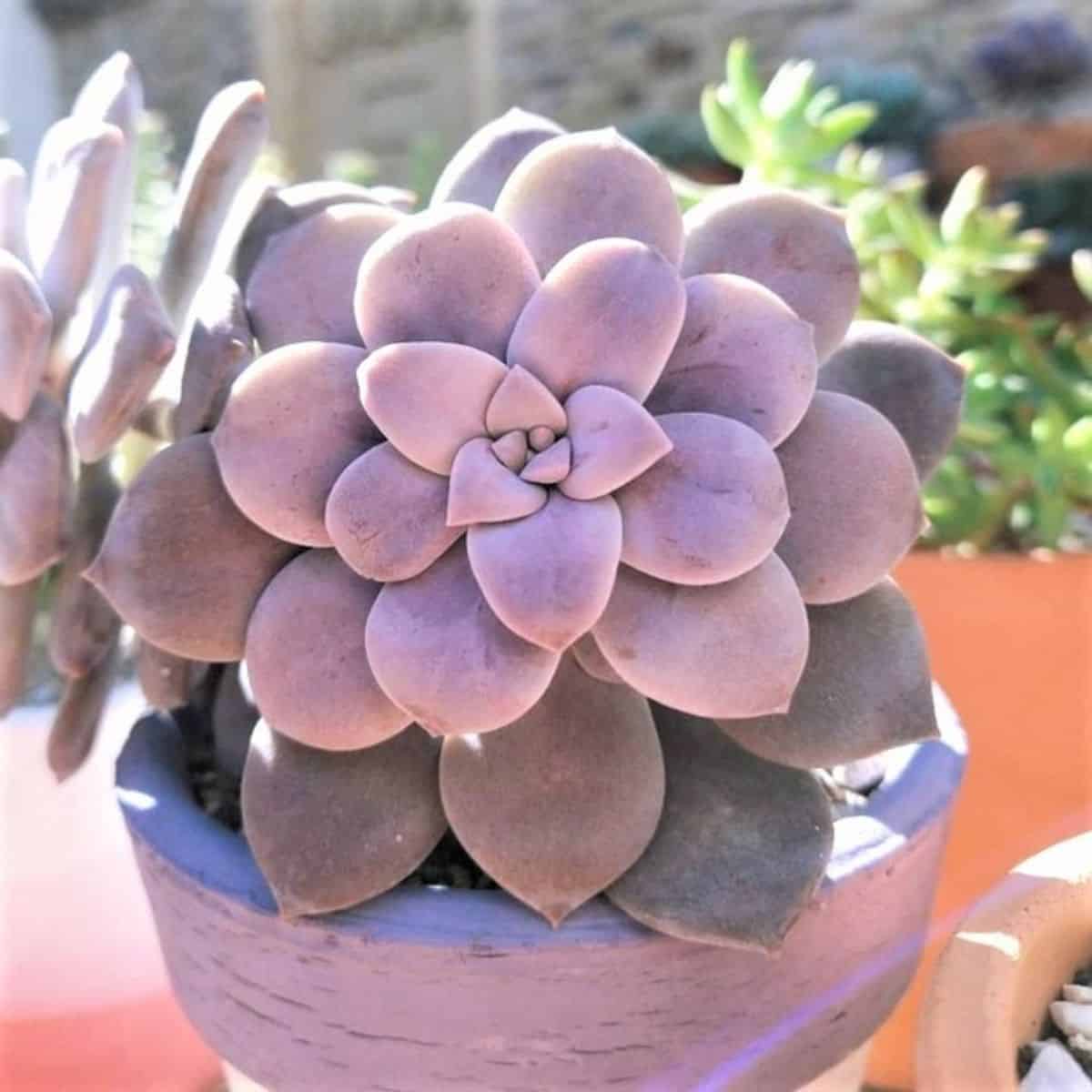 Buy it from:
Soft, ethereal and the gentlest of lavender, the Superbum is perhaps one of the prettiest succulents you will ever lay your eyes on. They may not be as intense as say a Bacchus Lithops or a sempervivium, but their thick leaves are the perfect canvas for a light purple. They are more compact rosettes that do flare slightly. Their elongated teardrop leaves are plump and have a somewhat visible central line.
Kalanchoe hybrida – Houghtonii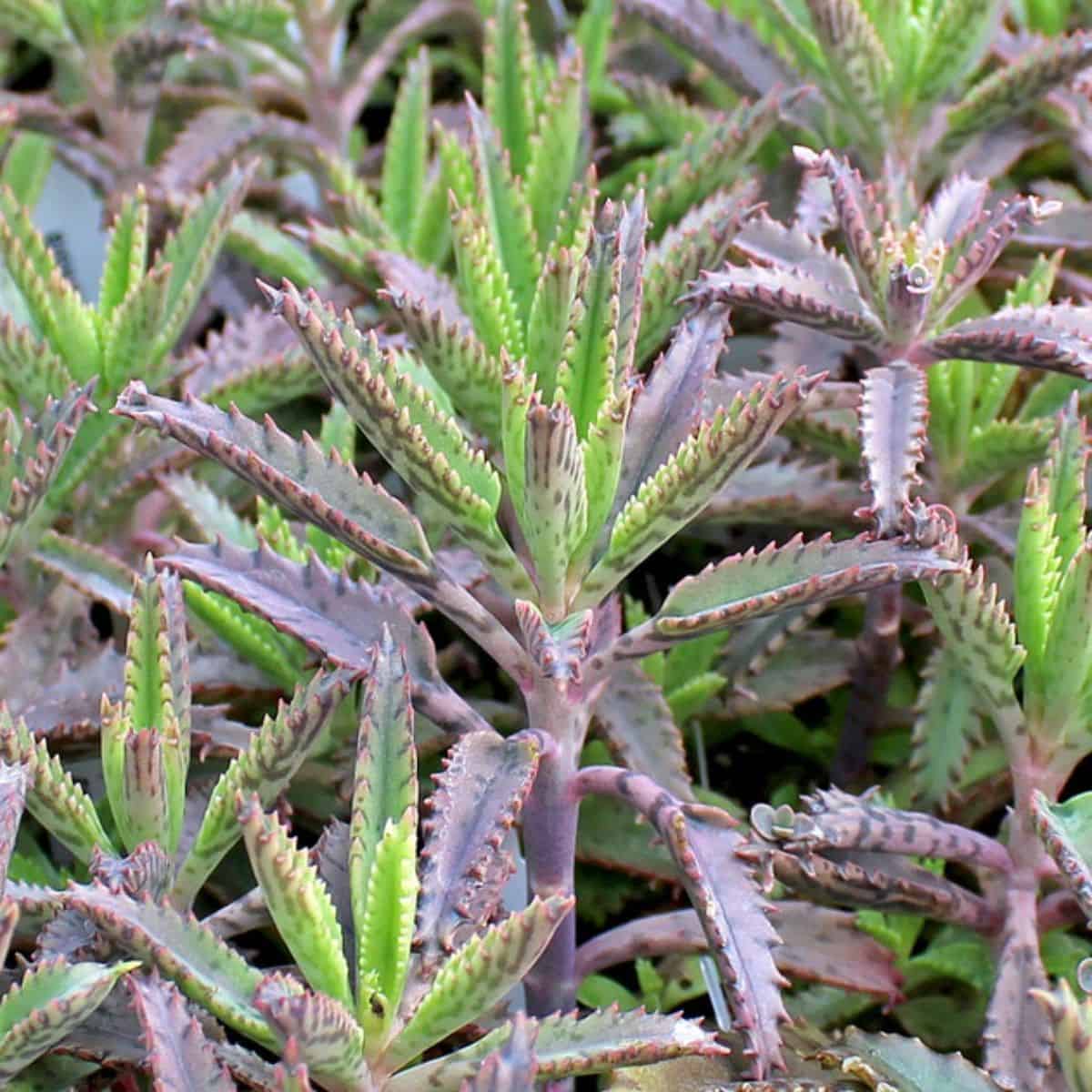 Buy it from:
What a striking about this cactus is it's leaves and stem. This hybrid is a cross between an alligator kolanchoe and a plant known as the mother of many. Eaach leave has several smaller leaves that grow along the perimeter. Each set of leaves swirl upward to reveal purple underneath each leaf. Even the stem is a slightly purple color. When you step back from this kalanchoe, it is easier to see the purple like haze that gives the plant a very soft look.
Mangave 'Silver Fox'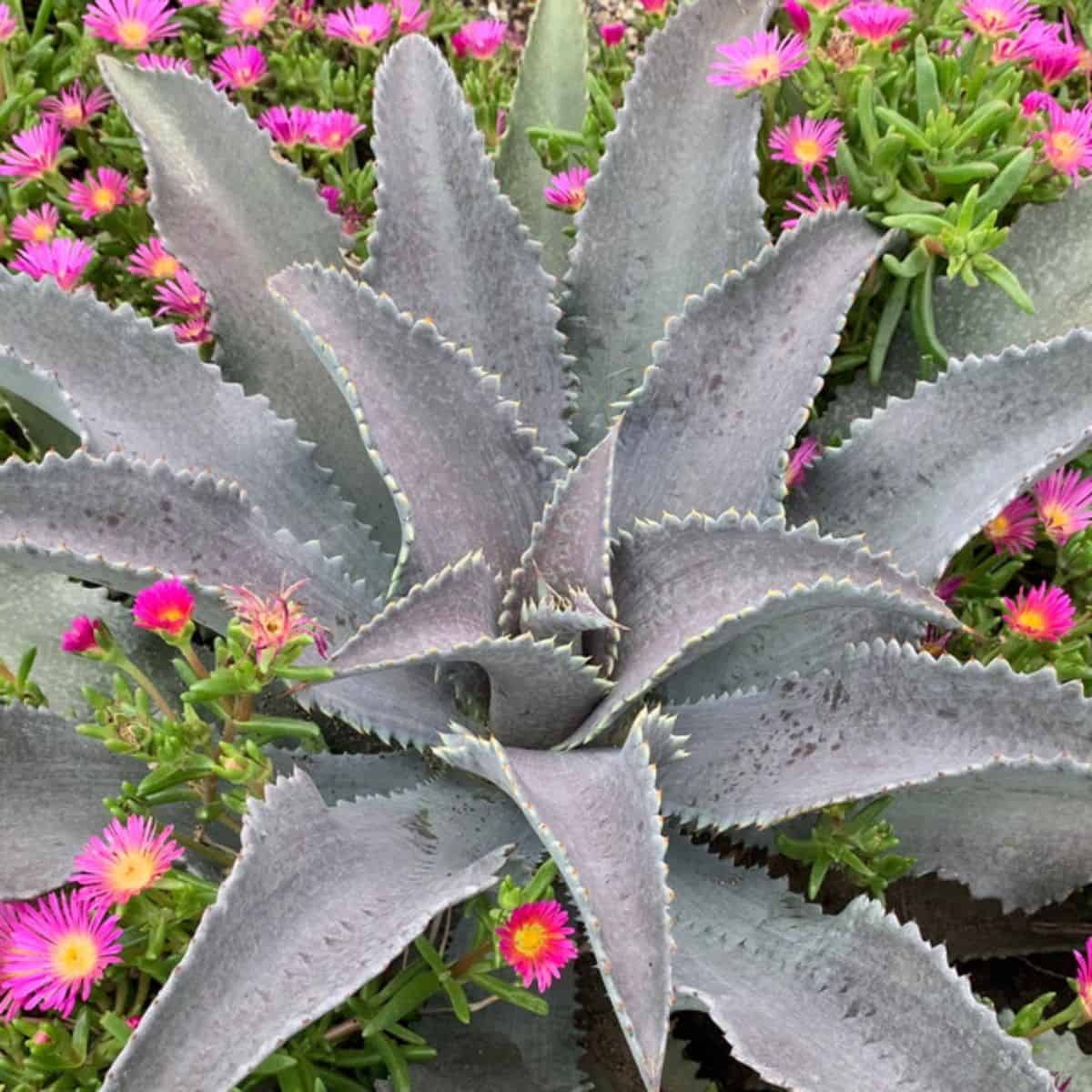 Buy it from:
This new type of succulent is sure to add some pizzazz to your garden. They have a bright silvery sheen to them with purple patterns along the leaves. Unlike other Mangave's (a cross between agave and manfreda), this one has symmetrical rosettes and soft, toothy leaves. Like many agave and mangave, the plant can grow to roughly eleven inches tall and almost two feet across! Make sure you have some space for this beautiful hybrid!
Lithops salicola - Sato's Violet or 'Bacchus'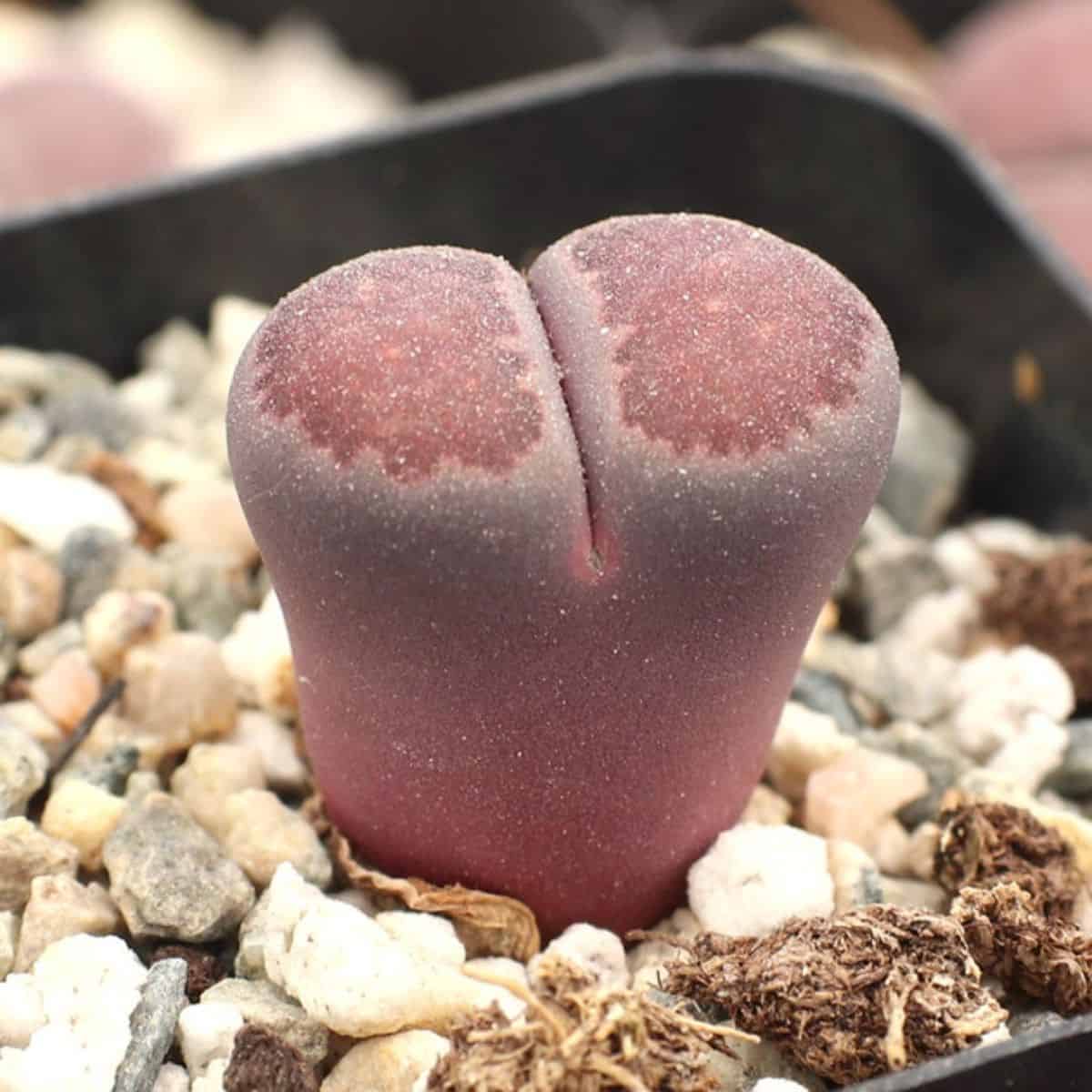 Buy it from:
If you haven't encountered a Lithops then there's no better acquaintance than the god of abundance and wine. Bacchus lithops have light purple flesh with a deep wine-red pattern. The split down the middle is a slight accent that does make it look brain like. What sets this succulent apart from others is that it is in incredibly rare specimen.
Sedum spurium 'Ayers Rock'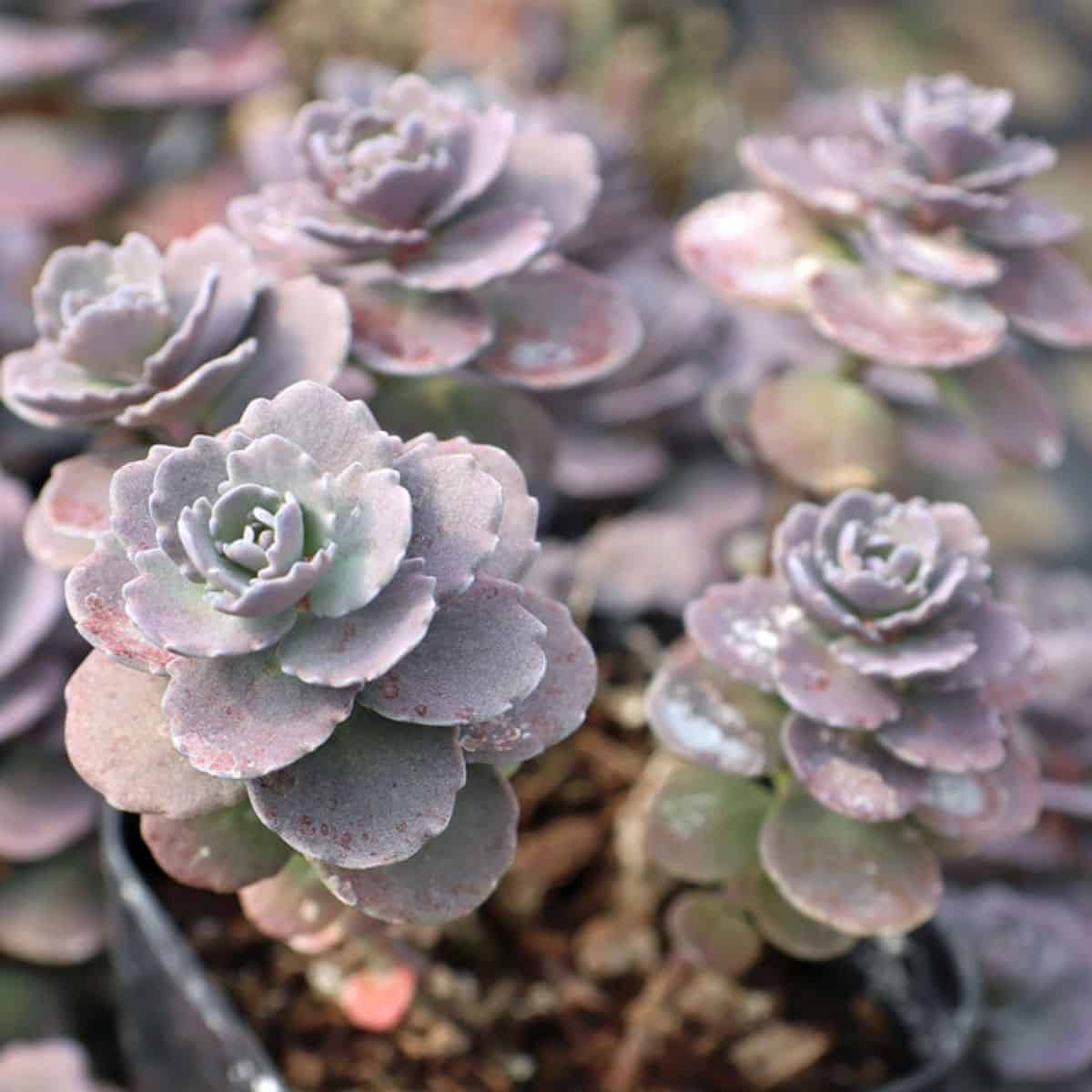 Buy it from:
This is a splendid and fun sedum to have in your garden. Much like the Firecracker cultivar, this sedum boasts more plum and lavender colors. This is an extremely frost hardy succulent that can survive temperatures of up to -20F! Like many sedum, they tend to bush and mound ove a space f about eighteen inches and they will also grow as tall. With their silvery sheen and scalloped leaves, they are a great addition to any border.
Sedum Dasyphyllum 'Lilac Mound'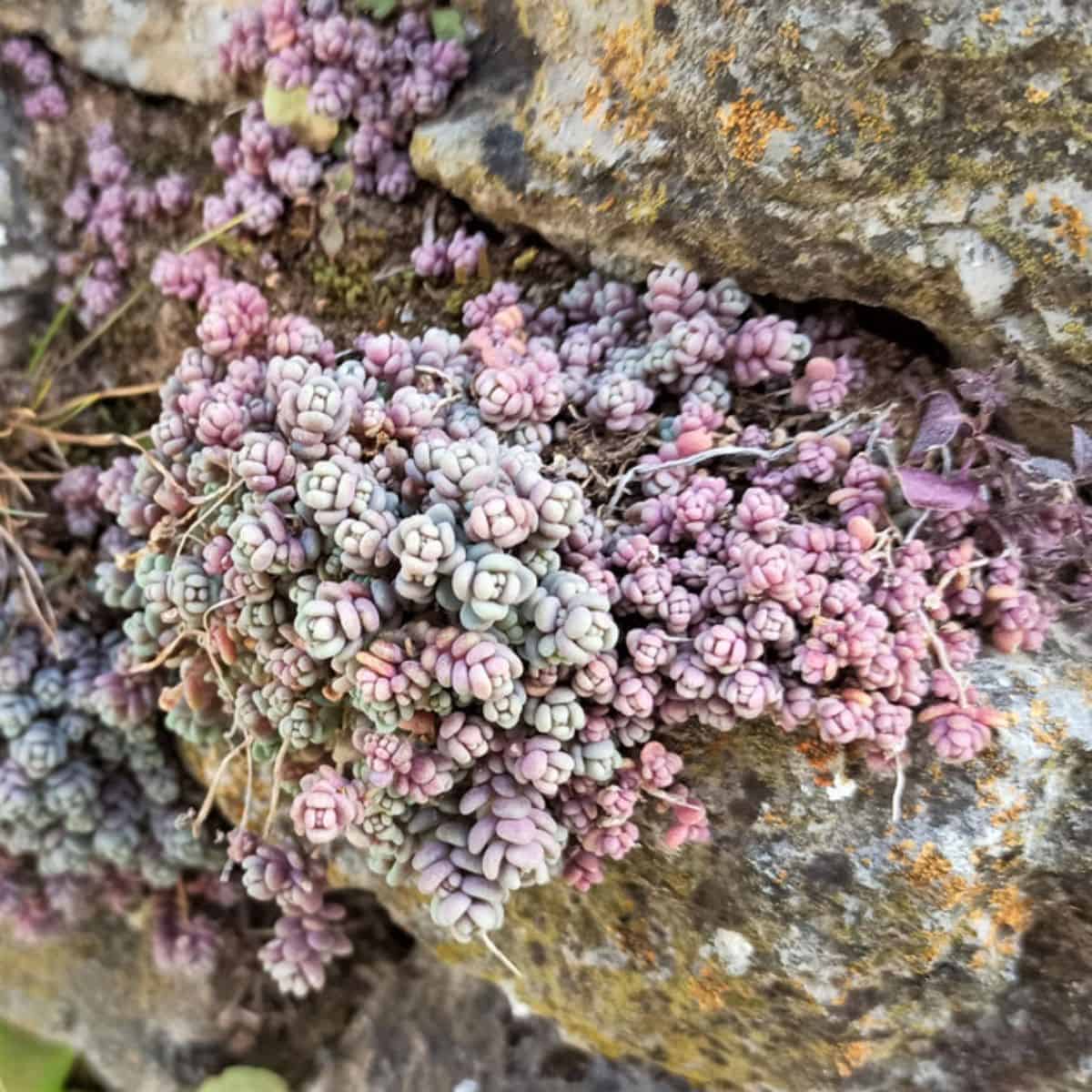 Buy it from:
It should be noted that the Lilac Mound is an evergreen sedum. It tends to stay more blue green for the majority of the year. Lilac Mound shines when it is slightly stressed. At that point the more mature leaves take on a deep purple hue that is lightened by the pale green of the natural leaf color. Younger leaves grow as light green pearls before slightly flattening out into semi-pearls along each stem.
Sedum Sunsparkler 'Firecracker'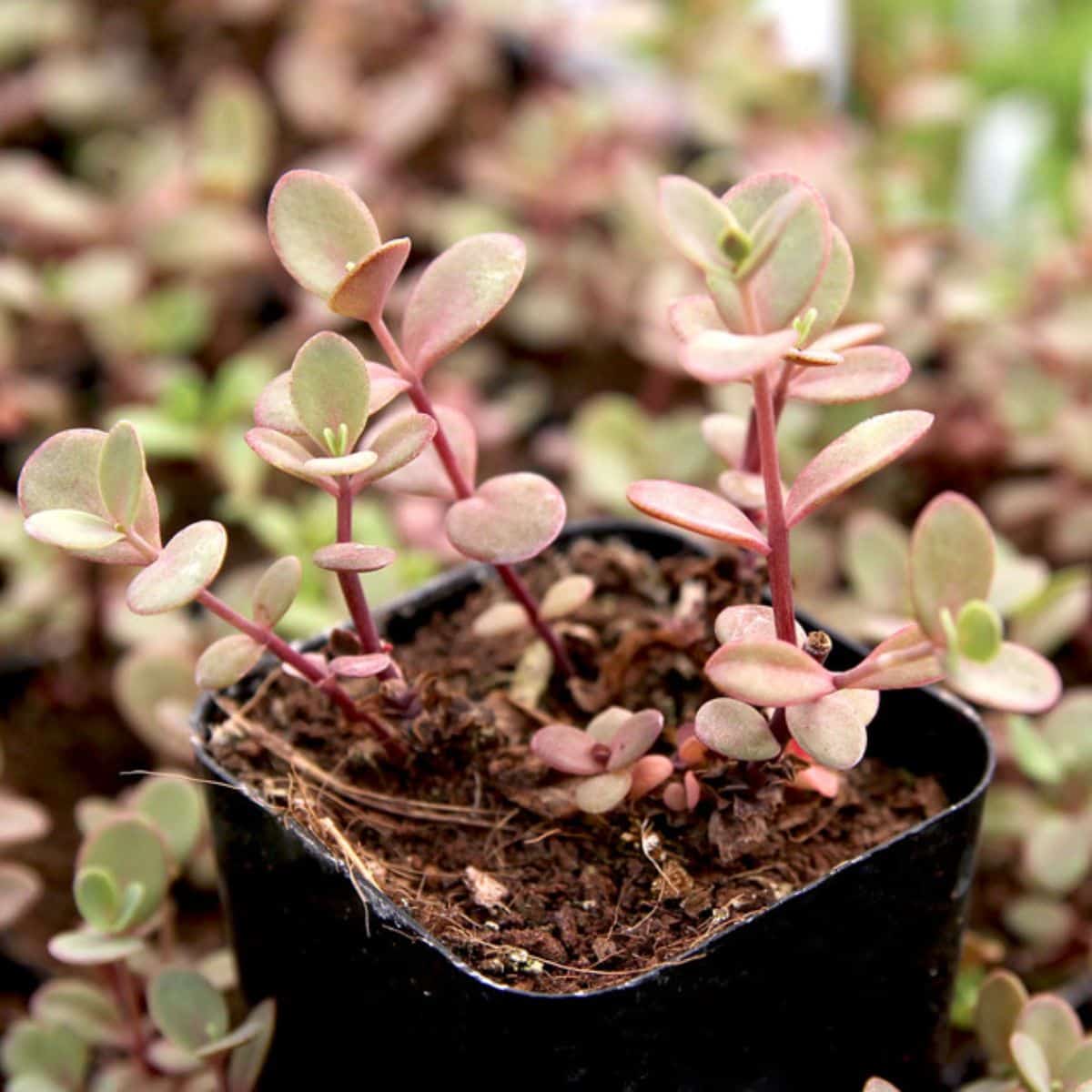 Buy it from:
Sedums are always great groundcovers and this Firecracker is just the same. What sets it apart from other sedum is that the light green, almost cloudy leaves change to a light purple plum when exposed to direct sunlight. They may lose some of their purple color during different periods of stress, but overall they maintain the color. A thing of note with this sedum: they die back completely every winter and then aggressively regrow are soon as spring hits.
Tradescantia pallida 'Purpurea' - Purple Spiderwort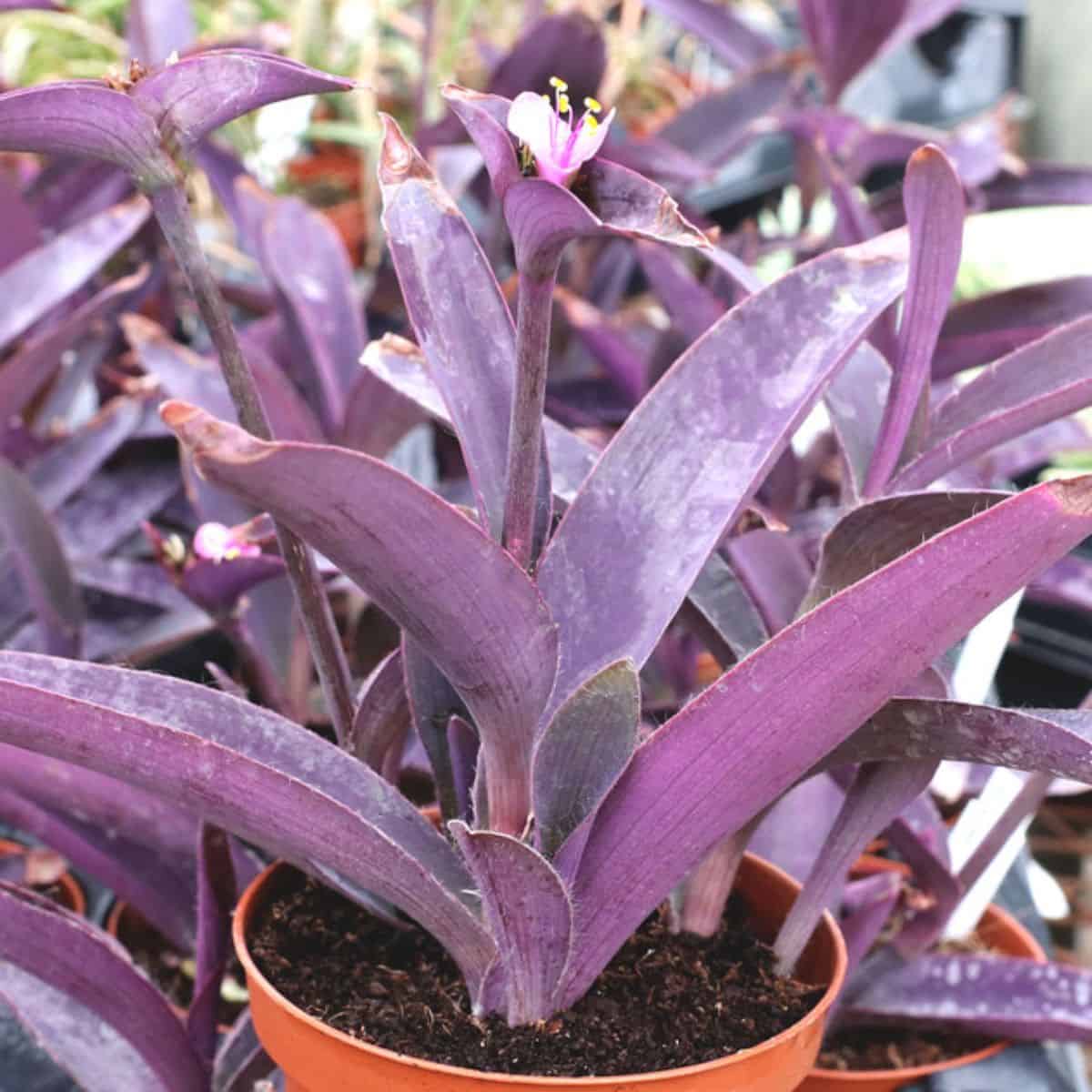 Buy it from:
Purple Spiderwort is a great addition to any garden as a ground cover. The bright purple leaves can be about five inches tall and it is a self propogating creeper that can cover several feet of ground in just a few growing seasons. Perhaps the most delicate aspect other than the delicately defined cilia is the tiny flowers that bloom at the apex of each offshoot. Each flower is only three petals large with tiny yellow stamens in the center.
Echeveria 'Chroma'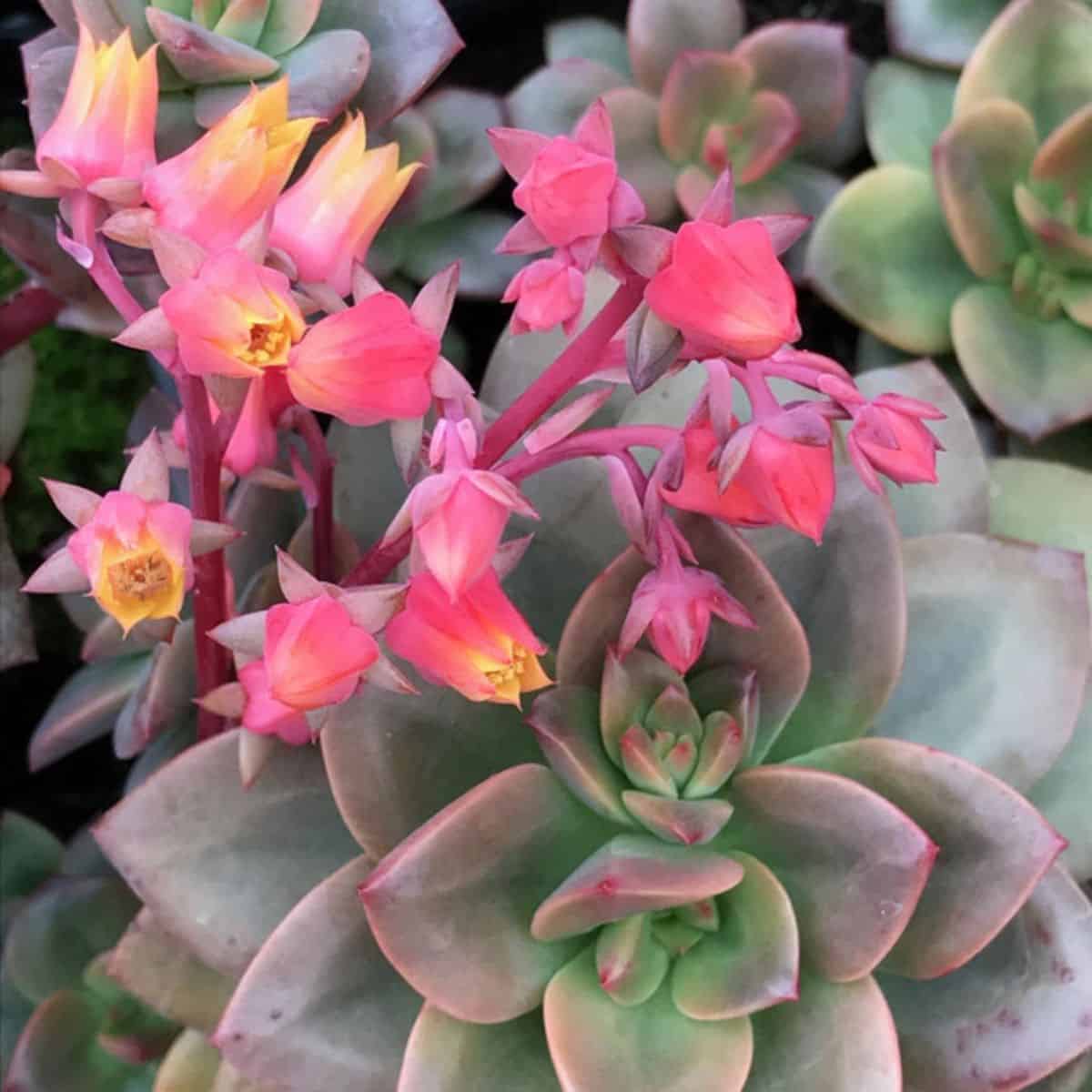 Buy it from:
No list of purple succulents would be complete without addressing Chroma. Like the Perle von Nurnbyrg and Afterglow cultivars, Chroma is a combination of purples and pinks. Unlike the other two, Chroma also has green at the base of the leaves. The hot pink creates a break between the green at the base and the deep violet at the tip of the leaves. Immature leaves are going to look hot pink, but as they mature, they will develop the typical hot pink tip or outline and the deep violet color.
Echeveria 'Cubic Frost'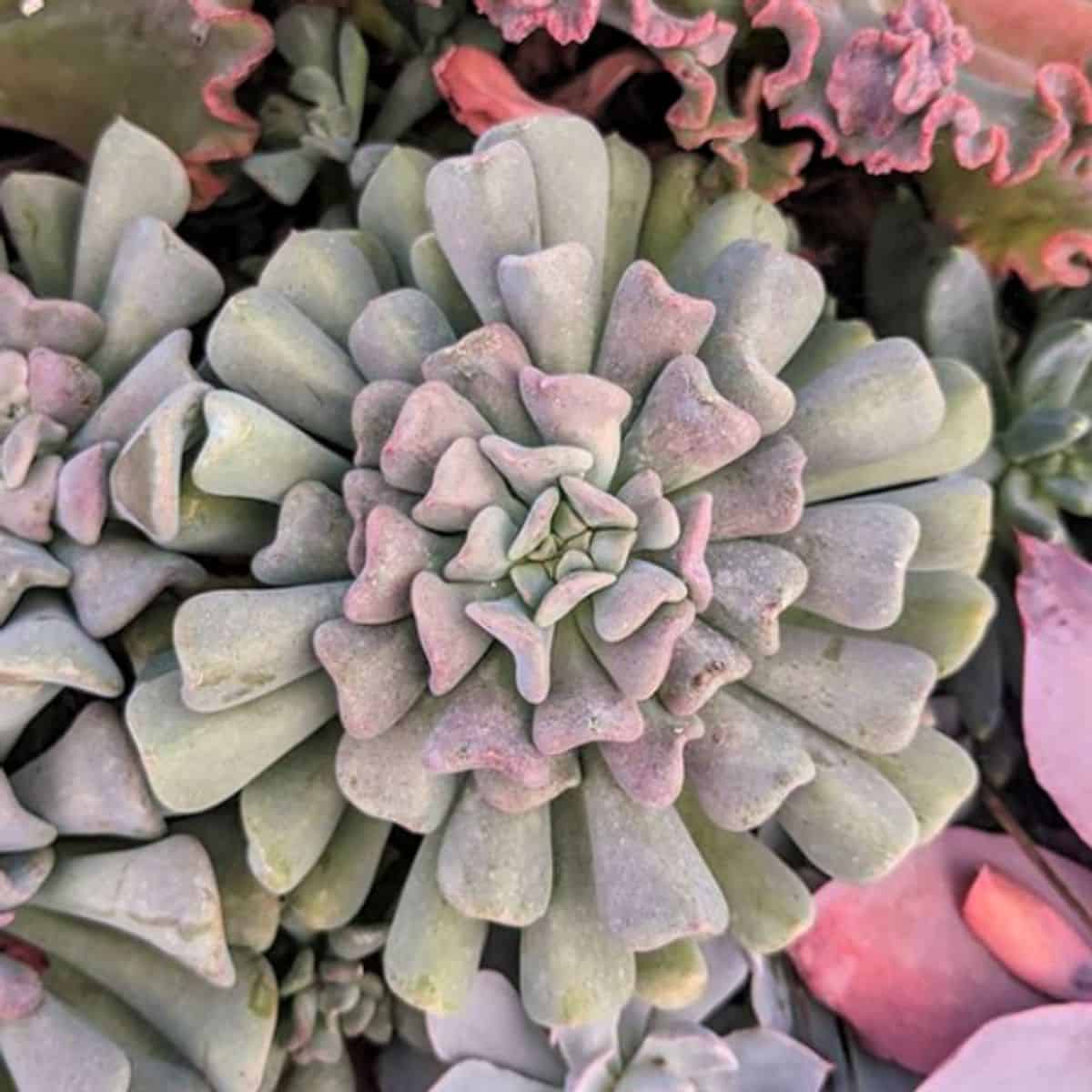 Buy it from:
Normally when we look at a succulent, the first thing we notice is the rosette shape. The leaves look like they are curling around a ball in their center … right? Not so with Cubic Frost. This echeveria has leaves that look like they are growing backwards! In a way, it looks almost chrysanthemum like since the backwards shape of the leaves makes the rosettes appear more full. They maintain a soft lilac color throughout the year and when stressed, the tips of the leaves take on a more violet color.
Echeveria 'Perle von Nürnberg'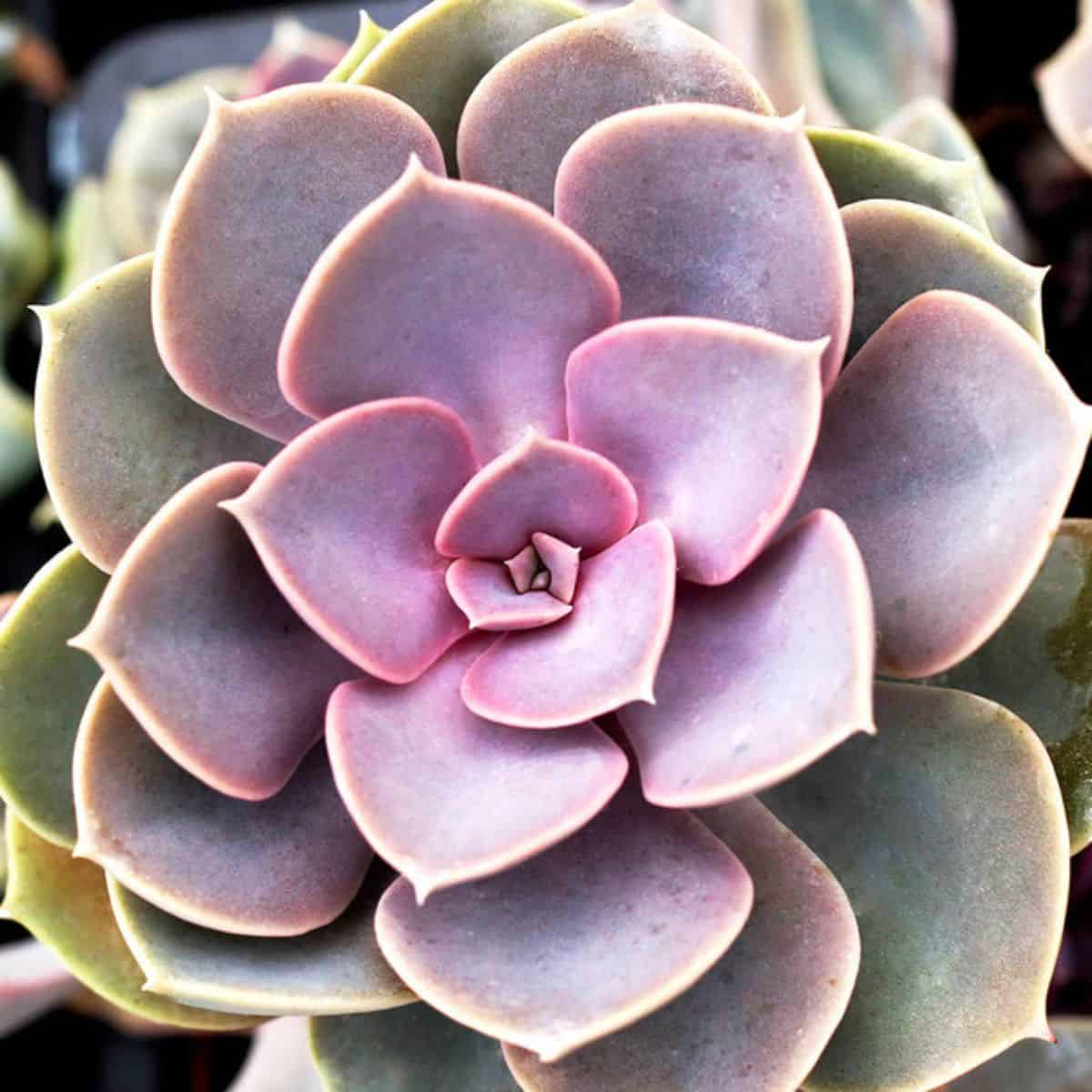 Buy it from:
While not as ethereal as the Superbum mentioned earlier, the Perle von Nurnberg is another species of succulent that appears to glow. Lavender leaves are outlined with a soft pink which gives it that neon look. Many of the rosettes with this species are loose however some mutations may make the rosettes a little tighter or even crowded. One of the many reasons to add this to your succulent army is the fact that it is one of the most prolific echeverias! This means that they are constantly sending up bloom spikes with brilliant coral flowers. If you are looking for a heavy bloomer then this echeveria is for you.
Echeveria Gibbiflora 'Jane Naylor'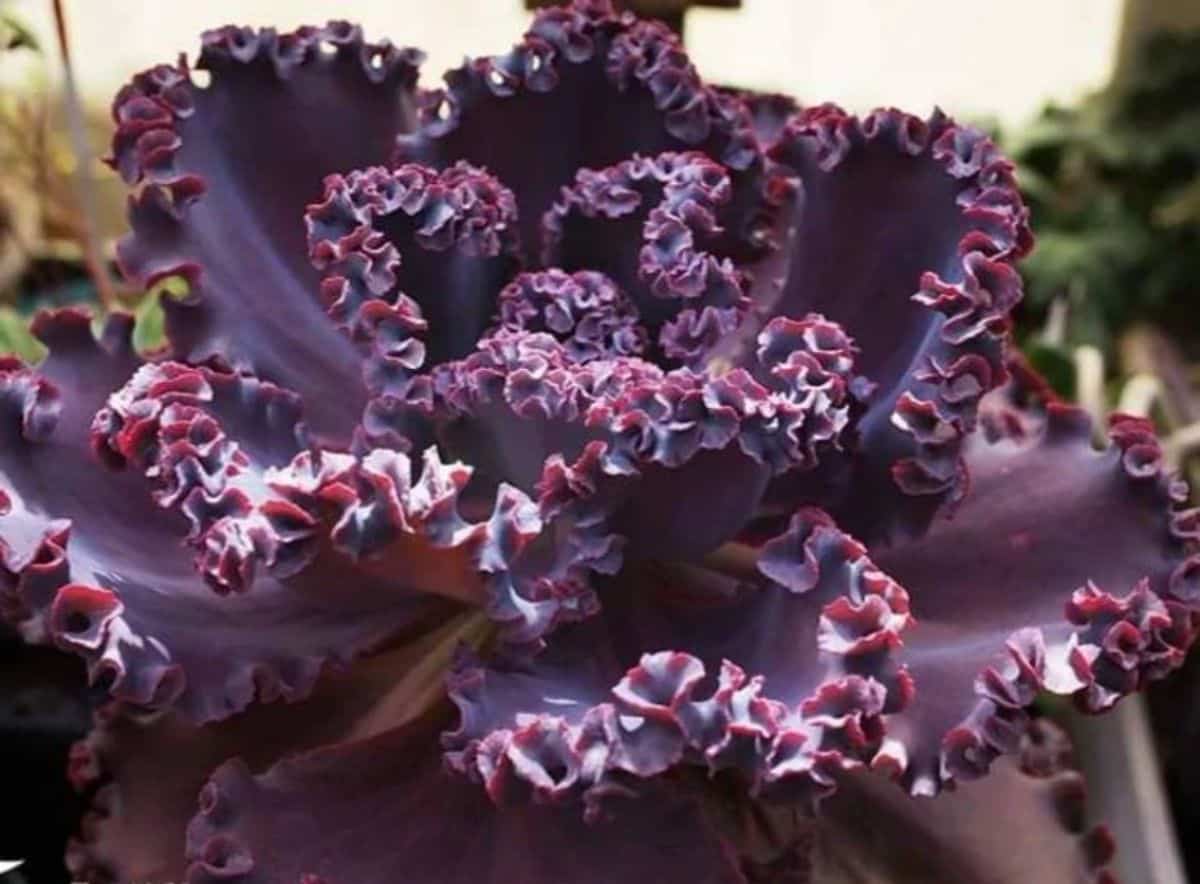 Buy it from:
At first glance, Jane Naylor can look more like spiderwort than anything else. What makes the two easuer to define is the rosette shape of an echeveria instead of the alternating pairs of a spiderwort. If you want an echeveria with a large footprint, then the Jane Naylor is for you. They can get up to sixteen inches in diameter and about a foot high. Give them space outside (unless you have enough space inside). They will be more colorful and produce more flowers when grown in direct sunlight.
Echeveria 'Afterglow'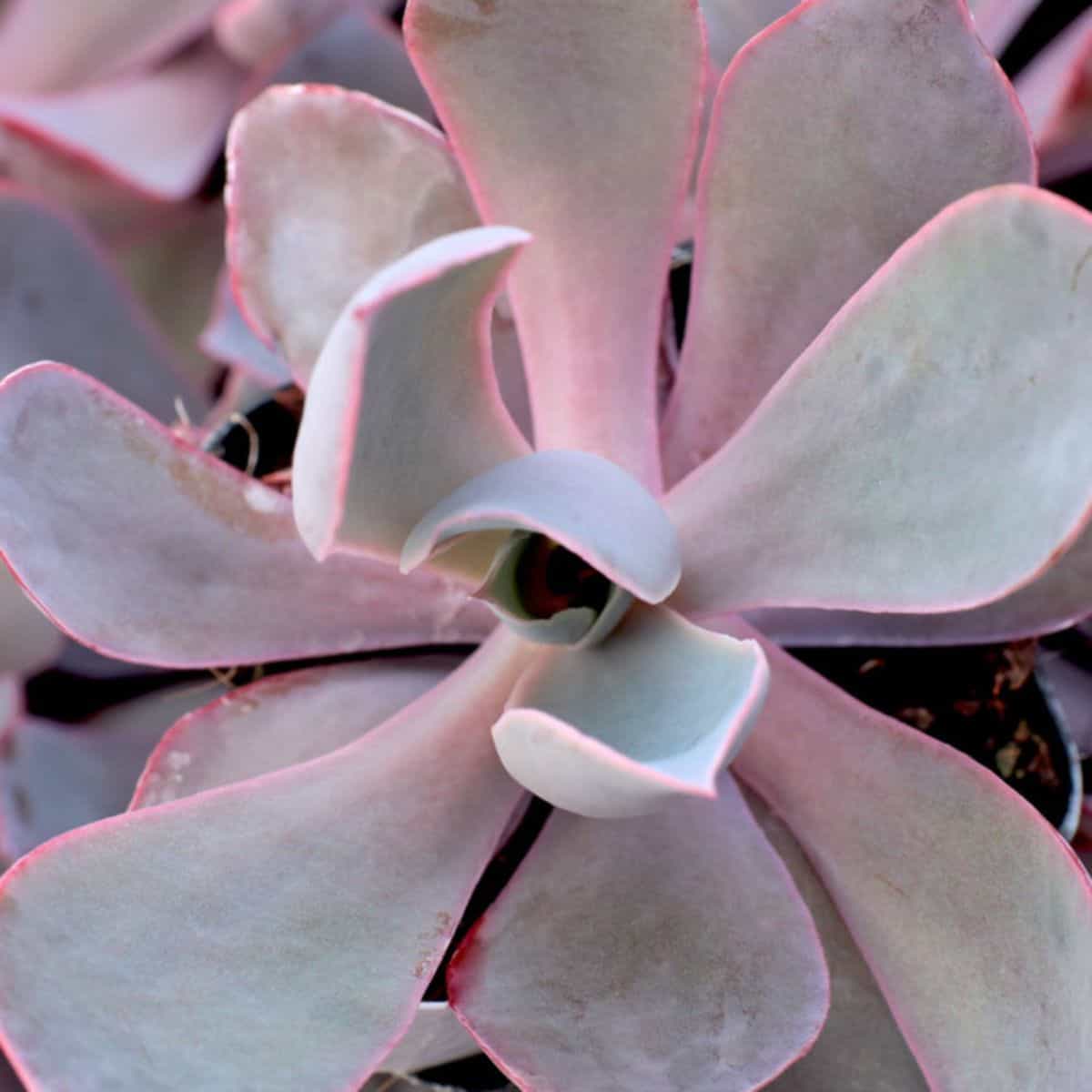 Buy it from:
This is a personal favorite! The pastel purple and pink of the afterglow make it look akin to the coloration of the Perle von Nurnburg, there is an additional intensity that makes this succulent look like it came straight out of the 60's. What's even better about this beauties is that they send out spikes full of flowers and they also can get up to a foot in diameter! With their wavy leaves, and almost rose-like appearance, it's hard not to love the Afterglow.
Echeveria 'Violacina'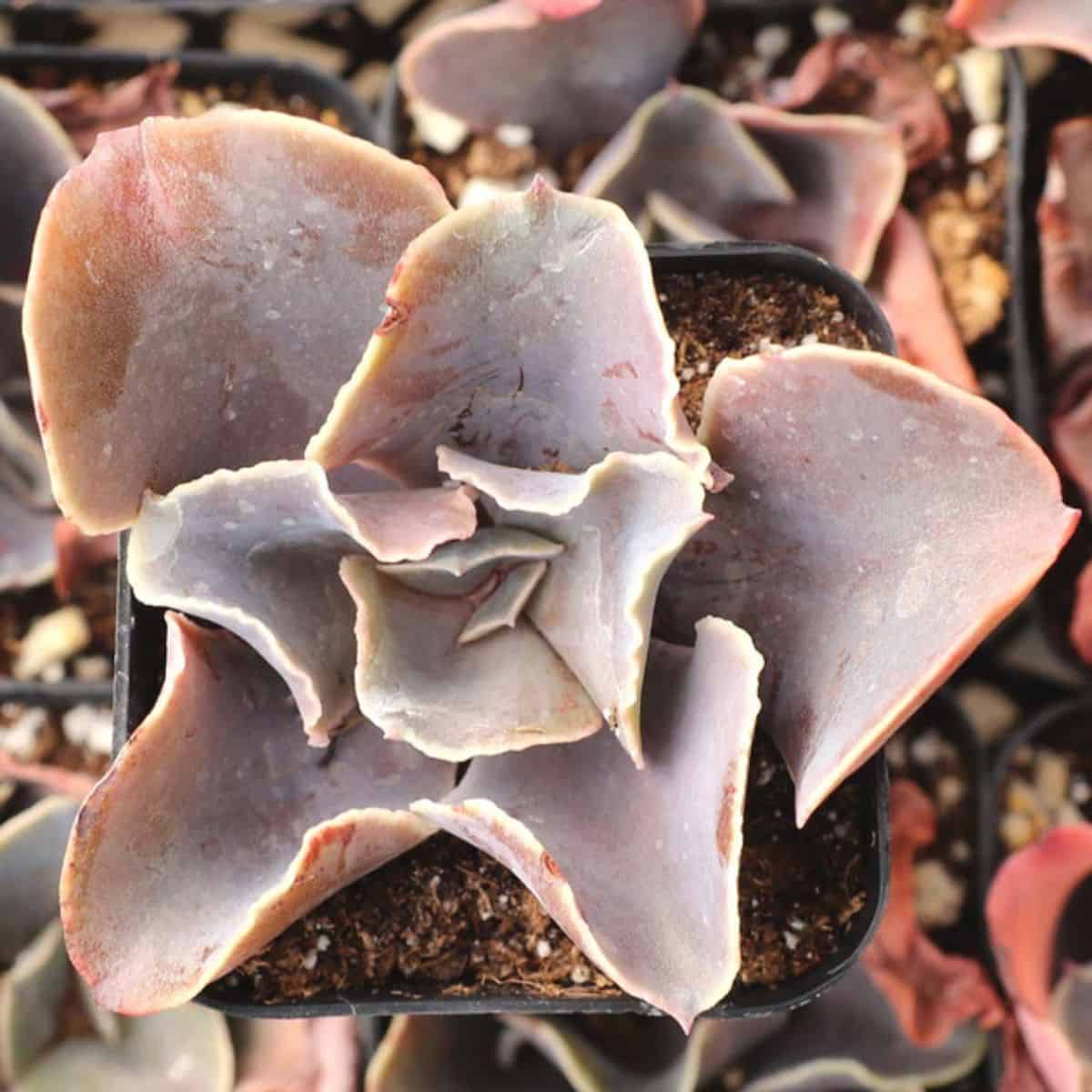 Buy it from:
No list is complete without a ruffled cultivar. When young, the ruffles are larger and the leaves tend to be more pink than purple. However, as they grow older, the ruffles become more prominent and almost lettuce looking (do not eat the succulent!). Over time, the Violacine will begin to express more and more purple. These are wider but shorter since they can have a width of eight inches, but they will only get as tall as five inches.
Sempervivum 'Director Jacobs'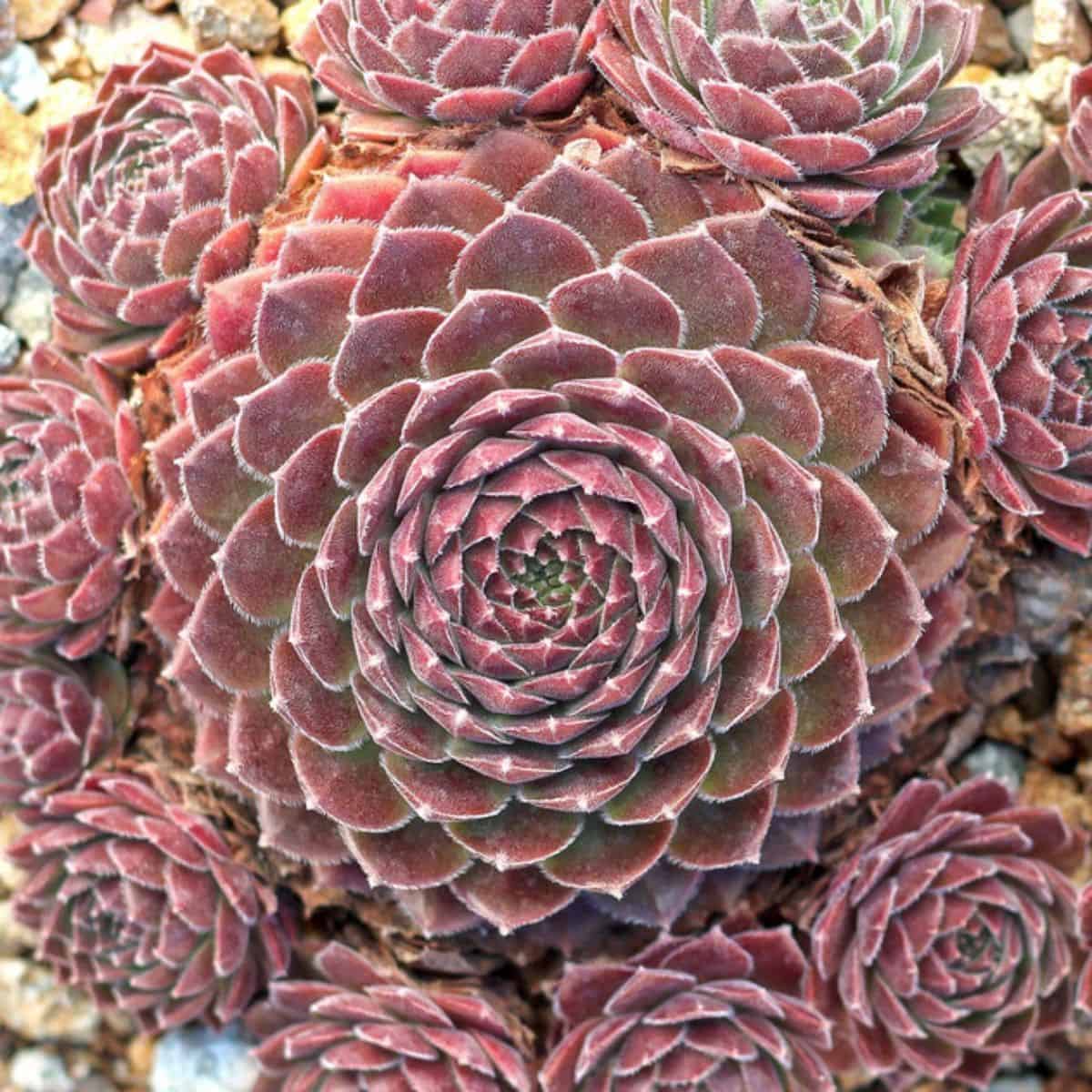 Buy it from:
The Director Jacobs is an impressive sempervivum with it's compact cupped leaves and the array of colors that it can express. When grown outdoors, it is more olive green with sunset red mature leaves. More sunlight, brighter colors with this one. However, when the cold begins to come, the Director Jacobs begins to turn a deep purple. If the rosette is beginning to open in the winter, you'll have a beautiful display of cranberry red and deep violet.
Sempervivum 'Duke of Windsor'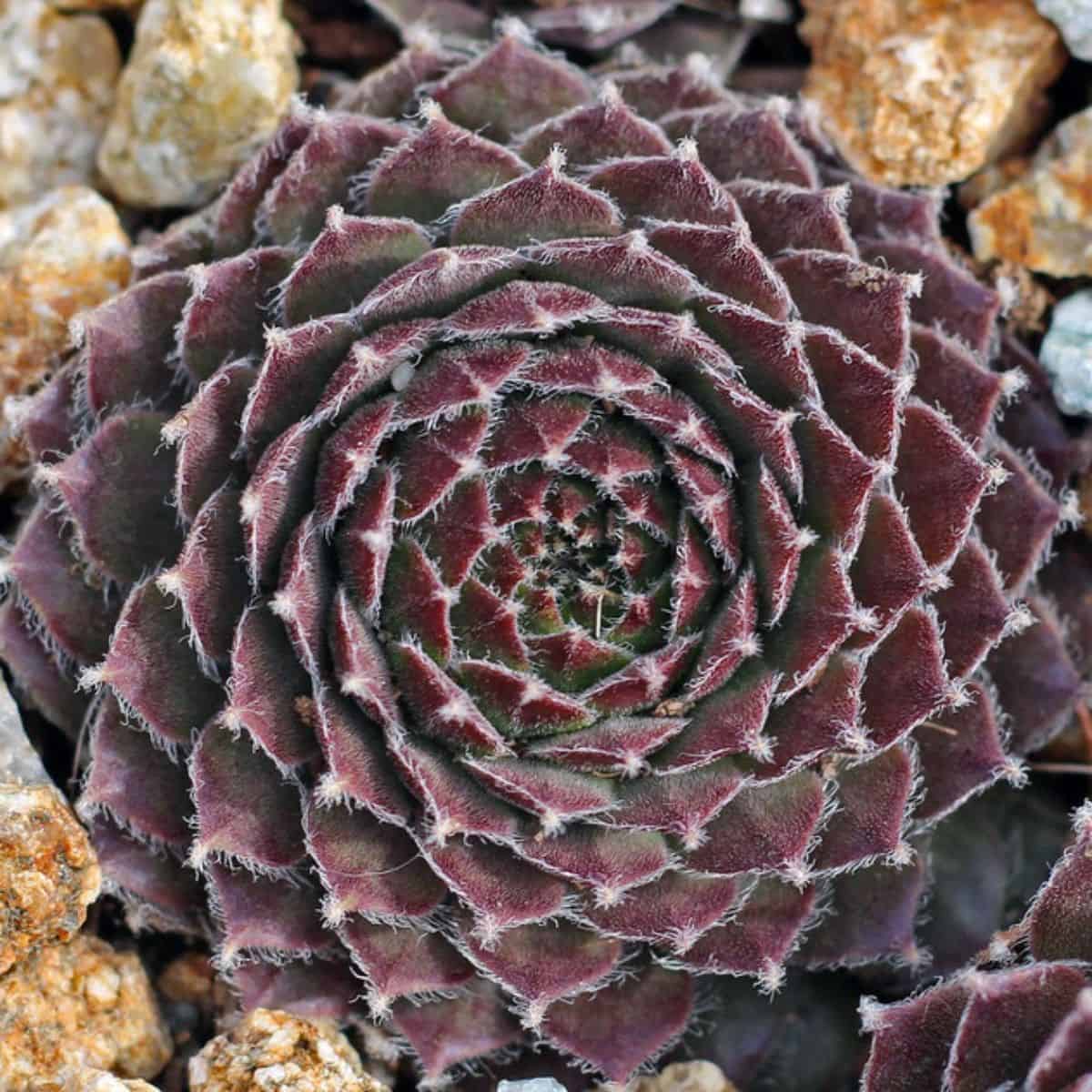 Buy it from:
If you are a fan of fuzzy sempervivum's then the Duke of Windsor might be a lovely addition to your garden. Small tufts outline the leaves and form abrupt points at the end of each leaf. When grown indoors, it has a beautiful bright green color to it. As the sunlight increases in intensity (primarily outdoors), the tips of the leaves become a dark purple. Over time, the majority of the leaves will turn a dark purle when in direct sunlight or under stress. It's a rather interesting transition with this cultivar.
Sempervivum 'Killer'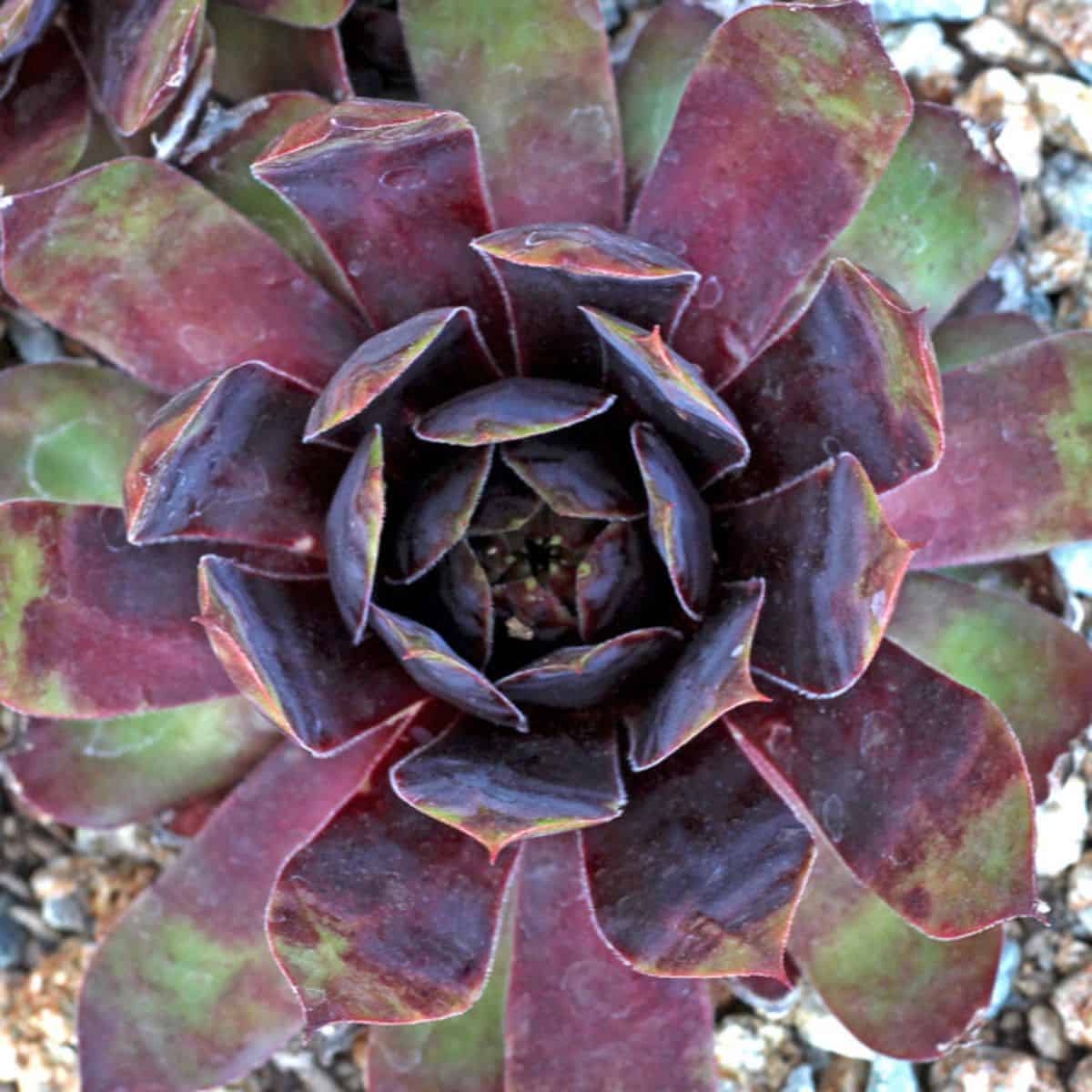 Buy it from:
I would by lying if I said that I hadn't stared at this succulent for some time. It is a very striking, three-banded succulent which isn't common at all. The base and tips of the leaves are almost like wine while the green band between is a pastel green. What adds to the name of the cultivar is also how the leaves grow to a very sharp point, so watch out! They are small at about five inches in diameter, but what they lack in size, they make up for with impact.
Sempervivum heuffelii 'Artemis'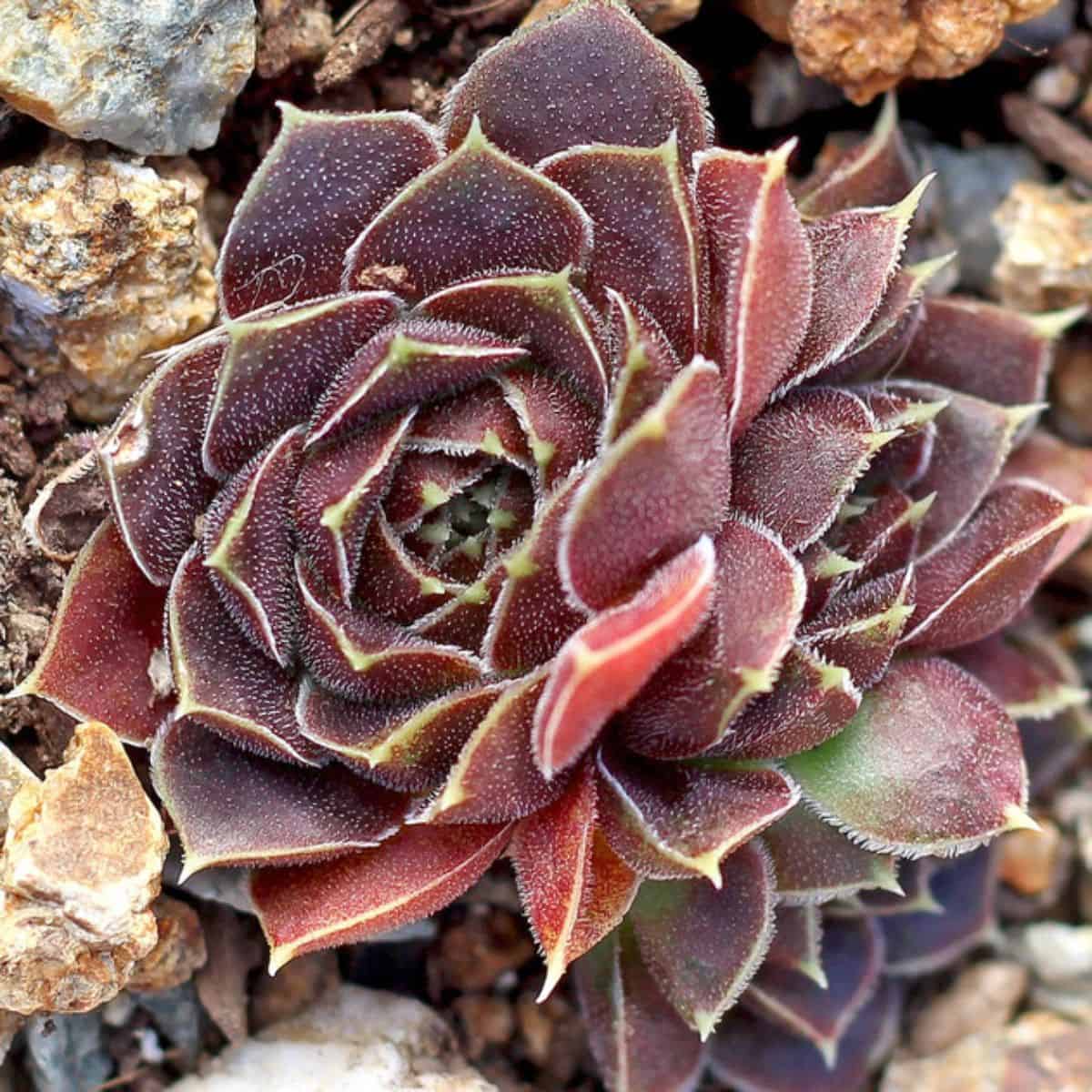 Buy it from:
What separates Artemis from the next hueffelii cultivar, Violet, is the shape of the rosettes and the shade of purple. Rather than an intense violet or royal purple, Artemis has a dusty purple and sometimes reddish purple hue with tight rosettes that open up into three to four inch mature rosettes. In the winter, Artemis will turn her deepest purple as she faces the harshness of the cold.
Sempervivum heuffelii 'Violet'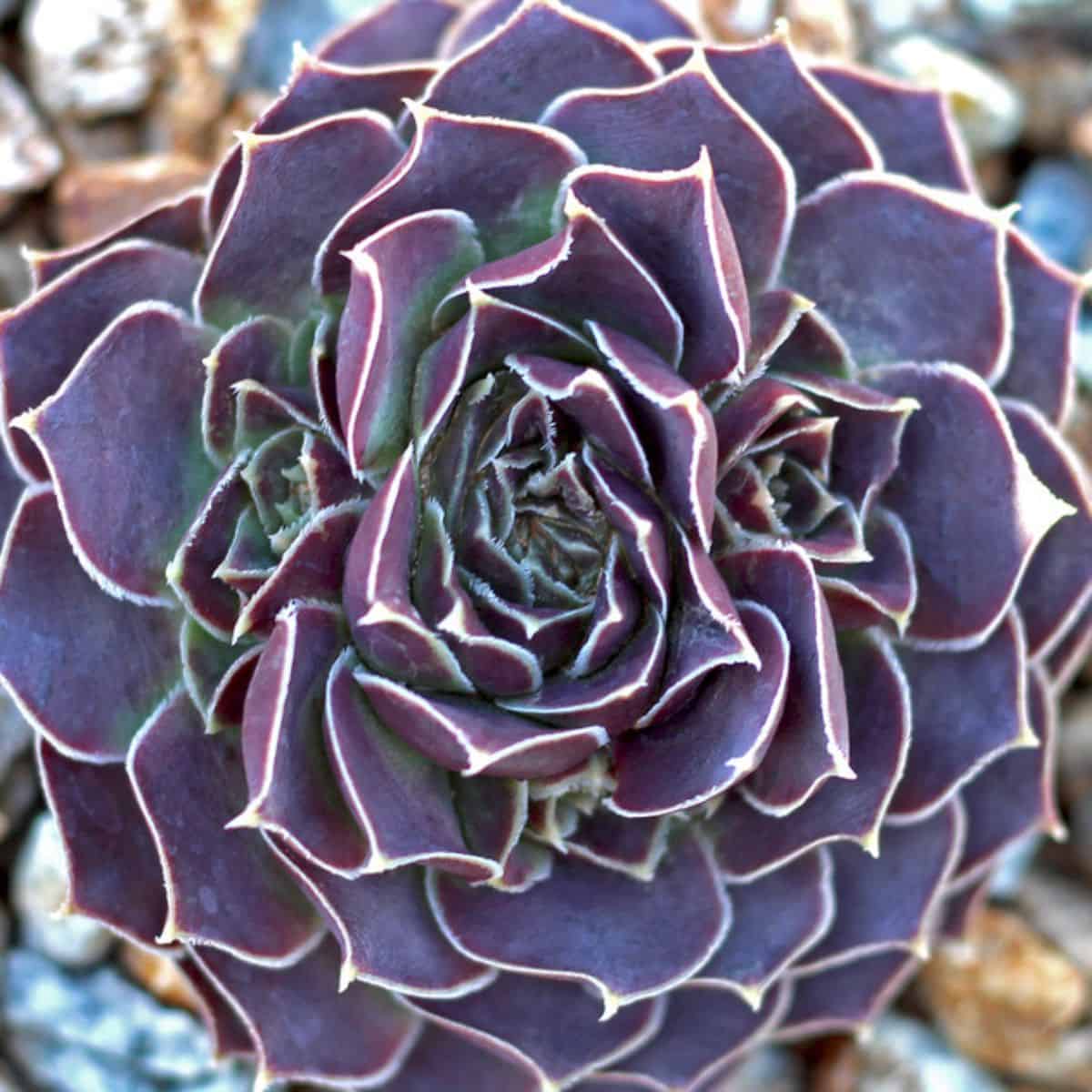 Buy it from:
As with many cultivars, there is going to be variation in how the Violet cultivar shows it's brilliant, you guessed it, violet tipped leaves. When under zero stress, the tips of the leaves will have a little bit of violet too them. Some leaves may completely lose their color if they are grown inside: direct sunlight is always key to making sure your succulents show off their colors! When Violet is grown outside, the tips of the leaves can become a very intense royal purple that, at times, reaches almost to the base of the leaves. Be careful with how far you stress your sempervivum! While they are hardier than echeverias, you don't want them to always be stressed out.
Sempervivum heuffelii 'Mystique'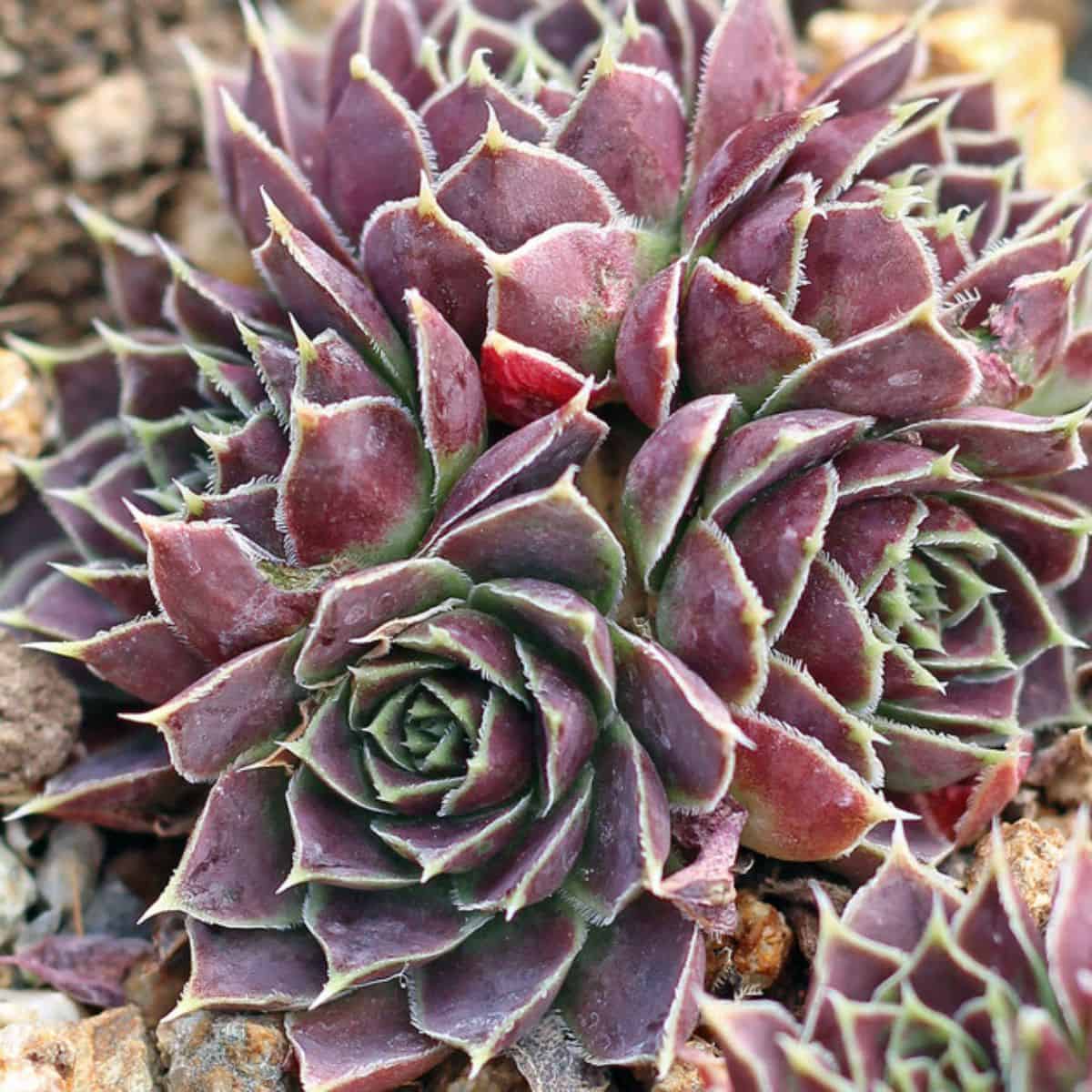 Buy it from:
Mystique is a great addition to any garden with it's burgundy and violet transitions. Normally, Mystique is a very bright green with burgundy tips and cilia hairs along each leaf. As sun exposure increases, it gets a little more purple, but the winter is when Mystique shines. Yes, each succulent that changes to a purple is definitely purple, but Mystique goes from a burgundy red-purple to a bluish, more haunting purple compared to others.
Sempervivum heuffelii 'Inferno'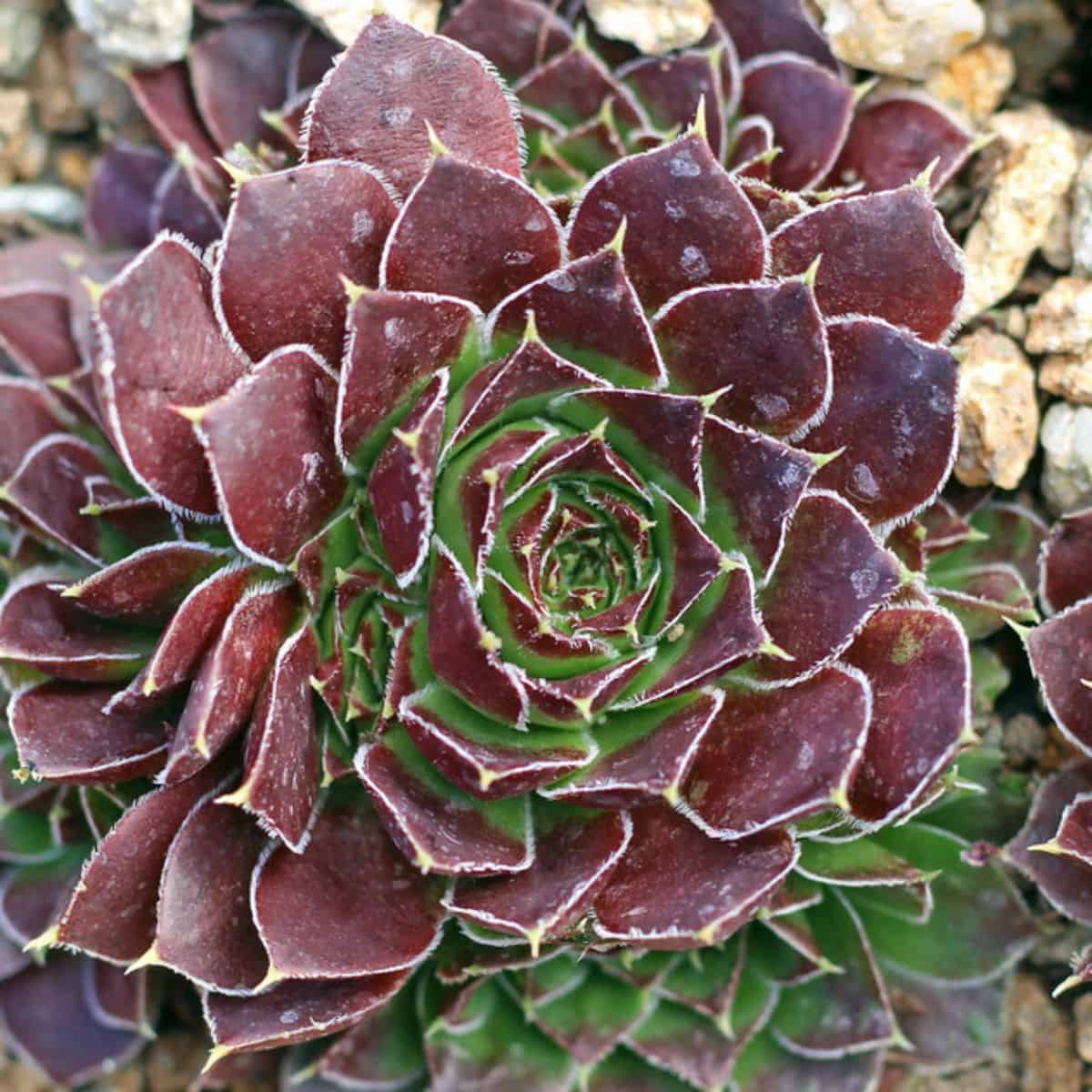 Buy it from:
It was definitely a debate if the Inferno should be included in this list. The vast majority of the year, the Inferno is either a bright lime green with red tips, or almost completely red. The reason why this cultivar was added to the list is due to its wintertime colors. In the winter, Inferno turns a deep reddish purple: this becomes really striking with the bright white cilia fringe that outlines each leaf. This is a pretty average sized cultivar that only gets up to six inches in diameter and consistently stays under three inches in height.
Sempervivum heuffelii 'Red Heuff f/ Munich University'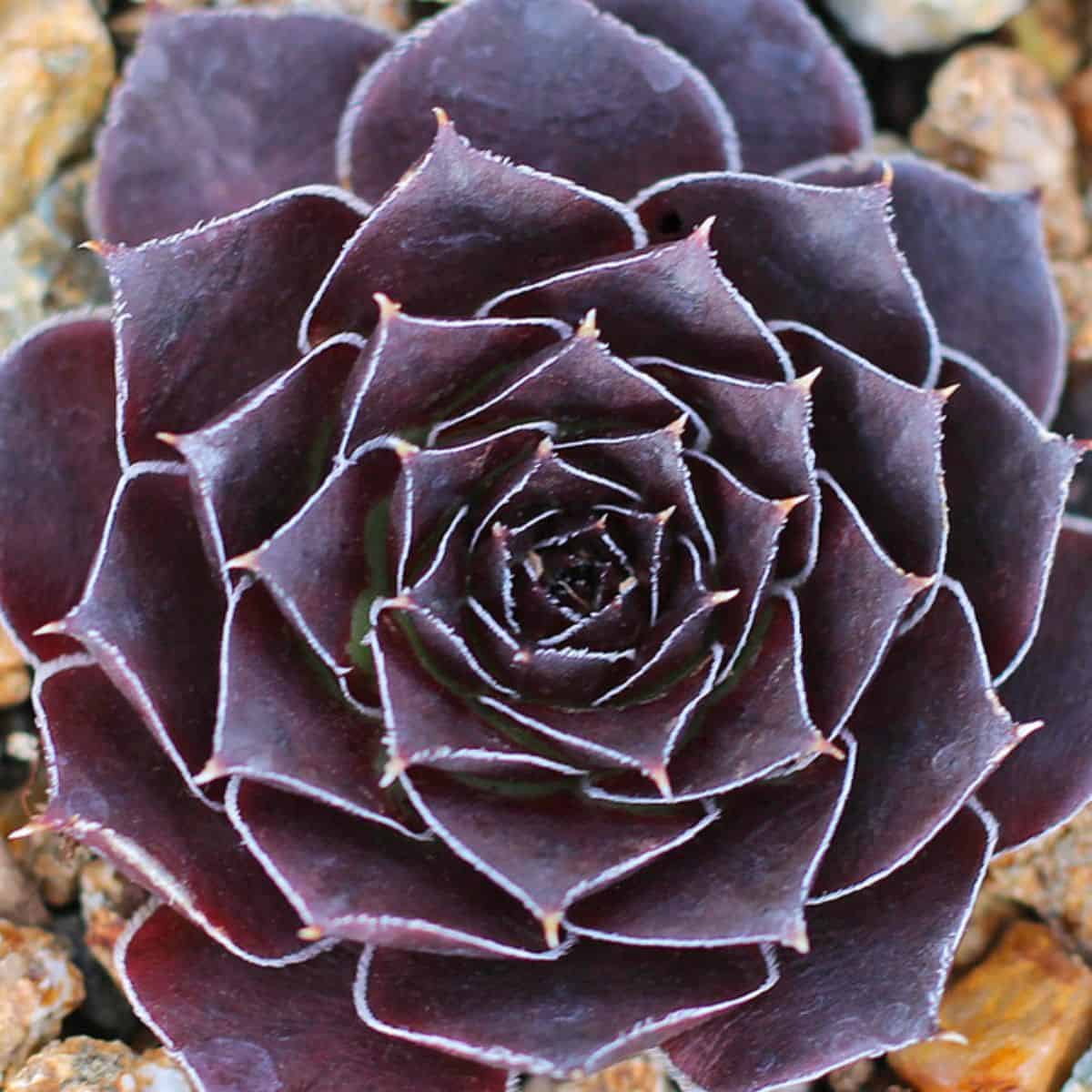 Buy it from:
Like the Inferno and Mystique, there was a debate on including the Munich University. Throughout most of the year, the plant has red tips with a bright green center. The leaves are full, fluffy, and slightly pointed. When winter or stress begins to hit, the tips of the leaves start to turn more purple and when stressors are high enough, the purple coloration can almost reach the base of the leaves.
Graptoveria 'Debbie'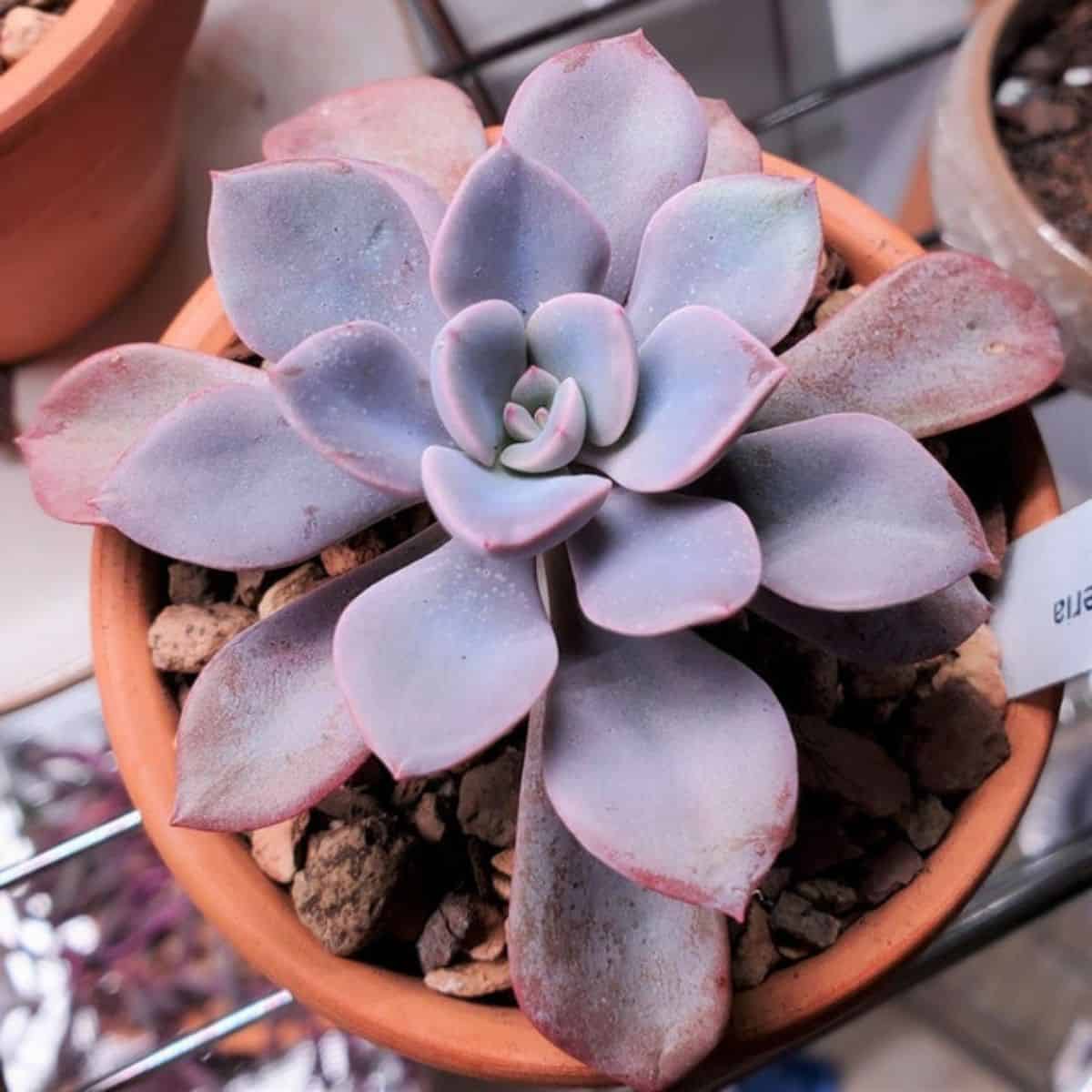 Buy it from:
With gentle, spoon shaped leaves, Debbie is a sweet succulent to add to your garden. If you have a garden full of sharper looking plants, sneaking a Debbie or two into the garden will give a nice texture change. The bright pinkish and purple leaves maintain their color throughout the year. When the temperatures change or other stresses are around, the tips of this succulent will turn a light pink.
Sedum Purple Emperor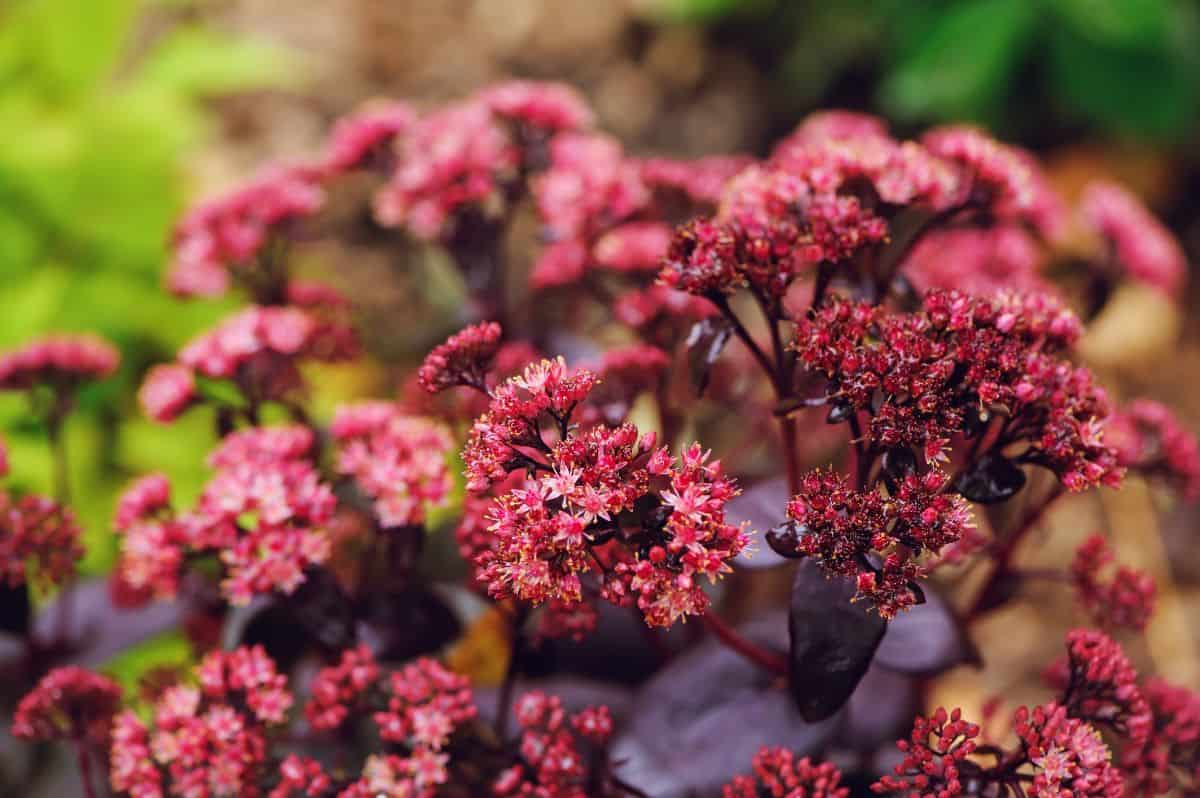 Buy it from:
The Purple Emperor is another glorious sedum to add to your collection. It's close to the Chocolate Drop sedum in our Black Succulents list but these have more of a deep purple color. They grow to about twelve inches in height and can be taller when their blooms start to appear. The clusters of pink flowers are a stark contrast to the deep purple of the alternating leaves. This type of sedum goes great on a slope and is a great pollinator for the garden.
Mangave 'Purple People Eater'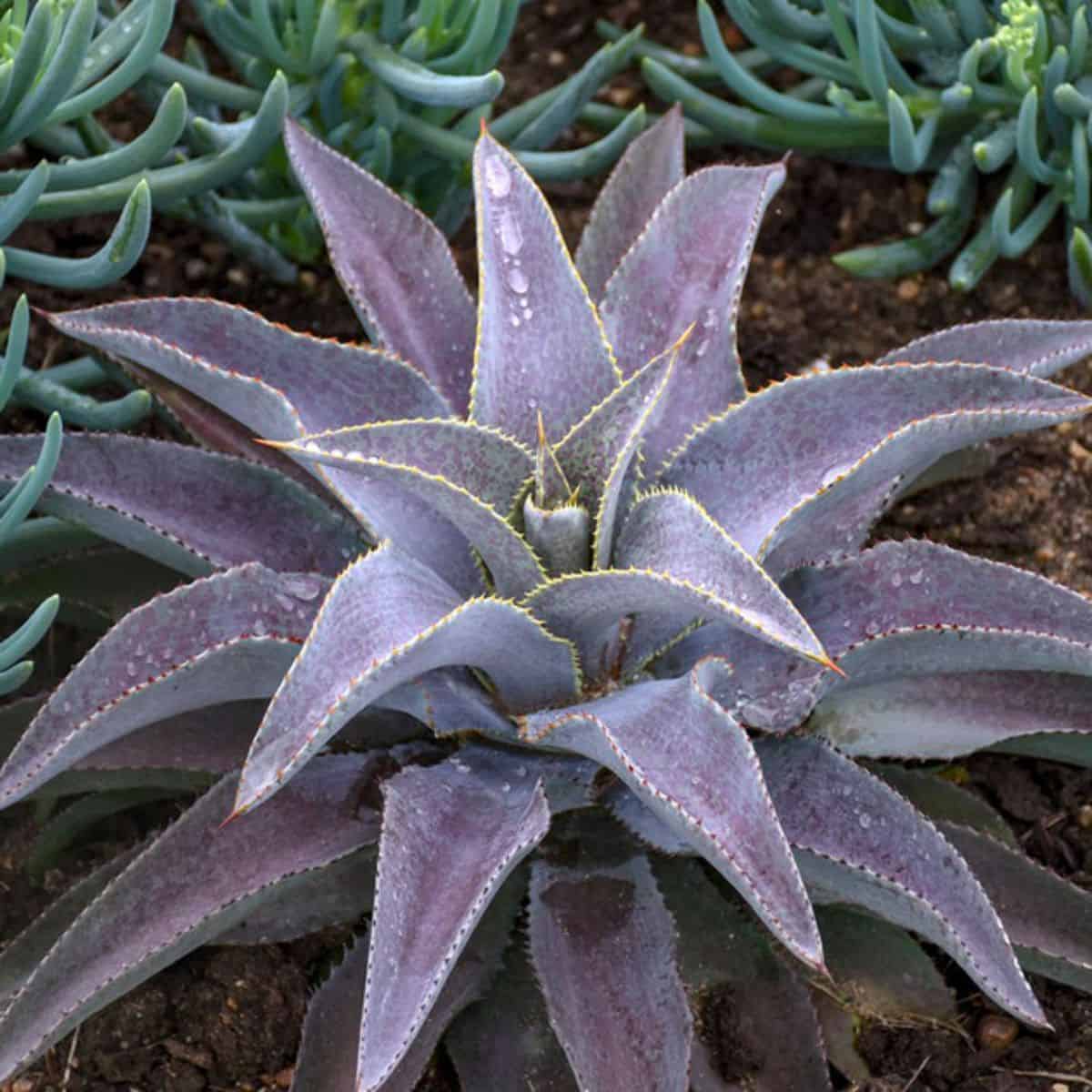 Buy it from:
Like other succulents, mangaves respond well to extra sun exposure. If they are grown indoors, which is difficult due to their size, they can have lighter green leaves. When they are grown outside and are exposed more to the sun, they have a gorgeous amethyst color. When you look closer at the leaves, they aren't solid purple but rather delicately speckled with dark purple spots and a lighter purple flesh. They do need a great deal of space with an almost two-foot radius. They don't get too terribly tall with the tallest part of the plant getting to sixteen inches.
Adromischus trigynus 'Calico Hearts'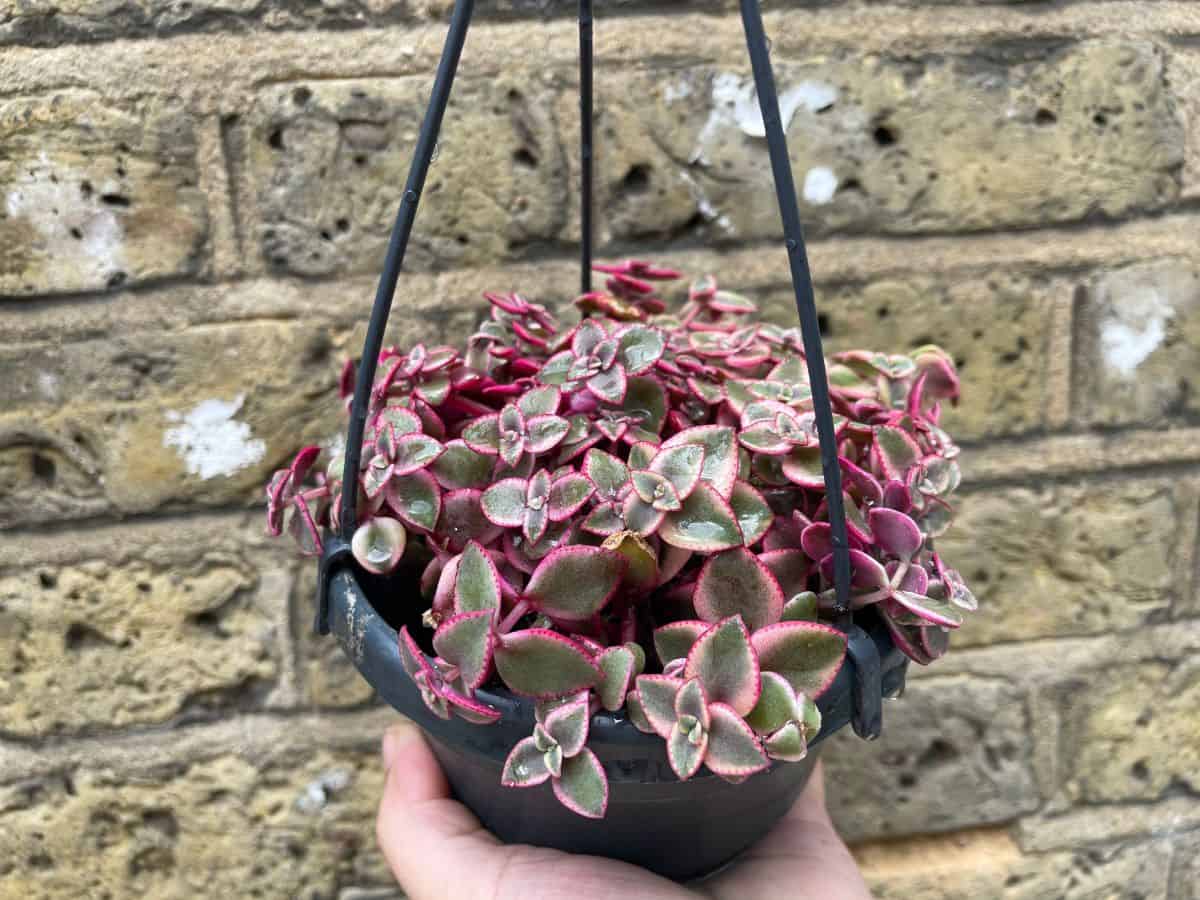 Buy it from:
Calico Hearts are a beautiful little paddle plant that send out fourteen-inch-long flower spikes. They stay very low to the ground but they will take up five inches of diameter. Rather than scooped out leaves akin to a sempervivum or echeveria, the adromischus have leaves that are full on both sides. They don't grow in a rosette shape and can sometimes seem a little chaotic. Dusty green is the primary color of the leaves, but what sets the Calico Hearts apart is the purple or maroon speckled pattern that starts at the tips of the leaves and dissipates toward the base.
Echeveria 'Neon Breakers'
Buy it from:
Welcome back to the 60's with the Neon Breaker. The bright light green and pink of this curly echeveria make the purple leaves seem even more intense. They truly look like highlighters were taken to the leaves. When they are in less stressful situations, the centers of the Neon Breakers look light blue and they turn more purple when under stress.
Sulcorebutia rauschii f. violacidermis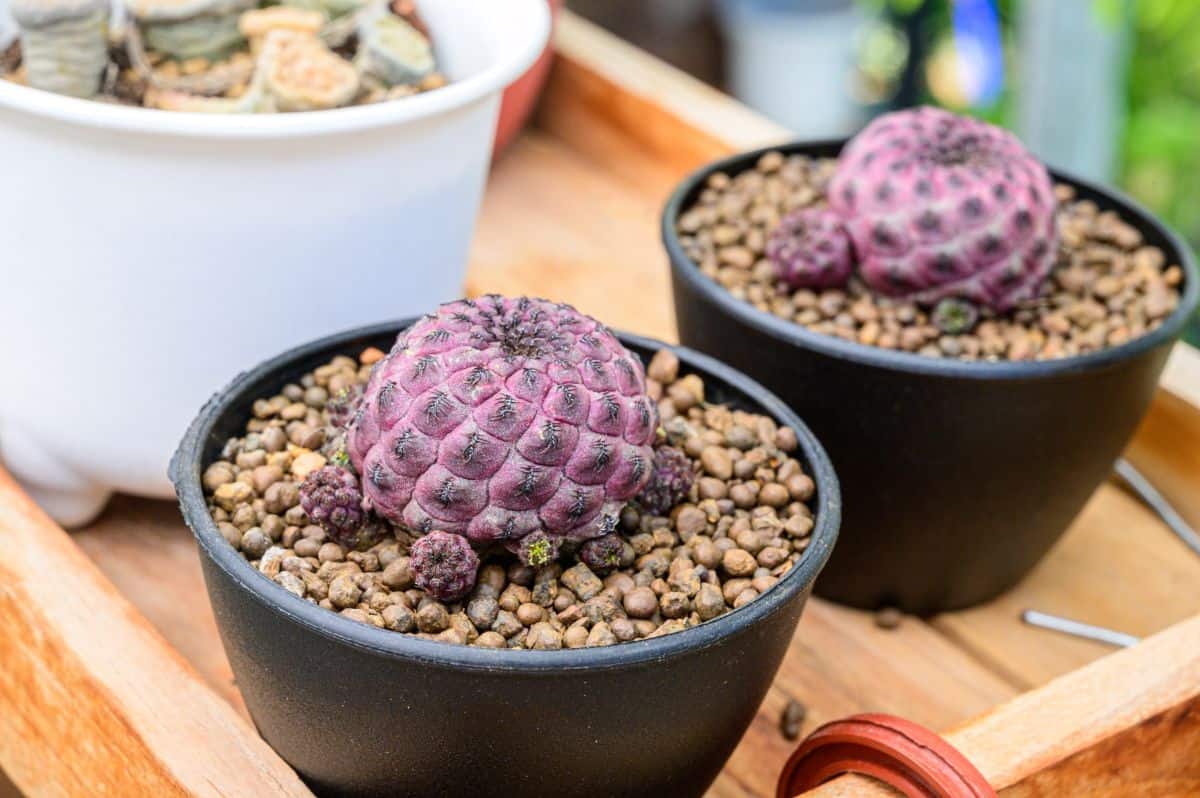 Buy it from:
This succulent is from the cacti family. This fun cacti grows in small little orbs that are green and change to more of a magenta color. They look like small pomegranates that are stacked on top of one another. They have stems that are of a similar color and grow up to almost two inches in height and diameter. The older the plant, the easier it is to see how each tubercule is arranged in 16 spiral lines almost like a pineapple.
Pachyphytum oviferum – Moonstones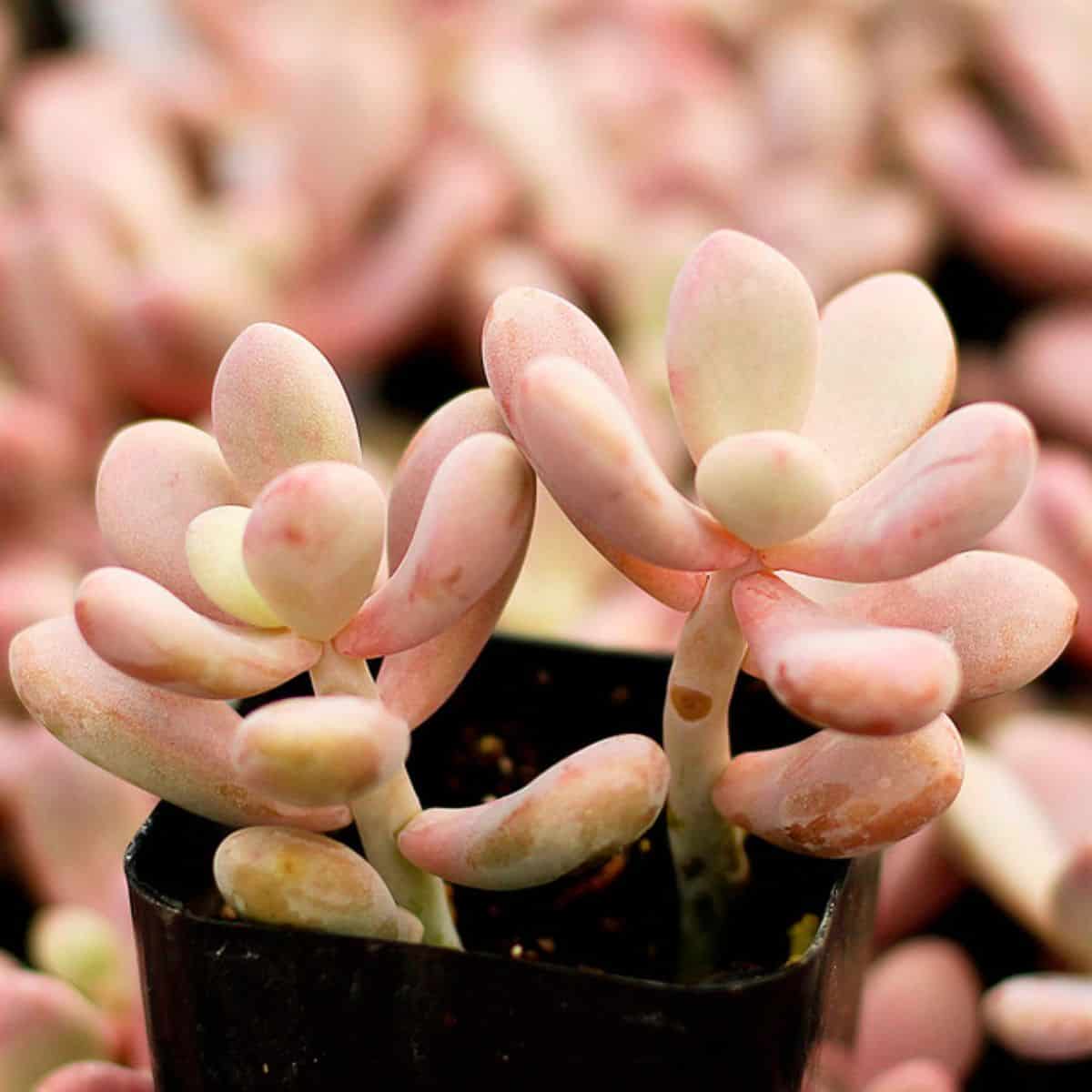 Buy it from:
If you love delicate looking, and fluffy succulents, then you are going to love Moonstones. They come in several different colors including a light lavender color. Each leaf is a perfectly shaped little oval and Moonstones send out equally adorable bloom spikes. They can get up to eight inches in height but they will still maintain their soft look.
Kalanchoe humilis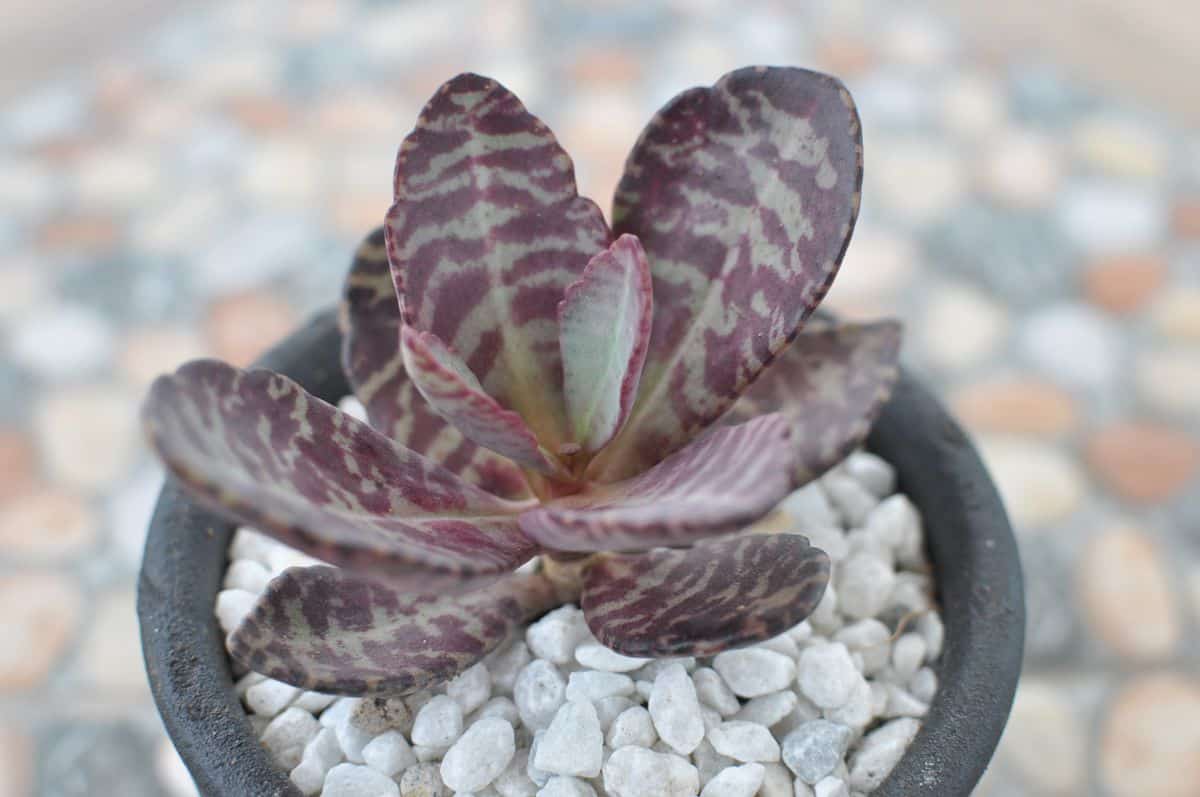 Buy it from:
Variegated succulents are a wonderful addition to either the indoor or outdoor garden. This kalanchoe does prefer full sun and it can get up to twelve inches tall. The most striking element of this plant is that it is a lovely olive green with wine purple stripes. Some of the stripes can be more interrupted which makes the succulent look like it has spots instead: Both mutations are a humilis.
The Eye-Catching Purple Succulents
Green succulents are great, but sometimes you just need a splash of color to brighten up your space. If you're ready to add some unique succulents to your garden, try a few of these eye-catching purple succulents and cacti. These pretty purple plants add just the right amount of flash to accent any garden.
Purple Succulent FAQs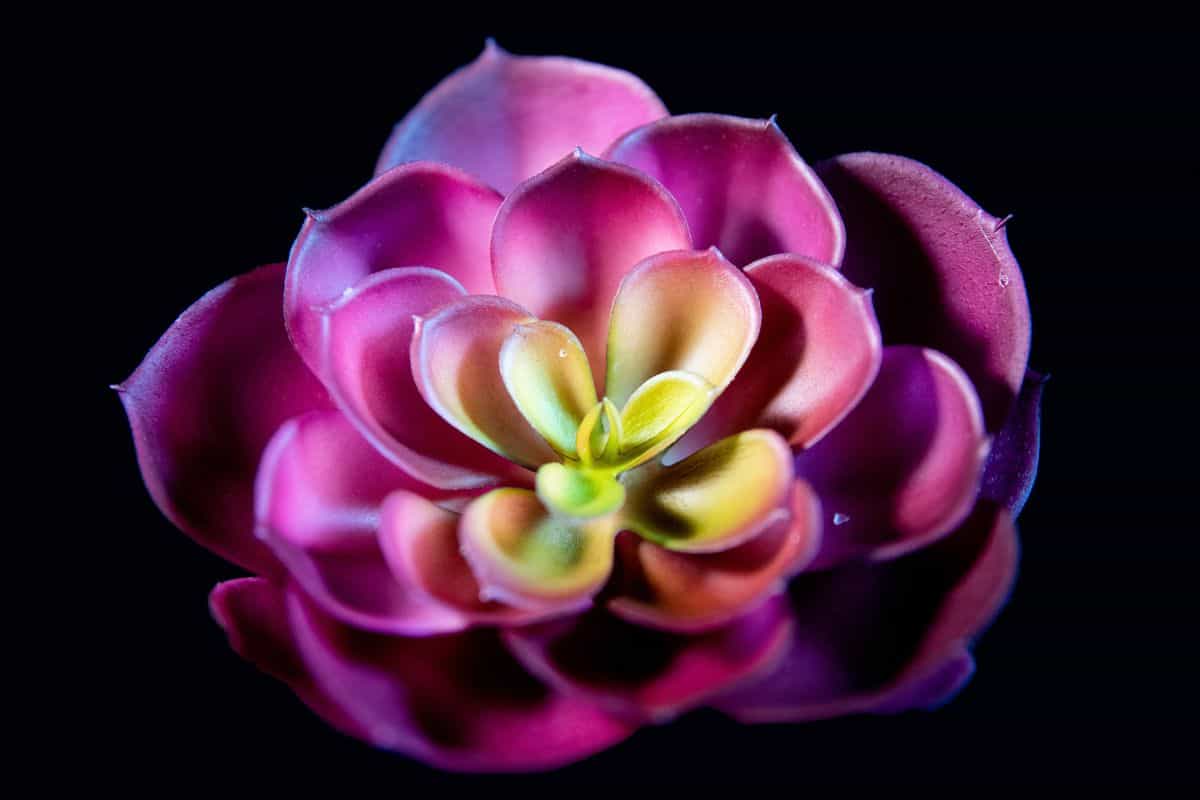 Get to know more about these beautiful and vibrant succulents you can add to your garden through the answers to common questions about them.
Are purple succulents real?
Like with pink succulents, some question the authenticity of purple varieties. After all, you can change the original color of green succulents by encouraging pigment production. That said, yes, some succulents like the ones listed above are naturally purple. Some varieties even start to have a deeper purple shade during dry seasons.
How do you grow purple cactus?
There is not much of a difference when planting and growing purple cacti. That said, here are the steps you need to take:
Step 1: Wearing your gloves, look for a healthy, blemish- and scar-free oval segment or pad of your six-month-old purple cactus.
Step 2: Gently grasp the pad's top and cut it off from the parent plant using a disinfected knife and following the plant's natural seam.
Step 3: Place the cut pad on a clean flat surface under filtered sunlight or in a room with a temperature of at least 60 degrees Fahrenheit.
Step 4: Leave the pad for seven to 10 days, allowing it to form a callus tissue over its cut edge.
Step 5: Fill a pot with well-draining soil, ensuring you leave about one to two inches of the pot empty.
Step 6: Slowly set the cut pad in the pot's center, with the callused edge resting on top of the soil.
Step 7: Gently push ⅓ or ½ of the cut pad into the soil. Then, tamp the soil down around the pad's base, ensuring it stands up straight.
Step 8: Evenly moisten the soil with water.
Step 9: Place the pot in a room with a temperature of at least 60 degrees Fahrenheit.
Step 10: Check your setup, and once the top inch of its soil starts to dry, water it.
Step 11: Once you see the cactus producing new growth, apply ¼-inch of water every seven days when nighttime temperatures are above 60 degrees Fahrenheit. Water it every 14 days if the nighttime temperatures are below 60 degrees Fahrenheit. Also, move it to an area with sufficient sunlight to help it get used to brighter light.
Step 12: After two weeks, move your setup to full sunlight if you plan on re-planting the purple cactus in the ground.
Step 13: Allow the purple cactus to grow in its pot for at least a year. Then, transplant it in the ground during the spring season.
Why did my purple succulent turn green?
The primary reason your purple succulent turns green is that it doesn't get enough sunlight. Fortunately, it's still healthy, but if you want to have a garden filled with succulents of several colors, expose them to sufficient bright light.
Is there a purple jade plant?
Jade plants are naturally green but sometimes turn purple, especially the tip, when they are exposed to too much sunlight. Thus, you can try to have a more colorful jade plant during the spring and summer seasons.