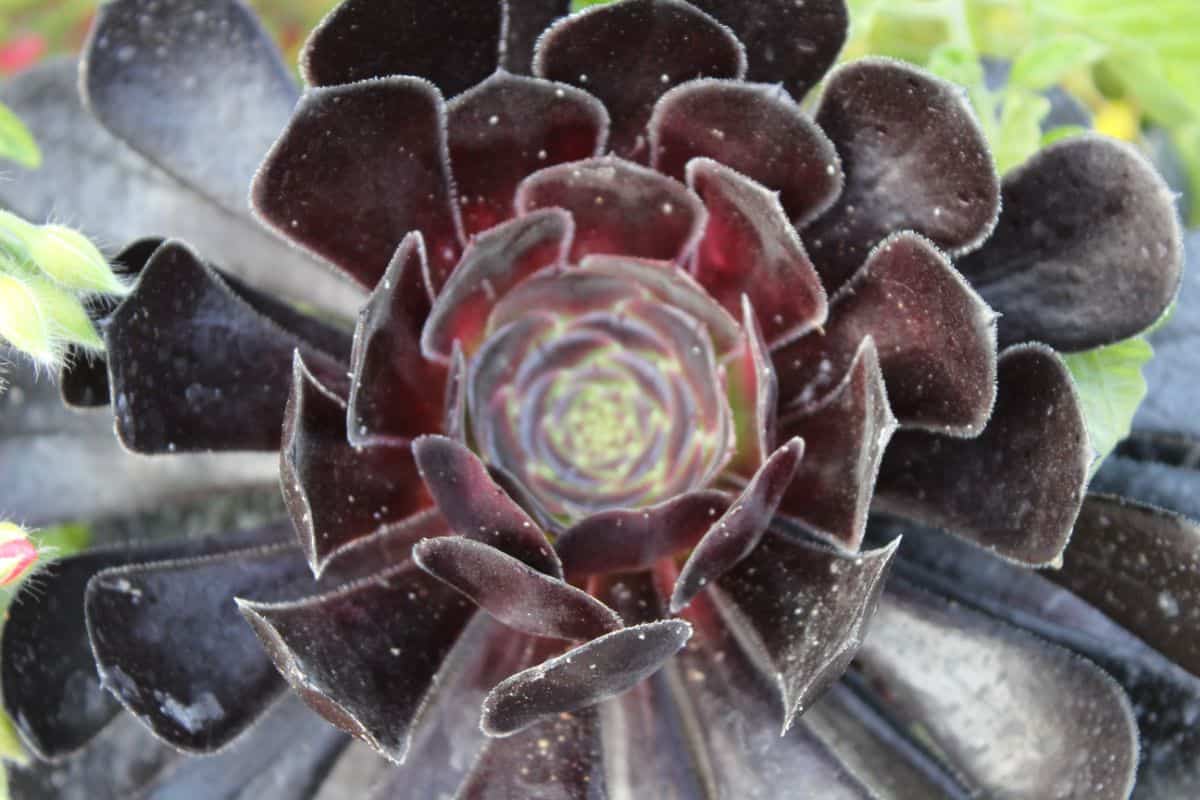 As hardy as succulents can be, they are still susceptible to specific issues, both in their natural environment and when grown indoors. Hence, it's common for plant lovers to ask, "Why is my succulent turning black?" among many other questions.
Knowing exactly why your succulent leaves are turning black and what to do to fix it can help keep your beautiful garden alive. For that, we've got your back.
Jump to:
Why Is My Succulent Turning Black? The Most Common Problems
By understanding the leading causes for succulent leaves turning black and how to resolve the issue, you can ensure your plants experience the best lives possible. Let's explore the five most common problems to help you emulate the native environment for succulent plants.

Exposing Your Succulent to Too Much Light
You might assume that succulent plants do best in continual exposure to direct light, especially as native desert-grown plants. However, too much sun can cause significant damage to the leaves, causing various color changes.
Black is one of the colors the leaves can turn into if it gets sunburnt, even in their native environment. With that said, a succulent turning black from the sun occurs over a while rather than right away.
Typically, too much sun exposure can make your succulents turn from green to orange or red. From red, it will turn brown and eventually black. This reason is why you must manage the amount of indirect light your plants receive daily.
It's also important to carefully manage indirect light for newly potted and indoor succulents. Plants that have grown accustomed to shadier locations can be easily damaged when exposed to full sun. It's crucial that you gradually introduce new conditions to your plants, giving them the perfect time to acclimate to the new environment.
How to Prevent Succulent Sunburn
When dealing with sunburn on your succulents, there's not much you can do, especially when they've turned black already. Black typically means there's no more nourishment flowing through the leaves and that the plant has died. With that said, if there is still some green left on the plant, you could help restore it.
It's a good idea to remove the leaves on succulents that have clearly been sunburned, as they won't regenerate. Once pruned, place the succulent in a spot with indirect light, allowing it to slowly acclimate to increased hours of light. Ideally, put it in sunlight for three to four hours in the morning, increasing exposure by an hour daily.
Your plants should adapt to their new sun cycle by the fifth day of the light rotation. At that point, you can give them a total of six hours of light every day to emulate a native environment.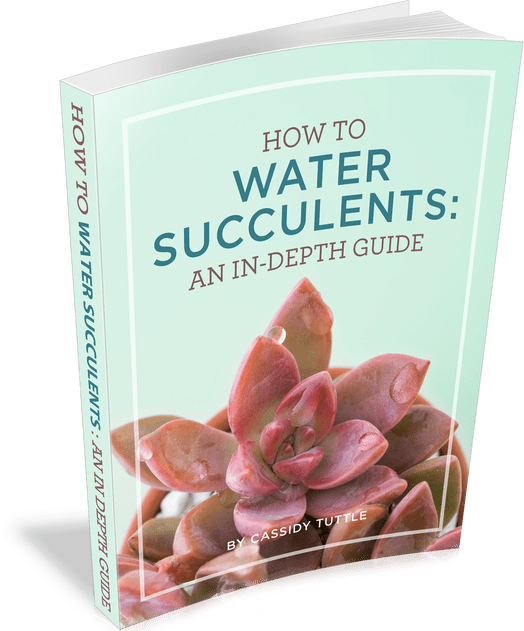 Overwatered Succulents
As a plant owner, it can be tempting to give plants excess water to ensure they can nourish themselves. However, overwatering is often the answer if you're asking, "Why is my succulent turning brown?"
Remember, these plants' natural habitat is the desert, which has dry climates and limited water from infrequent rainfall. In fact, succulents store water in their roots, leaves, and stems to withstand arid conditions and infrequent rainfall. Too much water can cause the plant tissue to swell and burst, causing black leaves over time.
Bestseller No. 1
Bestseller No. 2
Another essential thing to note is how much water your succulents absorb. If water stays stagnant in their soil, it can cause the roots to waterlog and rot. In that case, the brownish/blackish coloring can work its way up to the stem and the foliage. The more you overwater, the more likely your plants will essentially drown in their soil and die.
How to Determine Frequency of Watering Your Succulents
Our top recommendation for preventing brown spots on succulents from overwatering is to set a regular watering cycle. Each of your plants will have specific recommendations for how much water they should consume in a week or every two weeks. You'll want to ensure that you refrain from giving them too much moisture too often.
The majority of succulent owners find that a gentle watering every seven to 14 days is more than sufficient. You can also take a more hands-on approach by looking at the soil and determining its moistness. If the potting soil feels dry an inch below the surface, it's the perfect time for watering to stop brown spots.
One unique property of a healthy plant is its behavior, depending on the season. In the summer and spring, you'll find that they need more water than in winter. In cold temperatures, you should only need to moisten your soil for succulents once during the entire season as the plant lies dormant.
If your desert plants have already been overwatered, fixing it is easy: stop watering for one week to encourage controlled drought conditions. If the soil goes dry, you can continue watering the plant as usual. However, repot the plant if the wet soil feels moist after not watering after a week.
Not Providing Your Succulents With Enough Water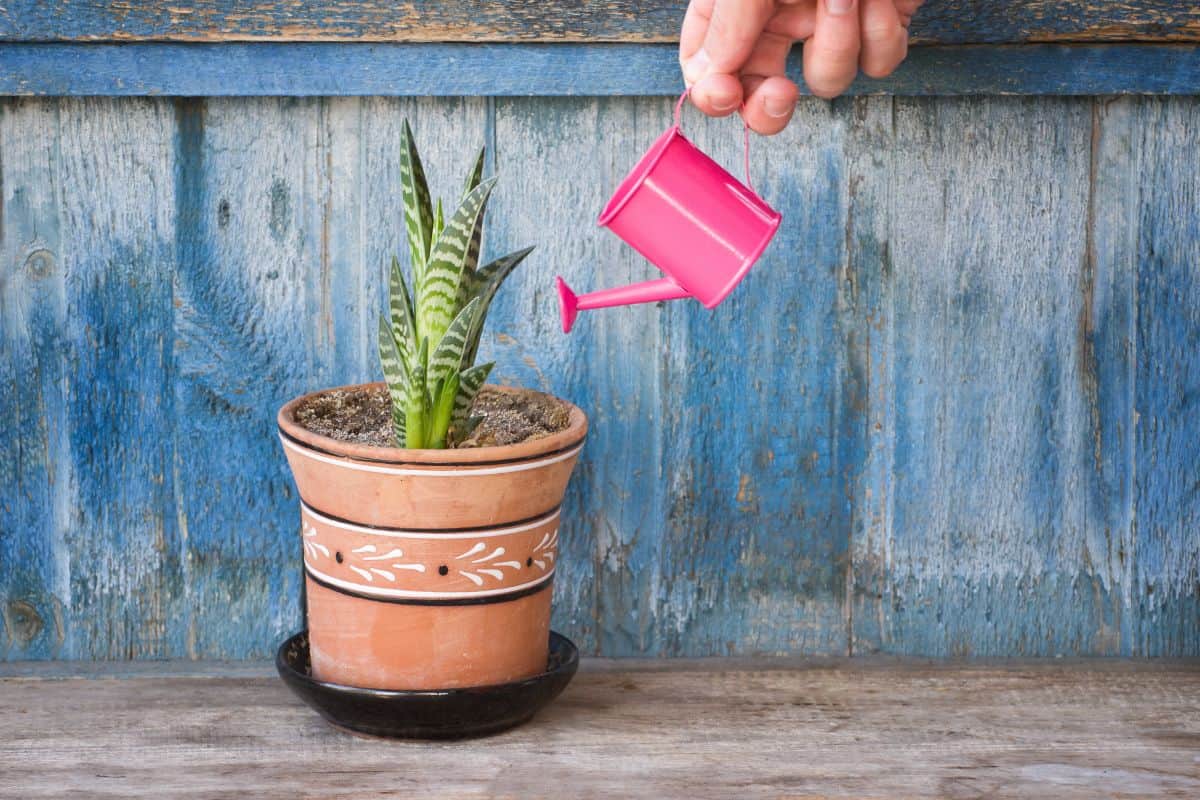 Telling the difference between an over- and underwatered plant is particularly easy with succulents. To check for underwatering, simply feel the leaves between your fingers. As succulents are known for storing water in their leaves, underwatered plants will feel dry and brittle.
Underwatering can lead to the succulent leaves changing color from green to brown and eventually black. However, if it reaches black, it's unlikely that any amount of watering will bring it back to its original condition.
How to Prevent Underwatering Your Succulents
As mentioned earlier, the easiest way to prevent your succulents from drying out is to maintain a watering schedule. If you've begun to notice the soil mixture feels drier than usual, add an extra watering day.
Bug Infesting Your Succulents
If you've ever owned indoor plants, you know the challenges that bugs can bring to your garden. Not only do they infest your home, but they can also cause irreparable damage to your hardy plants. Succulents are prone to mites, like spider mites, that feast on their foliage.
If bug infestations are left untreated, you'll begin to notice significant signs of damage. Black spots on succulents are often an early indicator of bug activity. Also, you'll see the shapes of the leaves changing, which could mean they're being eaten.
Aphids and mealybugs are two other significant concerns, as they can cause considerable mold production on your plants. As these insects feed on the leaves, they leave behind dead tissue that turns into mold. Unfortunately, the mold can often appear as brown or black spots across the entire plant.
How to Get Rid of Bugs and Prevent Infestation
As one of the most common reasons when trying to figure out why is my succulent turning brown, thankfully, bug infestations are easy to fix.
You're going to want to use an insect killer to get rid of active infestations. Products like potassium soap are a fantastic tool to have on hand, as they can address pest infestation in your fresh soil.
It's also essential you take steps to disinfect your tools with alcohol before using them. To help speed up your plant's healing, remove any infected leaves by cutting and throwing them away.
Succulent Infection or Disease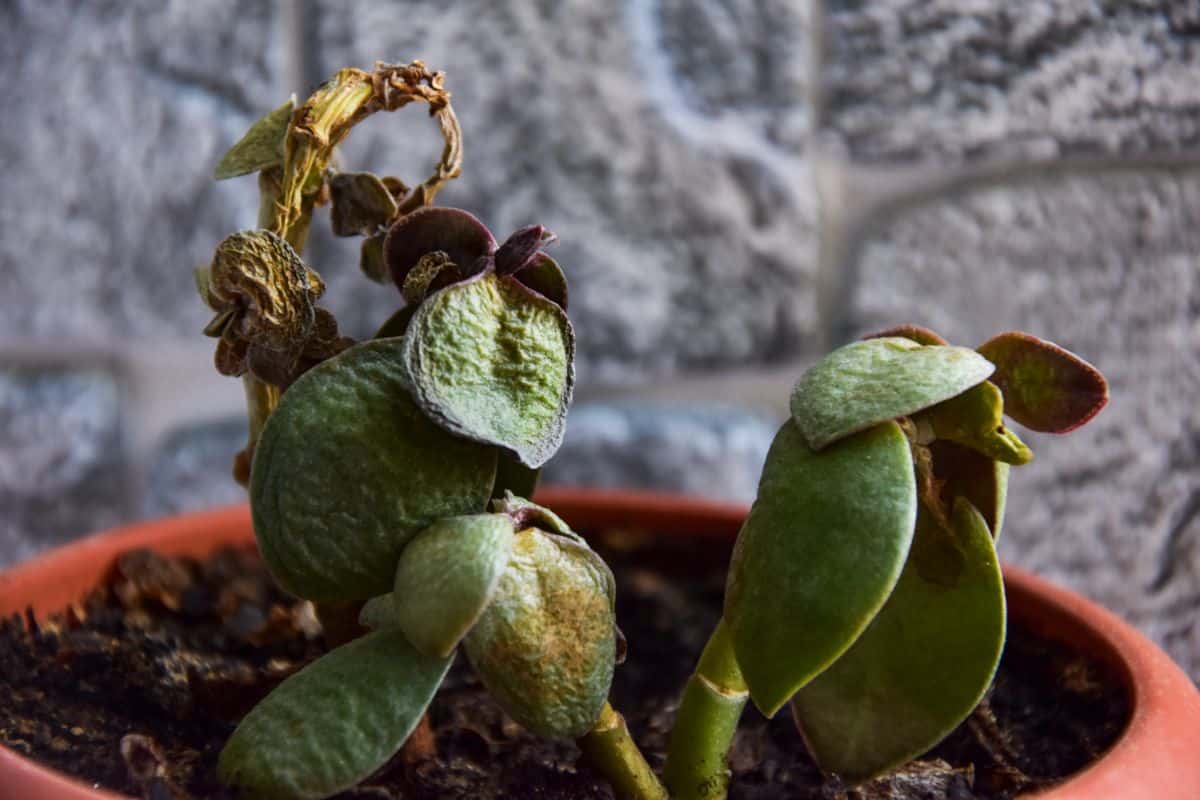 Viral and fungal infections are two things to look for as a succulent owner as they can spread quickly. If you've begun to notice succulent propagation leaves turning black, they could have a significant infection. One of the most common viral infections your plant could experience is orthotospovirus, which can also affect tomatoes.
How to Treat and Prevent Succulent Infection
As much as we love our plants, the unfortunate side of viral infections is that there aren't many valuable solutions. Depending on the extensiveness of the spread, you might have to throw your entire succulent away. It can often be better to dispose of the infected plant as a sure-fire way to ensure the disease doesn't spread.
On the other hand, if you're noticing fungus developing only on specific leaves, you might have a chance of reviving the plant. Using a clean, disinfected pair of scissors, cut away the damaged portions of the succulent propagation leaves turning black. You should also disinfect the scissors after cutting to prevent spread between plants.
Carefully inspect your succulents over the coming days to see if the black spots proliferate. If so, it means the base of the plant could be infected. In these cases, throwing it away is your best option.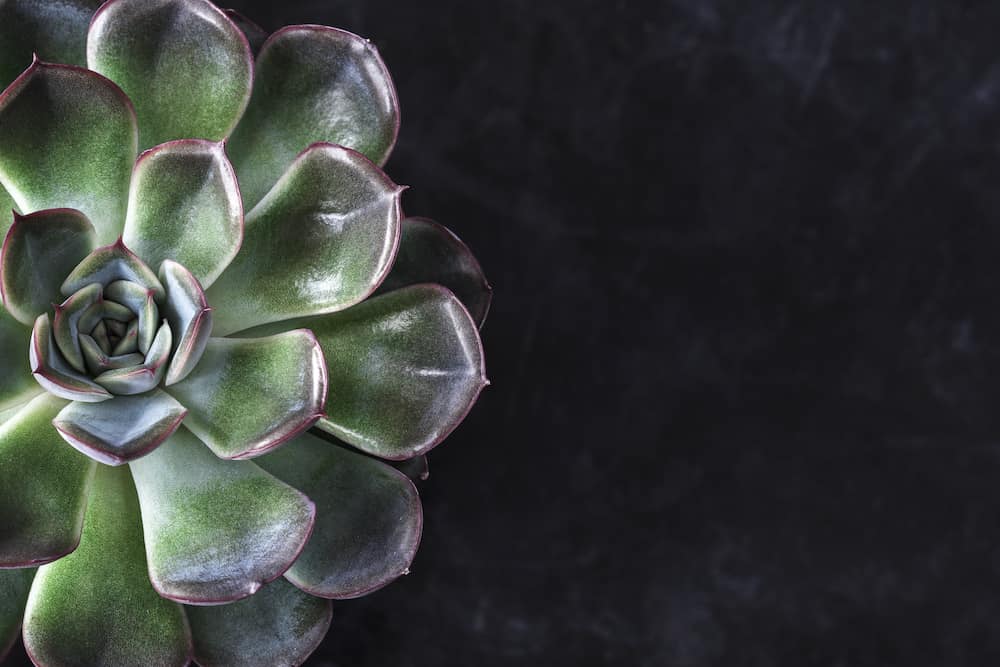 How To Prevent Succulent Leaves From Turning Black
With all of the causes of blackened succulent leaves, it's a great idea to have tricks that you can use to prevent the issue in the first place. Here are some of our favorite pro-tips to help you get started:
Ensure Good Drainage
Too much water in your succulent plant pot is a recipe for disaster when it comes to root rot, mold growth, and fungal infections. Ensure that you maximize soil drainage by using the correct soil mixture. You can either buy it from the store or make your own at home.
If making a succulent potting mix, you'll want to mix 40 percent coarse sand with 25 percent potting soil and 35 percent crushed pebbles or stone. This mixture should absorb the perfect cycle of soil moisture while allowing extra water to drain thoroughly.
Aside from addressing the wrong soil type, you will want to use plant pots with plenty of drainage holes. Drainage holes get rid of extra moisture in cacti soil, causing black spots when you water succulents too often. Planting succulents in drainage-friendly pots combined with exposure to sunlight will prevent dead leaves and bring about more healthy leaves.
Water Your Succulent as Scheduled
If there's one huge tip to help prevent succulent leaves turning black, it's to manage your watering. Always adhere to a strict schedule depending on the needs of your succulent variety. Also, regularly inspect the soil to make sure that it's dry before watering succulents.
Manage Light Conditions
As with any plant, ensuring your succulents get the perfect amount of indirect sunlight is ideal. When dealing with baby plants, slowly acclimate them to longer periods of light. For mature plants, ensure you turn them regularly so that every side gets equal sun.
By offering six hours of sunlight daily, your plants can flourish without getting sunburned. Also, pay close attention to any signs of burning on baby plants, such as the leaves turning red or brown or black spots.
Succulents Turning Black Resolved
Beginner succulent lovers will find many possible reasons to consider when asking why is my succulent turning black. Insect infestations, viruses, and overwatering are just a few. Not only do they cause black spots on succulents, but they also turn leaves mushy leaves.
All in all, the key is making sure you're giving your succulents the personalized care that they need. By copying your plants' native environment, you can keep them in their best possible condition for longer.