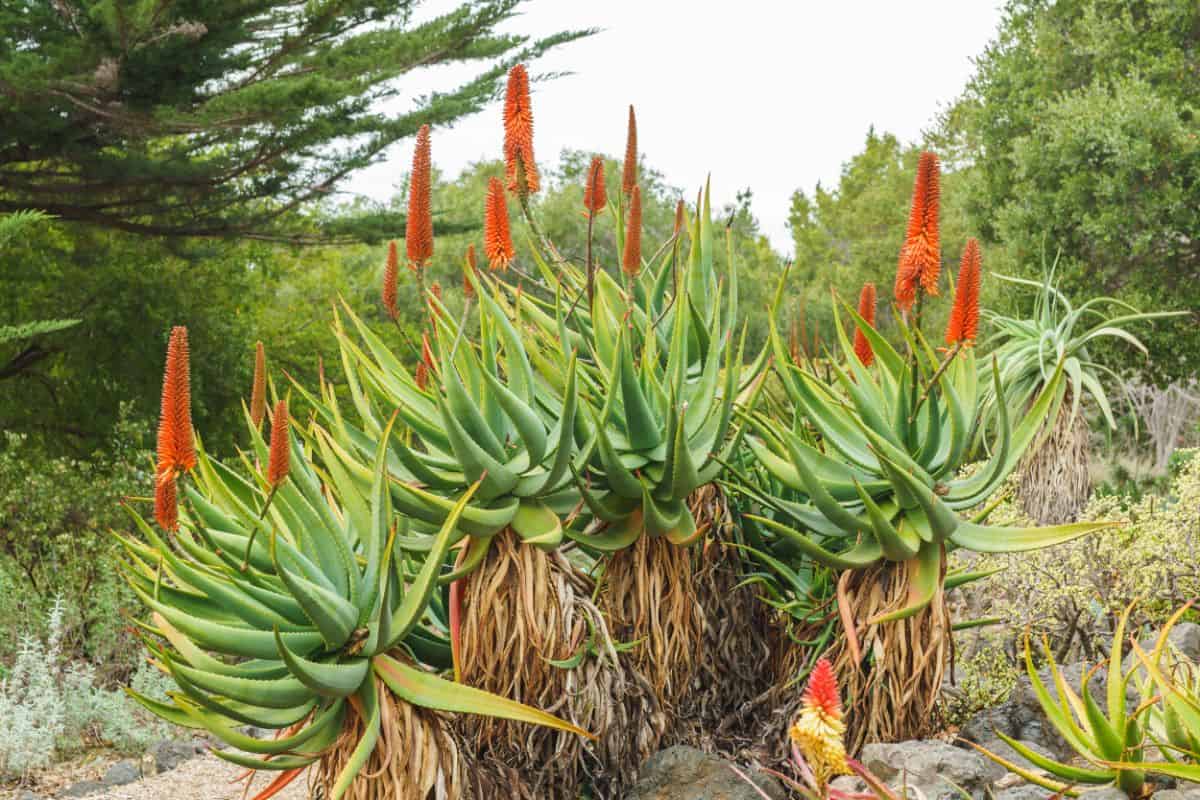 Without a doubt, succulents are among the trendiest and mostInstagrammableplants out there. Sure, it took quite a while for the gardening world to rediscover the unique beauty of these (usually) small and compact plants, but when it did gain attention a few years ago, plant lovers from all over never looked back.
That said, have you ever had the chance to admire succulents with tall flowering stalks? If you're thinking about adding some to your indoor or outdoor succulent collection, then we've got your back.
Jump to:
Why Do Succulents Flower?
As succulent lovers ourselves, we appreciate the love and attention that our favorite plants are getting. It doesn't come as much of a surprise, though. After all, these hardy plants with plump leaves are very adaptable to various growing conditions.

Succulent plants can serve as an excellent choice for groundcover. They also add a bit of color to your fairy garden arrangements, as well as bring life into your home in little teacups. Indeed, succulents can inspire and nurture one's creativity. They can also be the perfect choice for beginners still learning to embrace their green thumb.
As with other plants, succulents flower mainly for reproduction. However, keep in mind that these attractive flowers don't pollinate the same way other blooms do. Hence, it is completely normal for your succulents to bloom and dry up without producing any seed pods, especially if they have been grown indoors.
That said, we also know that succulents are not for everyone. For instance, there are a lot of beginner plant lovers who prefer flowering plants over lush greenery. What if we tell you there are succulent varieties that can also produce wonderful flower stalks?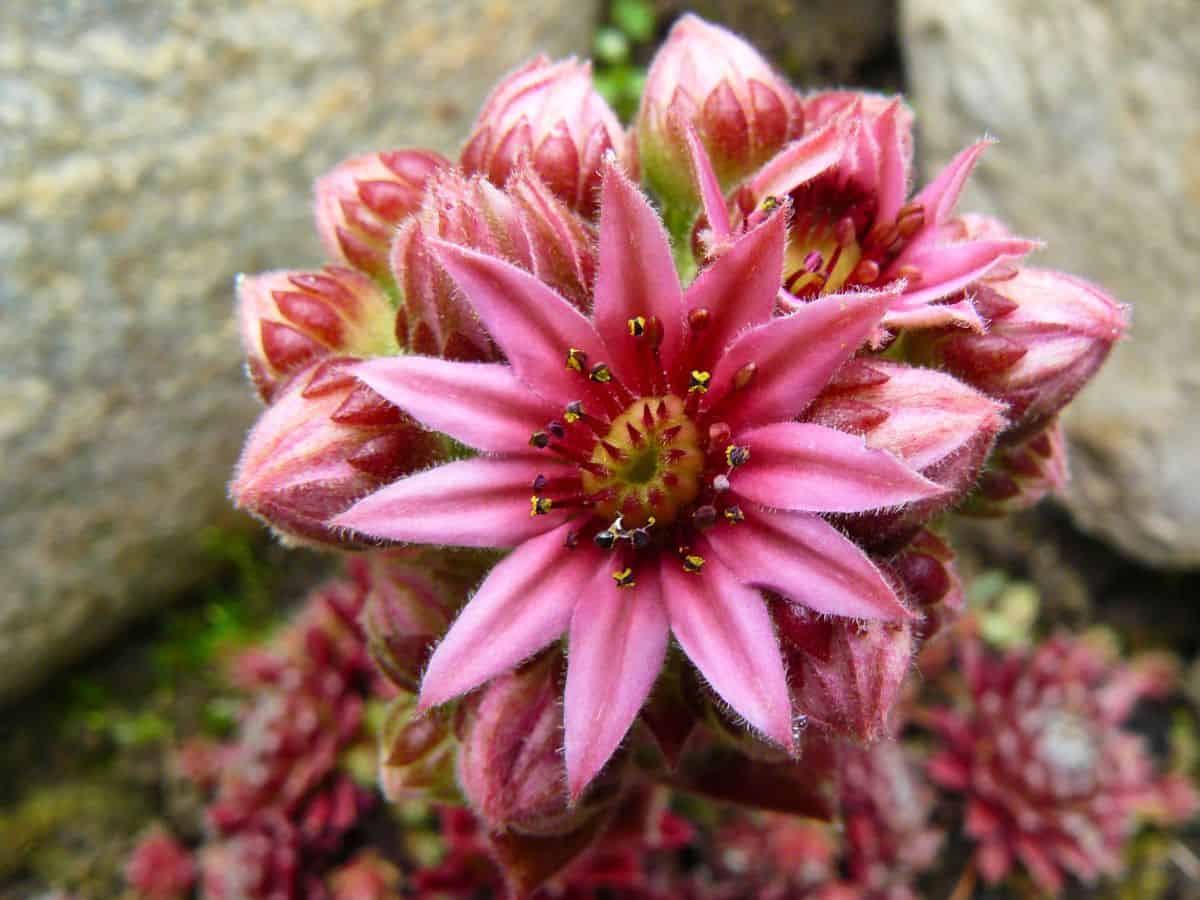 Do All Succulents Flower?
Sadly, not all succulents flower. In fact, even those that do may not even flower at all, depending on the environment that they are growing in. Some also take time to bloom and wait for their maturation.
On the other hand, some species flower freely even withouta lot of care and intervention. That is, as long as their minimum light and soil requirements are met. You will increase the likelihood of even the most challenging succulents blooming if you can successfully mimic their natural habitat.
Succulents With Tall Flowering Stalks: Our Top Picks
There are dozens of drought-tolerant succulent species that boast towering flowering stalks. They are an excellent way to bring pollinators to your property while also adding to the aesthetic of your gardens. Here are some of the most popular varieties you might want to get your hands on.
Aloe Vera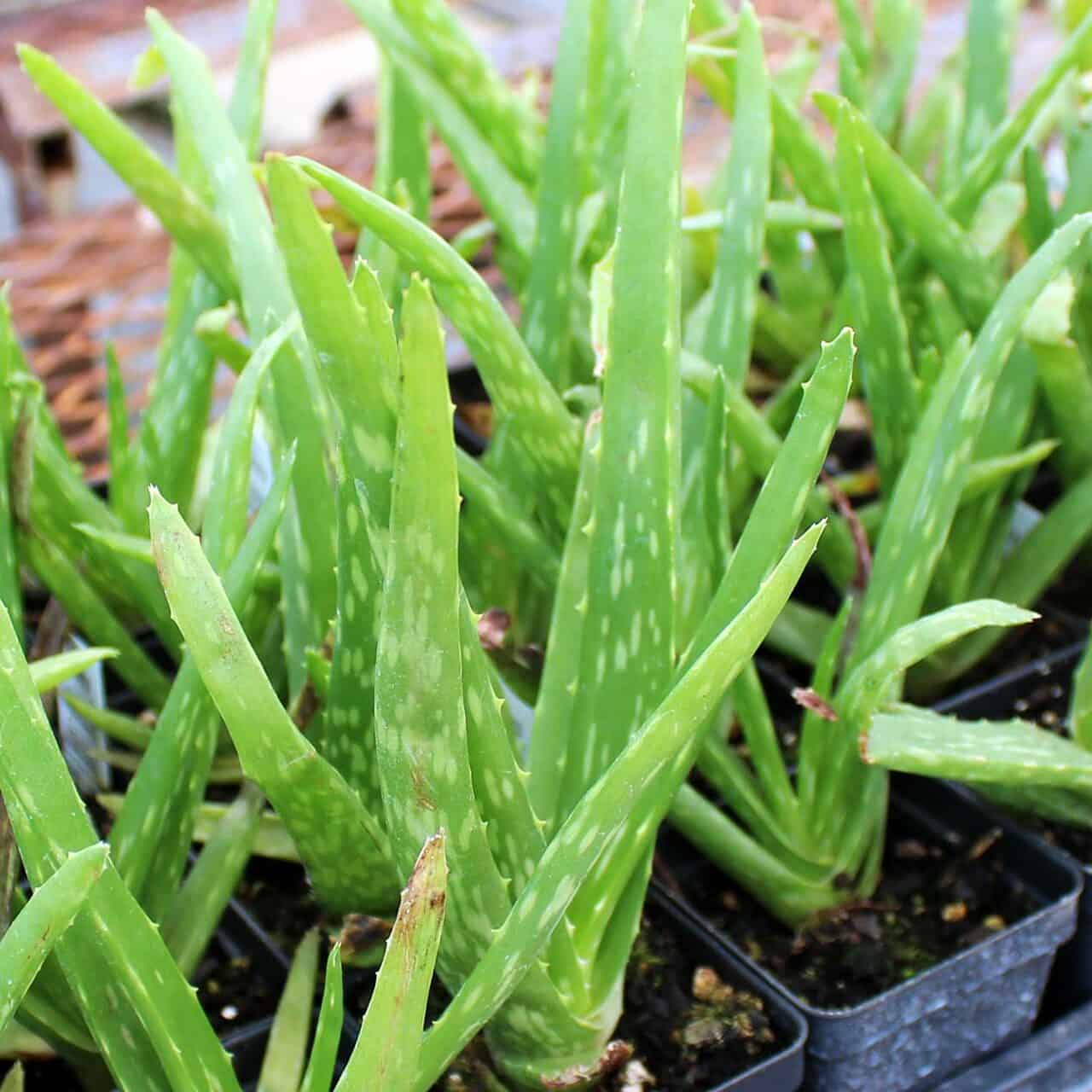 Buy it from:
Aloe Vera thrives well when planted in a spot that receives plenty of light, but it can also grow in partial shade. Make sure you plant it in well-draining, sandy soil. Given the right conditions, you can expect your Aloe plants to grow two feet high and produce three-foot-tall flowering stalks.
Bestseller No. 1
Aloe Vera is one of the most popularly grown succulents for its resilience and healing properties. However, most gardeners don't really know that it can bloom, and those that do rarely succeed in getting theirs to flower. Blooming in aloe vera can be pretty rare, so if yours did without intervention, then you can consider yourself quite lucky.
What to do to get an Aloe Vera to bloom?
There are different factors that can help encourage Aloe plants to produce their tall, bloom stalk with red or yellow flowers. There are even varieties that produce a radiant gradient of bright yellow to blazing red.
A warm climate, full sunlight, well-nourished soil, and proper care can increase your chances of seeing this natural beauty. Keep in mind that mature plants growing for at least three years have the best chance to flower.
It would also be best to grow these gorgeous plants outdoors with phosphorus-rich fertilizer. When successful, you will get to enjoy their beautiful flowers for two to three months every year.
Rock Purslane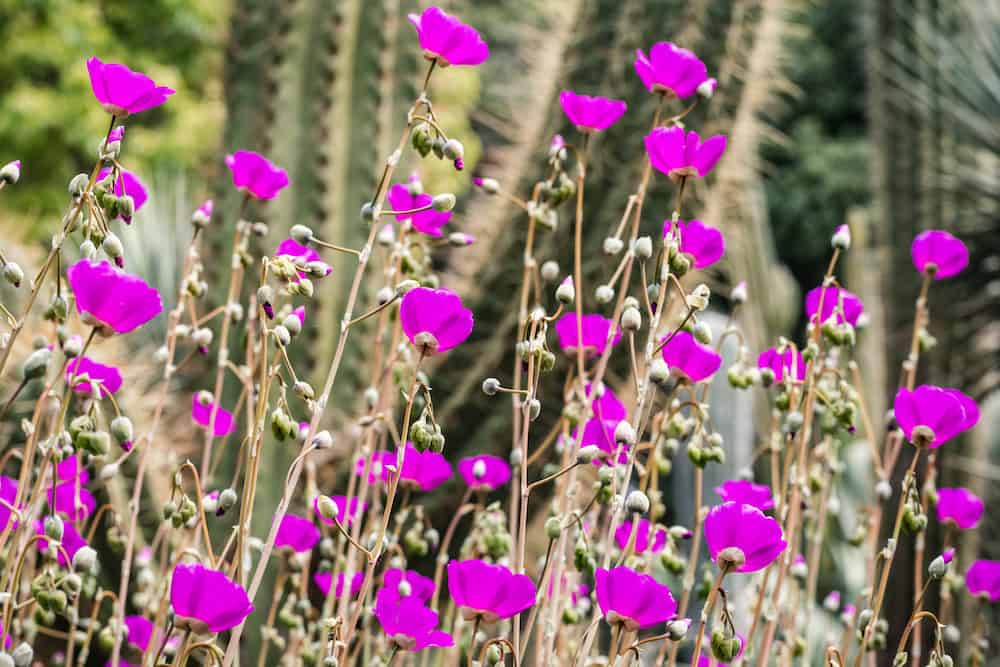 Buy it from:
Like Aloe Vera plants, Rock Purslane succulents enjoy plenty of sunlight, but they can also do well in partial shade. The plant can grow up to a foot tall, but its bloom stalk can go as high as three feet. To grow this succulent, it's important that you plant it in gritty, well-draining soil.
If red isn't your color, perhaps you'll enjoy bright fuchsia pink flowers to purplish blooms instead. Native to Chile, Rock Purslanes are a drought-tolerant and cold-hardy plant that is easy to grow. Even better than their beautiful colors is that they bloom for weeks at a time. In fact, those who live in warm climates that do not experience frost can enjoy their colorful blooms nearly year-round.
To make it more interesting, their beautiful flowers are also known to close in the night and open during the day. That said, you can also expect to witness blooms closing during particularly windy days.
How can you get a Rock Purslane to bloom?
Rock Purslane is one of the hardiest plants we know, so there aren't any strict succulent care requirements or special techniques to get them to bloom. Even so, we do advise against deadheading, as you might accidentally chop off all your potential blooms. We also recommend adding some compost to the soil to support a healthy plant growing fuller blooms.
Echeveria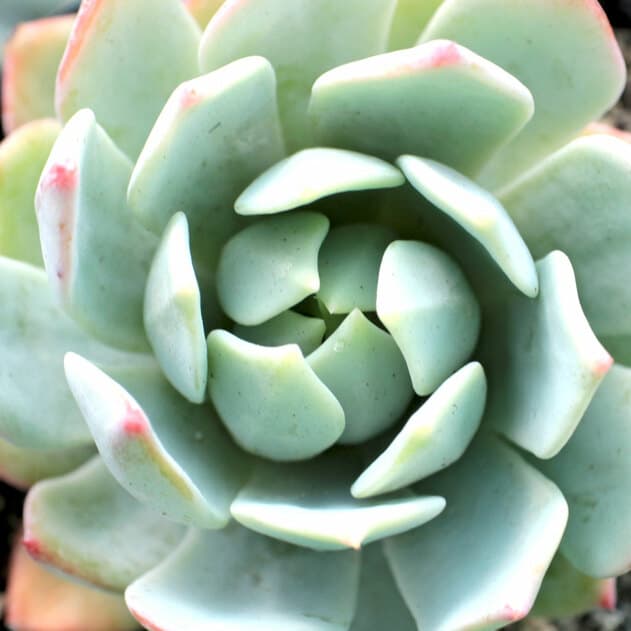 Buy it from:
Echeveria plants love bathing in direct sunlight and will thrive under hours of ample sunlight every day. They also come in different sizes depending on the species. As with most other succulents, your best approach to growing healthy Echeveria is to plant it in well-draining, sandy soil.
This succulent is one of the most photographed plants on Instagram, and for good reason. The rosette succulent itself already looks like a flower, and its species come in a wide variety of colors. You will find this beautiful rosette growth pattern in delicate pinks, iridescent blues, bright red, and even mysterious black ones.
Echeveria raindrops even have symmetrical bumps that look like drops of rain. Even more beautiful are its flowers. They grow at the tip of long, arching bloom stalks and flourish in sequence to give you weeks of joy and satisfaction.
How can you get an Echeveria to bloom?
It's not that challenging to get an Echeveria to flower. In fact, they can even bloom if planted in a small pot and grown as an indoor plant. The trick is to expose the succulent to sufficient light if you want it to grow tall, flowering stalks. Otherwise, the main head itself will grow tall and leggy.
Moreover, you might want to keep the flower stalks once they're done blooming. With the right growing conditions, and when it's grown together with other Echeverias, their flowers can generate dust-like seeds that you can use for propagation.
Red Yucca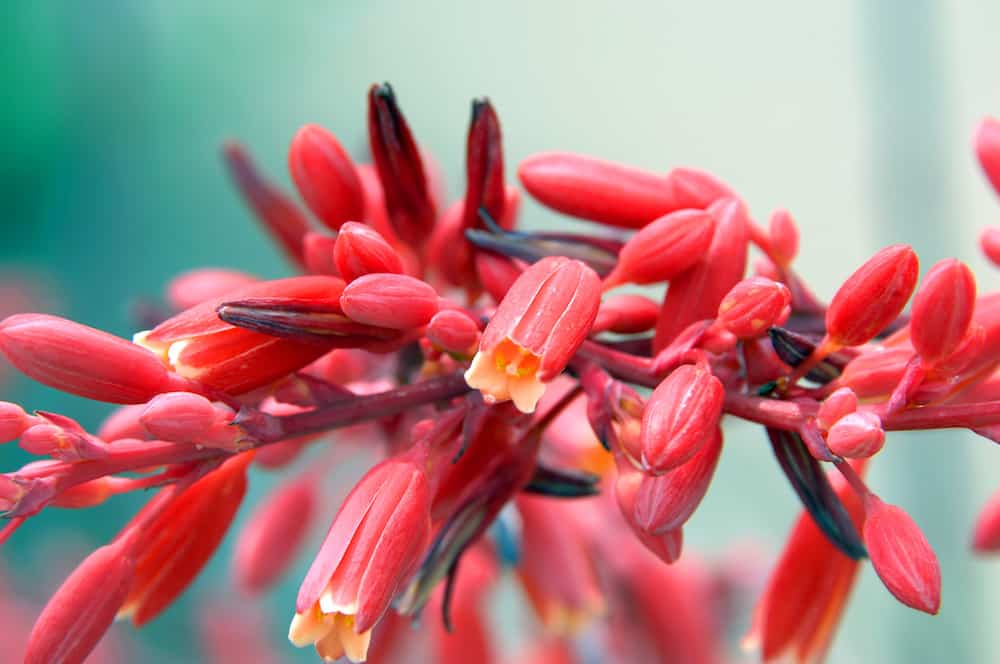 Buy it from:
Compared to other succulents on this list, Red Yucca plants grow taller at approximately three feet high. Their flower stalks are even taller, though, which can be as high as five feet. To get the best chance of growing healthy plants, grow them in well-draining, sandy soil in a spot that receives plenty of light.
The small, delicate flowers of Echeveria may be beautiful, but it will take a lot of them to really make an impact, especially when planted outside. Thus, if you want dramatic succulents with tall flowering stalks, we recommend growing Red Yucca succulents instead.
As mentioned, their flowering stalks' average height is around five feet, but we've seen them grow to as tall as eight feet. Depending on your location, these iconic flowers can bloom for up to five months at a time.
How can you get a Red Yucca to bloom?
Similar to other succulents, Red Yucca likes it best when it's grown under full sun and planted in well-draining soil. What it doesn't appreciate is getting extra water it does not need, so a regular watering regime is a must. Also, make sure to regularly check your soil for prolonged dampness to prevent root rot.
These succulents also attract wildlife. In particular, deer love to nibble at this beautiful plant like nobody's business, so we highly suggest putting a net over it at night if this is a potential problem in your area.
My Succulent Is Flowering! What Can I Do With Succulent Flowers?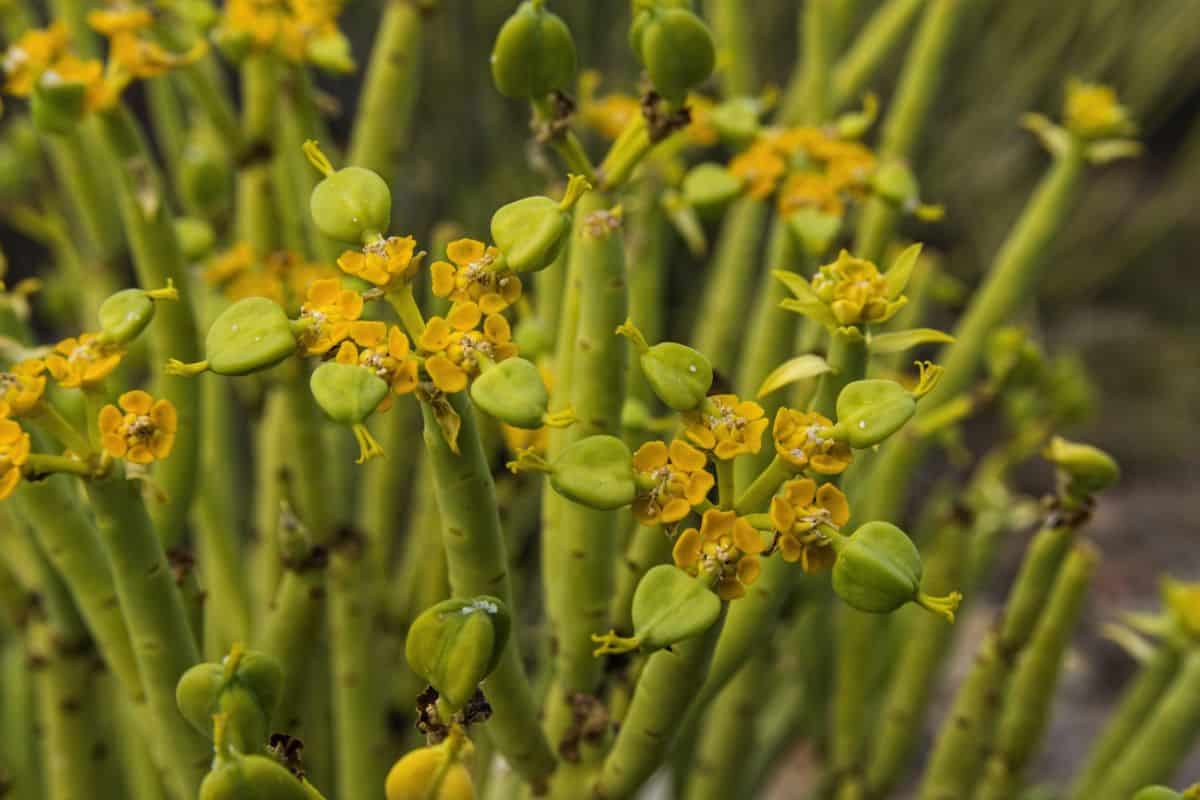 If you can't propagate the plant using its beloved blooms, then you might be wondering what to do with succulent flowers. We enjoy admiring their beauty while they're still in bloom.
That said, we recognize that there are succulent plant keepers who prefer to cut off the bloom stalks to help their succulent plants redirect their energy to growing fleshy leaves instead. At the very least, the succulent blooms can be a fantastic choice for floral arrangements. Remember to use sharp pruning scissors when cutting these stalks so as not to damage the plant.
Can You Plant Succulent Flowers?
Succulents are known to besimple to propagate. In most cases, a lot of their parts can easily be grown into new plants, including their leaves and stem. Sadly, their beautiful blooms do not belong on this list. Instead, what you need to do is extract the seeds within them.
For that to happen, the blooms need to be pollinated bypollinatorsor through self-pollination. After successfully harvesting the seeds, you can then germinate and grow them into new plants.
Again, flowering succulents are seasonal bloomers, so it can be tricky to get the seeds and grow them. Because of how complicated this process can be, we still recommend propagating leaf and stem cuttings instead. You can also visit your local garden center for already established plants you can transplant in your garden.
Succulent Varieties With Tall Bloom Stalks
Nothing beats the satisfying feeling of seeing attractive succulents with tall flowering stalks. After all, these colorful blooms are a good sign that your plants are thriving under your care.
There is a multitude of flowering succulent varieties to spread joy across your garden. The key is finding the ones that are best suited to your region's growing conditions as well as your personal preferences.