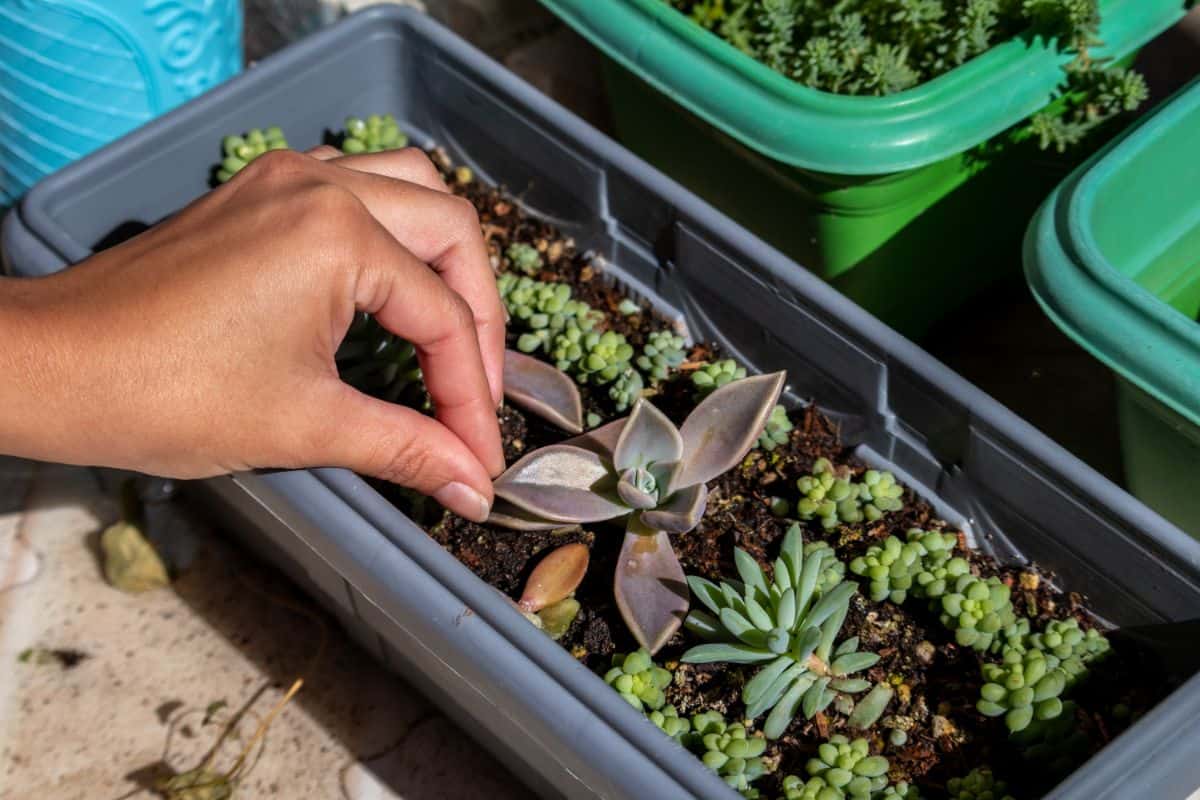 It can be stressful for any succulent lover when they first notice succulent leaves falling off when touched. With all the effort you put into growing your plants, the last thing you want to see is their leaves tumbling to the ground. Knowing what's causing the foliage to drop can help you fix the issue and prevent it from reoccurring.
Jump to:
Why Are My Succulents Leaves Falling Off? Normal vs. Abnormal Behavior
Before you start panicking, thinking that your favorite succulent plants are dying, it's essential to determine if their leaf drop is regular or not. Did you know that sometimes plants drop leaves as a part of their growth cycle?
There's no need to worry in these instances, as it means the plant is naturally disposing of malnourished foliage. Plants are intelligent and know what to do to ensure their optimal growth.

But what ifallthe leaves fell off my succulent? Look at the leaves once they've fallen. Does the leaf drop look drier than usual? Are you noticing any signs of damage, such as bug activity or black spots?
If so, it could be that the plant is removing damaging leaves on its own. It's also essential to inspect the rest of the plant to see if any issues are persisting. For example, if the entire succulent feels dry, it could mean a different problem that you need to address.
Why Are My Succulent Leaves Falling Off So Easily?
We all know that succulents are among the many easy plants to care for. As extreme heat-resistant and drought-resistant plants, they are ideal for beginners. However, you're bound to experience a few issues as a plant owner, especially regarding falling leaves.
Let's explore some of the most common problems your plant could be experiencing if it's losing leaves. Fortunately, most of the issues are easily fixed by following basic care methods.
Normal Growth Cycle
As mentioned, there are abnormal and normal behaviors responsible for succulents losing leaves. One of the most common and normal reasons is their natural growth cycle. If your plant has different layers of leaves, you may have noticed that the bottom leaves are falling off.
When the upper leaves cover the lower layers, the upper leaves consume the majority of nourishment from the sun. Meaning, the lower tiers aren't getting enough sunlight to produce nutrients, causing them to wither and fall off. There's no need to worry in this instance, as it's a part of the cycle of life.
As your succulent grows even larger, you may find thatmoreshriveled leaves will fall off depending on if the plant needs them. As long as your plant continues to grow and the upper leaves are strong and healthy, there's no need to worry.
Bestseller No. 1
Bestseller No. 2
The Solution
Watching your succulents grow is a fantastic time to pat yourself on the back for being a wonderful plant parent. With that said, the only solution to this common event is simply to clean up the dropped leaves from around the plant.
Overwatering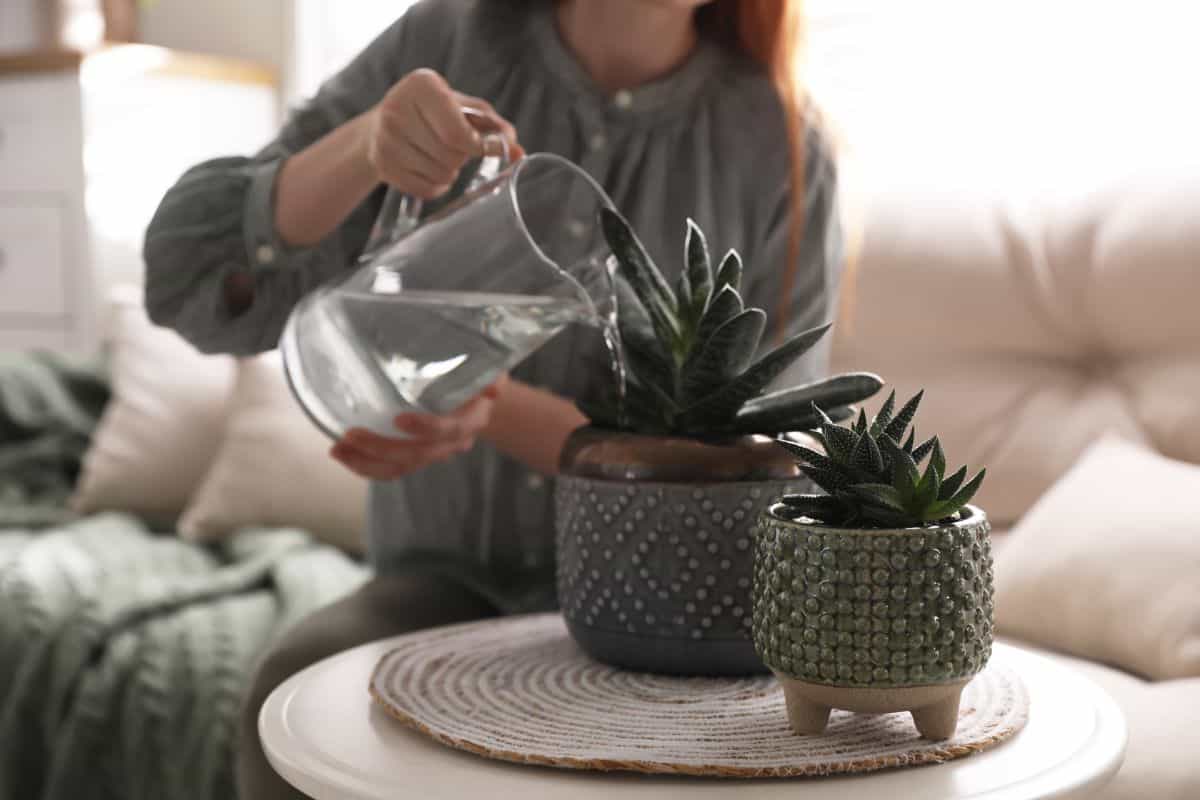 If you're asking, "Why are my succulents leaves falling off?" it could be from overwatering. Succulents are pretty resilient, but they are also very susceptible to overwatering.
Remember, these plants natively grow in the desert, which means they rarely see water. Deserts usually getapproximately 250 millimeters (10 inches)of rain annually.
When overwatered, the plant will try to absorb too much water, causing its fibers to fill and burst. The water will also not get absorbed completely and will sit in the soil.
Waterlogged soil can cause your succulent roots to drown, as they can't absorb the excess water. Also, it can cause mold and mildew within the soil, leading to plant diseases and bug infestations.
It's also important to note that overwatering can cause succulents to have a significant appearance change. You'll begin to notice the leaves have turned from their original color to a yellow or translucent color. They might also look wrinkled and droopy as if they're filled with too much liquid to stand.
The Solution
If you think you've overwatered your plant, there's no reason to panic, as it's easily fixable. As a rule of thumb, all succulent lovers must follow a regular watering schedule to prevent making the soil too damp. Otherwise, you'll be filling the plant with too much hydration that it won't know what to do.
Remedying overwatered leaves is easy as long as you determine where the problem areas are. If you've noticed your succulent soil is too moist, stop watering the plant for one week. Throughout the week, inspect the soil with your fingers to see if the moisture is being absorbed.
If the soil is getting drier, that's a sign that your plant is absorbing the excess. Whereas if the soil remains damp, you should consider repotting your plant into bone dry soil. It can also be beneficial to set up a watering schedule to prevent this issue from occurring again.
On average, most succulent owners only need to water their plants once every one to two weeks during the summer. During the winter months, you may only need to water it once for the entire season.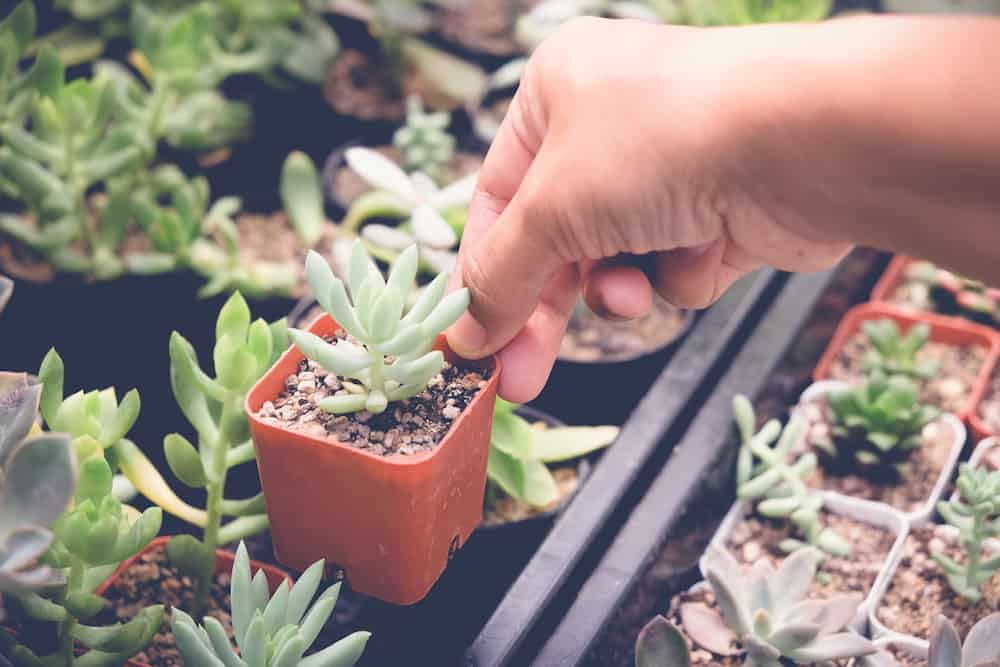 Lack of Water
Just like overwatering, succulents can be susceptible tounderwatering. If you've realized, "All the leaves fell off my succulent!" it could be from dehydration. Ensuring the fleshy leaves meet theirwater requirement is vital for their overall longevity.
That said, underwatered plants are just as easy to spot as overwatered ones because their appearance changes. You might see some wilted leaves that look old and wrinkled. In other instances, they could be turning brown or orange.
If you've asked, "Why are my succulent leaves falling off so easily from the top down?" it's because of underwatering.On the contrary, overwatered plants will lose their leaves from the bottom up.
The Solution
Underwatered succulents are one of the easiest things to fix, as long as you catch them at the right time. In most instances, you should increase how often you water the plants to begin reviving them. Simply increase their watering frequency until they grow healthier new leaves.
Lack of Light
As we all know, plants require plenty of light to produce nutrients to keep them alive and healthy. If your succulent doesn't have enough light, it can lose its leaves faster than ever. Plant owners wondering, "Why are my succulent leaves falling off?" should look at how much light their plants get.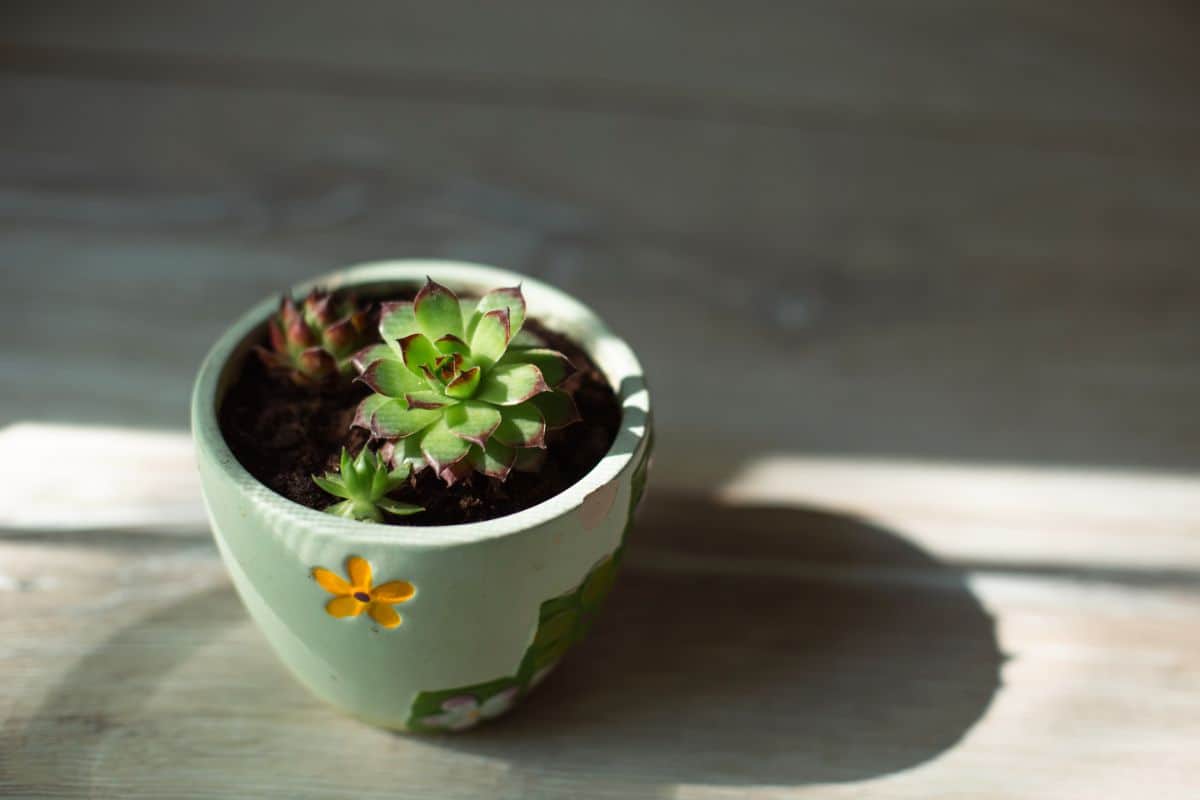 Many succulent species enjoy indirect light, but they shouldn't be kept without bright sunlight for too long. This point is particularly true if you have a plant accustomed to a brightly lit area.
When you place your plant in its new home, it begins to acclimate to the room's conditions. Taking the plant away from its standard position can cause shock and confuse it during the growth process.
With that said, you must choose a moderately lit area to keep your succulents in the long term. Plants that aren't getting enough light might look lopsided and have different coloring across their dead leaves.
The Solution
Ensuring your succulents get direct sunlight is pretty easy, as long as you find the perfect spot for them. You'll want to choose a brightly lit area that allows for the sun to cascade across all its foliage.
It can also be beneficial to turn your plant throughout the week, ensuring every side gets enough sun. If you live in an area that isn't prone to plenty of sun, purchasing an artificial light source (grow lights) is a great alternative.
These lights provide the same UV rays that your plants need to survive. You'll also be able to time the amount of light exposure your plants receive.
Plant Shock
As we discussed earlier, shock is another answer to "Why are my succulent leaves falling off?" For as hardy as succulents are, they aren't resistant to shock, similar to other plants.
Multiple things can cause shock, from a fungal infection and chemicals to harsh conditions and severe diseases. Even common pest activity can cause the plant to get damaged so badly that it begins to drop its leaves as a method of survival.
The Solution
There are a few ways to help your succulents get out of shock, depending on their severity. The first thing you'll want to do is determine the issue the plant's experiencing. If it's a disease, locate all of the parts of the plant that are affected. You should also check for bug activity and fungal buildup.
If most of the plant is healthy and the problem seems localized, there is a chance of reviving your plant. You can easily find over-the-counter products to treat succulent diseases. Also, there are plenty of products to assist with getting rid of mites and aphids.
However, if you own more than one succulent, it can be a good idea to consider throwing out the entire plant. Plant illnesses can transfer from one to the next, and removing the source of the contagion is best. This process will help protect the other plants that you've worked so hard on.
Reasons Why Succulent Leaves Falling Off When Touched
If you've noticed succulent leaves falling off when touched, there are many issues your plant could be experiencing. From overwatering to a lack of sunlight, most problems are easily answered and quickly remedied.