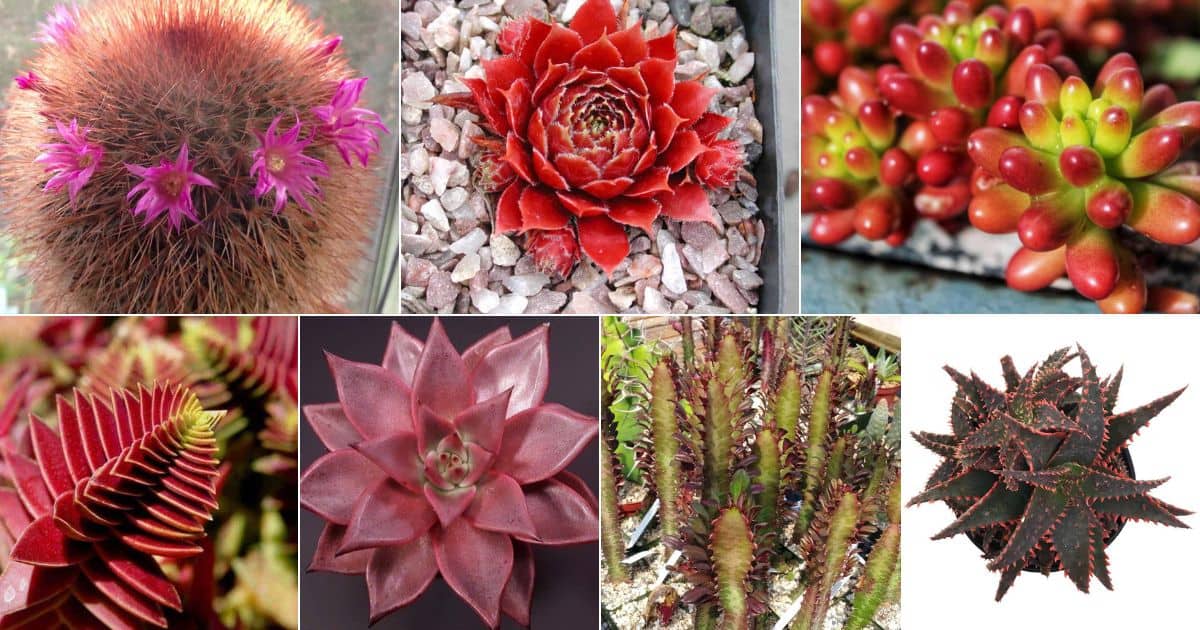 Red is often used to symbolize love and passion, so what better way to show off your passion for succulents than with a few red succulents? These radiant red plants compliment any color palette and make great additions to centerpieces, living walls, and fairy gardens.
Jump to:
Sempervivum Heuffelii 'Chocolate Sundae'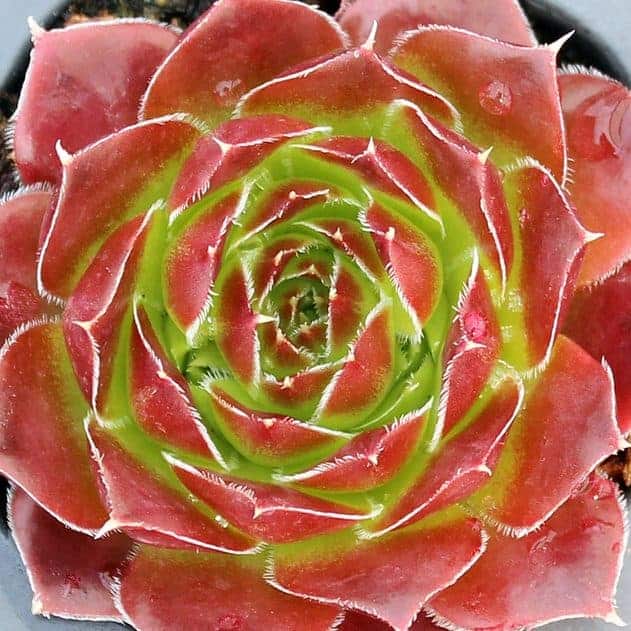 Buy it from:
This vibrant succulent's leaves are bright red at the tips and lime green at the center. The red color of the leaves may deepen according to the season. Chocolate Sundae is a diminutive plant with a mature height of less than three inches. The rosettes can reach three to four inches in diameter.
Like many Sempervivum, Chocolate Sundae is great for inexperienced gardeners as it is incredibly easy to care for. It can easily be propagated with offsets, which it produces easily. It's also a frost-hardy plant that tolerates drought well.

Echeveria agavoides 'Romeo'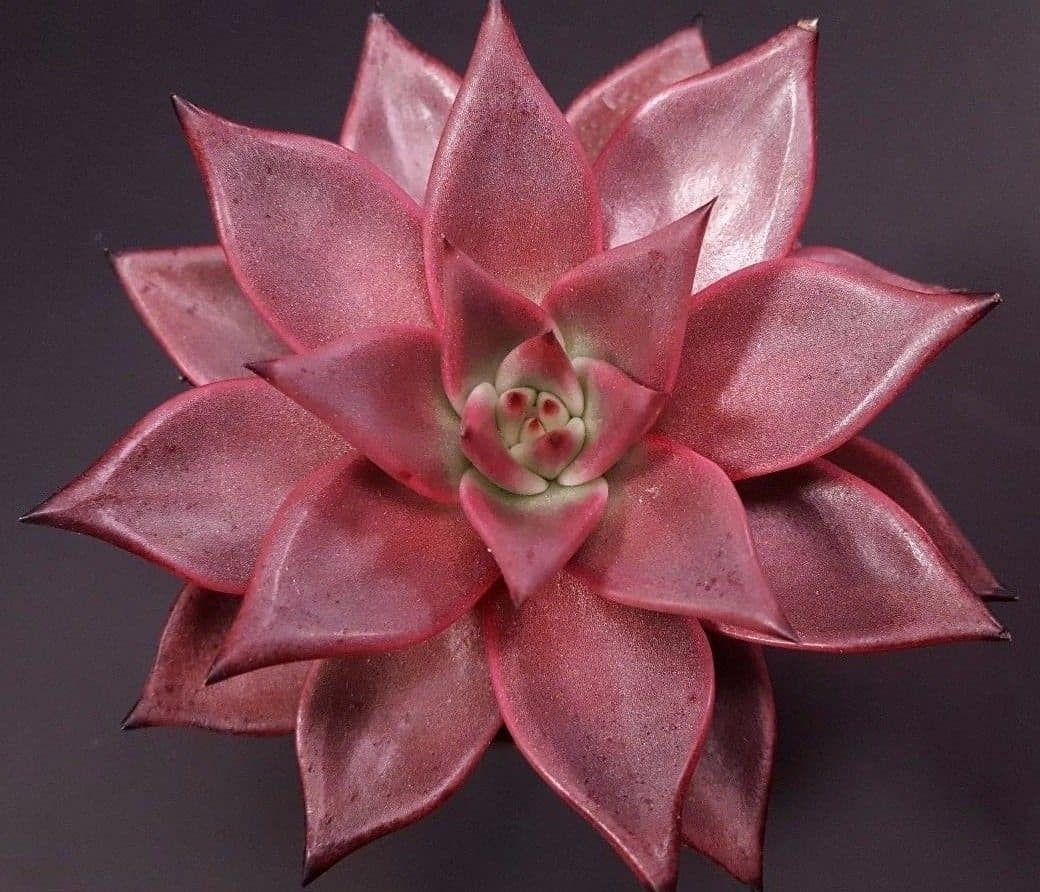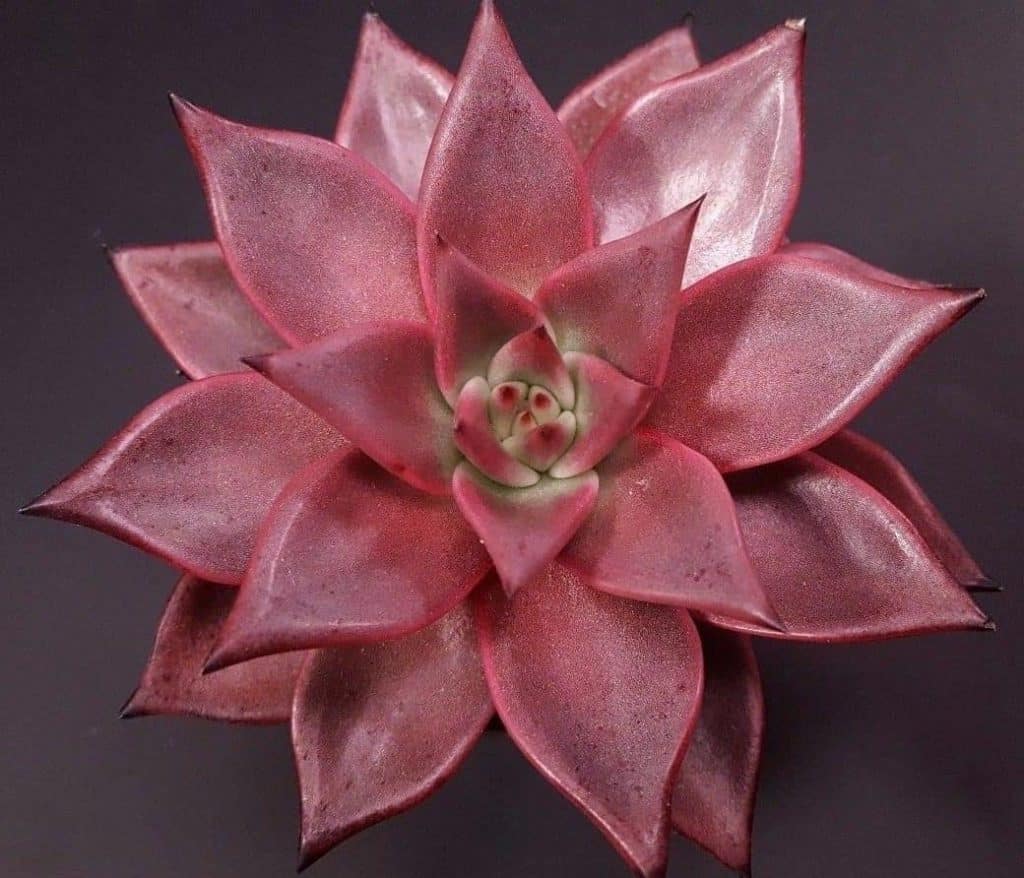 Buy it from:
The radiant rosette of Echeveria agavoides can grow up to six inches tall and twelve inches in diameter. In the spring and early summer, Romeo produces petite flowers of the same vibrant hue as the plant itself.
Echeveria agavoides is easy to care for, as long as it's planted in well-draining soil that is only watered when dry. Partial sun is ideal, but the plant can suffer in extreme heat. Romeo is easily propagated with leaf cuttings, but can also be grown from seed.
Crassula capitella 'Red Pagoda'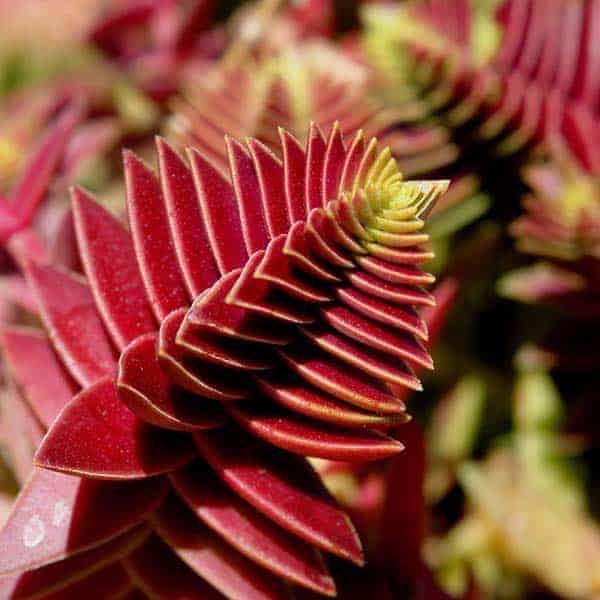 Buy it from:
Native to South Africa, Crassula capitella is an eye-catching succulent with long stems covered in stacked, triangular leaves. In frost-free climates, it can be used for ground cover, but it also works well in hanging containers. The stems can grow up to eight inches in length.
Bestseller No. 1
Bestseller No. 2
Sempervivum Red Lion Red Rubin (2 inch)
We guarantee plant's safe arrival otherwise we will refund or send you a replacement plant
Sempervivum are used in living wreaths, spilling out of clay pots, old tea kettles and even old retired work boots. Extremely...
Very drought tolerant once established. No special care required. Prefers sandy or gravelly soils in full sun. May need to...
Red Pagoda requires soil with adequate drainage. The more light the better, as this plant's red hue will deepen to a brilliant burgundy in full sun. Crassula capitella is easy to propagate with stem cuttings, but the leaves can be delicate and may fall off while cutting or moving the plant.
Sempervivum 'Red Lion'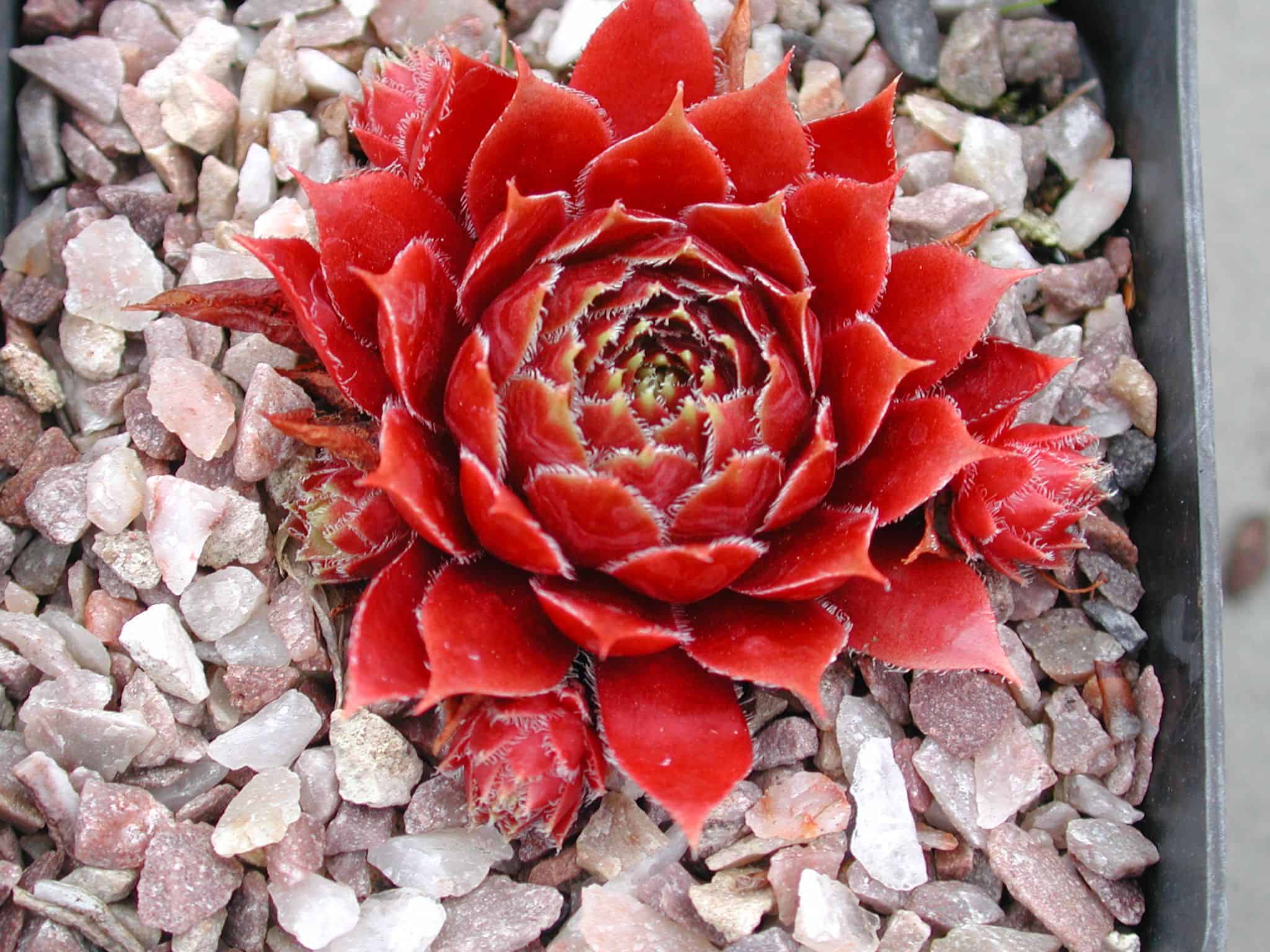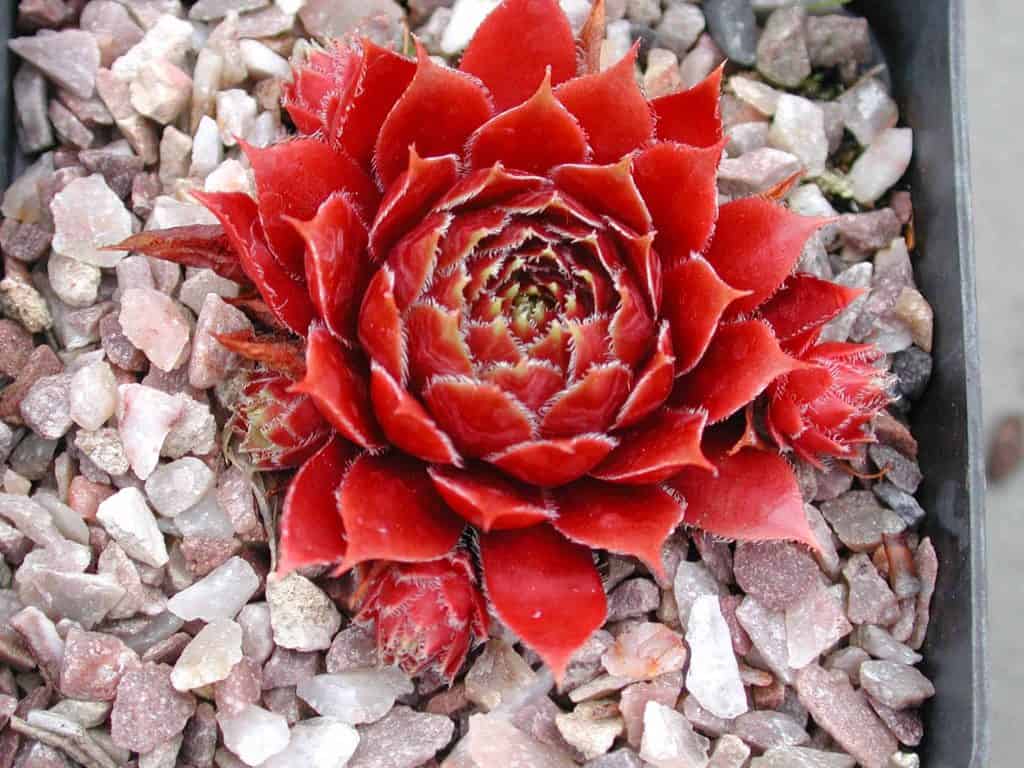 Buy it from:
This Sempervivum cultivar features rich red rosettes, sometimes with green leaf tips or shades of yellow. It's a frost-hardy plant, so it's a perfect plant for adding color to an outdoor garden or landscaping project, even in colder climates. Red Lion's rosettes reach about six inches in diameter at maturity.
This adorable succulent thrives in either partial or full sun, just as long as it's planted in well-draining soil. Sempervivum produce offsets, which can be left to grow in dense clumps, or they can be removed to plant elsewhere. Red Lion is also nontoxic to pets so you won't need to worry about furry visitors to your garden.
Aloe 'Christmas Sleigh'
Buy it from:
If you're looking for a unique Aloe to add a pop of color to your garden, look no further than Christmas Sleigh. This flashy succulent has deep green leaves with vibrant red spines. It's a gorgeous option for either container gardens or outdoor landscaping, if the climate allows. In fall, the plant produces bright reddish-pink flowers.
Christmas Sleigh does best with adequate drainage, full sun, and proper watering techniques. It's a very forgiving plant, so it's great for inexperienced gardeners. This Aloe is a rather slow-growing plant, so you won't need to repot it very often.
Sedum rubrotinctum 'Aurora'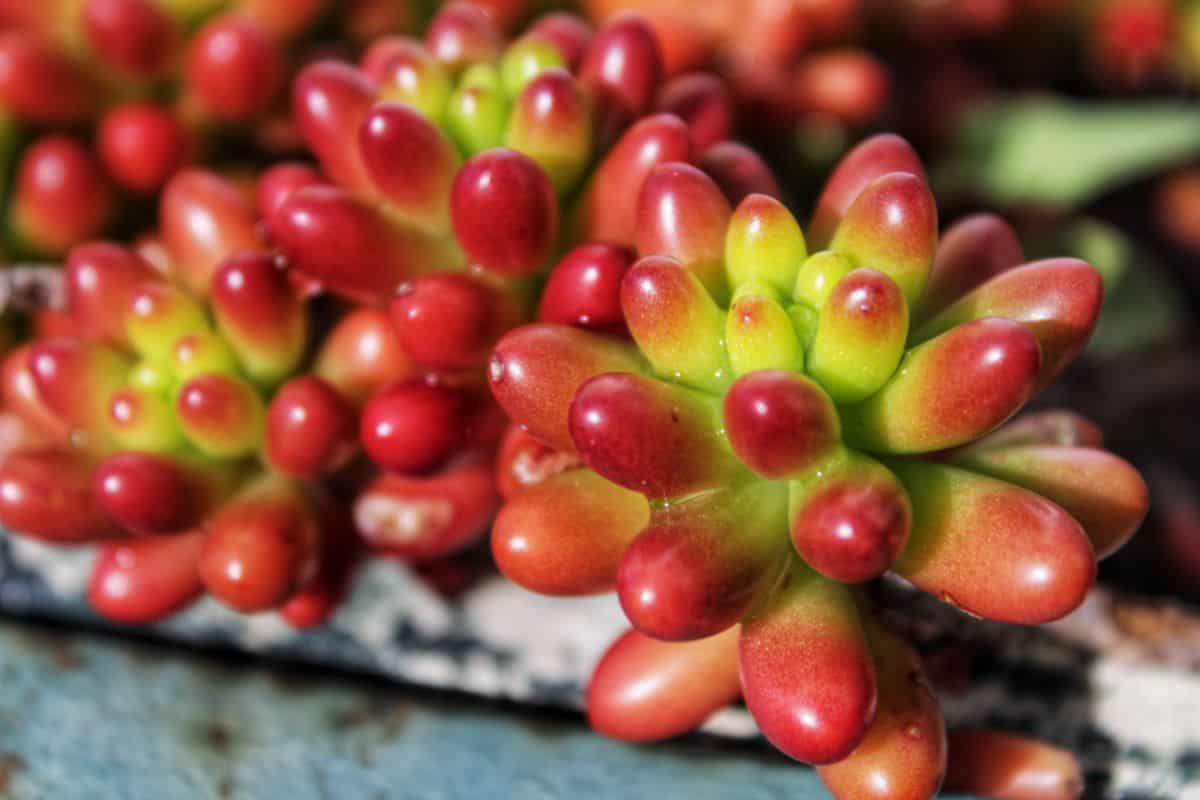 Buy it from:
This ravishing red succulent is native to Mexico. Its long stems reach up to eight inches in length and are covered in fleshy, round leaves. The leaves range in color from pink to deep red. The more sunlight this plant receives, the deeper the color of the leaves.
Aurora is a fast-growing succulent that is easy to propagate. It needs plenty of sun and proper drainage. Like most succulents, infrequent watering is best. Although drought-tolerant, this plant cannot withstand frost and must be protected during particularly cold temperatures.
Euphorbia trigona 'Royal Red'
Buy it from:
This interesting cacti has long spine-covered stems ranging in color from variegated green and yellow to deep burgundy. Each stem has three angles and is covered in greenish-red leaves. It can reach up to six feet tall at maturity if grown in ideal conditions. It grows well in either containers or outdoor gardens, provided the climate is frost-free.
Royal Red is a fast-growing cactus that can become a large centerpiece in your garden in under five years. It does best in full sun, which will help to bring out the plant's deep burgundy color in its leaves and stems. Adequate drainage is essential in preventing the plant from developing root rot.
Mammillaria spinosissima'Red-Headed Irishman'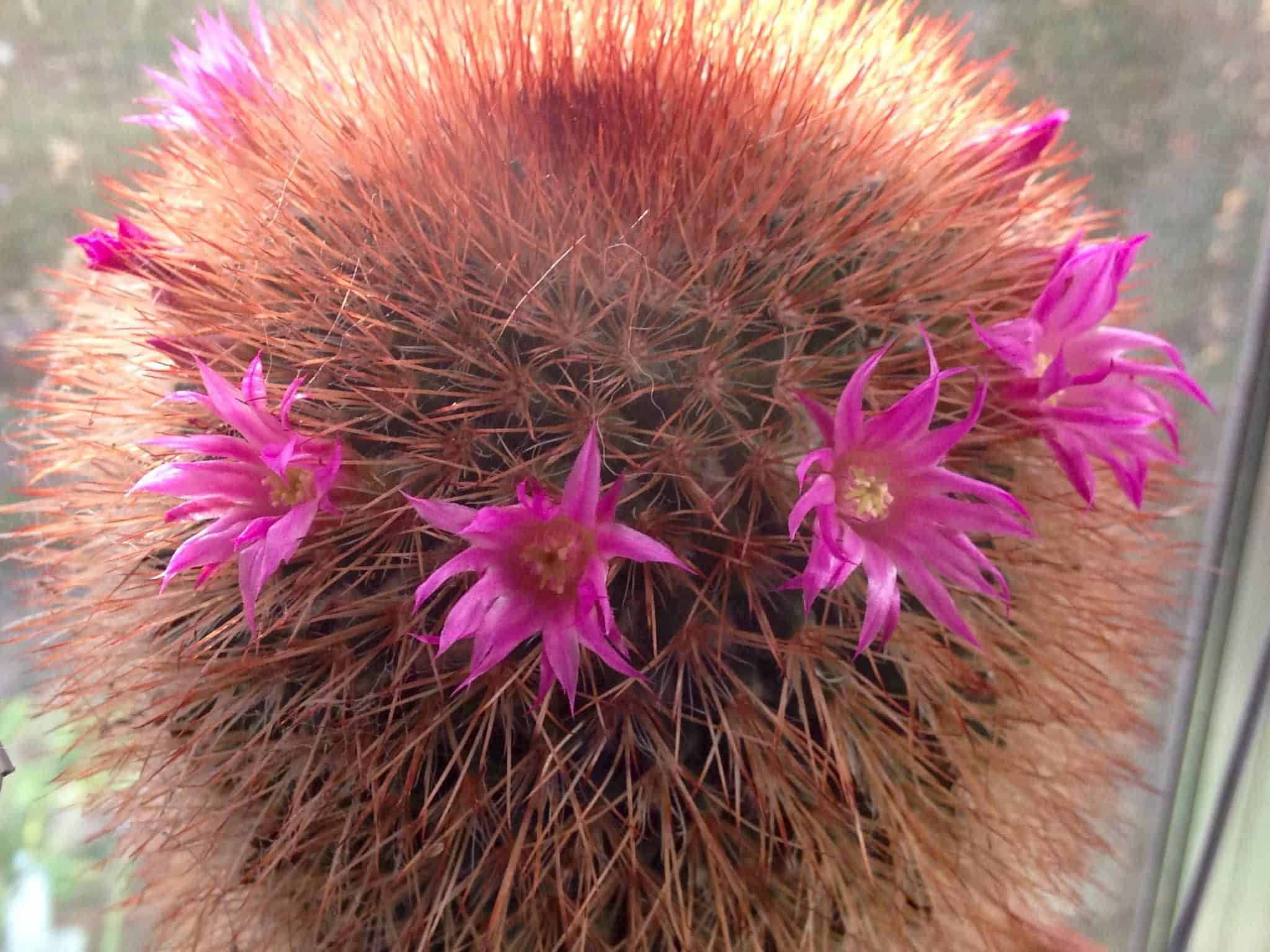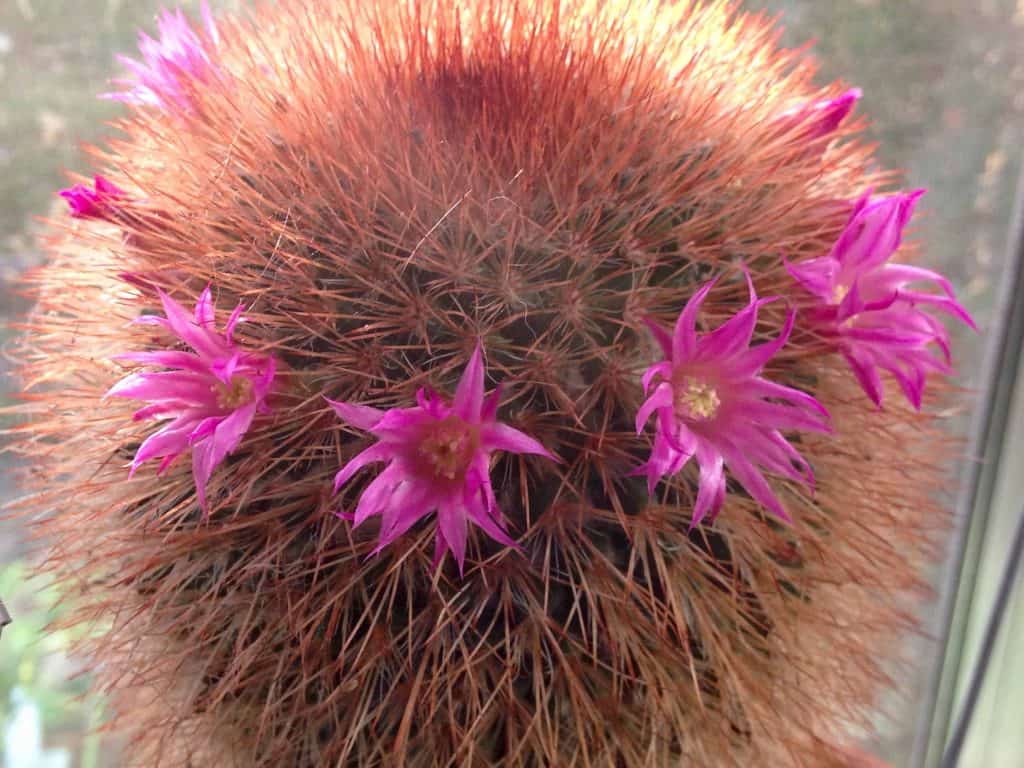 Buy it from:
This uniquely-named cactus has a deep blue-green stem that can reach up to 12 inches in height and about four inches in diameter. The stem is barely visible beneath a heavy covering of the orangey-red spines that inspired its nickname. Despite the name, the Red-Headed Irishman is native to Mexico.
Like most cacti, Mammillaria must never be allowed to sit in wet or damp soil. Proper drainage is essential, as is full sunlight. In the winter, the cactus is dormant and needs little to no water. During the growing season, it may be fertilized with a cacti-specific fertilizer.
Tillansia ionantha'Air Plant'
Buy it from:
This petite plant has long, fuzzy leaves that are typically less than three inches long. A few hours of direct sunlight each day will enhance the plant's red hues. Since air plants don't need soil, you can "plant" them nearly anywhere to add a pop of color to your decor.
While not actually succulents, air plants are incredibly easy to care for. Although they require no soil, they do need plenty of indirect sunlight, air flow, and an occasional misting. Excess moisture in the plant or the surrounding material should be avoided.
Red Succulent FAQs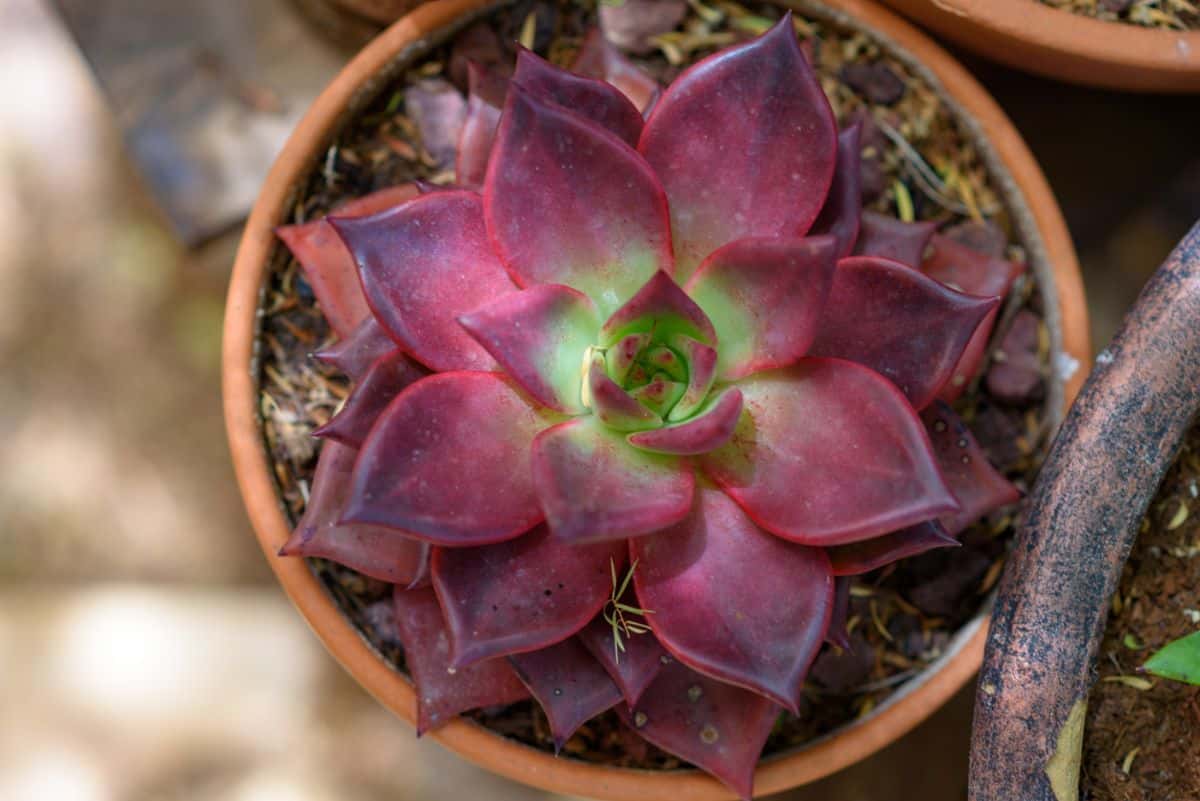 While you've probably already had a red succulent choice in mind, you might want to look into the questions commonly asked by most succulent growers.
Do red cactuses exist?
From the selection above, you'll notice that the red cacti varieties have either red flowers or just a hint of red. Unfortunately, there are no naturally red cacti, but you can find grafted varieties or graft them yourself.
Common cacti grafted onto a different cactus rootstock are moon and chin, resulting in a cactus with a green base and a red top. However, sometimes, it will produce orange, yellow, purple, or pink tops.
Why is my red succulent turning green?
If you're already growing red succulent varieties and they turn green, it means they lack sunlight exposure or were exposed to a too low temperature. Watering them more frequently than needed can also lead to your red succulent turning green.
Why are the ends of my succulent red?
What if it's the other way around? What if your green succulent starts to have red tips? This means you've exposed your succulent to too much sunlight, producing more carotenoids to protect itself from possible sunburn.
Choosing From the Many Red Succulent Varieties
Whether you prefer scarlet, burgundy, or merlot, there are succulents in every shade to suit your taste. From prickly cacti to delicate air plants, you'll be able to add a splash of color no matter what type of garden you have. Don't be afraid to show your passion for plants with these ravishing red succulents and cacti.