White is often considered to be a symbol of peace and positivity, which are important characteristics of any garden. In a sea of green plants, white succulents can add just the right touch of brightness.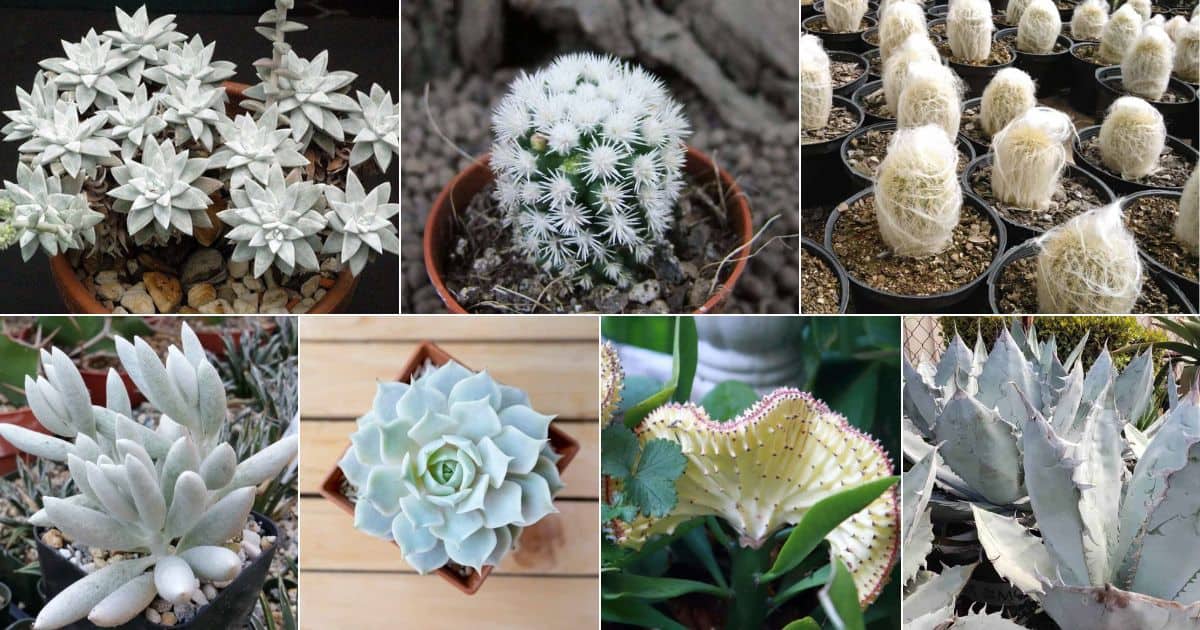 White succulents are also great additions to centerpieces and living wall projects. Whether you would prefer a furry, alabaster cactus or a frosty Echeveria, you'll find the perfect snow-white succulent here.
Jump to:
Espostoa melanostele 'Peruvian Old Lady Cactus'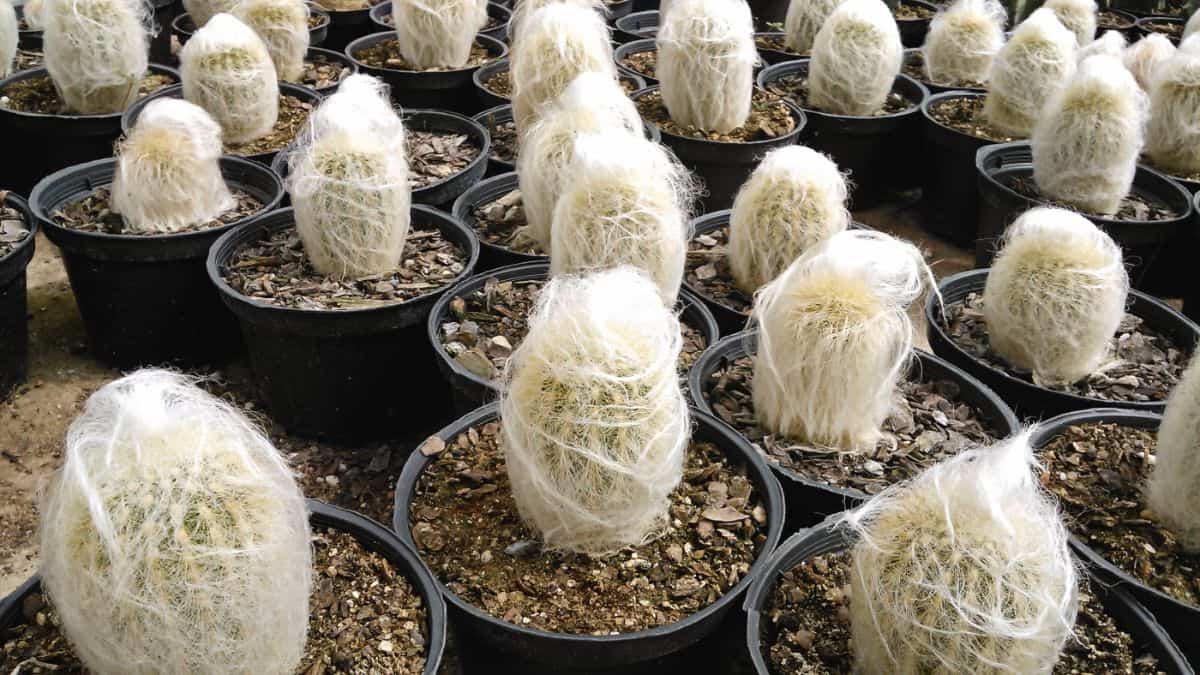 Buy it from:
The Peruvian Old Lady Cactus is an interesting little plant that can grow up to 12 inches in height. It's considered a 'columnar' cactus because of its vertically growing stem. The spines are a golden yellow color and its white hue comes from the thick, wool-like coating.

Espostoa melanostele prefers full sun and very little water. This cactus only grows about an inch per year, so it doesn't need much moisture, especially in the winter. It's not particularly tolerant of either frost or heat, so it must be protected in extreme temperatures.
Read Also: 11 Best Cold Hardy Succulents
Senecio haworthii ' Woolly Senecio'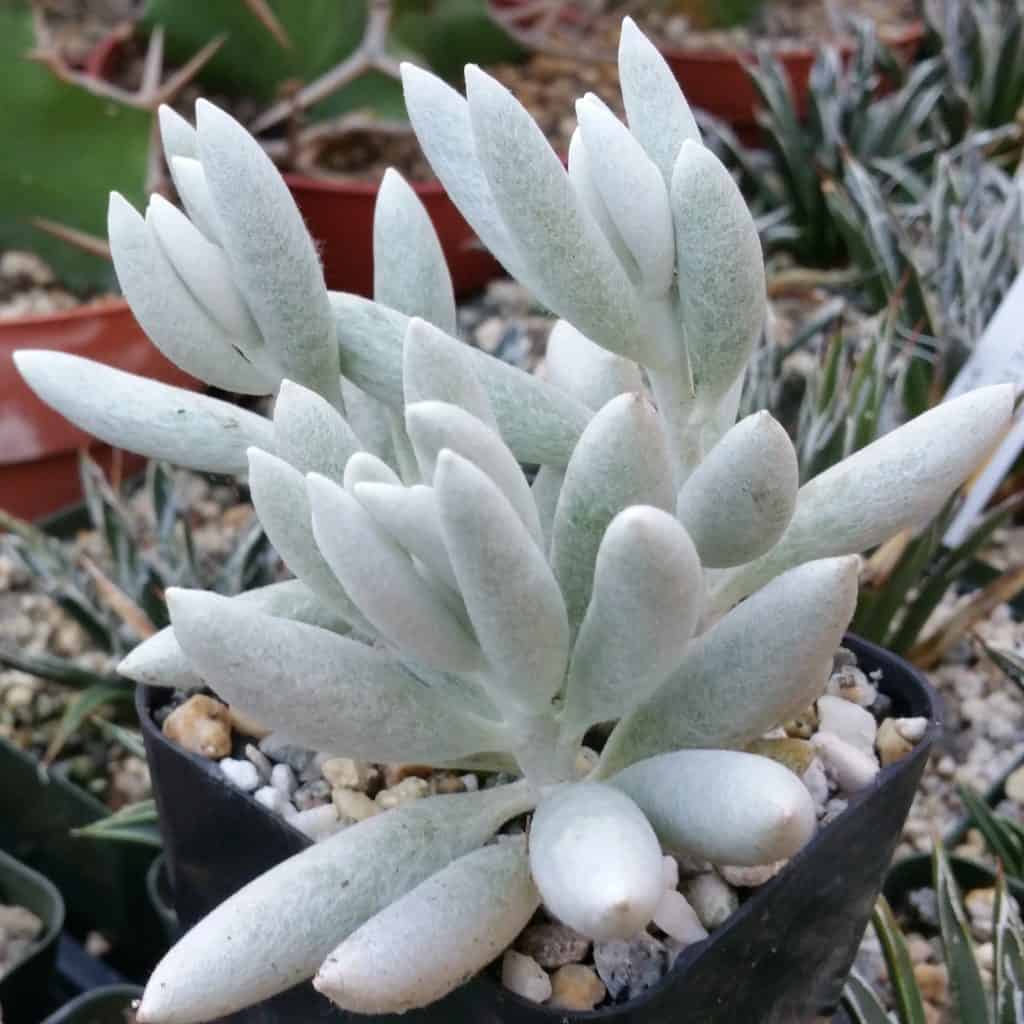 Buy it from:
This fuzzy succulent is similar in appearance to other Senecio except for the felt-like covering on its leaves. Native to South Africa, the plant can grow up to about 12 inches tall. When the Woolly Senecio blooms, it produces vibrant yellow flowers.
Senecio haworthii enjoy plenty of sun and proper watering techniques. Well-draining soil is essential to their survival. This plant is easily propagated from cuttings but can be grown from seeds as well.
Read Also: 11 Pretty Pink Succulents
Echeveria 'Lola'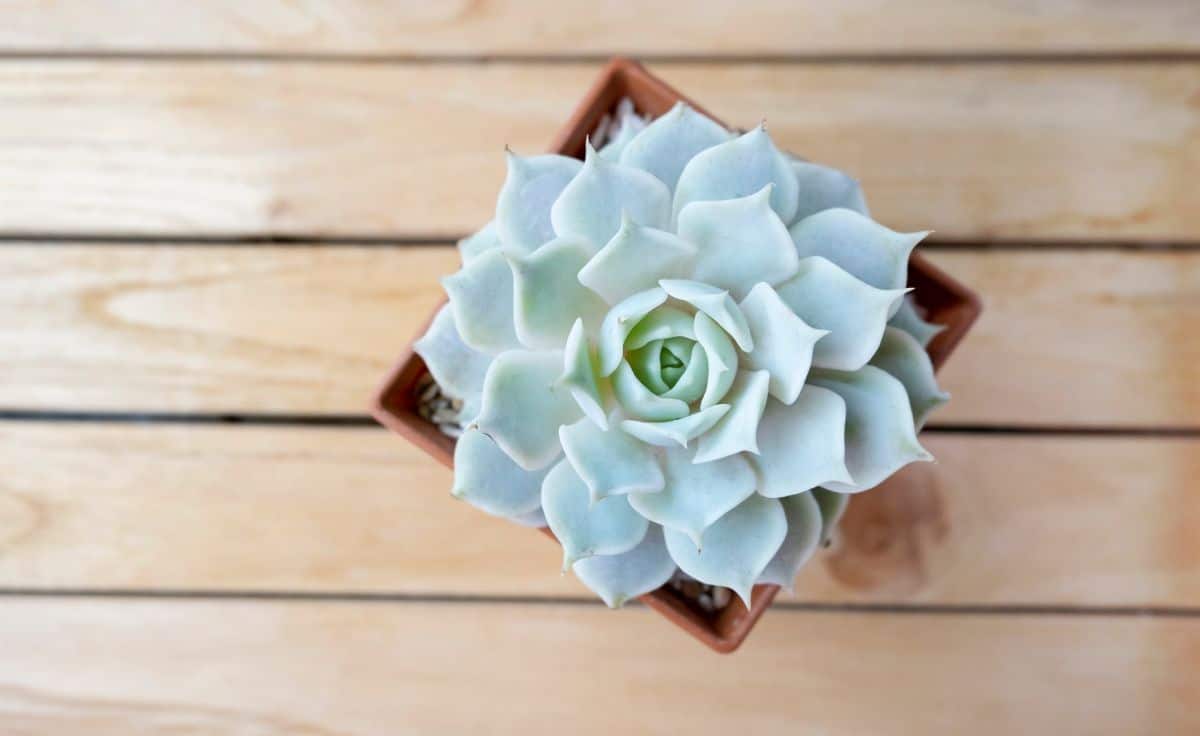 Buy it from:
This frosty Echeveria is the result of a cross between Echeveria lilacina and Echeveria 'Deresina'. The thick layer of farina on the leaves gives this plant its snowy white appearance. Beneath the white, it has undertone of mind and rose.
Bestseller No. 1
Bestseller No. 2
Here's a care guide we wrote for this plant!
Like many Echeveria the Lola is easy to care for and great for inexperienced gardeners. It's also pet-safe and easy to propagate. Partial sun is best, as is well-draining soil and infrequent watering.
Read Related Topic: 9 Vibrant Purple Succulents
Euphorbia polygona 'Snowflake Cactus'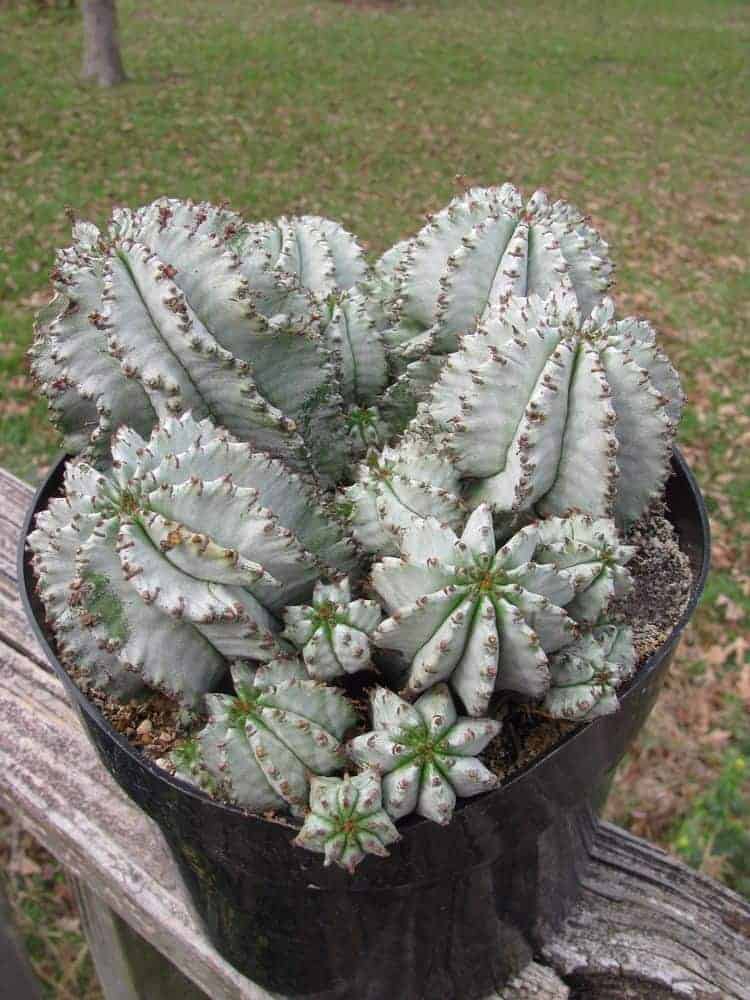 Buy it from:
The chalky-white Snowflake Cactus is native to South Africa and tends to grow in clumps. Its heavily spined and ribbed stem is white with green undertones. The stems of the Snowflake cactus can reach up to five feet in length and four inches in diameter.
This interesting succulents, which isn't a true cactus, is quite easy to care for, provided you protect it from frost and extreme heat. It grows best in partial sun and with infrequent watering. The Snowflake Cactus can be difficult to grow from seed, so it's best propagated from cuttings.
Read Also: 9 Outstanding Orange Succulents
Crassula ovata 'Tricolor Jade'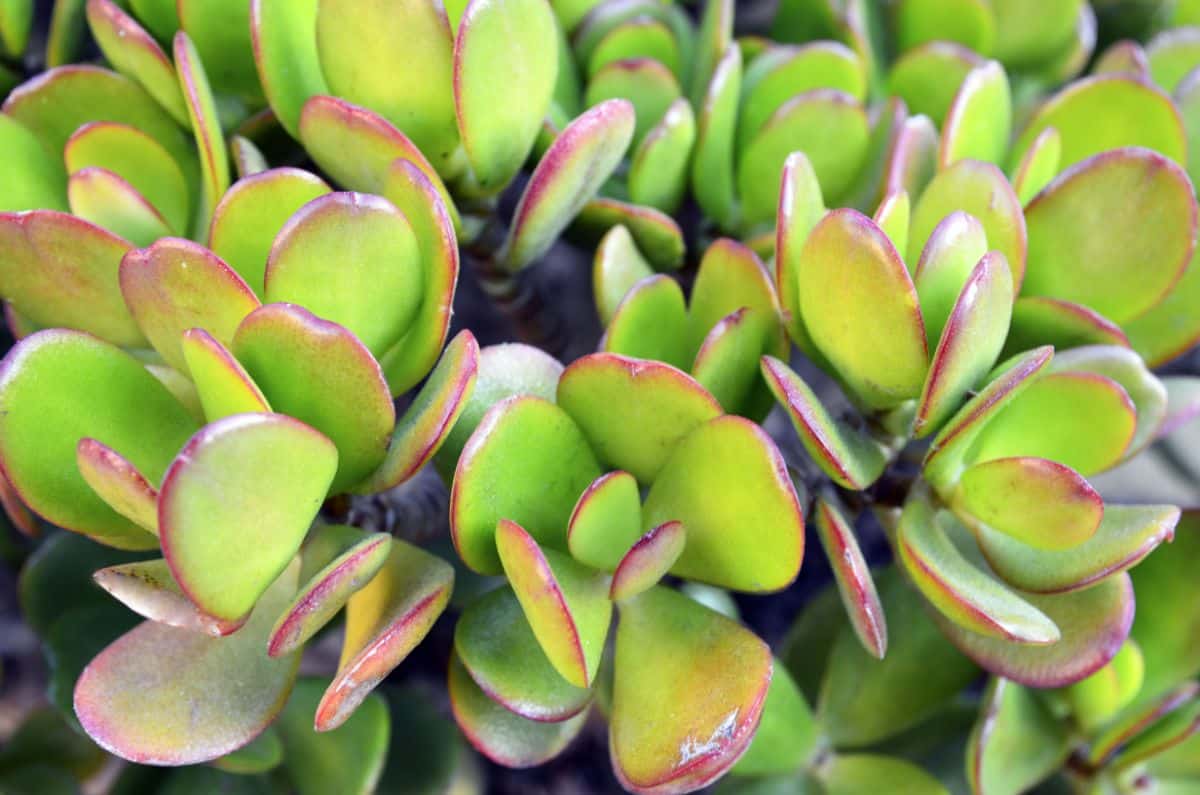 Buy it from:
The Tricolor Jade plant has thick, rounded leaves in a green and white variegated pattern. In ideal conditions and when grown in a big enough space or container, the Tricolor Jade can grow up to eight feet tall. However, with pruning it can be kept small enough to grow comfortably in a small container. In the winter, the plant produced cluster of white star-shaped flowers.
Like other Jade plants, the Tricolor Jade is a great choice for experienced and inexperienced gardeners alike. It grows slowly and prefers partial sun and adequately draining soil. It's also incredibly easy to propagate from cuttings.
Read Also: 5 Brilliant Black Succulents
Espostoopsis dybowskii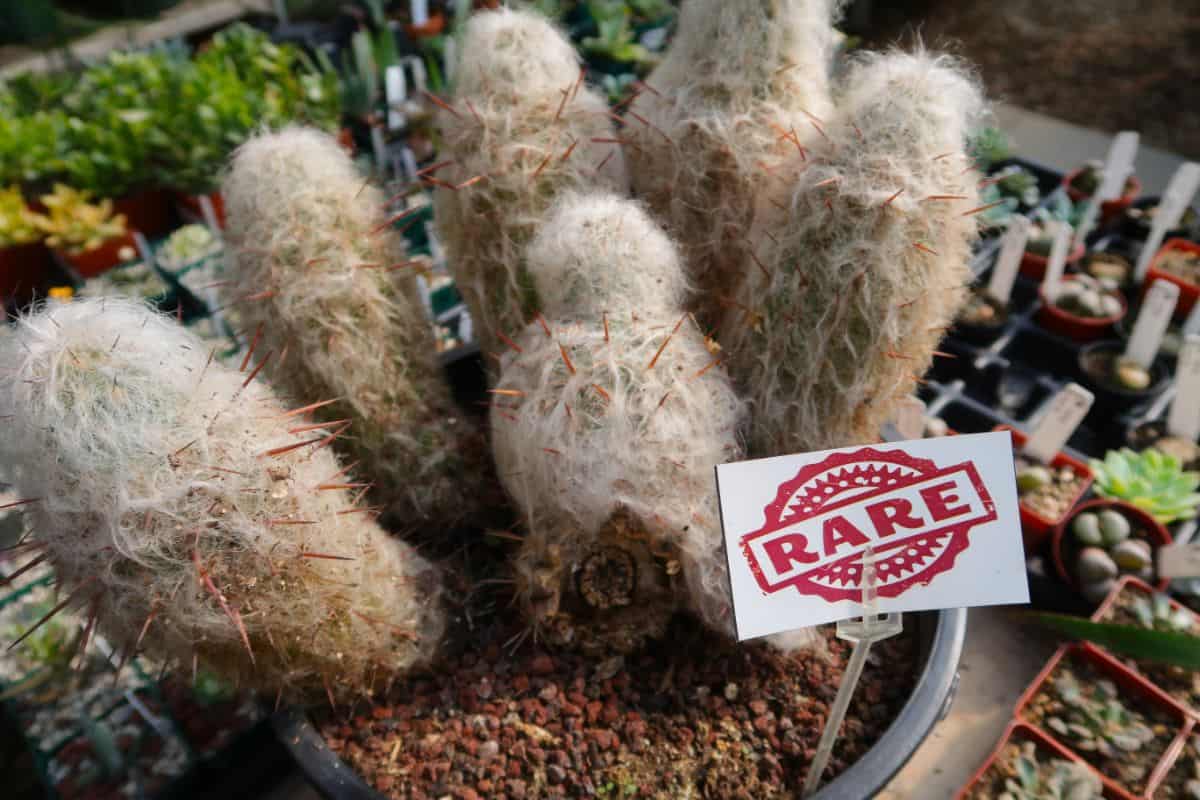 This furry cactus may remind you of the Peruvian Old Lady Cactus, but this one is native to Brazil, rather than Peru. It's a ribbed, columnar cactus that gets its unique appearance from the woolly white hairs that cover the stem. Long spines can be seen extending past the layer of white hairs.
Though not unheard of in gardening circles, Espostoopsis dybowskii is not a common species. It seldom reaches maturity in containers, but is often grown as a novelty because of its unusual appearance. It prefers full sun, but is sensitive to extreme temperatures.
Mammillaria gracilis 'Arizona Snowcap'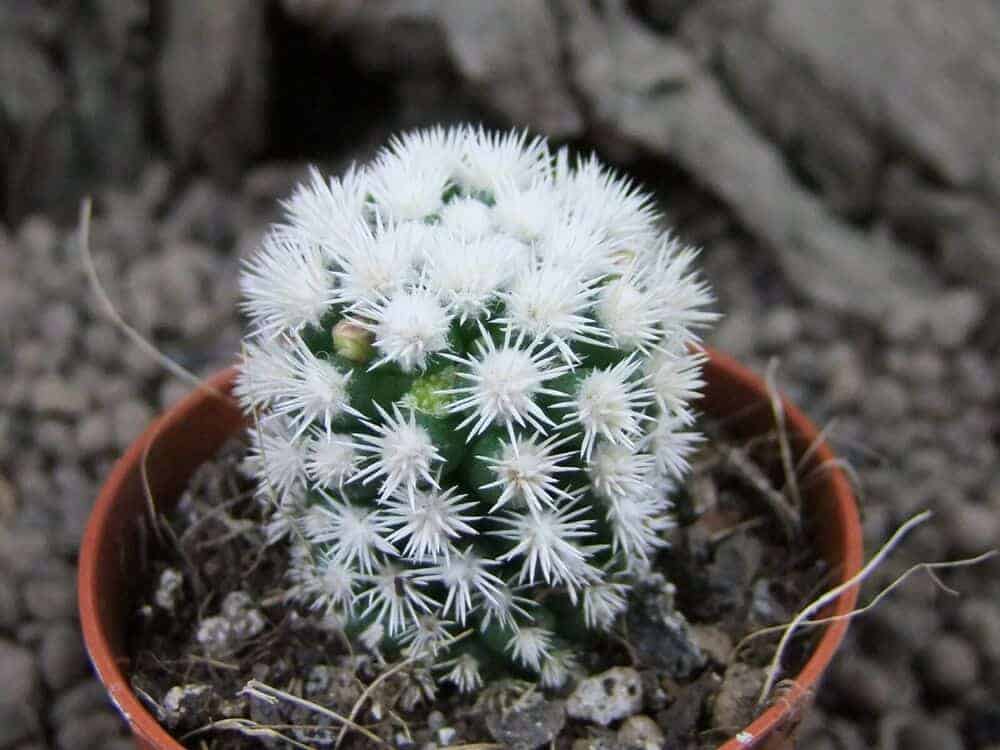 Buy it from:
The Arizona Snowcap is a petite cactus, typically only growing up to four inches in height at maturity. The green stems, which are around an inch in diameter, can be difficult to see beneath the thick layer of white spines.
Prolonged exposure to moisture must be avoided with this drought-loving cactus. They can develop root rot quickly if allowed to sit in damp soil for too long. Since this cactus grows in clumps, it can be easily propagated from the many offsets it produces.
Euphorbia lactea variegata 'White Ghost'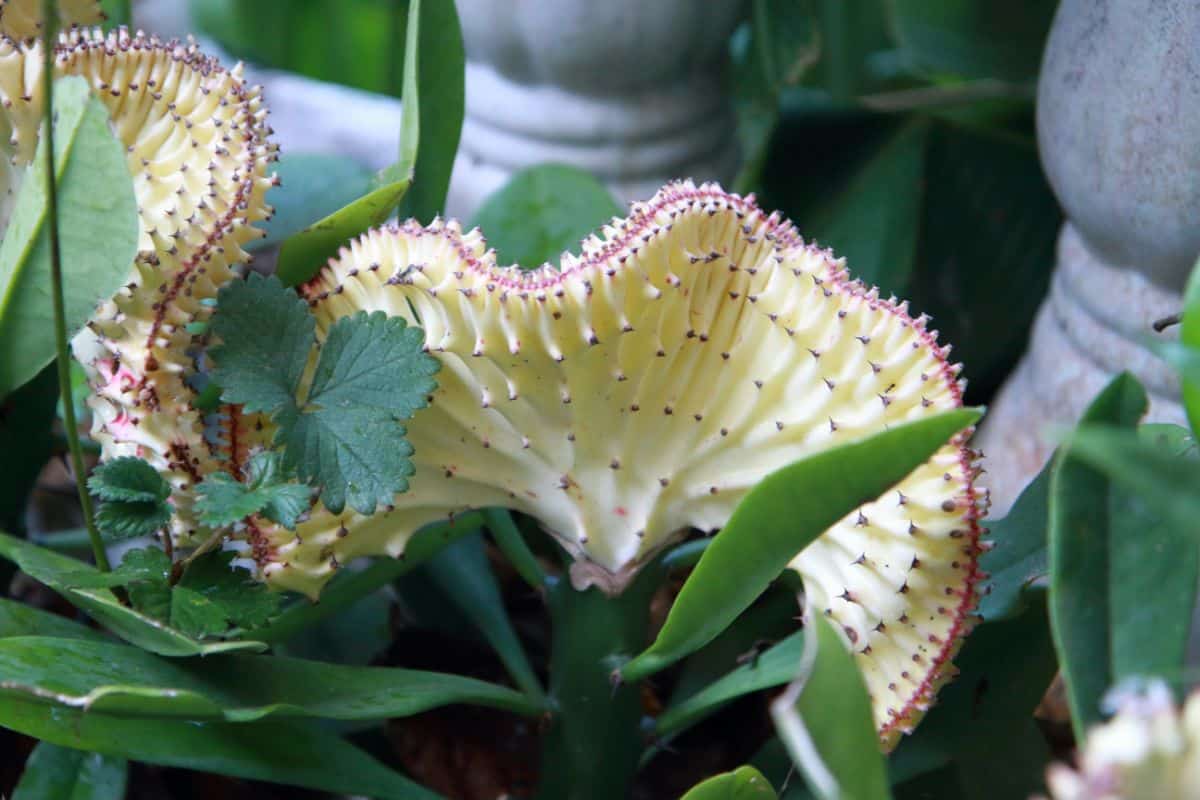 Buy it from:
This strange-looking cacti lacks the chlorophyl of other, greener cultivars. Its pale triangular stems grow in a candelabra formation and are covered in short spines. In ideal conditions, the White Ghost can grow up to ten feet in height.
Euphorbia lactea variegata should be watered when the soil is dry, but the plant won't thrive during long periods of draught like many other cacti do. It can be difficult to grow from seed and is best propagated from cuttings.
Dudleya gnoma 'White Sprite'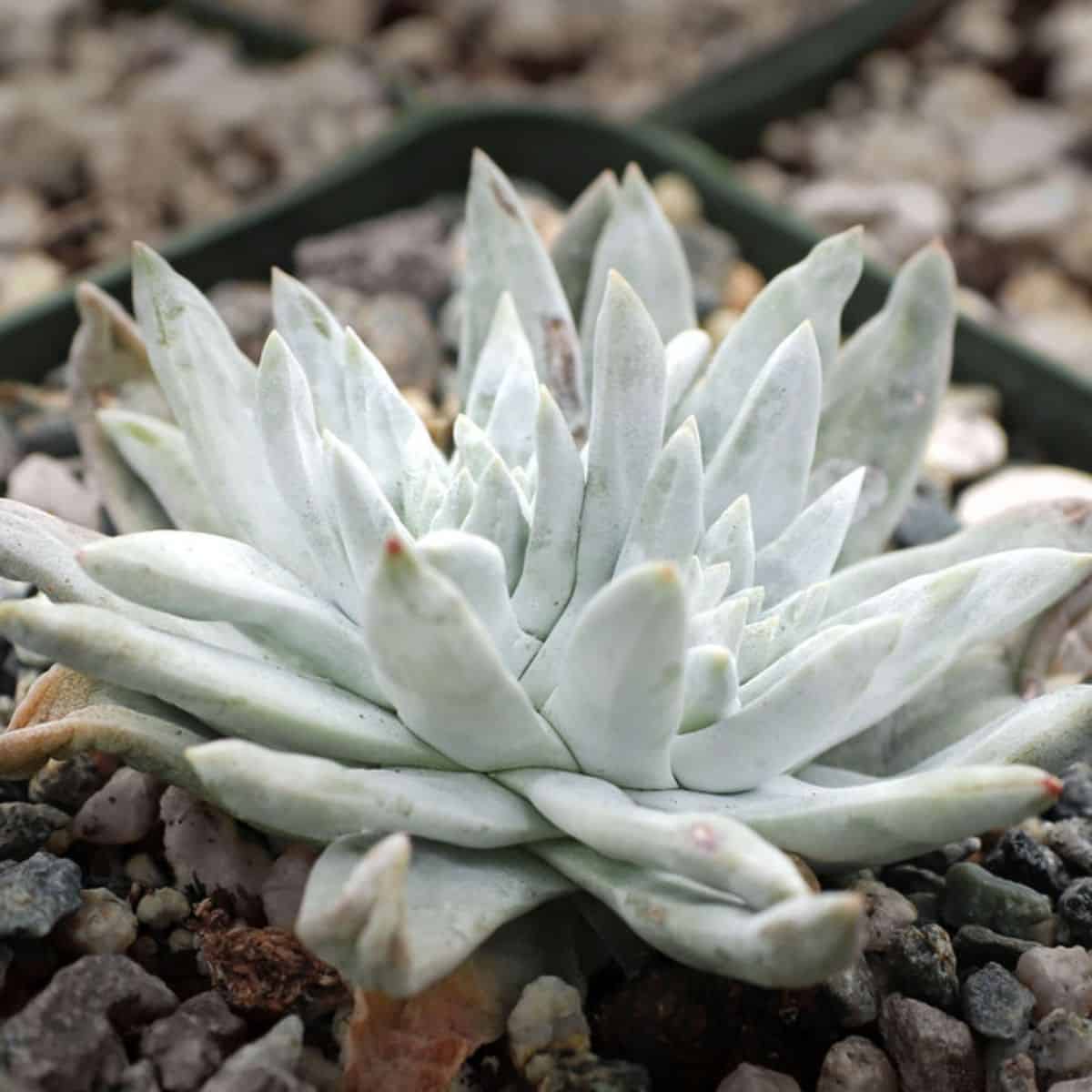 Buy it from:
Dudleya gnoma grows its ghostly-white leaves in a rosette pattern. The rosette of long, triangular leaves sits on top of a thick stem. Be careful when handling the White Sprite, as you can leave lasting finger marks on its delicate white leaves.
Dudleya gnoma is dormant during the summer, so it needs little no water during this time. It prefers well-draining soil and partial sunlight. This succulent is incredibly drought tolerant, but must be protected from particularly cold temperatures.
Agave titanota 'White Ice'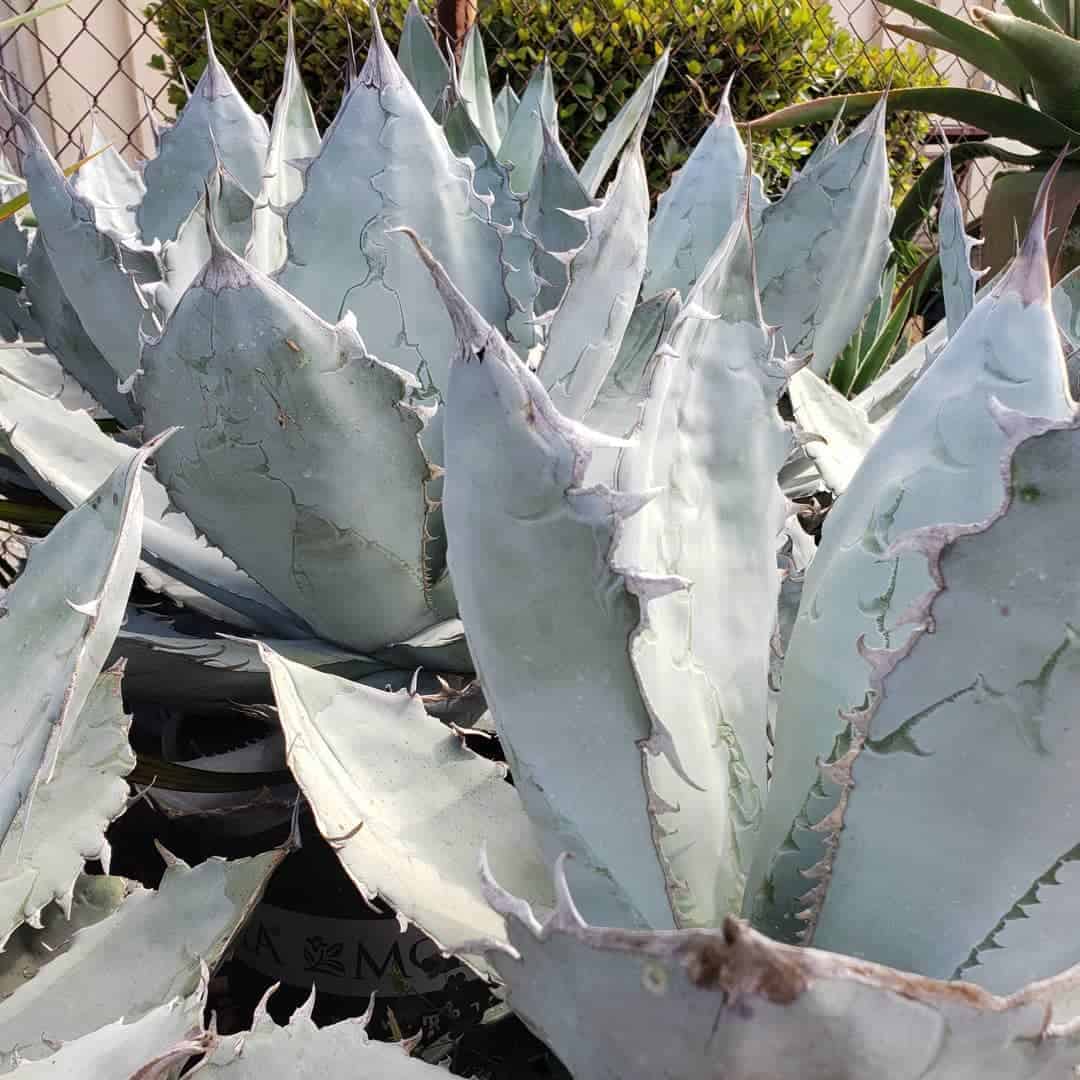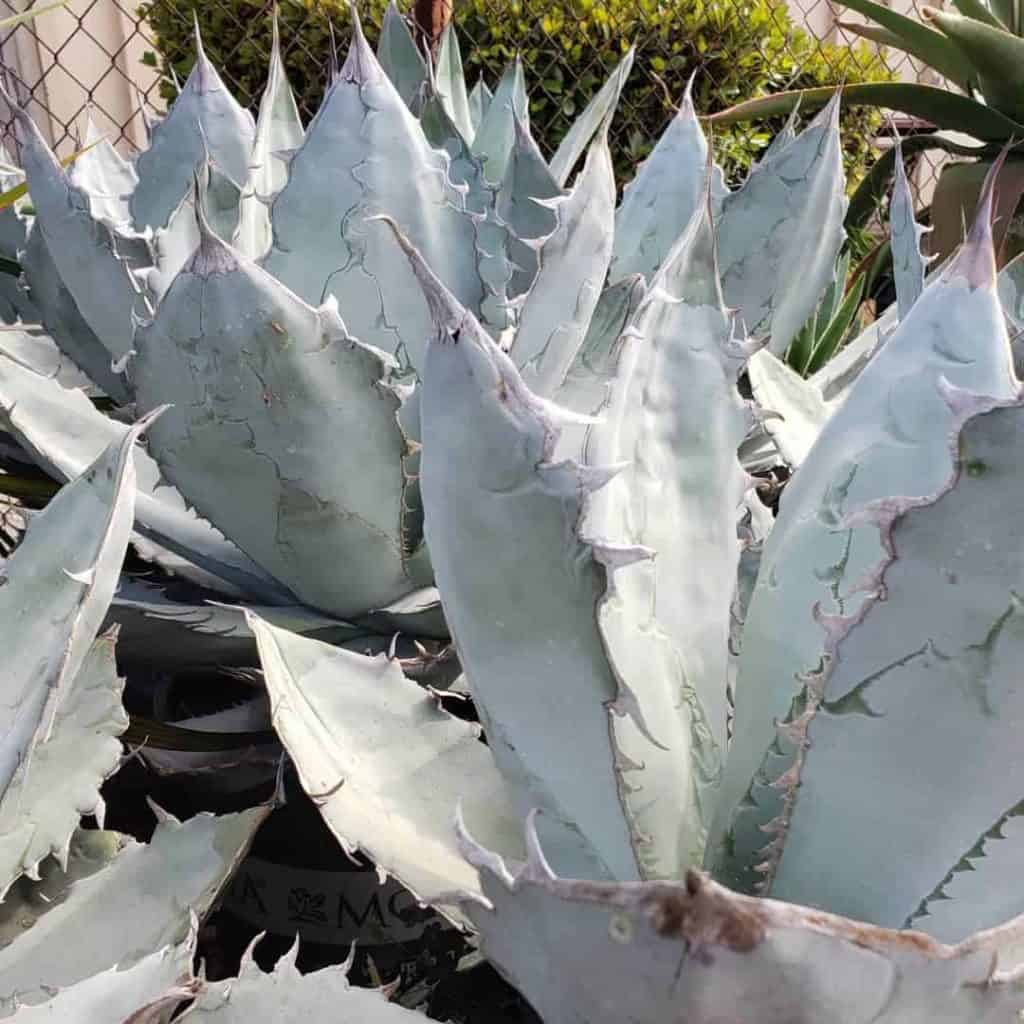 Buy it from:
This Agave is native to Oaxaca, Mexico and can grow up to 30 inches in diameter. It has whitish-grey leaves and can be grown in indoor or outdoor gardens, if the climate permits. The spiny leaves and irritating sap make it a less than ideal choice for gardens frequented by children or pets.
White Ice is a particularly easy to grow cultivar. It thrives on neglect and needs to be repotted infrequently due to its slow-growing nature. It prefers full sun and adequately draining soil.
Aloe sp. - 'Delta Lights'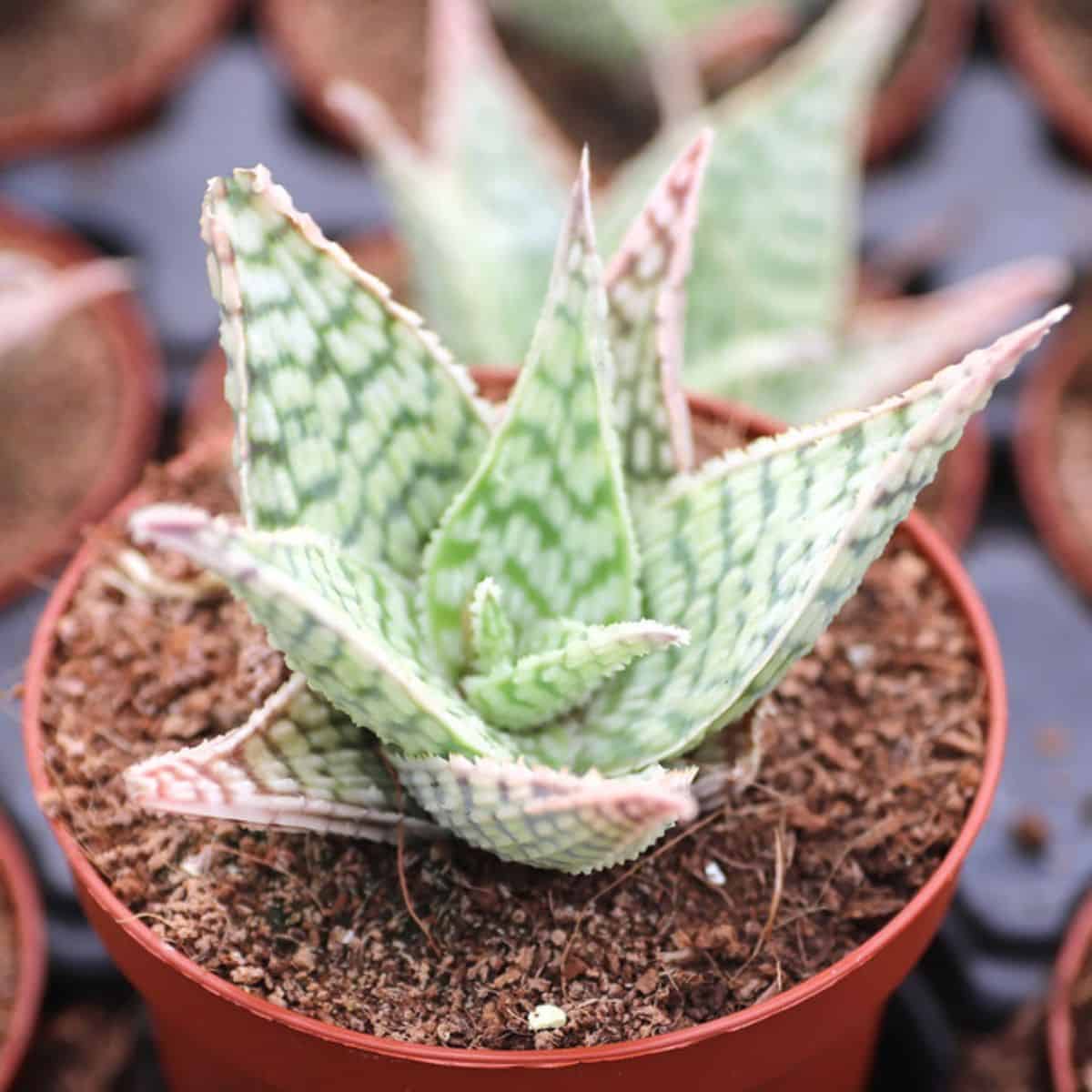 Buy it from:
If you are looking for something to brighten up your garden, then Delta Lights is what you want to add. This succulent can get up to two feet wide and one-and-a-half feet tall in the winter. It has a coral pink bloom that lasts throughout the season.
Their most important feature is how the white variegation creates bands along the leaves. The outer margins of the leaves are very slightly toothed. When looking at it from a distance it looks like the photo has been blurred. These plants do need full sun, but they can tolerate some shade.
Aloe sp. - 'Lizard Lips'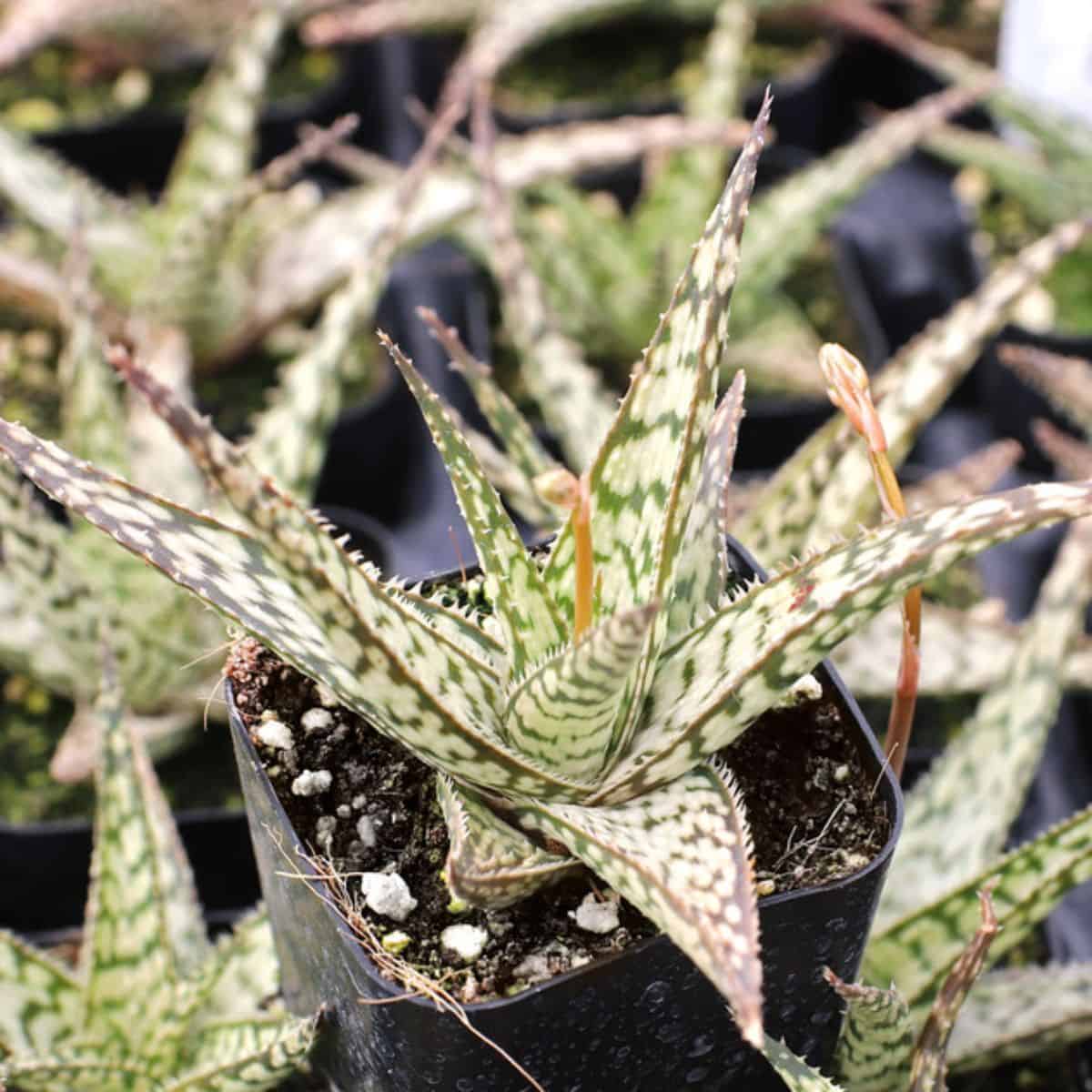 Buy it from:
Lizard Lips is very similar to Delta Lights. The variegation is quite similar with bands of dotted white mixed with thin lines of green. The teeth on this aloe are a little more pronounced, and take on a sharper look. One of the more marked differences for this aloe is that it has more tightly curved leaves as compared to Delta Lights. Like most aloe, Lizard Lips requires full sun and can tolerate some dappled sun. This species blooms in the spring and the summer, and has a beautiful peach colored flower.
Aloe sp. - 'Quicksilver'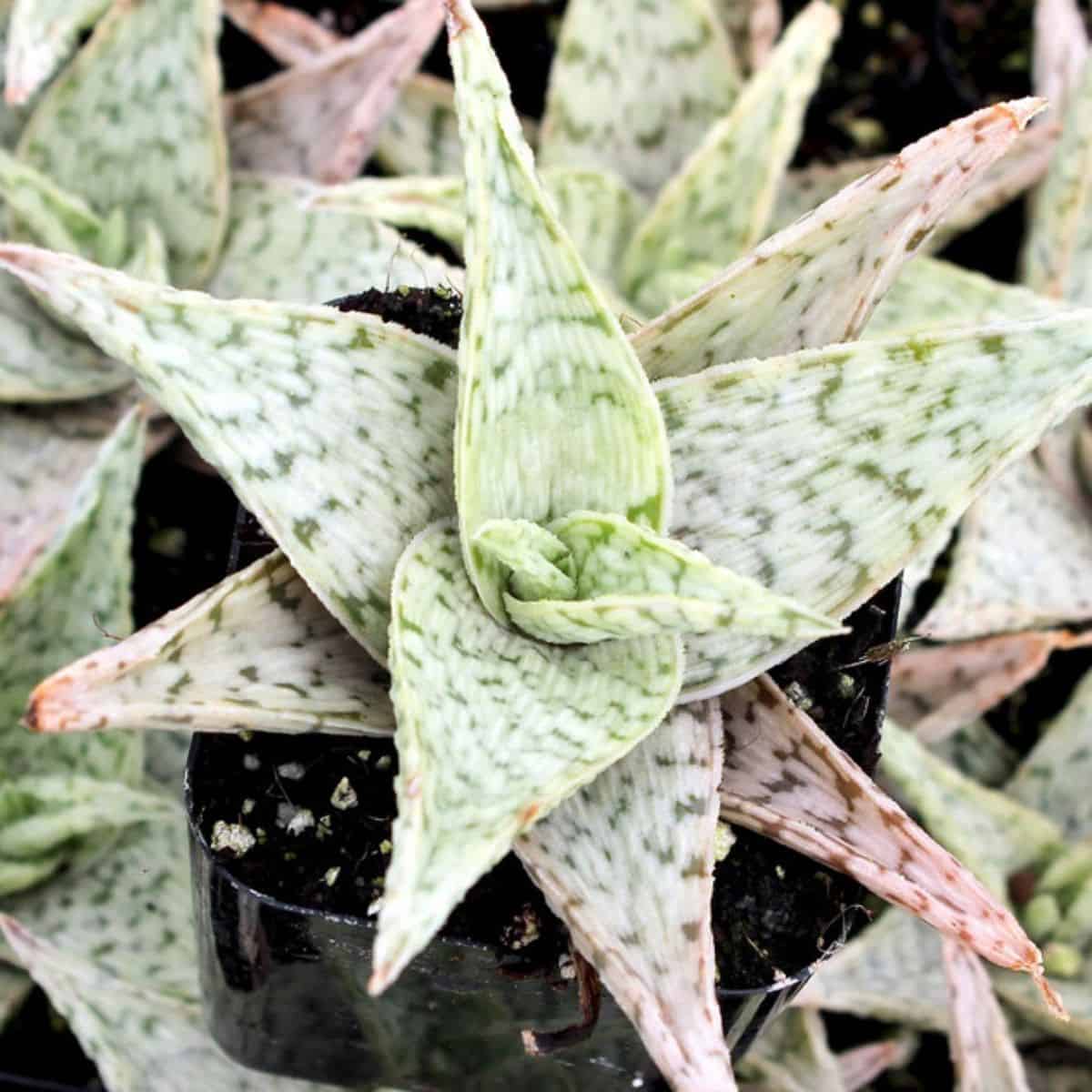 Buy it from:
Even though white variegated aloes look very similar, it's important to remember that each of them has a variety of bands of white and green. This is what sets them apart from one another. Quicksilver is primarily white. It looks like it has small speckles of green along the leaves. The teeth along the margins are very small, and almost look like the teeth of a whale. Quicksilver has bright orange and tubular blooms and they also do well and are very hardy in zone 10
Aloe sp. - Doran Black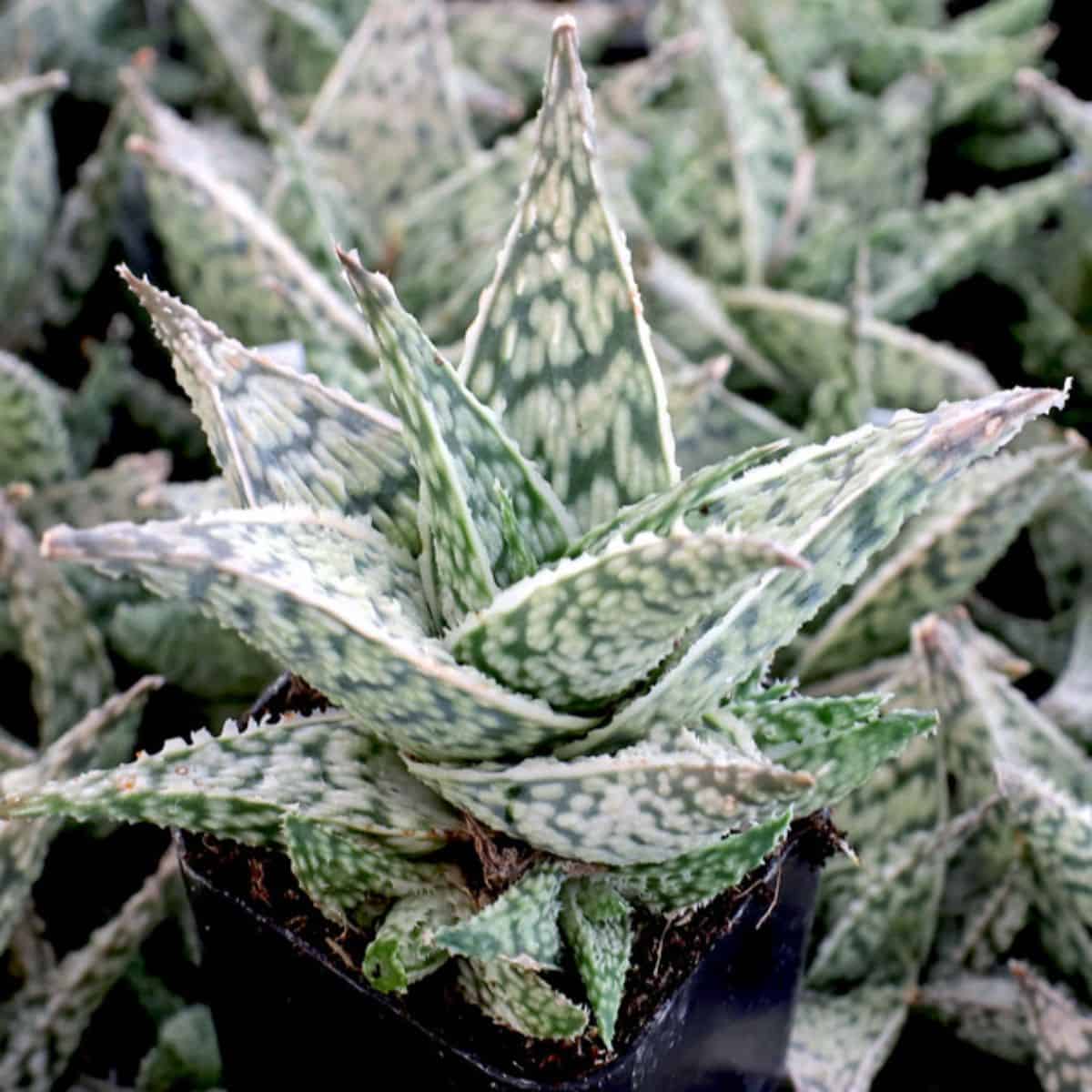 Buy it from:
The Doran Black is a very interesting species of aloe. Rather than the thin, gently curved leaves of most aloe species, the Doran Black has much thicker leaves and a very bumpy surface. The white variegation along the leaves is what forms the bumps. They aren't too terribly spiny along the margins and have very jagged spikes. You can use brighter light or intense full sun to bring out a beautiful coppery pink tinge to the leaves. In my opinion, the green of the Doran Black does take on a darker hue compared to other white variegated aloes.
Aloe sp. - 'Snow Drift'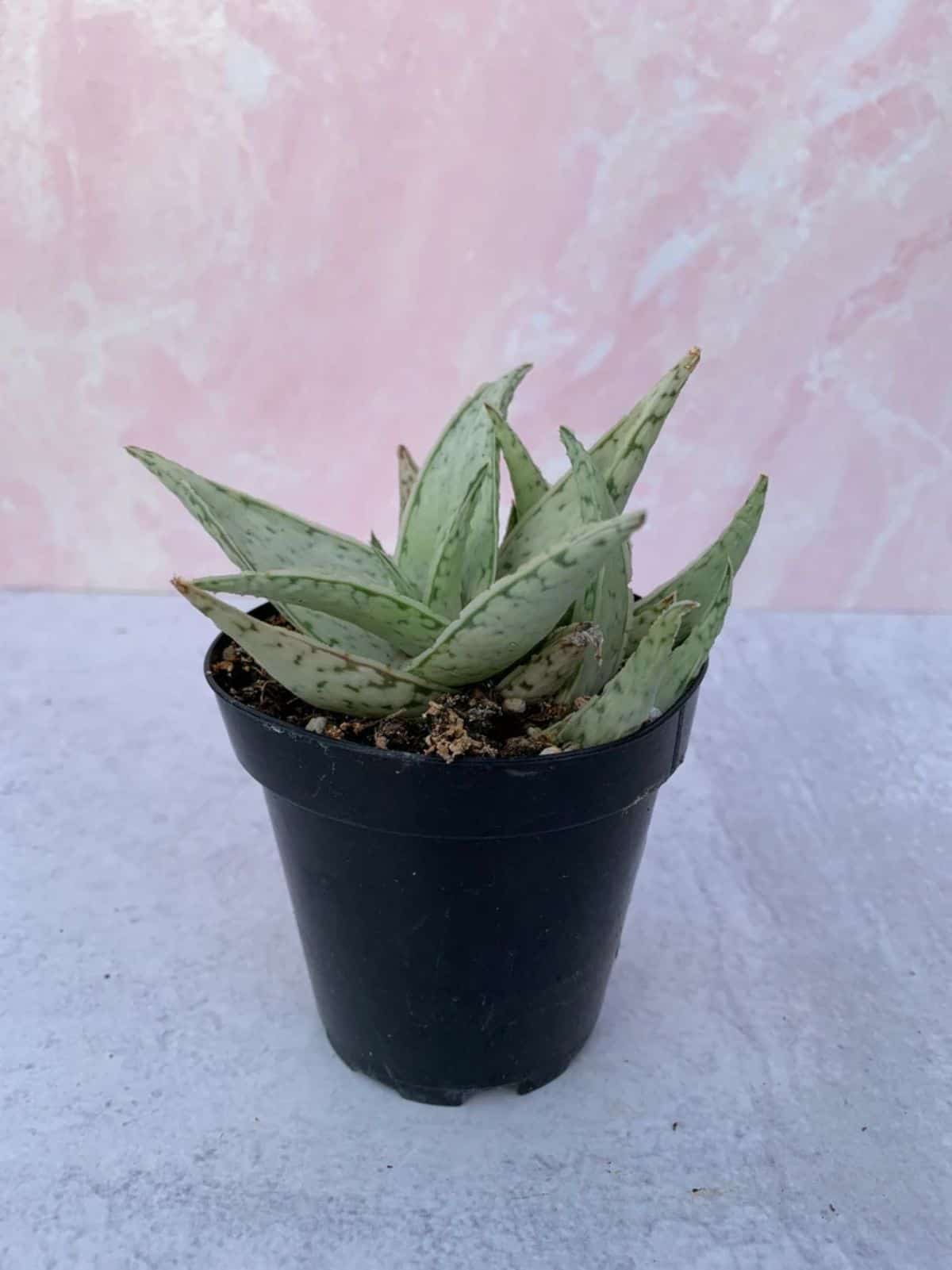 Buy it from:
If you are looking for a true white aloe, then this is as close as you're going to get. Snowdrift is almost completely white, with small spots of green appearing primarily along the margins. It is not a sharply toothed variety, and the margins are pronounced with thick edges. Like many aloes, this species can also grow quite large, but also does well in smaller pots.
Cotyledon orbiculate - 'Happy Young Lady'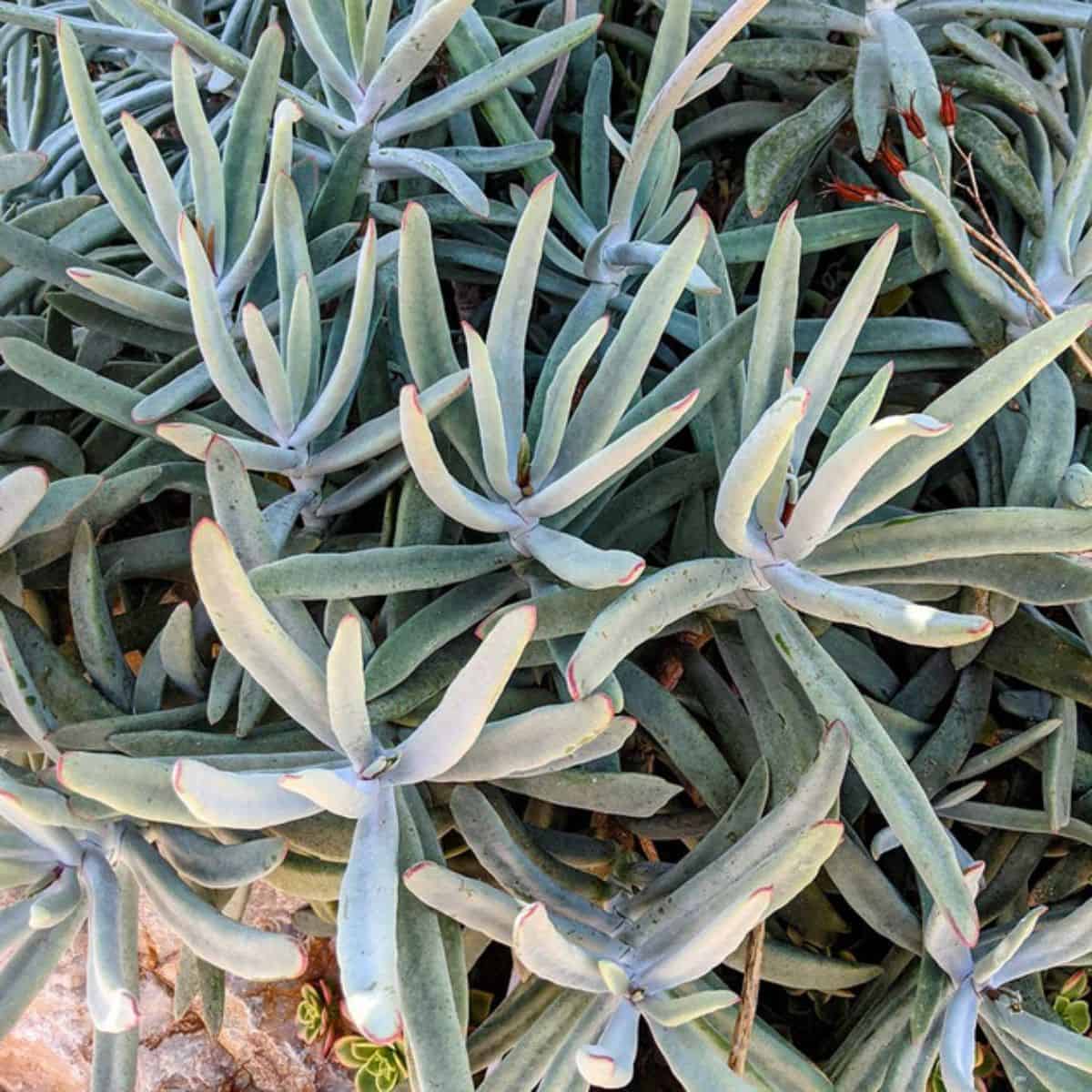 Buy it from:
The happy young lady is a light green succulent. This is primarily because of how much Farina they produce. The tip of each leaf is a dark burgundy red, but the remainder of the oblate leaves are a light phantom green. They do produce coral flowers in the fall, and they continue to grow straight up rather than out in a rosette shape.
Crassula sp. - 'Reia'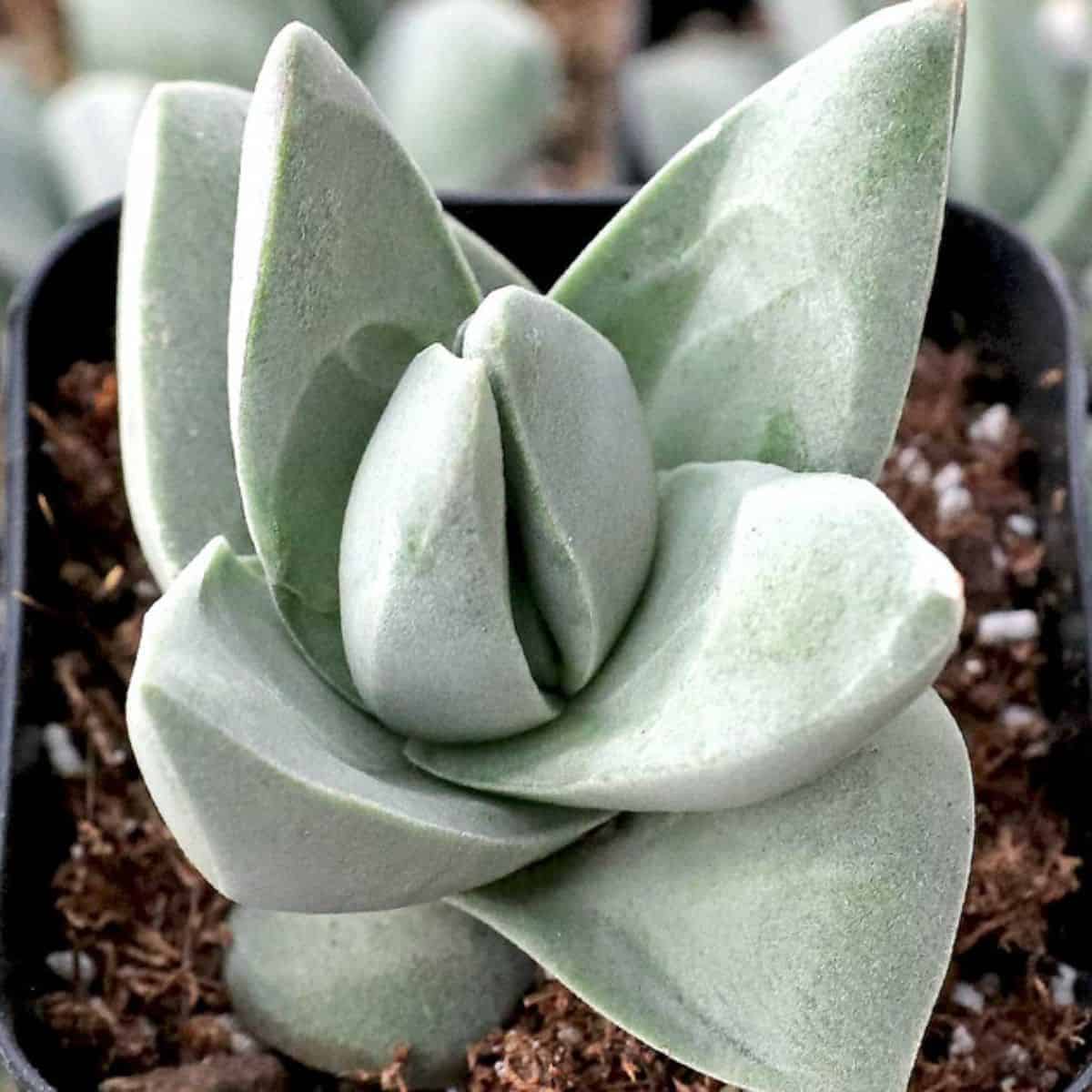 Buy it from:
Crassula's are always fascinating with their triangular shaped leaves and how they build almost a pagoda like structure. This species of crassula is a very light green thanks to the white scales that cover the leaves. with this species, you cannot see the stem since the leaves are packed so tightly. Like many crassulas, this species is known to have very thick leaves that form a plush triangle in their profile.
Echeveria albicans - Whitening Echeveria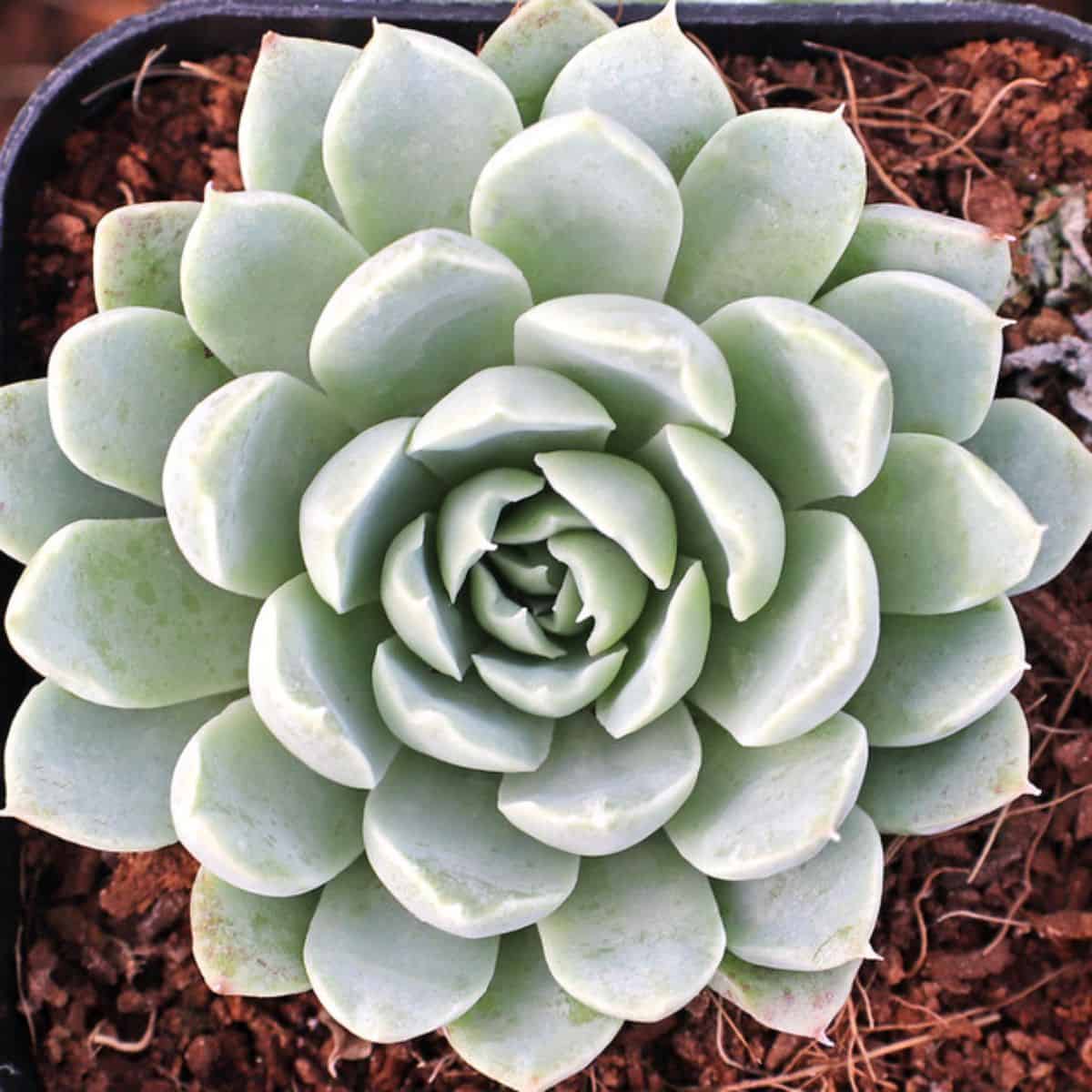 Buy it from:
It should come as no surprise that the majority of the next few succulents are going to be echeverias. The genus echeveria is a very broad one. Because of this, it is the most accessible genus to purchase. Fortunately, they are also some of the easiest succulents to care for. The Whitening Echeveria is known to maintain a light, almost white green color when grown inside. If you decide to grow this species outside, be prepared for a blush pink to start appearing at the tips of all the leaves. This echeveria does have more rounded leaves, with one spine at the tip. The stem is difficult to see, and the species readily sends out new chicks.
Echeveria sp. - 'Bambino'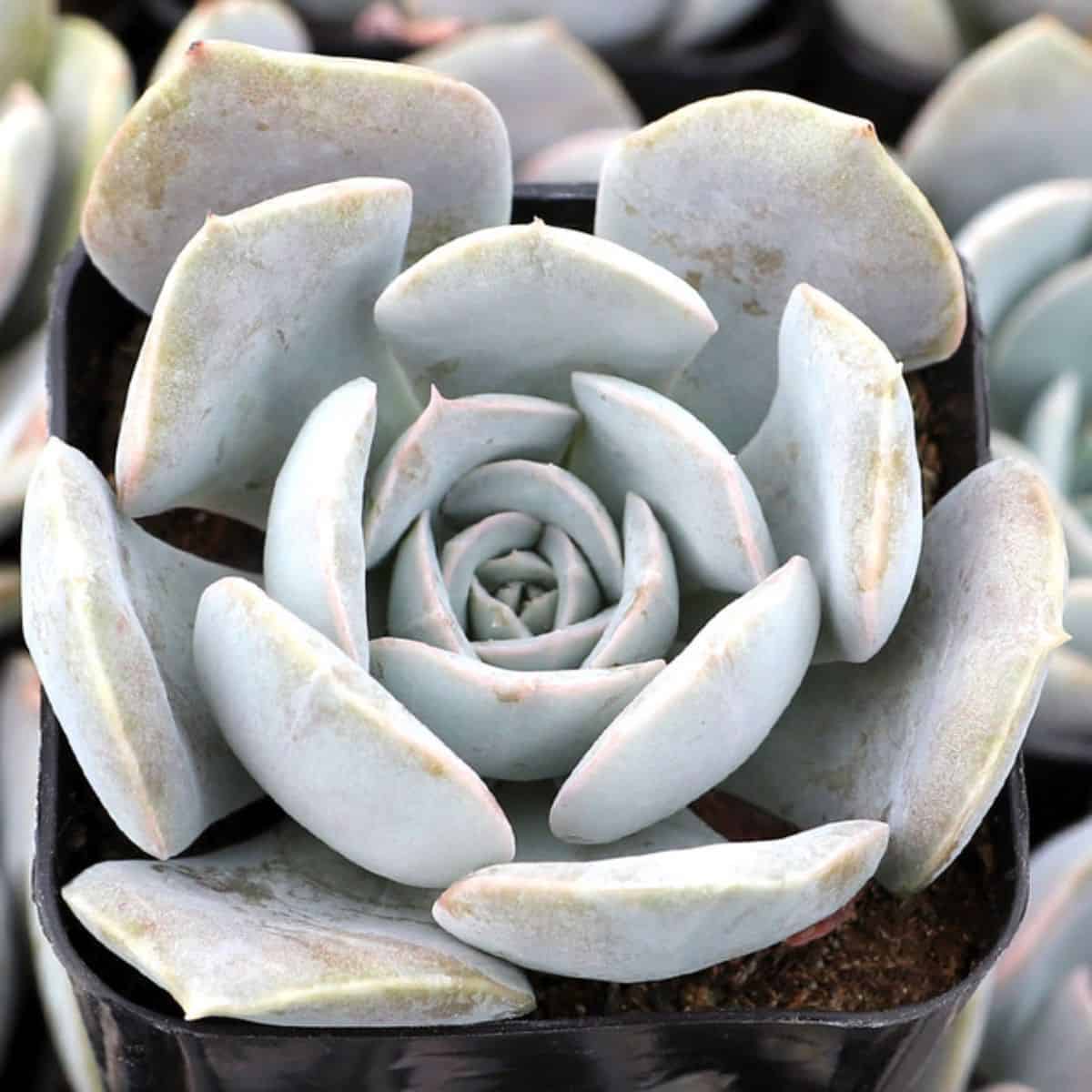 Buy it from:
Compared to the Whitening Echeveria, the Bambino is very similar in its coloration. The major difference is that the leaves are more of a bluish white rather than a greenish white. The leaves are much larger and take up a lot of space in the rosette. The leaves tend to look like a spoon as well. When stressed, they will take on a slightly darker color at the tips of the leaves. One of the most stunning elements of this echeveria, is that it produces bright red flowers during the spring and summer.
Echeveria cante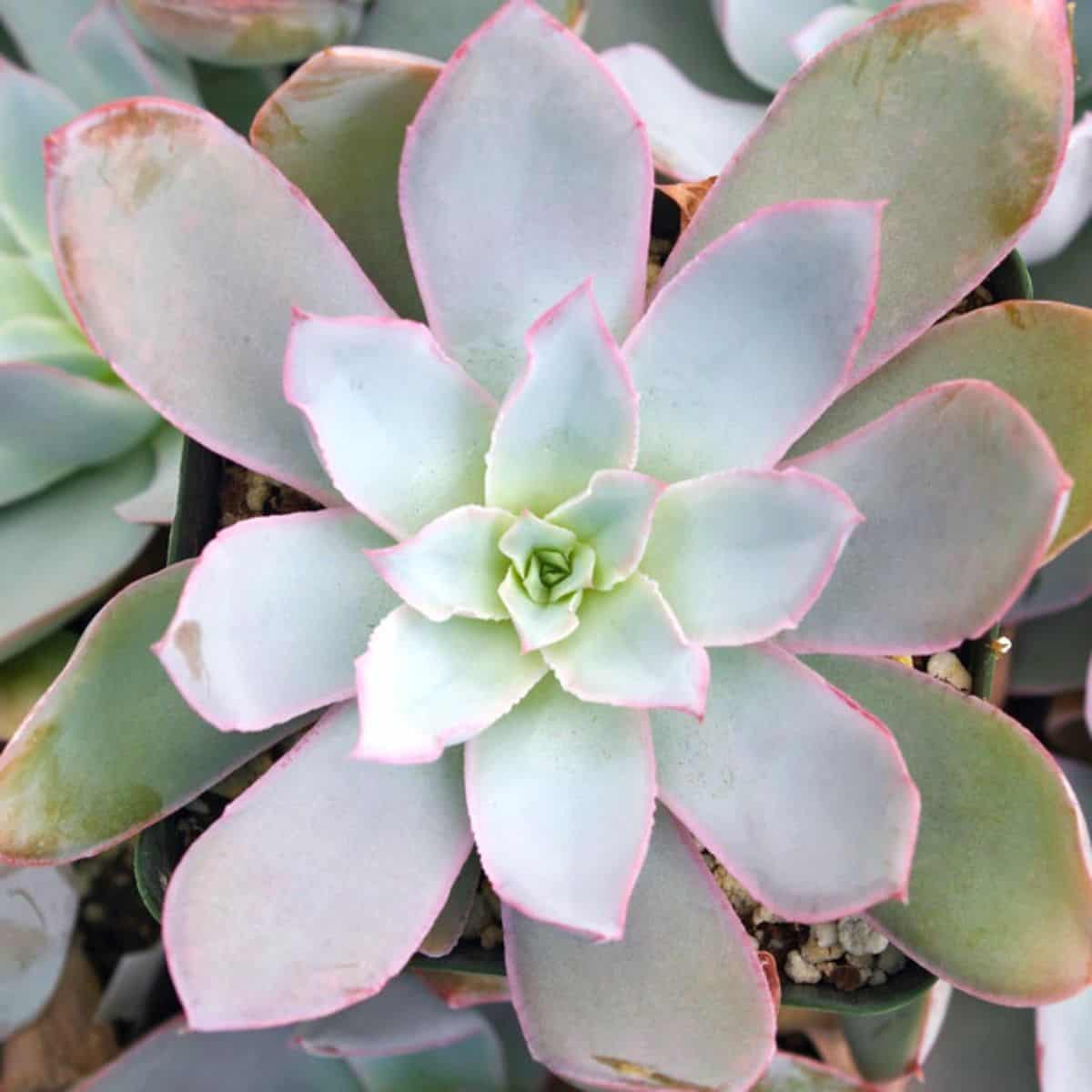 Buy it from:
If you're looking for an ethereal white succulent, then this echeveria fits the bill. These are a type of echeveria that doesn't grow offshoots readily. You can force a plant to grow an offshoot if you cut out the center of the rosette. This species can get up to one to two feet wide and grow solitarily. The most beautiful aspect of this echeveria is the whitish blue leaves with soft pink margins. The leaves are oblate with fine tips at the end. This species tends to bloom in the summer with large one-inch red orange flowers.
Echeveria sp. - Elsa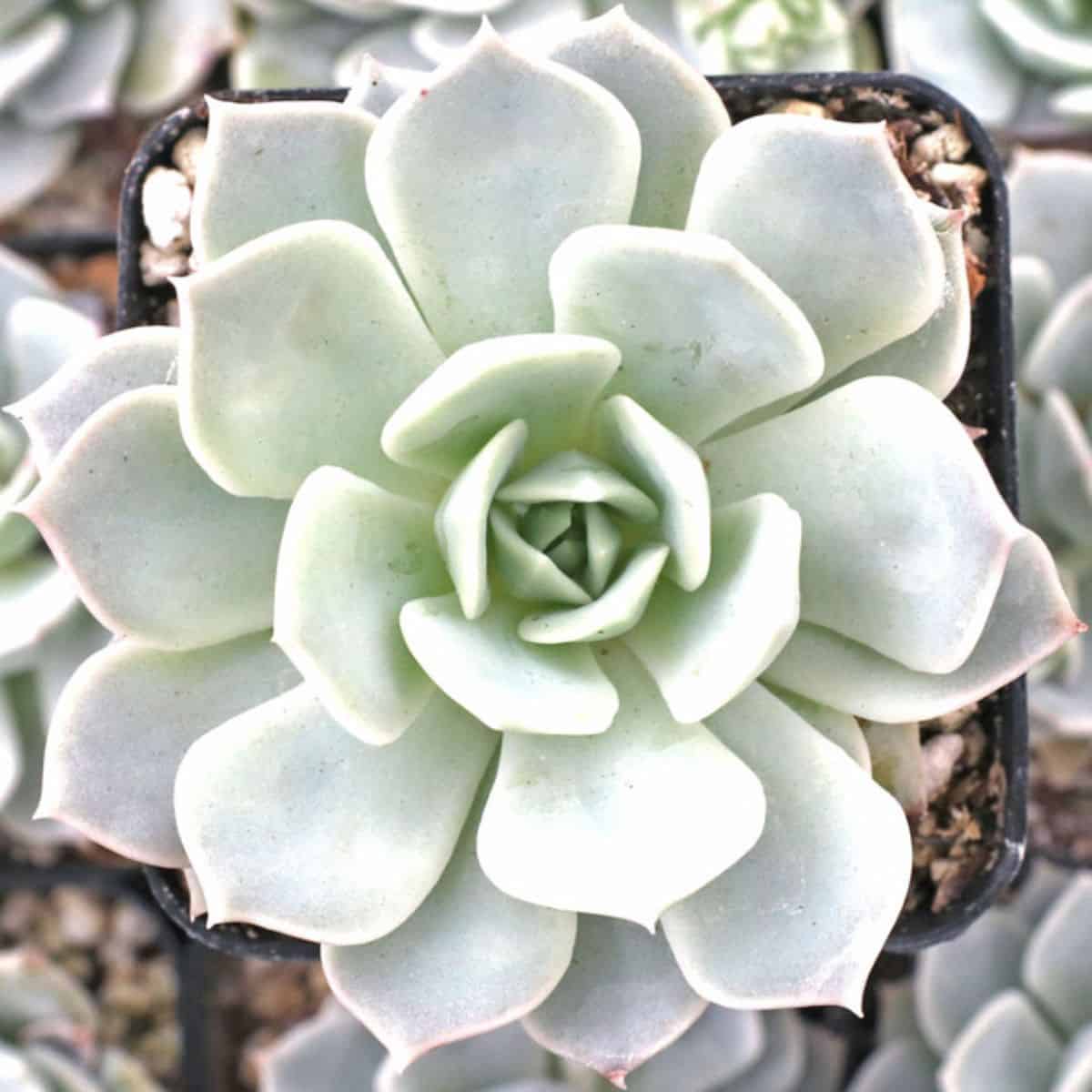 Buy it from:
The Elsa is a beautiful, delicate, and stunningly white species. They have well shaped rosettes, with spoon shaped leaves. From a profile, the leaves take on a triangular shape. When grown inside, the Elsa will stay a bright white green. When exposed to higher amounts of sunlight, this echeveria will start to blush pink along the margins.
Echeveria laui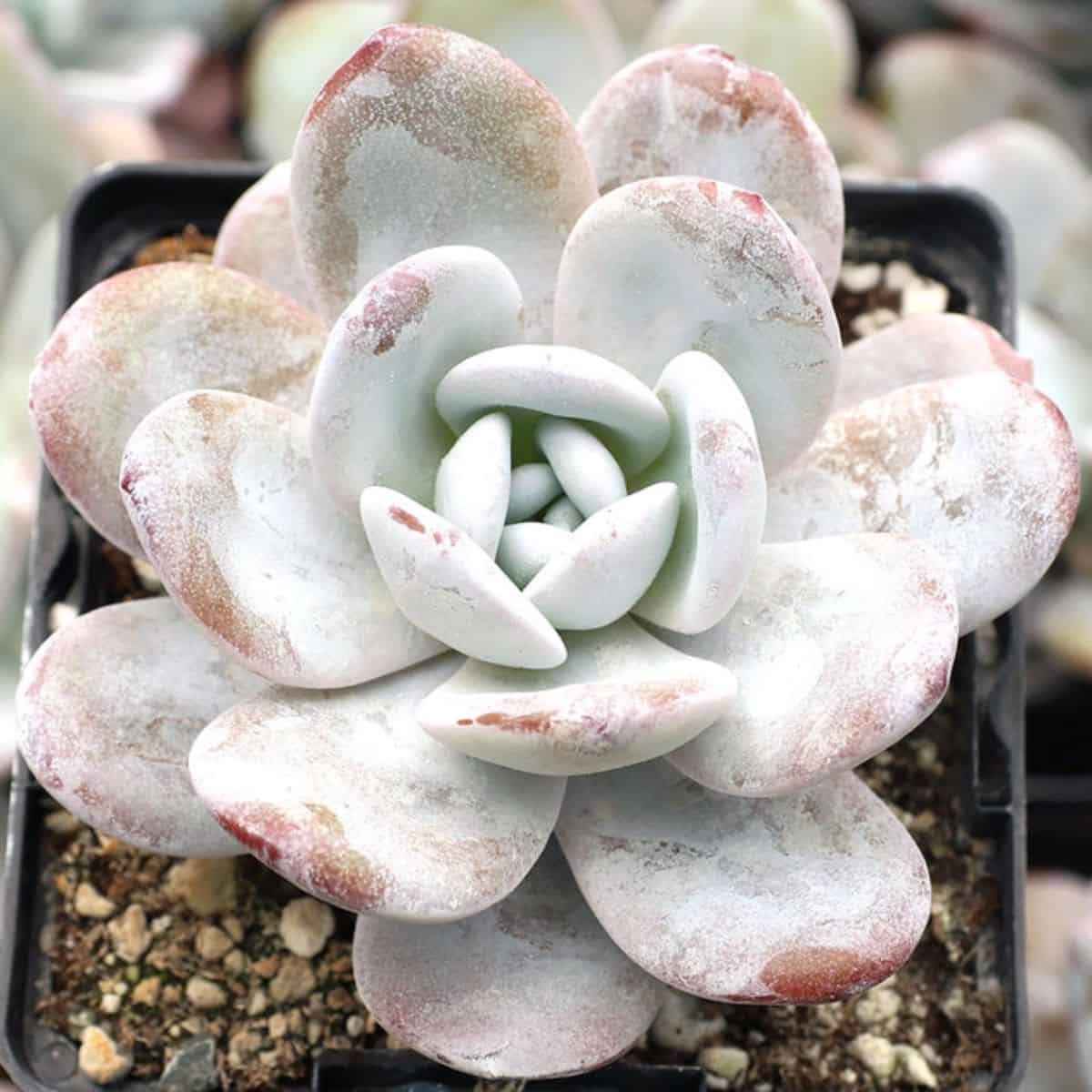 Buy it from:
This species is one of the most popular collector editions. An extremely thick coat of farina is what gives this echeveria it's haunting whiteness. The center of the plant tends to take on a buttery yellow color, while the leaves even though they're covered with farina, are actually a deeper red. Instead of growing upwards, or at an upward angle, laui tends to grow outward with a very slight upturn. Another notable aspect is its adorable plump leaves.
Echeveria lilacina - Ghost Echeveria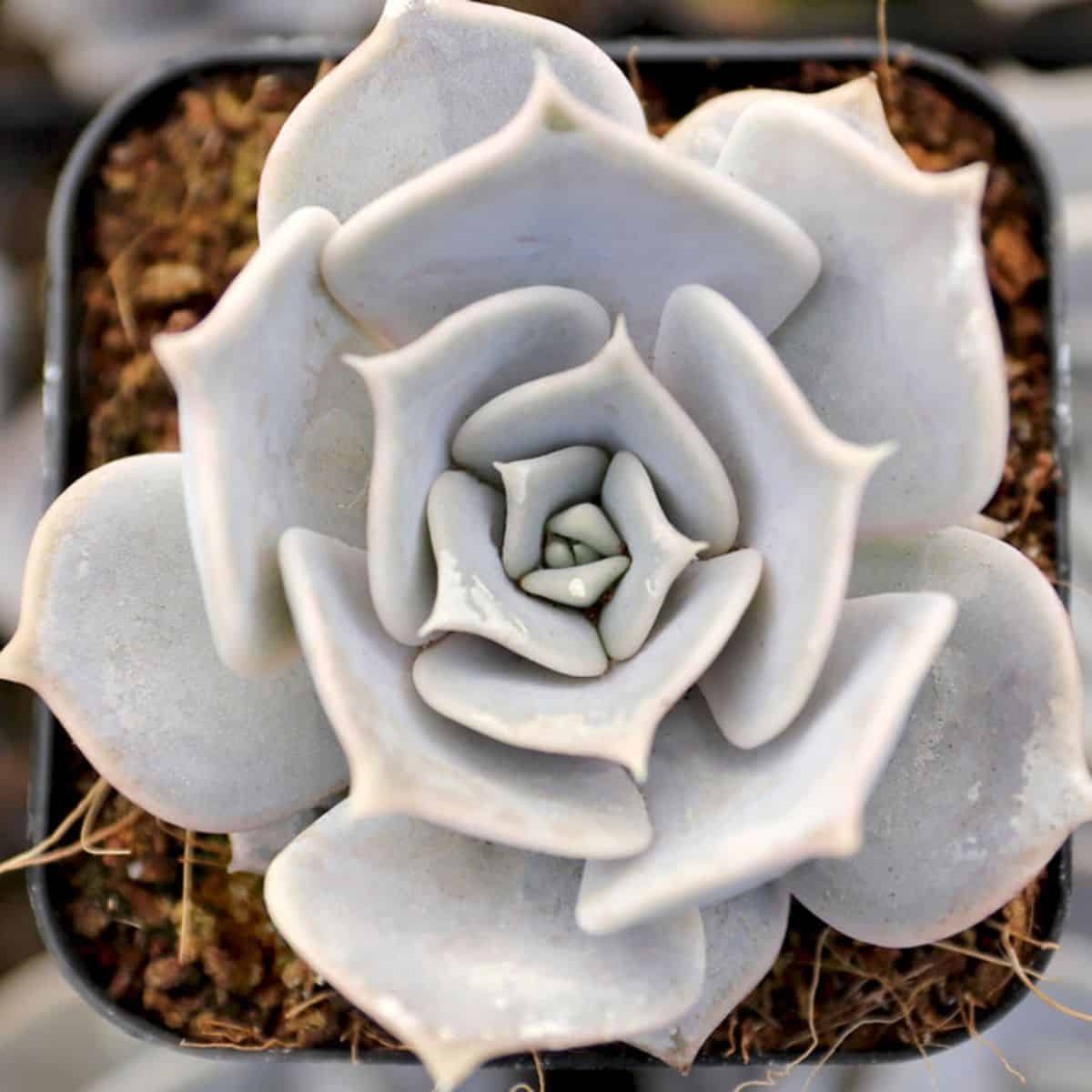 Buy it from:
If you're looking for a tough little beauty, then the Ghost Echeveria is something that you want in your garden. They are well known for being slightly purple or lilac, however the amount of farina can change how pale or white the leaves appear. It does have a very open rosette that allows you to see each individual layer of leaves. Like many echeveria, the leaves are rather spoon shaped and come to a very fine tip at the end.
Echeveria runyonii - Pink Edge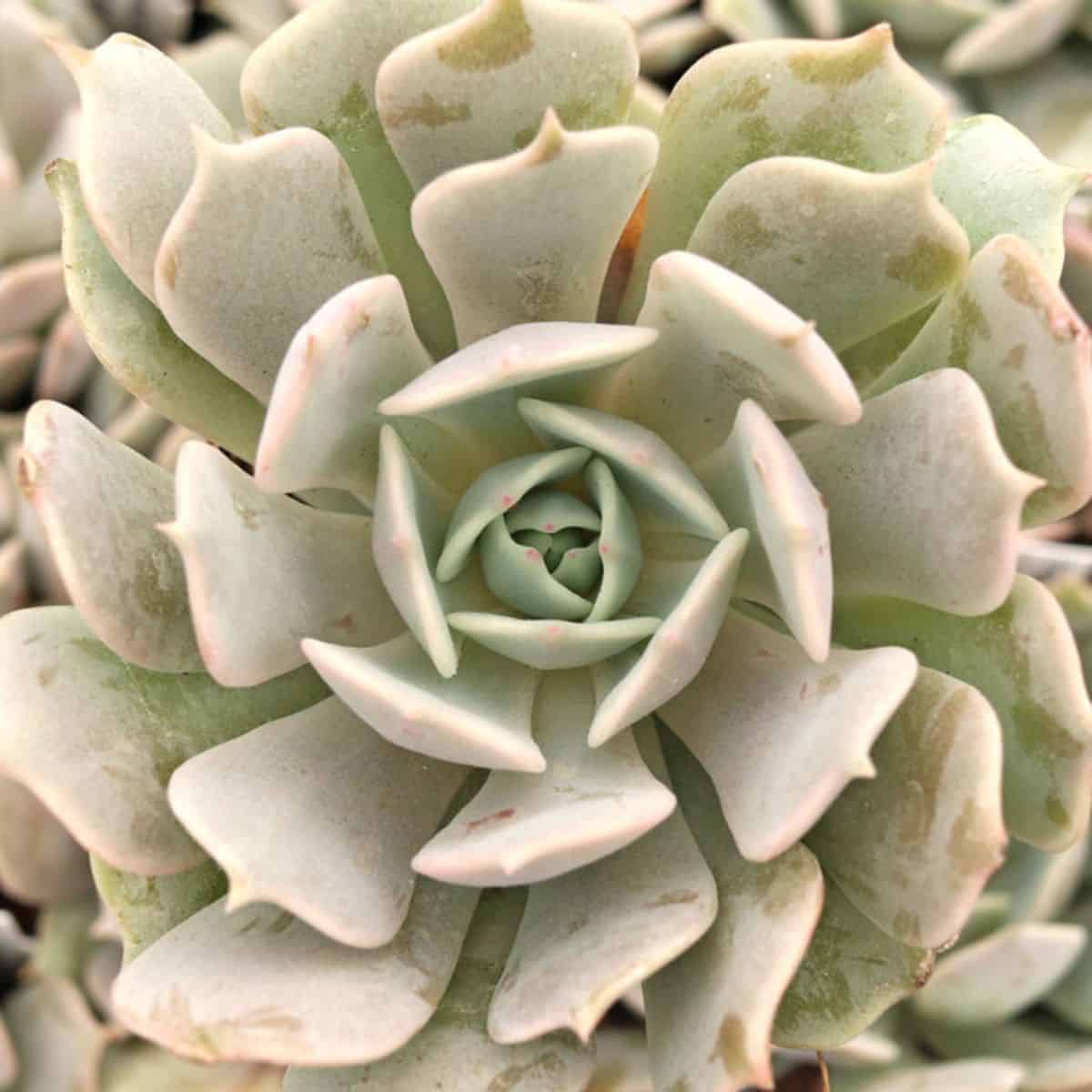 Buy it from:
Don't let the name fool you on this one! While the Pink Edge does express pink colors when under more stress, the primary color is white with a light green. The leaf orientation is slightly more chaotic as the species gets older. Instead of perfectly aligned leaves, the rosettes instead alternate the leaves and at times can have rows of leaves that are almost perfectly in line. The leaves are very thick and spoon-like and are covered in a lovely coat of farina. This is a species that can grow into a very large clamp. The rosettes do have the potential to reach anywhere from five to six inches in diaameter.
Echeveria sp. - 'Stella Blanc'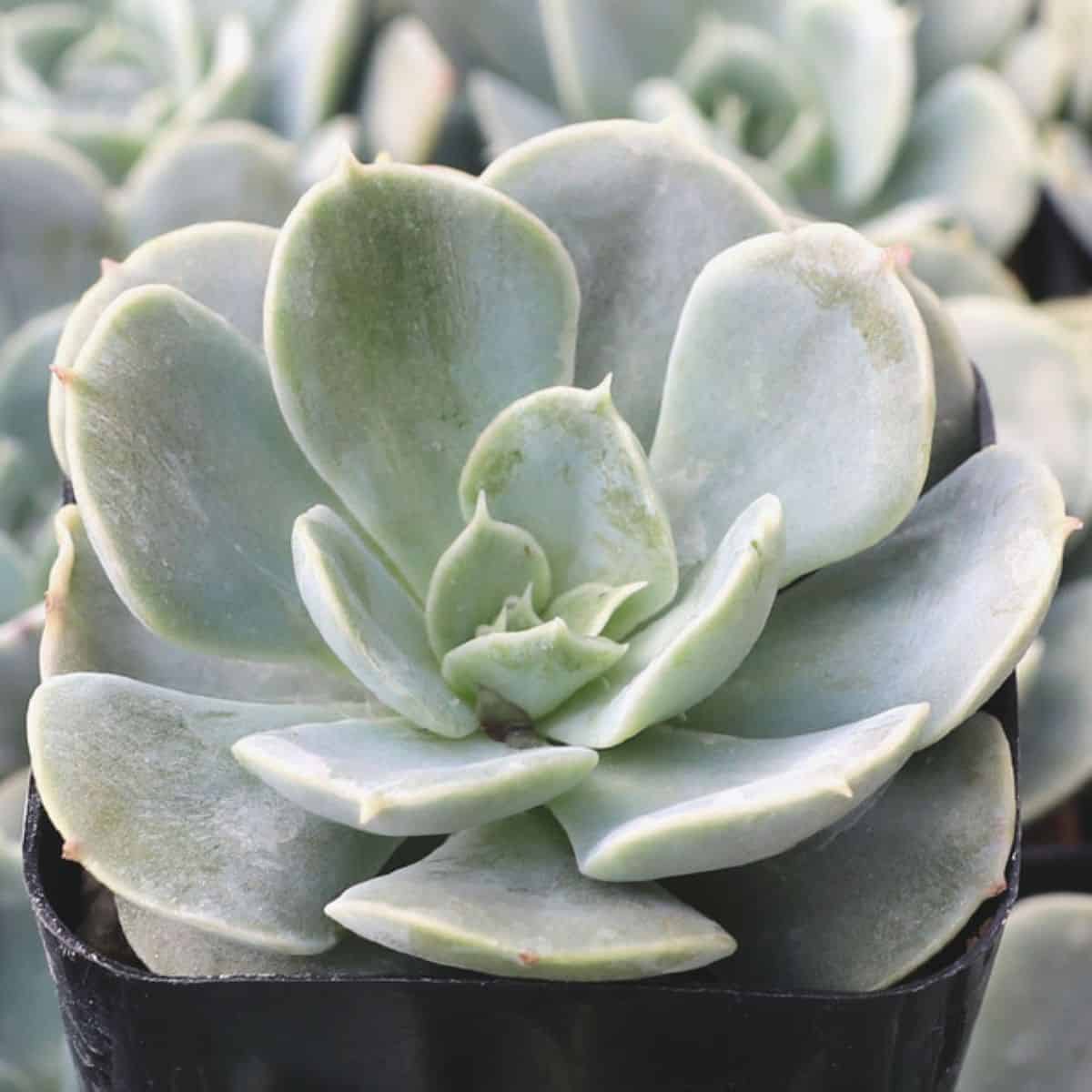 Buy it from:
The Stella Blanc is another farina coated species. This species does tend to take on more of a forest green color when the free Anna has been rubbed off. They propagate well and like the pink edge, they can self-propagate. However, the Stella Blanc does take longer to form a well-established clump. Their leaves are thinner and take on a more rounded teardrop shape. The stem can partially be seen at times as the rosette is less compact than others.
Echeveria tolucensis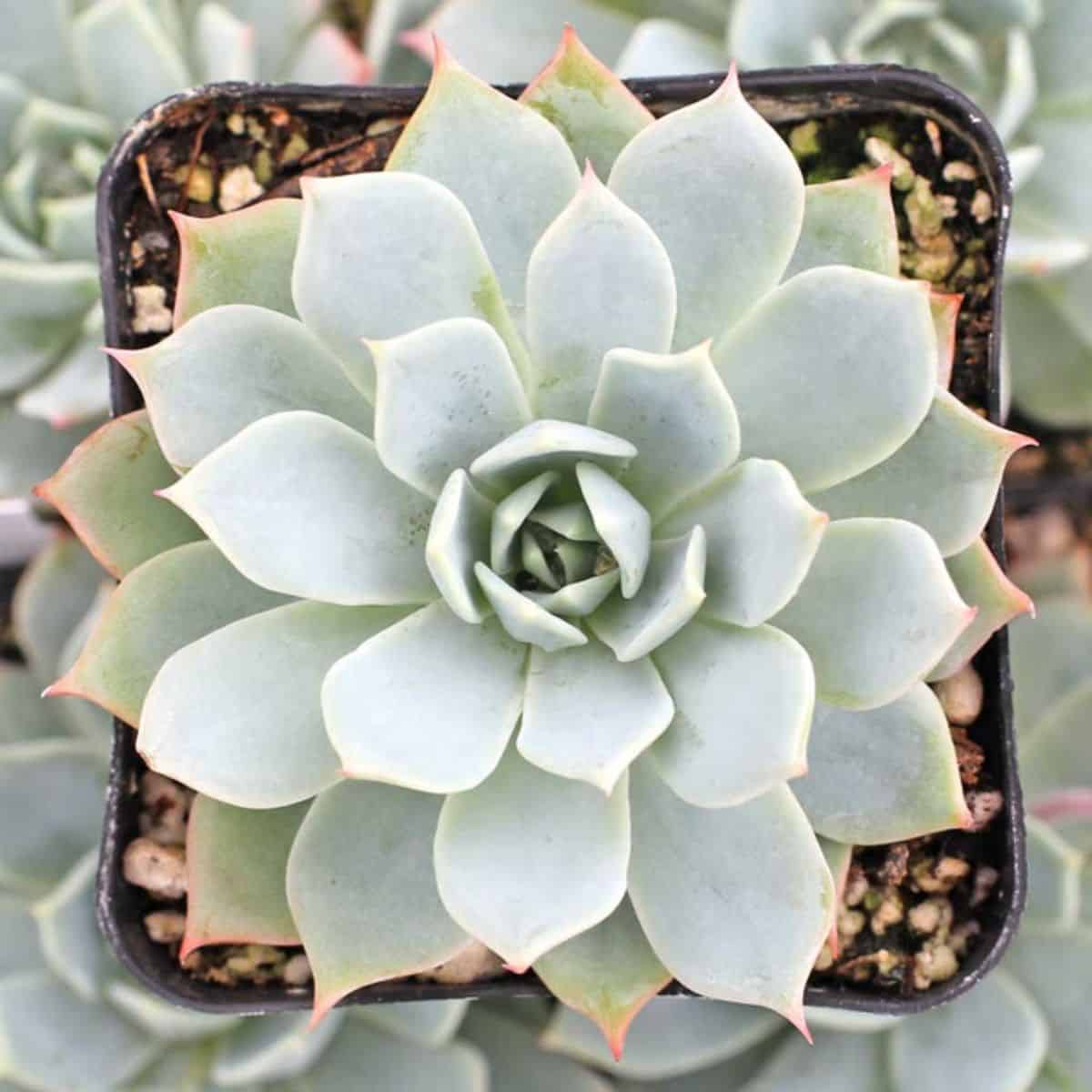 Buy it from:
A personal favorite, thanks to its prominent appearance, the tolucensis is a light powdery blue. More mature leaves are going to appear greener and develop a slight blush along the margins towards the spine at the end of each leaf. Their leaves are the traditional triangular shape from the profile, and they are slightly spoon shaped with a more rectangular structure. The rosettes can get up to five inches wide and they produce several offsets to form a very stable clump.
Fenestraria rhopalophylla - Baby Toes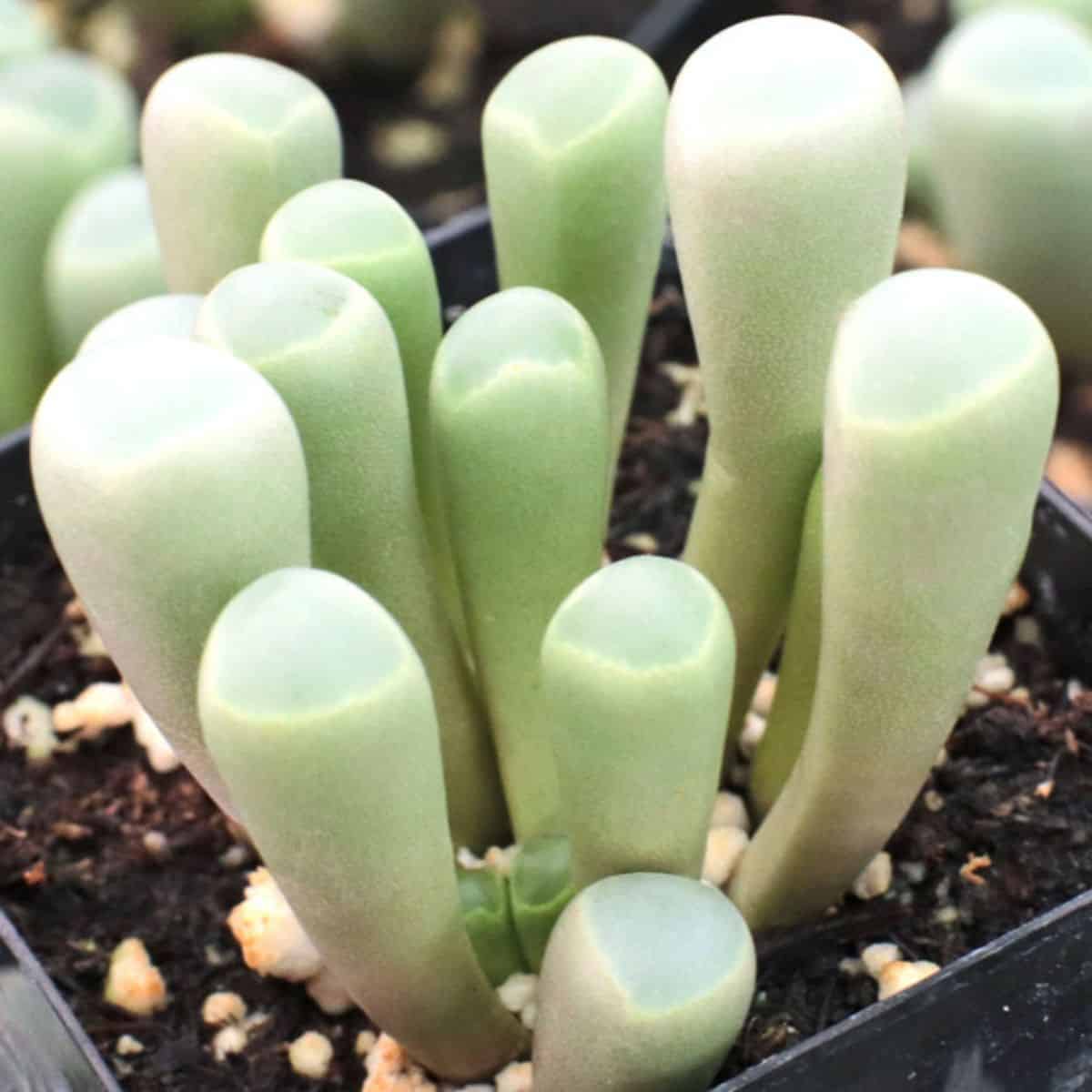 Buy it from:
Despite the rather interesting name, Baby Toes is a very delicate succulent that you can grow year round. It does form a clump of straight up leaves that do look like tiny toes. Their color tends to be a very pale green that can look almost white. Under stressful situations, they tend to turn a darker purple. The flowers that they produce, look like daisies and can be both yellow and white. The top of each leaf has what is called a light window, or a leaf window. Like specific types of haworthia that are translucent, baby toes performs the same process of using a translucent area to get enough light.
Gasteria sp. - 'Silver Frost'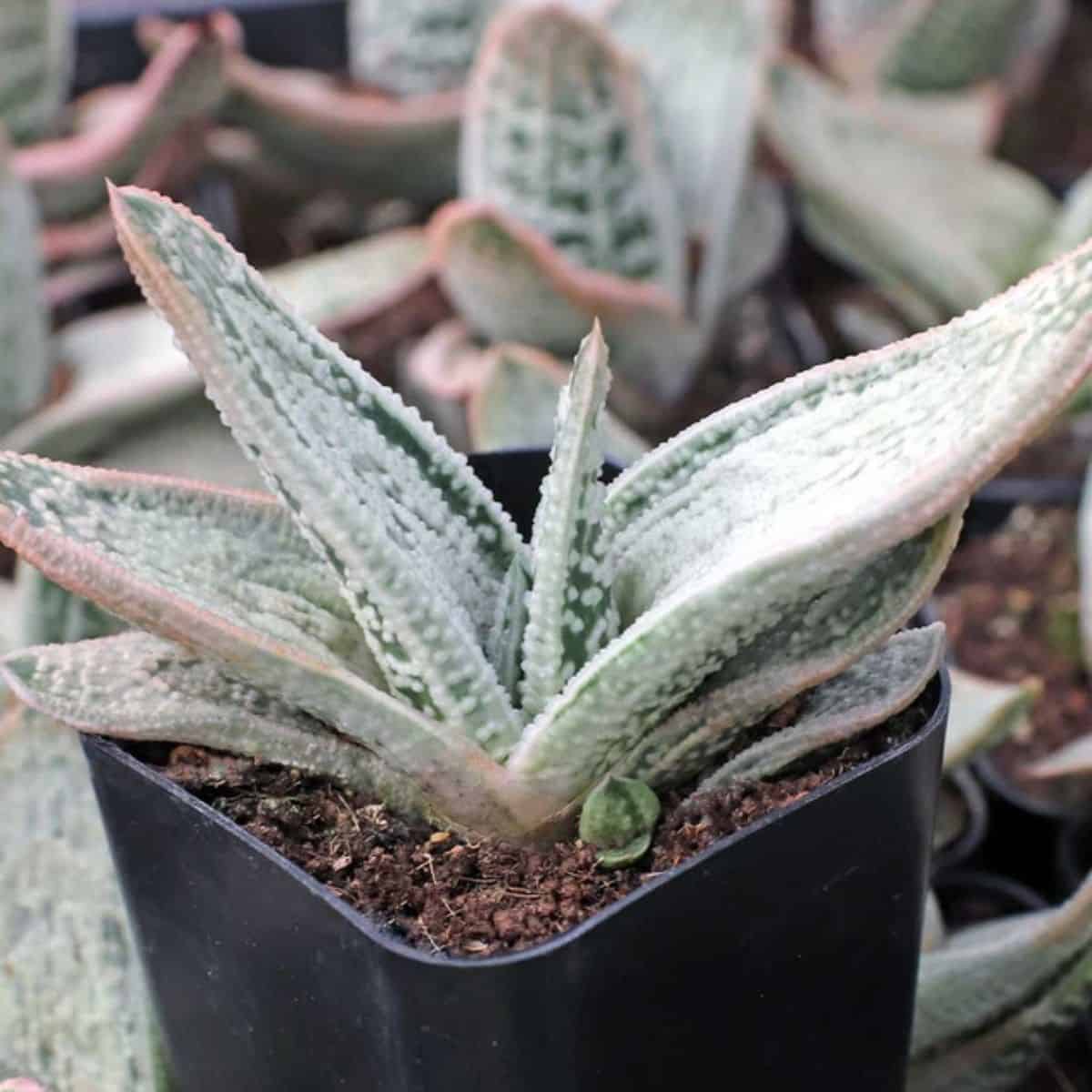 Buy it from:
Gasterias haven't shown up very much in the list, but they are a growing genera. This particular gasteria is covered with white bumps that make it look silvery compared to other species. It will blush pink along the margins in older leaves, and it grows in a linear form. This means that instead of growing like a rosette, the leaves alternate left and right as they grow. This species has very fine teeth, to no teeth along the margins. They are zone 10 hardy and have bright orange blooms. This species will cluster, and the offshoots can be propagated.
Haworthia attenuata - 'Super White'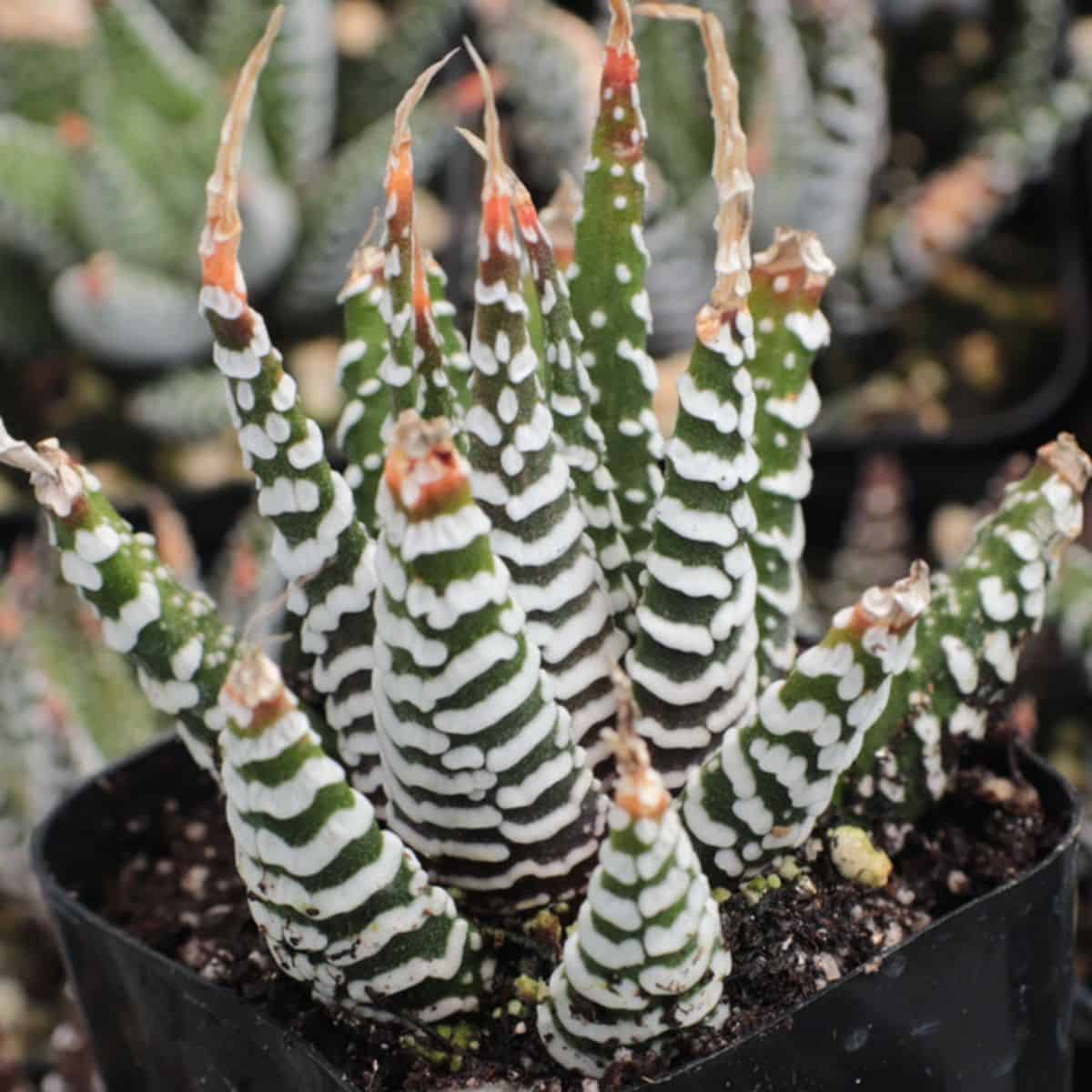 Buy it from:
The Super White has obvious white ridges. These ridges alternate along the leaf and give it its predominantly white appearance. On the inside of the leaves, each leaf has a set number of white dots that grow with the leaf. As a leaf matures, the previously closely packed white bumps spread out along the leaf. This gives the Super White a trail of white speckles along the center of each leaf. This is a variant of the Zebra Plant, and like the Zebra Plant it is a hearty plant that requires low light and can handle partial sun. The blooms are a brilliant white at the top of bloom stems that grow out of rosettes that can get up to six inches wide.
Kalanchoe eriophylla - Snow White Panda Plant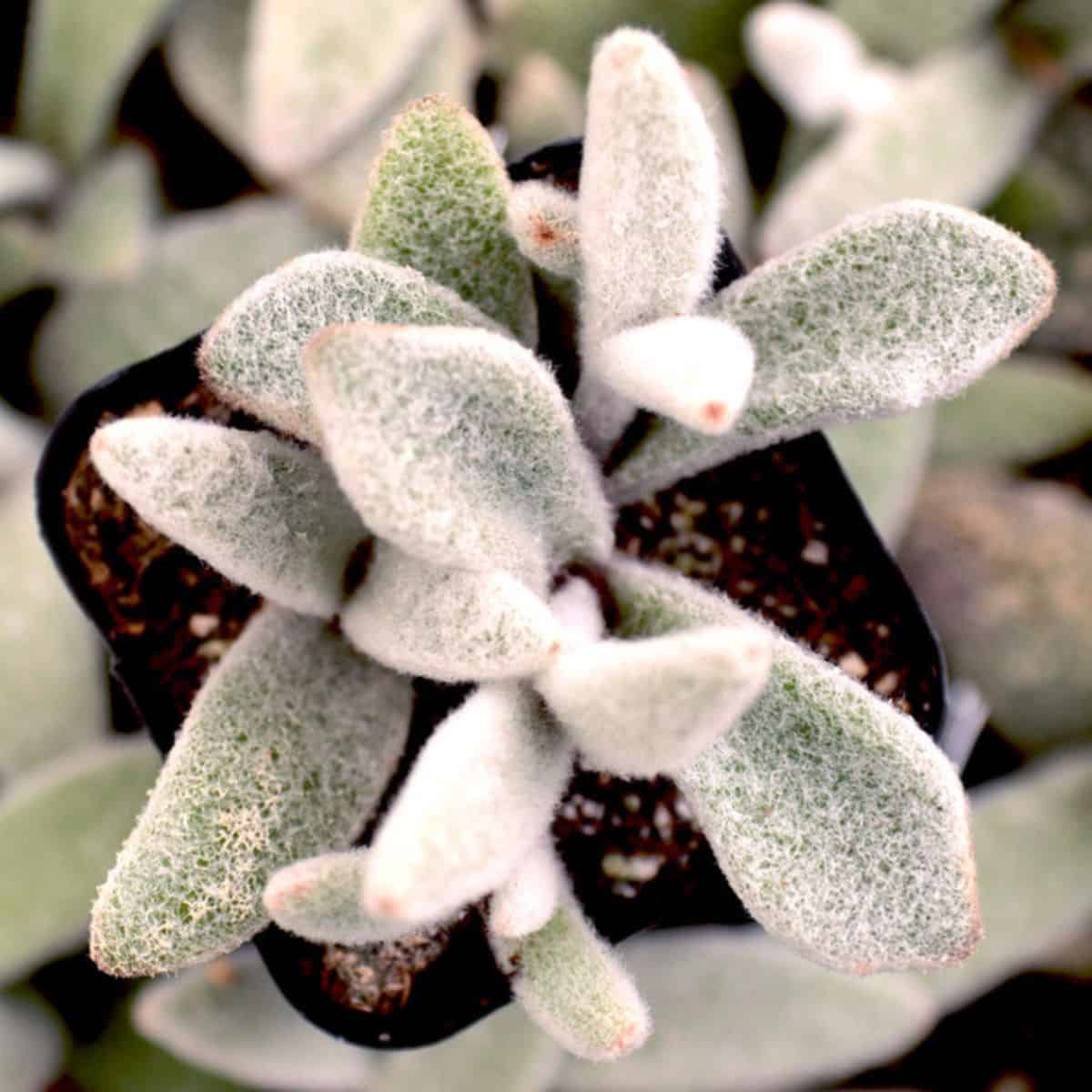 Buy it from:
While I do not own this specific kalanchoe, Panda Plants are a perfect addition to any garden both indoor and outdoor. Most Panda Plants are called that because of the dark brown spots that appear along the margins of the leaves, and with some hybrids, along the center of the leaf. The Snow White Panda Plant is not a hybrid, and occurs naturally in Madagascar. It is considered one of the woolliest panda plants to date. A healthy, well taken care of Panda Plant can grow up to 12 inches in height and they do have very long stems. What does mark the Snow White as a Panda Plant, is that the tip of each leaf is a coppery brown. It is the only part of the leaf that does turn that color.
Mammillaria gracilis fragilis - Thimble Cactus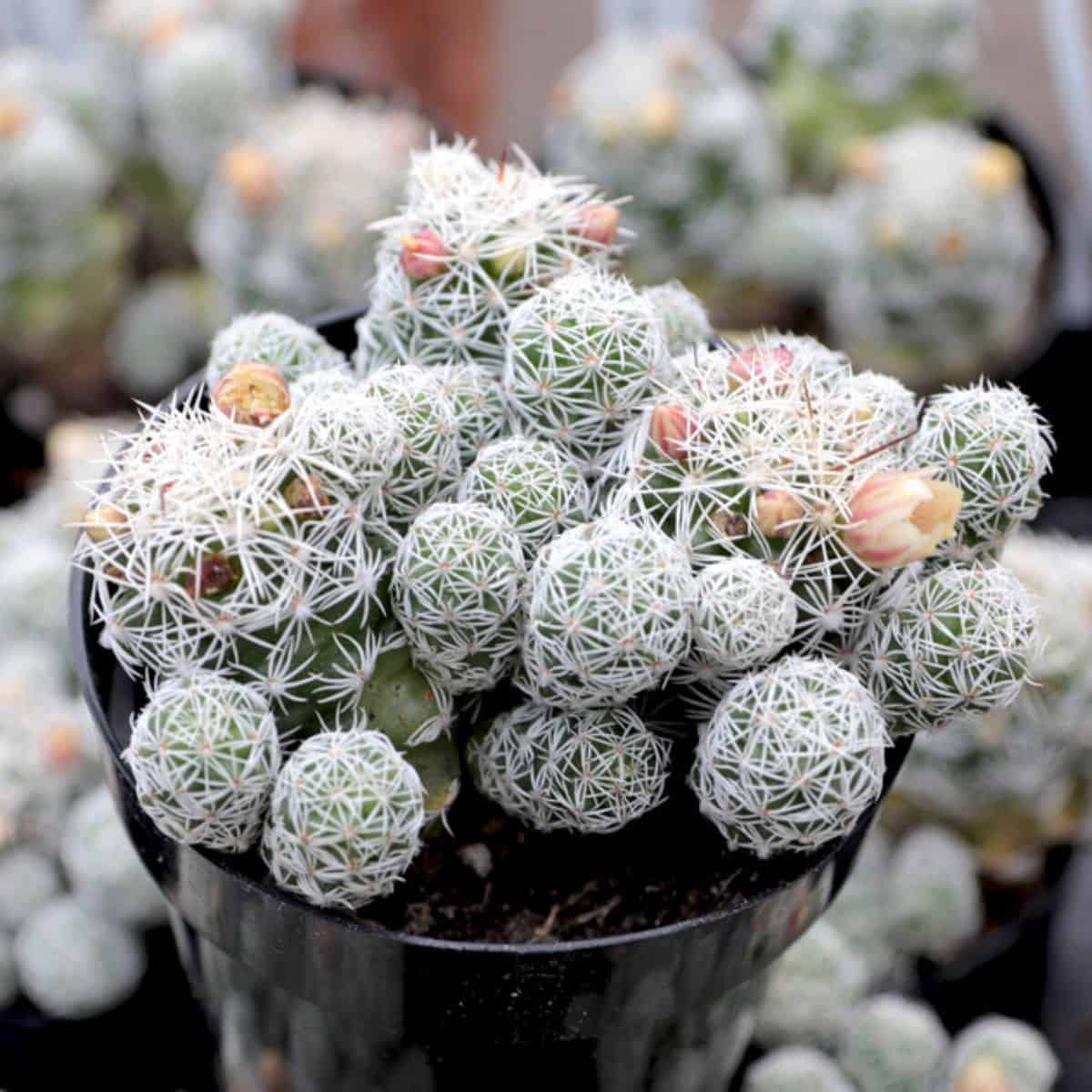 Buy it from:
The skin of this cactus is a bright and healthy spring-like green. What sets this species apart and has been the reason that it is included in this list, is due to the prolific spines that grow along the tubercles of this cactus. The spines are extremely large comparatively speaking, and they form elegant little starbursts. This species will start to clump and grow into a mat if allowed to do so. It is an easily propagated succulent with creamy pink blooms and they barely get above three inches in height.
Mammillaria plumosa - Feather Cactus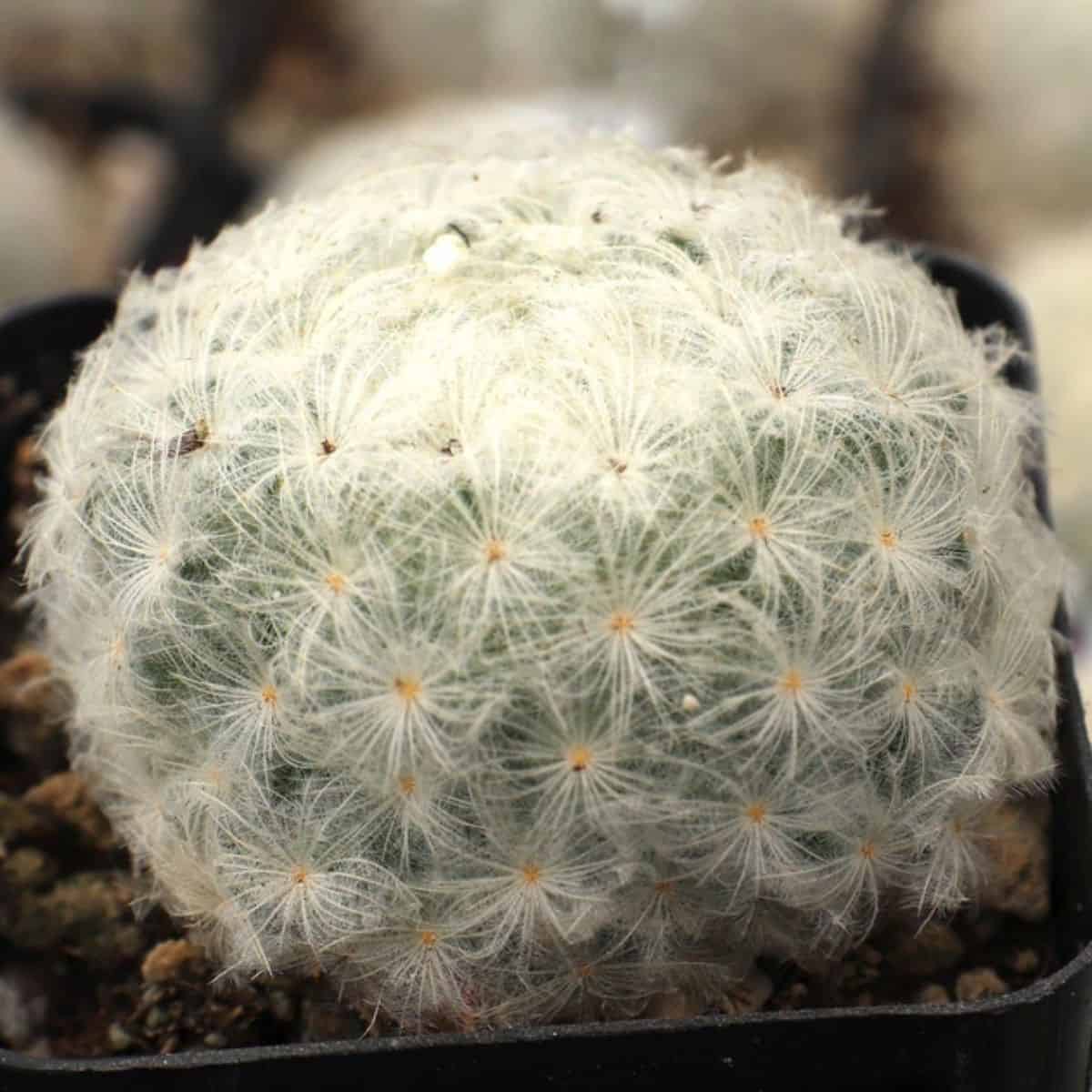 Buy it from:
Akin to the Thimble Cactus, the Feather Cactus is another species with prolific spines. What sets this one apart is that it is spherical rather than columnar. The centers of each spike tubercle are a slight rusty orange, and the spines themselves look fluffier than a kitten! This species has striped blooms that are pink and white: it is zone 10 hearty and when allowed to grow wildly it can form a very attractive clump or mound.
Mammilloydia candida - Snowball Cactus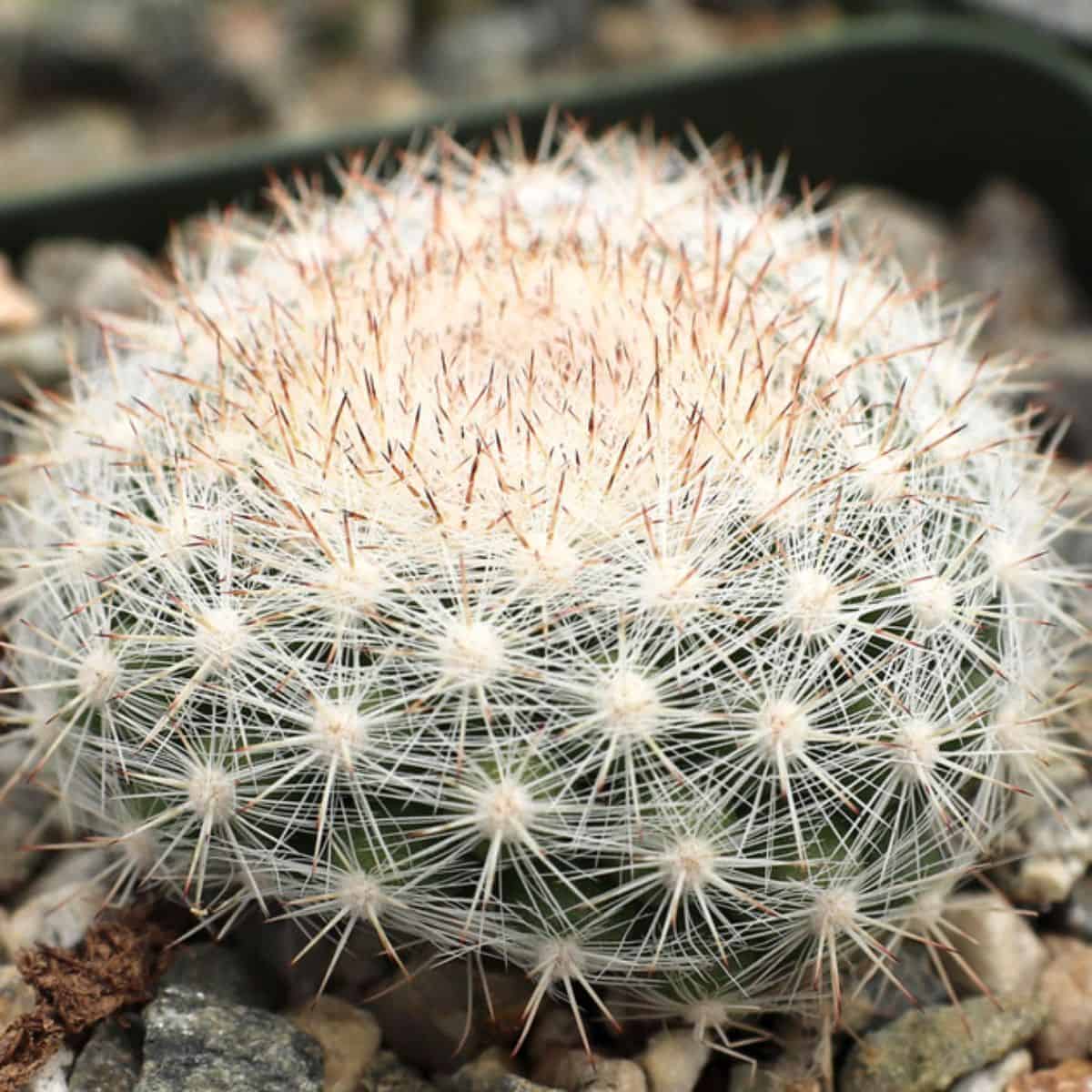 Buy it from:
Similar to the Feather Cactus, the Snowball Cactus also has very fine and almost excessive spines at each tubercle. What sets this one apart is that the tubercle centers are hardly dark. The way the spines flow around this round cactus, makes it look as though it is a bird's nest when you look at it from above. Even though the Snowball Cactus starts small, it can get up to 12 inches high! This is why it's important to ensure that this species is put in the correct pot or allowed to grow freely. This is one of the species of cacti that have their own specific genera due to the variation in their seeds.
xPachyveria sp. - 'Glauca'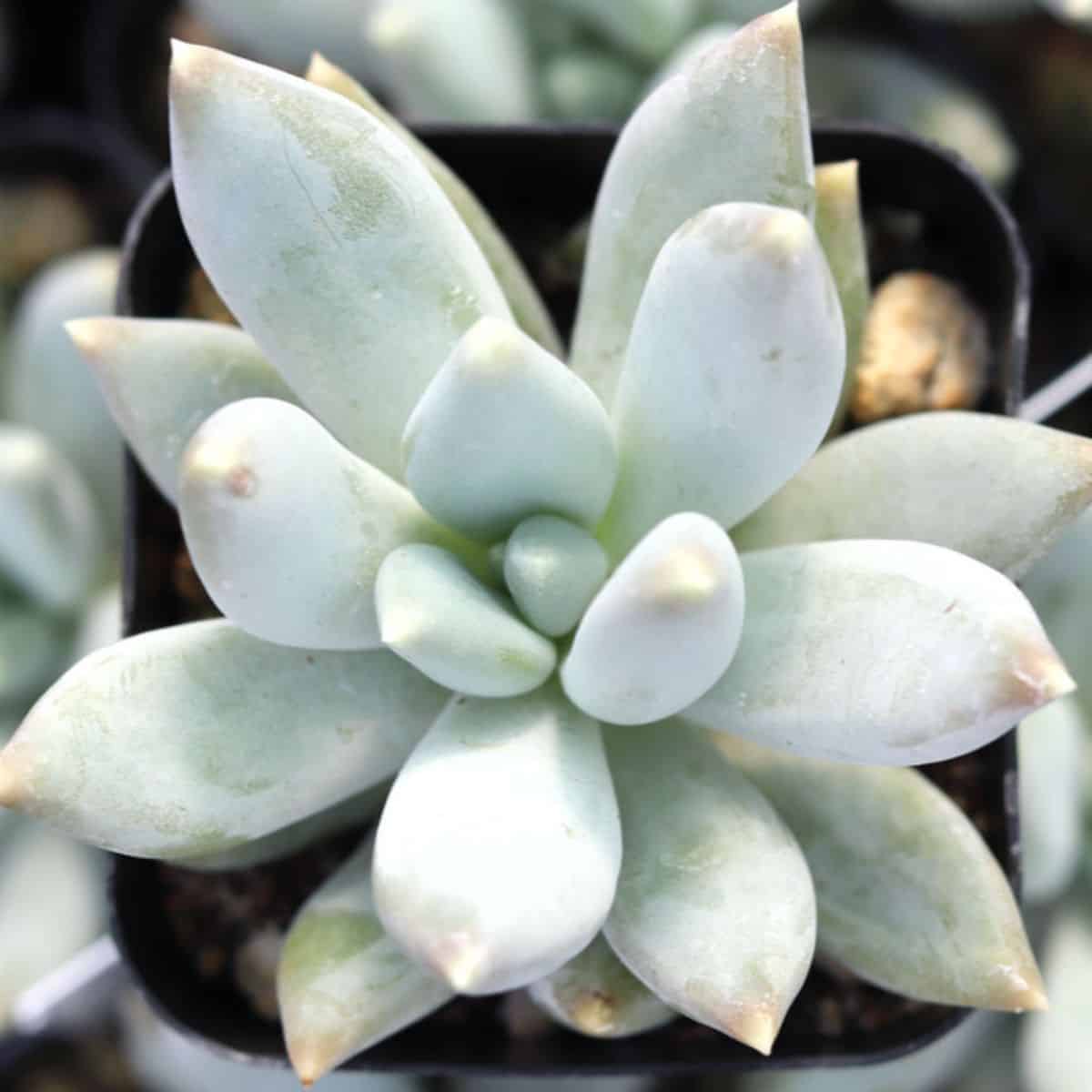 Buy it from:
Pachyverias, are a nothogenus that are crosses between many different species, but this particular one is a cross between an echeveria and Pachyphytum hookeri. This species is forced into a loose rosette due to how thick its leaves are. Unlike the primarily triangular shape of other leaves this particular shape is more of an oval in the profile. The leaves remain very uniform and come to a tip that can turn a bronzy brown. The leaves themselves are heavily coated in farina, and the leaves are a very pale green. They can get up to six inches in width and eight inches high and they are known for having a tall stem.
Sedum spathulifolium - 'Harvest Moon'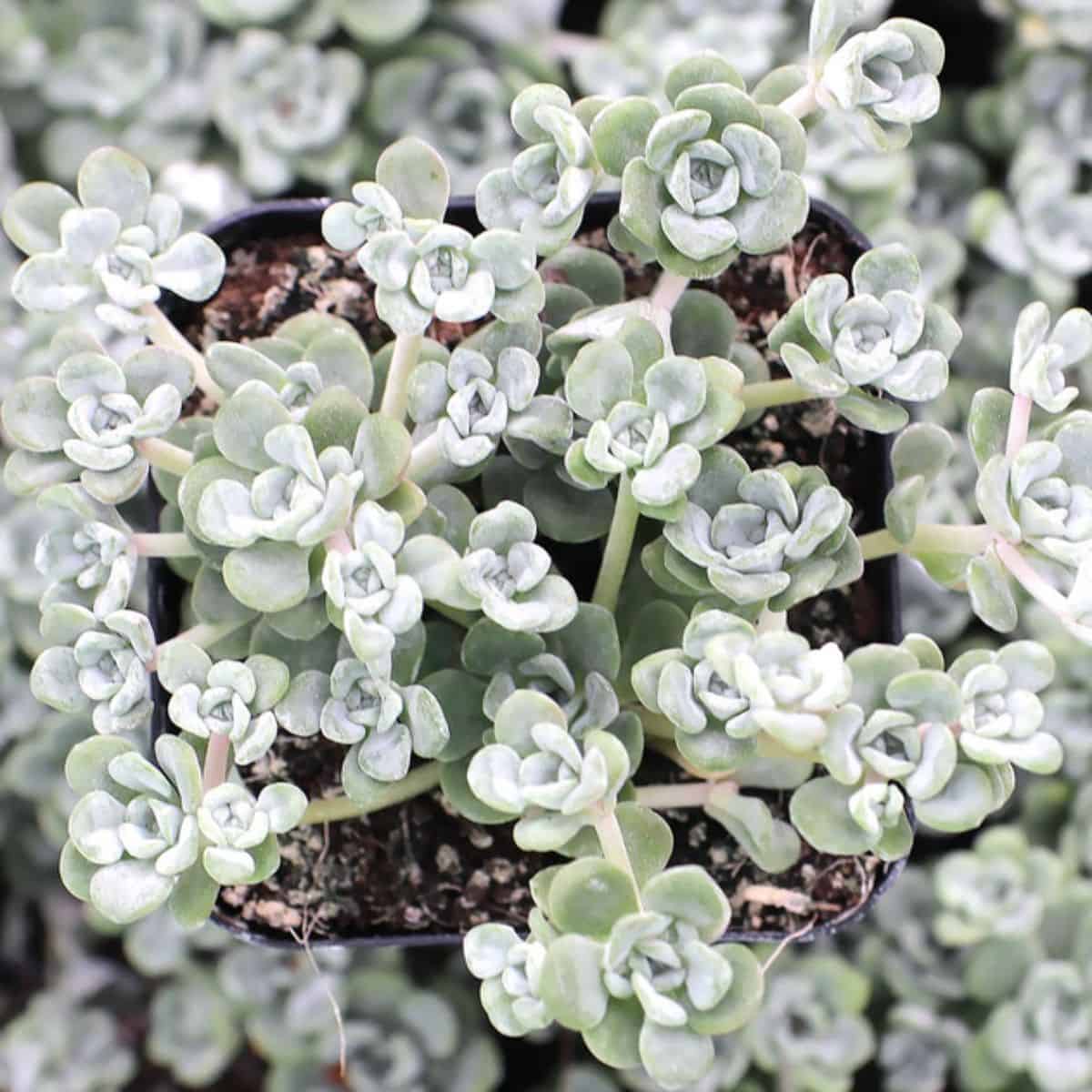 Buy it from:
Harvest Moon sedum is named as such because of the heavy coating of farina along its leaves. This sedum grows in tiny rosettes with a thick stem between each rosette. The rosettes are commonly made-up of sets of three leaves, and it can cover a large area of ground. It is known as a creeping succulent which means that it will take over an area if allowed to. At most, they will get up to five inches high. This species does take on more purple characteristics when stressed or in its off season. They do produce several little yellow blooms that are good for attracting pollinators. Sedum is a species that can be grown in multiple zones, and it has a cold hardiness up to zone 6.
Sempervivum arachnoideum ssp. tomentosum - Gorges de Daluis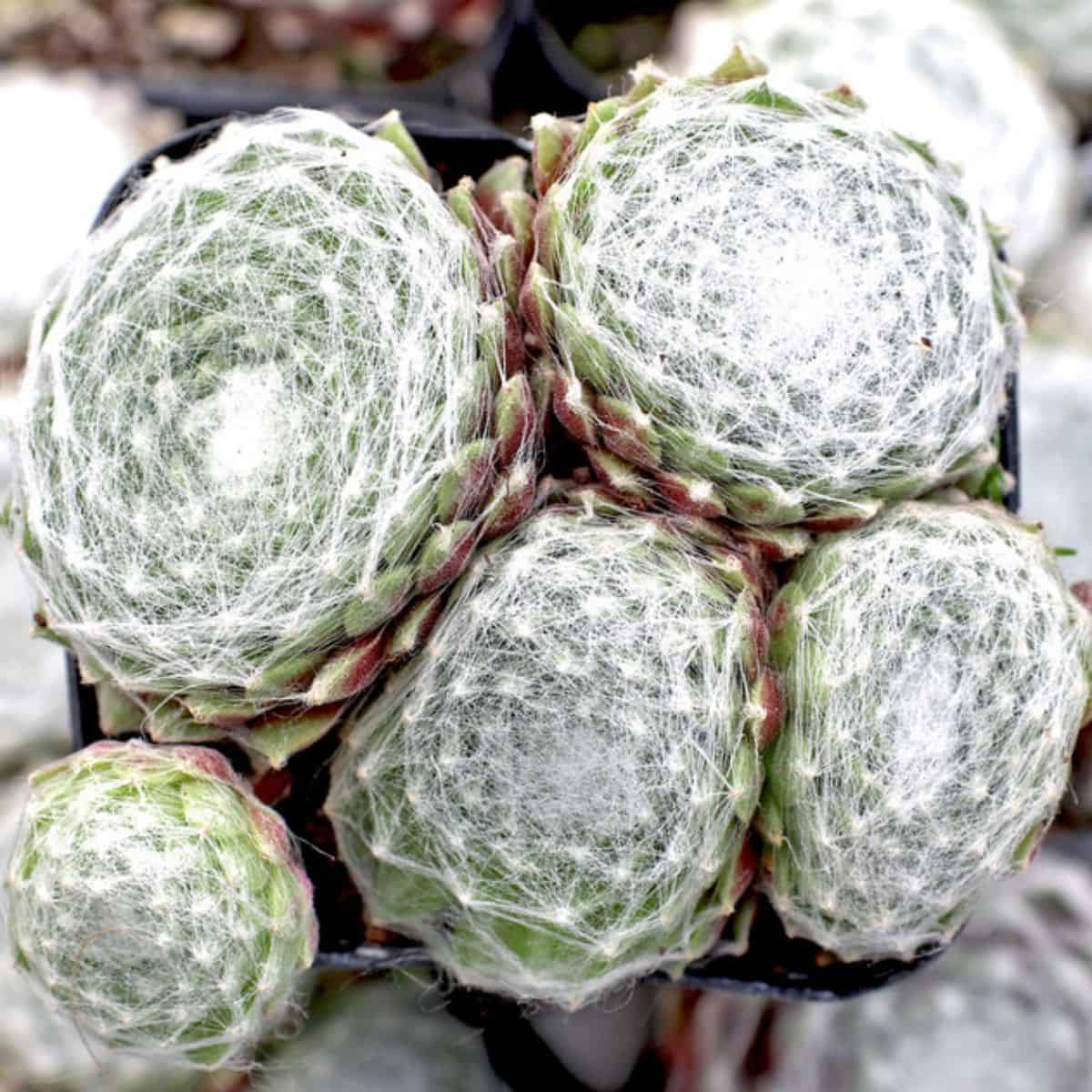 Buy it from:
Yet another personal favorite, this species constantly looks like it is covered in spider webs. The leaves themselves are a dark green with a burgundy base. Because the rosettes are so compact, and any offsets grow closely with the adults, this species is prone to leaf rot especially if you are in a more humid area. This particular species does not do well with standing water and should be put in a pot with a gravel top to protect it from any type of water. This species does produce a light pink bloom and it is a naturally occurring variety.
White Succulent FAQs
Ready to start shopping for your white succulents? Before you do, learn more about them through the answers to some questions about white succulents we received from growers.
How do you take care of a white succulent plant?
Honestly, these succulents have no special growing and care needs. Meaning you care for them just like how you care for your other succulents. Here's a quick list as a reminder:
Ensure they get enough sunlight.
Rotate them frequently so that not just one part receives sunlight.
Water them only when the topsoil is dry.
Keep your white succulents clean or dust-free.
Plant them in well-draining soil and pots.
Check for and remove bugs.
Apply fertilizer if needed, but make sure you don't overfertilize.
Can I plant herbs with succulents?
Like succulents, herbs are among the easiest plants to grow in a container. Of course, you can also plant them in the ground.
Most herbs have similar growing requirements as many succulent varieties, which is essential for companion planting. That said, your top choices are salvia, yarrow, rosemary, and lavender.
Adding plants in your white succulent setup can help add color and texture and give your collection a savory scent and fragrance. Conversely, the succulent will make the herbs look more luscious and fuller.
What does it mean when a succulent turns white?
While you'll find white succulent varieties, there are instances when a differently colored succulent turns white. The primary reason is sunburn or too much sun exposure. Another is overwatering.
Adding White Succulents to Your Collection
Have you been inspired to add a few frosty succulents to your collection? These wintery-white succulents and cacti compliment any color scheme. Their pale, subtle color make great wedding decorations or accessories, too. White succulents also make classy, cool additions to any garden or succulent project, so why not add a few to your collection and see what new ideas you come up with.