Red is often used to symbolize love and passion, so what better way to show off your passion for succulents than with a few red succulents?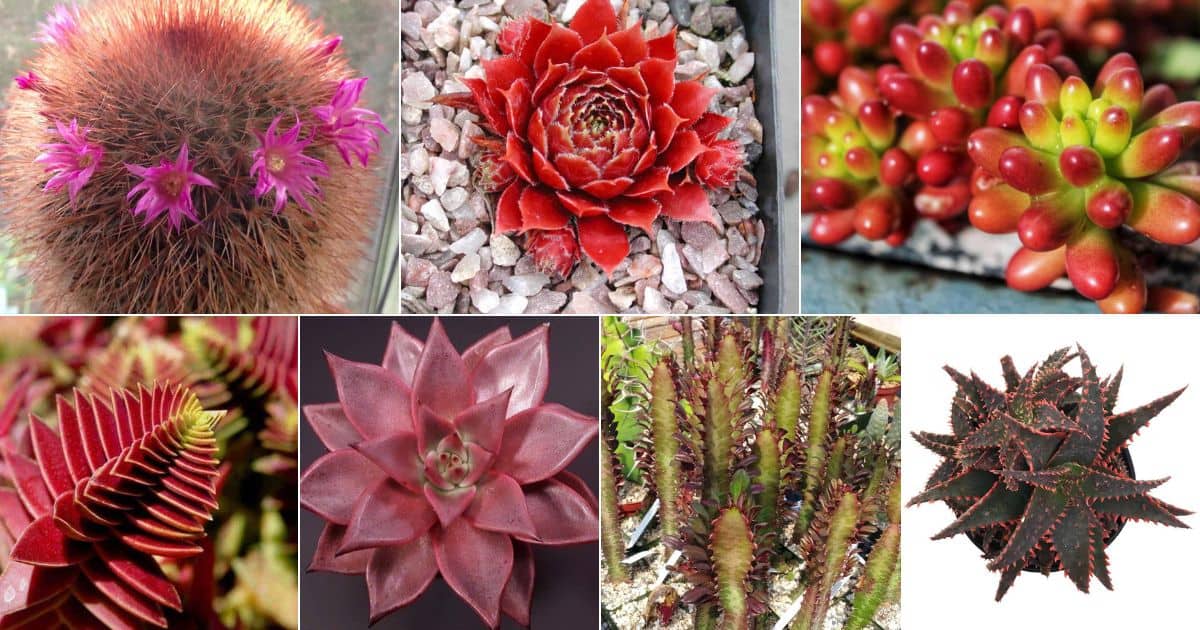 These radiant red plants compliment any color palette and make great additions to centerpieces, living walls, and fairy gardens.
Jump to:
Sempervivum Heuffelii 'Chocolate Sundae'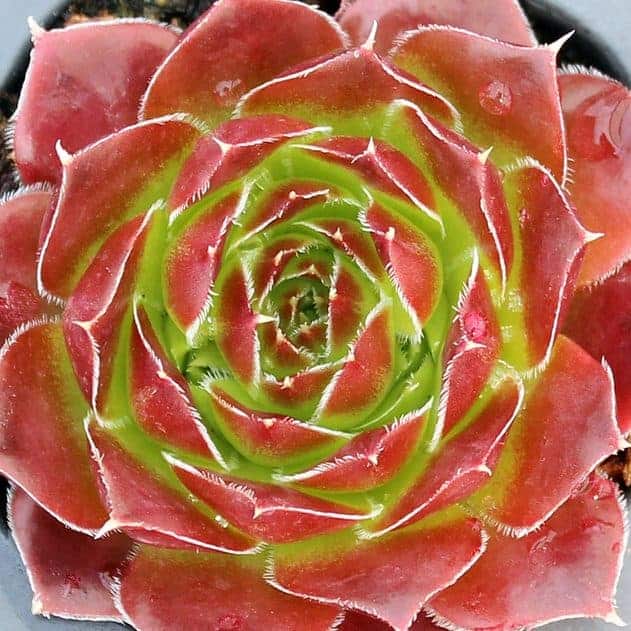 Buy it from:
This vibrant succulent's leaves are bright red at the tips and lime green at the center. The red color of the leaves may deepen according to the season. Chocolate Sundae is a diminutive plant with a mature height of less than three inches. The rosettes can reach three to four inches in diameter.

Like many Sempervivum, Chocolate Sundae is great for inexperienced gardeners as it is incredibly easy to care for. It can easily be propagated with offsets, which it produces easily. It's also a frost-hardy plant that tolerates drought well.
Echeveria agavoides 'Romeo'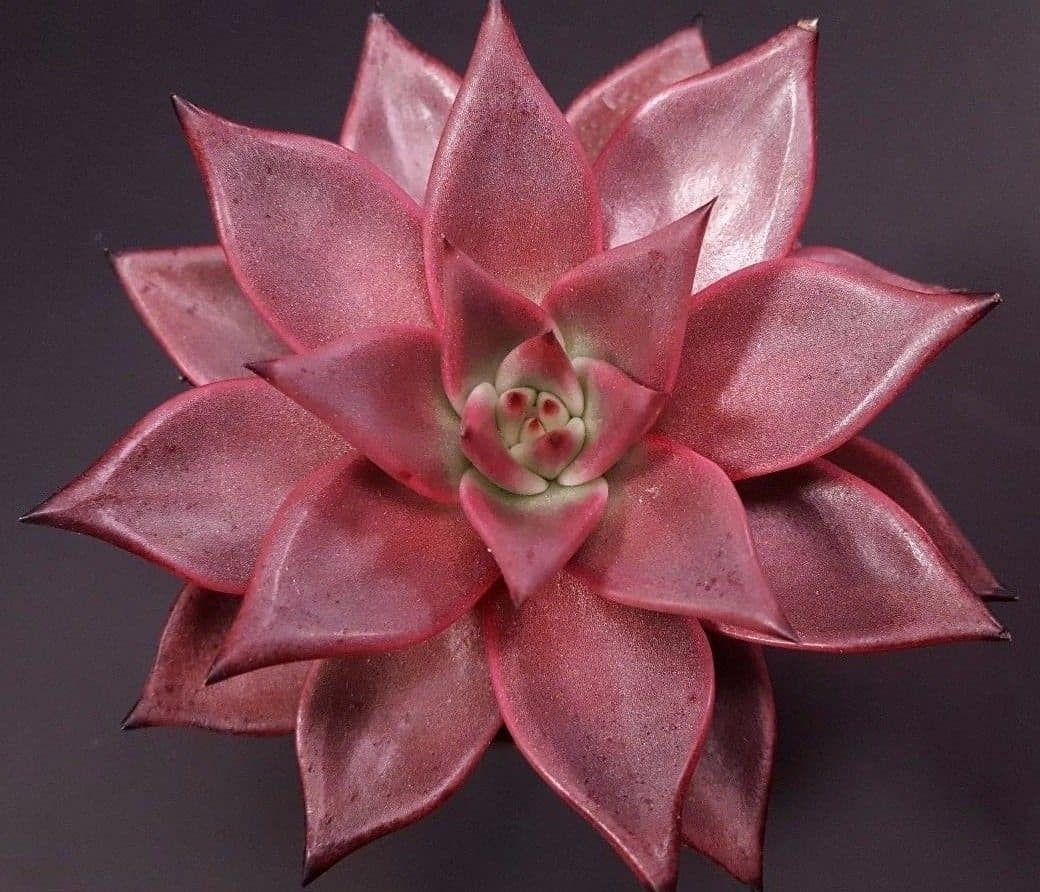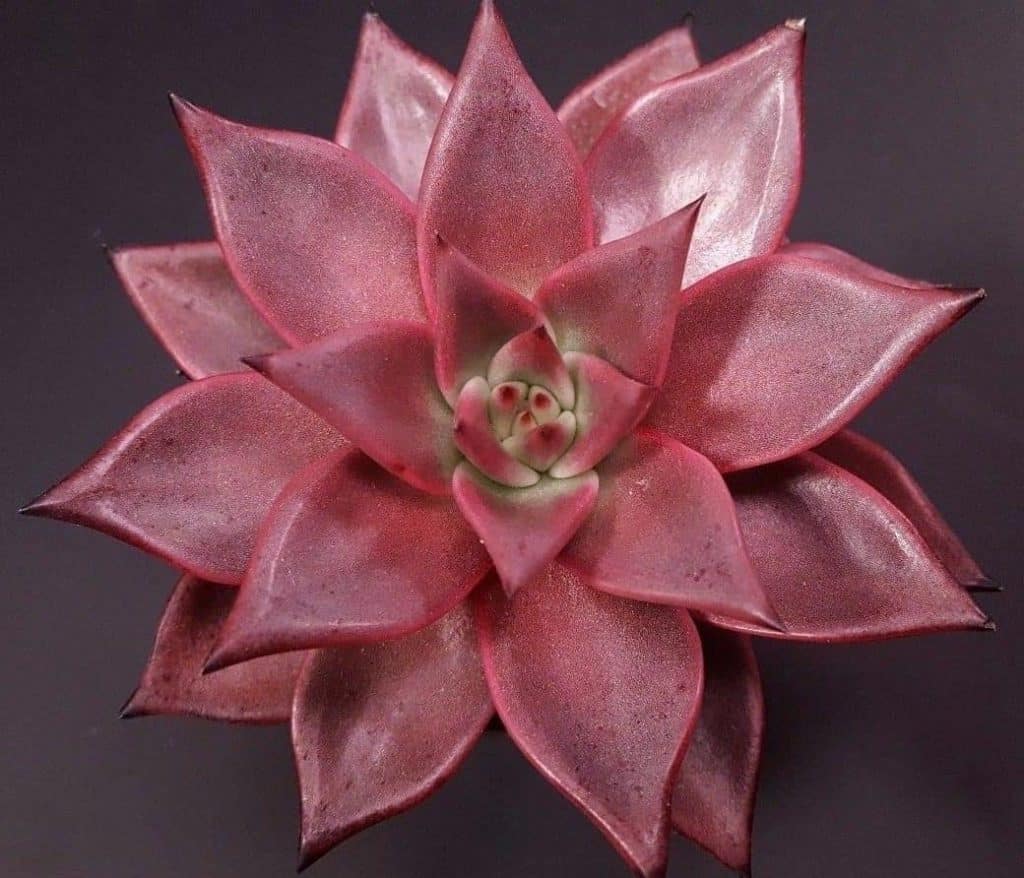 Buy it from:
The radiant rosette of Echeveria agavoides can grow up to six inches tall and twelve inches in diameter. In the spring and early summer, Romeo produces petite flowers of the same vibrant hue as the plant itself.
Echeveria agavoides is easy to care for, as long as it's planted in well-draining soil that is only watered when dry. Partial sun is ideal, but the plant can suffer in extreme heat. Romeo is easily propagated with leaf cuttings, but can also be grown from seed.
Crassula capitella 'Red Pagoda'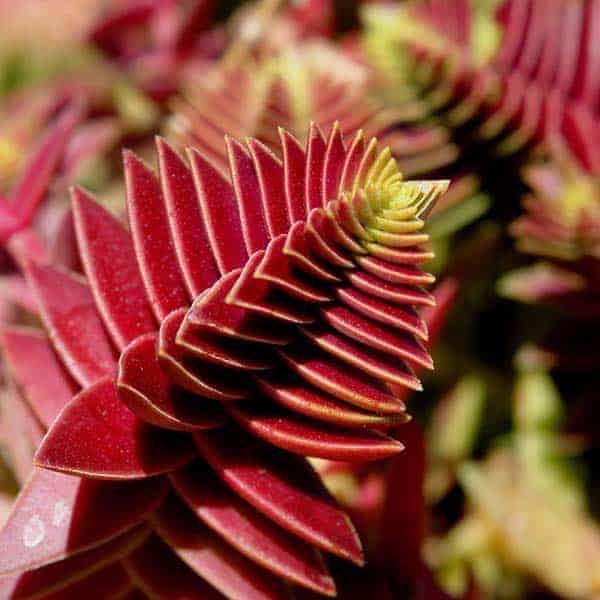 Buy it from:
Native to South Africa, Crassula capitella is an eye-catching succulent with long stems covered in stacked, triangular leaves. In frost-free climates, it can be used for ground cover, but it also works well in hanging containers. The stems can grow up to eight inches in length.
Bestseller No. 1
Bestseller No. 2
FOLIAGEMS Live Succulent Cactus Plants from USKC (2"Pot) (Echeveria Devotion)
Important Info to Consider:Succulents display a wide range of shapes and colors. Depending on the lighting and watering...
Easy to care for: Succulents don't demand extensive maintenance, making them a versatile choice for different lifestyles.
Thoughtful Gifts:Succulents make wonderful gifts for various occasions.
Red Pagoda requires soil with adequate drainage. The more light the better, as this plant's red hue will deepen to a brilliant burgundy in full sun. Crassula capitella is easy to propagate with stem cuttings, but the leaves can be delicate and may fall off while cutting or moving the plant.
Sempervivum 'Red Lion'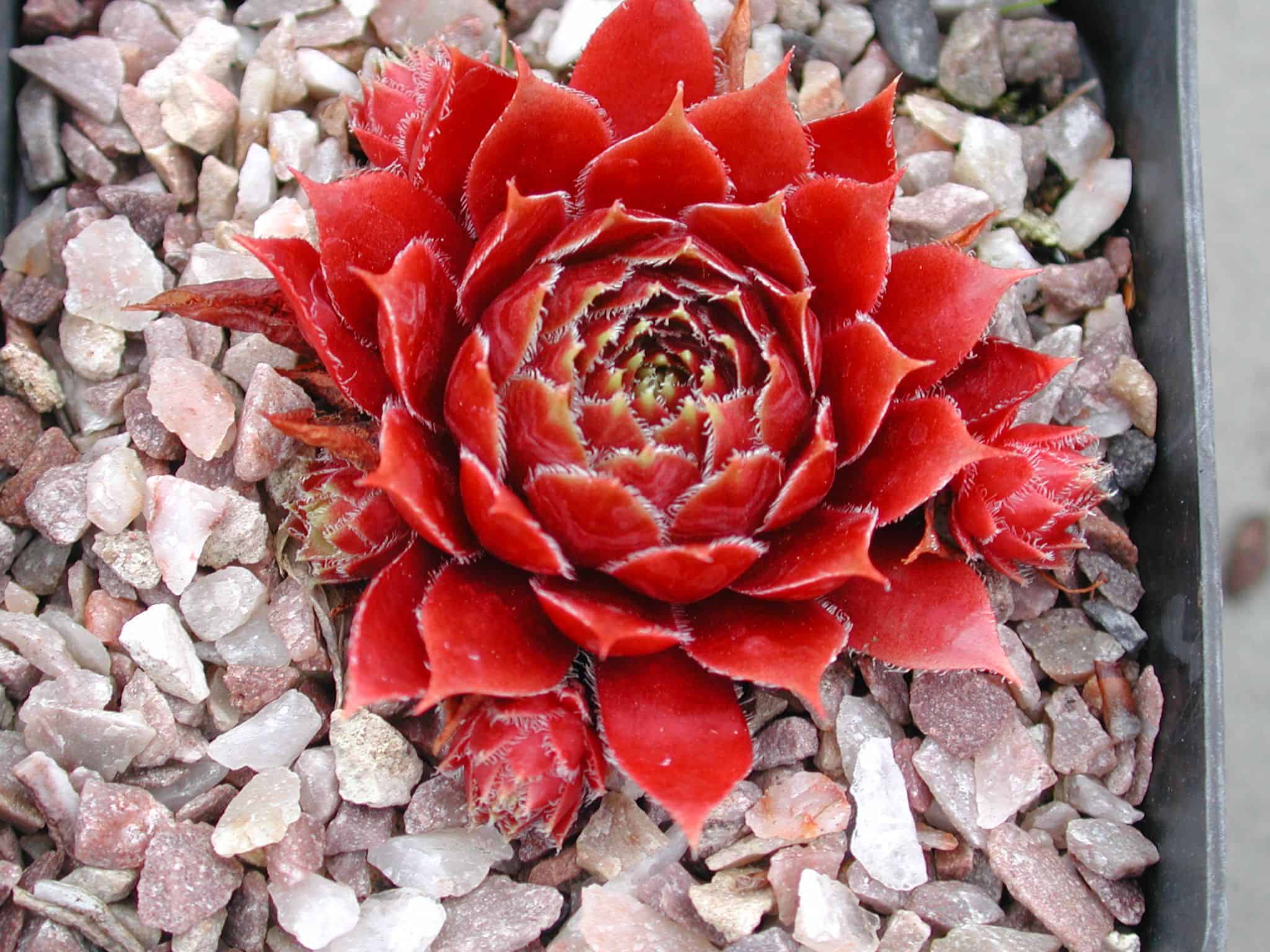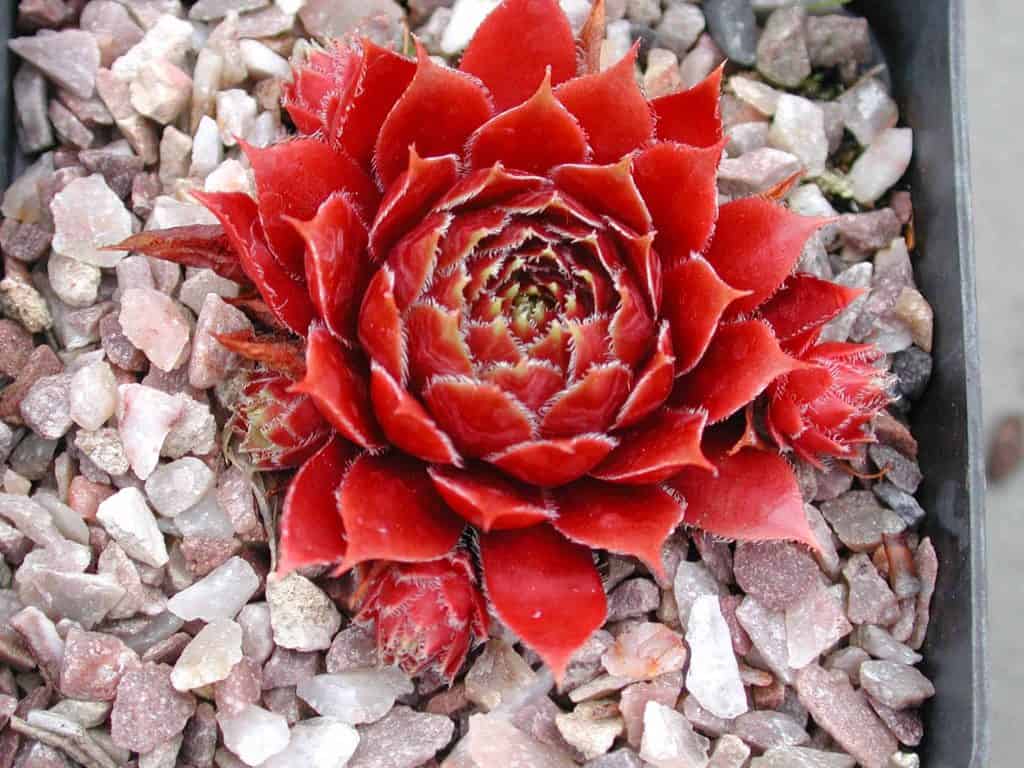 Buy it from:
This Sempervivum cultivar features rich red rosettes, sometimes with green leaf tips or shades of yellow. It's a frost-hardy plant, so it's a perfect plant for adding color to an outdoor garden or landscaping project, even in colder climates. Red Lion's rosettes reach about six inches in diameter at maturity.
This adorable succulent thrives in either partial or full sun, just as long as it's planted in well-draining soil. Sempervivum produce offsets, which can be left to grow in dense clumps, or they can be removed to plant elsewhere. Red Lion is also nontoxic to pets so you won't need to worry about furry visitors to your garden.
Aloe 'Christmas Sleigh'
Buy it from:
If you're looking for a unique Aloe to add a pop of color to your garden, look no further than Christmas Sleigh. This flashy succulent has deep green leaves with vibrant red spines. It's a gorgeous option for either container gardens or outdoor landscaping, if the climate allows. In fall, the plant produces bright reddish-pink flowers.
Christmas Sleigh does best with adequate drainage, full sun, and proper watering techniques. It's a very forgiving plant, so it's great for inexperienced gardeners. This Aloe is a rather slow-growing plant, so you won't need to repot it very often.
Sedum rubrotinctum 'Aurora'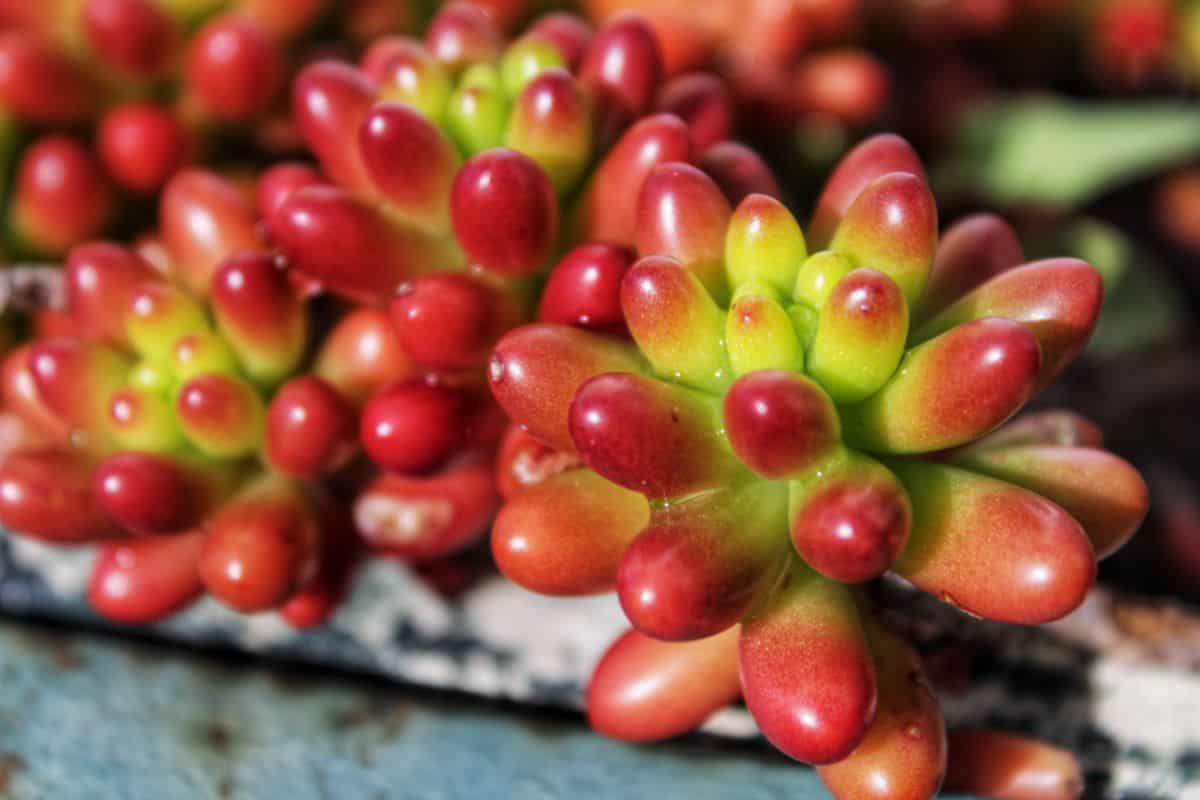 Buy it from:
This ravishing red succulent is native to Mexico. Its long stems reach up to eight inches in length and are covered in fleshy, round leaves. The leaves range in color from pink to deep red. The more sunlight this plant receives, the deeper the color of the leaves.
Aurora is a fast-growing succulent that is easy to propagate. It needs plenty of sun and proper drainage. Like most succulents, infrequent watering is best. Although drought-tolerant, this plant cannot withstand frost and must be protected during particularly cold temperatures.
Euphorbia trigona 'Royal Red'
Buy it from:
This interesting cacti has long spine-covered stems ranging in color from variegated green and yellow to deep burgundy. Each stem has three angles and is covered in greenish-red leaves. It can reach up to six feet tall at maturity if grown in ideal conditions. It grows well in either containers or outdoor gardens, provided the climate is frost-free.
Royal Red is a fast-growing cactus that can become a large centerpiece in your garden in under five years. It does best in full sun, which will help to bring out the plant's deep burgundy color in its leaves and stems. Adequate drainage is essential in preventing the plant from developing root rot.
Mammillaria spinosissima'Red-Headed Irishman'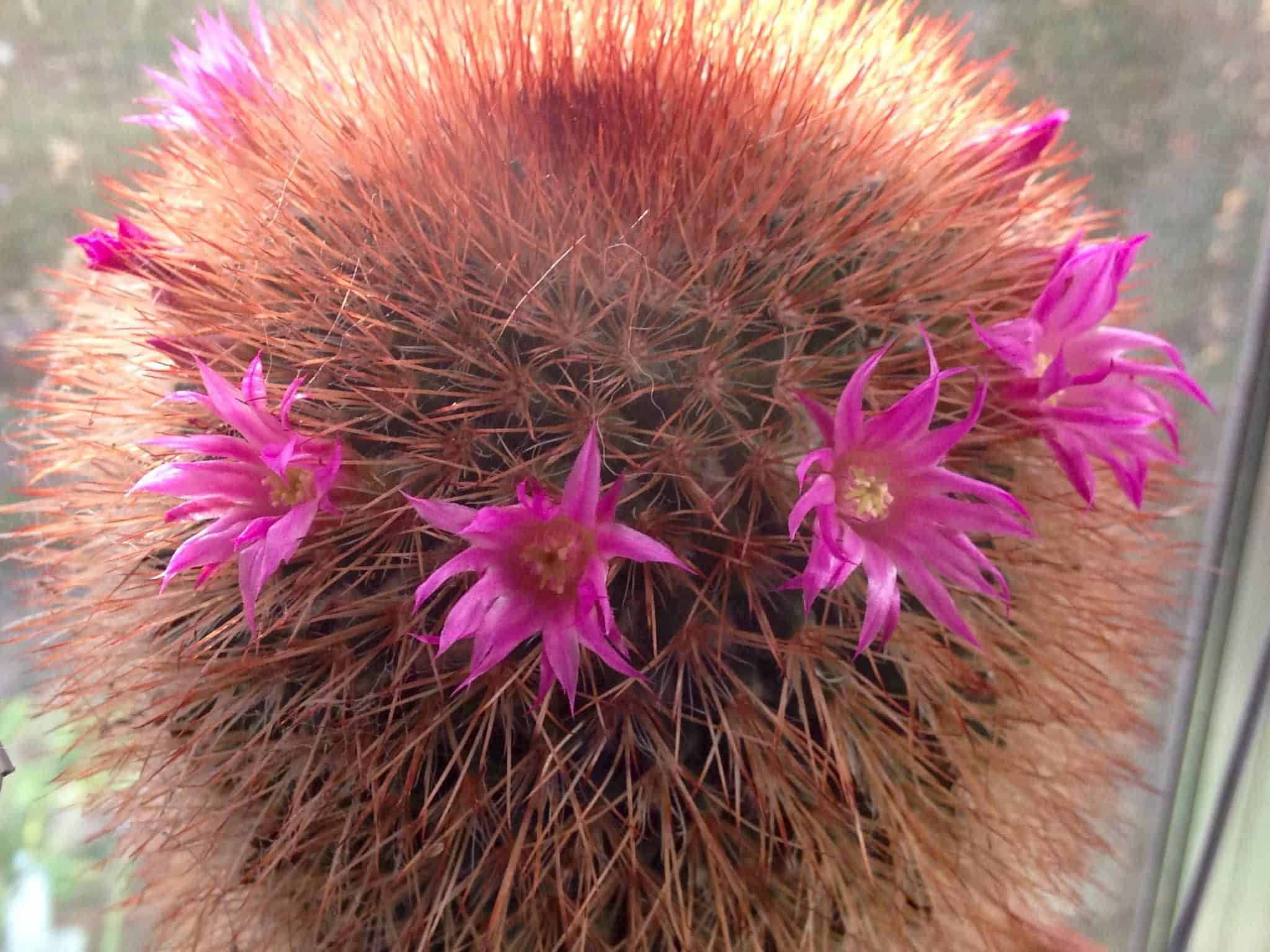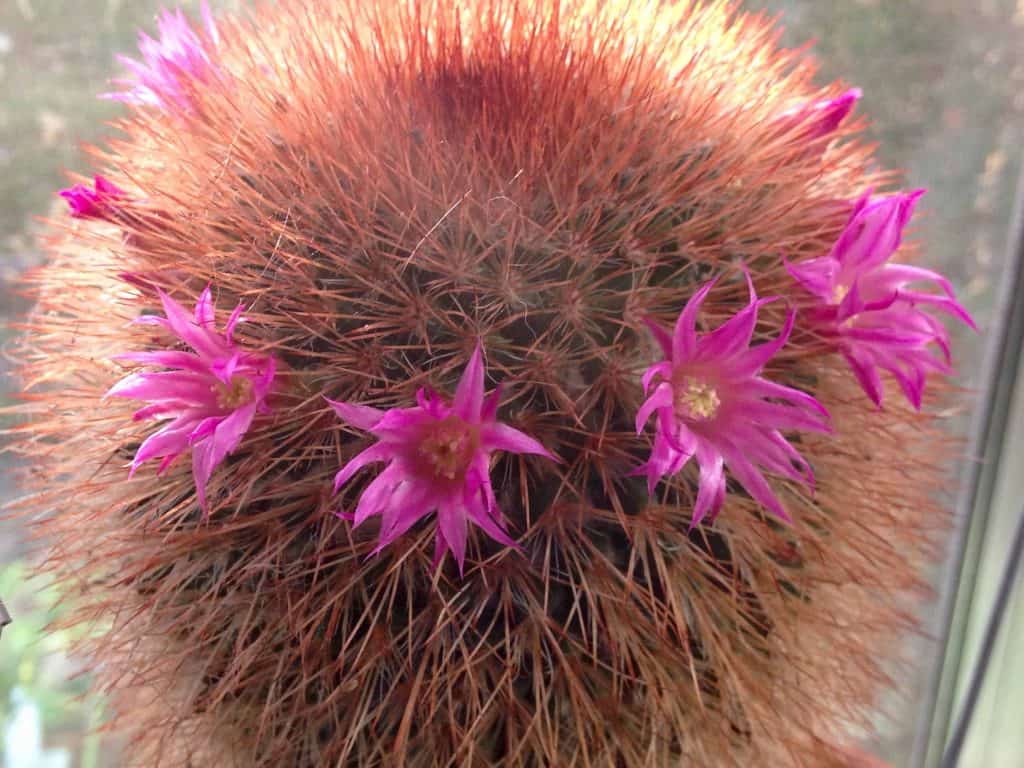 Buy it from:
This uniquely-named cactus has a deep blue-green stem that can reach up to 12 inches in height and about four inches in diameter. The stem is barely visible beneath a heavy covering of the orangey-red spines that inspired its nickname. Despite the name, the Red-Headed Irishman is native to Mexico.
Like most cacti, Mammillaria must never be allowed to sit in wet or damp soil. Proper drainage is essential, as is full sunlight. In the winter, the cactus is dormant and needs little to no water. During the growing season, it may be fertilized with a cacti-specific fertilizer.
Tillansia ionantha'Air Plant'
Buy it from:
This petite plant has long, fuzzy leaves that are typically less than three inches long. A few hours of direct sunlight each day will enhance the plant's red hues. Since air plants don't need soil, you can "plant" them nearly anywhere to add a pop of color to your decor.
While not actually succulents, air plants are incredibly easy to care for. Although they require no soil, they do need plenty of indirect sunlight, air flow, and an occasional misting. Excess moisture in the plant or the surrounding material should be avoided.
Peperomia Gravolens – Ruby Glow Peperomia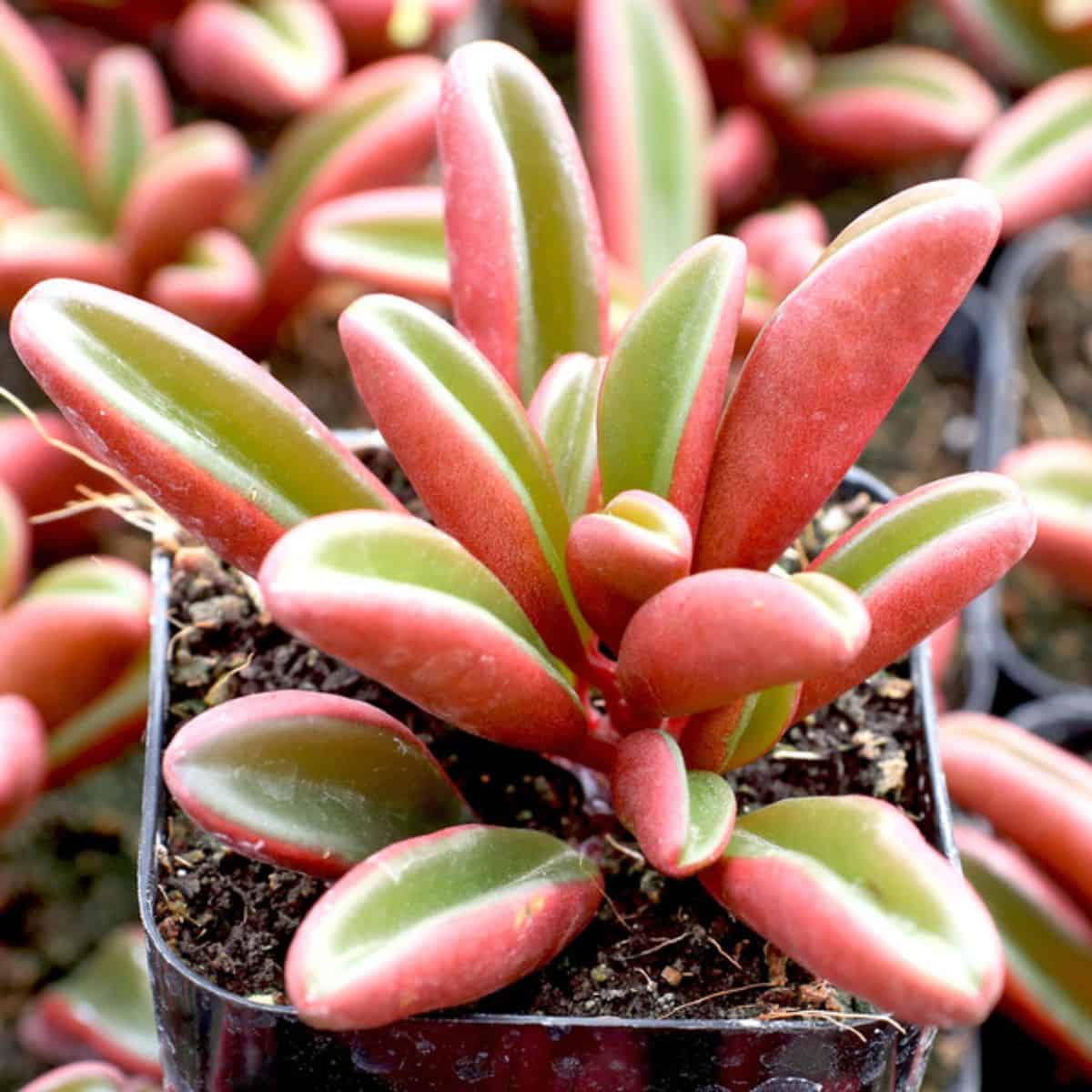 Buy it from:
If you are looking for an intriguing plant with a bit of mystery, then take a look into this Peperomia. The top of the leaves are a gorgeous deep green with a brilliant red under leaf. Their leaves are very cushiony and turn more into a mini shrub at about ten inches high. Don't stick your nose too close to them otherwise you are in for a rather unpleasant smell!
Crassula Capitella Red Campfire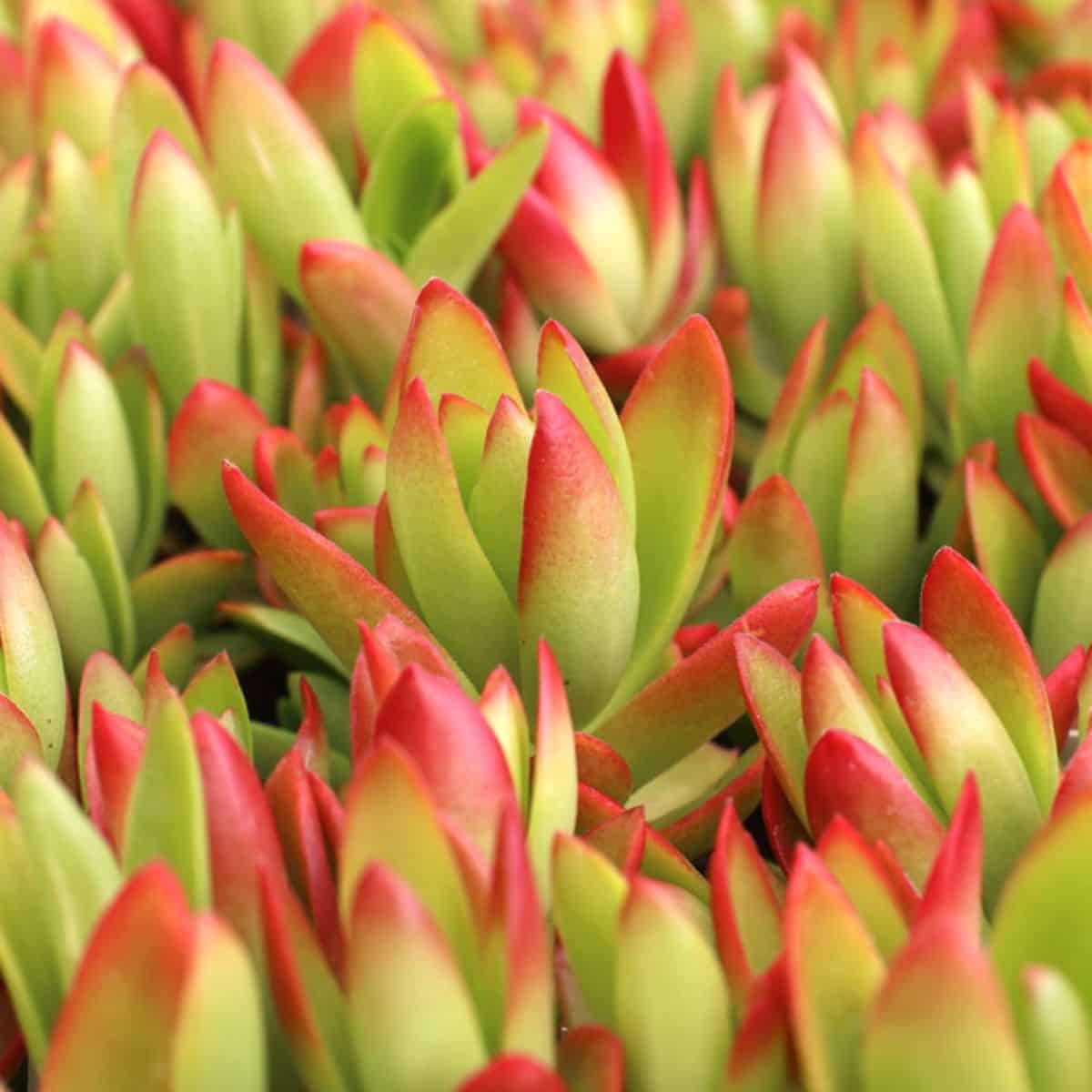 Buy it from:
If you are looking for a bright red addition to your garden then look no further. This beauty starts off with lighter green leaves that turn a darker red with more sun exposure. They can actually cover quite a solid amount of space: if they aren't trimmed, Red Campfire will easily take over three feet of ground. One of the other attractive elements of this crassula is the fountain like structure of the leaves. It truly looks like a fire!
Sedum album - Red Ice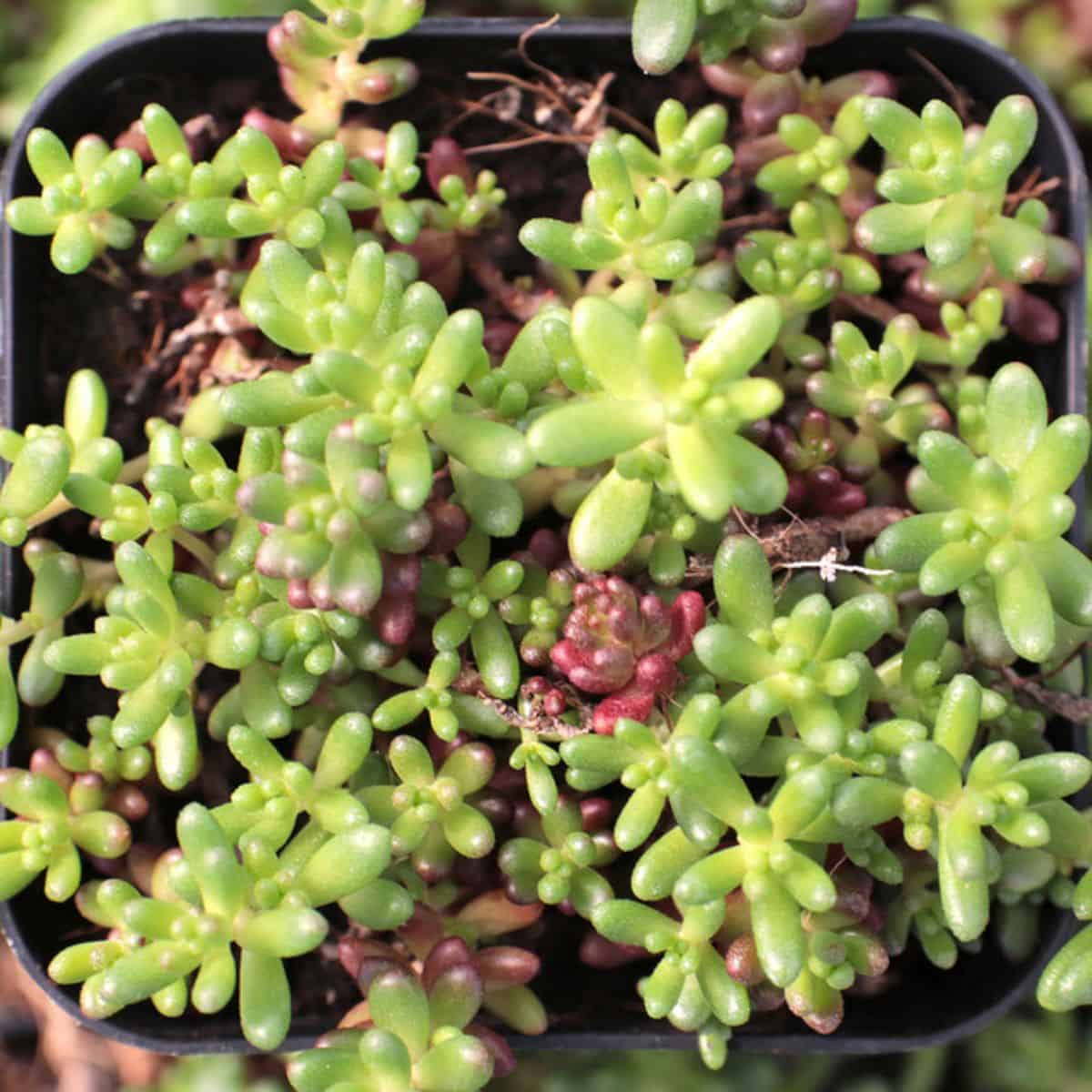 Buy it from:
With small bead like leaves, the Red Ice sedum is a dramatic addition to any yard. It is an easy to propagate ground cover that could create a beautiful red carpet or accent brighter sedum species. Like many other succulents, exposure to the sun increases the intensity of color on the leaves. Be careful and watch for any burning as you don't want the red to suddenly turn to sunburn brown!
Graptosedum California Sunset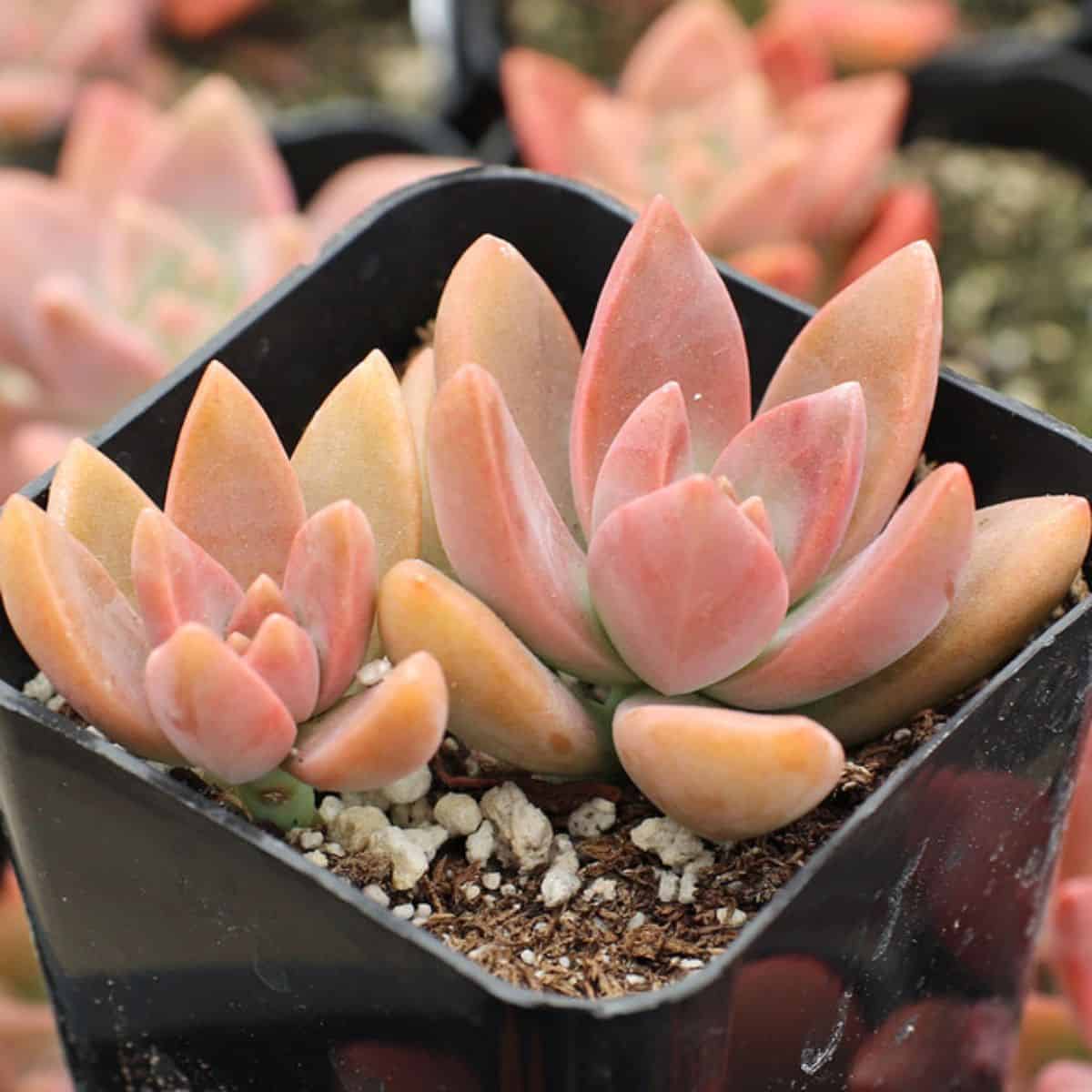 Buy it from:
While the California Sunset does tend to be more orange rather than red, it is a gorgeous addition to perhaps a red gradient garden. The light oranges make it almost a peachy red with the tips appearing to be dusted with ruby powder. Don't mistake this graptosedum for an echeveria! Unlike its less hardy counterpart, the California Sunset is much hardier and can handle more stressful environments.
Crassula radicans platyphylla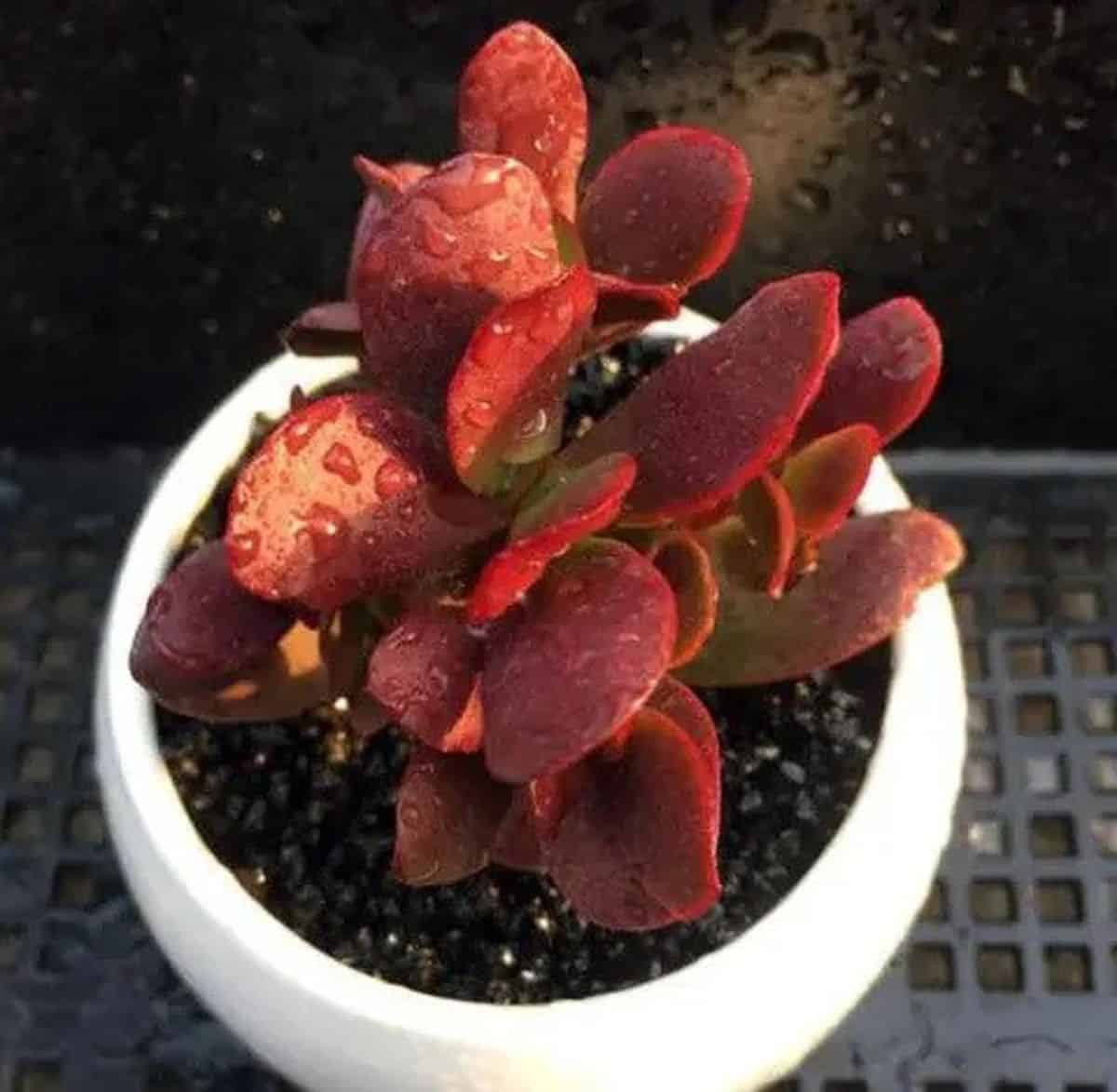 Buy it from:
This is a rather interesting succulent because unlike others that rotate between colors over lengthier periods of time, this paddle plant starts the spring with it's beautiful deep red leaves, then alternates to green in the summer, red again in the fall, and finally green in the winter. Generally speaking, most succulents change from green to another color during the harsher months of summer or winter. The plant has smaller leaves, but overall, it can take up to three feet of space.
Kalanchoe sexangularis - Six-Angled Kalanchoe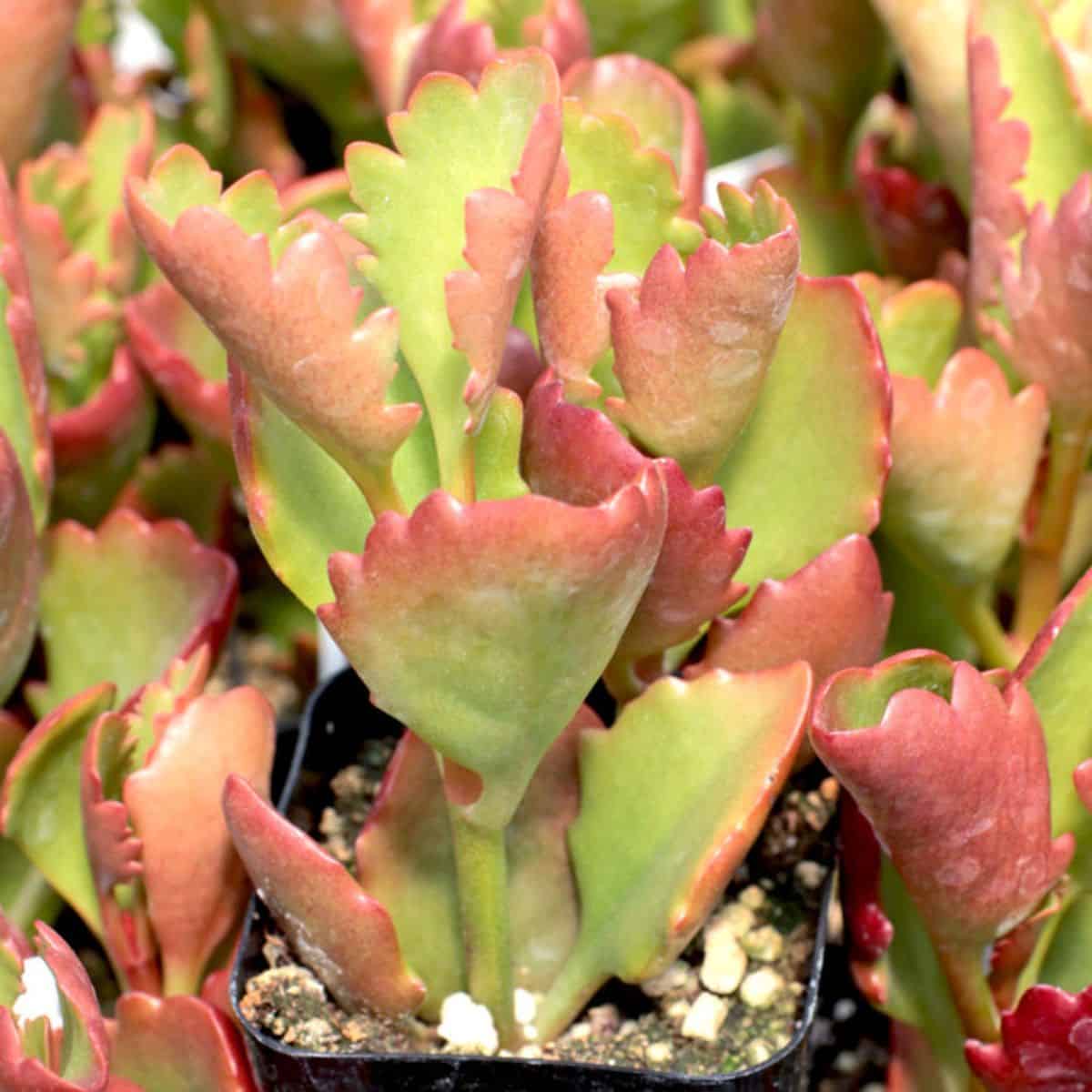 Buy it from:
The six-angled kalanchoe is a spectacular plant that has gorgeous leaves with round toothed edges and an elliptical shape. The base of the leaves are a more yellow orange as they transition to a bright red. Even the stem itself is a peachy orange! As if the color of the leaves isn't tantalizing enough, the flowers are a yellow to yellow green that last for quite some time.
Graptosedum ' Vera Higgins' Alpen Glow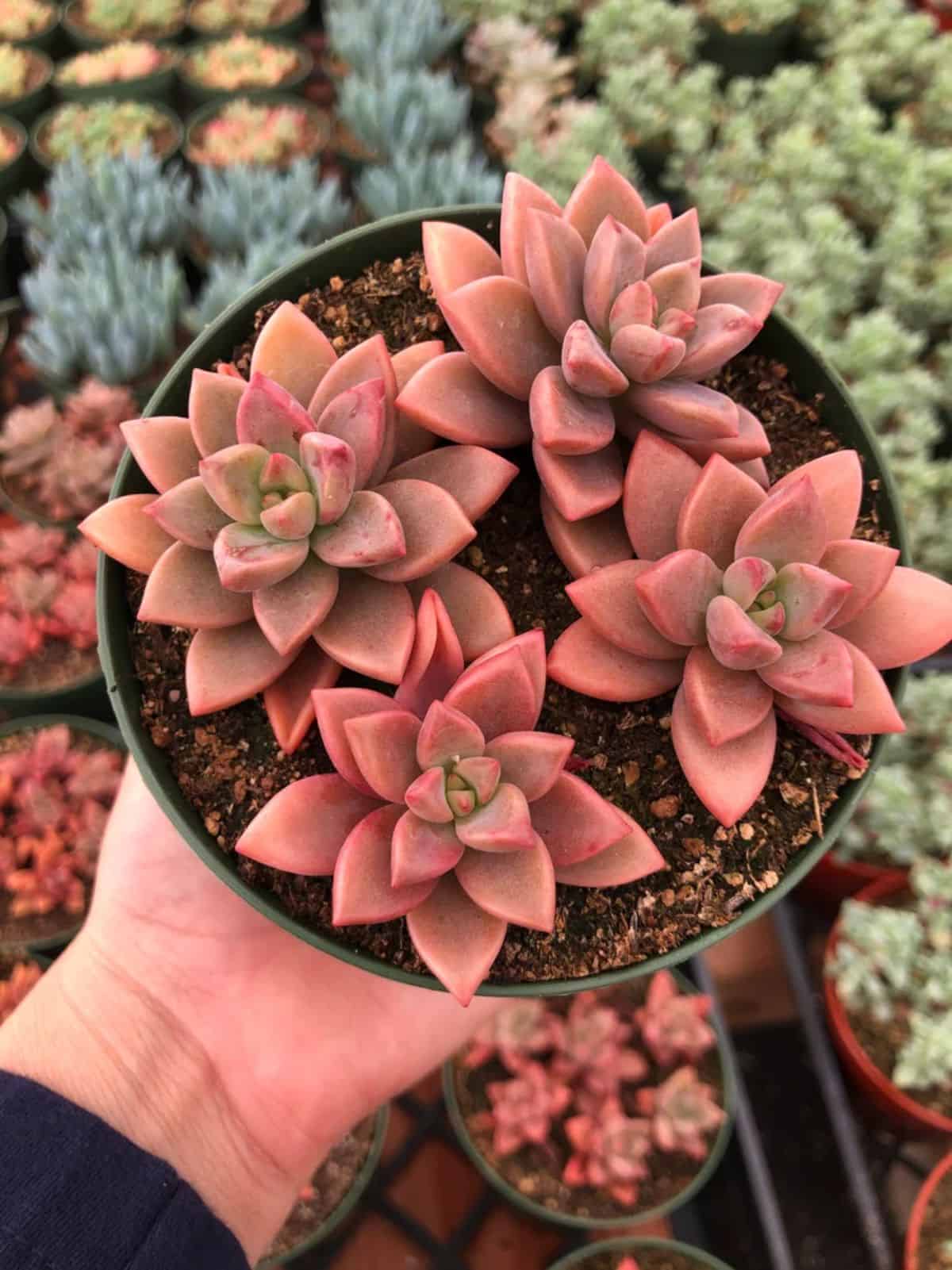 Buy it from:
The undertone of this fiery graptosedum is what gives it is characteristic glow. In the evenings and mornings when the sun hits the leaves, the graptosedum begins to glow a bright red. Like several graptosedums, the Alpen Glow can be confused as a echeveria. A key difference is their zone strength and heights. A healthy graptosedum can get up to ten inches tall!
Sedum Letizia – Lety's Sedeveria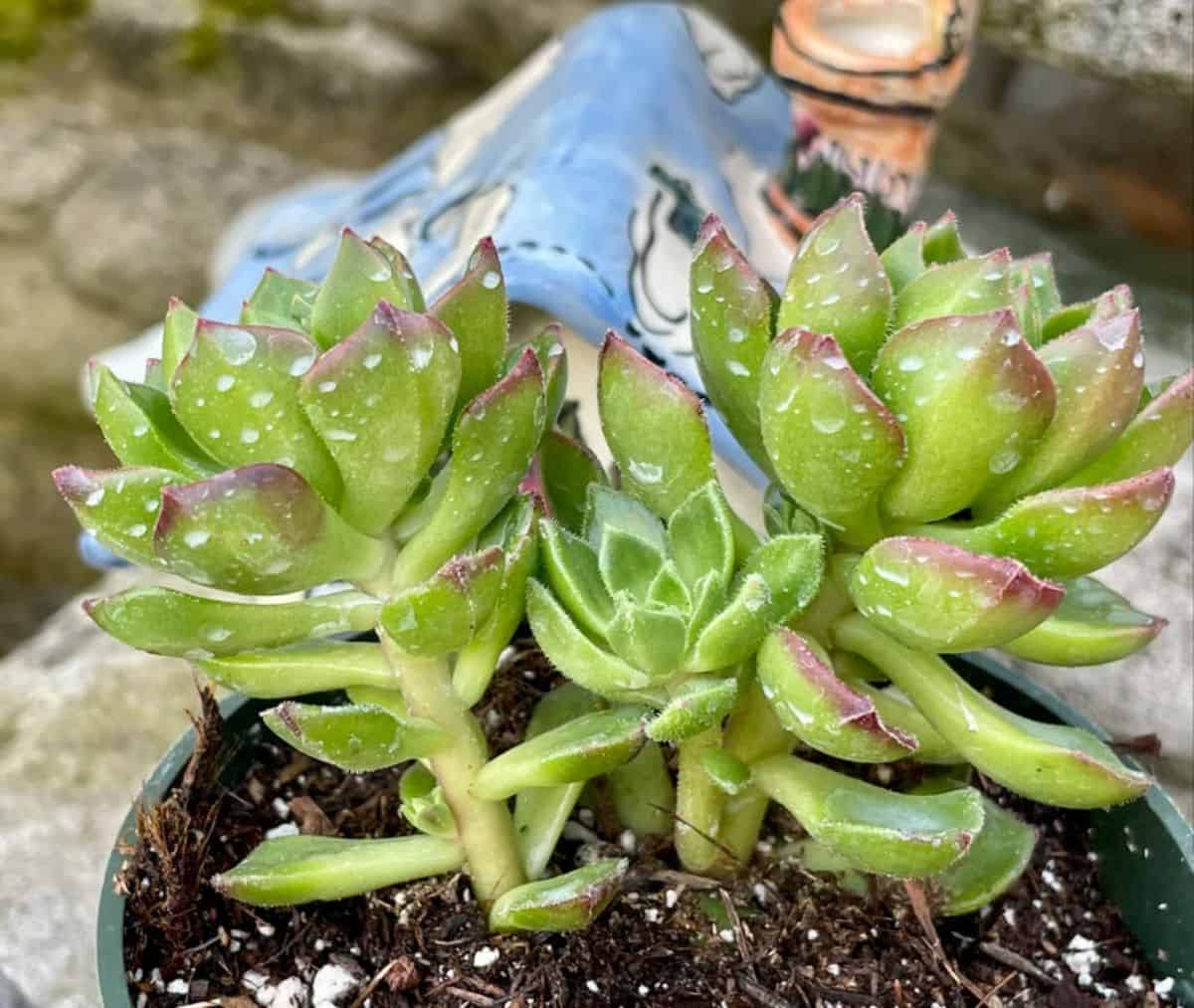 Buy it from:
Ah! Wonderful hybrids! Lety's Sedeveria is a combination between Sedum cuspidatum and Echeveria setosa var. ciliate. The combination of the two produced a beautiful, soft rosette with compact leaves and almost red agate edges. When they are grown indoors, the succulents will take on a lighter green color with a blush of red at the tips.
Echeveria Suyon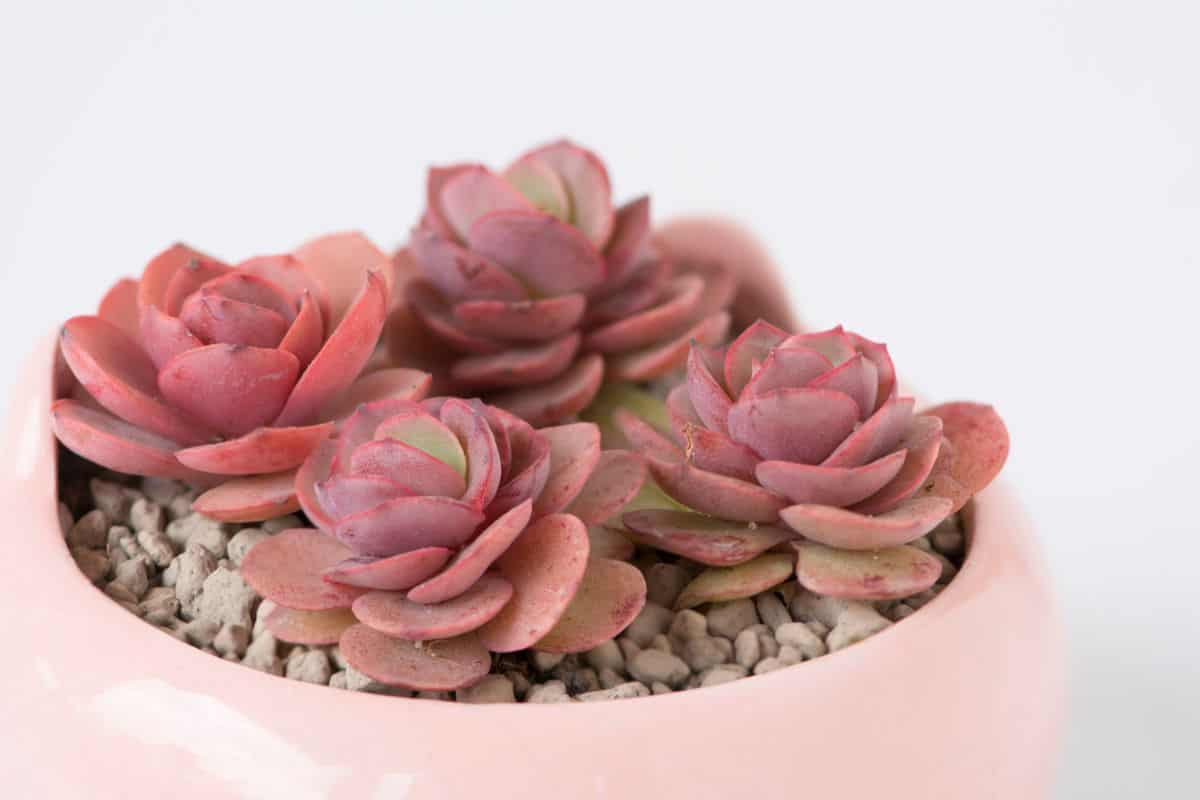 Buy it from:
This little charmer has larger leaves that form a loose rosette. They aren't as starkly red as other species, however the gorgeous dusty rose of the edges fit well with a softly hued succulent garden. From the fall to the spring, they begin to look more like a deep red all over the leaf. Don't be concerned if they seem more pink rather than red: they may be producing a bit if sunscreen. In the summer, they are going to fade a little bit thanks to dormancy which you can read about here.
Faucaria Tigrina - Tiger's Jaws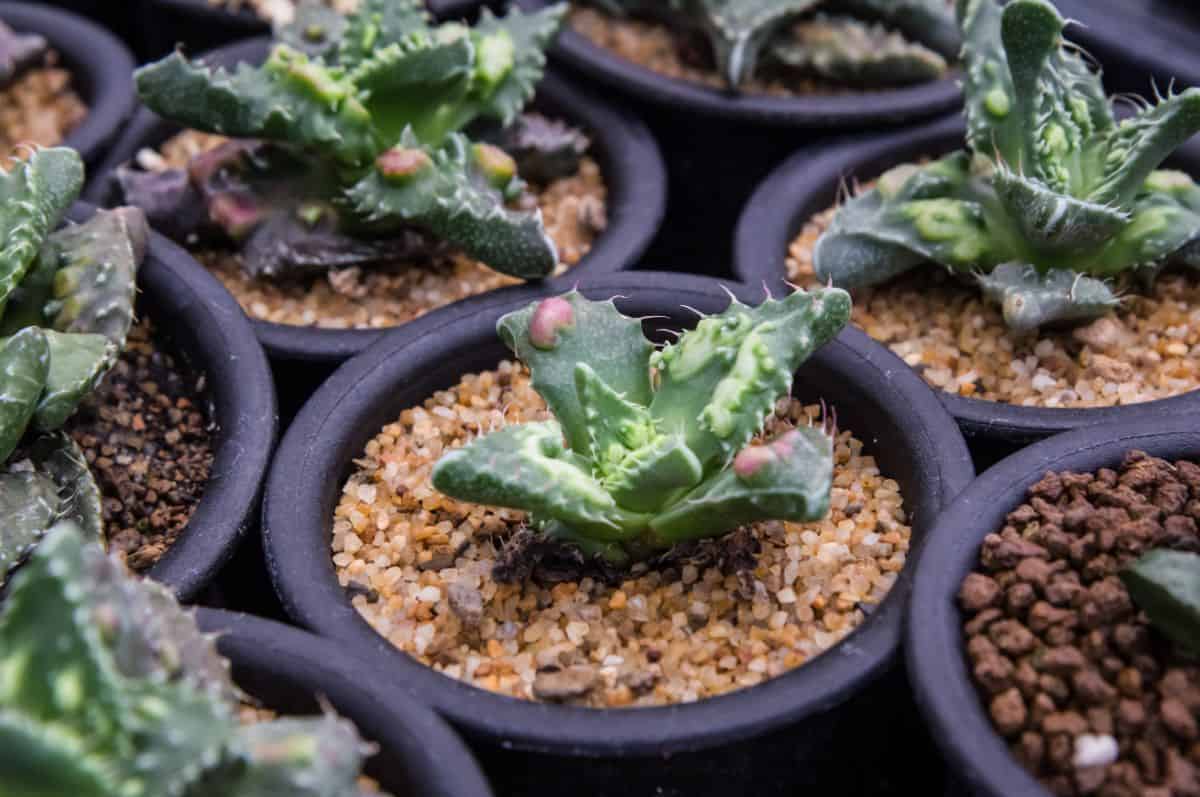 Buy it from:
Yet another stunning addition to any succulent garden, Tiger's Jaws are plump and spiky leaved plants with spines and hairs that grow to look like a jaw. The shape of the leaf looks very similar to a jaw bone as well! As with most color changing succulents, you will need to keep this in full sun but also pay attention for any sunburn looking marks on the leaves. When left in the sun, Tiger's Jaw will turn a more aggressive red which adds to the drama. When flowering season comes around, they have gorgeous, bright yellow flowers with delicate petals.
Adromischus marianiae v. herrei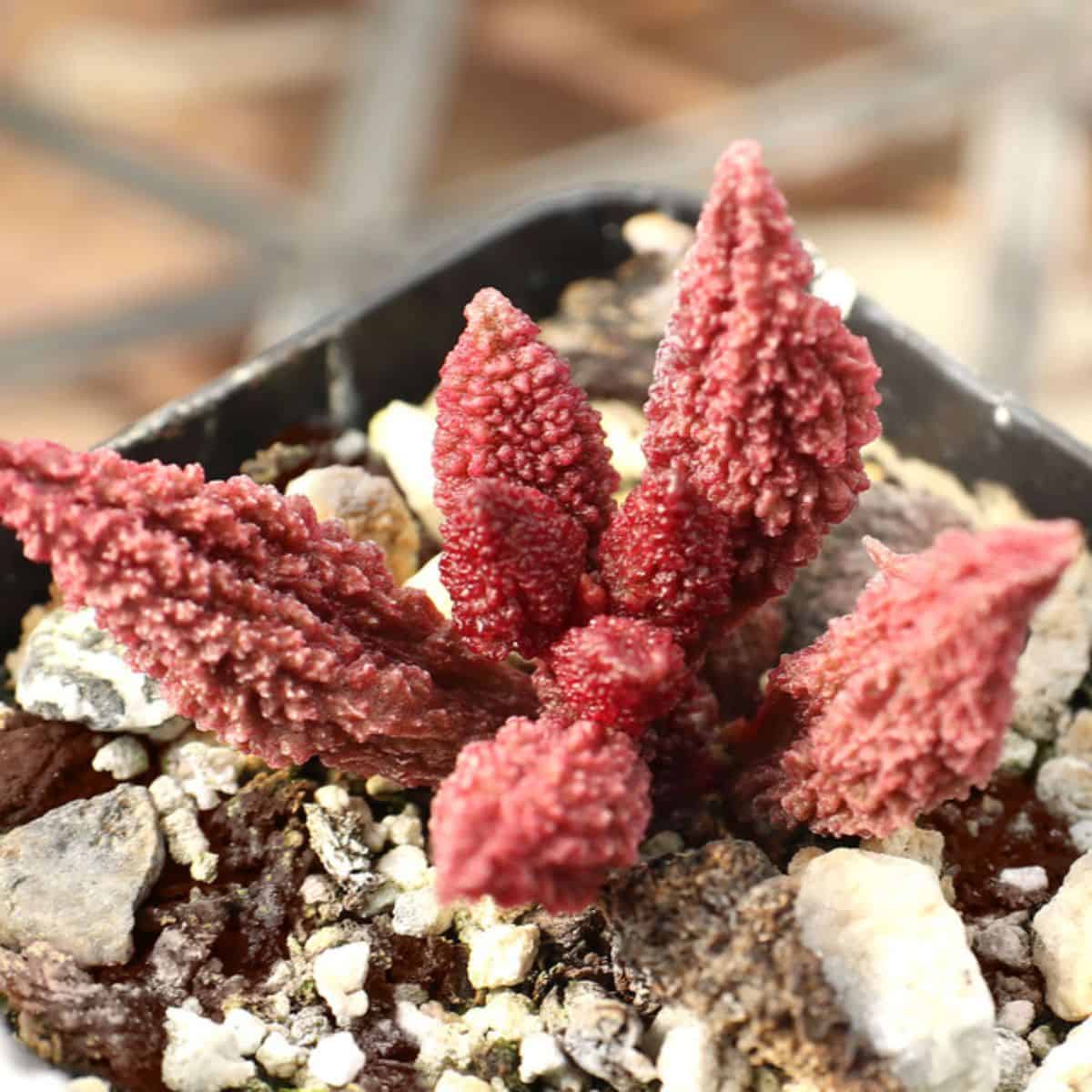 Buy it from:
This succulent looks like it could be in an episode of Stranger Things! The leaves are very thick and shaped like partially deflated balloons. Their leaves are also known for very textured skn: when left in direct sunlight, the leaves will bunch together to form a very attractive center piece. When they are left in the sun, the two inch long leaves will turn a vibrant red. There are other herrei variations, however they tend to be more smooth skinned and not as vibrant.
Lenophyllum guttatum – Sharpleaf Lenophyllum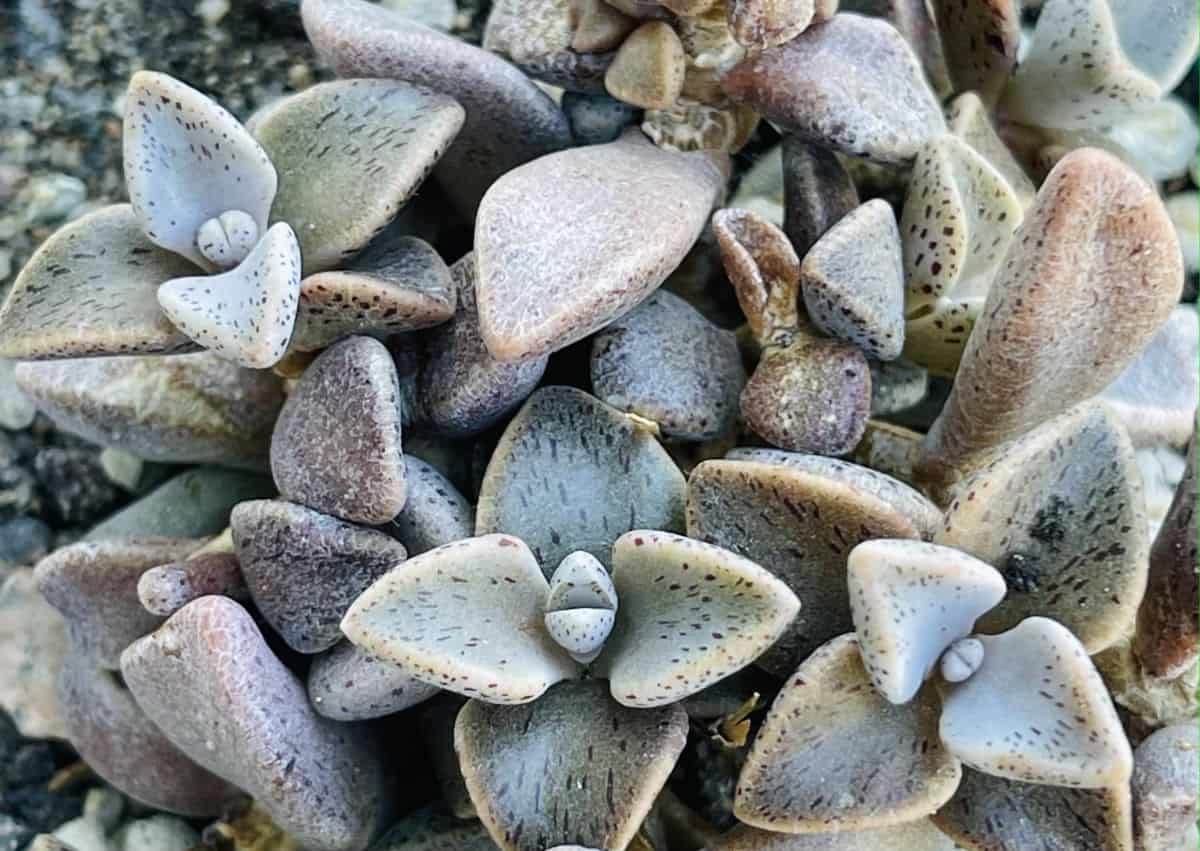 Buy it from:
While it may sound macabre, this gorgeous, triangular shaped succulent often looks like it has blood splattered along the leaves. The red is often very rich in color especially with the more variegated hybrids. Others in this species will have more spots rather than variegation so choose the ones that fit your aesthetic the most. The blooms are soft and subtle with tight buds and soft white petals. They will need direct sunlight to maintain their coloration but always watch for any health changes in your succulent.
Sedum rupestre Sunsparkler wildfire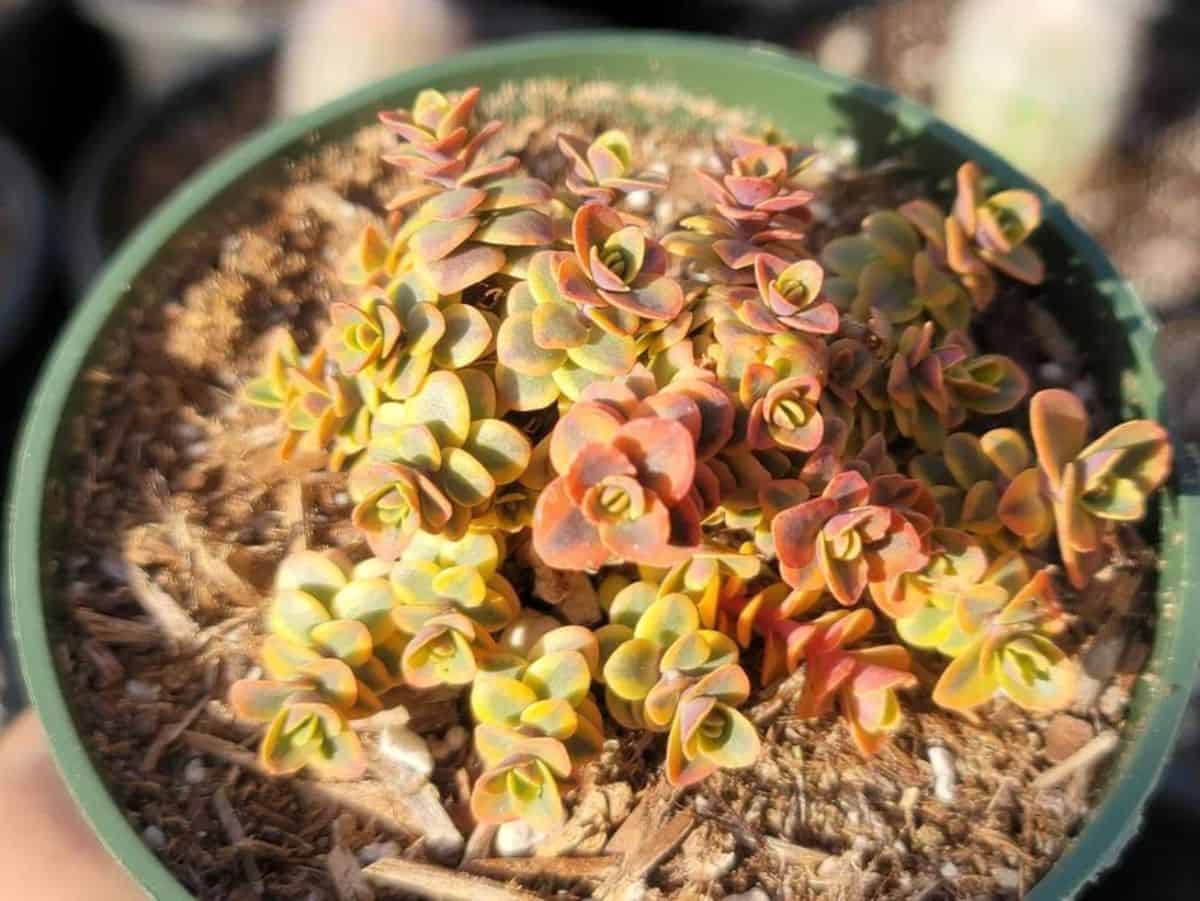 Buy it from:
This particular stonecrop sedum is especially vibrant compared to other species. The coloring is almost more of a hot pink, however their deeper purple red centers is what lands them on this list. They have teardrop shaped leaves that alternate. This creates such a full looking ground cover, you'd swear it was a carpet. They do get a little taller at about six inches, but they only cover about an 18 inch diameter. These are a great drought tolerant plant and would accent any garden beautifully.
Aeonium 'Phoenix Flame'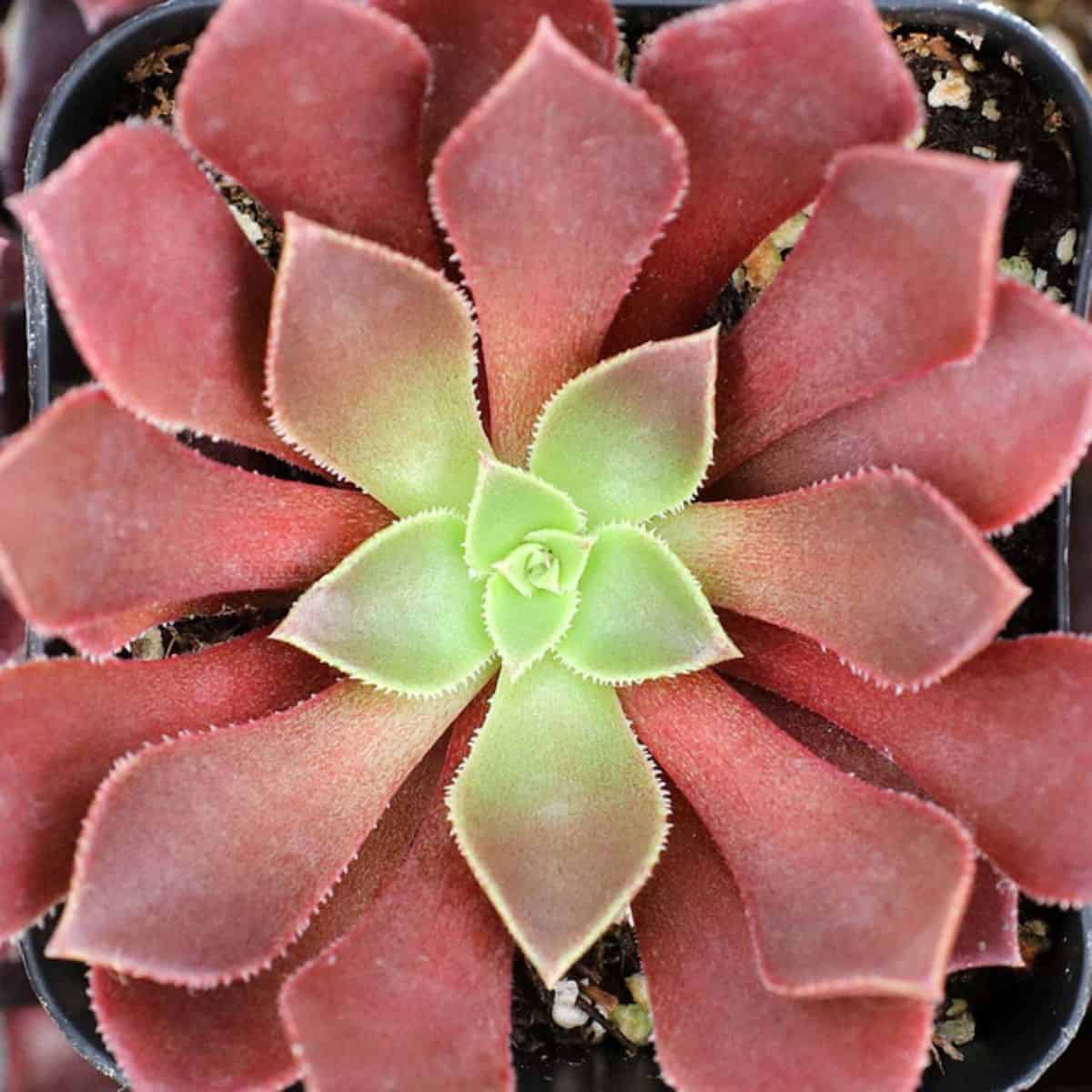 Buy it from:
A little more on the fragile side, Phoenix Flame is a spectacular contrast of barn door red mature leaves and electric new green leaves. They are shaped almost like a spoon with a pointed edge, and they have tiny hairs that grow along the outside of the leaves. Their rosettes are more widespread and wider than say a sempervivium. They have more open space for air to get through so be sure to watch for dehydration.
Othonna Capensis— "Ruby Necklace"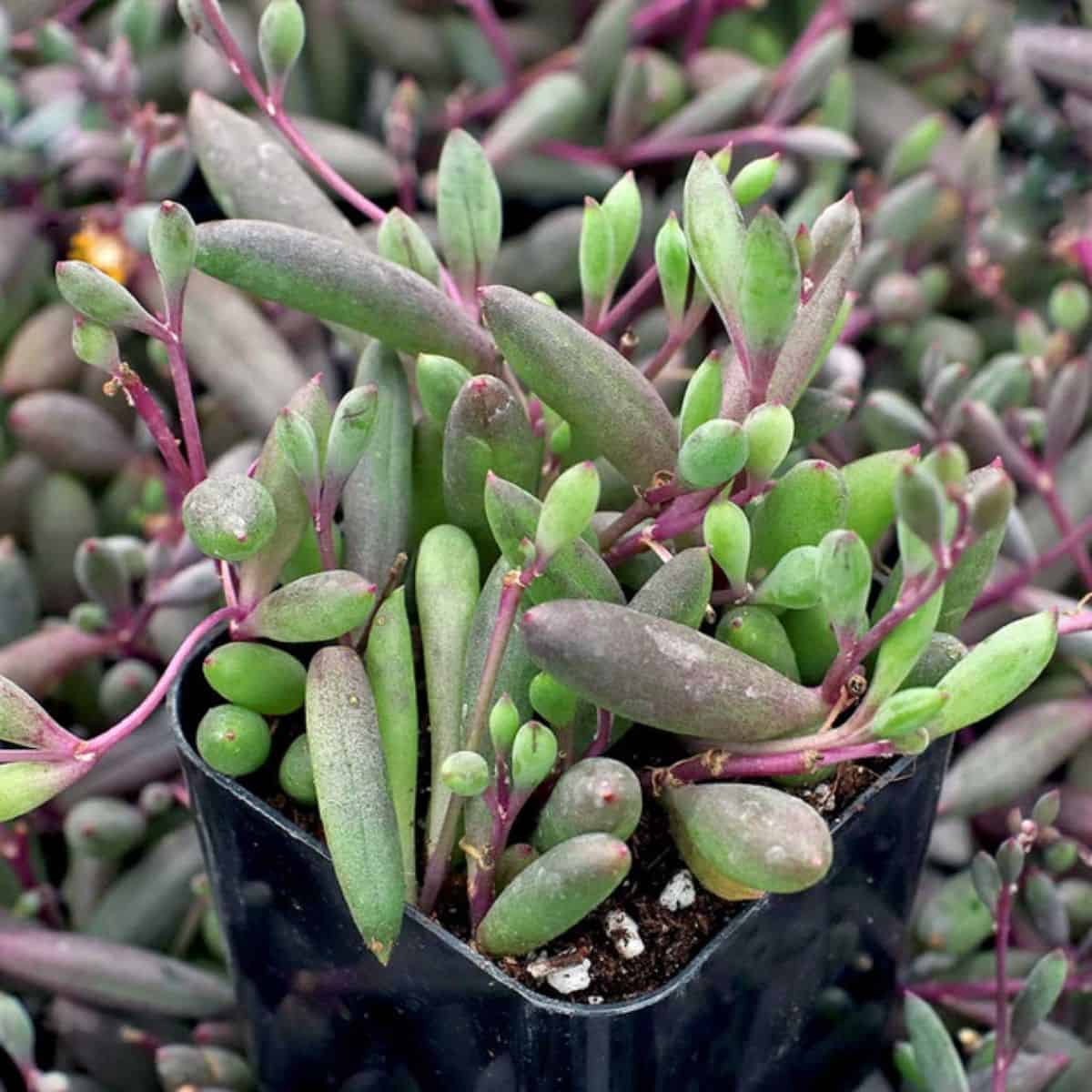 Buy it from:
If traditional echeverias, sempervivums, and aeoniums aren't your style, then you will want to pick up the stunning Ruby Necklace string succulent. They have large, plump leaves that are either round or tear drop shaped. During their active season and exposure to sunlight or slight cold, this two-foot-long string turns a purple red hue. When not stressed, they remain a strong green color with magenta stems.
Greenovia Rose Succulent - 'Blood Cherry'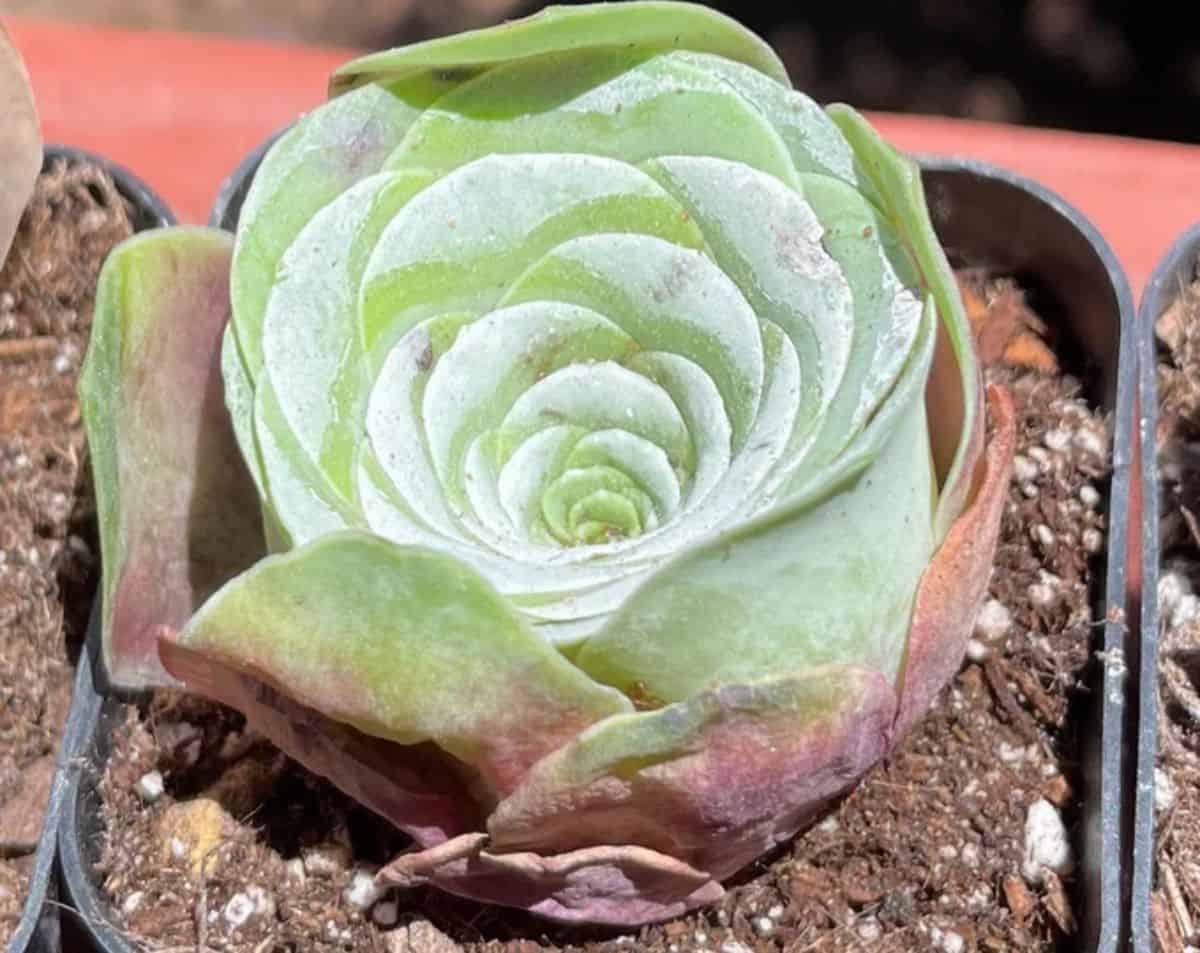 Buy it from:
Greenovia's are the perfect rosette, or at least as perfect as you can get without actually buying roses. These types of succulents are sometimes called mountain roses because they tend to grow at higher altitudes. Blood Cherry is a smaller greenovia that can bunch together while still maintaining the bing cherry red outer leaves that protect the younger lime green leaves in the center.
Crassula pubescens ssp. Radicans – Red Carpet Stonecrop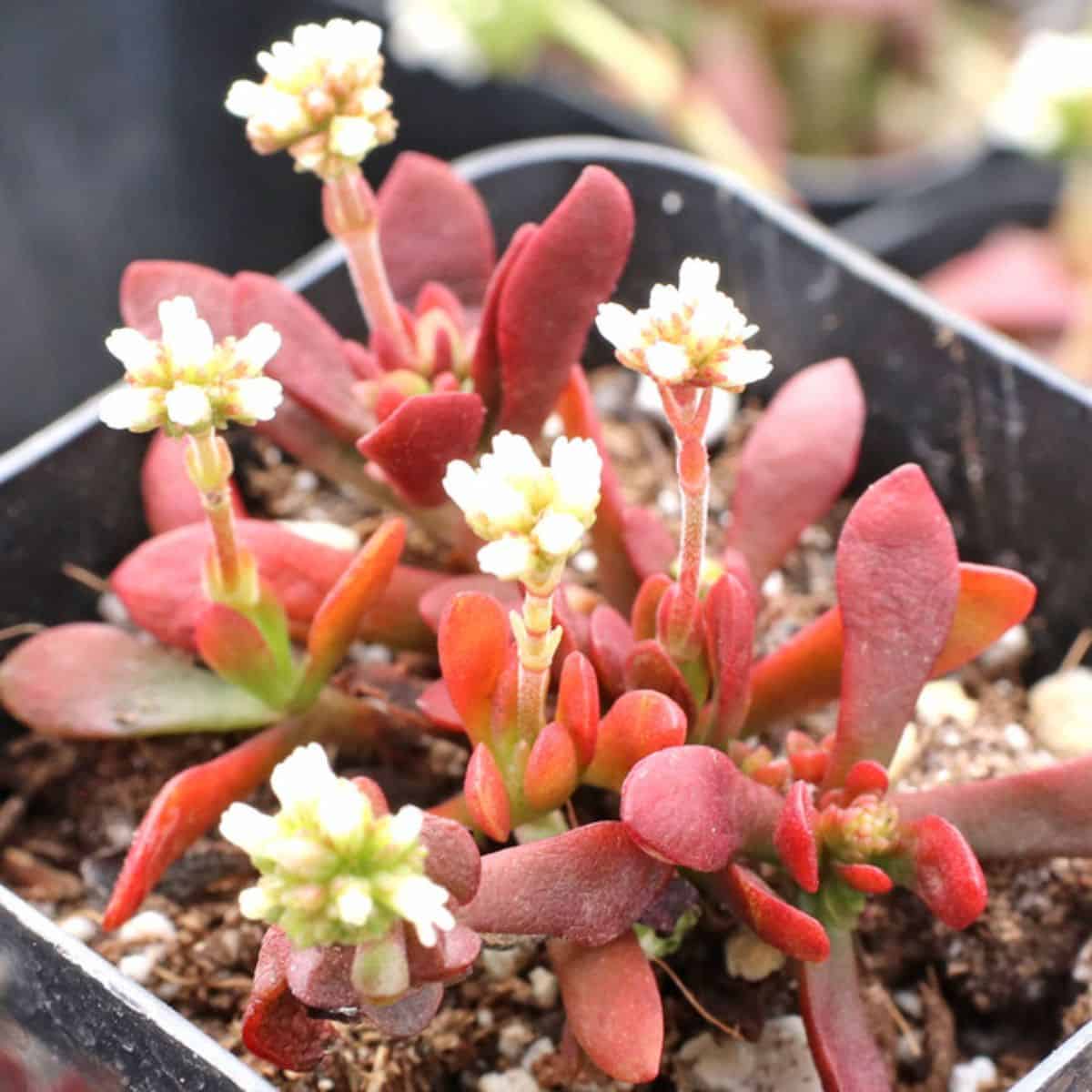 Buy it from:
Stonecrops are incredibly varied plants. From large leaves to small, from pagoda like leaves to alternating leaves, there is always a fantastic variety. With the Red Carpet, it grwos from two to six inches high, although it typically stays shorter. They do grow to about three feet in diameter as well. As long as the Red Carpet is in the sunlight, the edges of the leaves will maintain a red strip at the end of each leaf.
Sedum ochroleucum 'Red Wiggle'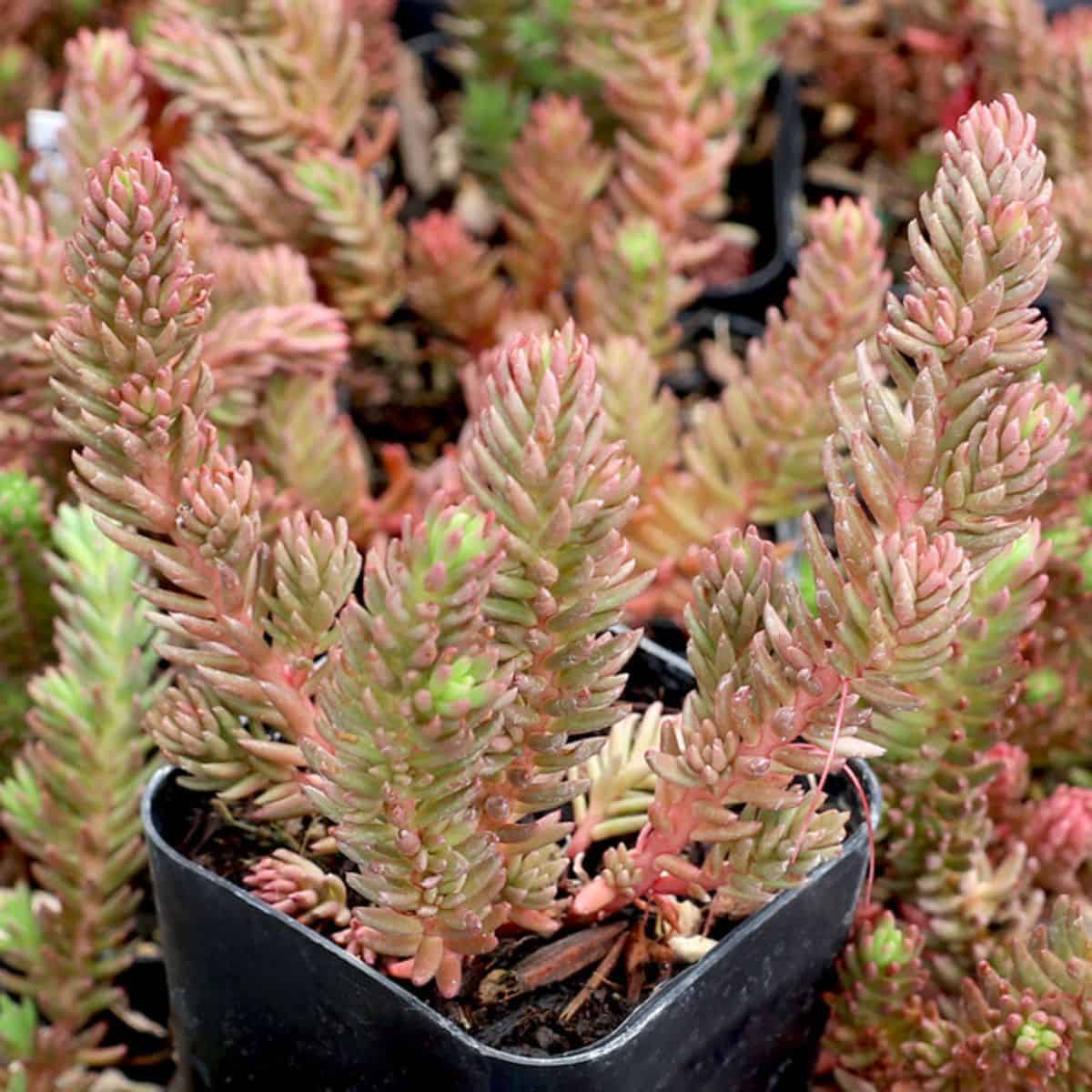 Buy it from:
If you are looking for a plant to bring joy and wonder to your garden, then the Red Wiggle lives up to its name. When kept in partial to full sun, they will retain their bright red color and look very much like a blanket of mini red pine trees. Fortunately, they are very versatile plants and stay very short which is what makes them an excellent ground cover.
A Note on the Next 13 Succulents
Many succulents are hyrbids of either other succulents or two from the same species. These hybrids are what give us so many variations in succulents. Just because each of the following succulents are all from the sempervivum family doesn't negate their uniqueness. For this section, I will point out their differences and unique features so that they are easier to tell apart.
Sempervivums
Patent Leather Shoes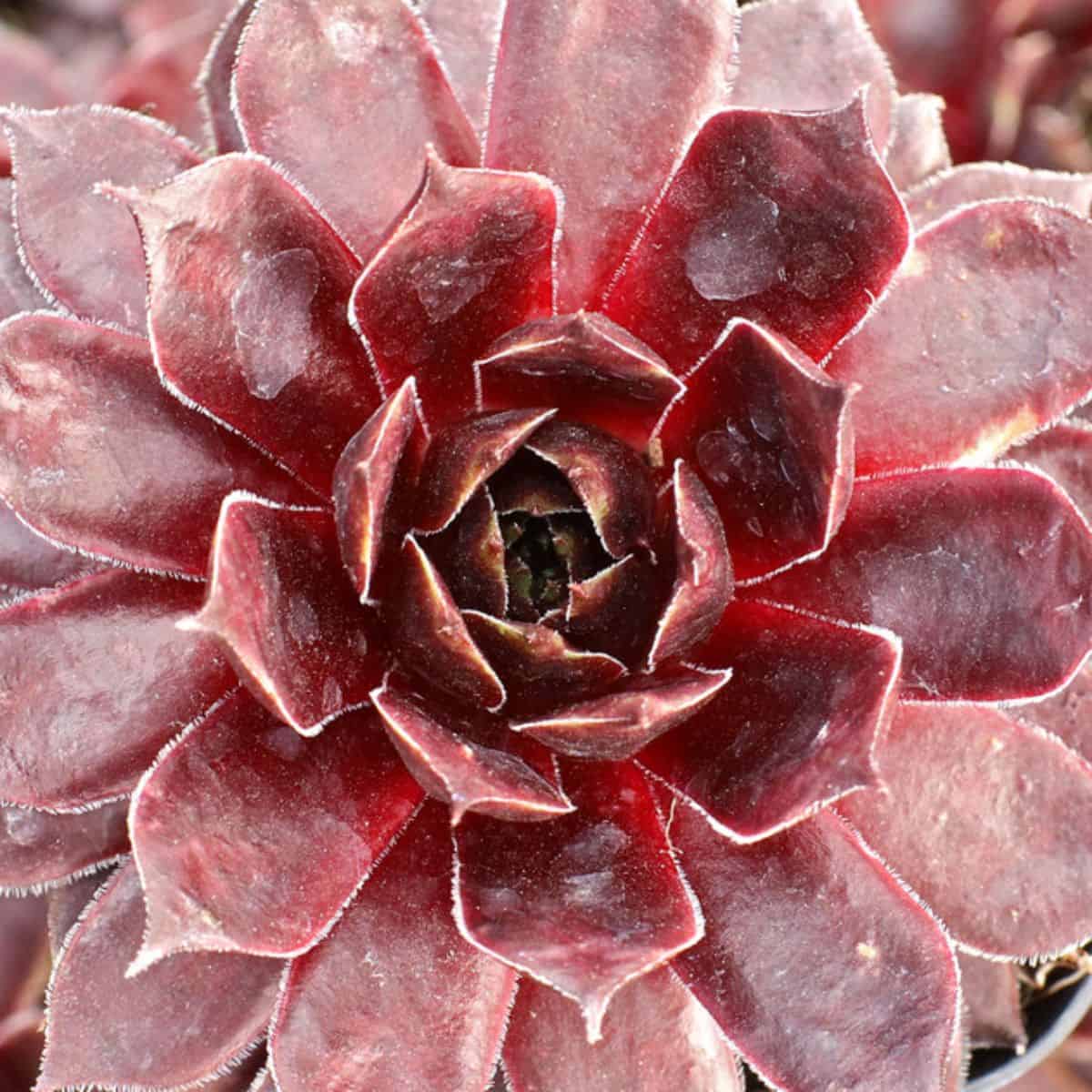 Buy it from:
The quintessential red succulent. If you want something that is more red than green even in off seasons, then Patent Leather Shoes is the way to go. The rosette in the center is tightly packed while more mature leaves form a slight halo around the younger leaves. At times, the succulent can be more red in the center and green along the outside of the leaves, however this will occur more than likely when the plant is indoors.
Red Zinger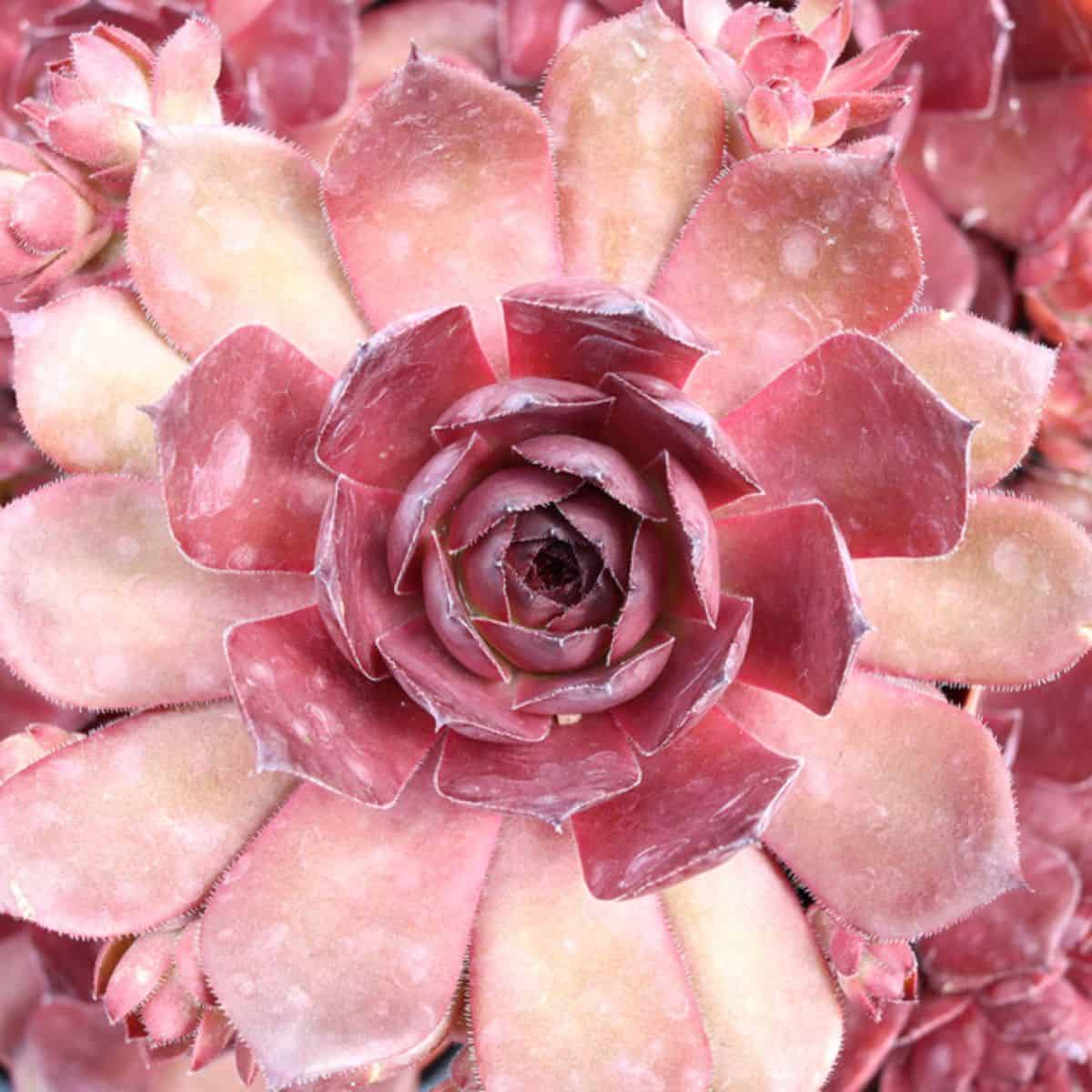 Buy it from:
If you are looking for a giant splash of vibrant red, then the Red Zinger is for you. Each rosette can reach up to eight inches in diameter. Unlike other succulents that change colors based upon the seasons, the Red Zinger maintains it's color all year. One of the prominent features of this succulent is that the more mature leaves loose some of their color which makes the younger, more red leaves stand out.
Alpha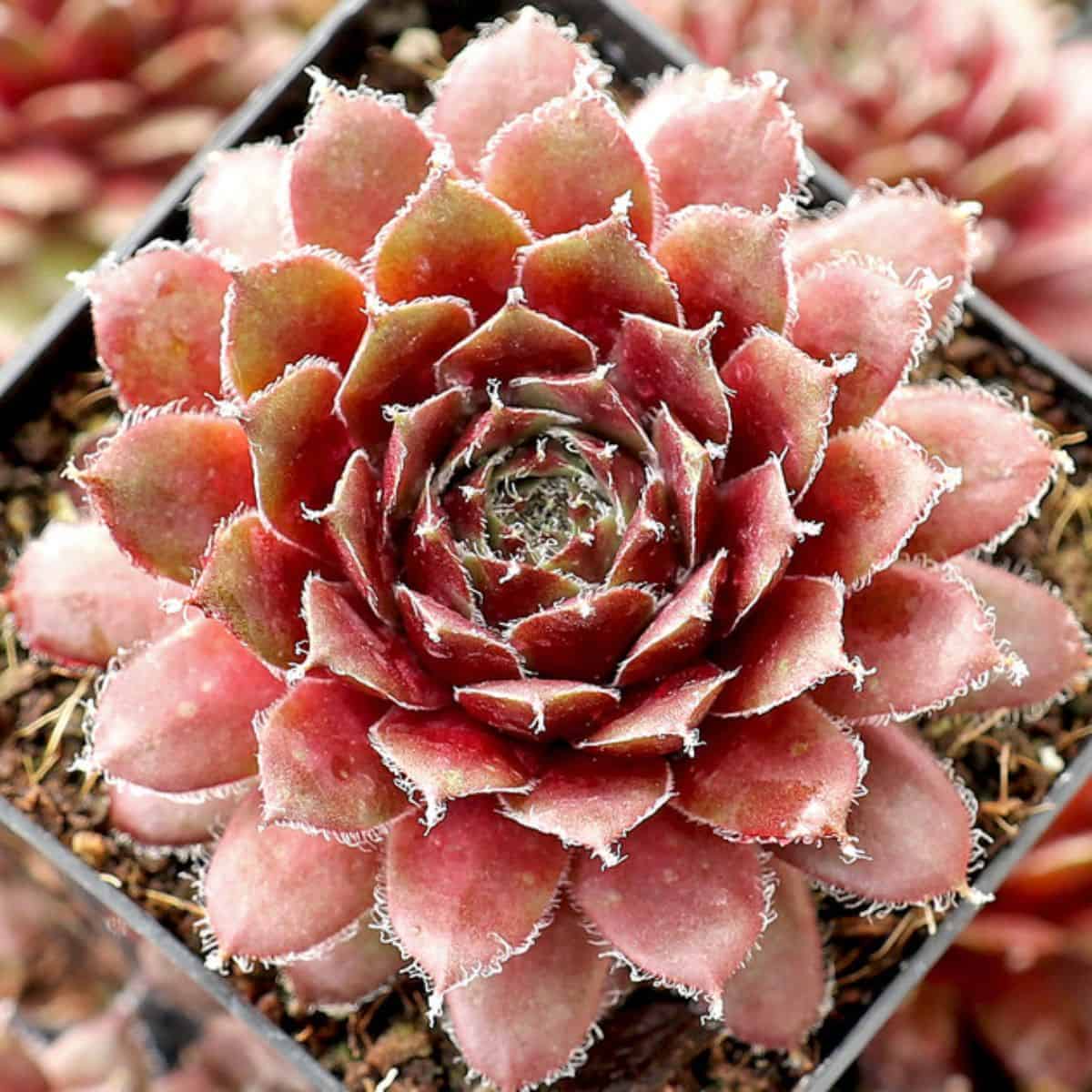 Buy it from:
The Alpha is a more compact sempervivium with leaves that are more upright than the previous examples. Their leaves are primarily red with hints of green at the tips. One of the cuter elements of this sempervivium is the tiny hairs that grow along the sides of each leaf. It makes the succulent look as though it's a fuzzy pup!
Strawberry Kiwi (Fashion Diva)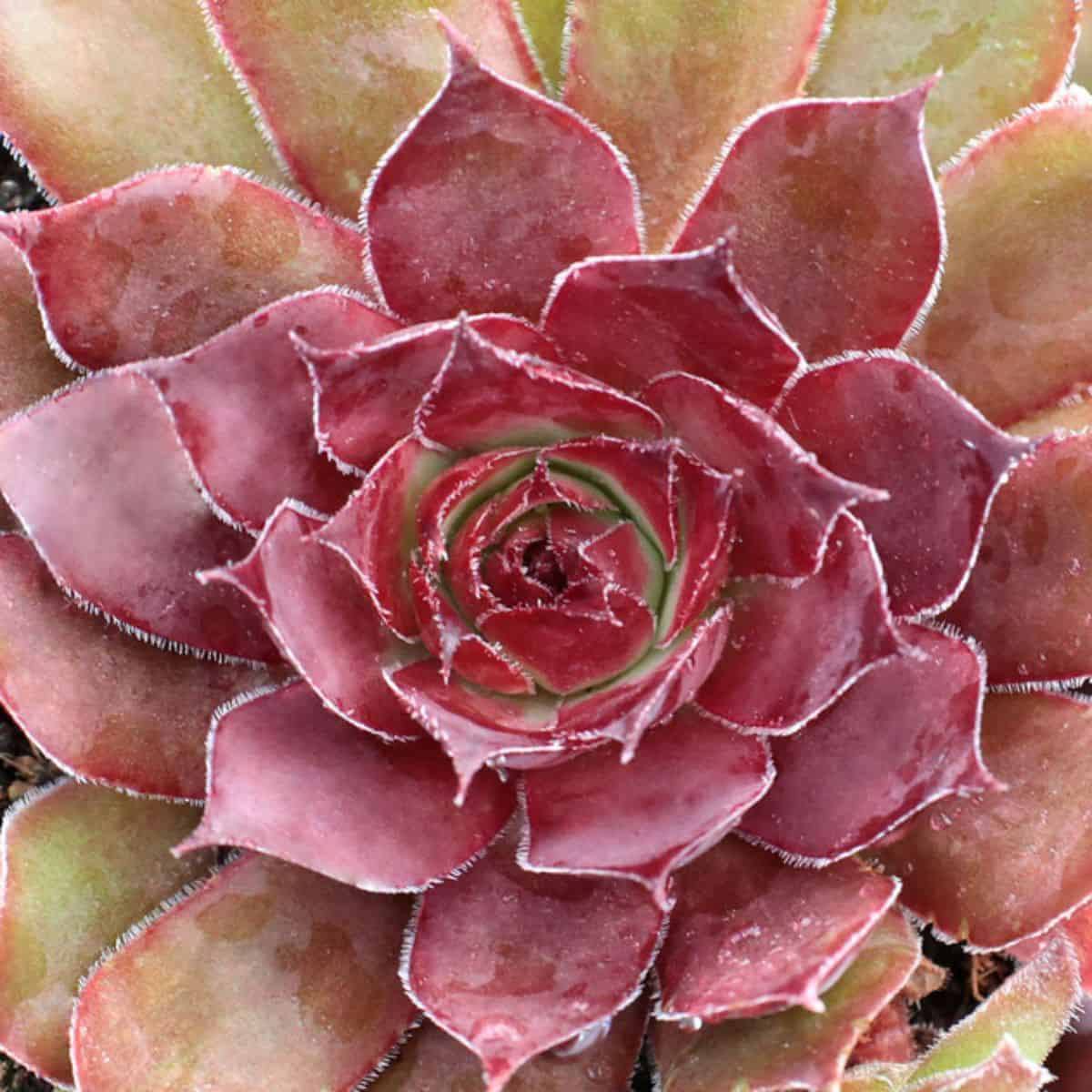 Buy it from:
There are two names for this cultivar: Strawberry Kiwi and Fashion Diva. Both names make sense with the showy colors and contrasting strawberry red and kiwi green of this sempervivium. It is a tightly packed rosette with leaves that come to a fine point: the leaves are also plump and have a gradient of red younger leaves that mature into the bright green mature leaves. Some of the leaves may retain some of the red along their edges, but that isn't always the case.
Milady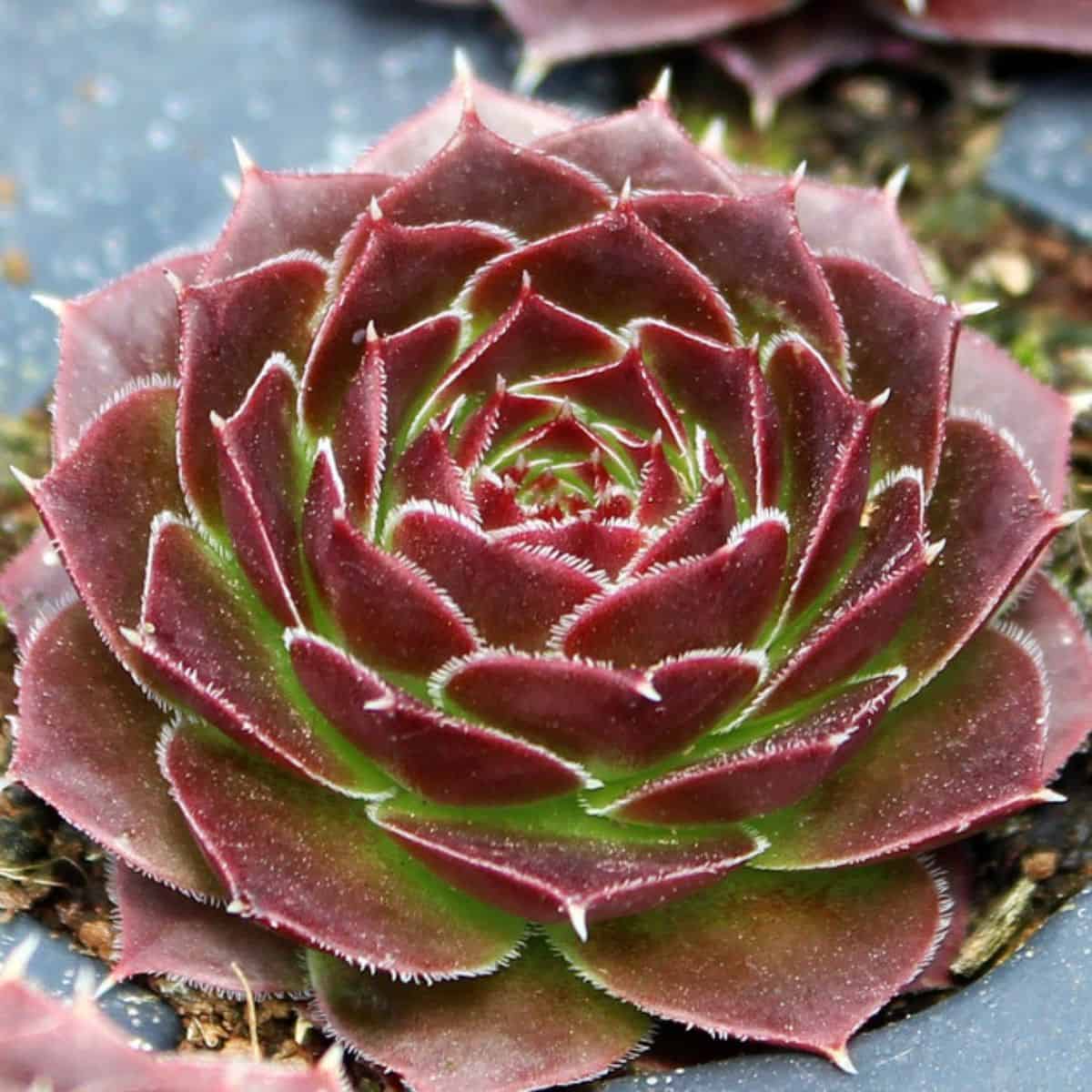 Buy it from:
Milady is a more elegantly shaped and almost perfectly symmetrical rosette. Roughly fifty percent of the end of the leaves are red while the other fifty percent is light green. As the leaves mature, they do loose a little but of color, but there is still quite a bit of red unlike the Fashion Diva. When this succulent is fully open, it does look like it is glowing from the inside out with a vibrant green light!
Bros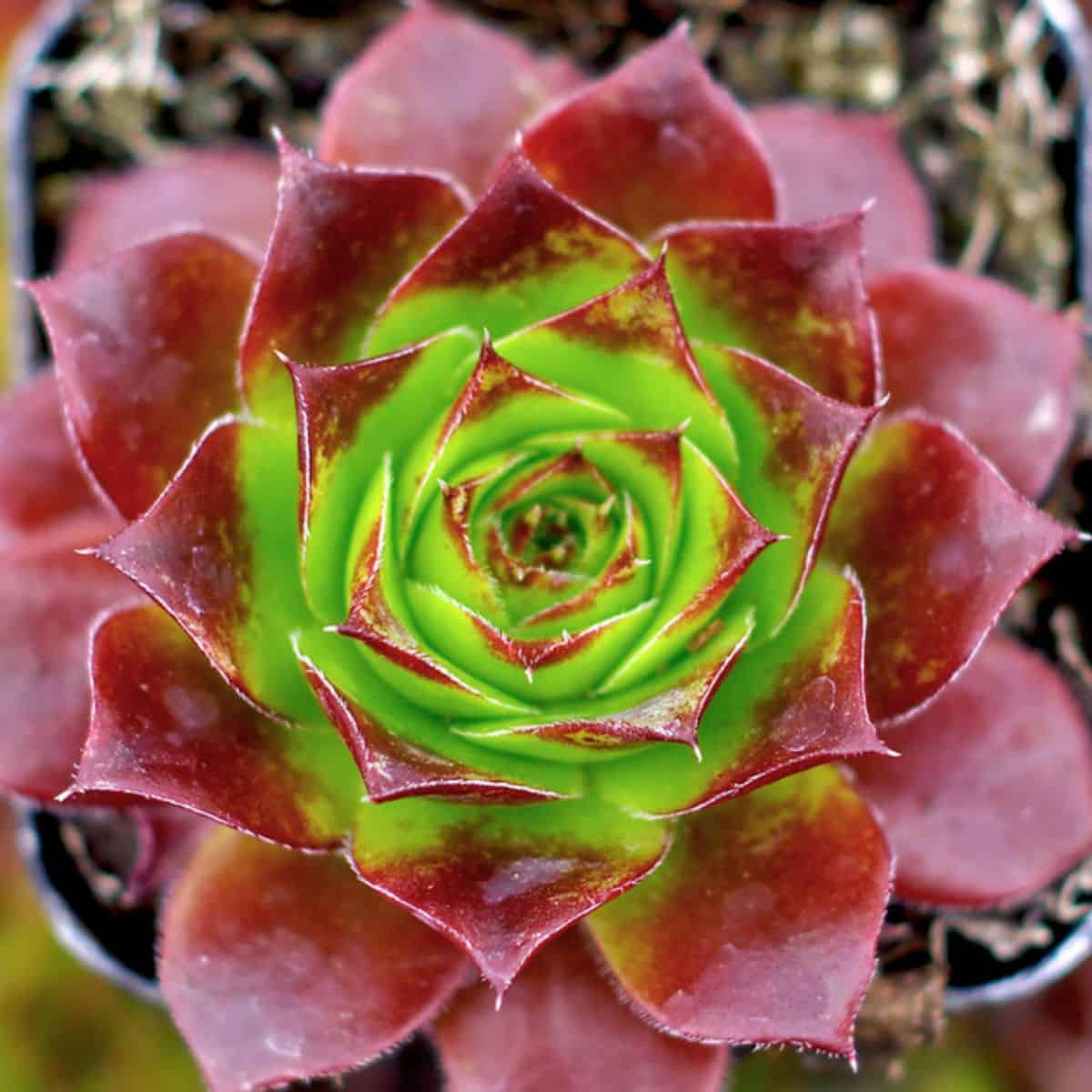 Buy it from:
The easiest way to describe the bros variety is that it is close to the exact opposite coloration of the Fashion Diva. They have very intense green young laves with red tips. As they mature, the leaves gain more red. Bros and Milady are extremely similar when compared: a great way to tell the difference is the shape of the leaves: Milady more subtle and rounded leaves while the Bros variety has leaves that come to a sharper point.
Hot Stuff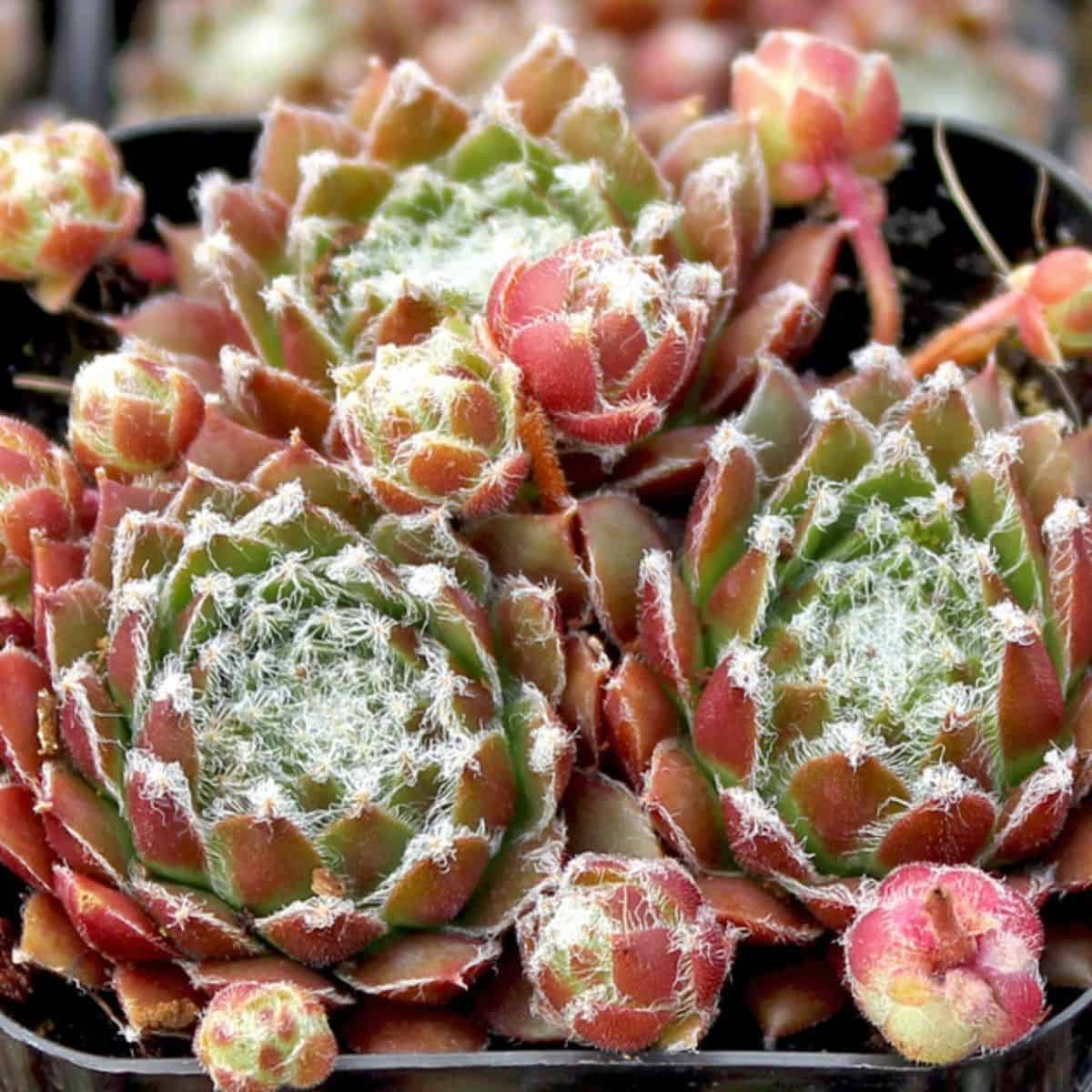 Buy it from:
Hot stuff is fun succulent that can grow into large compact rosettes with cute furry leaves. Rather than the smaller hairs on the Alpha, Hot Stuff has furry spines that reach from the edge of one leaf to the next. Immature leaves are red towards the center of the plant, but as the leaves mature, they turn more to an olive green.
Jade Rose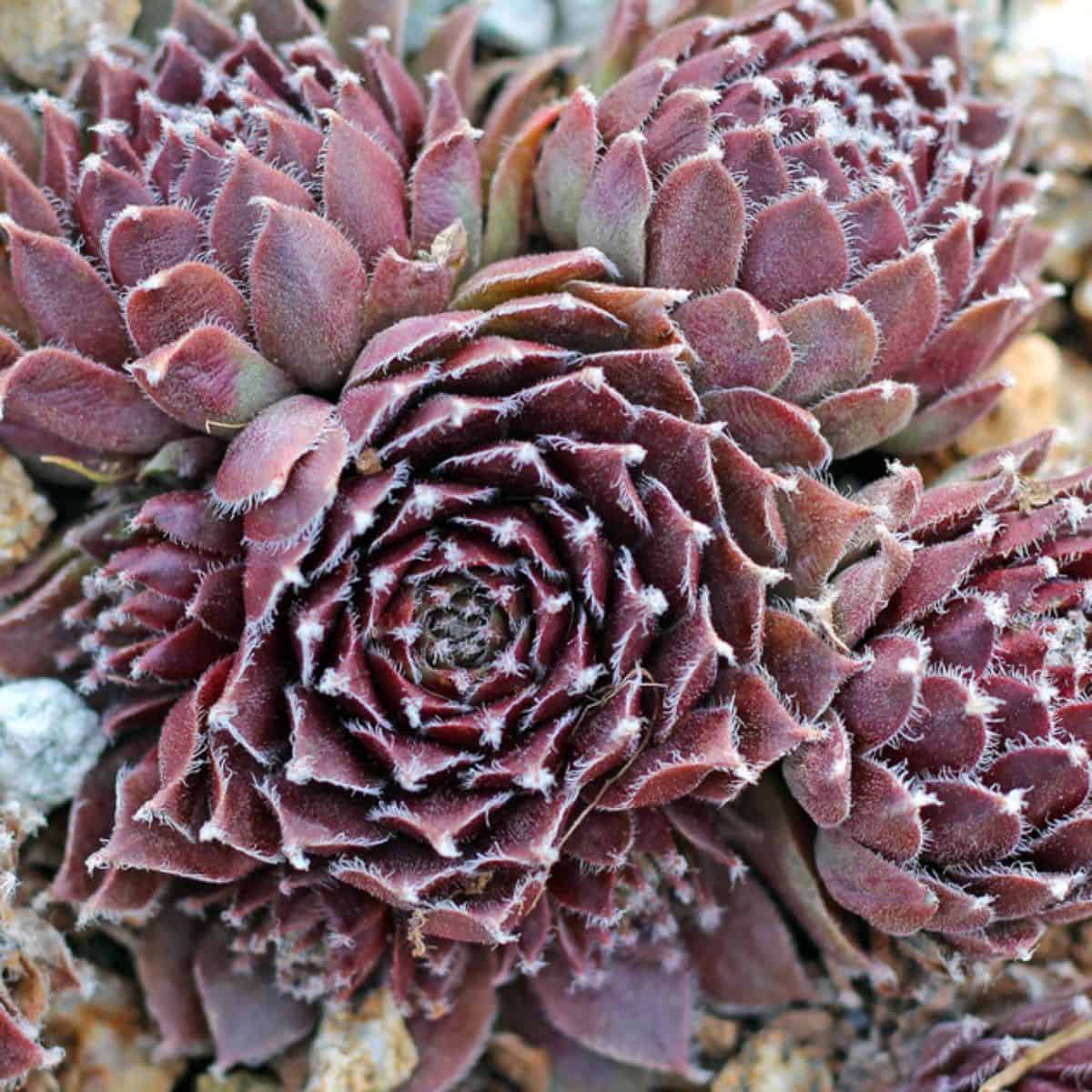 Buy it from:
Another tufted variety is the Jade Rose. This one has tufts that are just about as long as Hot Stuff tufts, and their major difference is that the Jade Rose has a green undertone, but has red sectioned leaves throughout the year. When it is cold outside, this succulent changes yet again to a light lavender as it is dormant through the winter.
Red Rubin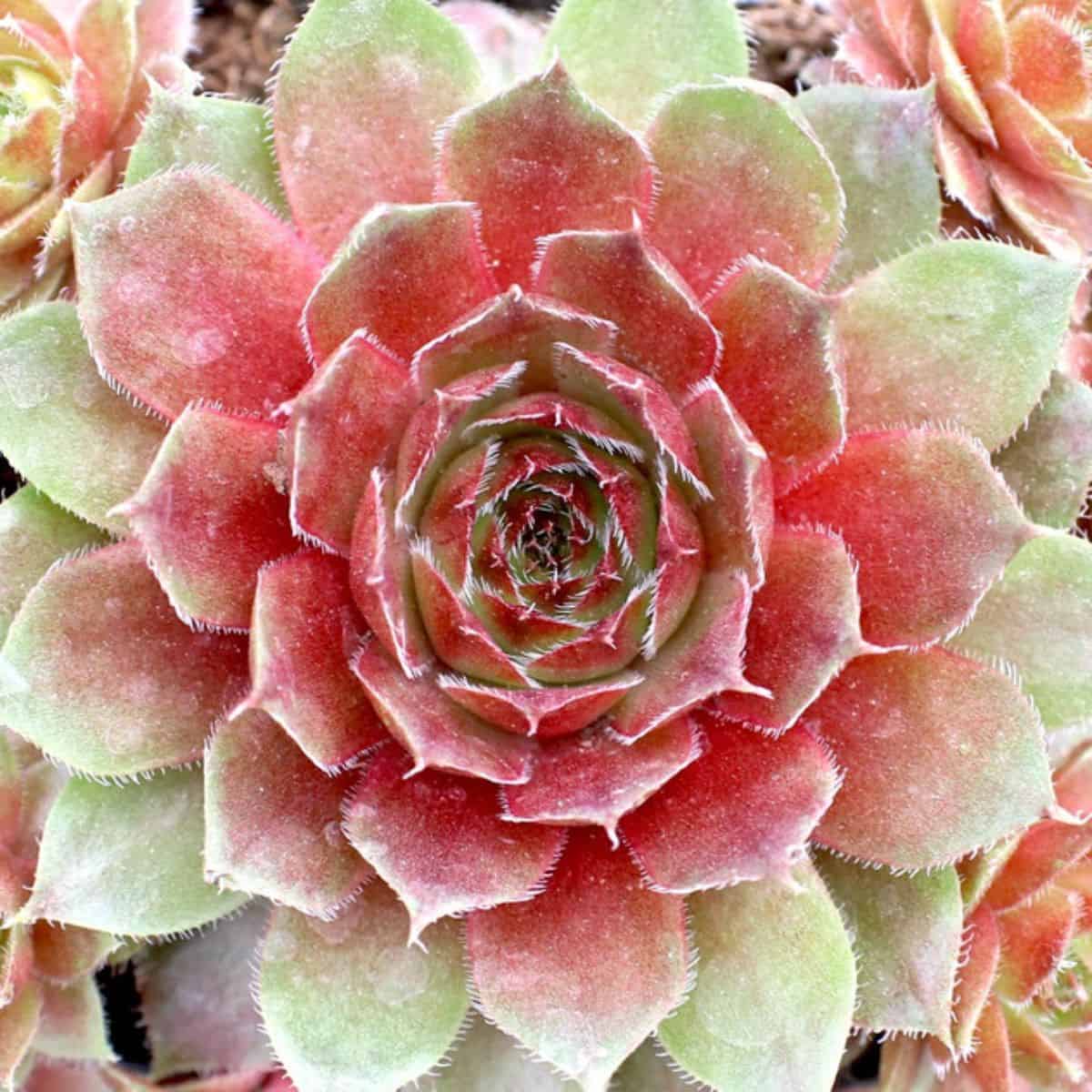 Buy it from:
Even though this cultivar is called Red Rubin, it looks much like a watermelon. The more mature leaves are a very light green with tiny tufts along the edges while the younger leaves are a beautiful pinkish red. The tufts look a little more spin-like as compared to Jade Rose or Hot Stuff, but they are still cute! As the Red Rubin grows, it can maintain it's watermelon color on the edges of the leaves or in the center of the rosette. If left in full sun, they will grow darker and almost purple.
Red West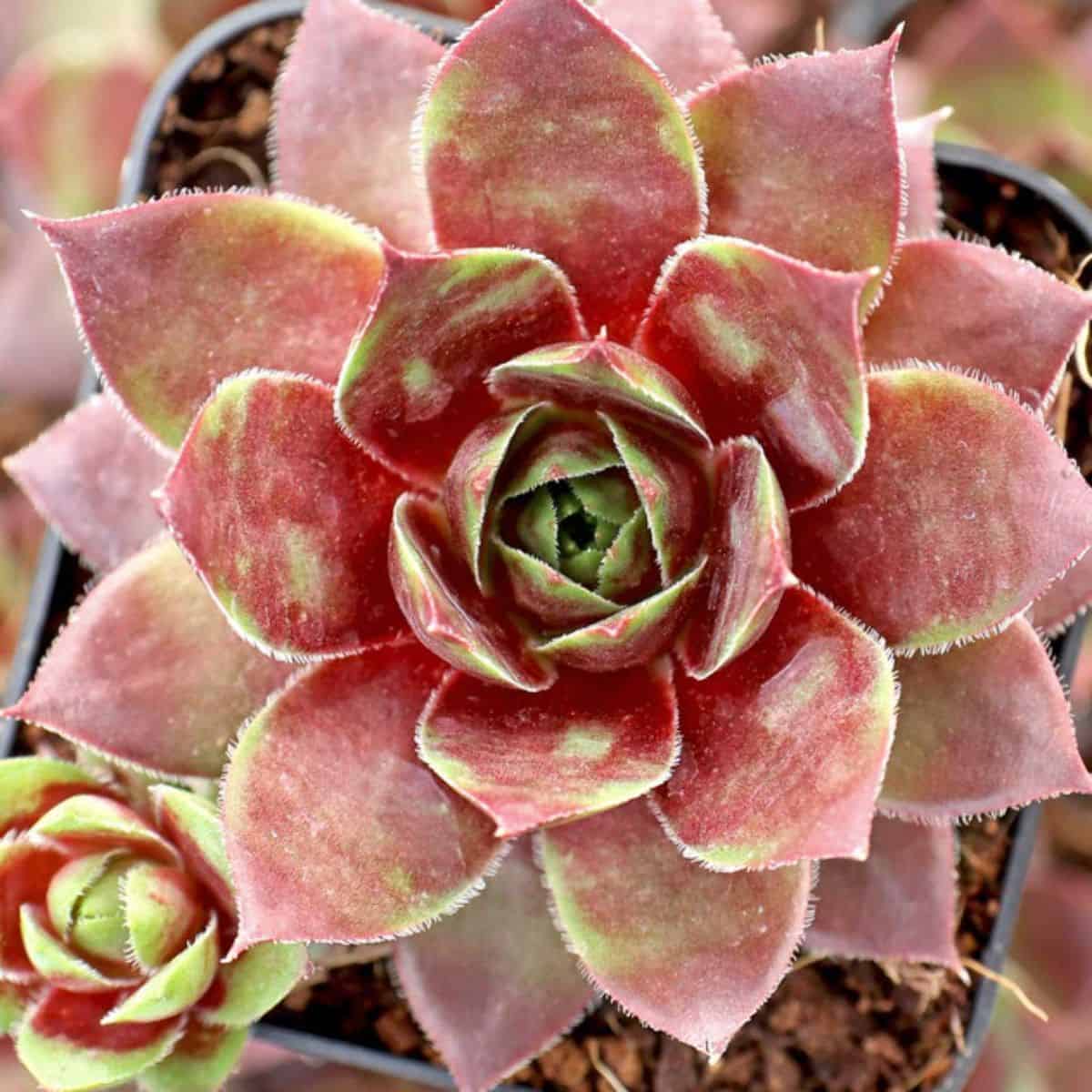 Buy it from:
The Red West is more of a dappled succulent. Generally speaking, the leaves have light green edges, but a dapple here or there might break up the line of green. As the Red West ages, the red may centralize on each leaf which instead makes it look like an olive-red-olive pattern on the rosette. Other variations in this cultivar may result in dusty red tips as well.
Crimson Crush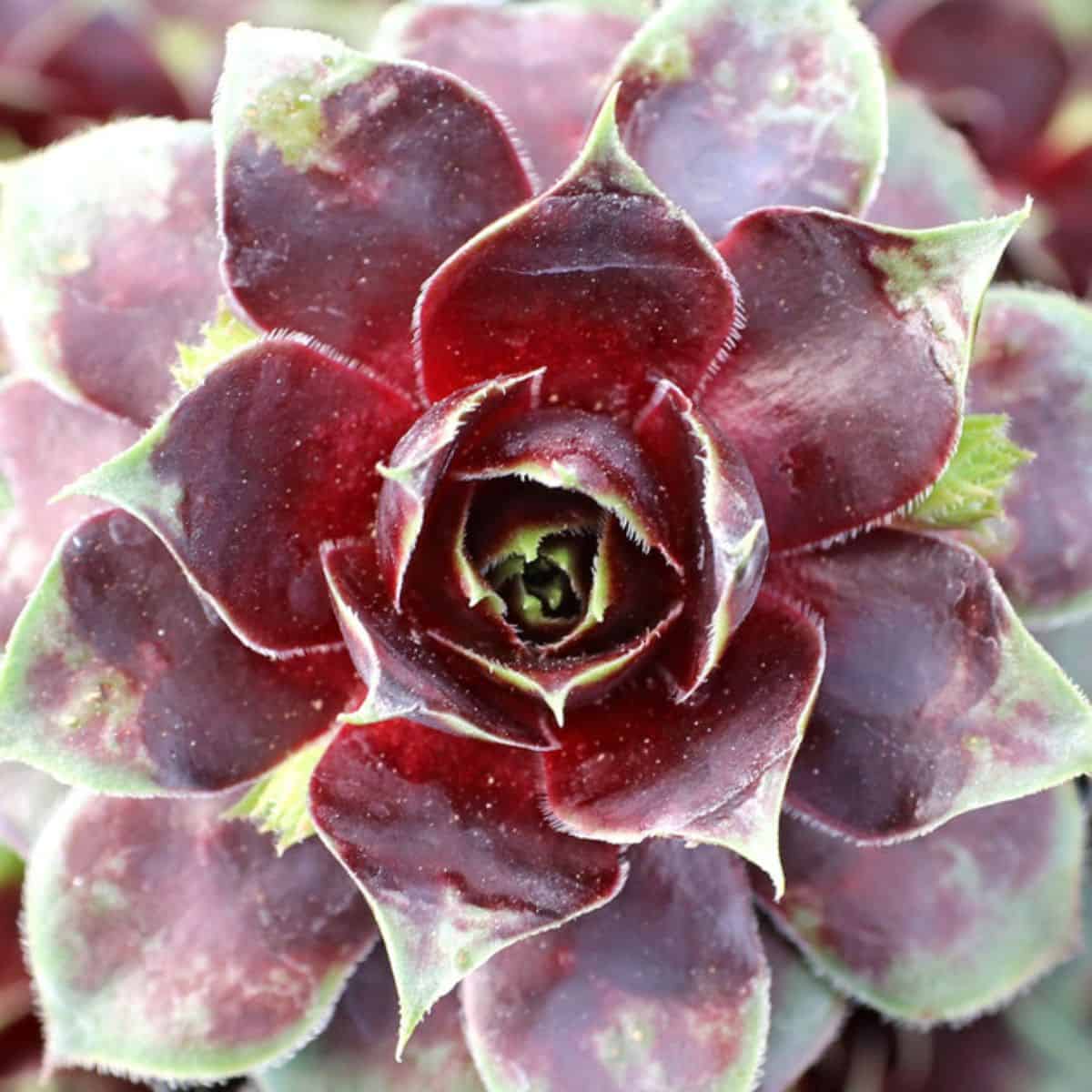 Buy it from:
A well named succulent for sure! The Crimson crush looks like a typical open rosette sempervivium. But what draws you in is how intense the burgundy red of the leaves is. They can lose some of their color if grown inside, however they will otherwise stay a deep red. Only the very tips of the plant stay green year round when left outside. These are not slow growing succulents. They are very active and great for filling in spaces.
Black Velvet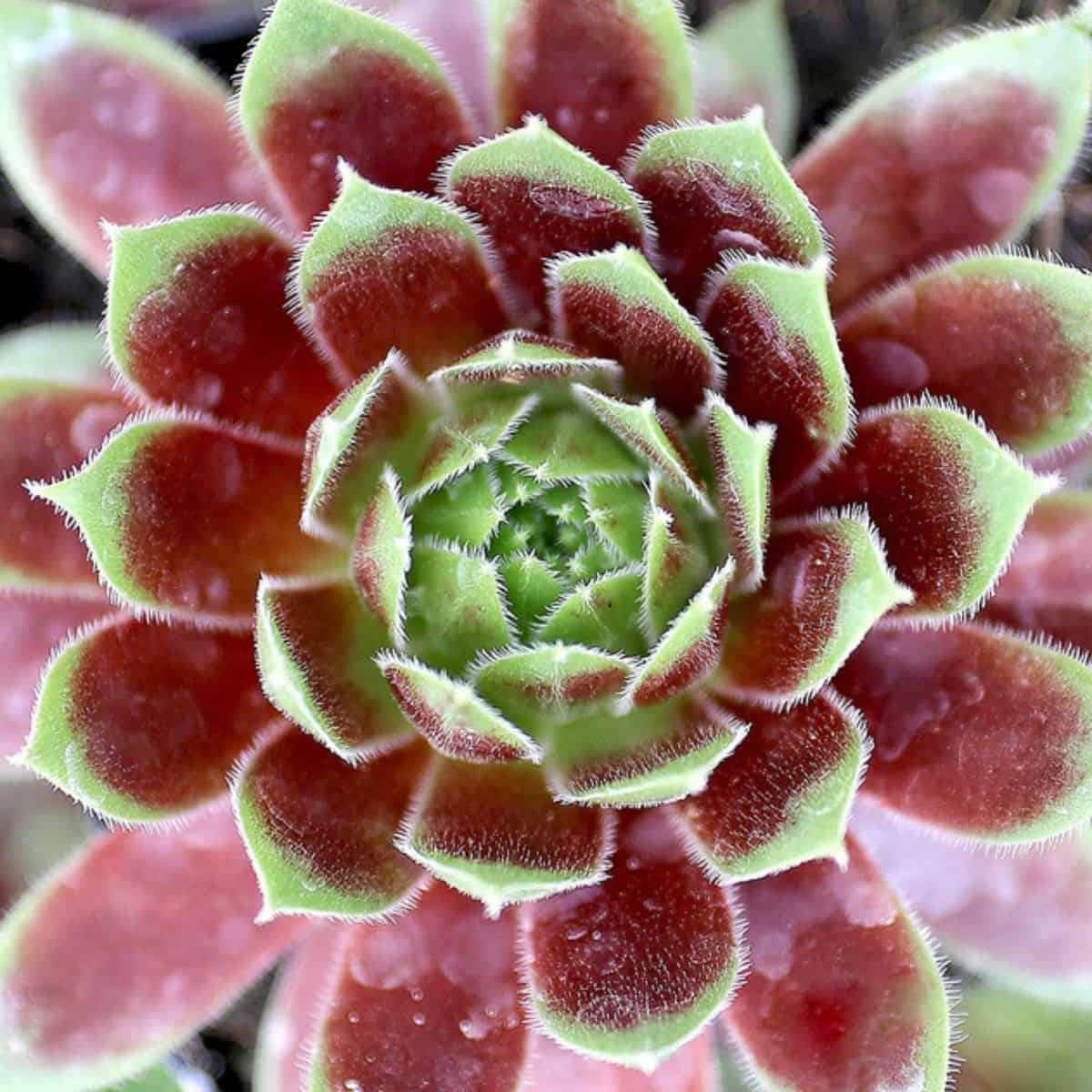 Buy it from:
Don't let the name mislead you. Unlike the list of black succulents here, this sempervivum definitely doesn't belong on that list. While the Black Velvet isn't as deep of a burgundy as the Crimson Crush, they two are very similar in that mature leaves do retain a great deal of red and also have bright green tips. The Black Velvet can become more olive colored when grown inside, otherwise it maintains it's color and it's fuzzy texture!
Heart of Darkness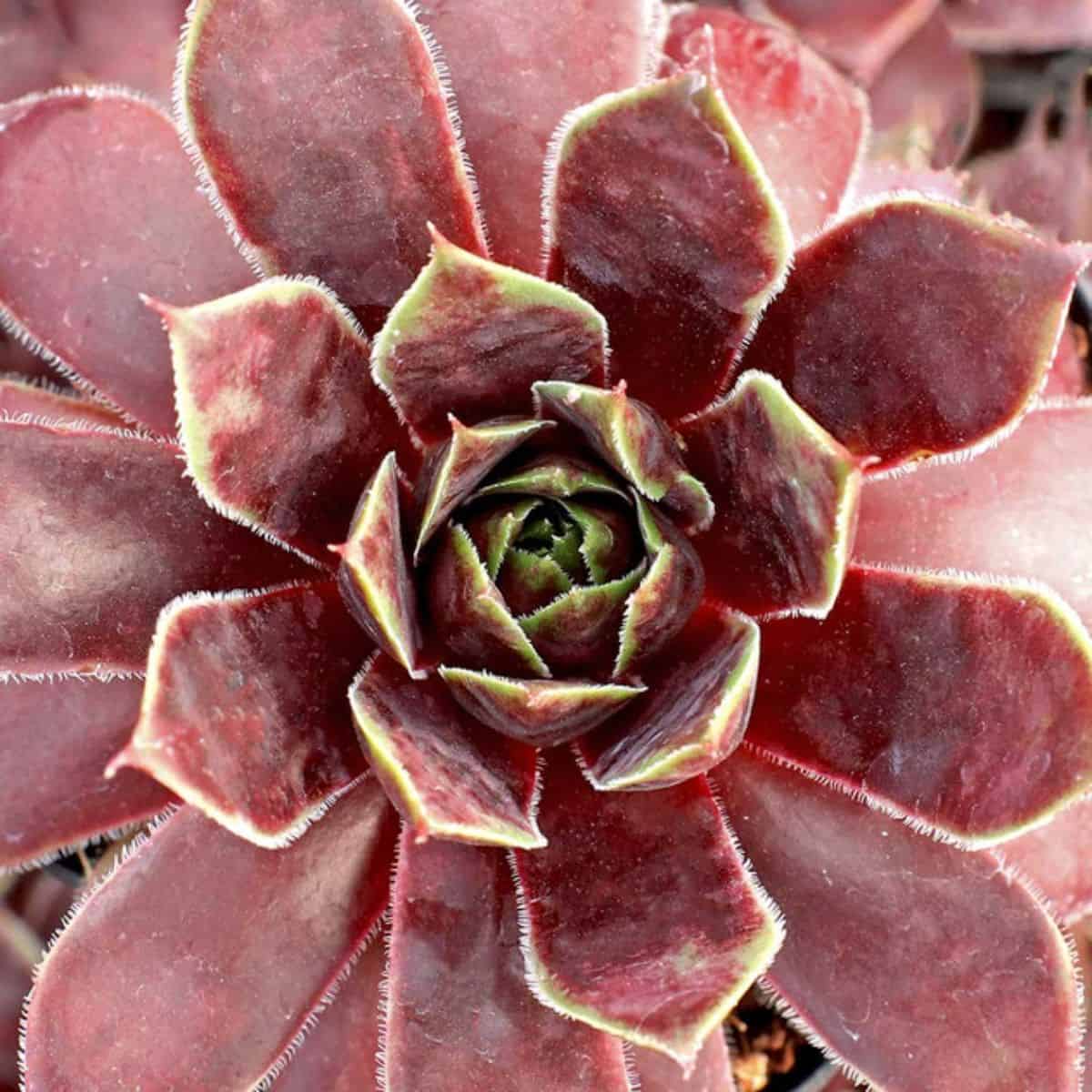 Buy it from:
This sempervivum is yet another big grower! They can get over eight inches in diameter, keep the majority of their red inside and outside but their biggest trick is that when they are under more stress, they instead turn a deep red purple! Some variations have more splotches rather than solid coloring so keep an eye on your succulent because these changes could be dormancy or changing seasons.
Choosing From the Many Red Succulent Varieties
Whether you prefer scarlet, burgundy, or merlot, there are succulents in every shade to suit your taste. From prickly cacti to delicate air plants, you'll be able to add a splash of color no matter what type of garden you have. Don't be afraid to show your passion for plants with these ravishing red succulents and cacti.
Red Succulent FAQs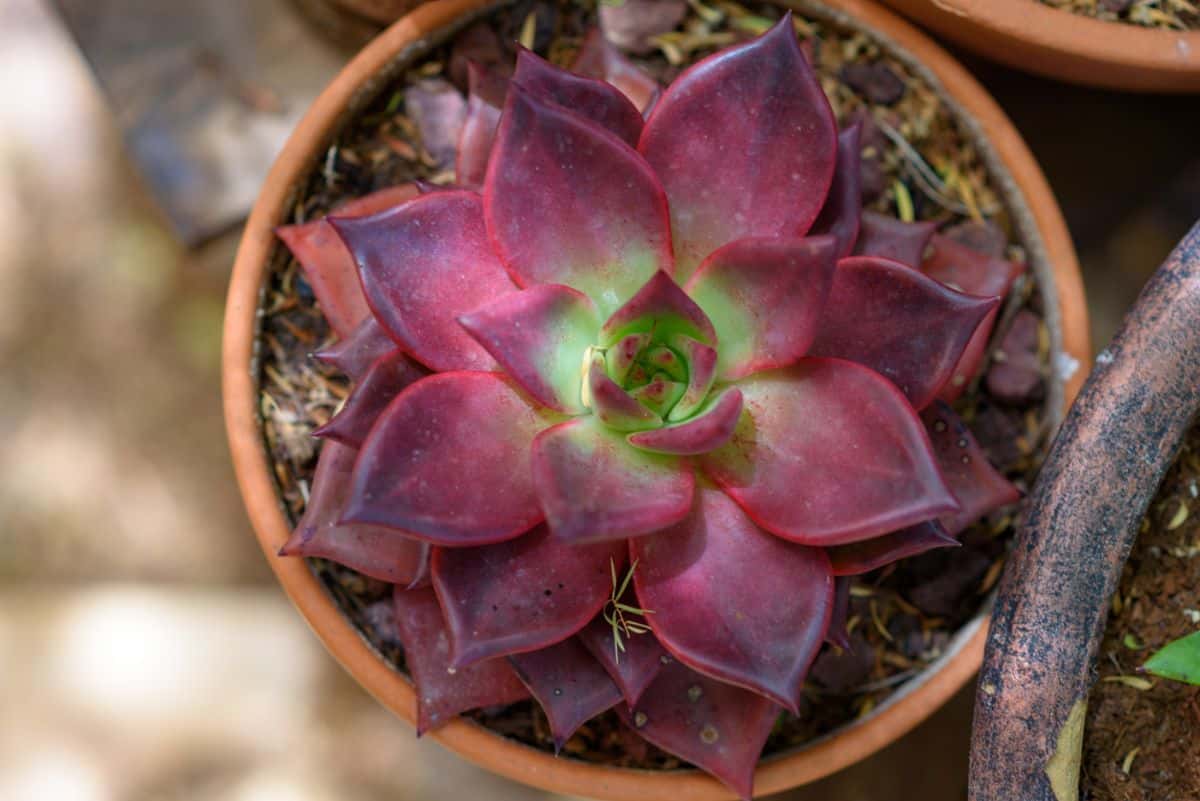 While you've probably already had a red succulent choice in mind, you might want to look into the questions commonly asked by most succulent growers.
Do red cactuses exist?
From the selection above, you'll notice that the red cacti varieties have either red flowers or just a hint of red. Unfortunately, there are no naturally red cacti, but you can find grafted varieties or graft them yourself.
Common cacti grafted onto a different cactus rootstock are moon and chin, resulting in a cactus with a green base and a red top. However, sometimes, it will produce orange, yellow, purple, or pink tops.
Why is my red succulent turning green?
If you're already growing red succulent varieties and they turn green, it means they lack sunlight exposure or were exposed to a too low temperature. Watering them more frequently than needed can also lead to your red succulent turning green.
Why are the ends of my succulent red?
What if it's the other way around? What if your green succulent starts to have red tips? This means you've exposed your succulent to too much sunlight, producing more carotenoids to protect itself from possible sunburn.