We don't know about you, but nothing cheers us up and relieves our stress than a rainbow of succulent plants lining up our outdoor and indoor gardens. It gives us a sense of pride and satisfaction more than anything else. After all, they are happy and healthy because of our care and hard work.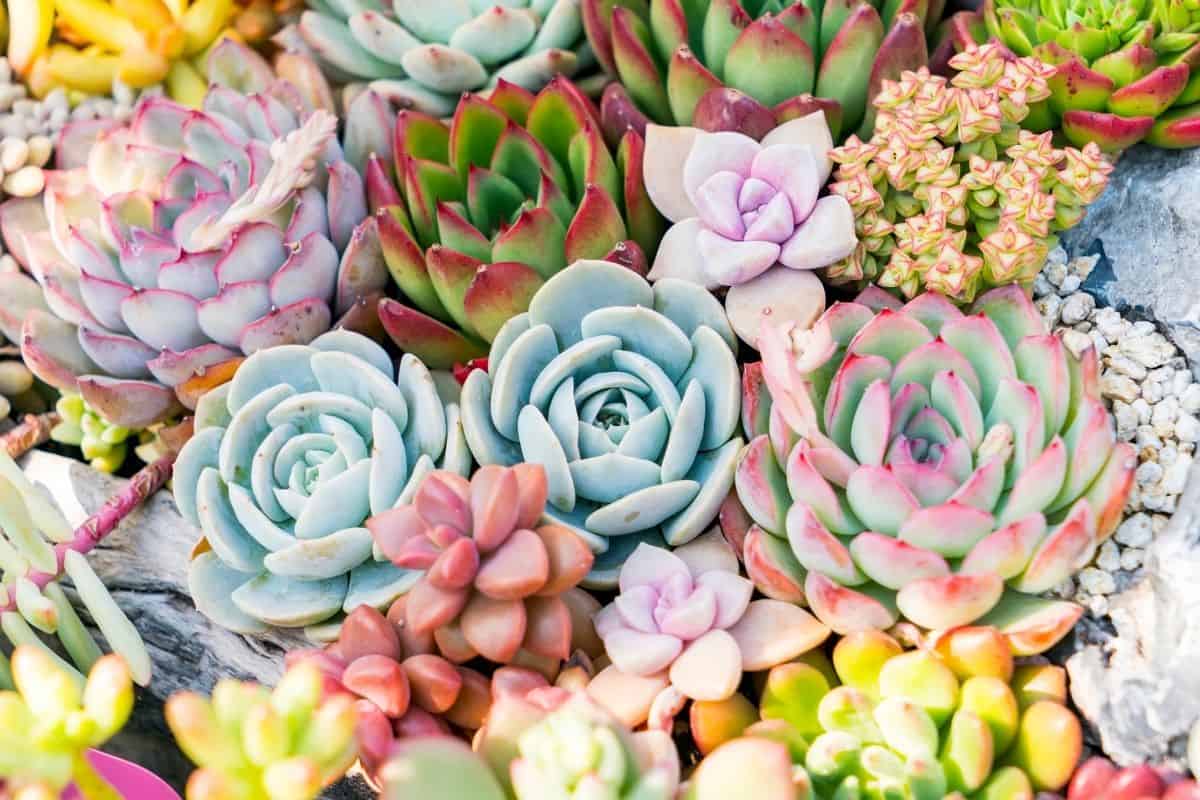 There are not a lot of pursuits in this world that spark the same joy as gardening. If you're reading this right now, then you probably feel this too. However, finding colorful succulents for sale can sometimes be a challenge unless you know where to look. Fortunately, there are places you can go to both online and offline.
Jump to:
Colorful Succulent Varieties You Can Buy
Before moving on to our short list of the best online shops to order your plants from, allow us to showcase our favorite joy-bringing succulents first. These are striking succulents that come in a plethora of colors.

A quick disclaimer: We are only going to feature succulents that weren't painted or dyed. We do not advocate this practice in any way. While some of our gardener friends do swear that letting their plants drink up non-toxic and food-grade coloring didn't do any harm to their plant, we still prefer ours to come in their natural colors.
Jelly Bean Sedum (Sedum rubrotinctum)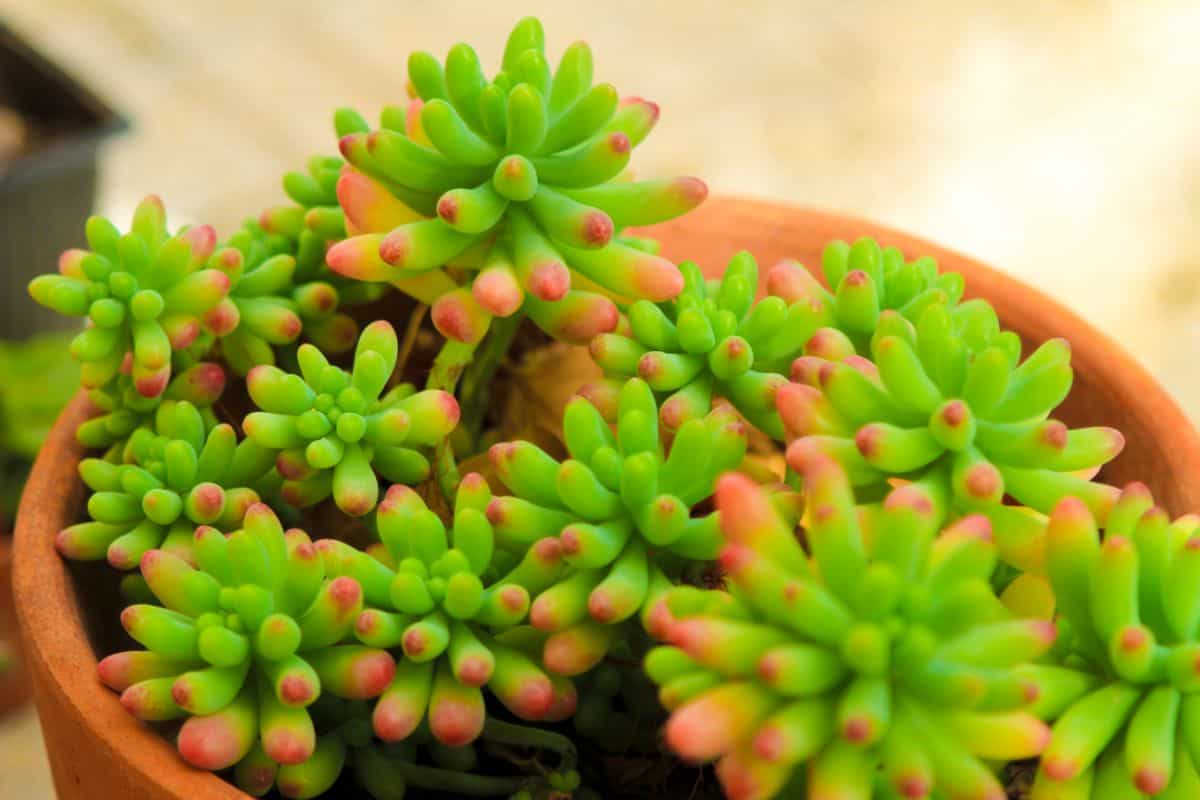 Buy it from:
This colorful variety is a lot of fun to keep in any garden. It comes in various shades of red and pink, and we can't forget those jellybean-shaped leaves. They honestly look like candy! In addition, we also appreciate that sedums are hardy succulents.
Jelly Bean Sedum is not as vulnerable to sudden changes in temperature as other succulent plants. That said, you probably don't want this to be easily accessible if you have young children at home because they are quite toxic when ingested.
Pink Moonstone (Pachyphytum Oviferum)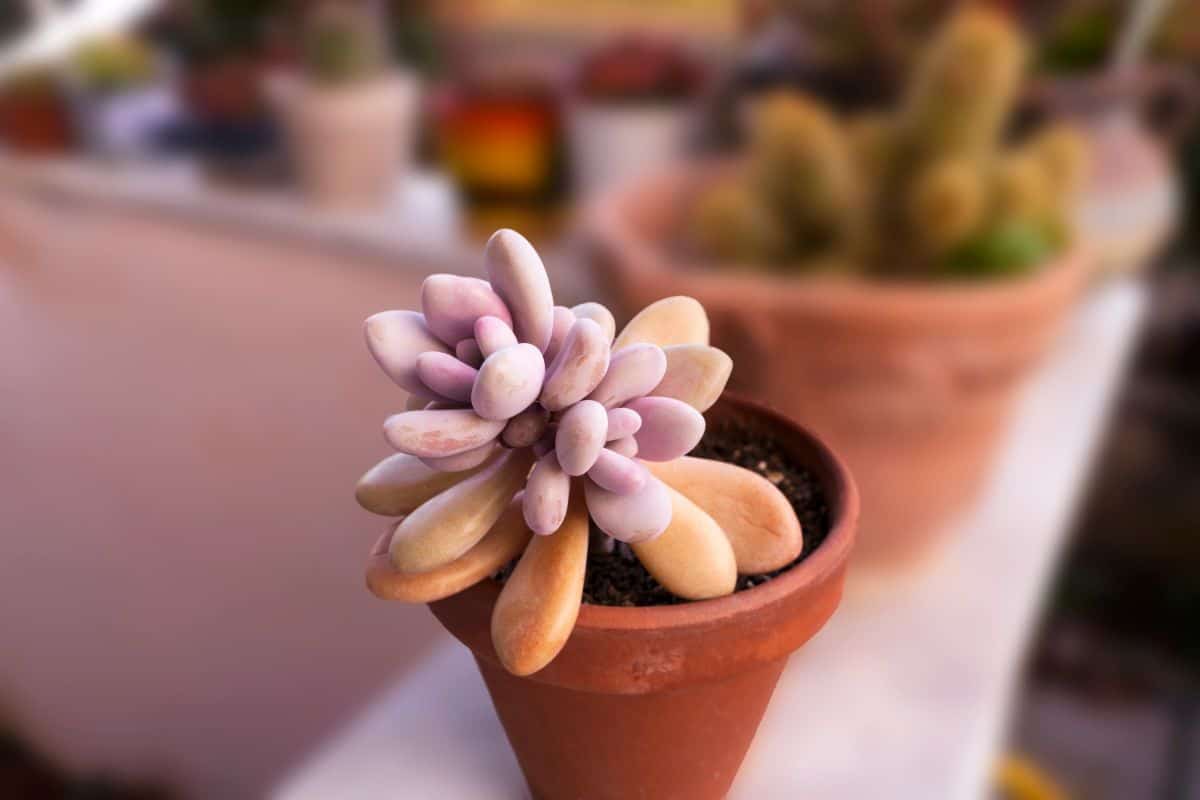 Buy it from:
Not a fan of bright colors? Perhaps you'd love a pastel-colored Pachyphytum oviferum instead. Also (and quite rightfully) called the Pink Moonstone, this plant usually comes in dusty pink and blue lavender hues. They look like delicate and soft succulents with cute and plump leaves.
Bestseller No. 1
Bestseller No. 2
By the way, if you're a fan of pink and purple succulents, you might want to check out our other post as well. There, you'll also find an assortment of rosettes in colorful varieties.
Black Knight (Echeveria Affinis)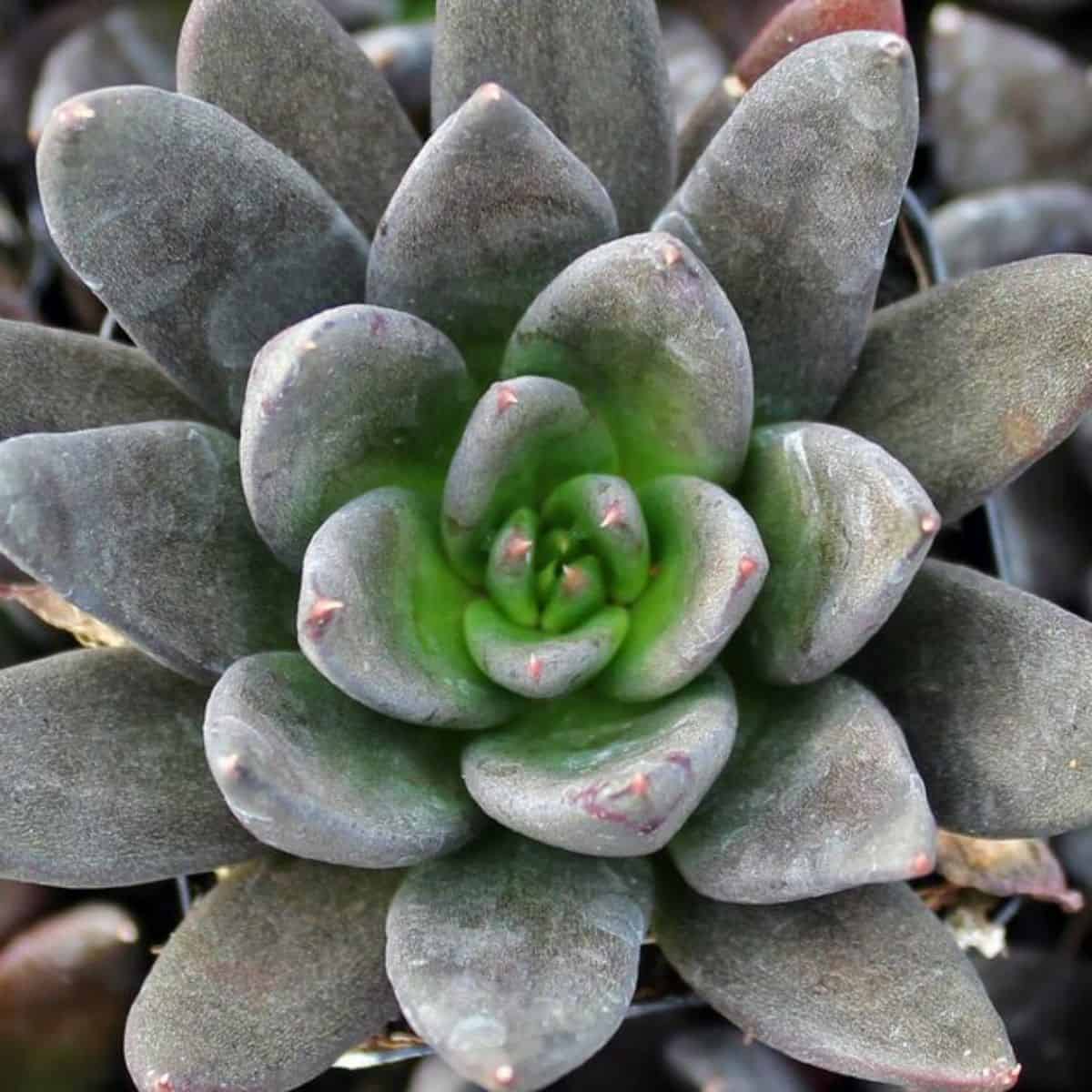 Buy it from:
On the other hand, if dark, deep colors are what you're looking for, the Black Knight will probably take your breath away. First of all, there are not a lot of succulents in the darker spectrum of colors. Secondly, a black succulent will never lose its visual impact. It's an absolute conversation starter. Take it from us; we've had one for years.
Colorful Succulents for Sale: Where To Find Them
Of course, these are not the only colorful succulents you'll find out there. Hopefully, we've given you an idea of the hues you can get naturally. These include reds, oranges, pinks, purples, blues, and even blacks. This is not counting the many shades of green that most succulents come in.
With that, we can now move on to the top places you'll find colorful succulents for sale online. These shops have been around for years and are among the most trusted succulent growers you will come across.
If you're looking for an online shop with a wide variety of high-quality succulents, Mountain Crest Gardens won't disappoint. In fact, they are one of the pioneers in the industry, having been in the business since 1995.
Mountain Crest Gardens started with crowd favorite succulents such as Sempervivums, Sedums, and other common types sold through a mail-order catalog. Today, their nursery has grown and has over 700 varieties, including more exotic succulents you won't find anywhere else.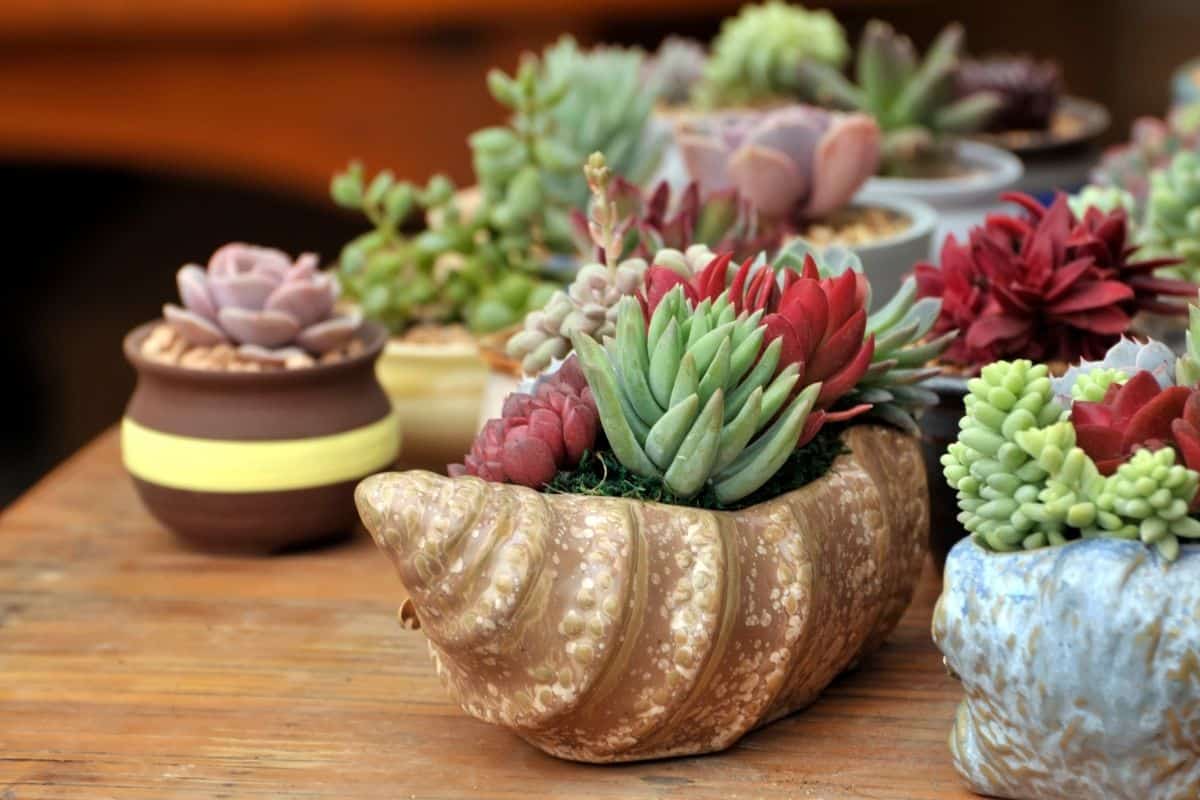 SG stands for Succulent Gardens. They are a boutique nursery with an admirable collection of succulents. They currently have around 500 varieties in their collection, and it's still growing. Their succulent plants are also available in a variety of sizes, from two-inch mini succulents to larger specimens.
What sets them apart from their competition is their group of plant experts. As such, they can provide quality support, educational seminars, and other similar opportunities not just to regular succulent lovers but also to garden clubs and landscape professionals.
Planet Desert is a family-owned nursery that's been in business for over 15 years. What particularly amazes us about them is that they even moved to Fallbrook, California, just to be in the ideal growing environment their plants need. Now, that's dedication.
We're proud to say that they are one of our go-to shops to look for hued succulents. Thanks to the love and care that they provide, their selection of succulents is always available in a bright array of colors.
Here's another one-stop-shop for succulents. The Succulent Source offers a ton of succulents for you to choose from. Their particular expertise is in selling their potted succulents in batches for event favors.
Looking for bridal wedding shower succulents? Take a pick from their premium rosette packs. Their rosette collection has a variety of sizes and colors. You even have the choice to get either colorful rosettes in different hues or just green rosettes for a more uniform look.
You have probably guessed by Leaf and Clay's name that they don't just offer potted succulents. Their selection also includes pots for succulents. Wordplay aside, this shop offers plenty of succulents for you to choose from and in a variety of colors. They also have premium rosettes if you're interested.
We honestly started our own succulent journey many years ago with just a beautiful rosette in a classic ceramic succulent planter. Since then, we never looked back. Hence, we know how powerful stunning plants are in encouraging anyone to get into gardening.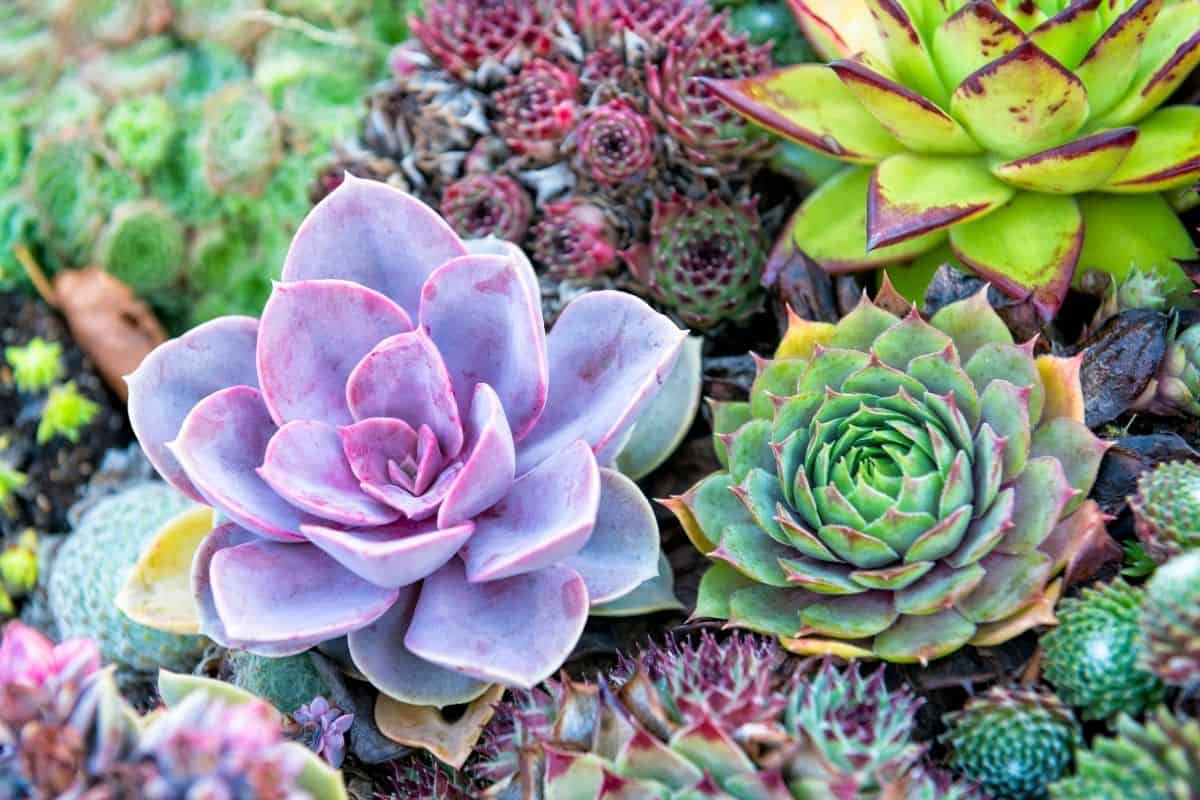 Finally, if you're looking for both colorful succulents and creative planters, we will probably be remiss if we don't mention Etsy in our lineup. We know; they're not really an online marketplace that focuses on plants. That said, you need to keep in mind that gardening is an art as well.
It's not really a surprise that there are truly wonderful gems on Etsy. These even include succulent arrangements you won't find elsewhere. Not to mention, it's one of the best ways to make the most out of your colorful succulents.
Don't Forget Your Local Nursery!
Online shops are not the only sources for succulents; your local nursery is a great way to get colorful succulent plants as well. We understand they can be easily overlooked due to the convenience offered by bigger nurseries online. Still, there are a few benefits that only a local nursery can provide, such as:
Nursery-Fresh Succulents
The first and most obvious advantage is the fact that your plants won't need to undergo handling and shipping anymore. This is a plus because they can bring a lot of stress to your plants.
Nothing is more disappointing to see a succulent so pretty in photos, but all dinged up when it arrives. The sad part is that it's not always the shop's fault. Most of the time, the problem lies in the mishandling of the chosen courier service.
Well-Adjusted Plants
Another thing you should consider is where your plants are coming from. Can you imagine the stress your plant undergoes as it adjusts to a completely new environment? You won't have this problem if you buy your succulents from a nursery nearby. Instead, you can be sure that these babies are already used to the local environment, especially in your area's weather and temperature.
Detailed Information
Nothing beats the personal interaction that your local nursery can provide. You can ask them about almost anything, from proper care tips to growing secrets—information not always easy to get from online stores.
Plus, you can befriend them as well. This way, you will always have a neighbor to consult if your plant encounters any issues in the future.
Community Support
We understand the struggle of smaller businesses, especially brick-and-mortar ones in this digital day and age. That's why we constantly recommend them to our fellow growers whenever we can.
Finding Colorful Succulents for Sale
As you can see, it's not really hard to find colorful succulents for sale; you just need to know where to look. We hope that by sharing our top choices, you'll be able to find the online succulent store that will provide you with the succulents that best fit your needs and, more importantly, color preferences.
Don't forget to visit your local nursery too! While they might not always have the range of succulent varieties that bigger online stores have, paying them a visit and maybe even getting a plant or two can help grow your gardening experience. Besides, nothing beats the beauty of nursery-fresh succulents.
Happy gardening!