You might have purchased your succulent plants in a cute, repurposed teacup or plastic waiting to be planted into its first home. Or your mother plant has probably produced new pups recently, or your propagating experiments are turning out to be a success.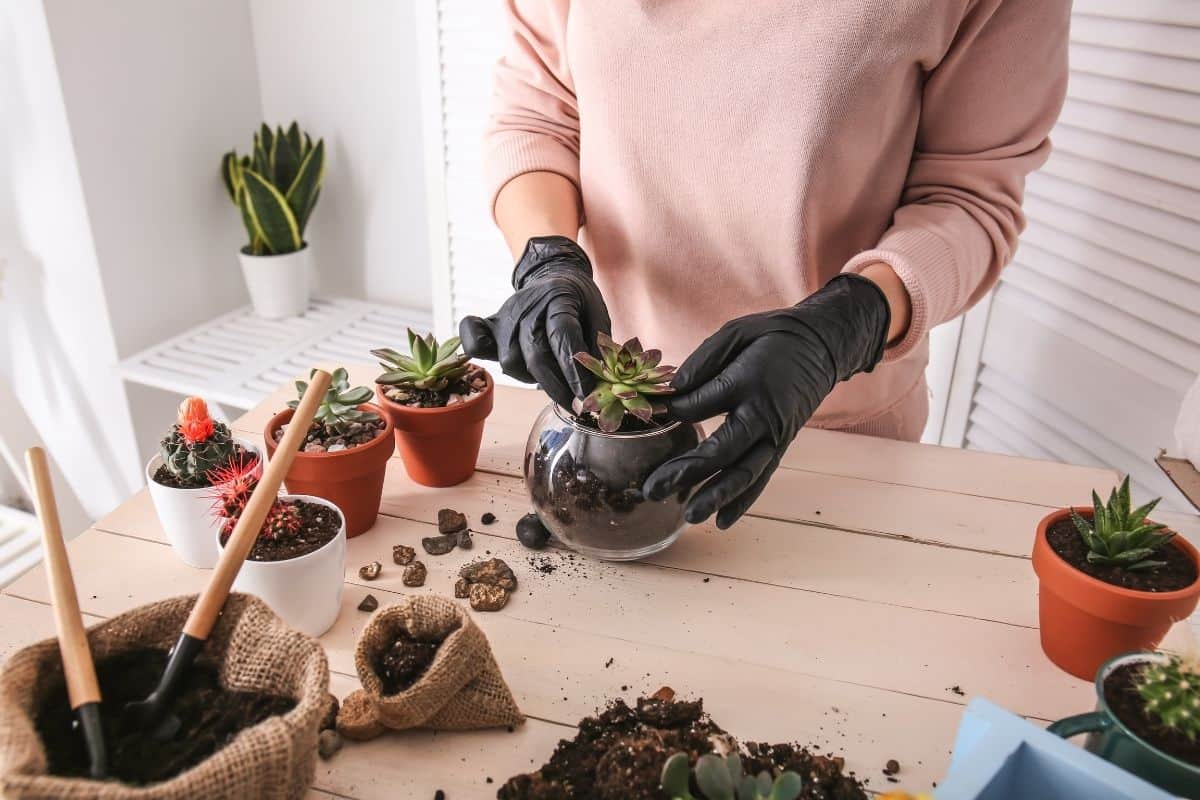 Regardless of the situation, we can be sure of one thing. Beginners need to learn how to transplant succulents since these plants generally love moving around.
Hence, let's share with you a quick guide on repotting, transplanting, and more.

Jump to:
The Benefits of Repotting and Transplanting Succulents
Before we talk about how to repot or transplant your succulent plants, we believe it's better to talk about the whys first.
Why do you need to repot your succulents? Well, aside from the fact that you might want to switch planters for aesthetic purposes, below are other reasons why we believe you should consider repotting.
To Provide a Better Environment
You should consider getting your succulent repotted to provide it with a better growing environment. For instance, is your succulent plant not getting adequate light because it's planted in the shadiest area of your garden? Or is it getting too much direct sunlight that it's already showing signs of sun damage?
Transferring your succulent plants to pots will make them more portable. This way, you'll be able to move them to other areas in your home where they'll be able to enjoy their ideal lighting, temperature, humidity, and other care requirements.
To Give Them More Space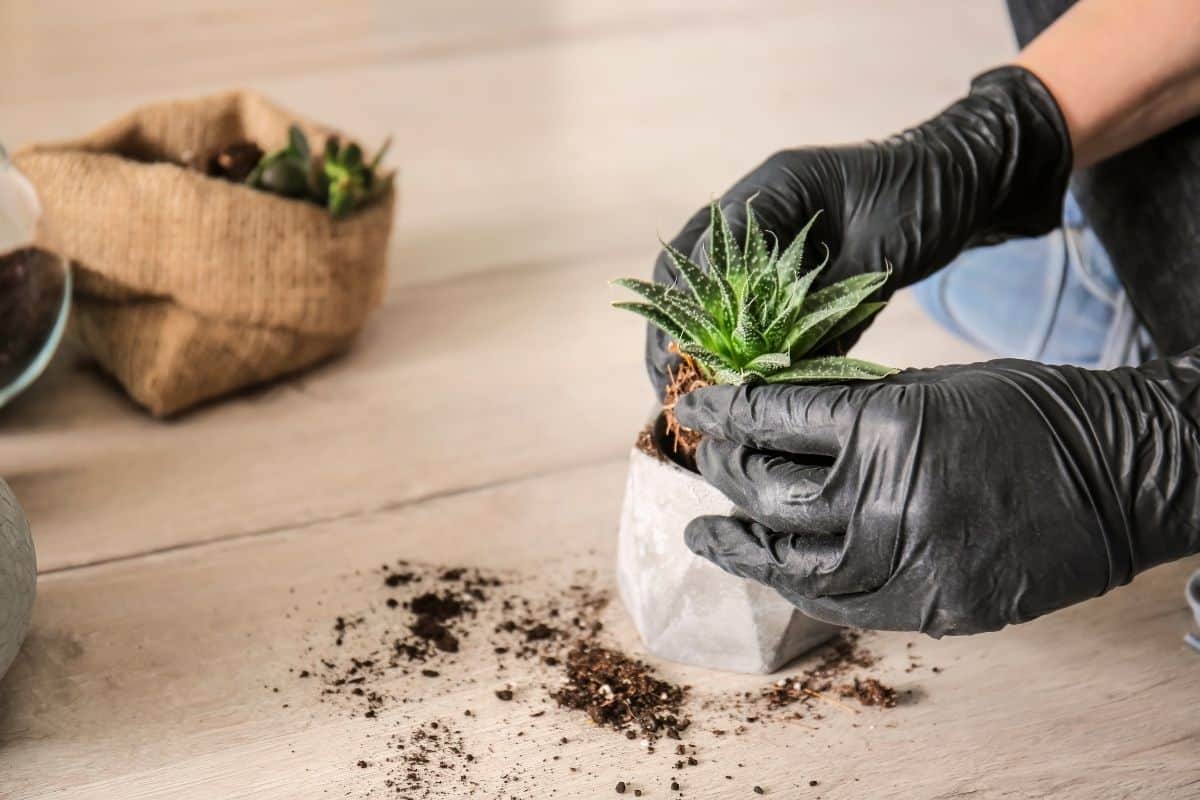 External factors such as lighting, temperature, and humidity aren't the only points you should account for when growing a succulent plant. You also need to make sure that it will have a lot of room to grow on to.
As a rule of thumb, we generally repot our succulents every two years. We'll talk more about this in a bit.
Sale
Bestseller No. 1
Succulent Tools, Gardening Tools, Succulent Watering Bottle Squirt Botttle for Indoor Plants, Bonsai Tools Terrarium Kit, Plant Spray Bottle,Garden Succulent Kit Transplant Tool Set for Seedling Soil
【Multi-Function】-- The Gardening Tools Set Meet Your Various Gardening Needs, Digging, Watering, Loosening Soil,...
【360 Degree Watering Bottle】-- Special Bend Mouth, It's much easier to Control. Can Watering the Root of Succulents...
【What You Get 】-- 1 Succulent Watering Bottle (250ml), 1 Straight Tip Tweezers, 1 Curved Tip Tweezers, 1 Transplanting...
Sale
Bestseller No. 2
However, there are times when we are motivated to transfer our plants to a bigger pot. First, when it's evident that the plant has outgrown its pot and already twice as tall that usual.
Another indicator is when we're already starting to see roots growing out of the pot's drainage hole. Not transferring a succulent plant to a bigger pot under these conditions will limit its growth and lead to plant stress and disease.
Having your roots interfering with the drainage of your planter alone is already cause for concern. This leads us to the next reason.
To Give It More Drainage
As we have mentioned, just allowing your succulent plants to grow in a container for too long can hinder their drainage.
That's why repotting regularly is key to making sure that your plants are in pots with ample drainage holes that their roots won't easily cover up. Aside from that, it's a great idea to repot if you're unsure whether your store-bought plants are in well-draining soil.
Sadly, there are succulent sellers out there who use low-quality poor-draining soil when repotting their plants for selling.
To Renew Soil and Prevent Disease
Since we're already talking about soil, repotting also helps ensure that your plants are in a bugs-free soil mixture. After all, you never know what might be lurking in your new plant's soil.
In addition, the nutrients in your plant's soil can also diminish in time as your plant grows. Hence, it's ideal to repot it to a fresh soil mix every two years, as we've mentioned above.
In relation, repotting every two years will allow you to check for infected plants in your garden. Damaged plants can show symptoms of their disease in a variety of ways. That said, many succulent varieties reflect the state of their health through their roots一something that you'll be able to check whenever you're repotting.
To Propagate
Finally, do you have cuttings of healthy leaves? Then getting new pots ready and filled with high-quality soil will serve as great homes for your new baby plants.
This is a brilliant solution to deal with excess leaves, especially if you want to prune them anyway. Just be sure to use lush leaves and not dead and dried-up leaves for this quick project.
Before you know it, these leaf cuttings have turned into new plantlets already, ready to grow your personal collection or to serve as gifts to friends.
The Best Time for Repotting and Transplanting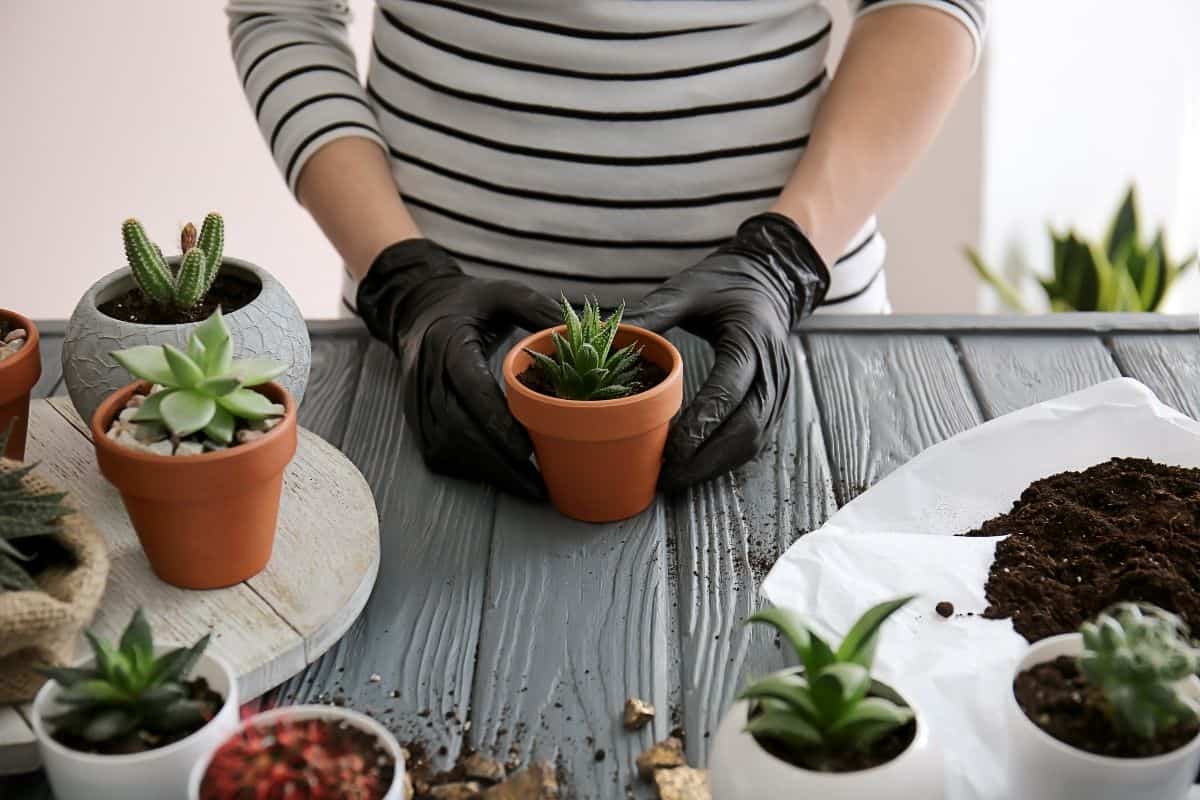 The beginning of your plant's active growth season is the perfect time to transplant and repot it. However, we don't always wait for that to perform our repotting.
We do emergency repottings sometimes, such as when we suspect that our succulent plant is suffering from root rot or insect infestation.
We don't recommend repotting during a plant's dormancy season, though. Doing so can produce a lot of undue stress for your healthy plants.
Lastly, there are times when we don't need to repot an entire plant, only a part of it, such as when harvesting offsets. You can do this as needed.
How to Transplant Succulents
Anyway, now that you have a better understanding of replanting succulent plants, we can move on to discuss how to do so.
What You Need to Prepare
The first step in any replanting session is preparing what you need. Aside from your baby succulents and full-grown succulents, you'll also need fresh soil, your new planter, and other accessories, such as miniatures and topdressing, if applicable.
Those planning a propagation session might also want to prepare a pair of pruning shears. If that's the case, then you'll need a tray of well-draining soil to root your succulent cuttings.
It is only after they have substantially rooted that we'll be able to repot them.
Depotting Your Succulent
Those starting their repotting with parent plants instead of plantlets will need to depot their plants. Take extra care in handling the root ball of your plants. Not all succulent roots are prone to mishandling, though.
There are succulent varieties that can grow huge root balls that you can simply split apart to propagate new plants.
When depotting, we usually hold the plant by the main stem, wiggle it a bit, and once it has loosened up, we pull it out of the pot as carefully as possible. We also use a chopstick to break down dense soil further.
Once out, we shake off excess soil and allow the roots access to the fresh ones we'll plant.
Repotting Your Succulent
Baby plants can start growing in a small container. You can simply repot them once they've grown a bit later on.
On the other hand, brand-new plants can be transferred to a container of the same size as the one they came with. After all, you're only repotting to transfer it to your preferred container and check that its roots are in a good state and that it's planted in quality soil.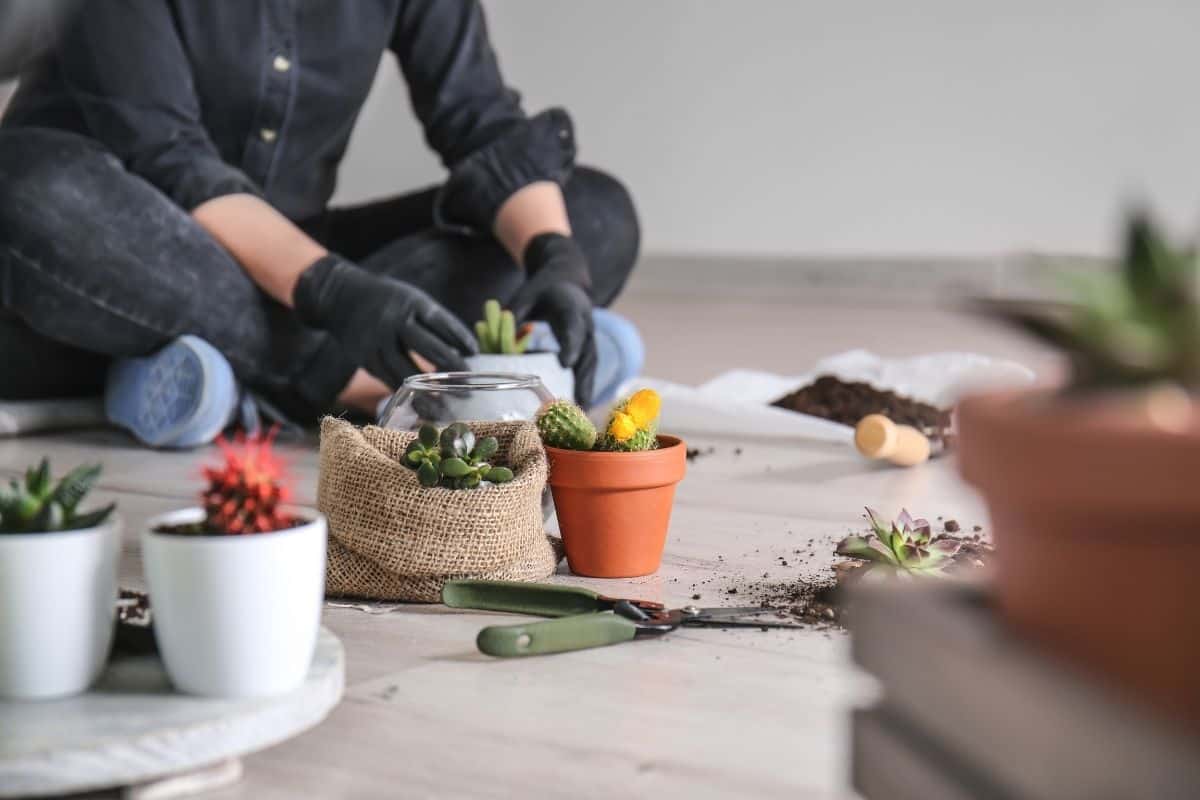 As for transferring a grown parent plant, we recommend getting a container that's at least an inch or two wider in diameter than the current pot. The secret to a beautiful plant is to achieve the balance between giving it enough room to grow but not too much space to cause plant stress.
Once you have chosen the right container, you can start adding soil. Remember that the top of the rootball should be within an inch from the top of the container.
Keep that in mind when you're putting in soil for your bottom layer.
Place the plant inside and fill it up with more soil until it reaches the original soil level of the rootball. Don't go beyond that and resist the urge to pack in your soil.
We know how satisfying the feeling can be, but it might compress your soil and mess up its drainage and aeration. Instead, just allow the soil to settle on its own. Finally, you can water your plant after transplantation.
Transplanting Your Succulent to the Ground
Repotting and transplantation isn't limited to just pot transfers. There are times when you'd want to transplant a succulent from the ground to a pot and vice versa.
You can follow the steps provided above to repot a ground plant to a pot. The only adjustment is that instead of having the ability to tip over the pot a bit to loosen up the soil, you will have to dig the root ball free this time around.
On the other hand, you just need to make sure to plant your succulents in well-draining soil if you're transplanting your potted plants to the ground. This can even involve replacing the soil in certain spots of your garden.
Transplanting Your Succulent Plants
Repotting and/or transplanting your plants is part of the journey when you're caring for succulents. Some people believe that it's only something you do when you want to change the look of your pots or when you want to propagate and grow your plant collection.
That's not true. There are many reasons you should consider repotting and transplanting your succulents.
Just keep the tips we have shared with you in mind, and we're confident that your transplanting sessions will be a success.