We've always been a big fan of the string of pearls plant; hence, you can only imagine our delight when this succulent started to gain more and more popularity on social media.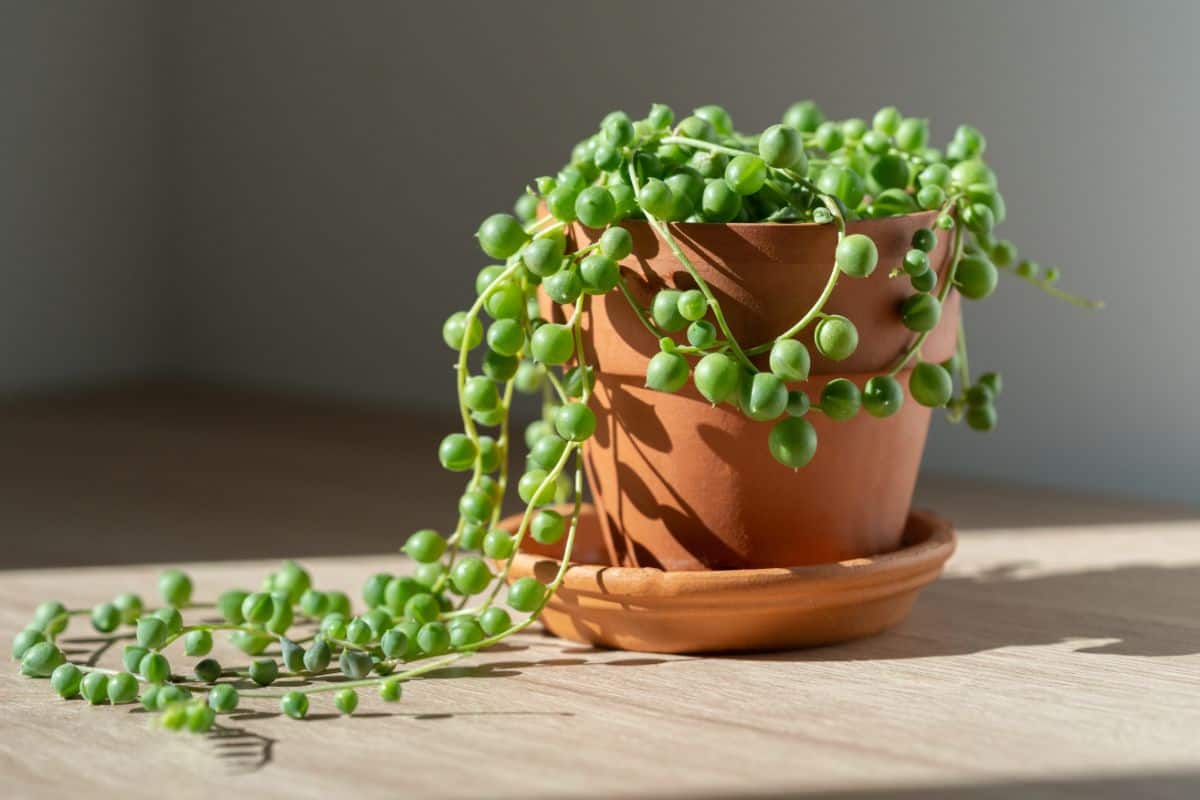 We're not surprised. After all, they are gorgeous plants, especially when grown in hanging planters.
If there's one common issue that some string of pearls plant growers complain about, that would be shriveling. Is it a symptom of an underwatered string of pearls? Or something else? We will seek to answer these questions in this quick post.

Jump to:
String of Pearls (Senecio rowleyanus)
| | |
| --- | --- |
| Name: | Senecio rowleyanus |
| Soil: | Well-aerated soil mix |
| Blooming: | Spring |
| Light: | Between six and eight hours a day |
| Water: | Once every two weeks |
| Propagation: | Stem cuttings |
Also referred to as string of beads, string of peas, and rosary vine, the string of pearls plant is a vining succulent that is easily recognizable by its unique, tiny pea-shaped leaves. The string of pearls grows naturally in the east African deserts; hence it's quite drought tolerant.
However, this doesn't mean that the plant doesn't require adequate watering. On the contrary, it is essential to remember that their pea-shaped leaves are water-filled.
There are different factors to consider regarding the watering frequency of your string of pearl plants一something that we'll discuss more in a bit.
As for the various conditions needed to help your Senecio rowleynus thrive and survive, then feel free to check out our previously written care guide for more information.
Why Are My String of Pearls Shriveling?
Before we move on to talk about watering and dealing with an underwatered string of pearls, let us discuss the most common causes of shriveling. There are two.
Watering Issues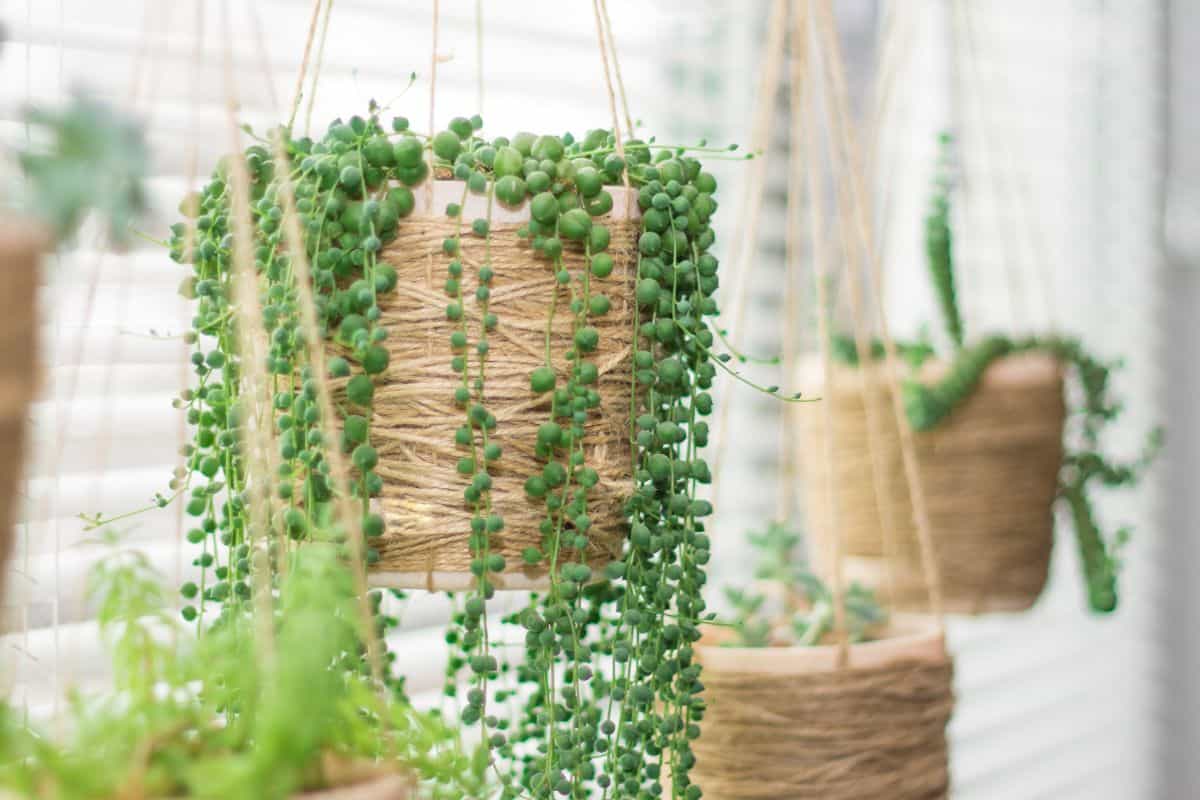 Buy it from:
We have already established that a string of pearls needs water, probably a little more than your average succulent. At the same time, it is particularly prone to root rot and fungal growth, especially if you're growing it for ground cover.
Thus, finding the balance between not underwatering and overwatering is key. At the very least, you should ensure that there's enough room for excess water to escape to after a thorough watering session.
Sun Damage
On the other hand, shriveling can also signify sun damage. Being tolerant to drought conditions doesn't mean that your plant can tolerate intense sunlight.
Bestseller No. 1
Bestseller No. 2
In fact, this plant is known for creeping on the ground in its natural habitat and thus can receive a lot of sun cover and comfort from taller plants. That's why we always recommend bright yet indirect light for succulent plants.
This way, it can get the adequate lighting that it needs without suffering from shriveling leaves.
You can do this by keeping your plant indoors but placing it in a spot that gets a lot of light from a nearby window. If there is no bright location indoors, you can compensate by getting artificial lights instead.
What we love about artificial lights is that there's a chance that you'll be able to nourish the entire plant, and not just one particular side getting all the sunlight.
Your string of pearls shriveling is one of the common signs of sun damage. Another symptom is leaf discoloration. You'll probably start seeing brown leaves or yellow leaves as well.
Underwatered String of Pearls
To help you deal with the issue further, we can now discuss the two main watering-related problems.
The first is underwatering. Indeed, the string of pearls store water in those pea-shaped leaves, but it's also for that reason they'll be the first to shrivel at the slight lack of water.
In addition, you should know that younger plants need more water than a more mature string of pearls.
This plant is also known to grow roots through its nodes, so it can easily and quickly spread through the ground. For us, we recommend the soak and dry watering method, done by waiting for the soil to dry in between waterings.
When you do give it a drink, provide a good amount of water, enough for it to seep out of the container's drainage hole.
Overwatered String of Pearls
On the other hand, if you're pretty sure that your string of pearls is not underwatered, then overwatering might be the case.
Shriveling is a sign of stress that can manifest when your plant suffers from water damage and root rot. In this case, though, you'll also find that the shriveled pea leaves are mushy.
If that seems to be the issue, the best solution is to lessen your watering frequency. Don't water if your plant still has wet soil. This is the fastest way to kill any type of succulent.
After all, constant exposure to moisture, especially for a plant used to the occasional droughts, can result in root damage because of root rot and fungal growth.
How Often Do You Need to Water String of Pearls?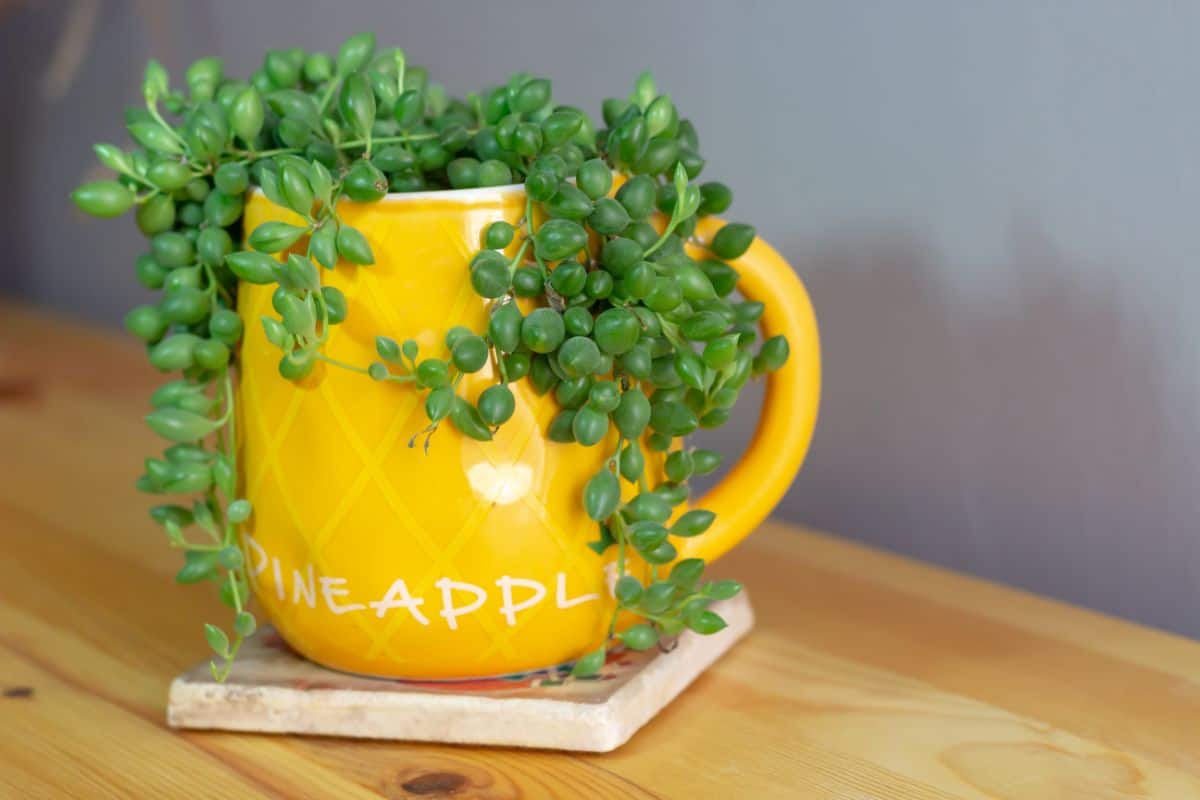 So, here lies the most important question: how often should you water this succulent?
For us, the sweet spot is once every two weeks. However, as we have also promised above, you need to account for various factors as well.
Temperature
Those that receive more sunlight are also exposed to more heat. Hence, it is only natural for them to dry up faster.
Meanwhile, those that grow in an environment with a constant, average room temperature won't dry up as quickly.
Weather and Season
Another factor that you should account for is the current weather or season.
For instance, most succulent plants will need less watering during the winter season. It is also the case during rainy seasons due to the increased humidity in the air. During these moments, your string of pearls will only need light watering.
Please remember that this doesn't mean you should just neglect your plant and fall prey to inconsistent watering. In fact, these are the best times to pay closer attention to your garden.
Soil and Container
The next factor you should consider is the direct environment your succulent is planted in: the soil and container. Regardless of whether it's succulent or not, any plant needs specific soil conditions to grow.
Succulents thrive best in well-draining soil. What counts as an inappropriate soil mix for them is using dense soil. From there, you have two options.
The first is to mix your soil yourself. We have a guide on succulent soil that you might want to check out after reading this. The second option is just to purchase a preformulated succulent and cactus soil mix.
As for the container, plant your string of pearls in a container that allows proper drainage. Depending on your plant's current conditions, a single drainage hole might not be enough.
Instead, you can also look into porous containers that allow more ventilation for faster drying and, of course, multiple drainage holes at the bottom.
If your string of pearls is planted in a non-draining container, then you need to make further adjustments to your watering sessions.
Here's a quick tip: Getting a moisture meter can help accurately determine whether your plant needs watering or not. This is especially helpful for beginner growers that have yet to develop their watering intuition.
Caring for Your String of Pearls
Indeed, luscious string plants can be challenging to grow, but it doesn't mean you should give up on them. You just need to gain experience with string of pearls care techniques, especially watering and sun exposure.
Determining the factors that we have shared can further help prevent your plant from getting shriveled and, more so, from being underwatered.
Good luck!