Have you ever wondered why many succulent arrangements have a layer of decorative rocks on top? Are they there for a more meaningful purpose or simply aesthetics?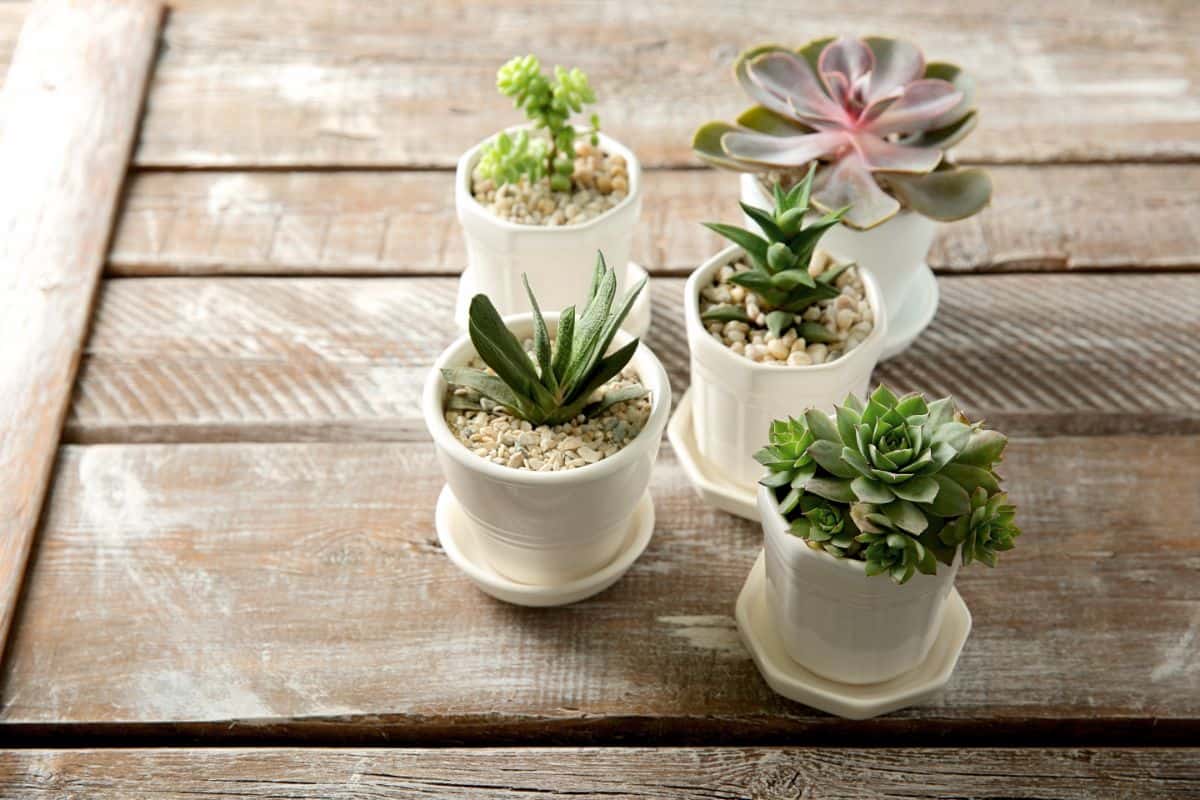 Well, there are a lot of layers to this discussion. Hence, allow us to share with you a quick guide about top dressing for succulents.
Jump to:
What Is Top Dressing and Why Do You Need It?
In a nutshell, top dressing is a layer of additional material that one adds to the soil for various reasons. Indeed, we can't deny that it's mostly used to serve as decoration.

That's why most top dressings are decorative pebbles.
There's nothing wrong with trying to give your plant a more professional touch. If you feel more joy tending to a beautiful garden, please do so by all means, not to mention that landscaping adds a lot of value to a home.
On the other hand, please don't think that top dressing is just plant rock decoration because it's not. It also offers other advantages, especially to succulent plants.
First, succulent soil mixes are usually light and loose. Thus, having these white rocks on top will keep them from shifting around.
It also keeps them from getting blown all over the place, particularly when you have your succulents planted in a breezy location.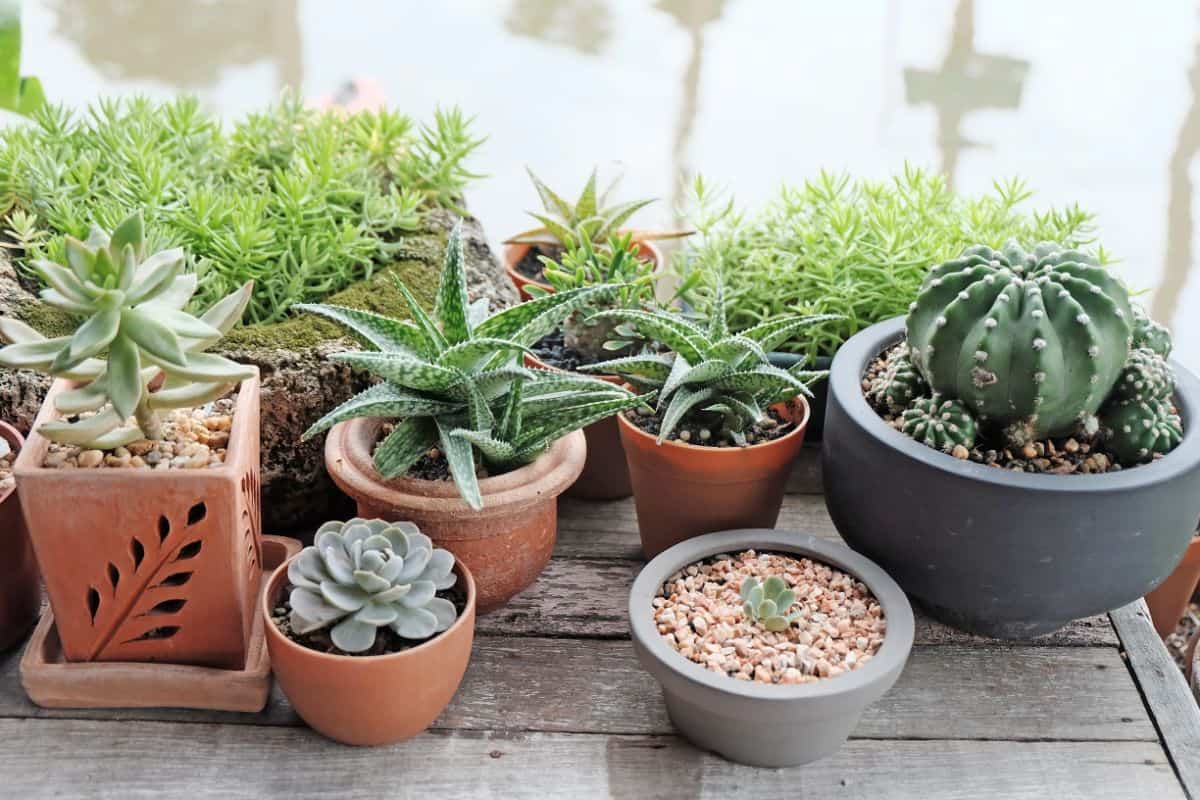 Another main advantage of topdressing succulents is to keep your plant dry.
We'll talk more about the different types of top dressing in a bit. However, some options can help absorb excess moisture and keep the top layer dry to prevent root rot and mold growth.
Finally, it's also great to keep other natural problems at bay: from fire to weeds. After all, rocks are great to hinder weed growth. A lot of them are also fire-proof.
We have even recommended this step as a possible measure to deal with pesky fungus gnats. You can read more from this post.
Different Types of Top Dressing for Succulents
Anyway, as promised, below are the different types of top dressing for succulents.
Sale
Bestseller No. 1
Bestseller No. 2
Pebbles and Rocks
The most common type of top dressing is pebbles, specifically white pebbles. That said, please note that these decorative pebbles come in an array of colors, from light to dark color tones. Hence, make sure to choose one that will complement your plant's color and create more visual impact.
You'll also find more coarse options other than the convention smooth white pebbles. For instance, we particularly enjoy using black lava rock for our light-colored succulent plants to really make them pop.
Just make sure you research the type of rock you're planning to add to your succulent arrangement, as there might be extra steps that you need to do to ensure your plant's health.
For instance, those considering adding aquarium gravel should know that they need to wash them thoroughly before using them. Doing so will remove any salts and marine particle residue that can prove harmful to your succulent plant.
Another example is using natural river rocks. They are less porous than other types of rock, so you need to consider that when planning the depth of your top dressing. It will ensure that your plant will still have plenty of air to breathe.
Another popular option is moss, which comes as no surprise since moss can also efficiently absorb excess moisture.
We recommend two options. First is reindeer moss. It's a live moss preserved through chemical means to give it more properties such as heat treatment and increased longevity.
Another option is sphagnum moss. We love how it can spread on its own with proper care and maintenance. It also dries out quicker than others to prevent root rot and fungal growth.
Sand
Are you opting for a more refined look, especially for your zen garden? Then you might want to consider using sand.
Sand also comes in a wide range of colors and types. As you might have guessed, we're also fans of using black sand.
We believe that they perfectly complement our colorful succulent arrangements. Although we could also say the same about our use of light-colored sand.
There are definitely other types of nice topdressing out there. The ones featured above are simply the most popular and we've already tried and tested ourselves.
In the end, your choice will still probably depend on your aesthetic preference. Whether you enjoy the fun look of colored rocks, the organic look of gravel, or the minimalist look of black sand, it will be up to you.
The next challenge will be in learning how to apply them.
How to Add Top Dressing to Your Succulent Plant
Adding top dressing to your succulent arrangements is a very straightforward process. All you need to do is pot your succulent as usual.
Once you have ensured the right soil depth, you can add a centimeter (or ⅓ of an inch) of top dressing on top of your soil.
For bigger particles, this could mean a single layer of rocks. For smaller or finer particles like sand, you can simply eye it until you have adequately covered the soil but not too thick, giving your plant a hard time surviving and thriving.
Here's a pro tip: You can use a bead scoop to get more control over the application. Tweezers are also great for positioning your top dressing better in tighter spaces.
Can I Use Glue?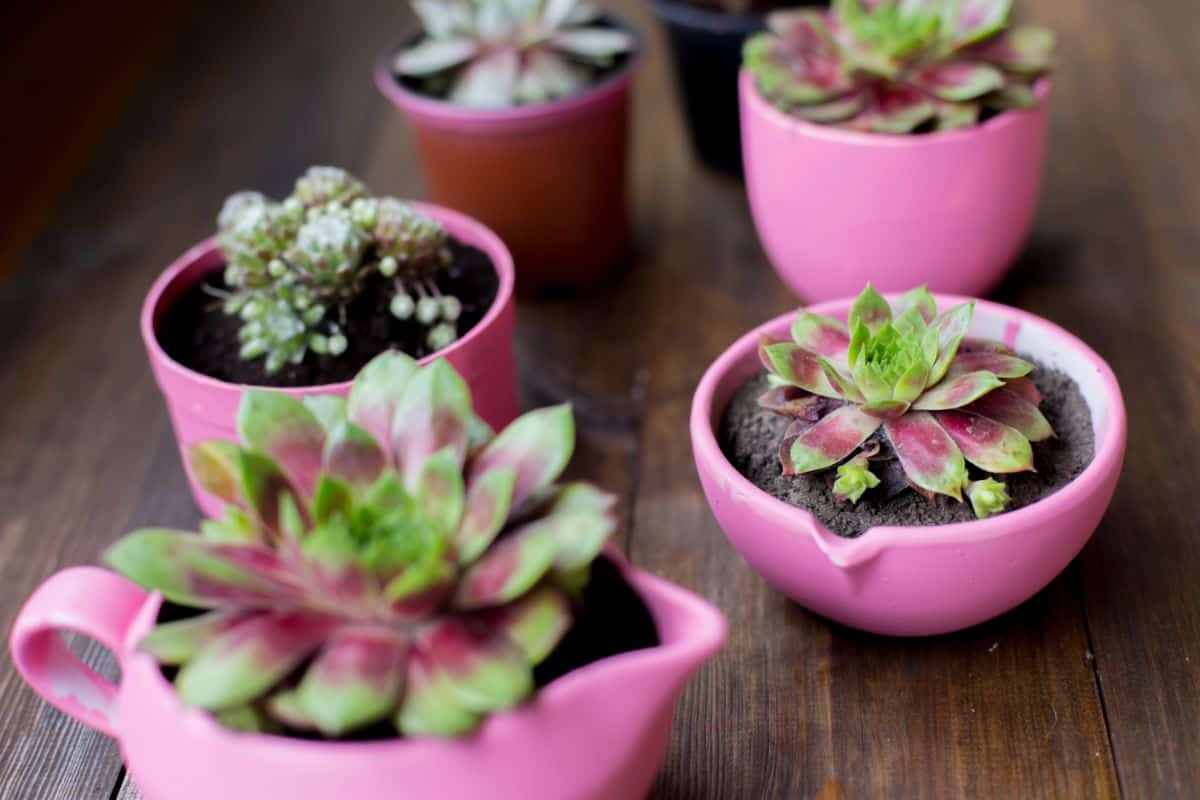 Here's a common question we frequently get from our readers. That's because there are a lot of miniature garden creators using a layer of glue to prevent their creations from getting disturbed during shipment.
When it comes to garden crafting, we always recommend using organic and water-soluble products. Most creators use them for their fairy garden.
In this way, the glue will simply and safely wash away in time. You'll also be able to preserve the look of your succulent container gardens longer.
However, if you suspect that the glue used for your ordered succulent arrangements is not water-soluble, then feel free to carefully break the top dressing components away from each other to improve airflow and water penetration.
How Can I Make It Look Better?
Another common question is how to make top dressing look better? For us, the key lies in choosing the right colors of topdressing and color combinations.
As we have mentioned above, it's always best to think about which top dressing will complement the color of your plant the best. A good rule of thumb is that if you have a light-colored plant and container, using a dark-colored top dressing will help accentuate not just your succulent plant but its pot as well.
On the other hand, if you have a dark-colored plant, using light-colored particles for your top dressing will better highlight its features. Lastly, we recommend a plain-looking top dressing (compared to colorful pebbles) when using on patterned containers or foliage.
Keeping these tips in mind can turn a simple arrangement into a work of art.
Dressing up Your Succulents
Again, we want to reiterate that there is nothing wrong with wanting your plant to look better. We also understand that lot of experienced gardeners are practical in nature. If there's no point in having a decorative component, placing it there would prove meaningless.
This is not the case for us. We believe that if there's anything that can add more joy to your gardening experience, then please, feel free to incorporate it.
Also, let's not forget that top dressing for succulents offers other more practical benefits to your succulent arrangements as well, including making your plants less prone to fire and pests.
Happy gardening!