Weddings are an ideal place to showcase your love of succulents and cacti. From décor to favors, there are plenty of ways to incorporate these botanical beauties into your big day.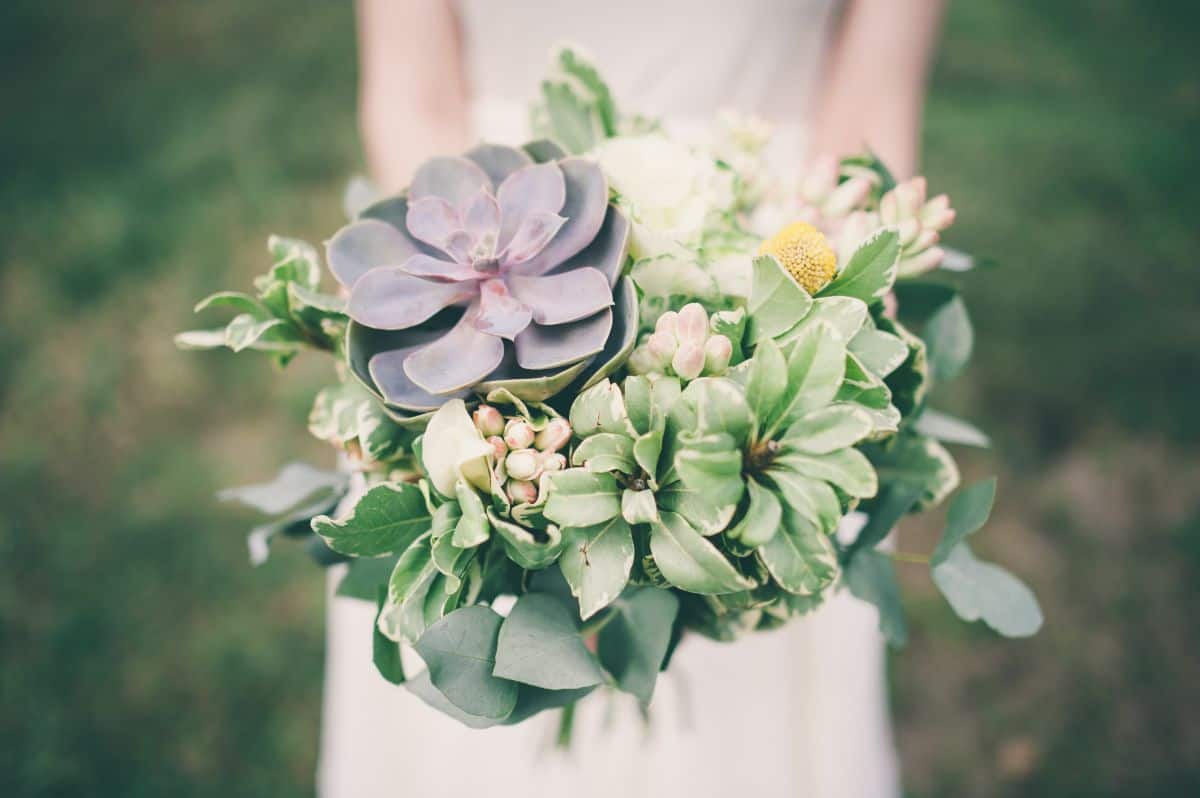 Succulents make perfect wedding decorations and accessories, not only because of their charm and beauty but because you can replant them afterward and continue to enjoy them for years to come.
Jump to:
Succulent Wedding Décor
The unique beauty of succulents allows you to experience the elegance of flowers while standing out from the traditional wedding crowd.

Whether you choose to make your own or buy them pre-made, succulent centerpieces add a touch of botanical whimsy to any wedding. Your local gardening center likely offers an assortment of containers in different sizes and shapes to suit your needs.
Living pictures and other hanging succulent displays or wreaths are also stunning additions to any wedding décor. Consider lining the aisle with potted succulents or decorating the altar with succulents and air plants. Some nurseries even offer succulent garlands to drape anywhere you need a touch of elegance.
Read Related Article: 10 Best Succulents and Cacti for Succulent Arrangements
Succulent Wedding Favors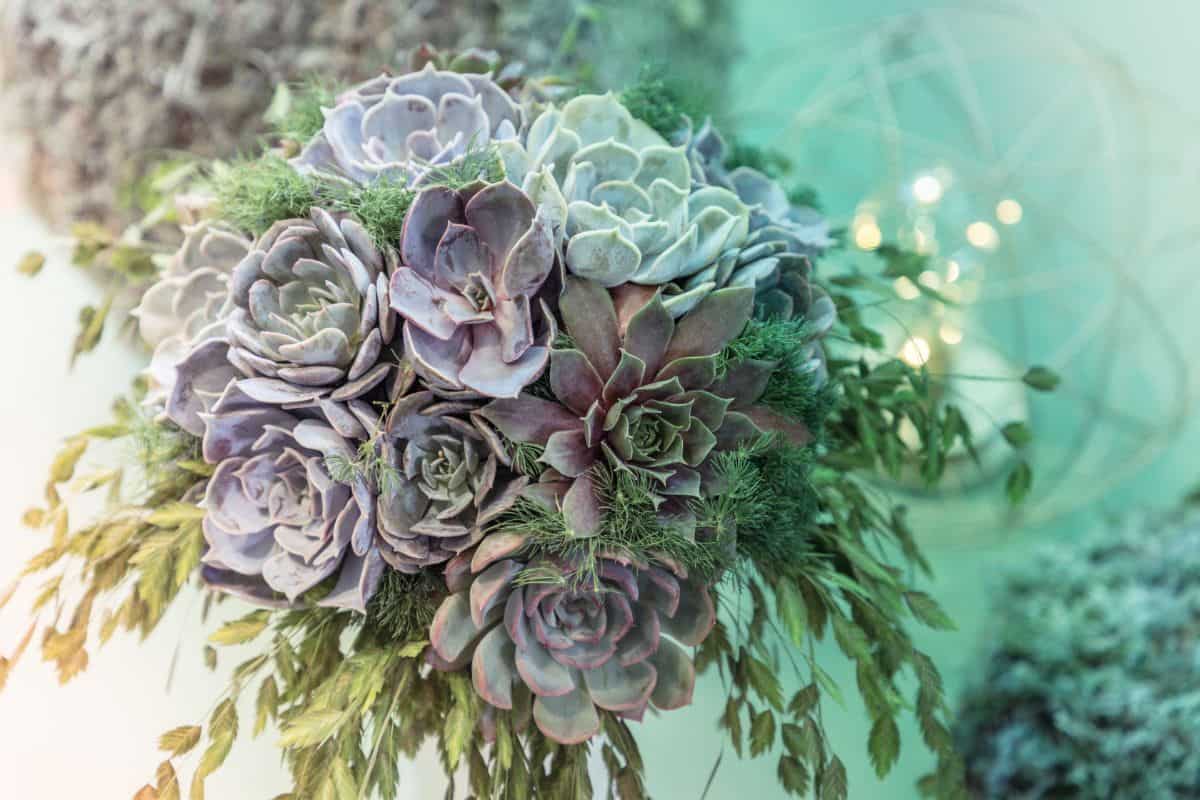 Succulents make excellent wedding favors and are a great way to remind your attendees of your joyous day.
Most local or online gardening centers and nurseries offer a variety of small containers that you can plant your succulents or cacti. You can find containers made of wood, metal, ceramics, and even concrete.
Depending on the size of the container and your own preference, you may choose to plant a single, larger succulent or a few smaller plants. Remember to write something special or use stickers on the container to commemorate your union.
Read Also: What's the Difference Between Cacti and Succulents?
Succulent Wedding Accessories
Using succulents as accessories can give any wedding outfit a unique twist. The simplicity and hardy nature of succulents mean they can be used as boutonnières, corsages, and bouquets. What bride wouldn't feel like a princess wearing a succulent crown?
Bestseller No. 1
Bestseller No. 2
These beautiful and natural accessories are easy to make, too. Simply pierce the stems of your chosen plants with a thin floral wire and use these wires to form the appropriate shape of the accessory of your choice. You may reinforce the thinner wire with a thick floral wire or floral tape as needed. Remember to shape your creation carefully so as to avoid breaking any plants.
Succulent Wedding Cake
Tired of traditional cake toppers? Try using succulents! These gorgeous plants make exceptional wedding toppers. Best of all, they can be replanted after the wedding, reducing waste and creating a memorable and long-lasting reminder of your nuptials.
If you choose to make your topper yourself, be sure to clean your plants thoroughly before placing them on your cake. Using a method similar to the one to make wearable accessories, pierce the stem of the succulent with a thin wire to place into the cake to anchor the plant. Just be sure to remove the plants and wires before serving.
Preparing for the Wedding (with Succulents!)
If you are a do-it-yourselfer and choose to make your wedding décor and accessories yourself, begin preparations well in advance.
If you don't already have enough appropriately sized plants, propagate some yourself. You can check out the in-depth guide here, or here's a quick and dirty guide on propagation.
The type of succulent you use will determine whether cuttings or simply individual leaves will work. Place a cutting into a container of soil with the appropriate amount of sunlight for your specific plants and water only when the soil is dry. If you're using an individual leaf, you can gently set the leaf on top of the soil rather than planting it. Within a few weeks you should begin to see signs of growth. This is a great way to use leftovers from previous projects.
Where to Buy Succulents for the Wedding
Weddings are a lot of work and can be quite stressful, so it may be easier to save yourself the time and effort of making your own décor and accessories. Although it can be more expensive to buy pre-made decorations, if you would prefer to buy succulents for your wedding online instead of growing your own there are many nurseries that would be happy to help you plan your big day.
Whether you're having a small, intimate gathering or an extravagant celebration, these nurseries will help you create the wedding of your dreams.
Wedding Succulents at Planet Desert
Planet Desert has an extensive variety of succulents chosen specifically for weddings in their online shop. If you need wedding décor or favors, they have you covered. They offer an assortment of gorgeous redwood planters, either alone or with succulents included in a kit, as well as a diverse collection of indoor succulents and air plants. The experts at Planet Desert would be happy to work with you on large orders or custom designs, so don't hesitate to contact them.
Wedding Succulents at The Succulent Source
The Succulent Source also offers a selection of succulents and cacti intended for use in weddings, as well as a wide variety of planters, containers, and favor tags and stickers. They even offer beautifully pre-made succulent crowns, boutonnières, corsages, hair combs, and bouquets. Their containers are available in materials ranging from rustic galvanized copper to ceramic gold and silver so they have just what you're looking for no matter your theme.
Read Also: How to Care for Aloe Vera
Wedding Succulents at Mountain Crest Gardens
Mountain Crest Gardens is a go-to destination for succulent lovers looking to add a little something extra to their weddings. They have loads of sampler trays with dozens of species for a truly botanical delight. Buying in bulk like this gets you the best possible prices on succulents - and at Mountain Crest you know you're getting quality fat plants. In addition to plants, they sell a variety of other useful succulent-themed wedding items (and mini pots!).
Read Also: Succulent Starter Pack
Wedding Succulents on Etsy
Etsy can also be a great resource in finding the perfect wedding succulents. Independent sellers offer an endless selection of decorations, favors, tags and stickers, wearable accessories, and more. You can find exotic plants and containers of every shape and size to perfectly suit your project. If you're looking for already made bouquets, wearable accessories, garlands, or centerpieces, Etsy will have exactly what you're looking for.
---
No matter how you choose to incorporate succulents and cacti into your wedding, they are sure to be a unique addition that will leave a lasting impression on your guests.