Sublime Succulents may collect a share of sales or other compensation from the links on this page.
White is often considered to be a symbol of peace and positivity, which are important characteristic of any garden. In a sea of green plants, white succulents can add just the right touch of brightness. White succulents are also great additions to centerpieces and living wall projects. Whether you would prefer a furry, alabaster cactus or a frosty Echeveria, you'll find the perfect snow-white succulent here.
Espostoa melanostele 'Peruvian Old Lady Cactus'
The Peruvian Old Lady Cactus is an interesting little plant that can grow up to 12 inches in height. It's considered a 'columnar' cactus because of its vertically growing stem. The spines are a golden yellow color and its white hue comes from the thick, wool-like coating.
Espostoa melanostele prefers full sun and very little water. This cactus only grows about an inch per year, so it doesn't need much moisture, especially in the winter. It's not particularly tolerant of either frost or heat, so it must be protected in extreme temperatures.

Ultimate Succulent Store – Hundreds of Varieties Available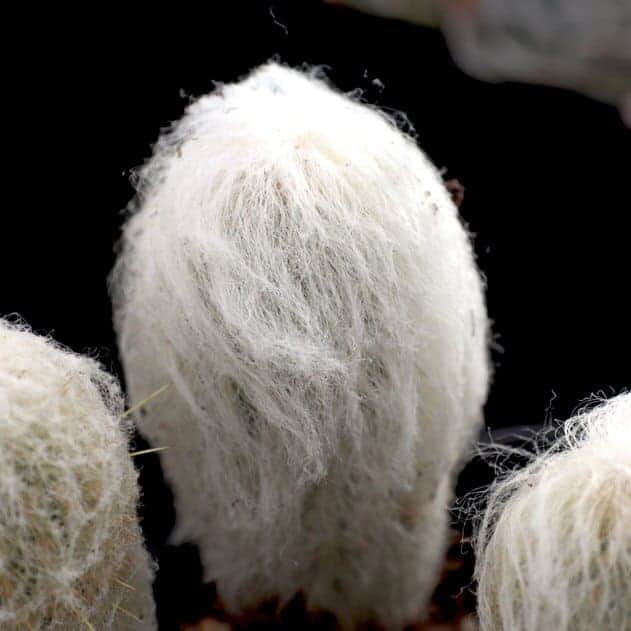 Read Also: 11 Best Cold Hardy Succulents
Senecio haworthii ' Woolly Senecio'
This fuzzy succulent is similar in appearance to other Senecio except for the felt-like covering on its leaves. Native to South Africa, the plant can grow up to about 12 inches tall. When the Woolly Senecio blooms, it produces vibrant yellow flowers.
Senecio haworthii enjoy plenty of sun and proper watering techniques. Well-draining soil is essential to their survival. This plant is easily propagated from cuttings but can be grown from seeds as well.
Read Also: 11 Pretty Pink Succulents
Echeveria 'Lola'
This frosty Echeveria is the result of a cross between Echeveria lilacina and Echeveria 'Deresina'. The thick layer of farina on the leaves gives this plant its snowy white appearance. Beneath the white, it has undertone of mind and rose.
Here's a care guide we wrote for this plant!
Like many Echeveria the Lola is easy to care for and great for inexperienced gardeners. It's also pet-safe and easy to propagate. Partial sun is best, as is well-draining soil and infrequent watering.
Read Related Topic: 9 Vibrant Purple Succulents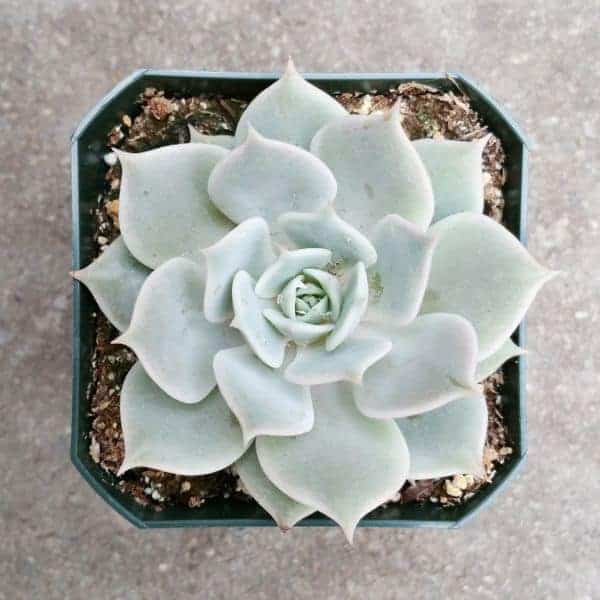 Euphorbia polygona 'Snowflake Cactus'
The chalky-white Snowflake Cactus is native to South Africa and tends to grow in clumps. Its heavily spined and ribbed stem is white with green undertones. The stems of the Snowflake cactus can reach up to five feet in length and four inches in diameter.
This interesting succulents, which isn't a true cactus, is quite easy to care for, provided you protect it from frost and extreme heat. It grows best in partial sun and with infrequent watering. The Snowflake Cactus can be difficult to grow from seed, so it's best propagated from cuttings.
Read Also: 9 Outstanding Orange Succulents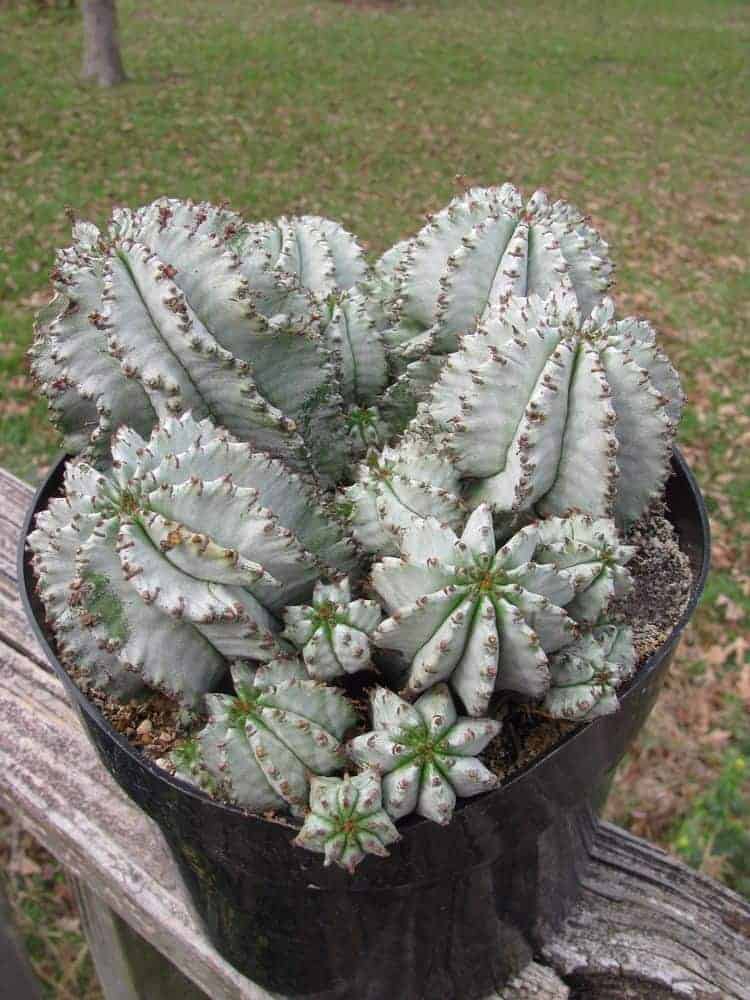 Crassula ovata 'Tricolor Jade'
The Tricolor Jade plant has thick, rounded leaves in a green and white variegated pattern. In ideal conditions and when grown in a big enough space or container, the Tricolor Jade can grow up to eight feet tall. However, with pruning it can be kept small enough to grow comfortably in a small container. In the winter, the plant produced cluster of white star-shaped flowers.
Like other Jade plants, the Tricolor Jade is a great choice for experienced and inexperienced gardeners alike. It grows slowly and prefers partial sun and adequately draining soil. It's also incredibly easy to propagate from cuttings.
Read Also: 5 Brilliant Black Succulents
Espostoopsis dybowskii
This furry cactus may remind you of the Peruvian Old Lady Cactus, but this one is native to Brazil, rather than Peru. It's a ribbed, columnar cactus that gets its unique appearance from the woolly white hairs that cover the stem. Long spines can be seen extending past the layer of white hairs.
Though not unheard of in gardening circles, Espostoopsis dybowskii is not a common species. It seldom reaches maturity in containers, but is often grown as a novelty because of its unusual appearance. It prefers full sun, but is sensitive to extreme temperatures.
Mammillaria gracilis 'Arizona Snowcap'
The Arizona Snowcap is a petite cactus, typically only growing up to four inches in height at maturity. The green stems, which are around an inch in diameter, can be difficult to see beneath the thick layer of white spines.
Prolonged exposure to moisture must be avoided with this drought-loving cactus. They can develop root rot quickly if allowed to sit in damp soil for too long. Since this cactus grows in clumps, it can be easily propagated from the many offsets it produces.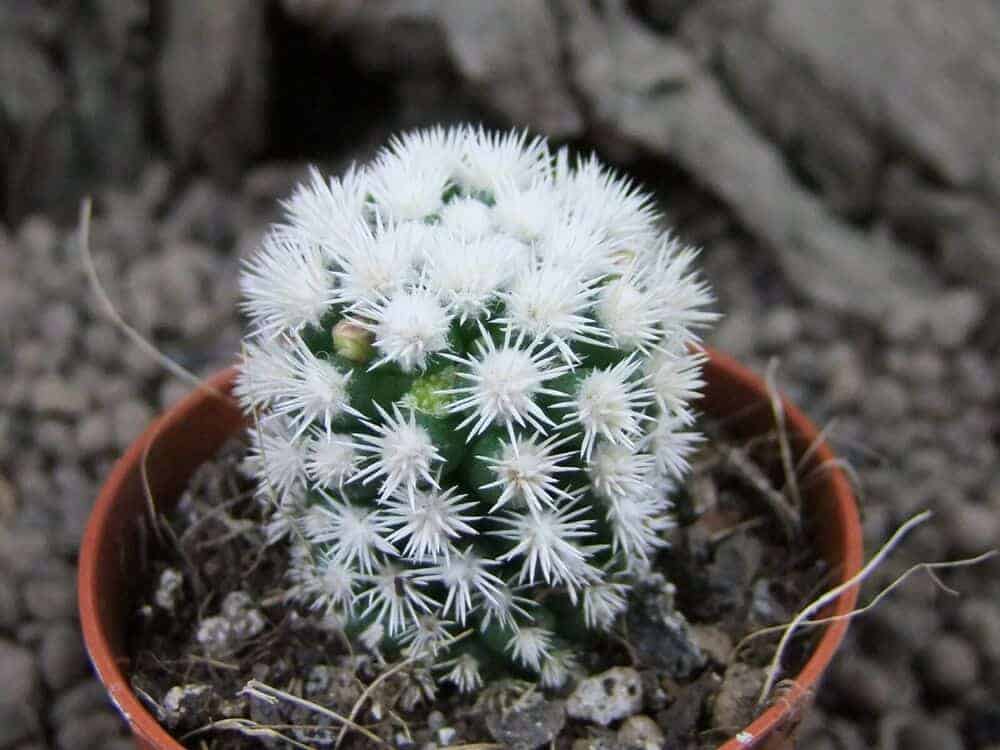 Euphorbia lactea variegata 'White Ghost'
This strange-looking cacti lacks the chlorophyl of other, greener cultivars. Its pale triangular stems grow in a candelabra formation and are covered in short spines. In ideal conditions, the White Ghost can grow up to ten feet in height.
Euphorbia lactea variegata should be watered when the soil is dry, but the plant won't thrive during long periods of draught like many other cacti do. It can be difficult to grow from seed and is best propagated from cuttings.
Dudleya gnoma 'White Sprite'
Dudleya gnoma grows its ghostly-white leaves in a rosette pattern. The rosette of long, triangular leaves sits on top of a thick stem. Be careful when handling the White Sprite, as you can leave lasting finger marks on its delicate white leaves.
Dudleya gnoma is dormant during the summer, so it needs little no water during this time. It prefers well-draining soil and partial sunlight. This succulent is incredibly drought tolerant, but must be protected from particularly cold temperatures.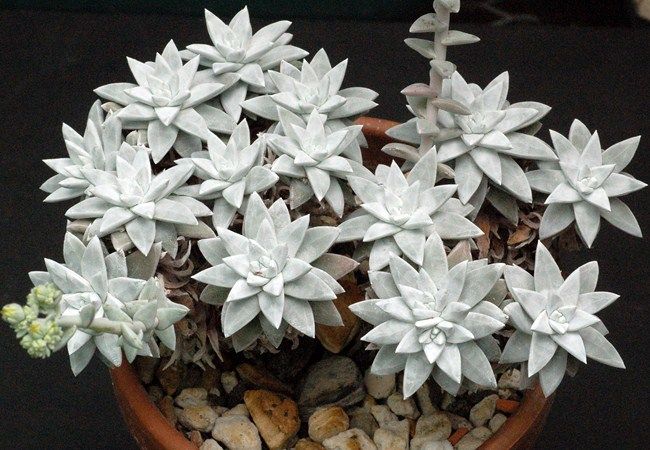 Agave titanota 'White Ice'
This Agave is native to Oaxaca, Mexico and can grow up to 30 inches in diameter. It has whitish-grey leaves and can be grown in indoor or outdoor gardens, if the climate permits. The spiny leaves and irritating sap make it a less than ideal choice for gardens frequented by children or pets.
White Ice is a particularly easy to grow cultivar. It thrives on neglect and needs to be repotted infrequently due to its slow-growing nature. It prefers full sun and adequately draining soil.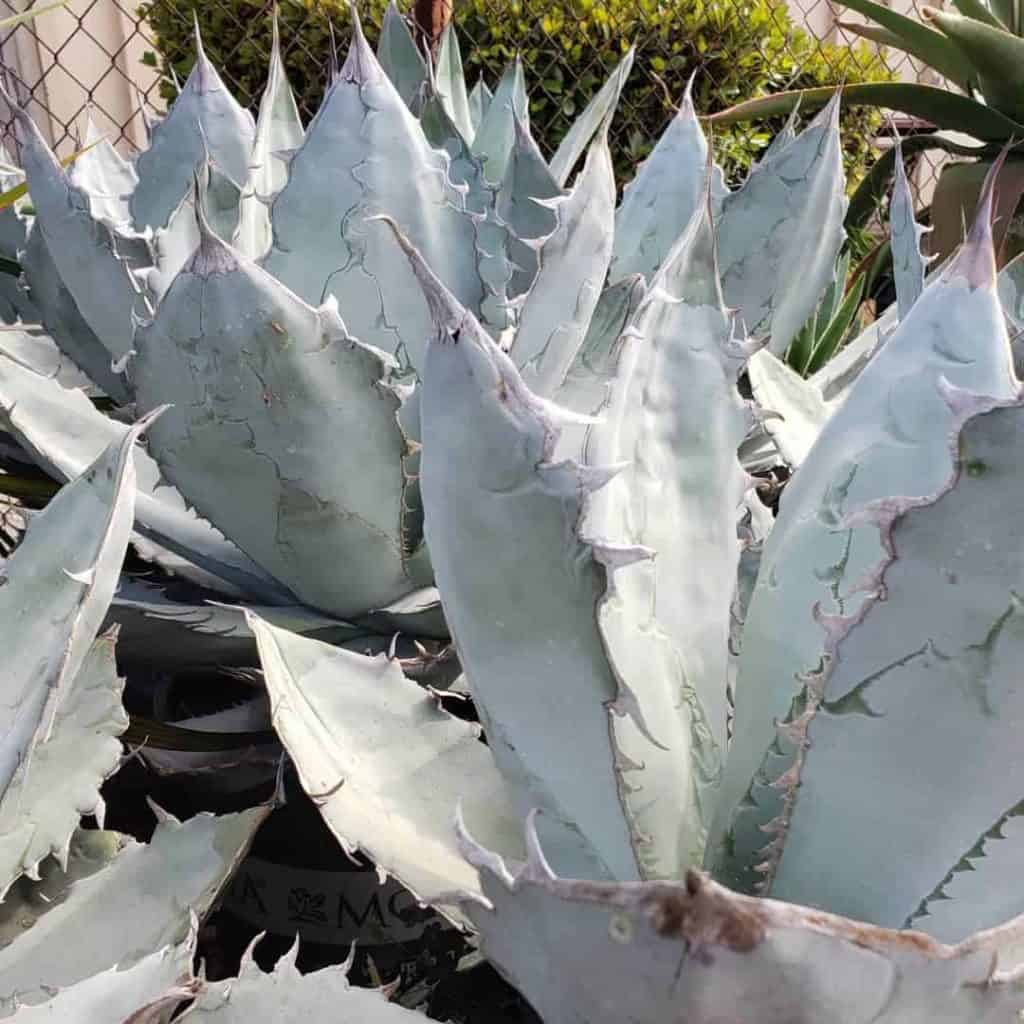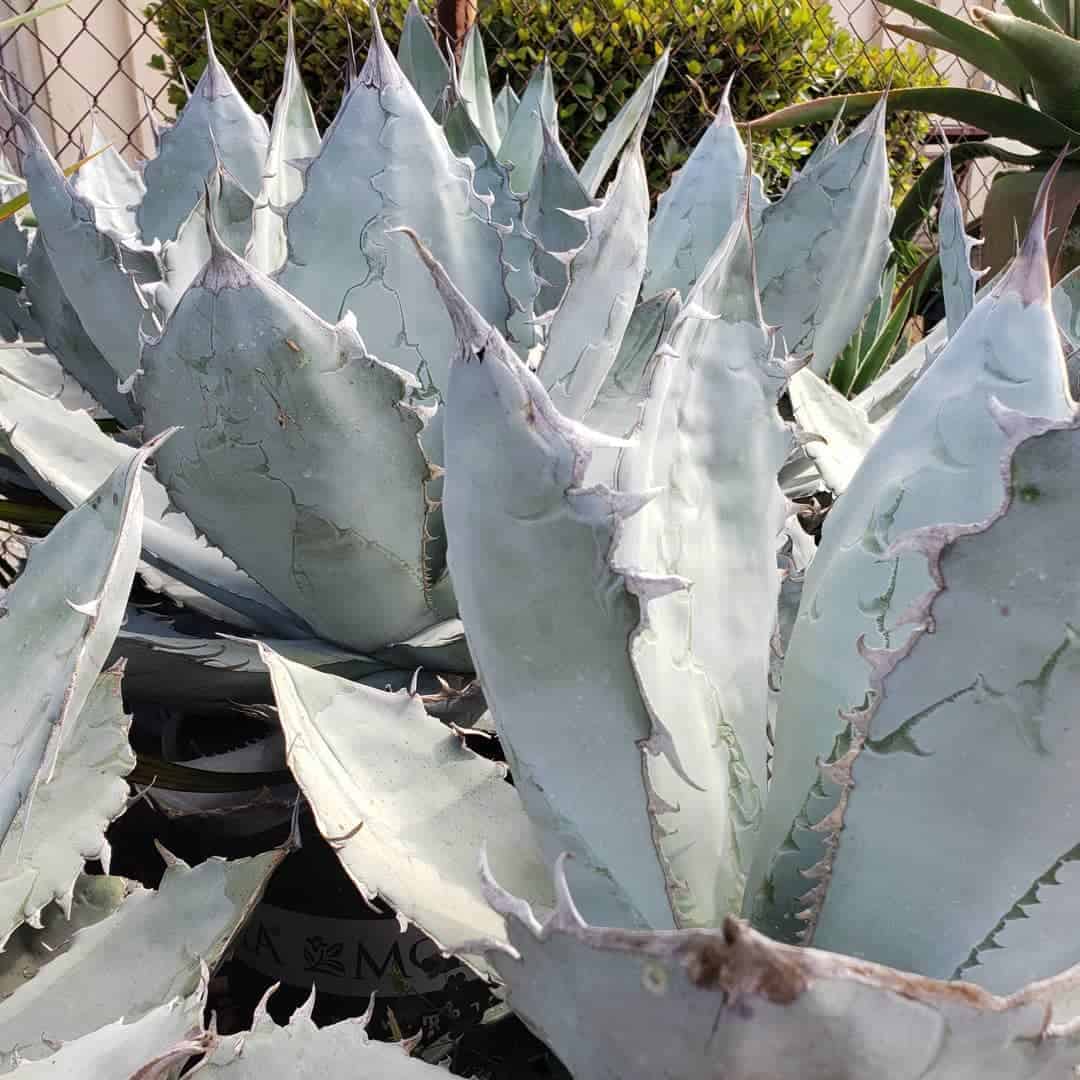 ---
Have you been inspired to add a few frosty succulents to your collection? These wintery-white succulents and cacti compliment any color scheme. Their pale, subtle color make great wedding decorations or accessories, too. White succulents also make classy, cool additions to any garden or succulent project, so why not add a few to your collection and see what new ideas you come up with.