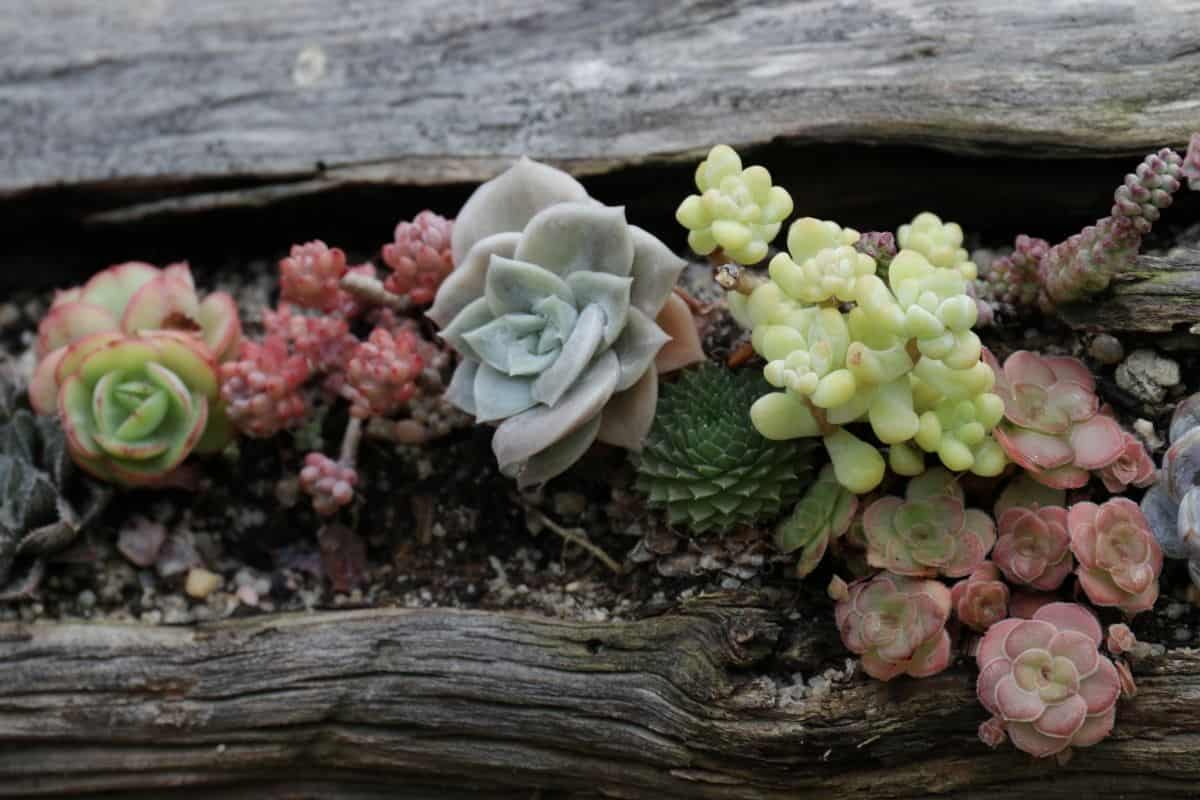 Succulents and cacti are a great way for gardeners of all experience levels to express their passion for plants. They're also relatively low-maintenance and will require significantly less work (and water) than traditional gardens. So, how exactly do you plant a succulent garden?
Fortunately, starting a succulent garden is easy, no matter where you live. No green thumb necessary. However, there are a few factors you'll need to consider before you begin planting your succulents and cacti.
Related Article: How To Care For Succulents
Jump to:
Container Gardens vs Outdoor Gardens

One of the greatest things about succulent gardening is that there is no single right way to do it. Whether you live on a sprawling estate in the Southwest or in a tiny apartment in the city, you can grow succulents. The first step in planting your own succulent garden is to decide whether you want to grow your succulents in containers or in the ground.
For some succulent lovers, planting succulents in container gardens works best. Container gardens can be kept indoors or outdoors, or even moved around as the weather permits. As long as you provide your succulents with adequate light and the proper amount of water, your container garden will flourish.
See Also: How to Repot a Christmas Cactus
If you live in a climate appropriate for growing succulents outdoors, you might want to also consider planting your succulent garden in the ground. Outdoor succulent gardens are particularly easy to care for, provided you live in a warm enough climate. Although there are a few succulents that can survive frigid winters, most will not.
Whether you choose to plant your succulent garden in pots or in the ground will depend entirely on where you live and which you prefer. Neither option will be correct for every situation. If you'd like to know more about what factors to consider when making this decision, you can learn more here.
Designing Your Garden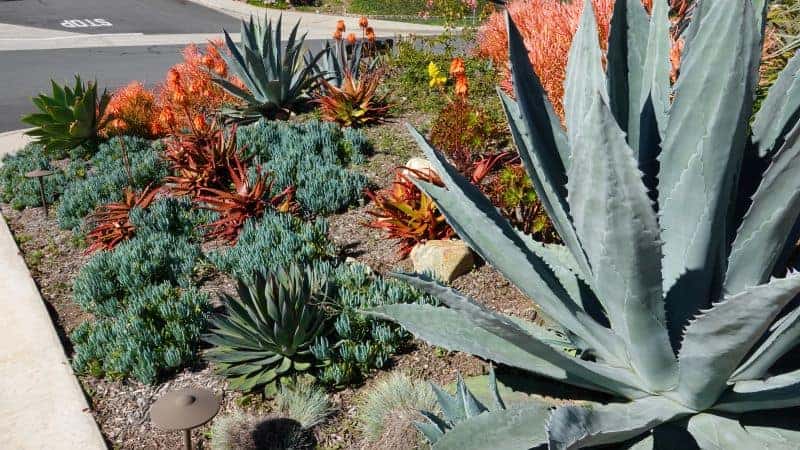 There are two ways you can go about designing the succulent garden of your dreams. If you're a planner, you might consider drawing out a rough sketch of what you want your garden to look like. Seeing a visual representation of your ideal garden can help you decide what should go where before you begin planting your succulents and cacti.
However, if you'd rather go with the flow, you can always create your garden as you go. Start by planting a single succulent and plant the rest however your creativity guides you. If you've opted to plant your succulents in containers, you can always rearrange them down the road if you need to.
Whichever way you decide to design your succulent garden, remember that gardens don't always have to stay on the ground. Consider planting a few trailing succulents in stacked or hanging containers. Looking to add a magical feel to your garden? Try adding a koi pond bordered with succulents, you can use a pond calculator to get started. If you're feeling that DIY urge, you can try making a succulent wreath to take your succulent garden to another level. Remember, the sky is the limit when it comes to planting a succulent garden!
Choosing Succulents for Your Garden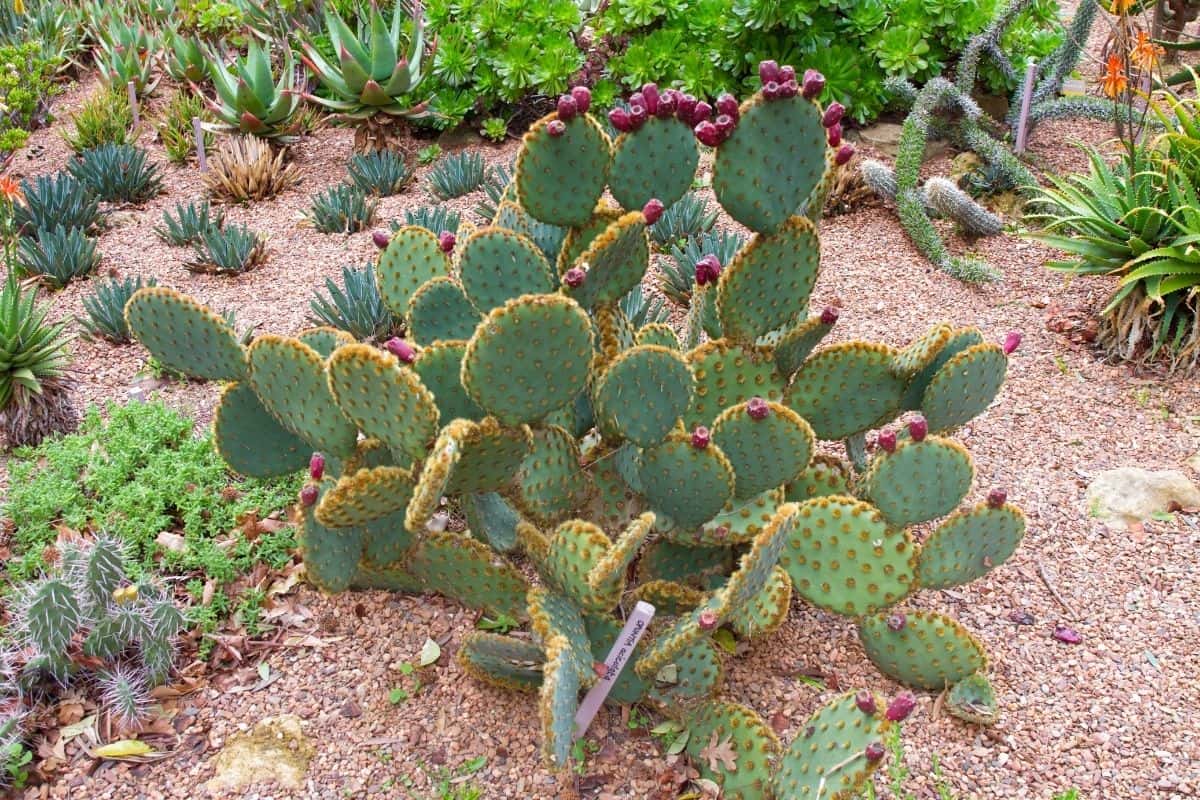 Once you've decided how you're going to plant your succulent garden, you can begin choosing the perfect plants. Consider your space and how much sun you expect your plants to receive each day. If you have a particularly sunny area, you'll want to choose plants that prefer bright light. If you have certain succulents in mind, you may need to alter your design to accommodate their light needs.
With succulent gardening, variety is the spice of life! Succulents come in so many shapes and sizes, don't be afraid to choose unique plants. Whether you want red or blue succulents, or something a little weirder, you're sure to find the right kind of succulent for your garden.
Choosing plants of different sizes is also a great way to add variety to your succulent garden. Succulents come in a range of sizes, from tiny cacti like Mammillaria gracilis fragilis to giants like Aloe barberae. Obviously, the size of your plants will depend on how much space you have available, but don't be afraid to experiment with different sizes of succulents.
Planting Succulents in Your Garden
Before you plant your succulent garden, it's important to make sure you have the right tools for the job. If you're planting your succulents in containers, you want to make sure you have chosen appropriately sized containers that can provide adequate drainage. You might also want to invest in tools such as a trowel, watering can, and gardening gloves. If you're planting cacti, you'll need something to keep you safe from the spines.
One of the most important supplies you'll need is good soil. Succulent soil must provide adequate drainage for your plants to keep them healthy. Regular potting soil will not do, as it typically retains more water than succulents prefer. Instead, choose a soil designed specifically for succulents and cacti. Succulent soil will contain larger particles such as perlite, sand, or gravel, to allow for better airflow and drainage than regular gardening soil.
Before you begin planting succulents and cacti in your garden, you need to make sure that they can handle the amount of light they'll receive in their new location. If you've just picked your plants up from the nursery, you may need to introduce them to bright light slowly over the course of several weeks to ensure that they don't get sunburned.
Succulents are pretty flexible when it comes to how much space they need, so don't worry if you don't have much room. Most succulents and cacti grow slowly, so planting them close together usually isn't a problem. In fact, you can create interesting works or art with living walls and succulent wreaths, that are held together by planting succulents close to one another. However, succulents will also do well if given plenty of space to expand.
Regardless of where and how you plant your succulent garden, you must never overwater them. Overwatering is the single most common reason that succulents do not survive. Follow appropriate watering techniques and your succulent garden is sure to thrive.
As always, it's important to do a little research whenever you bring a new succulent or cactus home. Knowing what type of plants you have will allow you to give it the best care possible. The more you know, the more you can grow!
You Might Also Like: