Cacti are simultaneously some of the coolest plants and some of the easiest plants to take care of. It's no wonder they've become so popular in recent years.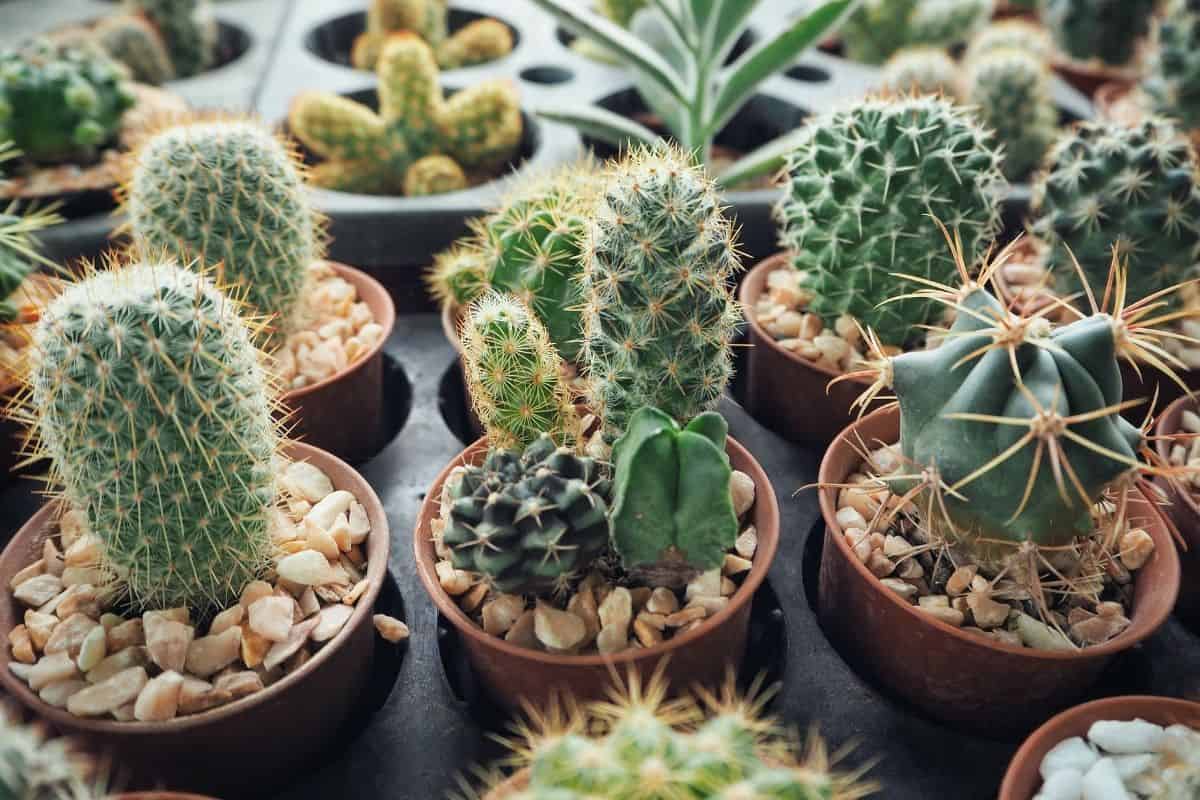 Sure, you could go grab a cactus off the shelf at Home Depot or Wal-Mart, but they are rarely healthy and often have those lame plastic flowers glued to them.
They sometimes stock interesting cacti, but beyond the occasional crested "brain cactus" (which is actually not a cactus, it's a Euphorbia) you're unlikely to find anything truly spectacular.
So, we've rounded up the best places where to buy cacti online and organized them into the relevant categories for you.
Note: This article is specifically about cacti. If you'd like to know the best places to find succulents online, check out our other guide here.
Jump to:
Best Place to Buy Cacti Online
Allow us to kick start our directory with two of our favorite go-to sources to buy cacti online: Leaf & Clay and Bloomscape.
Leaf & Clay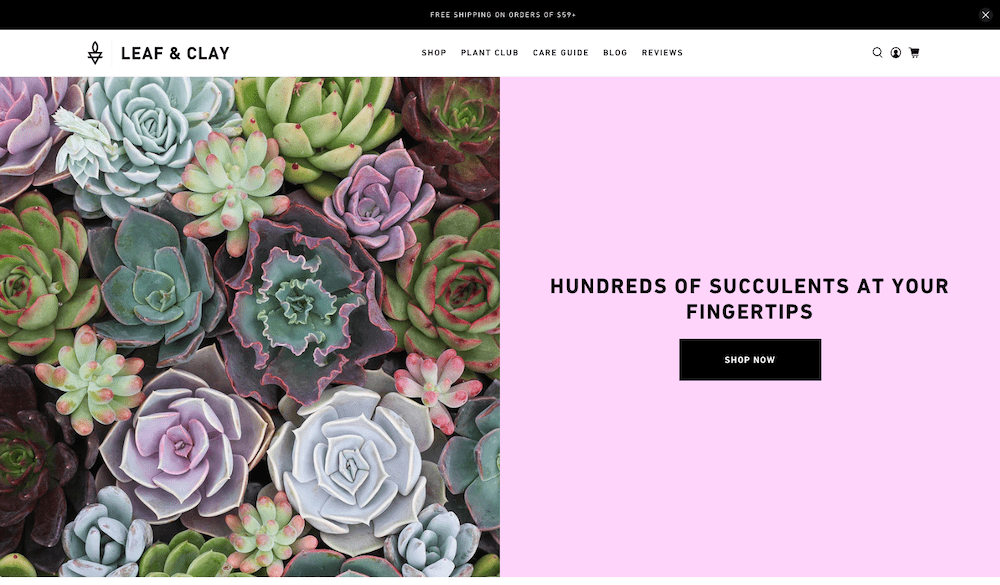 As the name suggests, this online shop is a premium resource for plants and pots. They have four main product categories. These are strange & unusual, low light, cacti, and pretty pastels.
You have probably guessed which category we'll be featuring, though.
What makes them our personal favorite is their extensive collection of different cactus species, variants, and even cultivars. Their selection of cacti is great if you have a particular plant in mind.
However, we also recommend checking out their Spikey Pack. It's a set of six or 12 different cacti that they have hand-selected to give their customers an instant cactus selection of diverse species at one affordable price.
This affordable package can serve as a great party favor for family and friends during special occasions, a perfect gift for a budding cactus enthusiast, and a nice treat for yourself.
We also recommend signing up for their Plant Club. It's a four-pack plant subscription box that you can look forward to each month.
Keep note that these boxes are not limited to just cacti, though. They will surely contain succulents as well. That said, it is still a great way to grow your cactus collection fast.
Why You Should Buy Cacti From Leaf & Clay
They have a wide selection of cacti. They have one of the most extensive collections of premium-quality cacti online. In fact, they even offer rare species. It's always a good idea to buy your preferred plants when you see them, though, as their stocks can sell out quickly.
They have good service. They have excellent packaging practices and fast shipping. They also have a user-friendly platform, making your plant shopping easy and convenient.
They have interesting offers. As we mentioned above, their cacti can come in special packages or as part of their monthly subscription box.
Bloomscape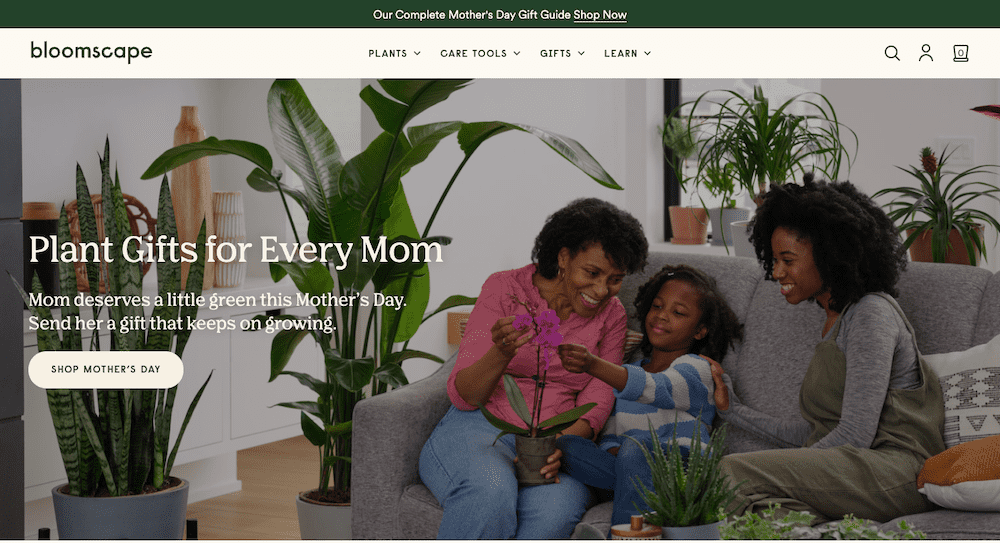 Another favorite of ours is Bloomscape, and why not? They are one of the leaders in the industry, having sold plants for over 50 years already.
They have multiple categories designed to help buyers locate the exact plants they're looking for. These include low-maintenance plants, pet-friendly plants, and low-light plants.
They don't always have a lot of cacti in their collection, but what they have are happy, healthy, and ready for their new home. In fact, we particularly recommend them for beginners since their cacti already come in their own planters.
Those who want to grow their cactus army should definitely check out their Prickly Party Collection. It is a package composed of three cacti and a choice between basalt or terracotta planters.
Why You Should Buy Cacti From Bloomscape
They are beginner-friendly. Each cactus order will come planted in premium cactus soil, its own planter, and all the care details you'll ever need to ensure your cactus' long life.
They offer interest-free installments. Thanks to their partnership with Klarna, you no longer have to limit your cactus shopping according to your current budget. Instead, you can conveniently split the total cost into four interest-free payments that you can pay every two weeks.
Where to Buy Rare Cacti Online
Many of the cacti that the featured sources above offer are considered quite common. While sure, some selections can be considered "rare", however, most of these plants run out of stock fast.
Hence, if you really want to buy rare cacti, you'd probably fare better through these sources instead: RarePlant and Etsy.
RarePlant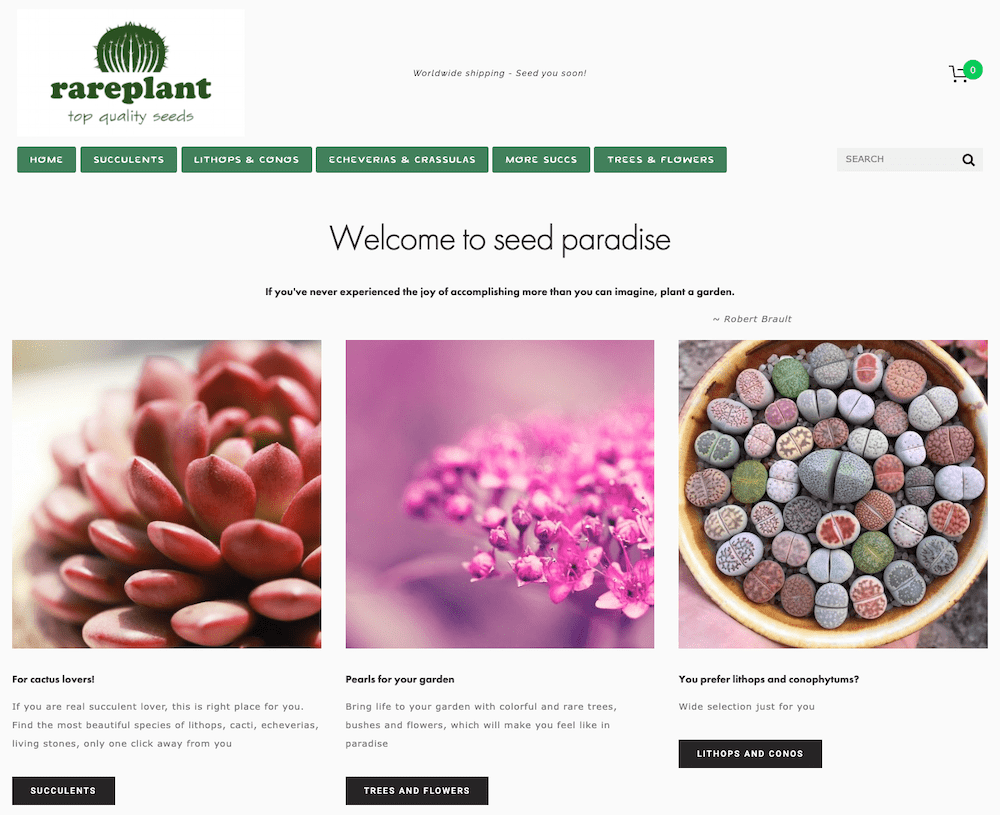 Don't get us wrong; there are many reasons why we don't typically recommend purchasing seeds一the main product that RarePlant offers.
That's because seeds can be a challenge to germinate, and when they do, they can take quite a while to grow.
When it comes to rare cacti, though, getting seeds can be a good idea. That's because many of these rare plants are quite delicate and can get easily damaged during shipping.
RarePlant has an extensive collection of rare cacti seeds that you can order. Each order can come in packs of five to 20 seeds.
You'll probably be pleased to learn that they also hold Cactus Lovers Club evenings that can offer you further information on how to germinate your seeds successfully.
Why You Should Buy Cacti From RarePlant
They have a wide collection. You'll enjoy scrolling through their collection of rare cacti. In fact, you won't even find some of their plants elsewhere.
Your orders will arrive safely. Full-grown plants are vulnerable to mishandling, pests, and even disease. These are issues that you simply won't experience in buying seeds instead.
They offer worldwide shipping. Unfortunately, many of the sources we will feature in this quick directory don't ship overseas. That's because they offer fully-grown plants.
RarePlant, on the other hand, offers worldwide shipping. As a bonus, rare plants that have been grown from seed can acclimate faster than mature plants.
Etsy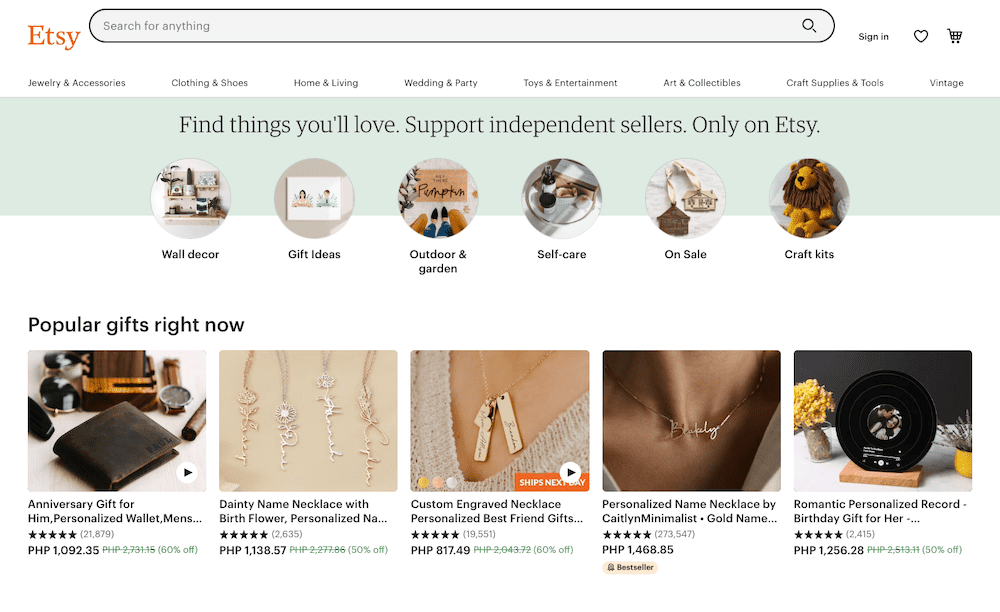 Yes, we understand that Etsy is mainly an online marketplace that offers handmade goods and antiques. However, we will let you in on a secret: it's also a good resource of really rare plants, cactus included.
It's an ideal hunting ground for ultra-rare cacti that cactus collectors are willing to part with for a price.
If you can't find a certain cactus species, variety, or cultivar elsewhere, you'll probably find it here.
Why You Should You Buy Cacti From Etsy
It's an excellent source of premium-quality rare cacti. Since most of the cacti being sold on Etsy will come from cactus collectors instead of nurseries that grow and sell plants en masse, the quality of the plants you find here is mostly guaranteed.
Where to Buy Cheap Cacti Online
Buying rare cacti is not always a good idea, especially for beginners or those still learning the ropes of caring for these plants.
After all, the rarer a plant is, the more costly it tends to be. Hence, we usually recommend cheaper species for new gardeners first, and you'll find a lot of them at Mountain Crest Gardens and The Succulent Source.
Mountain Crest Gardens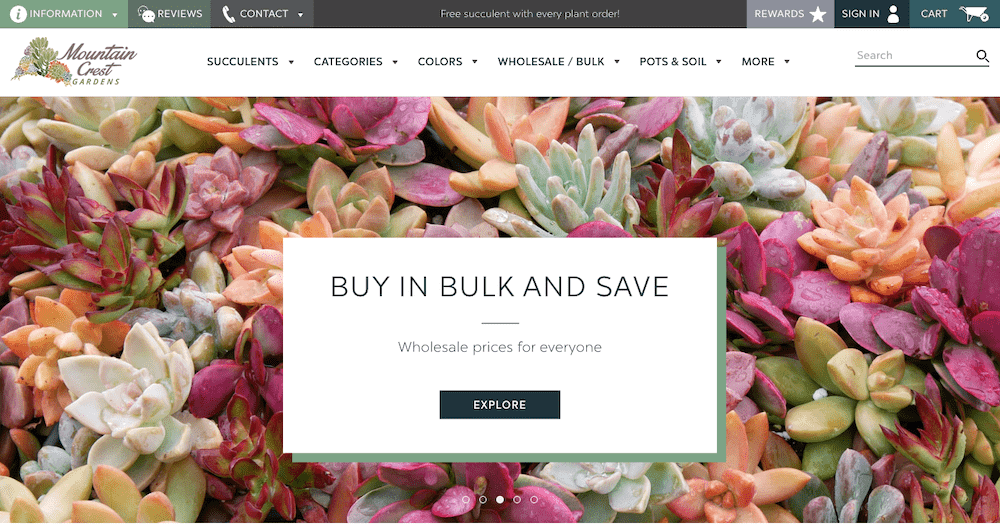 Mountain Crest Gardens is one of the most popular online shops of cacti and succulents, and for a good reason. After all, they are also one of the most affordable sources.
Don't underestimate this plant retailer, though. They have been in the industry for more than two decades already.
Since they are a family-owned nursery, their cacti are all premium-quality. They simply understand the plight of the average plant lover, and that's why they offer their cacti at a more budget-friendly price.
This shop's main specialty is succulents, but they have a category entirely dedicated to cacti. Feel free to scroll through their collection and take your time, as they have more than 700 different types of plants in their inventory.
Can't choose among their varied options? Then you might want to get a mystery package instead.
Just choose a size, and you'll receive a random premium-quality plant. They even offer a monstrose cactus mystery package if you're up for a fun surprise.
Lastly, we also recommend signing up for their monthly subscription box. It will contain four themed plants and one mystery plant at an affordable price and with free shipping.
This subscription box will contain succulents as well, though.
Why You Should Buy Cacti From Mountain Crest Gardens
They have affordable yet premium-quality plants. Having been in the industry for over 20 years, this family-owned nursery is well known for its quality and affordability.
They have an extensive collection. We are confident that they will have most of the cacti you'll ever want to buy.
They have special offers. They have subscription boxes with free shipping, special mystery boxes with amazing discounts, and they also hold wholesale rates and site-wide sales.
The Succulent Source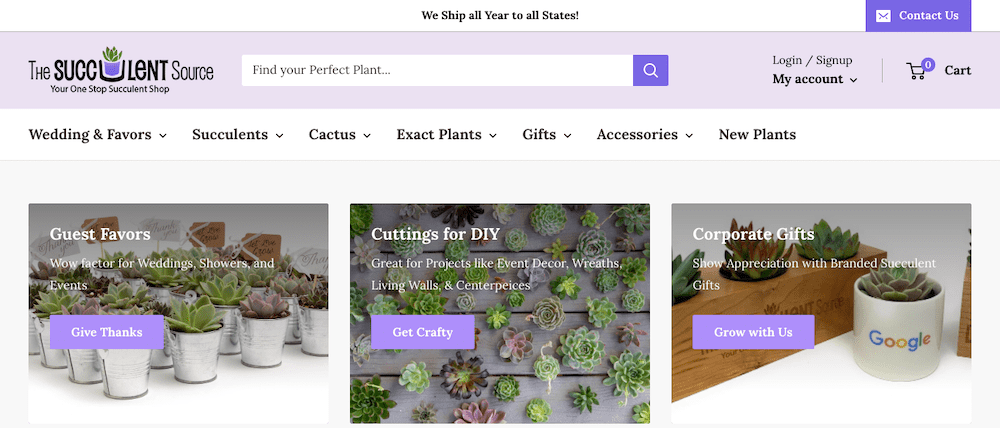 The Succulent Source is another family-owned nursery to consider getting affordable cacti from. They've been in the business for almost two decades.
According to their website, they ship thousands of plants "each week, to every state" for the whole year.
What we love best about them, though, is how they focus on selling their plants in bulk. For instance, their main homepage immediately gives you the main option to shop for plants as guest favors and corporate gifts.
They have a separate category specifically for cacti. This is then further categorized into General, Shop by Species, and Shop by Size to make your shopping experience more convenient.
There are more than 150 products under the species category. Meanwhile, the two size categories are small or two to four-inch plants and large or those over six inches.
Lastly, there are three general categories: Wedding & Favor, Cuttings, and Monthly Club.
Indeed, they are a great site to access to grow your plant collection.
Why You Should Buy Cacti From The Succulent Source
They are a reputable company. One of the challenges of buying cacti online is the constant worry that you'll receive a lackluster plant or not even get what you've ordered. You won't have to worry about that from The Succulent Source, though, with their almost 20 years of experience, backed by 9000 customer reviews.
They are great for ordering in bulk. One of the main reasons they can offer really low prices is because they usually offer by batches. This allows them to lower their prices further. The good news is, they also offer cheaper singles compared to their competition.
They are an excellent source of cuttings. There are times when you don't really need the full plant. Instead, you may only require cactus cuttings for your crafts and propagation experiments. Fortunately, you can get quality cuttings from this website as well, and in our experience, they almost always grow and turn into mature plants.
Where to Buy Large Cacti Online
We have featured great places to get large orders of cacti, but what about sources of large-sized cacti? Don't worry, we have two more online shops to share with you. These are Cactus Limon and Planet Desert.
Cactus Limon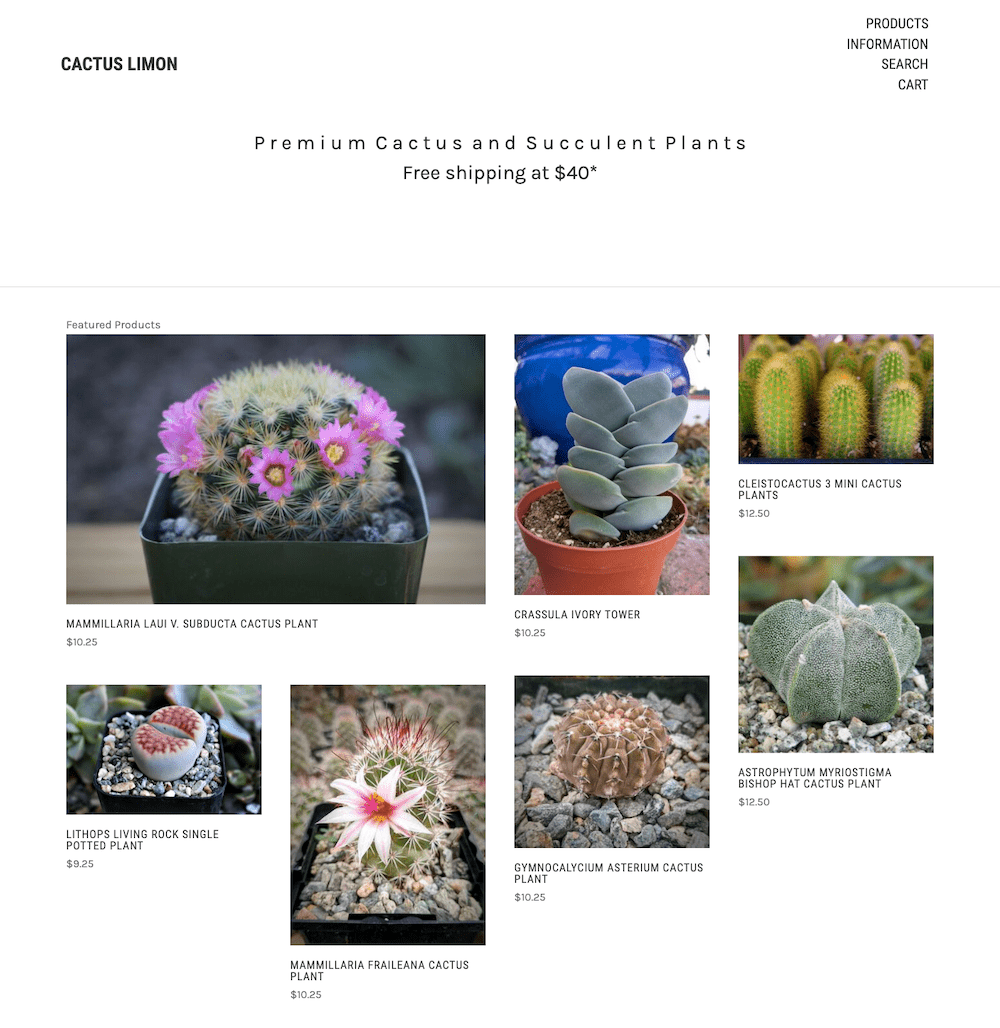 What sets Cactus Limon apart from others is that they specialize in offering large cactus plants. In fact, even their cuttings are around 20 inches long.
You can expect their products to be quite pricey due to their size. Don't worry since they offer free shipping for orders over $40.
Aside from their large cacti, we also recommend scrolling through their collections of other cacti. They also offer mini cacti, low-maintenance cacti, and even landscape plants.
We also like their rare collection. That's because the owners of Cactus Limon have expertise in propagating species that are close to extinction.
Why You Should Buy Cacti From Cactus Limon
They are experts. This family-owned business has been operating for over 15 years. They have even assisted in propagating endangered plants and trees.
You'll find cacti species here that you won't find elsewhere. This particularly applies to larger cacti that other nurseries don't offer, partly due to the effort and logistics involved in shipping these plants out.
Planet Desert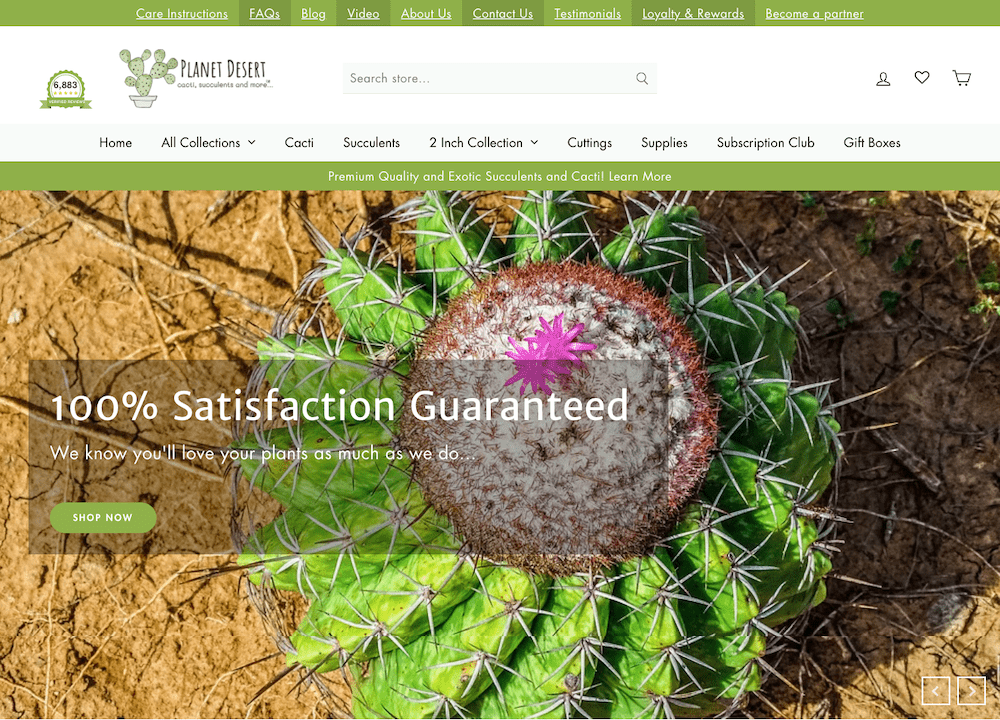 Finally, we will end this quick directory on a high note with one of the most popular online retailers of both cacti and succulents.
Planet Desert is a family-owned wholesale and retail nursery with a history of almost 20 years in the business. Their products are divided into four main categories: Cacti, Succulents, Cuttings, and Supplies.
Quick links to their two-inch collection, subscription club, and gift boxes are also conveniently on their main navigation. They have a wide range of cacti in their inventory.
We recommend using their helpful search filter if you are on the hunt for bigger species. It has size options, including plants that are bigger than eight inches.
Why You Should Buy Cacti From Planet Desert
They are a reputable company with an extensive collection. Their cacti are not limited to just larger species. In fact, they offer a wide range of plant sizes from two to eight inches and beyond.
They have a very user-friendly website. All of their products are conveniently within just a few clicks. They even have a better platform than the other sites featured in this guide.
Their newsletter subscription is highly recommended. Signing up for their newsletter will give you access to giveaways, special offers, and incredible discounts.
Buying Cacti Online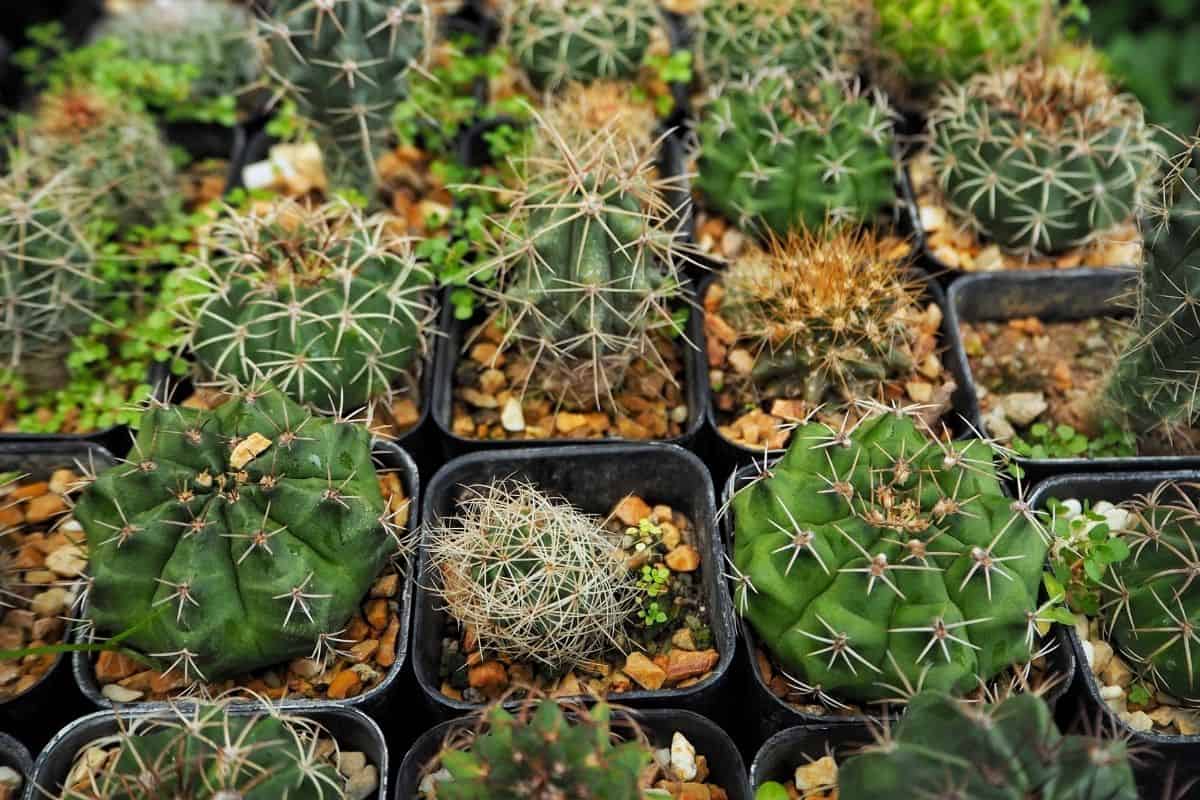 We hope you have enjoyed this directory of where to buy cacti online. We have intentionally divided it into different categories for further ease and convenience.
Feel free to explore our other posts, especially when deciding on the next cacti or other plants to add to your ever-growing garden.
Finally, you may also share your experiences about buying cacti online in the comment section below. We always love hearing about our readers' gardening adventures.