If you're interested in adding a new hue to your garden, but the vibrant colors of most succulents don't appeal to you, consider black succulents. These somber succulents are a great way to add contrast and pizazz to any garden.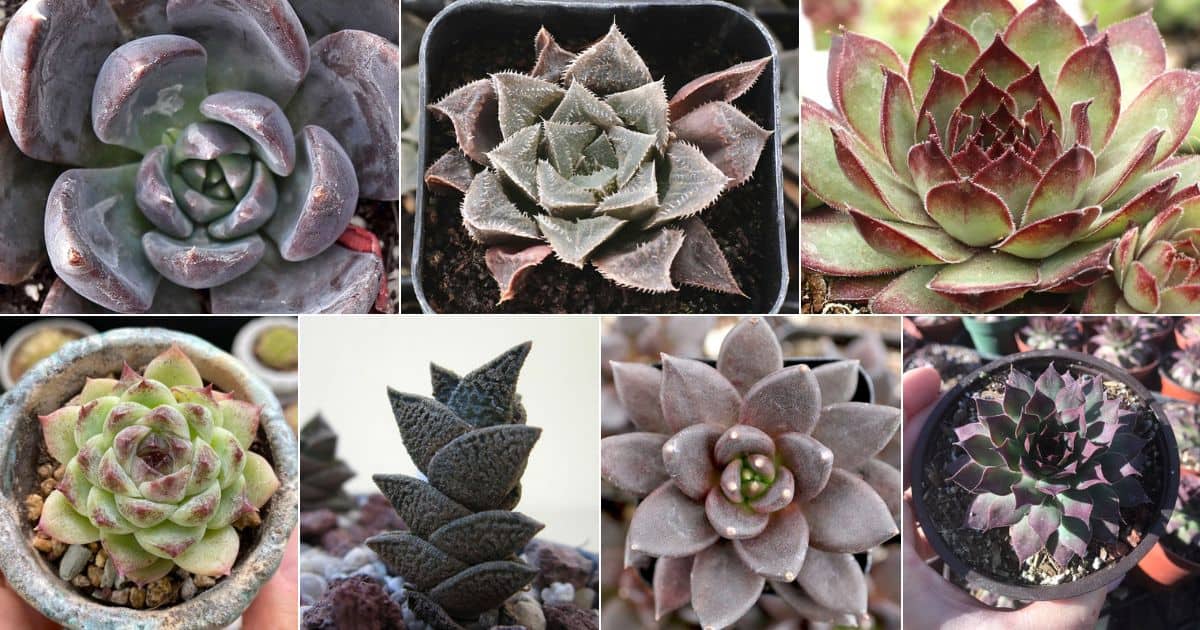 Whether you're expanding your collection or decorating according to a certain color theme, try adding a few black succulents to your next project for a splash of color and class.
Jump to:
Echeveria 'Black Prince'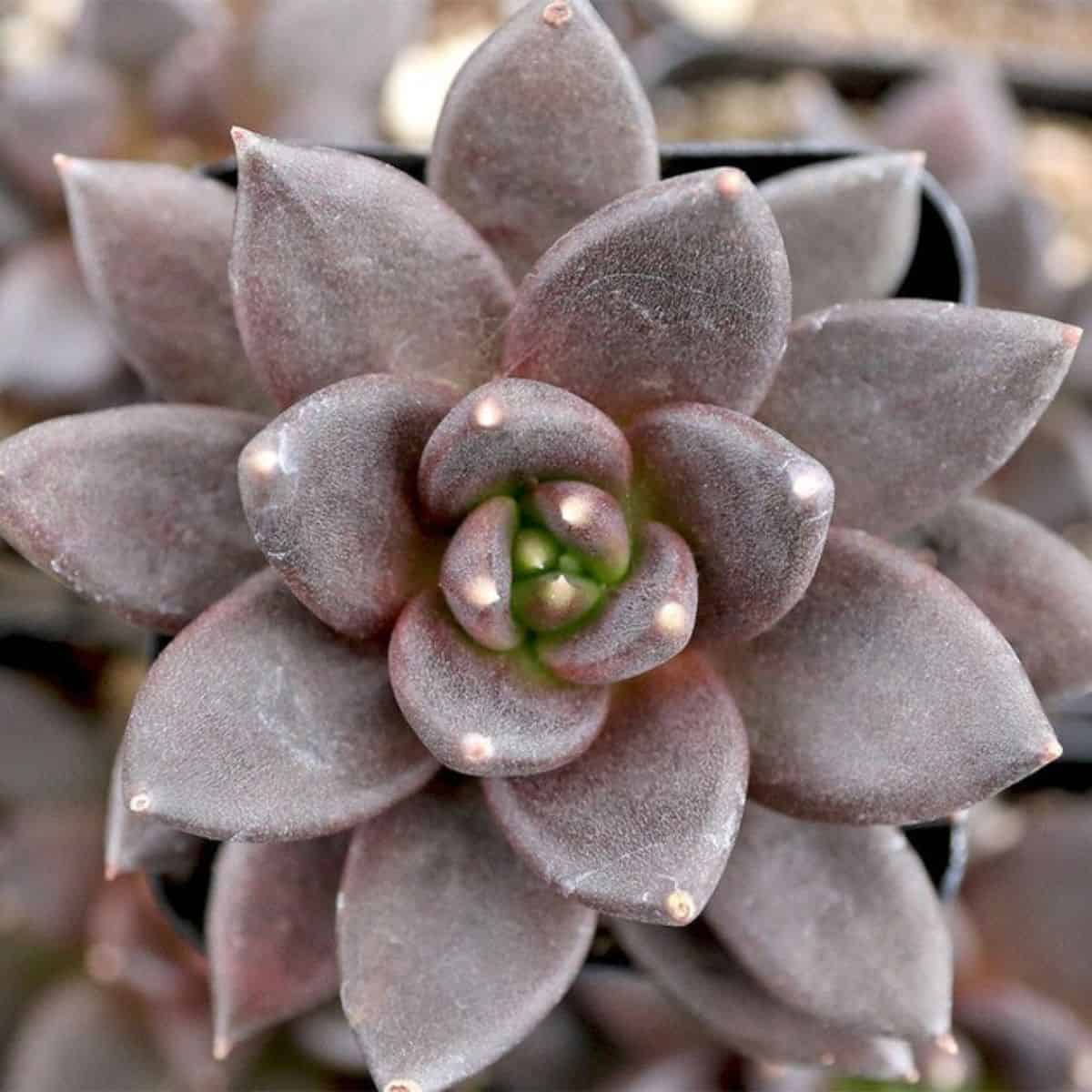 Buy it from:
This petite black succulent boasts the symmetrical rosette pattern that Echeveria are known for. This succulent stays quite small, only reaching about three inches in diameter at maturity. The leaves are wide and triangular in shape. New growth starts out as a bright, lime green and darkens to a deep brown-black with age.

Black Prince is a clumping succulent that grows in dense clusters. The offsets, or chicks, can either be removed to be planted elsewhere or left to grow as ground cover. The petite size of Black Prince makes it a perfect addition to living walls or fairy gardens.
In late fall to early winter, Black Prince produces a short green stalk from the center of its rosette. Dark red flowers appear on the stalk, creating an interesting contrast to the green and black colors of the leaves.
Black Prince was originally created by pollinating an Echeveria shaviana with the pollen of an Echeveria affnis. A variegated cultivar of Black Prince, known as Bess Bates, also exists.
As with most Echeveria, Black Prince is low-maintenance and perfect for any gardener and any project. It requires partial sun, infrequent watering, and well-draining soil. It is a slow-growing succulent and will not need to be repotted often.
Read Also: 11 Best Cold Hardy Succulents
Aeonium arboreum 'Zwartkop'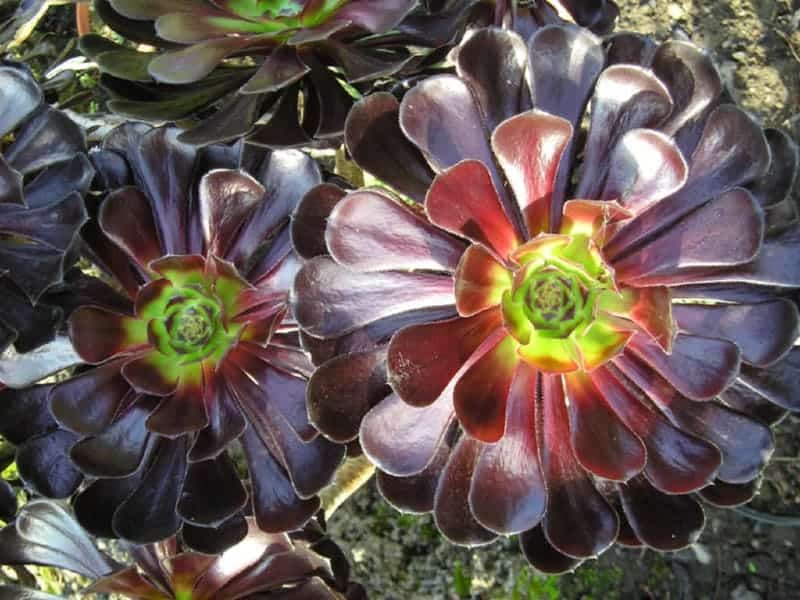 Buy it from:
Aeonium arboreum is a striking succulent with large rosettes of deep purplish-black leaves. The rosettes can reach up to eight inches in diameter and the entire plant can grow up to three feet in height. The size and gorgeous color of Zwartkop make it an ideal plant for outdoor succulent gardens, provided that the climate is appropriate.
Bestseller No. 1
Bestseller No. 2
Aeonium arboreum are native to North Africa and typically grow during the winter and are dormant during the summer. They require porous soil and proper watering techniques in order to thrive. They do well in full or partial sun, but the color of the leaves will deepen as the plant receives more light.
Zwartkop are not frost hardy and must be brought inside or covered during frigid weather. They do well in container gardens, especially when they can be left outside during warm weather and brought inside when temperatures drop.
Zwartkop are best propagated from stem cuttings. As the plant grows, the bottom leaves of the rosette will fall off, leaving a bare stem. To keep the plant looking tidy, you can remove the rosette to replant elsewhere and the bare stem will produce another rosette.
Read Also: 11 Pretty Pink Succulents
Sinocrassula yunnanensis 'Chinese Jade'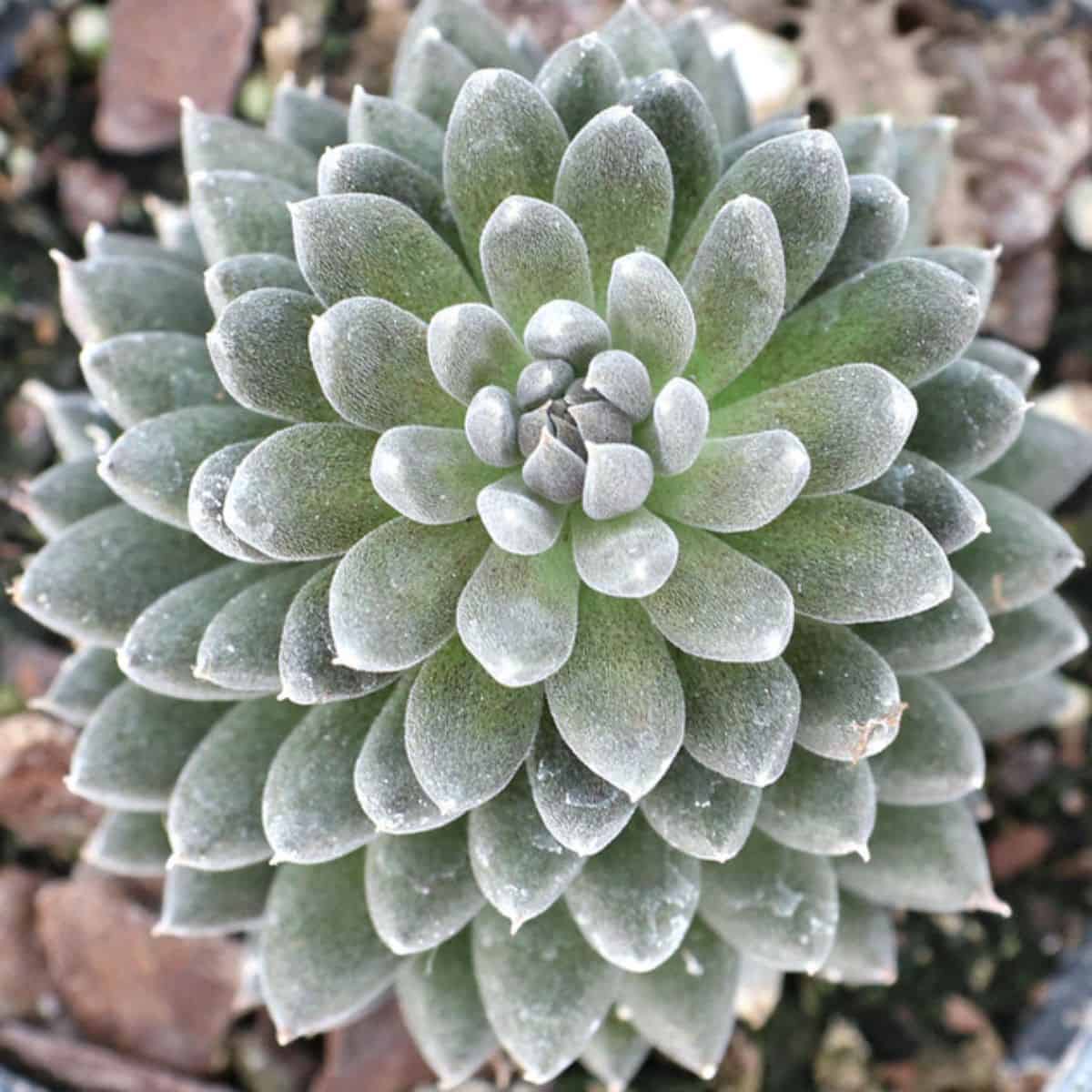 Buy it from:
Sinocrassula yunnanensis is a small succulent, with stems reaching up to four inches in length. The leaves are arranged on the short stems in a rosette pattern, which can grow up to about 1.5 inches in diameter. The leaves are flat on one side and rounded on the other and are covered in short, fine hairs.
This strange-looking succulent is a monocarpic plant, meaning it flowers once and then dies. An individual rosette will produce a long stem with tiny white flowers. Once it blooms, that rosette will die. Since the plant typically grows in dense clumps, the dead rosette is quickly replaced by new rosettes.
Sinocrassula yunnanensis is easy to care for and great for beginner gardeners. They grow best with partial sun and well-draining soil. Water only when the soil is dry to avoid root rot.
This adorable little succulent is easily propagated through leaf cuttings or offsets. If allowed to grow naturally, they will grow in dense clumps that are perfect for ground cover or container gardens.
Read Related Topic: 9 Vibrant Purple Succulents
Echinopsis ancistrophora 'Arachnacantha'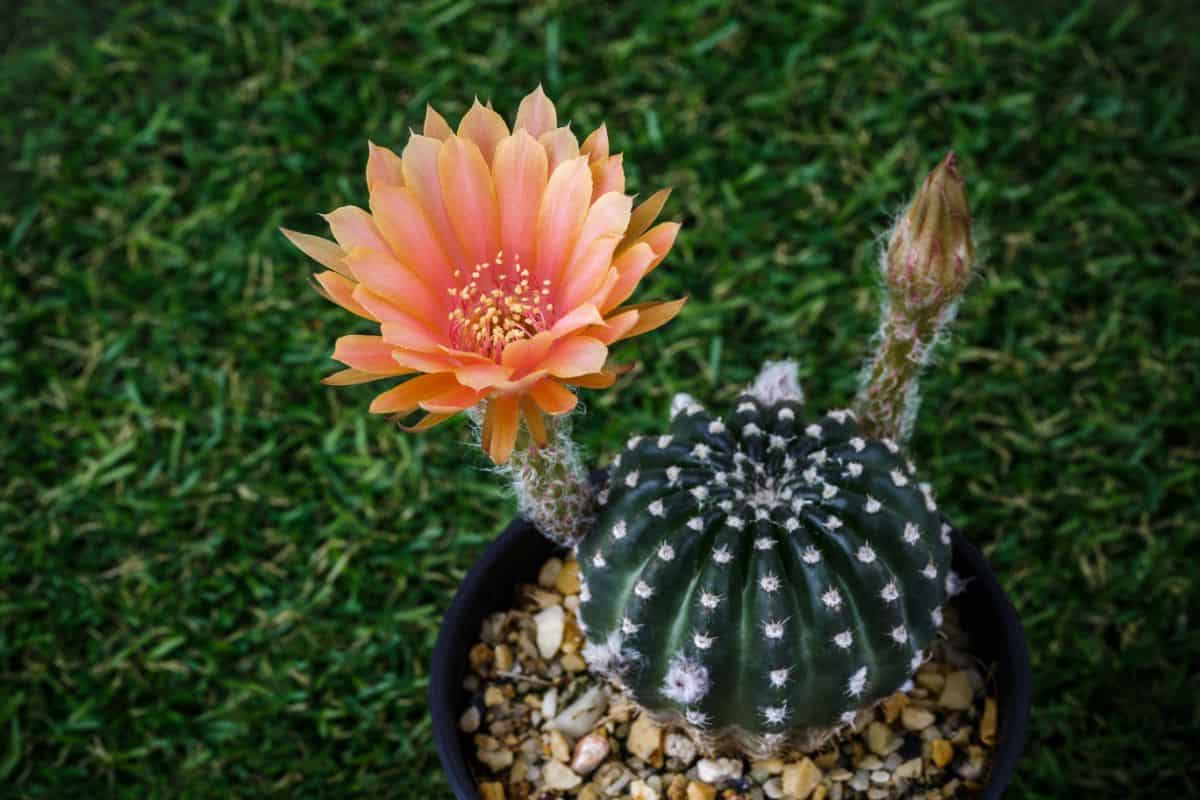 Buy it from:
This darkly colored cactus is native to Bolivia and is sometimes referred to as Lobivia arachnacantha. The name, arachnacantha, comes from a Greek word meaning "spider web shaped thorns". You can probably guess why this spooky-looking cactus was given this name.
In the spring, the cactus will produce large yellow or orange flowers that open only during the daytime. Arachnacantha is a rather petite cactus that typically stays under six inches in height. It tends to grow in tight clumps. Like many vibrantly colored succulents and cacti, the more sun this plant receives, the deeper the color will be.
This is a low-maintenance plant that's great for gardeners of all skill levels. Arachnacantha does best with full sun and infrequent watering. In the winter, the cactus goes dormant and will survive with little to no water until spring.
It is not a particularly frost tolerant plant and will need to be protected or brought inside during freezing temperatures. However, it will bloom better in the spring if it is kept in cooler temperatures through the winter.
Read Also: 9 Outstanding Orange Succulents
Echeveria 'Black Knight'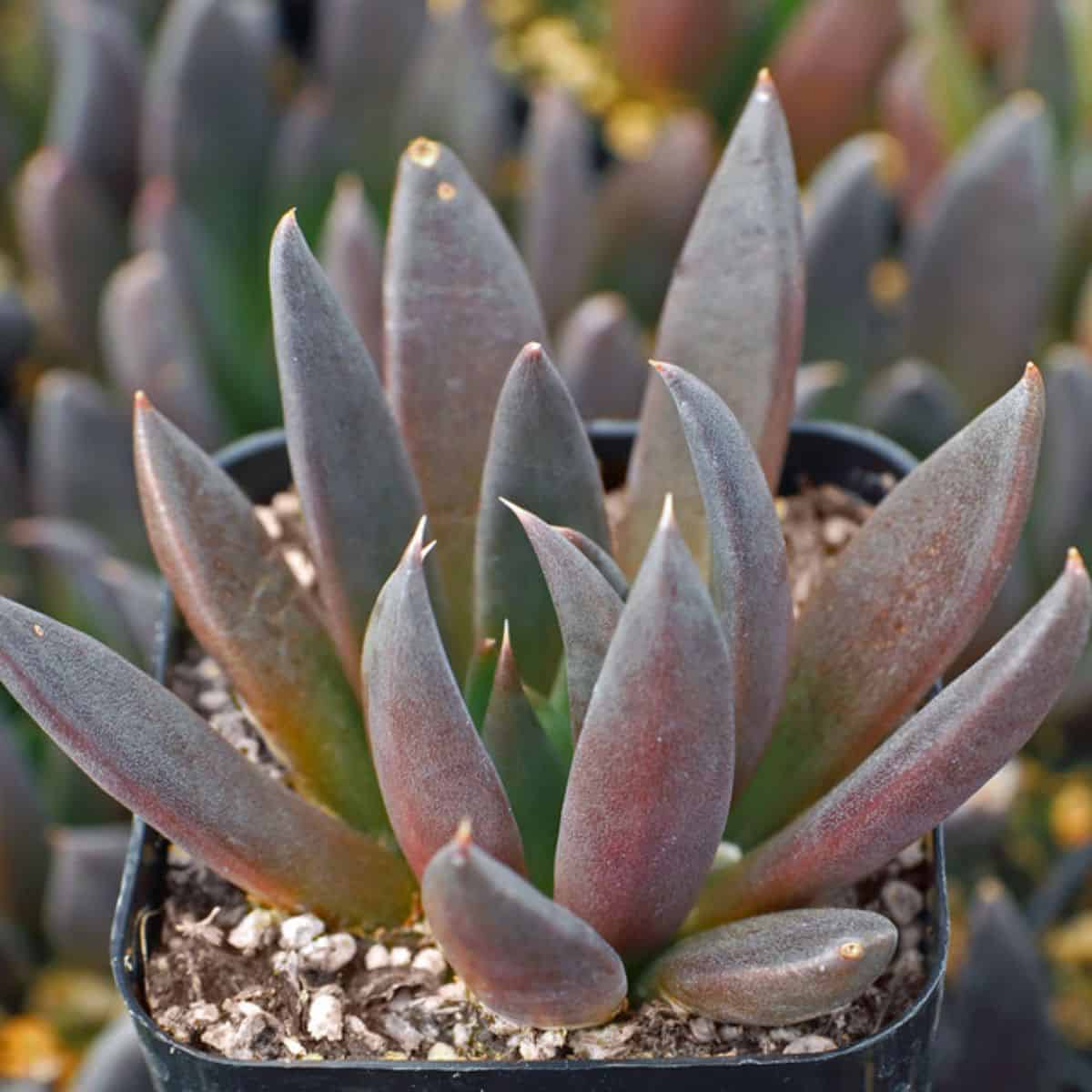 Buy it from:
This gloomy-hued Echeveria is an interesting and easy-to-care-for addition to any succulent collection or garden project. The thick, fleshy leaves are arranged in a rosette pattern. In the very center of the plant, you'll be able to see the vibrant green color of the stem and young leaves. As the leaves grow, they become a deep purplish-black color.
In late summer to fall, Black Knight produces thin lime green stems from the center of the rosette. Atop the stem grows bright red flowers that create a stark contrast against the deep colors of the leaves.
As with most Echeveria, Black Knight requires very little care in order to thrive. Partial sun or bright indoor light is best and water the plant only when the soil is dry. This plant cannot be left in overly moist soil or it is at risk of developing root rot. It's not a frost tolerant plant and must be protected from frigid weather.
Black Knight can be easily propagated from leaf or stem cuttings, but it can also be grown from seed. Following classic propagation techniques will help ensure success in sharing your beloved Black Knight with friends and family.
---
Whether you're interested in a coal-colored cactus or a dark and dreamy Echeveria, these five black succulents are sure to stand out in any setting. Try adding a few to your collection for a touch of drama and mystique.
Sempervivum 'Black'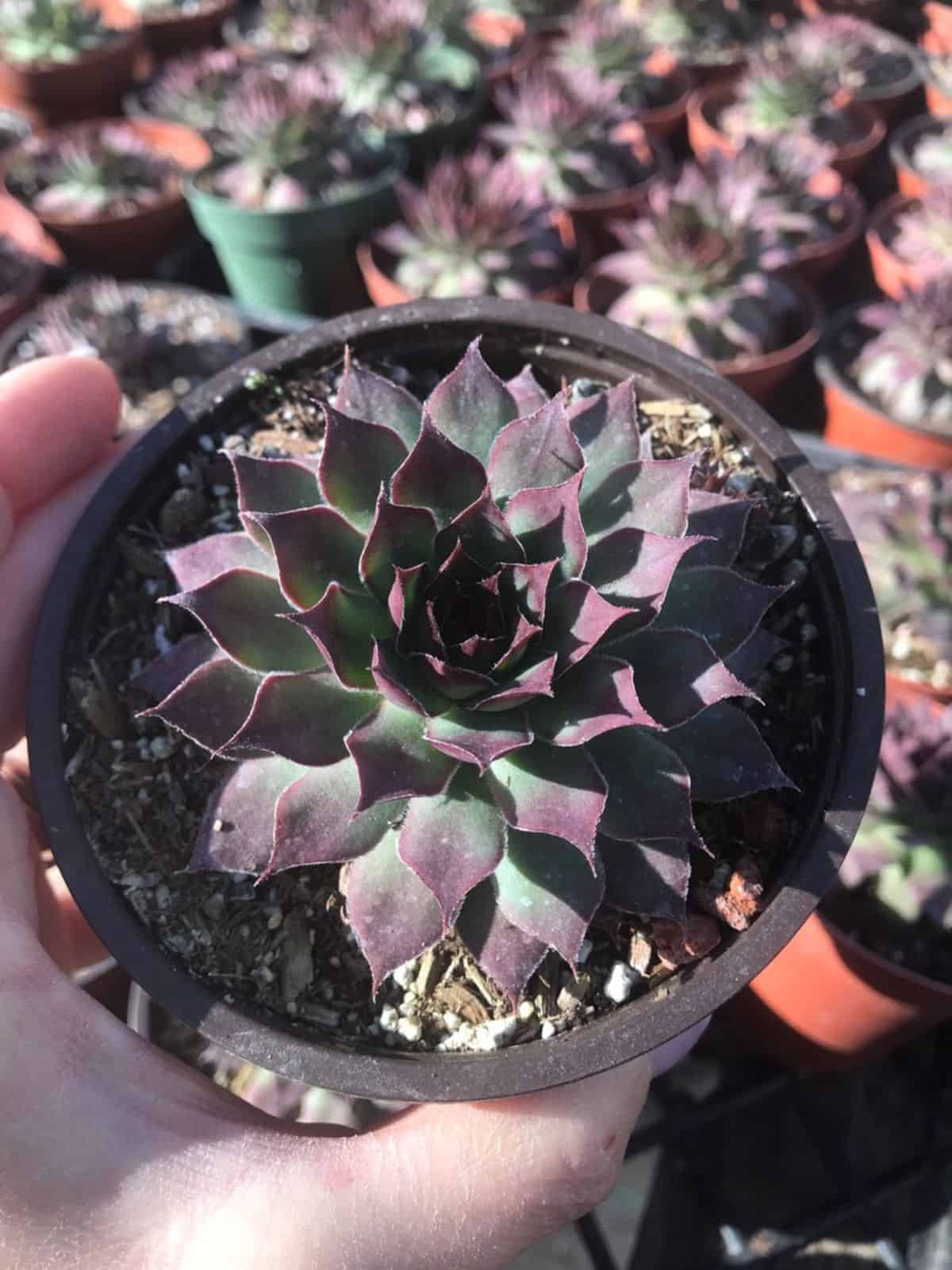 Buy it from:
This type of sempervivum is a species that has a deep green center and nearly black tips. Like most Sempervivums, these succulents grow well in arid areas and often enjoys very gravely soil. While you can plant them in shallow pots, another way to enjoy their decorative appearance is by planting them in between rocks or in the cracks of walkways.
Haworthia marxii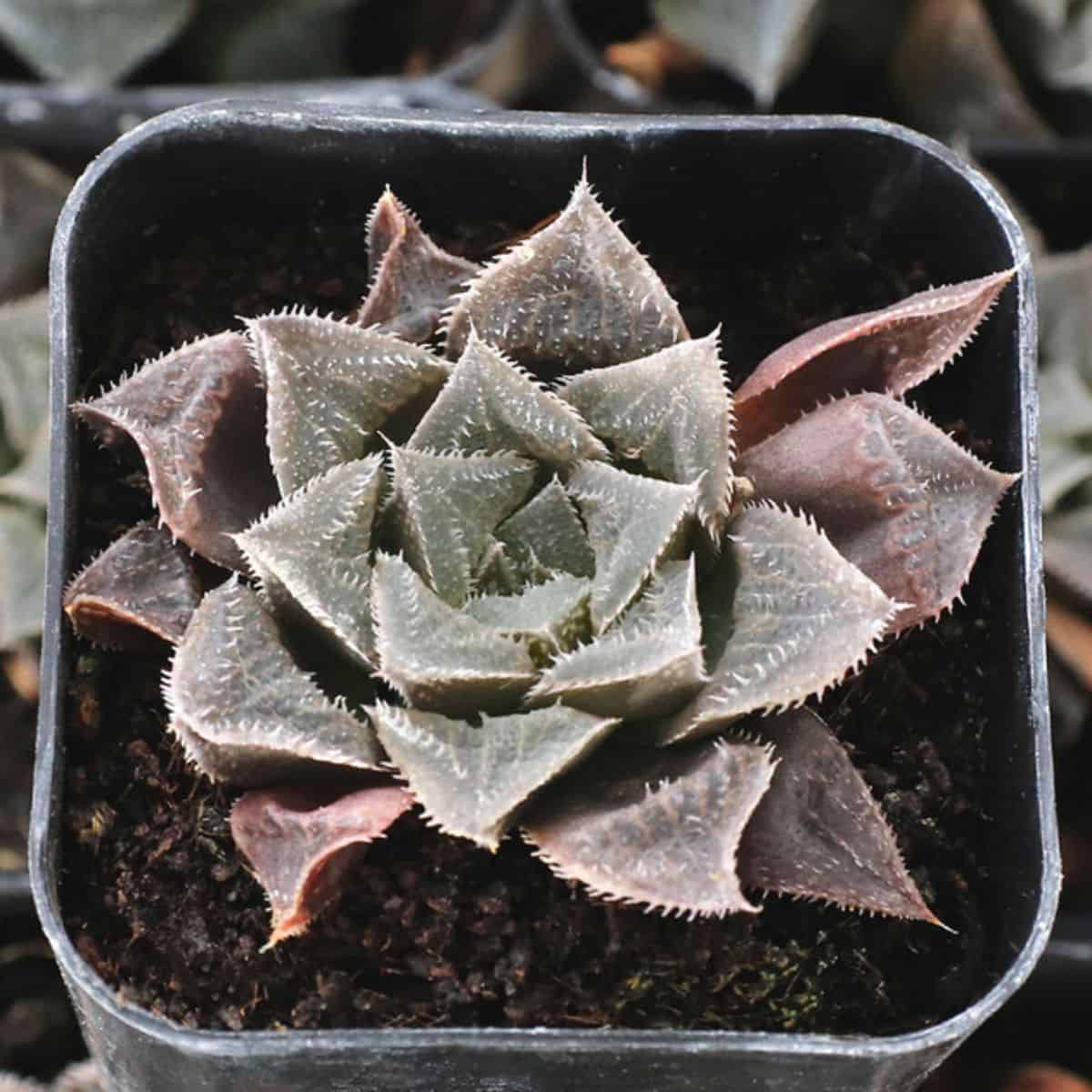 Buy it from:
This is one of the hardest and rarest succulents to grow. To date, there are only four different locations that this succulent is found! It is also one of the hardest to propagate and it very rarely grows from leaves taken from the mother plant: mostly, marxii self-propagate from seed. Marxii also require more shade and more watering than other succulents and they grow best at 1,000 ft + above sea level. They are truly unique!
Anacampseros retusa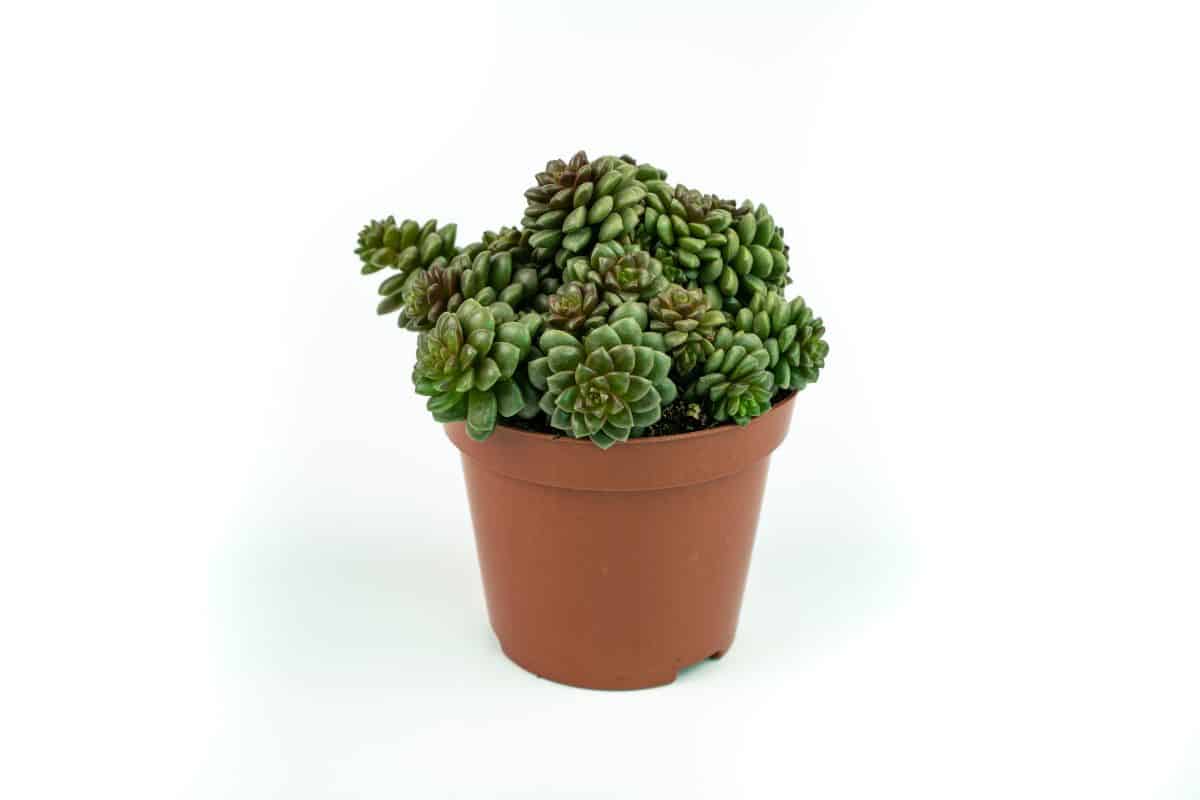 Buy it from:
While not as black as the others in this selection, Anacampseros retusa is known for it's deep brown/black tips and full, almost tear drop shaped leaves. The bright pink flowers accent the green and the black when they are in full bloom. These succulents also require additional potassium fertilizer as compared to other succulents.
Opuntia macrocentra – Purple Prickly Pear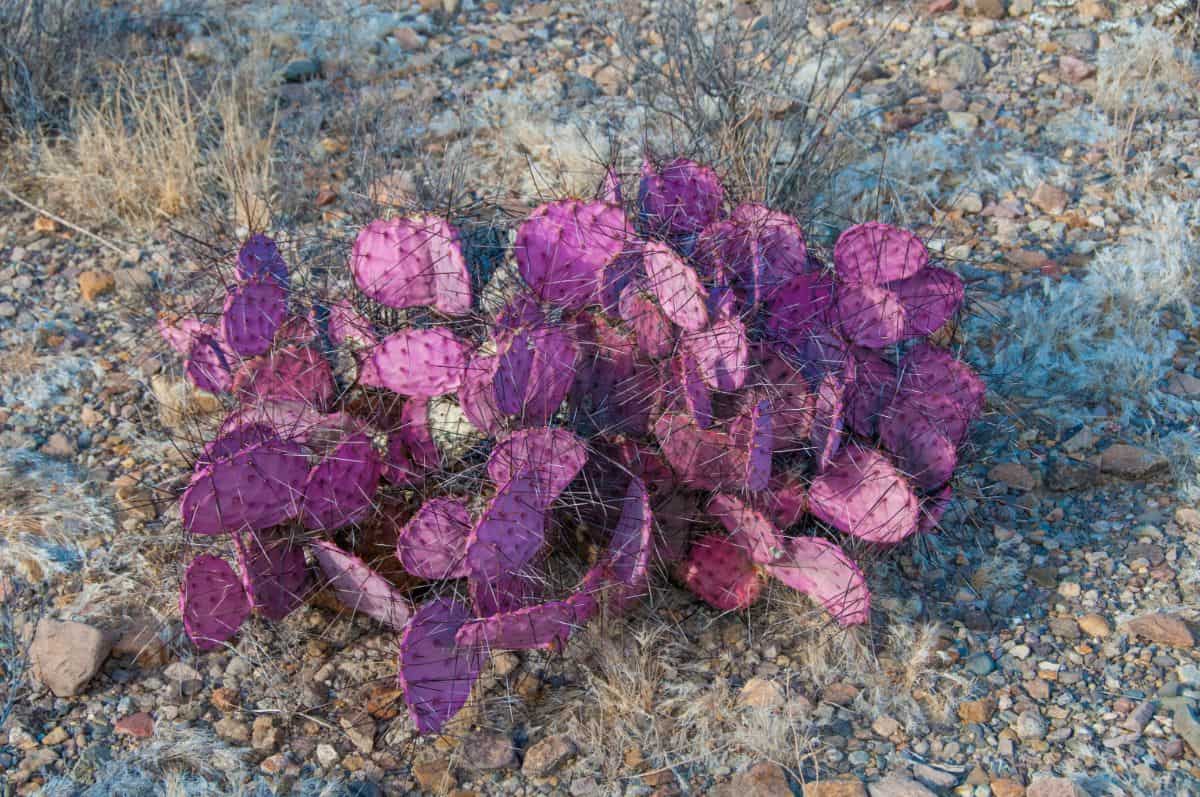 Buy it from:
If you have this succulent, it will definitely be the center of attention! With light green to deep purple leaves and stunning long black spines, this gothic prickly pear is a delight. They can get to nearly three feet tall and have average watering and sun needs. The best feature of this plant is that it still produces edible fruit!
Echeveria – 'Black Queen'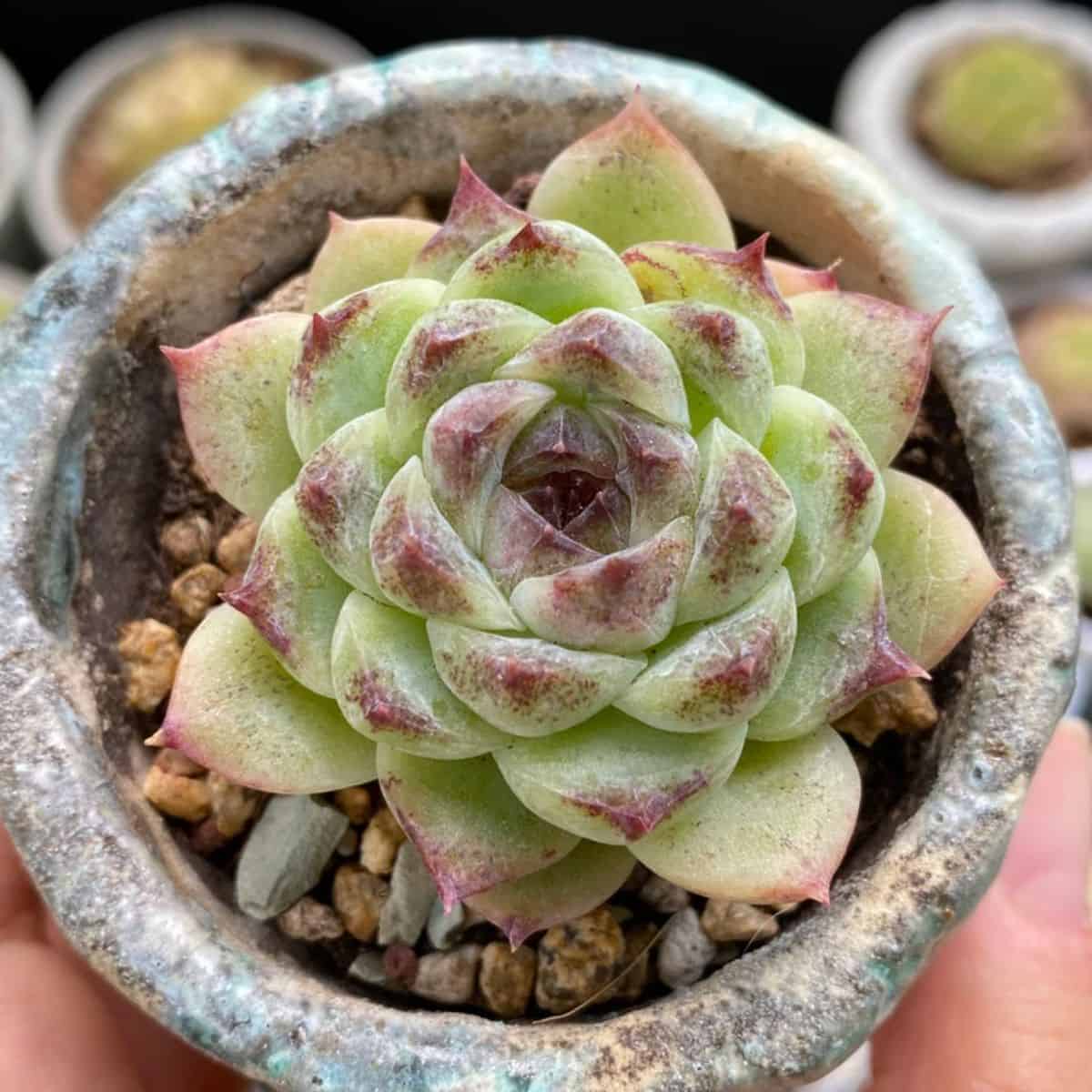 Buy it from:
You can't mention the Black Knight and Black Prince without also mentioning the Black Queen! Unlike the other to echeverias, the Black Queen is more of a red black as compared to the purple black of the others. Like several succulent species, Black Queen is a hybrid once thought to be a pairing of Black Rose Aeonium and an echeveria. It does stay true to echeveria needs and also shows its most intense coloration when it is stressed.
Haworthiopsis nigra – Black Haworthia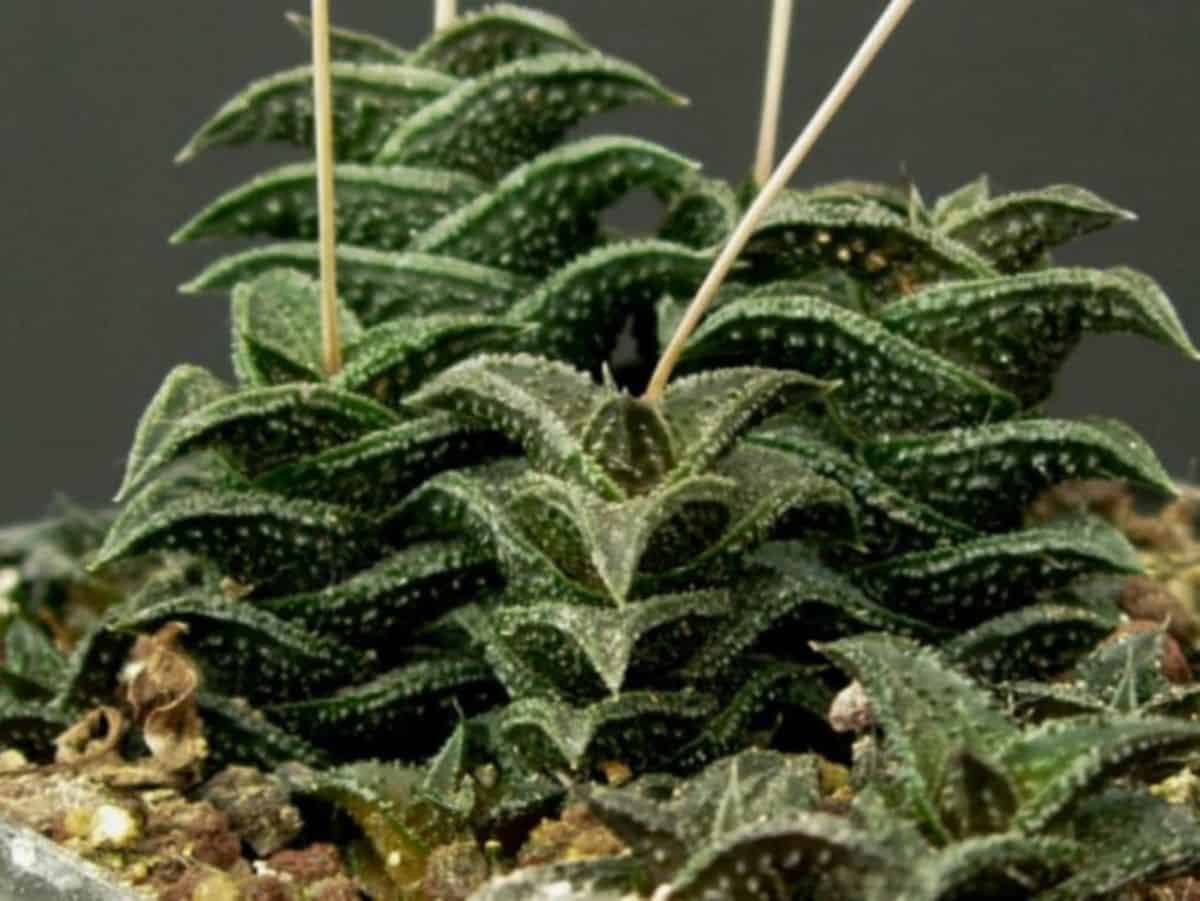 One of the favorites on this list is the almost pagoda like Black Haworthia. Alternating leaves build a tower of power with highly visible bumps on the leaves, structured leaf edges, and a gorgeous black coloration. The inner part of the leaves are a light green, but the black coloration does cover a vast majority of the leaf. In the winter, Black Haworthia pulls another color changing trick: the leaves turn a blushing red as soon as a chill hits them.
Haworthiopsis limifolia – Fairies Washboard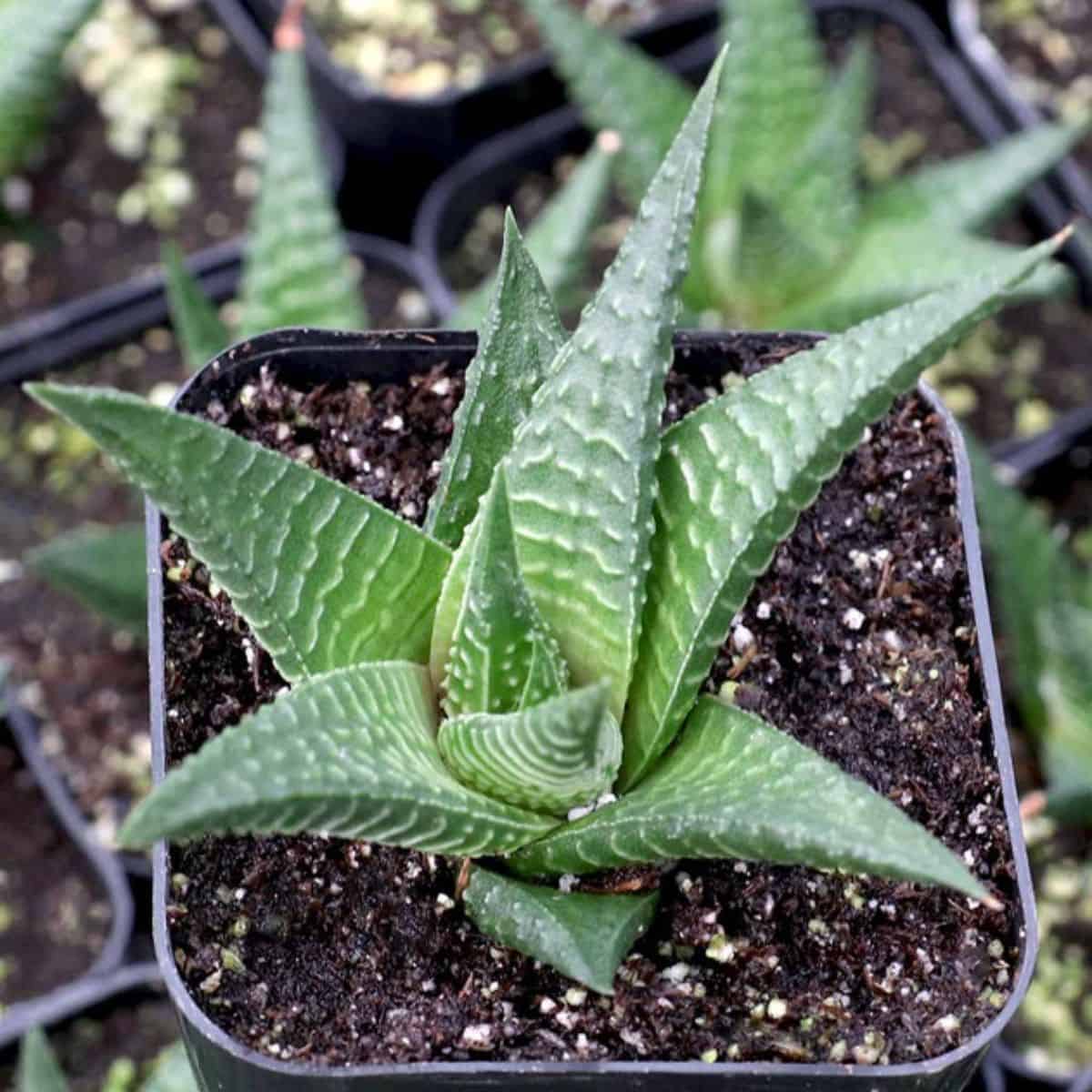 Buy it from:
This type of haworthia is a rather interesting combination of colors and color changes. In the colder months it turns a tannish red and when under stress, the leaves take on a darker brownish hue. The reason that this is included in our list is because there are very rare variants of the limifolia that appear almost black. Since they are a rare find, it will be hard to add this one to your collection.
Chocolate Drop Stonecrop (Sedum 'Chocolate Drop')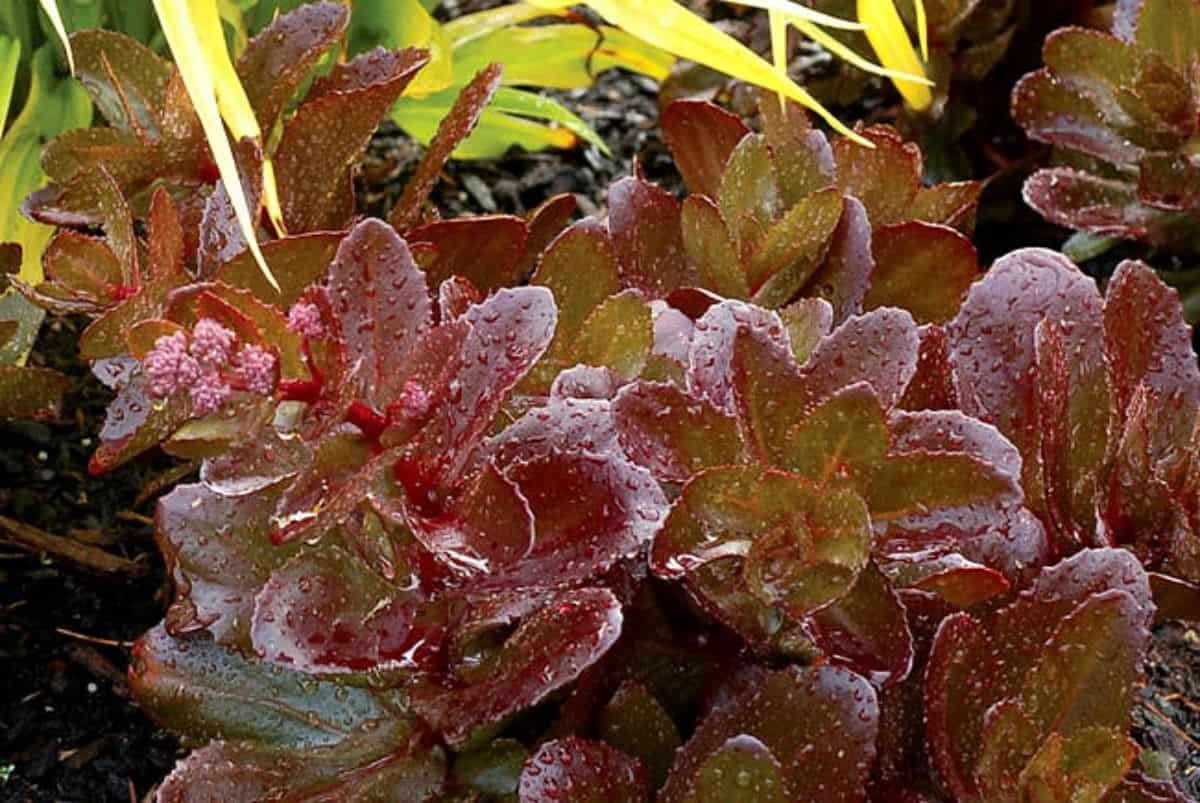 Unlike other stonecrops that are generally brighter greens, the Chocolate Drop is a deep brownish green that turns a darker black when growing season arrives. But it's beauty doesn't stop there. When blooming begins to happen, the sedum grow slightly taller before releasing blooming stems. At the top of each stem is a large cluster of delicate pink, star-shaped flowers. Combine this with any bright colored sedum and you're sure to impress!
Echeveria – Dark Moon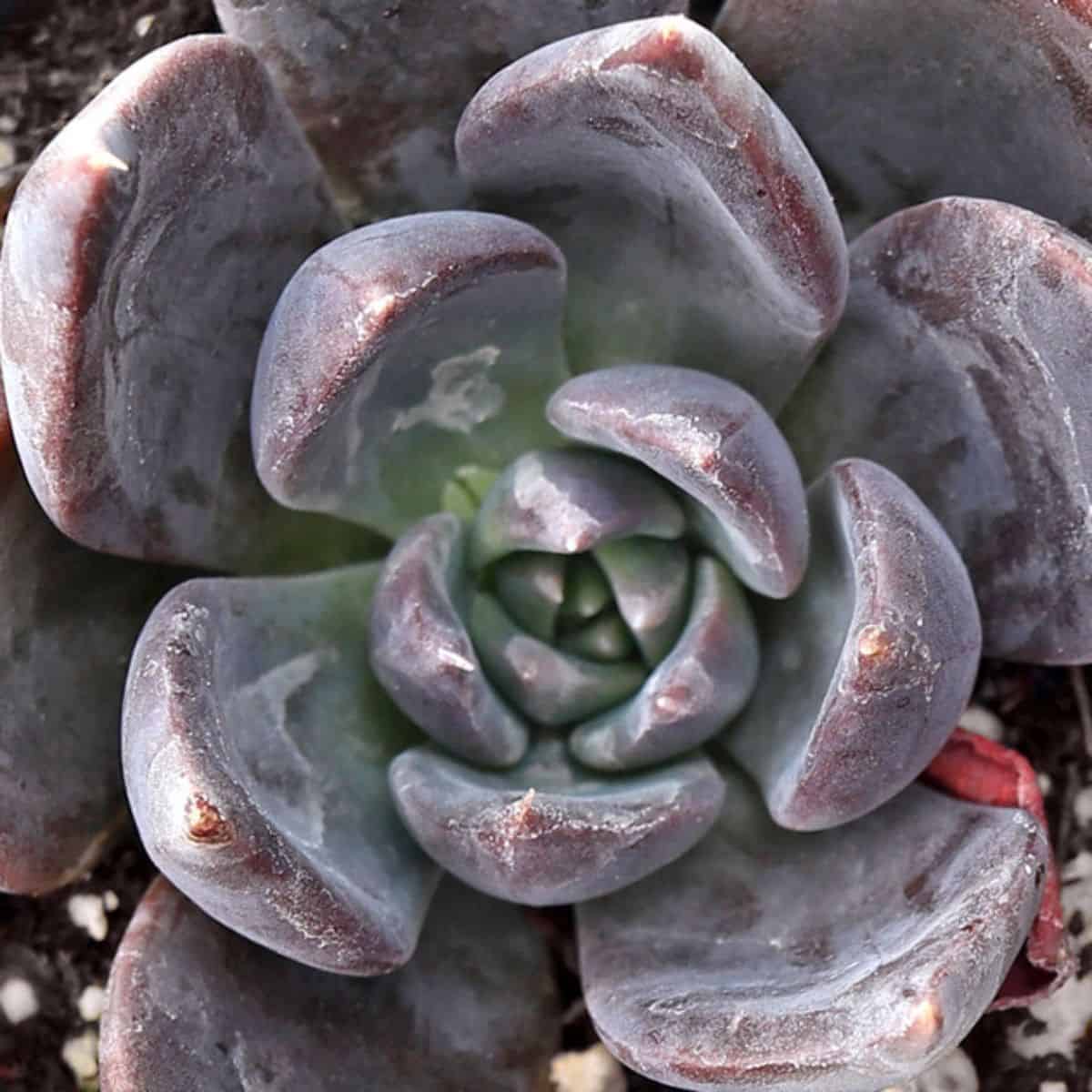 Buy it from:
Unlike other Echeverias with prominent green at the center of the plant, the Dark Moon echeveria is instead more of a bluish tinge rather than green. Their leaves look like a cross from the elongated Black Knight and the oblate form of the Black Prince. This gives each leaf an almost quill like appearance which adds valuable intrigue to any garden. The extra surprise of intensely red flowers gives these echeveria a startling appearance,
Haworthia nigra Var. diversifolia – Black Haworthia, G.D. Rowley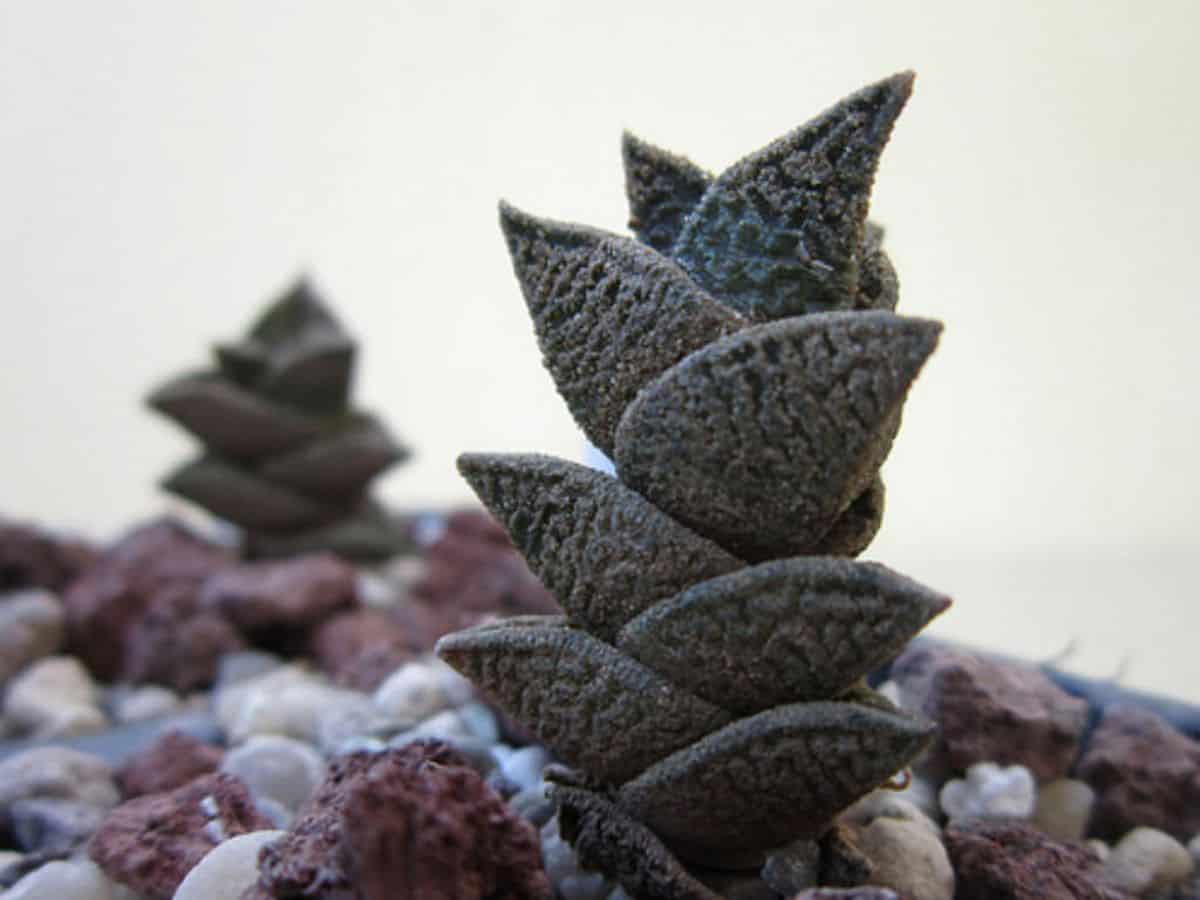 Unlike the other nigra on this list, diversifolia is distinctly black with slight hints of light green and purples. What also sets it apart from the Haworthia nigra is that the diversifolia has very large bumps along the leaves rather than the finer bumps found on the nigra. These bumps are called tubercles and they appear almost like succulent fingerprints. Each leathery leaf grows in an alternate direction from the leaf before which does give a slight pagoda appearance.
Sempervivum 'Dark Beauty'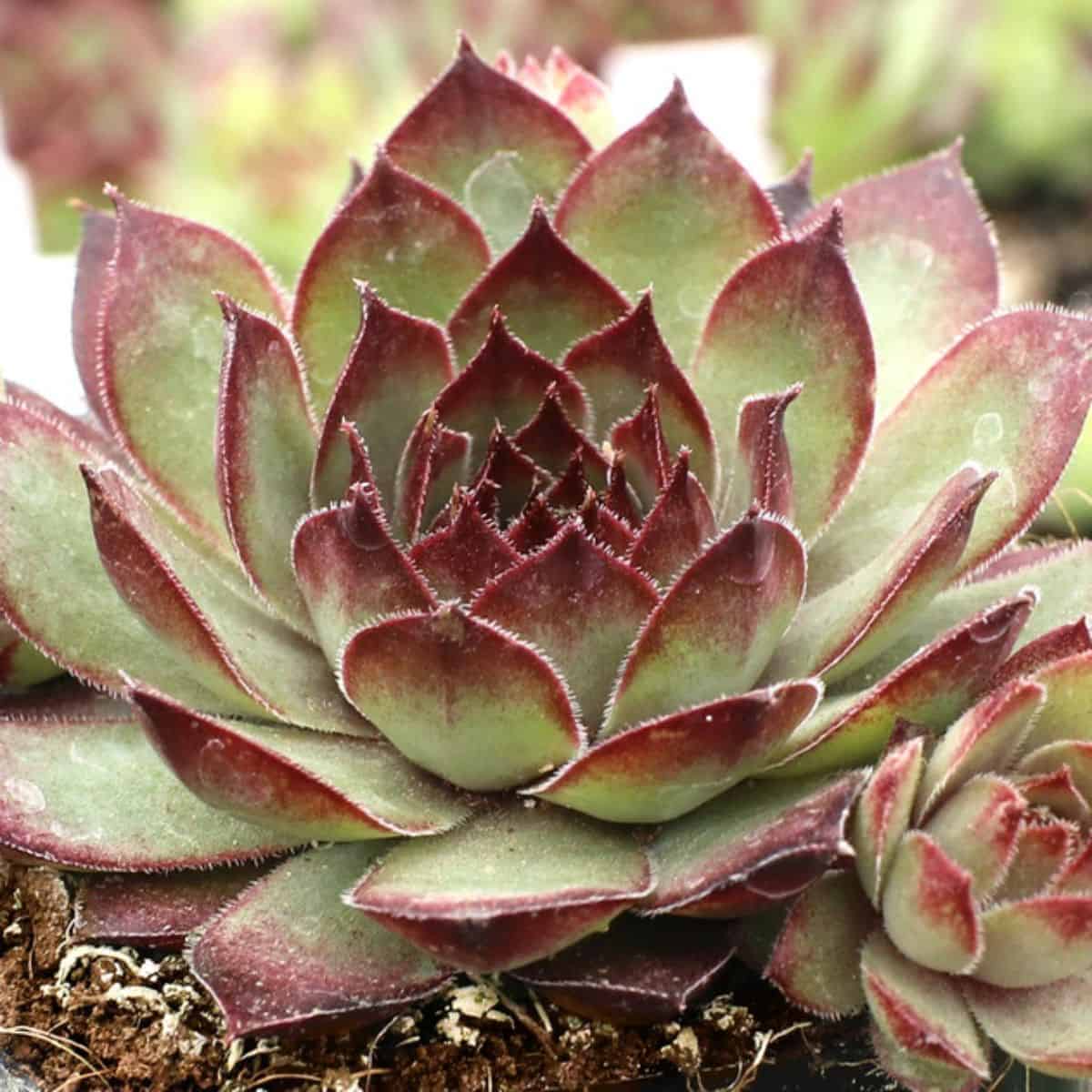 Buy it from:
Dark Beauty does remind me a lot of the Black Rose. The reason being is that just like the Black Rose, this succulent's rosettes die off after blooming. Before sending out blooms, each rosette is a stunning deep, dark purple. The leaves are incredibly compact and very fleshy with tapered ends. In a way, they look like purple artichokes with much thicker leaves. When it comes time for blooming, they produce pink or yellow blooms that accent the darkness of the leaves.
Tephrocactus articulatus v. papyracanthus – Paper Spine Cactus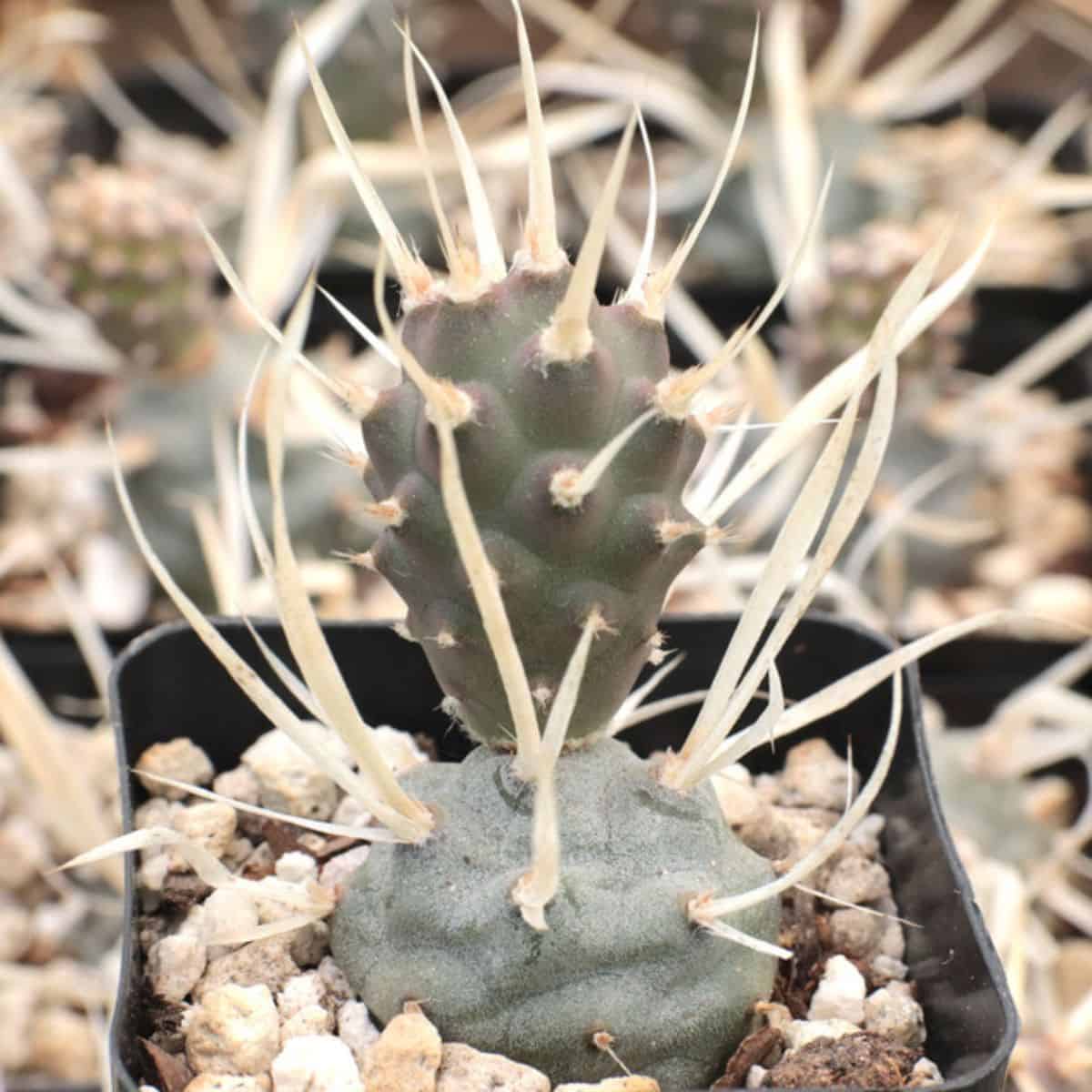 Buy it from:
Unlike other cacti, this charming cactus has paper thin spines that grow out of each pine cone shaped segment of the plant. The fun of the Paper Spine is that you never know what type of coloration you are going to get with the spines. Traditionally, Paper Spine has light tan ribbon spines but there is a rare variety that, you guessed it, has very black spines! They are rather spooky as the spines look a lot like the branches of a dead tree. With bright bluish green flesh, the black spines create a pleasant contrast.
Dyckia - Black Saber Tooth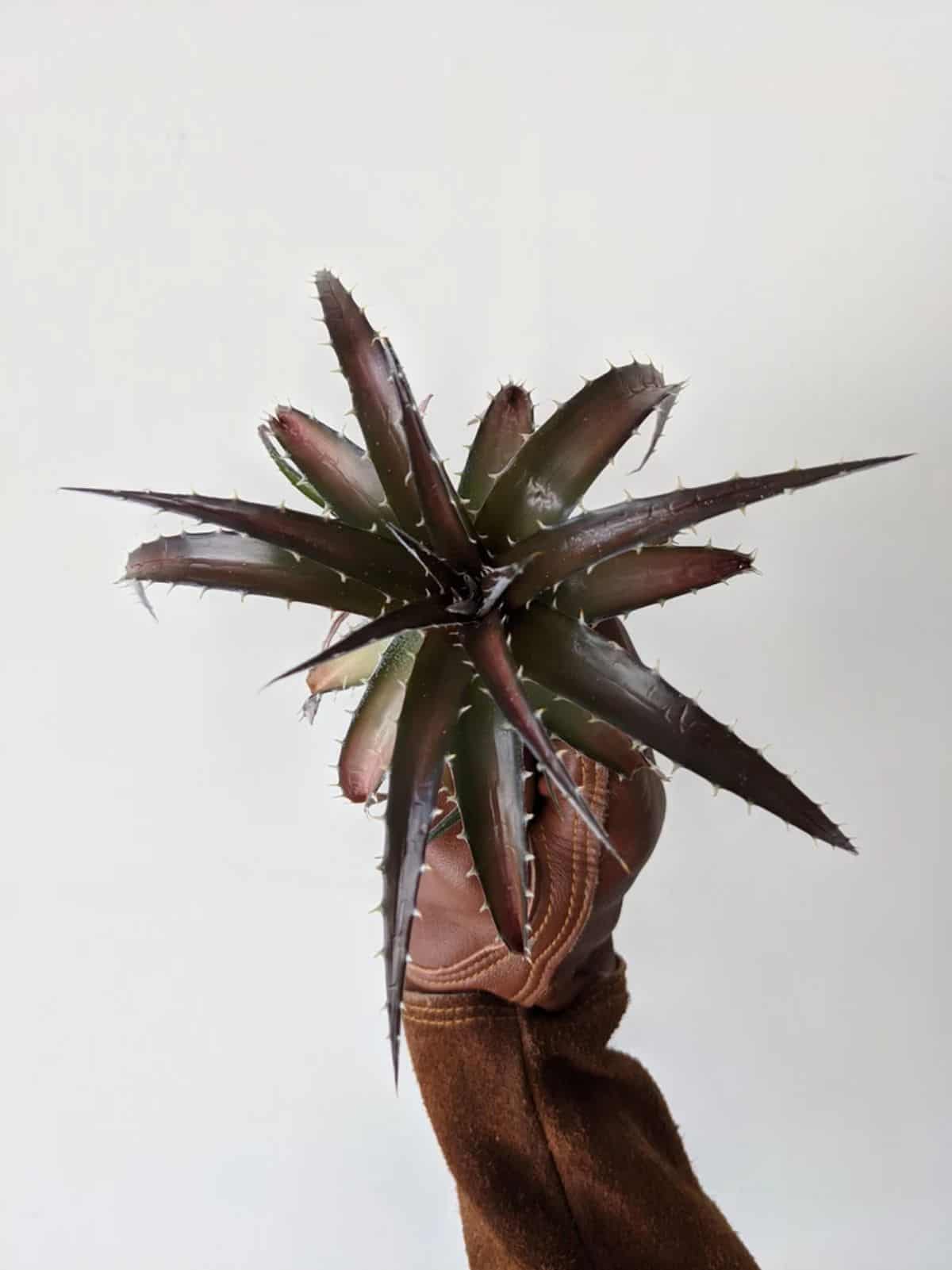 Buy it from:
The last succulent on this list isn't actually a succulent. Many people mistake bromeliads as part of the succulent or cacti family. However, what sets them apart is that they don't store water in their leaves but rather in a reservoir at the center of the plant. They have exceptionally shallow roots as well. This false succulent is yet another favorite for a very striking reason: the leaves are almost jet black and there are bright white spines along each side of the leaves. They have bright yellow blooms that contrast the black leaves and provide a lovely statement piece to any garden.
Read Also: 10 Wonderful White Succulents
Black Succulent FAQ:
Do black succulent plants need lots of sunlight?
Most succulent species need between four to six hours of sunlight per day. This is also the case for black succulents.
Will Black Succulents grow in full or partial shade?
Black succulents can grow in partial shade, but they will struggle to thrive in full shade for a long period of time.
Is echeveria black prince really black?
No, this succulent is actually a very deep purple color. Its pigment is so dark and dense that it looks black.
Are black succulents rare?
Black succulents are rarer than green succulents and are spotted less in the wild.
Are black succulents easy to maintain?
Yes, black succulents are just as low maintenance as any other succulent plant.